Recycled Craft Ideas
Hello, Graphics Fairy friends! Diana from Dreams Factory here, sharing another DIY project with you – today we are making some lovely Recycled Craft Ideas! I will be showing you how to recycle regular tin, plastic or paper containers and turn them into beautiful decorative – but also practical – pieces for your home. We will be doing a little bit of recycling – using some old things that we have around is always a good idea! And we will be giving them a new ah-mazing life! This way our house will have a fresh vibe without spending too much money and will be ready to embrace the new season!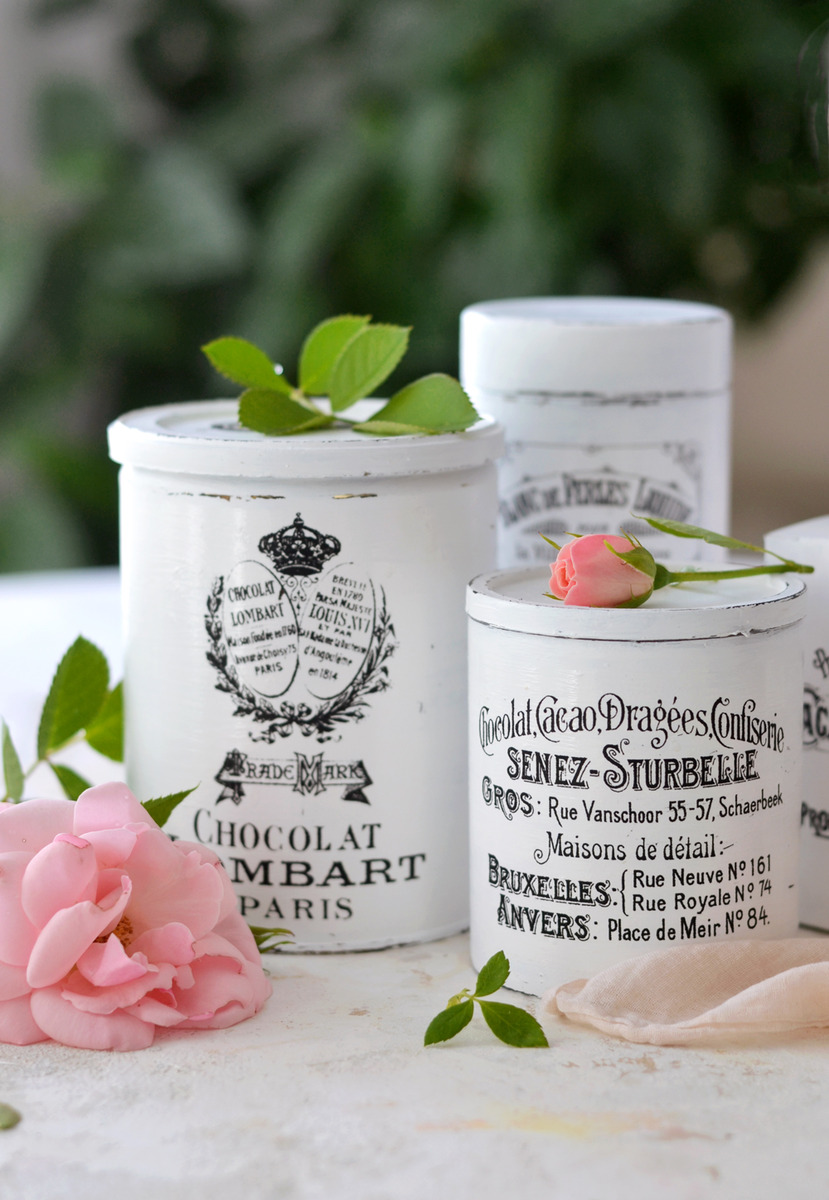 Because we haven't painted together for quite some time, I thought today it was the perfect time to just do that! I will be showing you how to make these amazing French Recycled Containers using my fool proof technique of painting and distressing different types of surfaces! I've been using this technique for ages  … OK, not really, but it's almost a decade soon. And I still love it like crazy!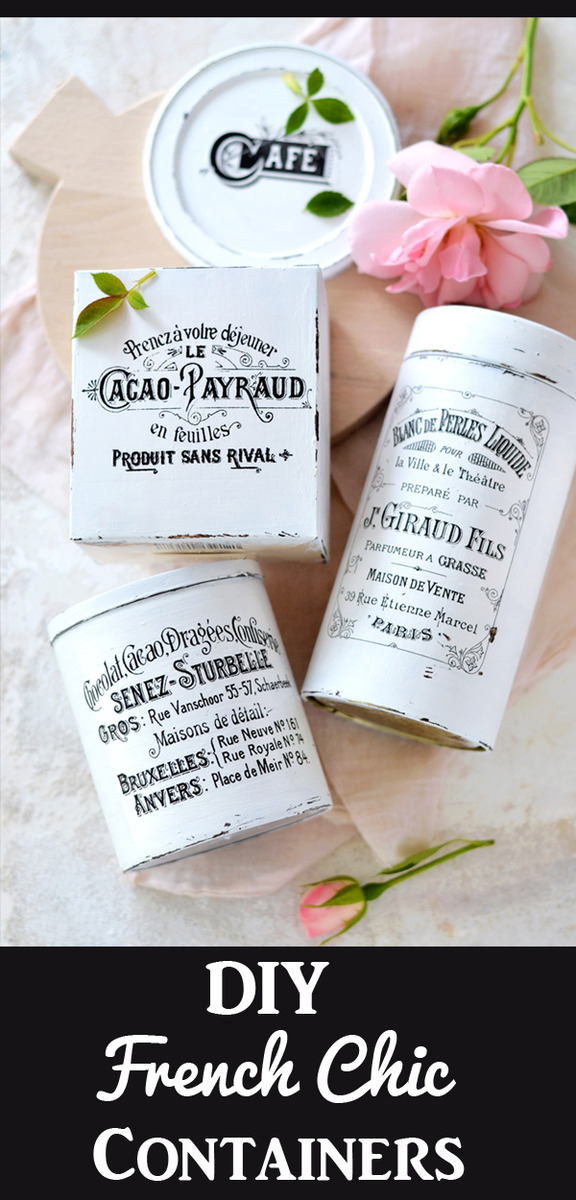 I'm usually using white and brown (or black) acrylic paint as my two contrasting colors. I feel that white is definitely my thing, I find it adaptable and easier to integrate into any home decor. But if  you feel that you would maybe prefer another light color like a beige, a cream or a pretty pastel, just go for that color instead of the white! Of course, you can use another contrasting color too, instead of the brown or the black, just make sure is a darker color that will create a strong contrast, we need that for the distressing part. Make these beauties your own and change them according to your own liking!
For this project I decided to go with some of my favorite French ephemera images from The Graphics Fairy and created this beautiful free printable for you, I feel like you can never go wrong with these lovelies!
Free Printable for Recycled Craft Ideas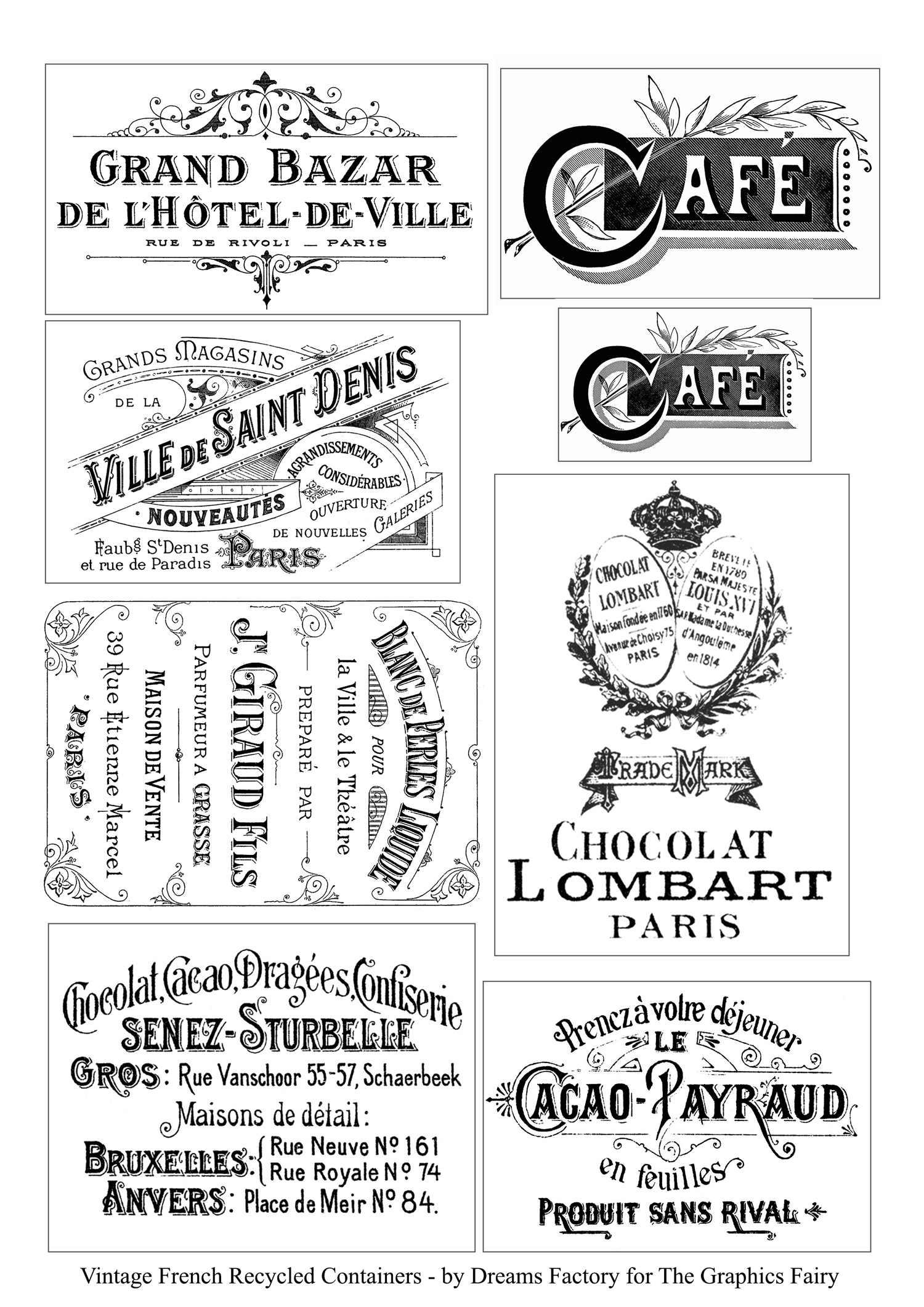 Recycled Craft Ideas Supplies:
French labels
recycled containers (small cardboard boxes, plastic containers, tin cans)
laserjet printer or inkjet printer
waterslide decal paper
acrylic paint (2 contrasting colors – I used Titanium White and Burnt Sienna)
120 or 180 grit sand paper
matte finish spray or another water based sealer
Gather all your supplies and let's get started!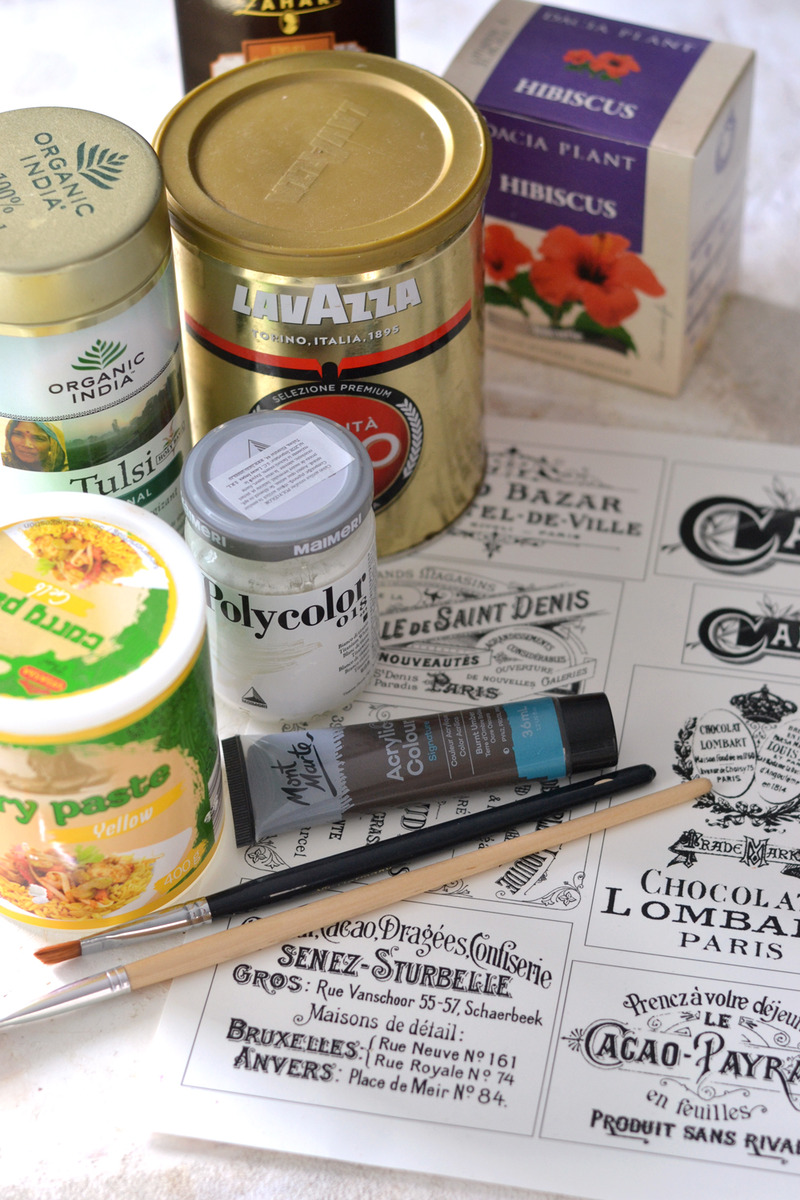 Let's talk containers for a sec – the best part is that you can use pretty much ANY type of container that you have on hand, even some of those that you've been hoarding keeping around for quite some time.
I used two old tin cans (Lavazza coffee and Tulsi tea), a plastic container (curry paste), a cardboard box (regular Hibiscus tea box) and another cardboard box (sugar). I was a little bit skeptical about using the sugar box because of its brown color, some shades of printed brown (or any other colors that contains red) can sometimes bleed through the white paint. And I was – unfortunately – right! I actually ended up tossing that box in the end, so maybe try to keep this in mind while deciding what paper boxes to actually use. Learn from my 'mistakes'!
You can choose to remove the paper labels from the containers, or you can simply paint on top of them – I did both.

Vintage French Recycled Containers – Painting and distressing
As you can see, all my containers had a lid and I applied the same painting and distressing techniques on the lids too. Before painting, start by carefully observing how your lids are closing on top of your containers. The idea is to have a beautifully painted container, with a cohesive look in the end, but also a functional closing system. You want to apply paint everywhere outside your container, but keep your closing system intact, so you can perfectly close your containers afterwards. So check how your containers are closing and don't apply any paint on that area!
1. Without using any water, apply a uniform layer of brown acrylic paint on your containers, no matter the material they are made of – paper, metal or plastic, they are all the same here, just a surface to be painted. Do the same with the lids and let the paint dry completely before moving to the next step.
2. Rub a white candle wax ( I used an old regular candle stick) on the edges of your containers and on their surface, here and there. The candle wax will help with the distressing part afterwards – the more candle you add at this stage, the easier will be to distress them afterwards. Do the same with the lids and use a small clean brush to remove some of the larger parts of the candle wax residue from the surface.
TIPS & TRICKS:
One of my lids (the Lavazza coffee one) had the logo embossed on it. To make the surface more flat on that area, I rubbed a lot of candle wax all over the logo. The candle wax will fill some of the spaces between the letters and will make the surface a little bit more even, if you wish. If you have a lid like this, you can also use candle wax, a little bit of modelling paste or even some acrylic paint and a craft knife to fill some of that space. You will still be able to see the raised surface, but it will be somehow easier to cover the logo or decorate that particular area afterwards.

3. Apply a uniform layer of white paint (without any water) on all your containers and their lids. Depending on the coverage you get with your paint, you will have to apply one or two (sometimes even three) layers of white paint –  I applied two full layers.
It's important to let the paint dry to the touch between layers and before moving to the next step, to avoid smudging – we don't want that on our beautiful and chic Vintage French Recycled Containers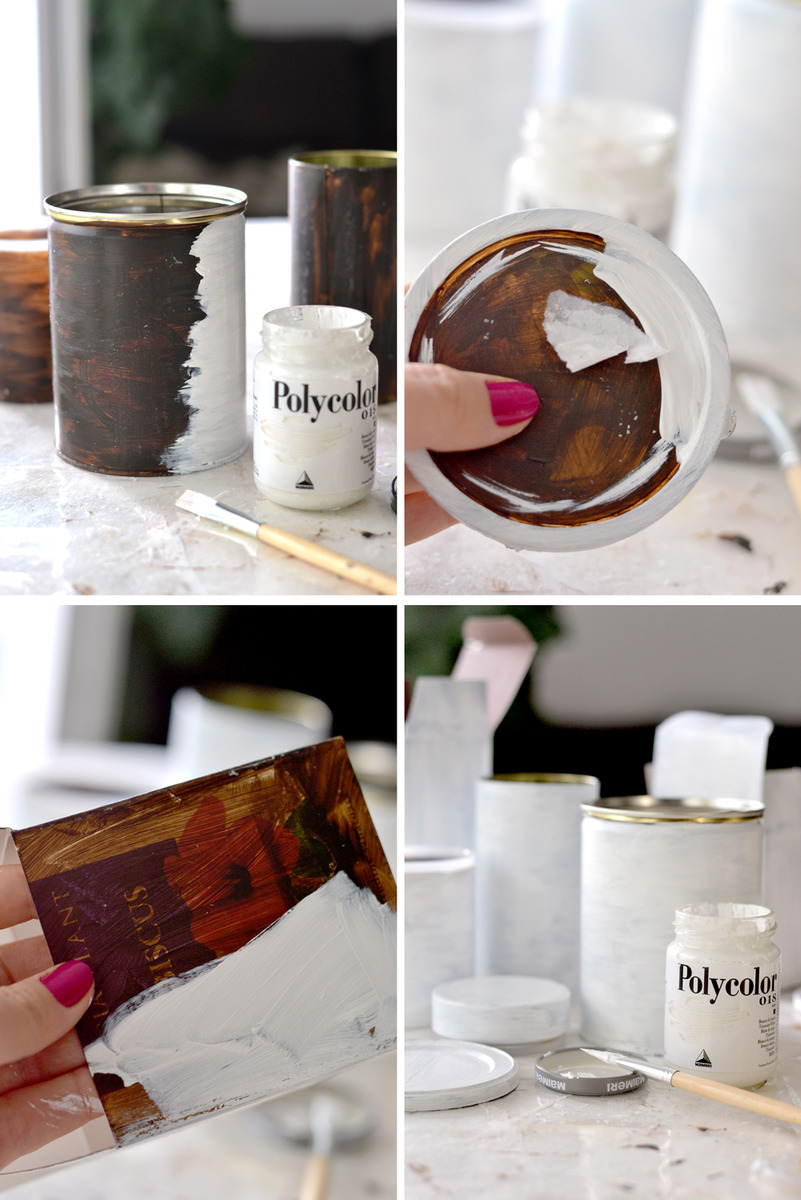 4. Use a fine sand grit paper ( I used 120) to distress the containers and their lids – rub your sandpaper on the edges and on the surface here and there. This is when the magic happens, because of the candle wax that we used before, the dark contrasting color (our brown) will show from underneath!
Have fun with this part and distress the surfaces as much or as little as you want!
NOTE: You can see in the last image from this set how my painted brown cardboard paper had a mind of its own and turned …red! Some of the pigment from the original box color slipped through and ruined my white painted surface. When this usually happens, there is really no turning back, no matter how many layers of white paint you add. So it's best to just toss it or paint it in another darker color and use it like that.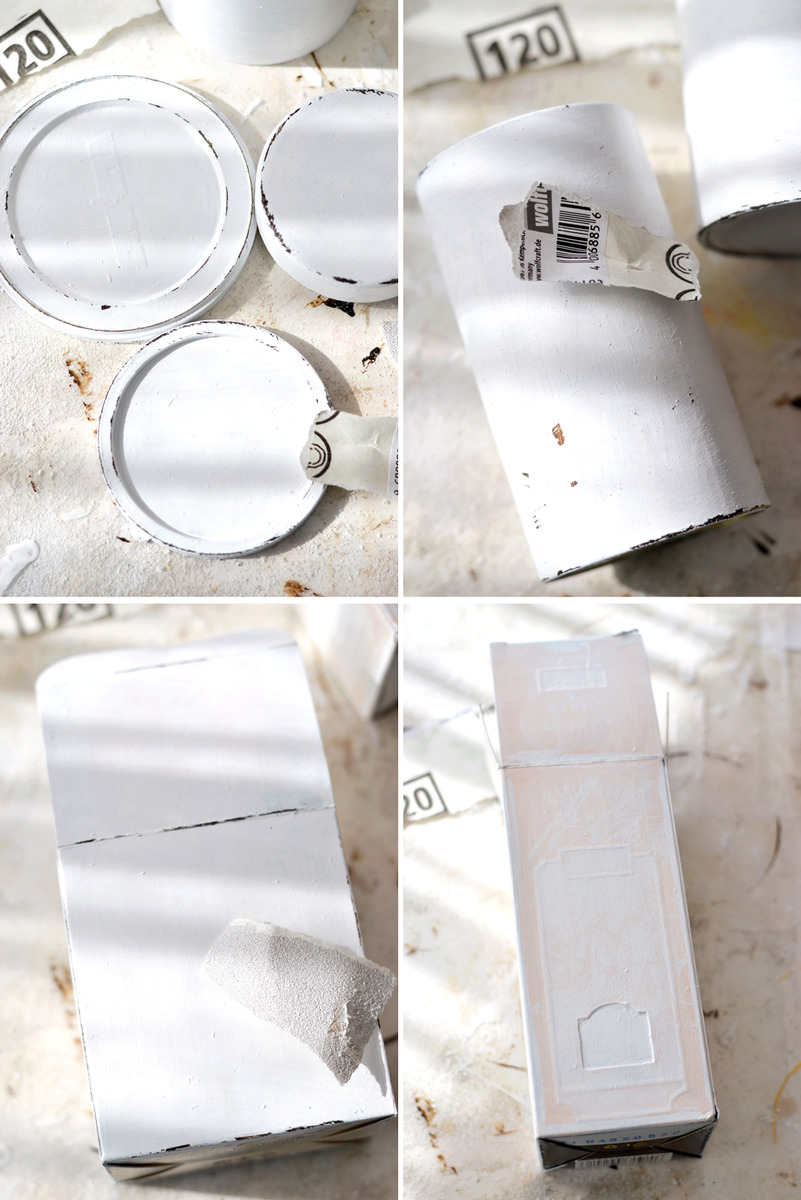 Vintage French Recycled Containers – the image transfer
As for the images transfer I decided to go with waterslide decal paper. I usually have this paper around but I get many people don't. In this case you can choose any other image transfer techniques that you prefer. And if everything else fails … just print your labels on regular or cardstock paper and use some good old Mod Podge to directly glue them on the containers! This is the easiest thing ever and I actually did that with my Vintage French Recycled Tin Cans < here. You could also use white or transparent sticker paper, just use what you have available.
If using decals, start by printing and cutting the chic French images following the inside black borders that I created. Then apply the decal paper following the instructions that came with your paper.
For my decal paper I just submerged the paper in water for a few seconds, I centered and added it to my painted surface. Then I removed the excess water and any eventual bubbles using paper towels. Is that easy!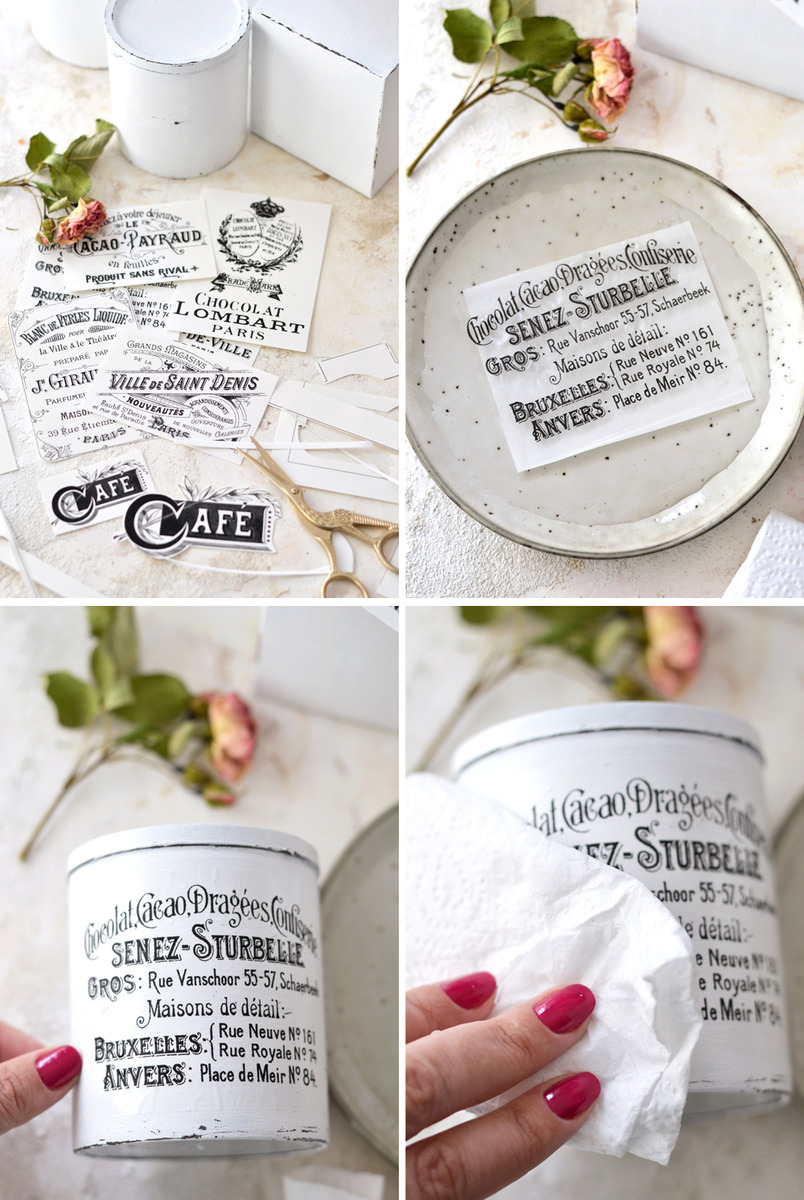 Then, after drying, you can use a matte finish spray or a water based sealer to cover both the surface of the decals and the painted containers.
Your new, simply amazing Vintage French Recycled Containers are now ready!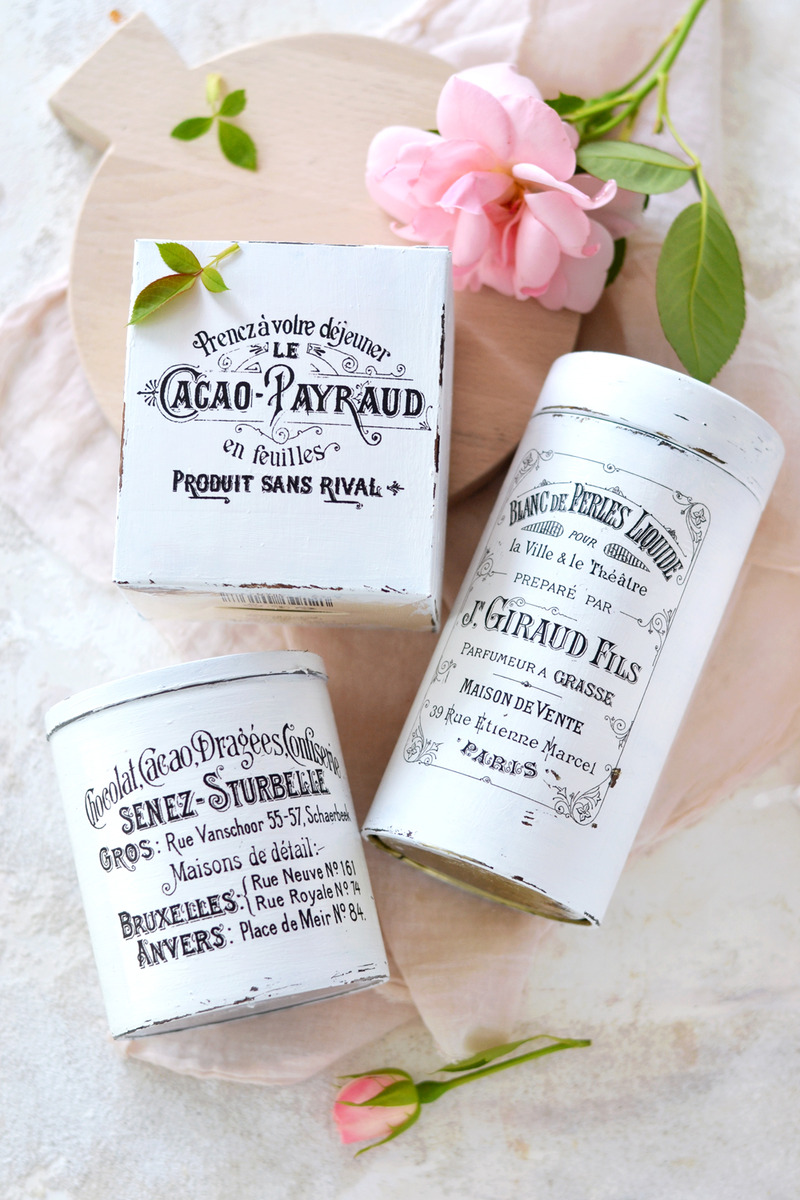 Remember my lid that had that logo embossed on it? I actually used one of the beautiful French Café images to cover it. It's not perfectly and completely covered, but if you are not looking too close, you don't even know it was there! What an amazing transformation, don't you think? And their closing system (still) works like a charm!
The DIY French Chic recycled Containers add a touch of chicness and are extremely adaptable to one's needs! They can be used in million ways all around your house! You can pair a few and use them to create stunning vignettes in different corners of your home, no matter if you are a fan of Shabby style, vintage, cottage or farmhouse. It's all about how you choose to style and arrange them afterwards!
I really love how this Chocolat, Cacao, Dragées, Confiserie beauty looks with this natural wood cutting board and these delicate roses from our garden! It's such a simple, but beautiful combination, don't you think?
You can also add a few golden touches to your vignettes, here and there – like I did here with my gold scissors. You can add other gilded home decor items, sometimes it's all about the small details, right?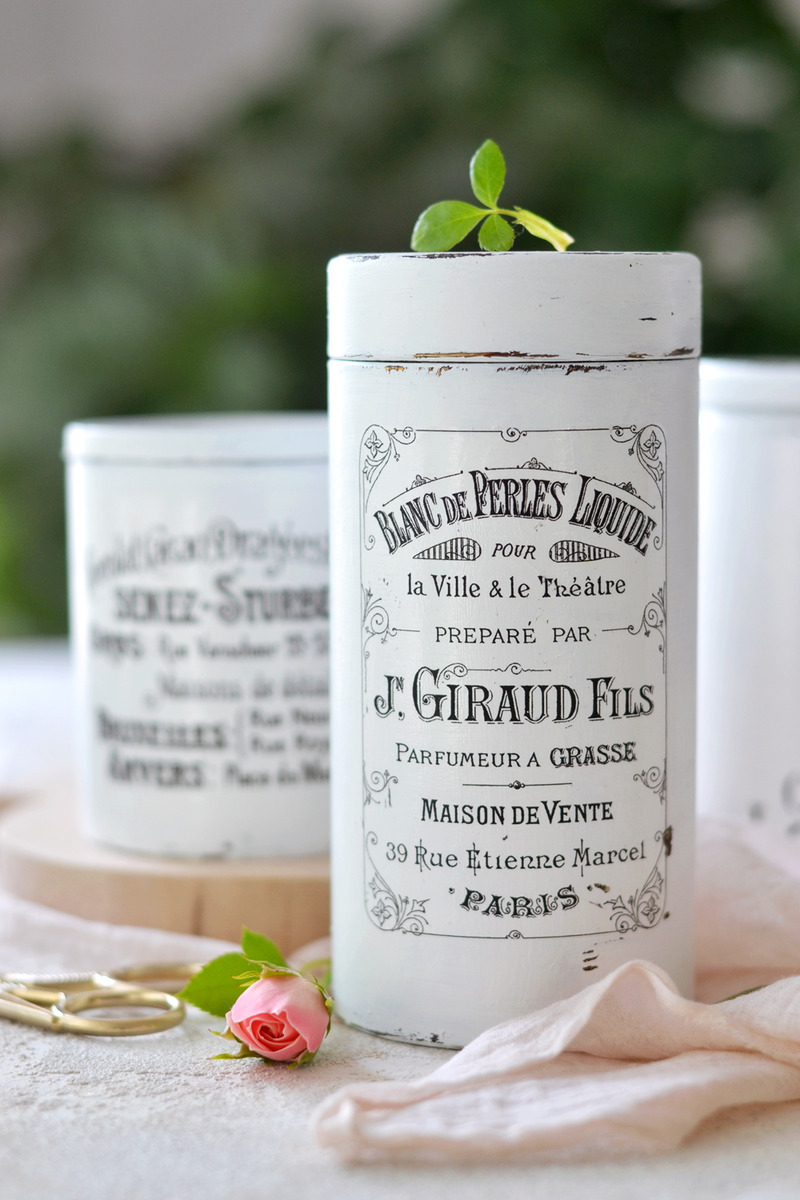 You can even turn your new and amazing Vintage French Recycled Containers into small and elegant vases, just perfect to display seasonal beauties from your garden! I used pink roses here, but when the summer will finally be over, I will probably use small branches, leaves or other natural and organic seasonal elements. Bringing a little bit of  nature indoors, no matter the season!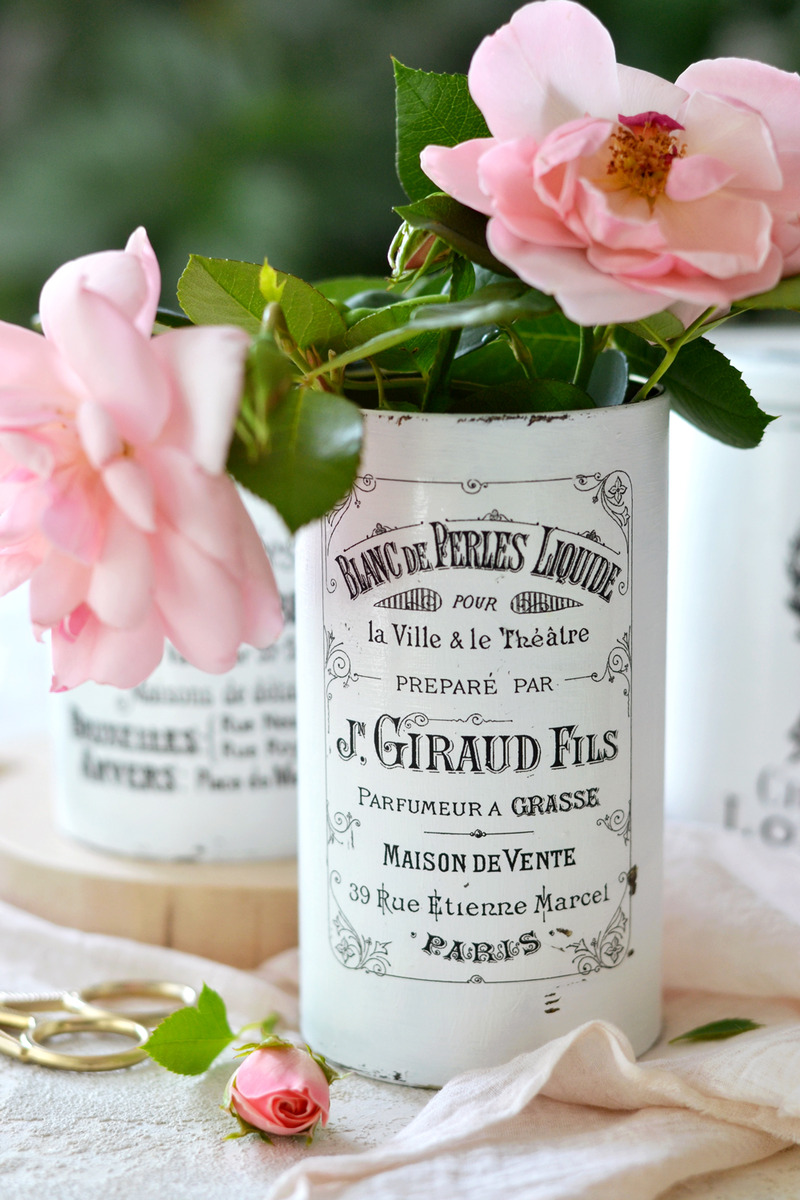 And of course, let's not forget the practical side of things! These DIY French Chic Recycled containers are simply perfect for holding all those small bits and pieces we all have around! Use them in your kitchen, use them in your bathroom, use them in your craft room, the sky is the limit!
Hope you'll love this project and you'll decide you just NEED these beauties in your life! Make a set of Vintage French Recycled Containers for your home, give one to your best friend, your mom, your daughter, your favorite aunt, they will bring a little bit of joy to someone you love for sure!
Happy crafting,
Diana / Dreams Factory