Decorative Brown Paper Bags
Hello awesome paper crafters. It's Rebecca Parsons back today with a quick and easy technique tutorial, we will be Embossing to create decorative Brown Paper Bags! Why would we want to emboss lunch bags Rebecca? To use as Handmade Gift Bags or in Junk Journals of course!!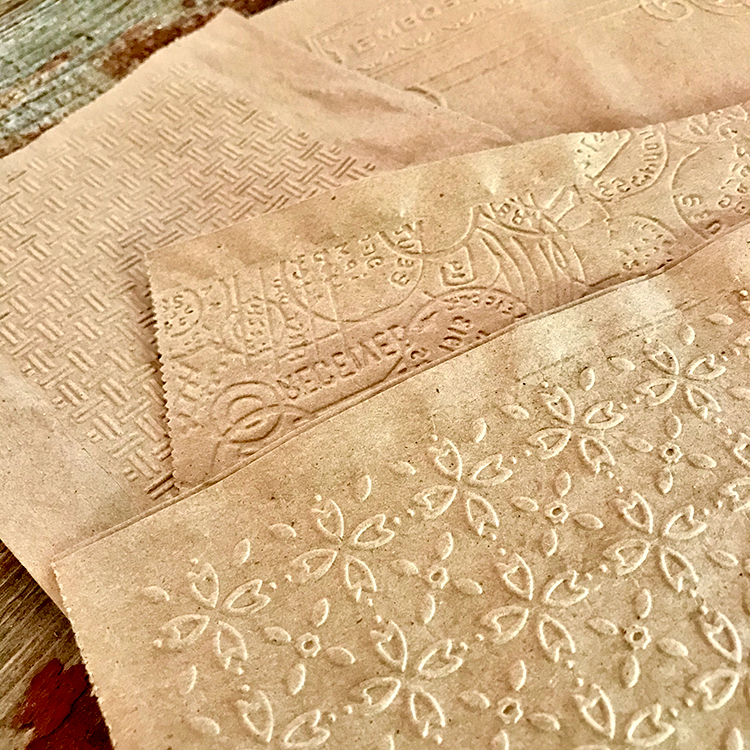 I have added embossed WOW to almost everything that I can find lately, and have created some extra fun tutorials for you. You can find my previous tutorials for Embossing Toilet Paper HERE, Embossing Aluminum Foil HERE, and DIY embossed Envelopes HERE!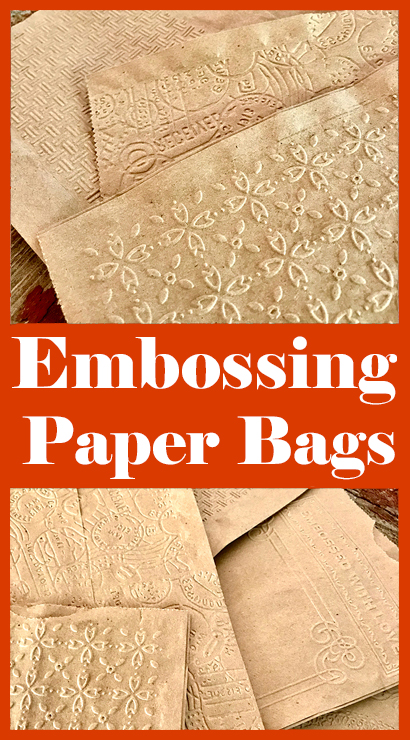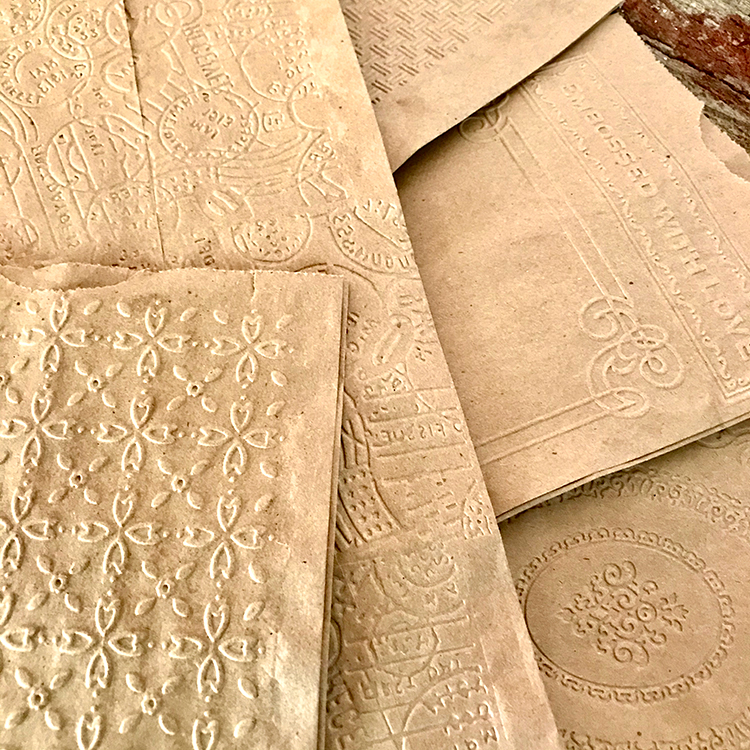 Lunch Bag to Gift Bag ~ WOWzers
This plain and simple household tool can become beautiful and useful handy dandy gift bag, especially when you forgot to buy one. I love the rustic look and feel of the plain brown craft paper with an embossed pattern on it. Plus, the craft paper molds easily to embossing making these pretty yummy to behold.
Decorative Brown Paper Bags Supplies:
Brown Paper Lunch Bags – I prefer a 30 lb. weight
Embossing Folders – all seem to work
Spray Mist bottle of water
Embossing Machine
A word about the bags. I used a 6″ wide, 30 lb. bag (this is the weight of the paper, not how much the bag will hold WINK) for this tutorial. I tested more heavy weight grocery bags (66 lb.) as well. They both worked beautifully. TIP: From my research, it appears that the brown craft paper used for grocery and lunch bags weighs between 30-66 lb. HINT: Lighter weight bags are easier to emboss. Heavier weight bags can be moistened for ease. An all over pattern works best. I actually prefer a busy pattern. Deep embossing plates also work well in this process. I urge you to experiment and determine what works best in your machine. There are white lunch bags too, although I could not find any for this tutorial. I am sure they would make lovely wedding favor or gift bags!
A word about the embossing folders. The folders come in a few different sizes. Most are designed to fit a standard size machine. The standard sizes are: 4"x 6" and 5"x 7". I have seen a few other sizes: 1" border designs, 3"x 4" designed for Artist Trading Cards, and a few larger – 6-1/2″ x 4-1/2″,  8" x 8", and 8-1/2" x 11"designs. My embossing machine is 6″ wide. I can use several folders as long as one of the dimensions is under 6″. I would love to have some of the letter size folders though!!
Bag and Folder Size Experiments
You are limited by the size of your machine. Any size folder that fits the width of your embossing machine is fine. Use your own judgement for positioning.
Staggered Pattern Embossing: A word about the embossing folder and bag size. My bags are 6″ wide. Most of my embossing folders are the standard 4"x 6" and 5"x 7" sizes. Therefore, I had a conundrum. The 6″ size does not reach across the entire width of my bag. The 7″ size is too wide to fit through my 6″ machine width-wise. If I use the folder over the side edge of the bag, I have an unembossed gap on 1 side. (1)
TIP: My solution is to use the folder more than once. My best look for this technique was achieved by using the folder on the left side of the bag for my first trip through the machine. Then I used it on the right side close to the bag top for the second trip through the machine. In Photo 2 you can see the unembossed edge on both sides. It is not bothersome to me. In Photo 3, you see that I only went to the end of the folder, stopped, and rolled it backwards so as not to squish the first embossing. (4) The bottom of the bag embossed well also! (5)
Single Design Embossing: If I use the folder over the top of the bag (1), the image does not go down as far as I would like. (2) But it still look good!
All Over Design Embossing: You can place a tall folder over the top and bottom edge to achieve an all over design. Notice that you cannot see any break on this bag! (1) Just be very careful to match the join area by matching the sides on the folder with the sides of the first embossed design. (2) My folder for this one is 5"x 7" and reaches further down the bag. So the overall look is pretty nifty. The plain edge gives it a frame that I like.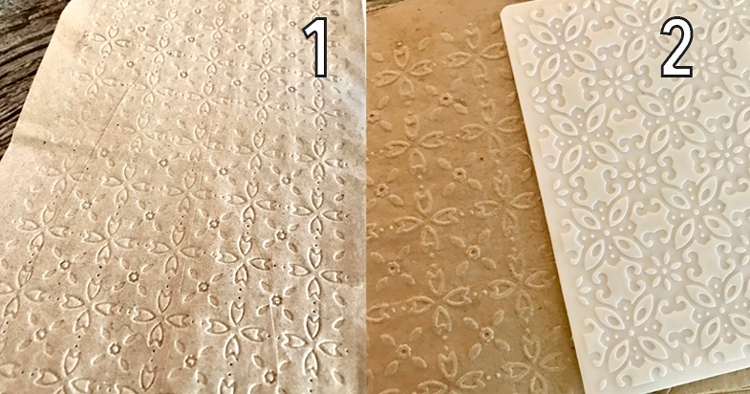 Folded Top Embossing: I also folded the top of the bag over an inch or so (1). It placed the design in a nice position on the bag I think. (2)  TIP: Fold the bag carefully as it can tear easily.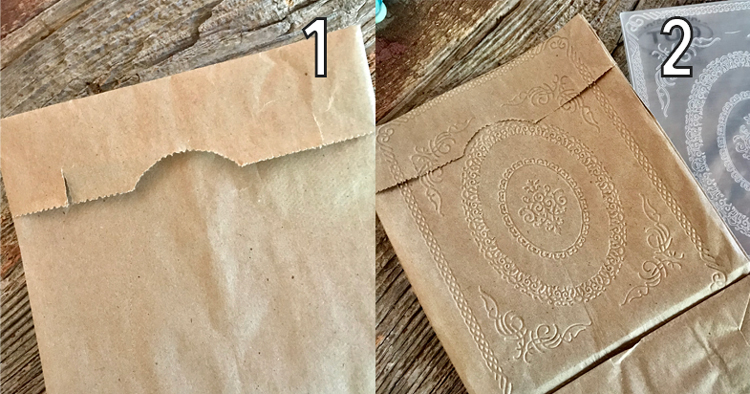 Using Heavy Weight (66 lb.) Bags  – Lightly Mist the Paper: I have a fine mister. I found that 3-5 squirts of water on each side was good for moistening the bag. (1) TIP: Make sure you move the spritzer around. Don't just spray on one area of the bag. You want it slightly damp, not dripping wet! It can tear if too wet. It dries in just a few minutes. (2)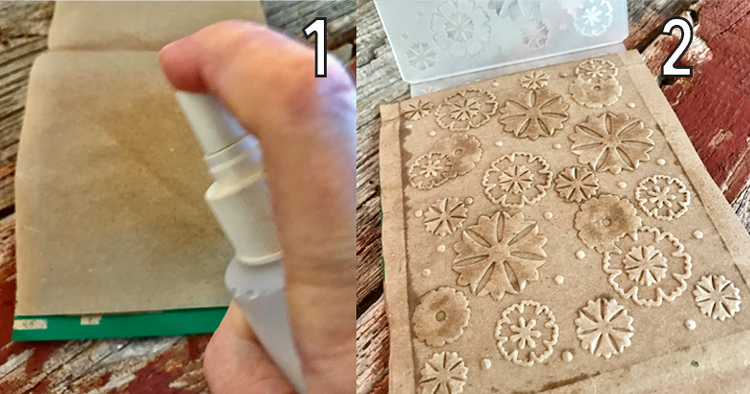 The embossing is really deep on the heavy weight bags!! YUMMY!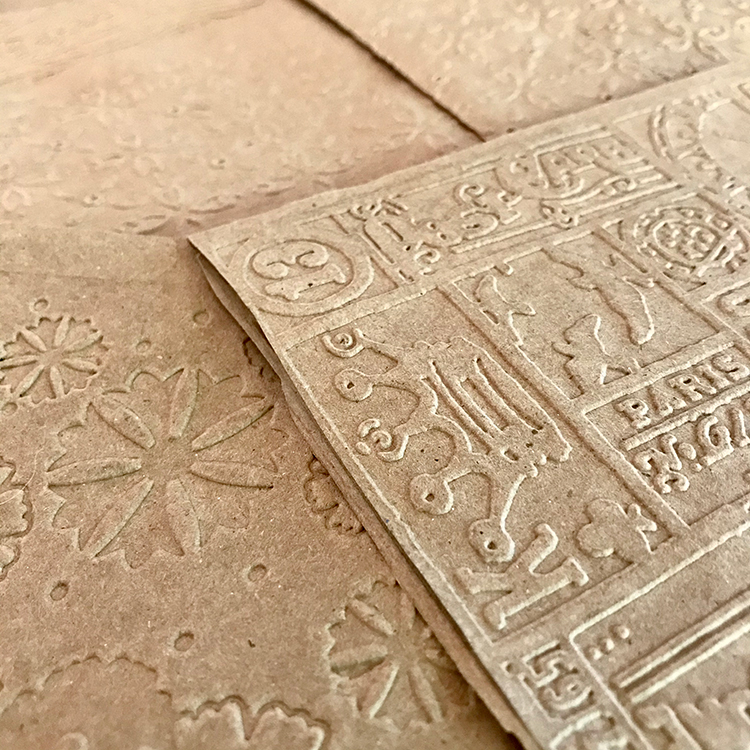 Embossing Brown Paper Lunch Bags – Step-by-Step Directions
Step 1 – Place the Embossing Folder Around the Bag: Carefully place the folder over the bag in the configuration you prefer. TIP: Make sure that the pattern will be straight on the bag. A wonky pattern does not look so good.
Step 2 – Place the Bag and Folder on the Plate: Lay the bag and folder into an embossing folder and close it. Once the folder is closed around the bag it can still slip around! ARGHHH! Just be careful as you place it between the plates for your machine. Place it between the correct layers of acetate and run it through your Embossing Machine. It can be fussy to get it aligned straight. TIP: Keep your eye on the sides of the bag as it rolls through the machine. If the bag is not straight on the acetate, it will not look good.(photo left) There are so many different machines out there today. I have a Sizzix® Big Shot Pro, a CuddleBug®, and Sidekick®. Others are Gemini, Anna Griffin, Tim Holtz, Spellbinders, and Evolution, to name a few.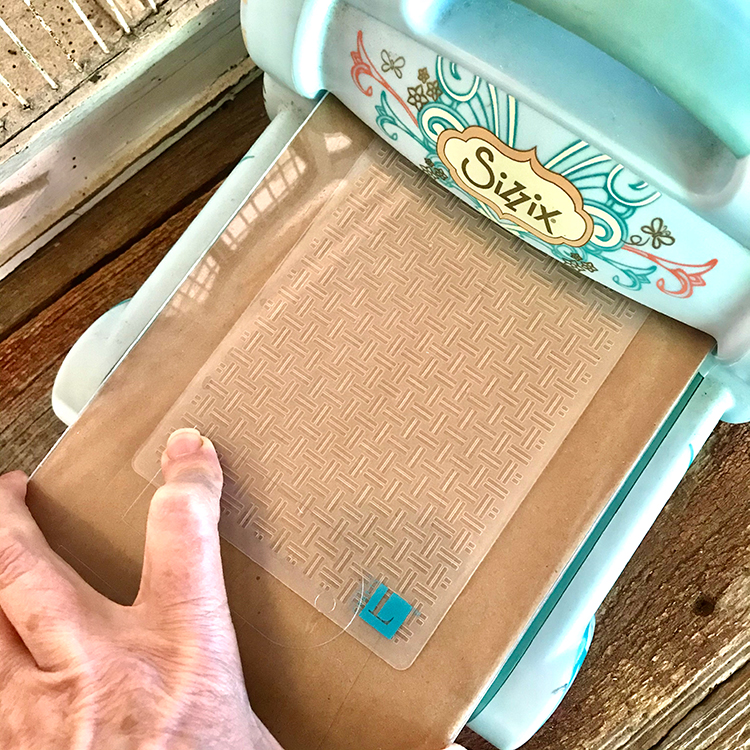 Step 3 – Remove Folder: Open the folder and check to ensure that everything looks good. Hopefully it will be straight. A few wrinkles on the bag are normal as you see at the bottom of the photo.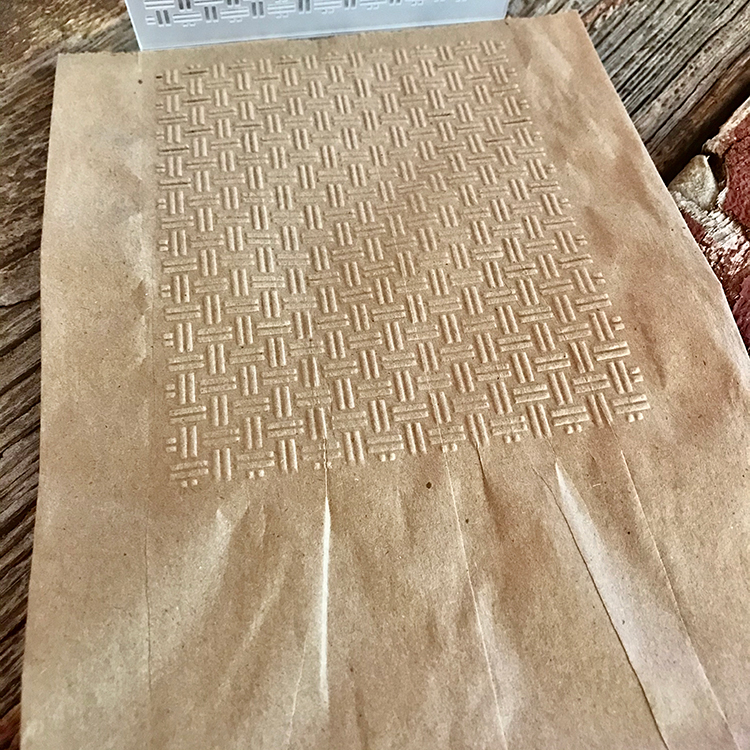 Letters and words emboss beautifully as well.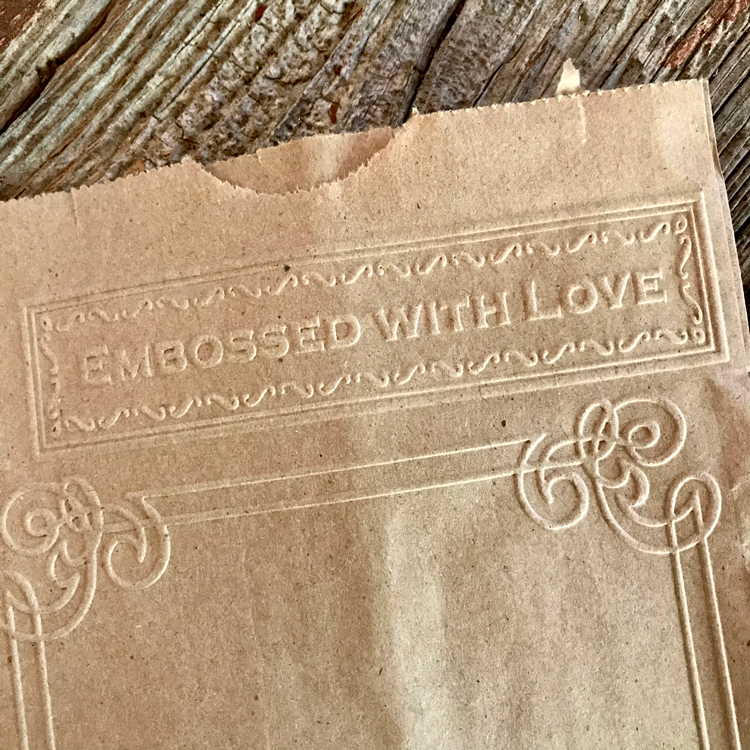 Finishing Options
When you finish embossing the bag, you can stain, paint, distress (age), ink, or leave it as is. It's up to you. Here are a few examples: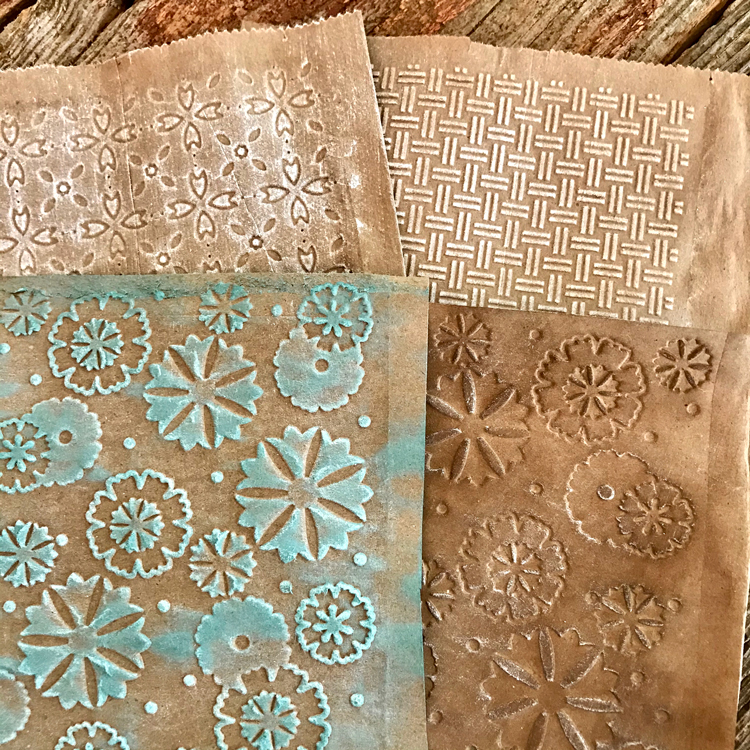 I hope that you had embossing decorative brown paper bags with me! When I am not exploring with new and old Techniques for Mixed Media in my Graphics Fairy sandbox, I also create Photoshop Elements tutorials and craft project videos over on The Graphics Fairy Premium Membership site. You can find even more of my books, junk journals, mixed media art, classes, and whimsical shenanigans on Rebecca E Parsons Dot Com.