How to Emboss Aluminum Foil
Hello my sweet paper crafters. It's Rebecca E Parsons here today with another fun and fabulous Mixed Media technique tutorial – How to Emboss Aluminum Foil! I love taking an ordinary household item (good old kitchen foil / aluminum foil / tin foil) and turning it into something beautiful for our junk journals, books, handmade cards, scrapbooking pages, and the paper crafts that we love here on The Graphics Fairy.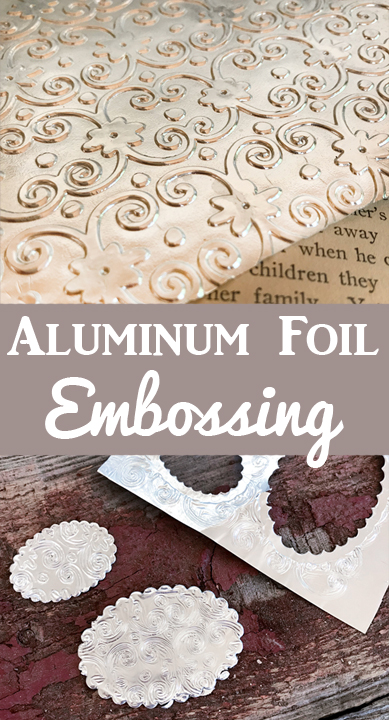 Beautiful Aluminum Foil
Embossing adds a lovely textured effect to any craft project. Embossing aluminum foil brings a sparkle and shine that is just delightful! Who knew that a utilitarian household staple could be so beautiful? It is another of those techniques that you really must do yourself to believe. This simple kitchen item, embellished with an embossed pattern, is simply gorgeous. The foil molds easily to the embossing folders if you follow a few simple steps. Let's find out how.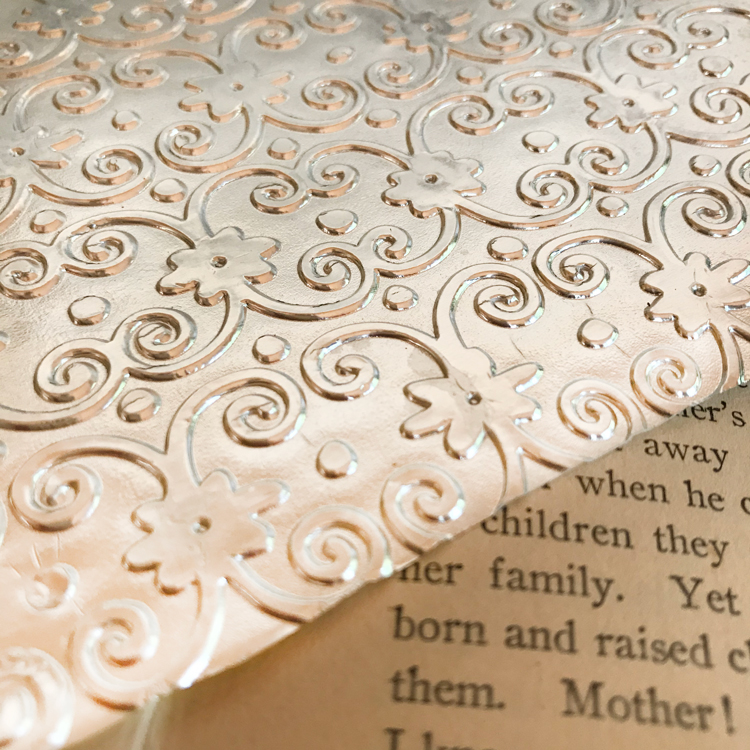 Materials
Aluminum Foil
Index Card
Spray Adhesive
Embossing Folders – All seem to work
Embossing Machine
How to Emboss Aluminum Foil Step-by-Step Directions
A word about foil. I assume that any brand will work. For this article, I used heavy duty aluminum foil that is 18″ wide. I tested a variety of layers of the foil to find which works best for my crafting needs. I share this below. The foil has a shiny side and a dull side. You can choose whichever one you prefer. I created all of my samples with the shiny side out.
Step 1 – Prep the Foil: Tear off a sheet of foil a little wider/taller than your embossing folder. Trying to get it the same size is a waste of effort. You can trim it to fit after embossing. Any size that fits your embossing folders and your machine is fine. Use your own judgement for fit.
Step 2 – Layering the Foil: I found that four to eight layers of the heavy duty foil was ideal for my projects. I just folded the 18″ strip of foil in half three times to get the eight layers. I encourage you to try between four and six layers to see what works best for you. TIP: You can try a single layer as well, but the embossing will flatten out without much pressure and it is difficult to handle. If you wanted to use it on a greeting card for instance, I would use 8 layers because it will be handled a lot and inserted into an envelope. I would hate for it to arrive at its destination and be squashed! YIKES!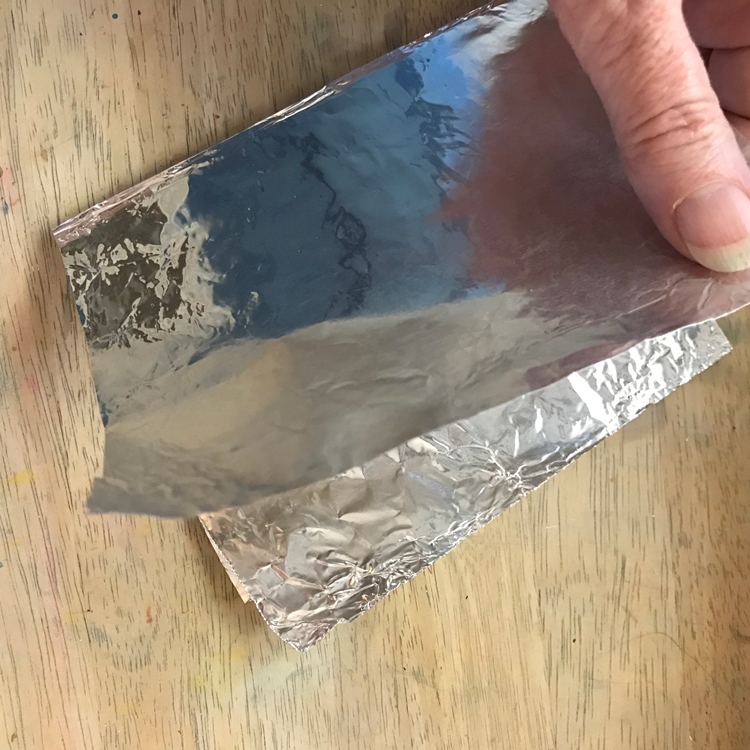 Step 3 – Embossing: Carefully place the layered foil into an embossing folder and close it. (photo left) It can be fussy to get it aligned. The foil moves on you. It does not matter if there are some wrinkles, as these press out in the embossing process. Once the folder is closed and the foil is secure, place it between the correct plates for your machine (photo right) and run it through your Embossing and Die Cut Machine. There are so many different machines out there today. I have a Sizzix® Big Shot Pro, a CuddleBug®, and Sidekick®. Others are Gemini, Anna Griffin, Tim Holtz, Spellbinders, and Evolution, to name a few.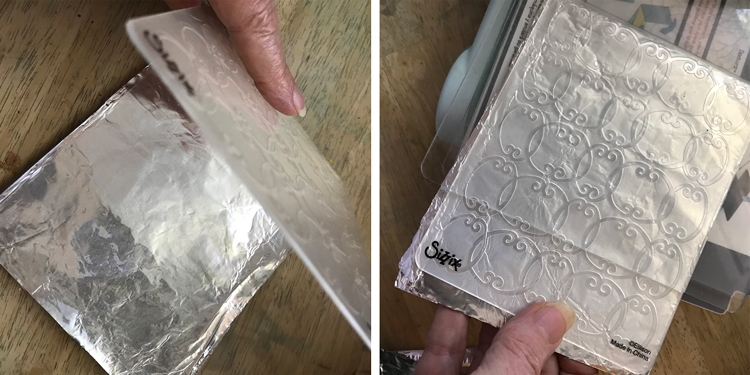 The 8 Layers of foil embossed beautifully. You can see the embossed side at top left and the debossed side at top right. The bottom photo shows how it comes out of the machine.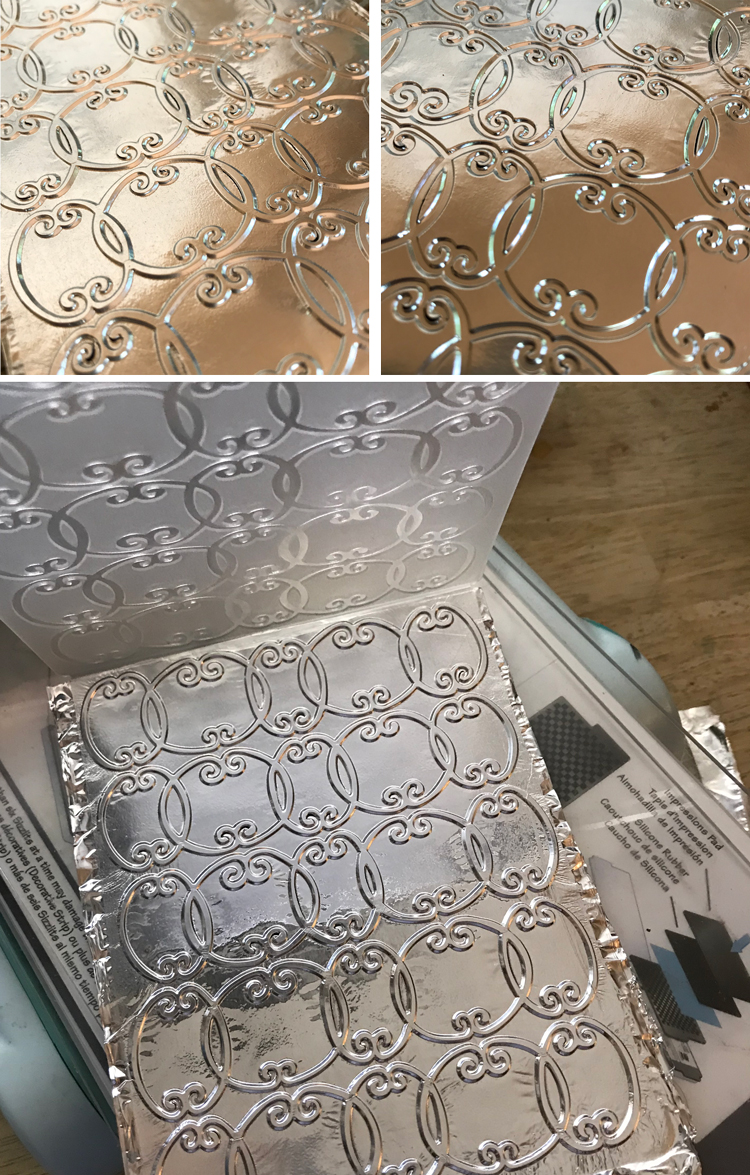 Letters and words also emboss beautifully, as you can see in the example below.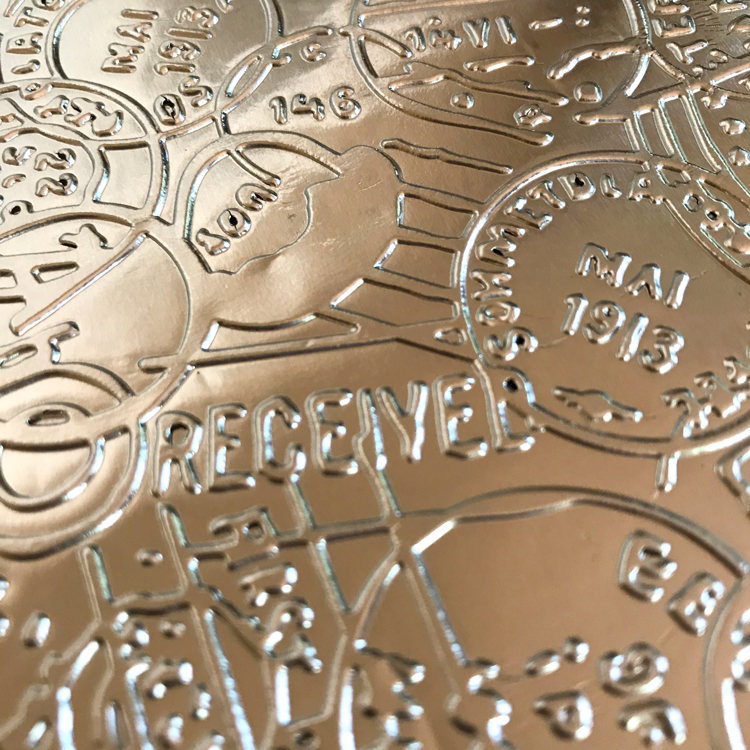 Embossing with an Index Card Backer
I also tested using a single sheet of foil with a large index card as a backer. I wanted to see if there was a way to use less foil and still achieve a nice result.
Step 1 – Prep the Foil: Cut the sheet of foil a little larger than your index card. You can use a piece of cut cardstock if you don't have an index card. Paper does not work with this technique.
Step 2 – Attach the Foil to the Card: Use a light mist of spray adhesive to the index card and attach a single layer of foil. (photo left) Wrap the foil to the back of the card. (photo right)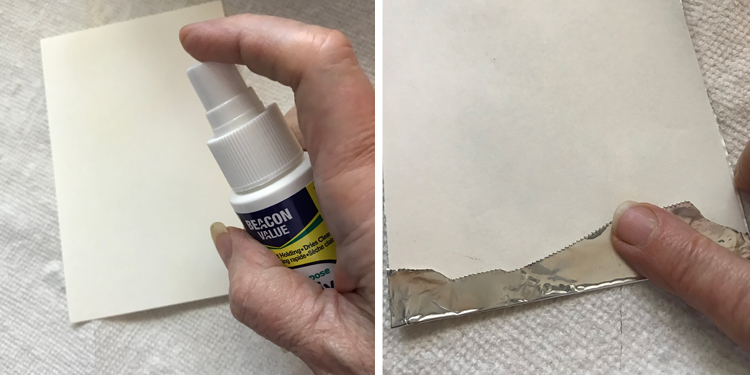 Step 3 – Embossing: Lay the foil covered index card into an embossing folder and close it. Place it between the correct plates for your machine and run it through your Embossing and Die Cut Machine.
The foil embossed beautifully as you can see below. The top left image is the embossing up close. The top right shows the index card backer is embossed as well. The bottom image is how the foil wrapped card looks when the embossing folder is opened.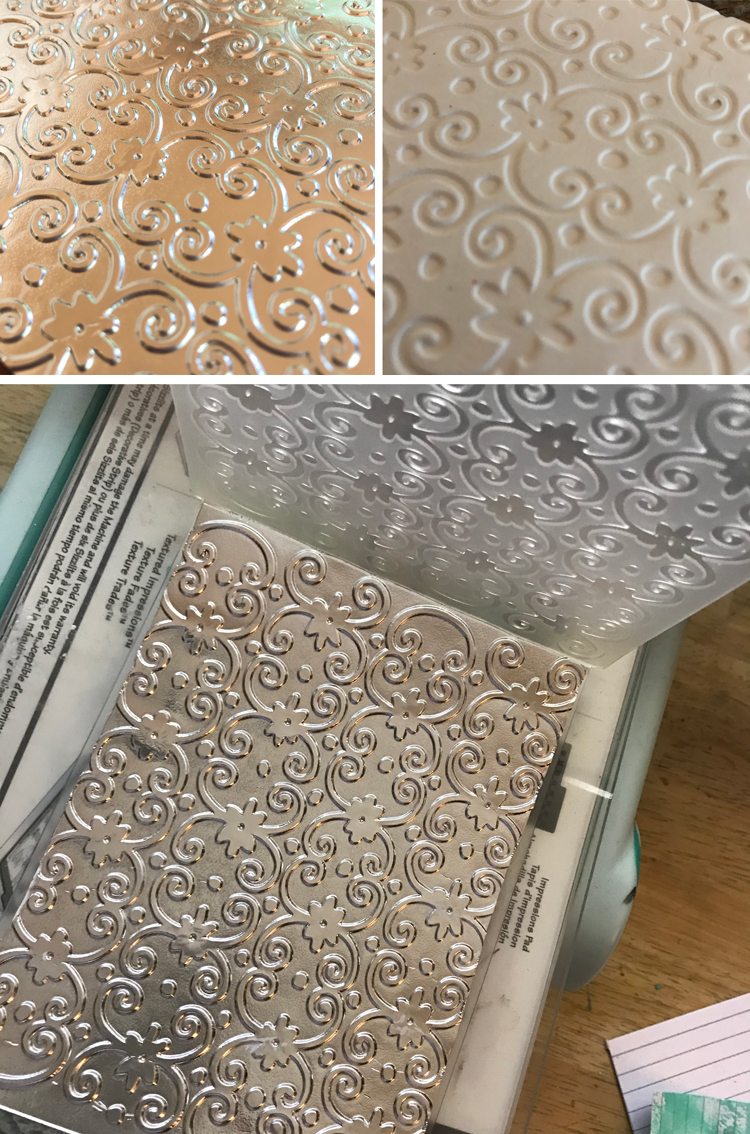 Embossing without a Machine
Did you know you could emboss with a rolling pin? Yep! I showed you how to do this in a previous tutorial where I embossed Toilet Paper. Check it out. It works almost as well, depending on how strong you are!
Finishing Options
When you finish embossing the foil, you can punch it, die cut it, framelit it, and more. I loved die cutting it as is seems to squish the edges together for a beautiful finish. TIP: Don't throw that outside piece away. It can be used to embellish as well!!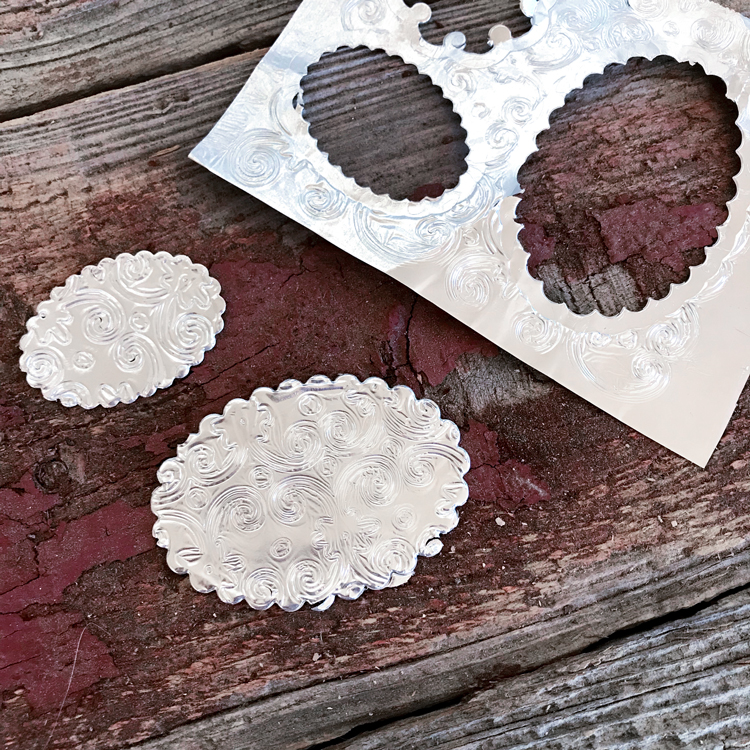 You can also stain, paint, distress (age), and ink these little gems if you like. I found that alcohol inks work best for this. (I chose red since it would show up best in photos, but I love the results when applying a sepia or walnut stain.) Just apply them by rubbing with your finger after you drop a few drops of the ink on the foil. You see the stunning results at right below.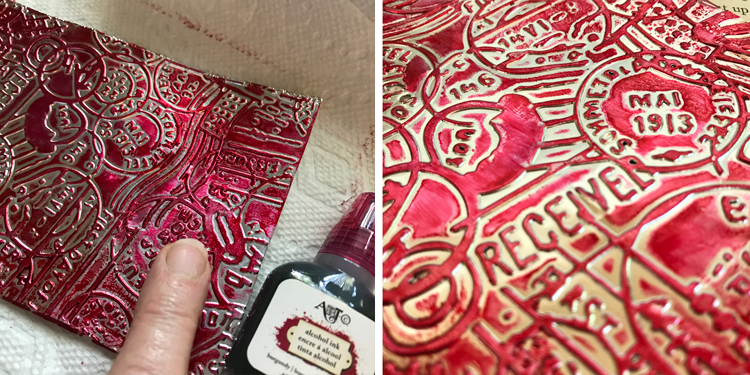 I hope that you had fun learning How to Emboss Aluminum Foil with me!! When I am not exploring and experimenting with old and new Techniques for Mixed Media in my Graphics Fairy sandbox, I also create Photoshop Elements tutorials and craft project videos over on The Graphics Fairy Premium Membership site. You can find even more of my books, junk journals, mixed media art, classes, and whimsical shenanigans on Rebecca E Parsons Dot Com.