Farmhouse Junk Journal
Hi guys, we're back again this week with another one of our Design Team members… This week Cheryl, from A Penchant for the Past, is here to share her lovely Journal project with you! Each week we are featuring another Junk Journal, created by one of 5 artists on our new Design Team. Each of the designers has been asked to use images from our Premium Membership Site, to inspire you in your own journal work. There is a video tour at the bottom of the page, so make sure you scroll all the way down to see it. Are you ready to be inspired?!
And now I will let Cheryl tell you about her wonderful creation in her own words…
Hello everyone, my name is Cheryl Carpenter, from A Penchant for the Past. I've been a member of The Graphics Fairy's Premium Membership Site for years and absolutely love it! I was beyond excited to receive an invitation to join their Junk Journal Design Team. For the next 6 months, I will bring you an antique-inspired junk
journal that uses graphics from the past that I have personally selected from The Graphics Fairy's Premium Membership Site and from my own personal collection. I truly hope with each journal I share you will find some useful ideas you can use in your own journal creations.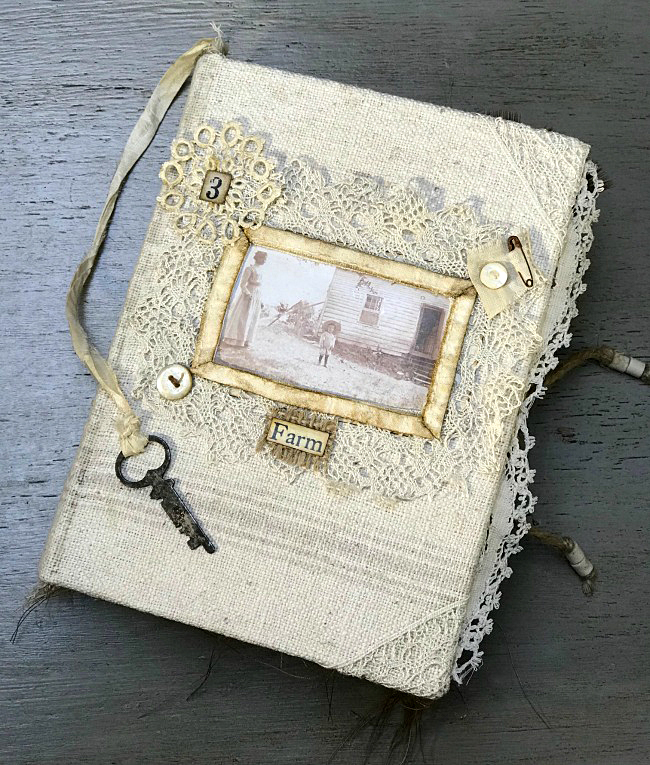 Let's begin by taking a closer look at the junk journal I've created for September's Design Team Project. This one I'm calling it "The Farmhouse Journal." I've constructed the cover by repurposing a vintage book cover, and inn keeping with the farm theme, I covered it with an antique grain sack. Since the grain sack was well used over the years I did launder it before adhering it to the book cover.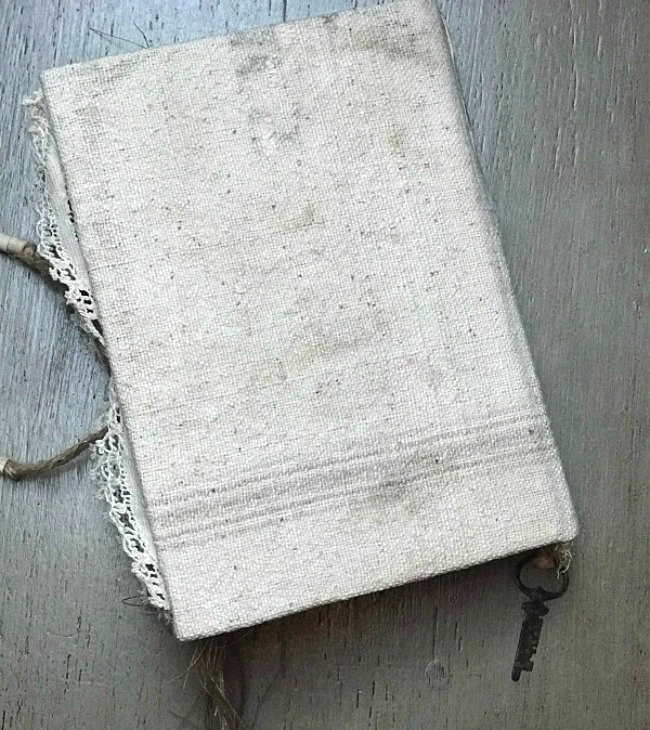 Although there are permanent stains on the back cover I think it gives this journal a more authentic antique look. The antique photo I used on the front cover depicts a woman peering out of an old screen door into the yard at her daughter and grandson. This image is from my own personal collection, and I thought it was absolutely perfect for the cover.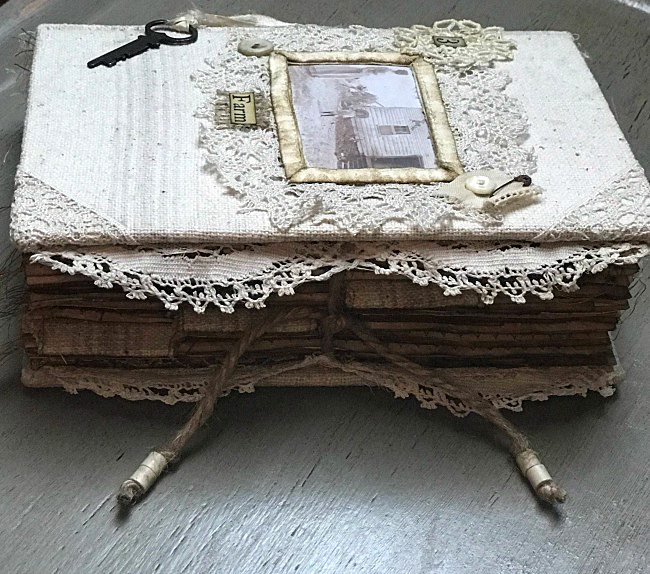 I've used vintage lace, antique buttons, and a rusty safety pin just to name a few of the embellishments. Also, just so you don't lose your place while journaling I've attached a sari silk bookmark at the spine with a flat antique key dangling on the end. Since the journal might begin to have growing pains I've added a tie
closure made from jute twine and antique porcelain beads adorning the ends.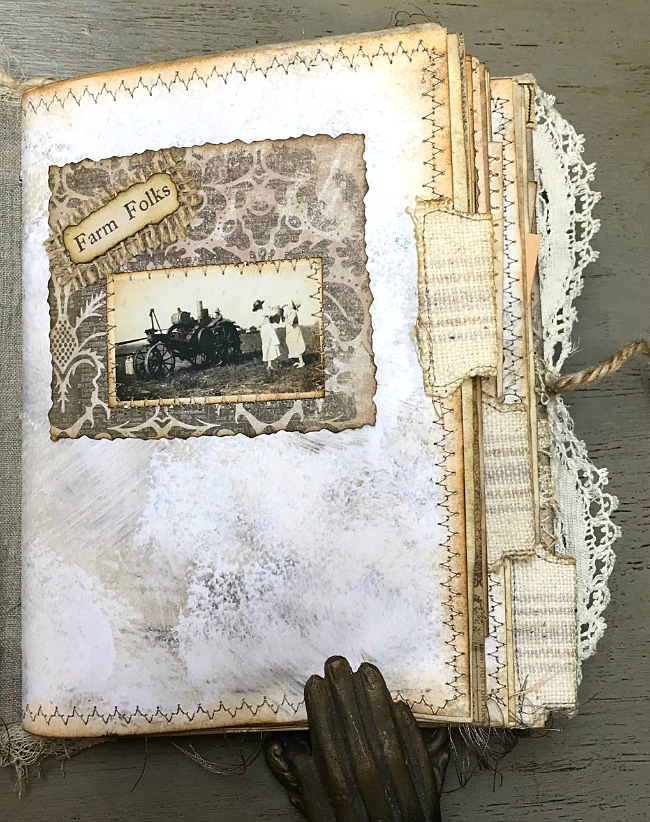 This journal has four signatures each with its own unique farm theme collage or photo on the covers, and to make them easier to find I've added a grain sack tab to each of them. Inside of the journal you will see I've used a variety of new and antique papers throughout the journal.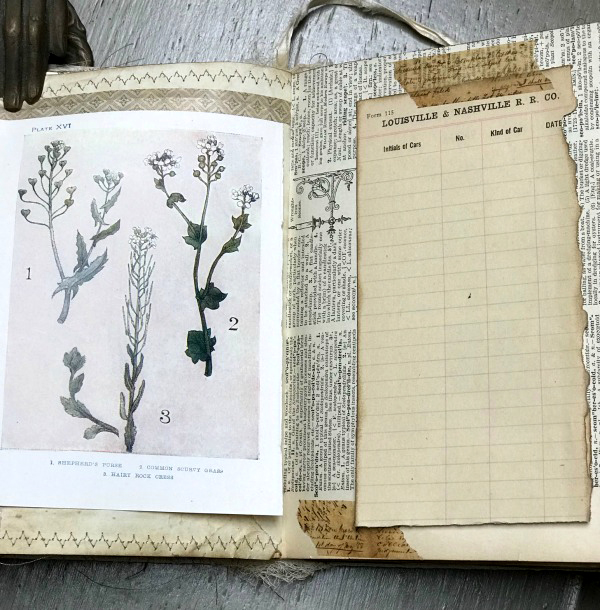 The antique book pages I've used consist of dictionary, music, botanical, cookbook, ledger and even a railroad log page.
The new paper are a collection of designer scrapbooking paper and printer paper, which are all sewn and heavily aged.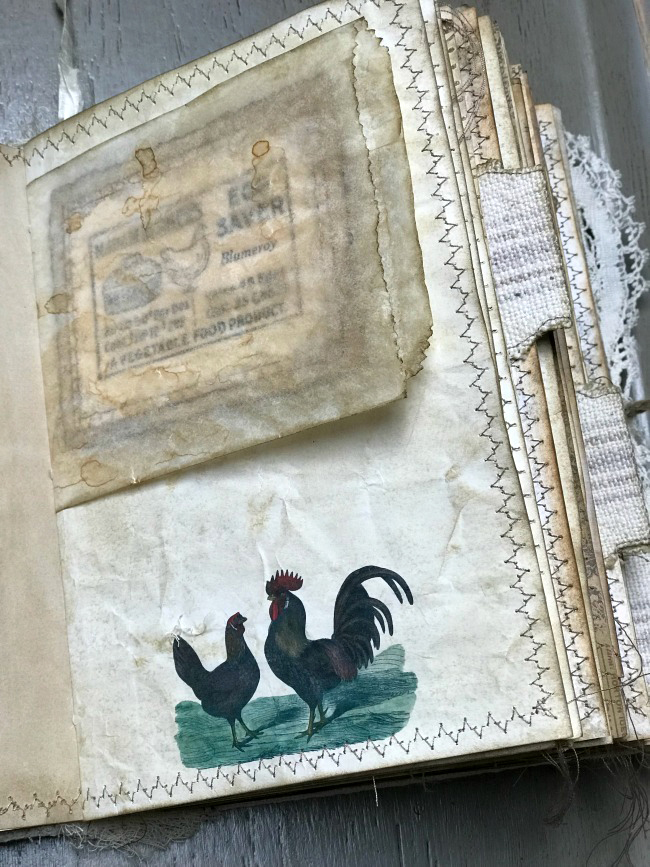 I've embellished some of the journal pages with some digital stamping using farm animal graphics. I, then, printed the pages out on sewn, crumpled, coffee-stained paper. A little tip, if you ever attempt to print on coffee stained paper, which is crumpled iron it out a little bit before printing; otherwise, it may get jammed in your printer. I was being lazy the other day and didn't follow my own advice and ruined a brand new printer, but luckily it wasn't a very expensive one.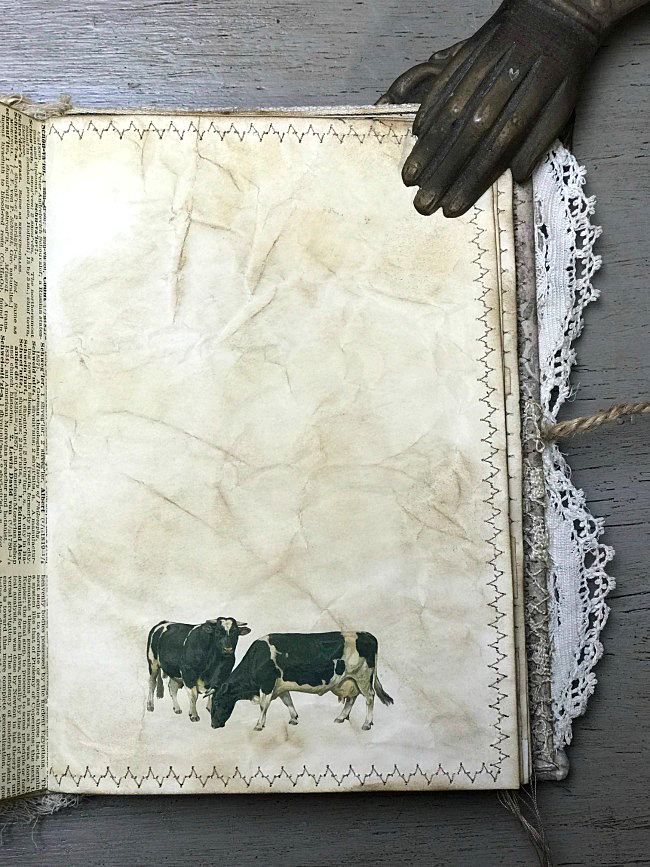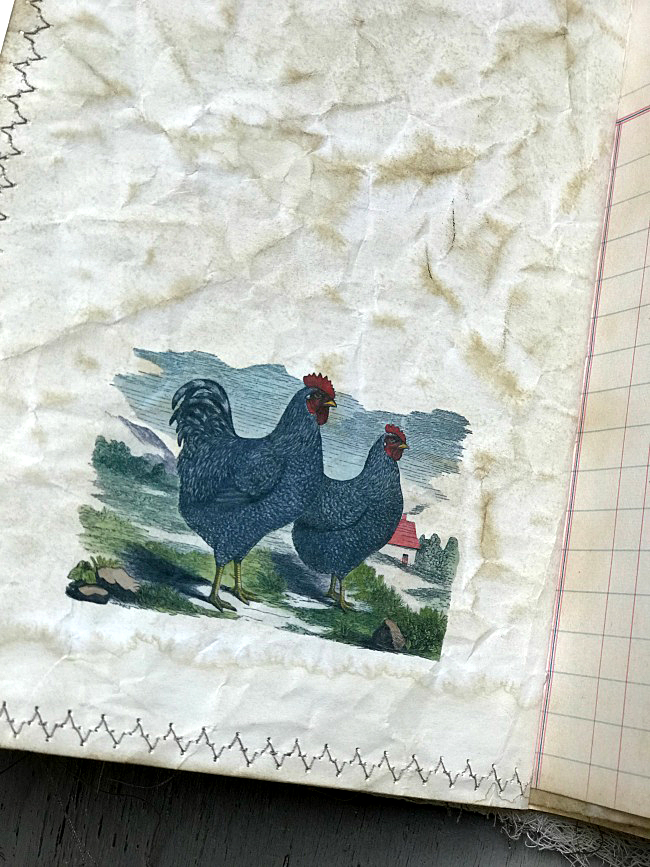 The animal graphics I used to do the digital stamping were selected were from the Farmhouse Style and Rooster-and-Hens Bundles from their Premium Membership Site.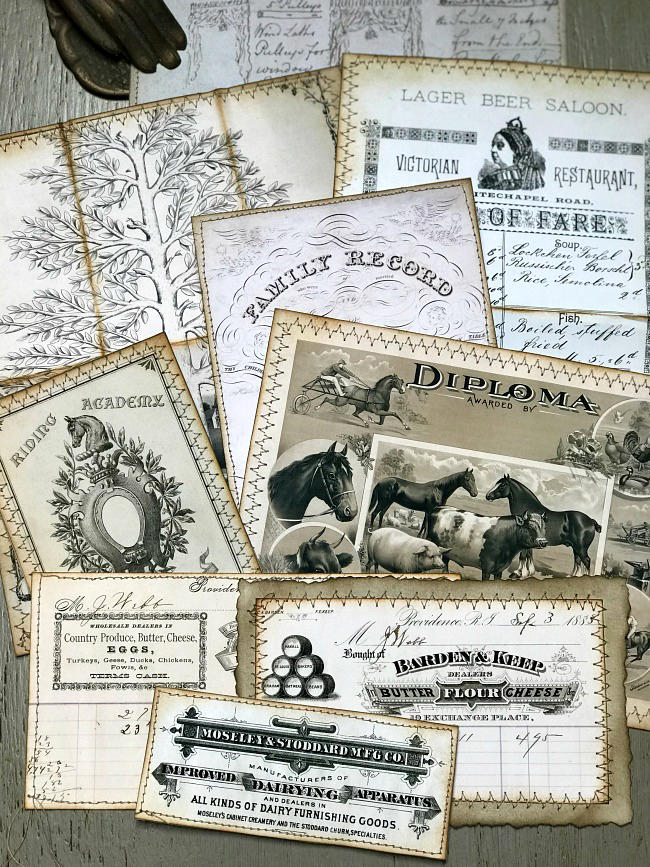 The ephemera I used throughout the journal are documents I think you might find stashed away in a farmhouse journal. From a family tree, a genealogy page to receipts from the local mercantile and that memorable meal with a loved one at a nearby pub. For those horse lovers, I've added a couple horse related ephemera pieces. All of the ephemera are sewn onto heavily aged paper to give them a more believable antique look. The great thing about adding ephemera pieces to a journal is they are moveable and are great for recording additional entries where you might have run out of journaling space on a page.
Farmhouse Junk Journal Video Tour Below: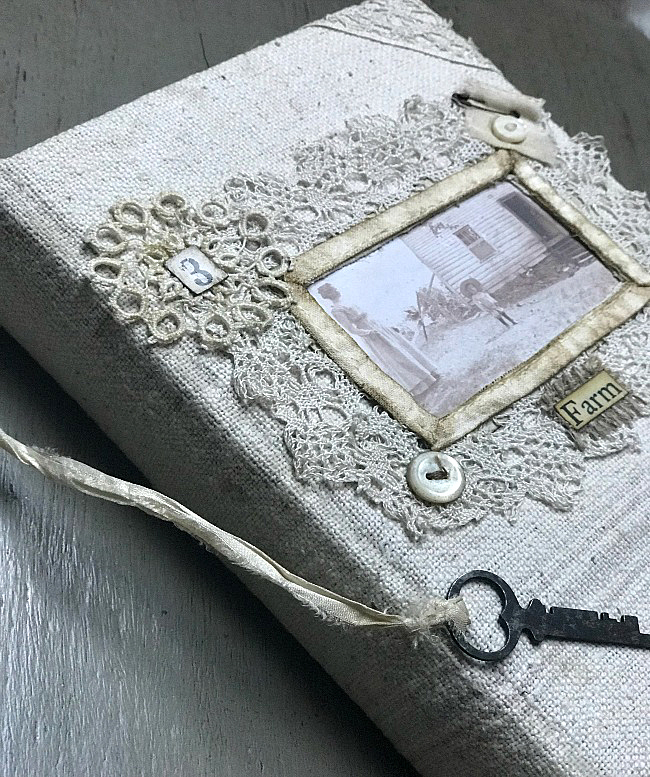 The inspiration for this journal began with two items the grain sack and the photo on the cover. I knew these two items had me off to a great start in creating this farmhouse junk journal, but what really finished it was all the wonderful antique graphics I was able to find on The Graphics Fairy's Premium Membership Site. If you haven't checked it out already please do you won't be disappointed. I really appreciate you taking the time today to check out my first Design Team Project. If you have any questions I would be happy to answer them. I've added a link below so you can easily find me. I will be back the same time next month to share yet another junk journal,so until then have a wonderful month!
https://linktr.ee/apenchantforthepast
Cheryl