Faux Encaustic Technique
This Faux Encaustic Technique is so magical! I can't wait to share it with you…. Hello my Fabulous Graphics Fairy Friends! It's Heather from Thicketworks. I've been experimenting again…and this fun faux encaustic technique is the result. Let's find out how simple it is to create a multi-layered and mysterious Mixed Media artwork using Graphics Fairy images…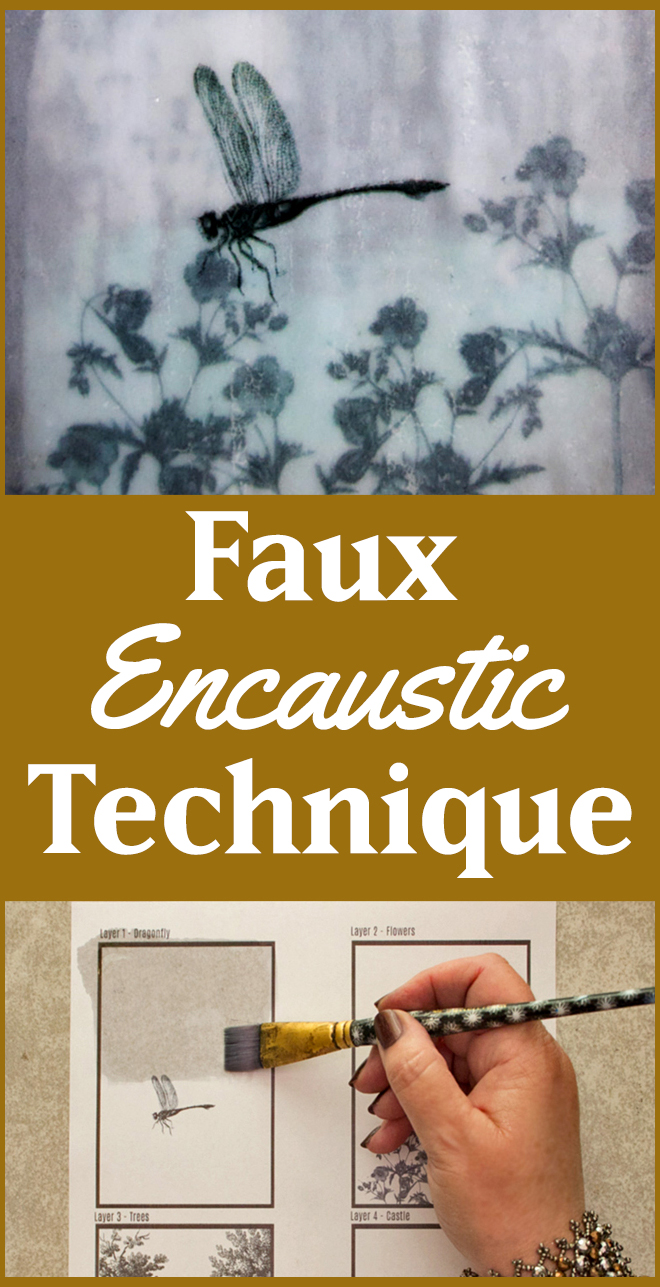 This technique is an elaboration of the DIY Vellum Technique I recently developed. If you haven't explored that yet, you can find out all about it here: DIY Vellum Technique
We'll be adding a total of 4 layers of graphics to achieve the atmospheric and romantic feel of an encaustic painting!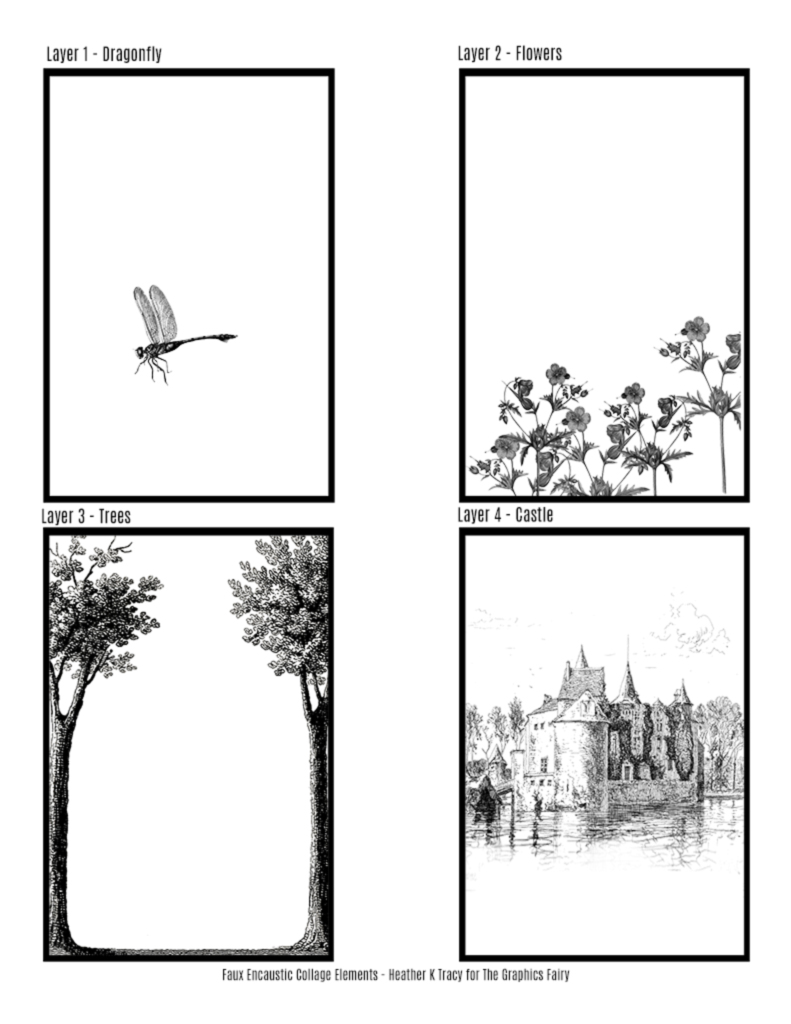 You can click on the image above to download your Free Printable! 
(feel free to resize the images to fit your needs)
Graphics Fairy Source Images:
If you would like to experiment with the Faux Encaustic Technique, here's what you'll need to create your layered Mixed Media Art…
Supplies:
Several images printed on plain old printer paper & sized to layer nicely together (inkjet or laser prints are fine)
Baby Oil. Yep – other oils may work, but the light consistency and pleasant scent make this my first choice.
A Paint Brush
A clean absorbent cloth
A Heat Tool
Gelatos or other 'blendable' media
Water (for blending the Gelatos)
Scissors or a Paper Trimmer
A sharp Craft Blade
Metal Ruler
A non-porous work surface (think glazed ceramic tile or sheet of sturdy glass)
Optional:
A 3″ x 4.5″ Matte or Picture Frame
How to employ the Faux Encaustic Technique:
Make sure you are working on a clean, non-porous work surface – (one that can handle having a craft blade drawn over it)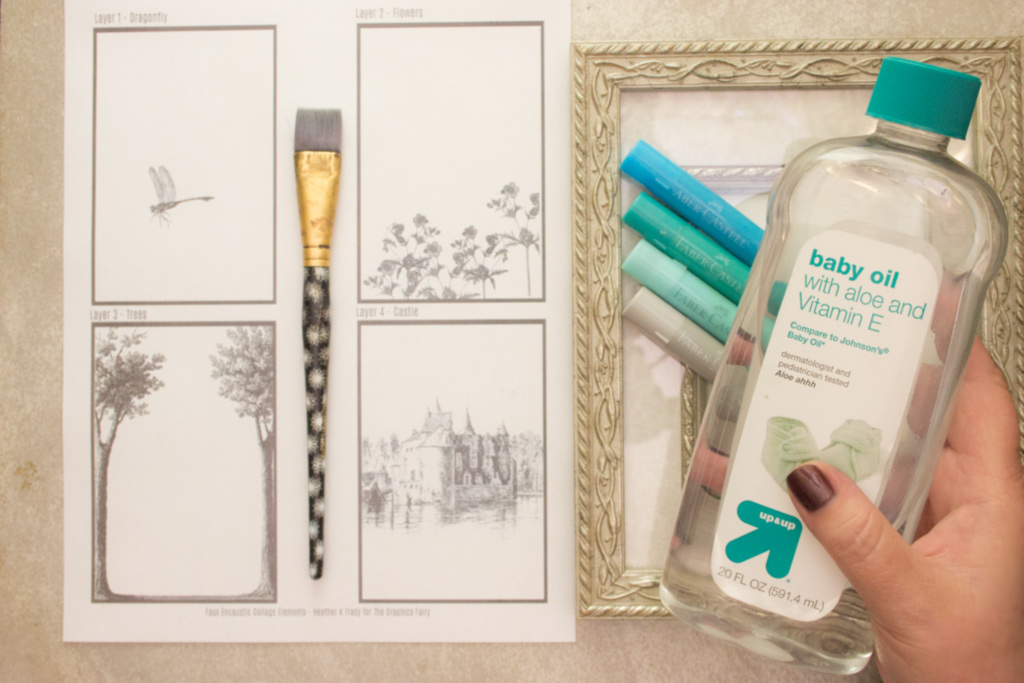 Paint the surface of your printed graphics with Baby Oil.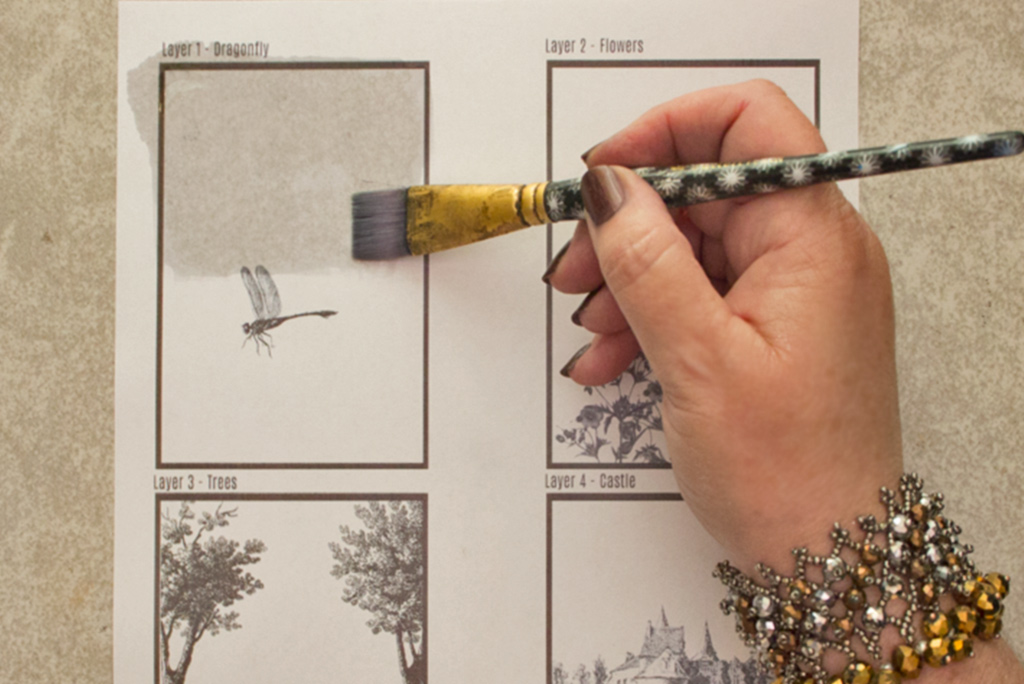 Continue until you have coated all four images.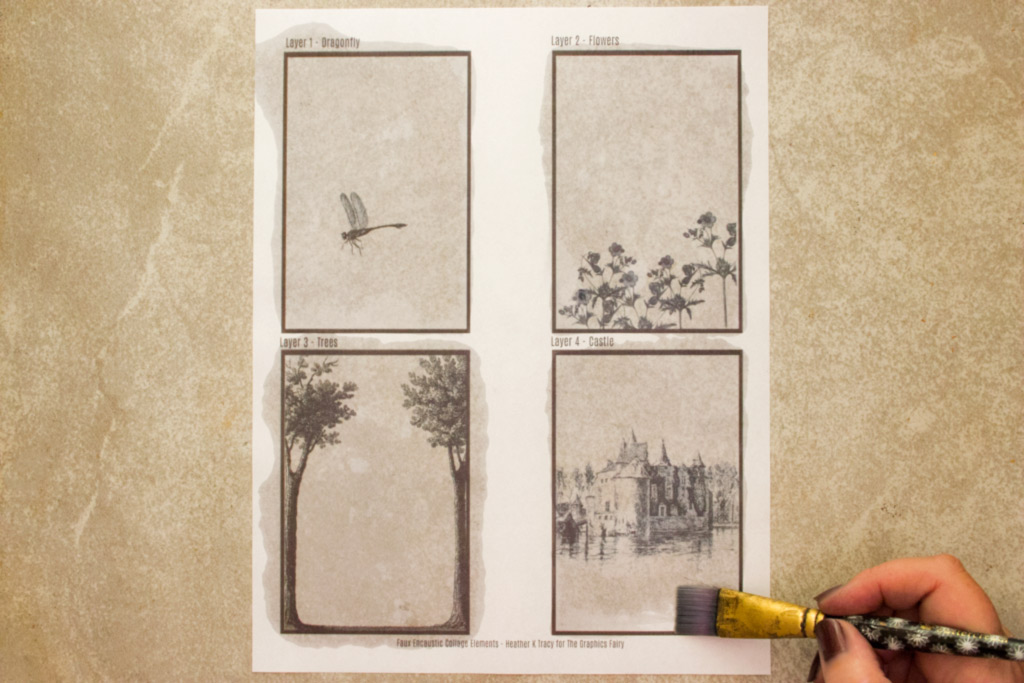 Wipe away the excess oil from the front and the back of your print. You'll want to clean the work surface, as well.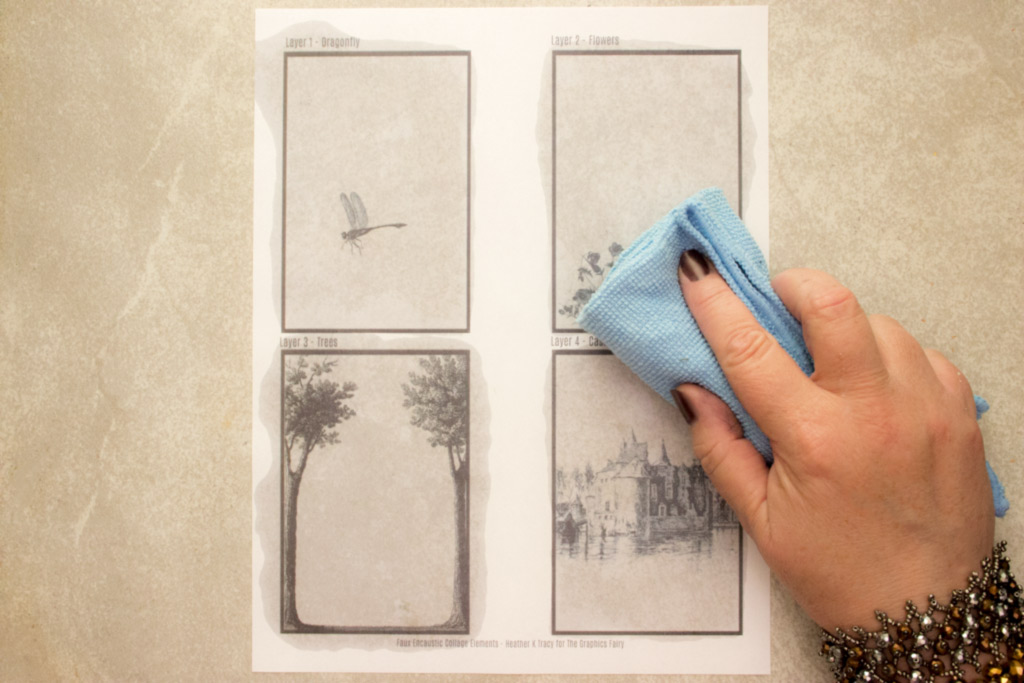 Select a misty color of Gelato, and scribble a light & loose border around the Flowers Image.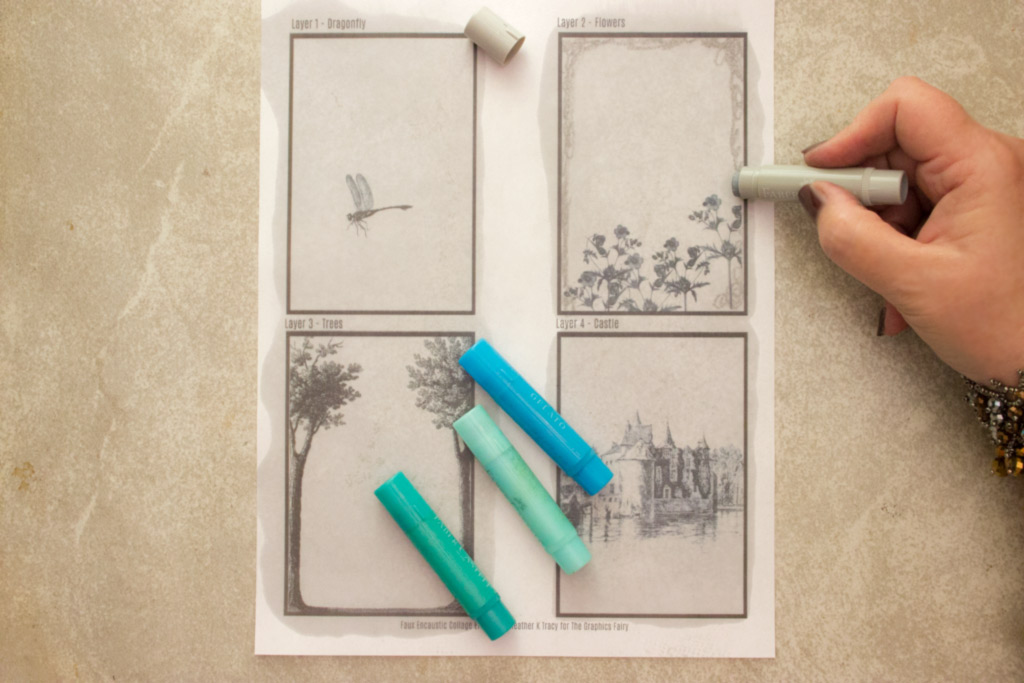 Dip your finger in water, and gently blend the color until it becomes smooth and very subtle.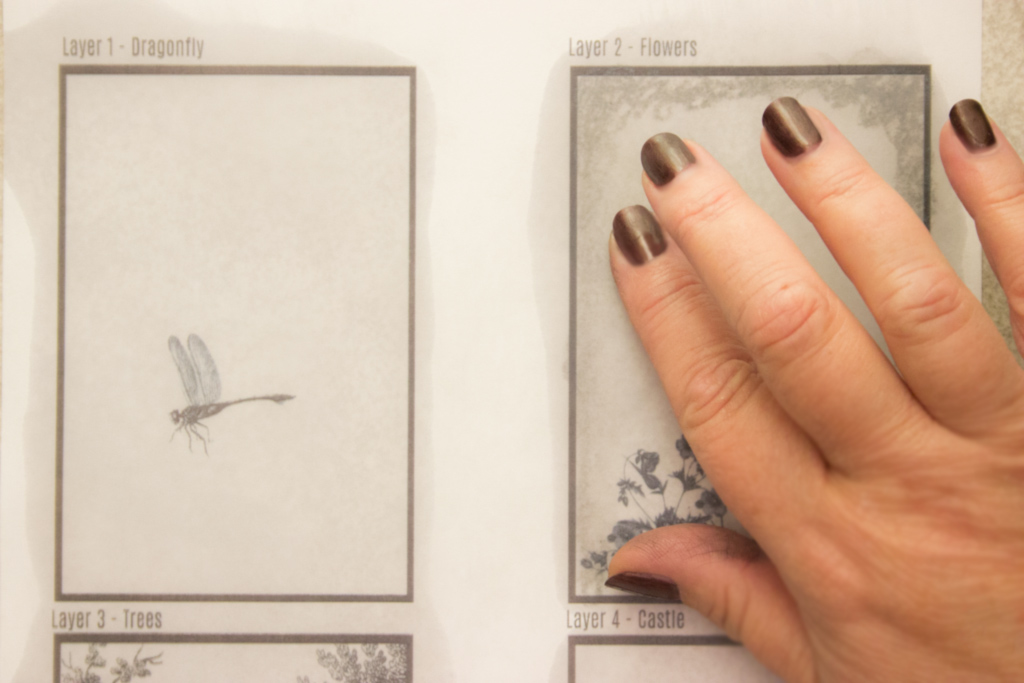 Next, grab a couple of shades of blue, and scribble a loose 'sky' on the Castle Image. Add blue and green scribbles to the watery reflection.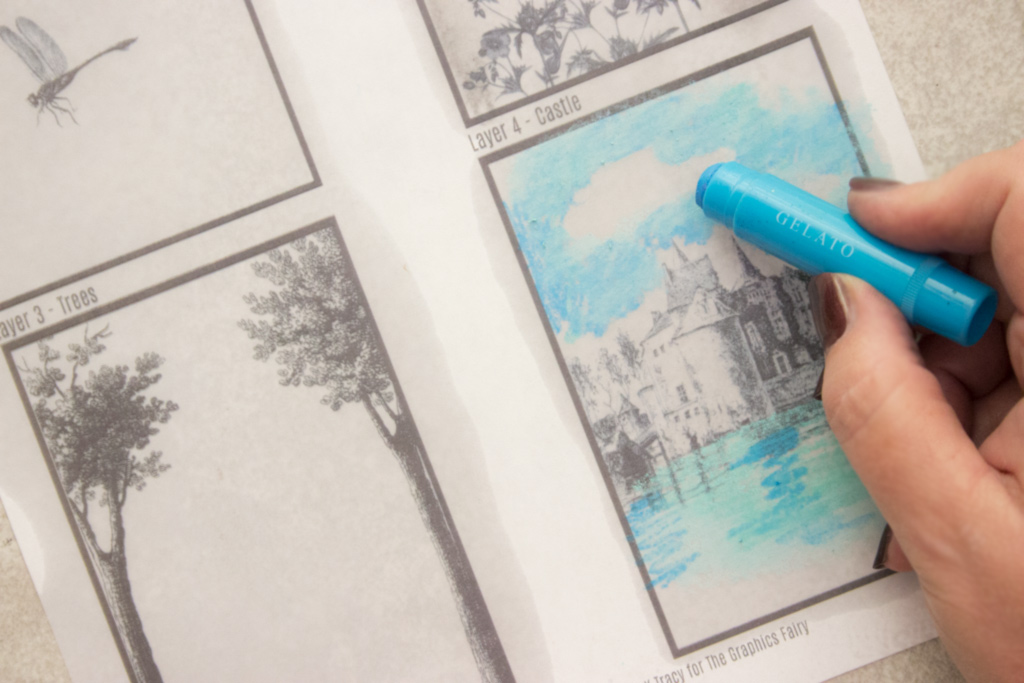 Gently blend with your fingertips to create a softly romantic effect.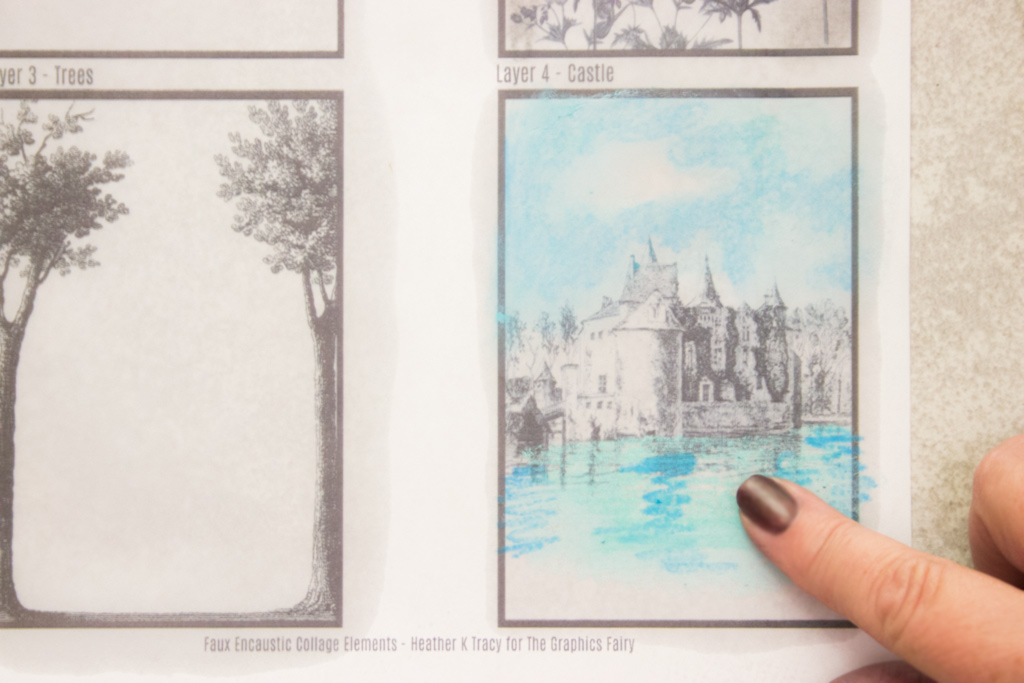 Use a Heat Tool to evaporate any remaining moisture from the paper.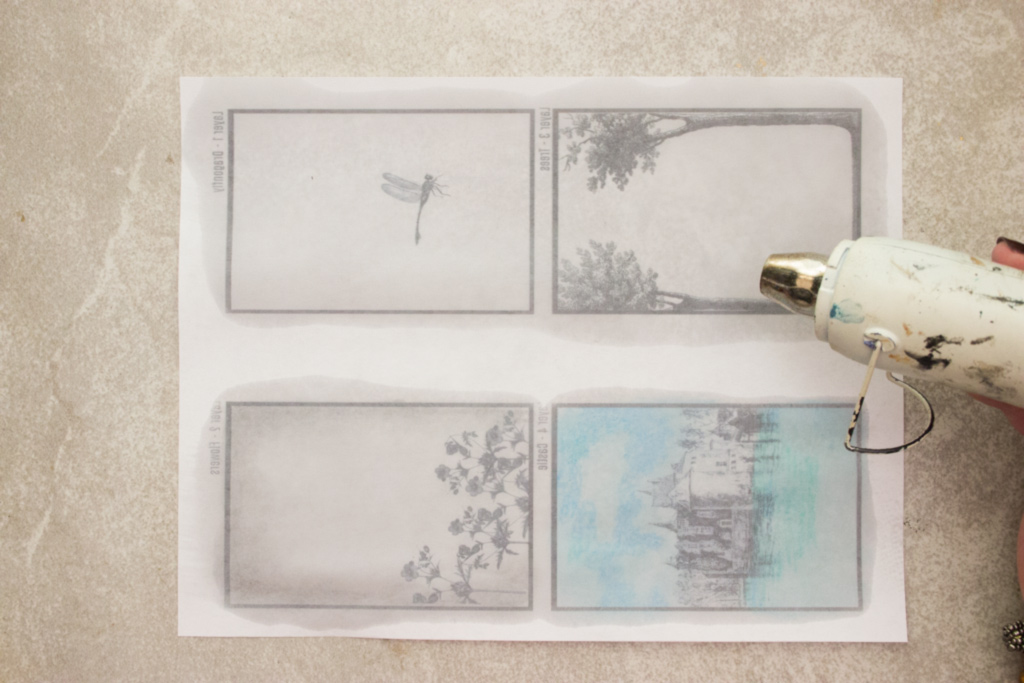 Trim the images along the borders.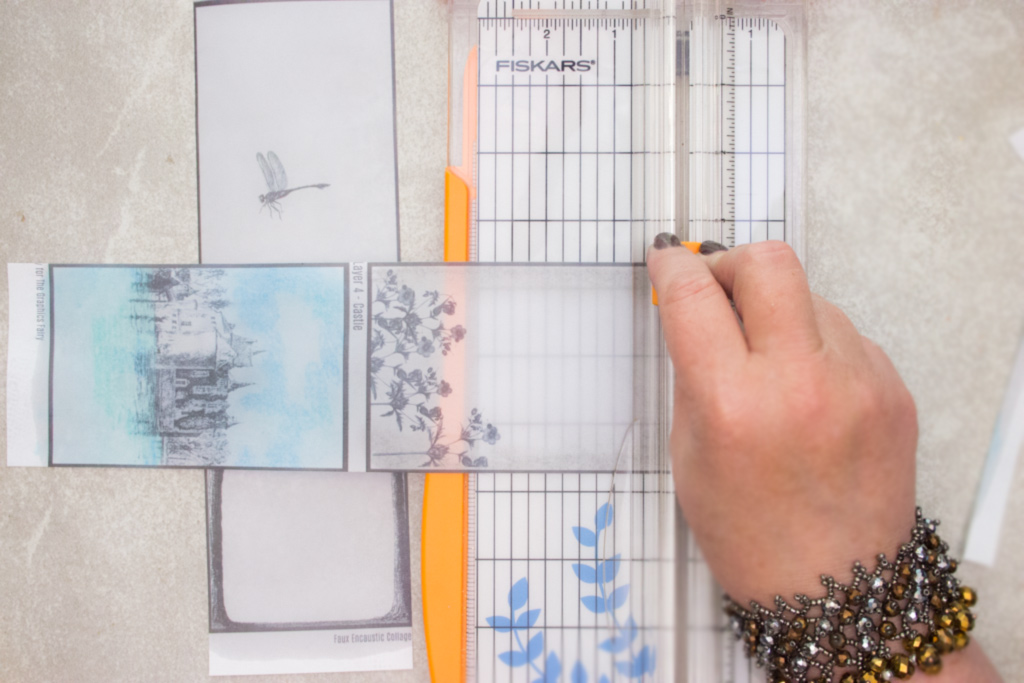 Here's how they will 'stack' up, from bottom to top:
Castle
Trees
Flowers
Dragonfly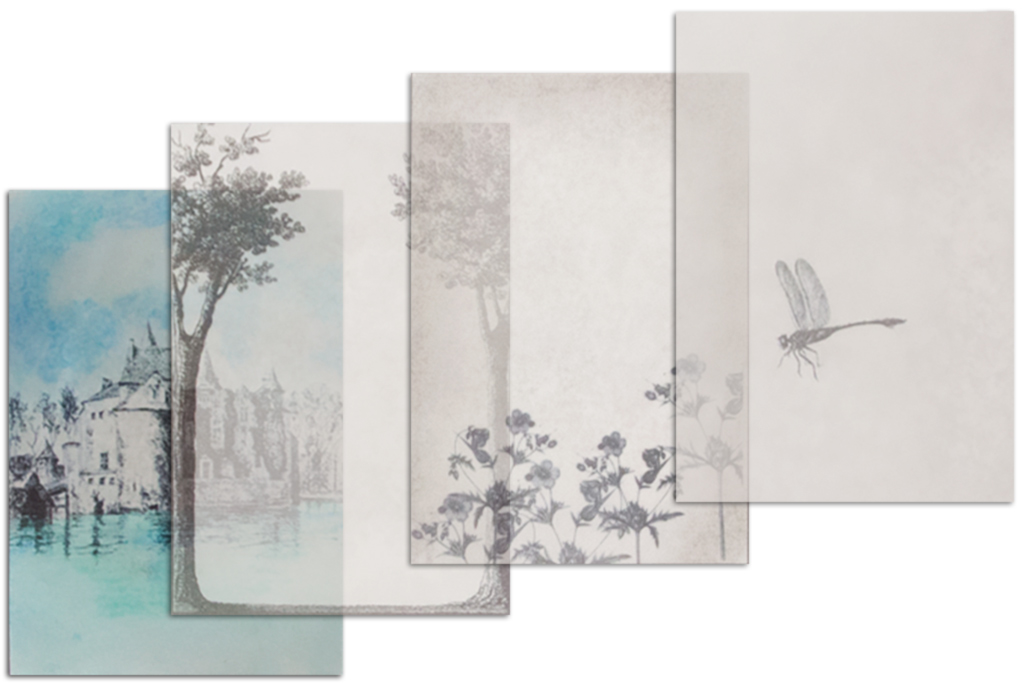 Place the Castle Image onto a smooth, clean, non-porous surface.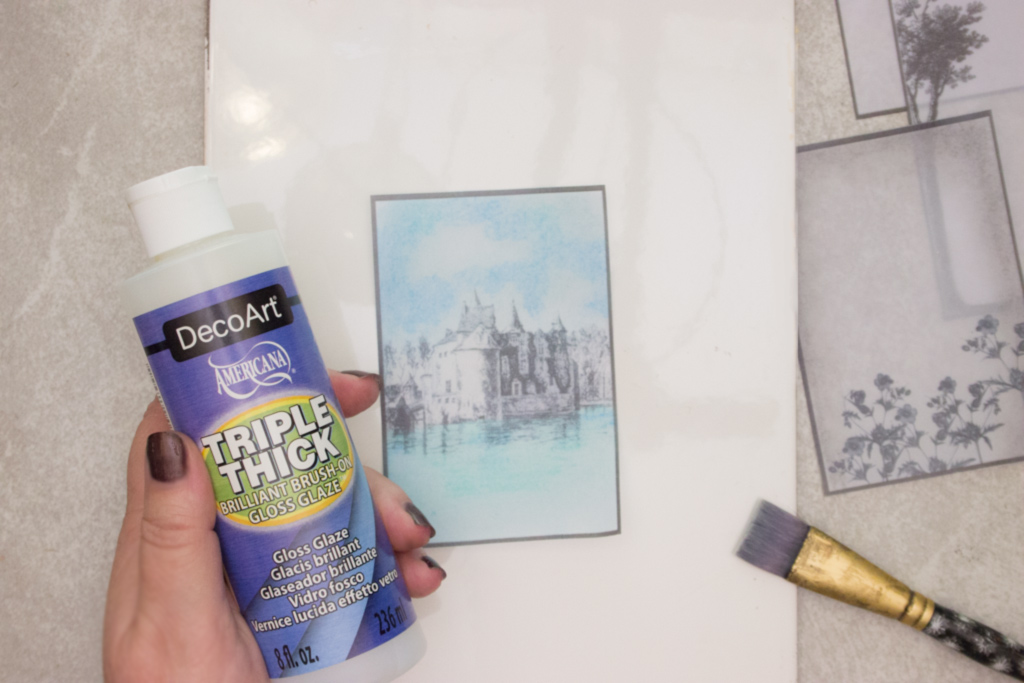 Apply a generous coat of Triple Thick to the surface of the image, making certain to extend the brushstrokes beyond the boundaries, onto the work surface.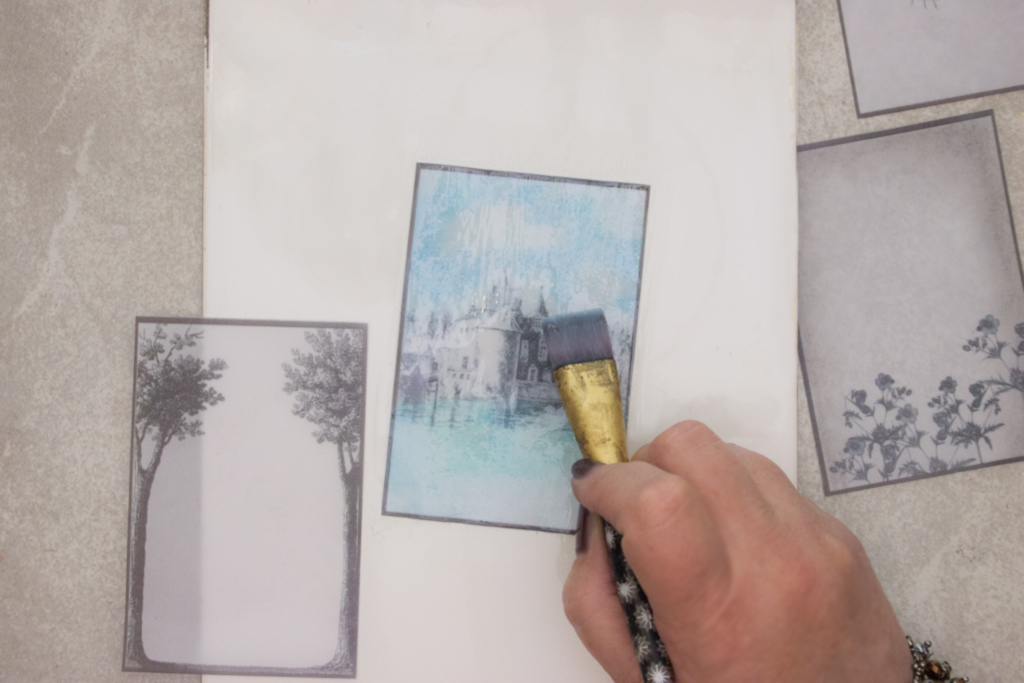 While the Triple Thick is still wet, place the Trees Image on top of it, and apply another layer of Triple Thick over this layered stack of two images.
Repeat this process with the Flowers, and finally, with the Dragonfly Image.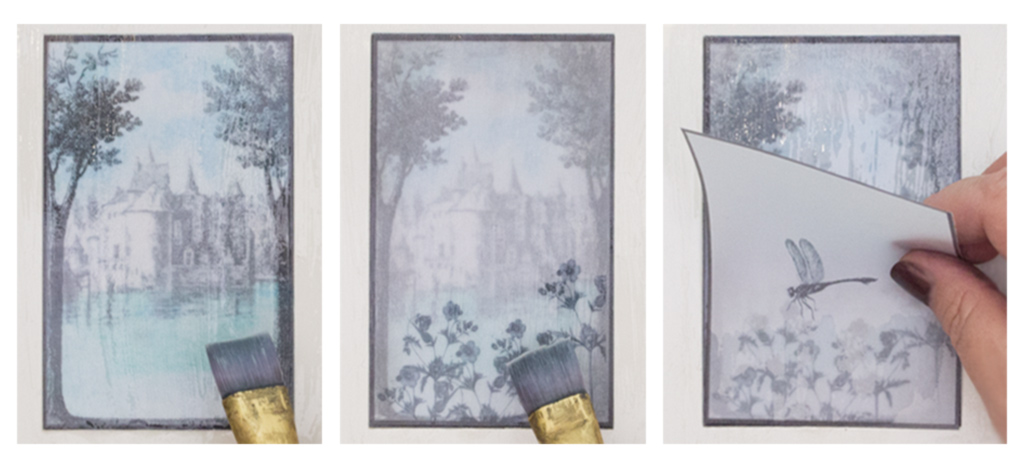 Apply a final coat of Triple Thick over all stacked layers. Try to minimize brush strokes.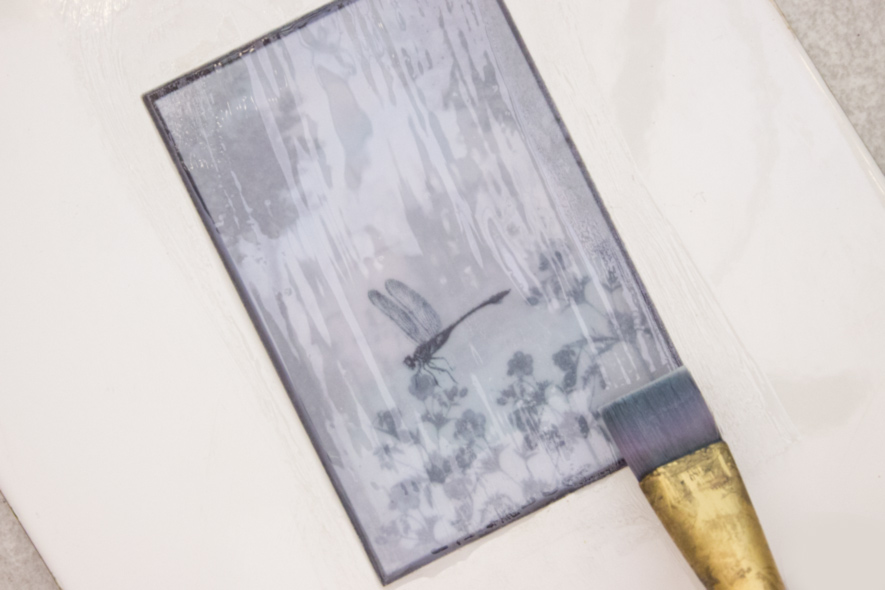 Allow the image to dry naturally. Depending on temperature and humidity, drying times will vary. Shoot for a minimum of 2 hours to begin with.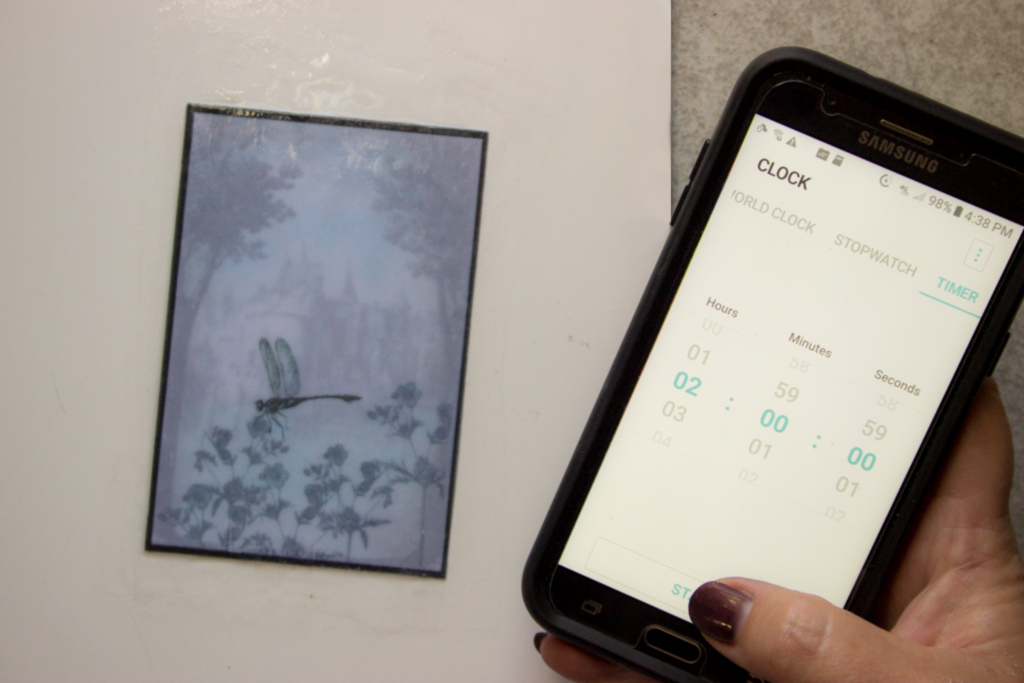 Once the Triple Thick has completely cured, 'free' the edges with a sharp blade drawn around the perimeter of the piece.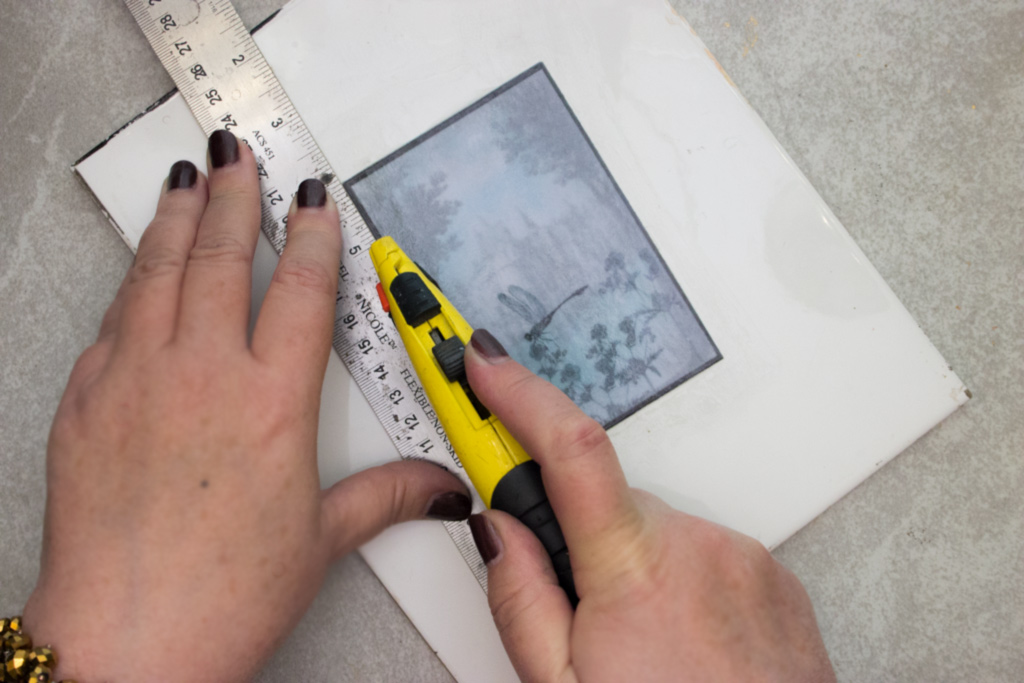 Use the edge of your blade to gently pry up one corner, then carefully peel the laminated  piece off the surface.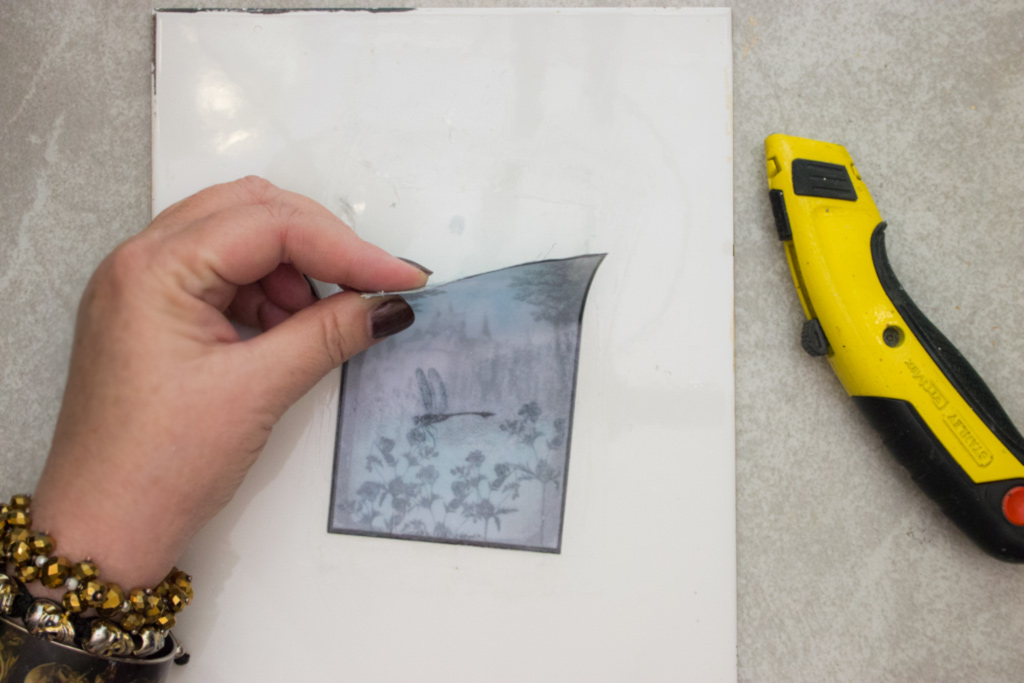 The material is translucent, but quite thick and sturdy. The Faux Encaustic Technique has resulted in a piece that is ready to use in whatever way you see fit! Here, I've temporarily mounted it over a night light. I'll be making several of these – so pretty!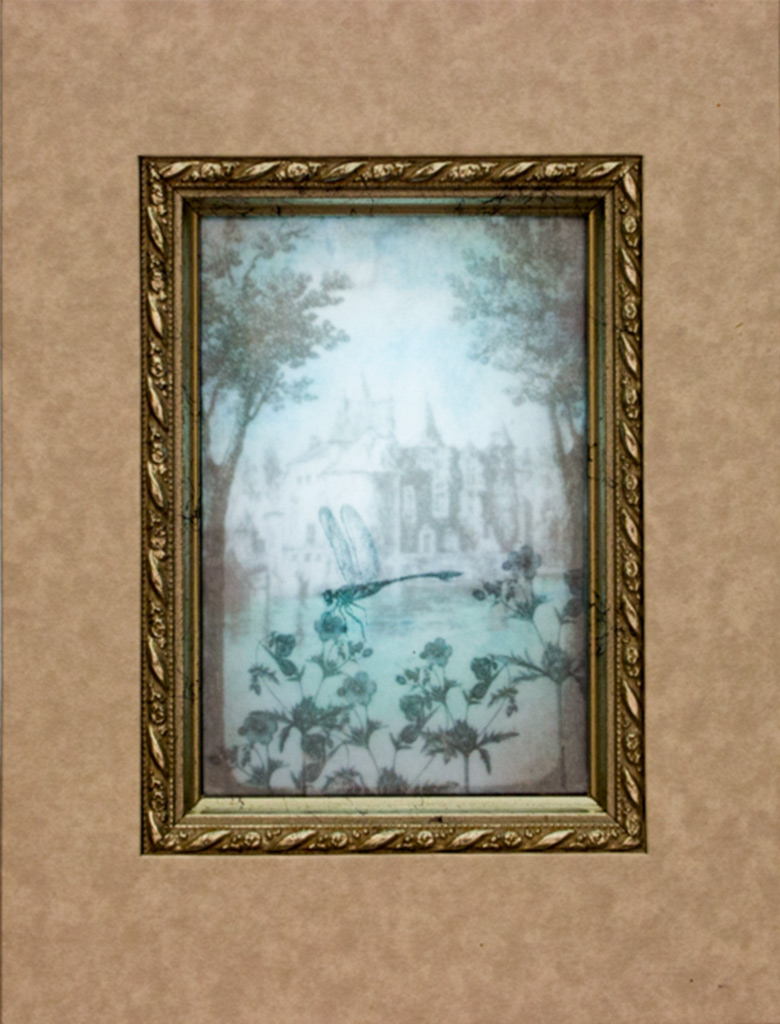 The soft and misty result looks lovely mounted in a frame, as well.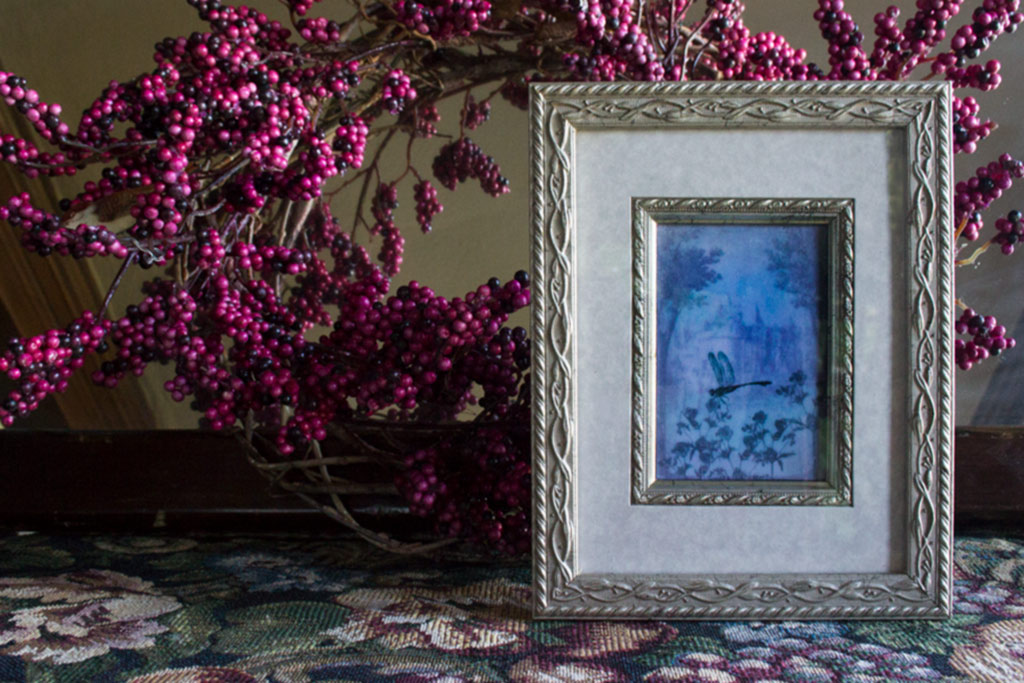 Here's a final closeup of the layered images. I love the romantic atmosphere that layering these translucent images creates!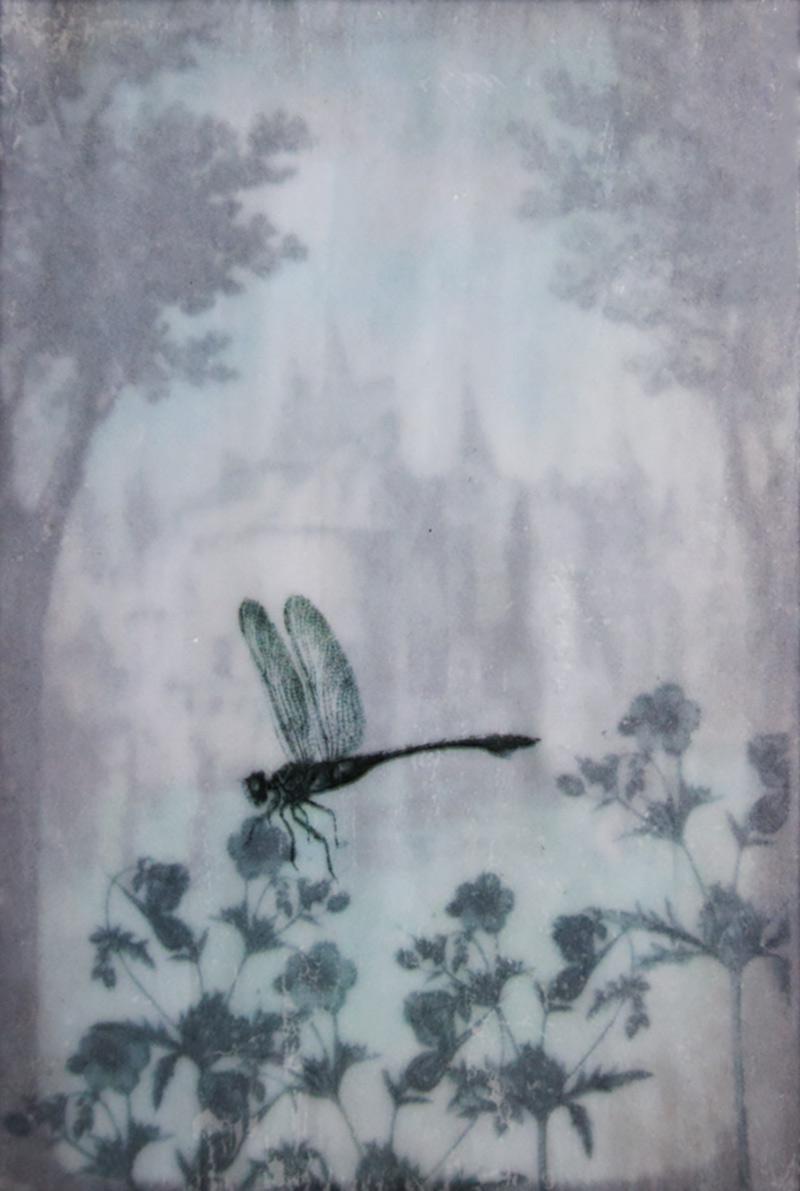 Thank you for visiting The Graphics Fairy today! It's been a pleasure to share this fun discovery with you…and I hope you can envision many different ways of using this Faux Encaustic Technique in your Mixed Media Art!
C'mon over to the Thicketworks Blog – where there is always some mischief brewing!
Until next time,
Heather ♥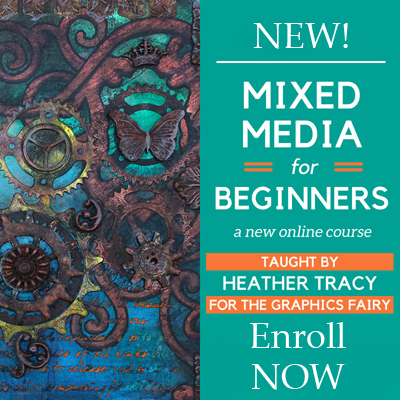 Our students have SO much fun in the Mixed Media for Beginners online course…