Favorite free fonts for creating monograms
Nothing is more personal than a monogram.  Choosing the right font can help you say so much about you, your family, your event, or your business with only a few letters.
This month, we've picked several font styles for you to choose from.  From classic engraved styles to fonts reminiscent of the 20's and 30's, ornate scripts to simple modern lines, we have 11 of our favorite freebies with links below.
Use these fonts to design your own stationary, invitations, and logos.  Don't forget how great monograms look on your textile projects too!
Here are the links to this month's free font picks.  Just click on the links below to download the fonts.  Please be sure to read any information that comes with the font as to its use too.  Enjoy!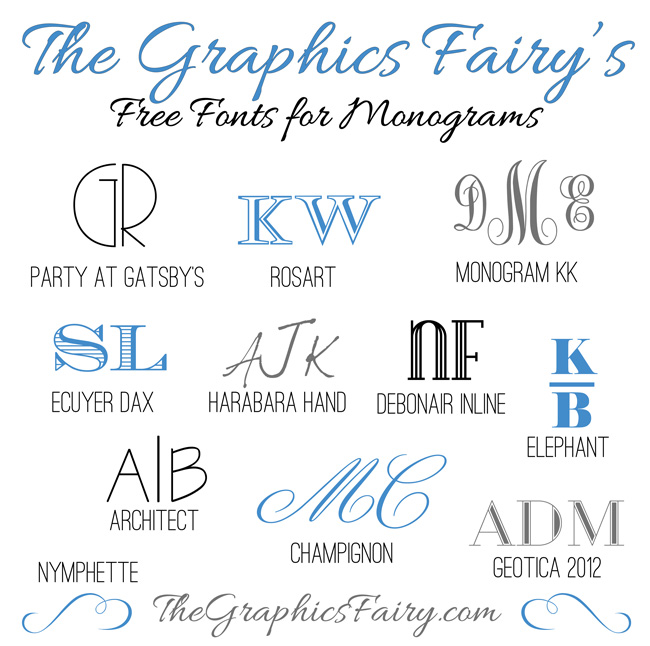 1.  Party at Gatsby's by Tysmagic
2.  Rosart by Roger White
3.  Monogram KK by Koeiekat
4.  Ecuyer DAX by Daxad
5.  Harabara Hand by Andre Harabara
6.  Debonair Inline by Nick's Fonts
7.  Elephant by Matthew Carter
8.  Architect by Hank Gillette
9.  Champignon by Diogene
10. Geotica 2012 by Exljibris
11. Nymphette by Nymphont
You may also be interested in a follow up post on tips & tricks for using images to create a more customized looking monogram, you can find that post HERE!
Emily
********************
*A note about downloading, installing & using fonts:  There are a lot of sites out there that offer free fonts.  Some are set up mostly to display ads, and others take you to suspicious files & links.  Even some legitimate sites run confusing ads that feature images that say "download", when it's for another product.  While we don't recommend one free font website over another, we have tried to link to the more straightforward sites to make finding the font easier for you.  If you click on anything that looks like an application or .exe file, stop, it's not what you want, and is probably malware.  Don't forget to follow the site's specific directions to download and install the font.  If you are a crafter and will be selling your work, please be sure to read any files or information that comes with the font.  Some fonts have restrictions on the commercial use of a font for mass production quantities and on the sharing / redistribution of the font file itself.
********************
Hello! Are you new to The Graphics Fairy- DIY?
Welcome, I'm so glad you're here! This is actually a separate blog from my Vintage Image site. Browse around to find Projects and DIY Tutorials, as well as Free Iron On Printables (many of them French!) You can subscribe via email so that you don't miss a single project or printable, just click HERE to sign up!