17 Free Vintage Peacock Images
Today we've rounded up some Fabulous Free Vintage Peacock Images for you! We've searched through our Vintage Image Archives here at The Graphics Fairy to find our favorite Peacock themed Images, and we threw in a few DIY and Craft projects for inspiration too! This is a great collection of some of our best offerings in this theme. These exotic Bird Graphics are perfect to use in your Bohemian Style DIY and Craft Projects, like Pillows, Guest Towels, Wall Decor, Signs, Jewelry, Scrapbooking, Mixed Media, Collage, Card Making and more! In this post, you'll find 10+ links to Peacocks, their Feathers and even a Peacock Fan! Some are Vintage Jpeg images in full color, some are monochromatic, and some are Printable Wall Decor so there is lots to choose from! You can download all of the Vintage Freebies by clicking on the links below!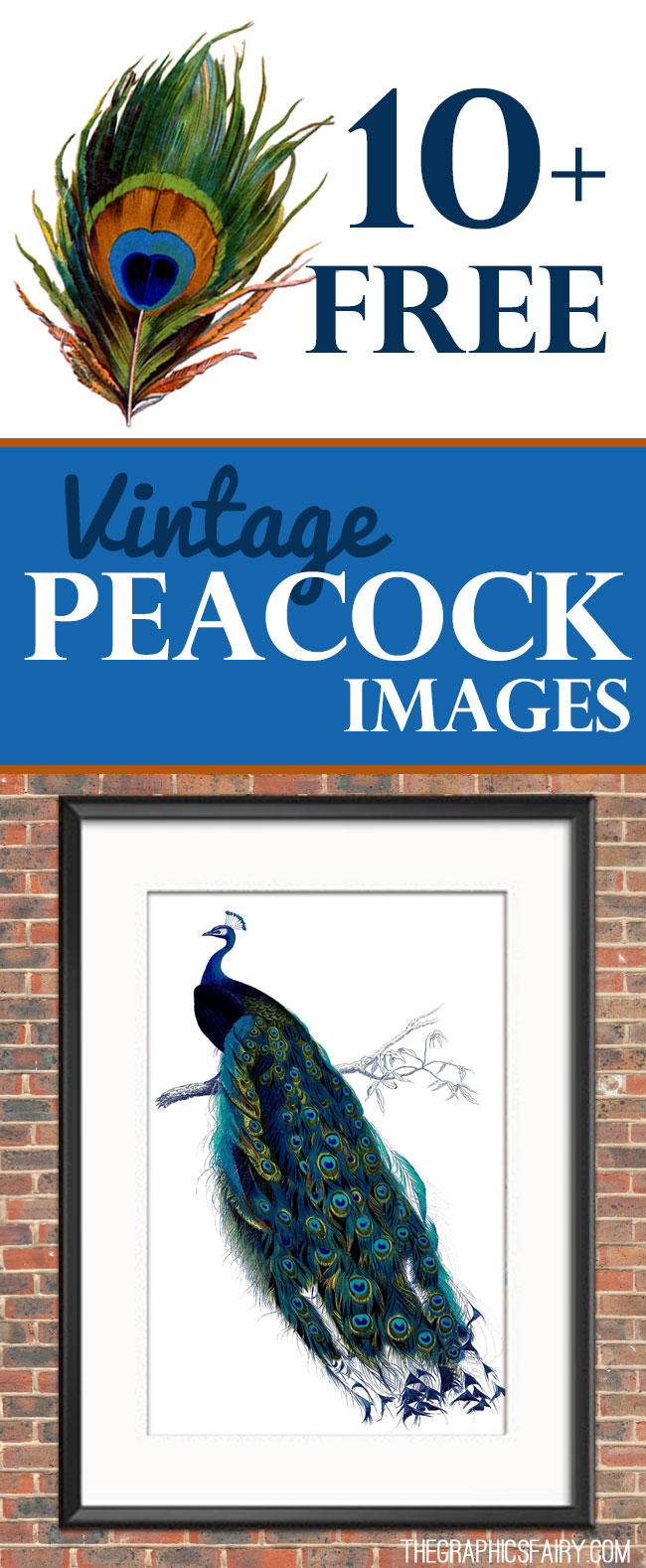 Peacock Clipart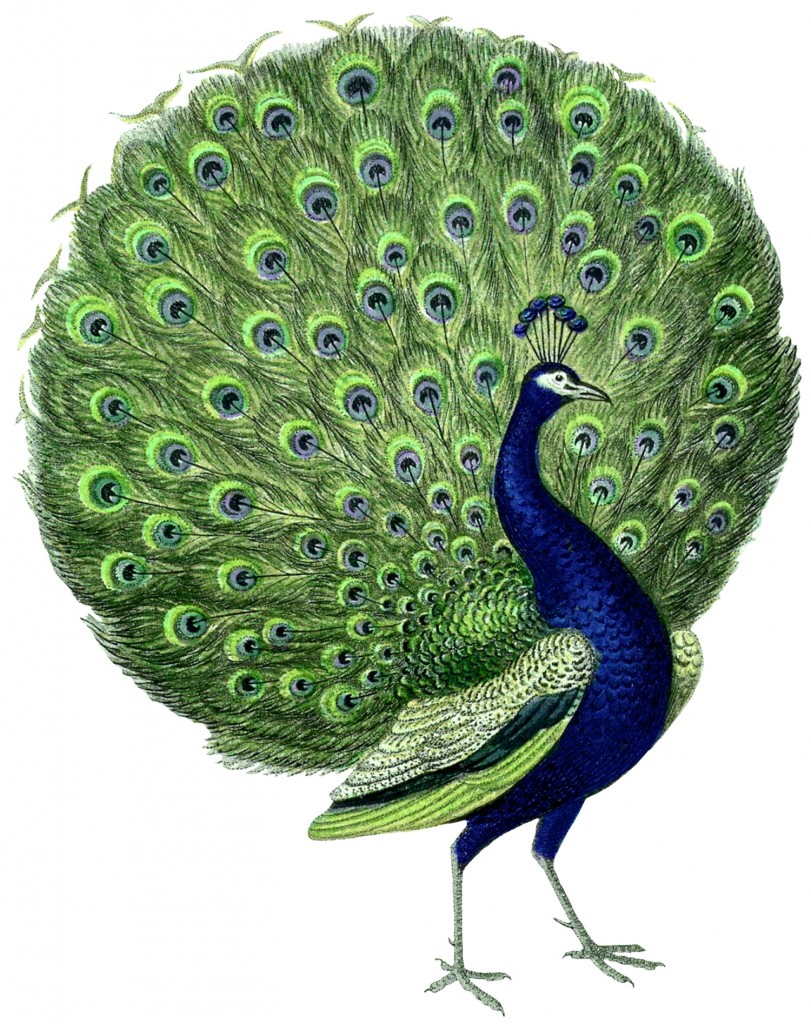 1) Colorful Fan Tailed Peacock This is a very proud Peacock with his Tail fanned out! You get two for one with this one, as he comes in 2 different Color Versions of the same Graphic. This beautiful Illustration was scanned from a Circa 1854 Poultry book.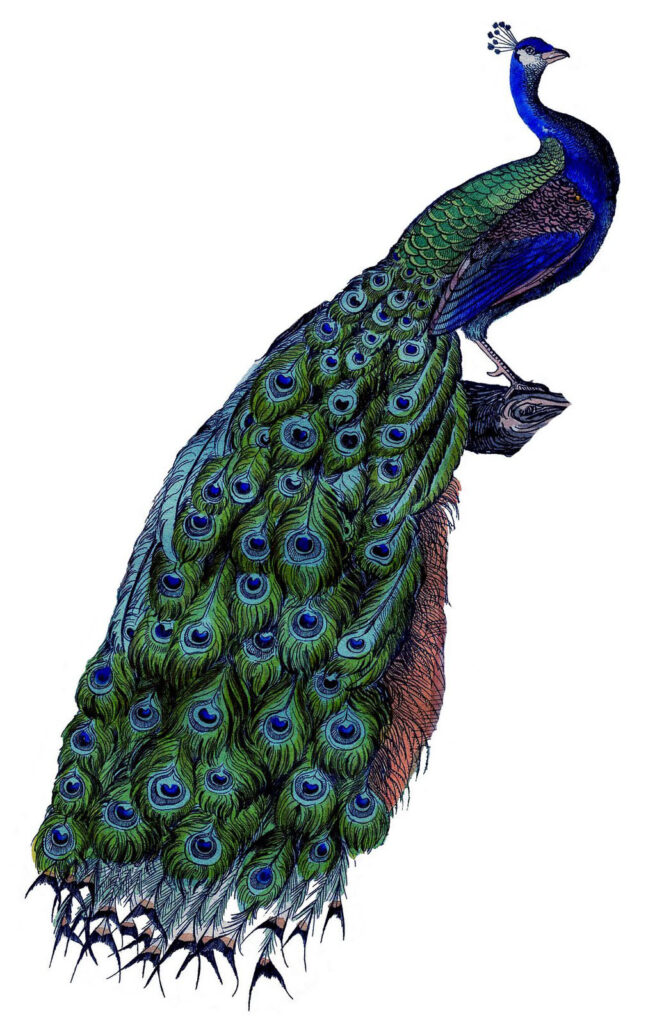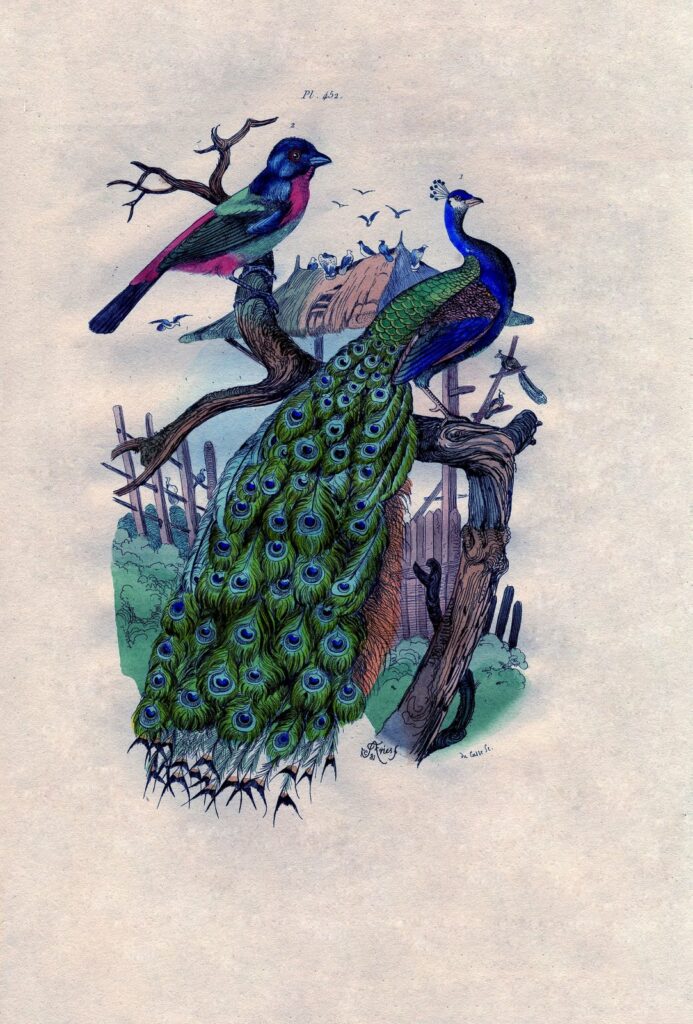 Click HERE for the Full Size Printable PDF of the Peacock with Bird Print
2) Printable Peacock Download  This is a Gorgeous Peacock Instant Art Printable! There's also a second version with the just the Peacock extracted from the scene. This one comes from an Antique French Print. The Instant Art Print is in PDF format, so that you can print this out and frame it right up. One of my all time favorite images!
3) Peacock Feather Image  This is a black and white image of a perfect Peacock Feather Drawing! This one is so useful as a free clip art image to use in web design, or for making cards or stationery. It's a simple, but very elegant picture.
4) Spencerian Peacock This is a one of the most amazing Pen Flourishing Drawings that I have ever seen! This is an intricately drawn Peacock with a full fanned tail. There are a few color options to choose from. Scanned from a very rare early book.
5) Colorful Peacock Feather This a gorgeous Full color Peacock Feather Image! Scanned from an old Victorian Scrap piece, you'll want to download this one right away to use in your Craft and DIY Projects!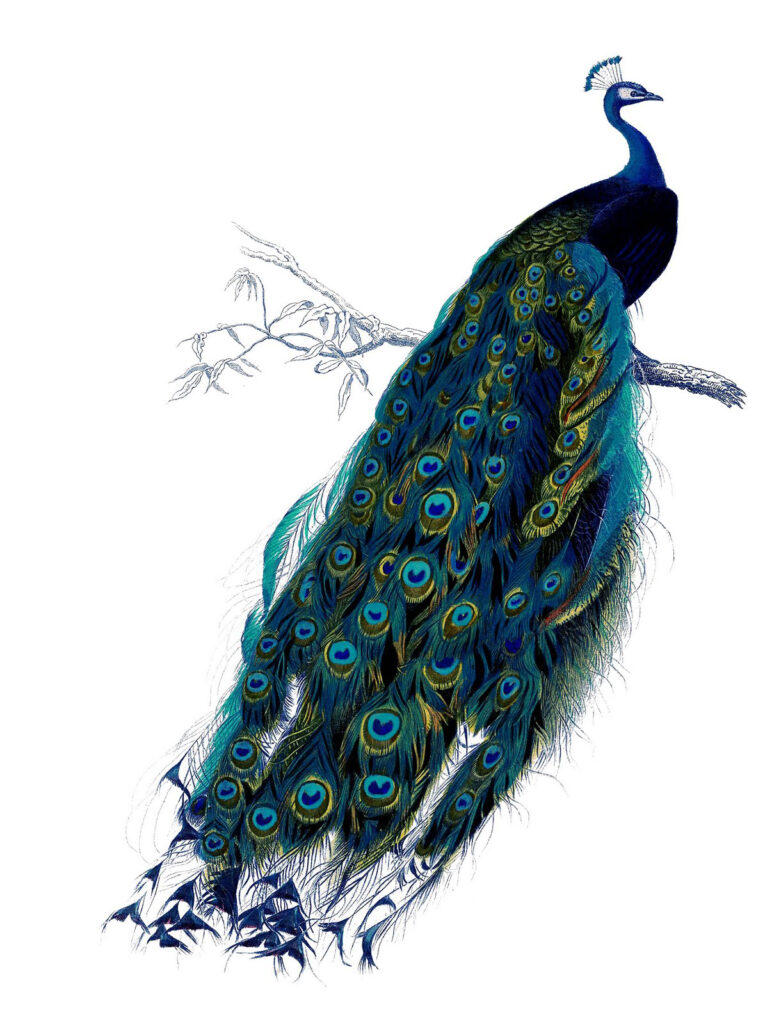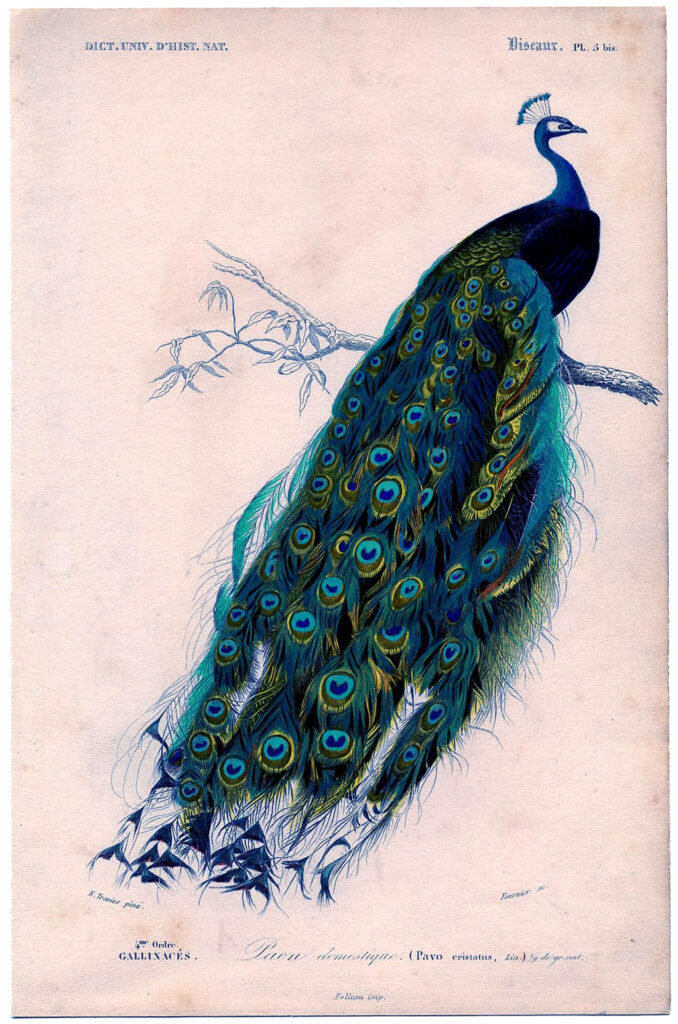 Click HERE for the Full Size Printable PDF of the Full color Peacock Print with Tail Down
6) Full Color Peacock with Tail Down This is a stunningly beautiful colorful Peacock with this tail down. This was scanned from an Antique Natural History print. You can opt for the Downloading the whole print, or grabbing the extracted image. Or both, since they are free!
7) Extraordinary Peacock Fan Image This is another Victorian scrap and the only one that I have ever seen like this, so I think it's quite unusual. It's an exceptionally pretty piece… lots of color on it and the Mother of Pearl handle is so lovely! You'll want to make some pretty Cards or Note Cards with this one!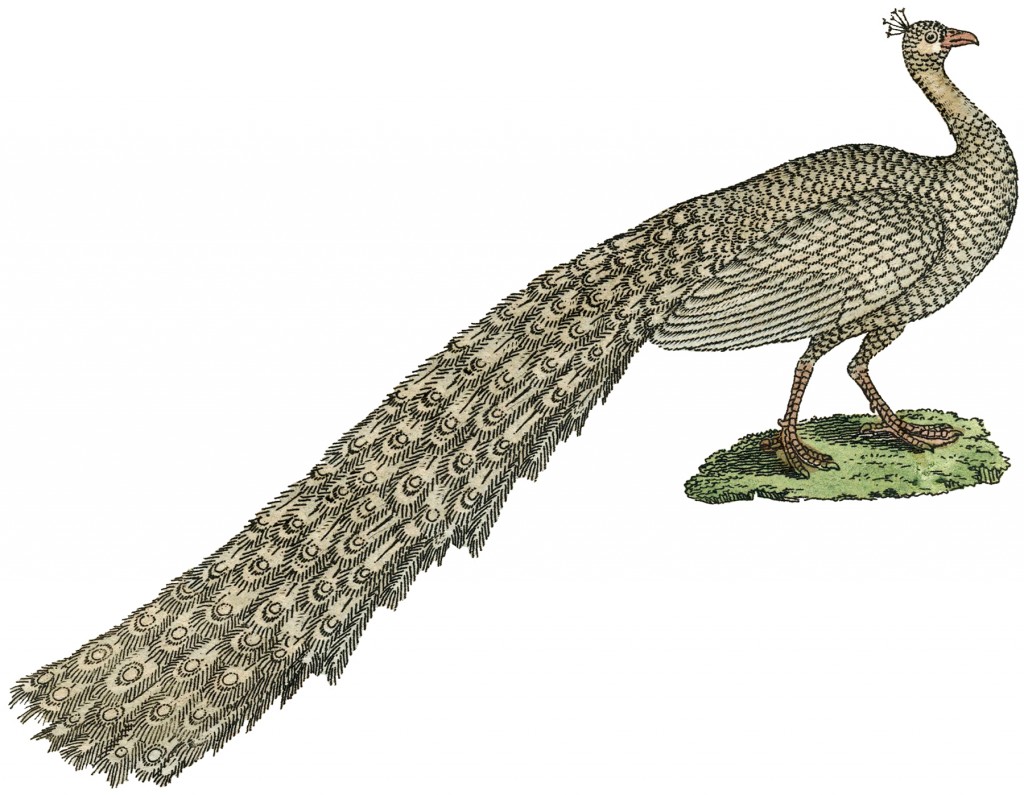 8) Vintage White Peacock Image Another unusual Image! This lovely Bird has his tail down. He's quite old… Circa 1790's and has a charming primitive look to him. I think he would work well in Country style projects.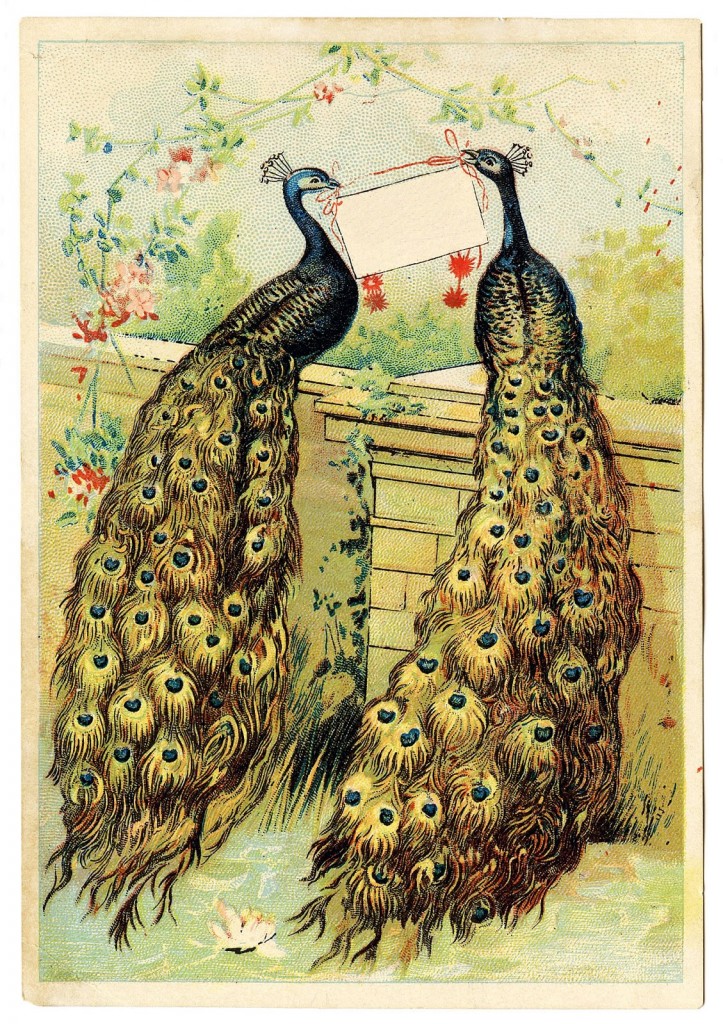 9) 2 Pretty Peacocks with Sign Freebie This is a lovely antique trade card. The card features 2 colorful Peacocks perched on a wall. They are holding a little blank sign that you could add a bit of text to if you like.
10) Penmanship Peacock with Banner Another lovely Peacock with his Tail Down. This one is a Spencerian Image with loads of Flourishes and a Banner, that you can customize with your own Text. Very useful for Graphics Design, I think it would be lovely to use for Wedding Stationery.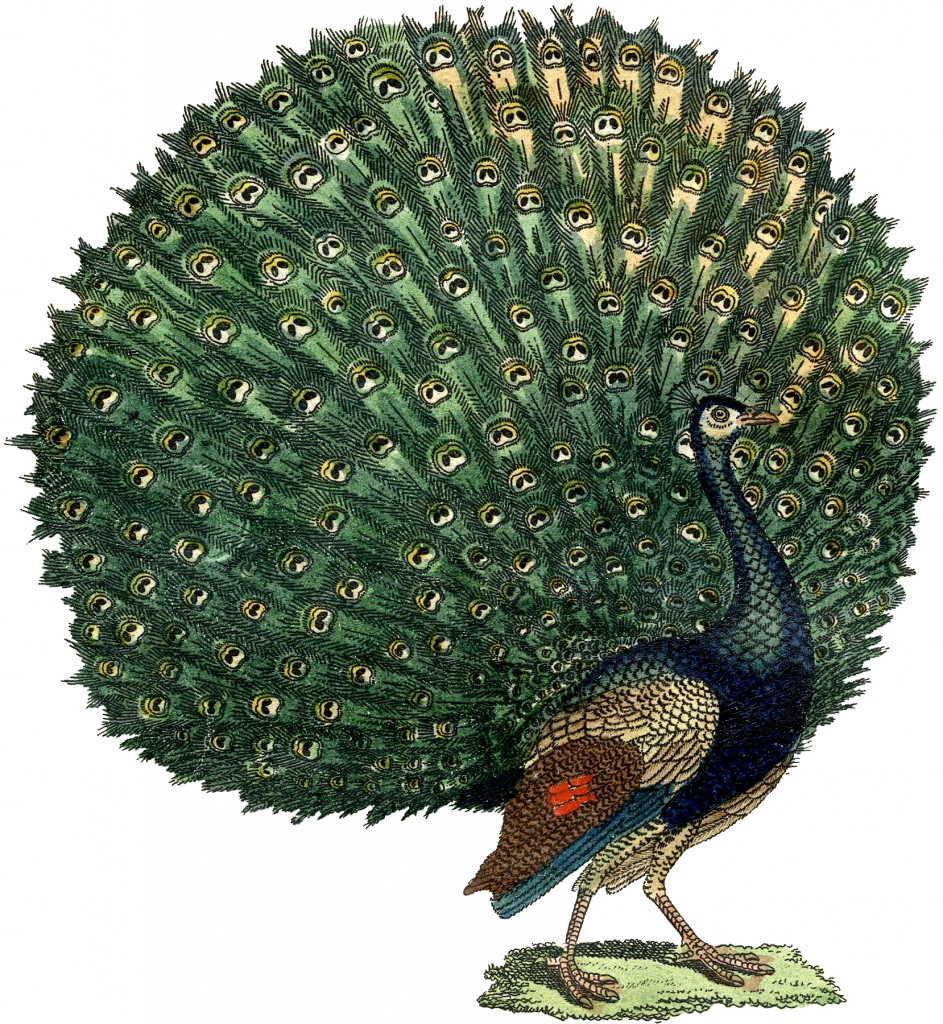 11) Fan Tailed Primitive Peacock This is a glorious colorful Bird scanned from a 1790's Print. He's proudly displaying his tail. The colors are a bit more subdued on this one, but still very nice. I think he would look fantastic on some DIY Stone Coasters!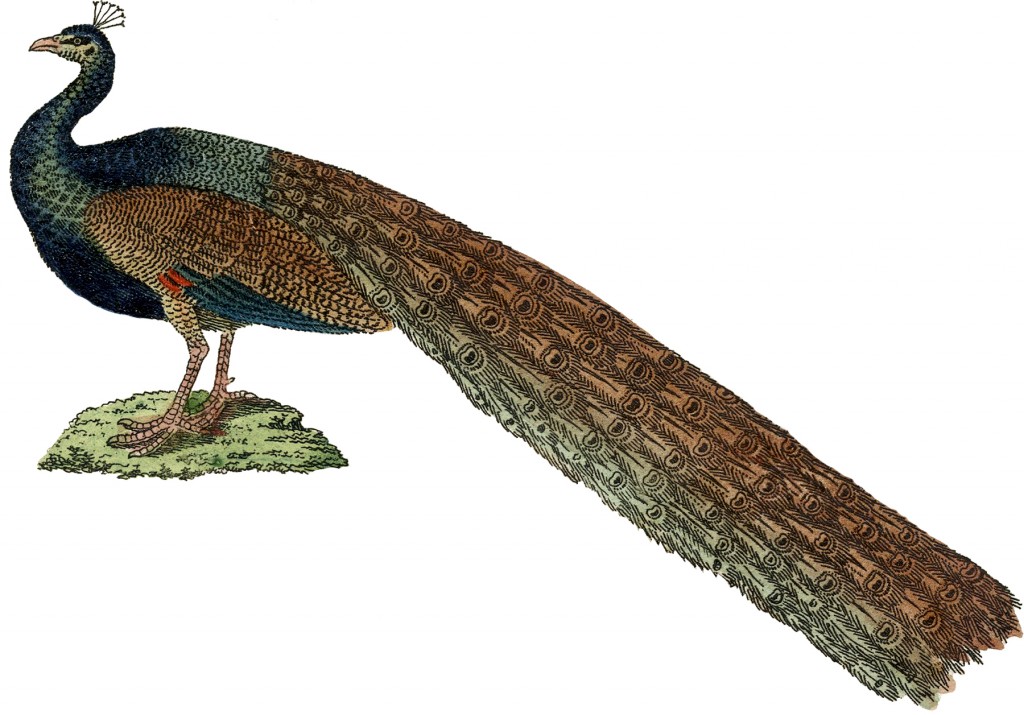 12) Primitive Peacock Tail Down From the same book as the one above, this guy has his tail down.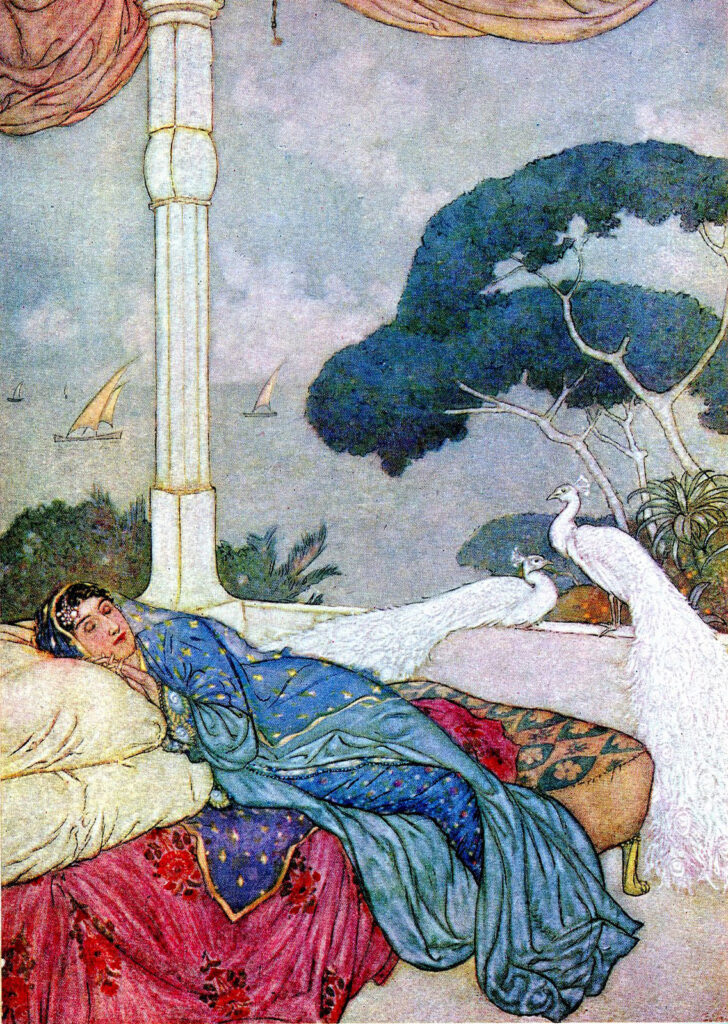 13) White Peacock Scene This one has such a magical feel to it! This is an antique illustration from the book Rubaiyat of Omar. The illustration shows a beautiful Indian woman in a sari. Near by are two fabulous white Peacocks! Dreamy!!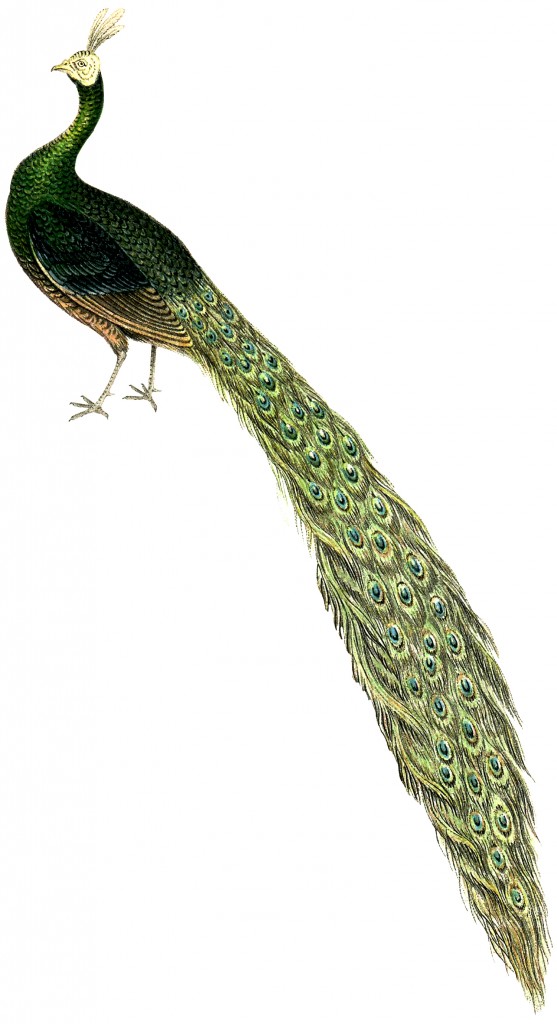 14) 1854 Peacock Image This is quite an old old image from an Antique Poultry book. He's not as showy as some of the other images, but still a very nice looking bird.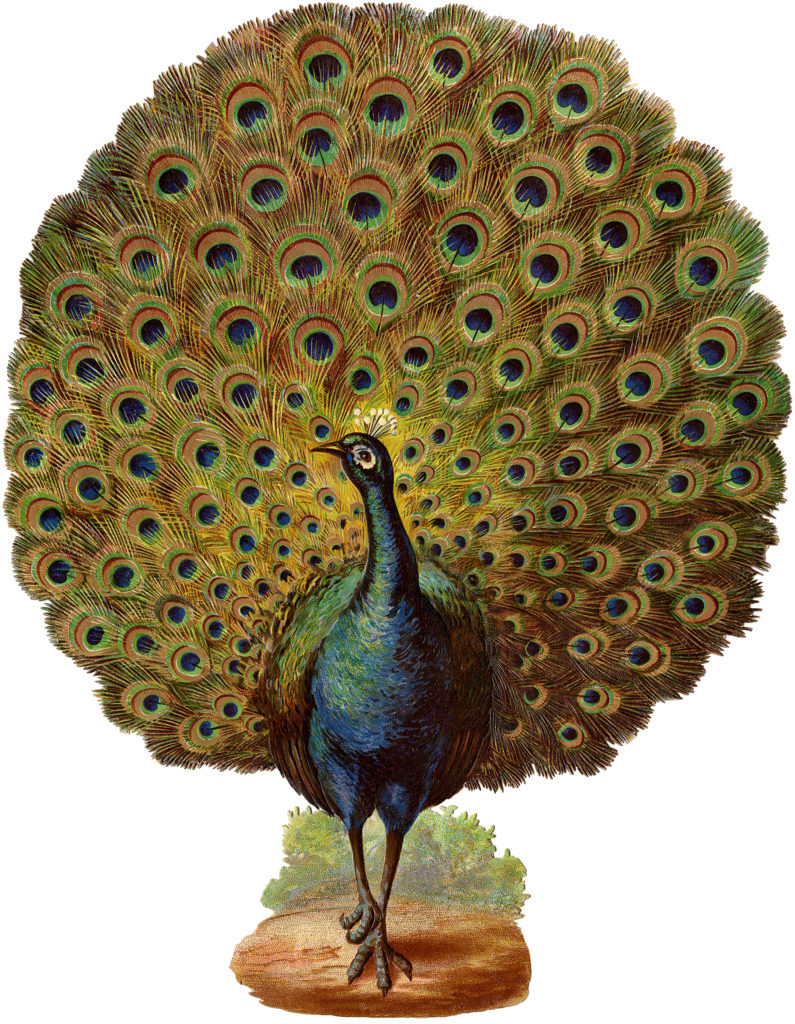 15) Victorian Scrap Peacock. This is such a gorgeous piece and he's quite large! This one is one of my all time favorite Bird images in my collection. Stunning!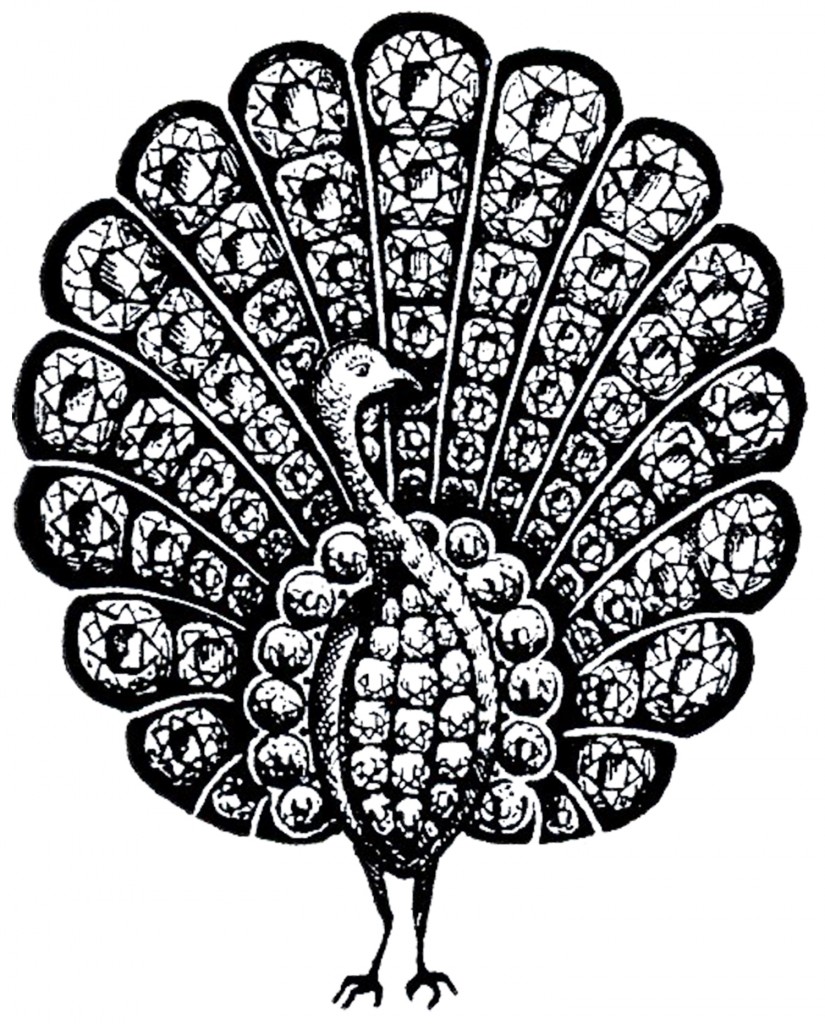 16) Jeweled Bird This one was scanned from an Antique, Circa 1880's jewelry Catalog. It's a cute Jeweled Peacock Bird, with his tail fanned out, that was used as a Brooch or Pin. Wouldn't it be fun to find the actual brooch!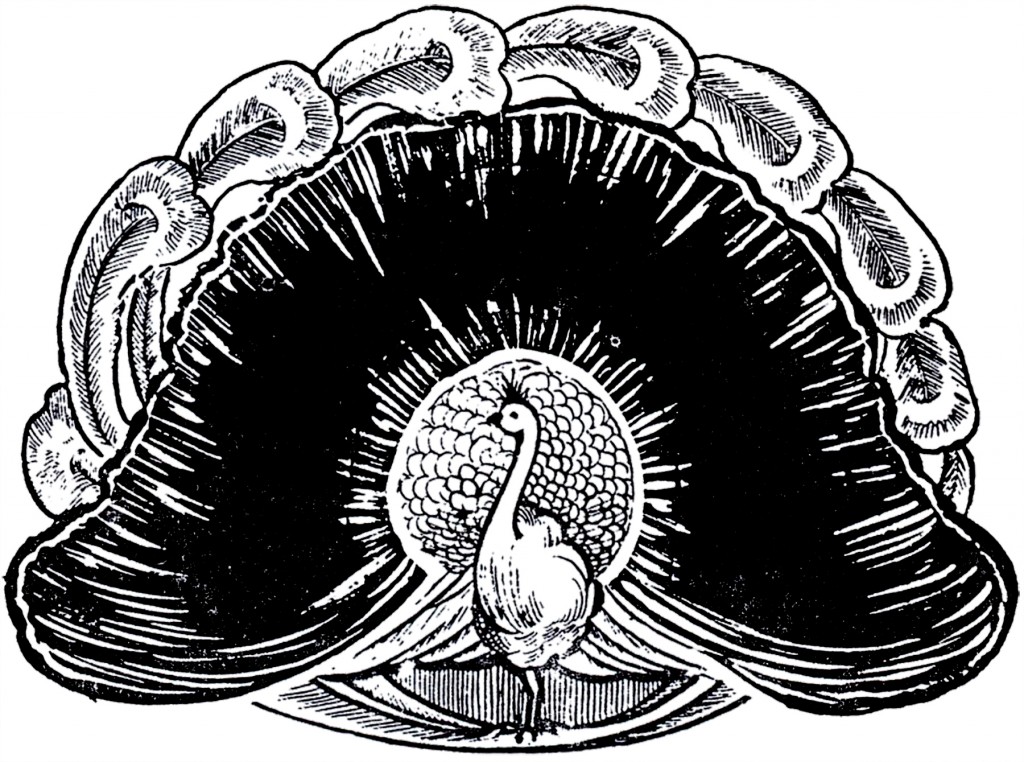 17) Art Nouveau Image This one comes from a Circa 1906 Design Book. The image above is a fabulous Black and White graphic that was meant to be used as an advertisement. It's a gorgeous Art Nouveau style image with a full fanned tail. The blank space on the tail was meant to be used with some text on it. You could put a message on it in white text, or leave him as he his.
Project Ideas
1) French Peacock Pillow This a gorgeous Peacock Pillow, submitted by one of our readers. I love how the designer combined the Peacock with some French Typography for a sophisticated look! Such a stunning Home Decor accessory.
2) Peacock Fan Card This is a beautifully executed and layered handmade card, using the Peacock Feather Fan Image from above. Another lovely reader craft submission! Such inspiration on this one!
3) Peacock Popsicle Stick Bracelet This is a fast and fun project, from contributor Candie Cooper, who is a renowned Jewelry Artist and Author! She used a fun technique to apply a Peacock Feather Image a Popsicle stick for a unique wearable accessory!
I hope you will find lots of inspiration when you browse through these images, and that you come up with some creative ways to use them in your own Craft and DIY Projects!

You might also like these Vintage Bird Kits, available as part of our Premium Membership Site HERE. For one low monthly (or one super low annual) fee you get a plethora of fabulous Premium Images and Photoshop Tutorials! New kits are added each week!
Hello! Are you new to The Graphics Fairy? Welcome, I'm so glad you're here! Browse around to find thousands of Stock Images that you can use in your projects or designs! I post new Vintage images every day, as well as projects and DIY's too! Need more info about my site? Try my FAQ page.