33 Children with Flowers Pictures
Today we have a darling collection of Children with Flowers Pictures. We have a wide array of adorable young children images. All are vintage drawings and illustrations with beautiful flowers. We have a few matching sets of images in this collection. Some of them are brightly colored, but most have the faded, vintage look we all love. Our assortment of Children with Flowers Pictures is perfect for your Spring or Children's Themed Craft or Collage Projects! I believe any of these would make a nice Mother's Day card too!
Girl with Floral Crown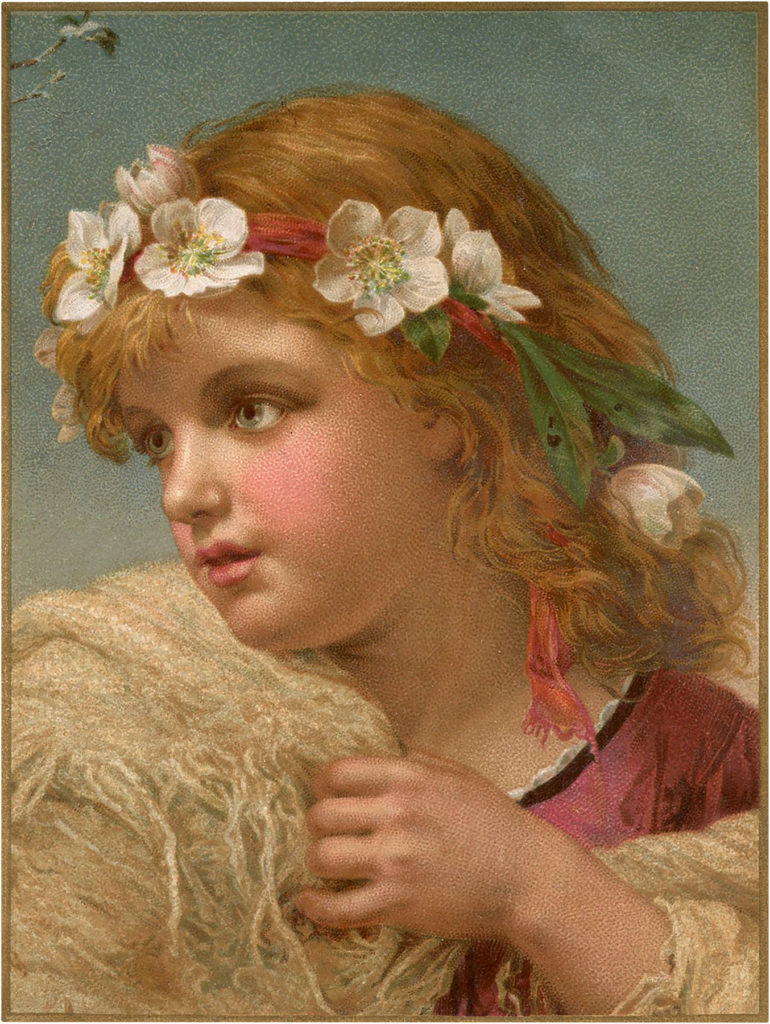 Features above is a sweet little girl with flowers in her hair! She seems to have fashioned a little crown out of Roses and a Tulip.
Girls and Boys with Flowers Pictures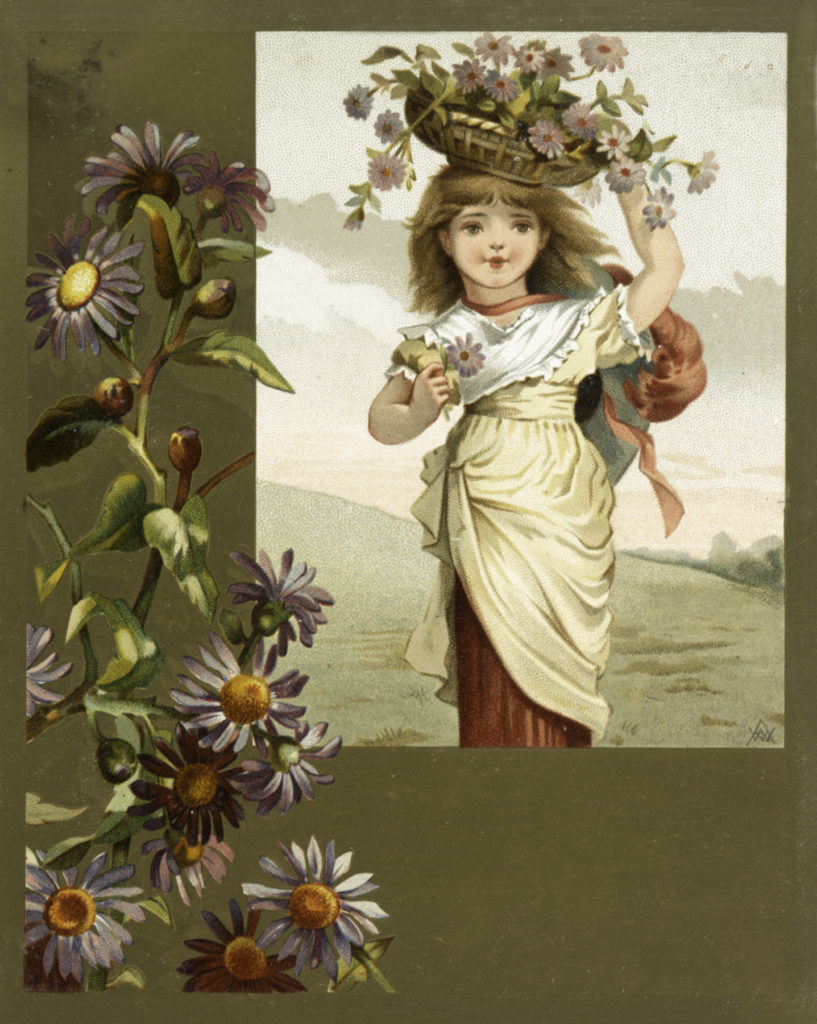 I love this set of illustrations. This Beautiful Vintage Girl With Flower Basket image is gorgeous! A sweet little girl holds a flower basket filled with dark and light purple flowers on her head. She has light brown hair and is wearing a pale yellow, white, and red dress.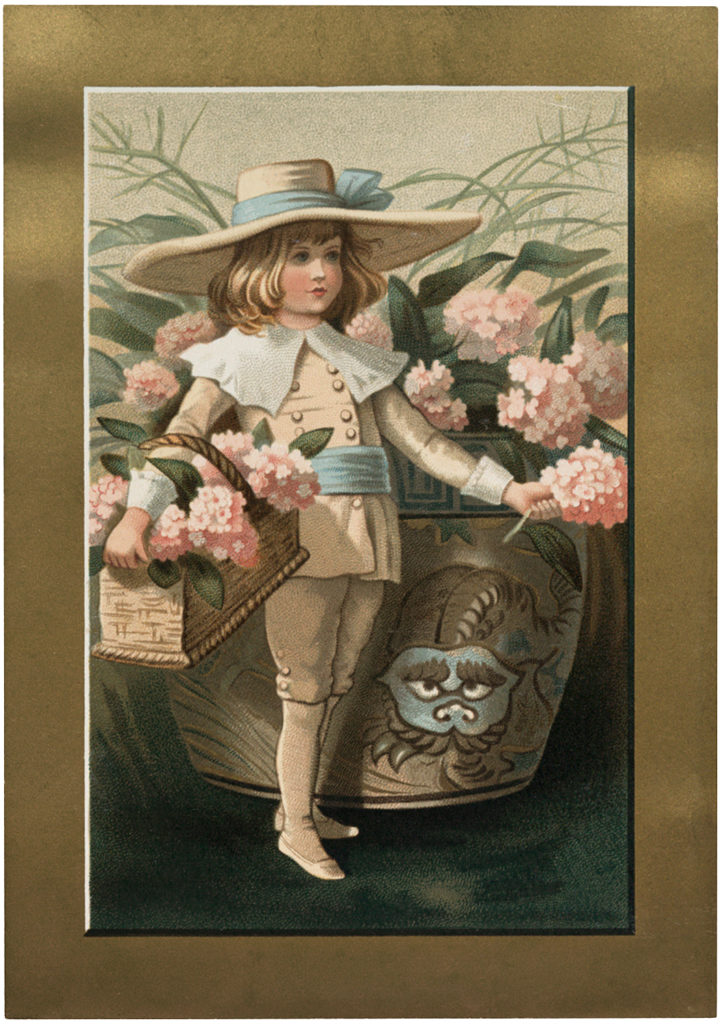 I just adore this darling Vintage Boy with Flowers Image! Shown above is a cute little Boy dressed in Creamy White and Blue. He's standing in front of a Giant Vase filled with pale Pink Flowers! Hydrangeas I believe. Such a cute whimsical image.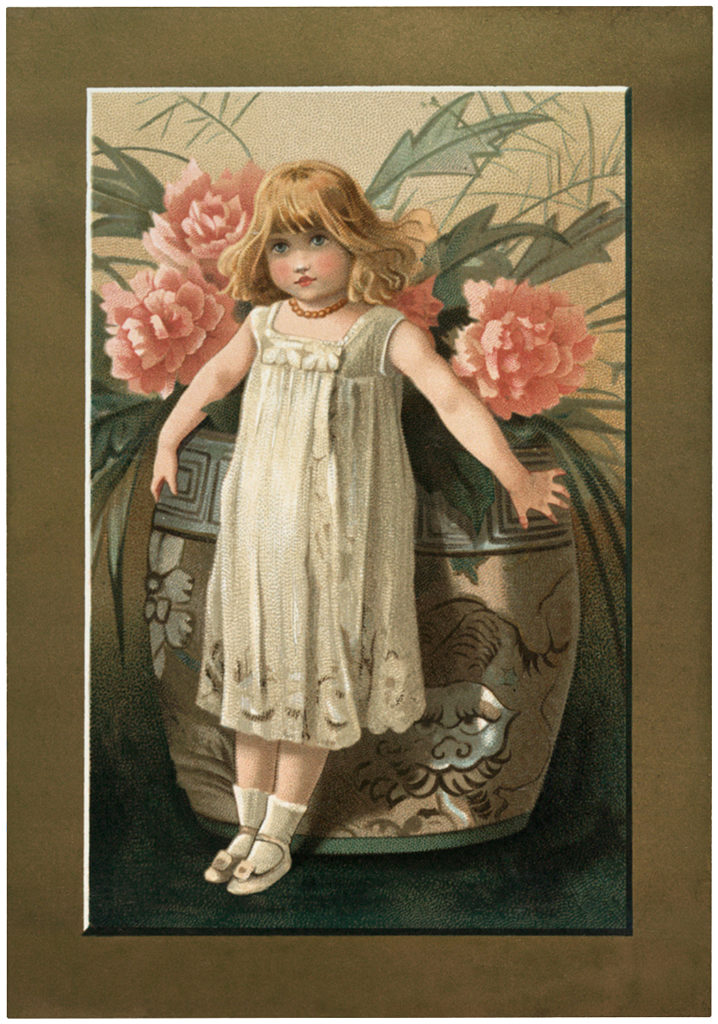 This is a sister image to the darling Vintage Boy with Flowers Image of a Cute Vintage Peonies Girl! Pictured is a sweet little Girl in a white dress. She's standing in front of a Giant Vase filled with Pink Peonies!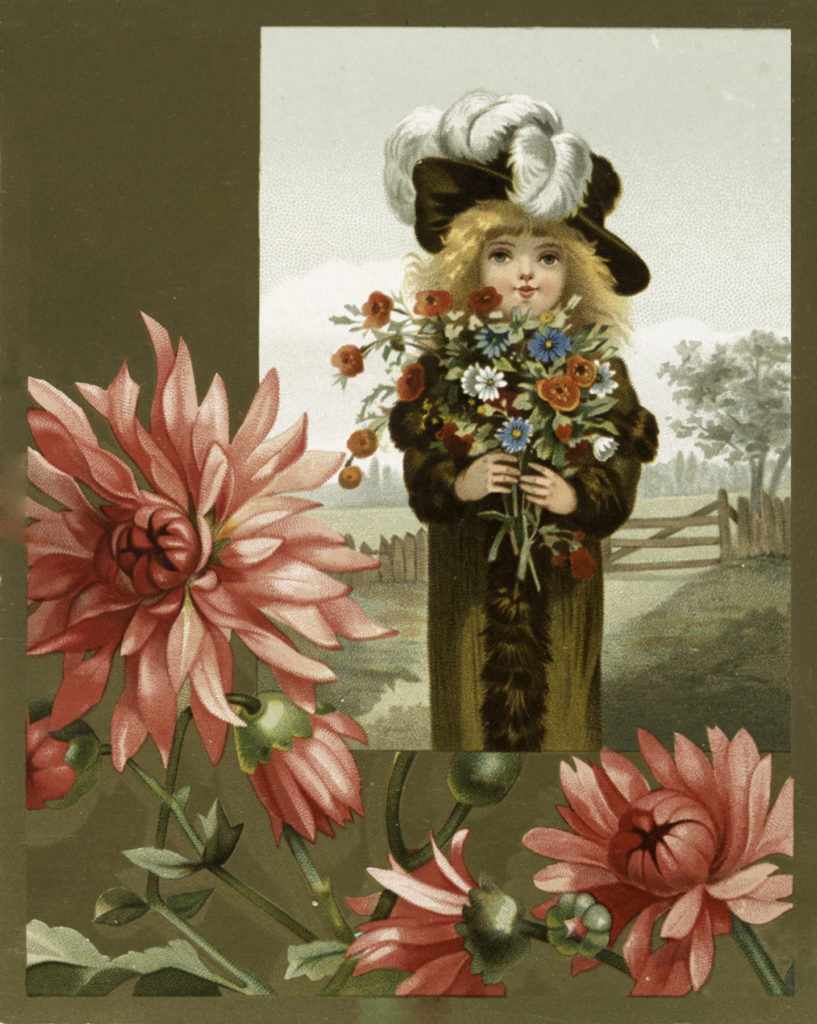 This is a precious Vintage Girl Holding Flowers Image! She wears a brown fur coat and a brown hat with a big white feather draped on top. She holds a bouquet of colorful flowers.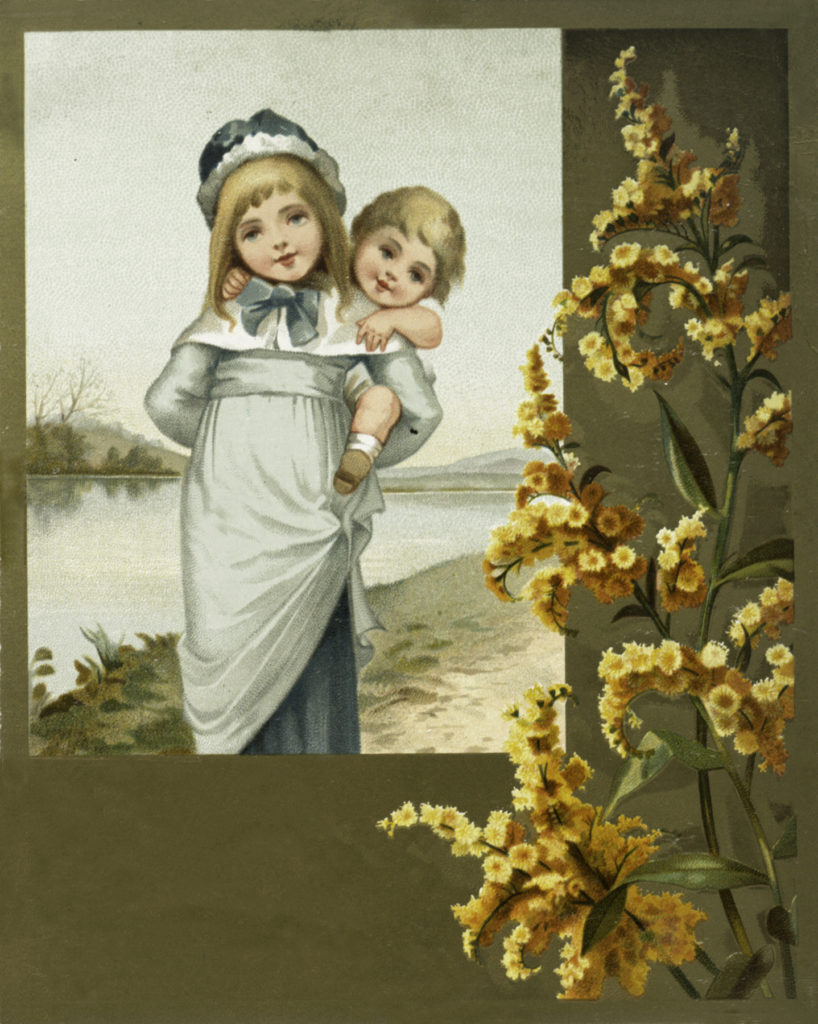 How cute is this Vintage Girl Holding a Baby picture? The image is a sweet girl with light brown hair, wearing a green dress with bow and green hat, and giving a baby a piggyback ride. It looks like they might be sisters!
Antique Illustrations of Children with Flowers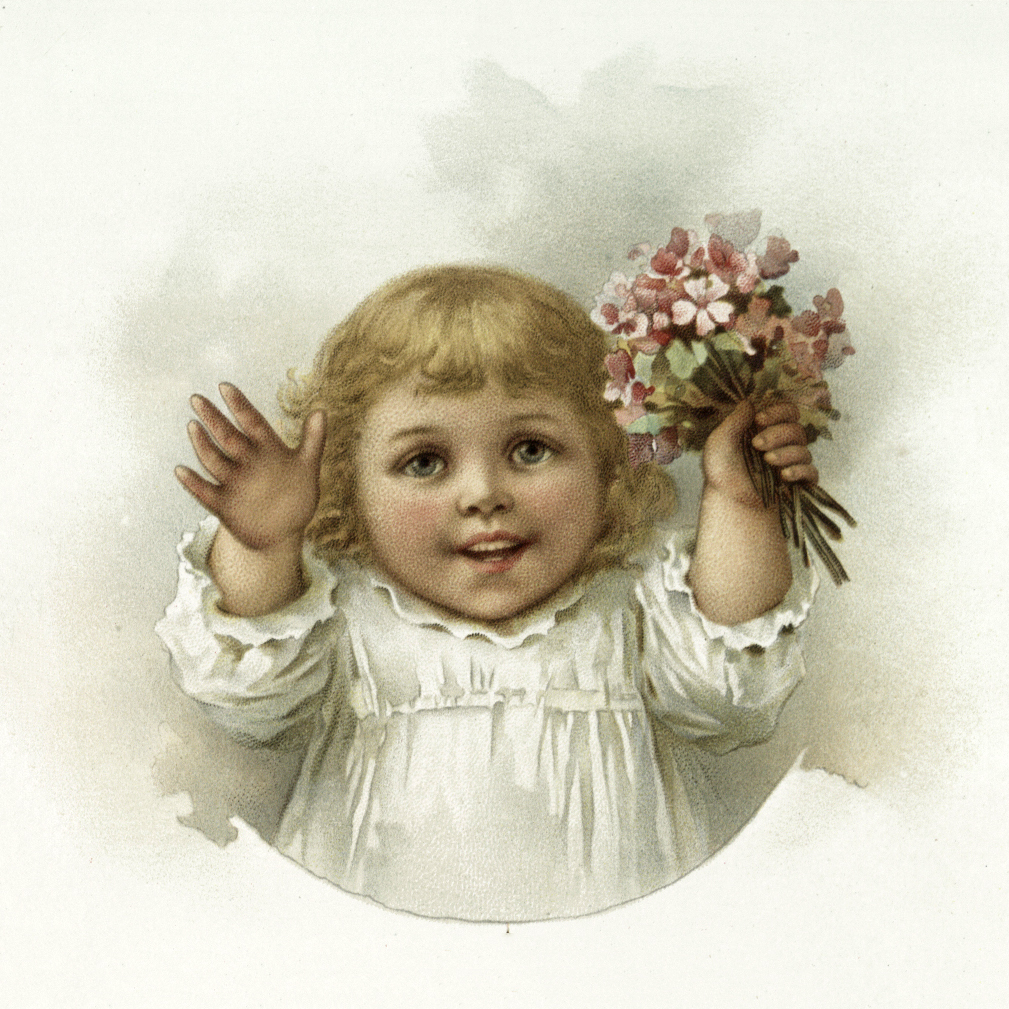 Featured above is an Old Pastel Roses and Girl Graphic! A sweet brown haired girl in a frilly white pinafore dress looks at a soft yellow rose. She has a round frame of aqua behind her and the lovely roses and rose hips trail along the right side with petals softly falling.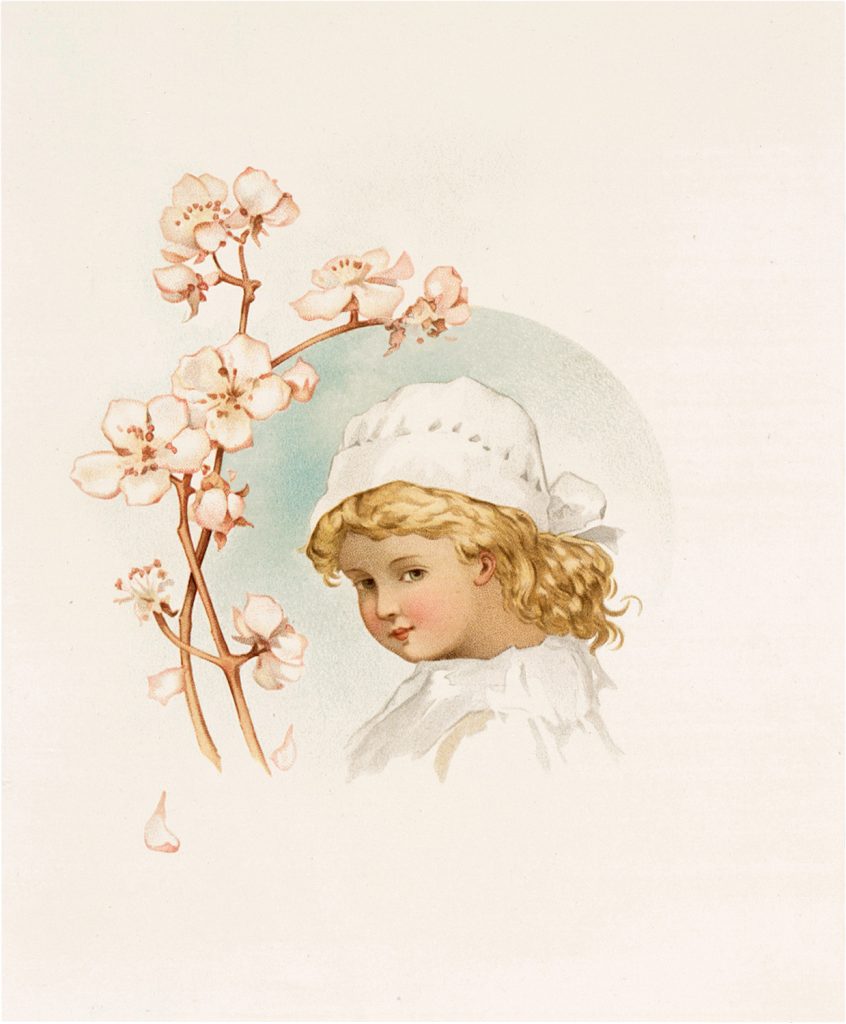 Here we see a painting of an adorable little girl with curly blond hair and hazel eyes. She is looking sideways from an oval frame with fruit blossoms surrounding the left edge along with soft pastel aquas and pinks.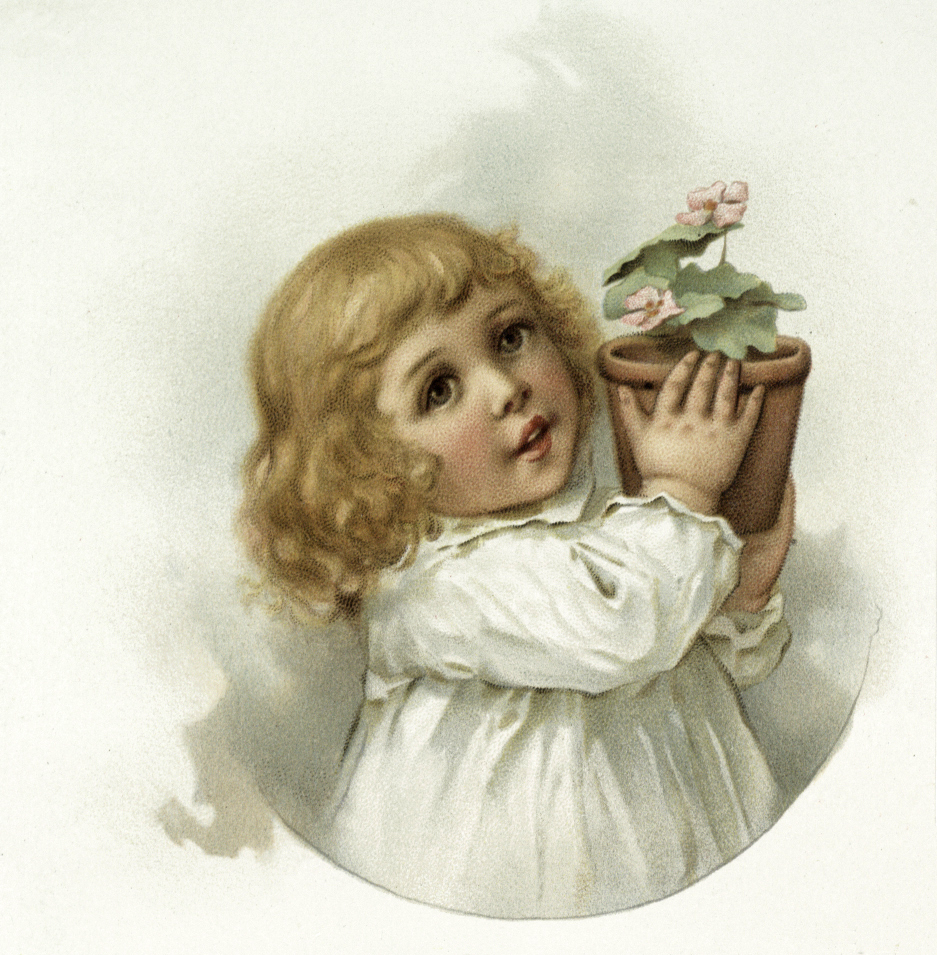 This is darling vintage image of a Vintage Sweet Girl Holding a Pot of Flowers! The little girl wears a white dress while holding a pot of tiny pink flowers. She is looking to the side with a little smile.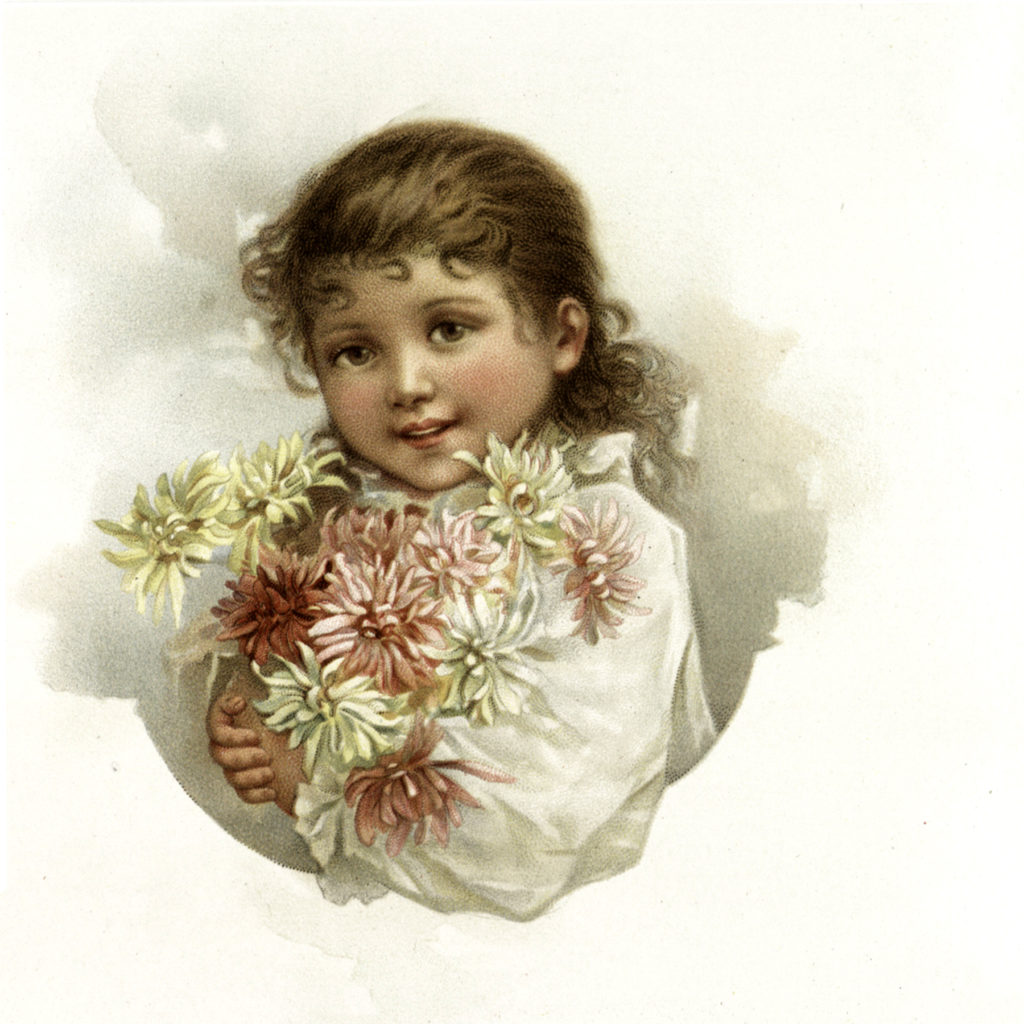 Shown above is a smiling Brown-Eyed Girl Holding a Bouquet of pink and white flowers. She is wearing a long sleeve white blouse.
Vintage Floral Children Illustrations
This is a Sweet Girl with Flowers Image! The cute little girl is wearing a Blue dress with a Pinafore. She's holding some Blue Forget-Me-Not Flowers up to her heart! The sentiment says, "With all my heart!"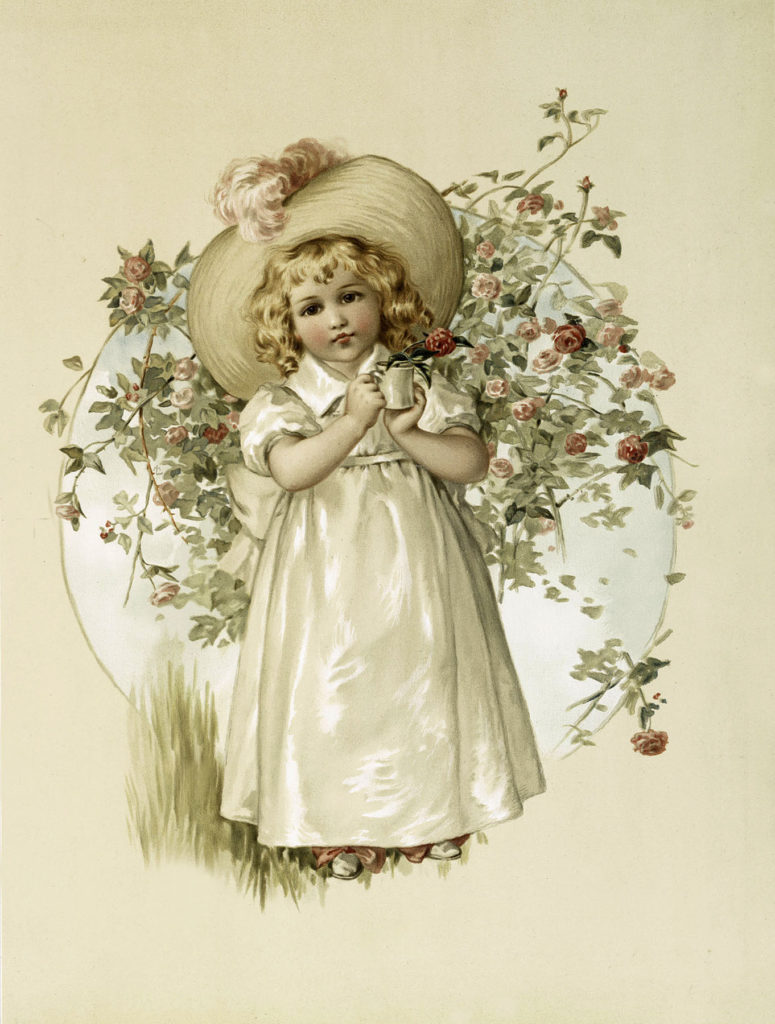 A sweet image of an Adorable Little Girl Wearing A Large Straw Hat with a pink Ostrich Plume is too cute. Her golden blonde hair is flowing out from under the hat. She wears a white dress and holds a cup with one red rose in it. In the background is a plethora of red and pink vining roses.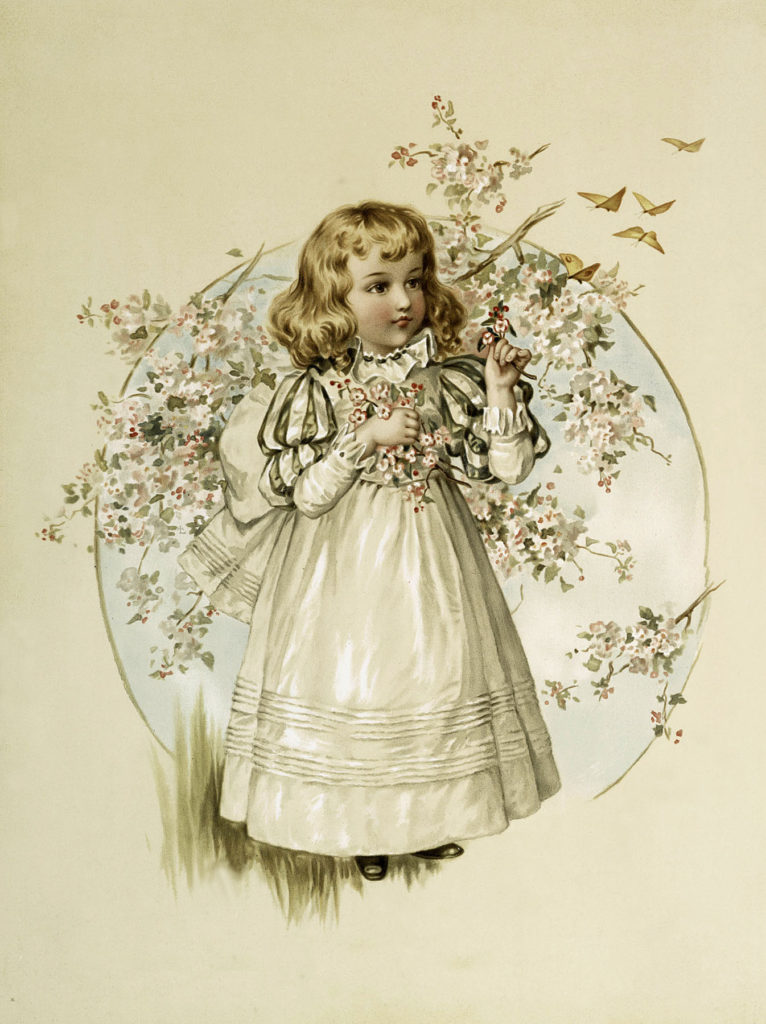 Isn't this Sweet Little Girl Holding Flowers picture adorable? It features a little girl wearing a long white dress and holding a bunch of flowering branches in each hand. She is looking to the side at some butterflies flying away. There are more flowering branches behind her.
Children with Butterflies and Flowers Pictures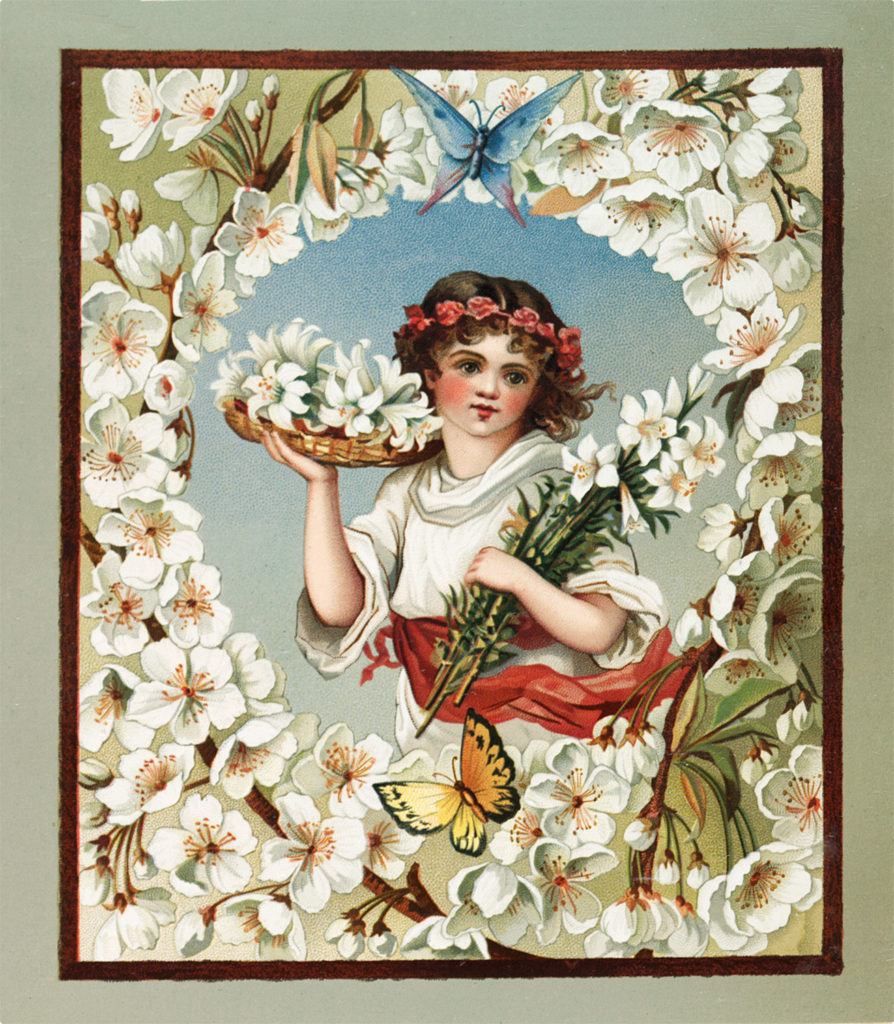 Above is a Vintage Sweet Flower Girl with Butterflies Image! It shows a sweet girl wearing a red flower crown and white robe with a large red flowing sash. She is framed by white flowers and a yellow and blue butterfly on a green background with a brown branch border. She is carrying a basket of lilies in one hand and a bouquet in the other.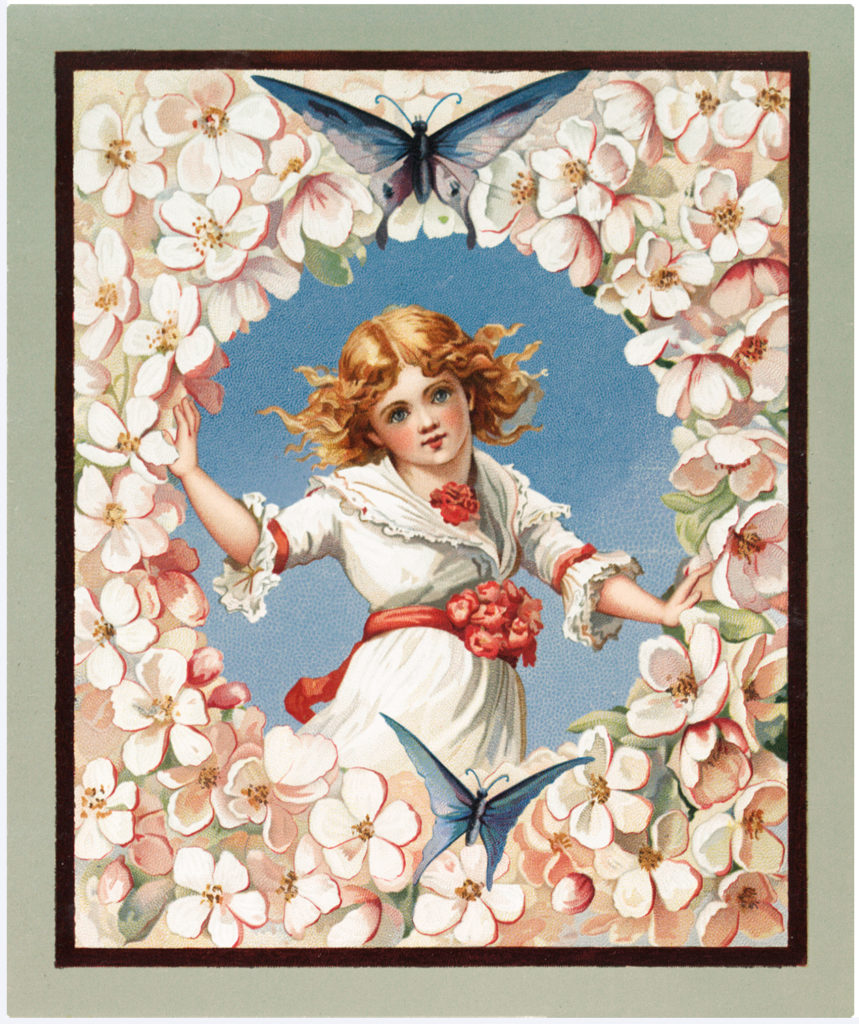 Here we have a Vintage Beautiful Flower Girl with Blue Butterflies graphic! Framed by white and pink flowers, the beautiful girl has curly red hair. She wears a flowing white dress with red ribbons and flowers at her neck and waist. Two blue butterflies adorn the top and bottom of the image, which has a dusty green and black border.
Vintage Floral Children Drawings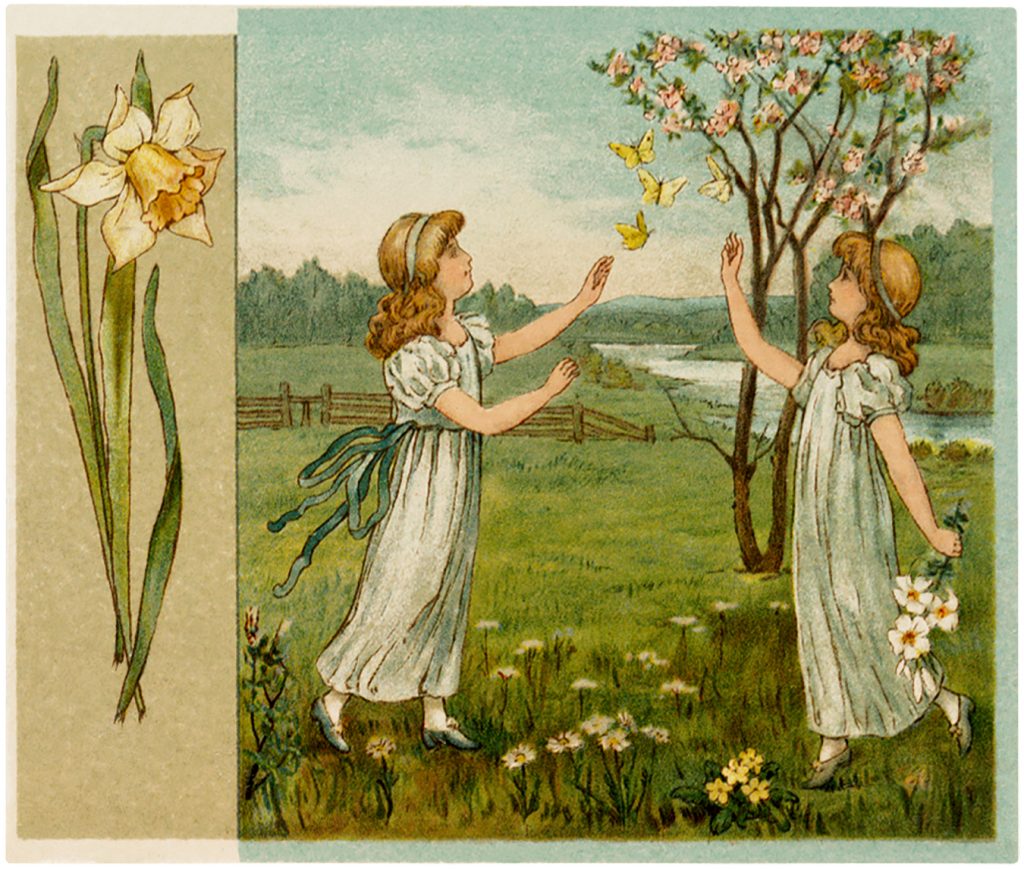 Oh I just love this Antique Flower Children Image! Shown above are two sweet Girls picking Flowers and chasing Butterflies in a meadow. A beautiful stream flows in the background. There is a single daffodil depicted on the left side of the picture.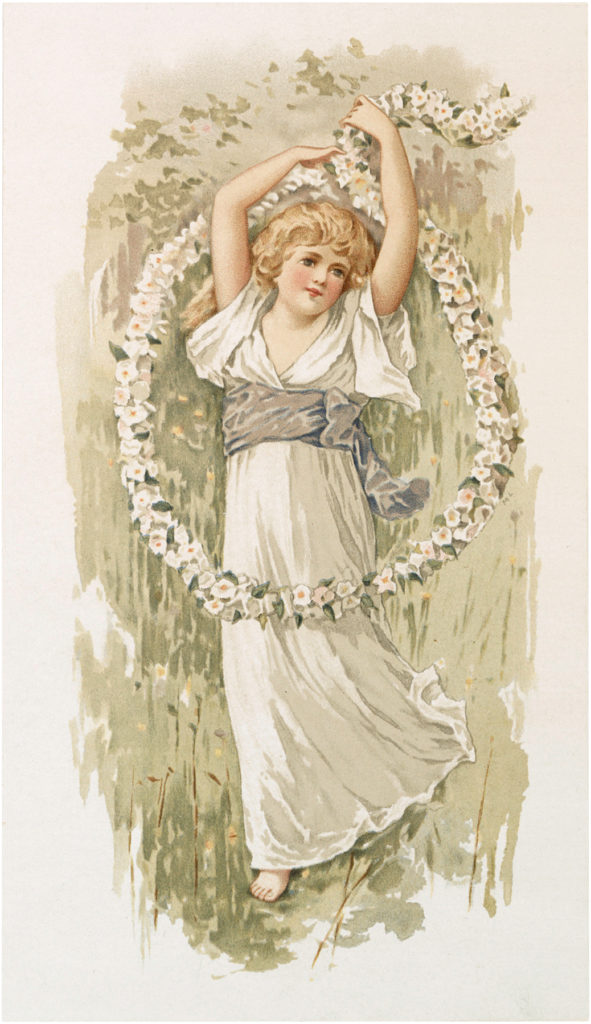 Isn't this a nice piece? This is a Sweet Vintage Flower Child Image! This lovely young lady, dressed in white, holds up a Garland of White Flowers.
More Flower Girls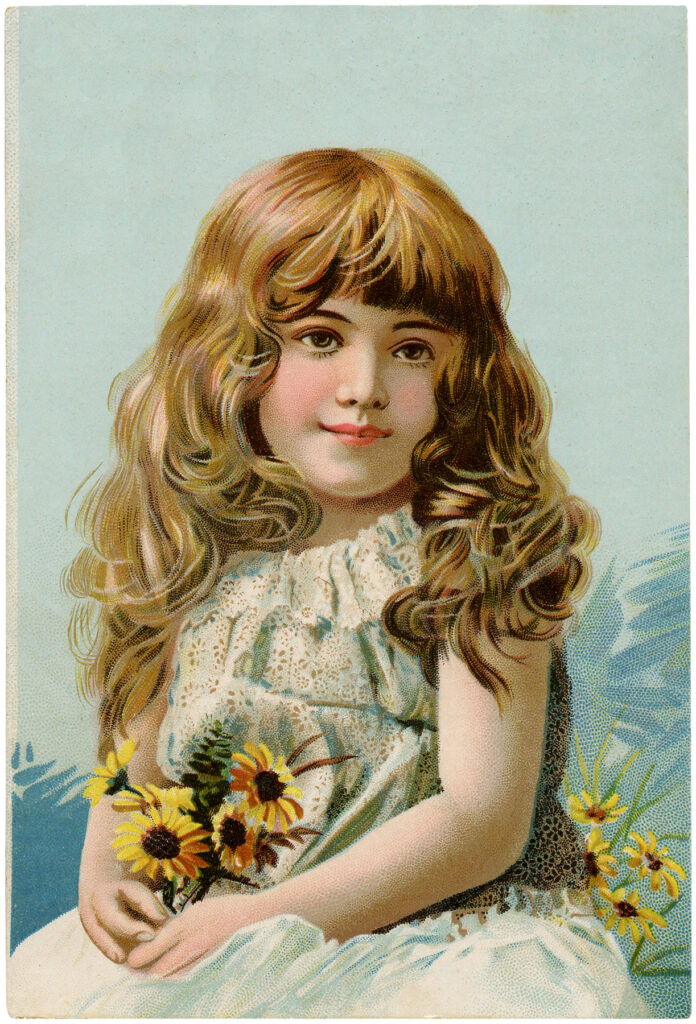 Shown above is a beautiful Child! This sweet Girl is wearing an eyelet Dress and holding some bright yellow Daisies.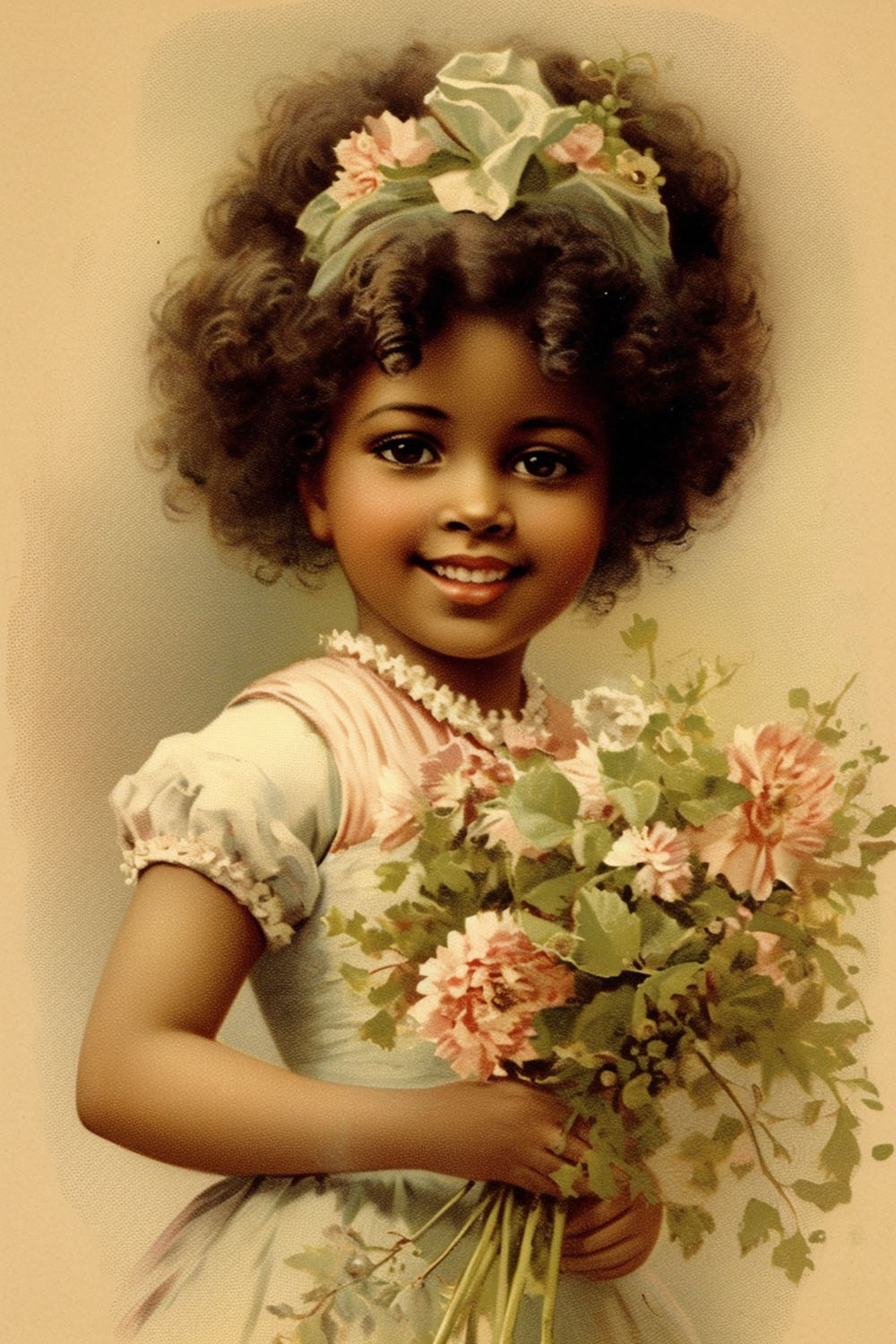 Here is the latest addition to this collection. Our newest sweetie could not be cuter! She's holding a bouquet of pink blossoms and has such a sweet smile!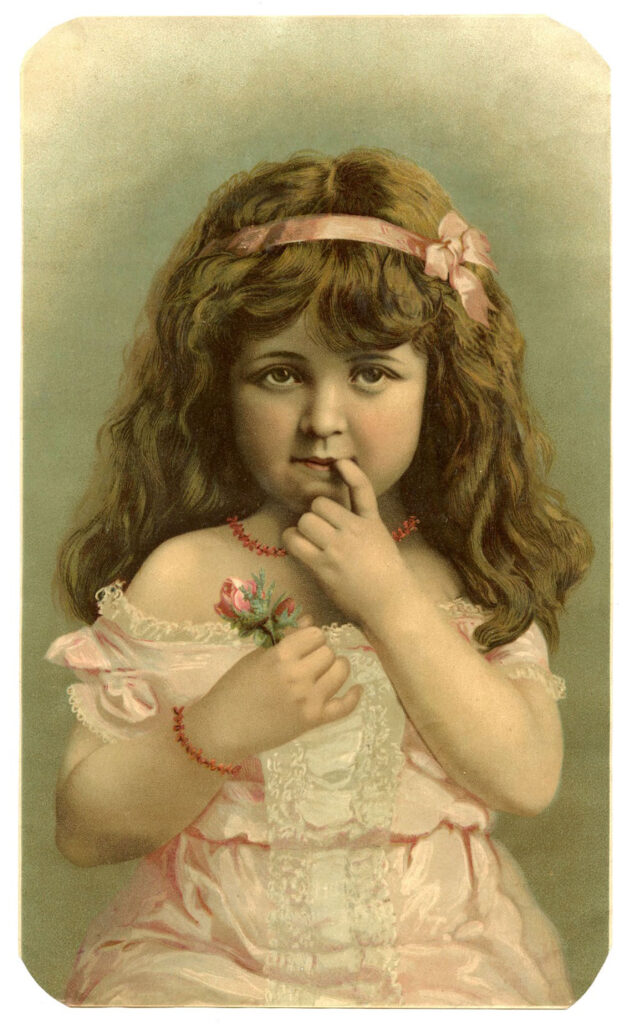 This one is lovely Antique Image of a little girl with a beautiful face! She's wearing a pretty Pink Dress with a Pink Ribbon in her hair.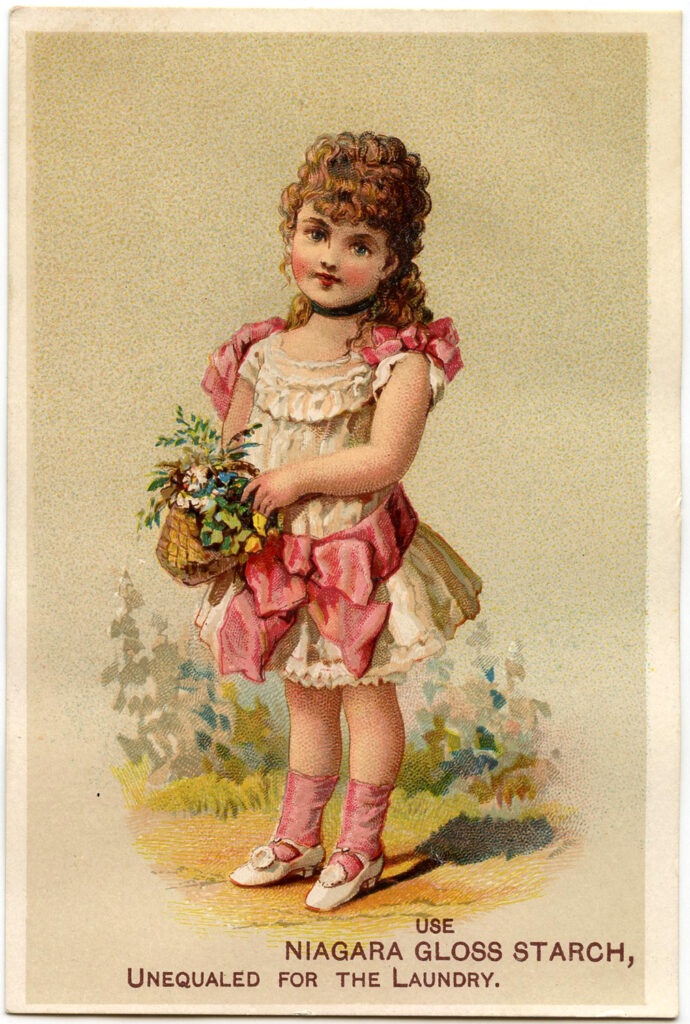 This is an old Niagara Starch ad, showing a little cutie all dressed in pink and white. She's holding a charming basket full of leaves and blossoms.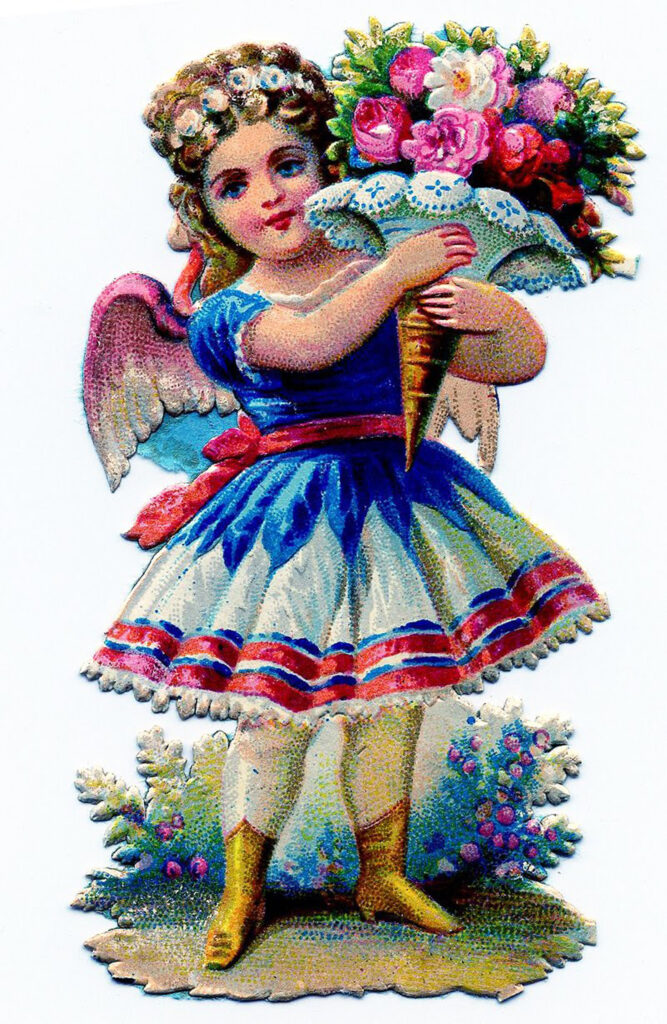 Here we have a pink winged Angel child! She's holding a large Tussy Mussy with some pretty lace around it.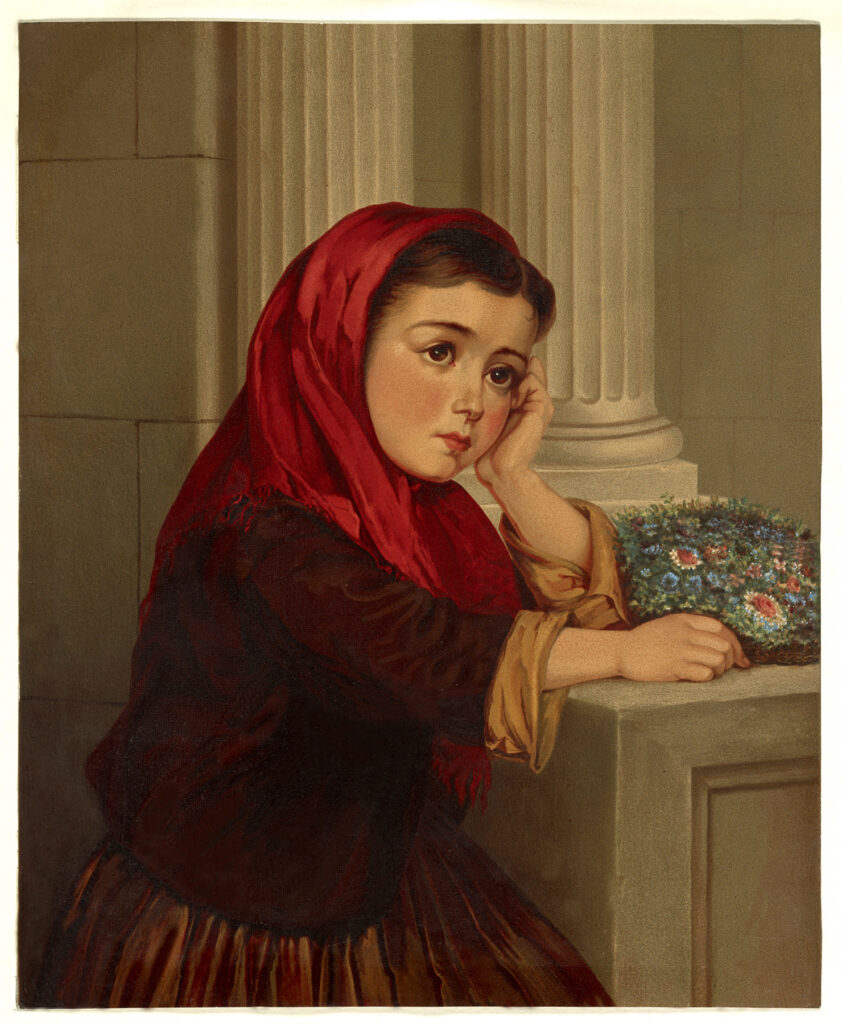 This little lass looks like she is either deep in thought or she may be a little sad. She appears to be waiting for someone with her bouquet in hand. I love her bright red scarf.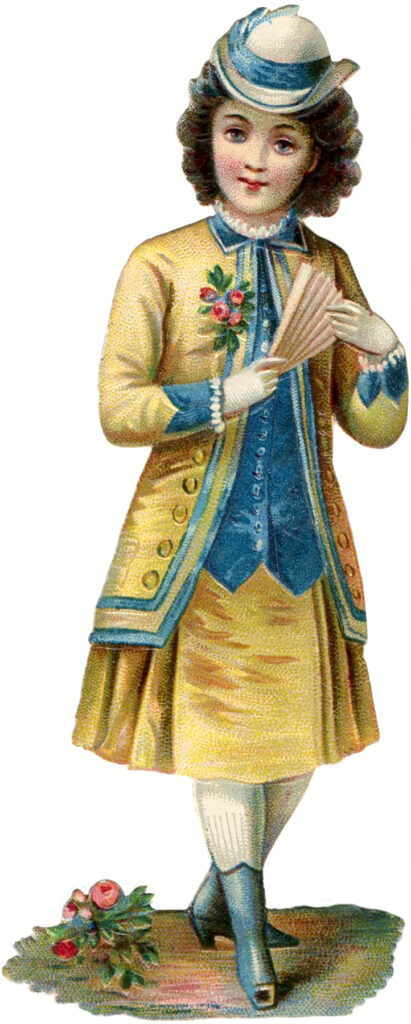 This is a fun little die cut, showing a girl dressed in yellow and blue. She has a little corsage pinned to her jacket and there are more Roses on the ground below.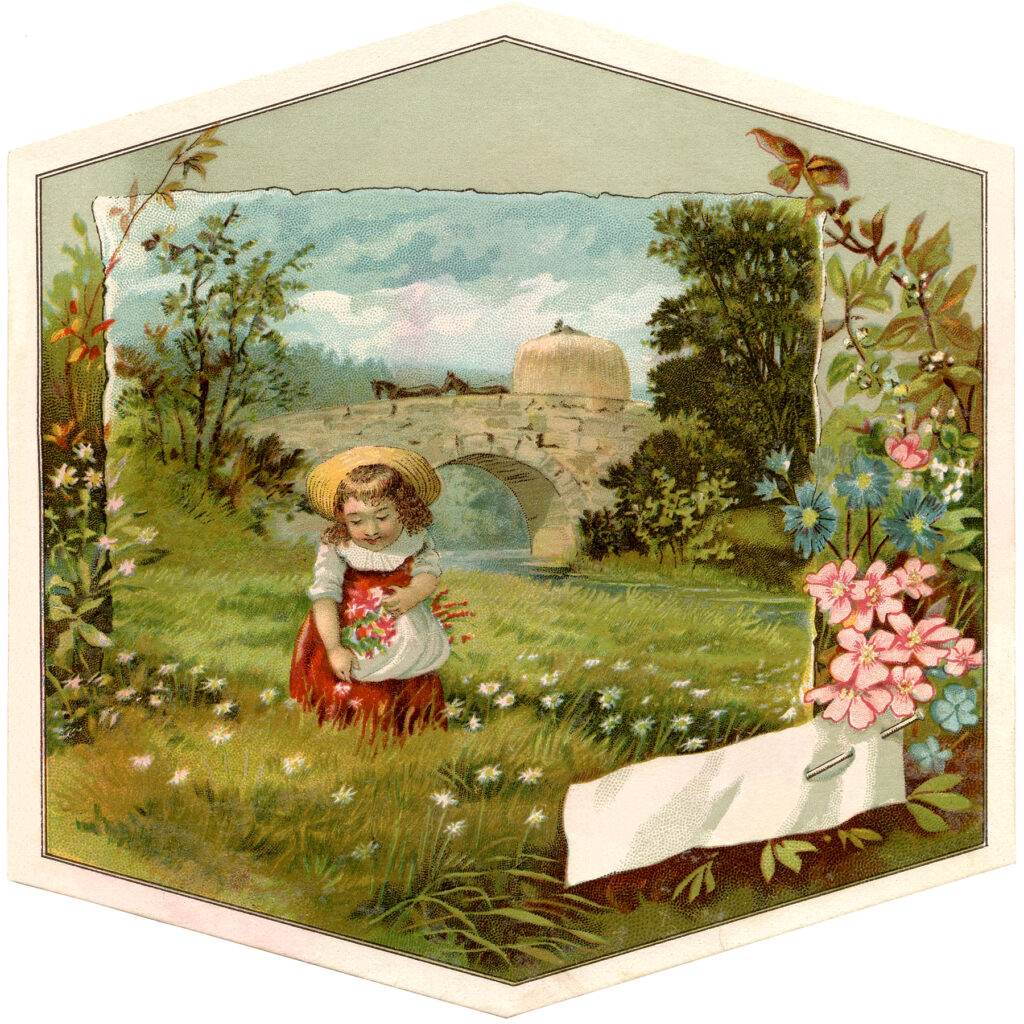 This little darling is out gathering flowers in the meadow. Such a lovely tranquil scene. It looks to be a perfect sunny day!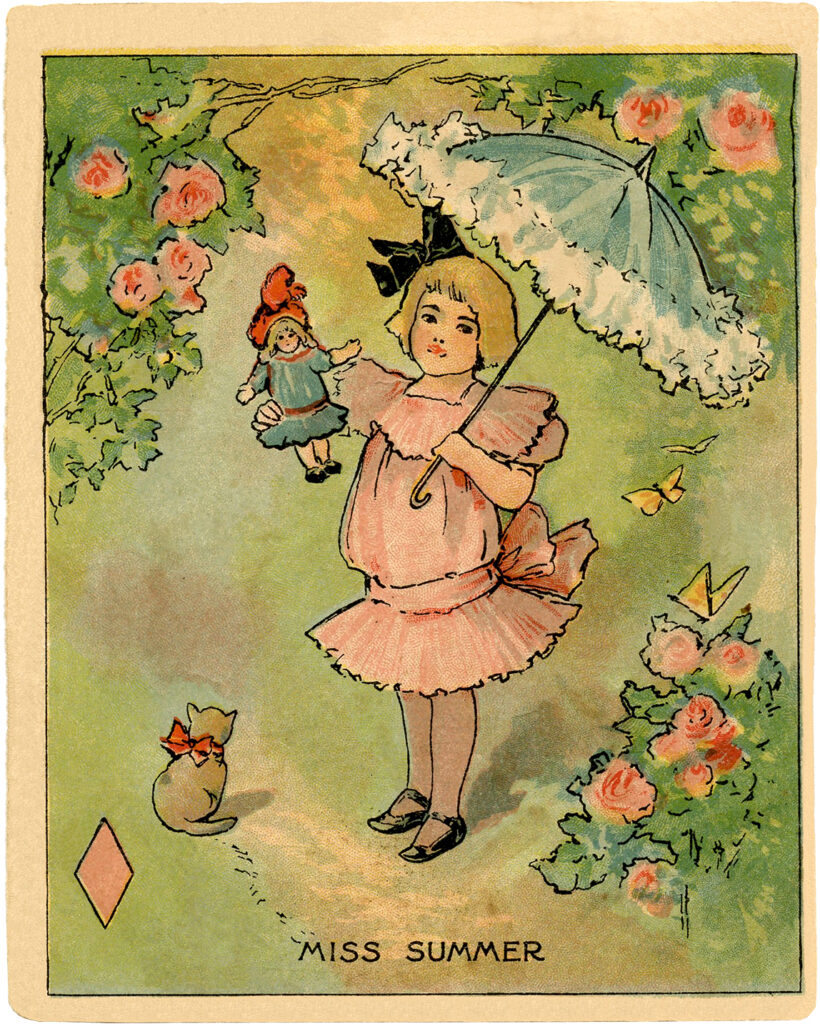 Here we have Miss Summer. She's playing with her doll and Kitty, while shading herself with her pretty parasol. Roses are all around her in the scene.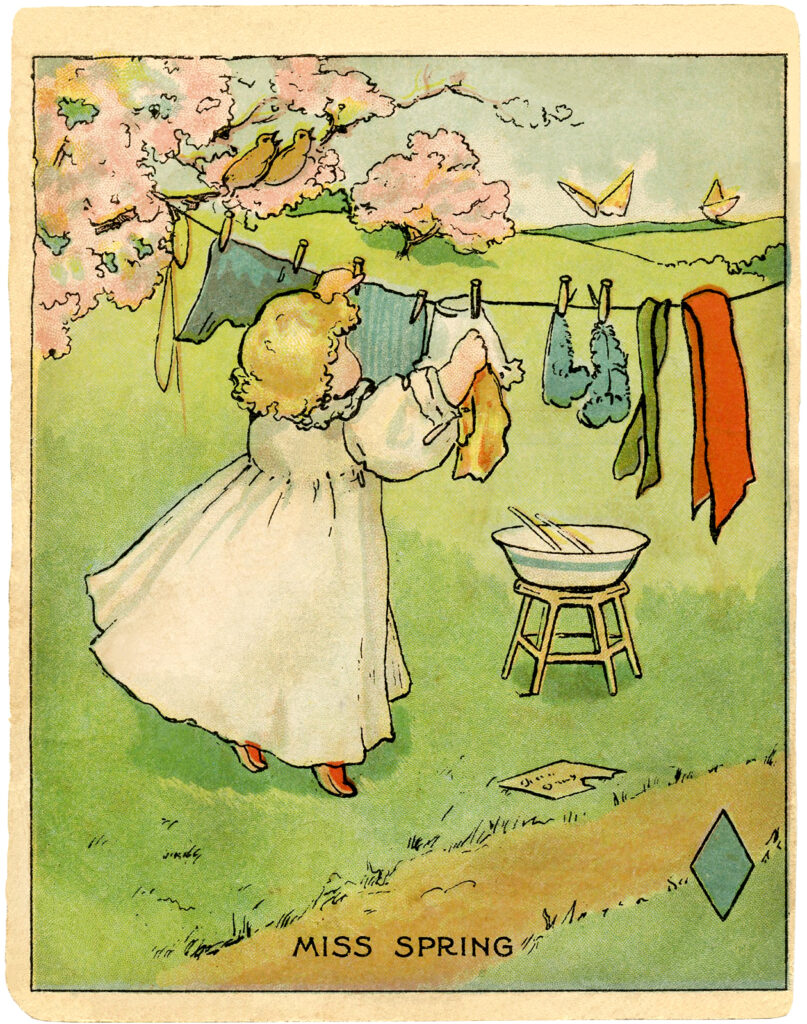 And here is her sister Miss Spring! She's hanging laundry on the line, while the birds watch from the Cherry Blossom tree above.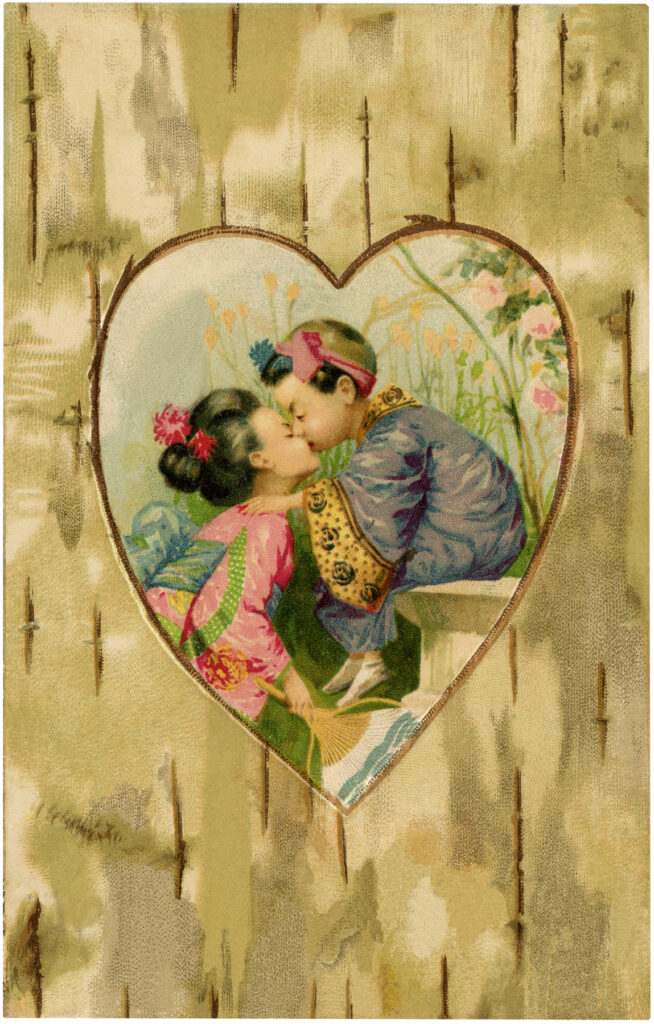 Here we have 2 young children sharing a kiss amongst the flowers. The are framed up with a charming Birch Bark Heart.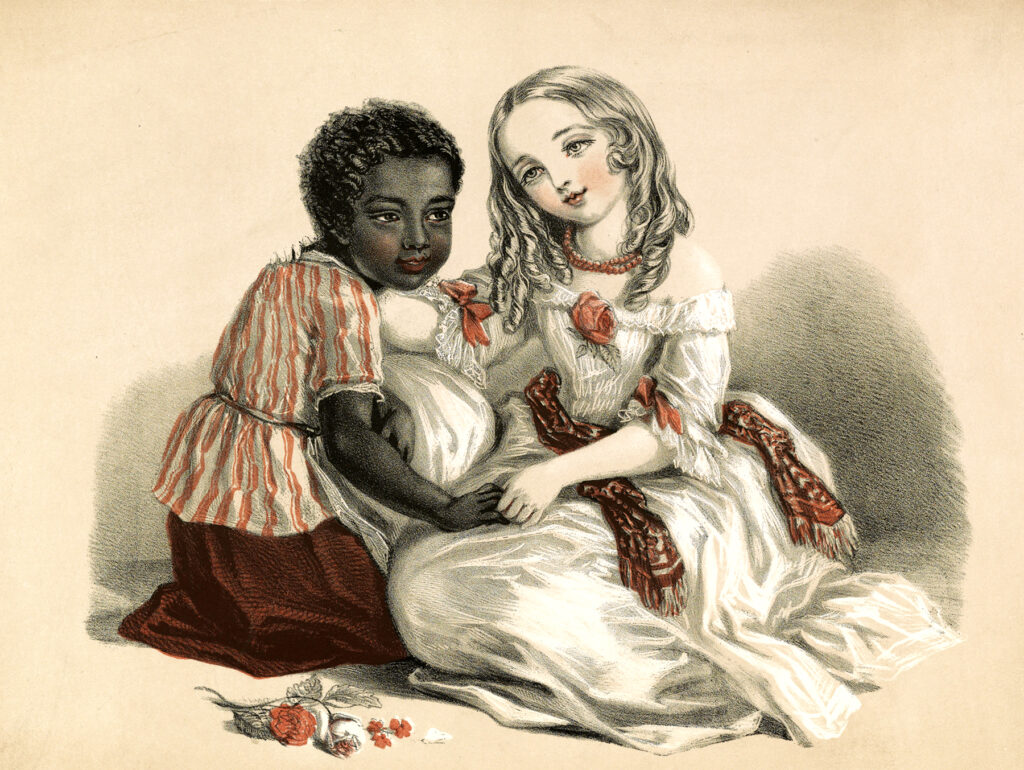 Next we have 2 best friends! They look like they have gathered a few Roses from the Garden. They are holding hands and both have such sweet faces.

This is an ad for Pearline. It shows 3 sisters modeling their white dresses! One has Pink Roses in her skirt.
Flower Girl Photos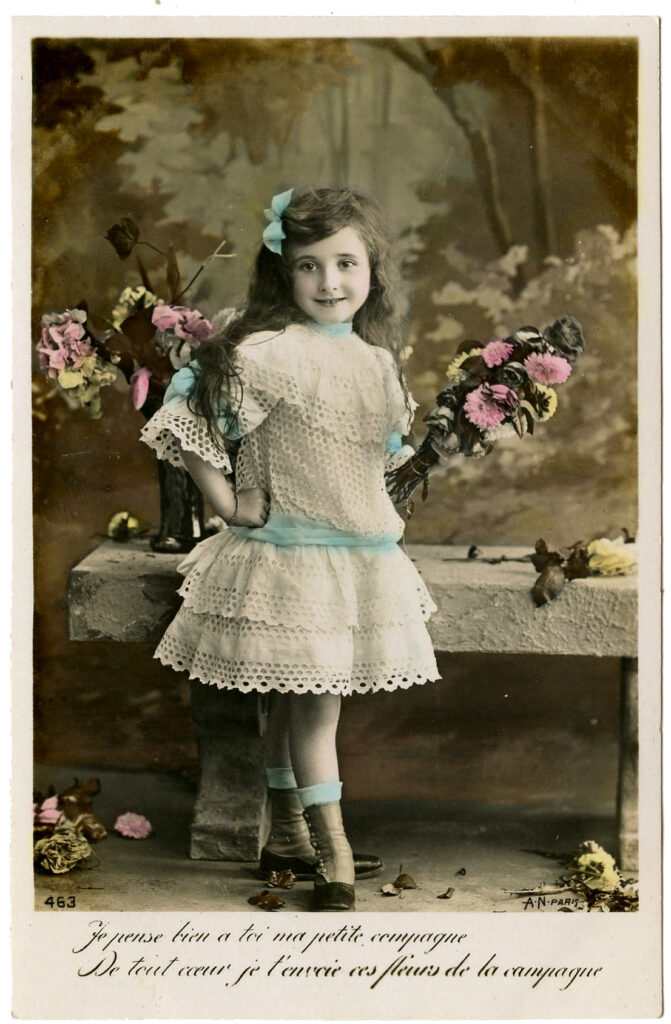 This old French photo, shows a very cute girl in her white eyelet dress. She appears to be flower arranging!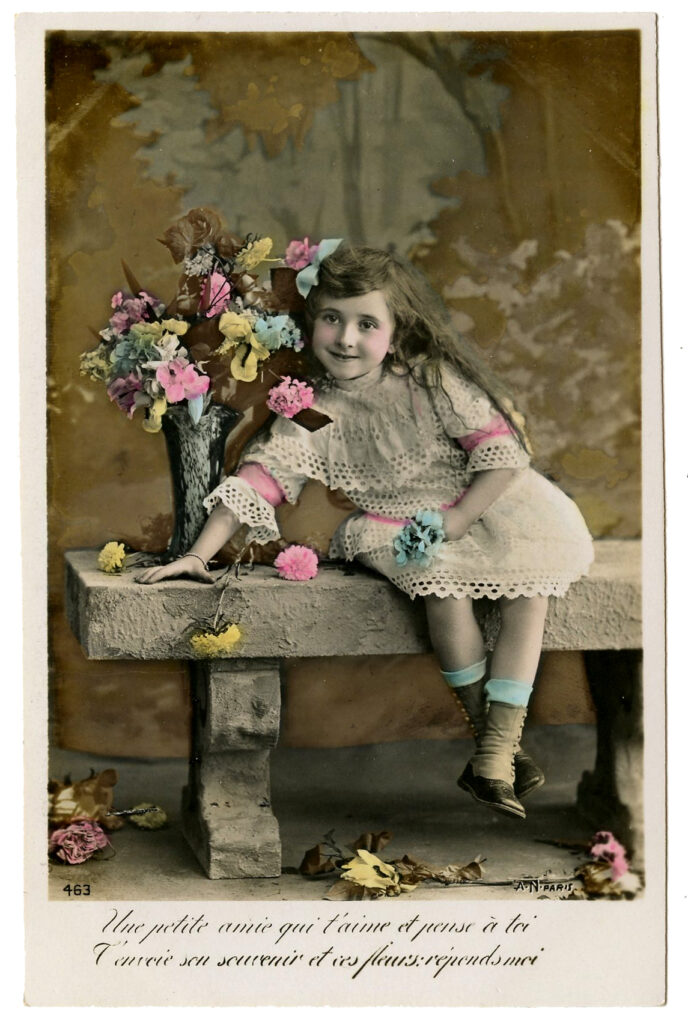 And her is a second photo of the same girl. She's nearly done with her task of putting together the perfect bouquet!
I hope you enjoyed this fun curated collection! You might also like our  Favorite Free Vintage Flower Images HERE!
Hello! Are you new to The Graphics Fairy?
Welcome, I'm so glad you're here! Browse around to find 
thousands of Stock Images
 that you can use in your projects or designs! I post new Vintage images every day, as well as projects and DIY's too! Need more info about my site? Try my 
FAQ
 page.