50 Flower Images
We have 50 favorite free vintage flower images for you today! With spring just around the corner (I can't wait for the snow around here to go away), I wanted to focus on some of my favorite flower images. I've included some original antique botanical images that can be used as instant art, some favorite floral frames, flower etchings, and lovely spring and summer blooms.
I hope you'll enjoy browsing through some of my favorite images I've shared to date on the site. These are perfect for decoupage, paper crafts, card making, transfers, and just about any other craft you can think of. Enjoy!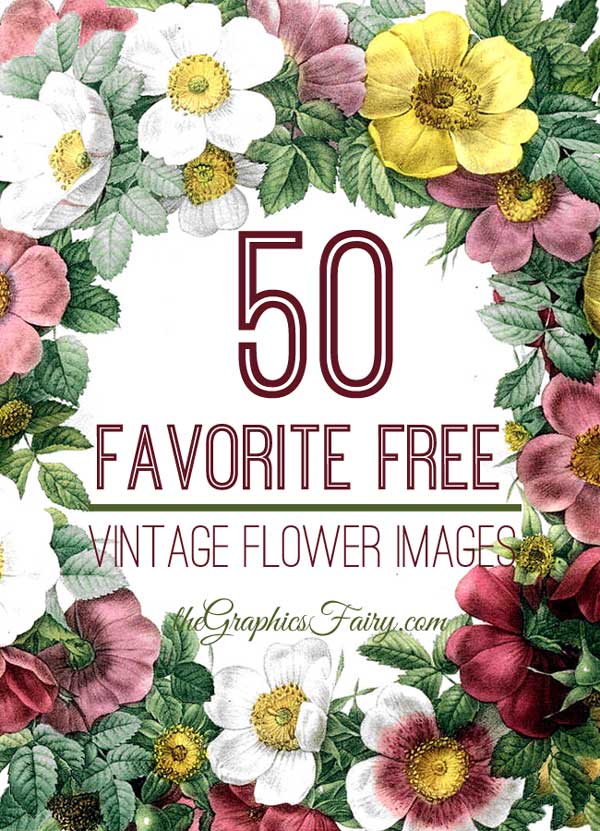 BOTANICAL FLOWER IMAGES
These beautiful antique art images are full size printables in PDF format. Perfect for instant artwork!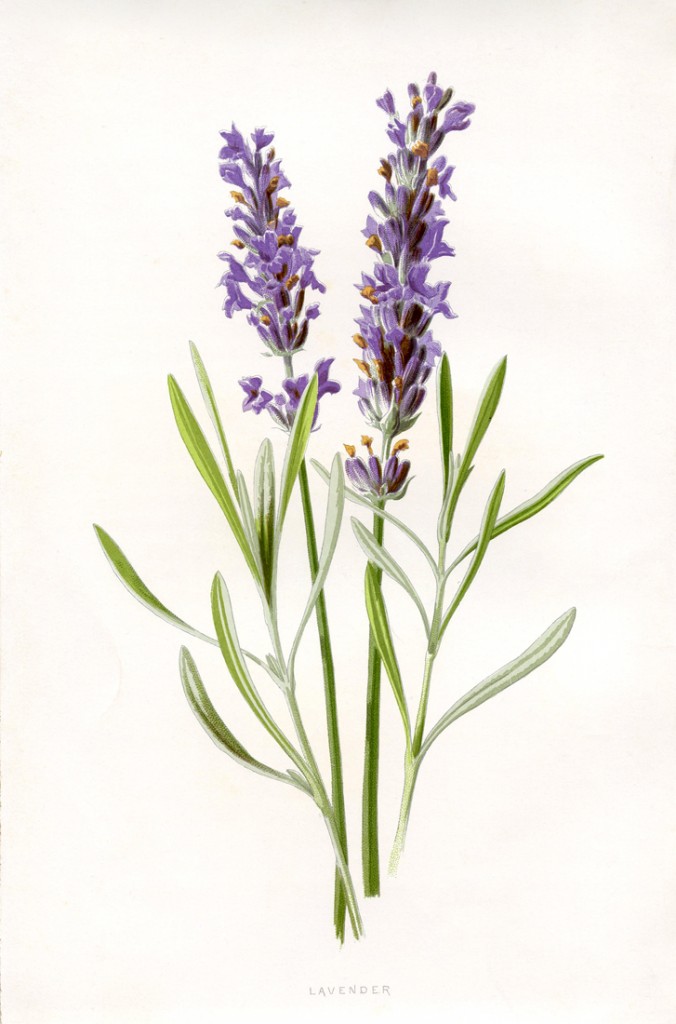 1)   1880's Lavender Botanical Printable.   This antique print is Circa 1880′s and has lovely purple flowers with delicate green leaves. Lavender flower images are so difficult to find, and this would be perfect framed as artwork or made in to labels or jewelry.
2)   Daisy Botanical.  This is a very sweet Botanical Print from the 1850′s! I'm calling it a daisy because that's what it looks like to me, with white petals and bright yellow center, however the caption calls it a White Ox Eye, so there you have it!
3)   Pink Camellia Botanical.  This gorgeous botanical is a lovely pink Camellia print, which dates to around the mid to late 1800′s. The numerous petals add so much depth to this beautiful pink bloom with dark green leaves.
4)   Patch of Morning Glories Botanical.  This is a wonderful antique print of some glorious looking Morning Glories! The image shows a patch in full bloom with several blue tones, a white one, and a striped hybrid.
5)   Pink and White Lily Botanical.  a stunning Botanical Print of a bright pink and white lily. This one came out of an 1870′s Gardening Book, and it's perfect for card making, decoupage and other assorted craft projects.
6)   Red and White Amaryllis Botanical.  An extraordinarily beautiful Red Amaryllis 1878 Botanical print from my collection. The red petals are so bright and lovely on this print. This one is perfect framed for some instant Christmas art.
7)   Red Cabbage Rose Botanical.  This red rose botanical printable is the best one that I have ever found! The deep red flower image dates back to 1883 and was painted by Charles Lefebvre.
8)    Tulip Botanical Print.  This is an amazing bunch of tulips from an old garden book. The large printable includes tulips in yellow, pink, red and white with pink edges.
9)   Variety to Pink and White Primroses Botanical.  This is a wonderful antique Botanical print!! The print dates to the late 1800′s and shows some beautiful flowers, I believe they are Primroses. I love the mix of colors (red, pink, white, and light pink) and the ruffled looking petals.
10)   Water Lily Botanical.  This Pink Egyptian Water Lily includes an open bloom and a closed one, in addition to the leaves.
BLACK & WHITE FLOWER IMAGES
These black and white line drawings and etchings are detailed sketches of flowers. Many images include alternate one color versions.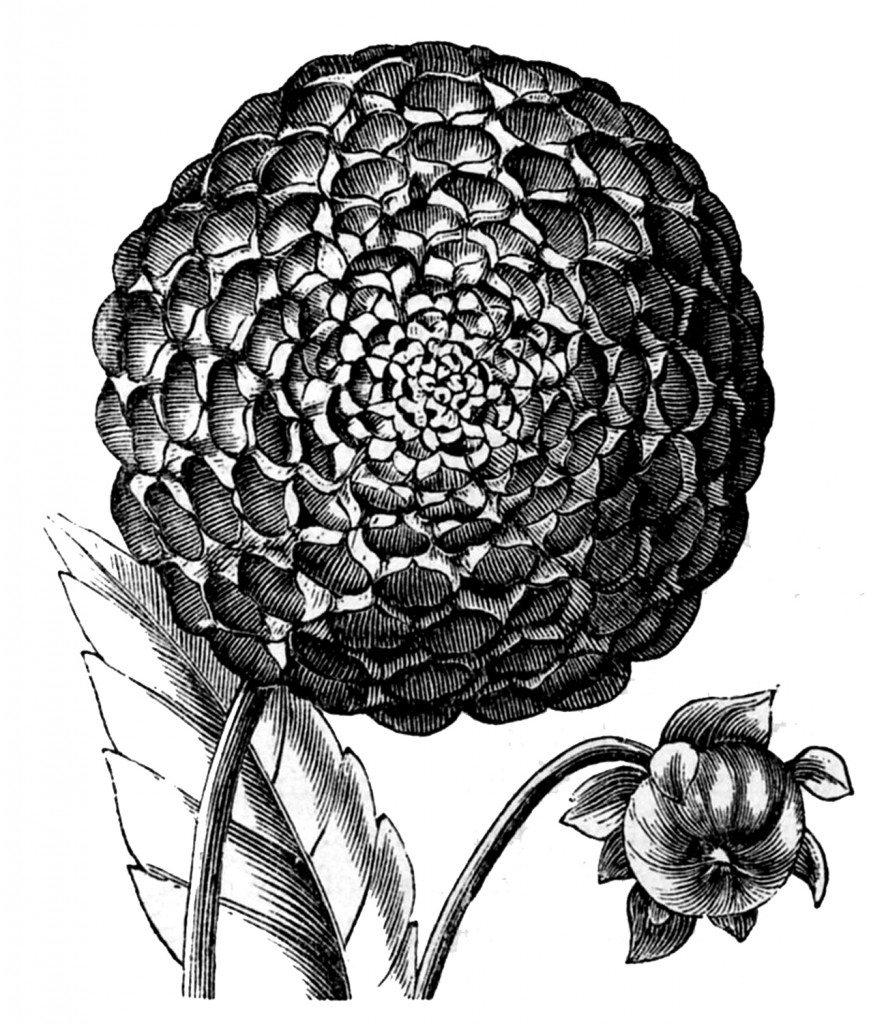 11)   Dahlia Engraving.  This 1870's engraving is of an open dahlia with tons of petals and a closed bud off to the side. This post also includes an engraving of a Gladiola with its Bulb too.
12)   Godey's Rose Engraving.  These are some fabulous Rose Engravings from a Circa 1855 Godey's Ladies Book! These remind me of Antique Transferware patterns that you find on beautiful old dishes. I've included a black and white, dark cranberry color, blue, and brown version.
13)   Lovely Thistle Plant Engraving.  This thistle image is from an old printer's book from the 1880's. The black and white image is of a rather primitive looking Thistle flower engraving.
14)   Petunia Engravings.  This post has two pretty engravings. The first is a striped version, and the second is a pretty ruffled version.
15)   Poppy Flower Engraving.  This lovely Black and White Botanical engraving is from an 1880′s Agricultural Magazine! The engraving is of a pretty Poppy flower, with a closeup of its pod in the right corner.
16)   Varieties of Tulips Engravings.  This post has three lovely floral engravings of three different types of tulips. These show a great variety of petal shapes.
17)   Wild Geranium Engraving.   This wild geranium illustration is so pretty and includes several open flowers and a few buds. I've created several options for you, the original is the black and white one at the bottom, but I'm also offering a purple version, an olive green and a soft blue option as well.
18)   Gladiolus Stems Engraving.   A lovely bunch of Gladiolus stems is the subject of this engraving. This image is from an 1880′s Agricultural Magazine and would be great to color in with watercolor markers.
LABEL & FRAME FLOWER IMAGES
Full color and one color labels, frames, and calling cards that are perfect for adding your special messages or embellishments.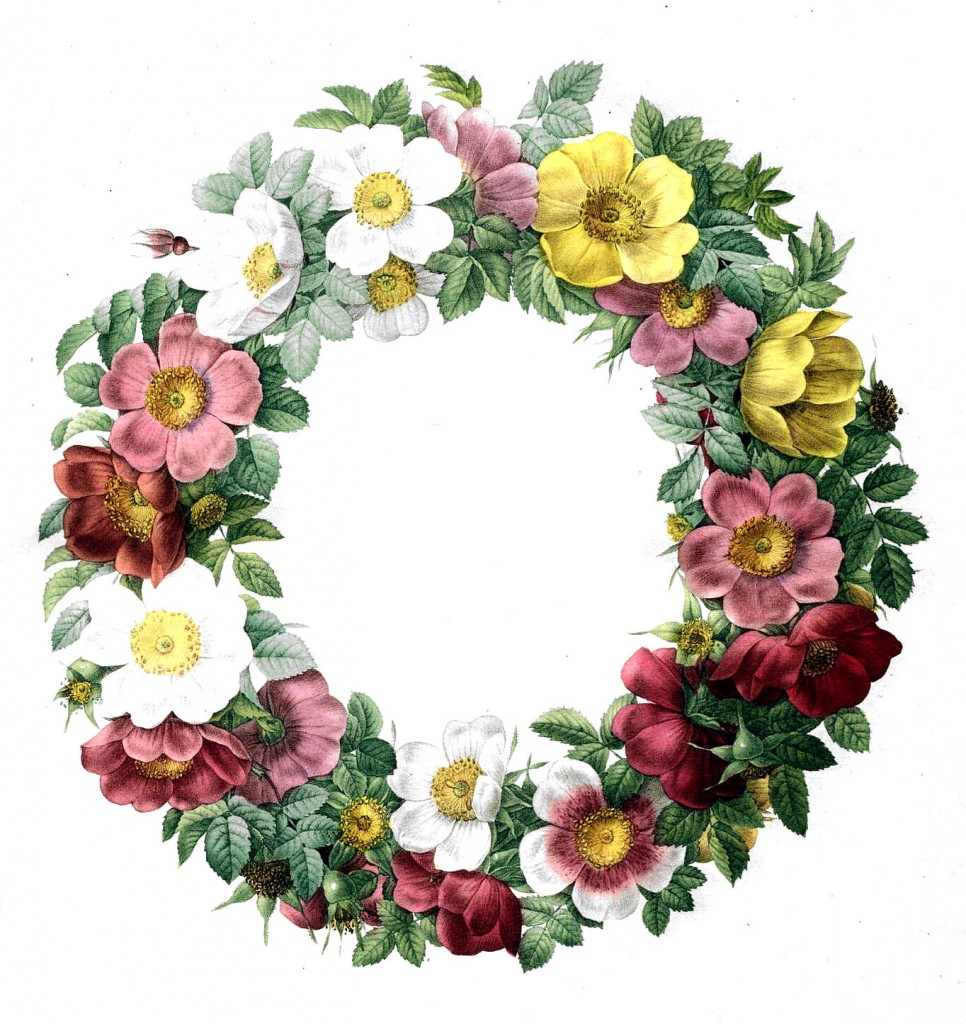 19)   Beautiful Multi-Colored Rose Wreath.  This lovely antique rose wreath has red, yellow, white and pink flowers with yellow centers. The wreath is complete with lots of detailed green leaves. A second version of the wreath includes flowers in pink tones only.
20)   Embroidery Flower Vine Frame.   This embroidery pattern came from a Godey's Ladies Book. The stylized flowers and vine are shaped in a rectangular frame. I've included a pink, green, blue and black version. These would be great for labels or as place cards.
21)   Engraved Square Rose Frame.  This is a great set of beautiful Engraved Rose sprigs from a circa 1850′s Paris Print! These are perfect for Stationary or Invitations, Web Design or lovely for Decoupage and Transfers. Four of these springs have been joined together to make a darling square rose frame in blue. The individual sprigs are included in pink, green, blue and black versions.
22)   Victorian Floral Frame with Peacock Feather.  This Victorian style frame is made up of all sorts of Flowers, including Pink Roses and Daisies, as well as a large colorful Peacock Feather! The background color is soft celadon green and there is a white space in the center of the frame where you can add some text.
23)   Flowers with Paper Scroll Wreath.  Here are some pretty Frames or Labels from the cover of some Antique Sheet Music. Each frame shows a curled up Paper Scroll, with loads of lovely Engraved Flowers along the top and trailing down the edges! The original is the black and white version, but I've also created a pretty blue, a silvery sage green, and soft pink option for you as well.
24)   French Circular Rose Frame.   This gorgeous French frame came from an 1850's print. This delicately engraved frame has a gorgeous laurel wreath and is embellished with gobs of roses. There is a pink, blue, and black version included in the post.
25)   Pink Wild Rose Frame.  This is a really lovely little Victorian card. The original shows a cottage at dusk, surrounded by a stunning oval wild rose frame! I've included a second version, with out the cottage, so that you can frame what every you like with it. It could make a pretty label too!
26)   Rectangular Blossom Branch Frame.  This is another beautiful Vintage French Menu. This menu features a pretty blossom branch border, with soft muted tones. I've created a couple of versions, including a blank one with the word Menu at the top, and a totally blank one that you can use as a Frame or Label!
27)   Rose Embroidery Pattern Wreath.  This embroidery pattern combines roses with vines in a lovely label shape. This would be great for place cards or to create a monogram.
28)   Rose with Moss & Greenery Calling Card.  This pretty moss rose calling card image has a lovely bouquet of Pink Moss Roses and green leaves. The flowers have a banner ribbon going across the front of it, so that you an add a bit of text. You could use this to make a cute gift tag or journaling card.
29)   Stenciled Floral Wreath.  This circular floral wreath came from an old stencil pattern book. Six blooms are arranged around the wreath of leaves. I've included the original black and white version with four colored varieties in the post.
30)   Violets Flower Label.  This post is of a beautiful flower label image with violets. There are several ferns in the back to add some green. The flowers have a banner ribbon going across the front of it, so that you an add a bit of text.
ROSES IMAGES
Our favorite botanicals and Victorian scraps featuring roses.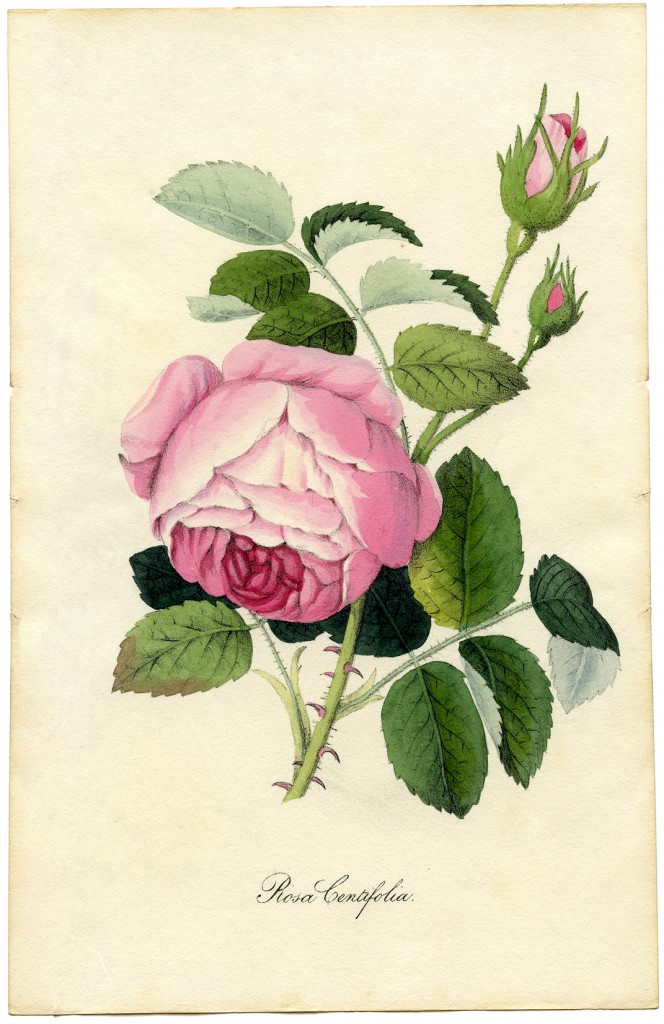 31)   Pink Cabbage Rose Botanical Print by Spratt.  This antique botanical features a huge pink cabbage rose cutting with tons of petals. Two more buds and lots of leaves adorn this 1828 beauty by G. Spratt.
32)   Dark Pink Rose Botanical by Spratt.  This rare Botanical Print Circa 1828 by G. Spratt, is done in deep red tones that shade to dark pink, with bright yellow in the center. According to the caption it's a Rosa Gallica, which is apparently also called a French Rose. So lovely!
33)   Pink Rose with Lily of the Valley Cuttings.  This antique postcard has a  single rose in such a beautiful shade of pink, with lovely shading. The delicate white Lily of the Valley blossoms are the the perfect pairing for this sweet bouquet.
34)   Pink Tea Rose Botanical Print.  This is a beautiful vintage printable botanical rose, called the Pink Tea Rose "La France" according to the caption. The creamy colored petals along with the pink ones on this print are just gorgeous!
35)   Pretty Pink Rose.  This one is a classic Victorian scrap of a perfect pink rose! This would be great for decoupage, collage, or maybe a pretty Mother's Day Card.
36)   Victorian White Rose.  This post has a beautiful Victorian scrap piece, showing a big white rose, tinged with pink! I love how full and droopy this Cabbage Rose is!
37)   Pink French Rose Card.  This is a Romantic looking French Card! The card shows a beautiful Old Fashioned Pink Cabbage Rose, in almost a salmon shade. This one would be lovely for your shabby style projects.
38)   Yellow Rose Scrap Piece.  This one is another beautiful Victorian rose scrap! This one shows a very pretty yellow rose with a few dark green leaves.
SPRING FLOWER PICTURES
These botanicals and vintage flower images are of flowers the mainly bloom in the spring.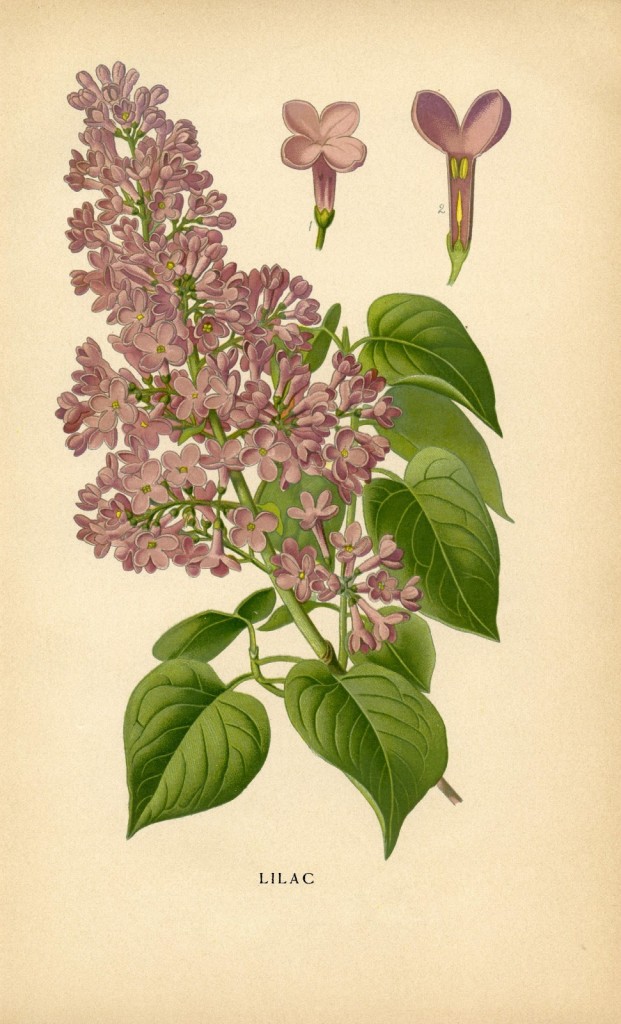 39)   Lilac Botanical Printable.  another wonderful Vintage Botanical Printable from a Circa 1890′s Garden Book! This one is a pretty Lilac! One of my favorite flowers, I love the delicate blossoms on Lilacs, and the fragrance is divine! You can print this out and frame it right up for some Instant Art for your home.
40)   Black and White Tulip Botanical.  This is a really beautiful early Botanical print, circa 1810. The tulip head is featured with white petals, with the prettiest pattern made by the black edges.
41)   Easter Lily Botanical Printable.  This is a very early Botanical Lily image, circa 1829 with three white blooms with leaves. I think this would look really nice printed out, and placed inside of a glass cloche for an Easter display!
42)   Purple Violet Bouquet.  This sweet Victorian graphic shows a violet bouquet, all tied up with a pretty purple ribbon.
43)   Spring Daffodil Colored Engraving.  This pretty vintage daffodil graphic comes from an 1880′s farm magazine. The single bloom is done in a very soft yellow and green tones.
44)   Vintage Daisy.   This happy little graphic is of an antique scrap die cut piece. There are two Daisy flowers together and some bright green leaves. Such bright and cheerful flower images!
SUMMER FLOWER PICTURES
These flower images include flowers that traditionally bloom in the summer months.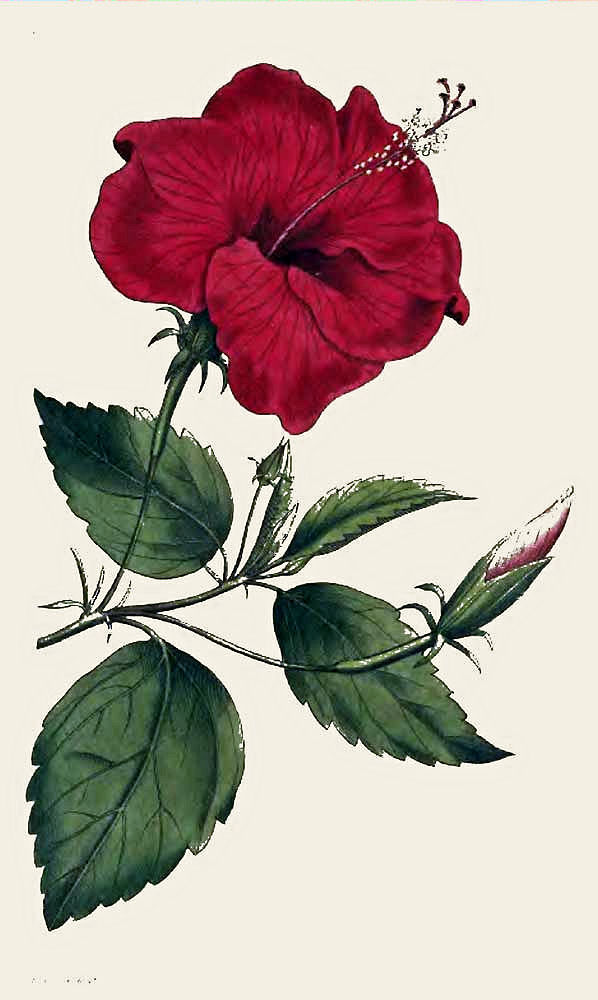 45)   Bright Red Hibiscus Flower.  This is an older image I posted for a request day, and it features a single red hibiscus flower with a bud, and several dark green leaves. It reminds me of warm, tropical weather.
46)   Calla Lily Blooms.  This image comes from an antique Easter book, but you could certainly use it year round! It's a lovely vintage graphic of two white calla lilies.
47)   Purple Hydrangea.  This gorgeous hydrangea instant art print has pretty purple blooms. The single big bloom is made up of many individual flowers; such a pretty image alone as a print or in your craft projects.
48)   Stephanotis and Fern Bouquet.  This is a charming little antique card that features a green and white bouquet. The ferns are a lovely addition to this Stephanotis bouquet, the look so fresh and green.
49)   Sunflower Victorian Scrap.  This is an especially pretty Victorian scrap, with a single bright yellow sunflower bloom with a brown center.
50)   Yellow and Purple Ruffled Pansies.  This pansy image comes from an old card. There are three stems with pretty yellow and purple faces. I love how the artist shows the ruffled petals, so nice!
Hello! Are you new to The Graphics Fairy?
Welcome, I'm so glad you're here! Browse around to find
thousands of Stock Images
that you can use in your projects or designs! I post new Vintage images every day, as well as projects and DIY's too! Need more info about my site? Try my
FAQ
page.