32 Easter Chick Clipart
Today we have an adorable collection of Chick Clipart Images! These are the cutest pictures of these sweet fluffy yellow creatures! Some are perfect for farmhouse style projects and many are Easter Chick Clipart pictures that are great for your holiday crafts. Several appear to have just hatched from their egg shells. A few of the Chick clip art babies are riding in carts, cars, and even a hot air balloon. Some of the cards and other pictures are adorned with the prettiest flowers as well. Others display children playing with them. The colors are beautiful, and the images are so imaginative! If this doesn't get you in the Easter spirit, I don't know what will! All are nice for your Handmade Easter Cards or Craft Projects.
Chick Clipart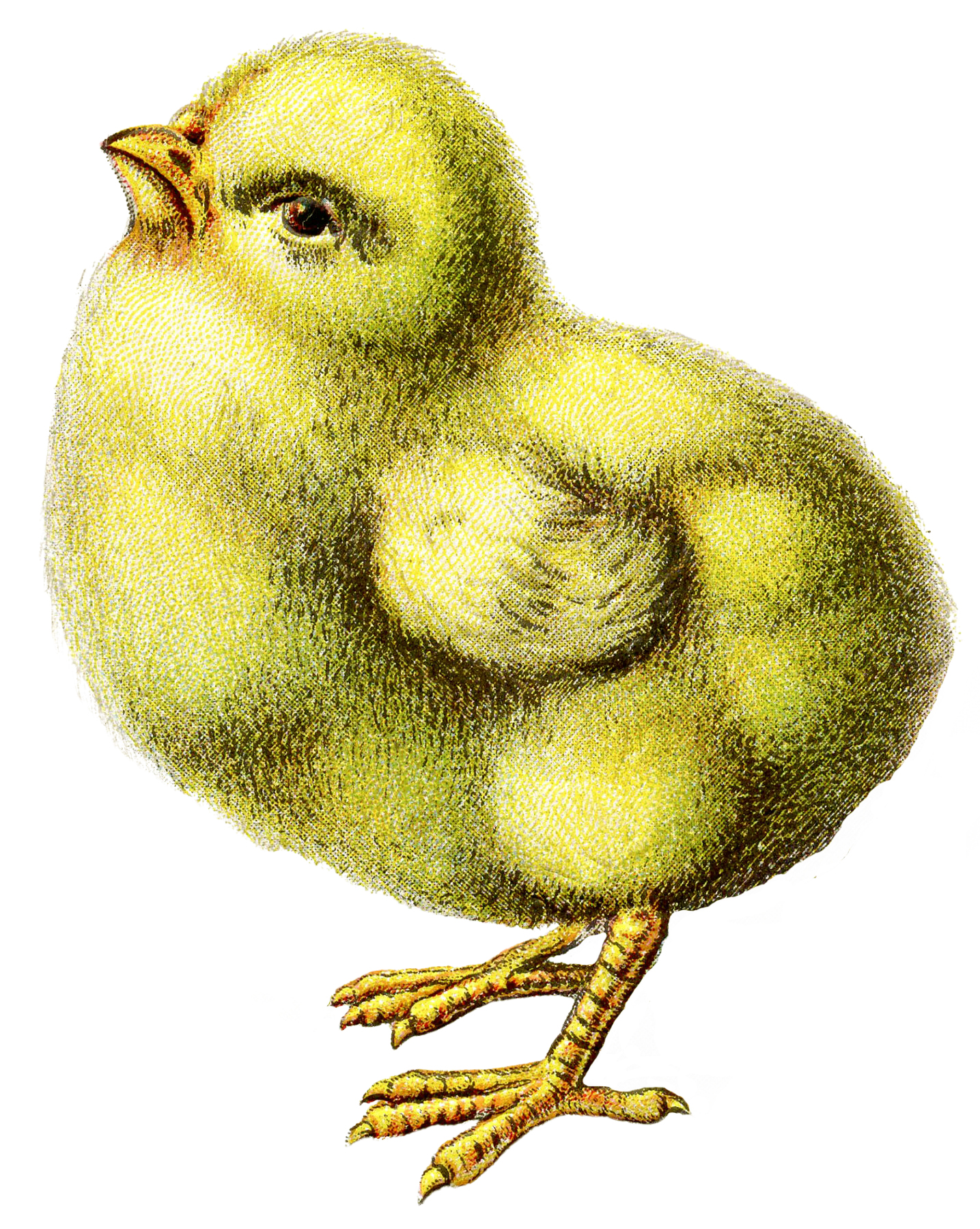 First up is this darling Baby Chick Clipart picture! He's such an adorable little yellow fluff ball, all downy and soft. He would be great to use in Farm house projects with other Chickens or you could add him to Easter Creations as well.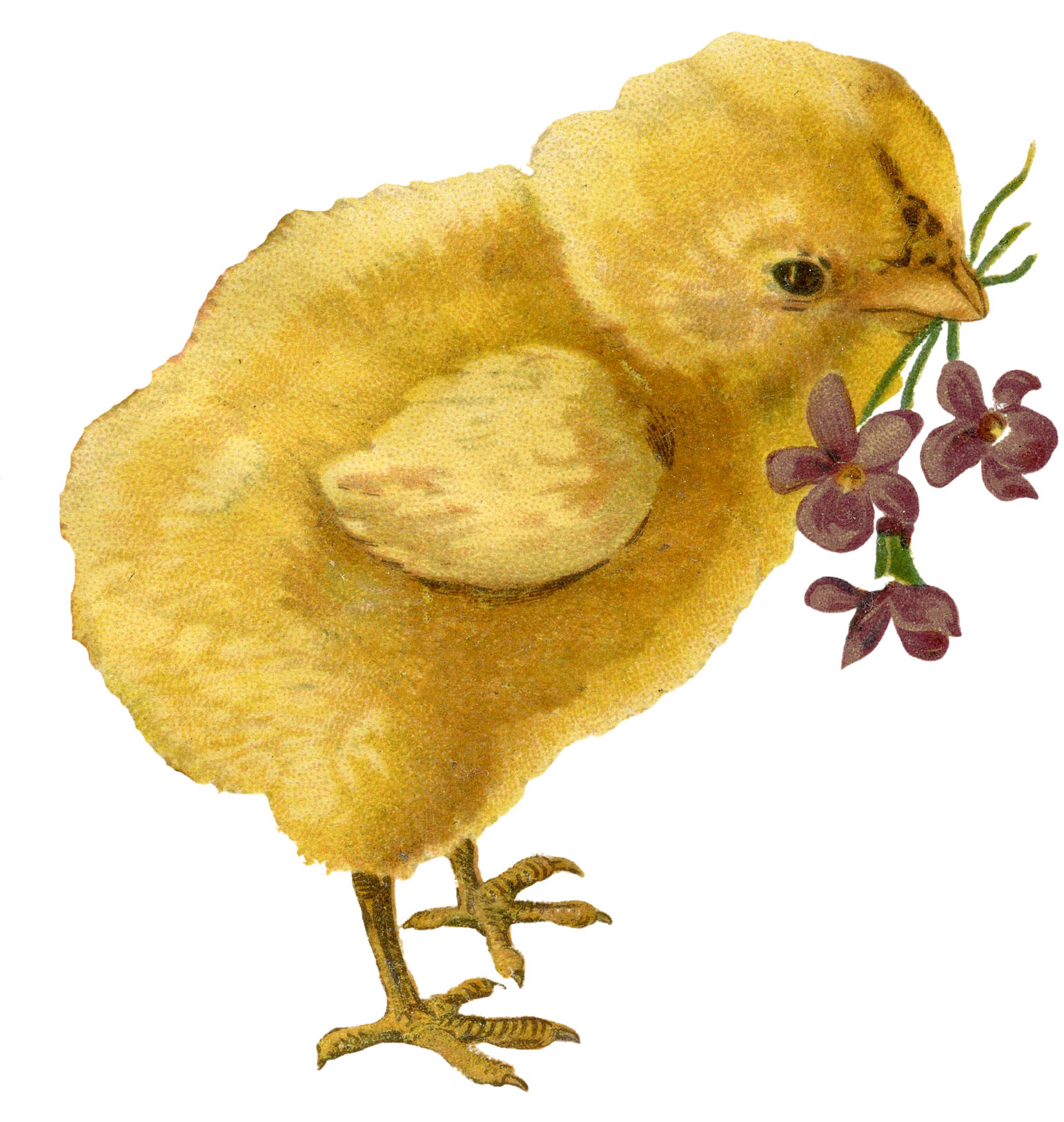 This sweet Chick picture shows a another fluffy cutie! This little guy, or girl, has a tiny bouquet of Violets in it's mouth. A lovely Spring picture.
Black and White Easter Chick Clip Art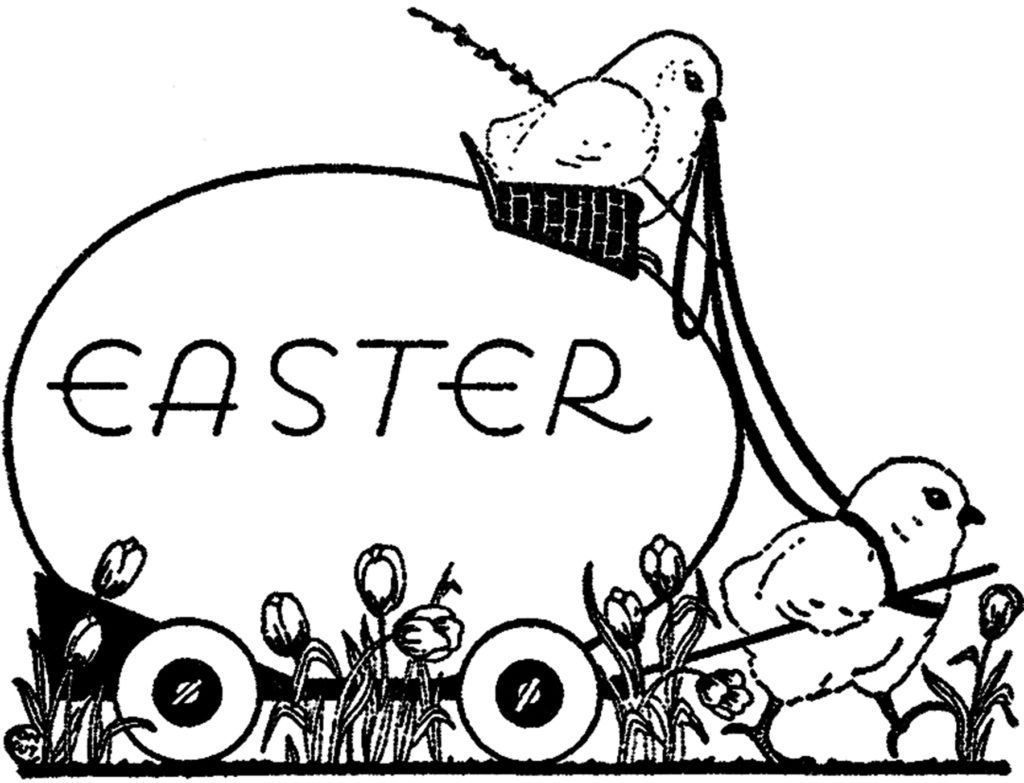 Shown here is a Vintage Illustration of two cute Easter Chicks pulling a giant Egg on a Cart! Scanned from a rare Circa 1941/1942 Printer's Catalog in my collection, this one is a real gem!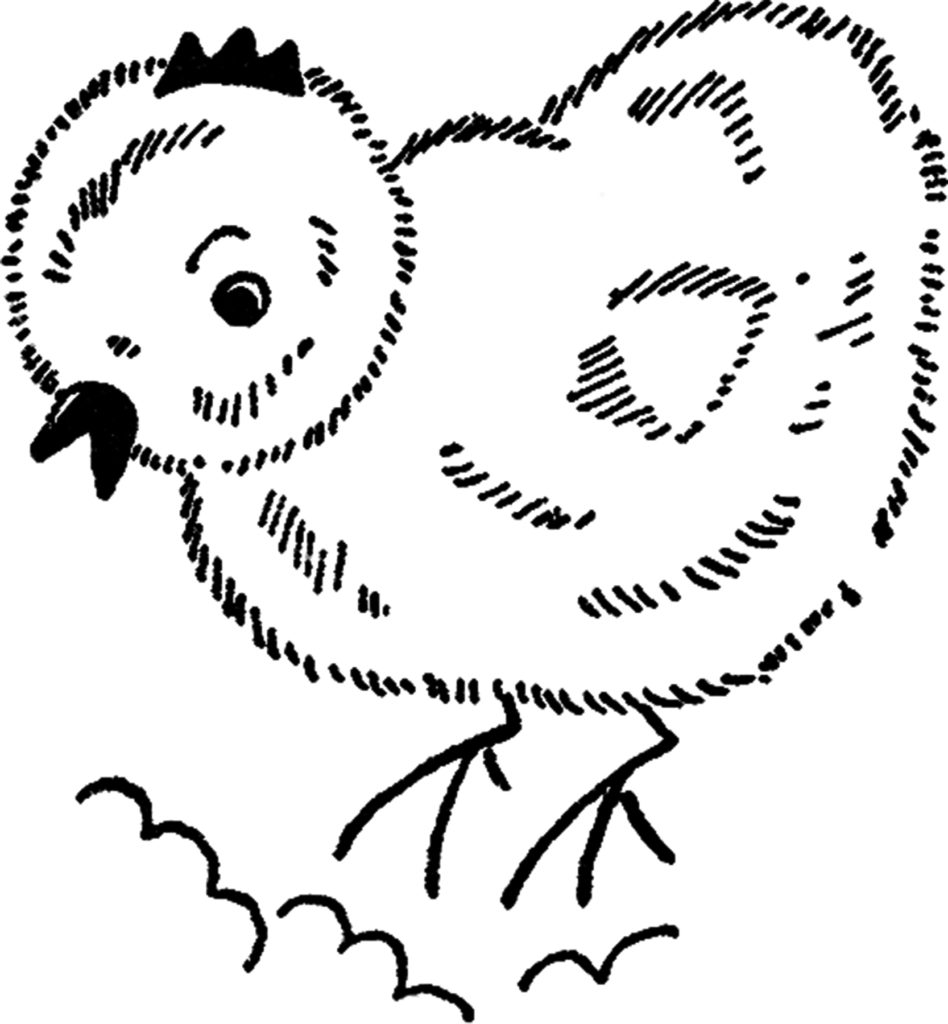 Shown here is a Line Art Drawing of an adorable little Chick! This one was also scanned from the rare Circa 1941/1942 Printer's Catalog. So cute!
Vintage Easter Chicks Photos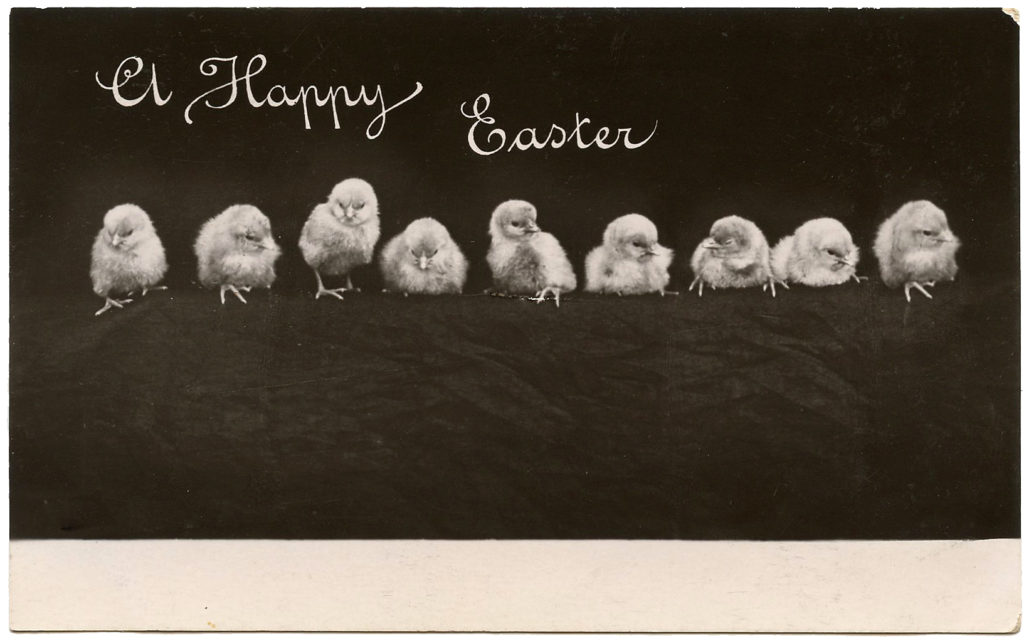 I just love this adorable little "A Happy Easter" 1906 Postcard. Here we have nine darling little fluffy Easter peeps all in a row! Cute!! I I think this one would make a great Meme.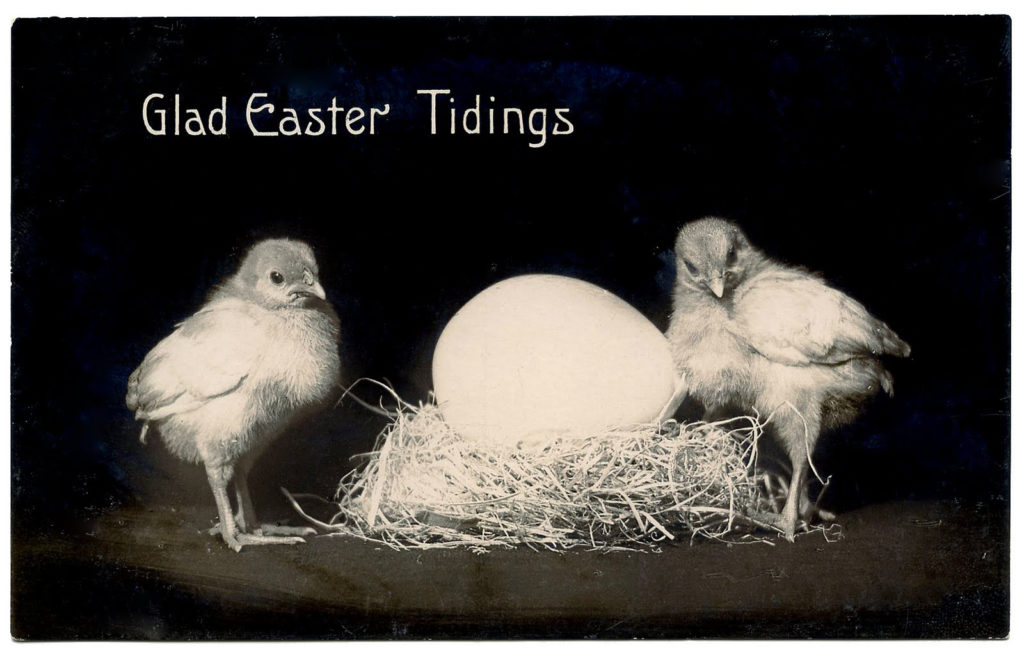 Well, here's one splendid Easter Card image for you! Two precious fluffy baby Chicks, a giant egg, and a straw nest. Just darling! The card reads, "Glad Easter Tidings."
Easter Peep Pictures
Look at these fluffy cuties! They are tying up an egg with a pretty blue ribbon. Such teamwork!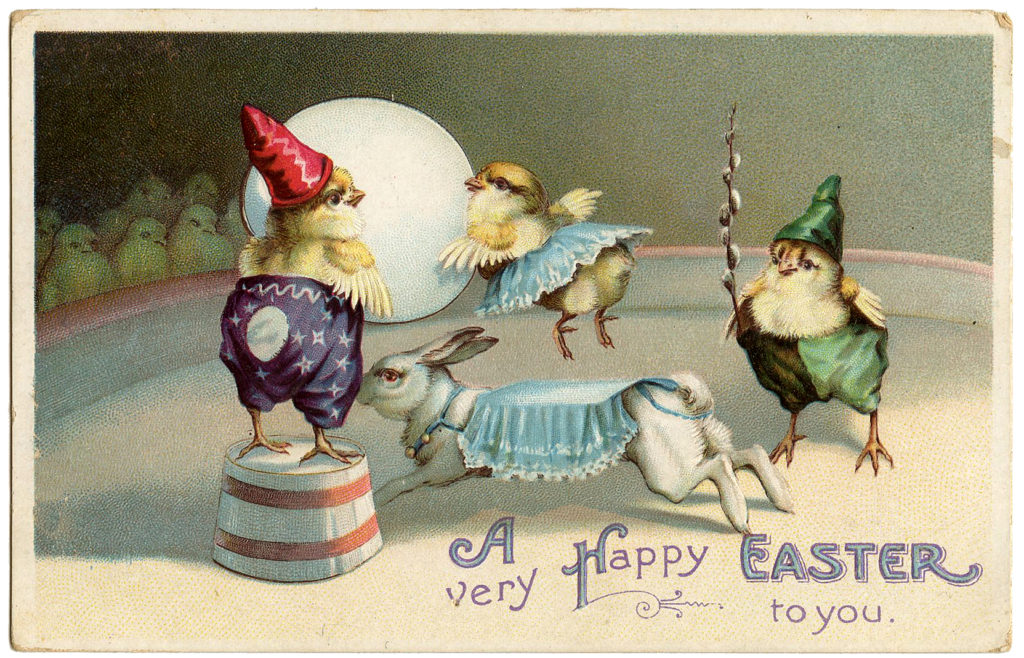 Shown above are a darling trio of fluffy yellow friends, putting on a Circus performance with a white Bunny. So cute!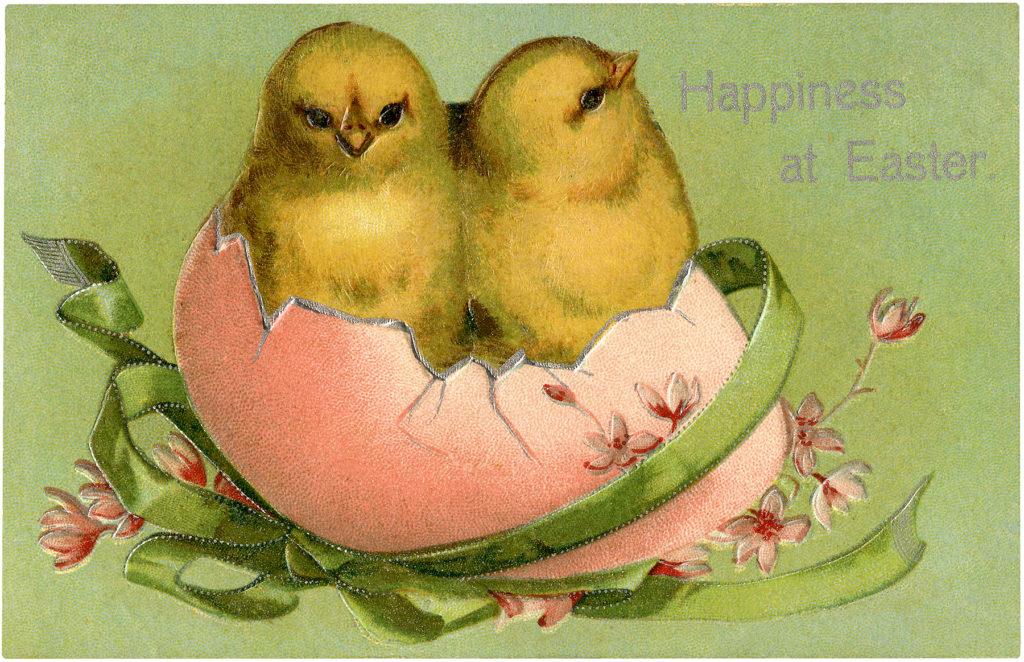 Shown is an Antique Easter Postcard with two Cute Yellow Peeps hatching out of a pretty Pink Egg surrounded by pink flowers. This is such a fun Vintage Card that reads, "Happiness at Easter."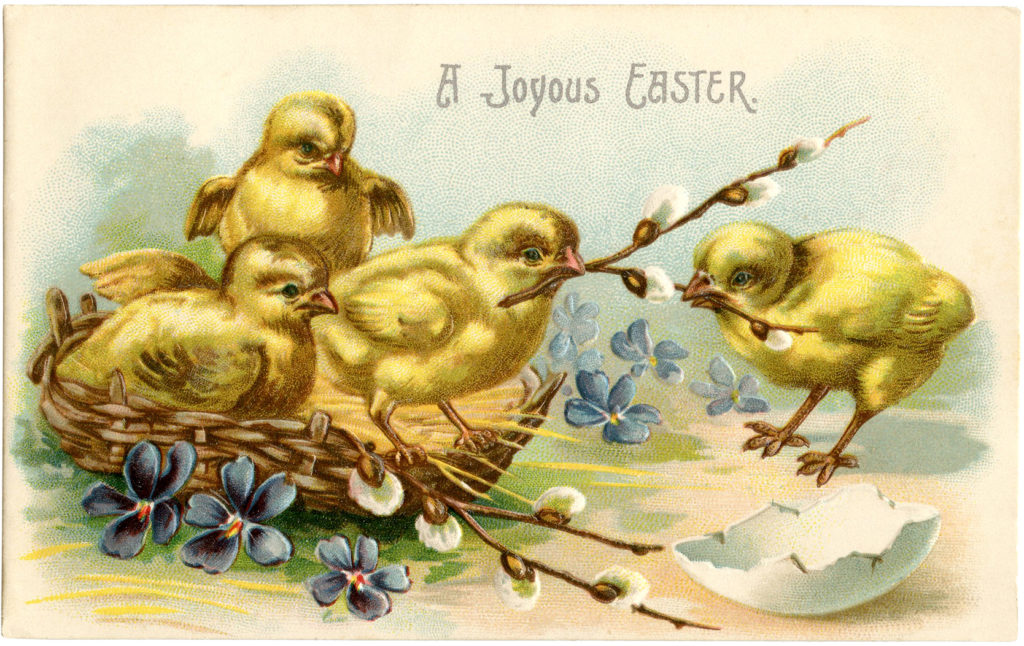 Shown above is an Antique Postcard featuring four cute Fluffy Baby Peeps! Two are having a little tug of war over a Pussy Willow Branch! They have a little basket for a nest that's adorned with purple Violets. The greeting on the card reads, "A Joyous Easter."

I think this is such a Darling Vintage Joyful Easter Chicks Image! Shown above is a Vintage "A Joyful Easter" Postcard with four cute birds popping out of a Wooden Shoe. 

Above is an adorable old Easter Image of a sweet Antique "Easter Greetings" Postcard, showing three fluffy Yellow guys! One of the peeps is hatching out of a large white Egg and the other two appear to be ready to surround him with a pretty Blue Floral Garland! I love the colors on this one, along with the delicate Typography of the greeting.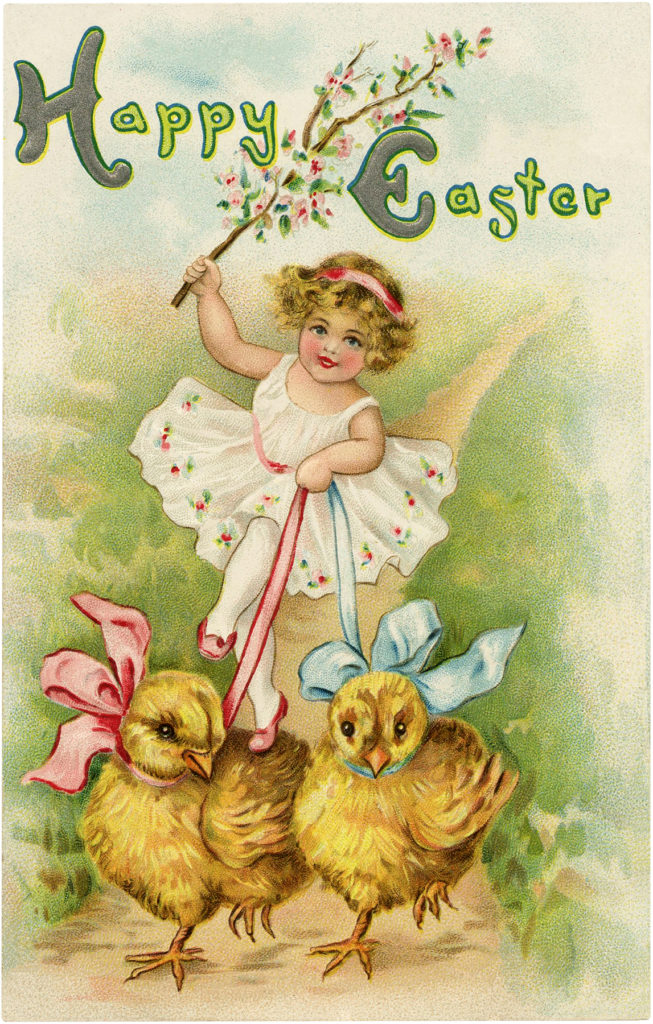 This is the Cutest Easter Girl Image!! Shown above is an Antique "Happy Easter" Card with a sweet tiny Girl wearing what looks to be a Tutu. She's also riding on top of two Yellow Easter Chicks! This is such a fun Vintage Image!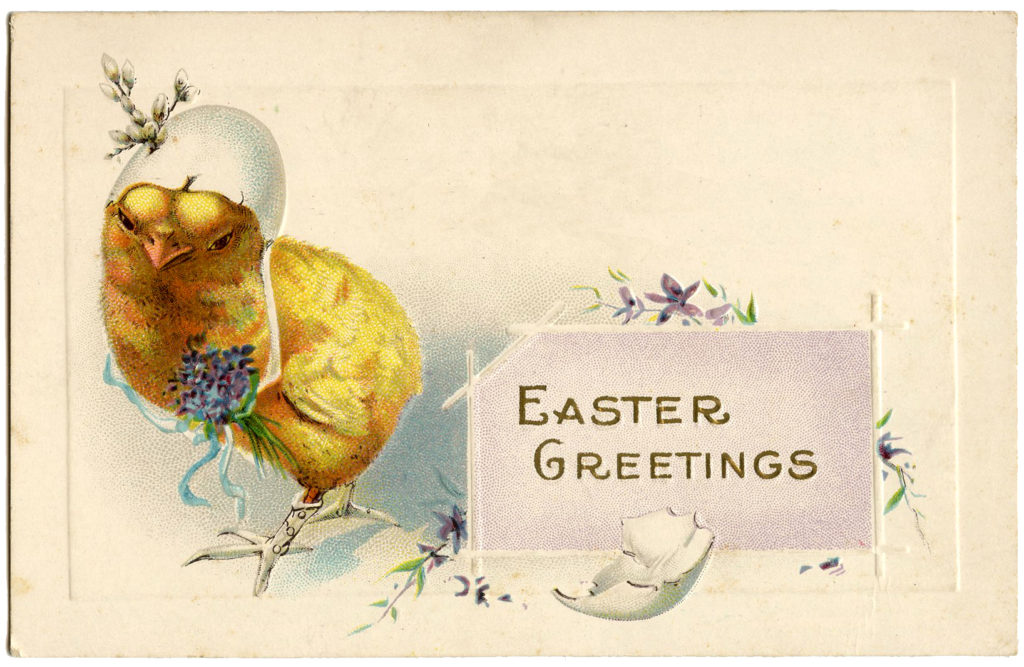 Here's a very cute little Easter Chick Image on an "Easter Greetings" Card. I love her little eggshell bonnet, and the Violet bouquet is so sweet too! How did that bonnet get placed on her head?

Pictured above is also a darling Easter Chick Clip Art Vintage Card! I thought the fluffy little newborn Peep was just precious, you may recognize him from the first one in this collection. The Easter Lilies and bells add such a nice touch.

Here are two cute little yellow fluff balls on another "Easter Greetings" Vintage Postcard. This one is framed with pretty blue forget me nots. They appear to perhaps be standing over water on a little bridge with fence.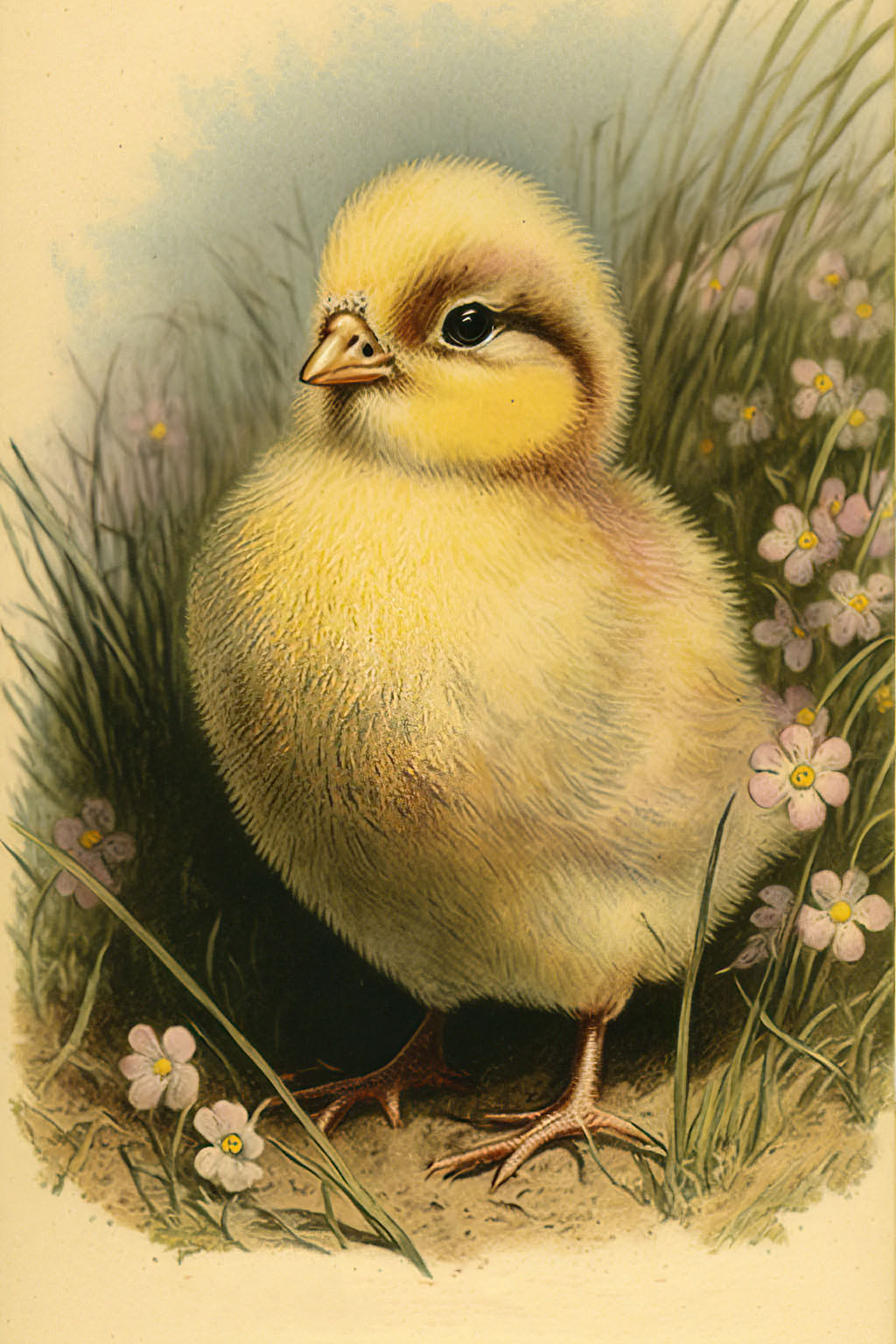 Here is the latest addition to this collection. This little sweetie is nestled into some grass with delicate tiny pink and yellow flowers surrounding him. Such a charming scene!
Vintage Easter Postcards

These are two adorable little fluffy Easter Chicks, printed on an old German Postcard by Raphael Tuck and Sons. One is holding a letter in his beak while the other holds a sprig of Violets. The card reads, "Loving Easter Greetings." Cute cute cute!!

I think this is such a pretty Vintage Easter Card!!! The "A Happy Easter" Card shows a darling yellow Chickie hatching out of an ornate Easter egg. Love the colors here, especially the vibrant blue!!

This "Easter Greeting" card is beautifully illustrated with an adorable little Peep, and embellished with old tarnished glitter. You could go over the glitter areas with some German glass glitter to make your own pretty Easter Card!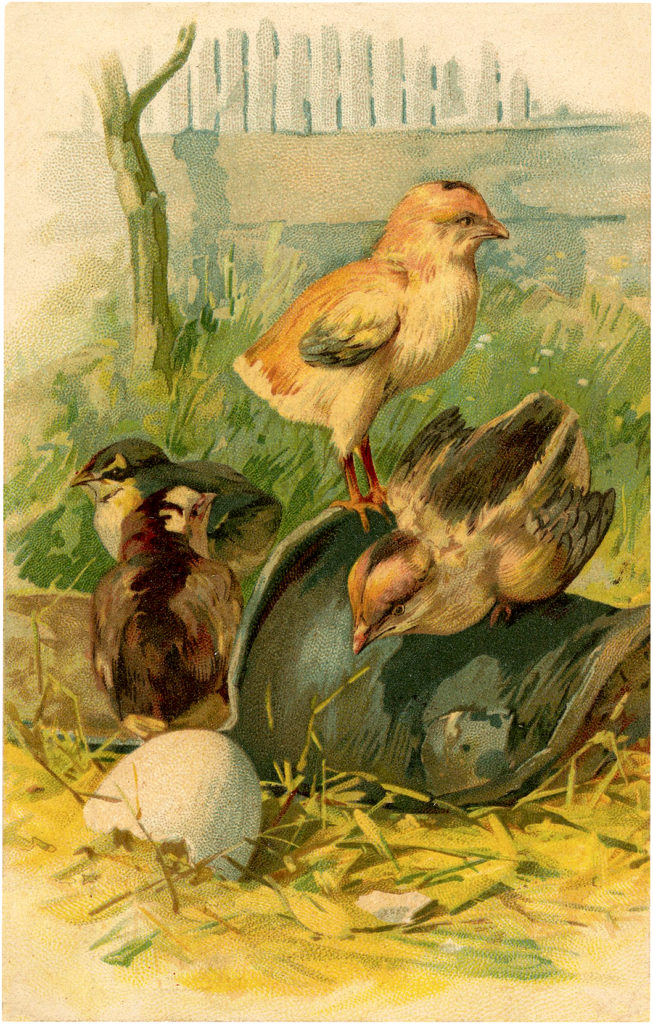 Here we have a Darling Vintage Hatching baby Chicks Image! Shown above is a Vintage Postcard with Four cute newly hatched Chicklets. Such amazing artistry on this one!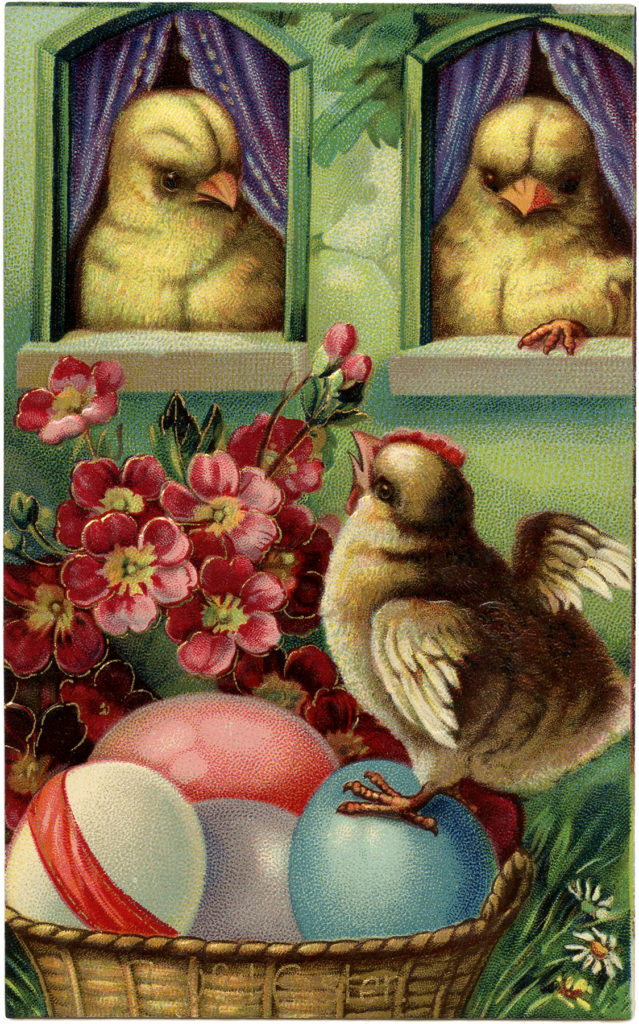 Above is a lovely Precious Peeps Easter Postcard! This is an Antique card, with two darling Fluff Balls peeking out of some Windows, and a third perched on top of some colorful Easter Eggs! I love the beautiful colors on this card!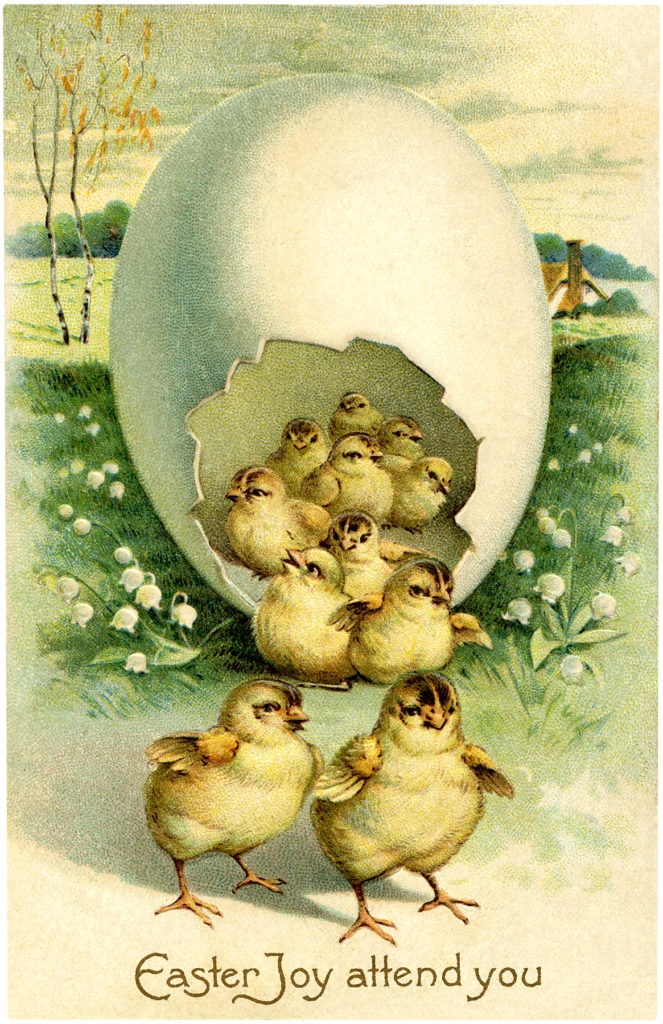 This is an adorable Easter Chicks Download! Shown above is an Antique Easter Postcard with a whole bunch (flock) of Yellow babies hatching out of a Giant Egg all at the same time! The Egg is surrounded by some pretty Lily of the Valley Flowers! The card says, "Easter Joy attend you."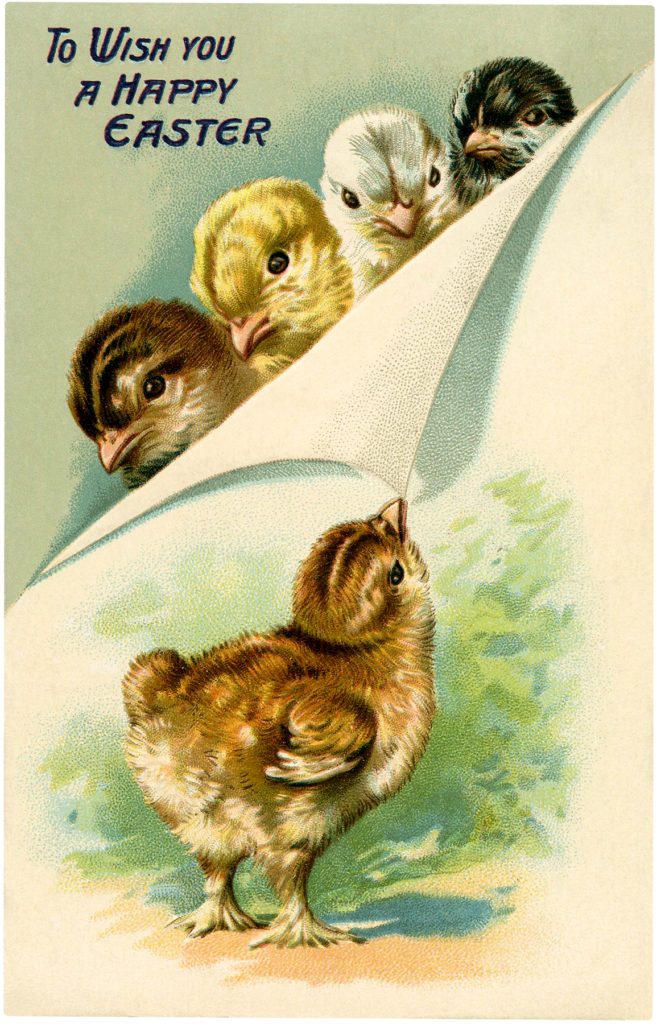 This is an Antique Easter Postcard with five adorable fluffy Chicks on it! Aren't they sweet?! The card reads, "To Wish you a Happy Easter."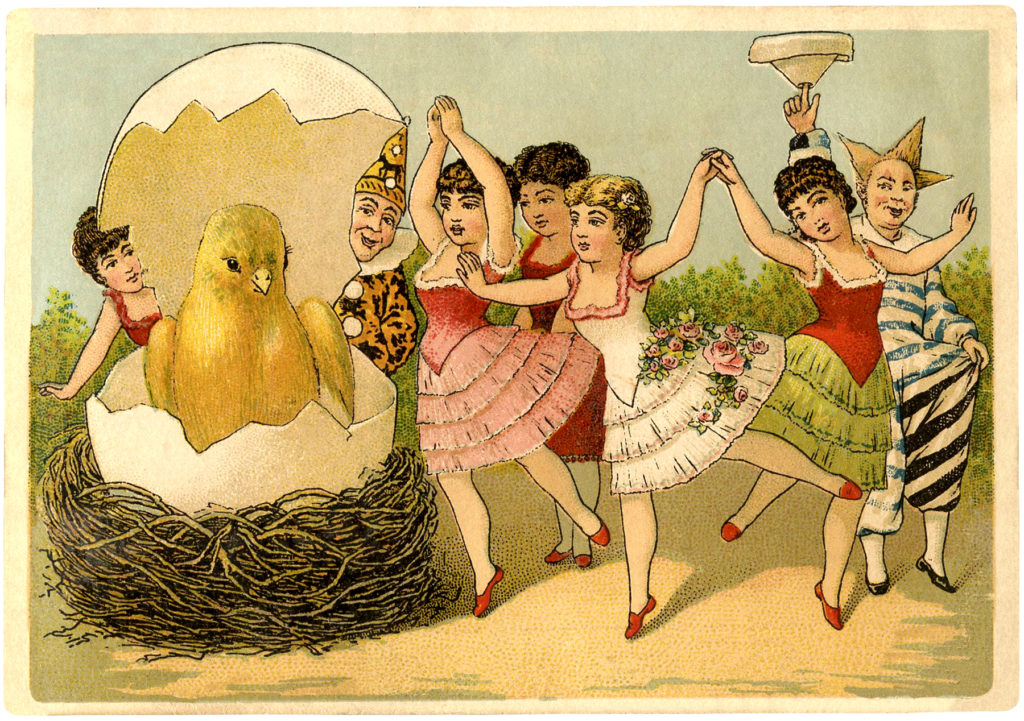 Here is a cute and Quirky Vintage Easter Card!! I'm really charmed by this one! We have a funny little Card featuring a large Yellow Chick hatching out of an Egg that's nesting inside of a Bird Nest. Dancing around the Nest are some adorable little Ballerina Dancers with their colorful Tutus and 2 funny Clowns! Adorable!!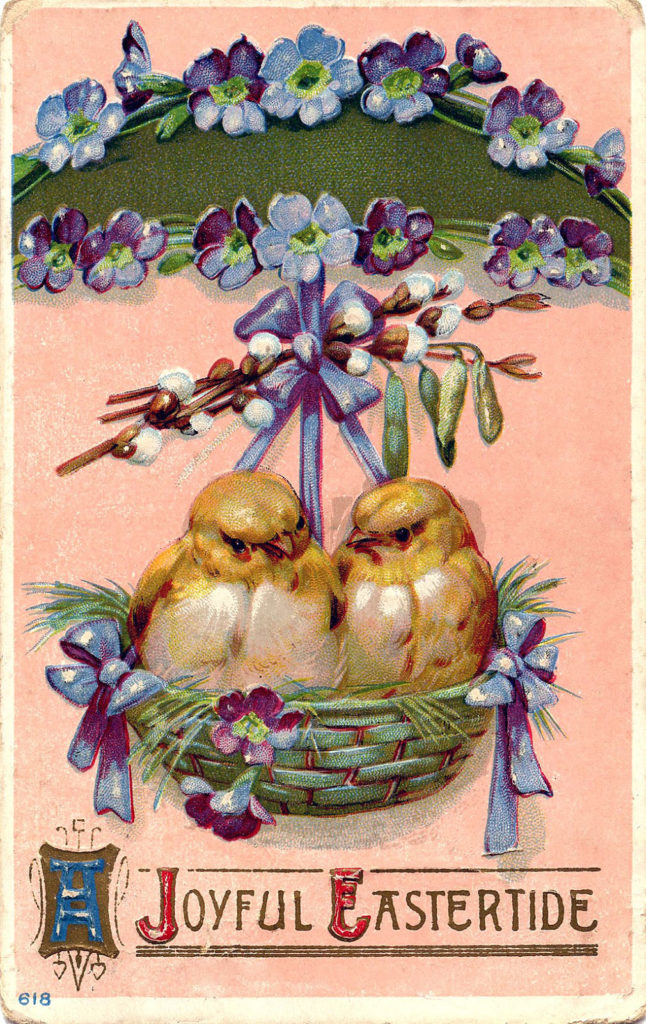 This sweet Victorian "A Joyful Eastertide" Postcard shows two darling little Easter Chicks snuggling in a basket embellished with Violets! A cute Clip Art piece.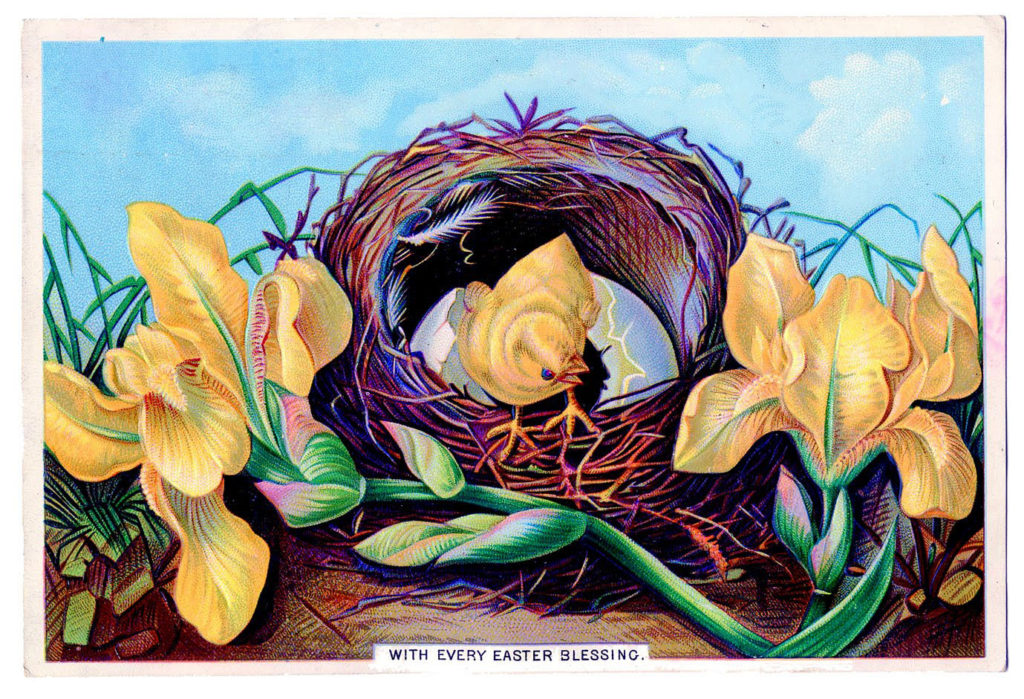 Isn't this adorable?!! This is a Victorian Easter Card that shows a sweet yellow Peep who hatching out of an egg inside of a bird's nest!! Surrounded by two huge Yellow Iris is a perfect nest! Such gorgeous colors on this one! In tiny letters the card says, "With Every Easter Blessing."
Easter Chick Pictures with Transportation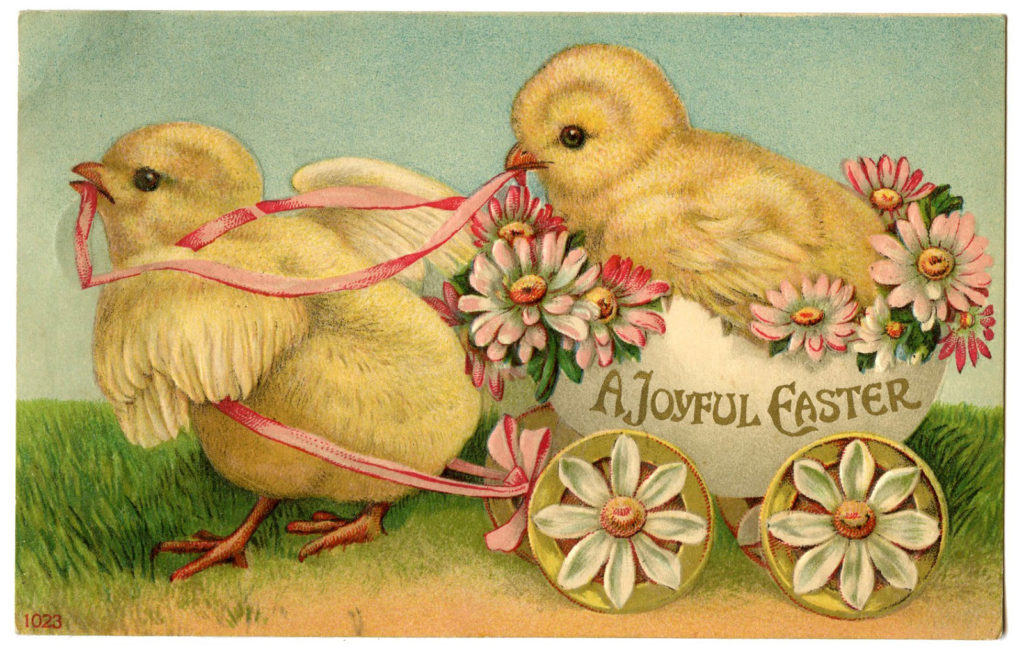 Pictured above is a darling Vintage Easter Chick Pictures! This one shows some sweet fluffy Yellow Chicks! These little guys seem to be having such a fun time. One of them is pulling a little Egg Cart decorated with Daisies, while the other one rides inside of the egg. How darling! There is a lovely Greeting too, which reads, "A Joyful Easter."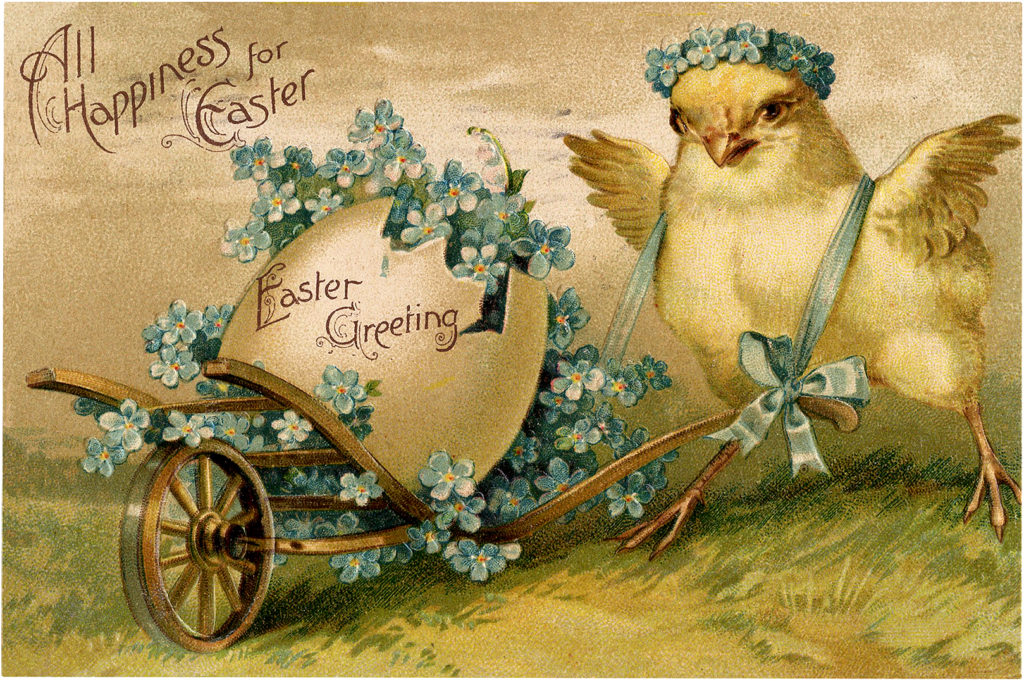 Shown above is a Vintage Postcard with a darling Chick wearing a Crown of Blue Flowers on her head. He is standing next to a wheelbarrow holding a giant cracked egg filled with more flowers. How sweet!

This is a very cute Vintage Easter Card! This card and the one above it both read, "All Happiness for Easter." Shown above is a whole family of fluffy yellow cuties riding in a Car. They appear to be out for an Easter Sunday Drive. I love their Hats and the Pink Rose Garland adorning their car!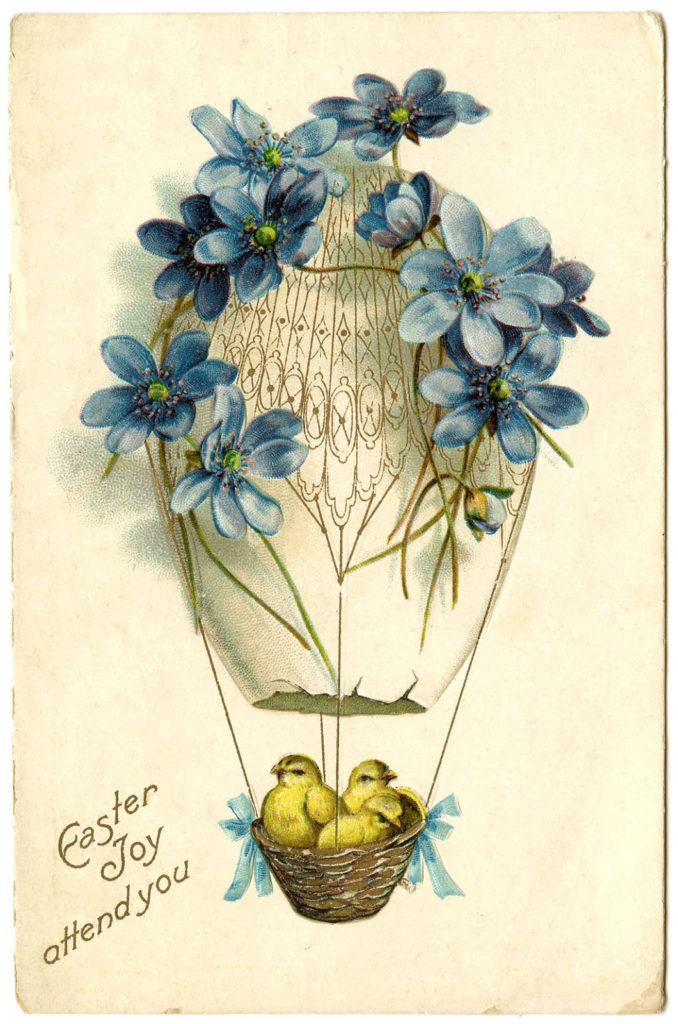 Above is a fun little Easter Card that reads, "Easter Joy attend you." Featured are some cute baby peeps flying around in a Hot Air Balloon made from an Egg Shell covered with blue flowers. So cute! This one required one heck of an imagination I think!

This is a Quirky Easter Chick Clip Art Ride Image! Shown above is a Vintage Easter Postcard with a boy in a fancy Medieval style Costume, riding on the back of a Giant Easter baby chicken and carrying a big "Easter Greetings" sign. So fun!
I hope you enjoyed this fun curated collection of Vintage Images! You might also like our HUGE Easter Images Collection post HERE. 
Hello! Are you new to The Graphics Fairy?
Welcome, I'm so glad you're here! Browse around to find 
thousands of Stock Images
 that you can use in your projects or designs! I post new Vintage images every day, as well as projects and DIY's too! Need more info about my site? Try my 
FAQ
 page.