30 + Best Vintage Stock Easter Images!  Did you know that Easter is in March this year? That's right, it falls on Sunday March 31rst and it's coming up quick! I thought it might be helpful to list some of my most popular Vintage Easter Images here so that you can get going on your Easter Crafts and Decorating! There's something particularly charming about the old graphics, that you find for this Holiday.
Here you'll find  images for everything from darling Easter Chicks, to delightful Bunnies, to colorful Eggs, to sweet little Lambs, to  lovely Religious pictures. You'll be sure to find something that you can use to Craft up the perfect Easter Holiday for your family! Each listing below has a link in it, just click on it to get to the post and grab the graphic!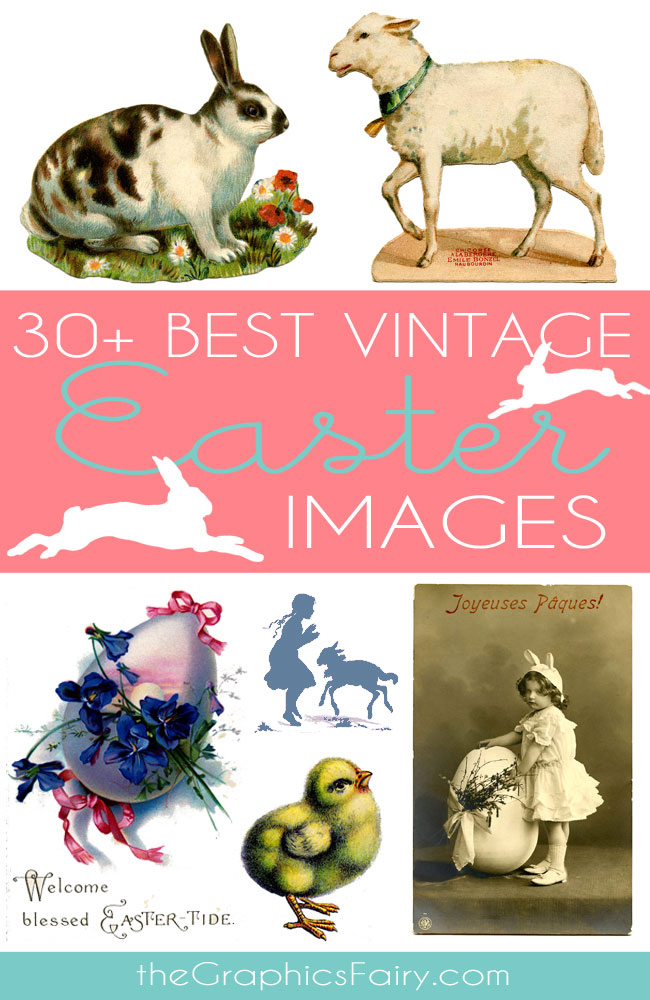 Chickens and Peeps:
1) This adorable Fluffy Baby Chick, or Peep, is one that I first posted about 3 years ago. He's still a favorite of mine, but you have to dig pretty deep in the archives to find him! He also comes in Pink, and there's a reverse option as well, so make sure you click on the link to grab them all!
2)  Adorable Peep in Nest. This one is just like it sounds, it involves an adorable Peep, a Nest, a bright Blue Sky, and gorgeous Yellow Daffodils! The colors on this one are amazing!
3) Chicken with Eggs. This is a recent one, so you may have already seen it. More amazing colors here, and a charming scene showing a Rooster watching over some Eggs, while a Peep sticks his head of one of them!
4) Easter Chicks in Basket.  This one is an oldie but goodie! I posted this back in 2009 and I've recently rescanned it and have posted the new and improved version! Here you'll find two Chicks sharing a ride in a floating Basket of Violets. Kind of silly really, but so fun too!
5) Baby Chick with Egg & Flowers. Some gorgeous jewel tone colors in this one! A darling newly hatched Chick, standing next to his ornately decorated Egg. There are some beautiful Lilies framing the scene. This one is super fancy!
6) Easter Peeps Photo. This is a 1906 Photo Postcard showing a row of ridiculously cute Baby Chicks!
Lambs:
 7) Girl with Lamb Silhouette. This is another recent one, so you may have seen it before, but in case you haven't there are multiple versions available, including the Girl and the Lamb separately, Vector files and even PNGs. I've got you covered in just about every format for this one!

8) Sweet Lamb. This is a darling Fluffy little Lamb with a bell around her neck. A classic graphic that could be used for so many projects.

9) Farm Animal Printable. Not really Easter per say, but lots of Primitive looking Sheep on this printable, that would be great for Country or Prim Easter Projects!

Easter Eggs:


10) French Egg with Flowers: A fabulous French Egg with Flowers, a Ribbon, French Typography, a Fancy Frame and a Postage Stamp. This one has it all!

11) Egg with Violets. An amazingly pretty Easter Egg Card with vibrant Violet Flowers a Pink Bow. As a bonus the card has a delightful lacy edge!

12)  So pretty Easter Eggs: These are two Victorian Cards, with charming Eggs on them. One card has bright Turquoise Eggs and the other has Natural colored Spotted Eggs. Love these!

13) Easter Baskets with Eggs. These are two more Victorian Cards, this time the Eggs are in a Baskets. Nice!

14) Eggs with Violets. Pretty Pastel Eggs, with loads of Violets!

15) Retro Basket with Eggs. A fun Retro Basket with Eggs and a Chocolate Bunny! This one comes in 3 Pastel Shades, you have multiple choices here!
Religious:
 16)  Easter Angel Child. A darling Rosy Cheeked Angel with a big White Lily! This one is would be great to use for Sunday School Craft Projects!
17) Victorian Easter Angel. An amazing Angel with the sweetest face! She's holding a big bundle of Pussy Willows and a Star over top of her head! This one comes in two different color versions. Lovely!
18) Jesus with Lamb & Cross. A beautiful Engraving of Jesus holding a baby Lamb. As a bonus there is also a Cross with a star of light around it!
19) Beautiful Angel Children. 3 Beautiful Angel Children all dressed in white. They are surrounded by a soft pastel scene.
20) Spencerian Image of Jesus. This is an amazing Spencerian Pen Flourished Engraving of Jesus, that was originally drawn all with one stroke of the pen! You have to see this to believe it!! So unusual!
Birds:
21) Easter Birds in Nest.  This is another one that I posted back in 2009. I had forgotten all about it, until I started writing this post and I'm so happy to have found it again! Shown above are the sweetest Birds with Pink Eggs in their Nest! There are also some very pretty Pink Blossoms.
22) Swallow with Fancy Egg. A wonderful Swallow flying through the sky with an Egg, that's embellished with Flowers! As a bonus, there are 2 other fun cards in this post, including some Chicks and a Duck dressed in Gingham!
23) Robin with Basket. A precious little Robin Bird, with a tiny little Basket of Flowers. This one has a fancy Easter Greeting on it, and could not be any cuter!!
Children:
 24) Precious Girl with Bunny. If I had to choose a favorite Easter Image, this would be it! Originally posted in 2008 and what you see above is a revised version. It's actually a second revision, as it was first revised quite a few years ago. As I get better equipment and my skills improve, I sometimes go back and fix up my old favorites! Can you imagine a sweeter image than this precious little Girl and her darling Rabbit?! I just adore them both! I've left the other version in place, in case you want a more primitive looking image for your projects.
25) Old Photo -Bunny Girl. This is an Old Photo showing a cute little Girl dressed up with Bunny Ears, next to a giant Egg. It's an adorable French Card!
26) Children in Nest: I always get a kick out of these cards, showing Kids in a Birds Nest! This one is so bright and pretty, with loads of Pink Blossoms and the best Typography!
Bunnies:
 27) The Hare. I could probably fill up this post with just Bunnies, there are loads of them on my blog, but I will try to narrow it down to a few favorites! This Hare, from a 1700's Dictionary Page, is one of my faves for sure! There are a couple of other options for him on the original post, so make sure you click to go there!

28) Bunny Silhouette. This classic looking Running Bunny is a wonderfully versatile Silhouette Image. I've found so many uses for this one, and I'm sure you will too!
29) Spotted Bunny. This little Brown and White Spotted Bunny is so soft looking, you'll be tempted to reach out and pet your screen! Too cute!
30) Beautiful Big Bunny. I don't know what it is about Big Bunny Heads, but I can never resist them! This one is a beautiful Brown one, with gorgeous eyes.
31) Bunny in Pink Gingham Dress.This is a super sweet Bunny Girl wearing a Pink Gingham Dress. And as if that wasn't enough, she's also wearing an Easter Bonnet and Mary Jane Shoes! This one scores way high on the cuteness meter!

32) Precious Bunny Engraving. This is a charming little Drawing of a Bunny out in the wilderness. Not really Easter, but I guarantee you that this one will melt your heart!

Well that rounds it up for now! I have close to 90 Easter Images in all, and plenty more coming soon, so if you don't see something there that you like, make sure you use my search bar on the right side of my blog to search for even more.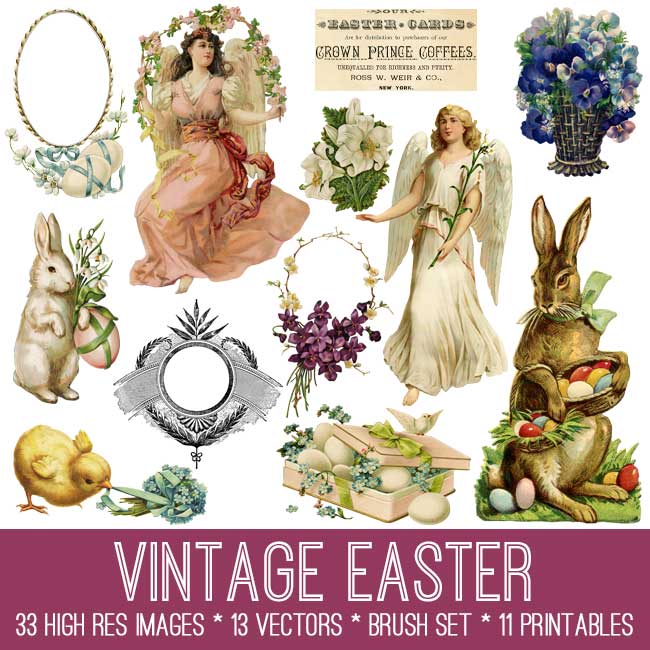 You might also like the Vintage Easter Image Kit HERE from our Premium Membership Site!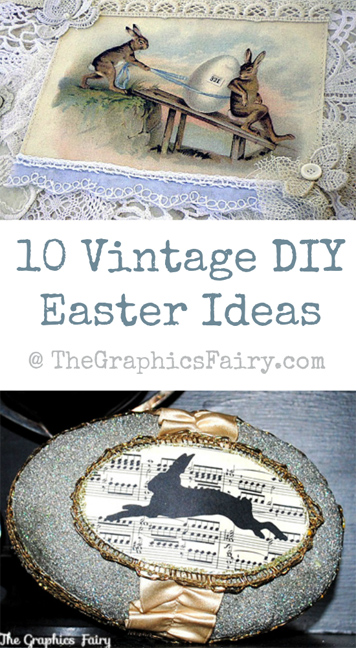 … And if you need some ideas on how to use these images in Easter Craft Projects, then be sure and check out our post, 10 Vintage DIY Easter Ideas HERE!

Hello! Are you new to The Graphics Fairy?
Welcome, I'm so glad you're here! Browse around to find thousands of Stock Images that you can use in your projects or designs! I post new Vintage images every day.  You can subscribe via email so that you don't miss a single graphic, just click HERE to sign up! Need more info about my site? Try my FAQ page.