Free Printable Christmas List
Hello Graphics Fairy friends! Diana from Dreams Factory here, today I'm sharing a quick and easy project – a free printable Christmas list! This is not your regular list, but one that comes with a great vintage design! Because of its beautiful appearance, the list can be included in any of your Holiday projects or junk journals, but you can also use it inside your regular bullet journal or planner. You could also just hang it on your wall, it will serve its purpose not only as a practical list but also as an amazing home decor piece for Christmas.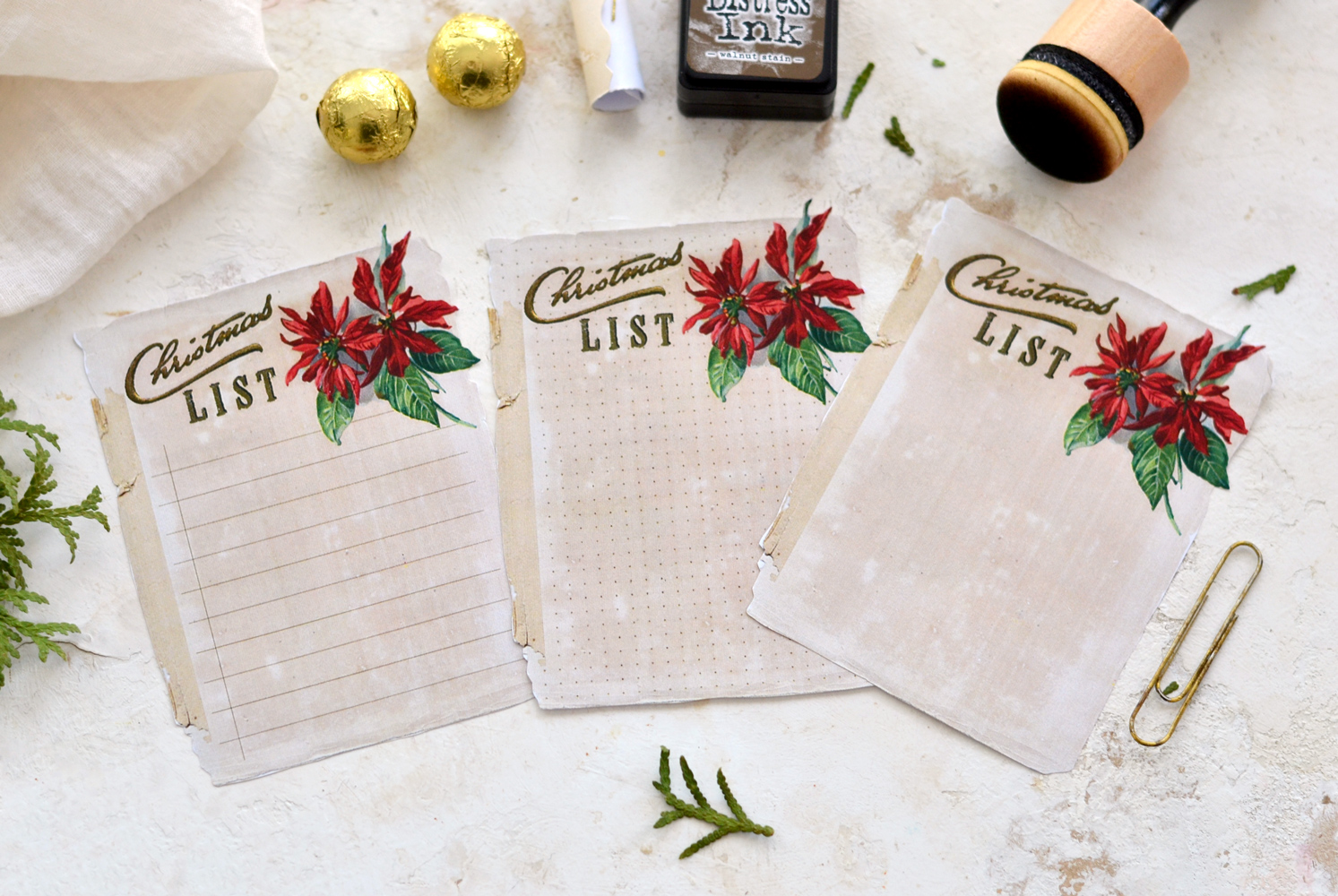 I wanted this list to be both functional and beautiful! I think I managed to imprint it with just the perfect amount of chicness, my idea was to design something that would make our vintage-loving hearts sing. But I also envisioned this as something that won't take too much time to make or decorate. Because let's face it, we all need quick and easy … everything, especially around Christmas!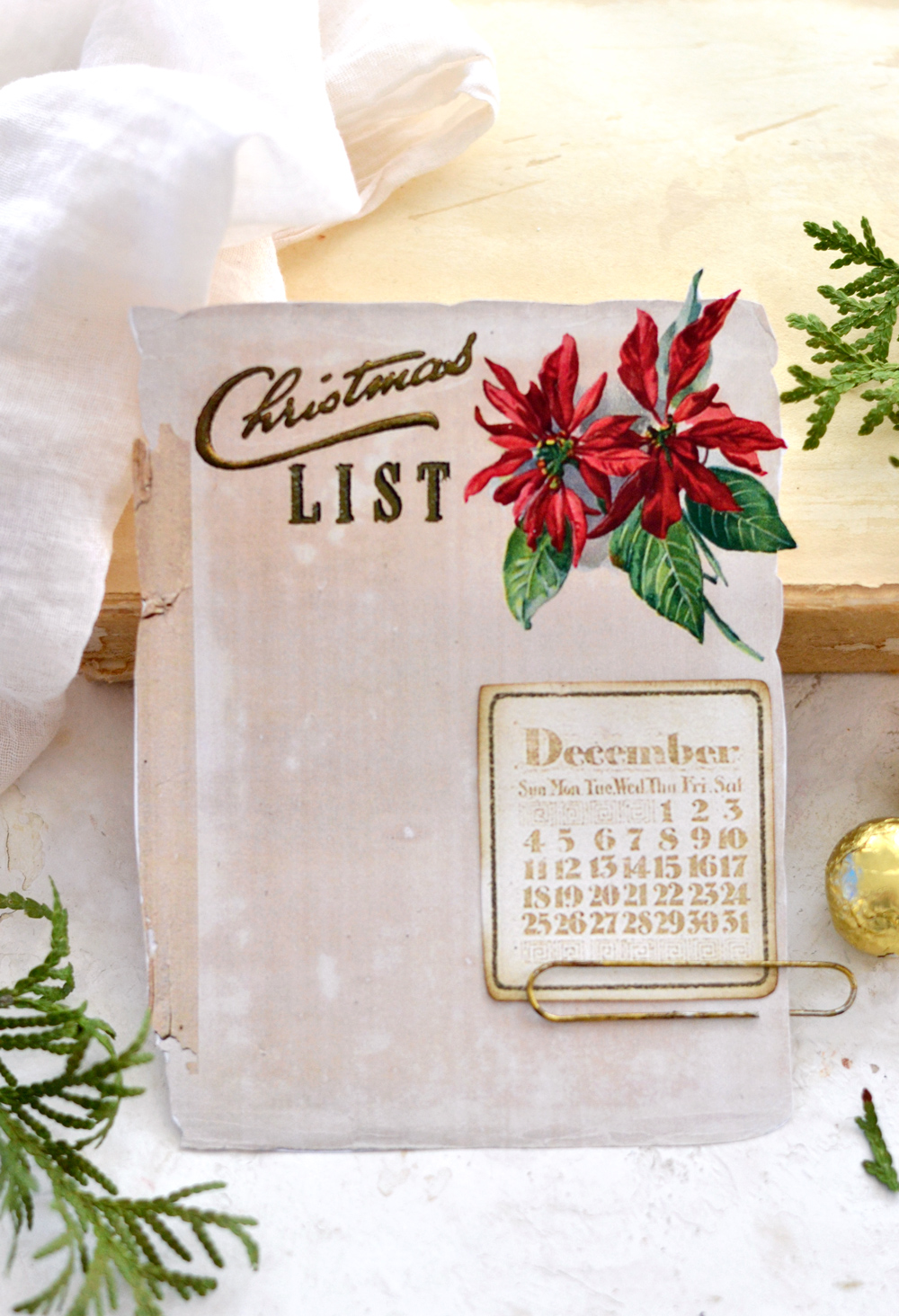 So I've created the design having all these things in mind! The printable comes with a distressed background which is really charming on its own, with all its torn edges and stains. I've also included an aged and torn scrap piece of paper on the left side to add more character and interest. A lovely Poinsettia image embellishes our list in a charming way and to make things really exciting, I've created three types of rulings. You will find plain, ruled and dotted lists, in several different sizes, just waiting to be used!
Free Printables
—> Click HERE to Download the Full Size Printable PDF – plain <—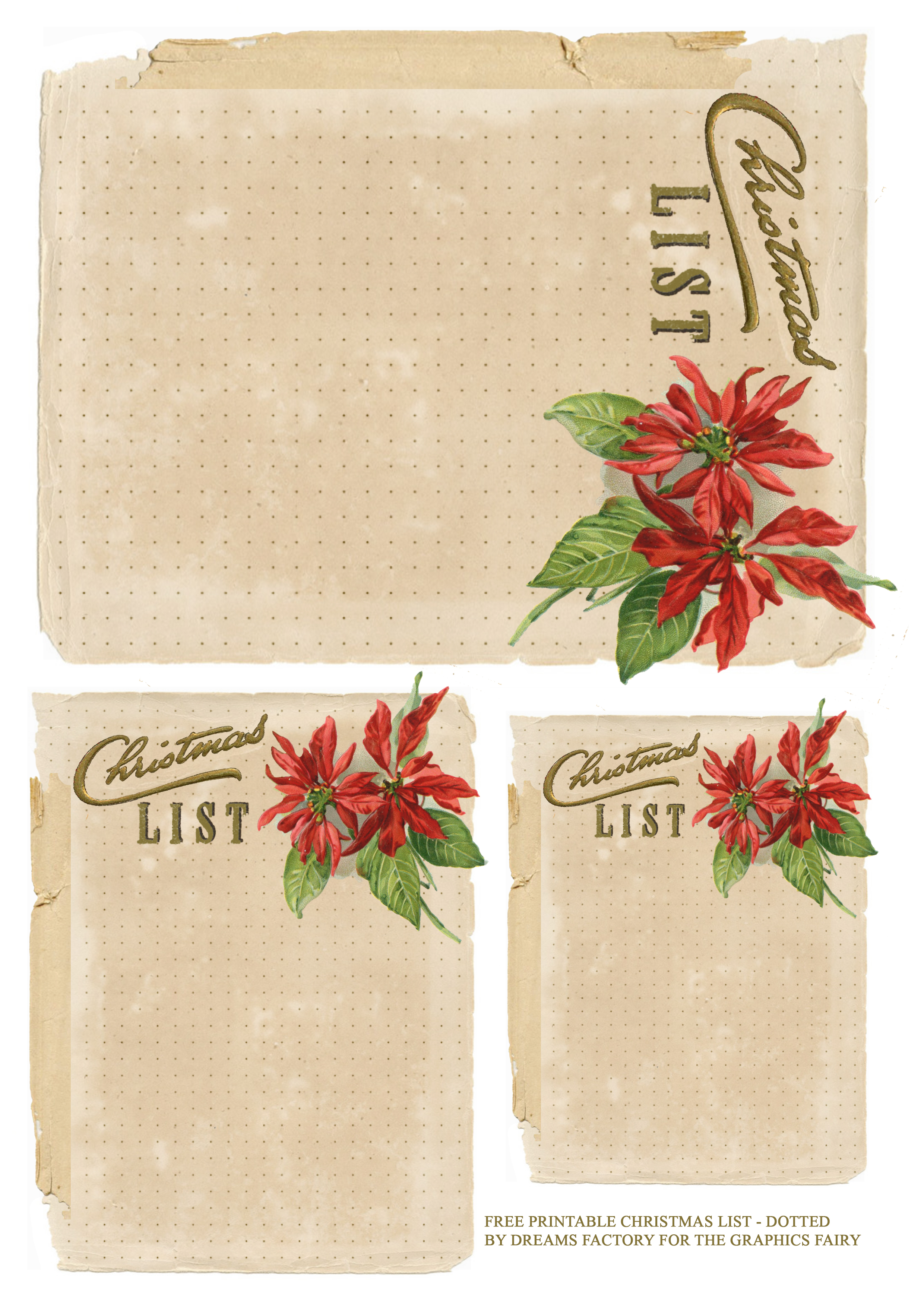 —> Click HERE to Download the Full Size Printable PDF – dotted<—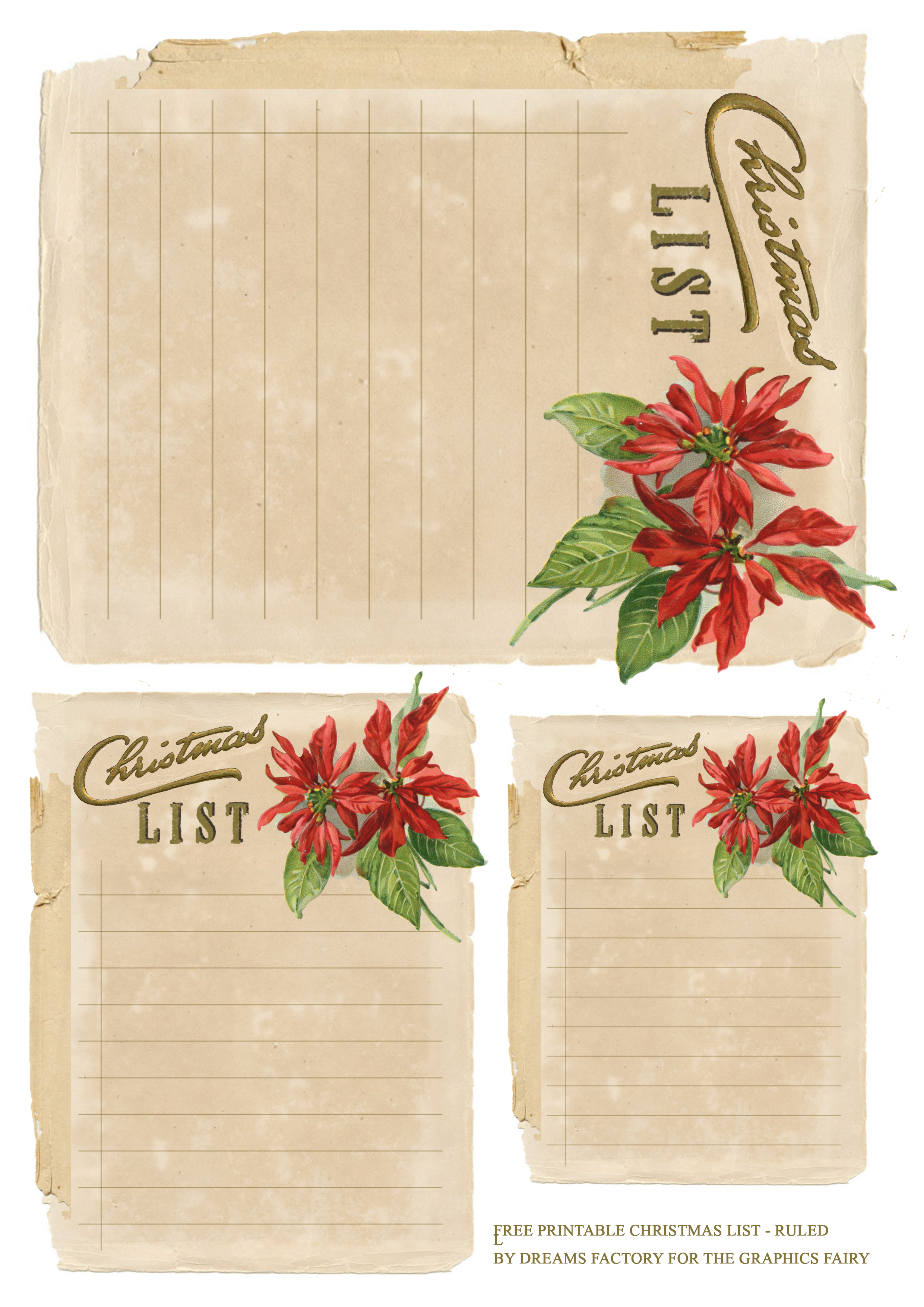 —> Click HERE to Download the Full Size Printable PDF – ruled<—
CHRISTMAS LIST SUPPLIES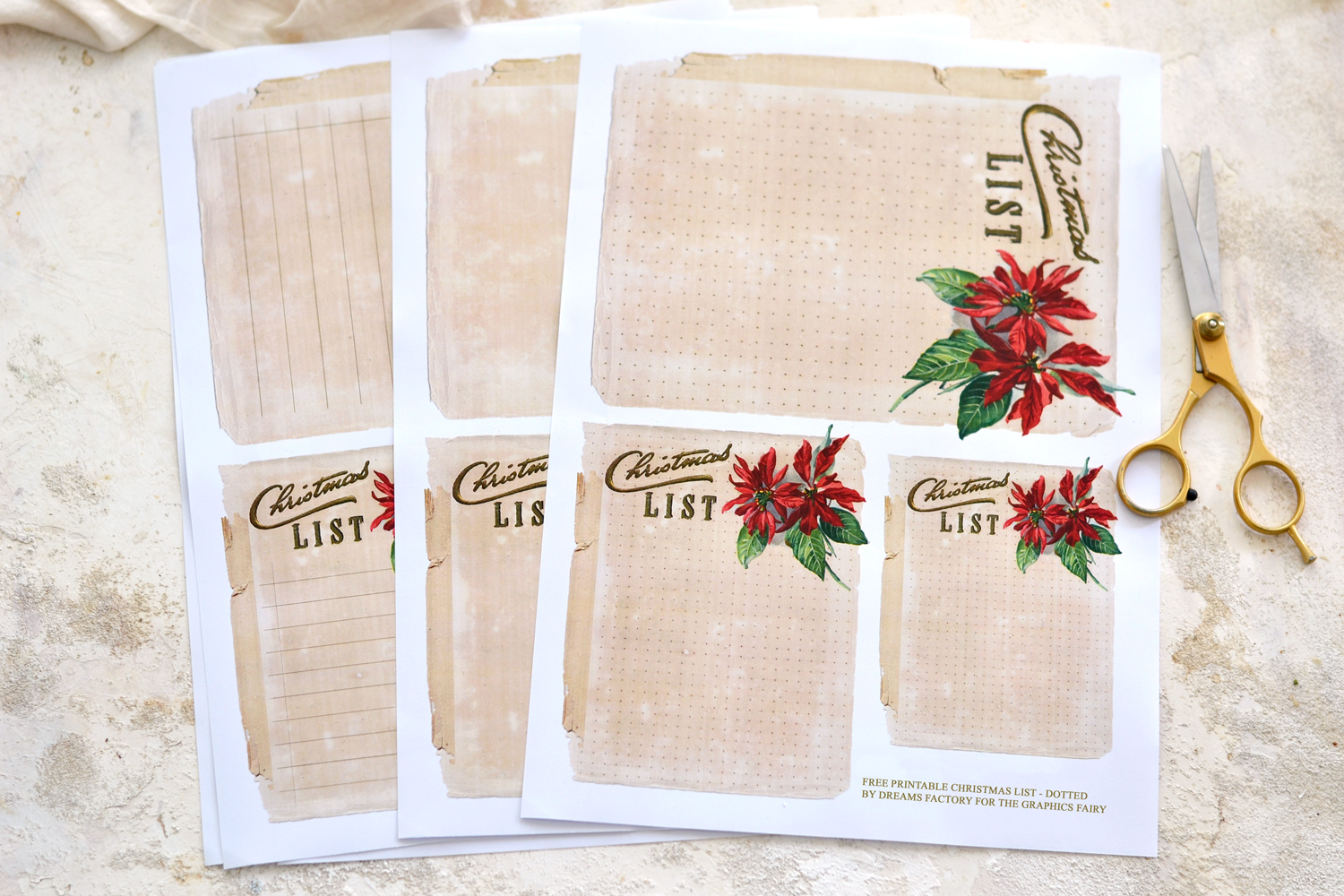 You will need to follow the lovely torn design of each list while using your scissors to cut it. Of course, you can use a little bit of distress ink on the edges if you want. I love using distress ink on my projects, especially when cutting a vintage design. I feel it just brings more of that aged and charming appearance that we all love. It also removes some of the whiteness of the paper, especially if there is some excess white paper left behind.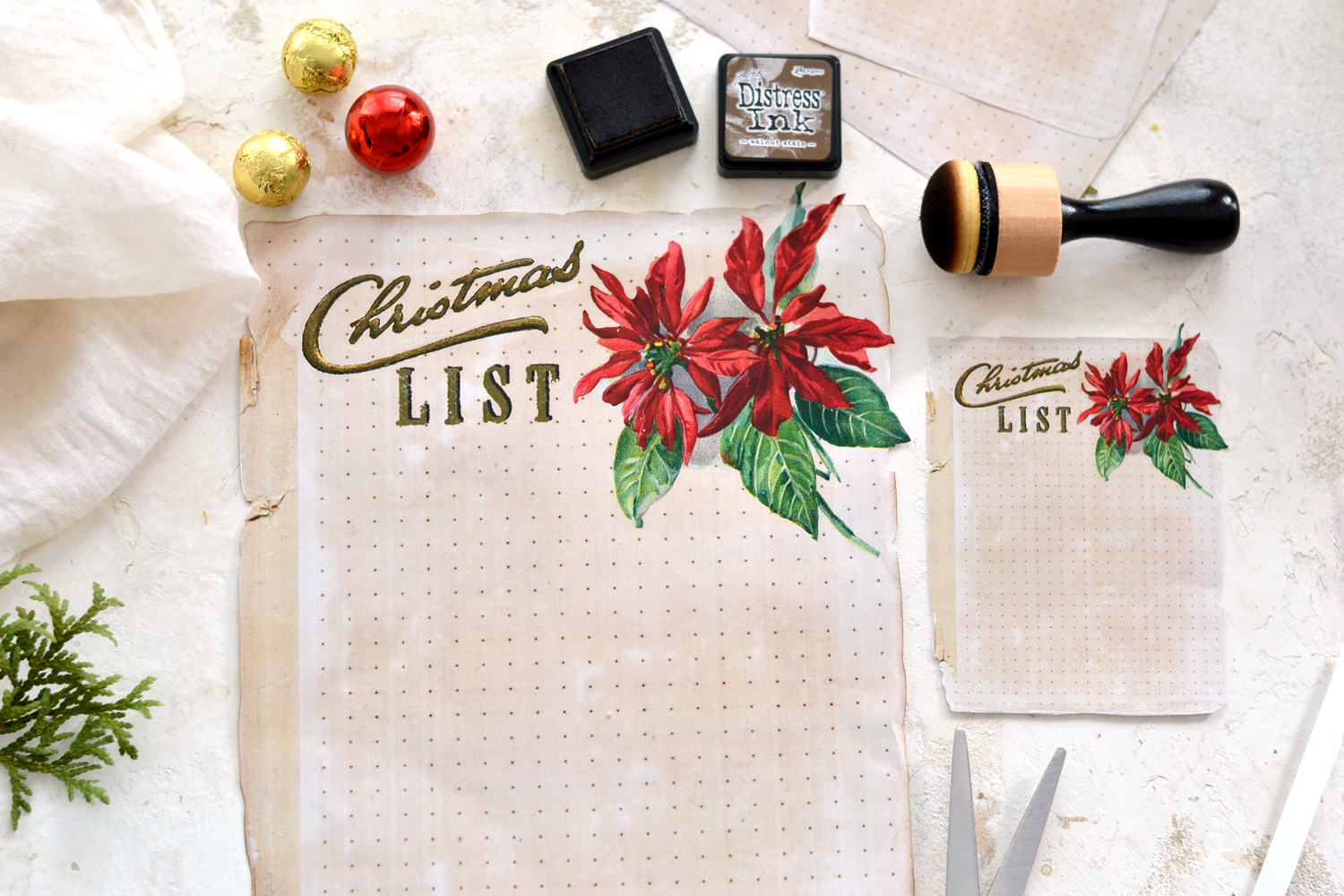 I usually use Walnut Stain distress ink, but you can also use Vintage Photo or anything else that you love. I'm thinking some Fired Brick will also work here since we already have some red in our poinsettia flower. And the truth is you can never go wrong with red, especially if going for more of a classic Christmas vibe!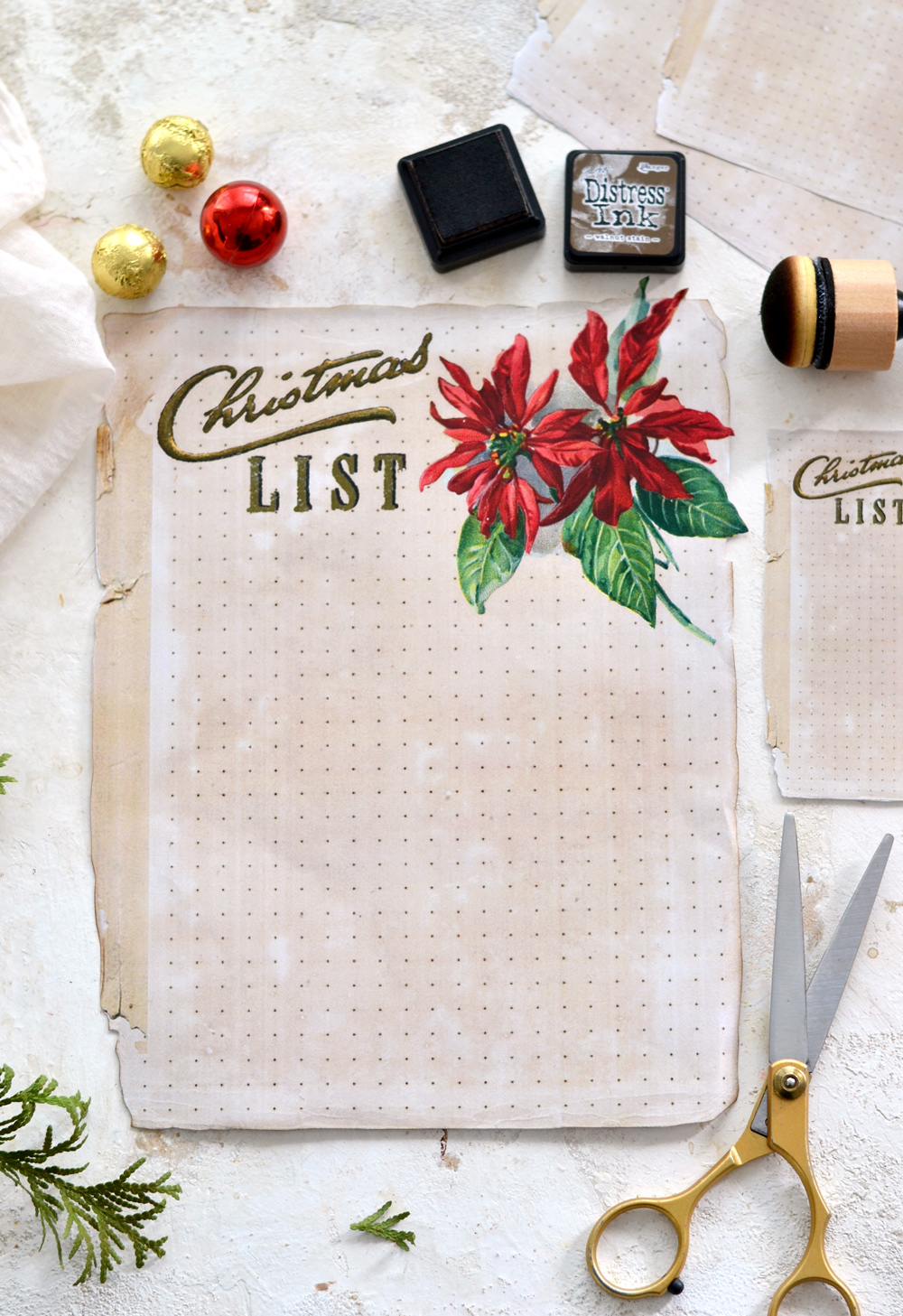 Here are the dotted Christmas lists in all 3 different sizes. I feel like this dotted design somehow landed on top of my list. Or should I say on top of all my lists?! I just adore it! If bullet journals were a thing back in the old day, this is how they would have looked!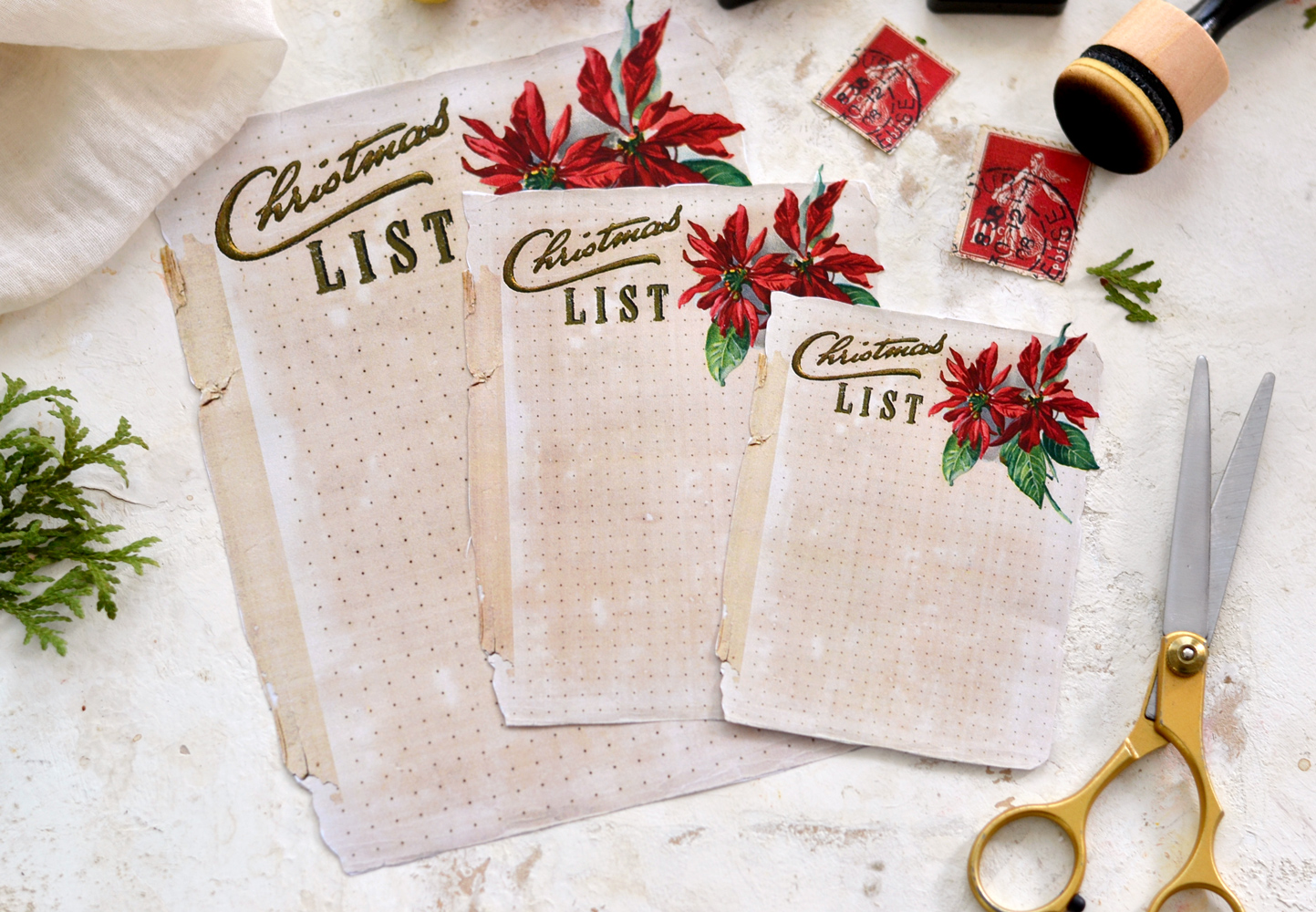 As you can see, I intentionally designed the poinsettia flower to go a little over the edges on all the lists, I feel they look even more charming this way! Here are the plain lists, without any ruling.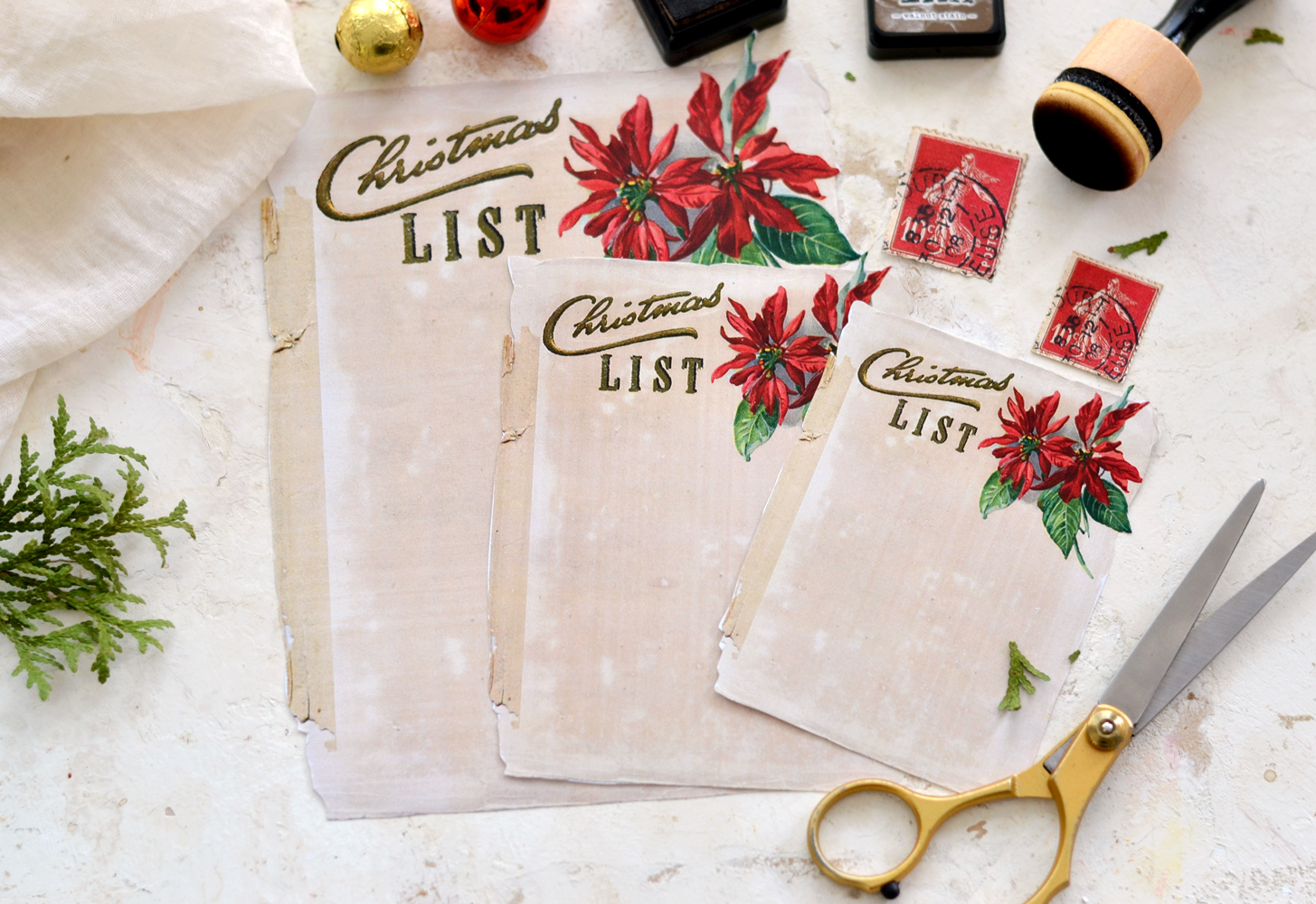 And finally, the ruled Christmas lists, I think you will agree with me that each ruling has a charm of its own!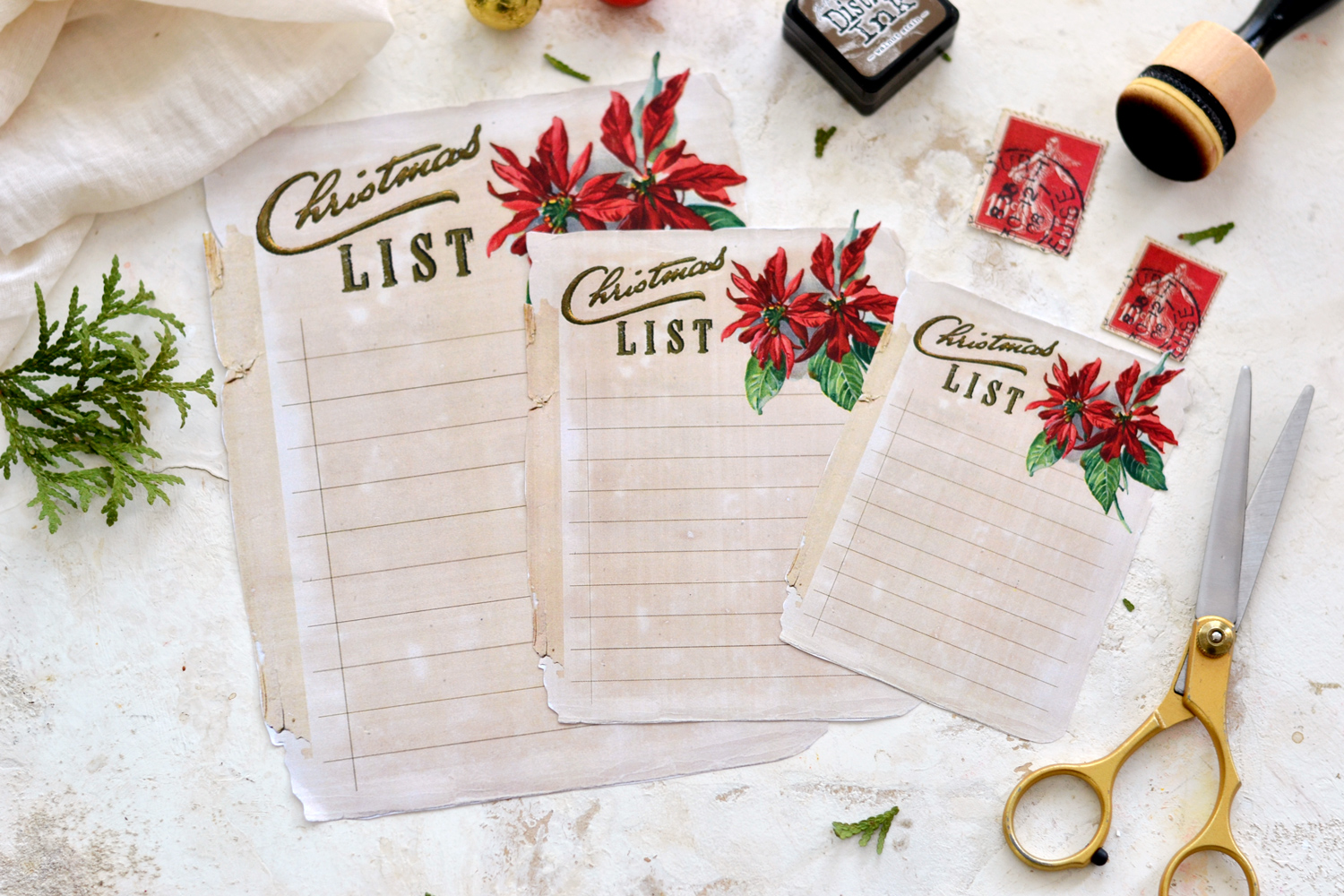 The Christmas list project that I'm sharing with you today goes really well with my last project – The Christmas Planner. You can even match the lists with the small calendars that I shared and use them as embellishments in your Christmas planner. Or just attach a mini-calendar to each list and write down the deadline for that specific chore, this way you'll be able to stay on top of things and not get overwhelmed.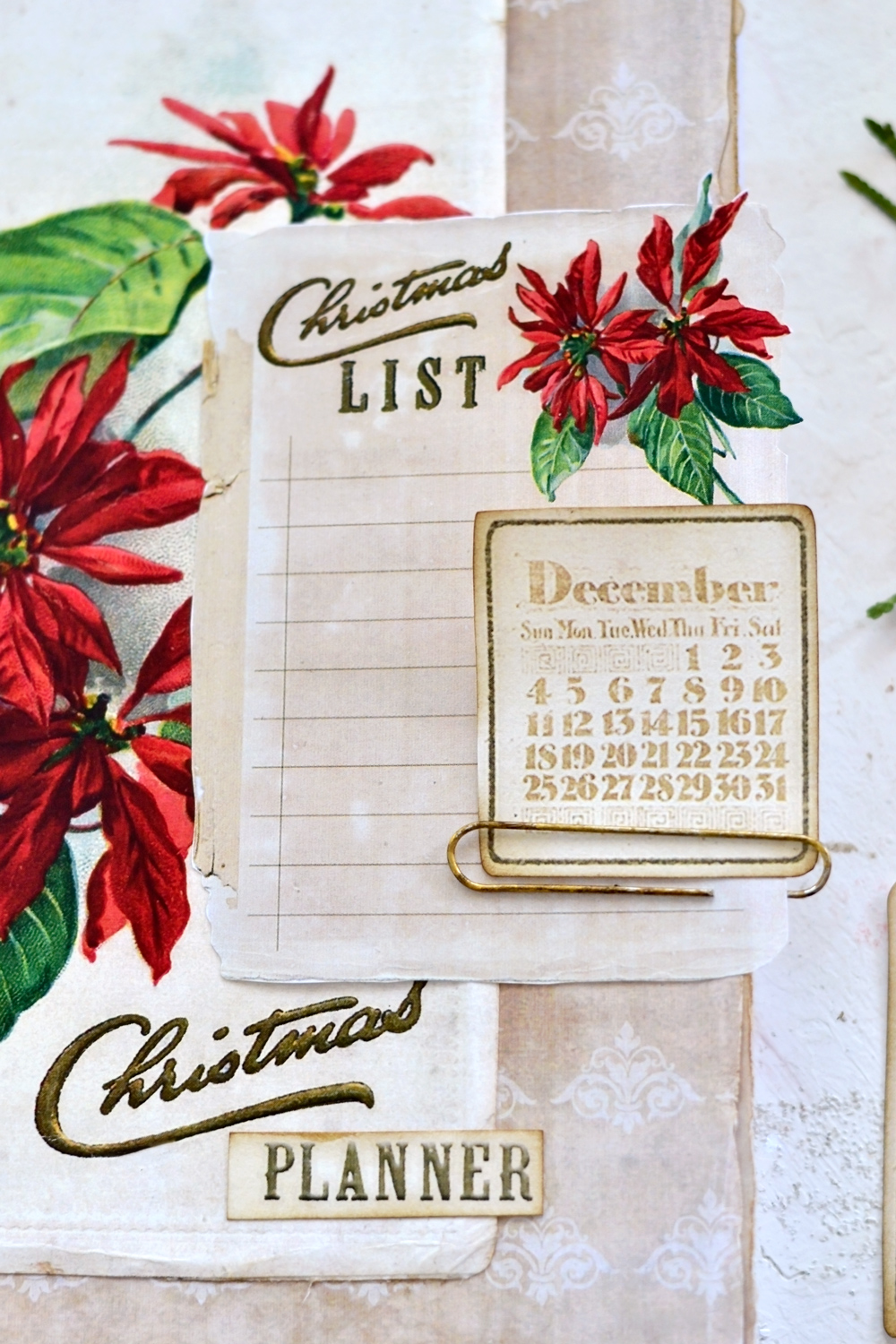 The list for Christmas can be used in so many different ways, you can make several lists for all the things that you need to do. You can make one master list as a general guiding line for organizing things for Christmas or make several smaller ones with more specific and targeted ideas. One could help you set your budget, one could help you meal prep, one could help you make the guest list, there are so many ways to put these to work! And let's not forget THE list with all the Christmas gifts, this could be the most important one!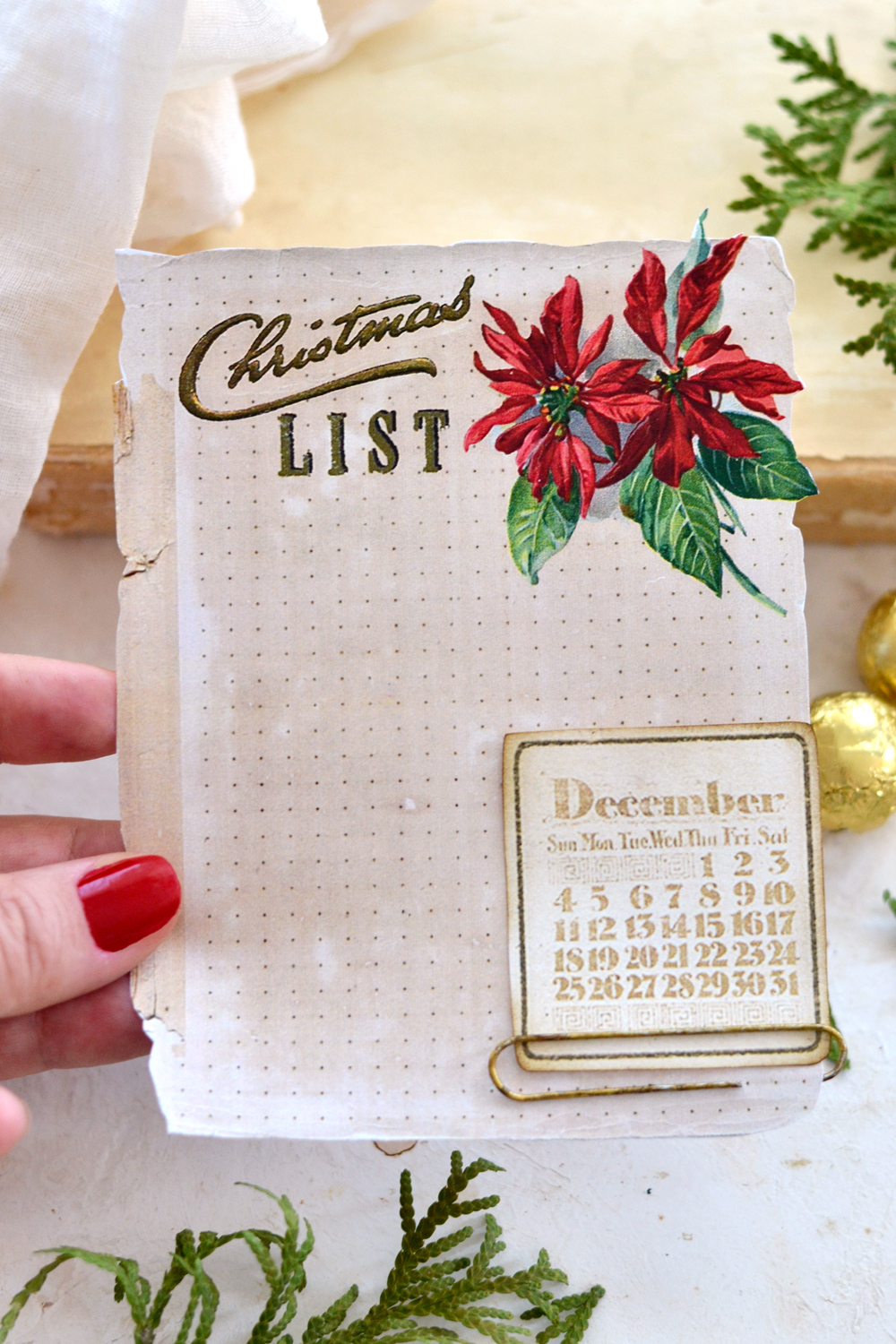 I hope you will love this quick and easy Free Printable Christmas List project, you can print these beauties today and just keep them close by to help you organize things as you go. Christmas doesn't have to be stressful, let the plain, ruled or dotted lists do all the hard work for you so you can be more present in your life and actually enjoy this beautiful time of year!
Happy crafting,
Diana / Dreams Factory