Free Printable Vintage Postage Stamps
Hello Graphics Fairy friends! I'm Diana from Dreams Factory and I'm really happy to be here again to share another DIY project with you! Today I will show you how to make a batch of faux postage stamps, but this time with a gorgeous fall theme. I included a few things that make you instantly think of the richness of fall! It could be a great harvest season, a walk in the woods or simply the amazing color scheme of nature that feasts our eyes with rusty red, orange and yellow hues. I will show you a few ideas on how you can group the free printable vintage postage stamps in a few categories and use them accordingly.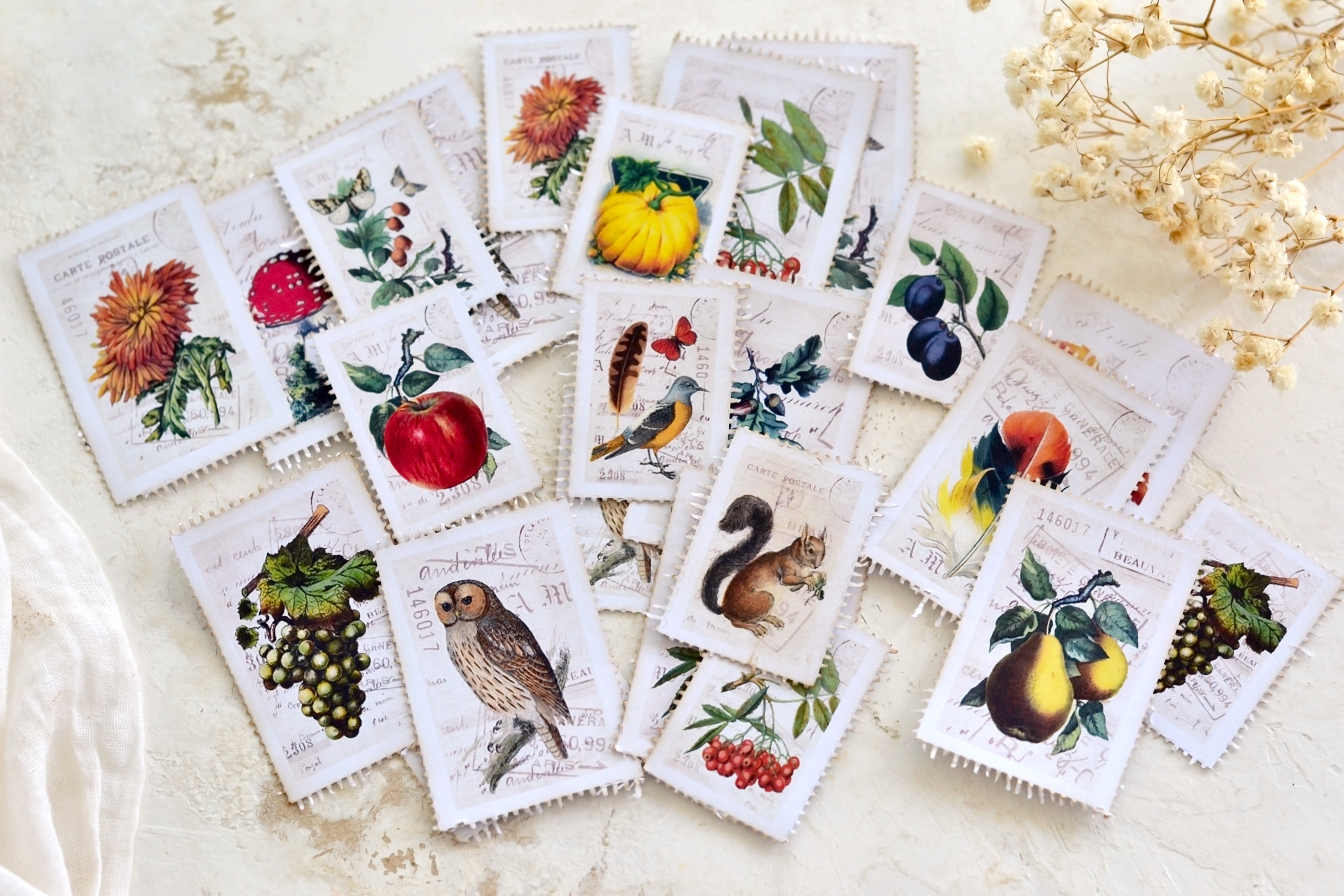 And of course, we will be using my foolproof technique of cutting the stamps using a specific tool from our beauty stash to make them look like actual postage stamps! Ever since I discovered this technique of creating that specific cut postage stamps usually have, I've been amazed at how realistic the final results can look! Our faux stamps have the appearance of actual postage stamps!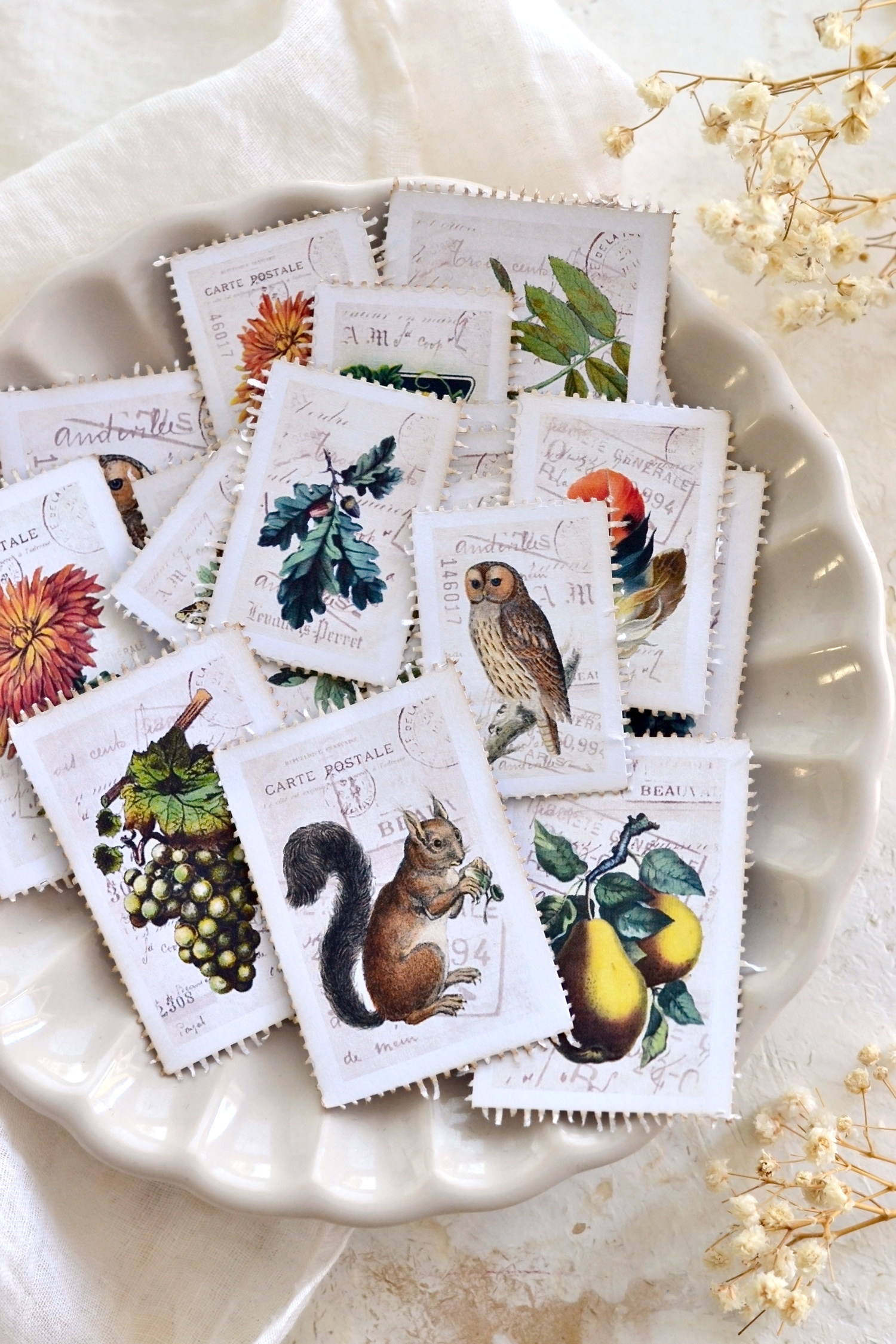 For those of you who haven't tried my initial postage stamp tutorial here is the special tool that we will need to create the frayed edges – it's thinning sheers! I've had this around for ages, but if you don't have one, there are quite a few affordable options to buy them these days. You could get one specifically for making faux stamps if you are planning on making large batches, some people say it's best not to use your good non-paper scissors on paper because it will dull the blades more quickly.
There are other ways of cutting the stamps if you prefer to take a different route – I've included a few more suggestions in the supply list.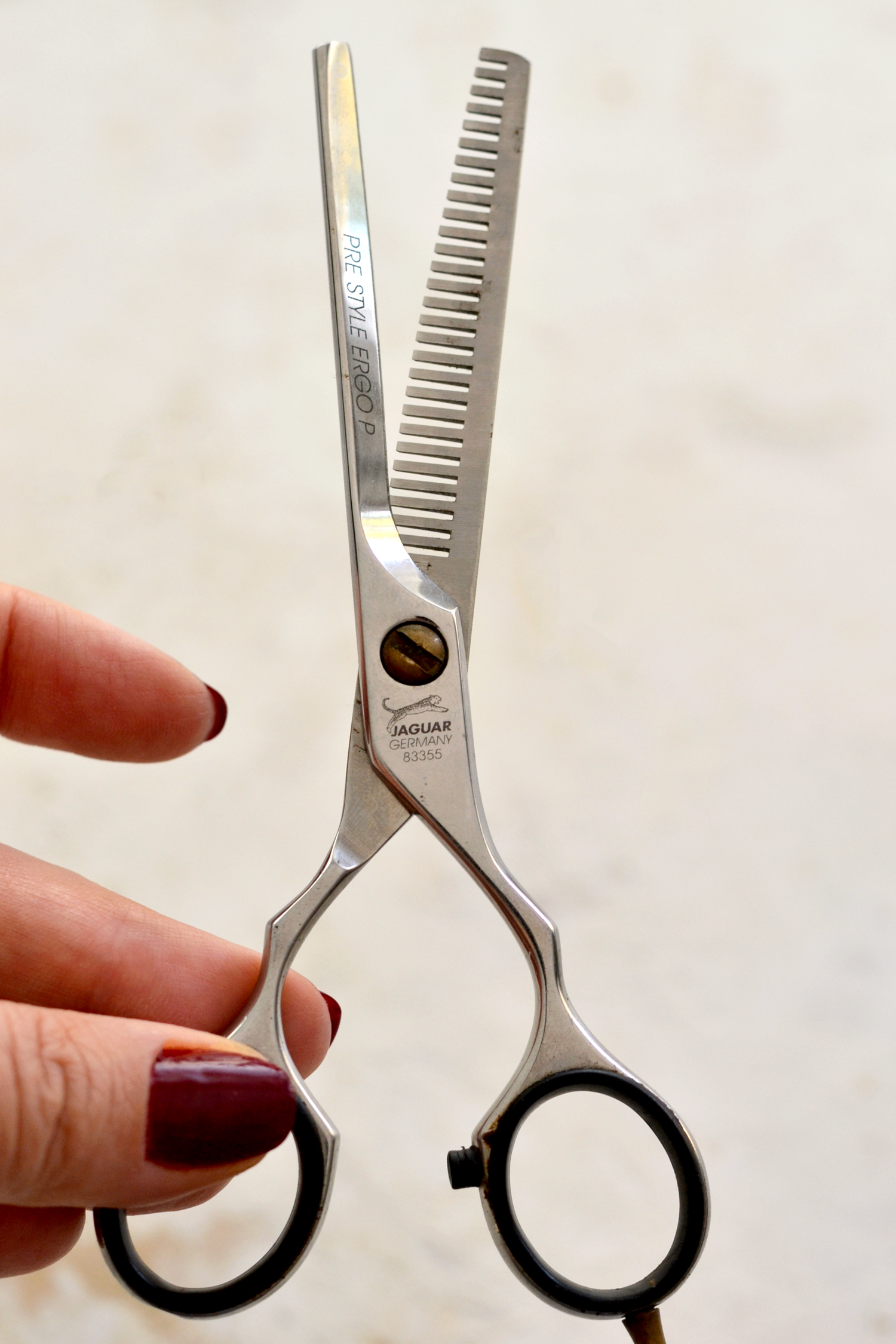 The printables that I've created for you include 16 different fall-themed designs with a vintage vibe, one more beautiful than the other. To make things even more exciting, I created several different sizes for each design, so you will be able to download 3 printables with a total of 64 postage stamps!
Fall Faux Stamps Printables: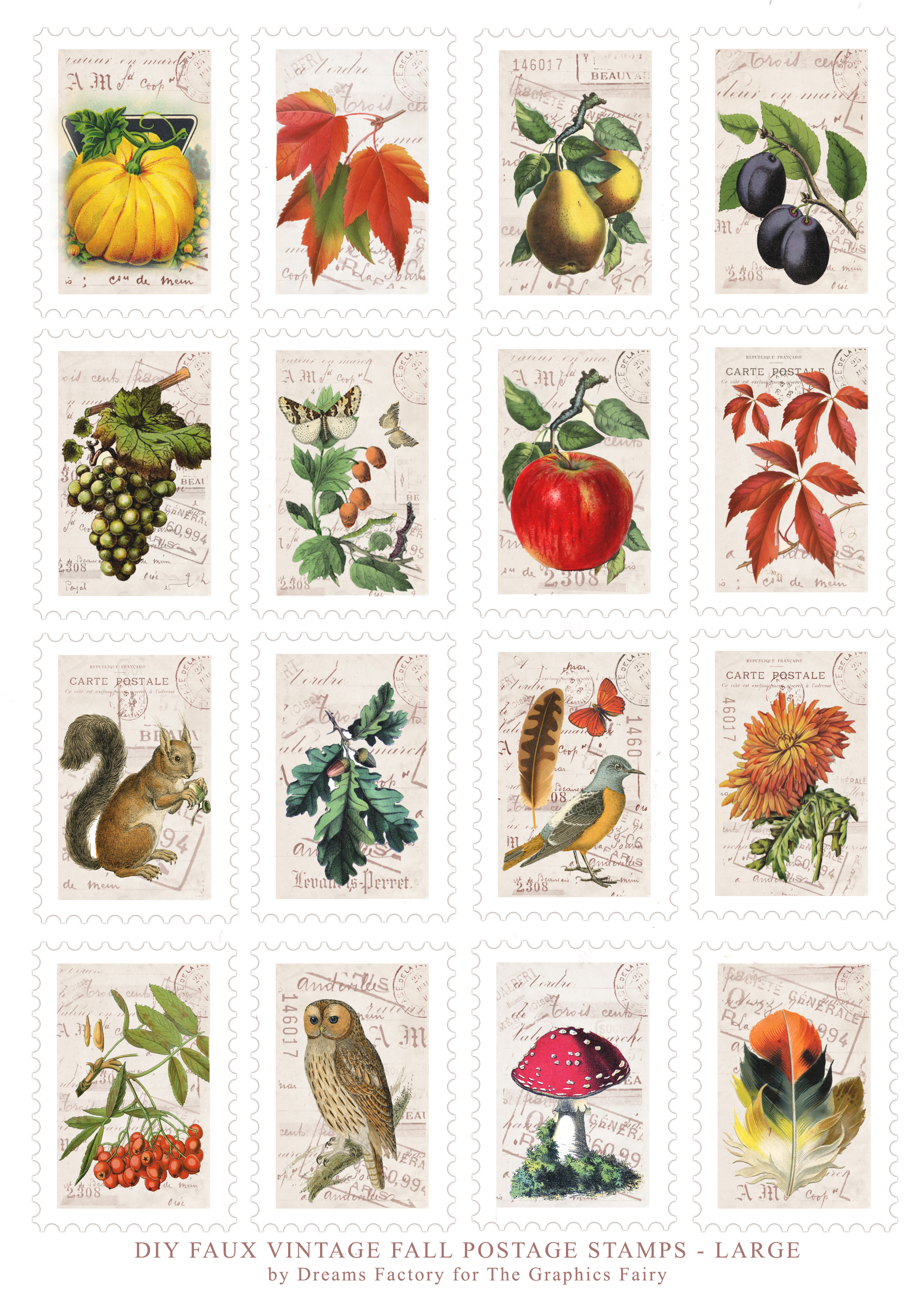 —> Click here to download the full size PDF  – the large size <—

—> Click here to download the full size PDF  – the medium size <—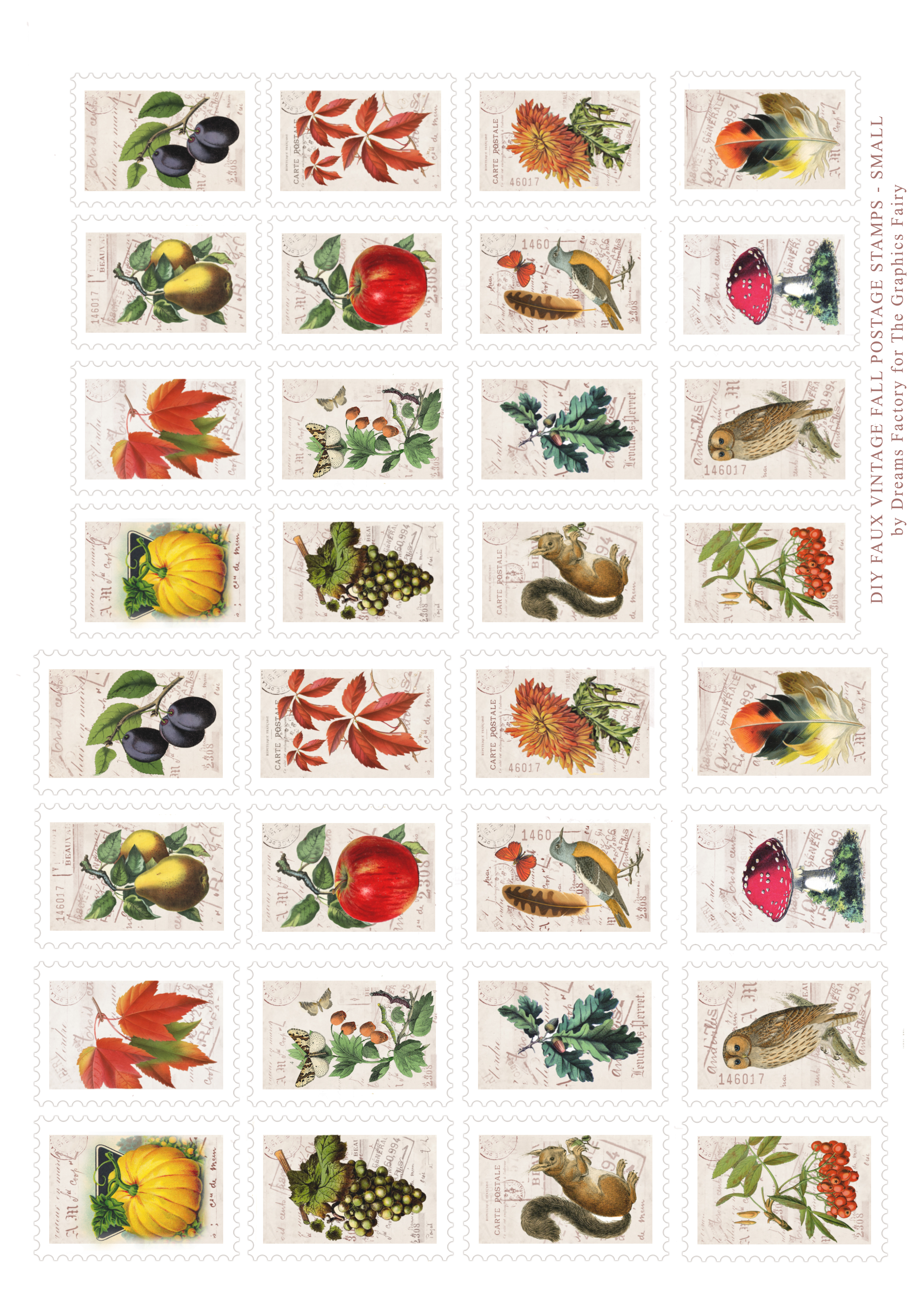 —> Click here to download the full size PDF  – the small size <—
Free Printable Vintage Postage Stamps Supplies: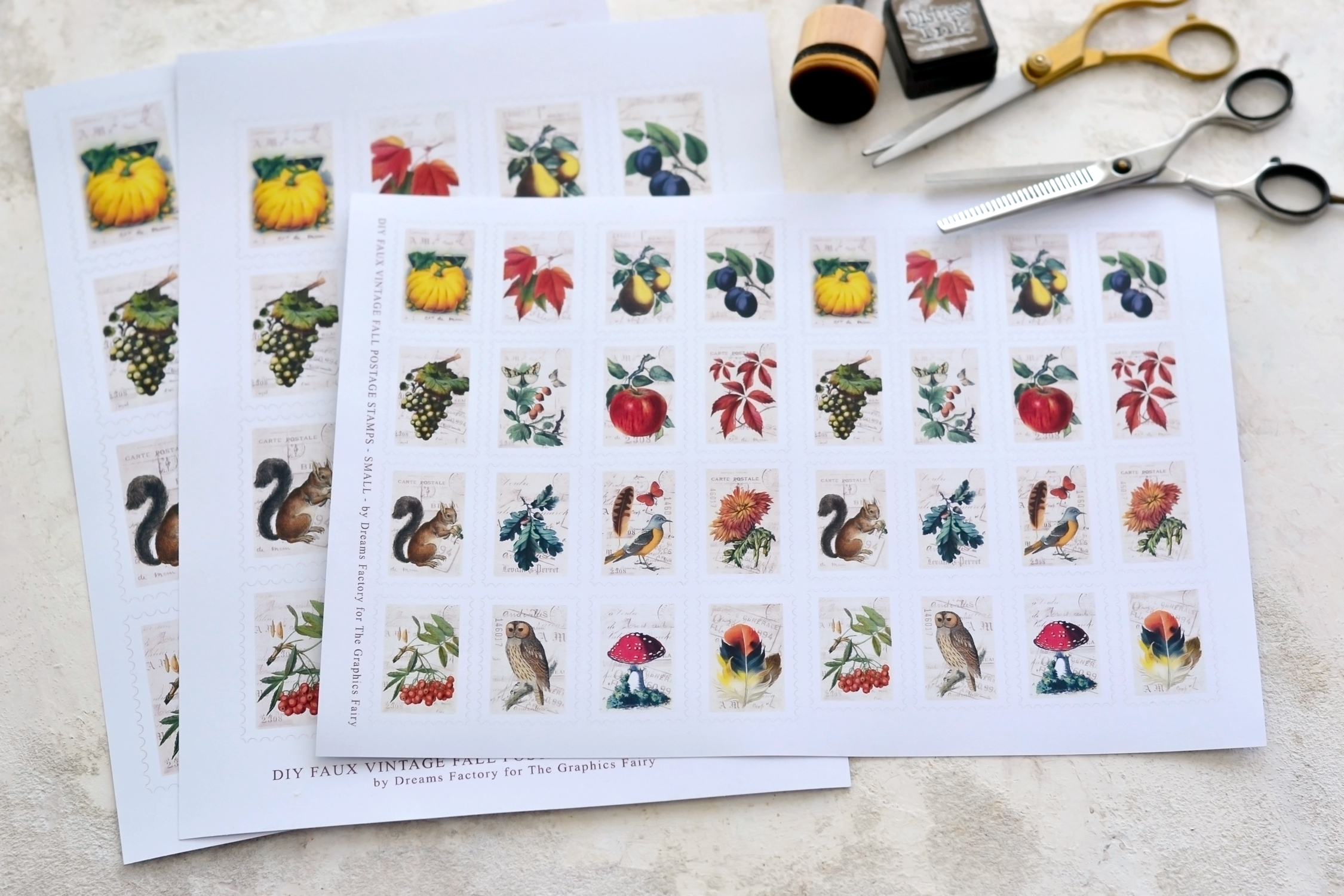 Tutorial with Step by Step Instructions:
Use regular scissors to roughly cut strips of stamps first.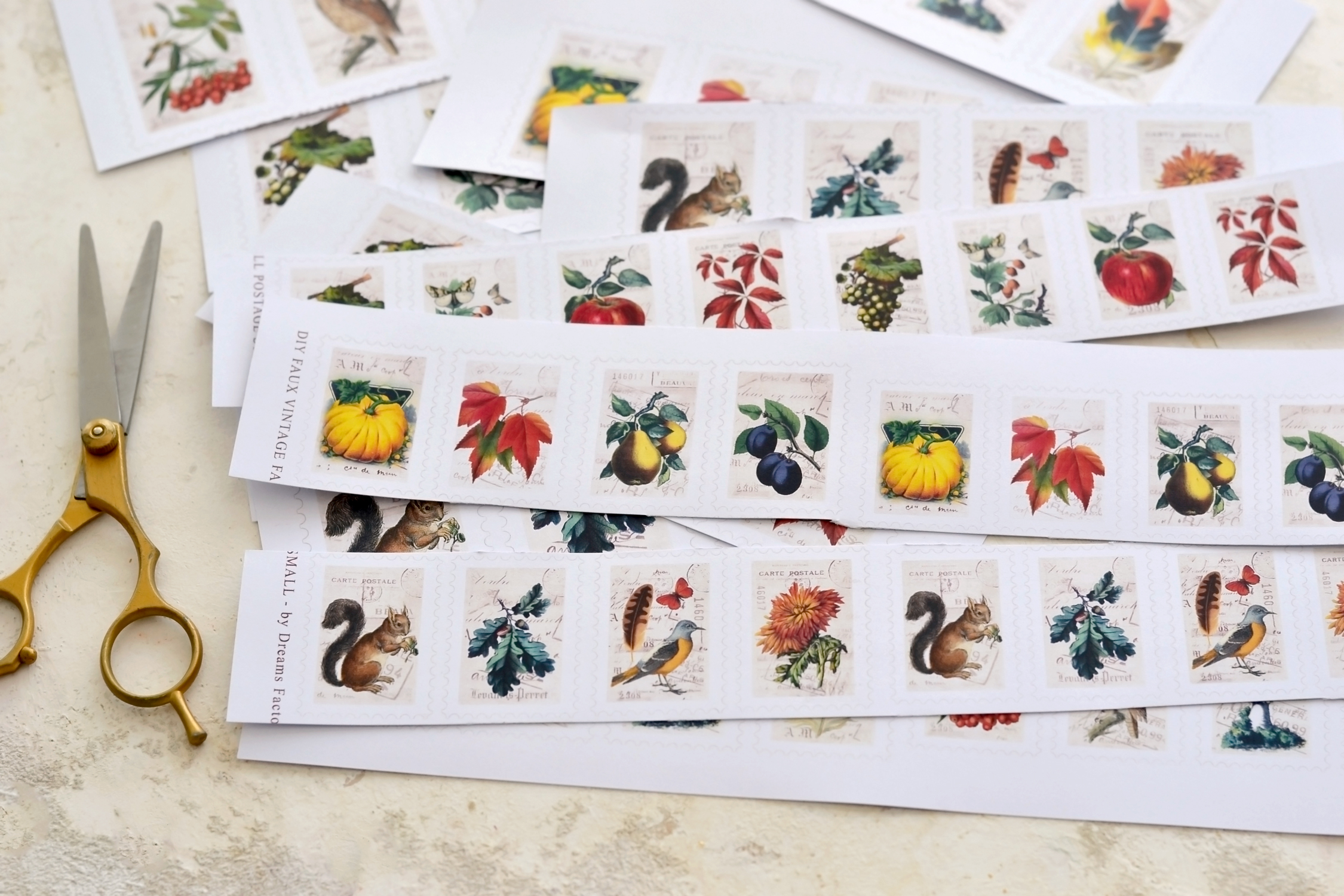 Use thinning sheers to cut each postage stamp. Make sure the serrated blade is always on top when cutting the paper and you keep rotating the stamp in your hand so it is always on the left side of your scissors. These two are the most important things you need to consider while actually cutting the stamps to create that specific postage stamp edge. You can do a few tests on a scrap piece of paper prior to actually cutting the stamps.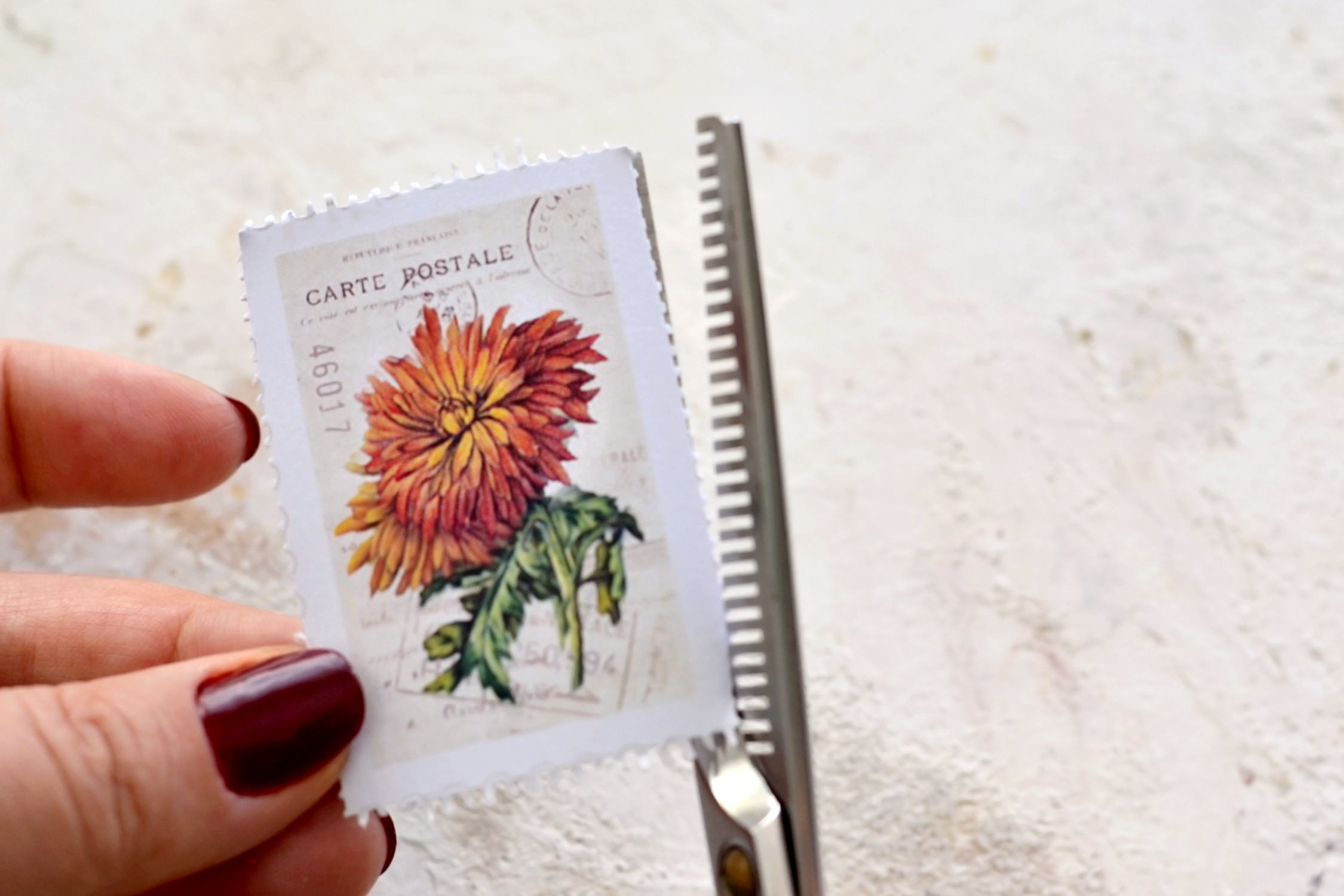 I used cardstock paper for my stamps, you can also use regular paper or even sticker paper. Depending on the type of paper you will be using you will notice that some edges will have longer frays than others so I guess the orientation of the paper and the fiber in it has some saying in this. You can use regular scissors to trim some of the longer frays if you want – I didn't, I actually liked these imperfect edges here and there.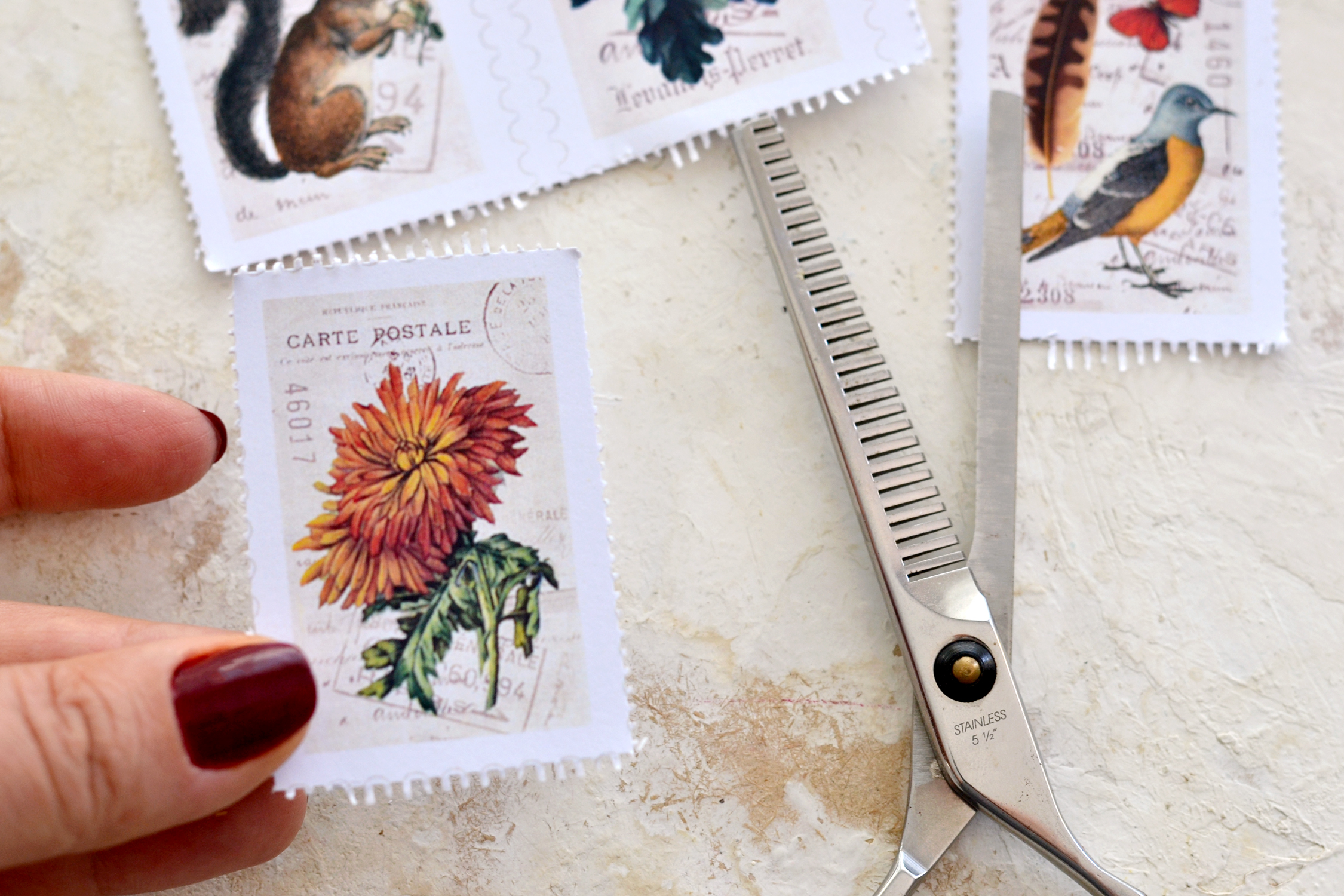 It will take a little bit of time to cut all the stamps this way and this might even take a toll on your thumb finger while handling the scissors, but I would say in the end, it will be worth the 'effort'.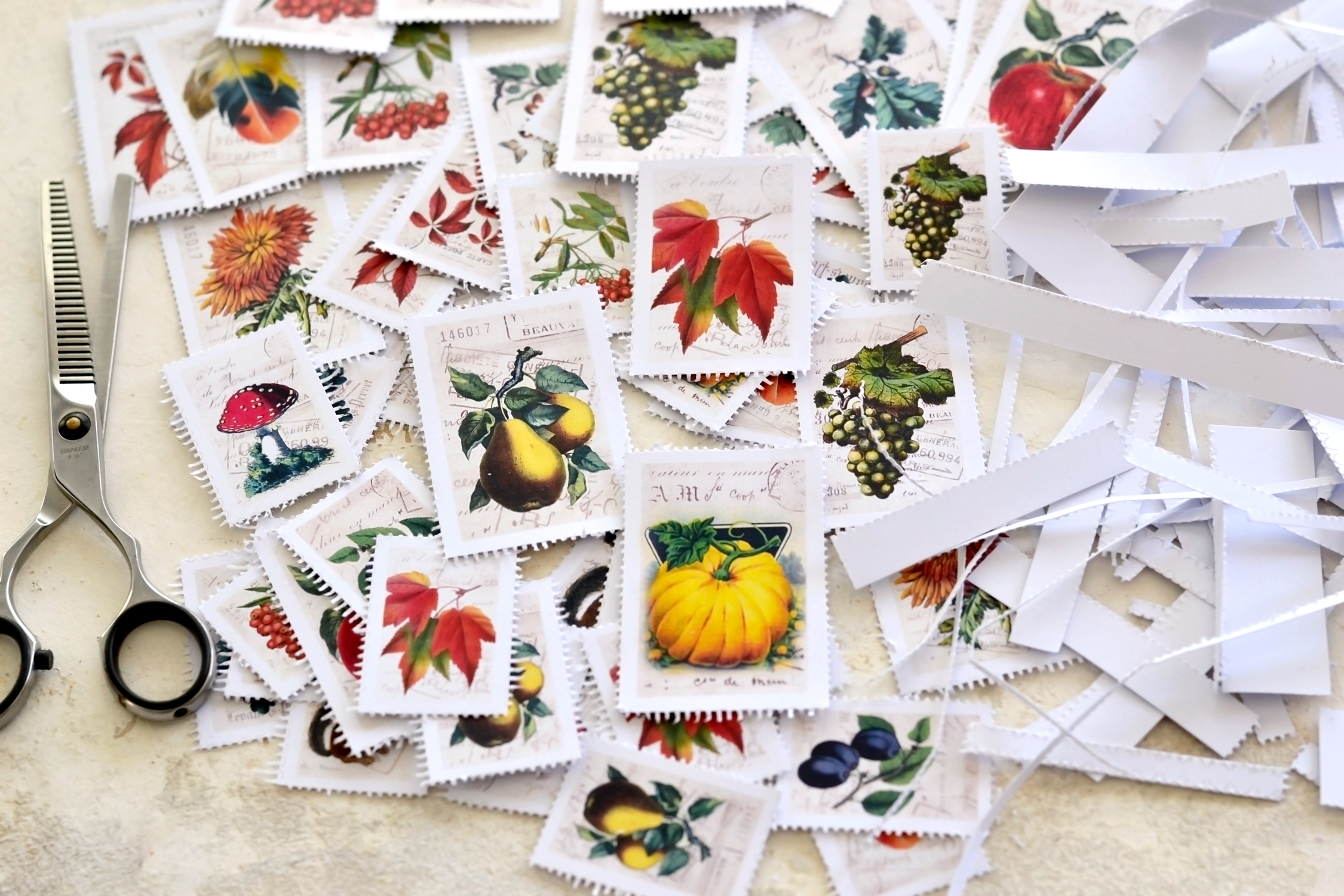 The stamps already have a built-in vintage vibe, but if you prefer to further distress them, you can! I did a few tests at this stage to see how they looked. I noticed that if I added too much distress ink on the whole surface of the paper, it would lose some of that lovely postage stamp appearance (the stamp on the left with the acorn). So I decided to only add a touch of brown distress ink on the edges using my blending tool (the stamp on the right with the pumpkin). You can do things your way, depending on your preferences!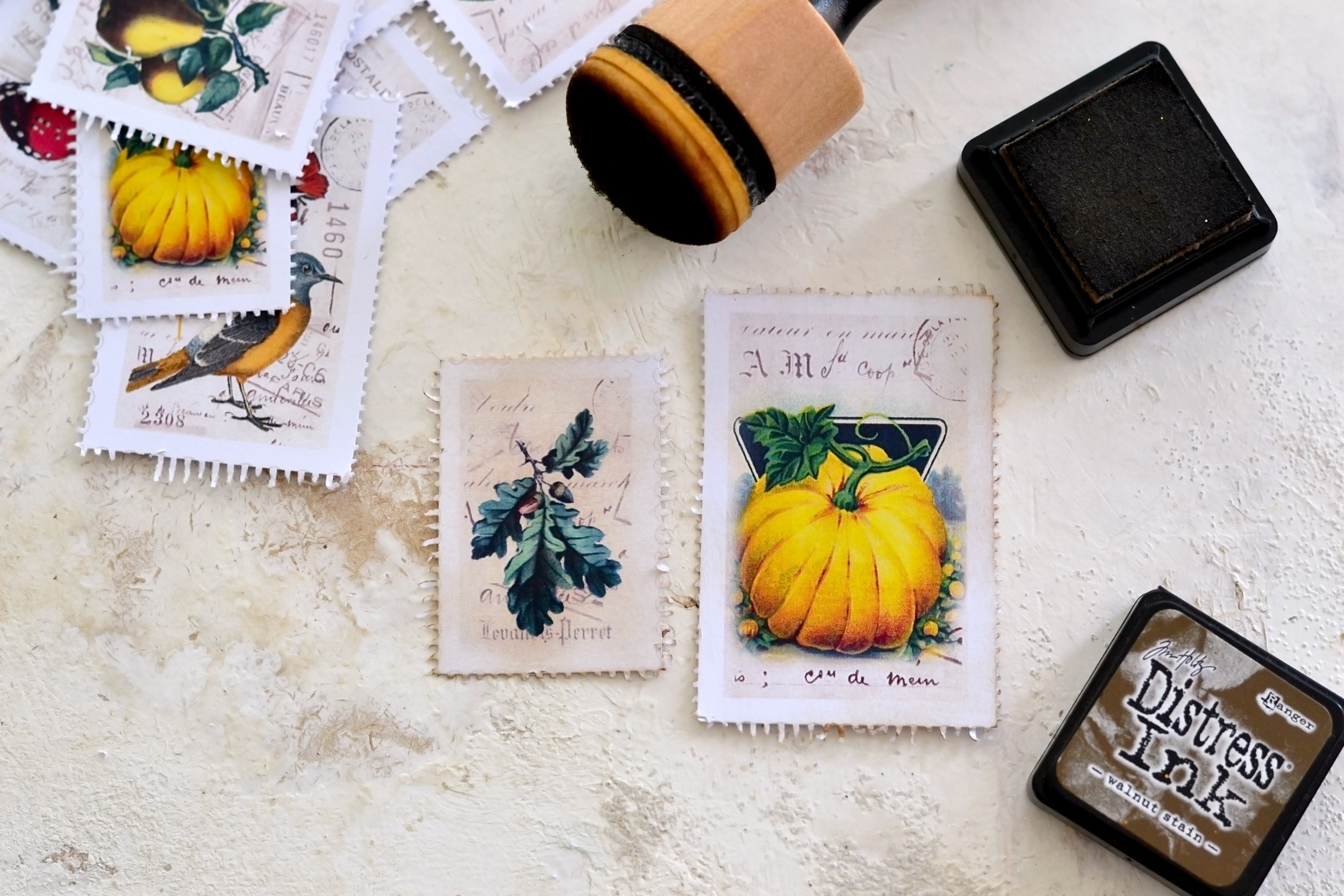 The final stamps for fall turned out absolutely gorgeous, with an abundance of seasonal goodies and specific colors!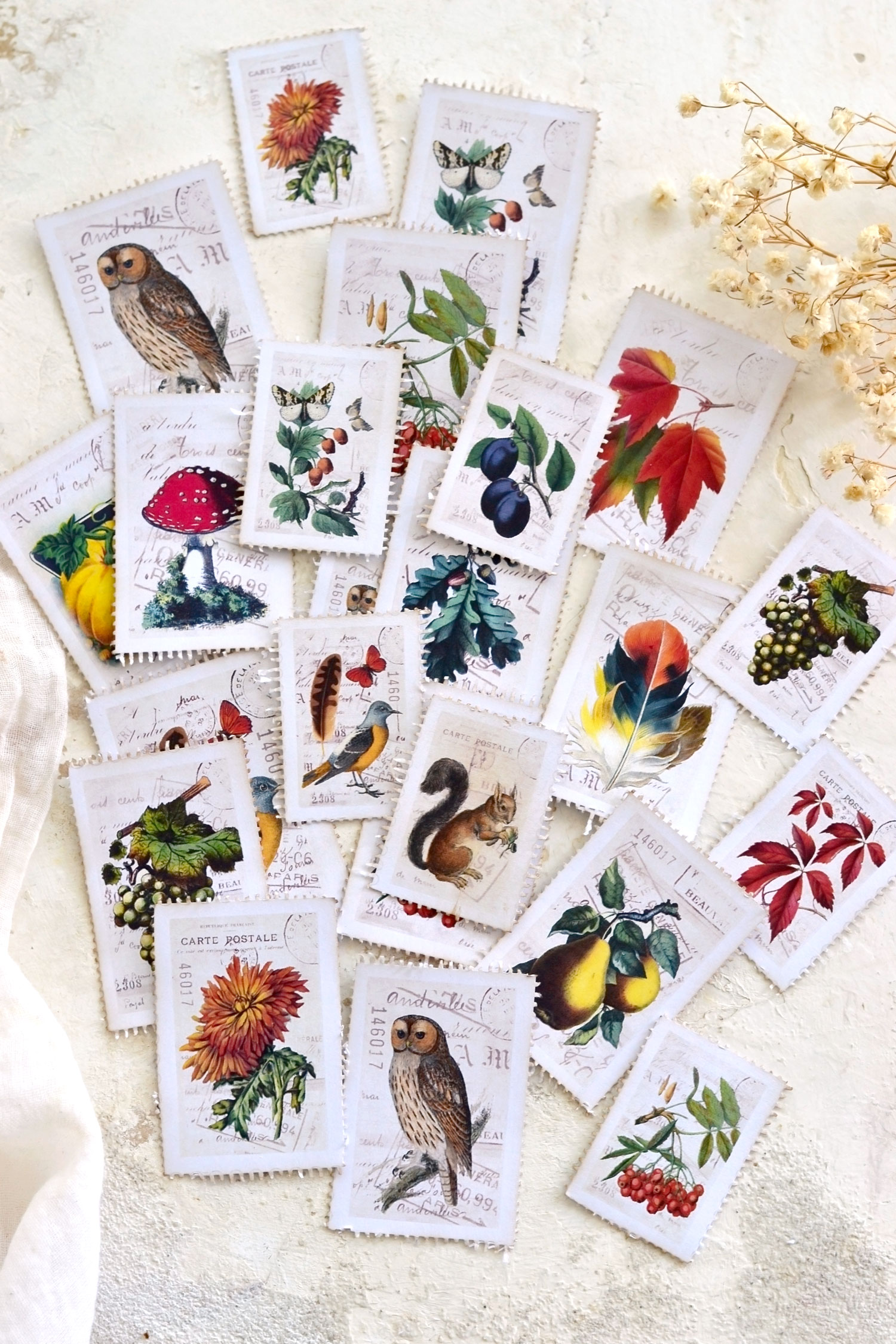 These mum flower postage stamps turned out to be some of my favorites, but the truth is it's quite difficult to pick only a few from all these beauties!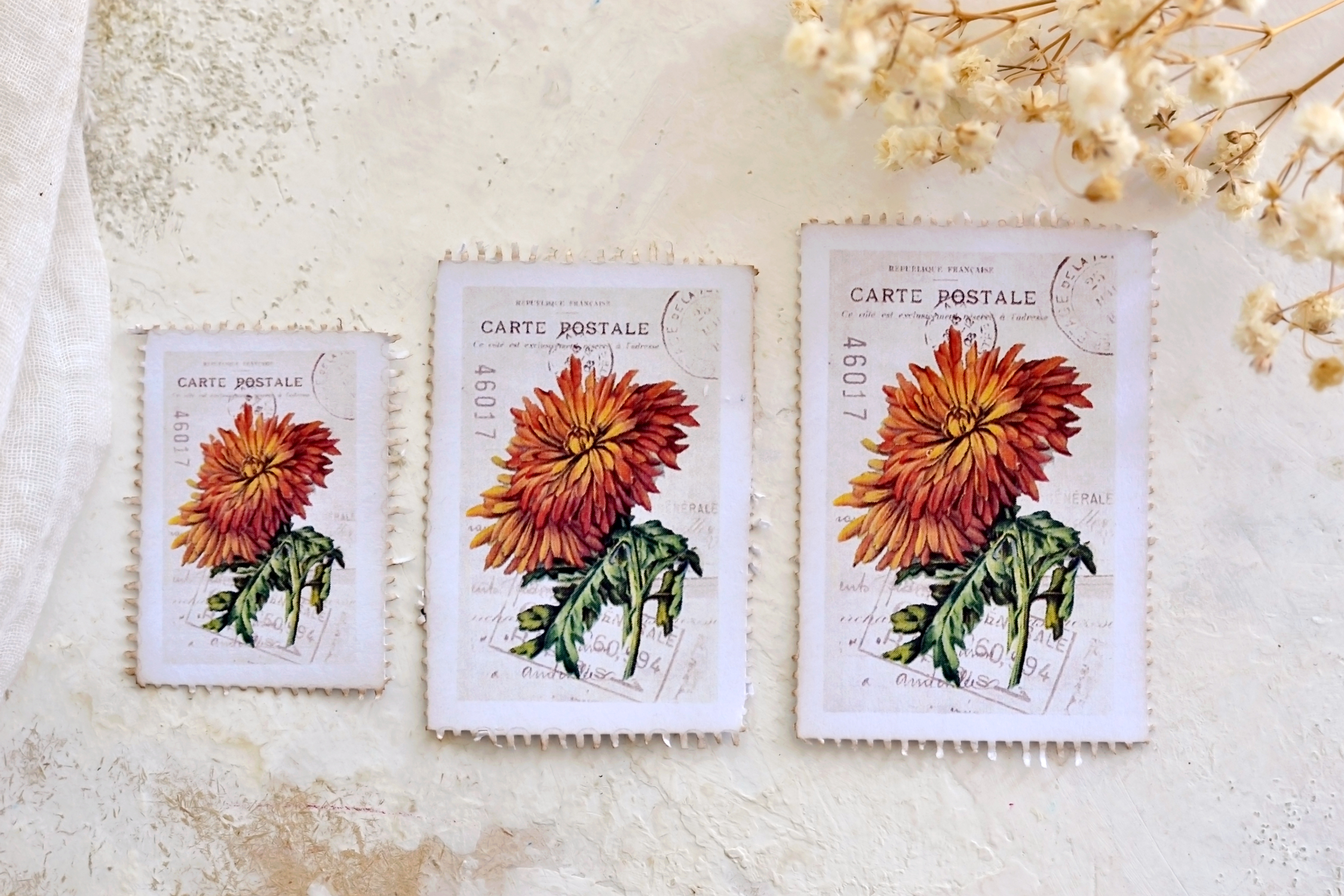 I also loved these ones, with the owls!
You can group and use the stamps according to their design – just use the same design in several different sizes to add more interest to your projects.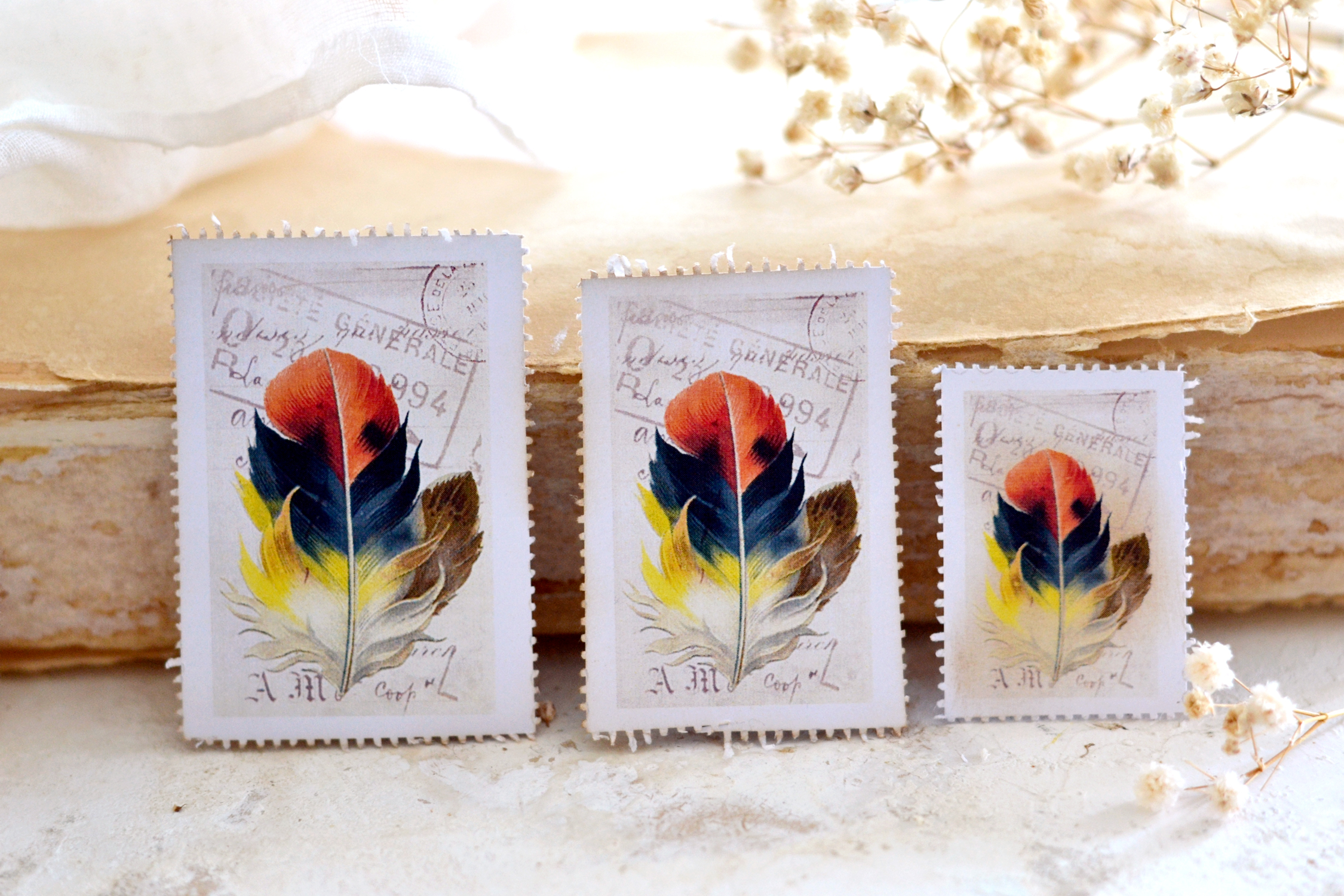 Or you can group different stamps according to their color scheme or what they inspire you. The pear, grape and pumpkin stamps below have different shades of yellow and green and work really great together. They could be included in a fall-themed project, in a harvest day project,  or why not, just used to match a seasonal color scheme.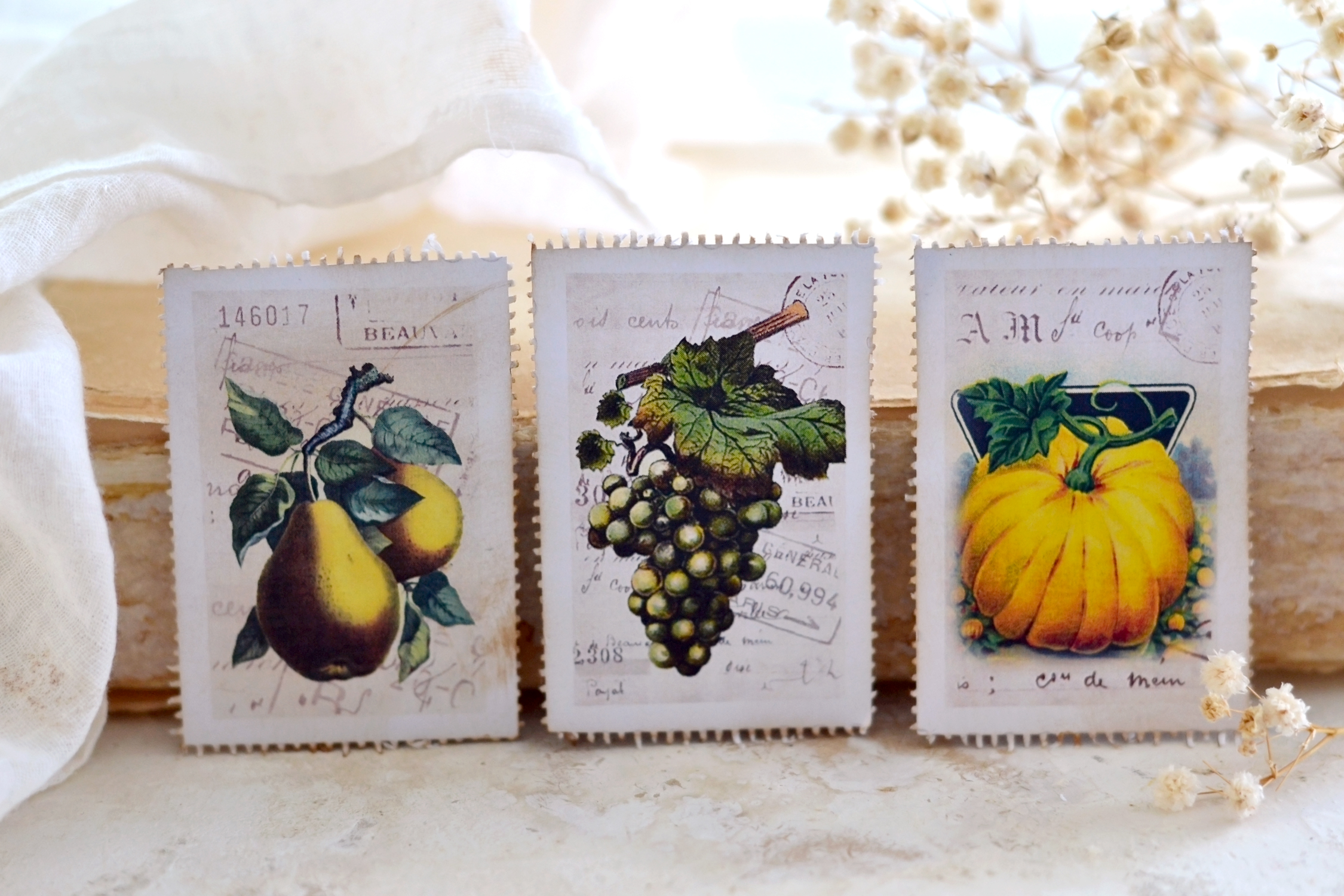 But of course, the Harvest Day theme can be mimicked without having a specific color scheme in mind just pick all these yummy fruits and use them together.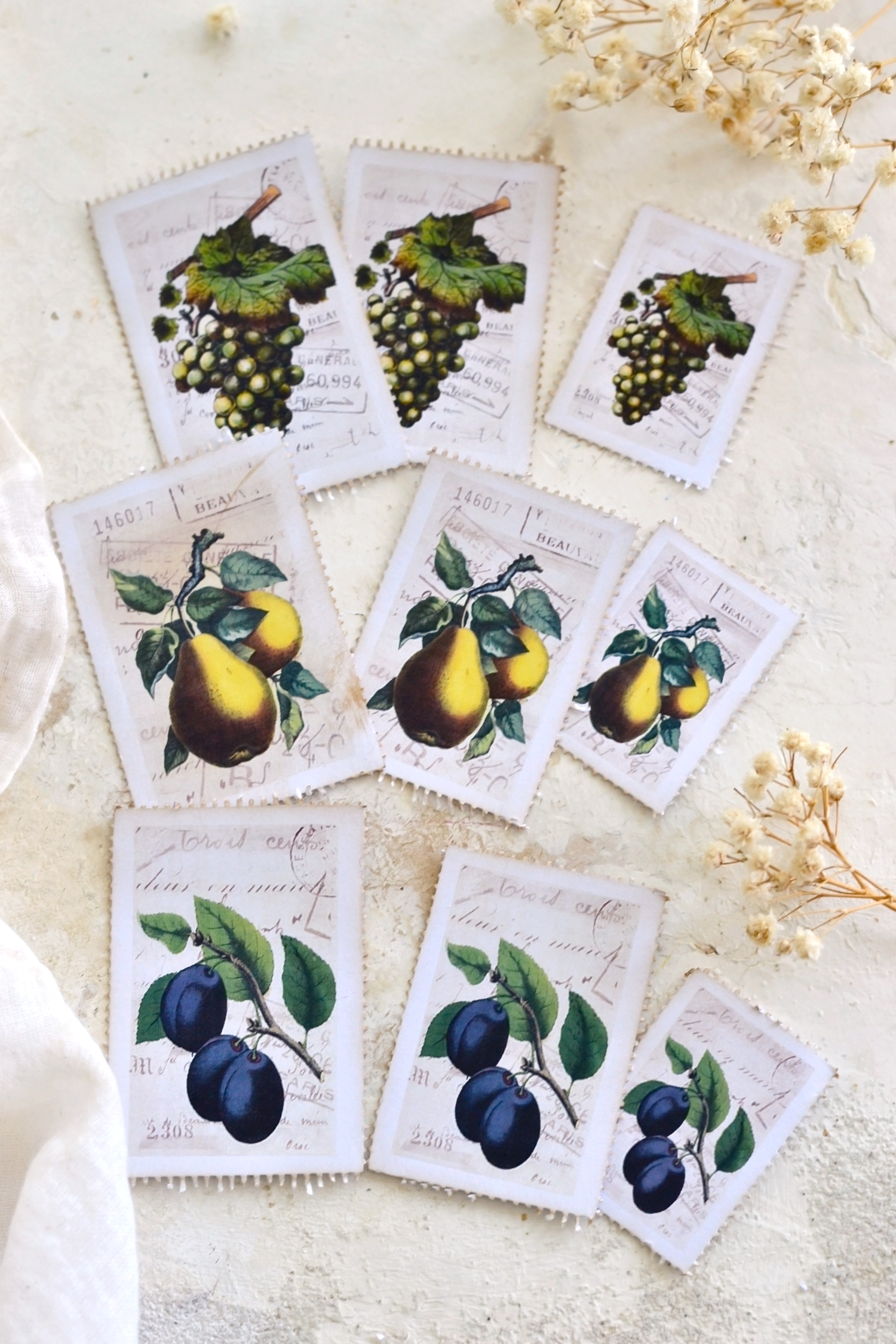 Here is another example where you can choose the stamps according to what they inspire you. We could call this selection Woodland or a Walk in the Woods, where we have red, orange, green and brown colors on images that work really great to evoke that beautiful part of nature.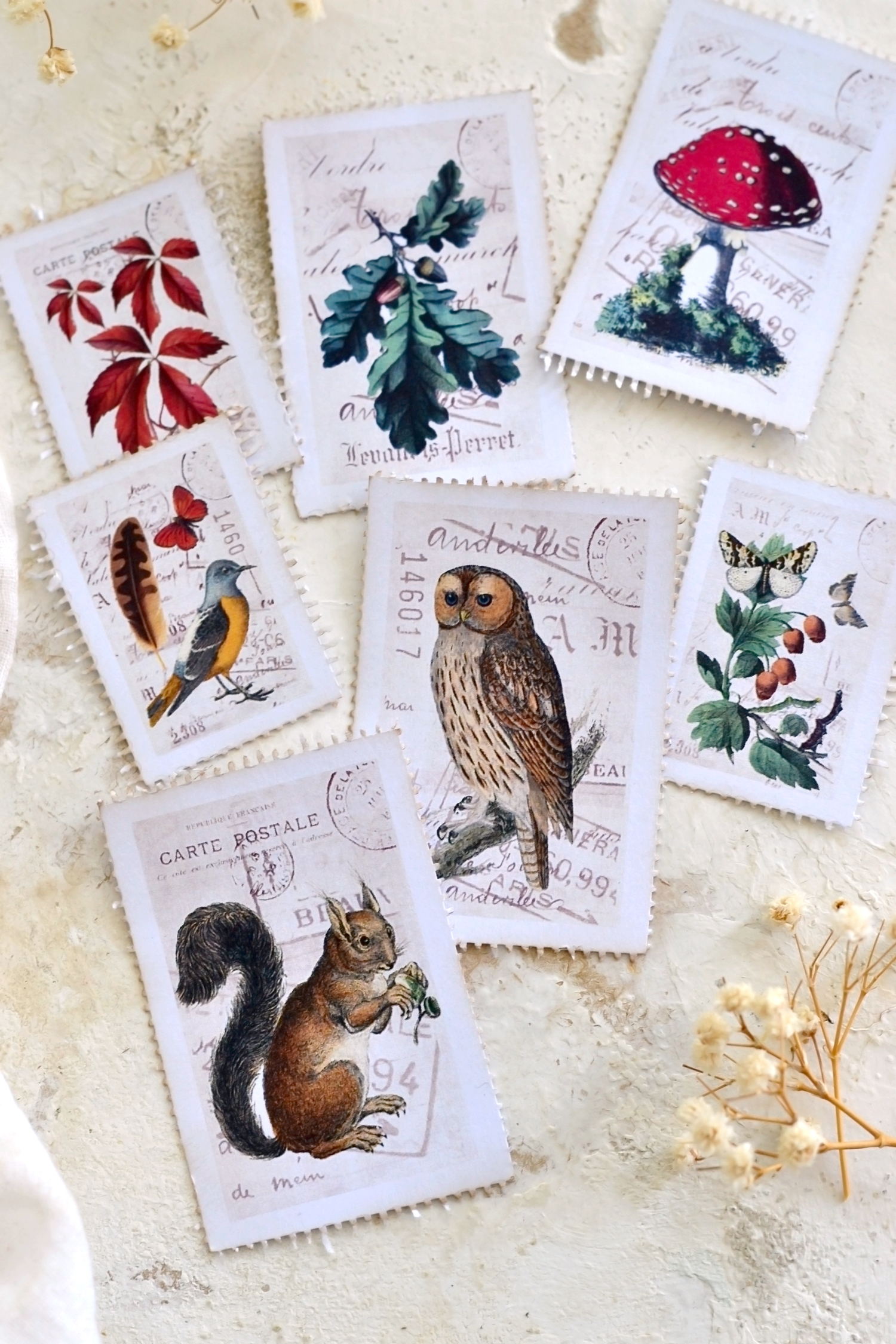 You could include the next selection in a bird-themed project, whether it is for fall or another season, depending on your inspiration.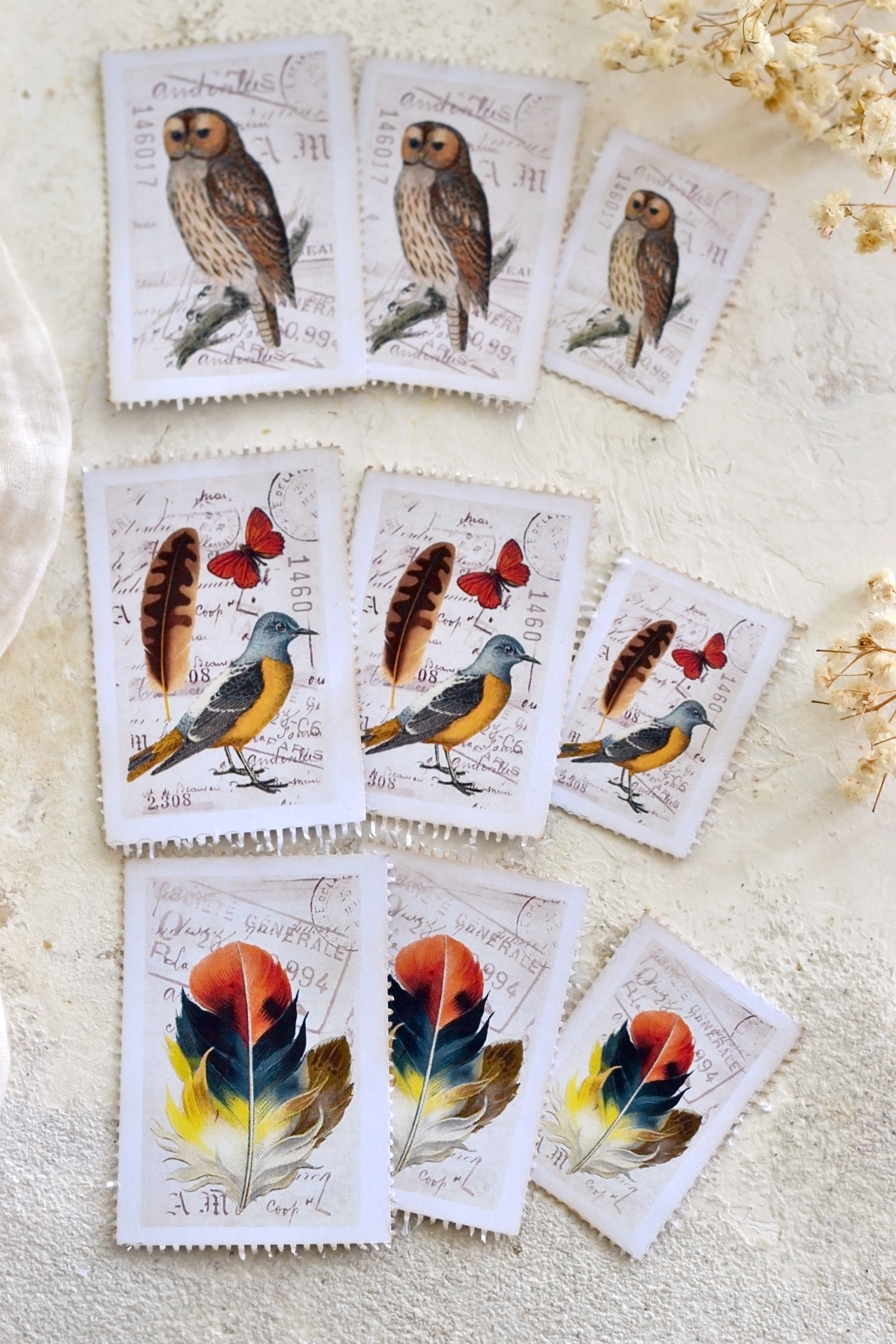 As you can see, there are quite a few beautiful stamps that have more of a neutral vibe and can be used for other non-seasonal projects too.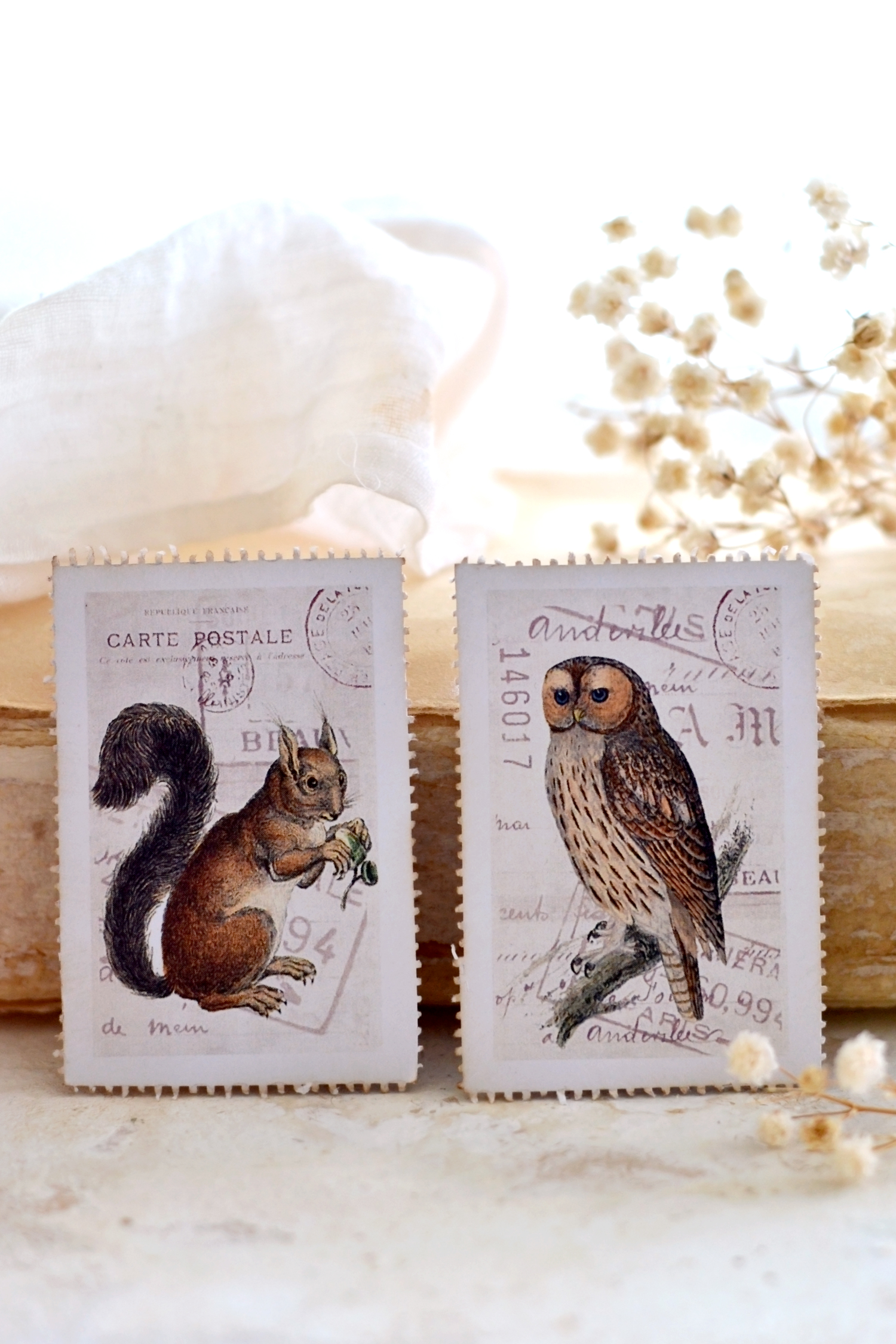 I'm leaving you with another one of my favorites, this tasty-looking red apple! For me, there's nothing more representative of fall than apples, they instantly make me think of apple pies or perfectly spiced apple butter. Maybe for you, it's a pumpkin that does all that, but don't worry, I have postage stamps with pumpkins too, I've got you covered on this one!
It's really amazing how an image can actually awaken our senses and put us in the 'fall mood', giving us such a good vibe! So I'm hoping you will decide to give it a try! You can find unique ways of including the stamps in your projects and let each design inspire you to create something that you truly love!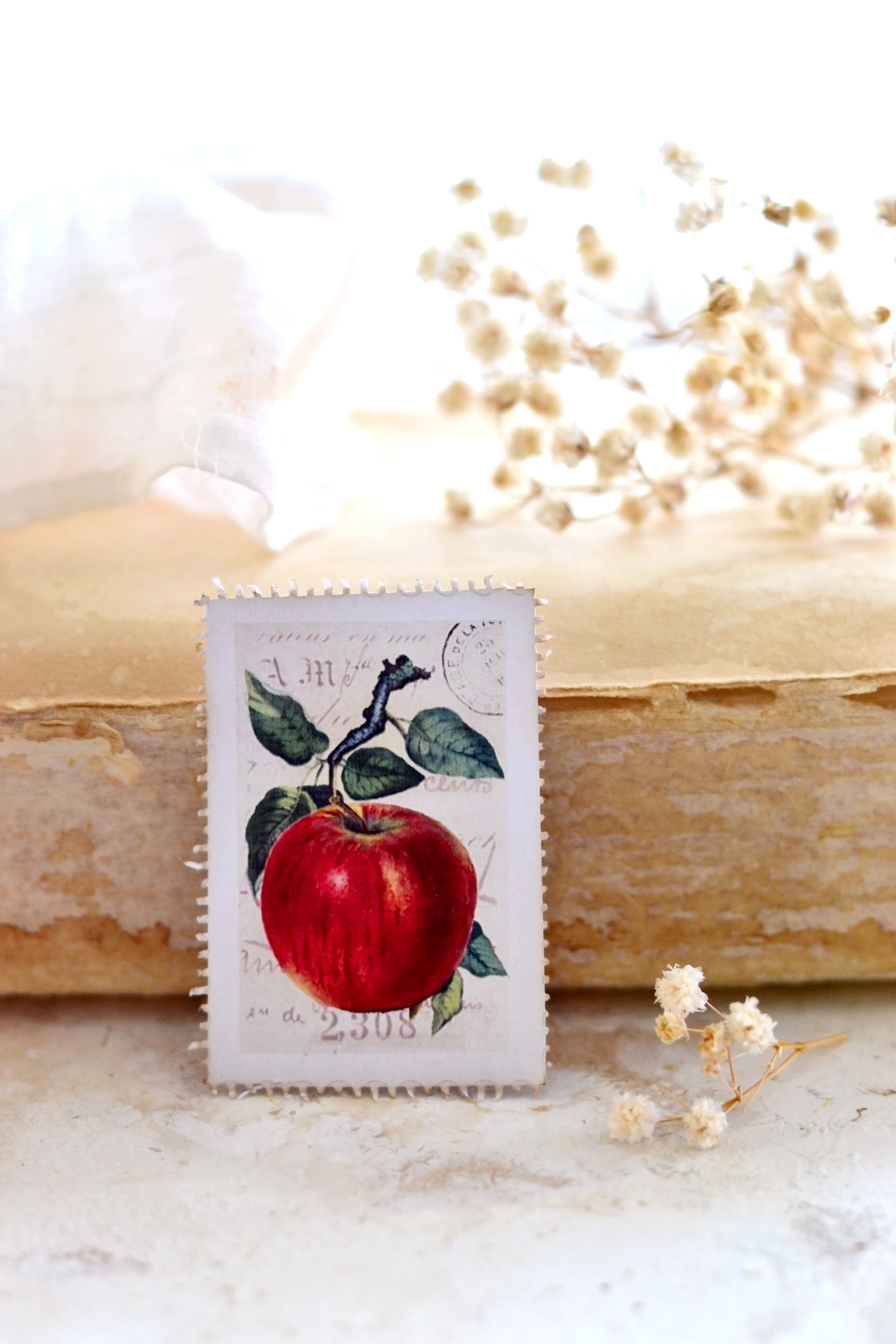 Happy crafting,
Diana / Dreams Factory