25 Deer Clipart and Antlers Images
Featured here is a nice collection of Deer Clipart Images and a few Antlers pictures too. I love all of them. Some of these are Christmas themed, but many can be used for non holiday projects too. There is a wide variety of pictures here for you to choose from. I hope you can use these in your Holiday Projects or Winter Craft or Collage Projects!
Christmas Deer Images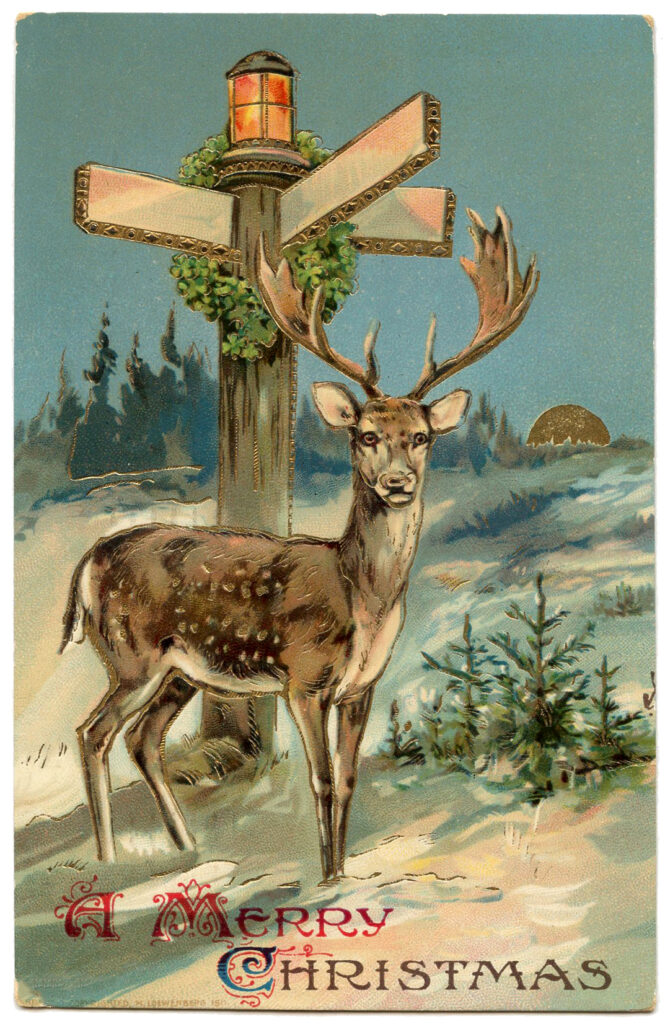 Here is the newest addition to this collection. This is a charming Merry Christmas Deer Postcard! We see a spotted Deer in the snow next to a lamp post. This was originally part of a set along with the one below. Sweet!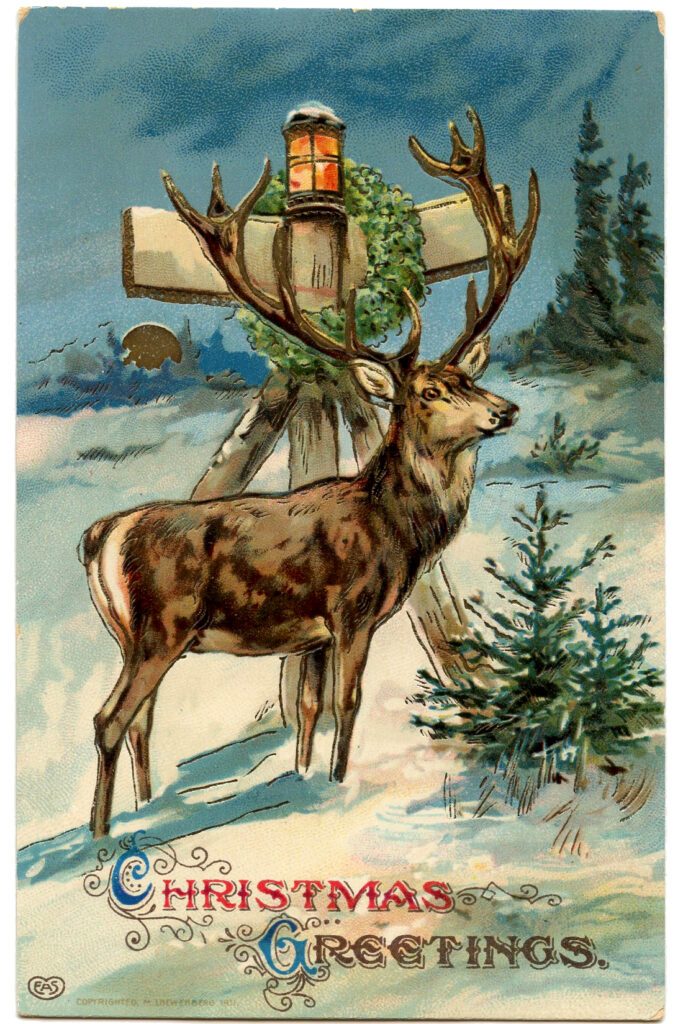 Shown here is a beautiful Deer out in the snow. He has large antlers and is hanging out by a light post. The ornate text brings "Christmas Greetings".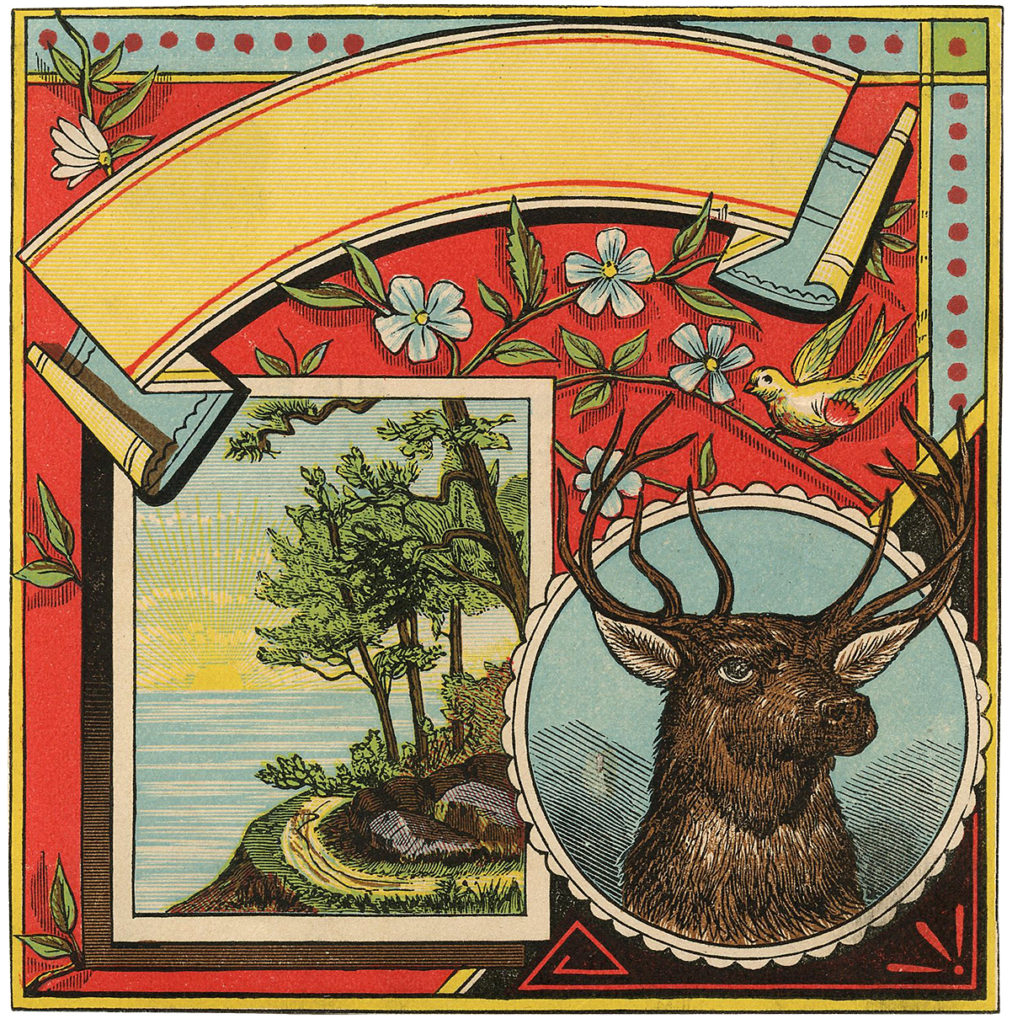 The is a dramatically lovely scenic Label. A gold frame surrounds a bright red background featuring a landscape image, a majestic animal with antlers image, plus an area for adding your own greeting. Great for a tag or card.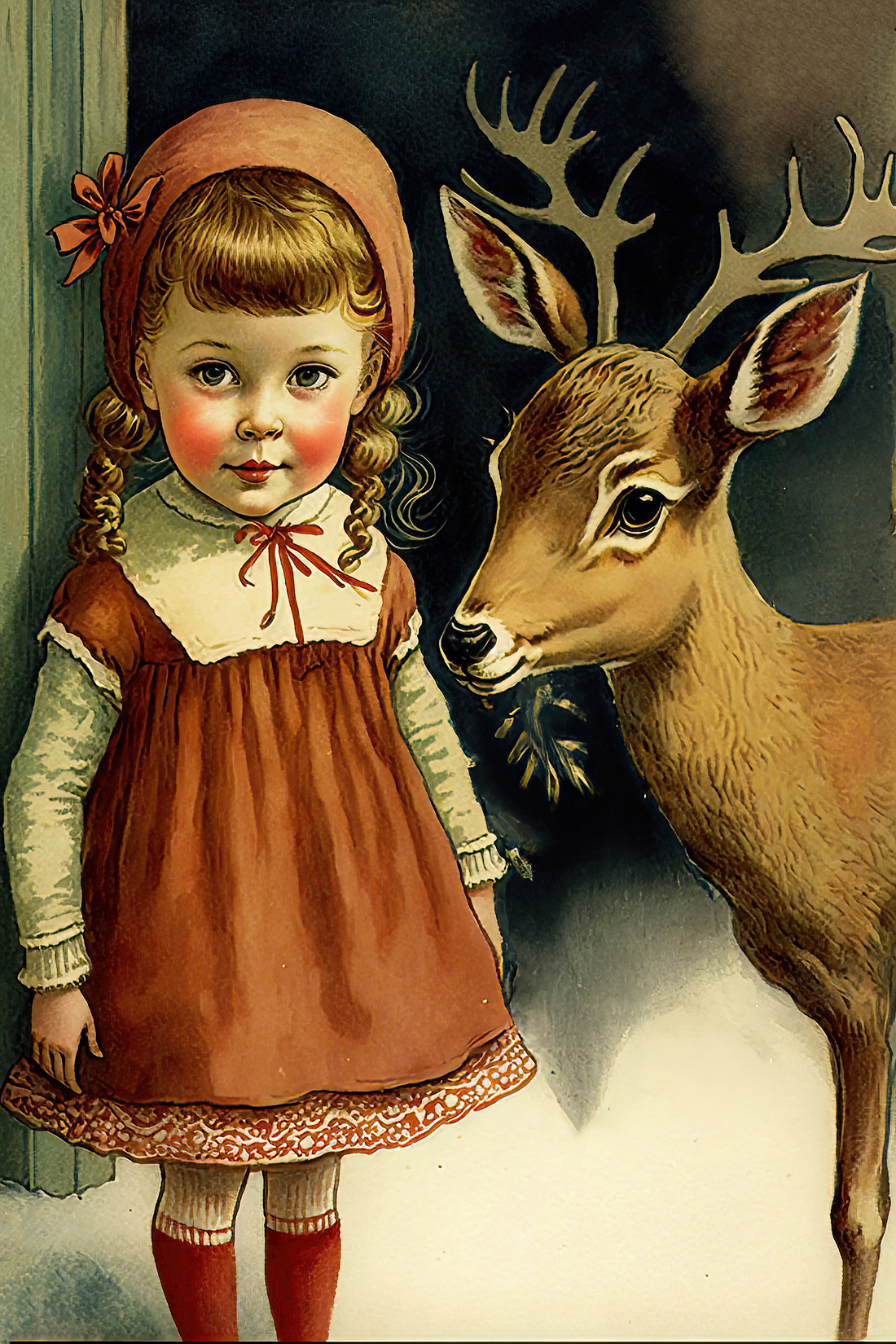 Here we see a sweet little girl with her furry friend. Such a cute and charming scene!
Deer Clipart with Antlers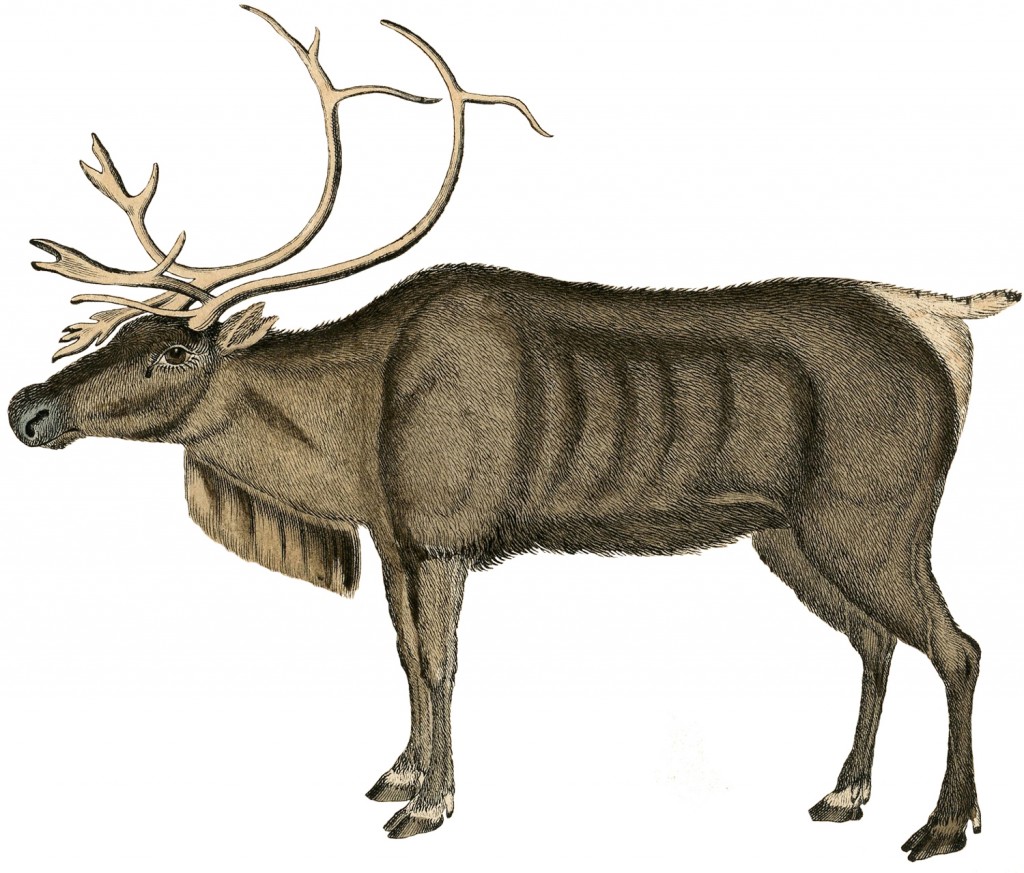 This is a wonderful Vintage Reindeer Image from an Antique Natural History, or Zoological, print in my collection. The print dates to around the 1840′s, so it's quite old!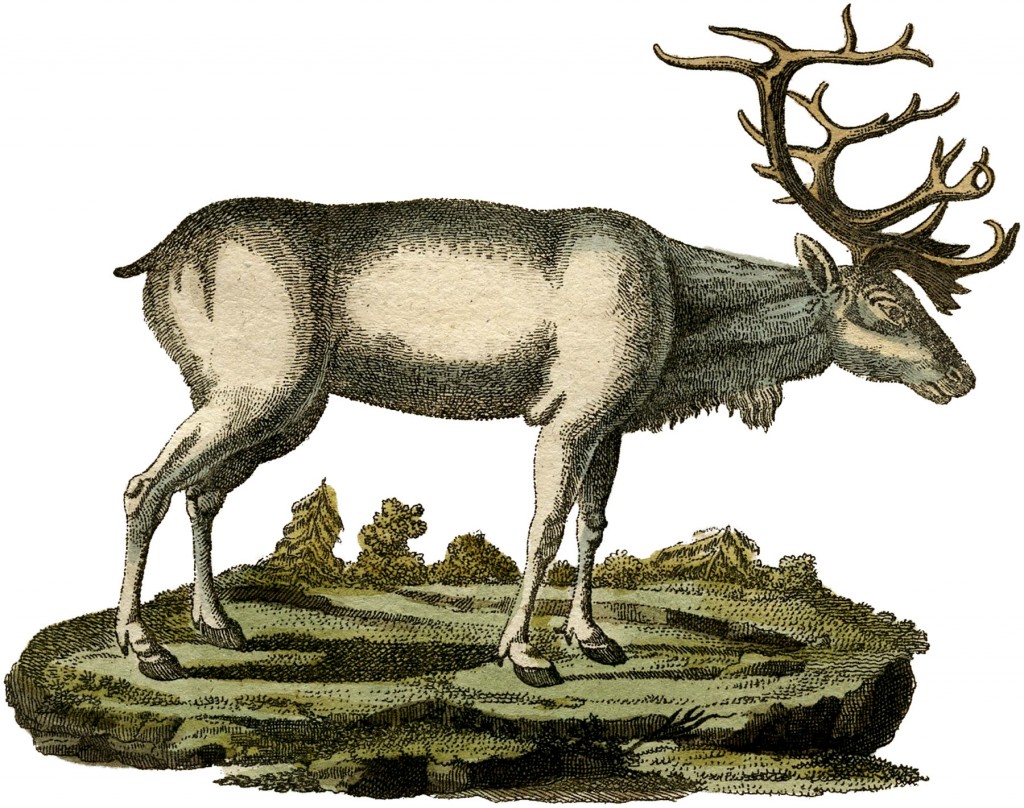 This is a fabulous White Reindeer Image! Or at least I think that's what it is! This offering was scanned from a rare and early, Circa 1790's, German Natural History Print in my collection!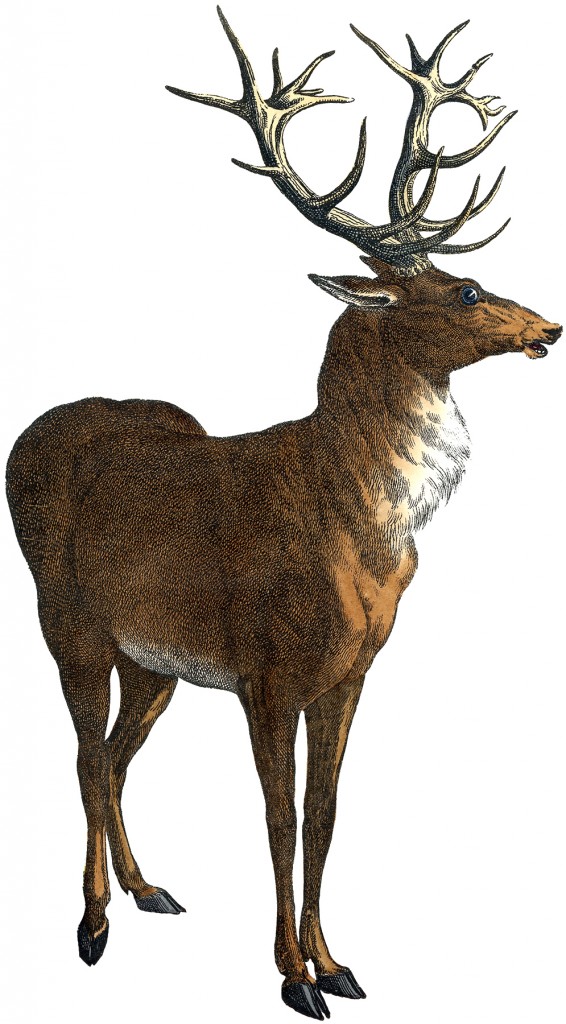 This is a wonderful Red Stag Picture! This lovely guy was scanned from an Antique German Print. He's a beautiful strong looking animal and his antlers are amazing!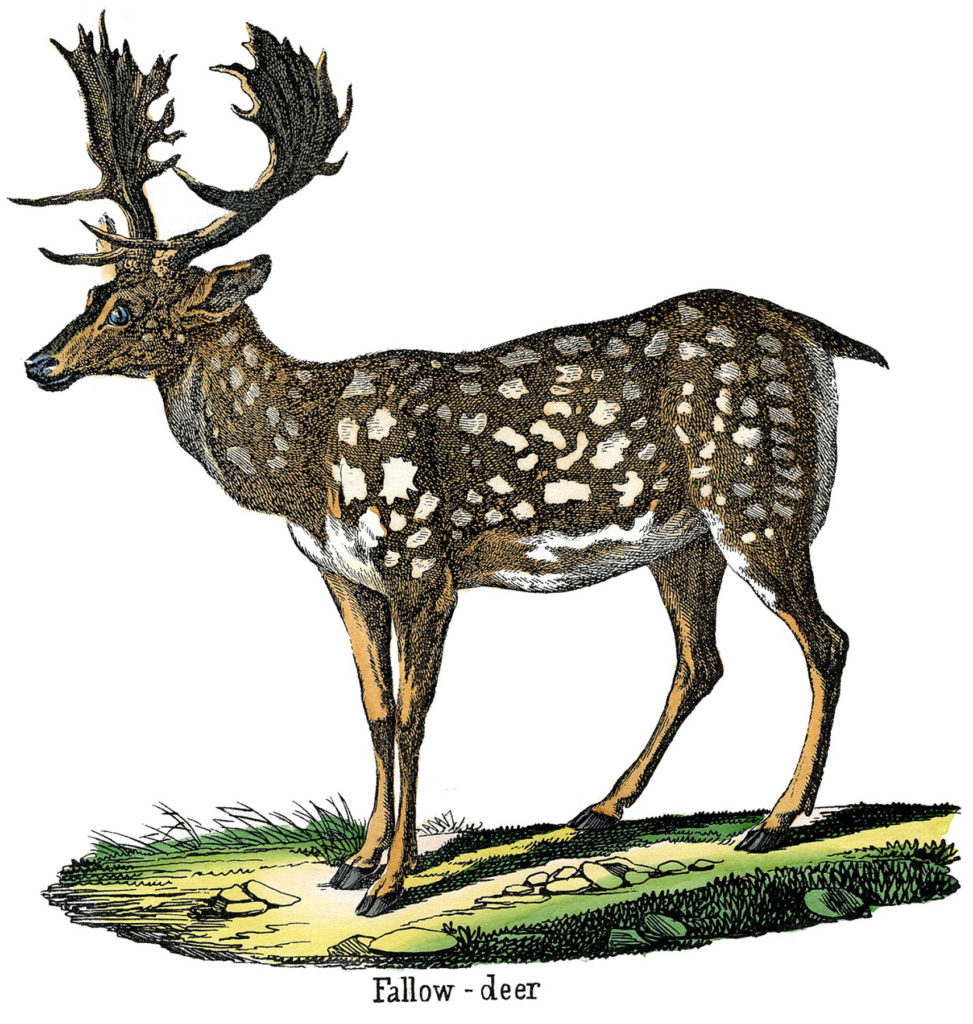 A wonderful old print from Germany is this beautiful animal called a Fallow Deer. I love his fabulous Spots and his lovely Antlers!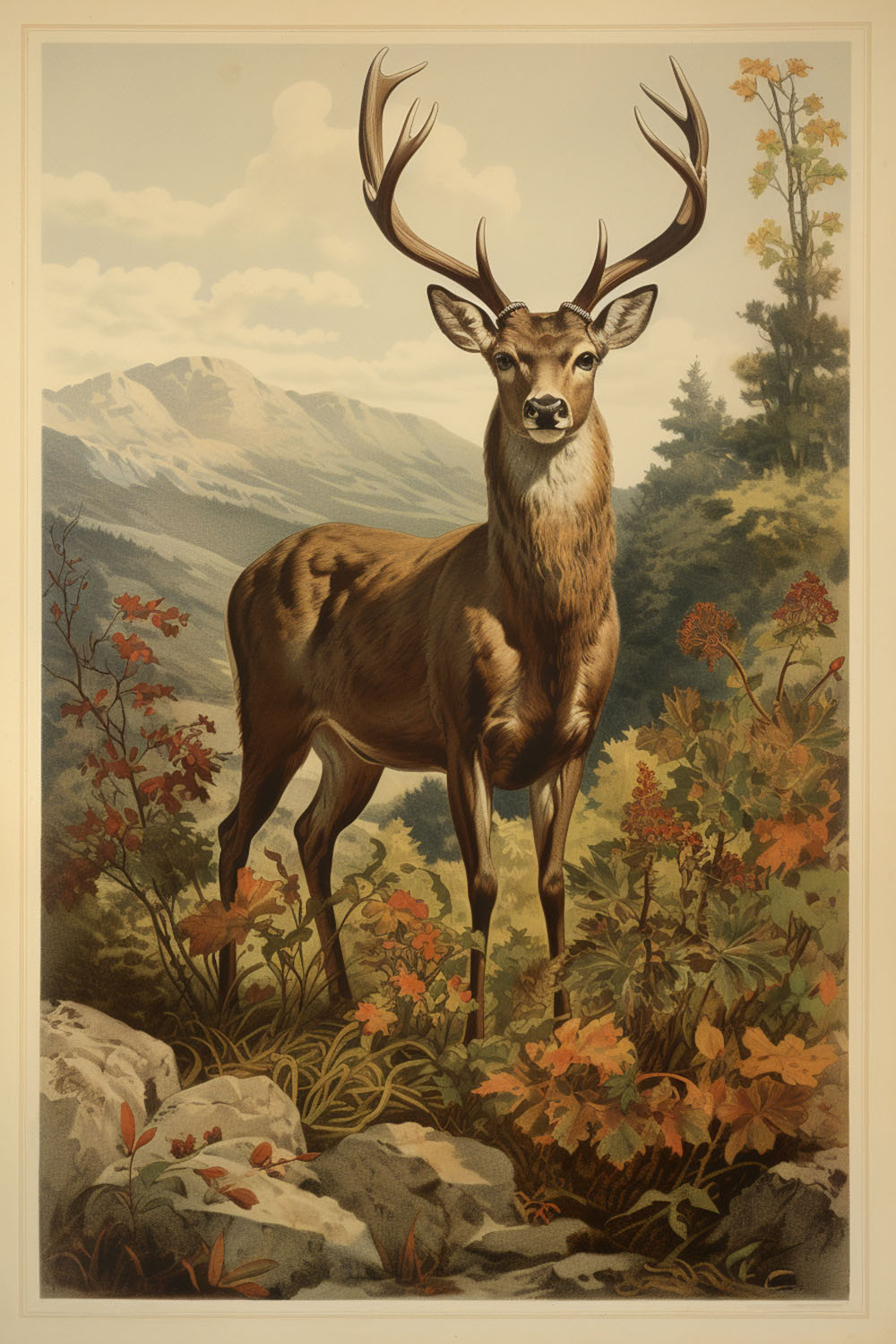 Here is the latest addition to this collection. Here is a beautiful wild animal with large antlers out in the wild. There is a beautiful mountain scene behind him!
Reindeer Images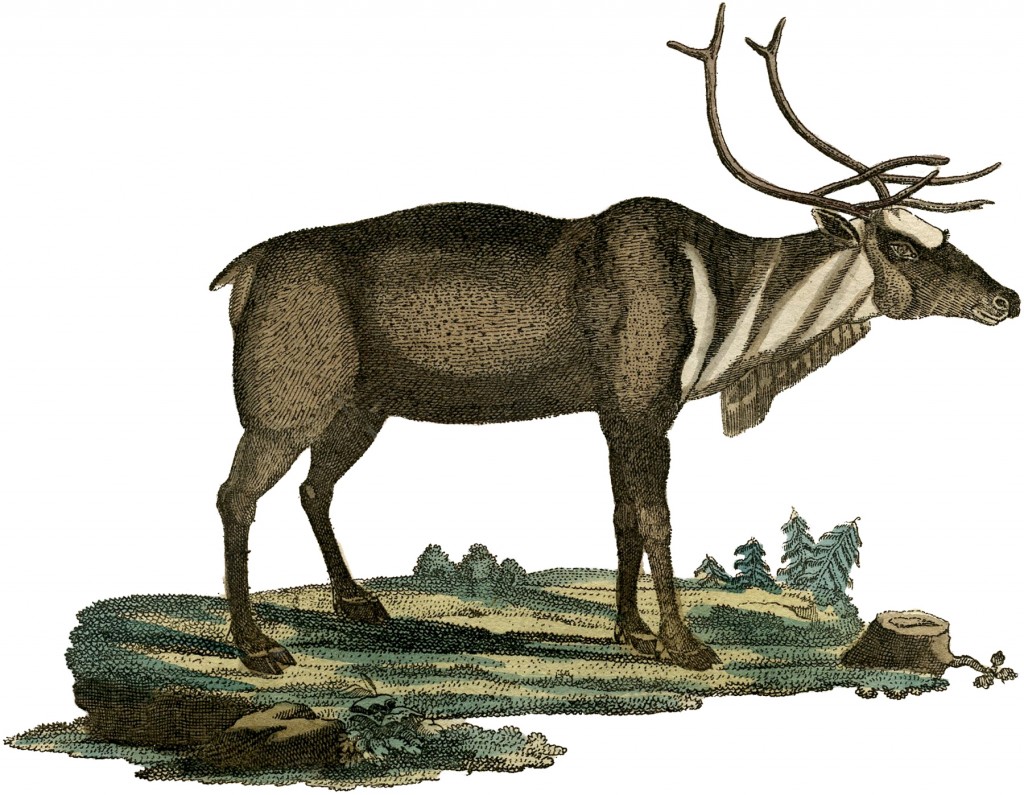 This is a wonderful Early Reindeer Picture, or at least I think that's what he is! This offering was scanned from a rare and early, Circa 1790's, German Natural History Print in my collection.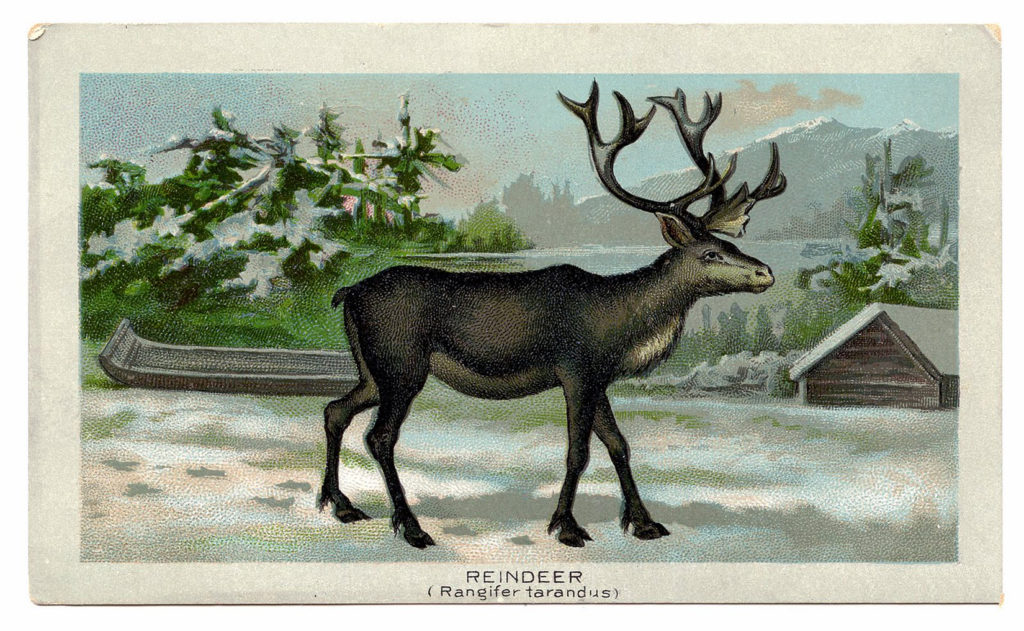 I purchased this gorgeous antique Reindeer trade card at an Antiques fair. I think he is just fabulous and I love the Winter scene behind him too!
Natural History Print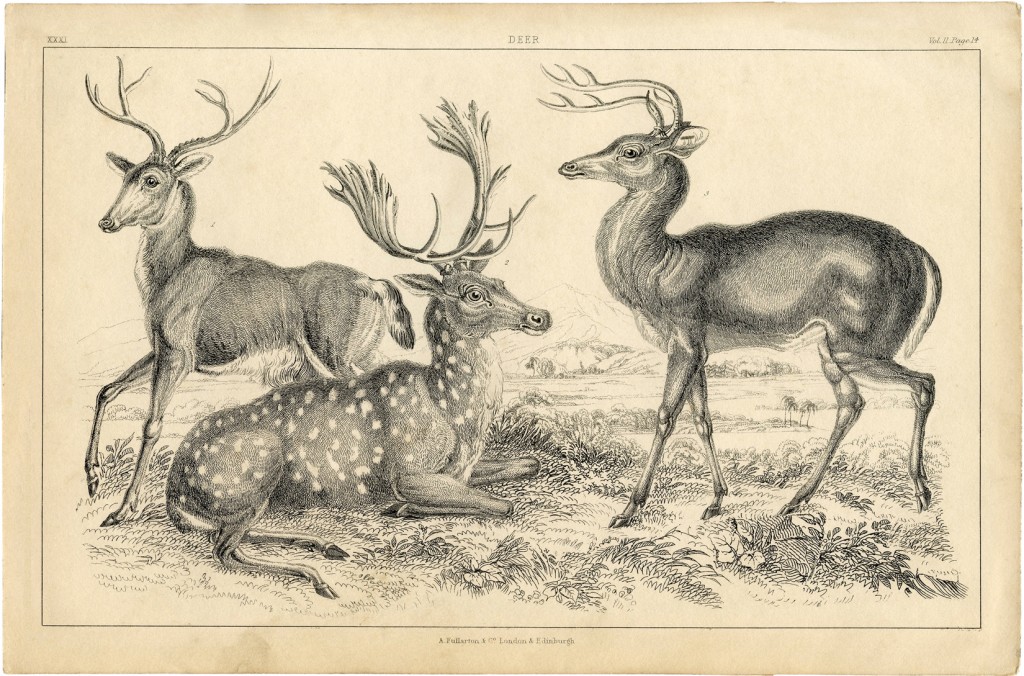 Click HERE for the Full Size Printable PDF of the Natural History Print
This beautiful Natural History Animal Print dates to about the 1860's. Included on the print are a Long Tailed, Virginian and a spotted Fallow Deer. Aren't they lovely?! I think the soft sepia tones in this print are really pleasing.
Deer Clipart Head and Antlers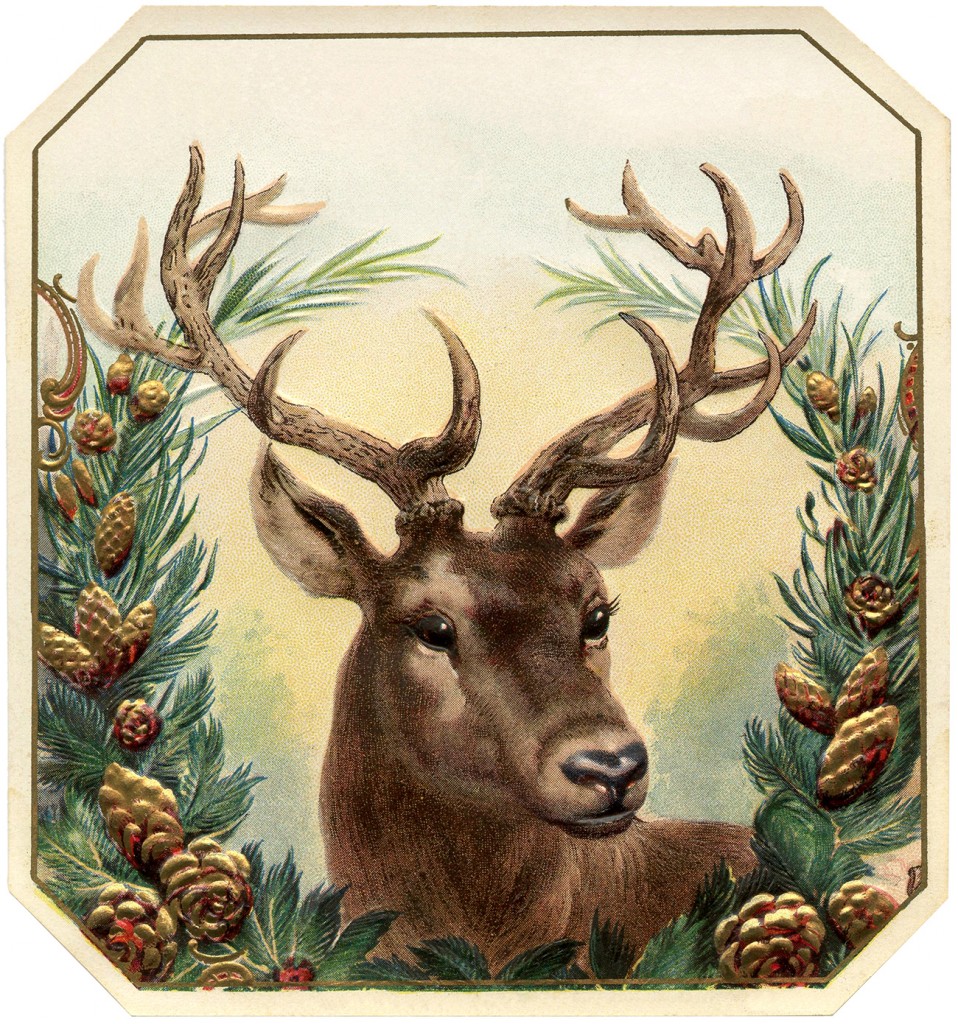 This Vintage Christmas Image of a Deer is a beautifully illustrated deer with a pine wreath and cones surrounding him. This guy has lovely soft brown eyes and marvelous large Antlers! This one was scanned from an Antique Label.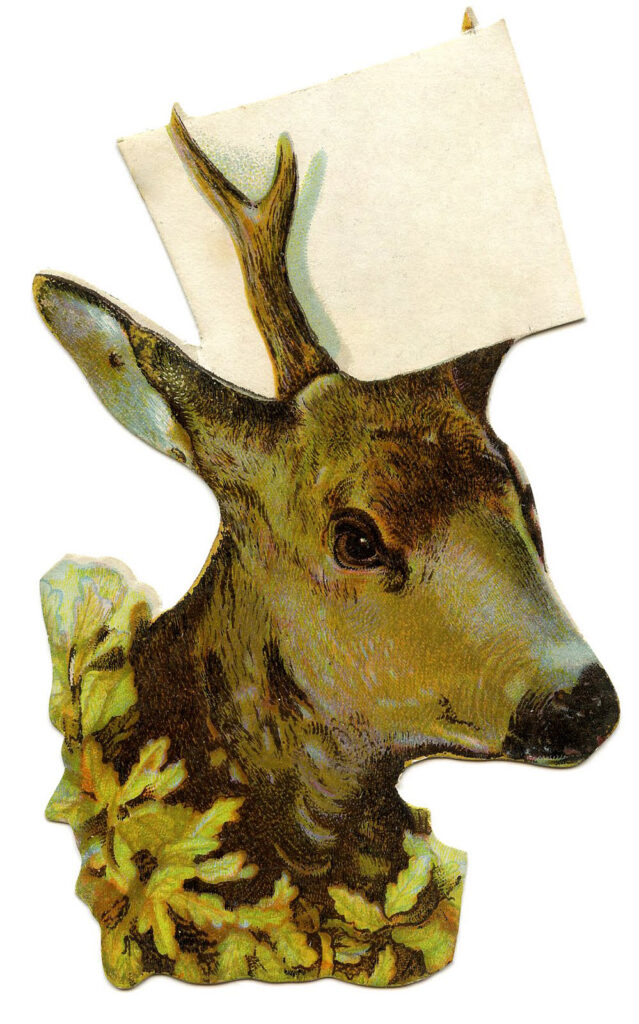 I'm not sure what this one was originally intended for, but I think it could be quite useful! This is an antique Die Cut Deer Head, embellished with Holly around his neck, and holding a plain white sign in his antlers. I think you could use it as a label, a gift tag, or it might make a nice place card for your Holiday table.
Clip Art Deer and Antlers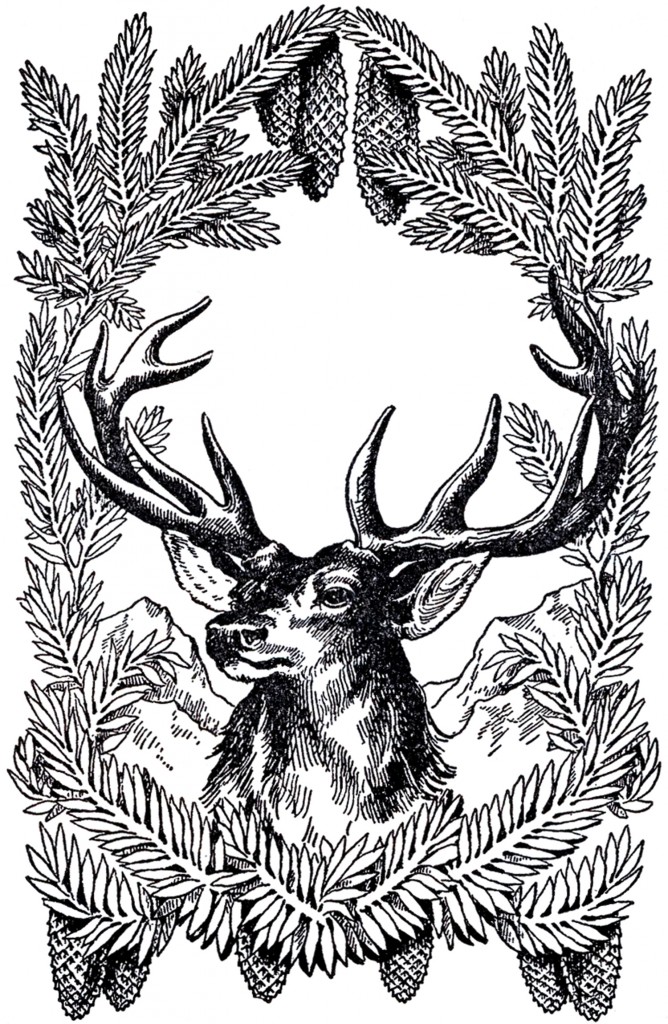 This is a fabulous Deer with Antlers from a rare Circa 1907 Pyrography Catalog. I love how beautiful these vintage pictures are, with the wonderful Deer framed by the Mountains in the background, and the pretty Pine Boughs and Pine Cones in the front! The catalog is full of patterns, tools and accessories for the art of Pyrography, which is when you burn a design into wood. This intricate design would have been used for that purpose, and added to boxes or small furniture pieces.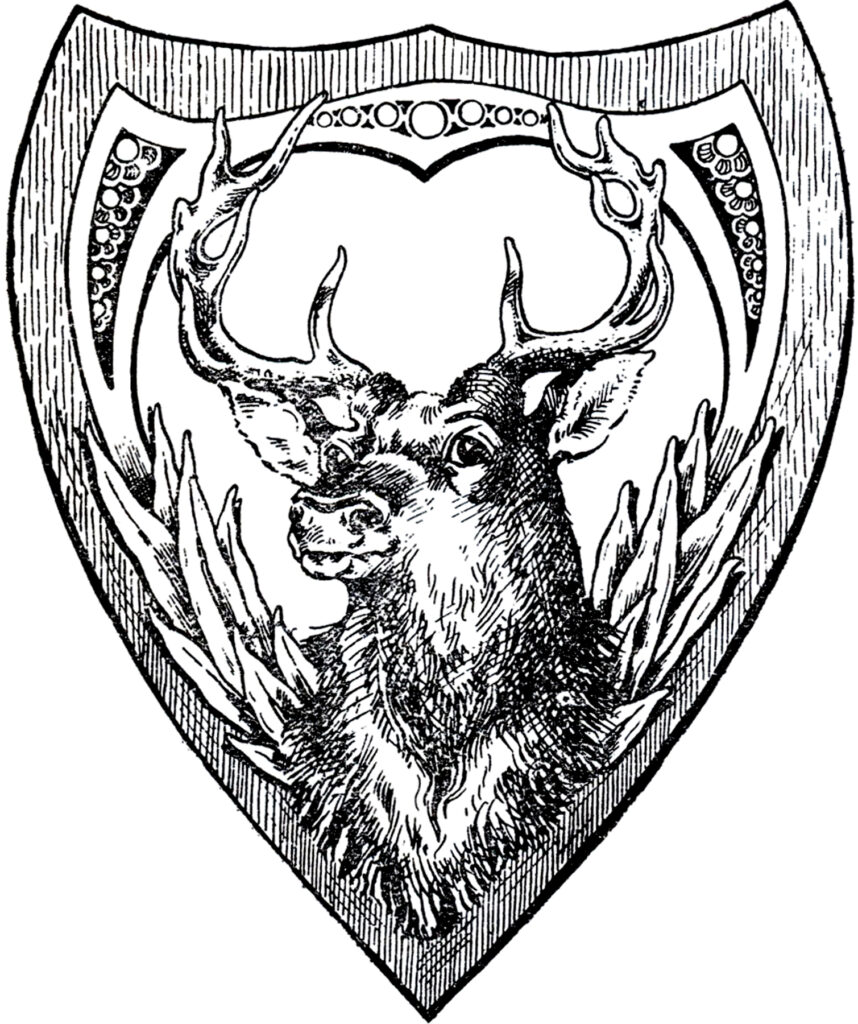 This is an interesting Vintage Shield Deer Image! This one also comes from the Pyrography Catalog. Featured above is a rustic looking Wooden Shield with a beautiful Buck, or Stag, on the front of it! A nice one for your masculine projects.
This is an Antique Engravings of Antlers. So useful for graphics design projects.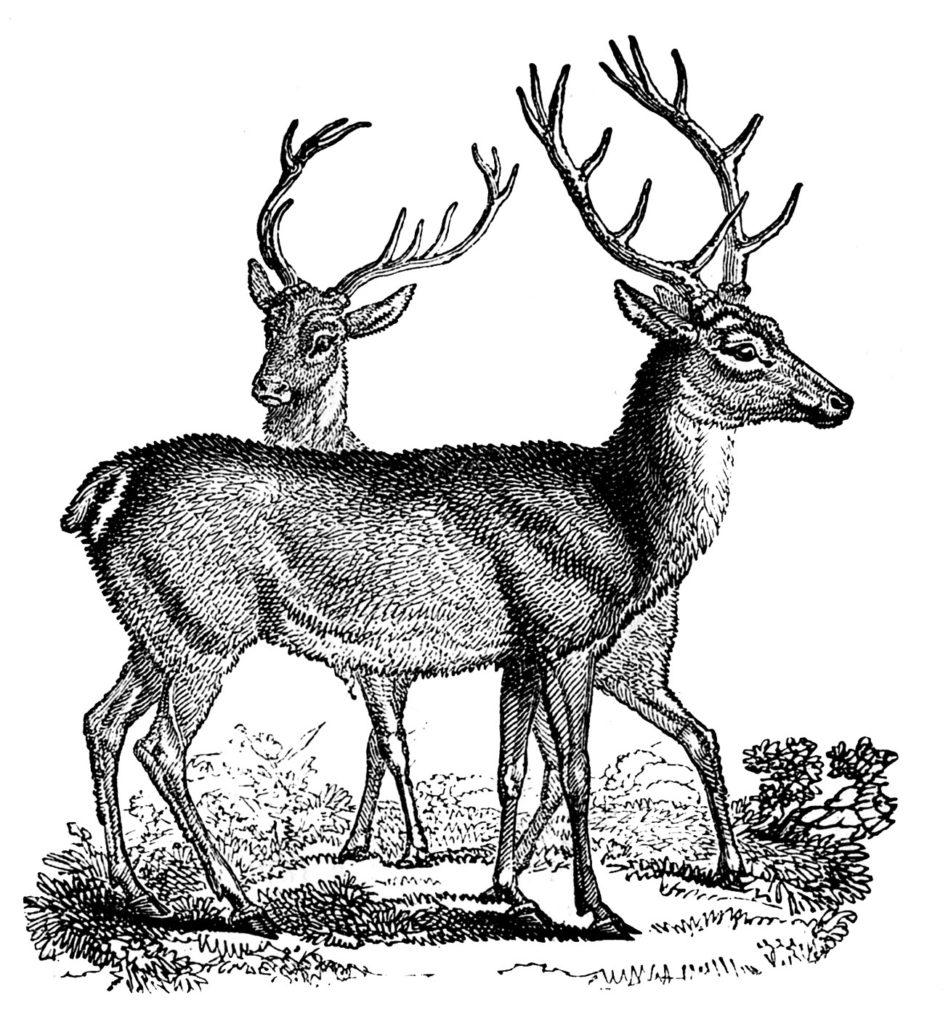 These are some lovely creatures from an early Natural History Book! According to the book this species is called Red Deer.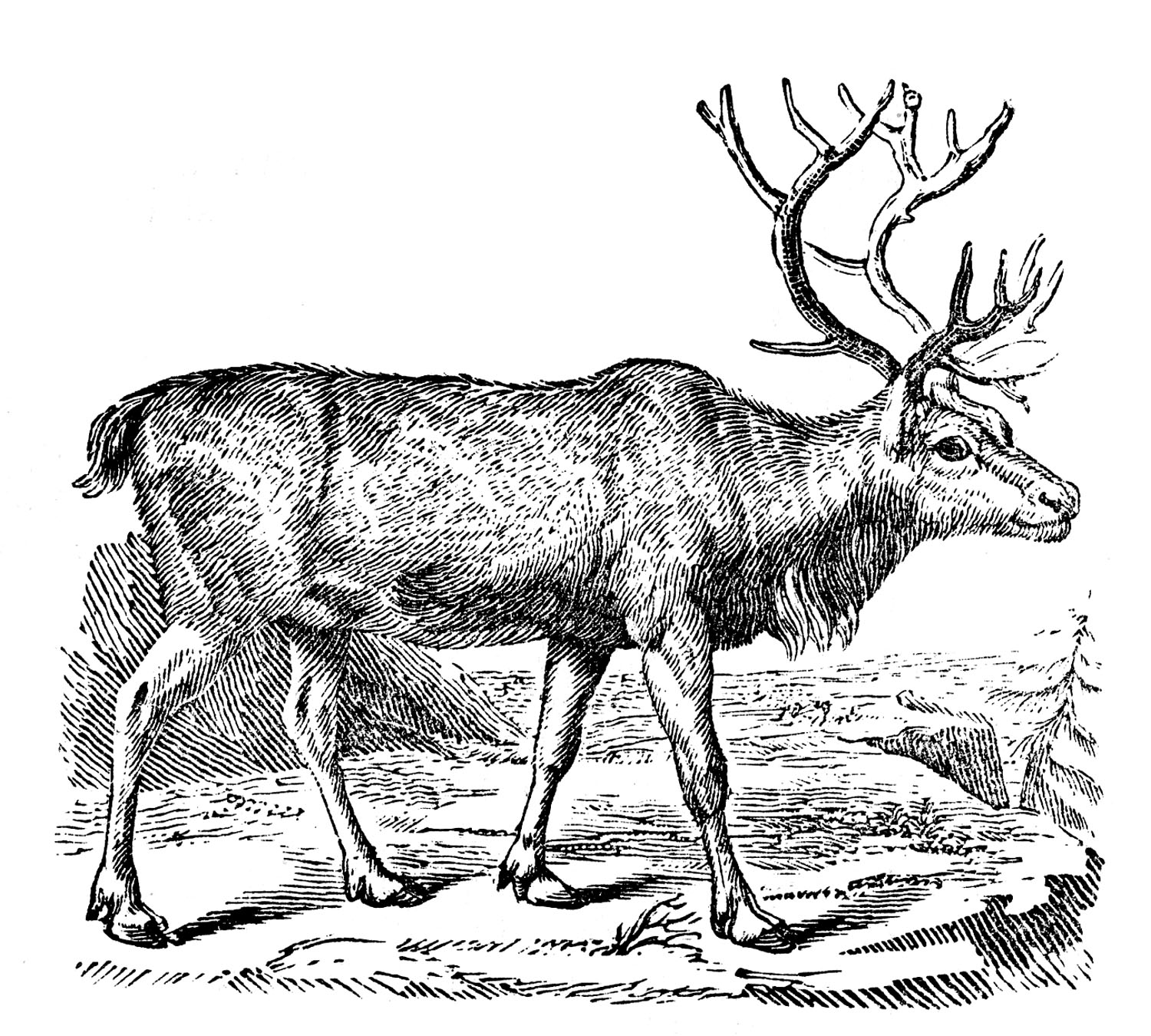 This is a very nice Reindeer Image from the early Natural History Book. Doesn't he have a sweet face? He almost looks like he is smiling.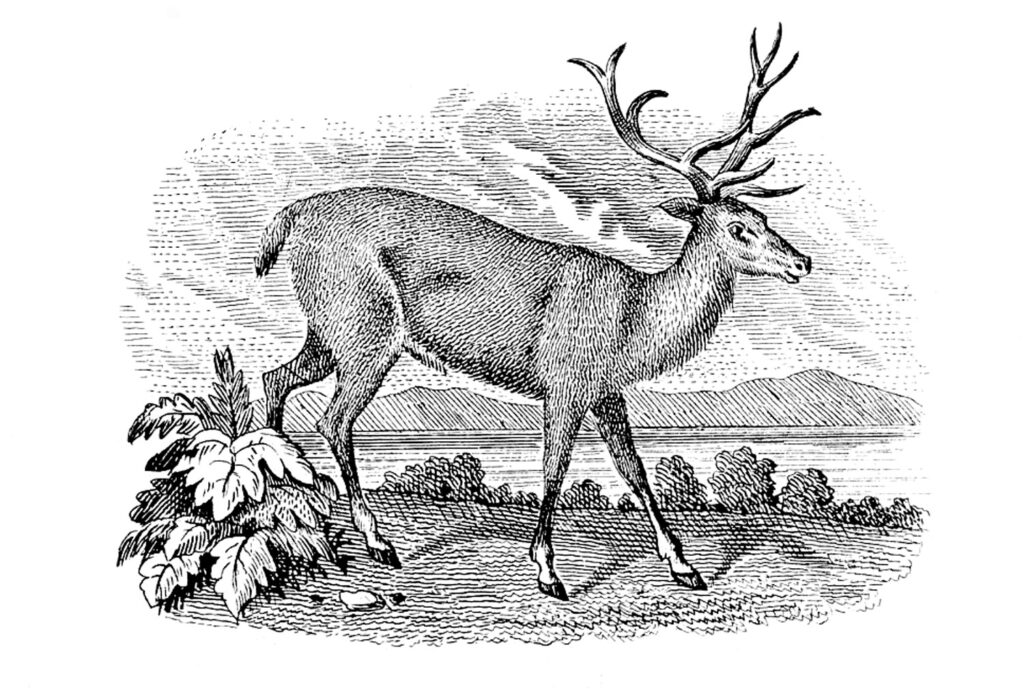 Above you see a handsome Antique Engravings of a Deer. The deer is in a beautiful landscape scene with a lake behind him.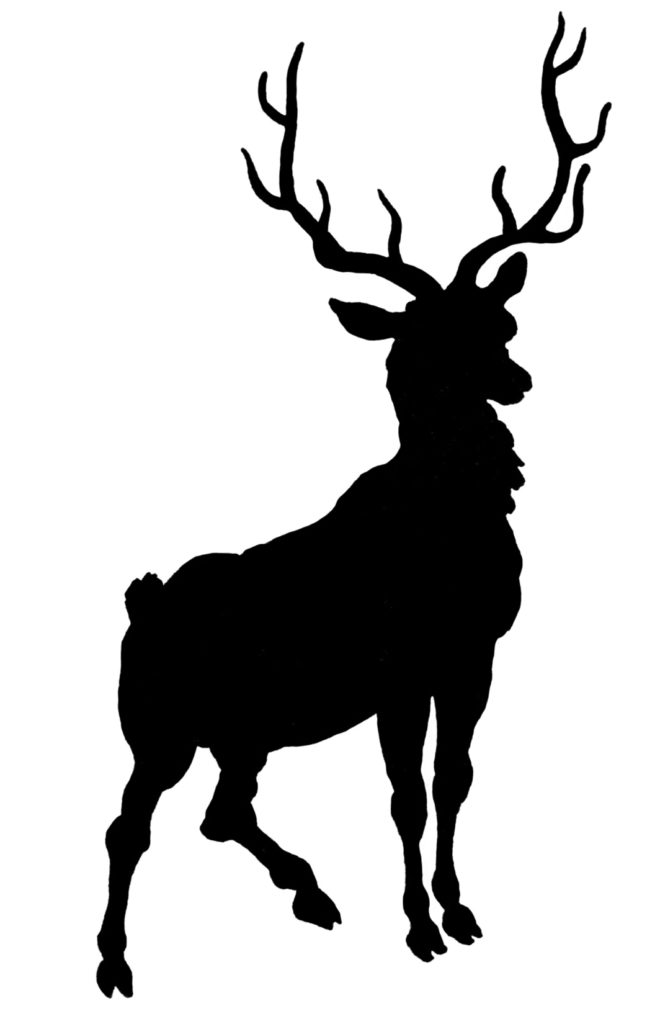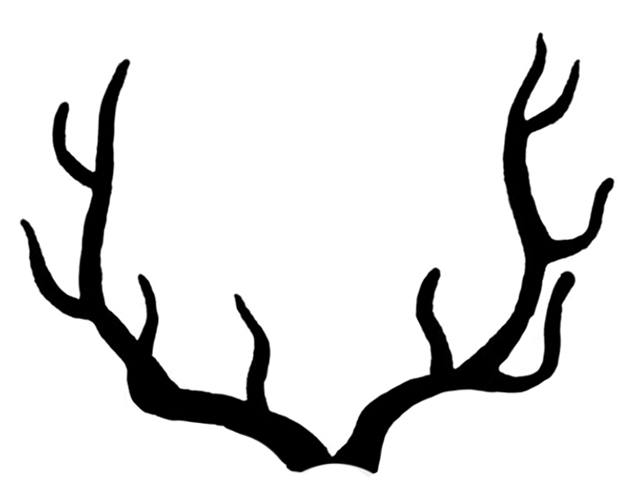 Here are a couple of fun set of Deer and Antler Silhouettes! These come from an 1880's Poetry Magazine. At the top is a beautiful Deer with very large Antlers! I've also included the Antlers on their own, as these can be so fun to use in Collage. You can add them to various other Animals or even People as well! Check out this great Mercury Glass DIY project created with the silhouette.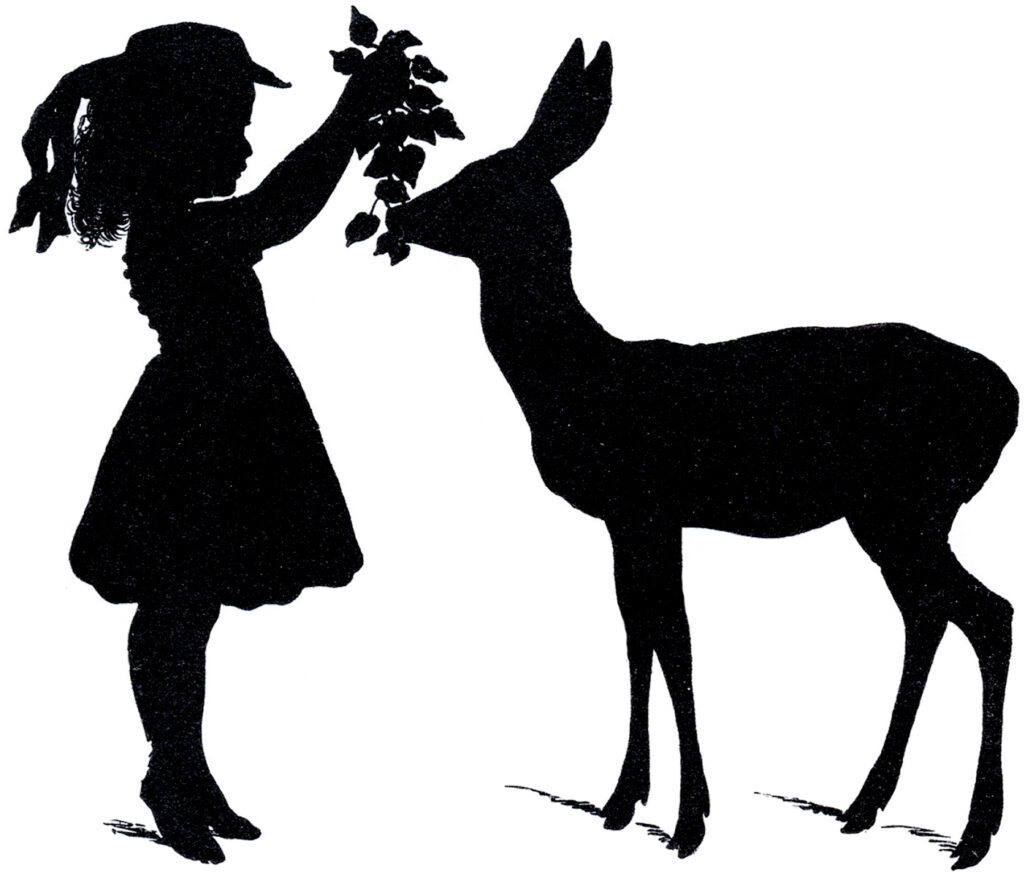 Click HERE to Download the Vector and PNG Files
Isn't this just such a precious image?!! Shown above is an adorable Free Silhouette. It's a wonderful scene showing a little Girl with a small Deer. She's feeding him some type of leaves. This image was scanned from a Circa 1870′s Children's Silhouette Book in my collection. It's probably not really meant for Christmas, but I thought you could certainly use it for your Holiday projects, and Deer are such a popular theme in Holiday Decorating this year! I think this would be darling transferred onto a Pillow, Christmas Stockings, or use it on a Handmade card! The graphic above is in Jpeg format, but you can also click on the link below it to grab download the Vector and PNG files for additional options!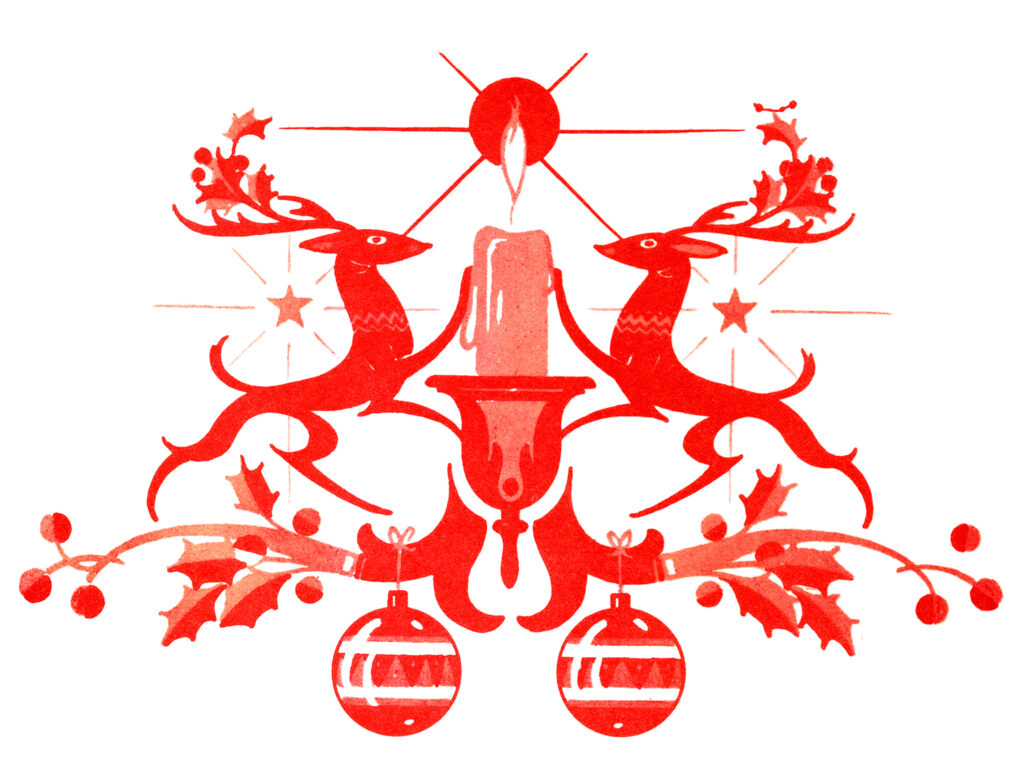 This is an Amazing Retro Christmas Image. I think this one has such a cool look to it! This fabulous piece was scanned from a Vintage Holiday Recipes booklet, that was put out by a power company. The booklet has no copyright date in it, but judging by the clothing and appliances that are illustrated in the book, I would guess that it's from either the late 1950's or early 1960's. Anyway, this type of illustration is so popular again today. I love the Mod looking Reindeer and all the fancy ornamentation here, like the Holly Leaves, Berries, Stars and Christmas Balls. I hope you enjoy this one.
Spencerian Deer Clipart Images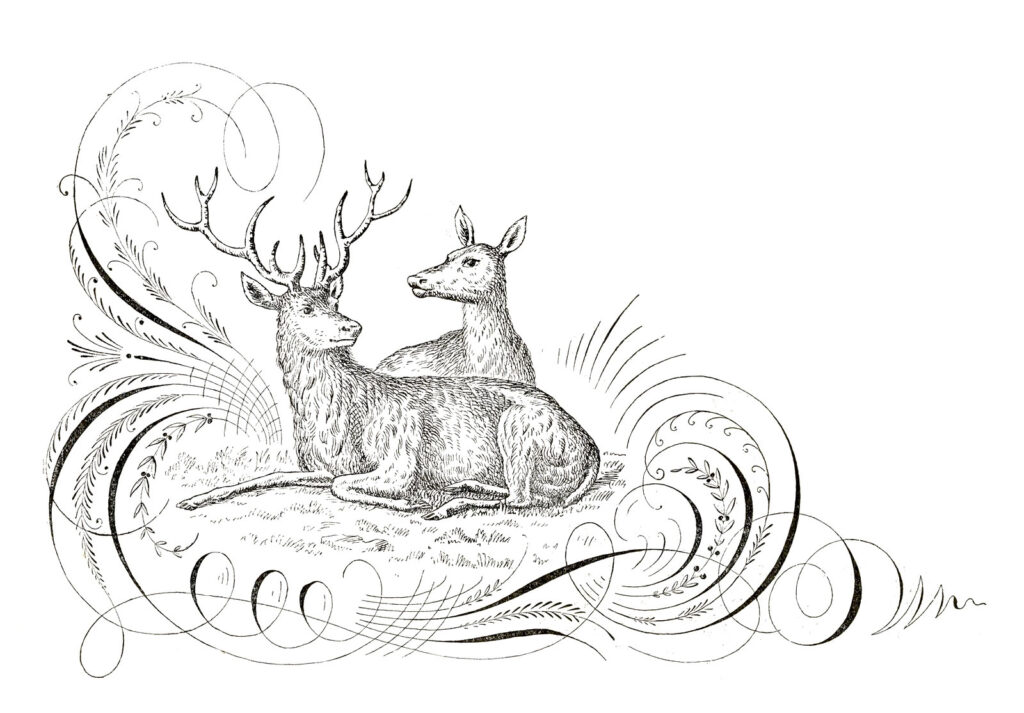 This is an beautiful engraved pair of Deer with fancy Pen Flourishes. These sweet creatures are resting amidst the flourishes. So peaceful.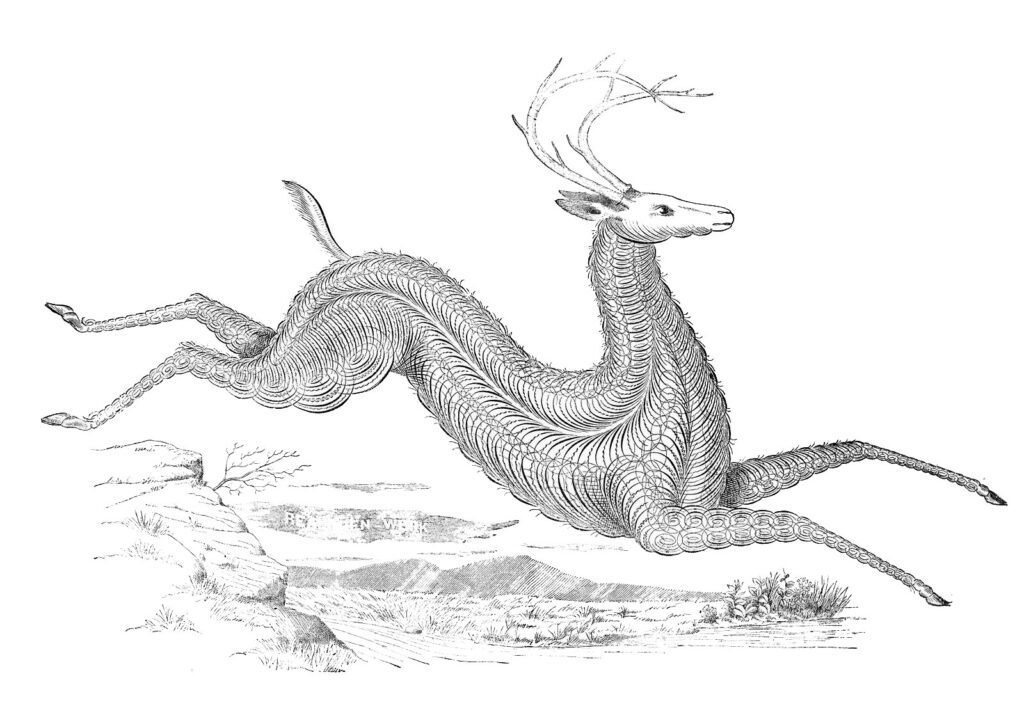 Here we have an amazing Pen Flourished Deer. This fellow is flying or leaping through the air. In the distant background you see mountains behind him.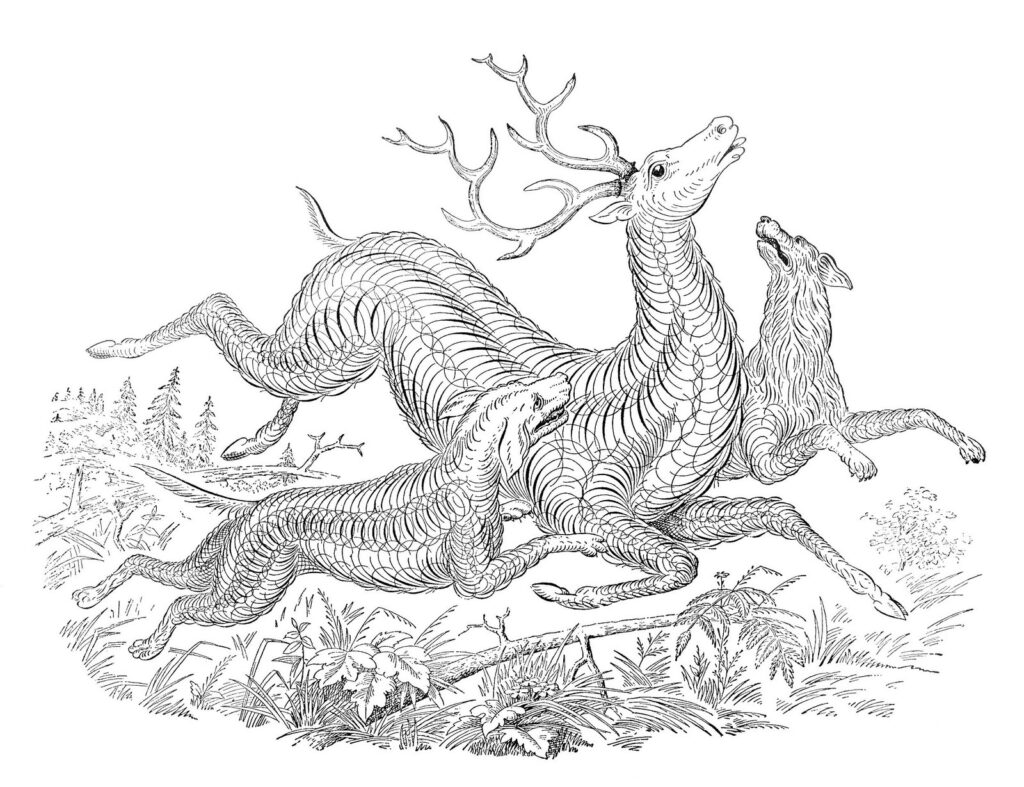 This an interesting pen flourished piece with includes a Deer and two Dogs. Now I suppose this is a hunting scene, which is really not my thing. It makes me sad to think about. So instead I choose to imagine that the Dogs and the Deer are playing a fun little game together.
I hope you enjoyed this curated collection of Deer Clipart images. You might also like our Christmas Bird Images HERE!
Hello! Are you new to The Graphics Fairy?
Welcome, I'm so glad you're here! Browse around to find 
thousands of Stock Images
 that you can use in your projects or designs! I post new Vintage images every day, as well as projects and DIY's too! Need more info about my site? Try my 
FAQ
 page.