25 Easter Bunny Images Free!
Today we have added another wonderful Rabbit to this captivating collection of  Easter Bunny Images! There is a wide variety of Vintage Easter Bunny Pictures below. You are sure to find the perfect one for your Handmade Easter Projects. Our postcards with Easter Greetings are superb. Any of these Bunny Images would make great gift tags for an Easter basket or use on a Holiday Card.
Easter Bunnies with Eggs Images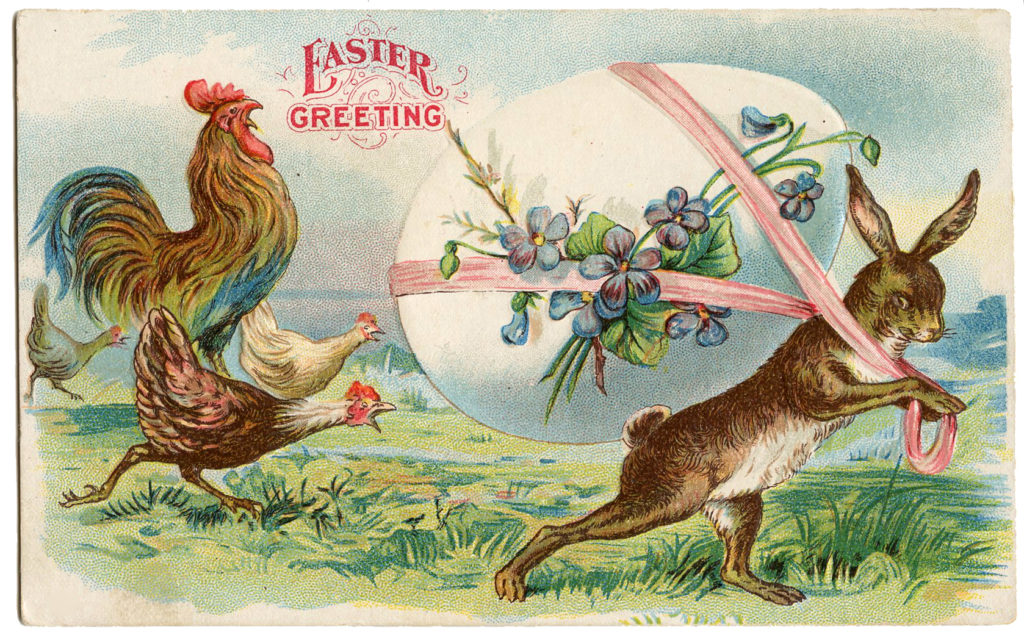 This is the latest addition to this collection. Here we have a strong looking Rabbit carrying a large Egg on his back. The Chickens running behind him don't look too pleased!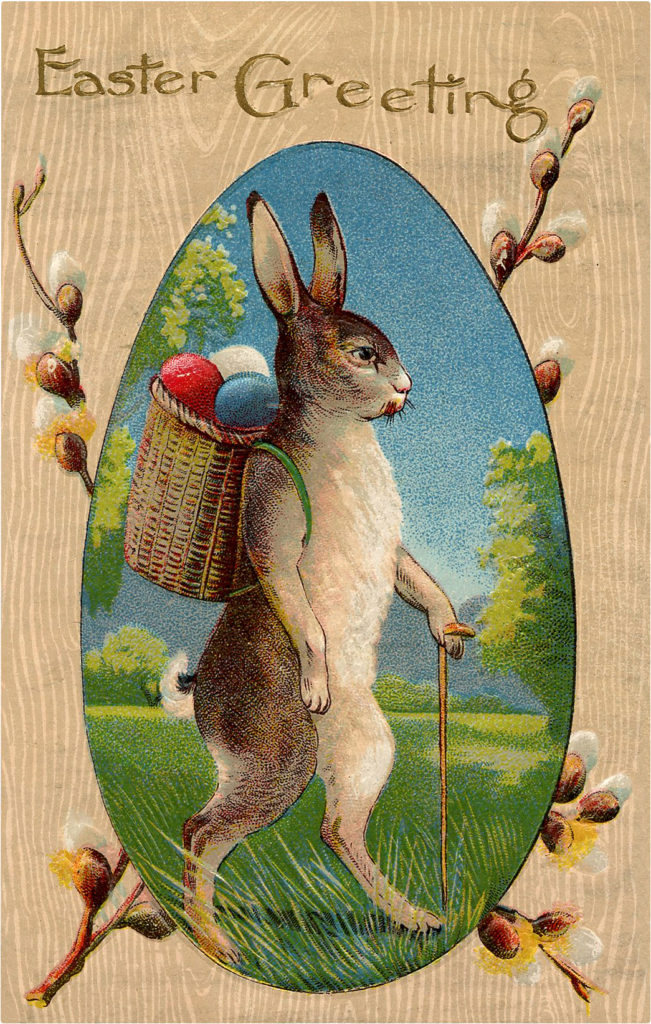 He's a wonderful Tall Bunny on 2 legs, walking around with a basket full of Eggs on his back. He's framed up in an egg shaped frame with a faux bois background. Charming!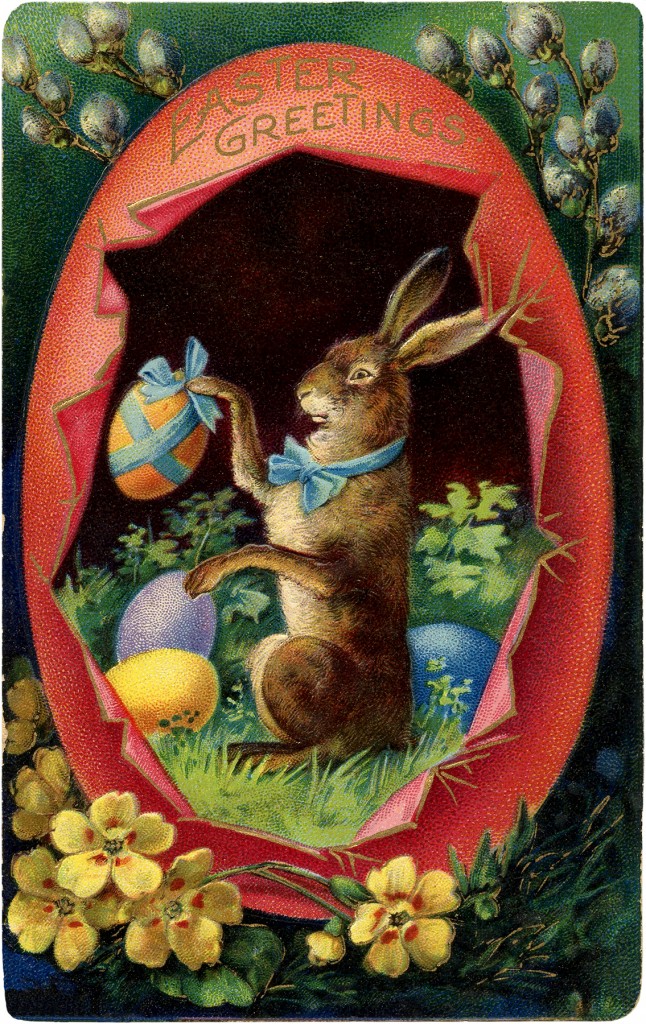 Featured above is a lovely Victorian Easter Bunny with Egg Image! It is an Antique card of a Giant Pink Egg with an adorable Easter Bunny inside. I truly love the Rabbits depicted in the cards that are standing up!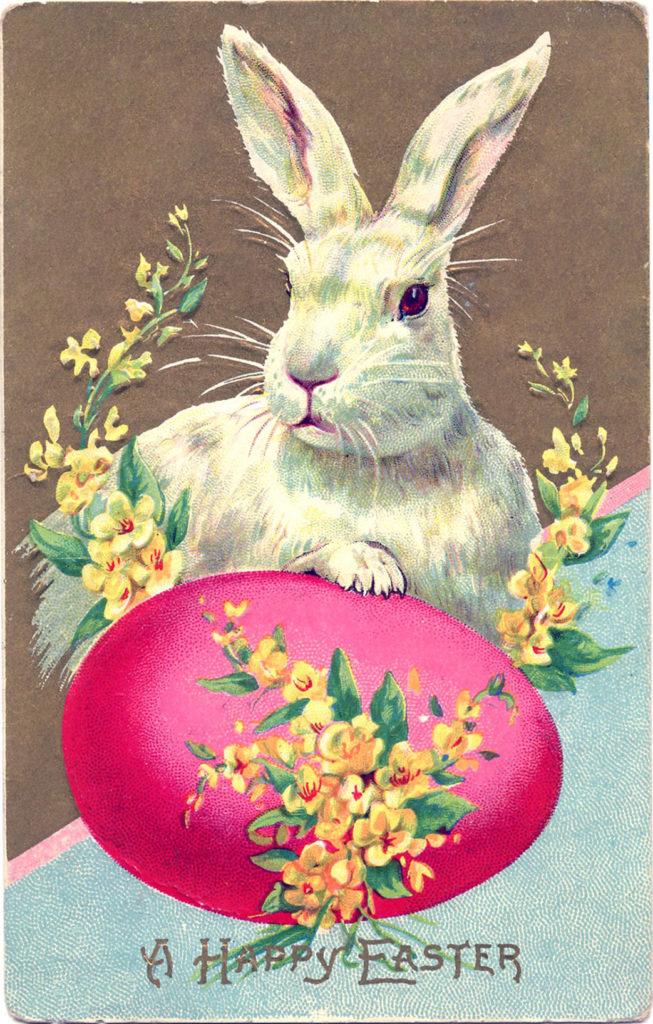 Here's a nice Old Fashioned Easter Postcard. This one shows a cute large White Rabbit with a big Pink Easter Egg! The bright pink and blue color combo on this one is striking!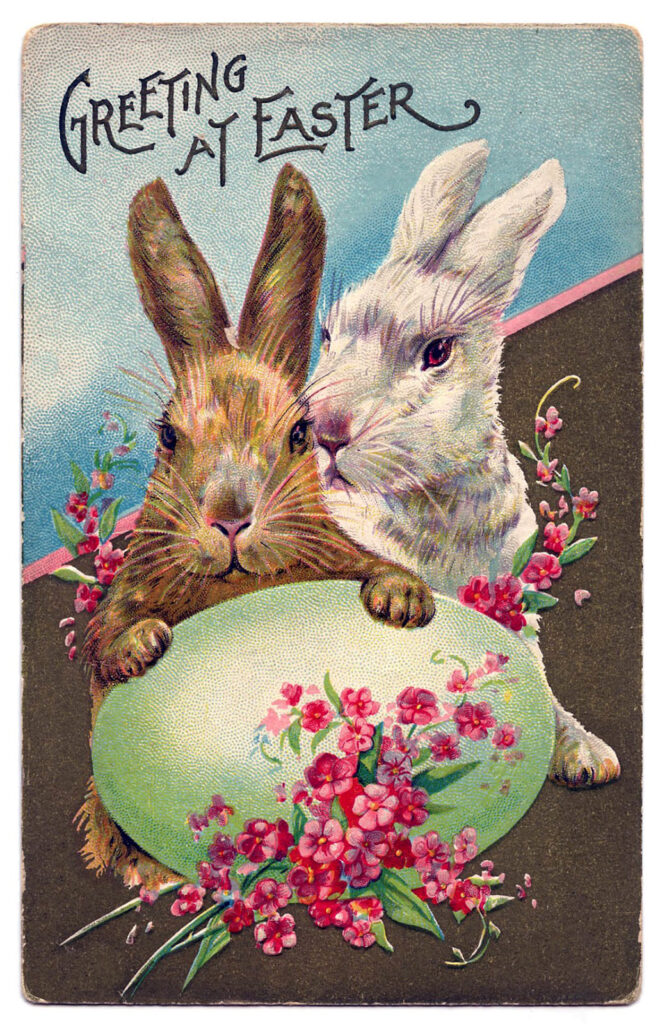 And here we have another card, that coordinates with the one above! We see 2 of our fluffy friends on this image, one brown and one white, and they are guarding a giant green egg!
Pictured above is a Cute Vintage Easter Rabbit in PussyWillow Frame Image! A cute female bunny is carrying a basket of colored Easter eggs and a red flower bouquet. She wears a green skirt and blue dotted apron, yellow shawl, and an orange scarf tied between her ears. She is standing on a dirt path with a frame of beautiful pussywillow branches and pink ribbons.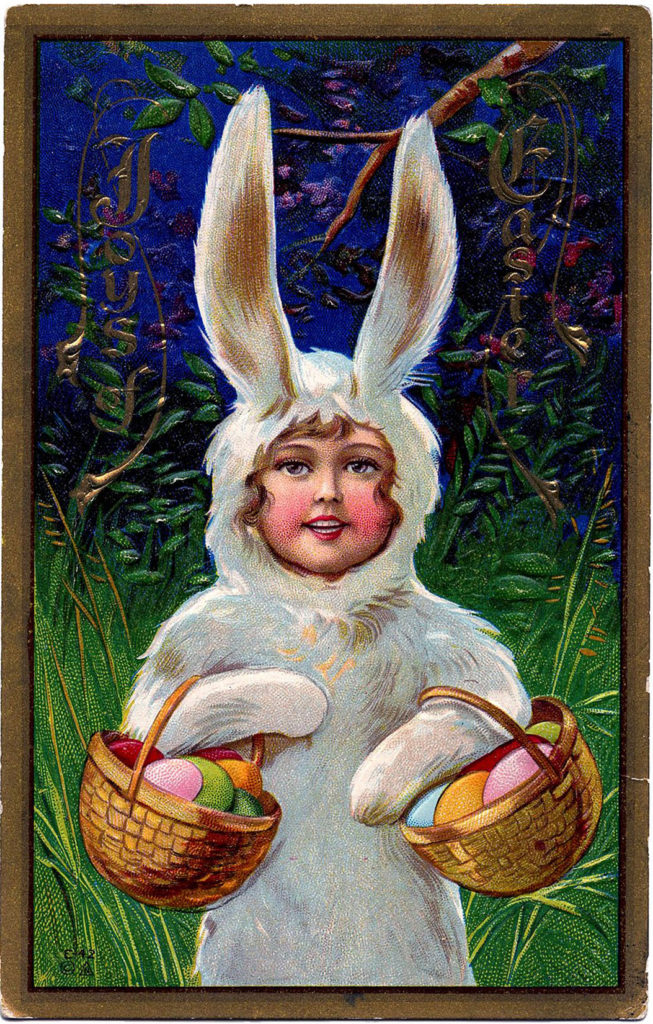 Here's a cute one for Easter!! This little girl is dressed up as the Easter Bunny; she's even got a couple of baskets filled with pastel eggs.
Vintage Easter Bunny Pictures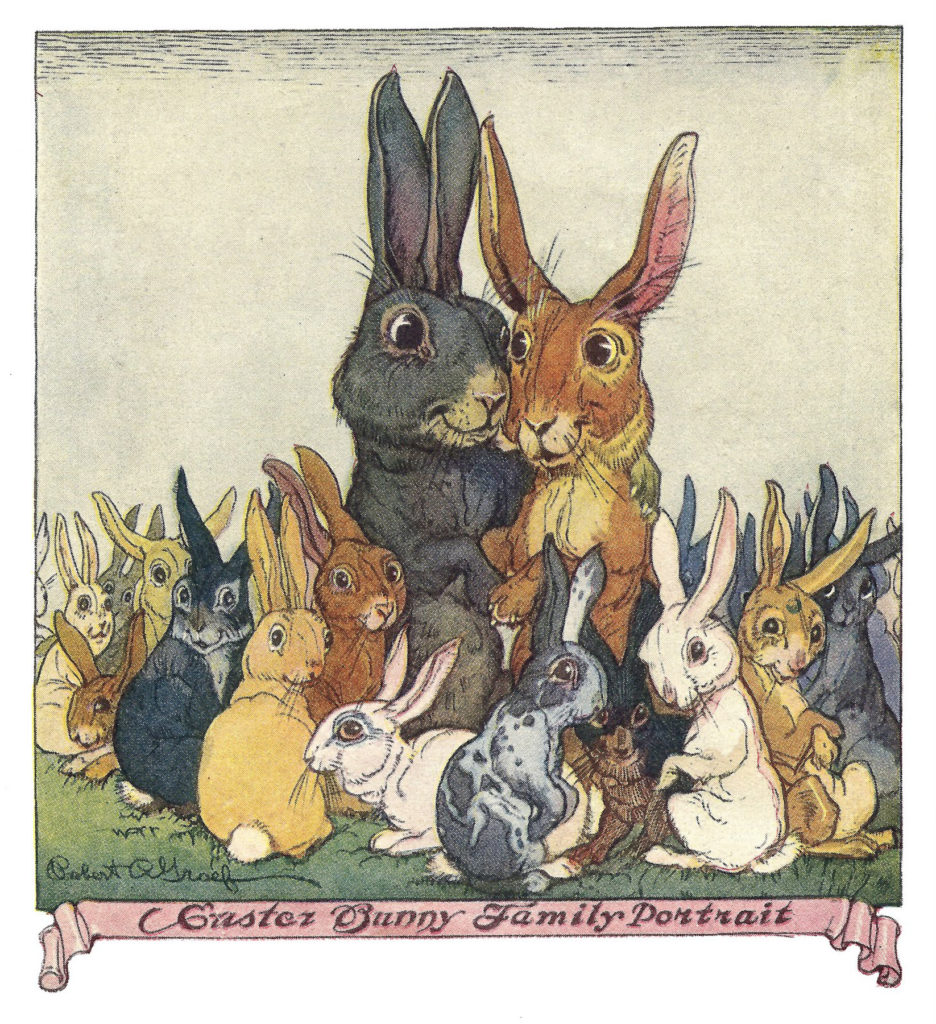 This fun graphic was submitted by a very nice reader named Sandy! It is from the cover of a 1922 ladies magazine, and shows the Easter Bunny with his wife and all of his little Bunny children! Thanks Sandy for these cute Easter Bunnies!
Cute Easter Bunny Images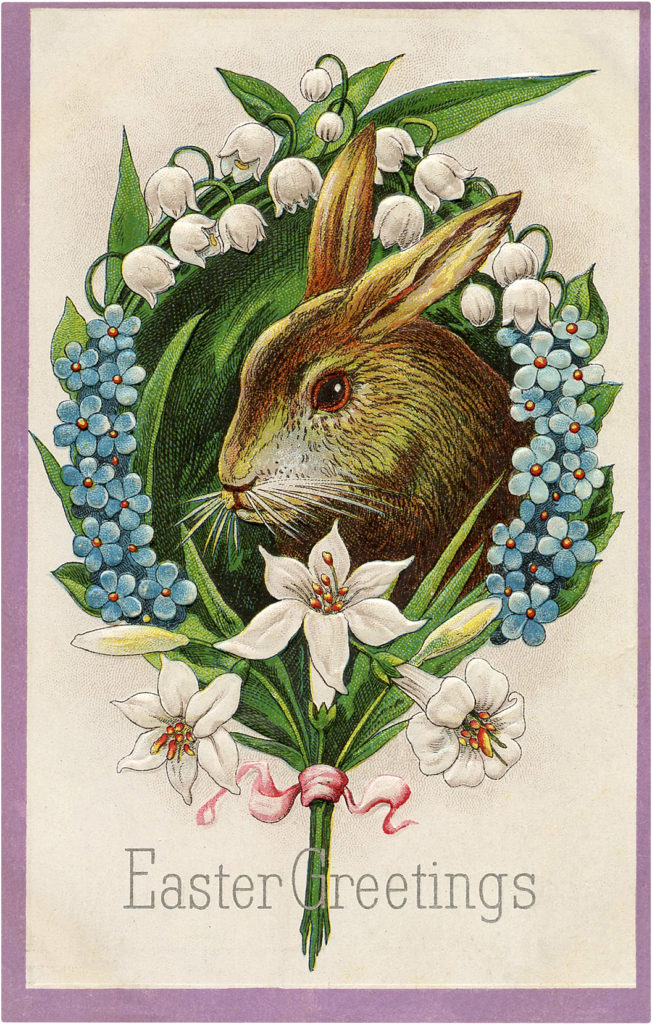 Shown above we have a very sweet Brown Bunny Rabbit framed up with an Easter Floral Bouquet, including Easter Lilies, Forget-Me-Nots and Lily of the Valley.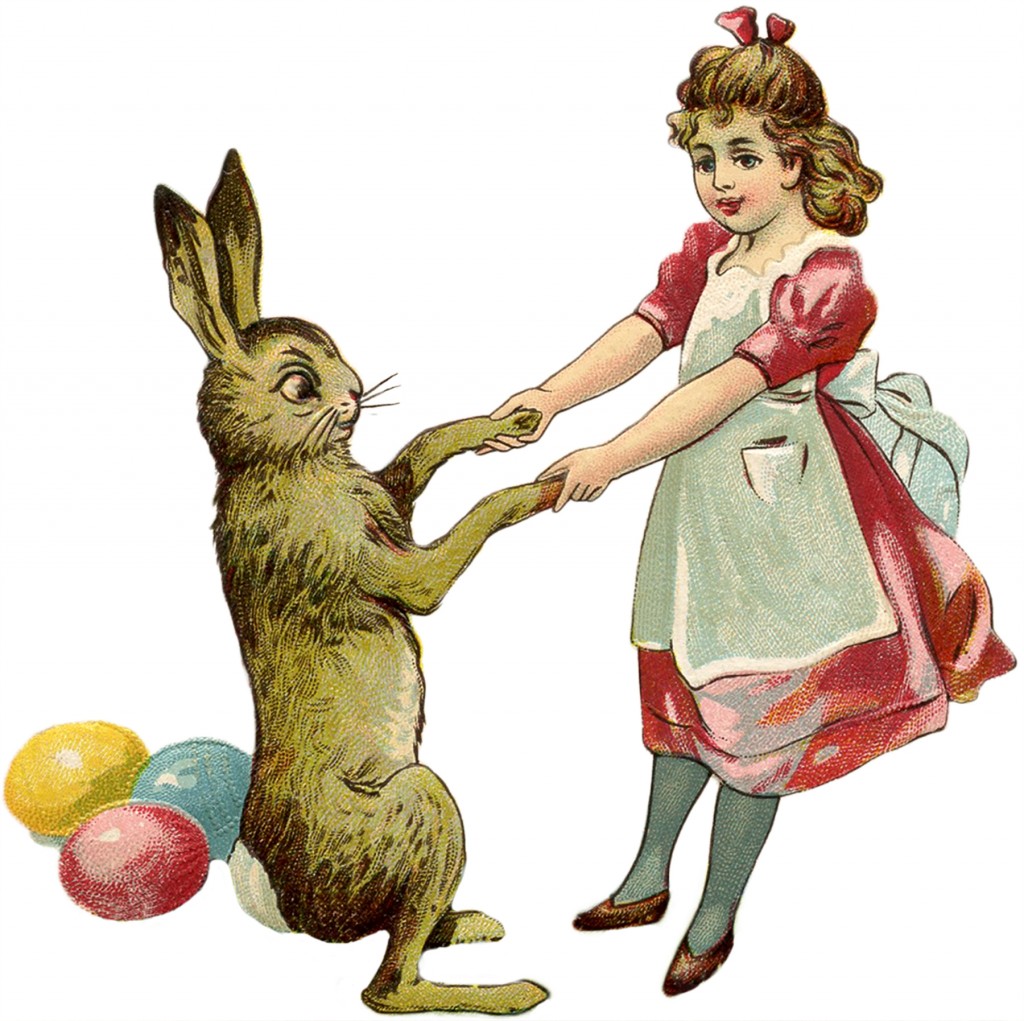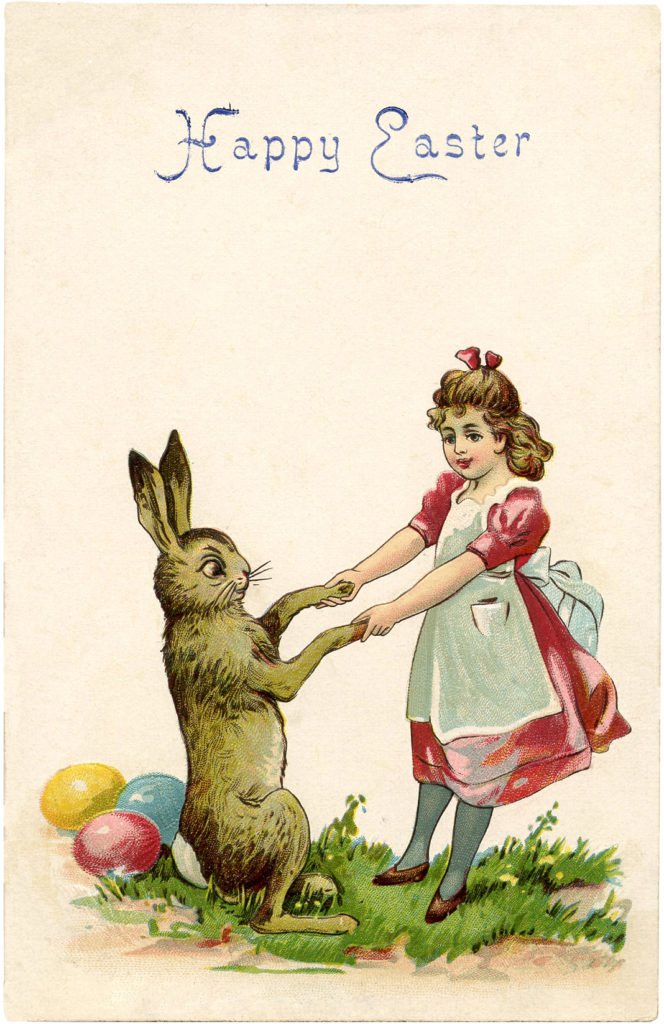 These are some darling Vintage Easter Bunny Images! Shown above is an adorable Vintage Postcard showing a tall Brown Easter Rabbit holding hands with a little Girl. He appears to have brought along 3 large colorful Eggs. So cute! The original card is at the bottom, but a second version with the background removed is provided to give you more options.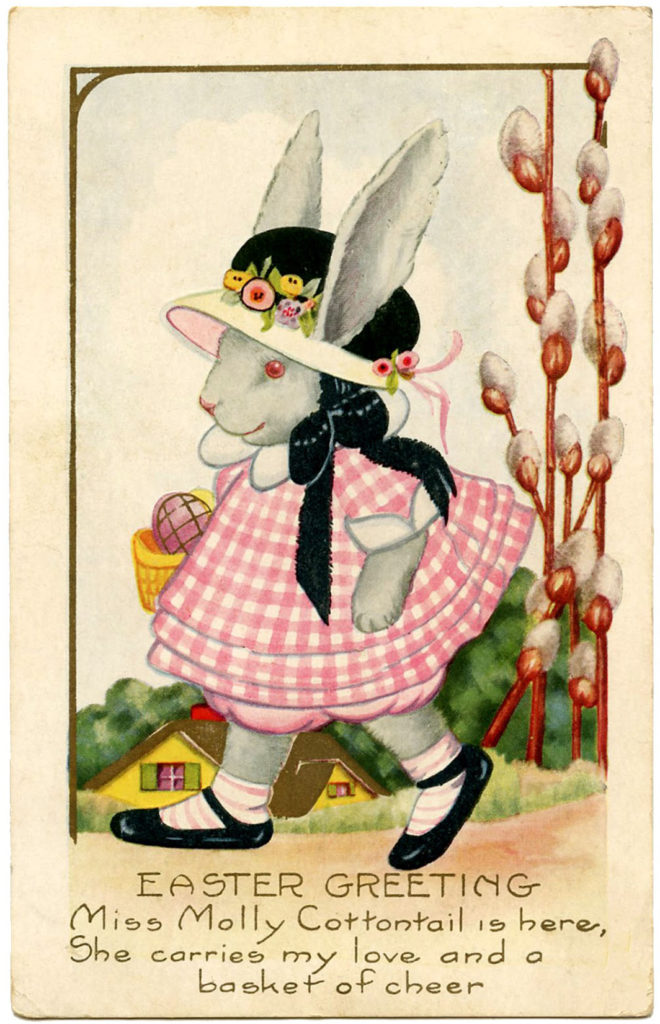 This Vintage Easter Image shows an adorable Bunny Girl in a Pink Gingham Dress! I love her Easter Bonnet too. The style of this reminds me so much of Mary Engelbreit. Darling!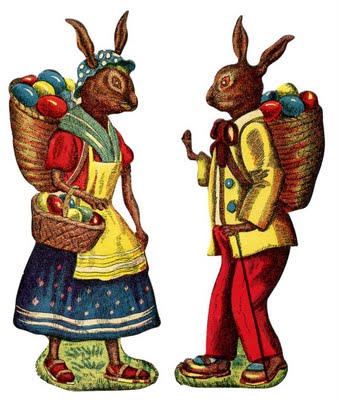 This is a fun couple of different Antique Scrap Rabbits. These Bunnies are are so whimsical with their funny faces and big baskets of eggs! I've created a Printable Collage Sheet for you guys, with these 2 whimsical Rabbits along with a third one not shown above. You can grab the Free Antique Scrap Rabbits Printable HERE. 
This is a Colorful Vintage Easter Bunnies and Chicks Image! Tiny bunnies dressed in colorful clothing dance as they watch two cute little chicks hatch. Mama Bunny is there holding a basket of colored eggs. She is wearing a red blouse and blue skirt with a white apron. The card reads "Joyous Eastertide."
This Vintage Easter Image comes from an Old Postcard with a White Rabbit on it! The Rabbit is a quirky looking little guy with a red Tie and a Black Top Hat in hand. Perhaps he will pull a human out of the hat! You could use this one for your Easter Projects or for everyday too.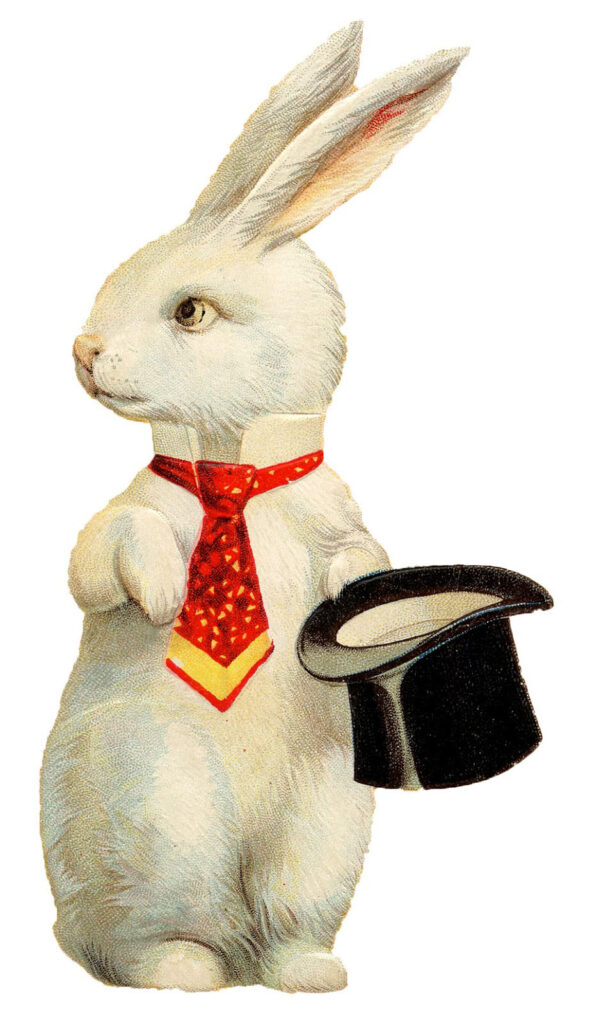 And here is the same White Rabbit image with Top Hat, only this time I have removed the background to give you more options for using him. So fun!
Easter Bunny Scraps

I love this Vintage Easter Bunny Image!! Isn't he the best?!! It's such a classic looking Victorian Bunny Rabbit. He is standing up in an adorable pose. He has big ears and a Velvet looking Fur Coat!
This is a super cute Vintage Easter Clip Art piece of a Basket filled with all sorts of wonderful things! Included are Eggs, loads of pretty Flowers, and a darling White Bunny with big Pink Eyes! Such a fun Image. I think the Basket itself is pretty great looking. I just love the texture on it!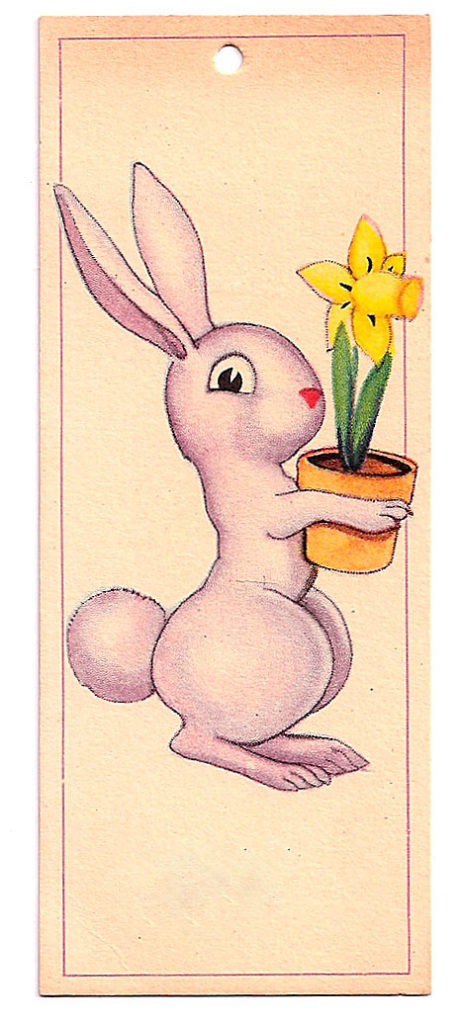 This little cutie is another one that was submitted by dear sweet Mona! It is an old Bridge Tally card with a funny pink Bunny on it! The Bunny is carrying a pot with a single bright yellow Daffodil in it. This one is not as high resolution as we normally scan, but I think it's still a pretty decent size and should work on most craft projects.
Easter Bunny Greeting Cards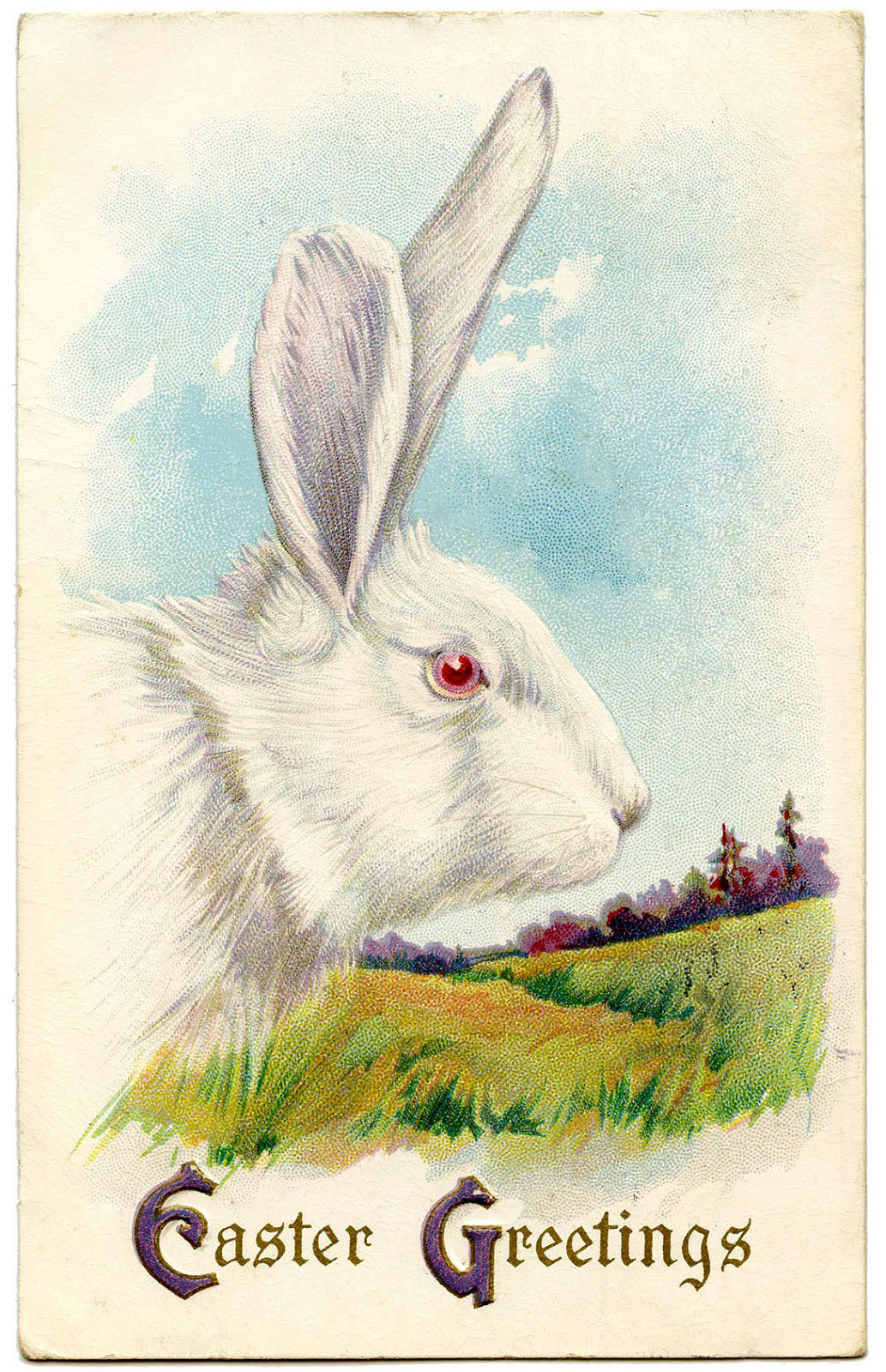 Above is an Image featuring the Easter Bunny! He's a beautiful White Rabbit with Pink Eyes!! I have a particular fondness for these cards that have large Bunny Heads on them.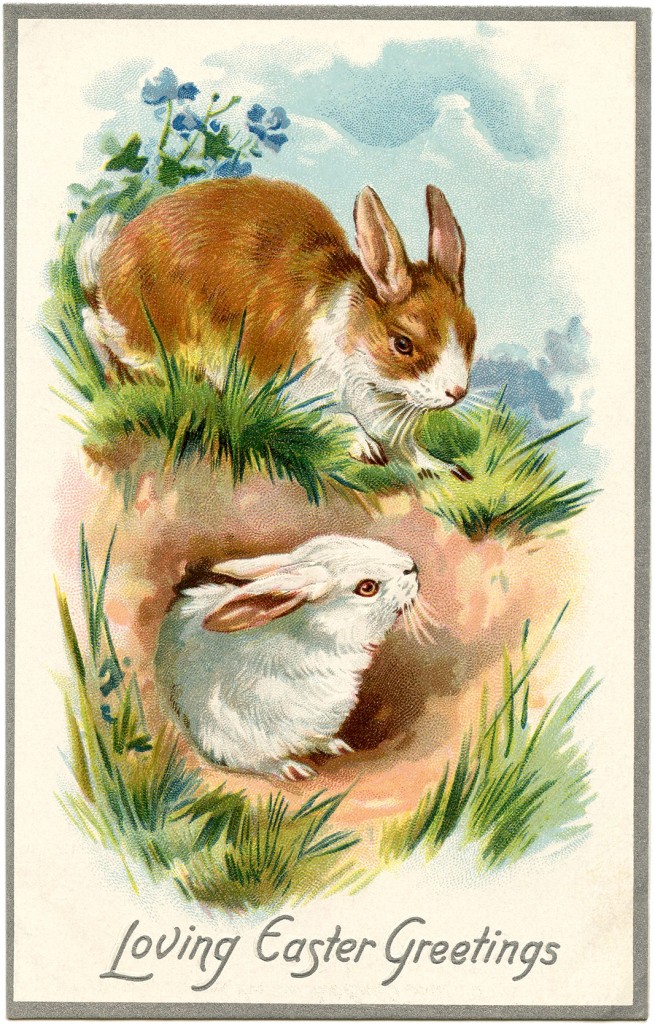 Seen above is a cute Vintage Easter Bunnies Postcard. The card features two precious little Bunnies! One of them has white fur and the other has brown and white spots on his fur. The white Rabbit seems to be playing hide and seek with the other one! The greeting on the card is "Loving Easter Greetings."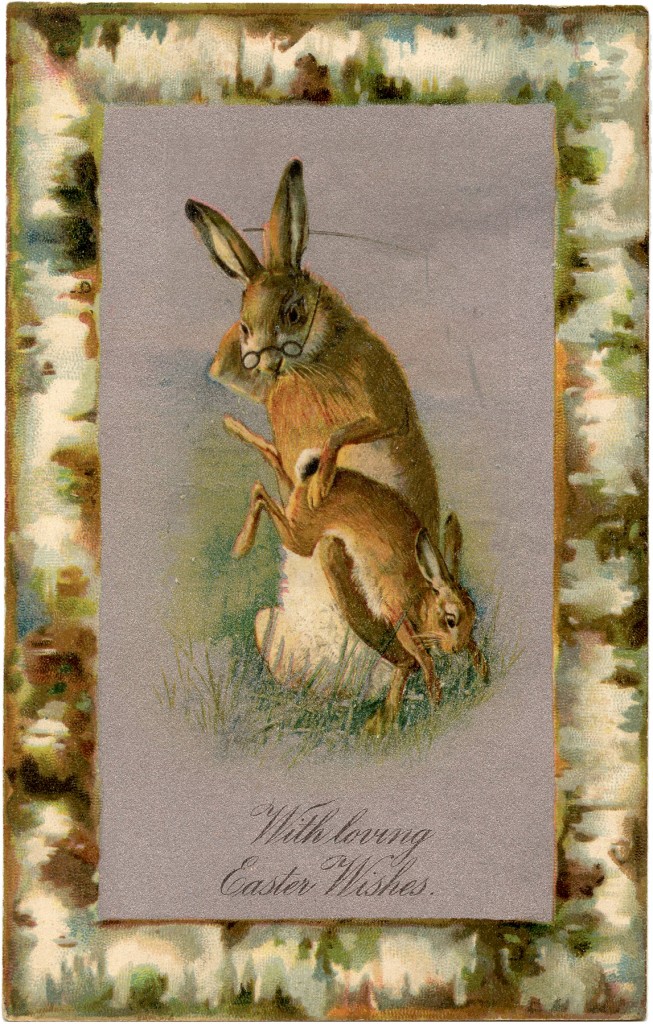 Here we have a Vintage Bunny Spanking Image. Shown above is an Antique Postcard, showing what looks to be a Grandpa Bunny giving his grandson a whooping. Poor thing! Kind of an odd subject for an Easter card! I love the fabulous Birch Bark frame on this card!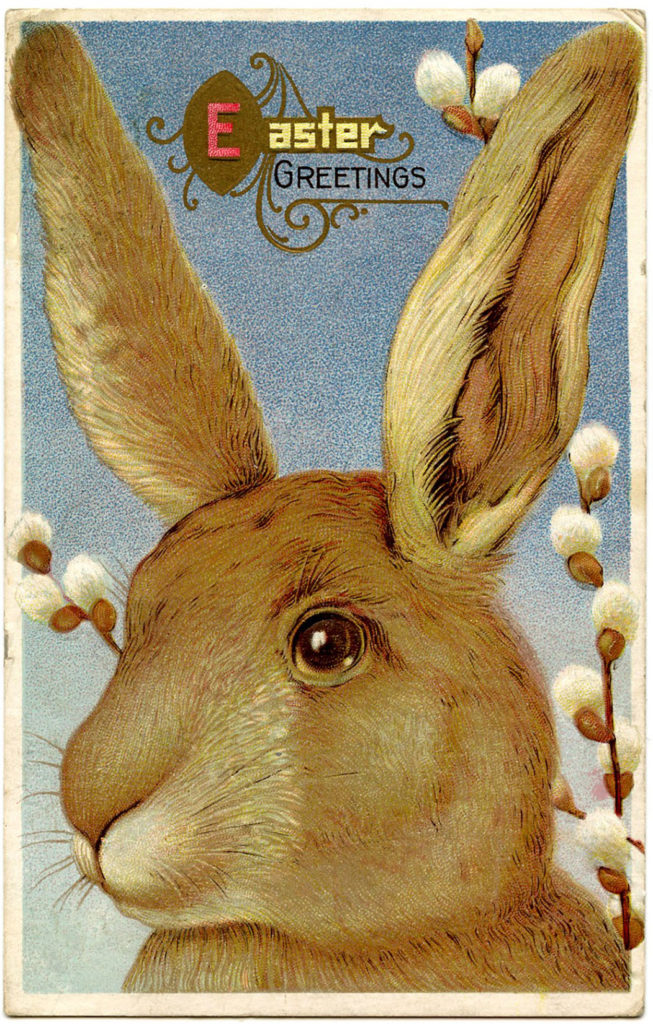 I just love the size of this Big Vintage Easter Bunny!! He has such a beautiful Face, which is framed up nicely with some soft PussyWillows.
We have a fun Easter Postcard showing two Rabbits all dressed in their finery above! One is playing a Drum and the other the Cymbals. They remind me of the White Rabbit from Alice in Wonderland!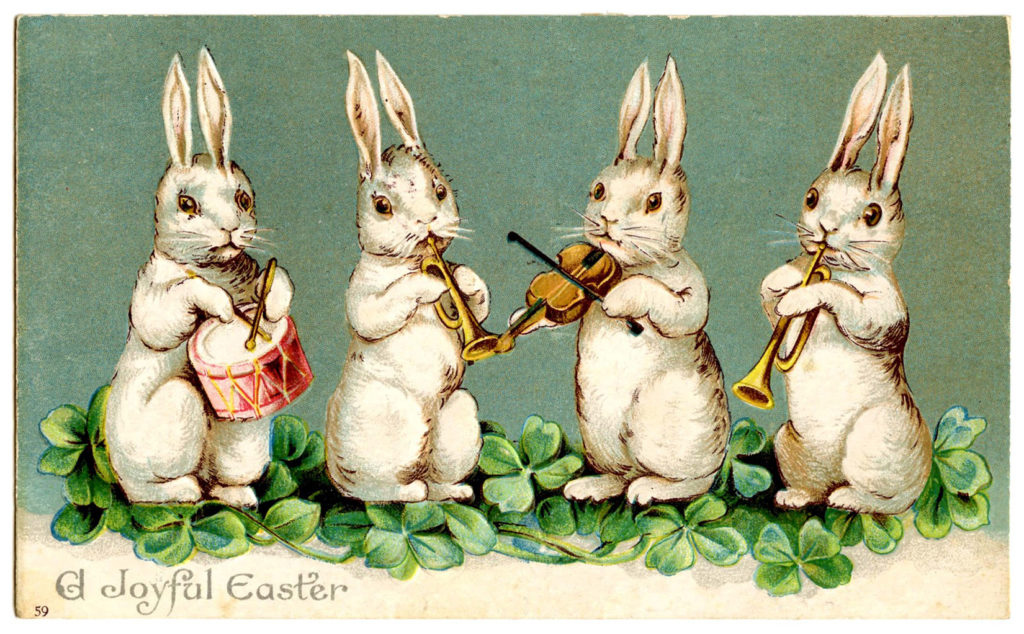 This is a whimsical looking Easter Card showing 4 White Bunnies! Each Bunny is playing a Musical Instrument and they are all sitting on a comfy looking bed of 4-Leaf Clovers!
I hope you enjoyed this fun curated collection of Easter Bunny Images!!! You might also like our 30+ Best Vintage Stock Easter Images HERE.
Hello! Are you new to The Graphics Fairy?
Welcome, I'm so glad you're here! Browse around to find 
thousands of Stock Images
 that you can use in your projects or designs! I post new Vintage images every day, as well as projects and DIY's too! Need more info about my site? Try my 
FAQ
 page.