We've all seen the lovely French Grey Aged Patina Finish so popular right now. It's not difficult to reproduce, and gives an amazing French Farmhouse flavor to any piece of furniture.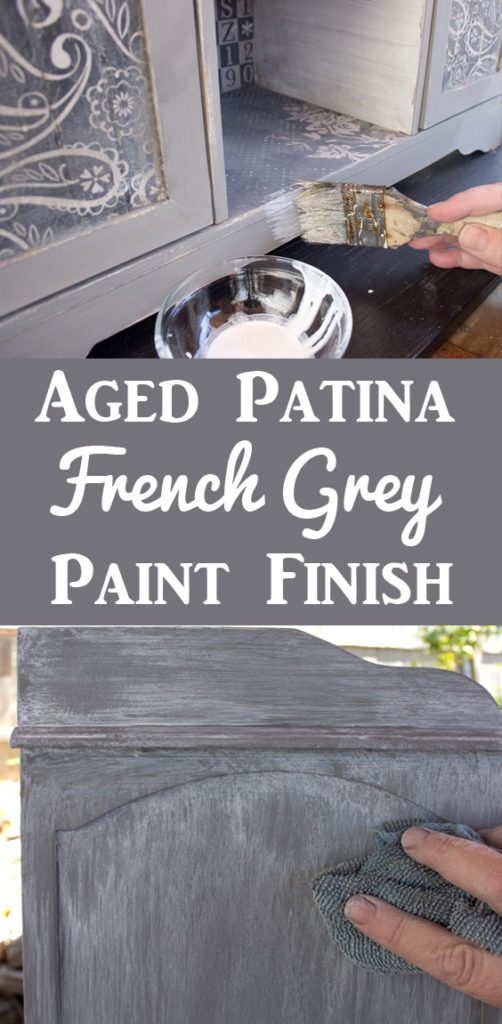 This post was sponsored by the wonderful creative team at Heirloom Traditions Paint.
---
Getting this look is actually very simple – a few basic steps gets us there.
If you're interested, join me (Heather from Thicketworks) for a brief and enjoyable project that will add a touch of Provence to any room in your home.
---
Supplies:
---
Let's get started!
I chose a most unlikely subject for this treatment…
If it will work on this, it will work on anything!
This storage unit is functional, sort of cute, and made of MDF, with a plastic laminate coating. Yuck.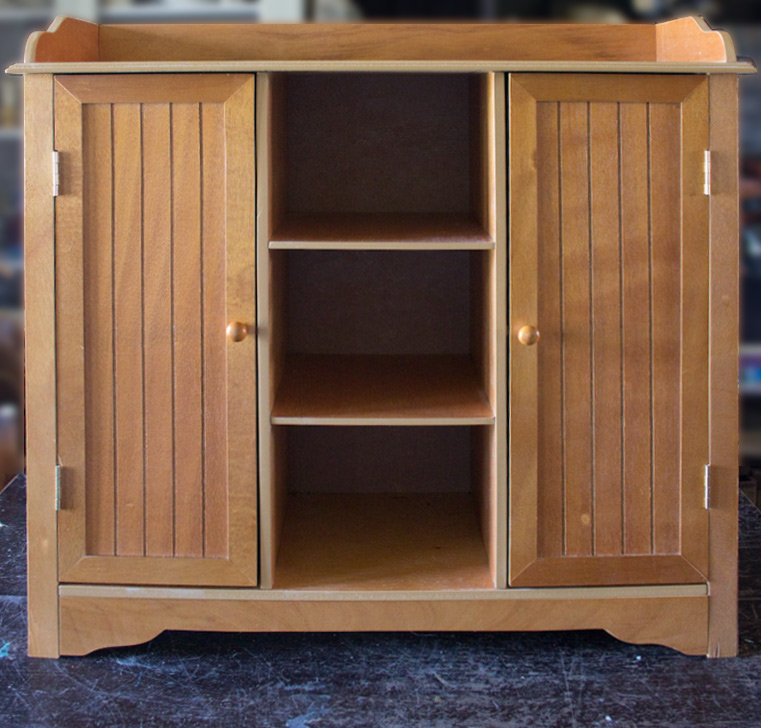 I love the ample storage space it provides, but the finish is super ugly.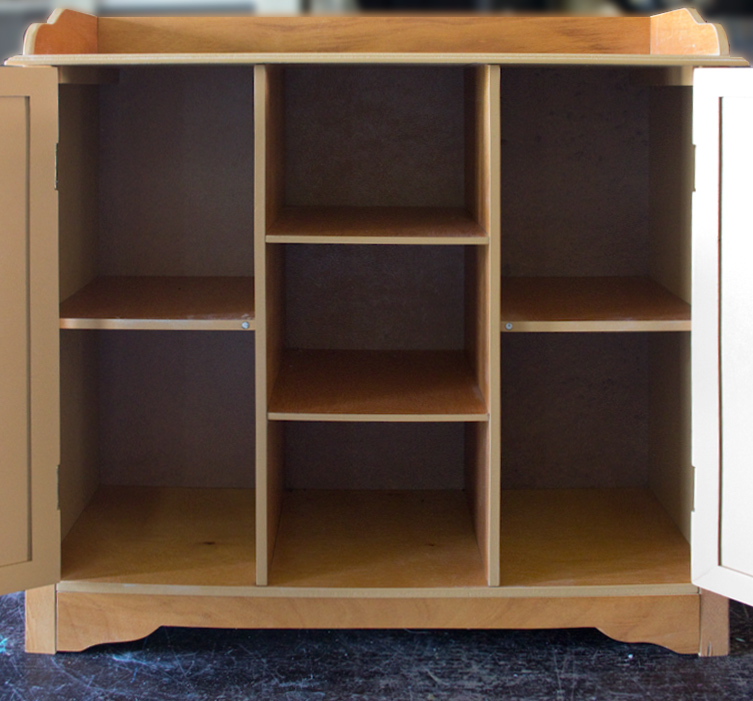 As you can see, this is anything but a priceless heirloom: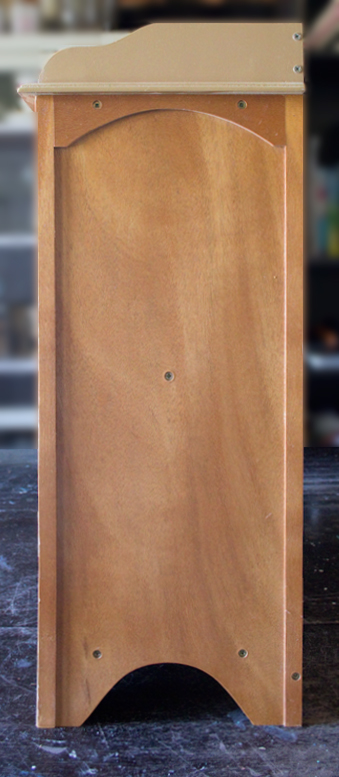 After filling the holes, a quick coat of French Vanilla provides the coverage needed to enhance our decoupage elements, while allowing tiny bits of white to peek through the final finish.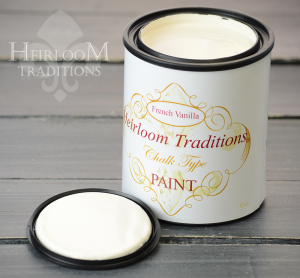 It looks better already! Another coat would do the trick, and you could stop there…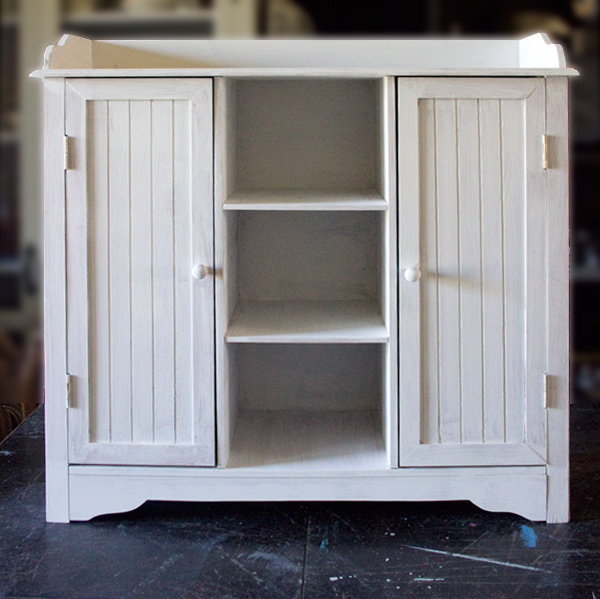 However, I'm not capable of stopping…decoupage and layered finishes are too much fun!
Gather a selection of decoupage papers that will harmonize with the grey tint of this finish, and apply them to your selected surfaces with 1Gel: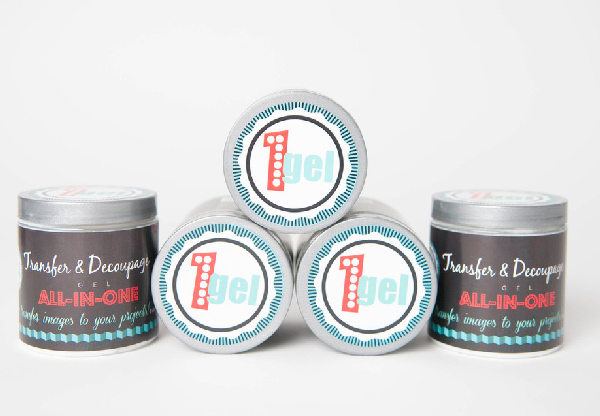 This is my decoupage medium of choice: it dries ultra clear, leaves a protective finish and makes smoothing the papers much easier than other products I've tried.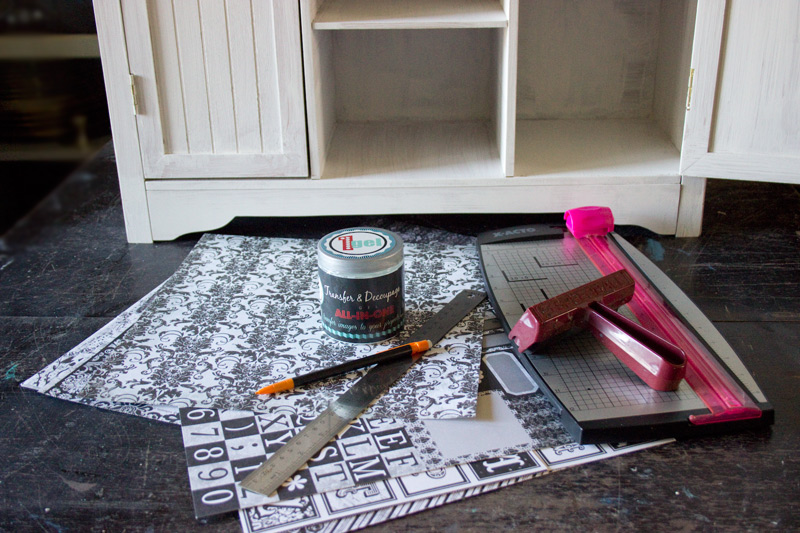 For a lighthearted feeling, include some funky text: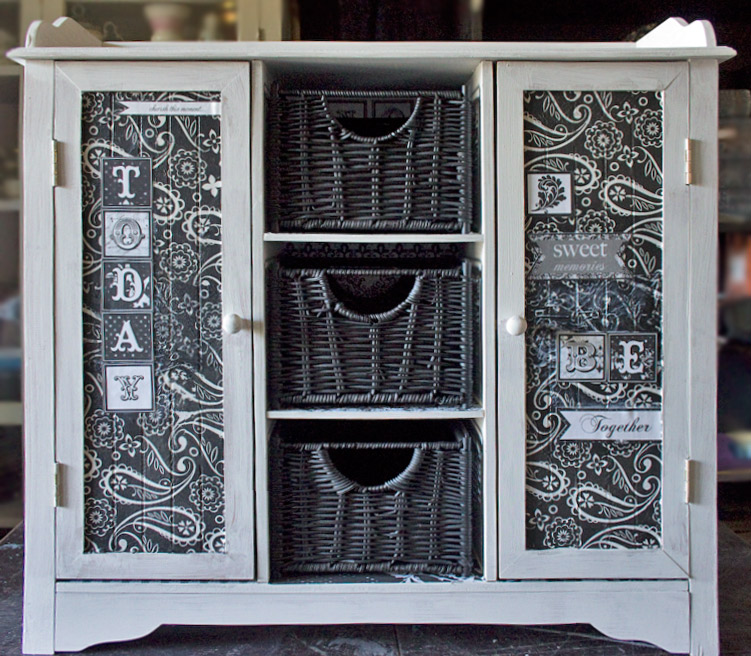 Experimenting with pattern is easy, when you work within a limited color range: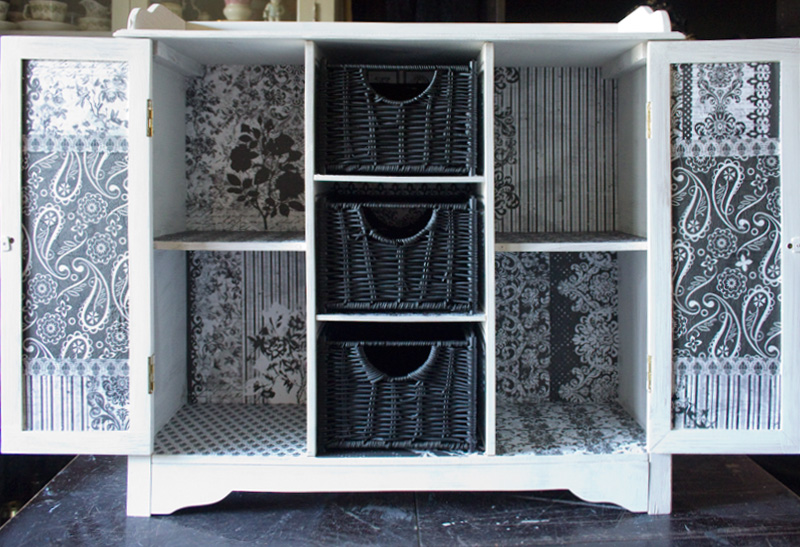 Once the decoupaged surfaces have dried (less than an hour in this case) move on to the next step.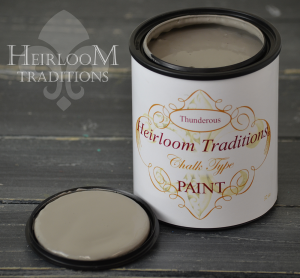 To create a softer visual experience, a quick wash of 1 part Thunderous Chalk Type Paint to 3 parts water tones everything down.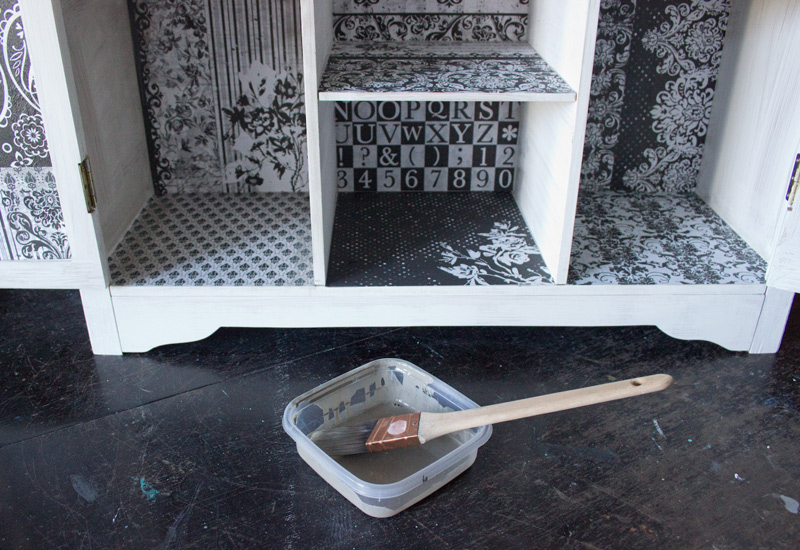 The wash is applied loosely over all of the interior surfaces, and covers all decoupage elements: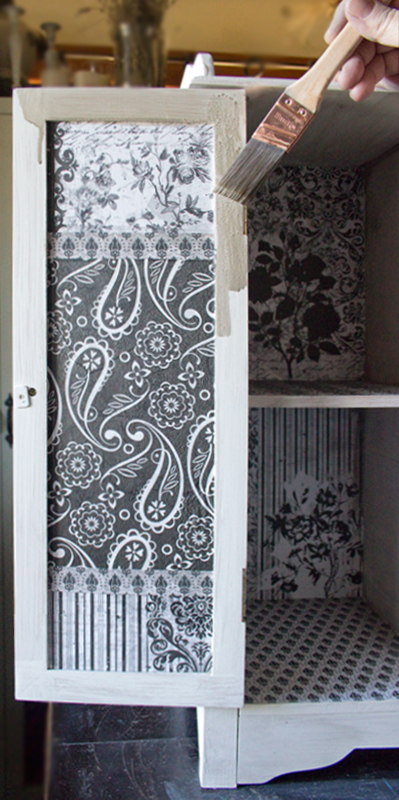 The wash is then wiped back with damp rags, while still wet:
The difference is subtle, but harmonizes the various elements.
Once the wash has dried completely, apply two coats of full strength Thunderous to the exterior: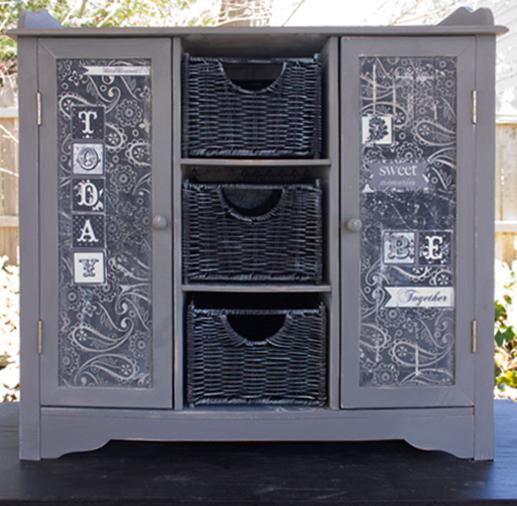 When the paint has dried, distress the surfaces lightly with a damp rag and 220 grit sandpaper, exposing touches of the French Vanilla layer, and the original finish.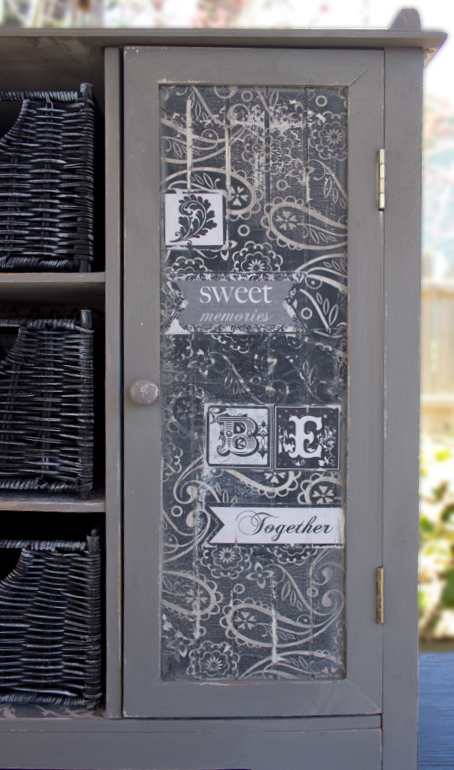 Sand the decoupaged elements to create a time-worn feeling, if you desire.
(I did, but you may prefer a more crisp look)
When you're satisfied with the degree of distressing, wipe down the surface to remove any dust.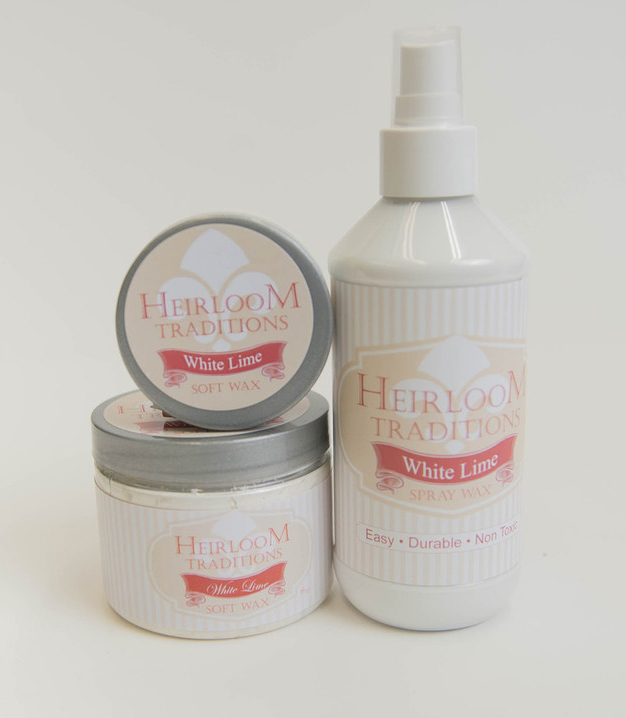 This is the really fun part!
If you haven't tried Spray Wax yet, you will be amazed – it provides a permanent finish, requires no buffing, and because it's a liquid, you can either spray or brush it on.
For this finish, pour a couple of spoonfuls of White Lime Spray Wax into a small container, and grab a scruffy brush.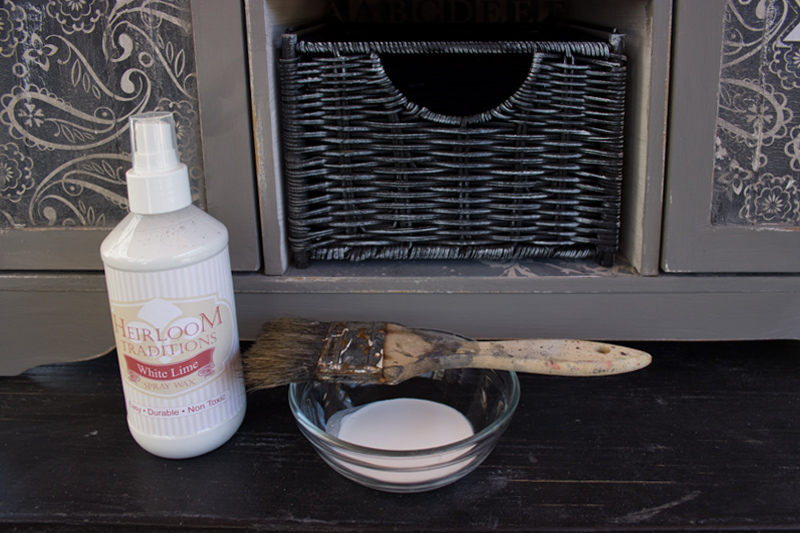 Just dip the brush into the Spray Wax and apply a loose coat over the Thunderous Chalk Type Paint: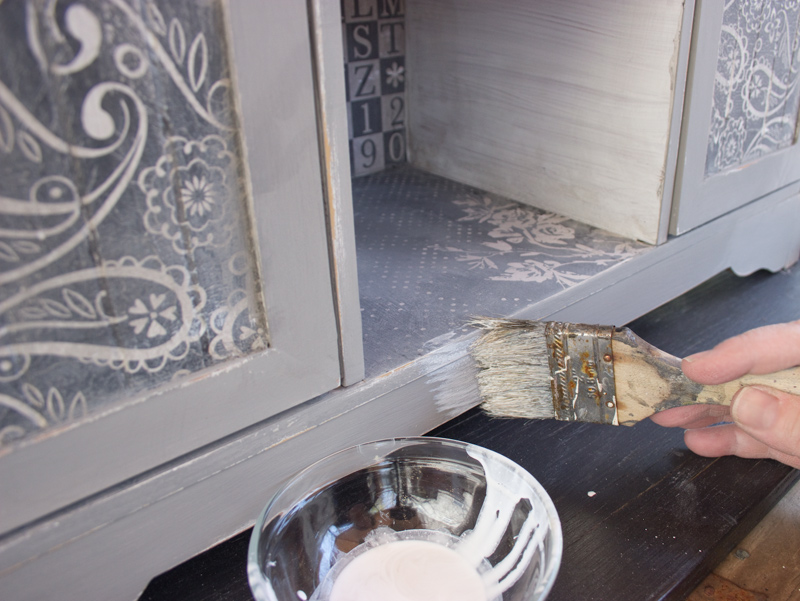 You don't need to cover every inch, because as you wipe it back with a damp cloth, the coverage will even out.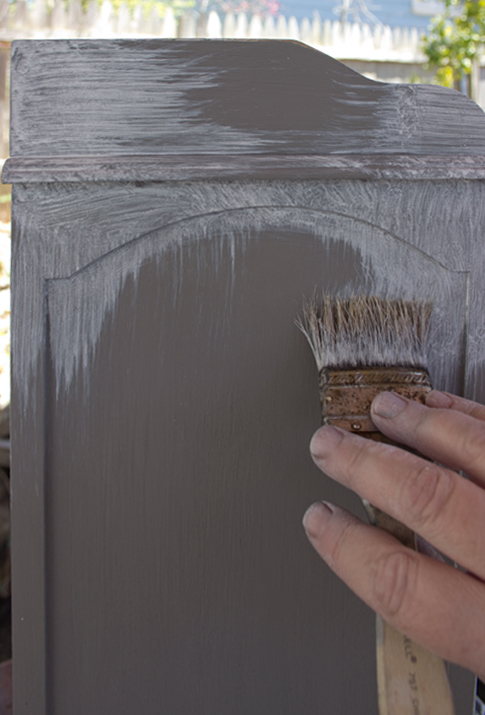 There's no trick to it – just brush it on, wipe it back.
Rub a bit harder in spots to reveal more of the base color.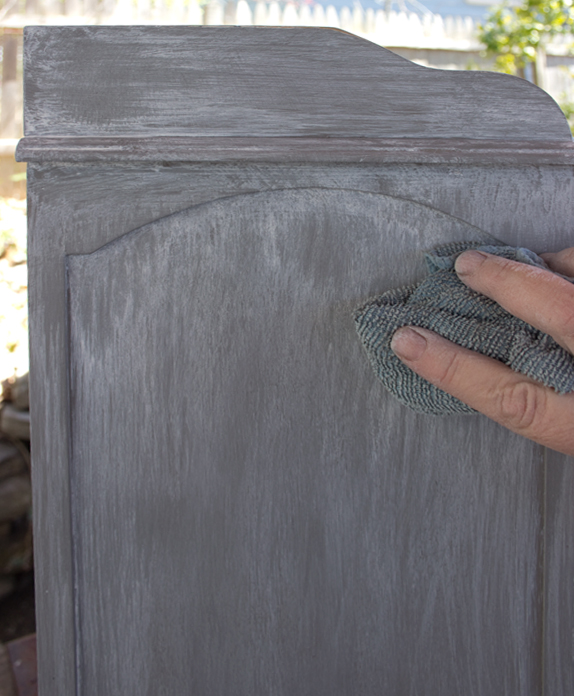 Continue this process over the entire exterior. 
Leave a few raggedy brush strokes in limited areas: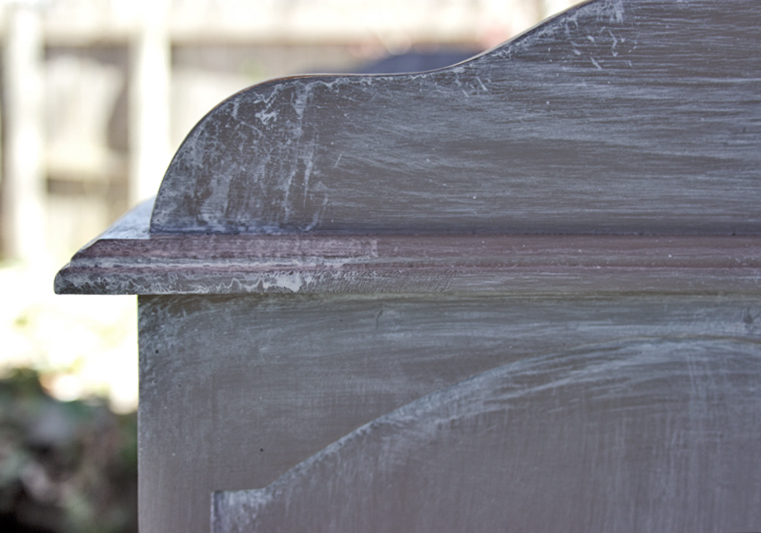 Allow the wax to accumulate in the nooks and crannies: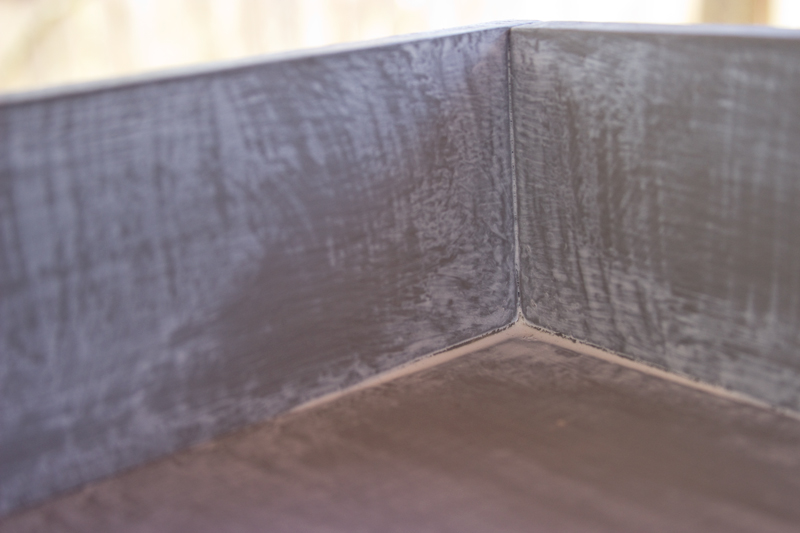 The end result is a lovely French Grey Aged Patina Finish, with Farmhouse Charm: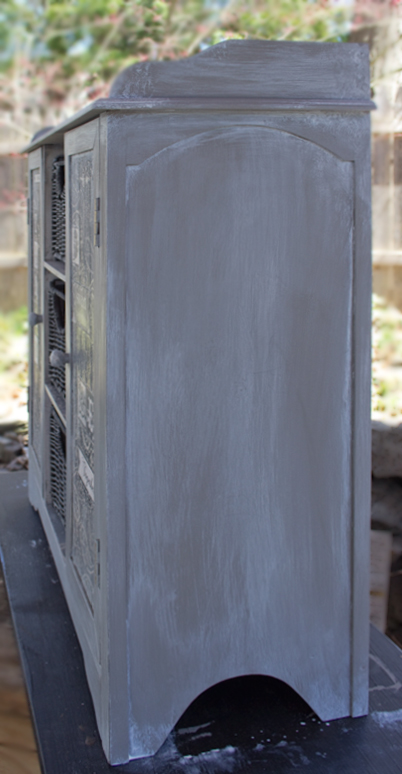 If a laminated cabinet can turn out this well, just imagine how this finish will transform any of your own favorite furniture pieces!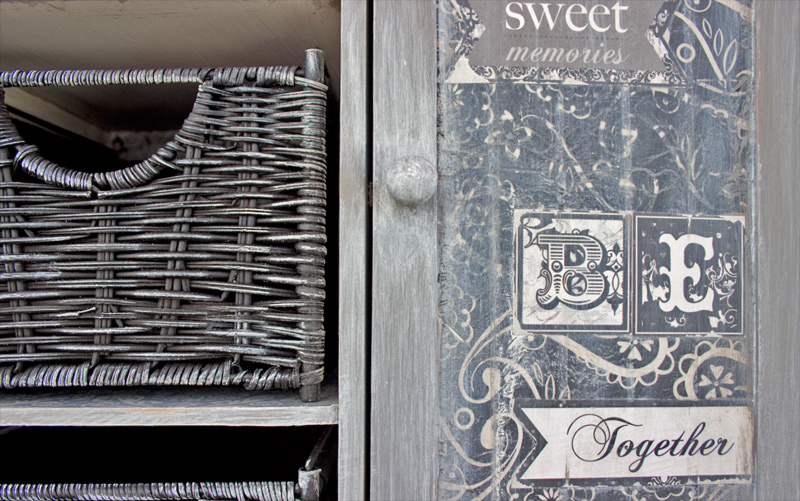 This mass produced cabinet has finally got a little soul…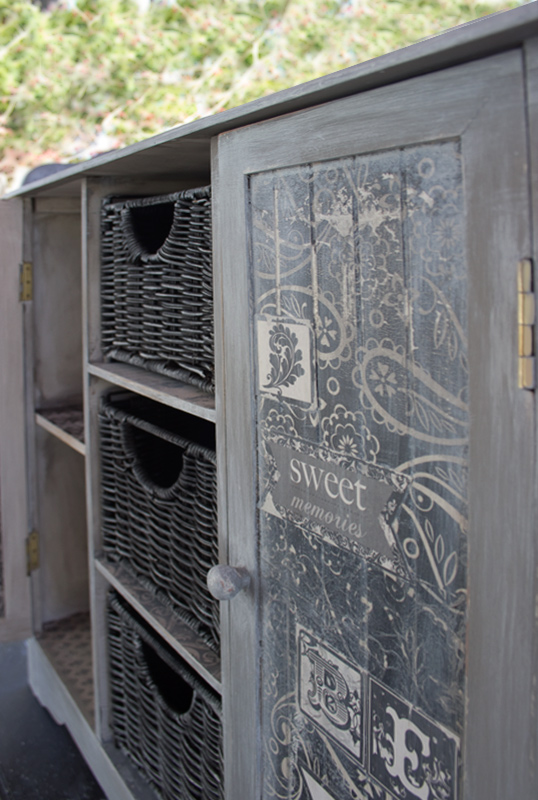 This finish might be neutral enough to work with any color scheme, but it's anything but boring: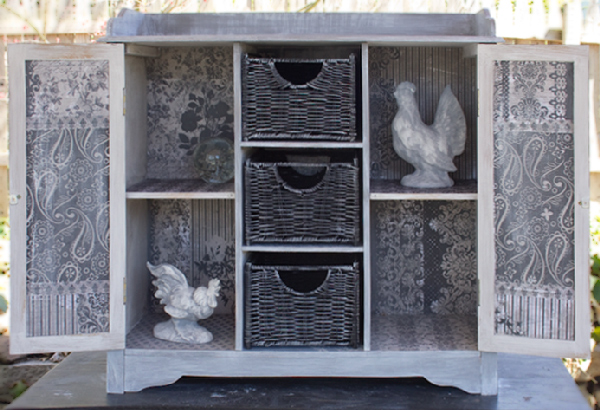 For more information on Heirloom Traditions Products, please visit www.heirloomtraditionspaint.com
---
* Full Disclosure: Heirloom Traditions supplied their products to be used in this project, and they sponsored this post – however, I supplied the elbow grease, rescued furniture, design concept, and experimental insanity! All of which reflect my own point of view, regardless of affiliation…
---
Thank you so much for visiting The Graphics Fairy today! I hope you try this French Grey Aged Patina Finish on one (or several) of your own furniture projects…I know you'll love the results!
Stop by Thicketworks any time to learn more fun and fanciful techniques! You're always welcome there…
Take care,
Heather
You might enjoy this recent post: