14 Best Butterfly Images!
Today we have rounded up a great collection of our Best Vintage Butterfly (and Moth) Images for you! We've searched through our extensive Image Archives here at The Graphics Fairy to find our Best Vintage Butterfly Graphics! Additionally, we threw in a few of Butterfly-related Craft and DIY projects for inspiration! In this post, you'll find a plethora of beautiful Butterfly Prints and images that you can download for free and use in your DIY Home Décor and Craft Projects. Many of these you can just print and frame for some instant Wall Décor. We even have a few original art Prints thrown in with our usual mix of Antique Digital art and ephemera. Of course these are also great to use in Graphic Design Projects, Crafts, Decoupage, Transfers, and more. We think these will work particularly well in DIY Digital Collage and Mixed Media Projects or Garden Style DIY or Craft Projects! We hope you get lots of creative ideas when you peruse this curated collection!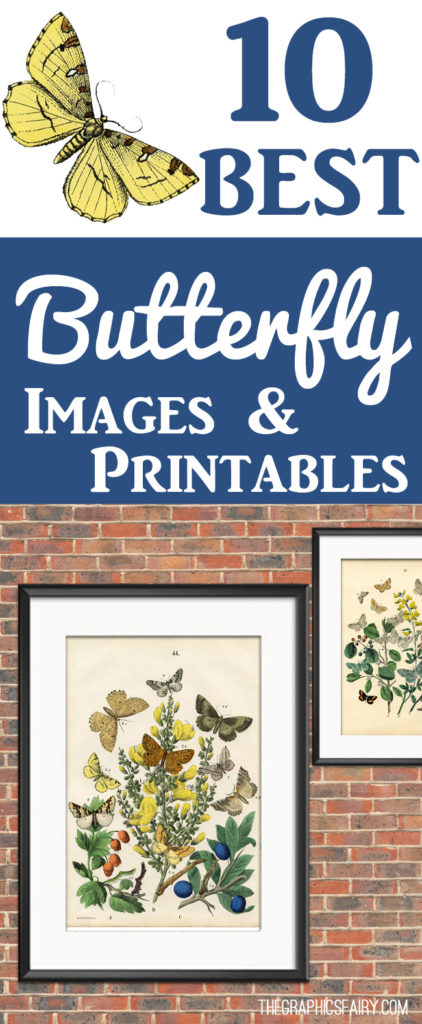 1) Antique Butterfly Print – Natural History – This is a fabulous Antique Butterfly Print from a wonderful Natural History book published in London in the 1850's. It shows a collection of Black and White Butterflies including a lovely big Swallow Tail Butterfly. You can frame it and use it as a print for some Instant Art. It would be so much fun to color it too!
2) Natural History Printable Image – Moths, Butterflies – Here's a wonderful Antique French Natural History Print of 4 wonderful Moths, or perhaps they are Butterflies circa mid 1800's. There is fabulous looking Typography included on the print too. I think these colors would look great in your Garden Style DIY or Craft Projects!
3) Instant Art Printable – Antique Butterflies and Moths – This is another really lovely Natural History Print from an Antique book in my collection. This one shows several beautiful Butterflies and Moths! It is a really nice one to Print and Frame!
4) Papillons French Butterfly Card– This is such a charming little French Card! This one features a bright yellow and green butterfly. There is some very charming French Text on the card, including the word "Papillons" which is French for Butterflies. This is a prefect piece for tucking into a little pocket in a Junk Journal!
5) Instant Art Printable – Colorful Butterflies – Moths – This is a wonderful Natural History Print from an 1840's book. I'm not sure if these are actually Butterflies or Moths, but either way I love the purple and red colors here. This can be a full size instant art Printable.
6) Antique British Insects Print – This beautiful rustic style sepia print comes from a Circa 1860 book on British Butterflies. Featured are all sorts of insects, including some Moths, Butterflies, Caterpillars, Beetles, and a Hornet. This would look fabulous under a glass cloche or behind the panes of an Old Window!
7) Free Vintage Clip Art – Butterfly Wings Galore – A gorgeous page full of Colorful Butterfly Wings. They are perfect for making your own fairies!!
8) Stunning Bright Blue Butterfly Print – This is a marvelous circa 1847 Printable of a Deep Blue Butterfly, resting on a floral branch. Such gorgeous color on this one!
9) Antique Butterfly Image – This adorable little Victorian Scrap Butterfly would be great for small craft projects and art work, like Junk Journals, Collage or Mixed Media. This one has lovely colors and a quaint paper garland, perfect for adding a bit of text.
10) Instant Art Printable Download – Bohemian Butterflies –This is a lovely 1870's French Butterfly print that makes me think of Anthropologie's Bohemian style! I particularly love the aqua and chartreuse butterflies! You can print the PDF and frame it, for Instant Art!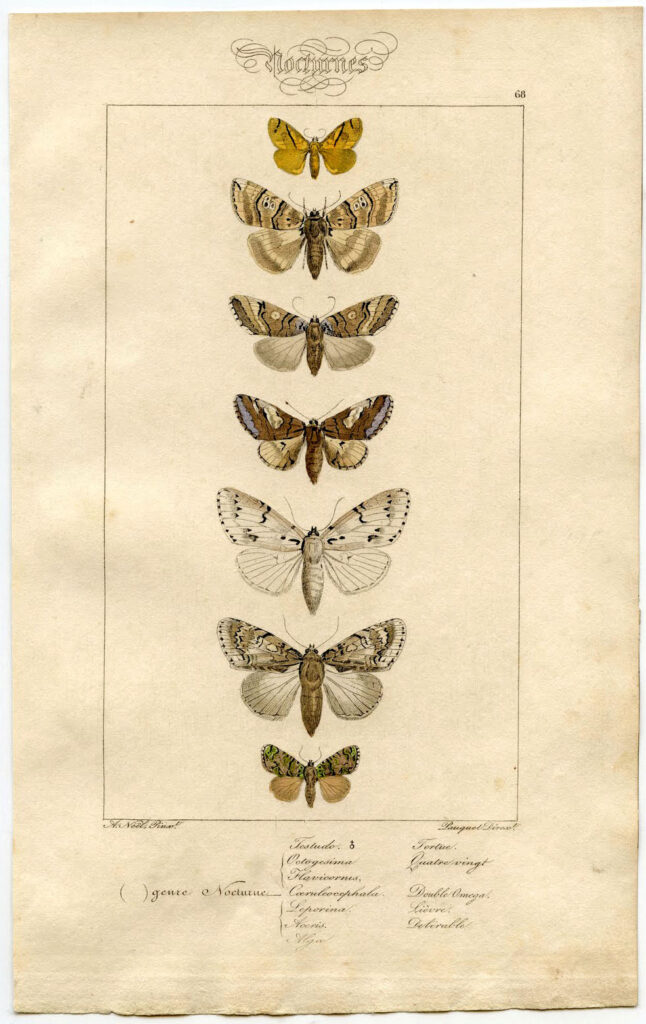 11) French Moth Print. I've always loved this beautiful print. The colors are so subdued and lovely plus I adore the French writing on it, especially the word "Nocturnes" in fancy script at the top of the page!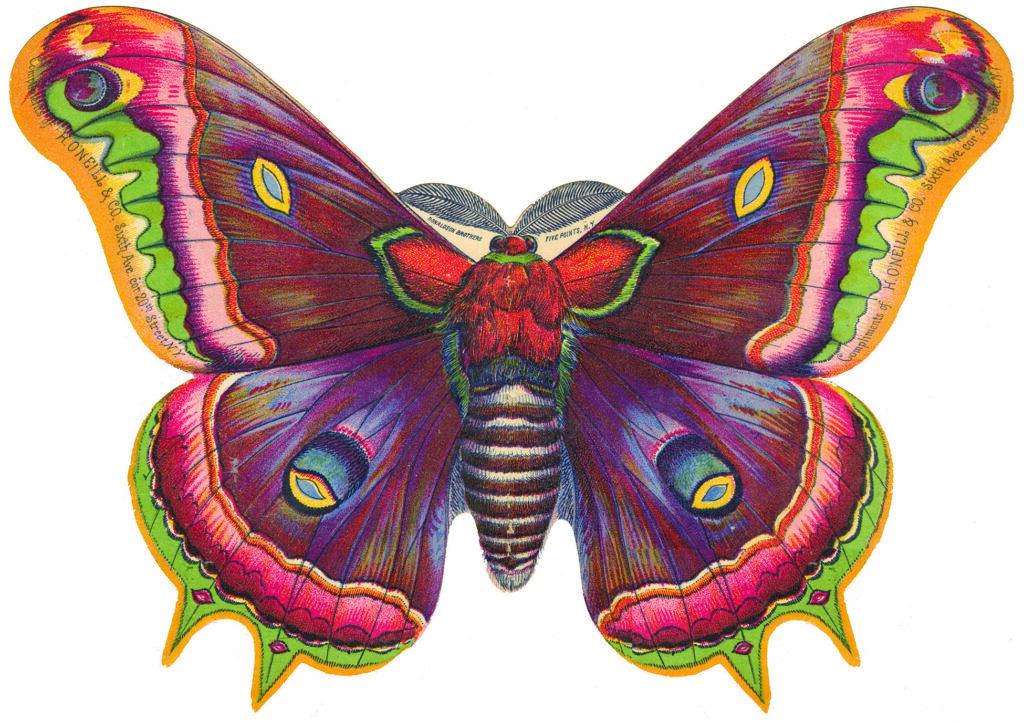 12) Victorian Butterfly/Moth Diecut.  This is an old favorite of mine, from years ago. I've had this in my collection for quite a long time and it's been on this site for many years. I've rescanned it to give you a larger better file. I'm sure it's actually a Moth, but I used to have it in the Butterfly section as it actually says it's a Butterfly on the back of the card. So I'm placing it here, in case you people are used to looking for it in this section. At any rate I still think it's a fabulous image!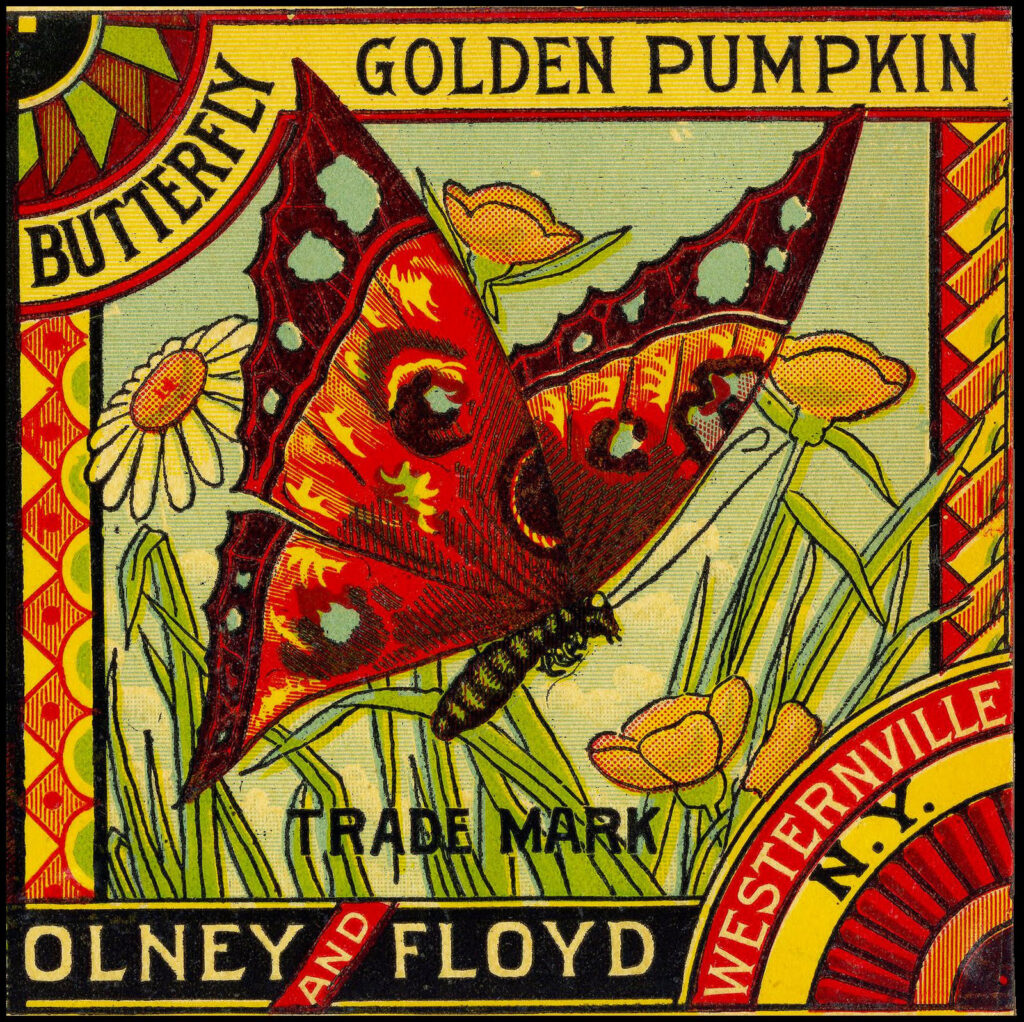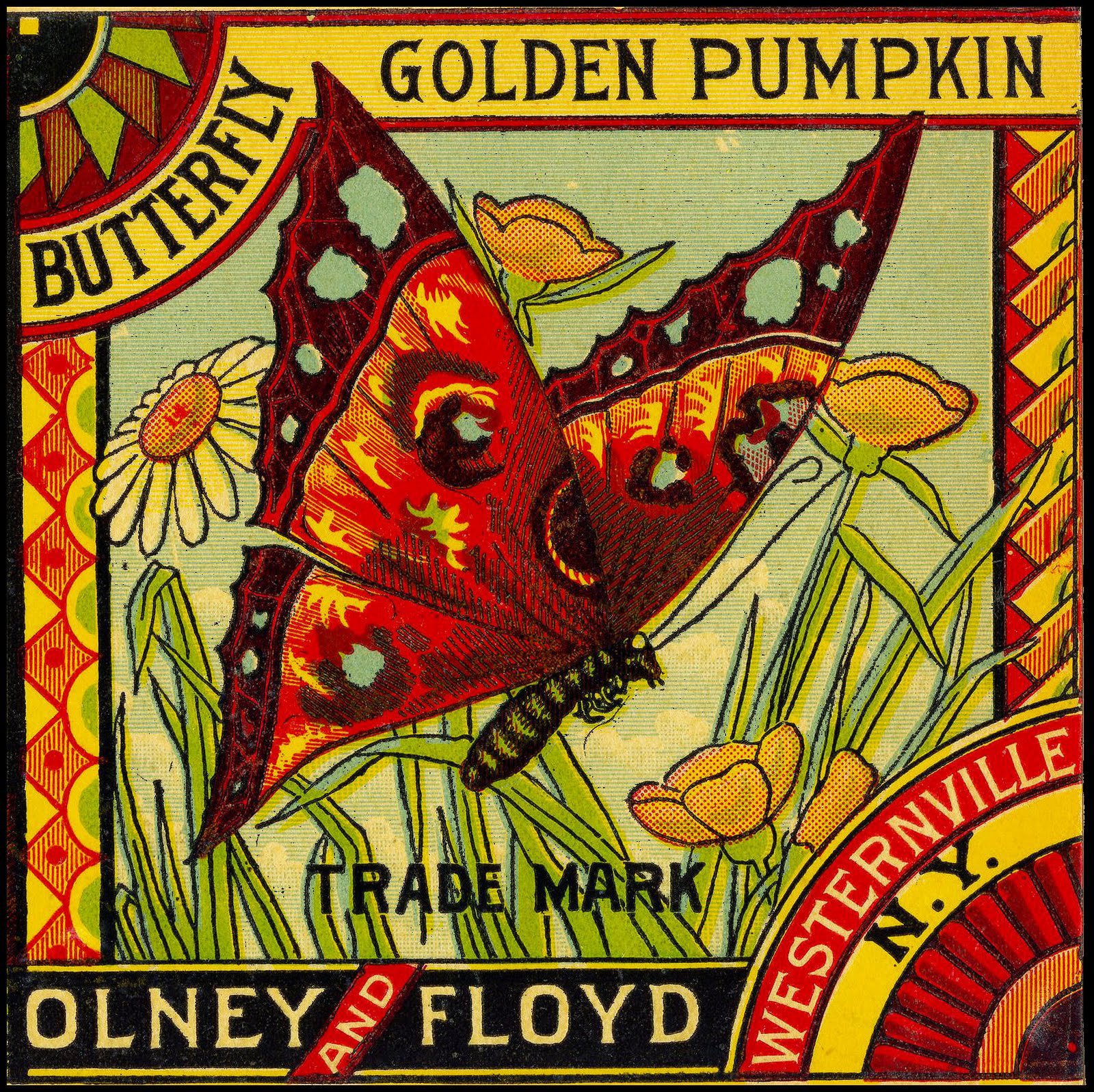 13) Butterfly Label This is a gorgeous Butterfly label from an old Pumpkin Can! I love the bright bold colors on this one. I think I would have cans of Pumpkin all over my house if they still had labels that were this beautiful.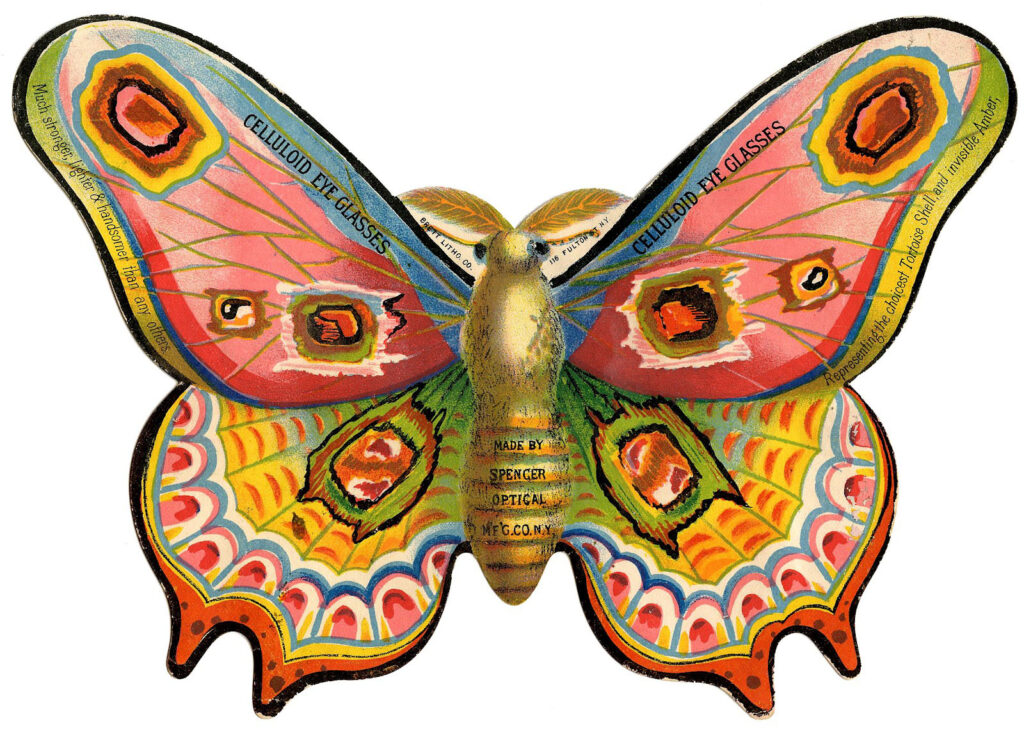 14) Moth Ad Image This is one that I've tried to buy several times over the years and I kept getting outbid! Then I got lucky and I was finally able to snag one at a great price! Shown here is an amazing piece of Victorian Advertising using a Colorful Moth Scrap.  The ad is for Celluloid Eye Glass Frames. One of my absolute favorites I love all the bright colors on this one.
Fun Butterfly Projects and Ideas
We also have some fun Butterfly (and Moth)-Related Projects, so that you can get ideas for these Butterfly images, that are perfect to use in your next Craft Project! You can learn all of the FREE Techniques by clicking on the links below!
1) Glass dome with Blue Butterflies – This is an easy craft with precious results. This is an absolutely delightful way to bring a bit Spring into your home. Bright blue paper butterflies, green moss and a glass dome create a magical display!
2) DIY Leather Butterfly Necklace Tutorial! – Grab your favorite butterfly image from The Graphics Fairy and create a sweet little butterfly necklace. The secret ingredient is leather. This tutorial shows you how super easy it is to work with leather to make jewelry.
3) Vintage Style Lantern DIY – This fun and easy tutorial uses simple glass jars to make a votive candle with this pretty vintage butterfly sheet. You won't believe how simple it is and you can apply the technique to so many different things. Come and see how easy this is!
4) Butterfly House – Make a charming Butterfly house for your favorite winged friends!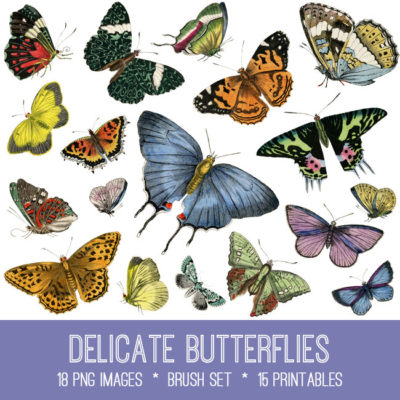 You might also like a recent kit from our Graphics Fairy Premium Membership site, this lovely Delicate Butterflies Kit HERE, is one of nearly 200 bundles included with our Monthly, or Yearly, Membership!
Hello! Are you new to The Graphics Fairy? Welcome, I'm so glad you're here! Browse around to find thousands of Stock Images that you can use in your projects or designs! I post new Vintage images every day, as well as projects and DIY's too! Need more info about my site? Try my FAQ page.
Save
Save