DIY Tea Stained Paper
Hello my sweet paper crafting friends, it's Rebecca E. Parsons, returning with a delightful Mixed Media tutorial – DIY Tea Stained Paper: with Colored Teas. Tea applied to paper does wonderful, amazing things. You can mimic age, antiquity, and even create fun colors with a few quirky tricks. We are going to experiment with several different teas, including 'tinted' ones, to obtain a variety of yummy, soft colors. You can use these as backgrounds for your favorite Graphics Fairy images as scrapbook pages, or make a wondrous Junk Journal with them.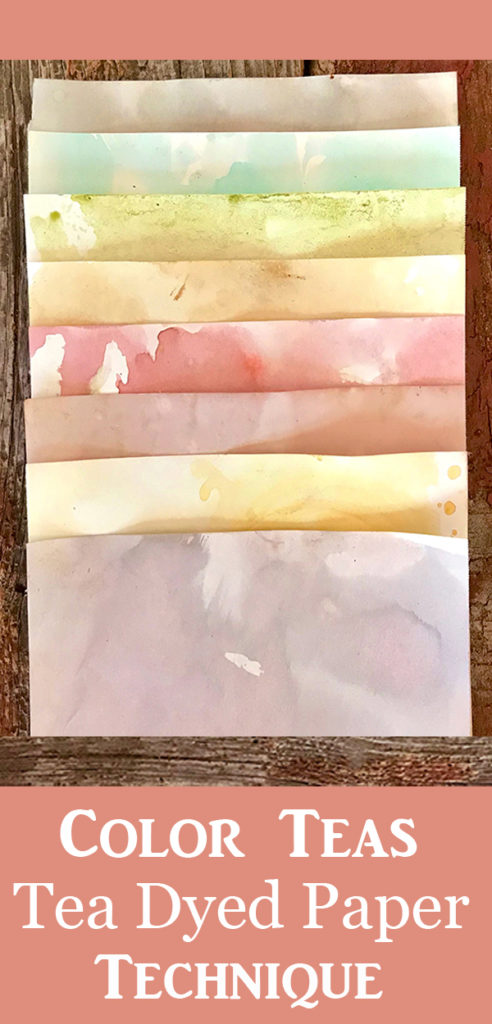 As I often say during these tutorials, "The possibilities are infinitely endless."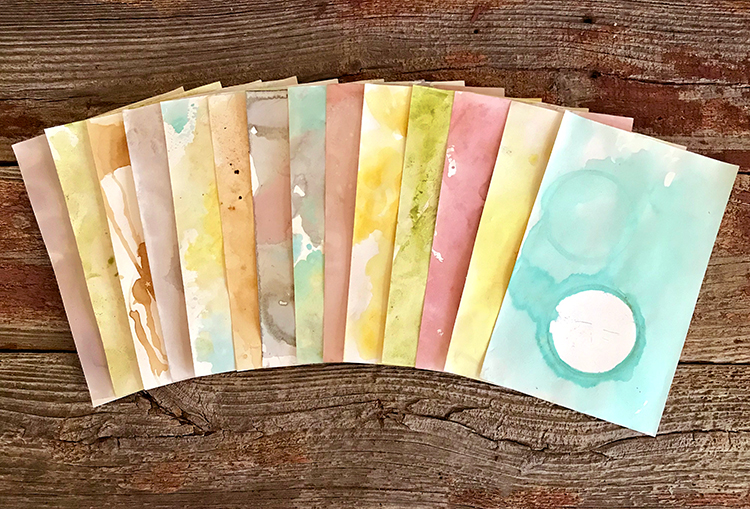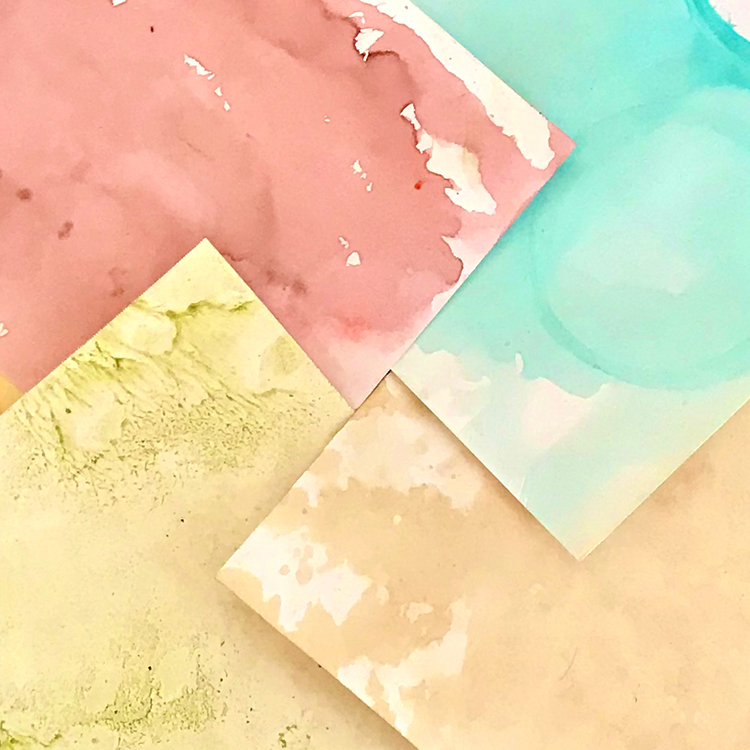 A Word About Tea Staining
I have been staining papers for my books and art for many years. Tea is one of my favorite tools because I adore the subtle hints of color and age that I can achieve with this simple, natural tool. I have discovered some new teas of late and could not wait to see what happens when I apply them to good, heavyweight paper (watercolor or mixed media). If you know me well, you're aware that I love to get into my laboratory (studio) and run experiments. Like a mad scientist, I push the limits as far as I can. I do this gladly and lovingly so I can share the results with you!
NOTE: As much as I wanted a nice blue tea paper, I have yet to find one that produces a blue shade. Therefore, I added a drop of gel food coloring to my green tea and it worked splendidly! So don't be afraid to think outside the box to achieve the results you want.
A word about teas: Teas come in a variety of flavors and potions – black, white, green, herbal, matcha, organic, etc. They also come in many forms – bags, loose, powders, liquids, effervescent, etc. How do I choose which ones work the best for staining papers? First, let me say that not all teas are created equally. Just experiment with what you have. It is really just a personal choice what the final look is that you are seeking. I keep a detailed swatch notebook to record the colors I achieve with each tea and tinted tea. It helps me when I want to recreate a tea stained color.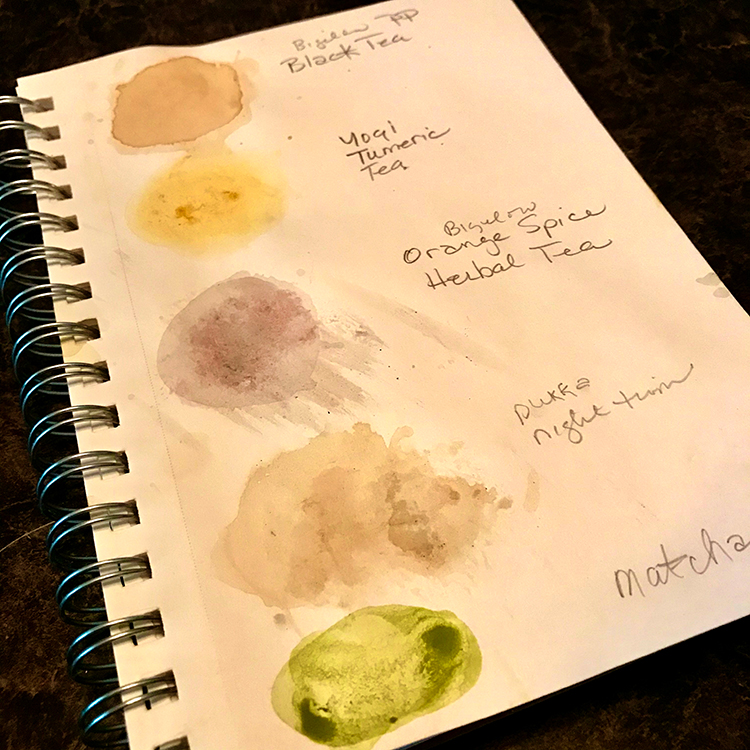 A word about papers: I prefer to use papers that are made for wet media, such as watercolor or mixed media. These papers can take a lot of water without disintegrating. You can tea stain lighter weight papers, even 20 lb. copy paper, with some success. However, they often tear, dissolve, and fall to pieces in the process, leaving you frustrated and without much to show for the work. Another of my favorite papers for staining is an 80+ lb. cotton or rag content paper.
For this tutorial, I will be using a smooth Mixed Media paper that takes the tea beautifully without falling apart. You can find these in pads that are reasonably affordable. I do love how tea stains watercolor papers as well. Hot press WC papers with texture is probably my favorite because the stain gets into nooks and crannies. As always, it is a personal choice about the final look you desire.
Supplies for DIY Tea Stained Paper:
Tea – a variety of tea bags, powdered teas, and liquid teas
Cups for making tea
Gel Food Coloring
Watercolor or Mixed Media Paper
Brushes, Sponges, Eyedroppers
Cookie Sheet with a rim
Paper Towels
Bottle caps or other circular objects
Tea Stained Papers Technique – Step-by-Step Directions
This is a fun technique, but it is messy since a good amount of water is required. Make sure that you protect your surface well. TIP: I use a large trash bag spread over my table. Then I cover it with an old towel or cloth to absorb some of the water.
Step 1 – Mixing Teas: Make tea bags or powdered teas with the following recipes:
Matcha – mix with 1/2 less water than package directions. Makes a lovely green.
Green –  4-5 bags per 1/2 Cup water. Green tea does not give a lot of color. It is a great mixer for gel food dyes.
Black –  3 bags per 1/2 Cup water. The hotter the tea is, the more orange it will color the paper.
Herbal –  3-5 bags per 1/2 Cup water. Bigelow Orange Spice makes a delightful gray. Turmeric tea makes a beautiful yellow.
Powdered Tea – 2 T per 1/2 Cup water. This creates sweet browns and sepia tones.
Liquid Tea / Kombucha – straight from bottle; do not dilute. Produces some amazing colors. I like the effervescent ones.
TIP: You can add a drop of gel food coloring to make what I call lovely 'Tinted Teas'. Just a tiny drop is all you need! Make sure you mix it well.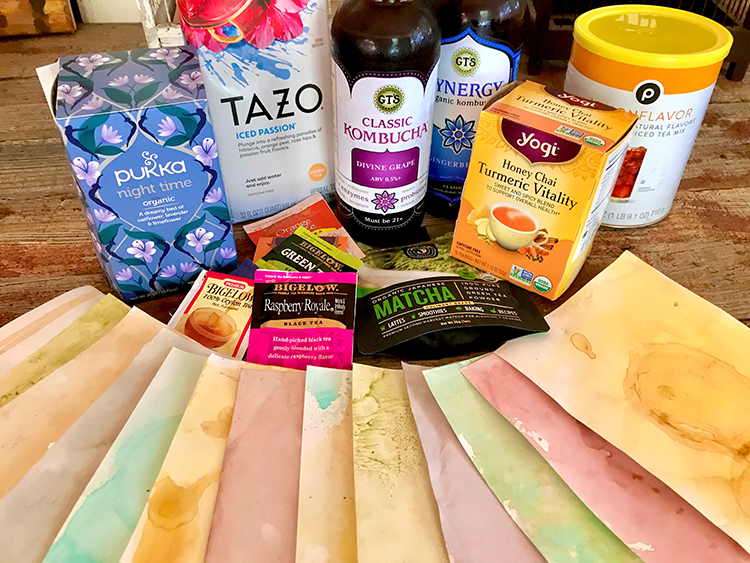 Step 2 – Apply Tea to Paper:  Be inventive. Play with the tea and paper. Crumple some of the paper before you stain.
Method 1: Lay paper flat on surface. Apply tea with brush, sponge, or eyedropper. Paint the tea on randomly and unevenly, allowing some areas to puddle. This will make the paper look older. Let the tea soak into the paper. Allow to dry like this. Below you see a beautiful green produced by Matcha ground green tea powder mixed with water. Find my recipe above.
Method 2: Apply a lot of tea along one edge with a sponge or brush. Lift the edge of the paper and let the tea drip down. You can also add some drips with an eyedropper if you want more. This example is a beautiful orange brown color achieved with strong black tea. See my recipe and hints above.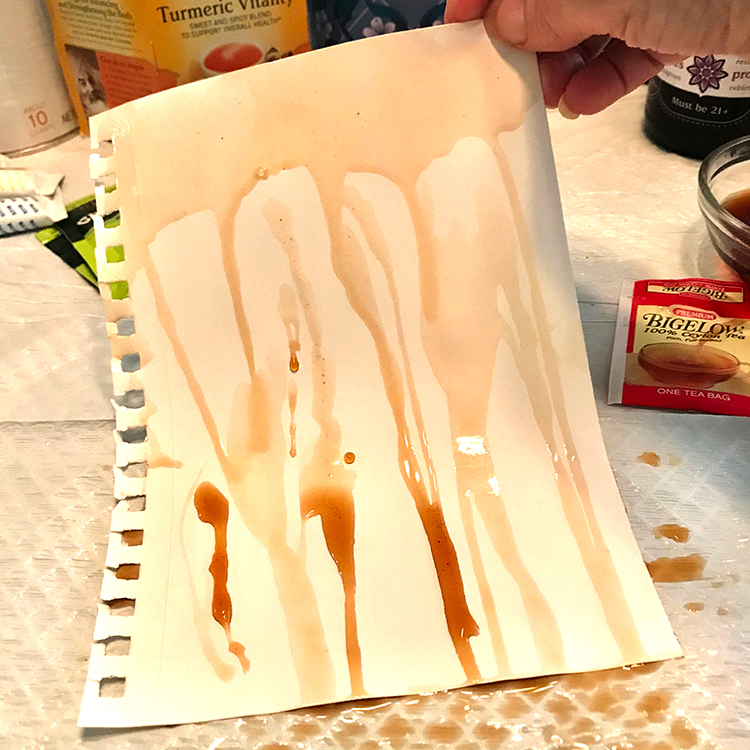 Method 3: Lay paper flat on surface. Apply the tea with the wet tea bags that have been steeped per package directions. Be careful not to burn your fingers with boiling tea water. Rub the bags over paper, allowing some areas to puddle by squeezing the bag. Press it into the paper. If the tea bag starts to come apart, throw it away and use another. The herbal tea used below is Turmeric and produces the most beautiful golden yellow color.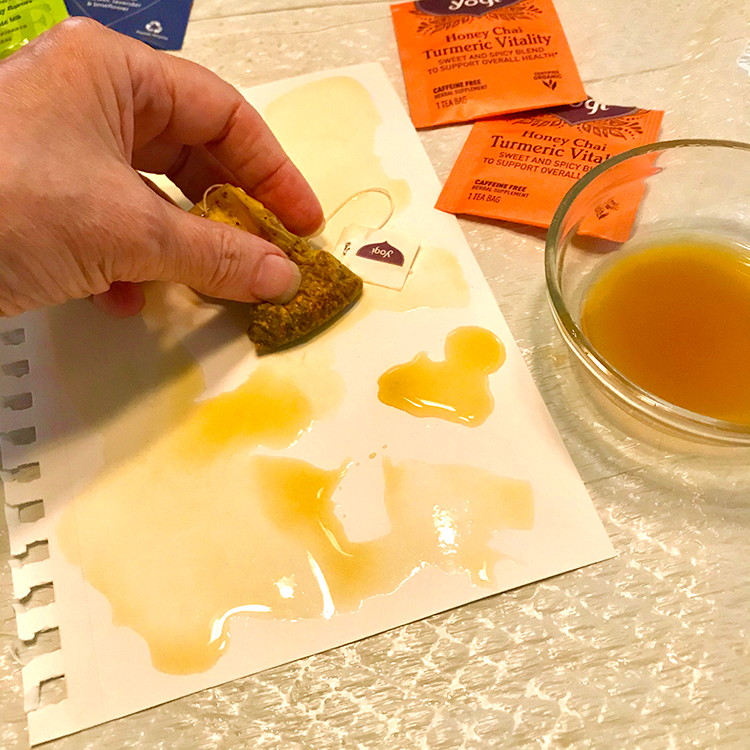 You can also allow the bag to sit on the paper until it is dry for darker stained areas.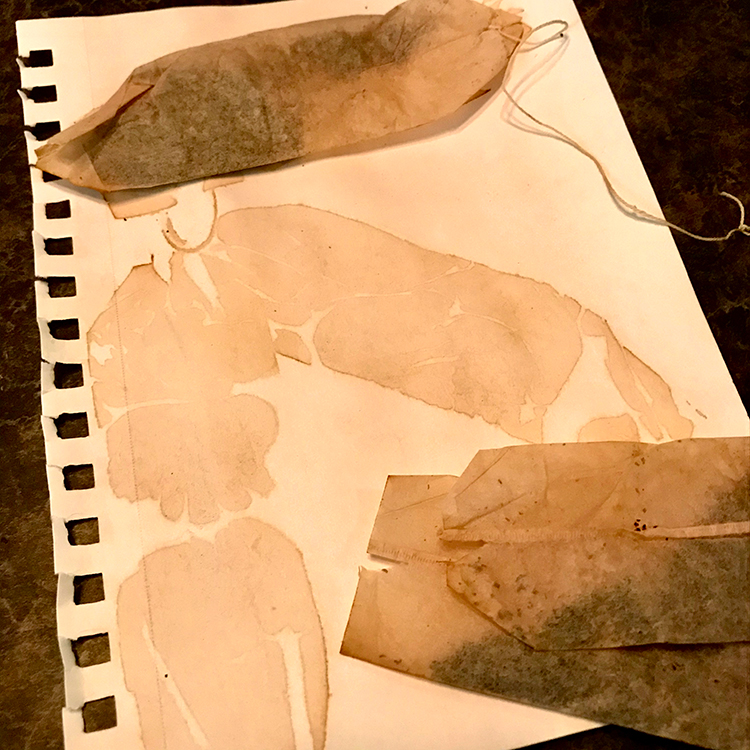 Method 4: Lay paper in a low edge cookie sheet. Pour the liquid tea directly onto the paper. Pour it slowly and stop when it covers the paper. You can do a few sheets at a time with this method. Pour and place another piece of paper on top. Press it down with your hand to allow tea to soak in. Blot some of the liquid with a cloth or paper towel. Allow this to sit for 2 minutes. Separate sheets and place on baking sheet. Bake this in a low 200º oven for 5 minutes. This will dry the paper and darken most the colors a bit. I used Tazo Passion Tea Concentrate here. It provides a lovely pink color. I also love to use Kombucha effervescent teas mixed with a little gel food coloring for this technique. The purple and aqua examples were done this way.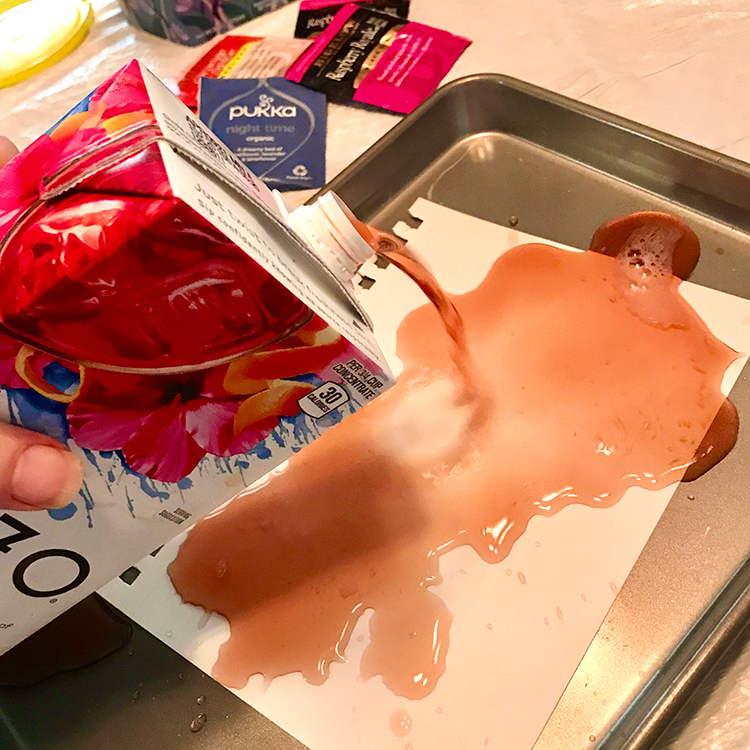 FUN TIP: Be sure to use the leftover tea to create some multi-colored backgrounds! It gets muddy sometimes, but we love those rich brownish grays, don't we?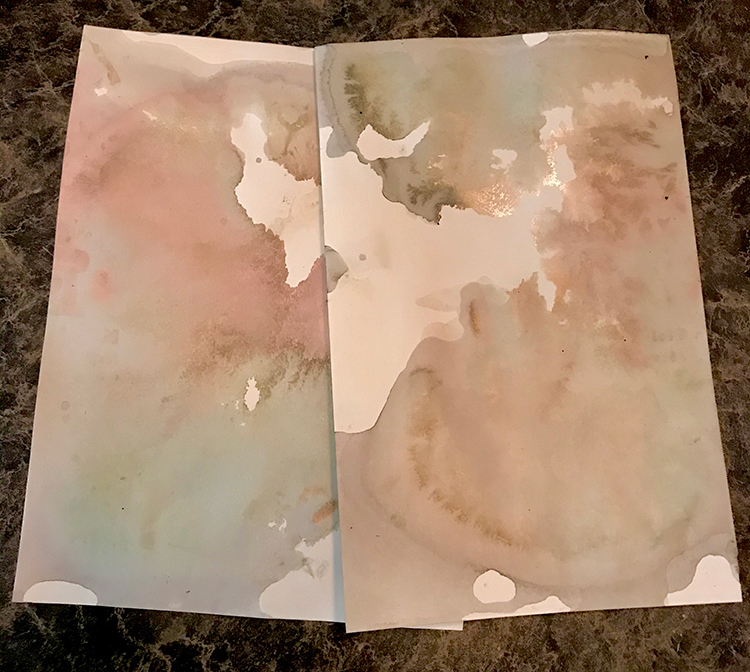 Optional Distressing (Aging) Tips:
I prefer old, aged papers with loads of texture and eye appeal. So I have a few other techniques to achieve that rustic look and feel that melts my heart.
To make a circular stain mark, place a cap or anything round (I use an old child's teapot) on the paper before you apply the tea. Allow paper to dry with the cap on it. The two top left photos show the method and the result. I used the Turmeric tea bags.
To create the effect of age spots, sprinkle instant tea on the paper after you have applied the tea. It works best on damp versus totally wet paper. The two bottom left photos show the method and the result. I used the black tea bags.
Crumple the paper and smooth it out before you stain. While paper is wet, fiddle and rub along the edges to enable tearing of it. You can also do this in other areas of the paper to produce small holes. You can see a crumpled paper to the right below. I used a green tea in this example.
Step 3 – Deepen Color: After the paper is dry, apply more tea in certain areas to darken the stain.
Optional – Heat Set: Some people like to bake or heat set their papers. I find that the papers, when dry, are permanently stained. You can bake a single layer of the wet papers on a cookie sheet in the oven at 200 degrees for 5 minutes. TIP: I run my paper through my dryer on hot for 3 or 4 minutes.
If you want even more ideas and tips on aging paper, check out my Paper Distressing tutorial HERE!
I hope that you had fun learning How to Tea Stain Paper with Colored Teas with me!! When I am not exploring with new and old Techniques for Mixed Media in my Graphics Fairy sandbox, I also create Photoshop Elements tutorials and craft project videos over on The Graphics Fairy Premium Membership site. You can find even more of my books, junk journals, mixed media art, classes, and whimsical shenanigans on Rebecca E Parsons Dot Com.
Also, be sure and you check out this YouTube Video that Lisa did, showing you how to use Tea Bags in your art!