Hey there, Graphics Fairy Readers – Heather from Thicketworks with a step-by-step guide to creating Ice Resin Collage Paper! This cool project will yield papers that can be used in many different ways…I'll show you how I used it to create special little journal covers for gifts!
The lovely folks at Susan Lenart Kazmer's Ice Resin supplied the resin for this project – Thanks, Ranger!
(This post contains affiliate links)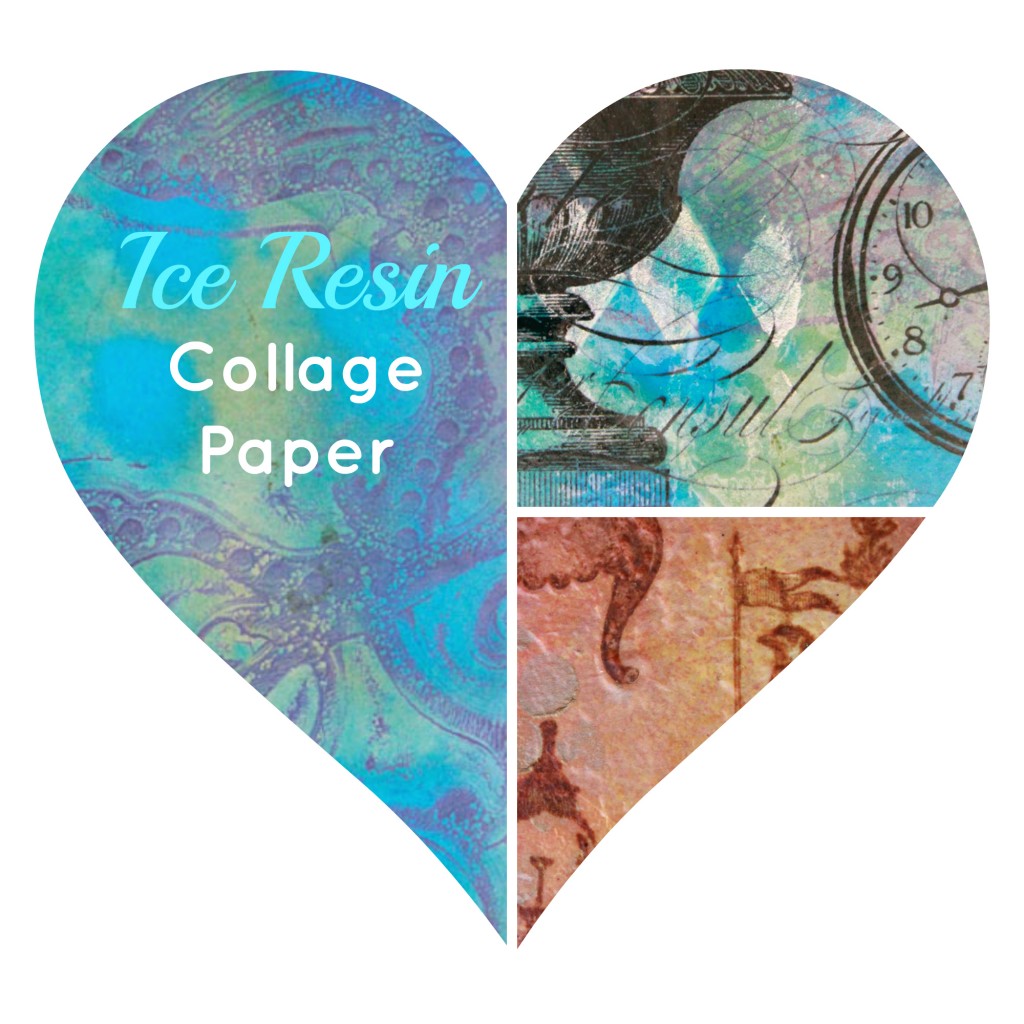 I love transparency – there's something magical in creating layers of color and imagery.
Ice Resin Collage Paper feeds my need for layered bliss! Join in and get happy!
Supplies:
White Tissue Paper printed or stamped with your favorite motifs
Scotch Tape, or similar
White garbage bags: not grocery bags
A smooth surface to tape the bags to – it's handy to be able to move the whole shebang to an
out-of-the-way location while curing.(I used a sheet of foam core from the dollar store)
Protective Gloves (I get the Blue Nitrile from Harbor Freight)
A small, clean disposable cup
A craft stick for stirring
An old credit card or similar for spreading the resin
A craft knife
Scissors
A handy garbage receptacle!
Optional: Small blank journals to embellish

Background Papers
A Bondo Spreader
An emery board
How-to:
Begin by preparing your tissue paper.
The example on the left is an 8.5" x 11" sheet of tissue paper printed on an ordinary Ink Jet Printer. (If you like this little collage, you can grab a free copy of it here)
Note: If you're unsure how to print tissue paper with your printer, check out this great tutorial.
On the right is a sheet of tissue paper rubber stamped with various motifs in Archival Ink: Coffee
Note: the rubber stamped images were much less crisp than those printed with the ink jet – the ink bleeds a tiny bit, for a softer effect. I like them both!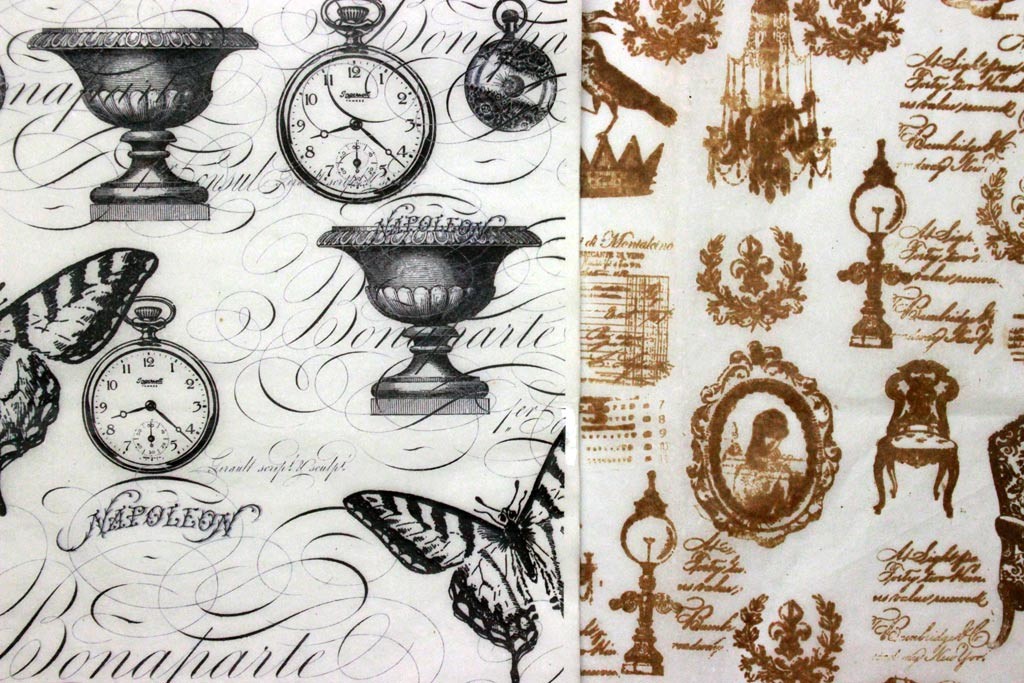 Once you have prepared your tissue papers (and they are thoroughly dry), gather your supplies and set up your work-surface.
Tape the tissue papers down to the plastic bag using tiny fragments of tape, making sure not to obscure your motifs.
Note: Avoid taping your tissue over any printed areas on the garbage bag surface, they WILL transfer to your paper!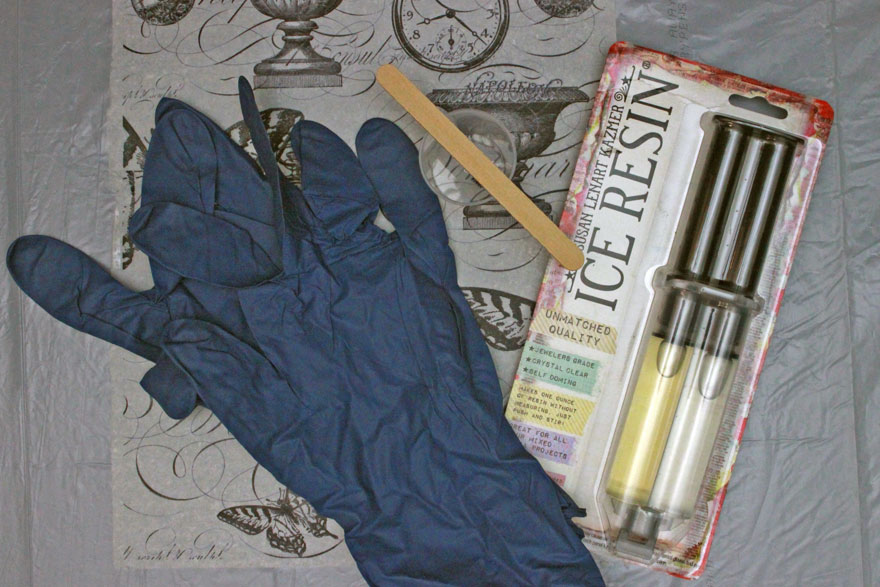 Put on your gloves and remove the reusable twist-off cap from the Ice Resin Plunger: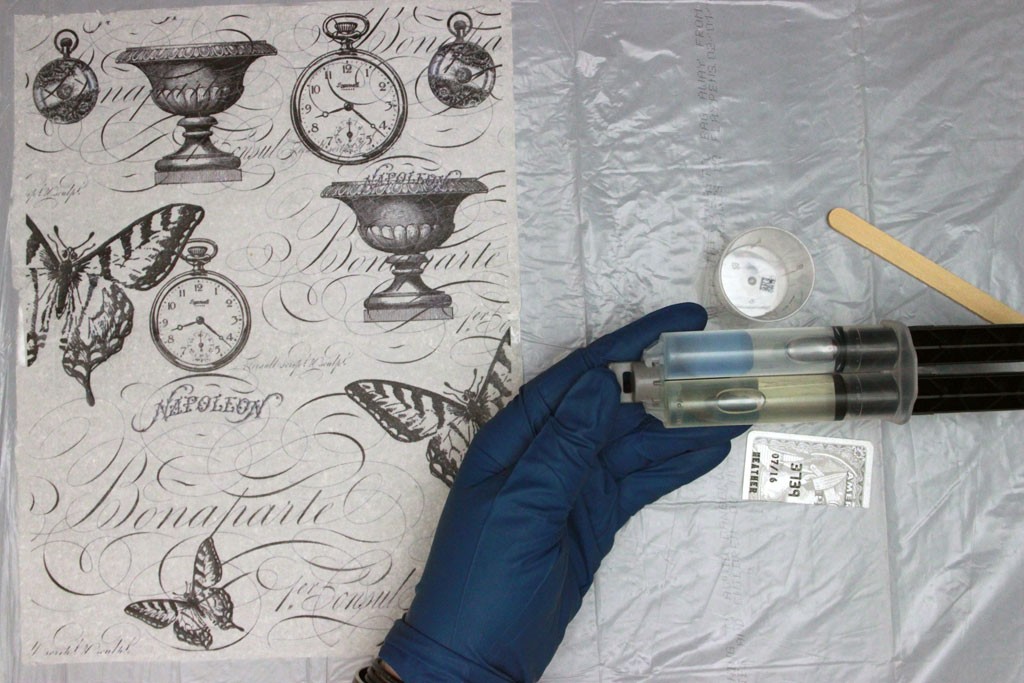 Gently squeeze the plunger to dispense equal amounts of the resin and catalyst.
The plunger unit is so helpful – no measuring needed, and you can safely store what's left in the tubes for the next project!
I used approximately half the container for this demo.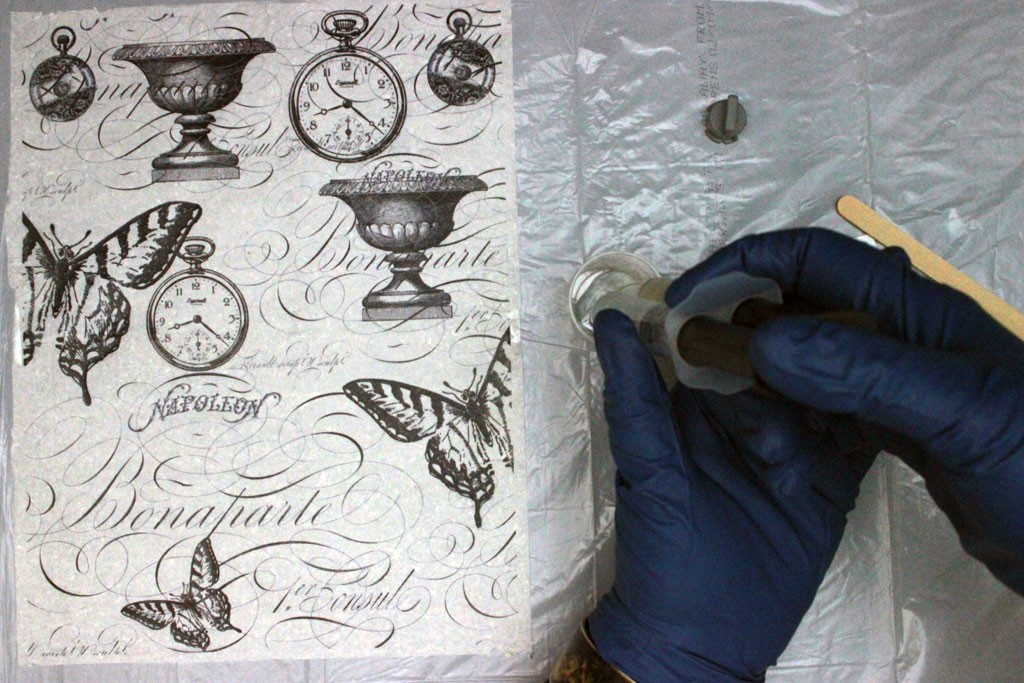 Gently use your craft stick to mix the resin with a folding motion for 2 minutes.
Carefully scrape the sides of the container to make sure you incorporate the two substances thoroughly.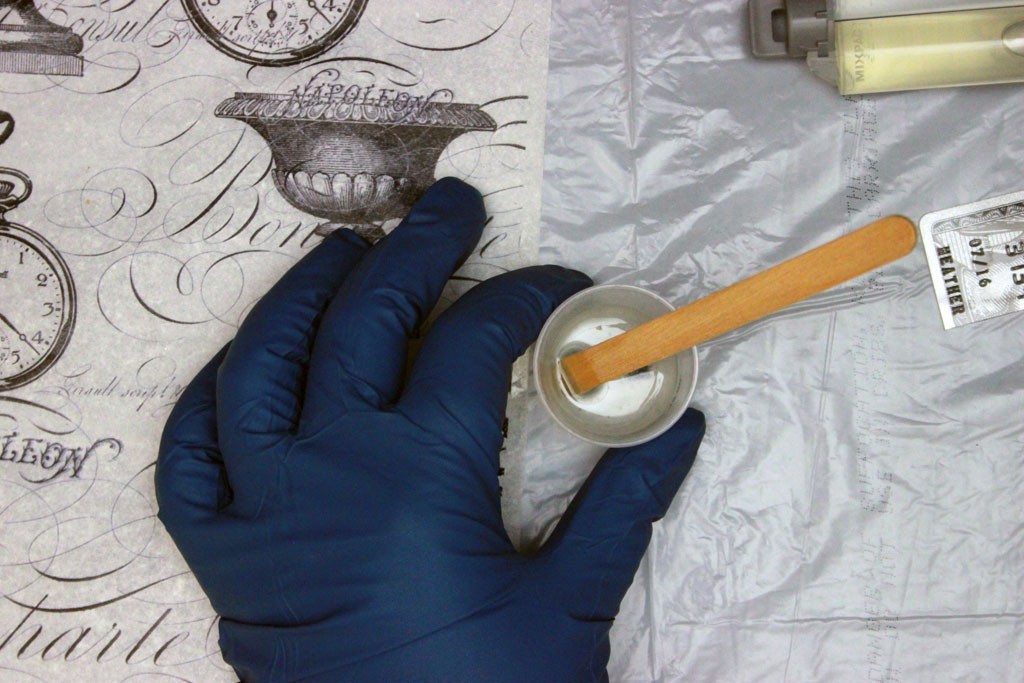 Allow the resin to rest for approximately five minutes, allowing any air bubbles to dissipate.
Pour your resin directly onto the surface of the paper, then carefully spread it with a credit card until the entire surface is coated: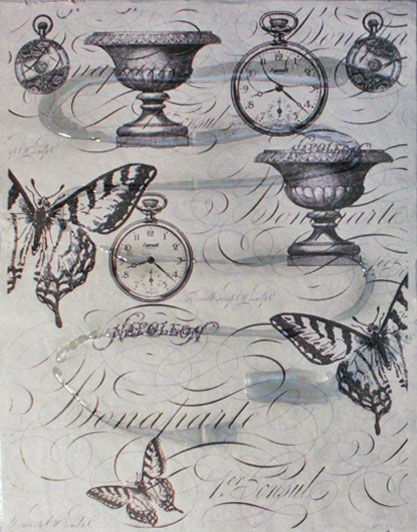 Now, the hard part: you have to WAIT!
I finished applying the resin at bedtime, and left it completely alone for 10 hours, and then all I did was transfer the whole work surface to a location where it could rest undisturbed.
It takes 3 days to fully cure, so put it out of harms way and go about your business.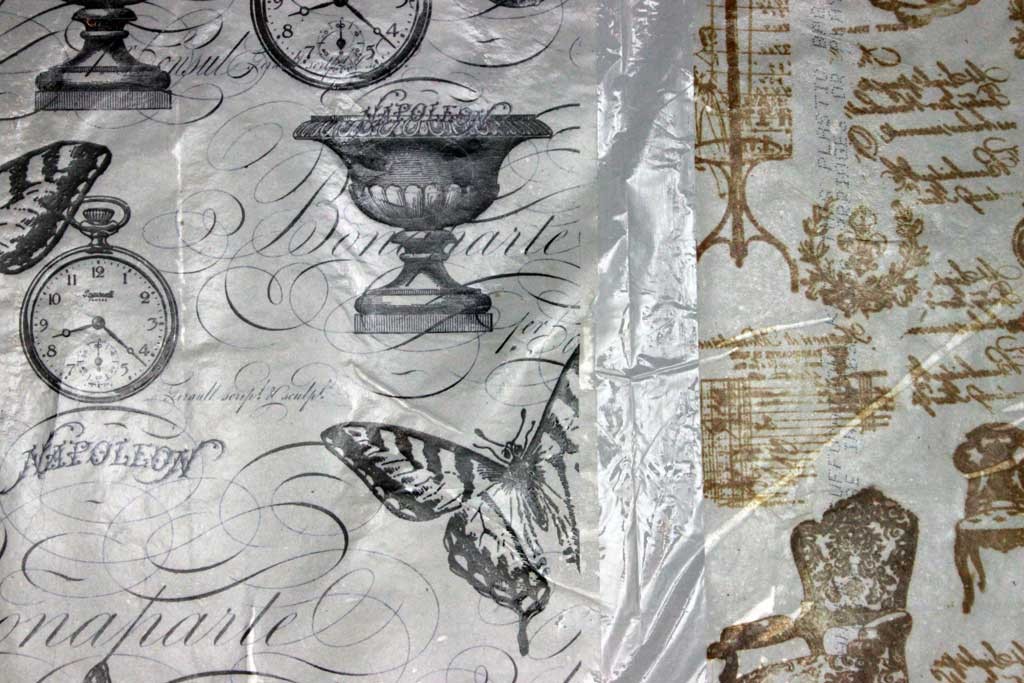 Once the resin has fully cured, use a sharp edge to gently pry one corner from the work surface: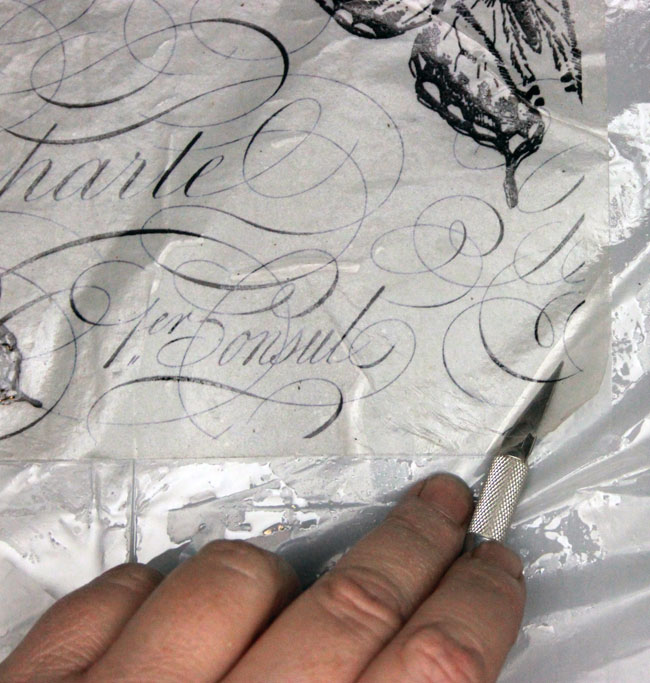 Once you have lifted a corner, carefully peel the entire sheet away:
I love how translucent the result is!
The paper has become much stronger than ordinary tissue, and it has an almost plastic feel: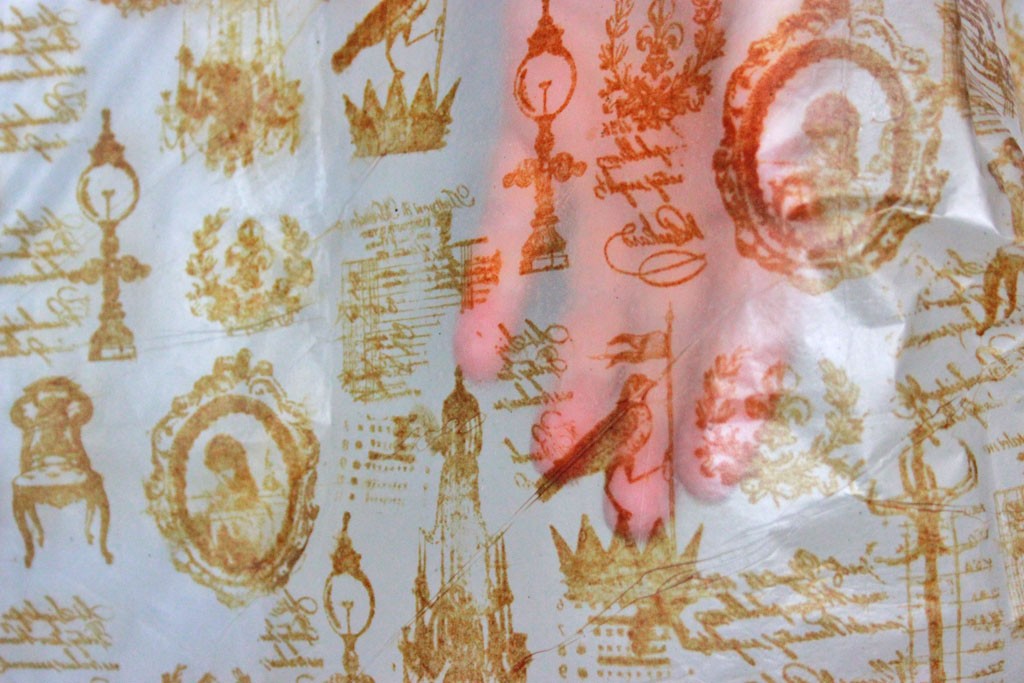 Here you can see the effect of both papers, one on top of the other: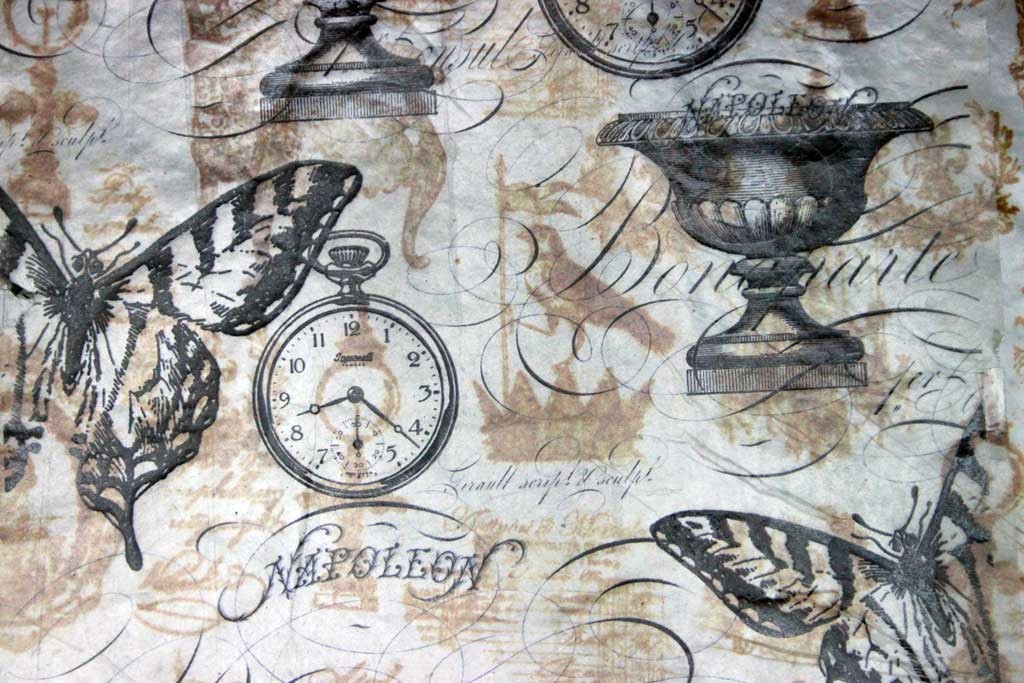 You're finished! Now, how will you use your super-cool Ice Resin Collage Paper?
Here's what I did with mine…the translucency of these papers made me curious about layering them over bold colors.
So, I grabbed a couple of 5" x 7" journals from the dollar store and I covered them with lovely papers from my stash.
This first one is covered with a Gelli Print, then a harlequin pattern was added in silver craft paint: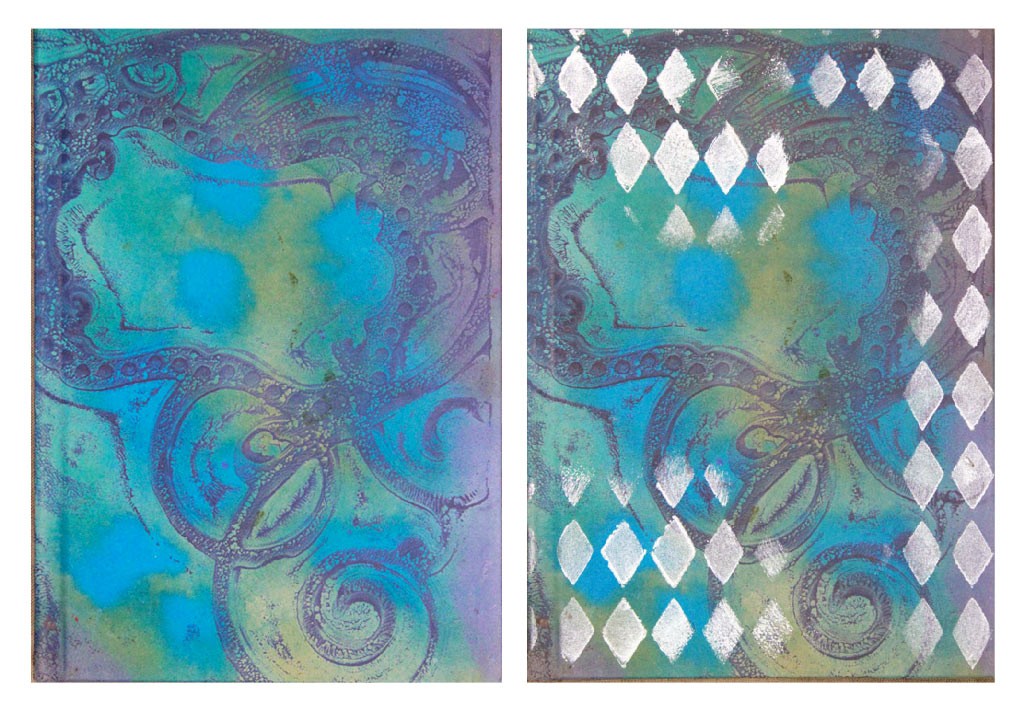 Cut a piece of tissue slightly larger than the surface of your project: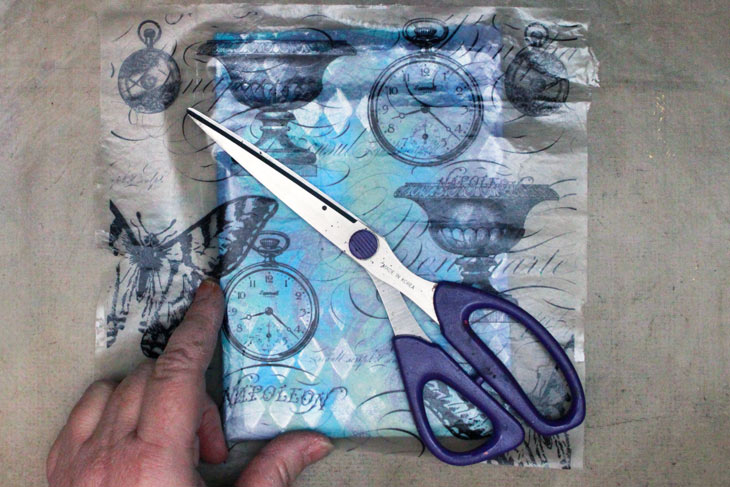 Spread a generous layer of Glossy Accents over the journal, taking care to cover every last bit!
The reason I chose Glossy Accents is it's remarkable clarity when cured – didn't want any glue haze to obscure my lovely layers.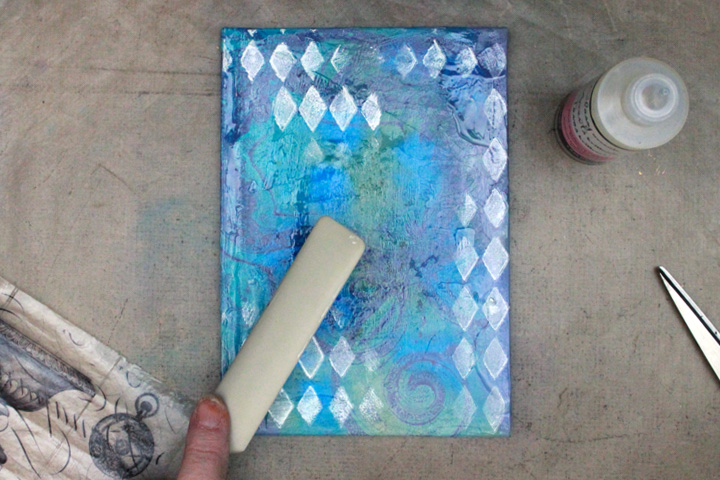 Place the tissue onto the wet adhesive and carefully smooth the surface with a Bondo Spreader, or similar: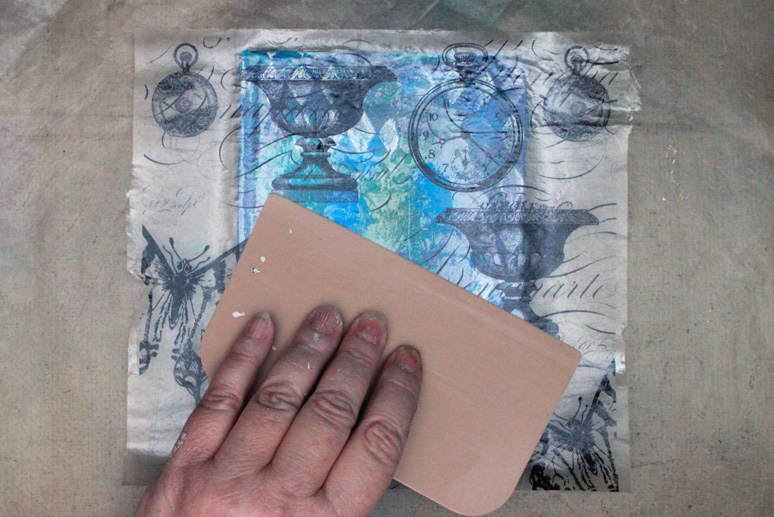 When the adhesive is dry, trim away the excess, then use an emery board to gently smooth away any tissue that overlaps the edges: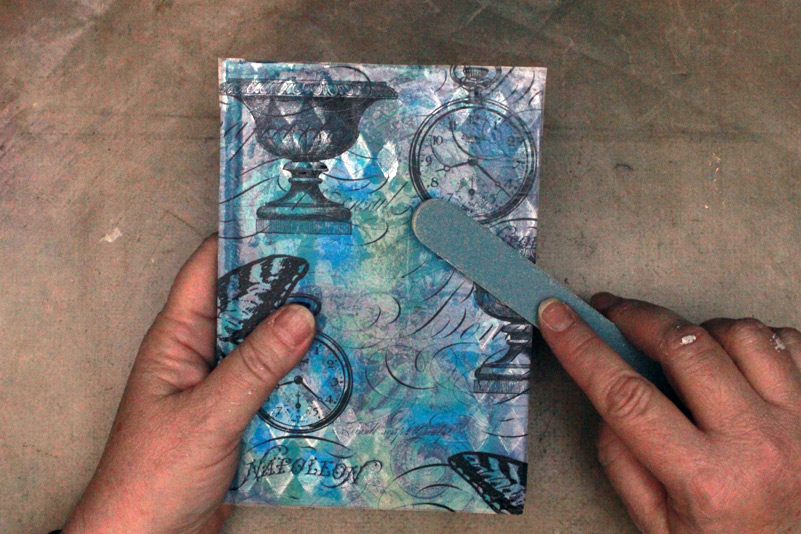 I love the way the colorful background and the metallic paint accents shine through the collage paper!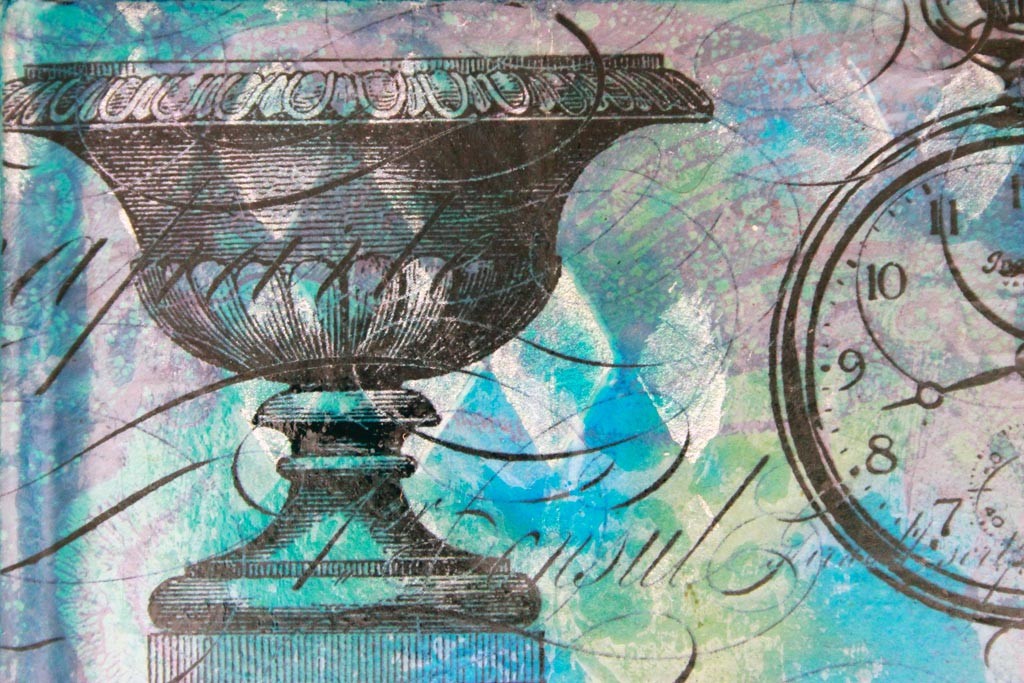 The second journal got covered in a sheet of paper that glows with DIY Spray Ink colors, then gold craft paint accents were added: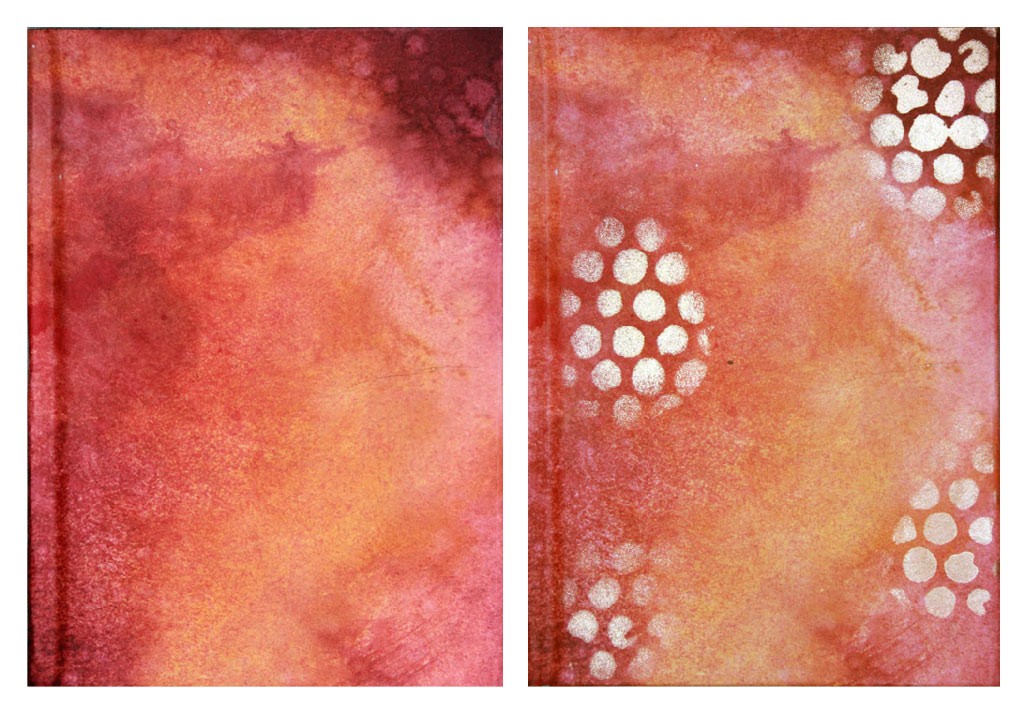 The tissue was applied, and the result is soft and dreamy: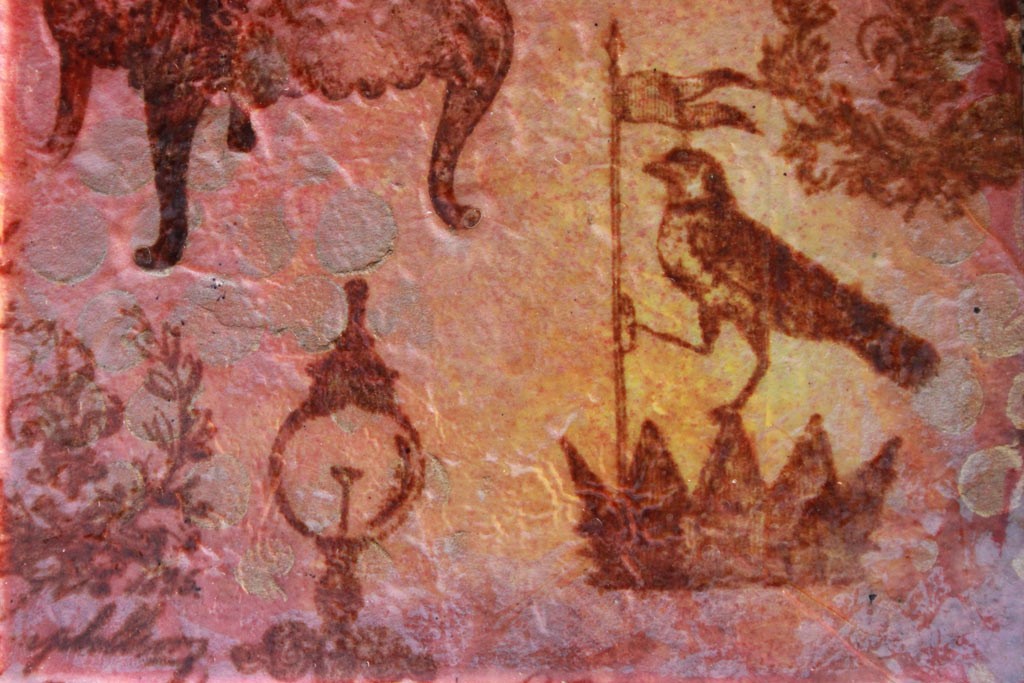 I'm so pleased with how these little books came out – they will make wonderful gifts!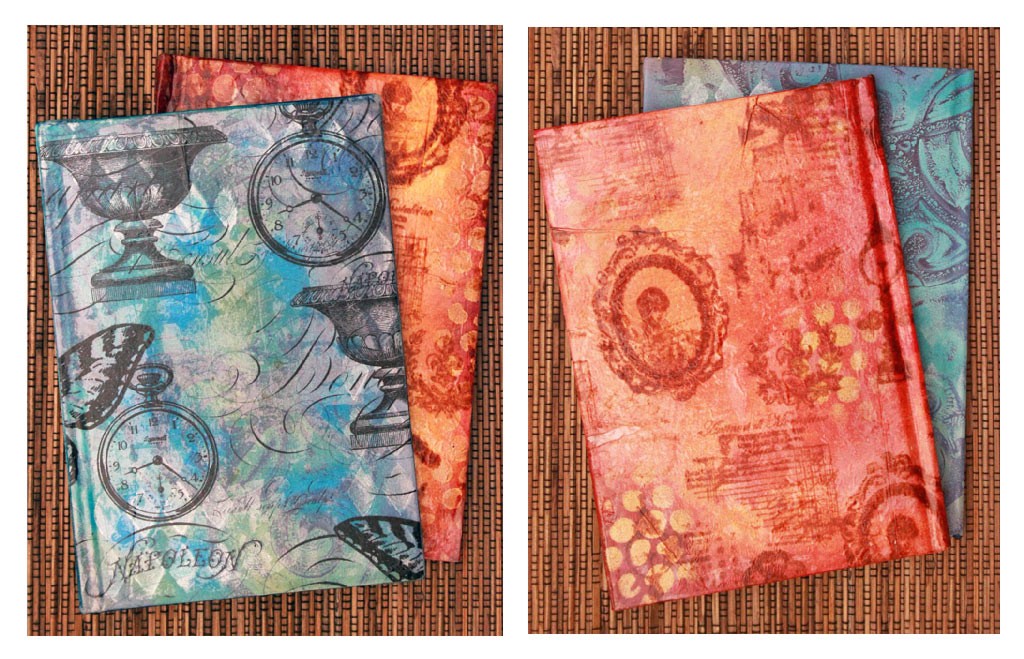 I can't wait to use Ice Resin Collage Paper in more projects!
Thanks for joining me today – it's always a pleasure to share the latest mayhem from Thicketworks!
Take Care,
Heather