Junk Journal Finishing and Binding
Our Summer Series: 'Vintage French Junk Journal' journey ends as we put some finishing touches on our pages, when we learn how to do Junk Journal finishing and binding. This lesson, we will bling and bind as we embellish and complete our pages and bind the signatures into a fat, chunky Travel Junk Journal. If you missed the first tutorials in this series, I recommend that you work through them before attempting this tutorial. You can find them here –>>>The Junk Journal Introductory Tutorial,  –>>>Page Layouts 1, –>>>Page Layouts 2,  –>>>Page Layouts 3, –>>>Page Layouts 4, –>>>Page Layouts 5, and –>>> Page Layouts 6.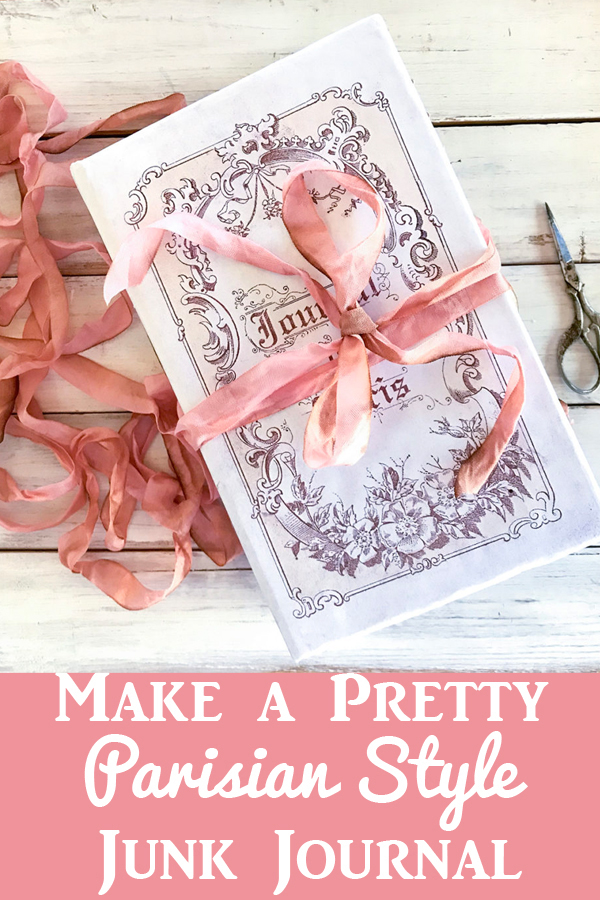 Our Journey
It has been my extreme joy to accompany you on this learning journey into the world of Junk Journals. Together we have grown our skills, learned about France, and created a personal treasure. I have heard from many of you who have found a new passion. As a teacher, it is my highest desire to open unexplored worlds for my students.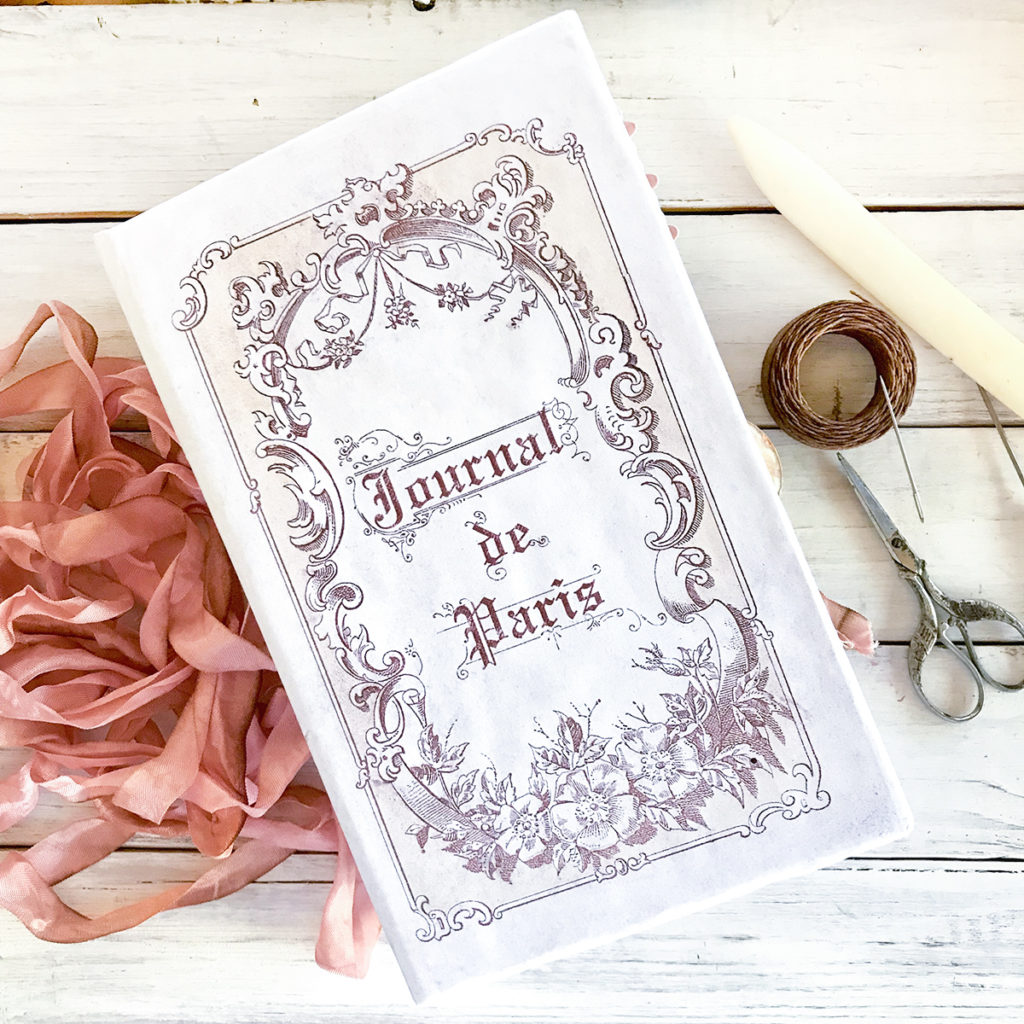 This Junk Journal Journey has helped me to open my eyes to the world around me. The overlooked bits and pieces of our daily life combined with found materials can be rich resources for inspiration. I hope you have learned to find beauty and meaning in things rescued from our everyday and saved from the landfills. If like me, you have a stash of creativity supplies, and I hope you have new ways to use them and crash the stash.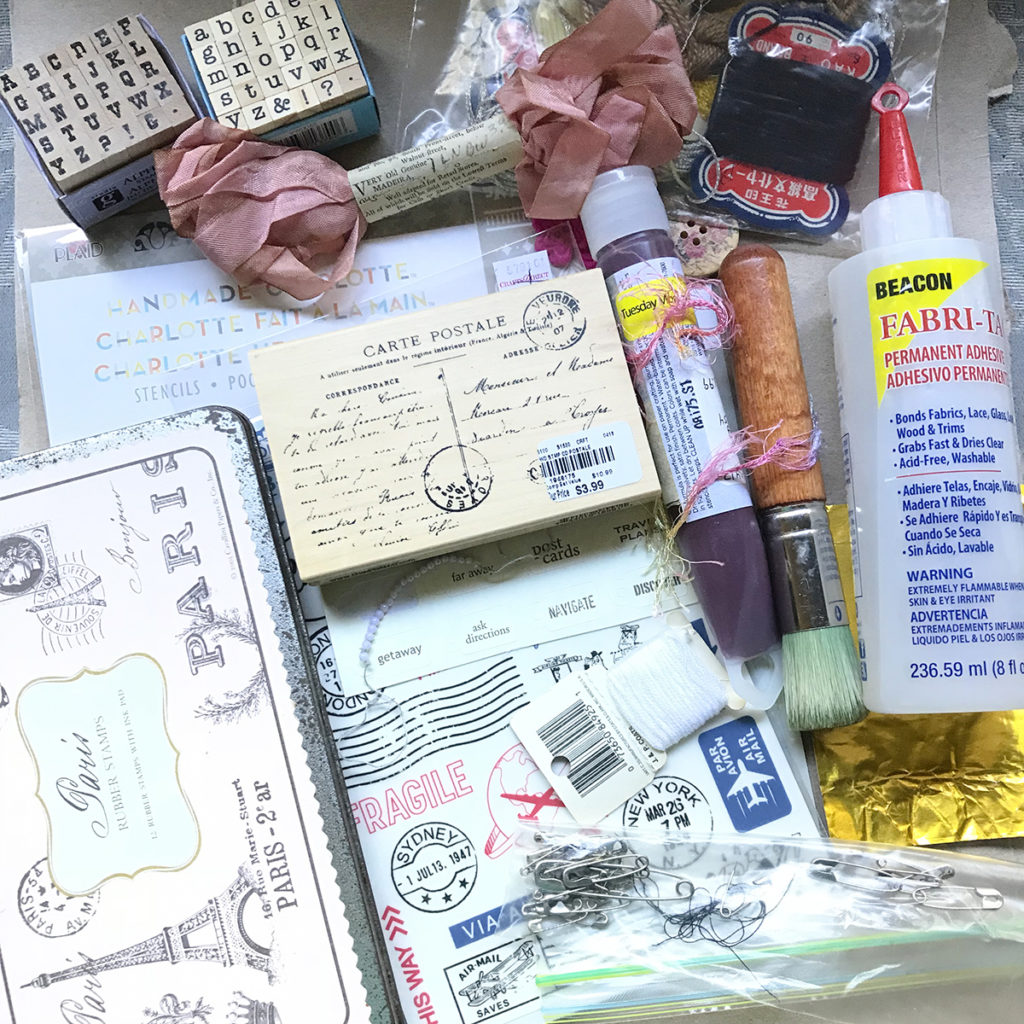 The colors and textures of domestic objects can reflect and/or direct the narrative. Formal or abstract qualities discovered in fabrics, paper, and mixed media all become part of this explorative process. Patterns and shapes are all around us. As I have said many times during this series, anything goes!
Techniques in this tutorial:
We are going to expand upon the 3-hole pamphlet binding skills you learned in Page Layouts 6. We will bind our three signatures using the 5-hole pamphlet binding method. It is a little more complex because we are sewing multiple signatures into a spine using more stitches. It creates a beautifully bound book that you will be proud of hopefully! 😉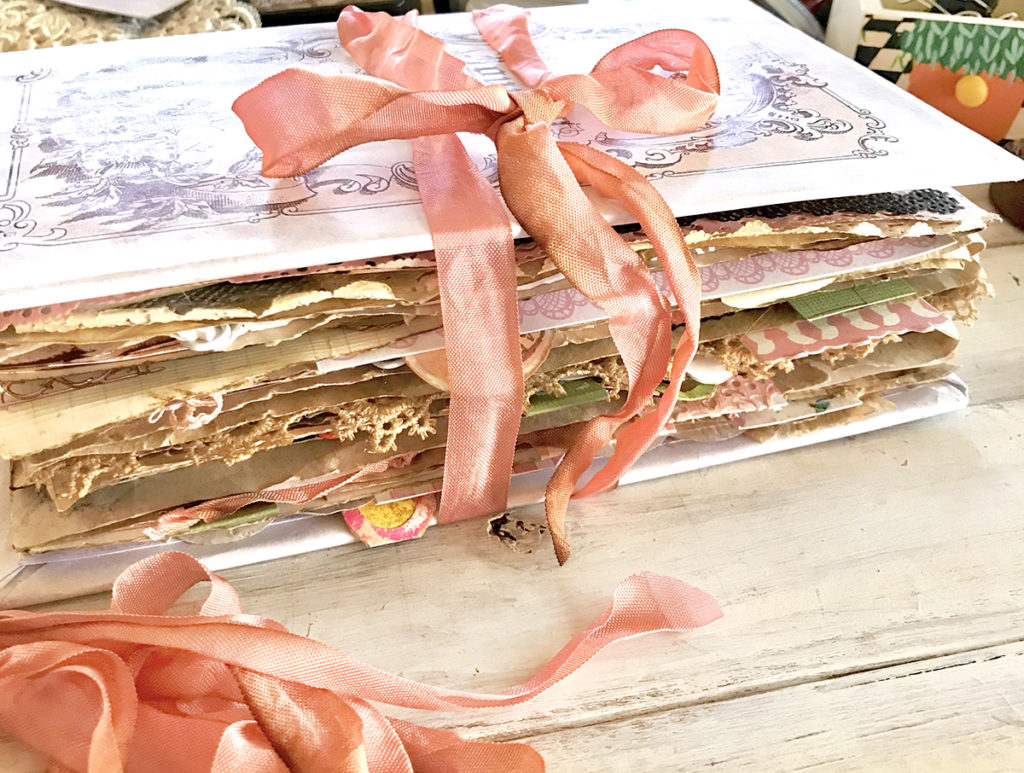 BASIC SUPPLIES
*This post contains affiliate links for your convenience.
In this tutorial we will be using the Basic Supplies from Page Layouts 1, plus found objects from our stash. I use Distress Ink Old Paper for aging pages and edges of almost everything, but sometimes I use other colors.
Below are some of The Graphics Fairy images I found for your cover and endpapers. Of course, you can select from the vast archives and from The Premium Site if you are a member. The frame and crown one is approximately 4″X6″ and could be used as a bookplate or cover design.
Printable
To make things easier for you, I created a Journal de Paris Cover Printable as my gift to you. It has my cover and back cover with endpapers, along with some other cover options. I included reversed images so you can transfer them to fabric if you like. There is a page of crowns to use any way you like and hole punching templates for the spine and the signatures. You can print them at smaller sizes if you prefer.

In addition, this time I use old stickers, leftover paper, cardstock, lace edging and ribbon, rubber stamps, and beads and baubles. Create yours with thoughtfulness. 🙂 Please feel free to use different images that suit your style more closely. Anything goes in this series.
SUPPLY LIST
Hardbound book cover (deconstructed with text block removed)
Papers for Covers and endpapers (see printable below)
Tyvek (I use old mailing envelopes FedEx and some USPS) or other tear resistant material
Fabri-Fix Glue
Craft Knife
32lb Paper for cover and endpaper printing
Bookmakers Awl or large needle to punch holes
Waxed Thread for Bookbinding w/Needles (can use round dental floss, not the tape kind)
5-Hole Pamphlet Binding Method
I hope you will love this binding stitch as much as I do. It is more stable than the 3-Hole Pamphlet stitch used on small, one signature booklets. If you have ever seen a book skew or wobble when opened, the binding method is probably wrong. This 5-Hole method eliminates that wobble and gives us a sturdy structure. The odd number of holes makes for a better book.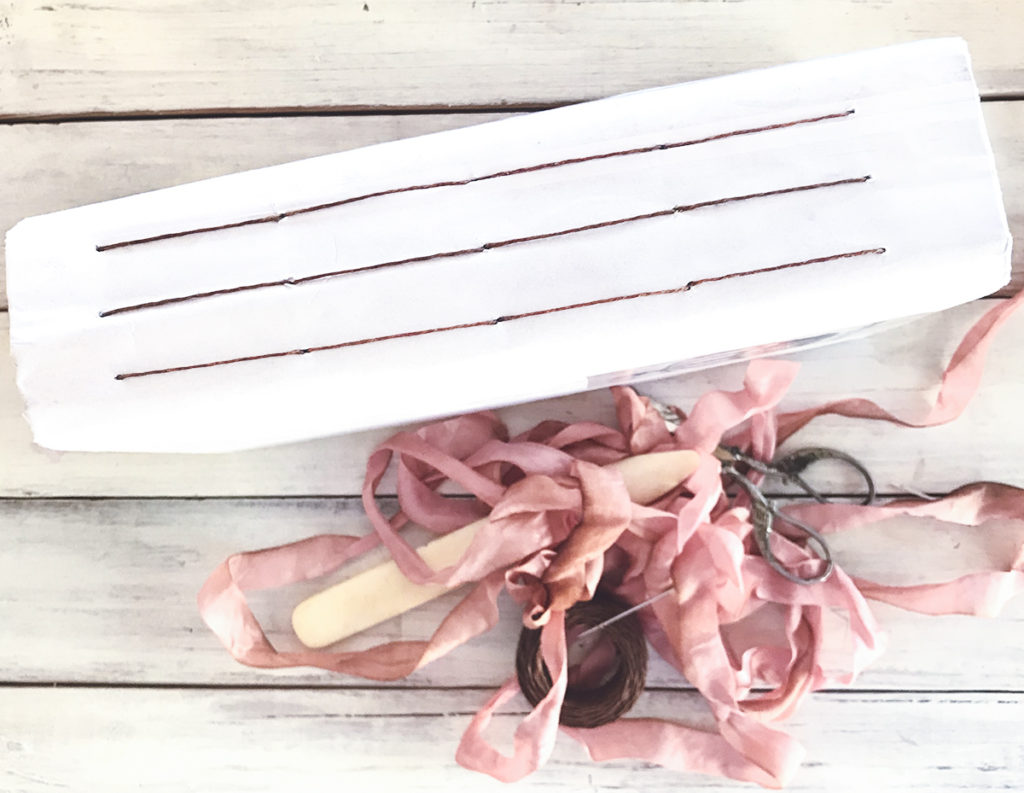 You are going to amaze yourself when you are finished with this tutorial. I promise. We gutted the book in The Junk Journal Introductory Tutorial. First we need to remove the spine from the covers by slicing them with a craft knife. Lay the empty book cover flat on your work table covered by a cutting mat. Mine is glass.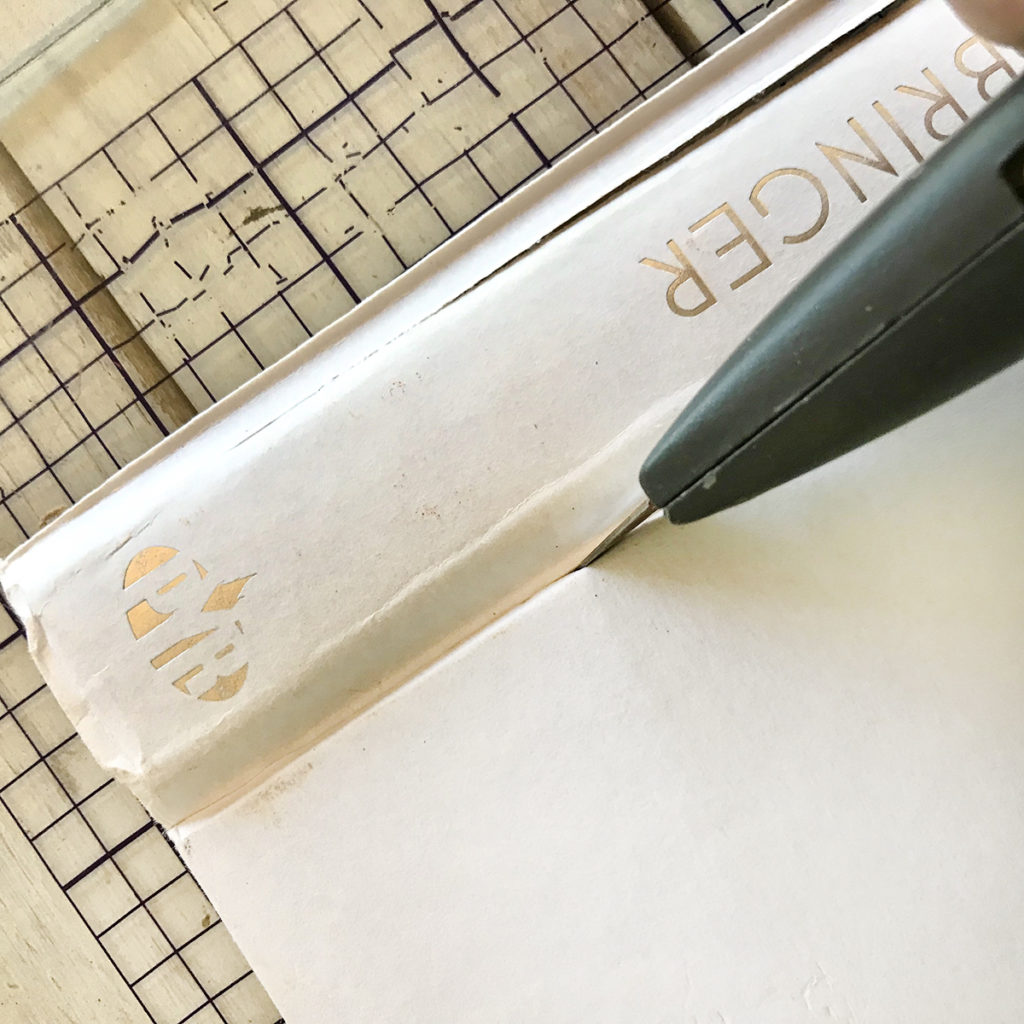 TIP: Place the book with the inside down and slice close to the book board. It is easier to see where the board ends. Go slow. You do not need to press hard with a craft knife. That can get you cutting not so straight or worse, cutting a finger. OUCH! It takes several passes to separate the covers from the spine. Just be patient. When finished, put the pieces aside.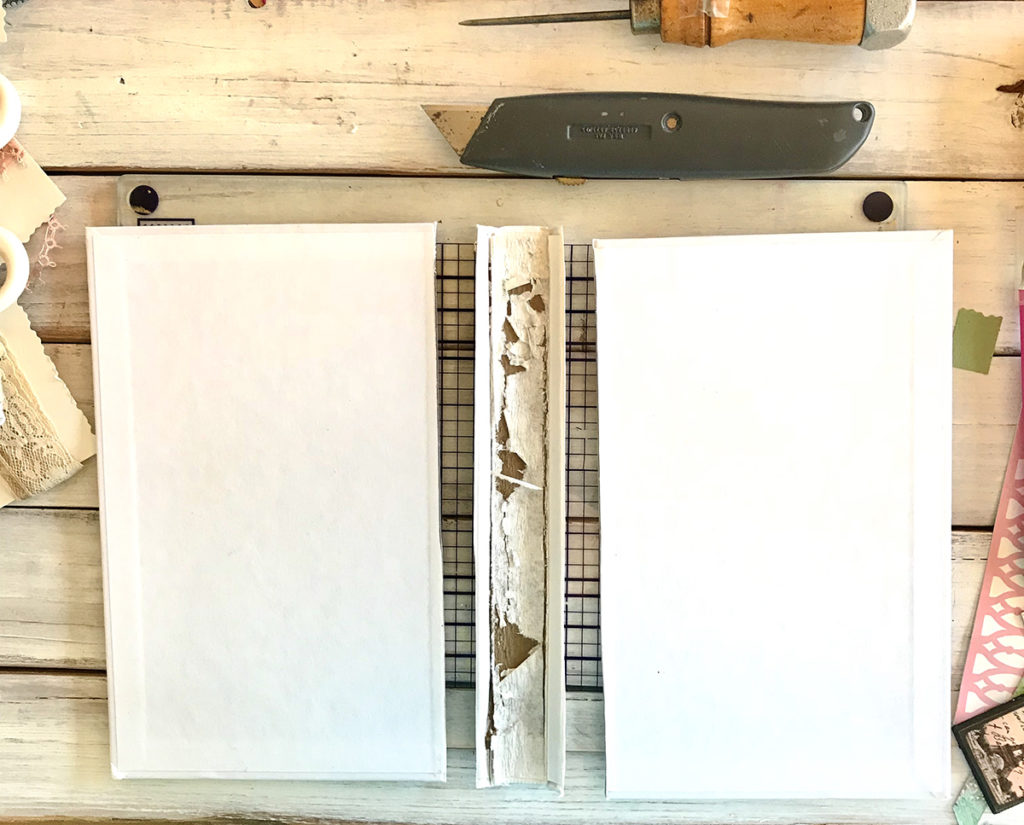 Measuring UGH!
Yes…we have some measuring to do. Stack your three signatures and measure the height of the backs (the part that will be sown). My signatures measure 2-1/2 inches.
Measure the height of your cover. Mine is 9 inches. My signatures measure 2-1/2 inches. Width: Cut two strips of Tyvek the width of your spine plus 3 inches. Mine is 5-1/2 inches. Height: Cut one piece the height of your spine plus 2 inches. Mine is 11 inches. Trim the second piece to the height of your book. Mine is 9 inches.
TIP: Do not squish them. Lay them and measure without touching them.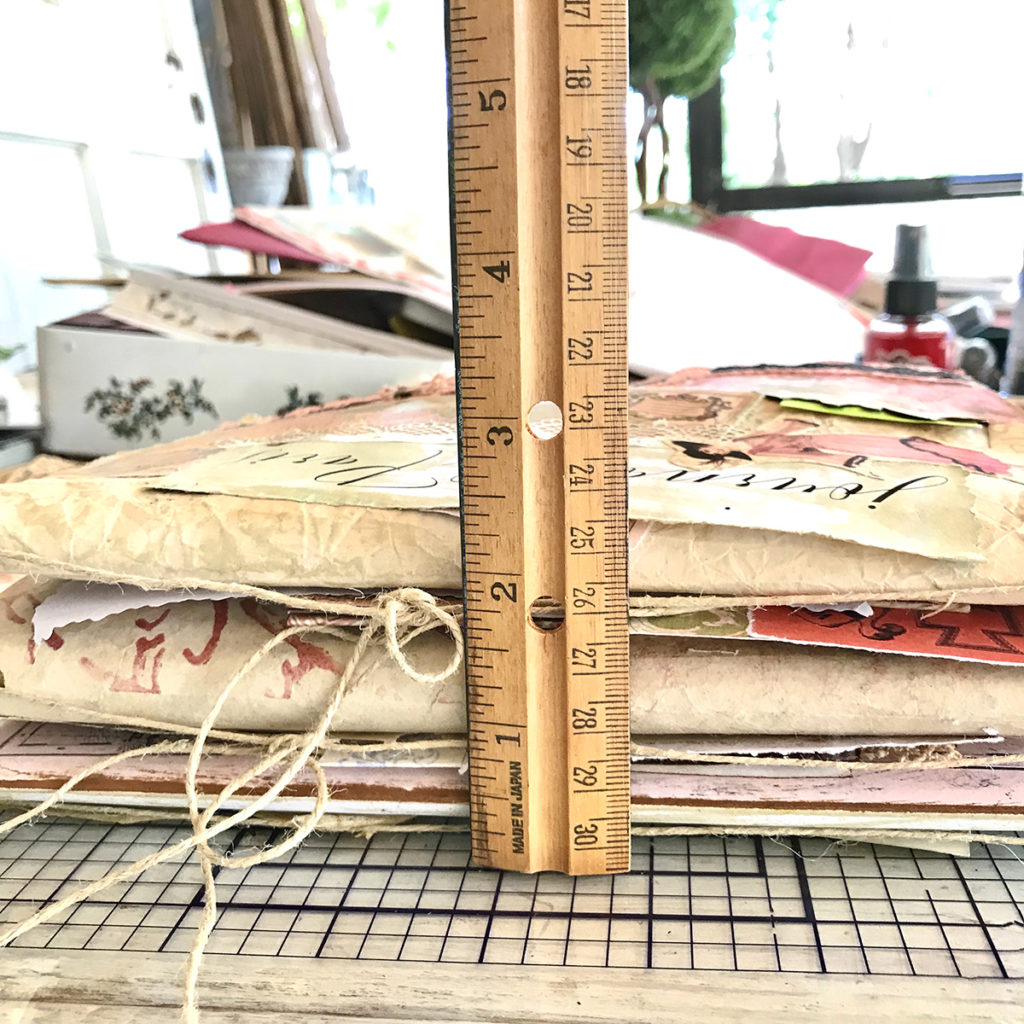 Dry Fitting
I believe in dry fitting every part of your book before you glue. My motto: fit twice, glue once.
Cut  and Glue Tyvek
Glue the shorter piece of Tyvek to the inside of your book, leaving the distance of your signature stack we figured above without glue. My space is 2-1/2 inches. The glue goes only on the cover area, not the entire piece of Tyvek. Burnish it to the cover with a bone folder, spoon, or the handle of your scissors.
Glue the longer Tyvek strip to the outside covers, leaving the same distance unglued. Center it with equal pieces overhanging the top and bottom on the spine. HINT: Make sure that the bottom edges are level with each other.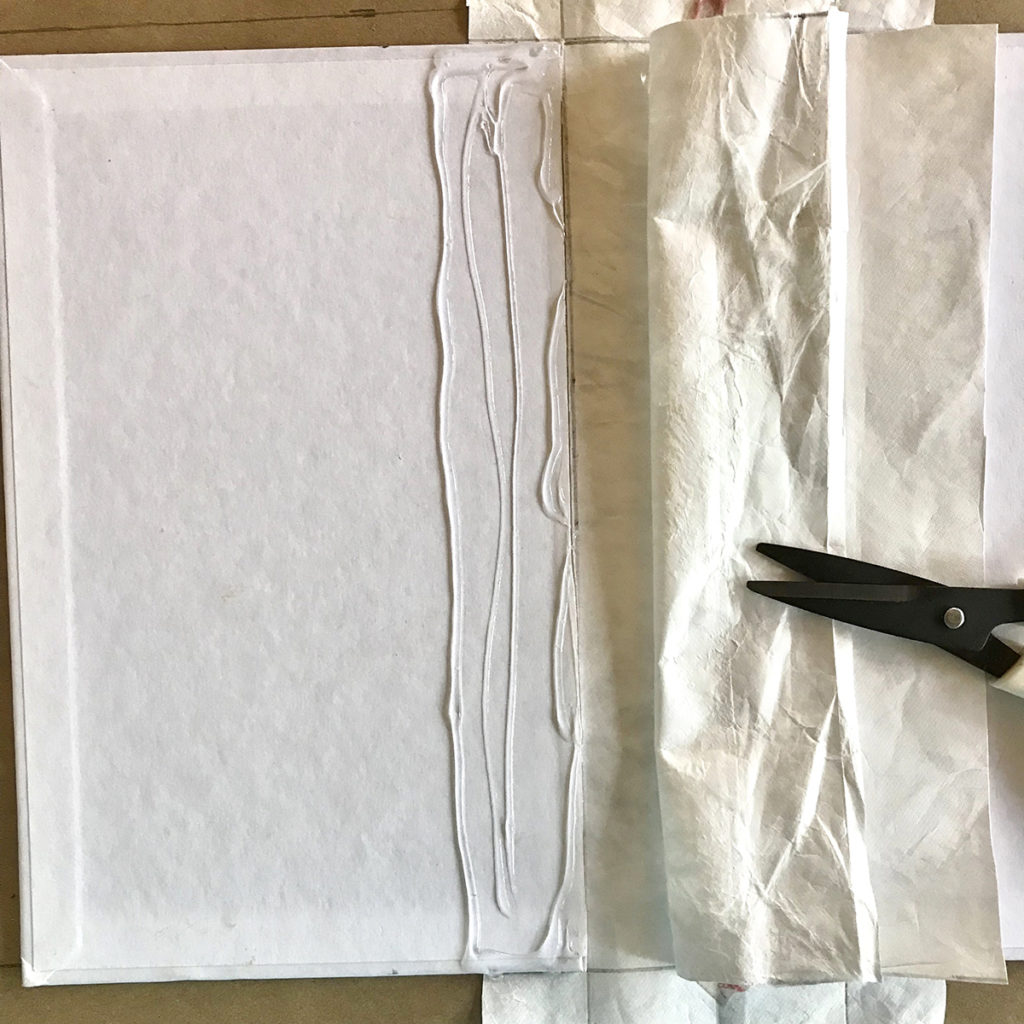 HINT: If you have some glue seepage, you can use a pencil eraser to remove it once it solidifies. Easy peasy!!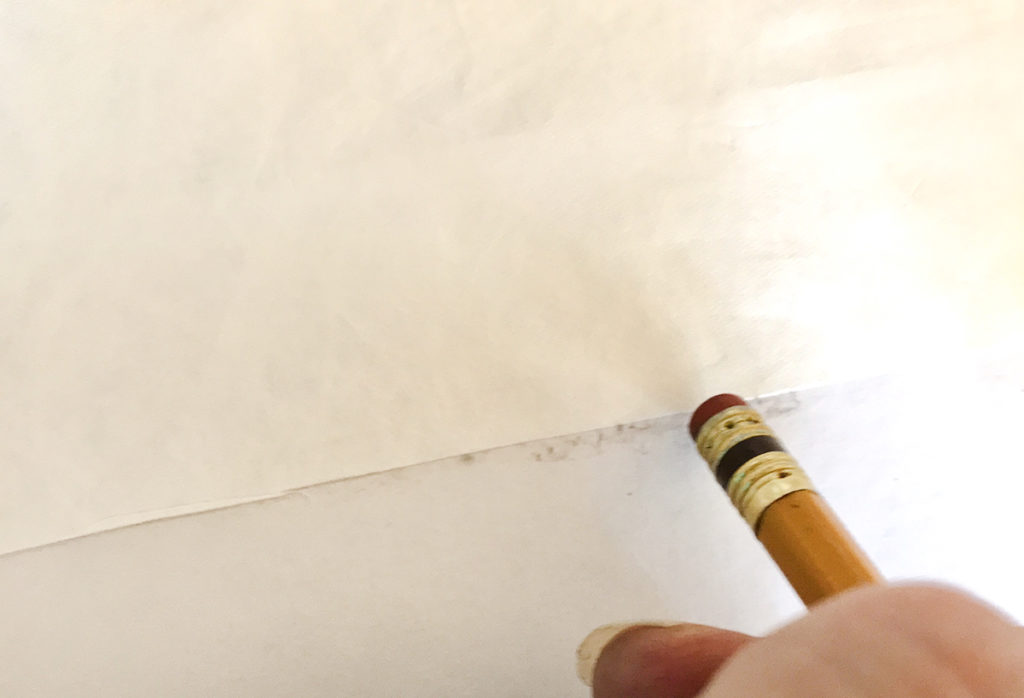 Check to ensure that the signatures fit by placing them inside the book.
Wrap the excess Tyvek at the top and bottom and glue.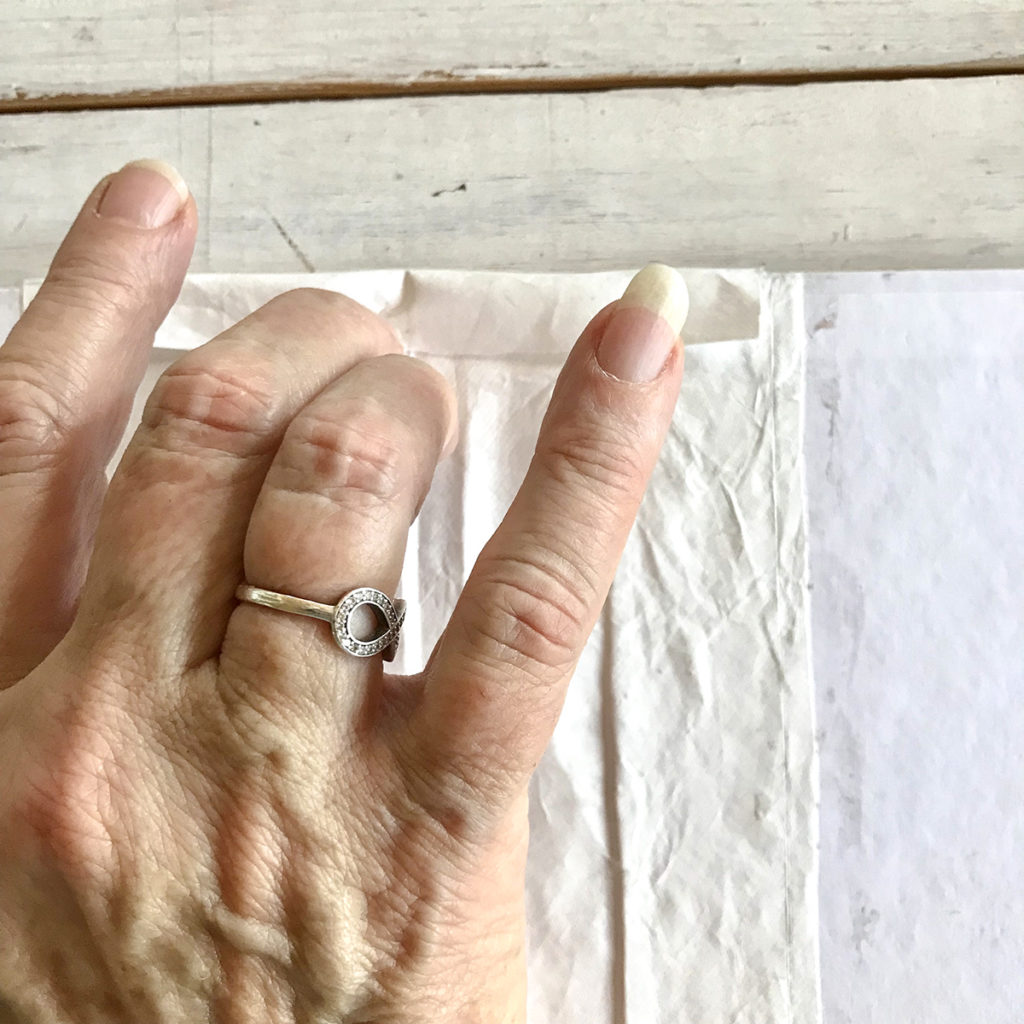 TIP: I found it easier to explain the process using a template made from a Staples paper bag. You can use some craft paper or any brown paper bag. I folded the paper in half to find the center. I measured 1-1/4 inch from the center in both directions and drew a line on each side. Once I had those parallel lines, I laid the covers along the lines and traced around the edges.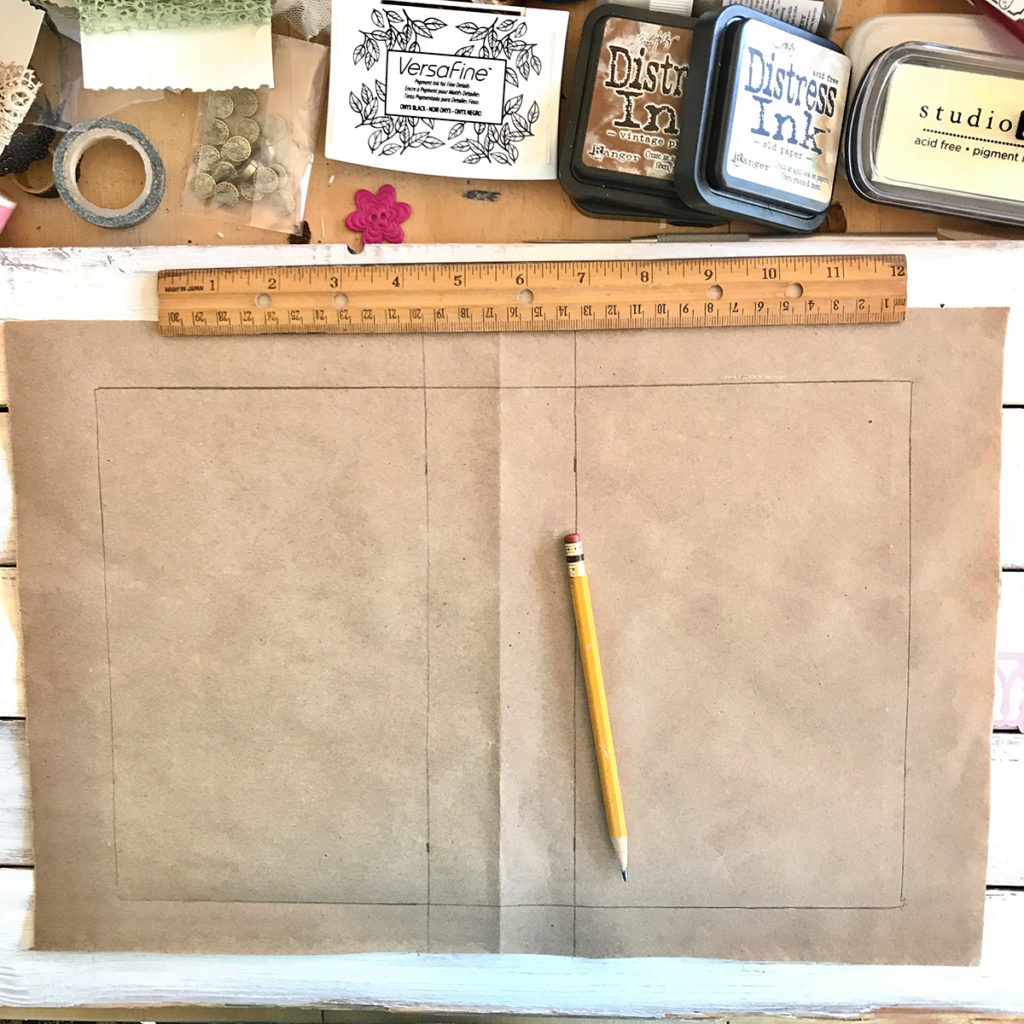 After you glue, place the three signatures inside the covers and check that they fit nicely inside. You can make changes easier now than later.
Cover
Dry fit the cover to the boards. This will take a lot of placing and turning the cover over before you make permanent creases. TIP: I fold them around to the inside, then flip it over to make sure the front cover is right where I want it. This takes a little patience to get it centered well. Take your time and make sure the image is where you want it before you glue!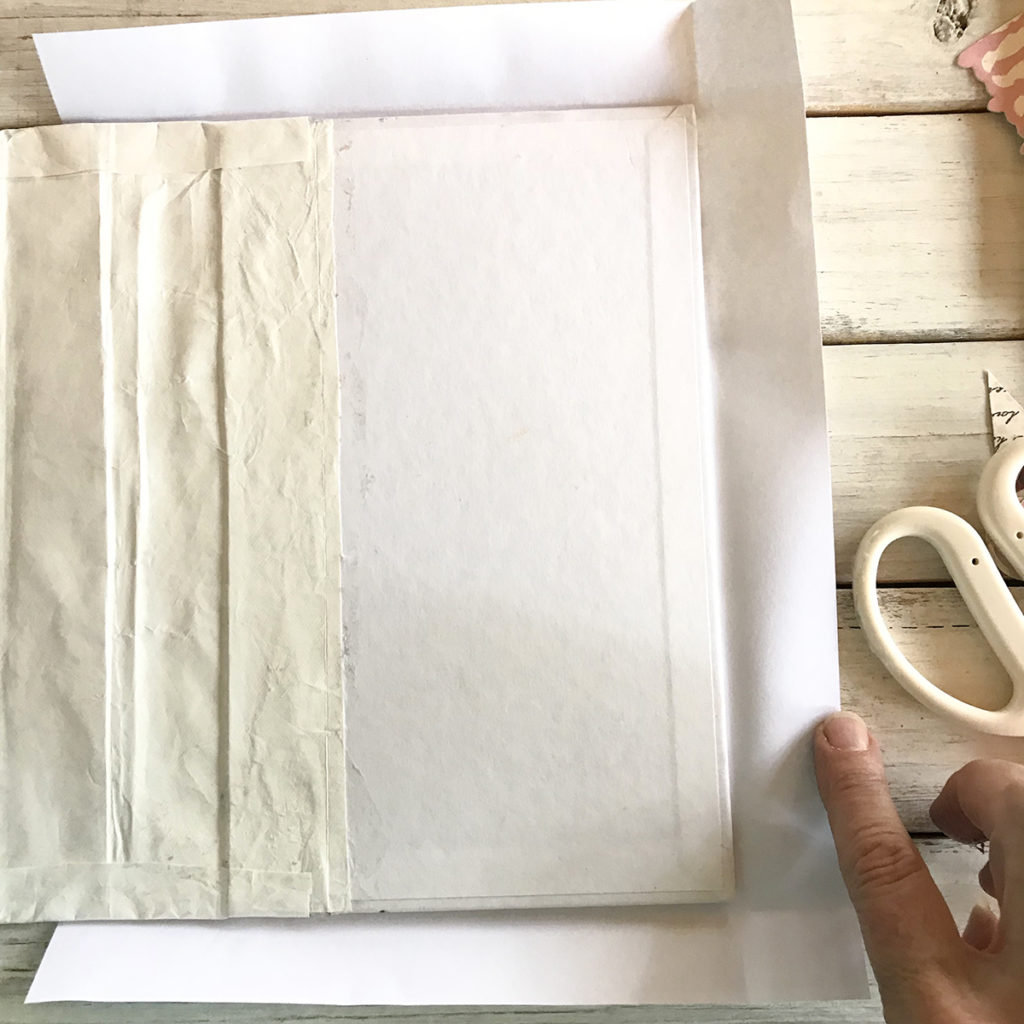 Glue Paper to Cover
Spread glue evenly over the front cover and spine. I use a craft stick. Work quickly as glue dries pretty fast. Position paper over board and smooth it into place lightly with your hand. When happy with placement, burnish lightly. Sharing that I am still unsure if I like this Fabri-Tac glue. I have used a creamer paste adhesive in the past. The downside is that it takes hours to dry, making the process of gluing take days instead of hours. UPDATE: I used the wrong glue for my book. I used Fabri-Tac instead of Fabri-Fix. Do not use Fabri-Tac!!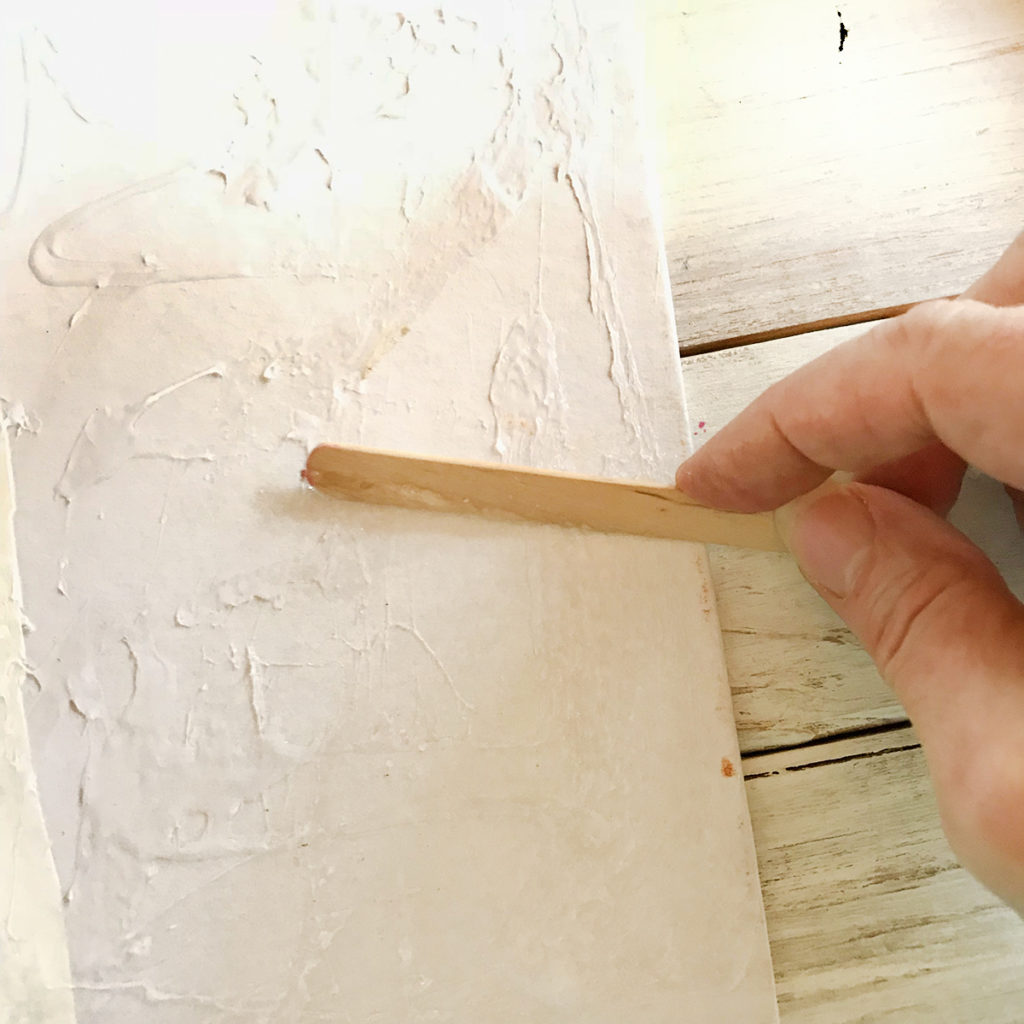 TIP: Do not burnish by pushing down hard on the paper. The paper can tear. I printed mine of 32 pound paper. If you use regular 20 pound copy paper, be very careful!!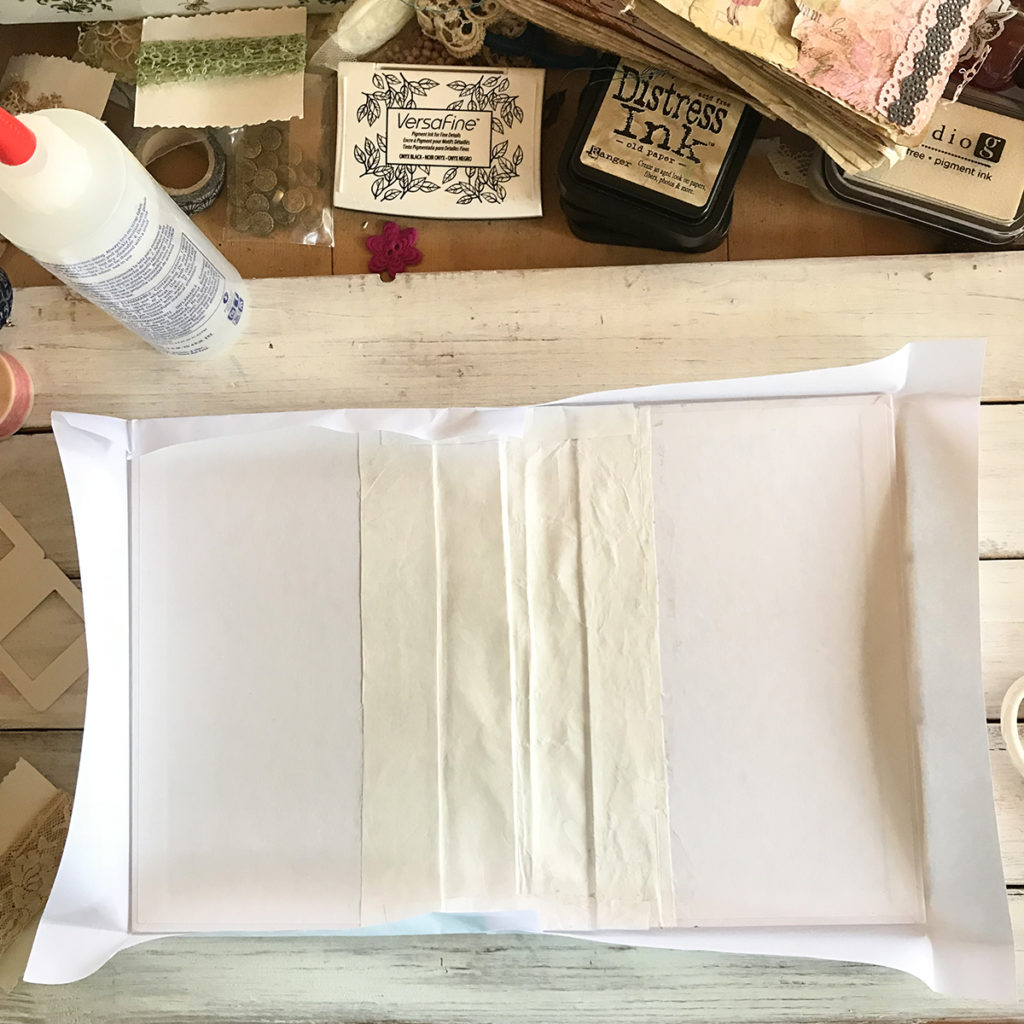 Mitred Corners
Fold the corners as shown below. Glue.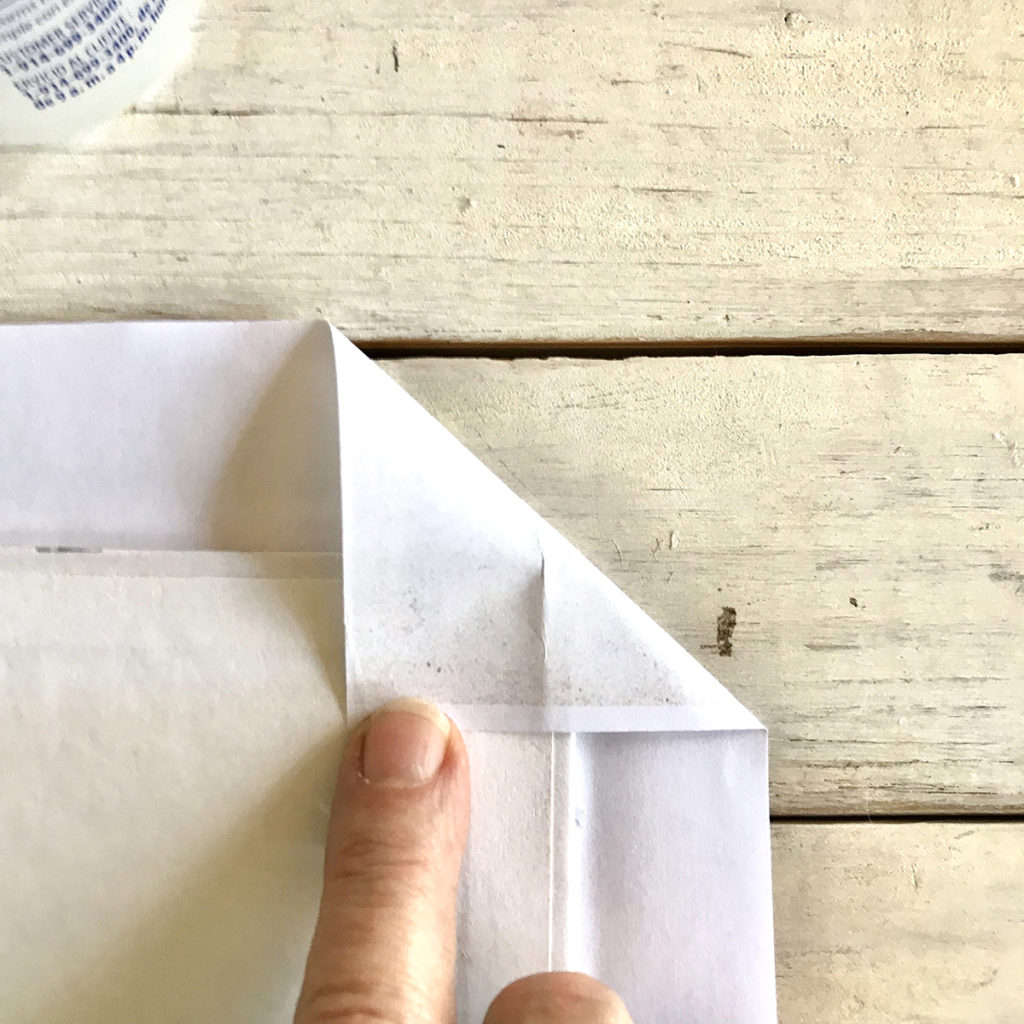 Fold and Glue Edges
Once all corners are glued, fold the edges over and glue the paper onto the book.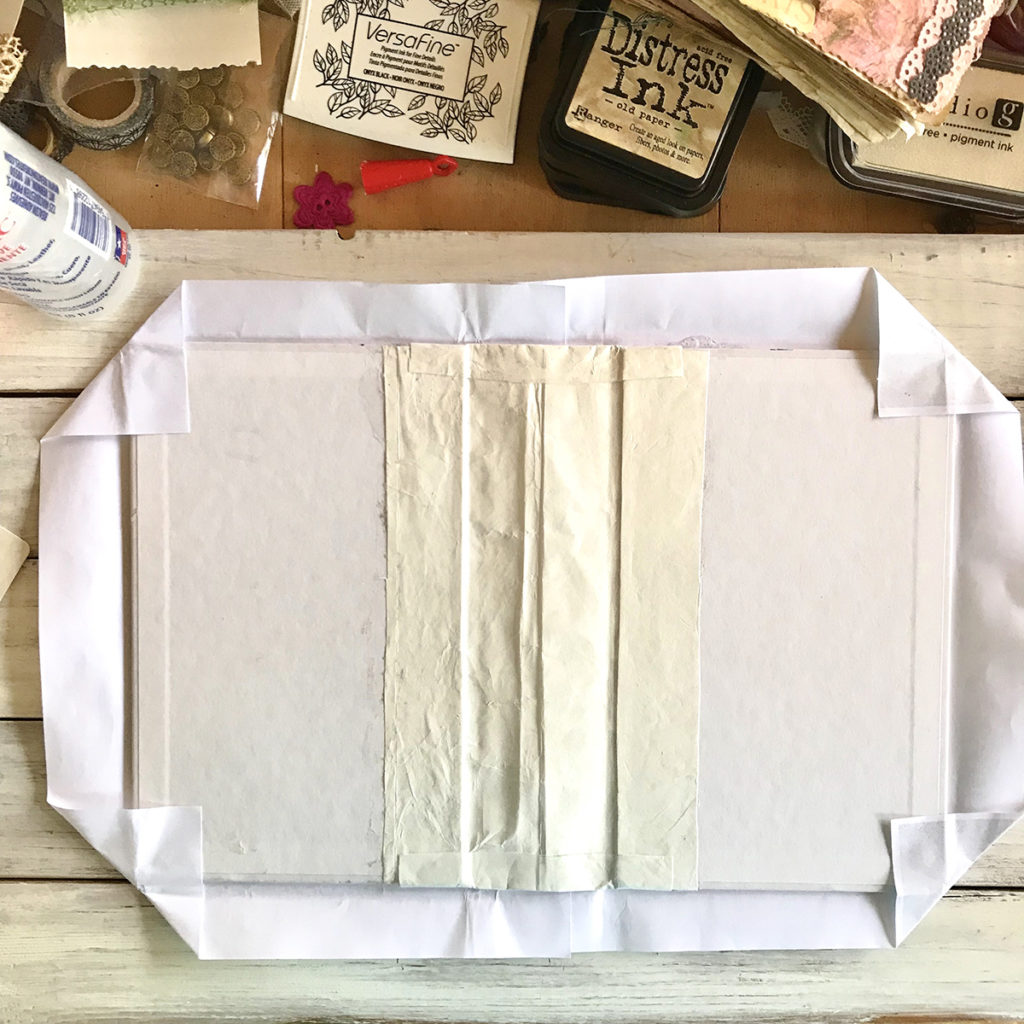 I am sorry that I didn't have one large piece of paper. It would have made the process much easier. I don't have a printer that does 11″X17″ paper, so I had to piece these two sheets together. It worked well enough, but I wanted to be transparent and open with you. 🙂
Glue Endpapers
Well, I learned the hard way that I should have printed two pages of endpaper. NOTE: Please print two pages of your chosen endpaper so you will have room to cover well. I had to cut my one sheet in half and make due. It would be much better to have the sheets extend all the way across the spine and closer to the edges than mine do. Live and learn. Position your papers so they cross the spine and glue. The paper gives more stability to the soft Tyvek spine. 🙂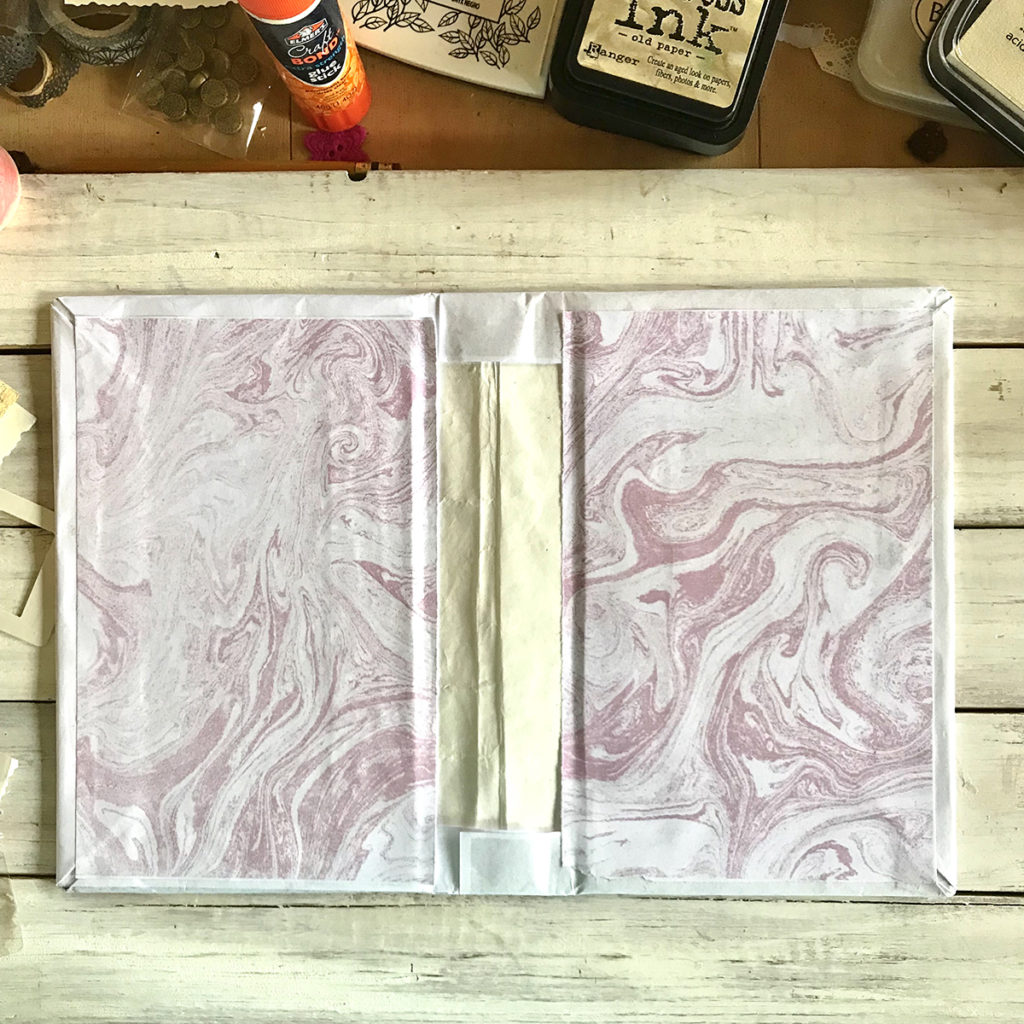 Make sure to fit the inner pieces into the Tyvek spine and glue them in place. Mine are shorter than yours will be.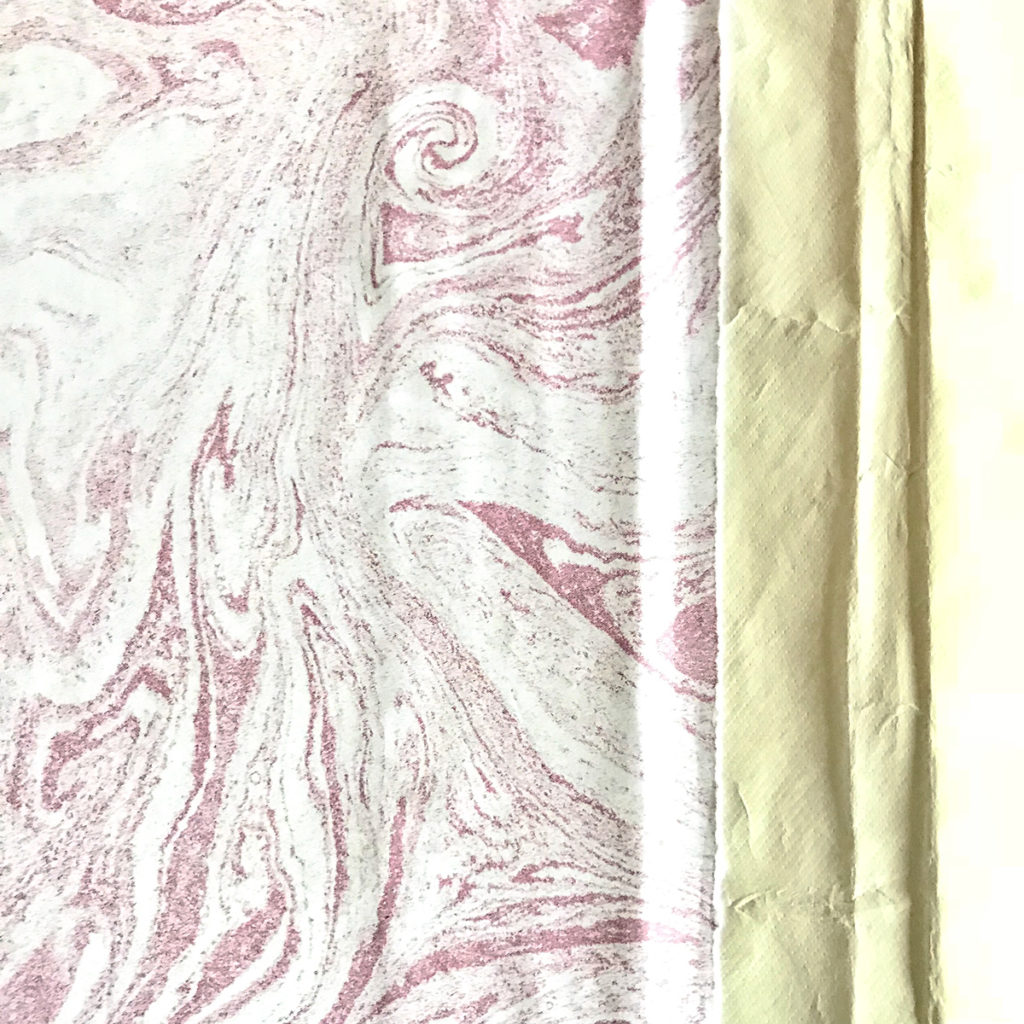 Finishing Touch
I love to round my book corners. I use a bone folder to gently tap them into a rounded shape. It is an old bookbinders tip that I learned years ago. I prefer them. If you do not have a bone folder, a butter knife will work. Remember, this is gentle tapping!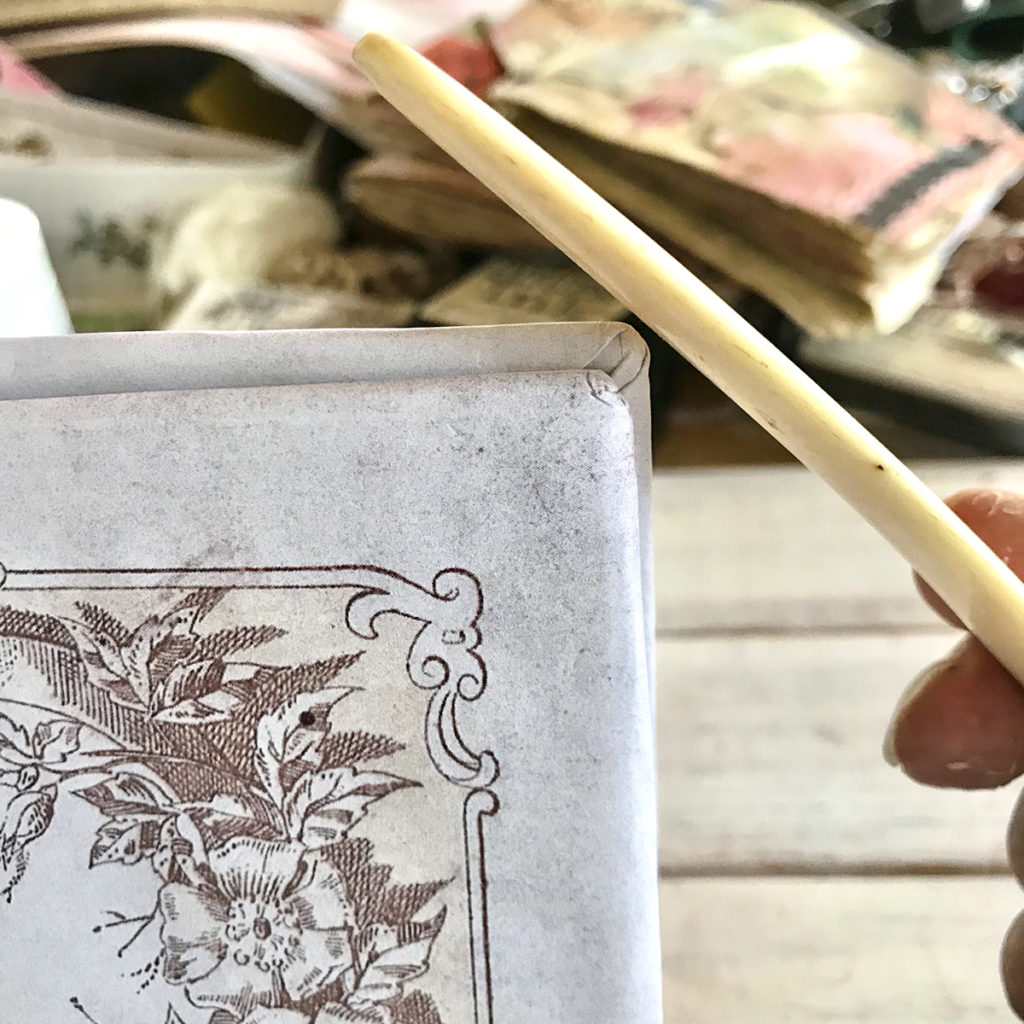 5-Hole Pamphlet Binding Method
I like to use a piece of cardstock for my hole punching template. I have included templates for a 9 inch spine in the printable. If your cover is another size, you will need to measure and create a template. Here are the guidelines: Fold template in half both directions. The center lengthwise is your middle hole. Leave at least 1 inch at top and bottom for holes. Make two more holes in between the top and bottom holes equidistant from middle and top.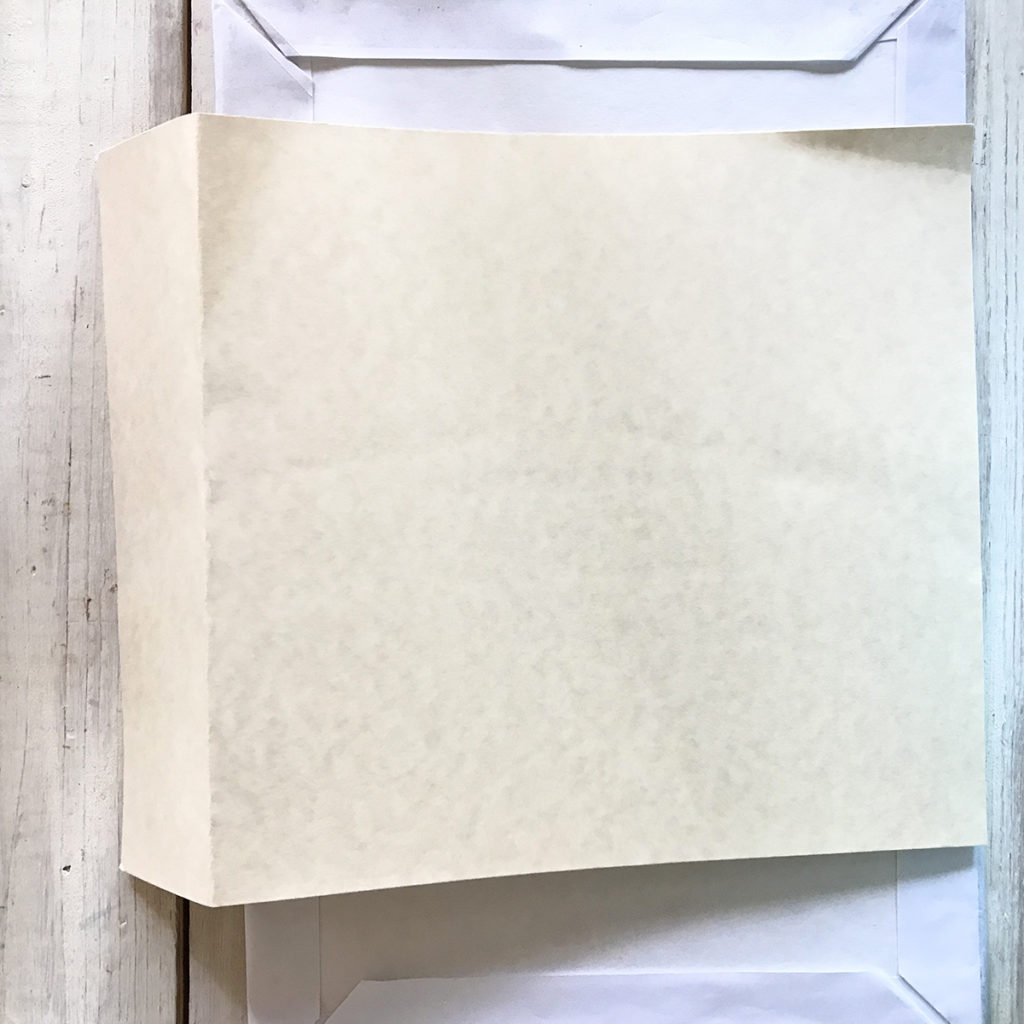 Punch Holes
TIP: I punch into a double layer of cardboard to protect my surfaces.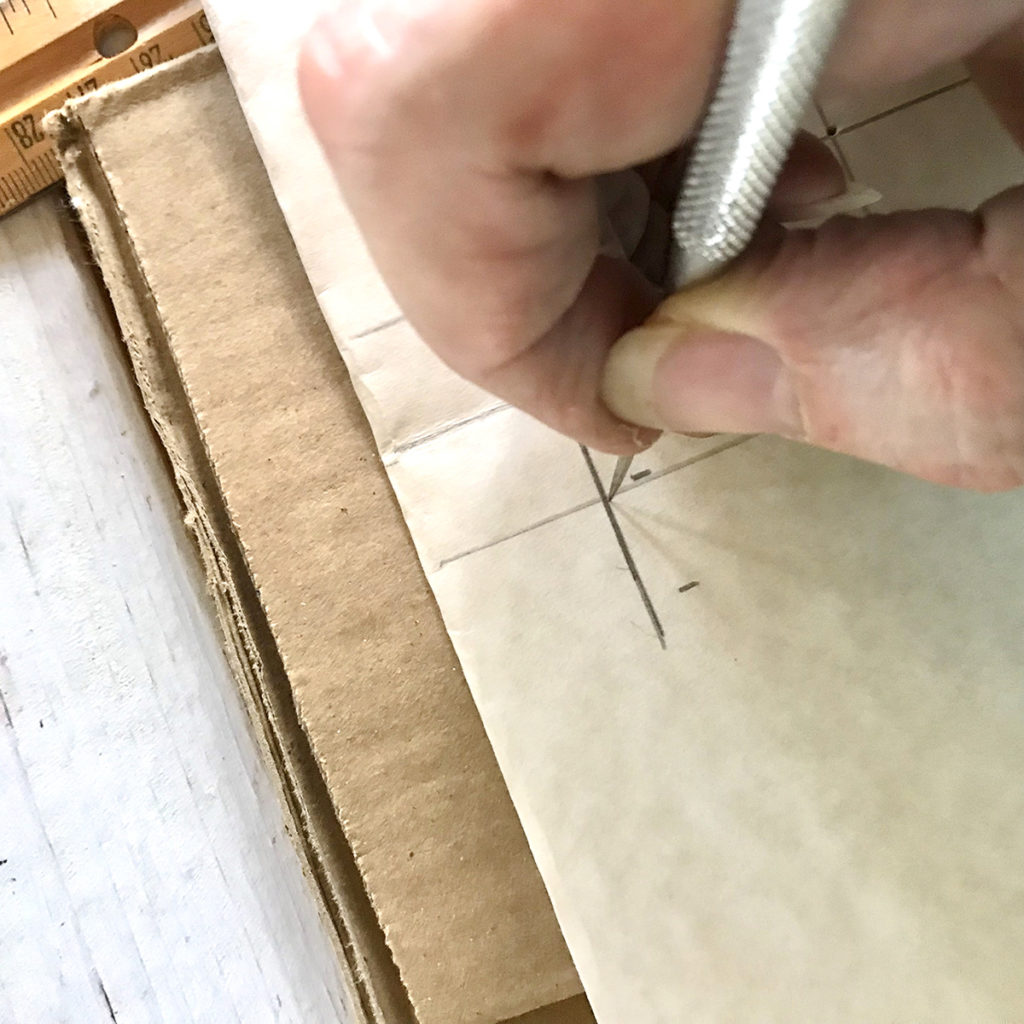 Using the Signature Template punch holes in each signature. TIP: Do not be in a hurry with this either. If your holes are off, your entire book will be wonky. Make sure the holes are in the same place in each signature.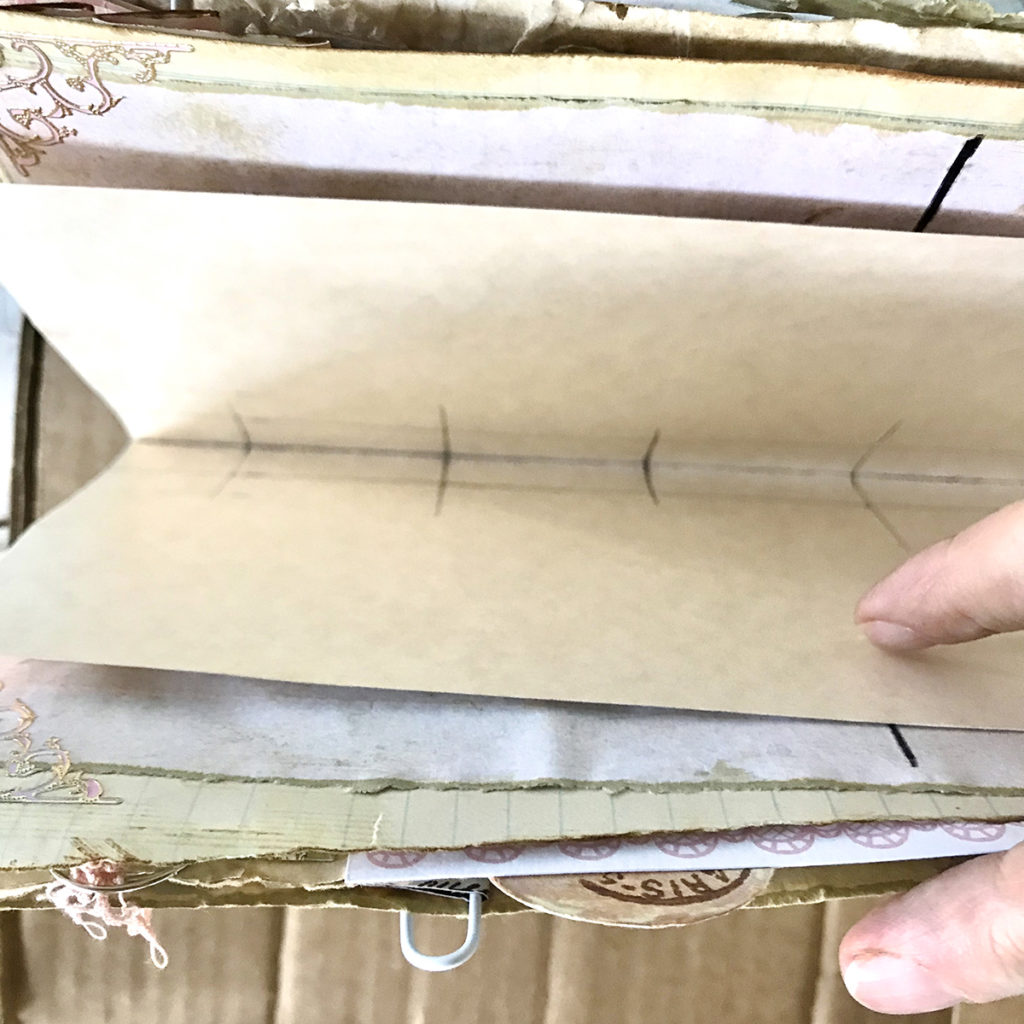 Using the Cover Template, punch three rows of holes in the spine. You can see my handmade template below. If your book is a different size, you will need to make one of these for yourself. The guidelines for placement are in the first paragraph of this section.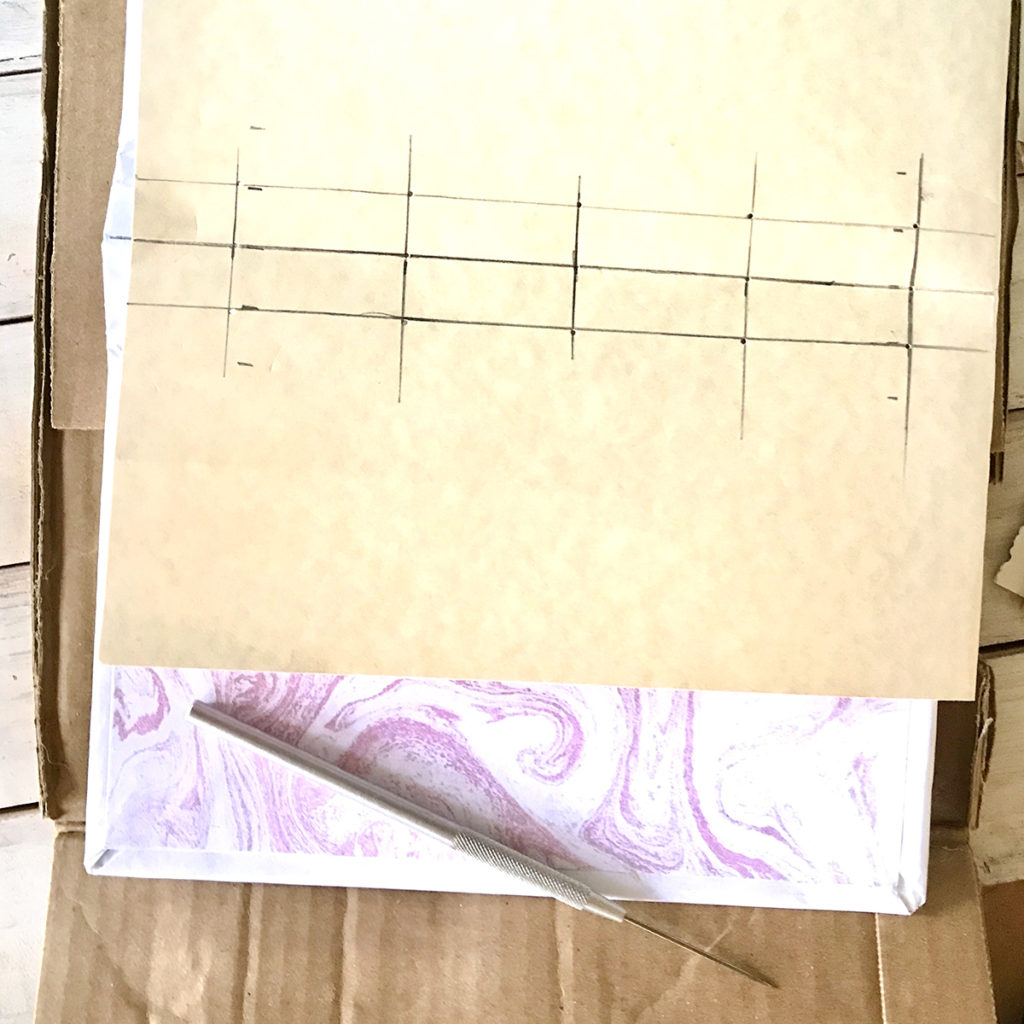 Sewing
I like to sew the signatures from the back of the book to the front. Cut your thread three times the height of the spine. Thread needle. I love to use waxed linen thread seen below. I also use an embroidery needle that will accept the bulky thread. You can use unwaxed thread, cord, leather, and even waxed dental floss. I used a dark thread for teaching purposes, but I probably would have used a creamy or light pink thread otherwise.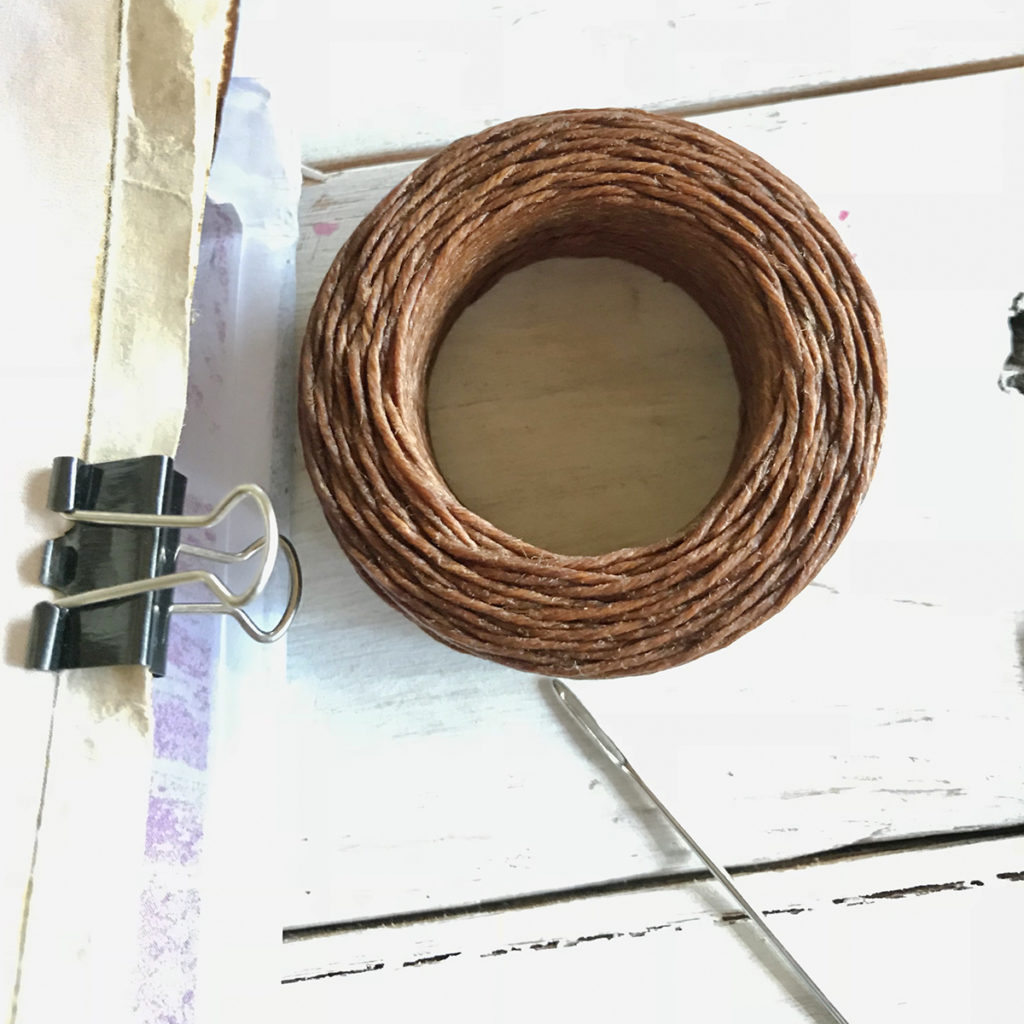 Stack your signatures and place them inside the cover. Lay the back of the book on your work surface with the spine facing you. Open the cover and remove the top two signatures. You may need to search between the signatures and spine for the hole like seen below. It is perfectly acceptable to look! PRO TIP: Do not just force your needle through the Tyvek. You will end up with obvious holes or wonky signatures. You need to carefully go into each hole every time.
Start sewing from the inside of the book by inserting the needle into the middle hole 3 (called a sewing station in book making) of the signature running through the bottom row of spine center hole to the outside the book. Sew the pattern shown below. Here are the directions: Needle into hole 2 to inside. Needle into hole 1 to outside. Needle into hole 2 to inside. Needle into hole 4 to outside. Needle into hole 5 to inside. Needle into hole 4 to outside. Needle into hole 1 to inside. Here is an illustration to help you visualize the process. I hope you find this book binding sewing guide that I created useful!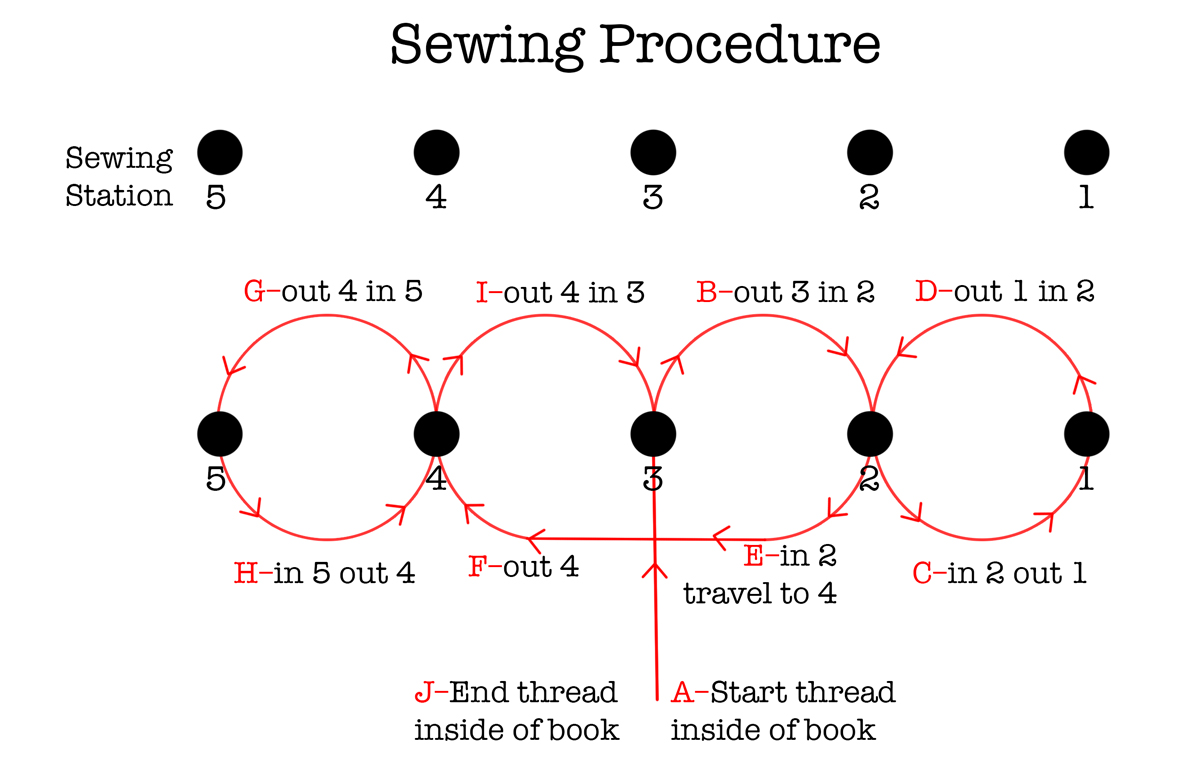 TIP: Adjust the tension of the thread after you finish sewing. It should be taut but not tight enough to tear pages. Again, be patient and take your time. It will be worth the effort. 🙂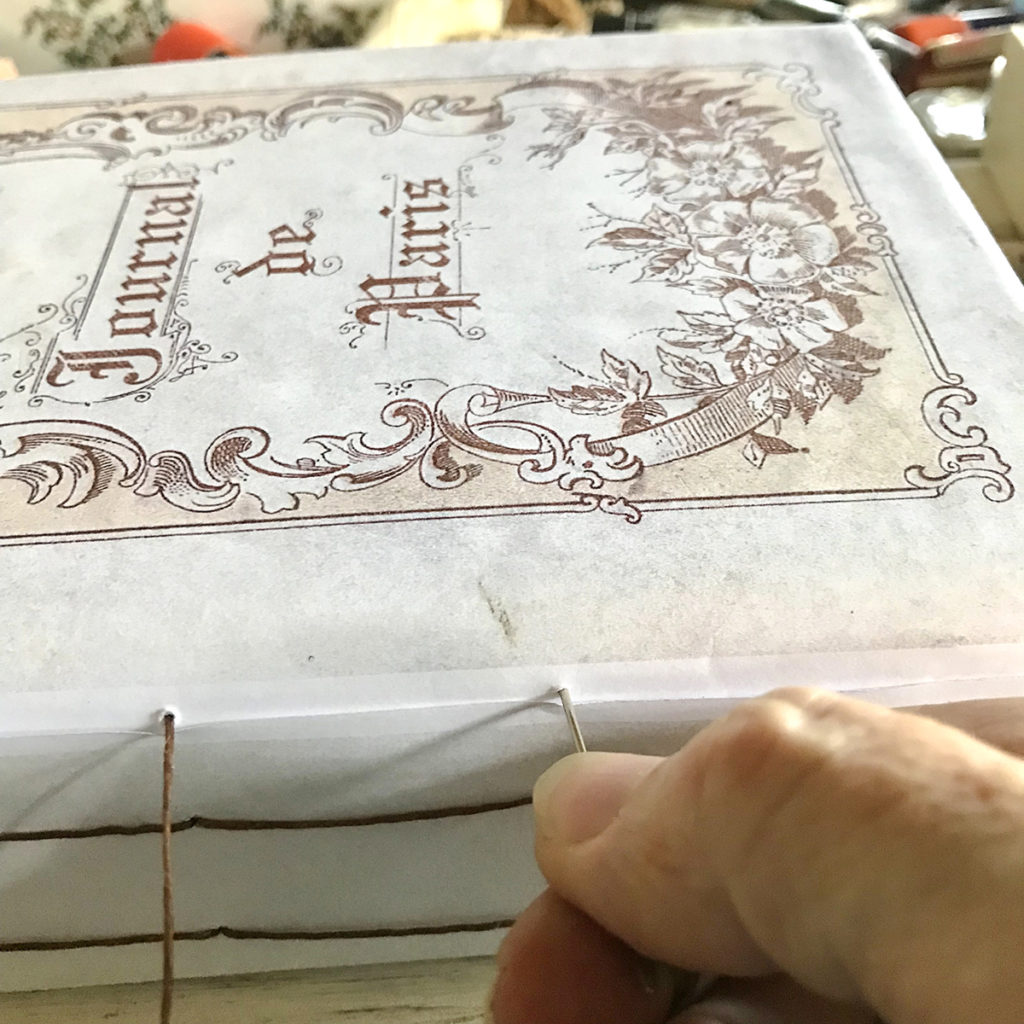 Stand the book up and look at placement. When you are happy with the signature, tie a square knot and trim the tails if you like. I prefer to sew with the book at the edge of my table as shown below. I can open the book up to check inside for the holes easily.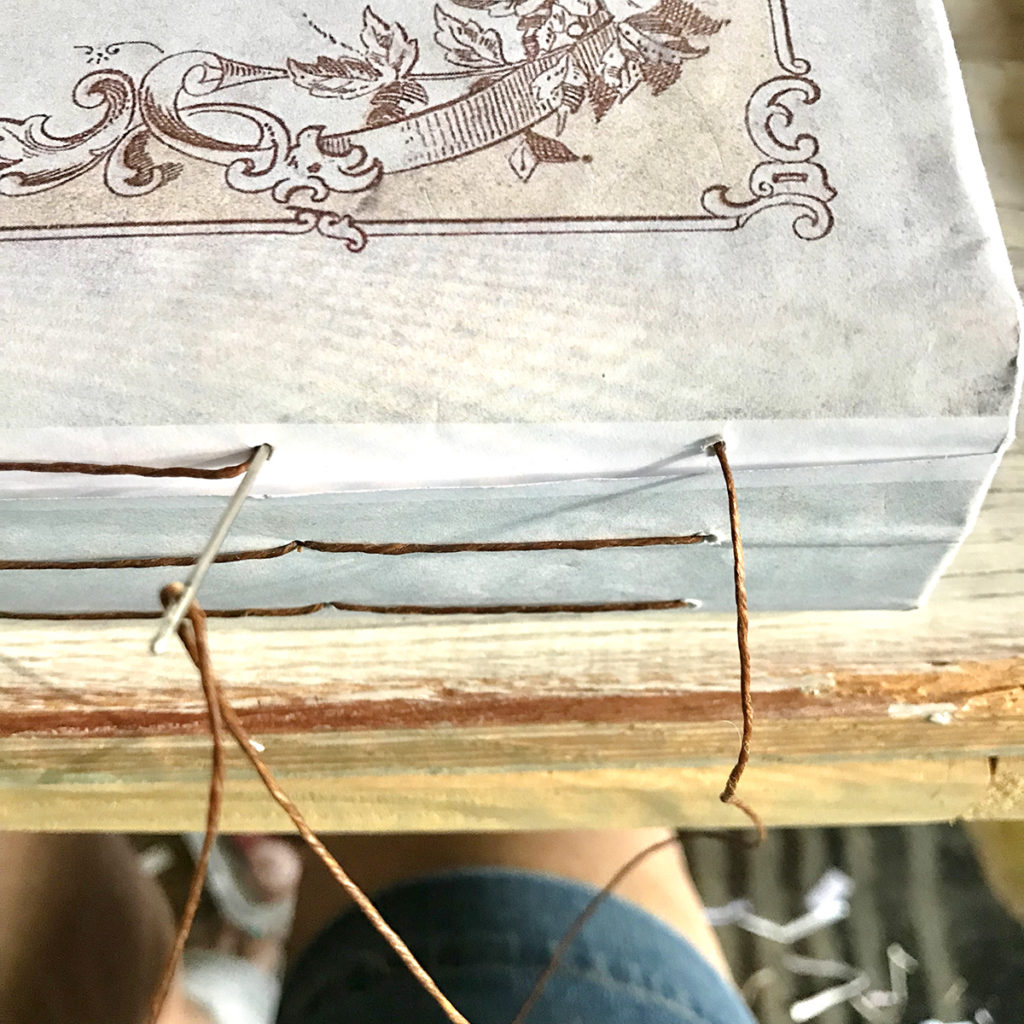 Repeat the sewing steps for the second and first signature, making sure they are placed correctly before moving on to the next. Once all signatures are sown, turn the book over and look at your work. The spine should look like this: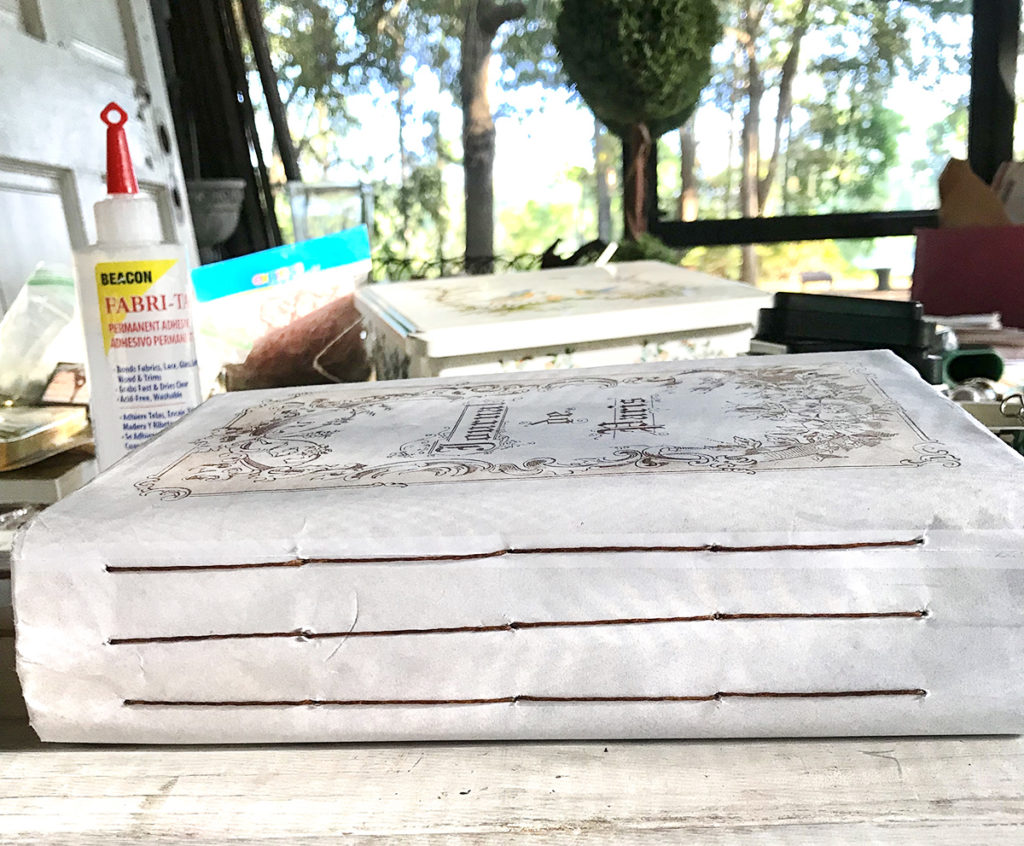 Bling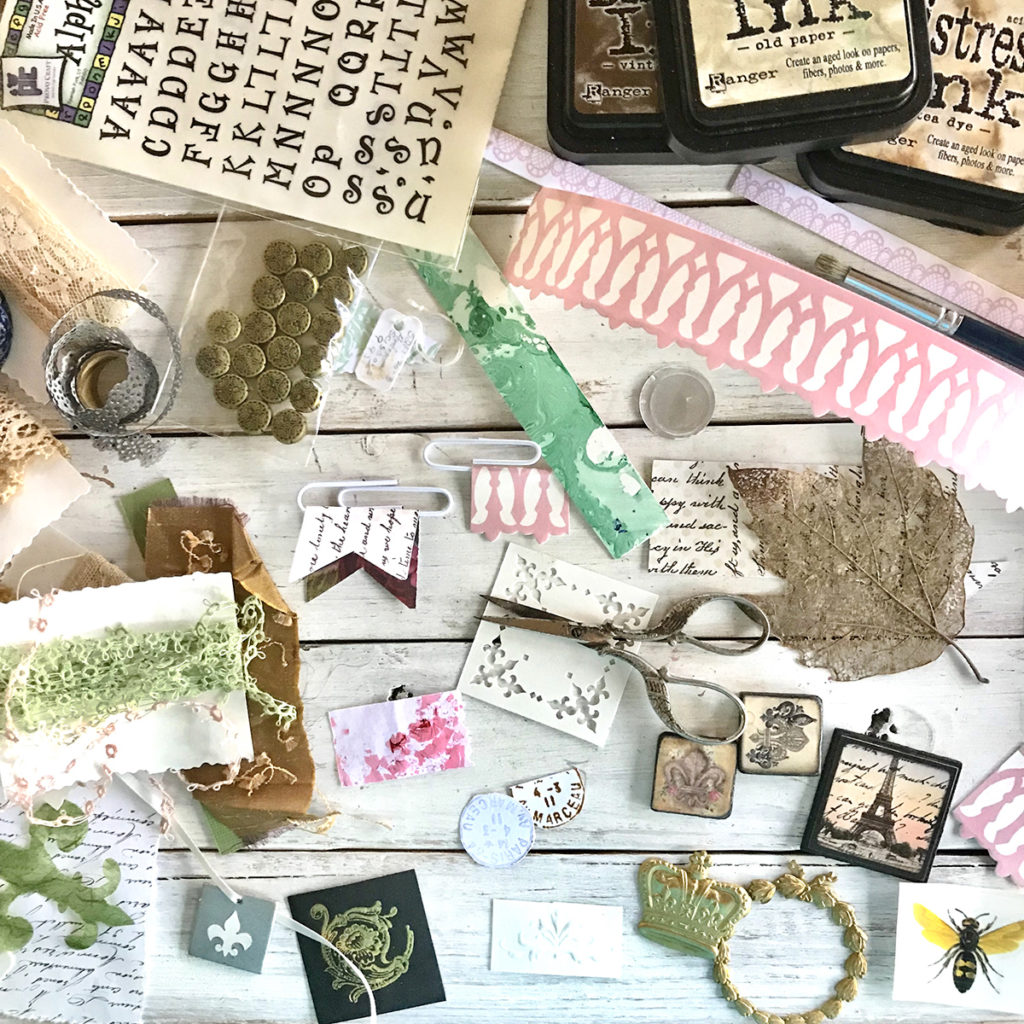 I used scraps of paper that I saved to make flags and tabs.
I used other bits from my stash like pearls, rhinestones, and ribbons to embellish pages before I bound the book:
THE STORY
Olivia returned home a changed woman.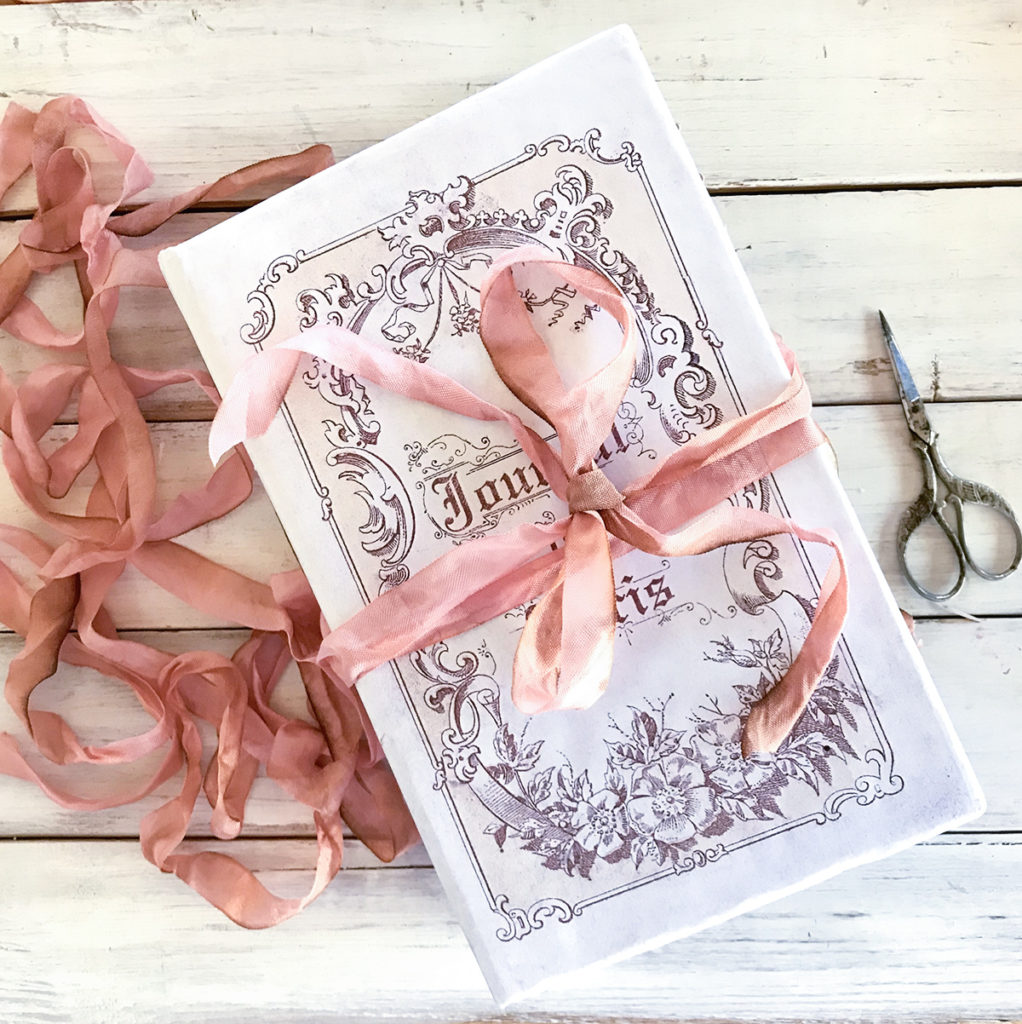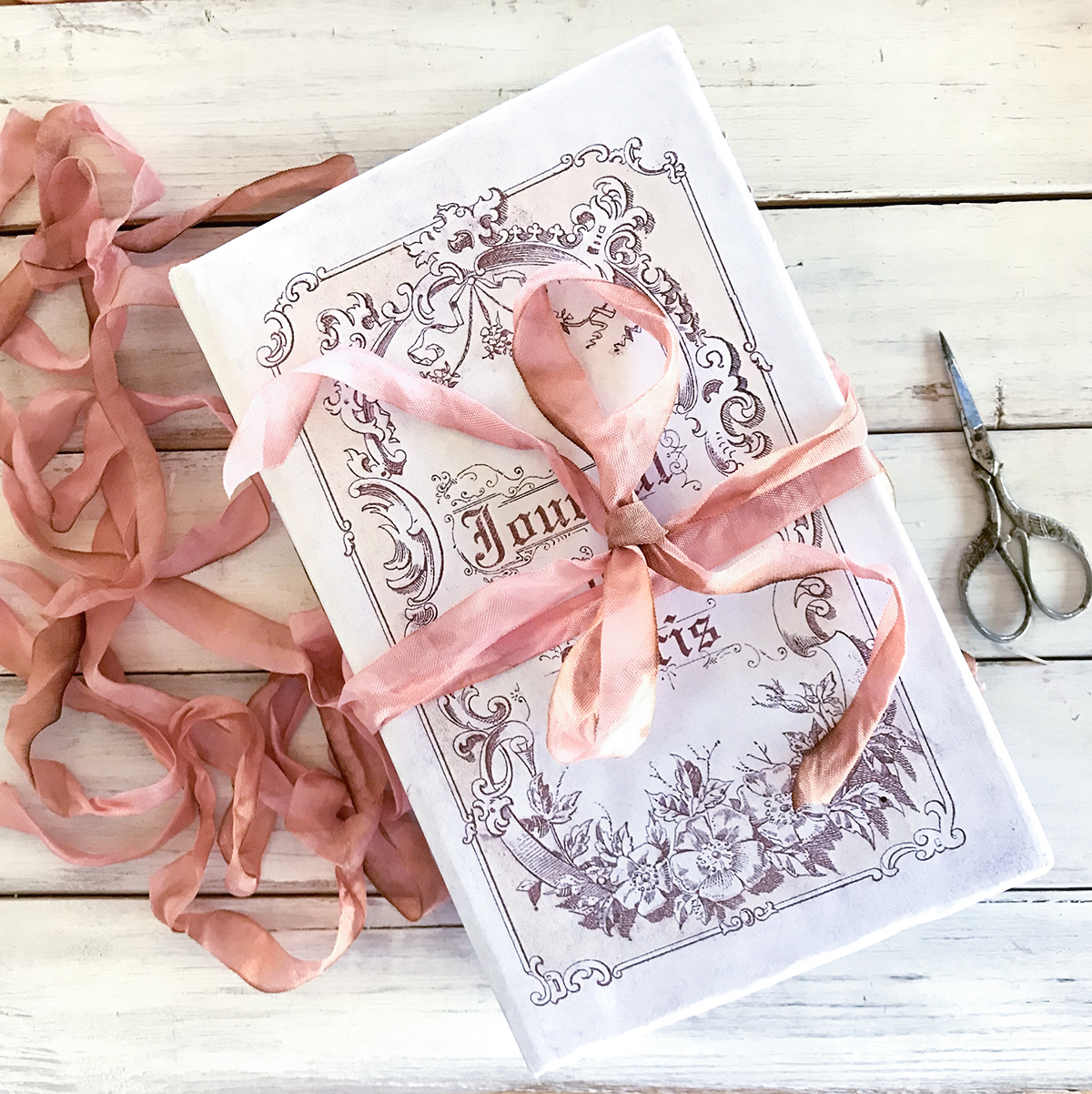 She has so many fond memories of her time in France and the friends she made.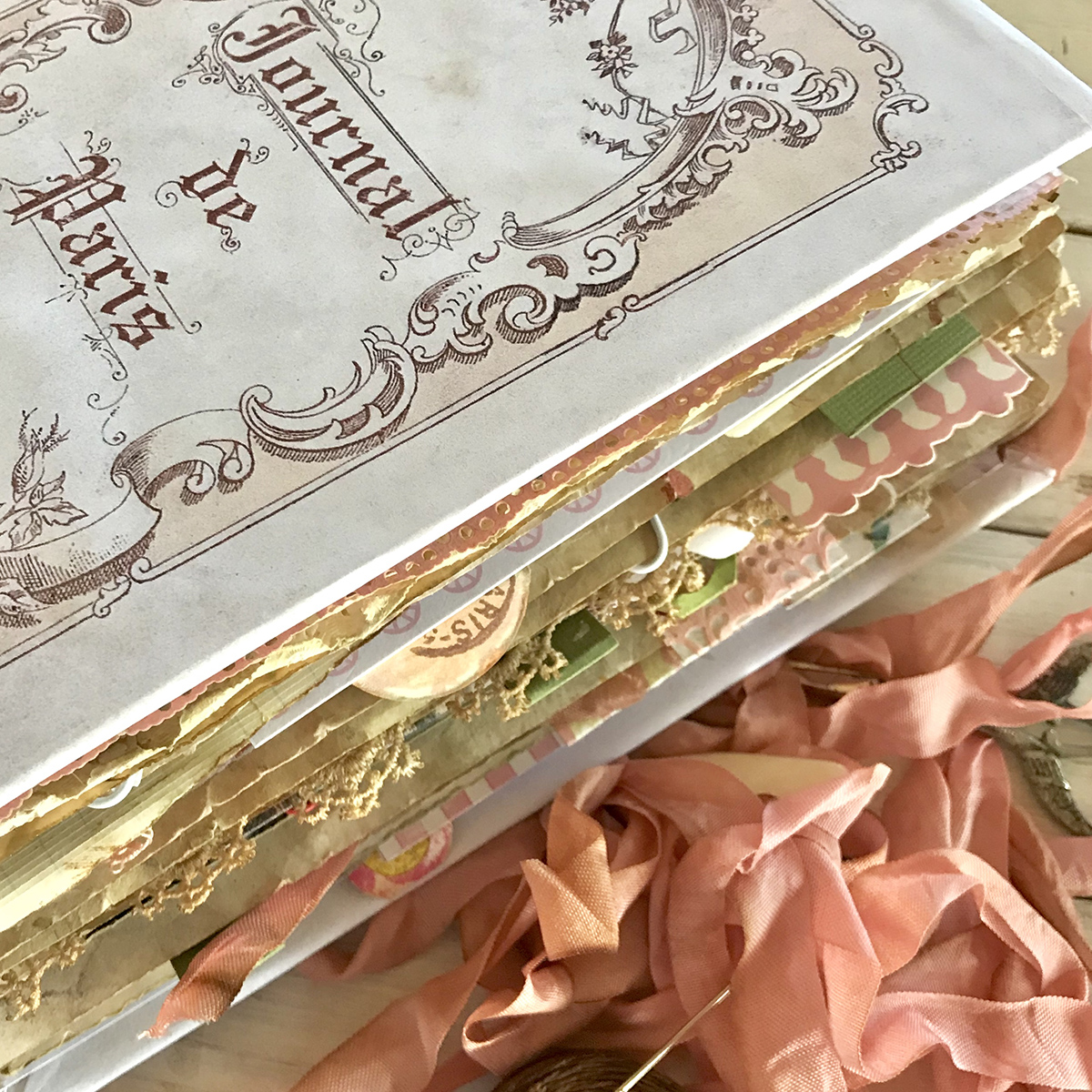 She believes she met her future husband on the cruise home.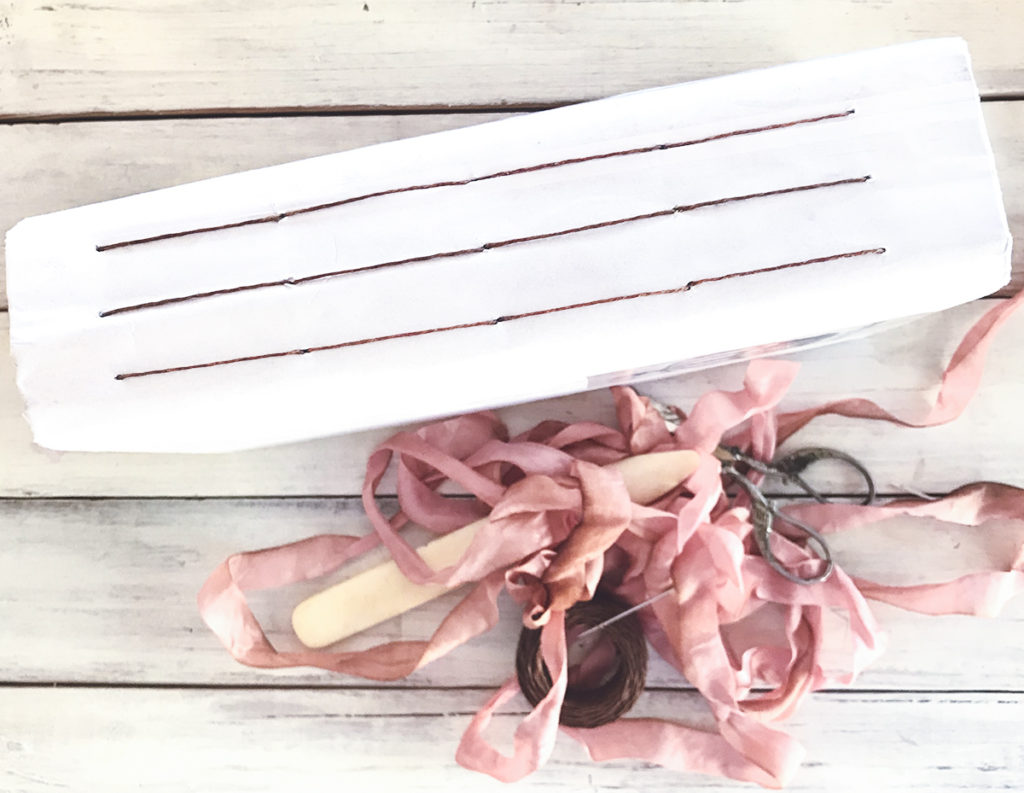 That, my dear ones, is another journal!! I hope you found this Junk Journal Finishing and Binding tutorial useful!
It was fun sharing my tips and tricks to help you create your junk journal. It should take just a few hours to complete the book. It has been a delightsome Summer for me. I hope it has been so for you as well.
Gallery
Remember when we began and I told you we were going to have a gallery showing of your work? We want to see everyone's journal and share them with you. I plan to create a little gallery magazine with your journals. Please send up to 3 photos of your book and/or pages to me at [email protected] by September 30th and I will create a gallery with your masterpieces.
Here is your assignment:
ASSIGNMENT
Bling out your interior pages with stamps, stickers, beads, etc. There is nothing limiting you.
Bind your Junk Journal lovingly.
Optional: Submit some of your pages here.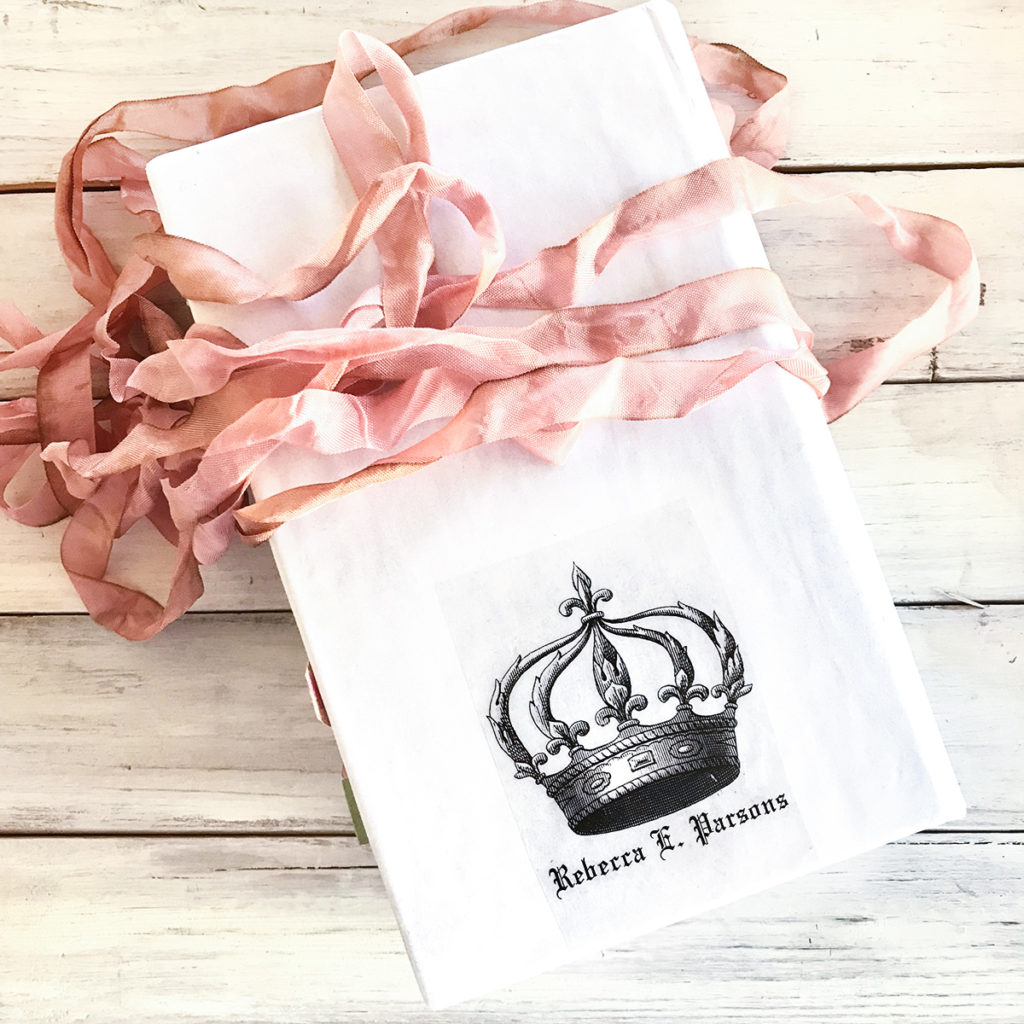 I hope you enjoyed this Mixed Media Junket Journal Tutorial! I also teach Photoshop Elements tutorials over on The Graphics Fairy Premium Membership site. You can find even more of my art, DIYs, and whimsical shenanigans on Cre8tive Compass Magazine, Cre8tiva (just launched), and loads of my digital art on Instagram.
Bonjour, May joy be with you all,