Welcome to our first Junk Journal page layouts and techniques of our 'Vintage French Junk Journal' journey. I am affectionately calling it J3 for Junk Journal Journey. The fact that you stepped into this Summer Project with me brings me great joy. My name is Rebecca E. Parsons, also known as Cre8tiva, and I am a life long 'journaler.' It's one of many creative things I LOVE to do. If you missed the first tutorial in this series, I recommend that you work through it before attempting this tutorial. You can find it here –>>> The Junk Journal Introductory Tutorial.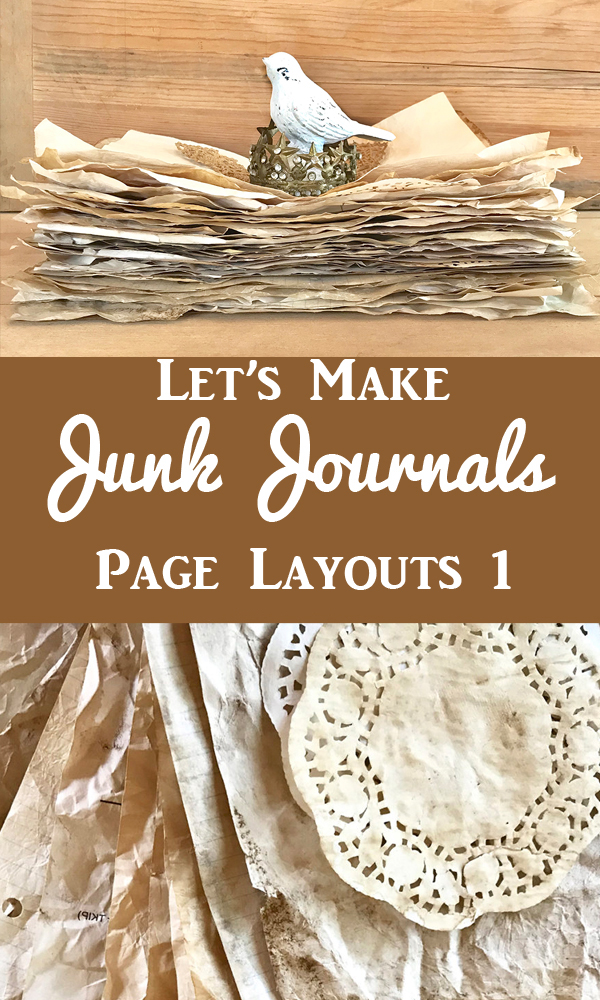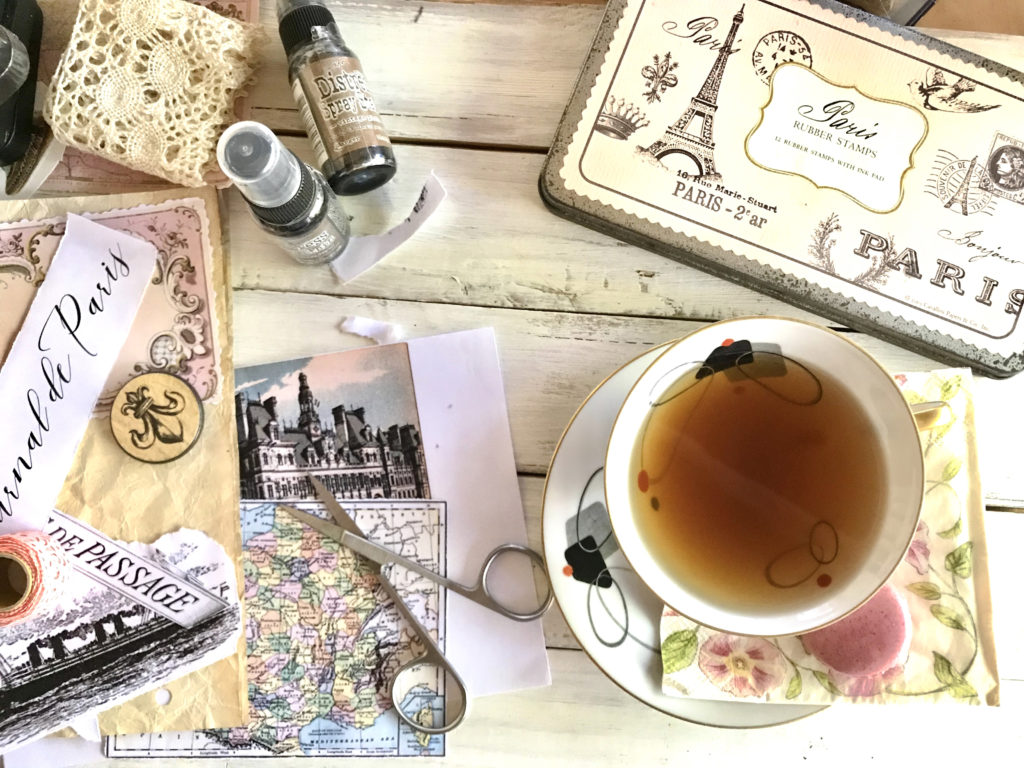 Why Do I Journal?
I journal for many reasons. I love to sit in my creative space (typically my screened porch) with a cup of tea and a macaron, and get lost in making. Like it did for me, I think it will eventually become all about WHY you junk journal, not necessarily HOW to do it. I will include several process tutorials of my pages coming together in each of the 7 tutorials this Summer. You are welcome to copy them as closely as you can or you might just fly out in other directions. Some of the top reasons I journal:
To Serve as a Reflective Time to Pause
To Have a Visual Reminder of My Thoughts and Feelings as I Create
To Develop a Creative Habit
To Explore New Tools and Techniques – Learn as I Create
To Get My Art Out
To Gather a Collection of Moments and Memories
To Use, or Begin to Make a Dent in, My Stash (Very important part of J3)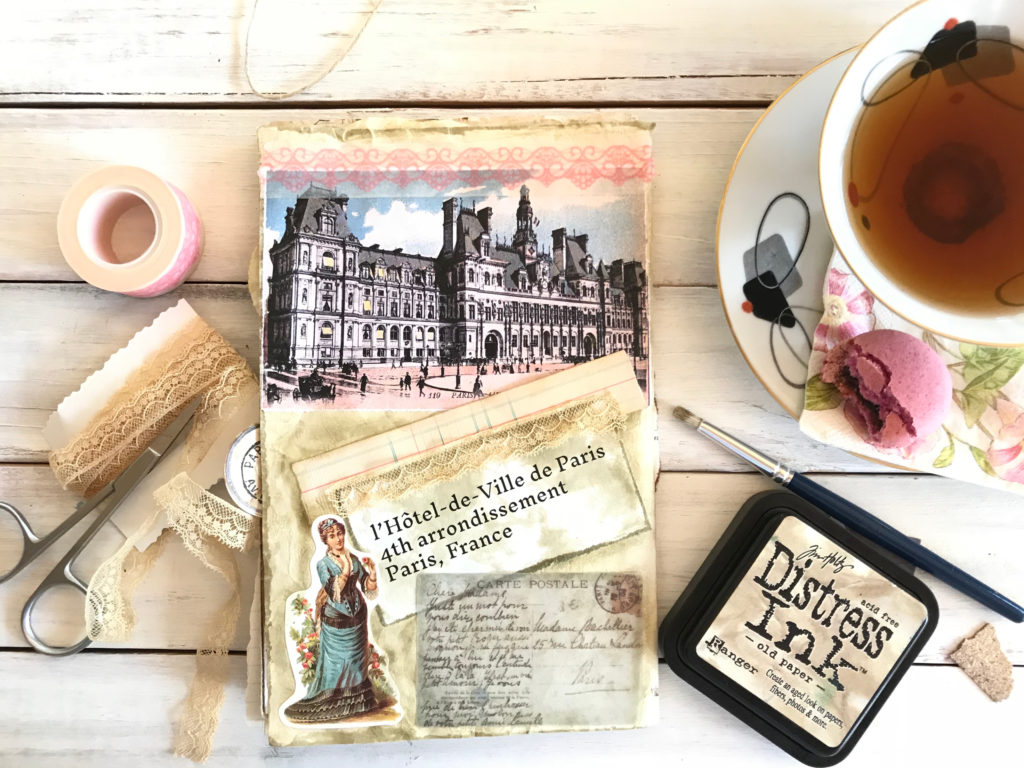 As we begin to decorate our pages, please know there is no right or wrong way to create a junk journal. There are numerous, amazingly beautiful ways to do this. It is an entirely personal journey just for YOU unless, of course, you want to share your work with us or on social media. My greatest hope is that you will make it your own and discover some new 'vintagey' techniques that you love along the way.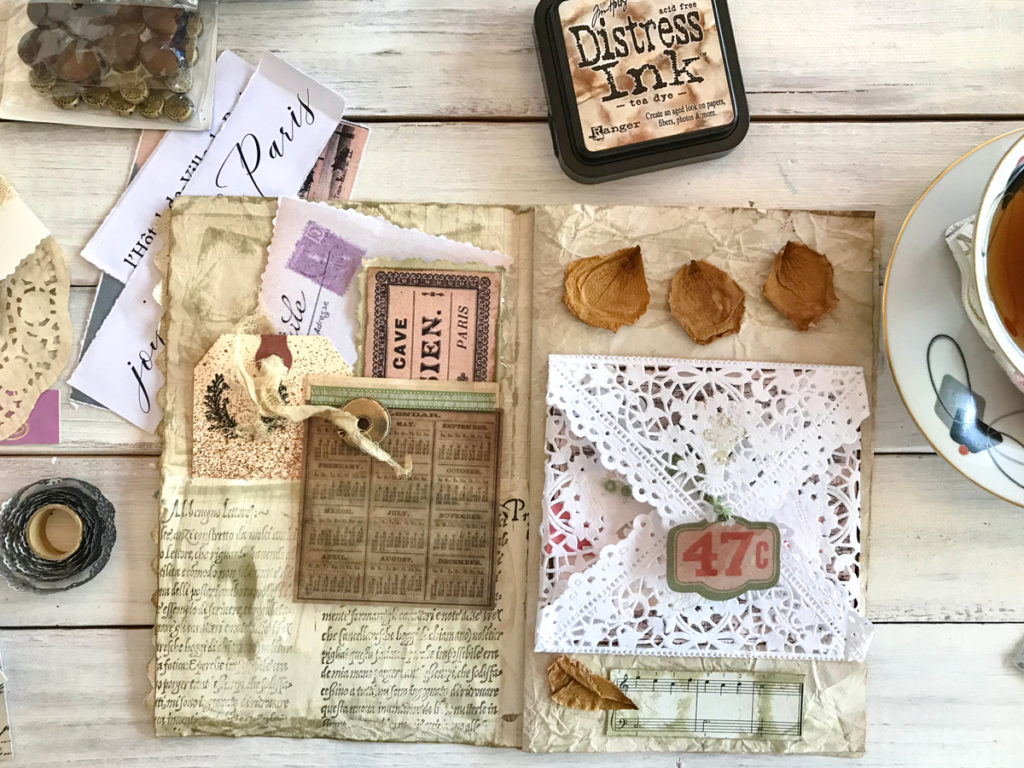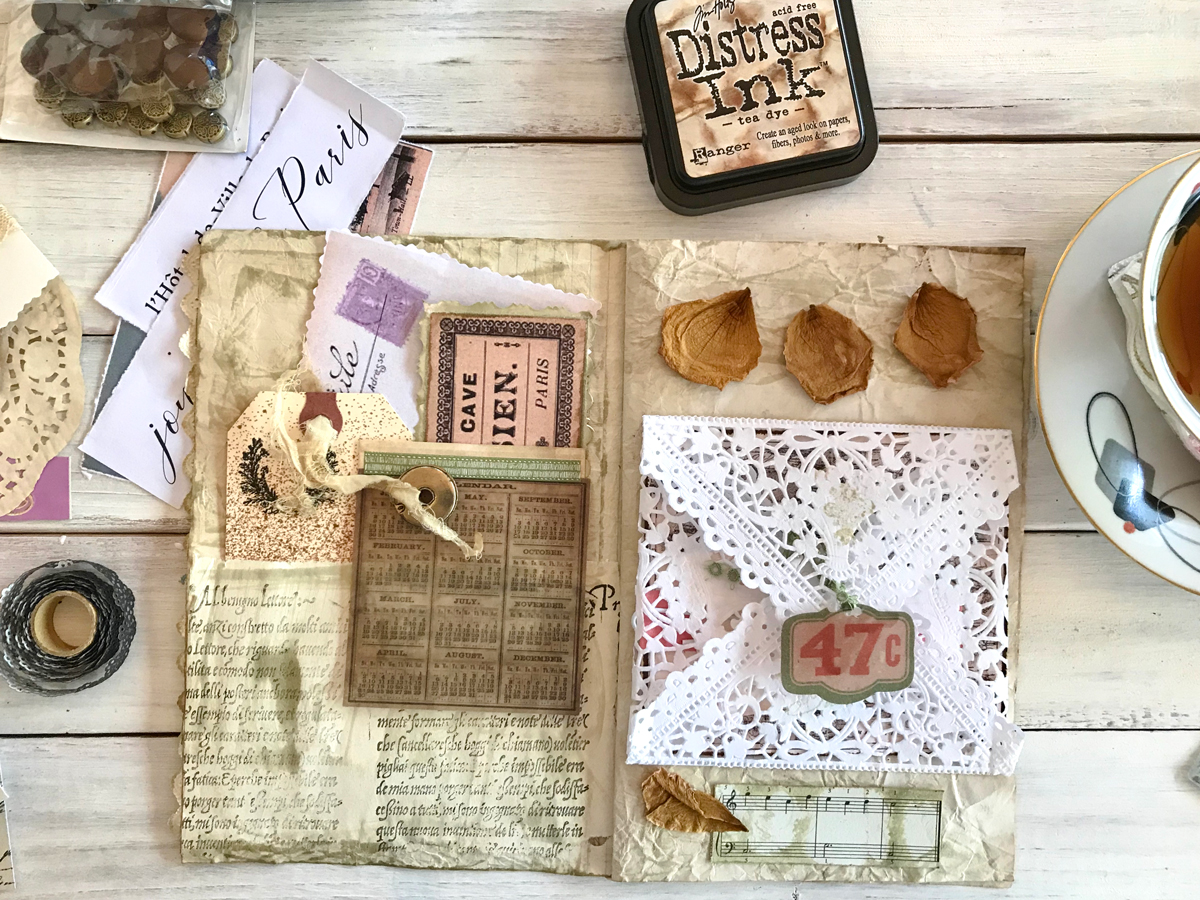 With all that out of the way let's dive right in, begin to explore France through The Graphics Fairy archives, and take a look at the layouts I will be sharing in the Page Layouts 1 tutorial.
Techniques in this tutorial:
Lace Doily Envelope
Button Package Envelope
Mica Window Page
Texture Aging Pages
Shading with Ink
Sticker Lettering
Basic Supplies
*This post contains affiliate links for your convenience.
Before we get started, let's talk a little bit about some of the basic supplies you'll want to have on hand to get started. You probably have them in your craft stash anyway. I am a paper artist/crafter/book maker at heart, and my supply cabinets reflect this. Almost everything I use is something I have in my stash for journaling, planning, bookmaking, or collaging!

My favorites are:
The Graphics Fairy images and ephemera. We have that covered. WINK WINK!
Lots of flat, 'vintagy' stuff like scrapbook paper/cardstock, die-cuts, stickers, labels, tags, and washi tapes to elevate and enhance your layouts while they don't add too much bulk to your pages. The paper supplies you enjoy in paper crafting translate perfectly into junk journaling.
Tea stained doilies and index cards, and used tea bag papers.
Rubber stamps and stencils for adding interest to your pages. Plus, they are reusable!
Stamp ink, markers, watercolors, and highlighters for adding color to your pages.
Scrapbook flowers, buttons, embellishments, and other 'little somethings' that bring your design to life while adding depth, color, and your mark of creativity to make them 'your' pages.
Mica windows – I have a 100 pound bag I am whittling down.
Metal and Wood Embellishments to give more dimension.
Fabrics, leather scraps, and tea stained ribbon.
Tabs, envelopes, frames, labels, and napkins.
Adhesives to attach things to your pages.
Brads and eyelets.
Elements from Nature–leaves, dried flowers, twigs, and bark.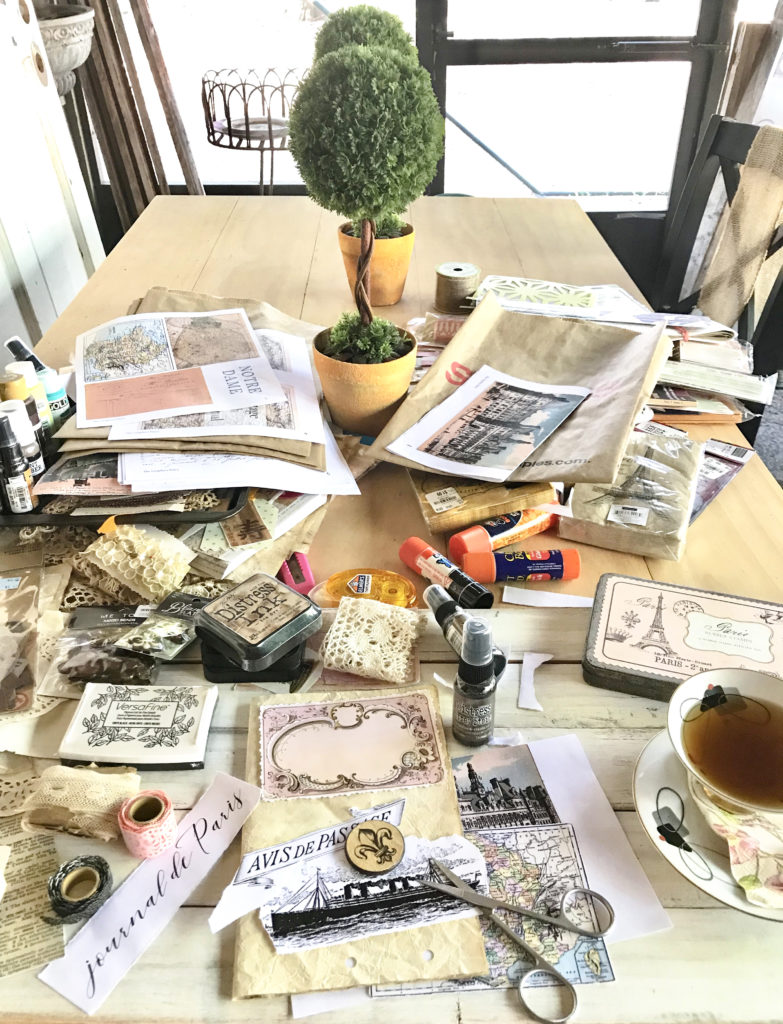 Tips & Tricks:
As you journal more, you will find a few supplies become your favorites. My advice is to buy those in bulk so you always have them on hand.
Don't be afraid to experiment.
Grow into the tools, supplies, and products that work best for you. Your very own style will begin to emerge the more you play and create.
Stay true to you and your style as we move through the series. If you are more of a primary color person, feel free to use those. If you are a black and white lover, go for it. There is no 'right' way.
If you have a bleed-through from other pages, embrace it. I am sure we will learn to cover things up as we work through our pages.
The Graphics Fairy images I used:
Please note that some of the images I chose for this tutorial are from the older archives (back when Karen started out) and not as large or as high-res as more recent TGF images. The map image that inspired the color palette of this book is the map below. Nonetheless, it inspired me, and my rustic style embraces it. Please feel free to use a different map that suits your style more closely. Anything goes in this series.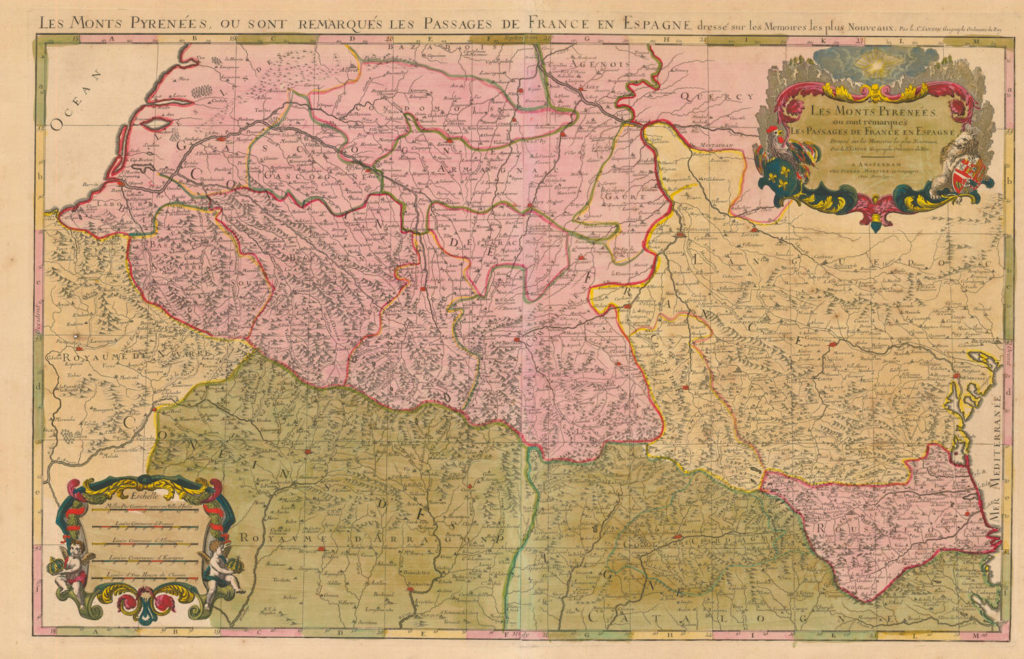 My Style/Your Style…We All have One!
What's yours? Over the years I have developed a vintage/rustic style, which you will discover in the look and feel of our project pages. Every once in a while I stretch my comfort zone and try different color palettes or a new product. But my style usually shines through. I also love to tell a Story with my junk journals. Our story for this series is a young woman who travels to France in the 1890s. She wants to remember every detail of her Summer abroad. She collects bits and trinkets and gathers them into a travel journal. That is where the fun begins.
To Bind or Not To Bind? Temporary Measures
Holding it together while we work on the pages is always an issue. Some people let them stay loose. I prefer to create a temporary binding for the signature. I like to use elastic cord or even a scrunchie headband. In a pinch any ribbon or cord will do. Just don't make it too tight so the pages tear at the center. I like it loose enough to be able to remove pages and add them back. I will do that several times while working on layouts. I like to see pages beside each other as I work. But you can feel free to work as you like.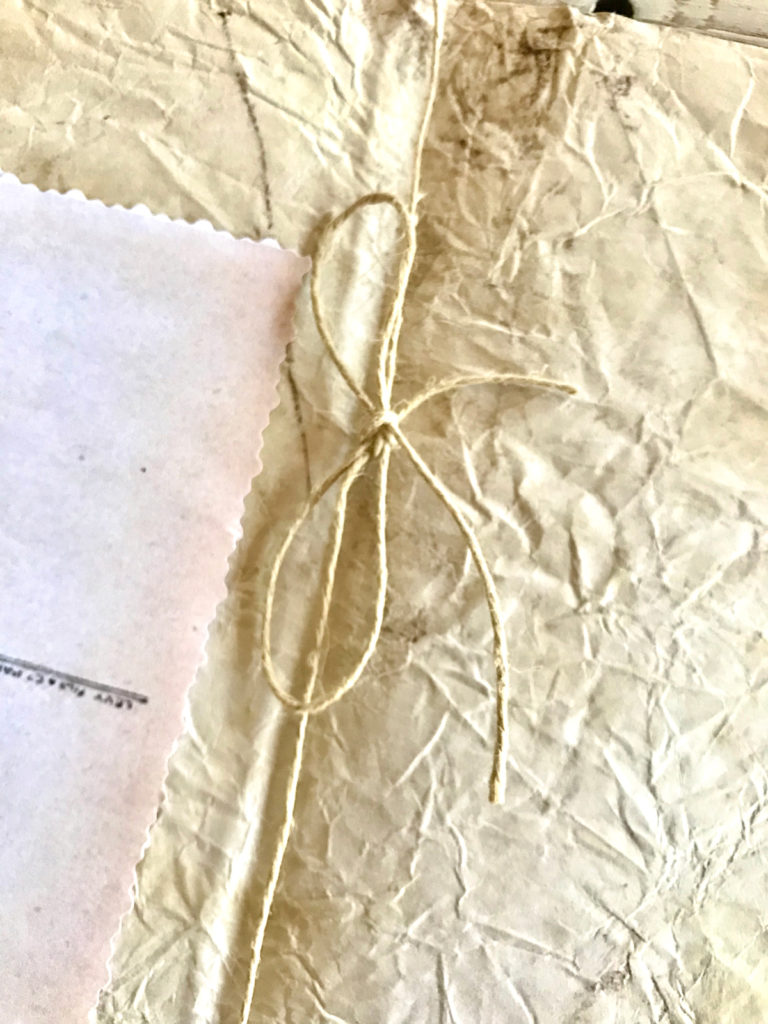 Cut and Tear
We have to bring our Graphics Fairy images off the screen and separated from the paper for journaling. I print my images on a laser printer at Staples. You can use any printing device you have, just make sure your images are properly sealed as we will be painting, inking, and/or gluing them. Some of my images will be fussy cut (left image below). That means cut around the outline of the image with scissors. I am not that fussy, but my best tip is to have a small pair of scissors that fit your fingers comfortably and move the paper leaving the scissors stationary. I prefer to tear images like in the second photo below. To tear straight lines, I fold the paper along the straight edge, wet the edge on the front, fold it to the back and wet again. I usually lick it, but you can use a damp sponge if that turns you off. Then lay it flat and pull the paper being removed back over itself toward you (right image below).

Texture Aging
Remember that I crumpled my pages when I stained them so they have a hand (feel). One of my very favorite aging techniques is rubbing an ink pad ever so lightly over the paper.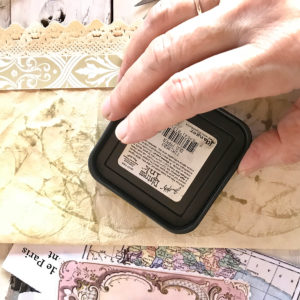 The ink catches on the ridges and darkens them leaving a lovely aged effect. I used Distress Ink Old Paper for this page. It gives a lovely greenish-gray hue that matches our palette for this book.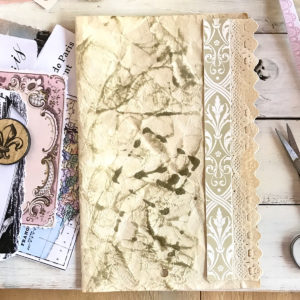 I use the same ink to age the edges of almost everything. I just rub the ink pad over the edges and smear some sometimes. You can use a pad made for this if you have one.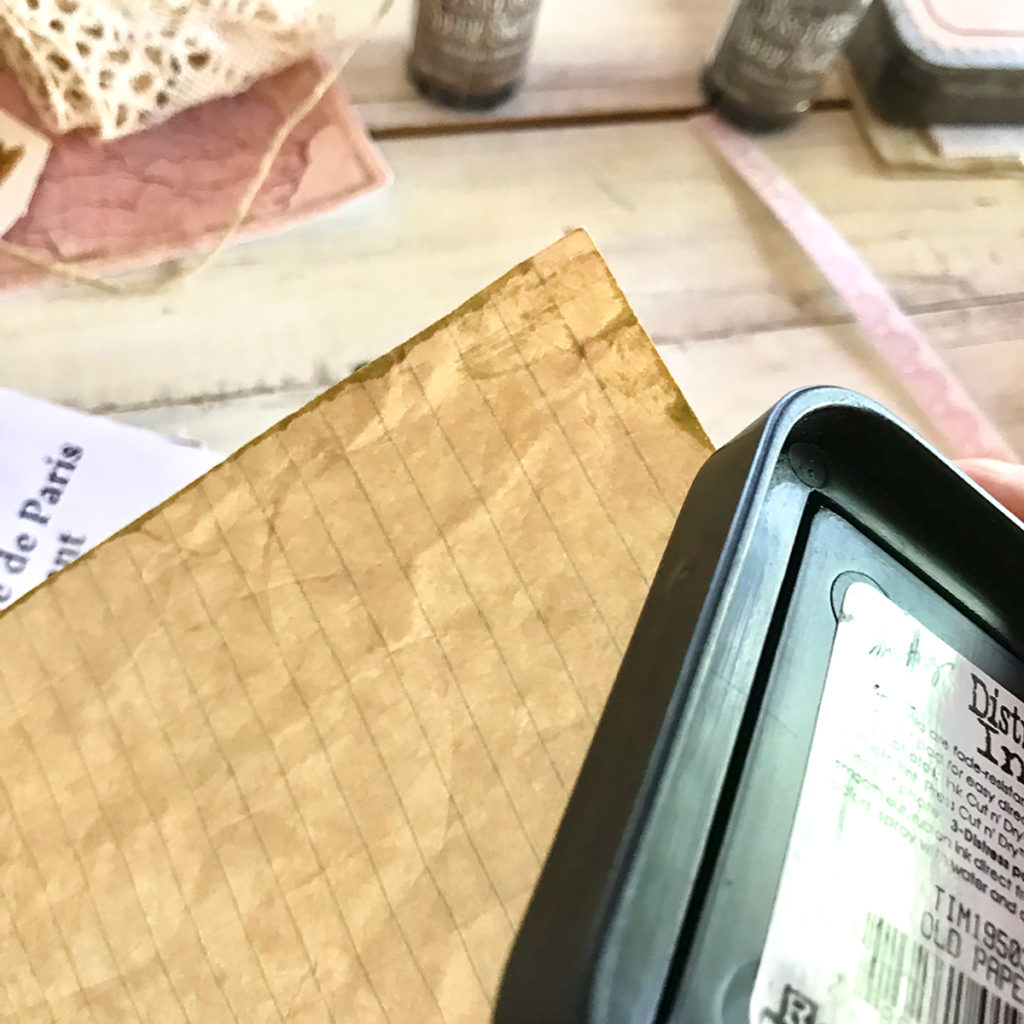 I will mostly use a tape runner for the book. I do use Elmer's Acid Free Glue Sticks and Gel Medium Matte for the heavier pieces. Use what you have on hand. I do like acid free and archival adhesives because I want my art to survive. 😉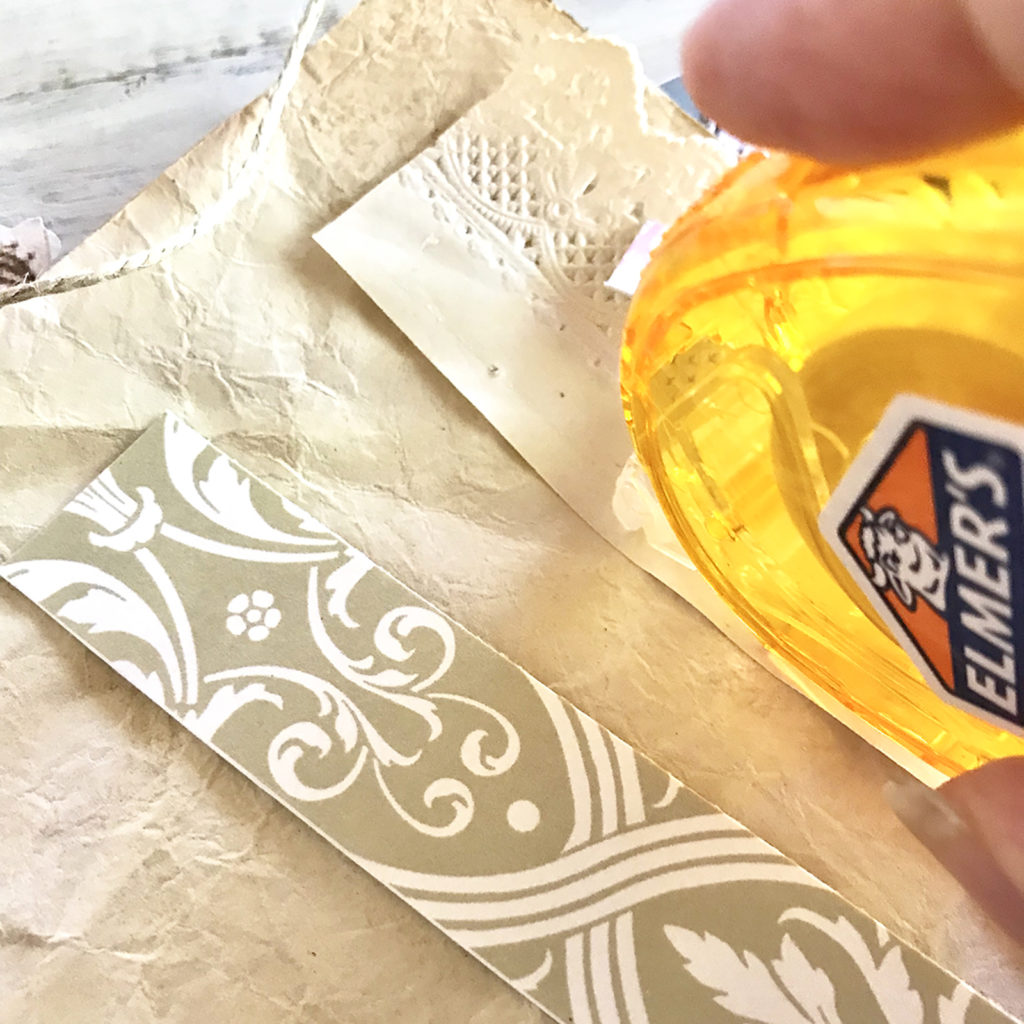 Lettering with Stickers
I will be doing a lot of lettering throughout this series. Some of it will be done during the final touches portion of the series. Some will be hand lettering and some will be stenciled, stamped, or stickers as you see below. My tip for lettering is to begin in the middle and work out in both directions. I like repositionable stickers because I can't ever seem to hit the right position my first try. 🙂 If you can make a practice piece first, that helps. The message on my banner means 'ship passage' in French (I hope).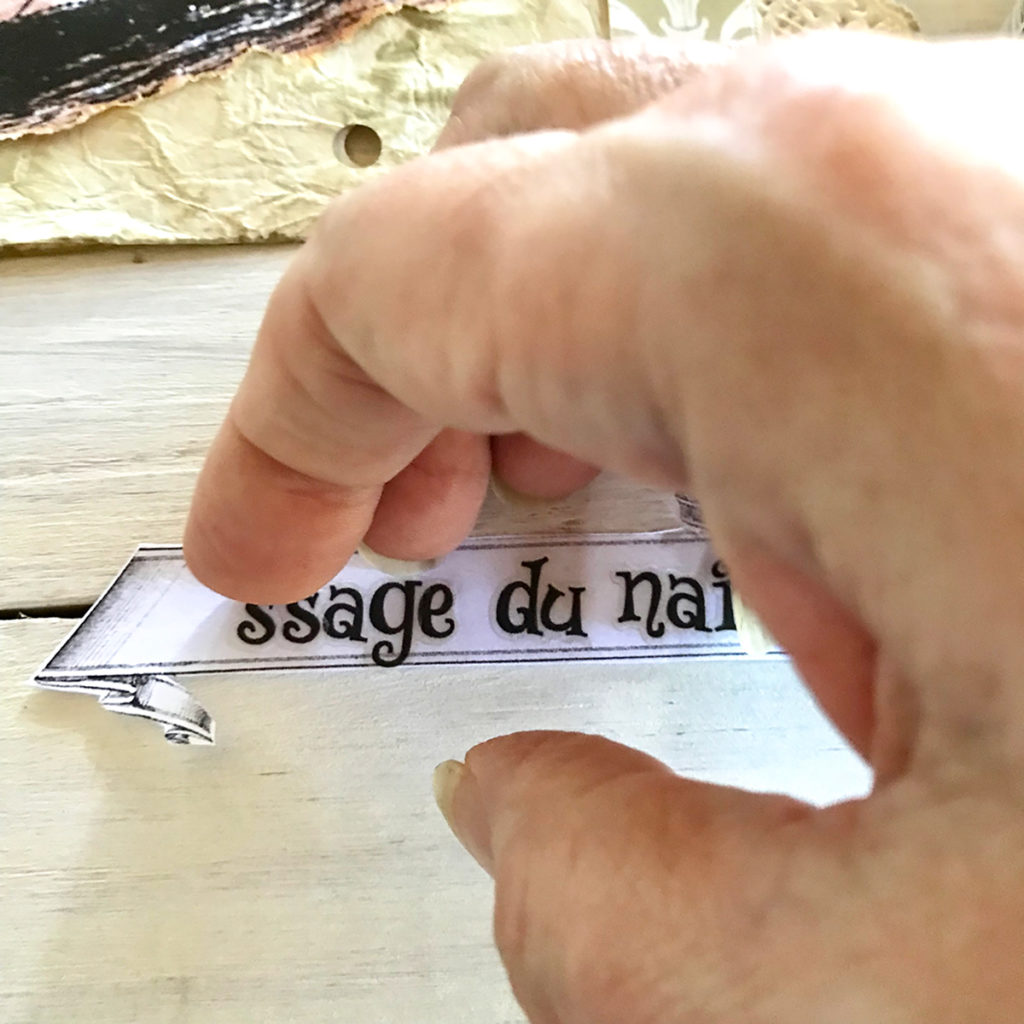 Lace Doily Envelope
This technique is super easy, yet stunningly beautiful in a junk journal. Seriously, the hardest part is finding a square doily! TEE HEE! Just attach a square doily to a journal page (I used glue stick) as shown below. Fold each of the points in toward the center. And presto…an envelope to store some trinket or ephemera.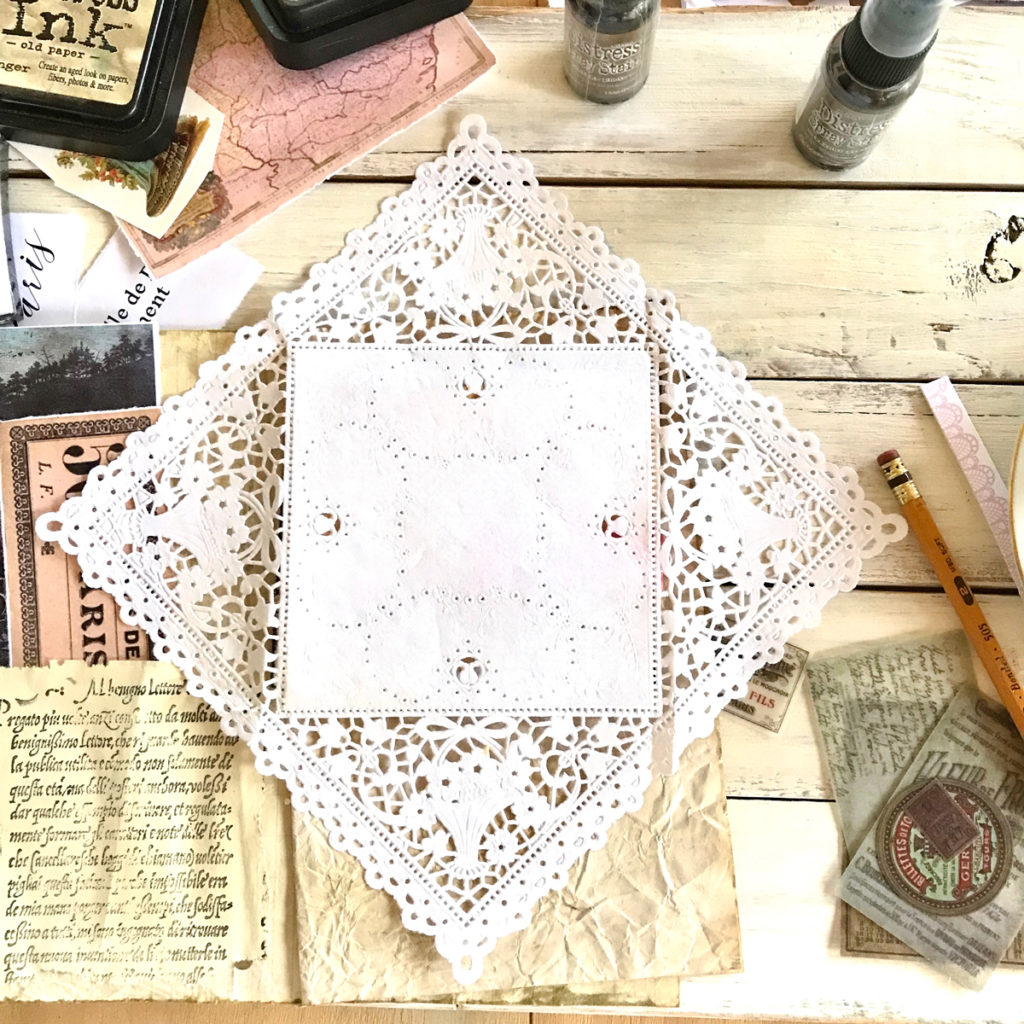 I used it to hide a map of France and a journaling square. I attached some tea-stained lace to the back of a tea-stained index card cut to fit inside the doily.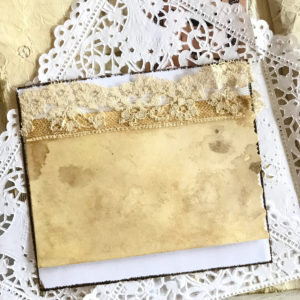 I attached it with a piece of washi tape. It is free for journaling.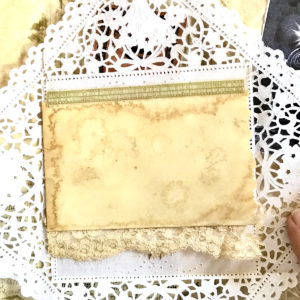 I used a dusty green shade. I then attached a map of France over the index card with washi.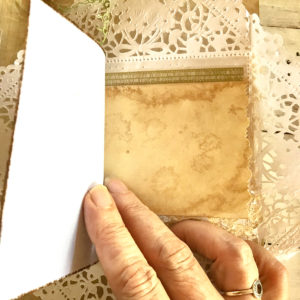 I folded the envelope and added a 47¢ tag with some died green lace.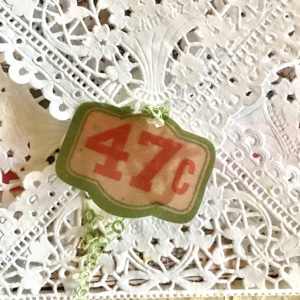 Here is how it looks when finished. I will show you the button envelope next.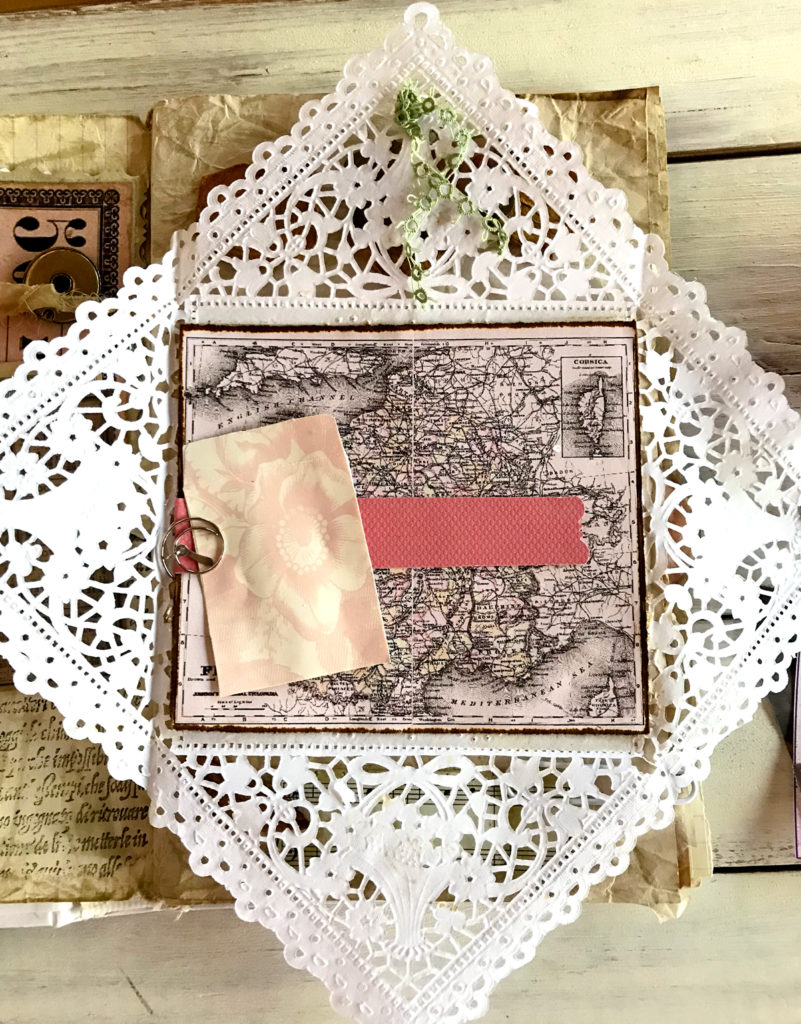 Button Envelope
I always save button envelopes to use in my books. It is great for junk journals.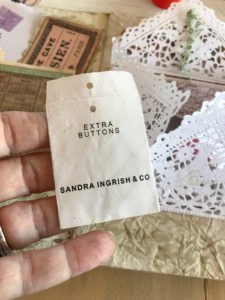 I cover them with a scrap of scrapbook paper from my stash. I love to discover great new uses for throw away items. See the finished envelope attached to the map with a wire paper clip in the above step.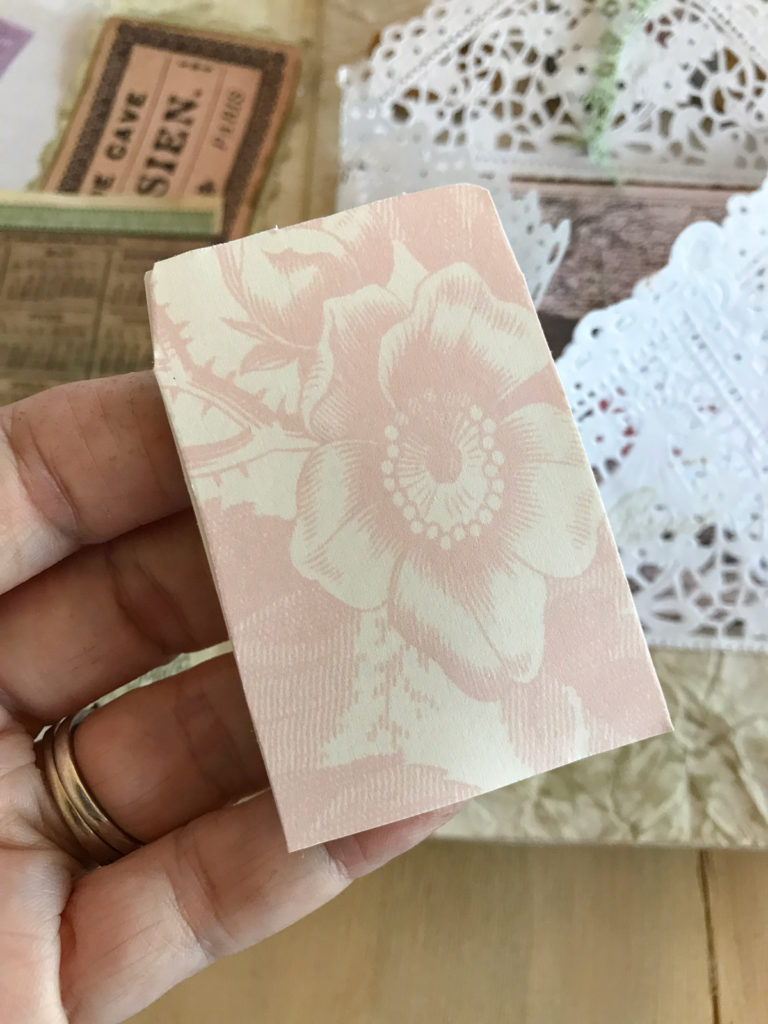 Mica Window
I embossed an image with a cartouche (label) opening several years ago. I pulled it from my stash for the J3. It reminds me of Karen's ornaments. I thought the label area would make a great window page for the journal. I attached it to the page with washi on both sides. I did not want it to move as I cut. I needed to cut through the embossed card and the journal page both. I placed a small glass mat beneath the pages and used a Swivel Tip Craft Knife.

Be sure to cut it out carefully…and slowly. It takes time to get in the tiny places and around the curves, but this knife makes it fairly easy. Remove the cutout carefully also. If it is still stuck in some places, you can use your fussy cutting scissors or the knife.

Shown below is a piece of mica from my stash attached to the page. You can find mica tiles on Amazon in several sizes. If you have never used it, give it a try. I use it often. Be sure to attach both sides to the mica so it becomes a window from both pages. (We will do something on the other side in the next tutorial.)

Here is what it looks like from this page:

This is the opposite side with a map from TGF and a little card from my stash.
Journal Flap
I love hiding several places for journaling when I create these. I found this swag sticker on an old sticker sheet from Anna Griffin. It worked beautifully.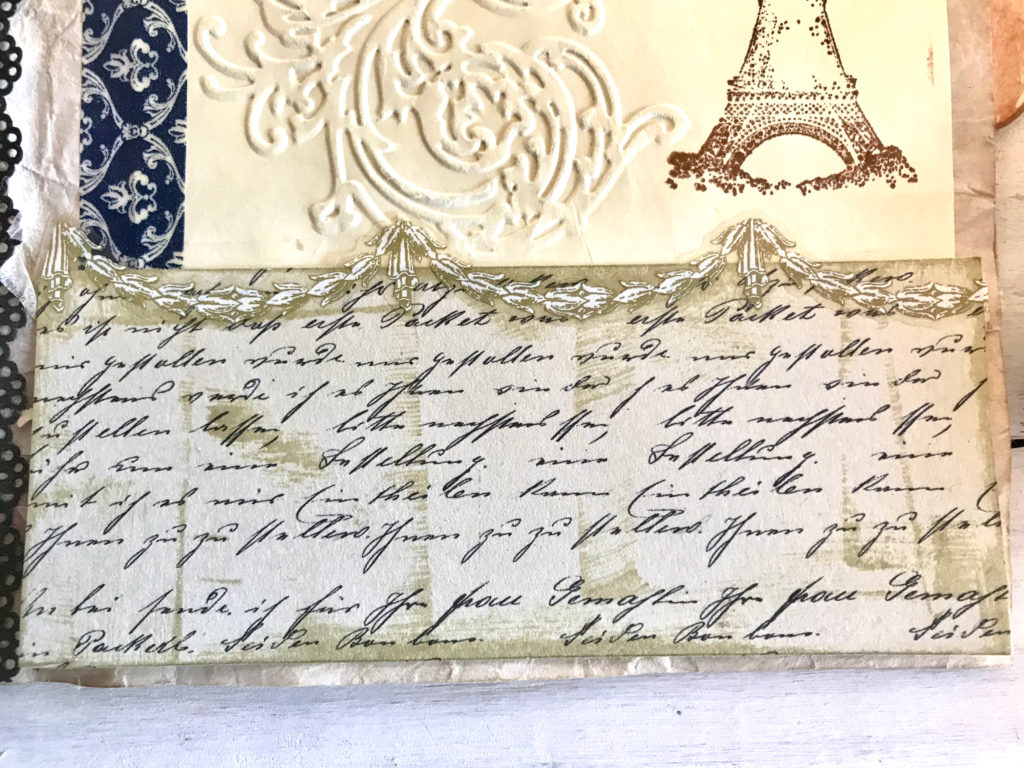 Don't be afraid to try something out of the box as you junk journal! You can see the journaling area below right.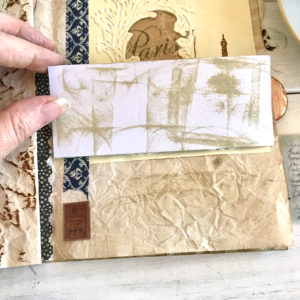 Shading with Ink
I love stamp ink for shading around images and bits and pieces of my layout to add depth. I used a tiny 1/4″ stenciling brush as shown below.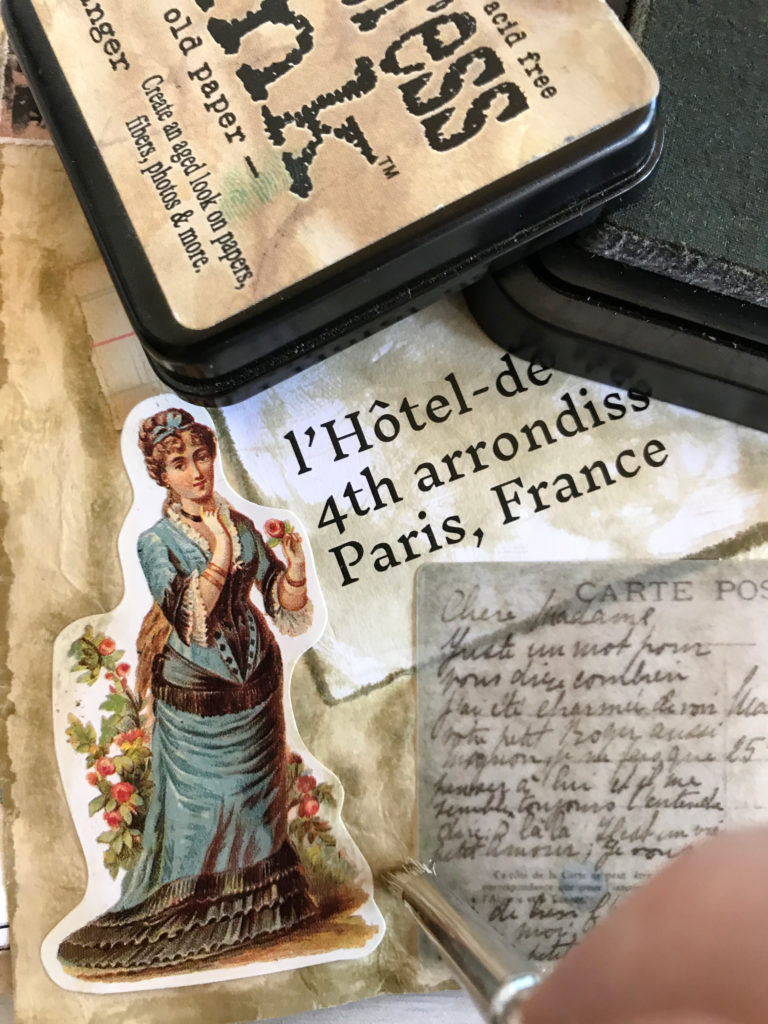 The Story
PAGE 3 – Olivia (my traveler) heads to France via steam ship. Her steamer trunk is packed full with beautiful clothes, sweet shoes, hats, gloves, corsets, and a leather bound journal for keeping her moments.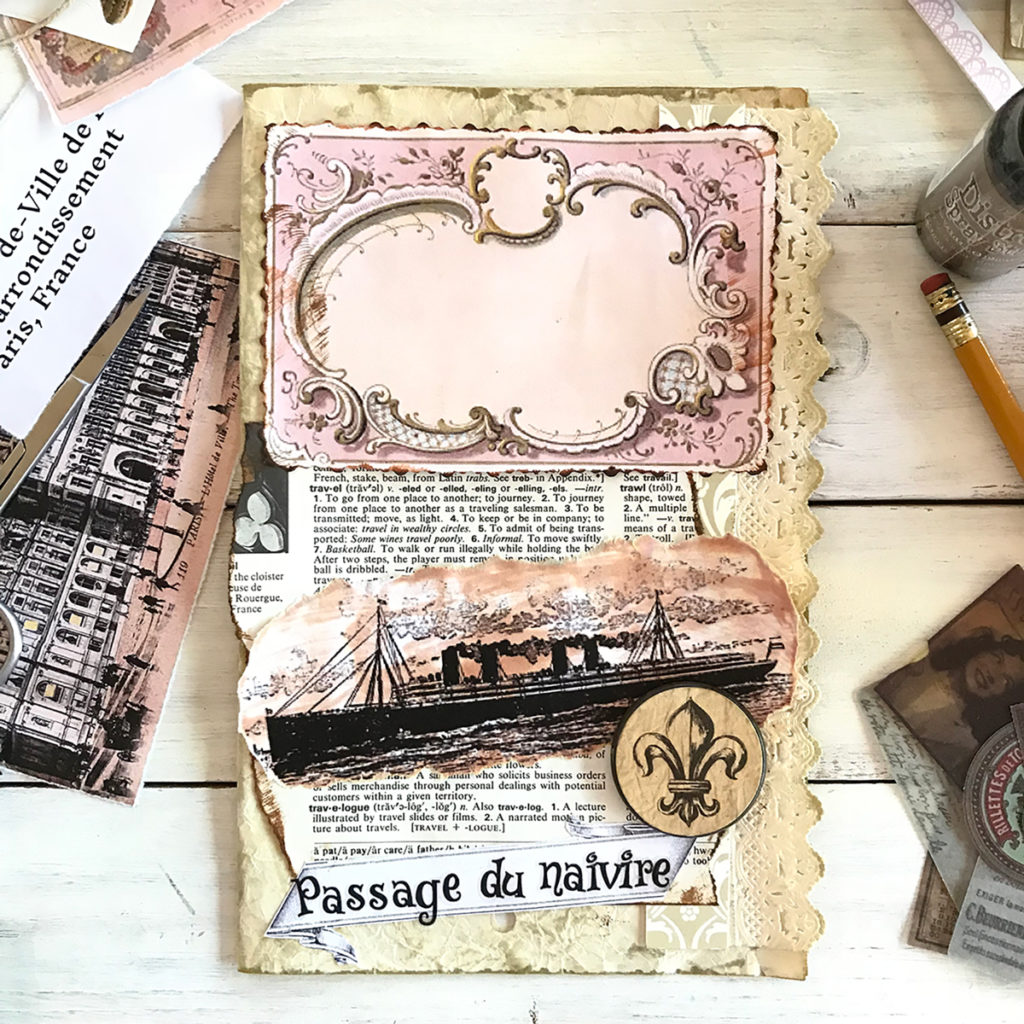 PAGES 4 & 5 – She carries a tiny calendar and buys a few French postcards on the ship to write her friends and family back home. Her best friend Anna accompanies her along with Anna's Mother as a chaperone. The voyage was fun and there were several unattached gentlemen. The last night of the voyage, a yellow rose corsage arrived at her stateroom door from a 'secret admirer.' She danced the night away with several partners on her dance card. She dried the rose petals and ticked a few in a tiny envelope inside a lace doily she picked up from the dance.

PAGE 6 – They rode a night train to Paris. She saved her ticket, a tea bag (we are pretending here) that is attached below the tag.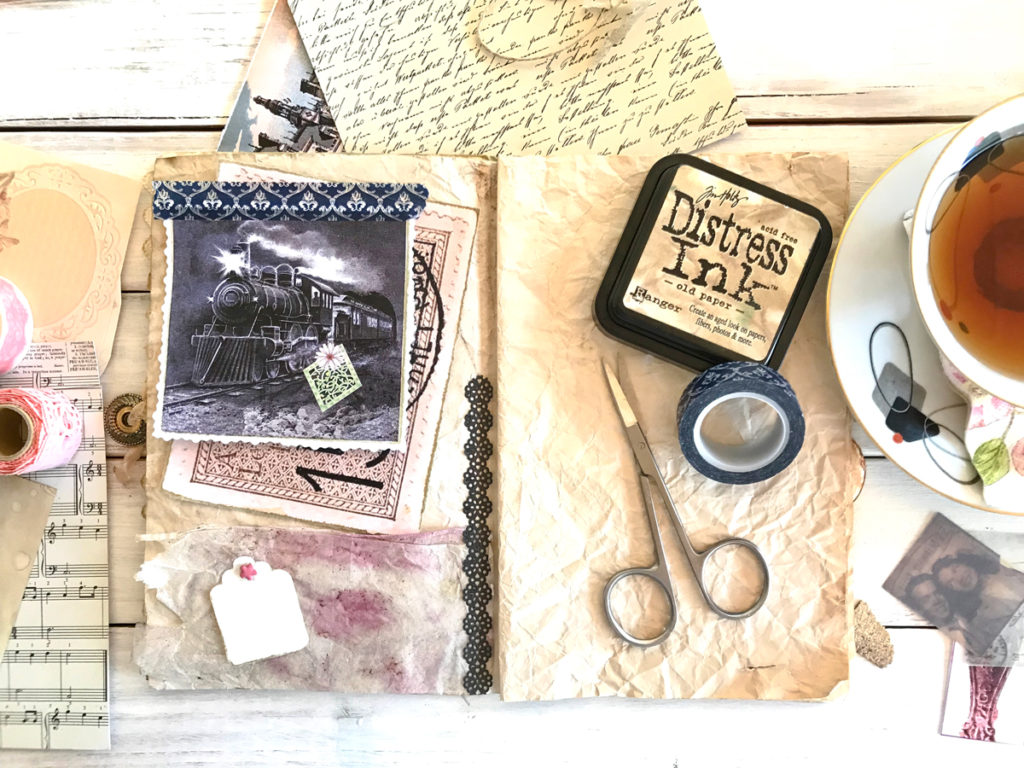 PAGE 11 – The girls are so looking forward to Paris!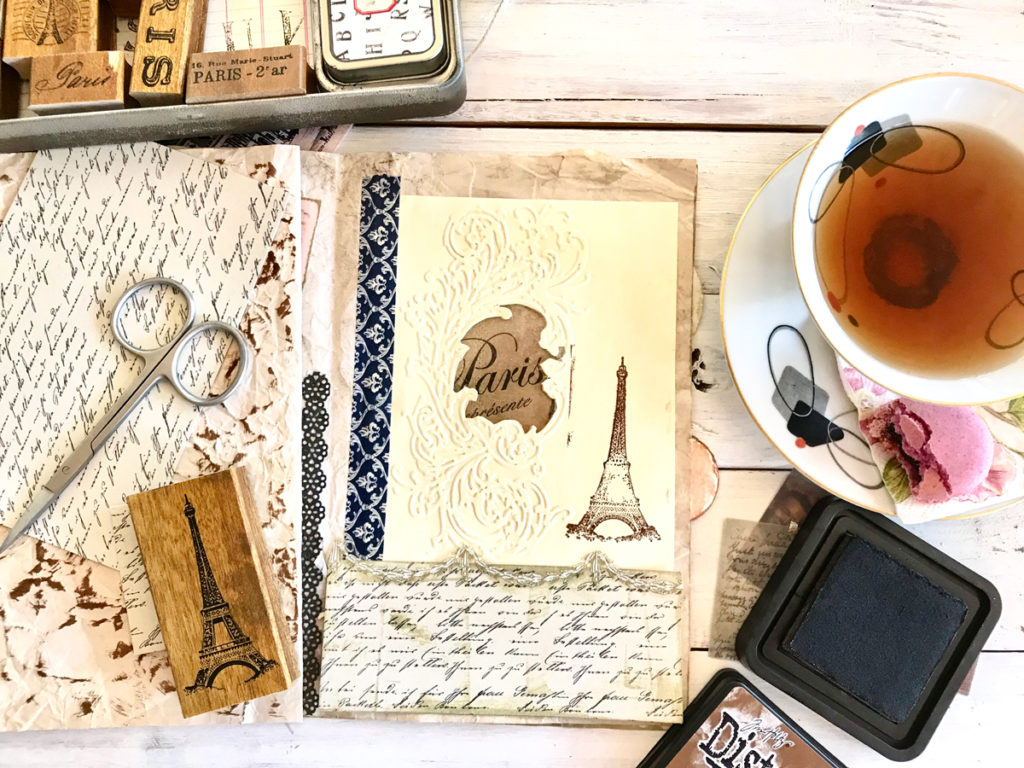 PAGE 12 & 13 – The giggle over the maps and the train even has a paper napkin with an Eiffel Tower image. (Yes, more pretend.)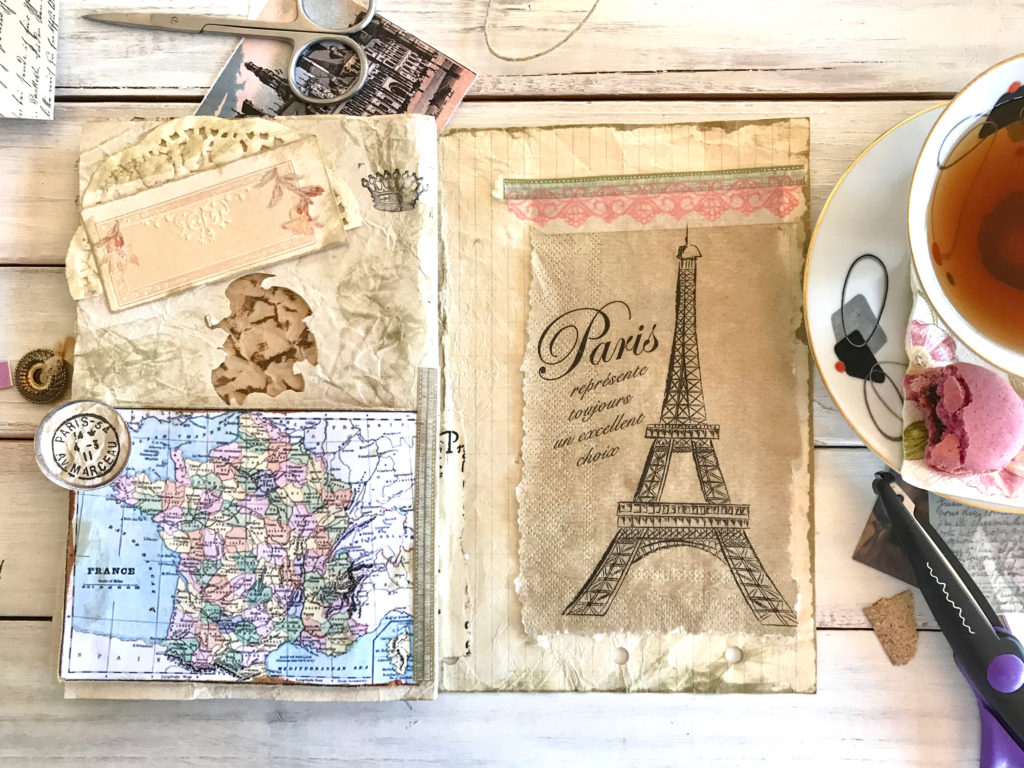 PAGE 14 – They chat about what they will wear to the hotel and she writes a few postcards in her best French vocabulary.

Wowzers, that was a lot of technique, tips, and tricks to play and junk journal with. It should take you a few hours to complete the pages, depending on how fast you are. 🙂 You have a couple of weeks until we have our next tutorial, so have fun with your Junk Journal Page Layouts. I hope you learned some new tricks and are ready to get creative with us this Summer. Here is your assignment.
ASSIGNMENT
Complete eight pages in your first signature using the above techniques. You will have four single pages, which will be Pages 3, 6, 11, and 14, and two, two-page spreads, which will be Pages 4, 5, 12, and 13. You can create your own using your imagination. Or you can duplicate mine. Remember there is NO ONE WAY or RIGHT WAY!!! Have fun!
Optional: Create your own story if you like.

Optional: Submit some of your pages here. 
In the next tutorial we will take another creative exploration of France and The Graphics Fairy Archives. Please join me in Part 3 of this series HERE for Page Layouts Two.
I hope you enjoyed this Mixed Media Junket Journal Tutorial! I also teach Photoshop Elements tutorials over on The Graphics Fairy Premium Membership site. You can find even more of my art, DIYs, and whimsical shenanigans on Cre8tive Compass Magazine, Cre8tiva (just launched), and loads of my digital art on Instagram.
Bonjour, May joy be with you all,