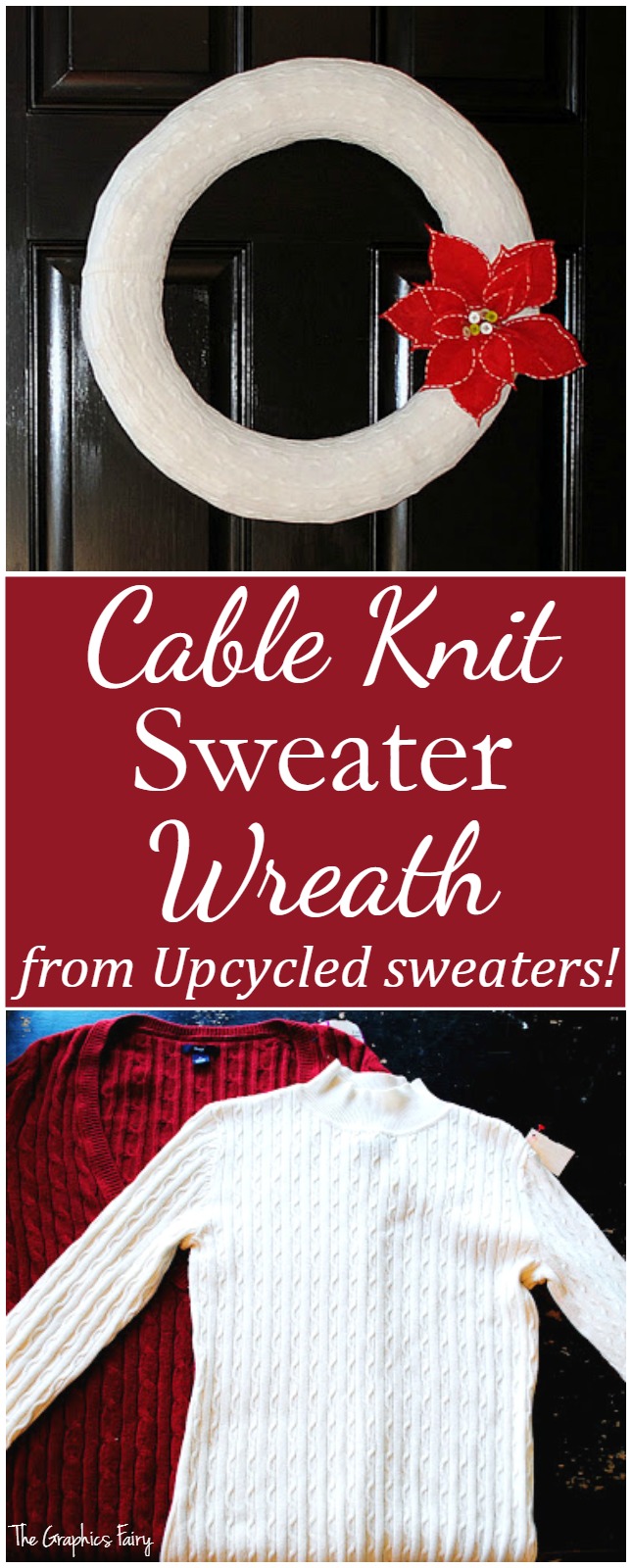 I'm loving the Cable Knit trend that's been so popular for the last couple of years. For some reason I seem to be cold most of the time, so I'm drawn to anything that looks warm and cozy! I was at Target the other day and saw an adorable Cable Knit Sweater Wreath and decided to try something similar.
This post may contain affiliate links which won't change your price but will share some commission, you can find our
privacy policy here
.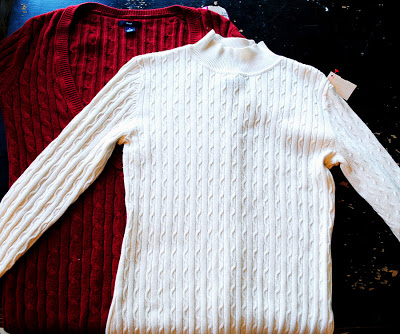 I headed out to Goodwill and picked up a couple of Cotton Cable Knit Sweaters. I ended up just using the creamy one for this Wreath. I'll probably use the red one for something else.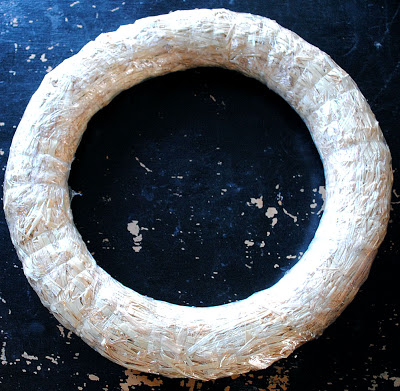 I used a large Straw Wreath Form for the base.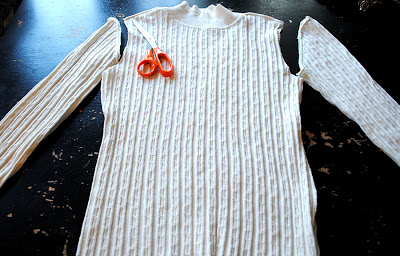 Step 1: I turned the sweater inside out, and cut the Sleeves off along the seam.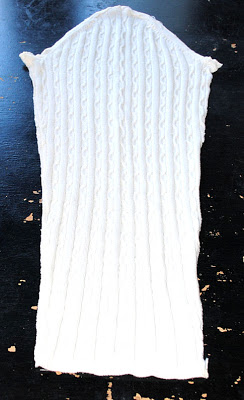 Step 2: Then I cut along the long seam of each Sleeve in order to open it them up to have 2 flat pieces of fabric to work with.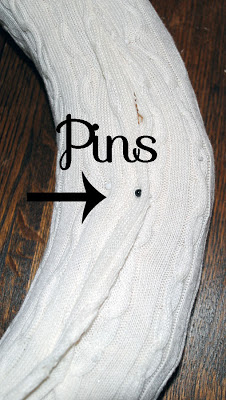 Step 3: Next I pinned the sleeves onto the Wreath Form. You may need to stretch them as you go. I had to readjust them, tug at them a bit and then repin, in order to get the 2 sleeves to meet up and cover the whole form.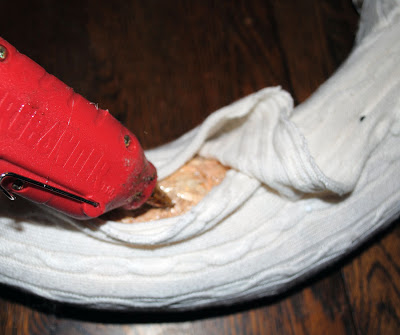 Step 4: Once you have it pinned the way you like it, take your hot glue gun and glue down the edges, removing the pins as you go.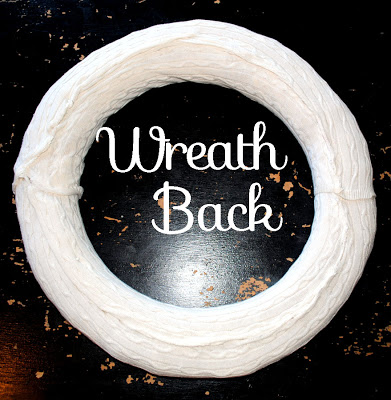 Here's the back of the wreath. I had planned on gluing some white felt to the back, to cover up the seams, but it looked pretty neat, so I just left it alone.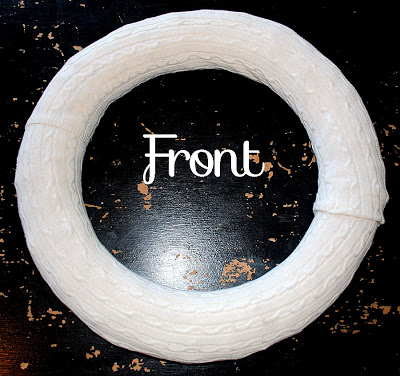 Here's the front. On the left side is where the wristbands lined up, that came out nice and smooth like I had hoped. The seam on the right is where the shoulders lined up, I knew this side would be a bit lumpier which is fine, because it will be hidden anyway!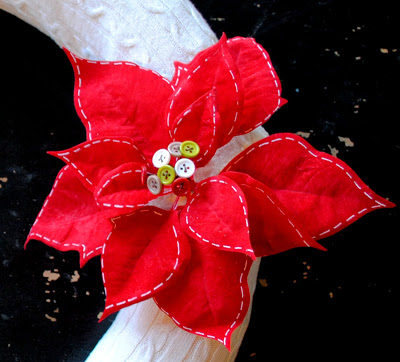 I had planned on adding a Red Felt Bow, but I came across these adorable Poinsettias, at Michael's Crafts and decided to use one of them instead. Isn't it cute?!! It has little Buttons in the center, and white stitching along the Petals, so cute and crafty! Also, the Poinsettia had a little clip on the back of it, so I just clipped it right on. Easy! And I can change it out for different Seasons, so it's super versatile too!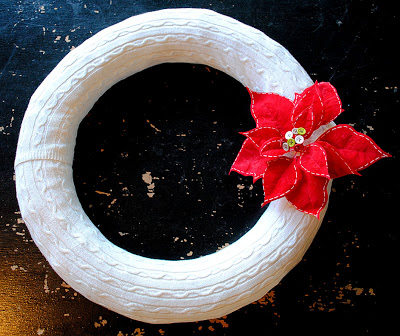 There you have it!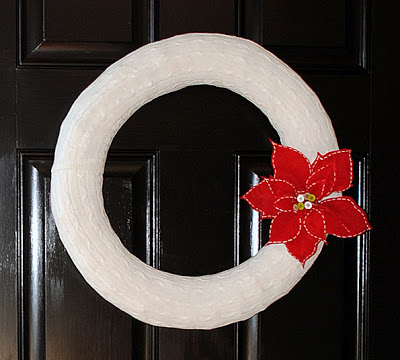 This was such a fun project and I love the fact that I was able to recycle an old thrift store Sweater to make this! What do you think, do you like this trend? Have you made any decor pieces from an old Sweater?
*This post contains affiliate links.