How to Antique Glass – Aging Technique
Hello, dear crafters! It's Heather from Thicketworks. I'm here to share a simple but glamorous Antiquing Glass technique! We'll turn an ordinary glass bottle into a romantic Faux-Antique Treasure Bottle. You'll have fun with this one. I think you will love the Technique when I show you how to Antique Glass…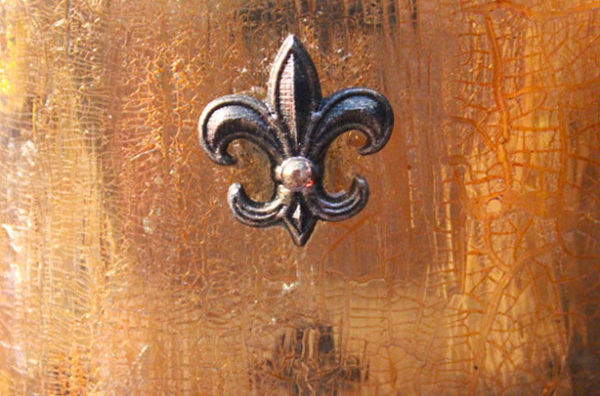 Have you been wondering … "How do I make glass look Vintage?" It's always great fun to take something new and turn it into something that has a timeworn patina! Having a few Aging Techniques that you can pull from can really add a richness to your projects.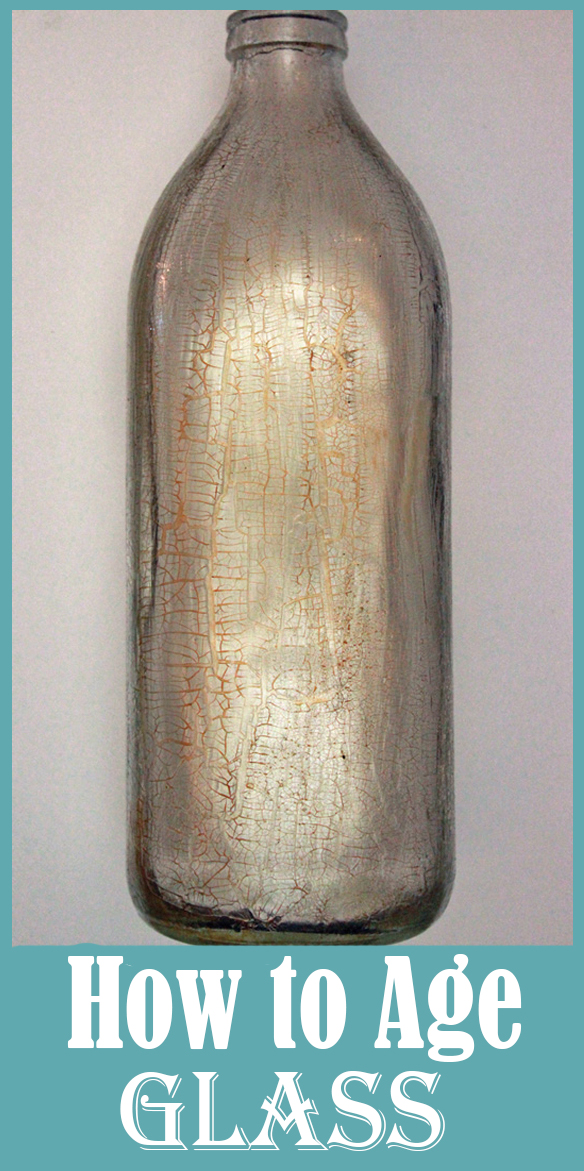 Here's a list of what you'll need to complete a similar project:
Antiquing Glass Supplies:
A clear glass bottle
A cork that fits said bottle
White school glue (I got mine at the Dollar Store)
Tim Holtz Distress Crackle Paint in Clear Rock Candy
A couple of medium sized artists paint brushes
Distress Stains in Dried Marigold, Gathered Twigs, Antiqued Bronze & Black Soot
A fragment of sea sponge, for applying the stains
Fabri-Tac adhesive for trimmings
Optional Supplies:
Decorative finial
Metal stampings or embellishments
Various Ranger Adirondack Alcohol Inks to tint embellishments
Blending Felt pads / Applicator for the alcohol inks
Assorted die cut papers for embellishments
Beaded trim, if you like that look
A handcrafted Tattered Tassel, if you choose
How to Antique Glass Tutorial:
Let's make New Glass look Old! Let the Antiquing process begin …
To begin, clean and dry the surface of the bottle thoroughly with glass cleaner, Windex or White Vinegar.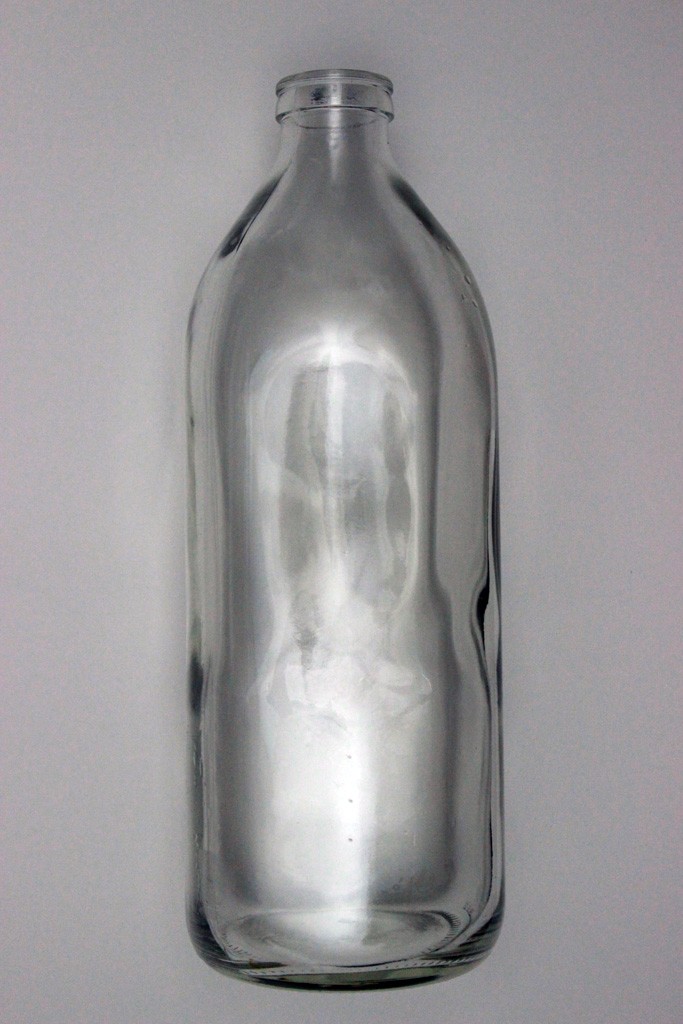 2) On your protective work surface, coat the bottle with a generous layer of white glue.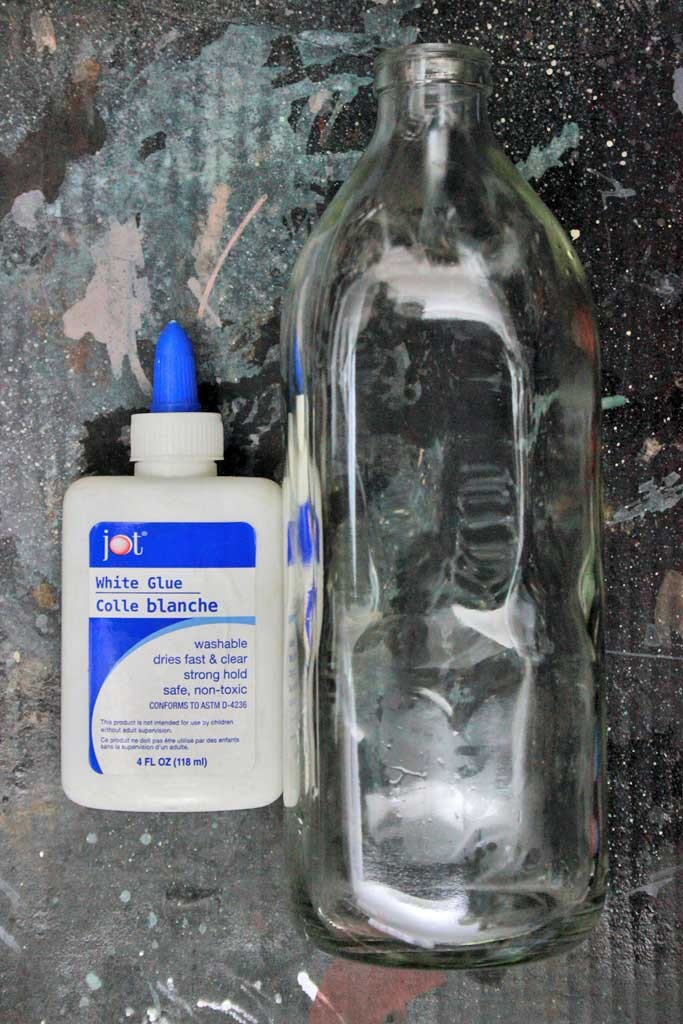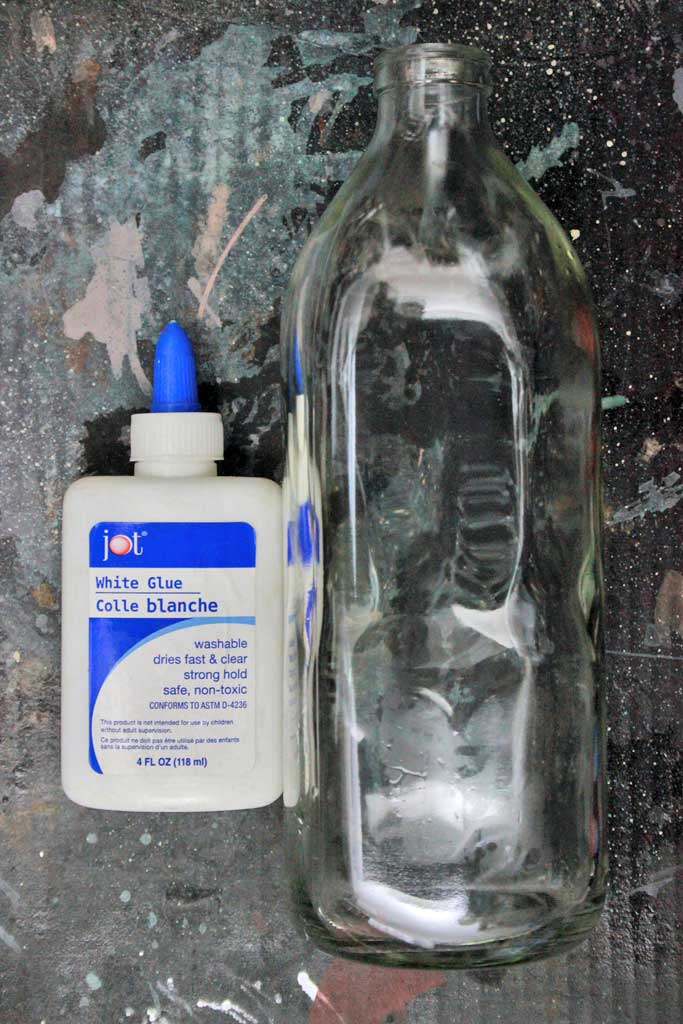 Don't be shy…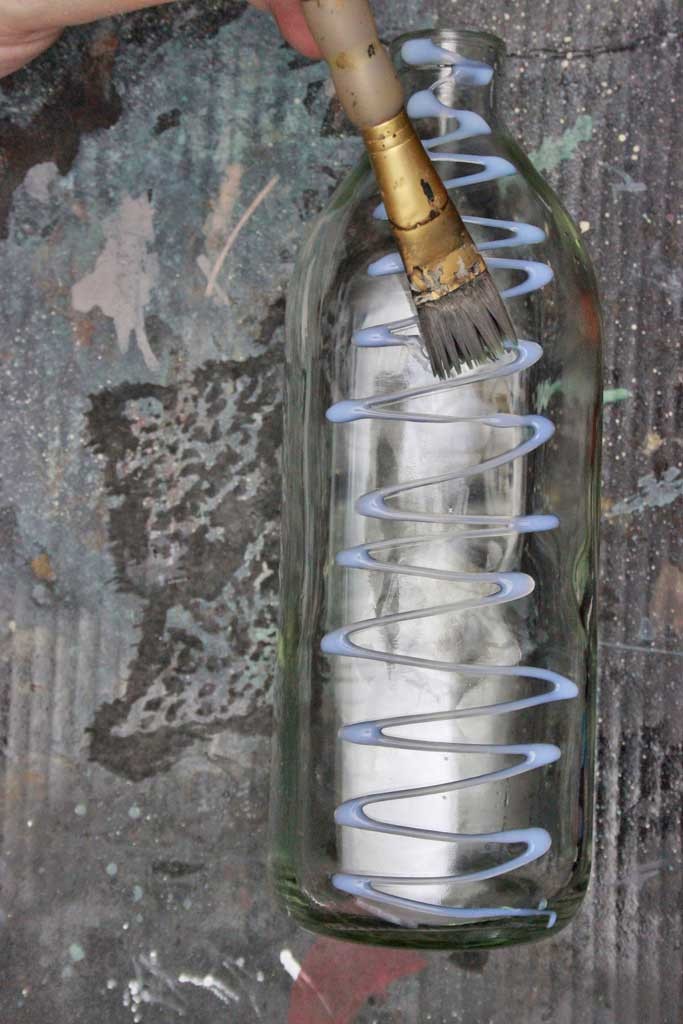 3) Allow to dry…it took about an hour and a half with this glue.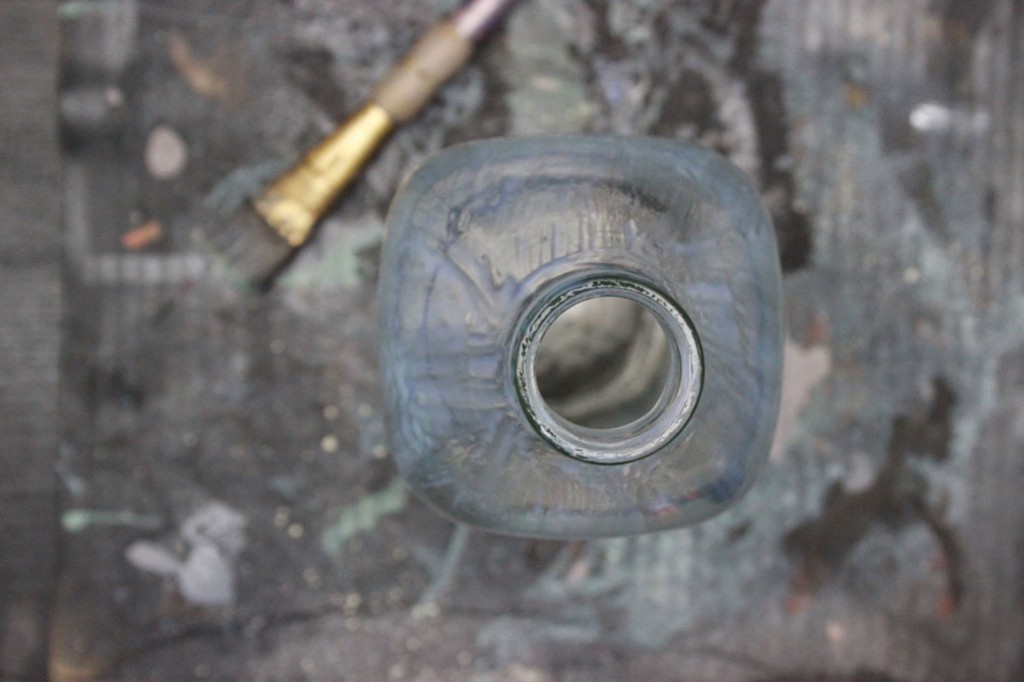 4) When the glue has dried completely, paint on a generous coat of the Rock Candy Distress Crackle Paint: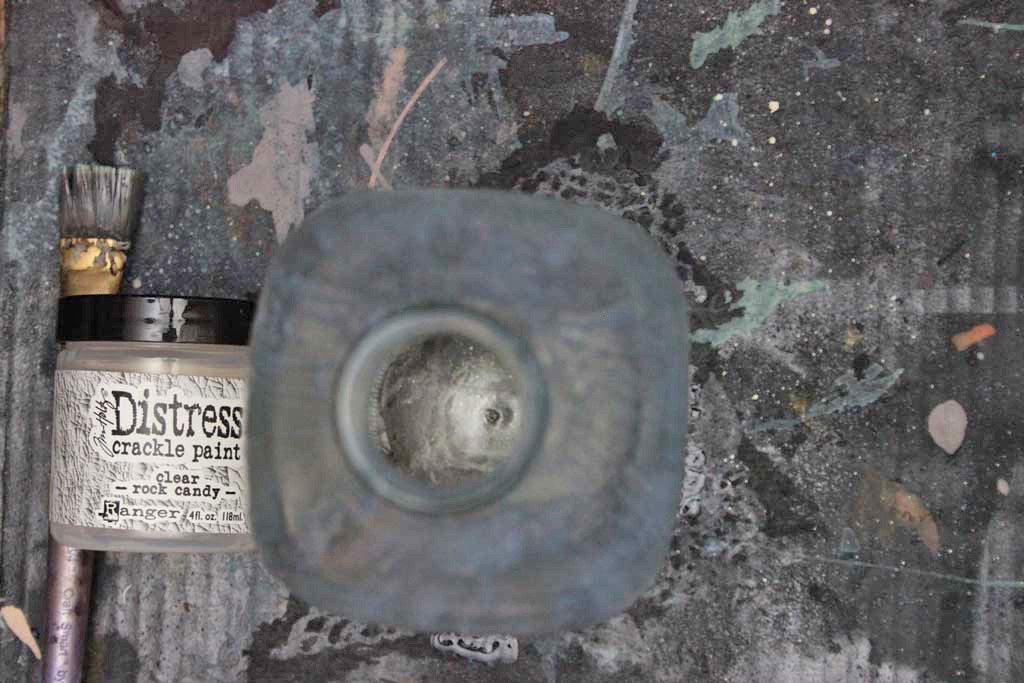 Note: The size of the cracks is governed by the thickness of the product…bigger cracks on thicker layers, smaller cracks from thin coats.
Try to keep your brush strokes aligned in one direction, this will give you a better end result. I painted mine vertically.
5) Allow this to dry thoroughly. Overnight is best.
6) When it has cured, it's time to add depth and mystery to your crackled finish. Grab your Distress Stains, and something spongy.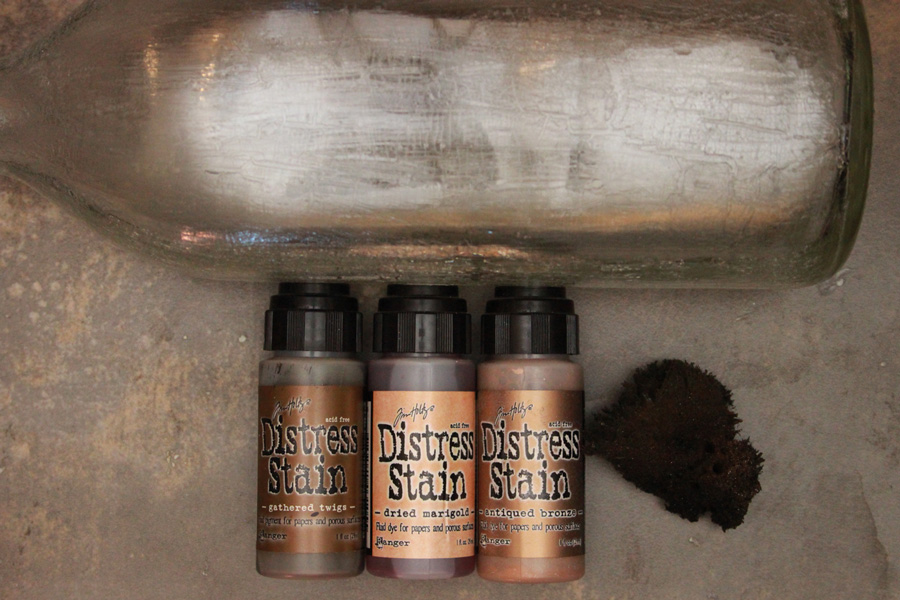 7) Begin with your lightest color. This is the effect of the Dried Marigold: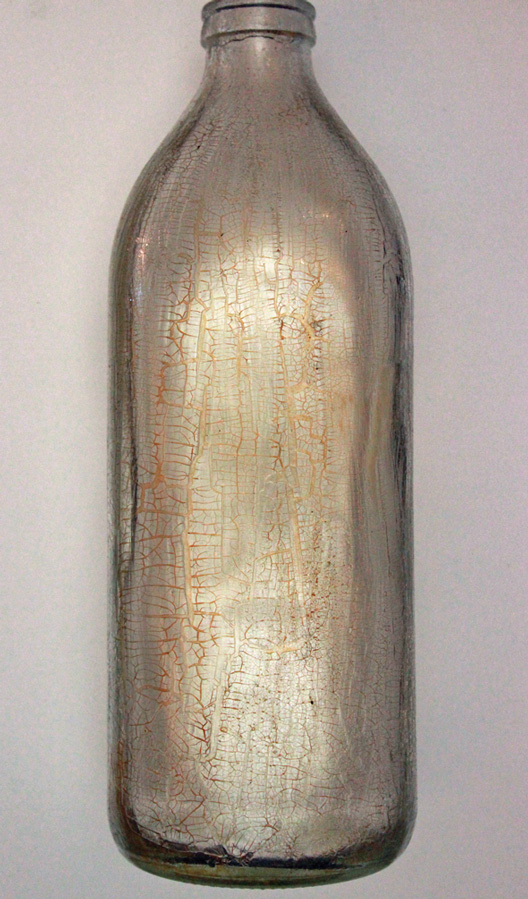 8) Add a deeper color to enhance the depth of finish.
Here's the result after a splotchy wash of Gathered Twigs: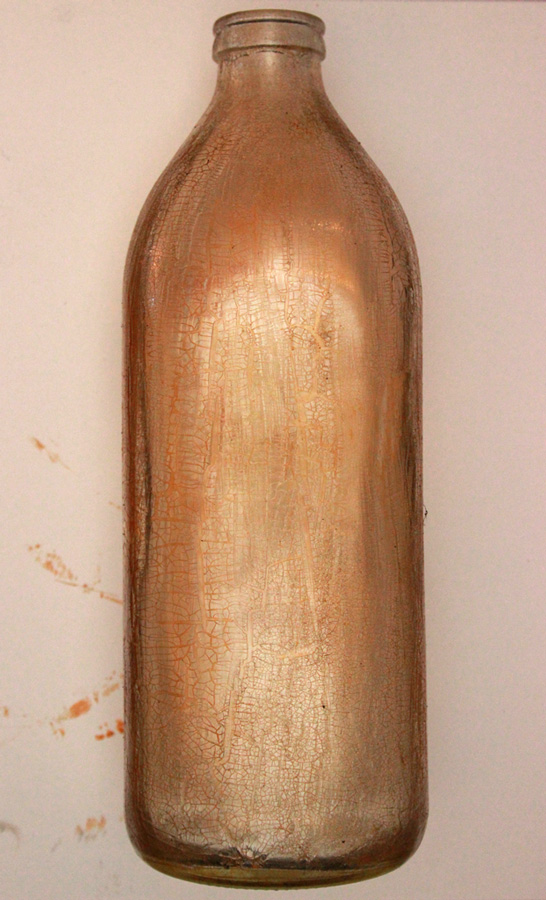 9) Finally, if you like an ombre effect, add the Antiqued Bronze to the neck area of the bottle, and the Black Soot to a few inches at the base: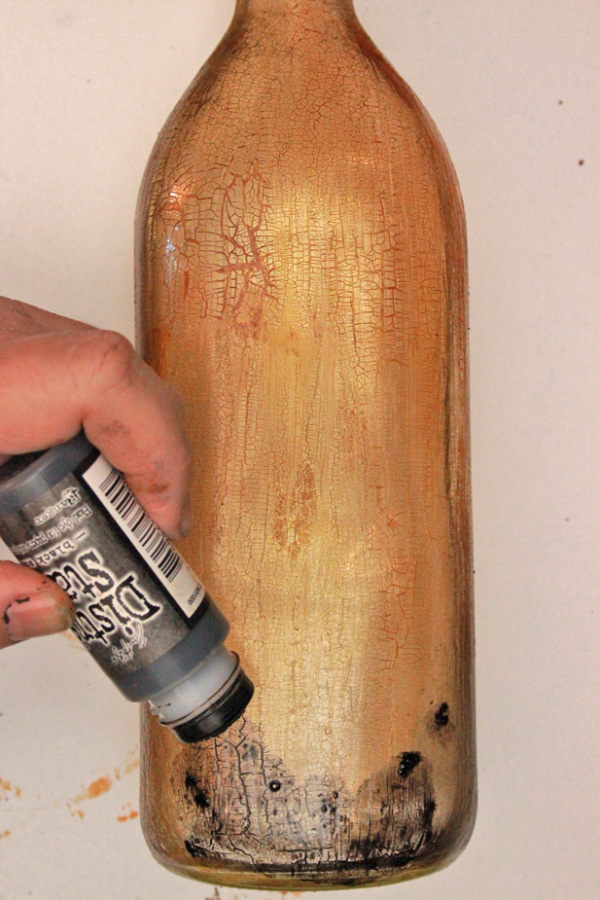 Yum…I love the richness of this finish!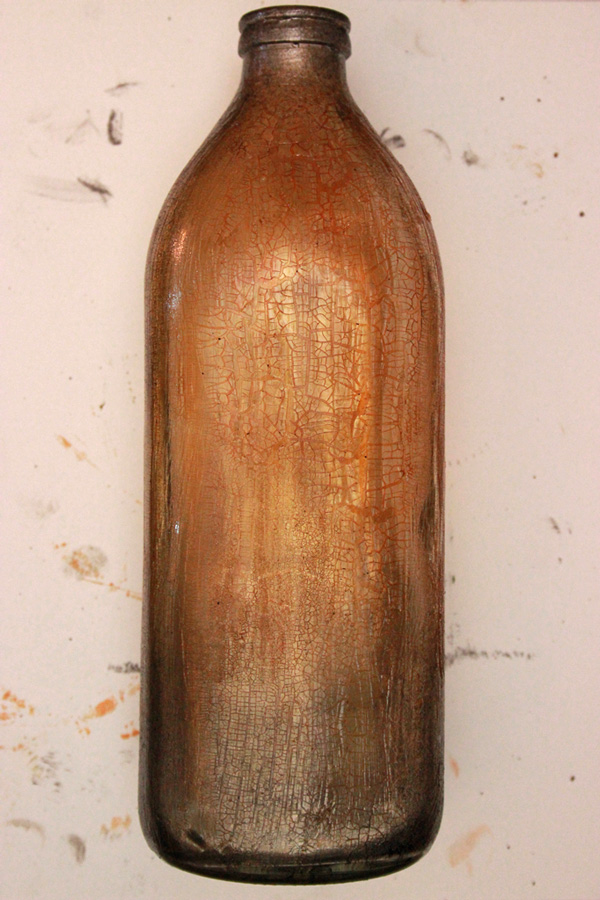 10) If you're adding embellishments, tint them with alcohol inks in harmonious colors.
I used the Blending Felt without the Applicator to get into the nooks & crannies, I find it works better than a paint brush: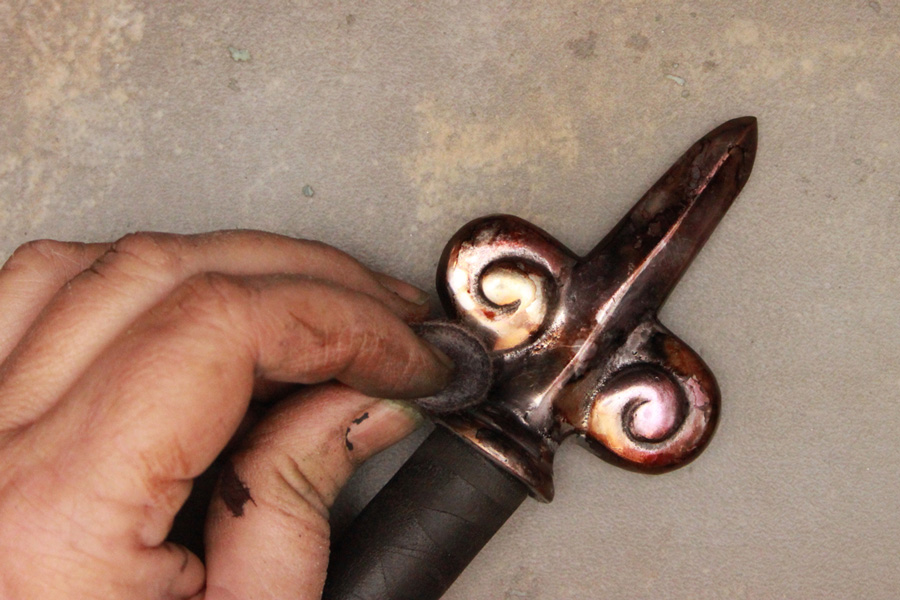 11) Spread out an assortment of items you are considering in your work area, and apply a similar finish to all of them.
I didn't use all of these in this project, but I work with this palette all the time, so nothing will go to waste.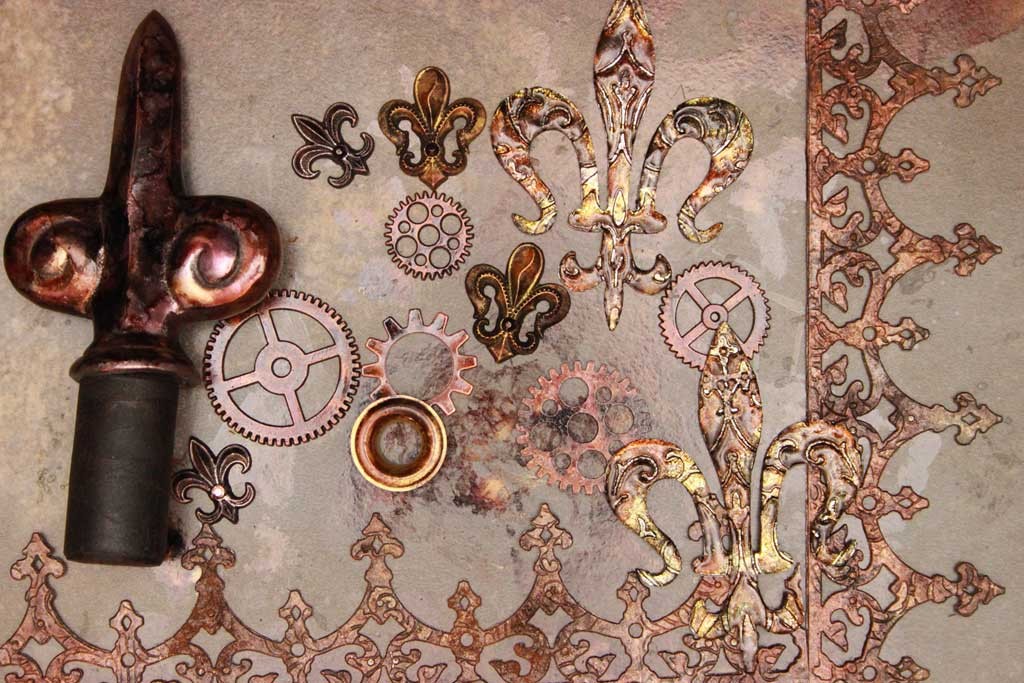 12) Adhere your embellishments to the surface of the bottle.
Fabri-Tac smells awful and sticks to your fingers like crazy, be sure and wear gloves and use in a well ventilated area. It is my adhesive of choice for applications like this: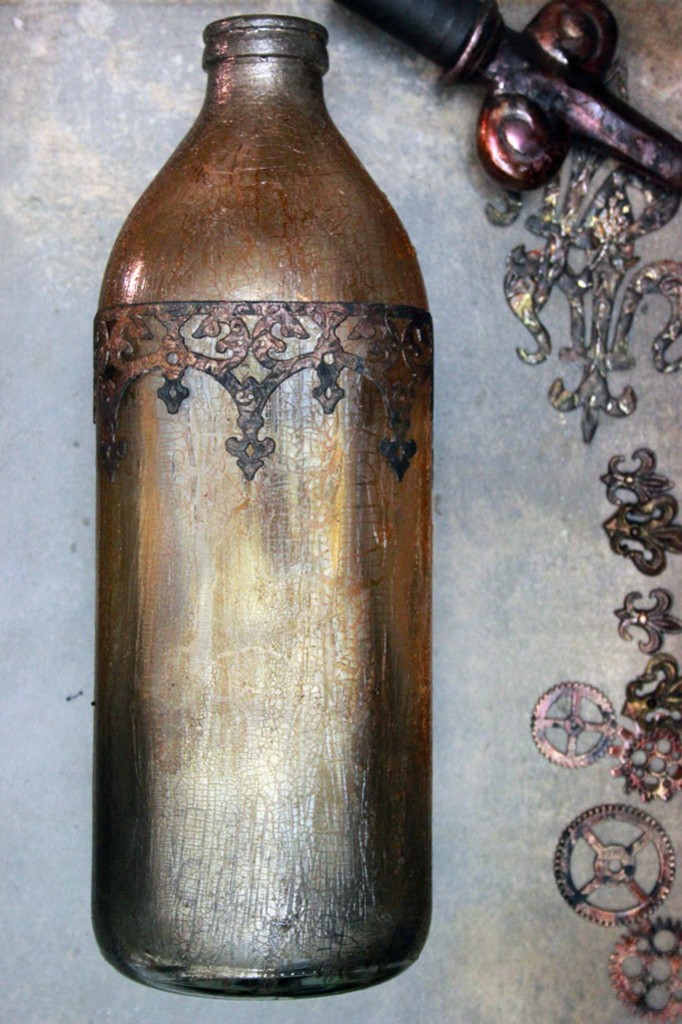 The final result is everything I hoped for: there's a richness and depth to our Antiqued Glass Bottle that makes my heart happy!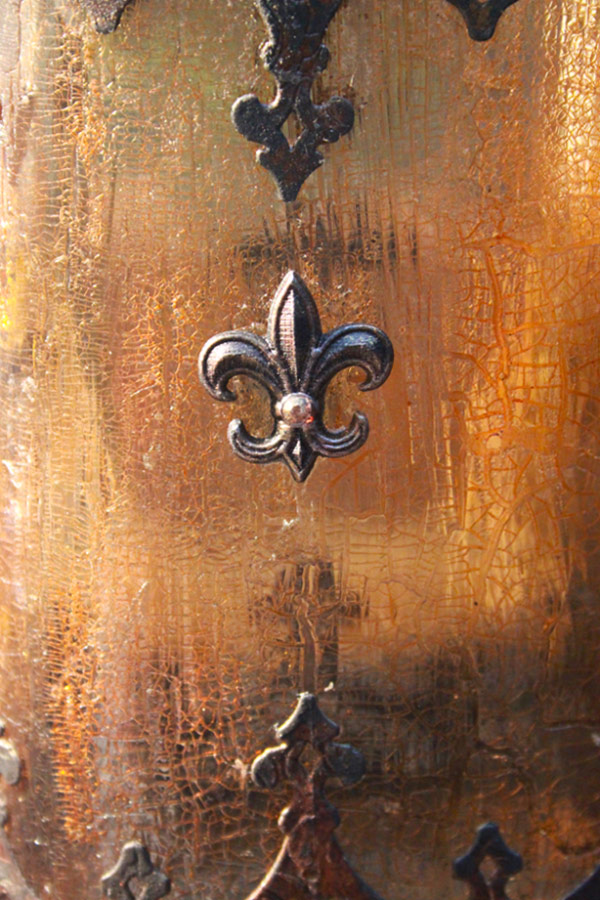 13) Finish off your new treasure any way you would like. Great job!
Here, I've used Rusted Fabric to create a Tattered Tassel that dangles from the neck of the Treasure bottle.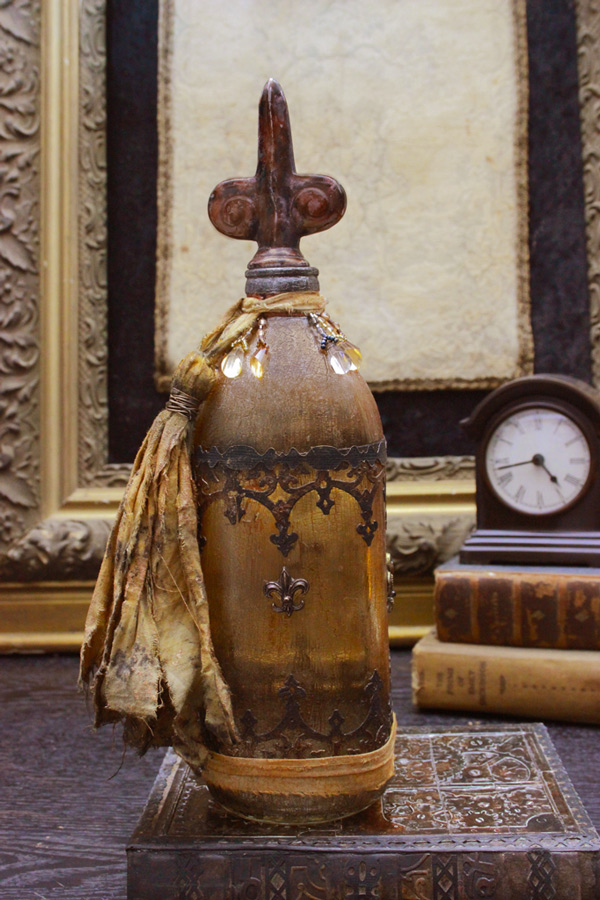 This is one of my favorite projects this season…the grungy yet feminine feeling is just my cup of tea.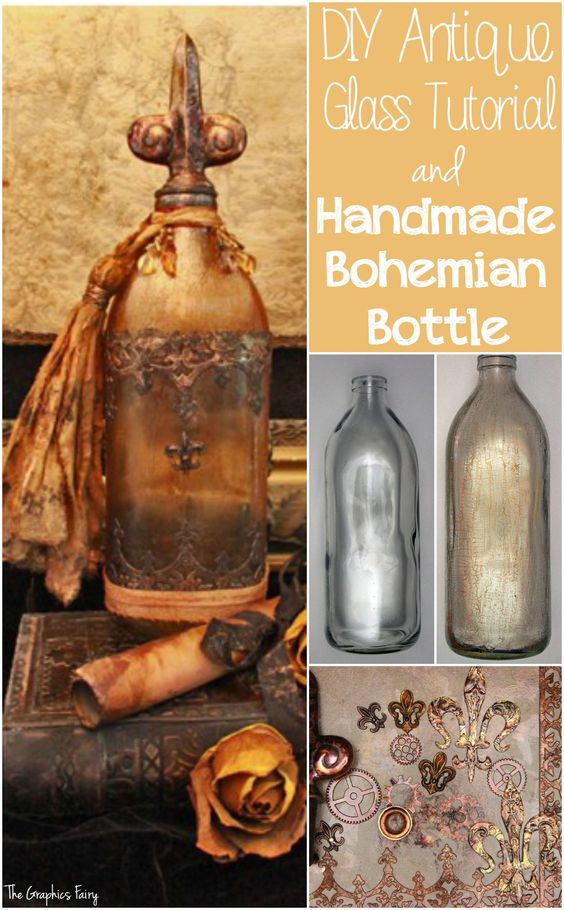 I hope that you enjoyed learning How to Antique Glass and that you'll create your very own Faux-Antique Treasure Bottle…who knows what precious secrets you could tuck within? Mine will house a Gratitude Scroll, listing all the blessings life has bestowed on me this year. Chief among which is YOU, dear crafting friends. Thank you for such a wonderful year, and for being so generous with your thoughtful comments! You mean the world to me.
If you enjoy grungy and sometimes elegant projects, visit me at Thicketworks from time to time. You'll find me up to my elbows in something fun!
You're always welcome there.
Take Care,
Heather