Make Halloween Candy Cups
This post may contain affiliate links which won't change your price but will share some commission, you can find our
privacy policy here
.
I can't believe that the Summer is over and preparations for the Fall Festivities have begun. Tons of Halloween Decorations and pumpkins are everywhere you look.  So I thought a simple…easy…and adorable little Halloween project was a good idea!  You are not going to believe how simple this adorable little witch candy cup is to make!  When I saw this graphic I feel in love and knew that I had to make something from it.  These are perfect for little gifts…glass party gifts…fill it with chocolate for your mail person…nurse…Vet and everyone else you want to share a little sweetness with.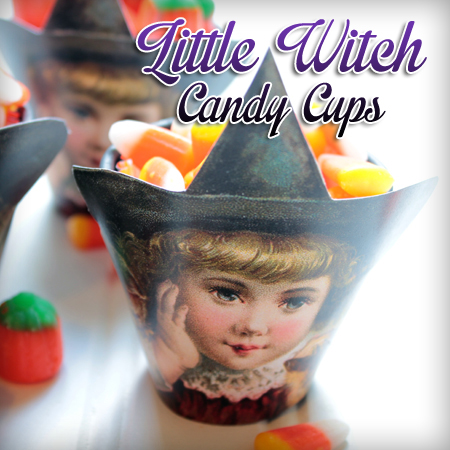 All you need is your little witch image (printed on cardstock) …a clay pot…cupcake liner …paint…glue…scissor…brush…cupcake liner and candy!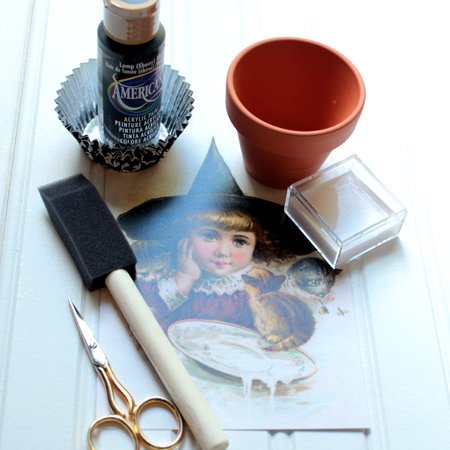 Your image size will depend on the size pot you will be using.  I used the small 2.5″ pot and I printed my image out 5X7.  Then wrapped it around the pot and drew the curve line to cut on so it would bend properly around the pot.  Then…cut and trim…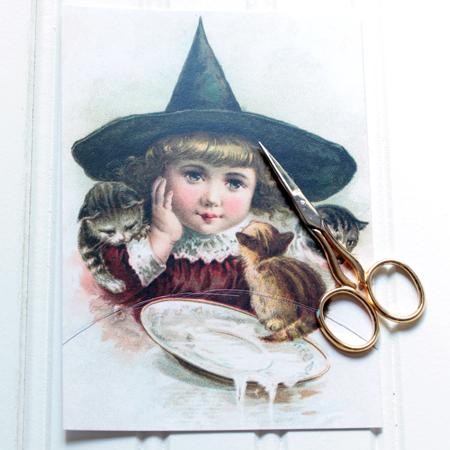 Like this…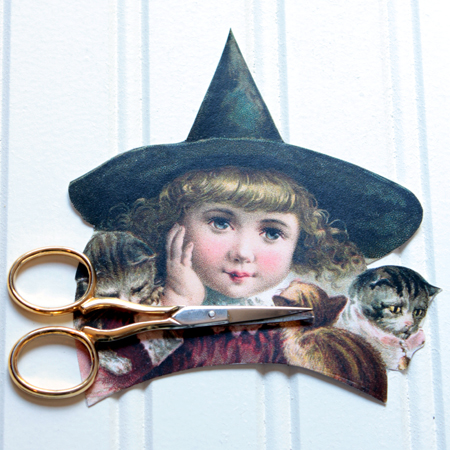 It's now time to paint the little pot or large pot the color of choice…I used chalkboard black.  I liked the way it looked and then on the small opening in the pack you can chalk a name for some extra fun!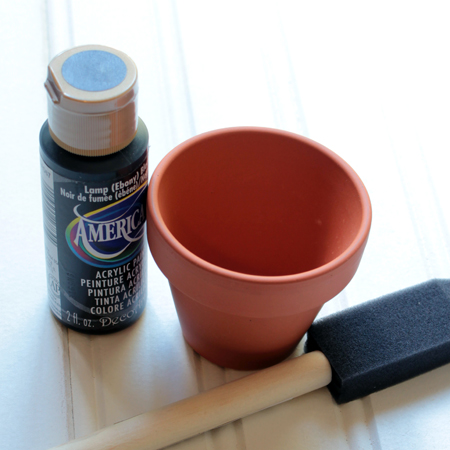 Now you glue the image onto the pot.  You can do it 2 ways.  1.  You can glue the back of the entire image except the top piece of the hat and place it on pot and apply pressure.  2.  You can simple tack the sides of the image with some hot glue.  Both methods work well…it is a personal preference.  I tacked the images with a dot of hot glue on both sides.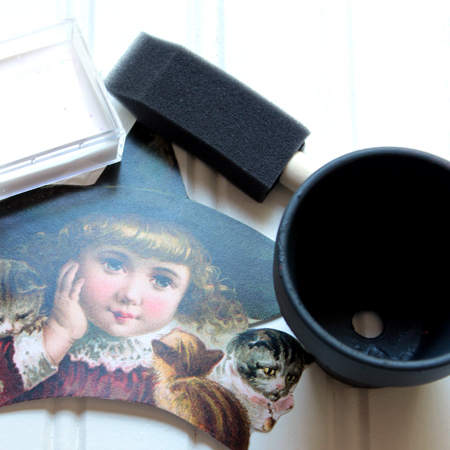 After you glue…it looks like this…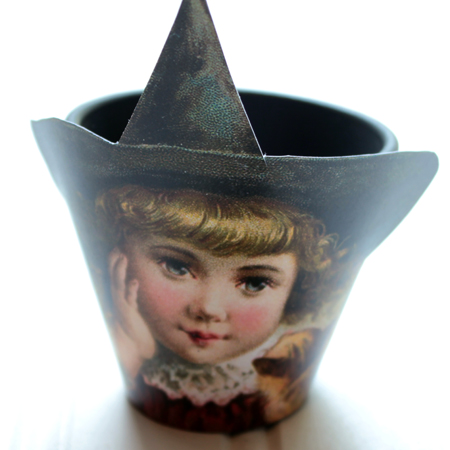 now place your cupcake liner in the pot…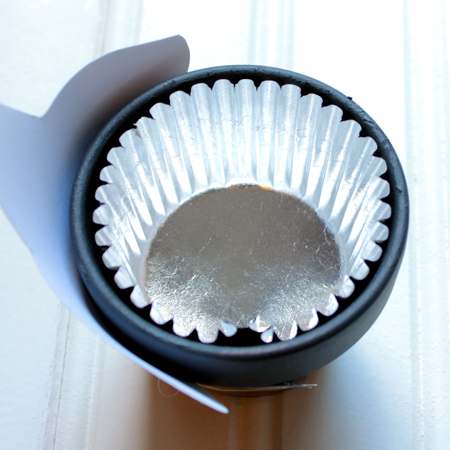 it's time to fill it with your candy of choice.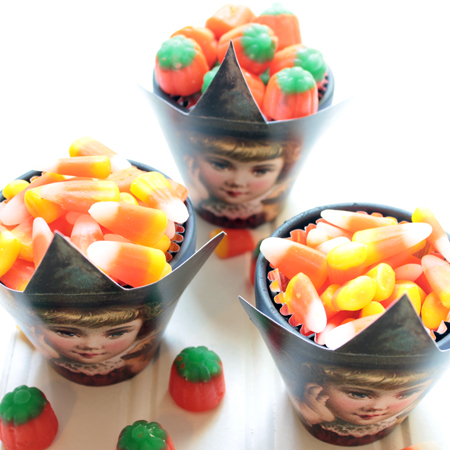 I love chocolate but the candy corns and little pumpkins give such a festive look to these little cuties.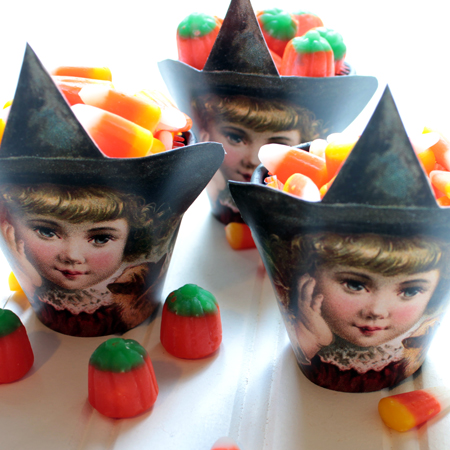 You are going to want to make these by the dozens!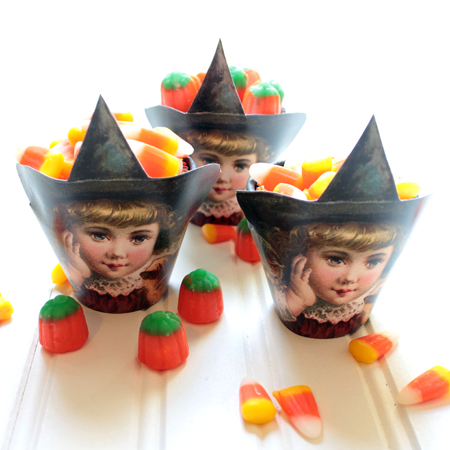 Sure hope you enjoyed this little Halloween Craft.  It's simple…quick and adorable!  Kids of all ages will enjoy this treat!  You can also wrap them with cello and tie them with black and purple curling ribbon!  One thing is a MUST…have fun!  I so think little fingers will love to help you make these…especially the filling part!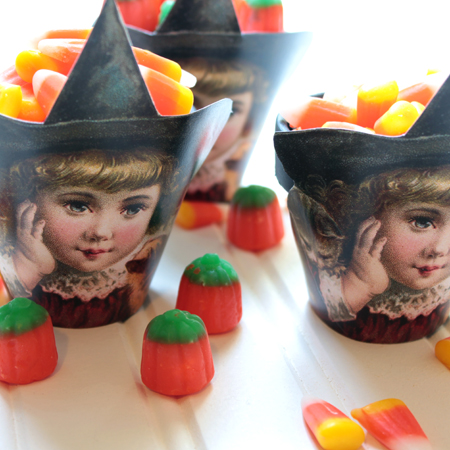 I'll have some more Halloween fun for you again soon!  Till then…enjoy your week and if you would like to drop by and say hi…I hang out at The Cottage Market.  Hope to see you there!
Hugs…
Andrea