Make a Shabby Christmas Angel Ornament
Hey guys, I'm so thrilled to have Anne from White Lace Cottage over here today, to share a gorgeous Ornament Tutorial with all of us! I'll let Anne take it away from here!
Hi! I am Anne from White Lace Cottage and I am thrilled to be here on Karen's beautiful blog The Graphics Fairy. Today I am sharing this simple to make shabby ornament or hanging wall art.
Karen has so many beautiful graphics it was hard to find one because I love so many. But in the end I chose this lovely Victorian Angel all  bundled up for the snow. I love simple projects don't you? Well this is very simple to make and very inexpensive too! While you are out thrift shopping look for a small frame. For my project I am using an old piece of a furniture applique, I found while thrift shopping. It sort of looks like a mini frame without the back.

First find the graphic you would like to use and print out the size needed to fit into your frame.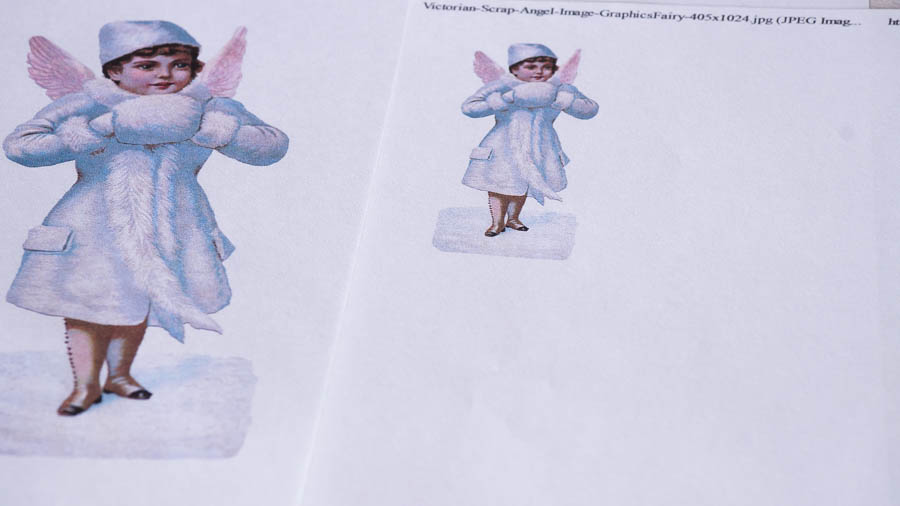 As you can see I have two the first one printed out way too big,the other is perfect.
Next cut it out.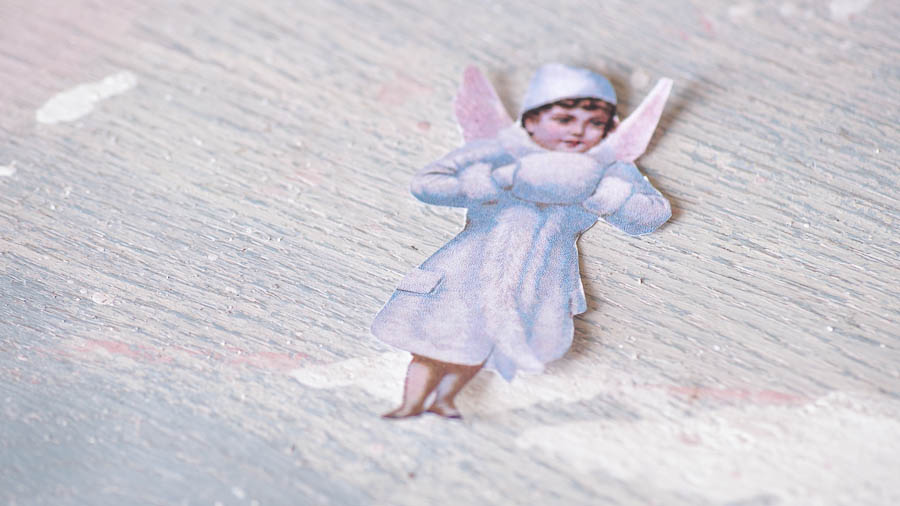 Another thing to keep an eye out for while treasure hunting is vintage or pretty wallpaper and trims like lace and ribbon.
Next take your frame place it on a piece of wallpaper and trace.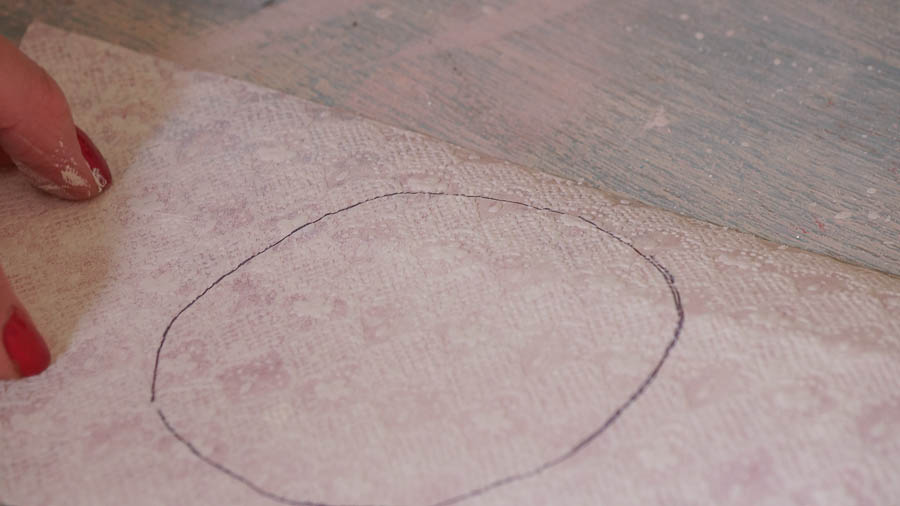 It does not have to be perfect,but make sure this is a little bigger than your frame opening. You want this glued on to the back of the frame, pretty side showing. You can trace this with pencil,I used a pen so you could see the shape.
Next cut this out and glue it to the back of your frame pretty side showing as you look at the front of the frame.
I used a hot glue gun to glue mine but you can use tacky glue too! Doesn't this applique look like a frame?
Next start deciding where you want your graphic,I am also adding some words I found.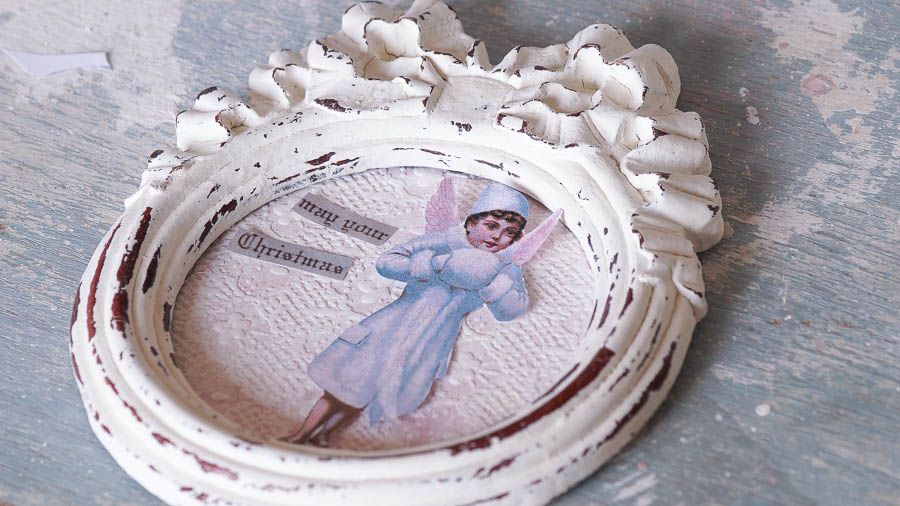 After you decide where to put your Angel and words start gluing the pieces to the ornament. I used tacky glue for this part. After I gluing I decided to add just a bit of sparkle and used my tacky glue on a few areas on the Angel,like her wings,her hat,and muffs. Then sprinkled a little German Glass Glitter on top of where I added the glue. You don't want too much glitter, just a little to highlight is all that you will need.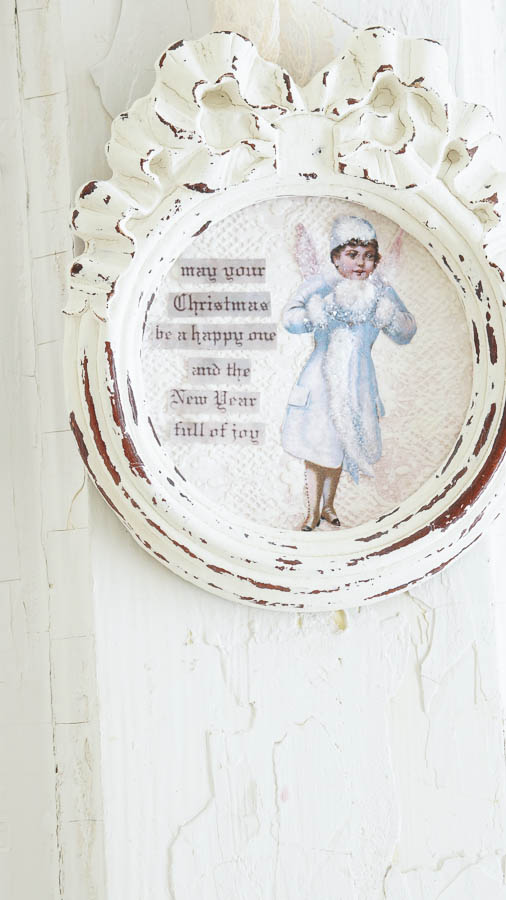 This is the finished piece,pretty simple huh? To hang this I used a piece of lace trim and glued it onto the back. If you want the back pretty just cut out another piece of wallpaper and glue that on top of the lace an the back of the frame.
And that's it!
This would make a beautiful gift for someone to hang on a tree or as a wall art or even on a door handle or wall hook.
Karen offers so many beautiful free graphics and they are so easy to turn into a beautiful piece of art. If you are looking for a last minute gift idea,this one is super easy and very inexpensive.
For more ideas you can visit White Lace Cottage.