As promised, when I started this new blog, here are some photos of my home. Today I'm sharing my Family room. At one time this room was a bright fresh springy green, with pops of red. It was more of a cottage look. But I wanted something more sophisticated and neutral so I repainted this room, and the kitchen, with a nice taupe shade. The black and white floor leads into my kitchen. It's kind of interesting in this photo, but I'm planning on switching it out for dark hardwood at some point.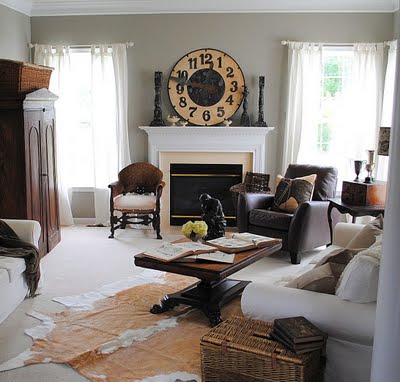 After painting the walls taupe, I purchased the white slip covered couches from Ikea. I removed all the old accessories and then I left it as a blank slate for awhile. I didn't want it too cluttered, and I wanted to think about what should really go in the room. Then life got in the way and before I knew it, several months (maybe even a year? ugh!) had gone by and I still hadn't really done anything with it. I showed some of the photos to two of my girlfriends, Amy who just happens to have been a stylist for Country Home Magazine, and Lisa who also has a great eye for design, and we hatched a plan to liven the place up a bit, and knock it all out in one day! Since we are all dealers at Old Lucketts Store, it was no problem to find great stuff. So the girls loaded up a van full of accessories, I made lunch, and we had a fun day playing with all the stuff in my house!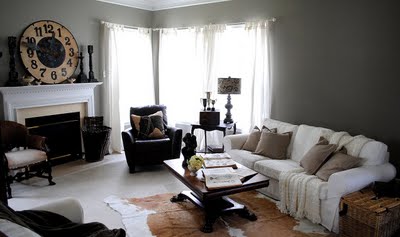 Amy wanted to keep the wall behind the couch blank, the mirror that had been there really wasn't large enough. I've since replaced it with a huge mirror, that works just right in the space. I'll show you that another day!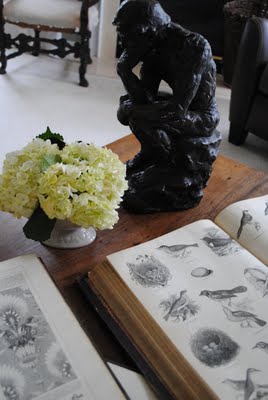 Here's a peek at some of the books I use for The Graphics Fairy. The fresh flowers are part of Amy's signature look, she's all about the flowers!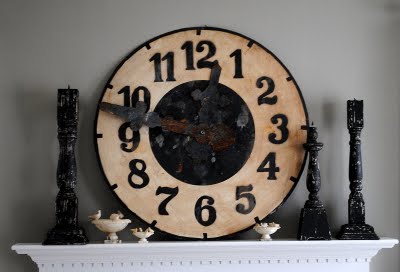 I think this clock is my favorite thing in the room, I love how well it works with my little collection of antique marble bird baths.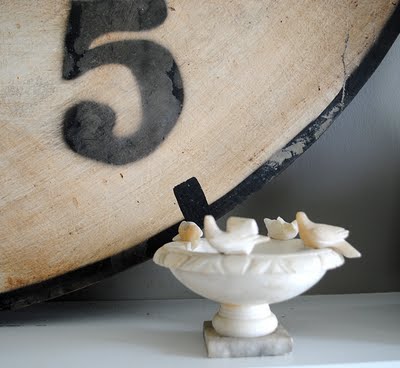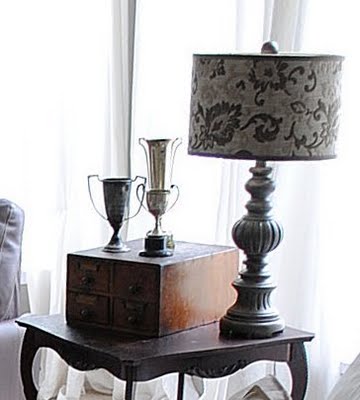 Okay wait… this lamp might be my favorite thing too. Alright … they are both my favorite things! The old file cabinet and trophy collection, were mine and the table too, I just pulled them in from other rooms.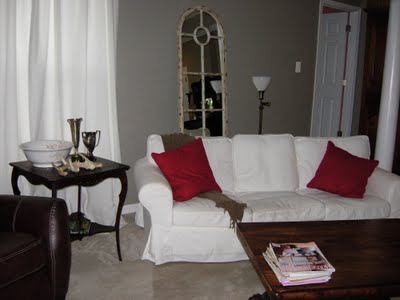 This photo, and the one below, are the before shots. As you can see, not very exciting. And the mirror and lamp, behind the couch were the wrong scale.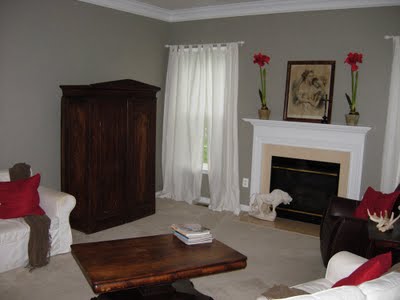 The red Amaryllis were still up on my mantle, many months after Christmas! Yes, I do realize how sad that is, but at least I got the Christmas tree down!
Anyway, I'm so pleased with how it turned it out, and it was such a fun day too! Thank you so much Amy & Lisa for all your help!