How to Clean Vinyl Floors Easily!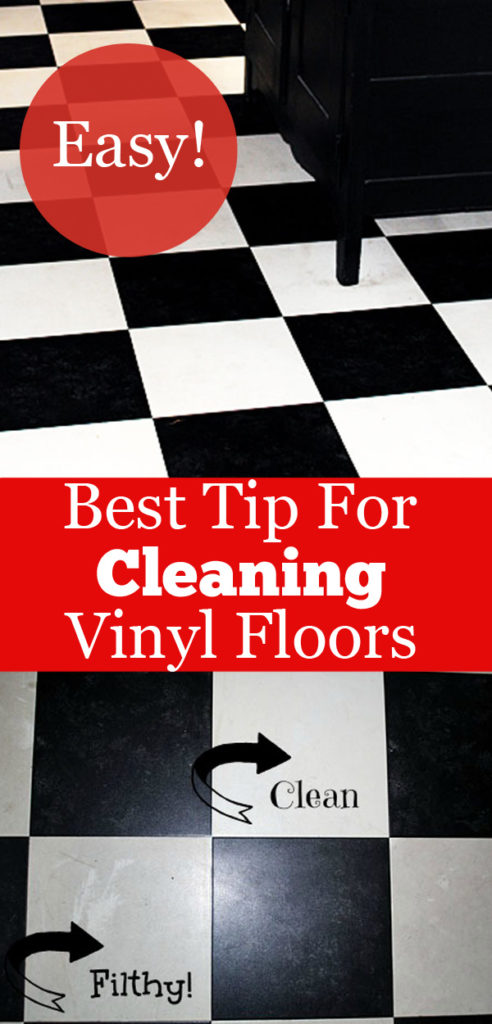 This post may contain affiliate links which won't change your price but will share some commission, you can find our
privacy policy here
.
Well, I have to say this post is a little embarrassing, however this is such a great tip that I just can't keep it to myself! We've been in our home for close to 9 years, we bought the house new, from the builder, and didn't have the budget for expensive flooring in the kitchen, like wood or tile. So the best we could do was to get an upgraded vinyl. I really liked this floor in the beginning. I loved the black and white check pattern, and it has a subtle marble effect on it, that actually even fooled my Mother in Law into thinking that it was the real deal, when we first moved in! But over the years it got harder and harder to keep it clean. Four teenage kids and one Dog took their toll on it. The dirt was really ground into the… pores? … crevices maybe? … of the vinyl, and it looked filthy and nasty, as you can see by the photos!
Here you can see how disgusting it was! I have to say that I'm my defense, I have a cleaning service come in and mop my kitchen floor twice a month, and they have done this for years. There have been at least 5 or 6 different ladies from the service that have cleaned it, and each year it got worse, no matter how hard they tried! So it wasn't just my sad lack of cleaning skills, or at least not in this case! Anyway, one of my girlfriends told me about something that she used on her vinyl floors that worked like a charm. I tried it out on the vinyl tile above and was surprised at how easily it removed the grime! Want to know what it is?
Here's the secret! It's
this surprising product HERE
that you may already have in your house, but probably never thought about using on your Kitchen floor!! How crazy is that?!!
I was absolutely floored (no pun intended) when I saw how well, and how easily it lifted that grime right up!
Make sure you scroll all the way down to see how clean the floor looks after. And read all of the comments at the bottom of the page, left by other people that experienced the same miraculous transformation on their floors too.
Here's my step daughter, (aka Cinderella,) moping the floor. Yes, that's right… I'm part Fairy God Mother.. part Evil Step Mother! haha! Actually my husband was the one that made her mop it, in order to work off the cost of a speeding ticket, that she acquired. I placed the Green Cinderella Pumpkin on the counter, so that it would show up in the scene,  just to drive the Cinderella part home! Haha.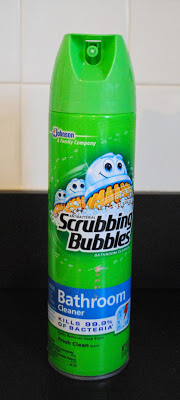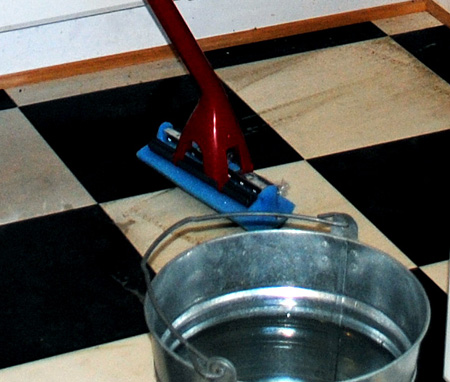 Anyway, back to the floor! All we did was spray the Scrubbing Bubbles onto the floor, working on a few sections at a time. Make sure the foam covers the vinyl pretty evenly and wait about a minute, or so,  for it to work it's magic. Then use a wet mop to wipe up the grime. We have a fairly large kitchen, so it took about 3 cans to do the whole thing. It's pretty amazing how it just lifts the grime right off of the vinyl! You can really see how much dirt came up, in this photo. We could have made mud pies right there in the kitchen! Yuck!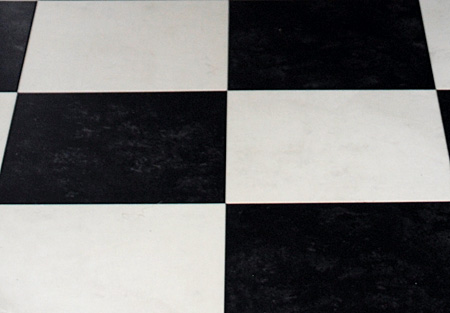 Ta da! It's like a brand new floor again! We actually did this a few months ago and it still looks great, so you wouldn't have to do this every time you mop, only every now and again if you see a build up of dirt. This flooring has a light marble effect to it, in gray, so what you see on the photo above is not dirt, it's the marbled pattern.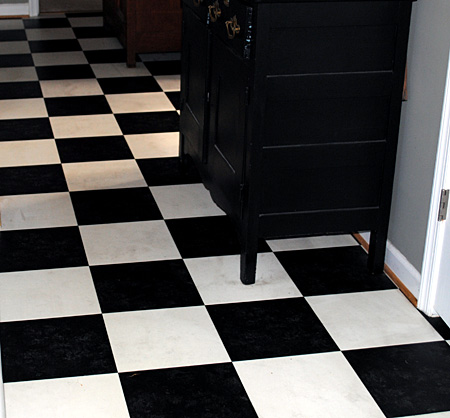 I can't tell you how happy I am with my floor now! I thought I was going to have to replace it, but now I don't have too. Yay! Let me know if you try this, I think you'll be surprised at how easy it is!
Please keep in mind I have only ever tried this on Vinyl Floor, so I can't comment if it would work on other types of flooring, and it may not be appropriate on other types of flooring. I would NEVER use it on Wood floors for example!
P.S. I was NOT paid to do this post and I bought my own cans of Scrubbing Bubbles, just wanted to share this awesome tip! Also, I have tried the Generic version of Scrubbing Bubbles before and that worked too, so if that's what you have on hand, go ahead and give that a try.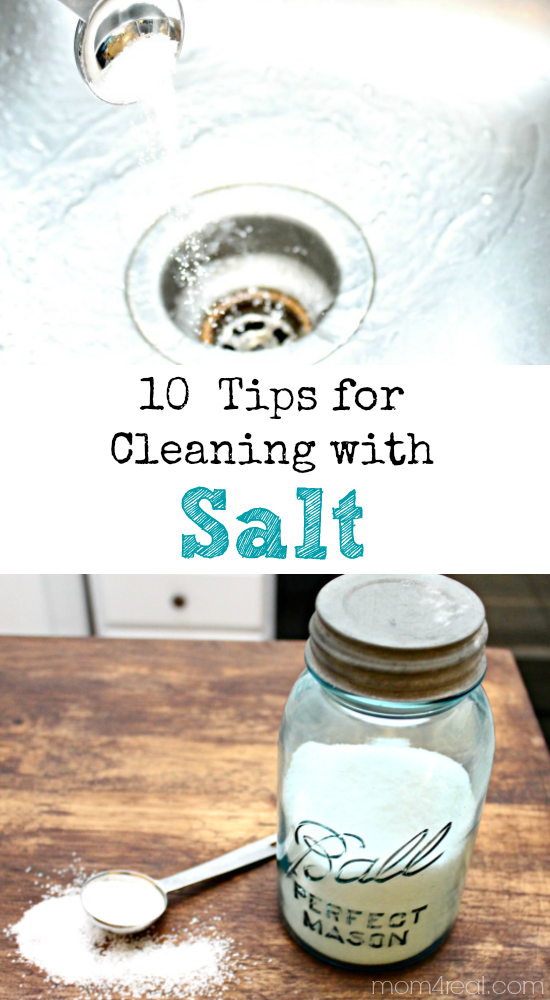 For even more cleaning tips check out our 10 tips for cleaning with Salt post HERE…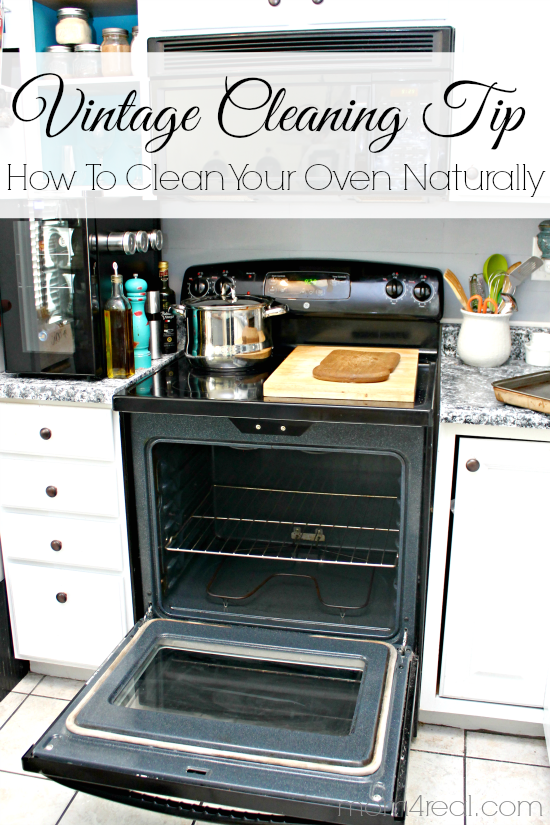 And How to Clean your Oven Naturally HERE.