Nature Philosophy Junk Journal
Hey, everyone! Julie Rohrer of August Birdsong, one of our amazing Junk Journal Design Team Members, created a fabulous Nature Philosophy Junk Journal for us this week. As you know, we feature one new Junk Journal project each week created by one of our creative team of artists. Our Design Team Members select from the 100's of Vintage Image Bundles on our Premium Membership Site, for their creations, in order to show you beautiful ways to use those images. We hope you will be totally inspired by this series!
Therefore, please make sure you check out the video tour at the bottom of the page…please scroll all the way down to see it. Are you ready to be inspired? I will step out of the way and let Julie tell you all about her lovely project…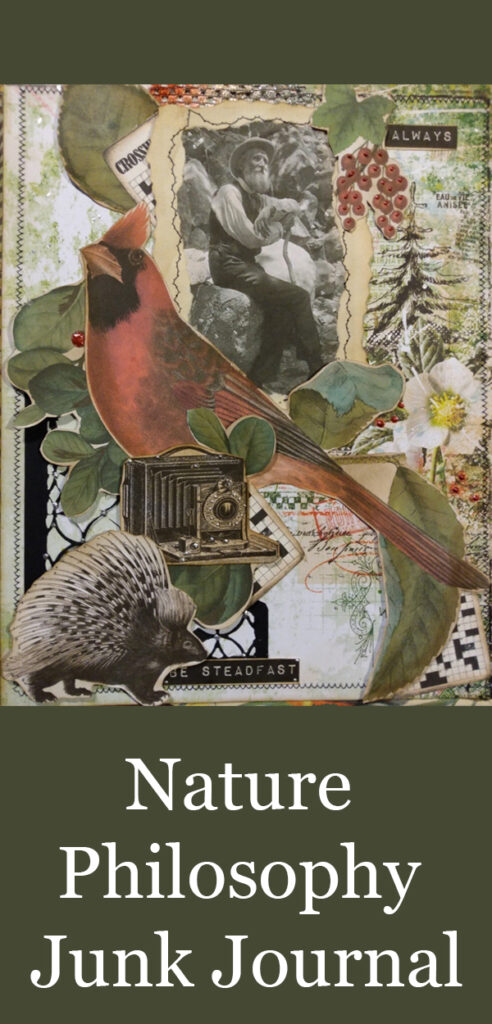 Hello Everyone! When I decided to use the theme of nature for my visual journal, I knew that I would love to include images of animals, fruit, flowers, and forests, but I felt like I wanted to have more focus. That's when I started thinking about William Wordsworth, Henry David Thoreau, John Muir, and Edith Holden. All of them were from the 1800's, but why was nature so important to all of them in that century? Then it hit me; they were all part of different movements that celebrated nature and its beauty, namely Romanticism, Transcendentalism, and Naturalism.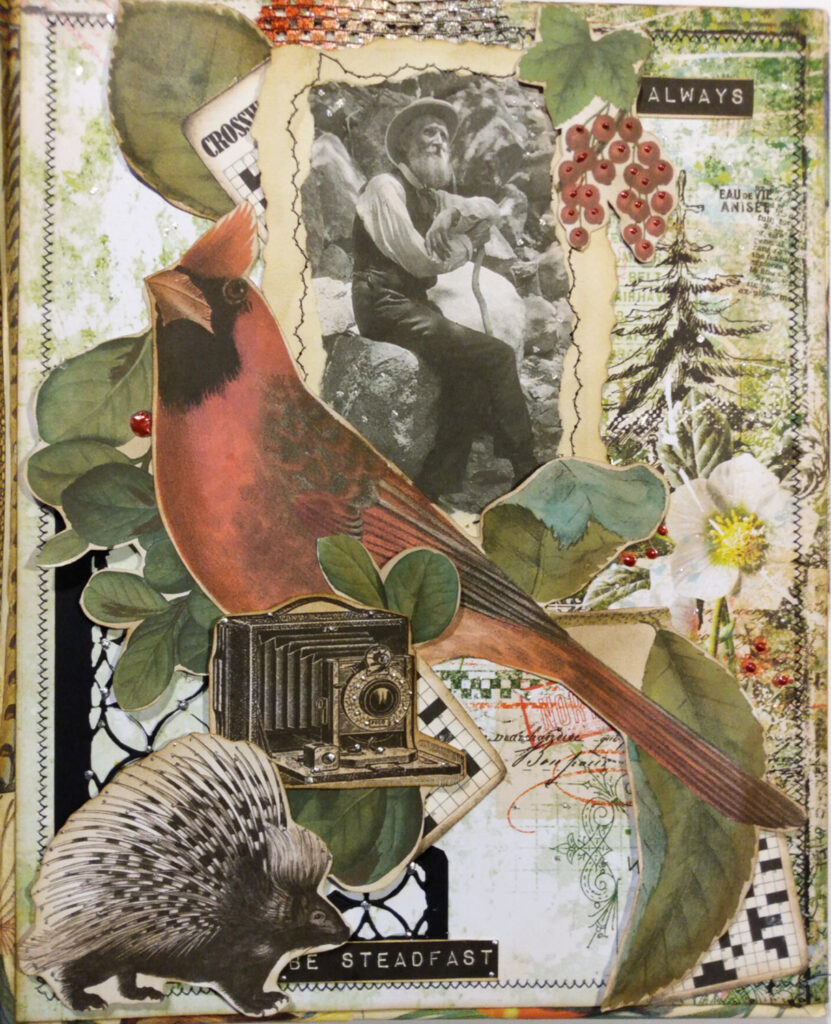 I placed John Muir on the cover because he had such an impact on legislation for the creation of National Parks and Forests in the United States as well as creating The Sierra Club. Notice that I placed him with that beautiful enlarged cardinal and added the berries for that additional pop of crimson red. Because the photo was black and white, I brought in the porcupine, camera, words, trellis, and crossword puzzle pieces to unite all of the elements.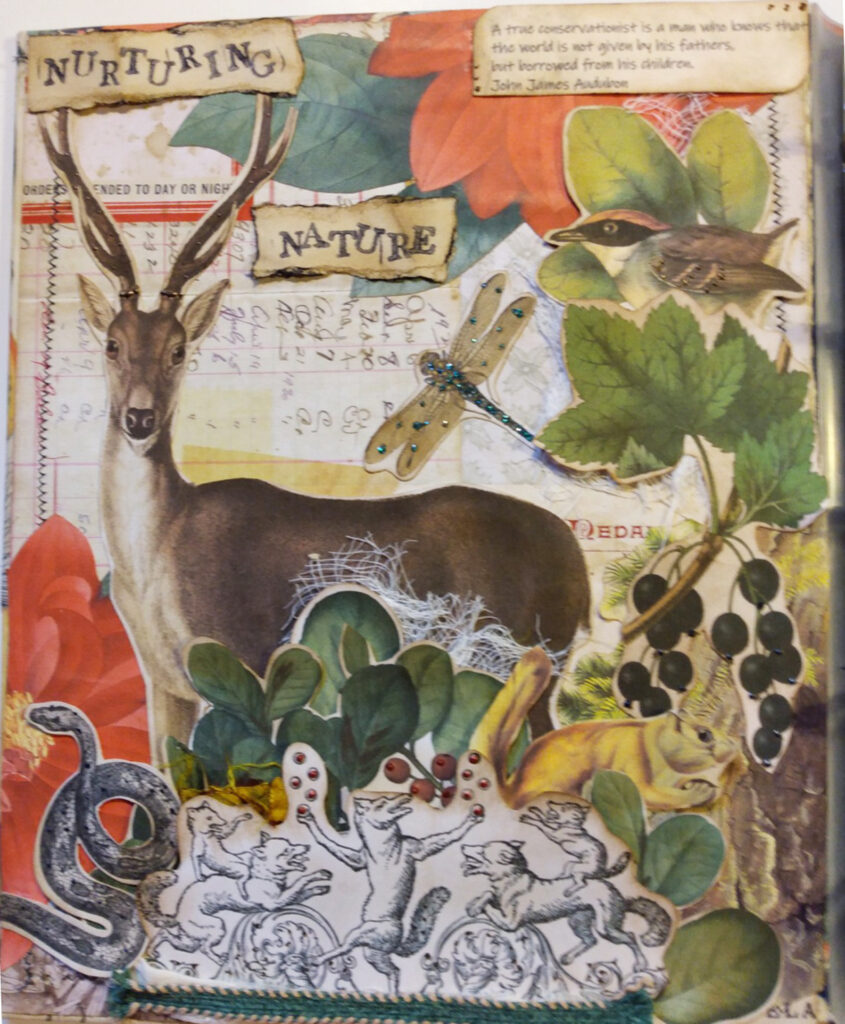 The inside of the front cover is a collage of living creatures and botanicals. My title "Nurturing Nature" is a little ambiguous intentionally. Is nature nurturing mankind or should mankind remember to nurture nature so it lasts for future generations? Maybe both.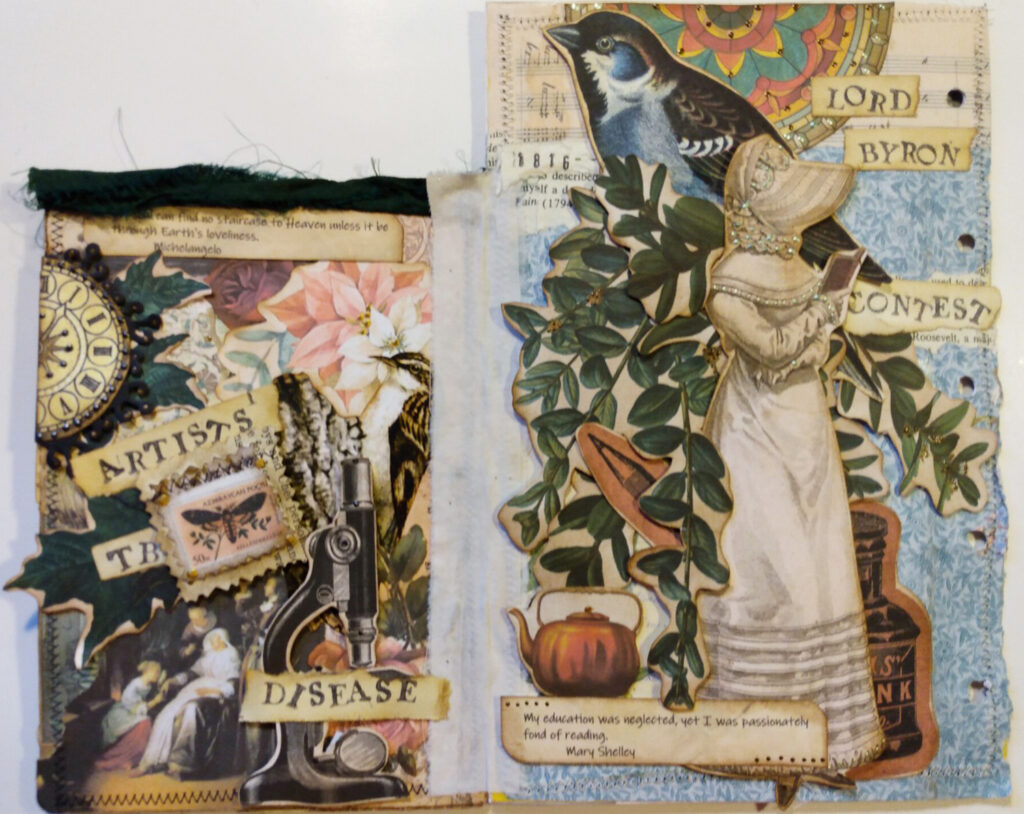 The journal begins with a look at nature and Romanticism. Nature was the theme of so many poets, painters, and musicians, some of whom spent time amidst nature as they were struggling to survive tuberculosis, a deadly respiratory disease throughout the 1800's. The Romantics focused on the spiritual joy nature could bring to man. Here I have included Mary Shelley, the wife of the poet Percy Bysshe Shelley. She wrote the horror story Frankenstein in a contest with Percy and Lord Byron.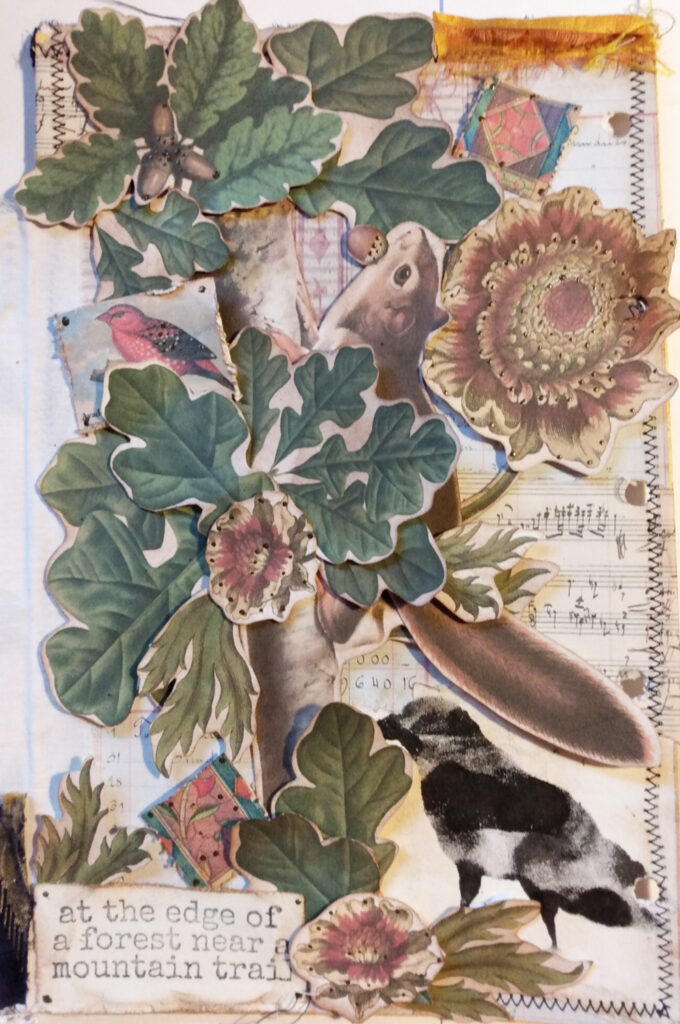 With the squirrel collage, I thought about how we often see birds and animals by peeking through the branches at them. I used my exacto knife to cut a few places on the tree trunk where I could then tuck the enlarged leaves in and around the squirrel to create that real lush look. Adhesive squares support some of the more dimensional leaves. I brought the red flower and bird in along with some of the Stained Glass dominos to add more vibrant color to the collage.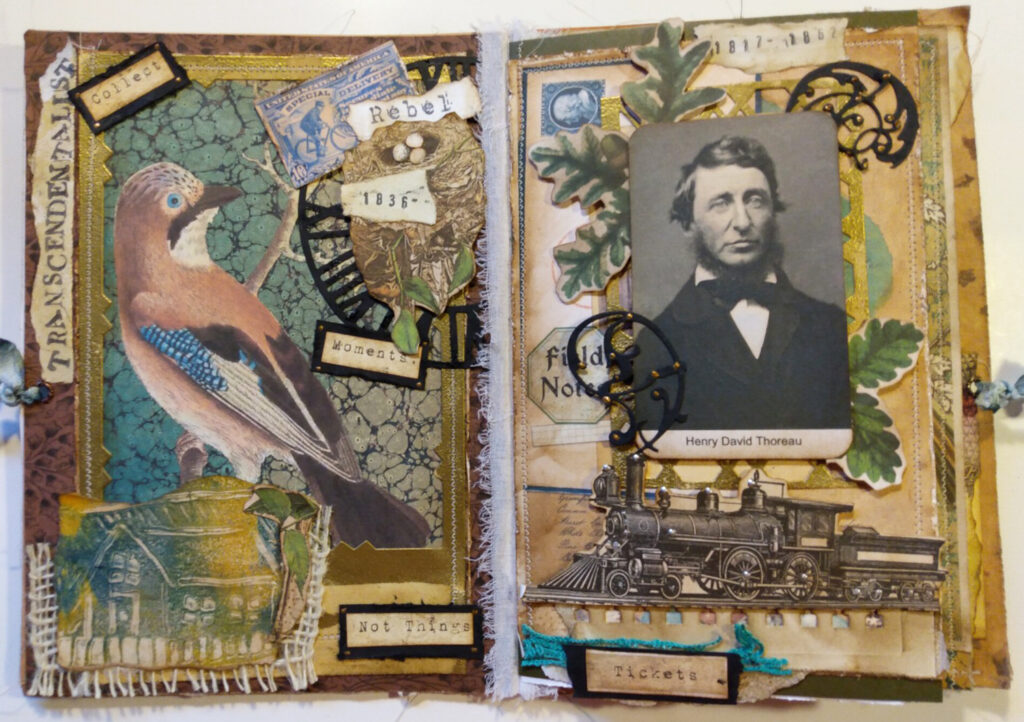 By 1836, Romanticism was being replaced by Transcendentalism, which focused on self-reliance and living an ideal life free of materialism; it felt that the natural world was essential to the human spirit. Henry David Thoreau is well remembered for his stay at Walden Pond.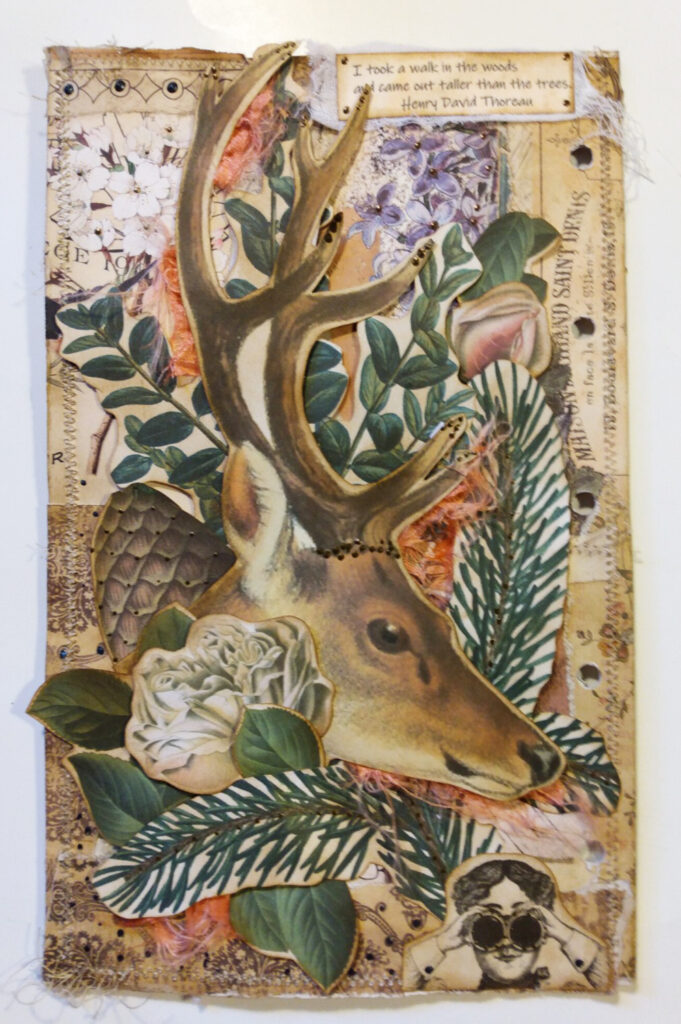 I enlarged the deer in this collage, so that it was the focal point while the smaller woman was looking at it from a distance. I also enlarged the greenery to help surround the deer and again suggest that we're always looking into the natural world.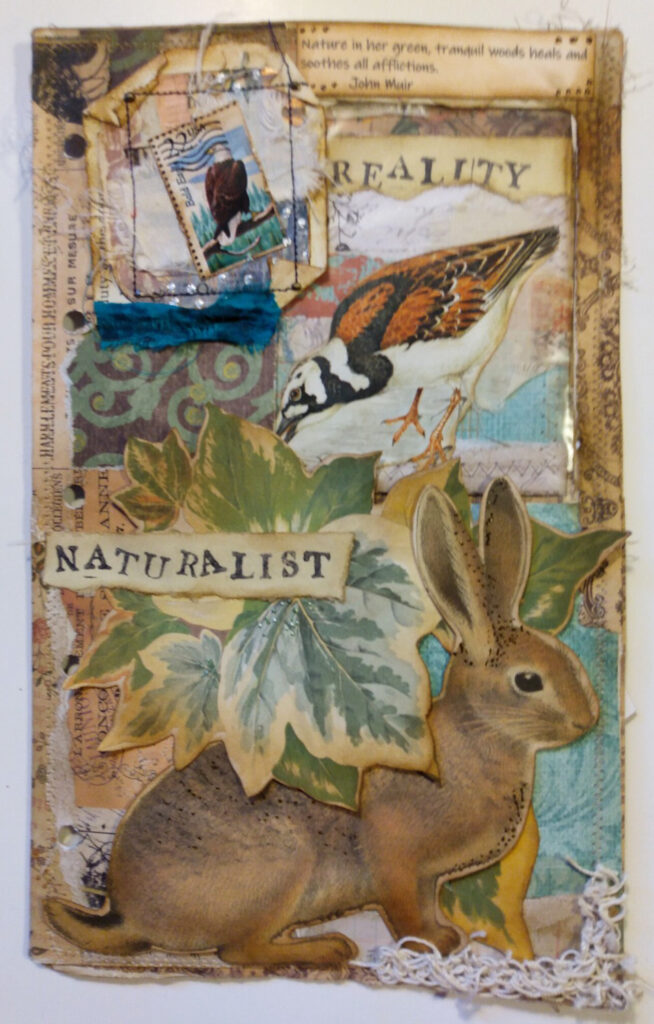 The Naturalist page is made from a large business envelope with a window for a pocket. The bird is actually on a tag tucked in the top of the page. This collage begins the Naturalist section of the journal, which emphasizes how nature is understood through observation and fact collecting.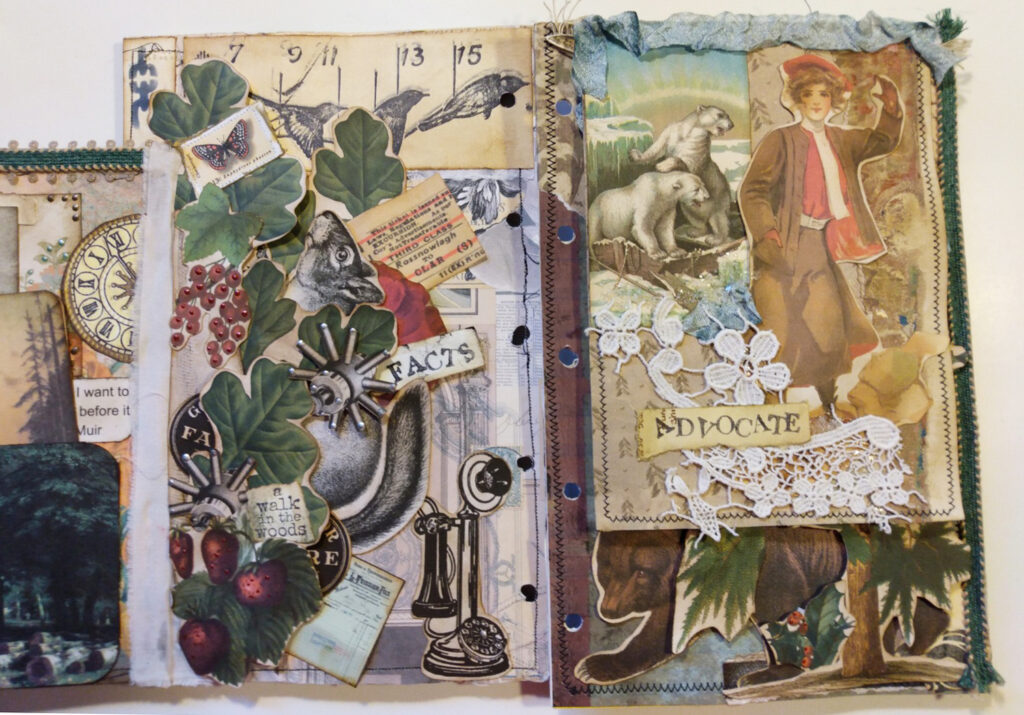 Naturalists, like John Muir, were inspired by the beauty of the natural world, but documented the reality of nature's constant struggle to survive through writing and art. John Muir observed how the Industrial Revolution was negatively impacting nature as the prairie was torn apart for the railroad, forests were stripped for the logging industry, and new cities overwhelmed the natural world.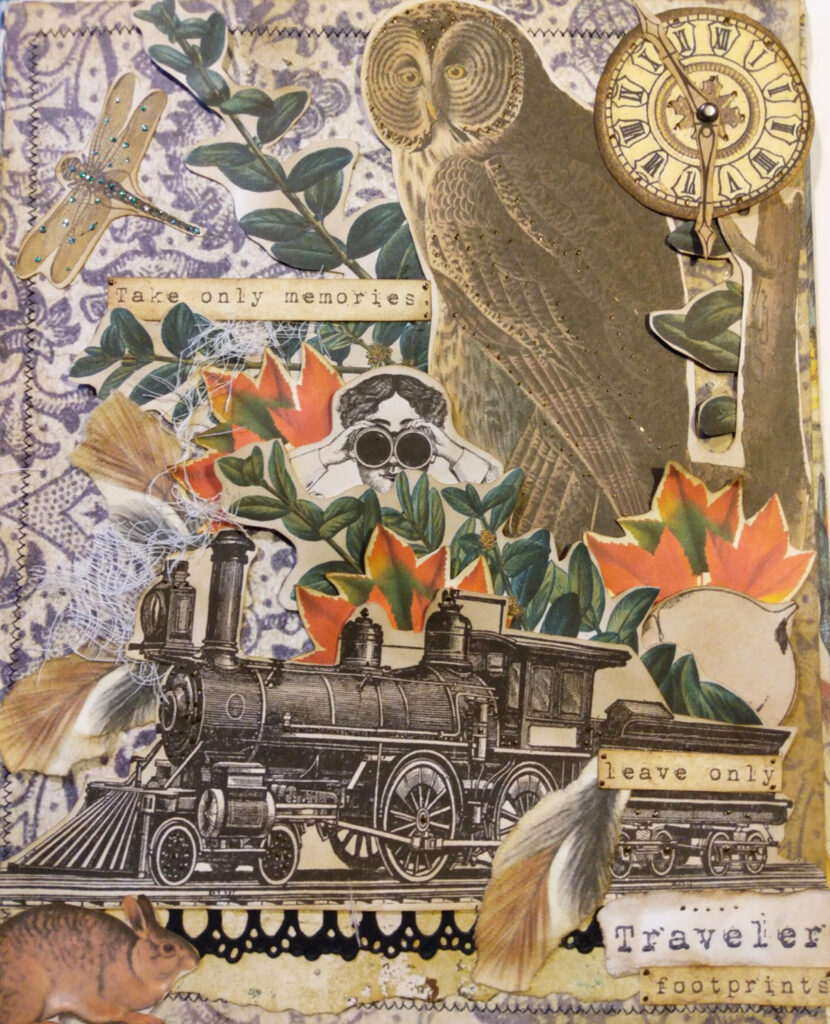 The Naturalist Movement paved the way for the modern Environmentalist Movement, stressing that man must find a balance with its industry and progress if the natural world was to survive for future generations; otherwise something like the Frankenstein myth, where "the monster" or technology overcomes its own creator, was inevitable.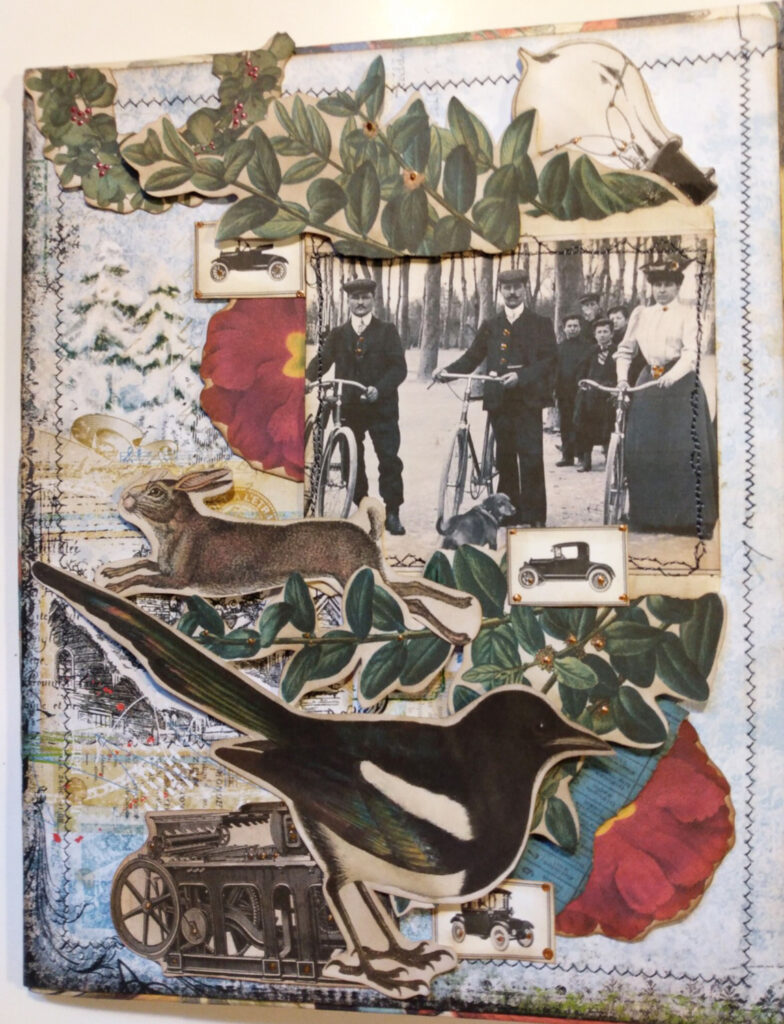 I ended this visual journal with a collage of nature, people, and technology coexisting. I used a lot of black and white neutrals again to help unite the various collage elements. Notice how the varied direction the greenery, animals, and machines are facing helps to create a sense of movement or energy on the page as well.
I hope you found this look at nature in the 1800's interesting and found some ideas for your own crafting purposes. For a behind the scenes explanation of these pages as well as many more in this journal, be sure to watch my video.
Pictures of John Muir, Henry David Thoreau, Mary Shelley, Percy Bysshe Shelley, and Edith Holden were found in the Public Domain.
NATURE PHILOSOPHY JUNK JOURNAL SHOW & TELL VIDEO TOUR
Let's take a tour of it together:
<
I used the following Bundles for this journal:
Angel Ephemera
Camping Trip
Clocks & Watches
Eclectic Steampunk
Jane Austen Ephemera
Marsh Song
Owls & Mushrooms
Stained Glass Windows
Steampunk Images #2
The Lepidopterist
The Ornithologist
The Secret Garden
The Typesetter
Vintage Feathers
Winter Greenery
Woodland Creatures
Woodland Wonders
Wreaths & Sprigs
1907 Beauties
Happy Fall!
Julie
Check out the Graphics Fairy Premium Membership Site HERE!
Hello! Are you new to The Graphics Fairy?
Welcome, I'm so glad you're here! Browse around to find
thousands of Stock Images
that you can use in your projects or designs! I post new Vintage images every day, as well as projects and DIY's too! Need more info about my site? Try my
FAQ
page.