We're so thrilled to announce our newest Design Team here on TGF! We received so many fantastic applications for the team, it was incredibly difficult to narrow it down, once again we were truly blown away by the talent out there! I know I say that every time, but I feel like it's getting harder each time, instead of easier. Truly! We had so many fantastic Junk Journal artists applying from all around the world. If you applied, but didn't make the team this time, please try again in the future. There were so many that were so close to making it and if we would have had more slots they would have!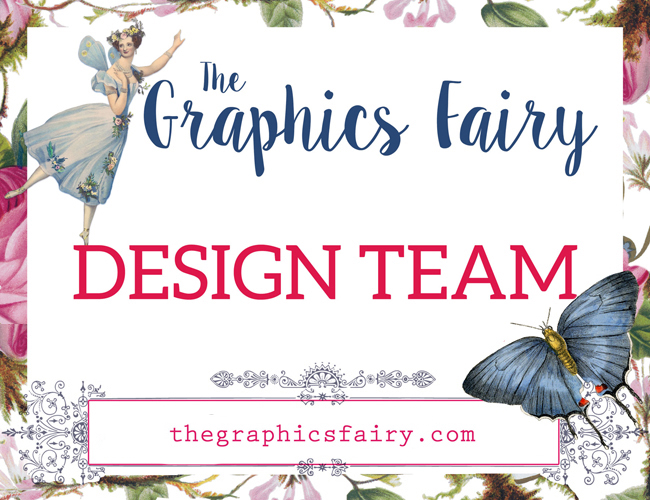 Now, let me introduce this amazing Team to you:
Alessandra Bordon from Paperart Alessandra (New)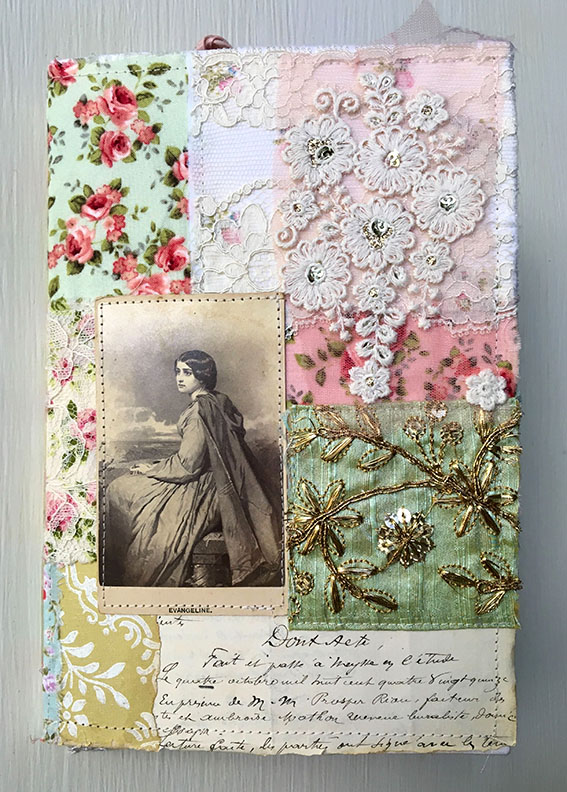 Alessandra's Style: My style is vintage and romantic. History and art inspire my work. Many of my creations  are themed around the Regency and Victorian eras, as well as the Italian Baroque era. I love to work with antique photographs, ephemera, vintage lace, and old papers. I often include images of paintings, too, because I've always had a passion for art history. The colors I use are usually soft pastels, though I love adding pops of bright and unexpected colors throughout my work.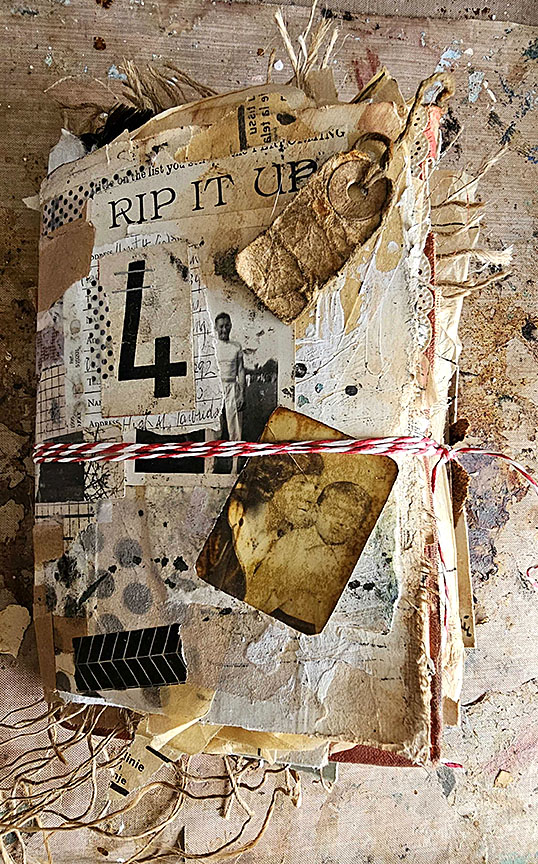 Fred Harris from fredlikestocreate
Fred's Style: Hello all, my name is Fred and I'm addicted to collage. I love to use old ephemera, images of ephemera , vintage photographs, bits of books, bits
of anything really. When I start I don't really plan, I have a pile of pieces that have passed the ephemera audition for that day , and off I go. Surprisingly, a theme emerges and a sort of continuity arrives. Hopefully in my work you will see ways to use the brilliant graphics fairy images in new ways. Warning, I will be ripping them, staining them, and changing the print colours. Rusty bits of metal are also being auditioned. I'm so pleased to be given this opportunity, hope I inspire you to download loads yourself.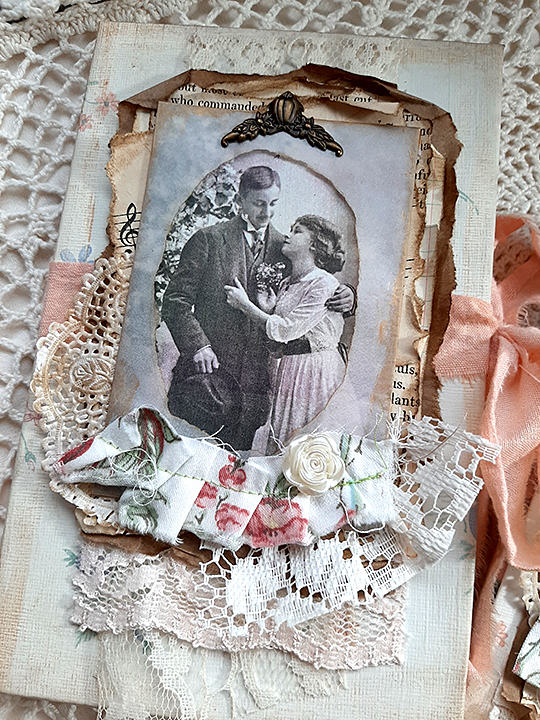 Marie from Crafty Landing
Marie's Style: Hello! I'm Marie, from Cornwall, UK. I live close to the most south-western part of the Country, known as Land's End. I have enjoyed making journals for about four years. I love to combine both pretty digital and craft papers with original vintage papers, such as book pages, ledger documents, and music sheets. You will often find me 'playing' with papers and digital images to create a pretty collage or clusters. I also like to alter and embellish genuine pieces of vintage ephemera using various items like lace, trims, ribbons, buttons, etc, to add that extra touch of prettiness. It's such fun!I would say that my preferred style is vintage-meets-shabby. I don't necessarily follow a theme as such, I tend to let the journal just evolve and see what happens. The end result is always a lovely surprise. In the words of Forrest Gump, "You never know what you're going to get!"
Lesly from Crescent Moon Journals (Returning)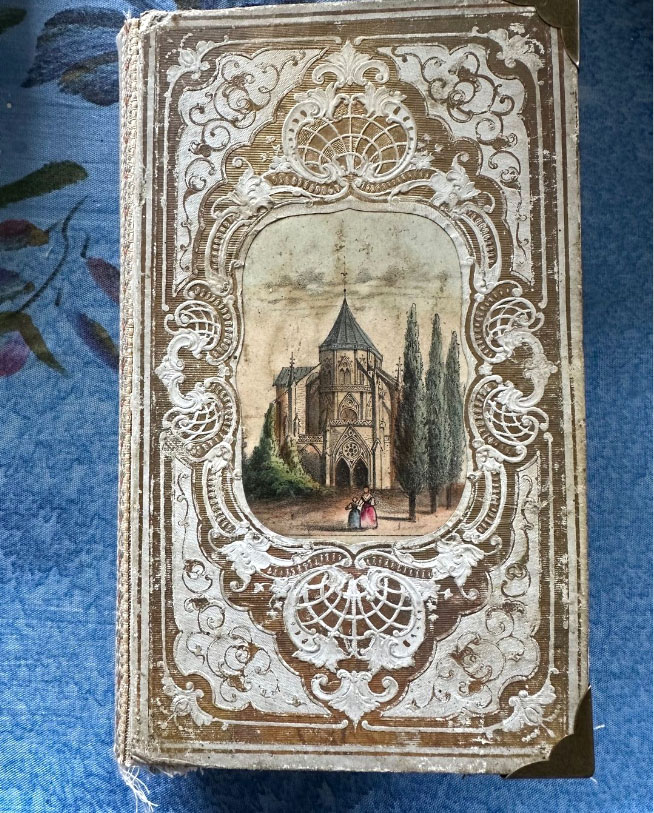 Lesly's Style … My journal style is eclectic by design. I love using actual antique and vintage ephemera,  handmade and unusual  papers, fabric and laces. I like my journals to have that* "been around for a long time" feel and look.
Stephanie form Smiling Sunlight (Returning)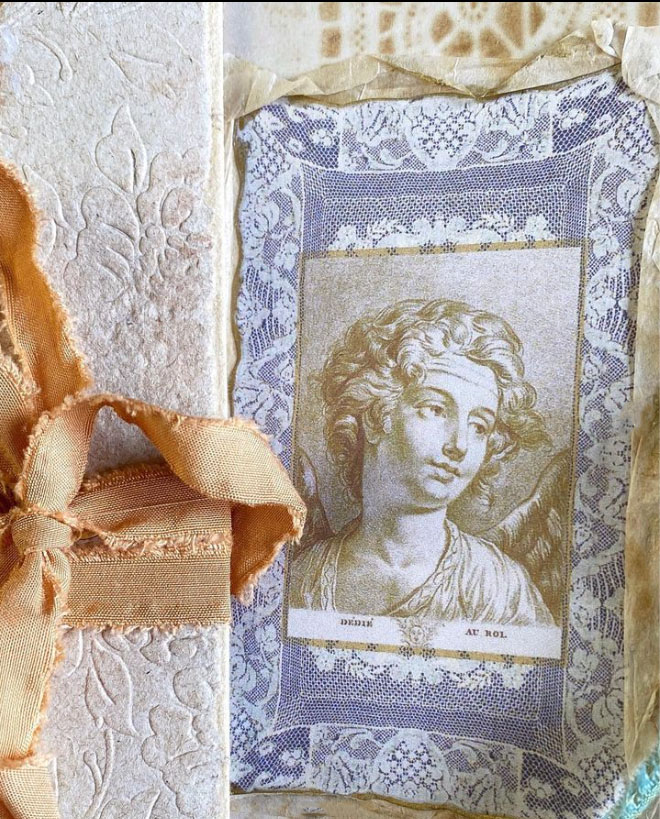 Stephanie's Style...I love creating journals as a journey that awakens the senses; from the crunchy sound of tea dyed paper or the smooth texture of embroidery, to the collaging of fascinating vintage images. Nature, antique illustrations, old books and the cultural diversity of my tropical island are my sources of inspirations. Combining several techniques intuitively such as the making of handmade paper, botanical ink, mixed media or even recycling packaging and fabric; each journal becomes an interactive space to share inspiring stories.
Kathleen from Be Again Books (Returning)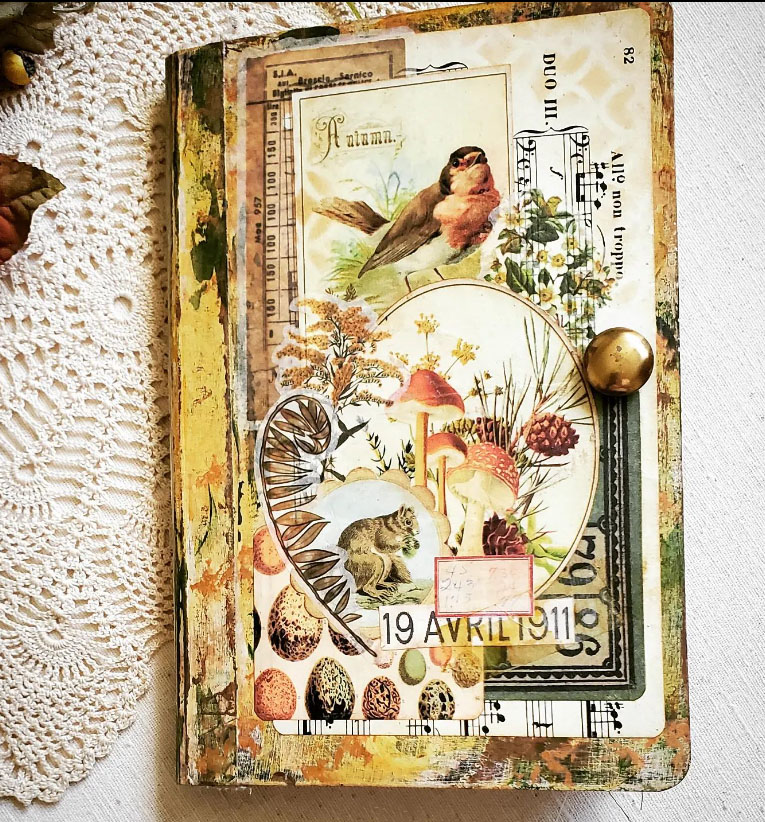 Kathleen's Style … My mixed-media style is romanticized vintage, depicting both a reality and history as I feel it in my imagination. Using structure with randomness, I love adventurous steampunk, idyllic bohemian and glamorized nature.
Savera from Trinketz (Returning)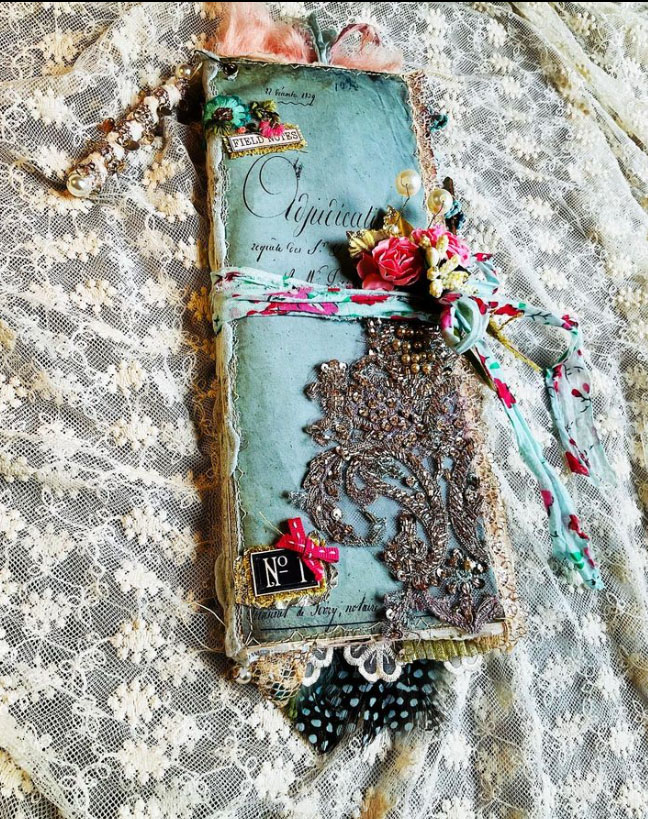 Savera's Style … My style is an amalgamation of a vintage, shabby chic and a bit of boho style. I aspire to incorporate the rich heritage and culture of my country in my journals. My inspiration is cultivated from the beauty and miracles of nature. Each journal that I create has a distinctive ethnic feel to it and holds a special place in my heart. I hope to inspire others to create what is in their hearts.
Tanja from Made by Tanja (Returning)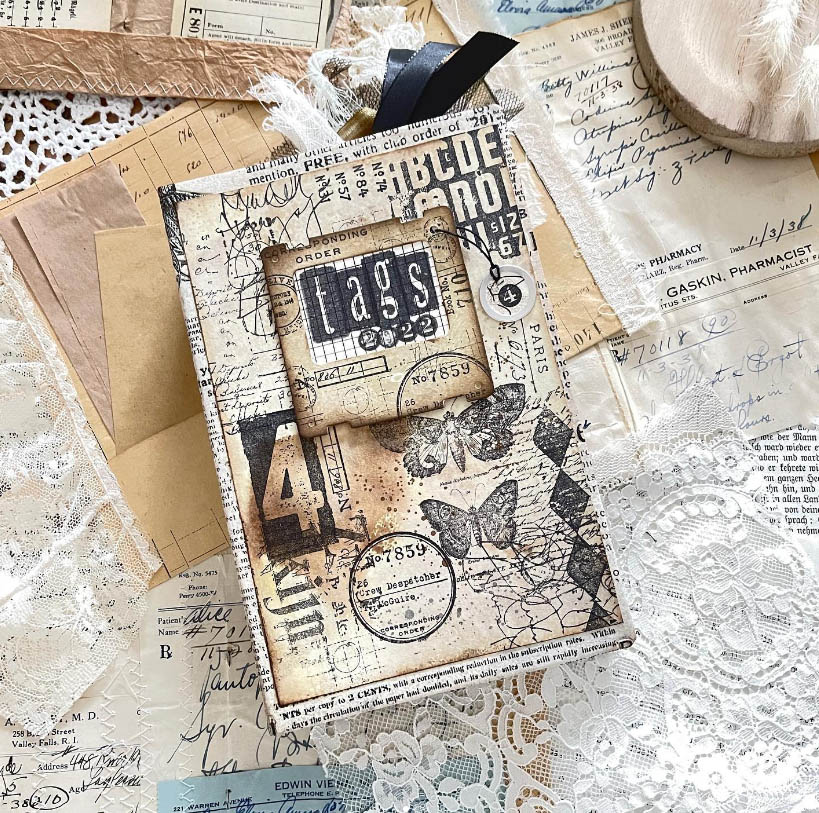 Tanja's Style … "I found my yoga for the soul in creativity with stamps and paper. I love making my own stamps, stickers and embellishments and I occasionally do DIY tutorials too. I've stayed true to my vintage style for years. My friends say my work is instantly recognizable and it's an inspiration to many."
Dody from Dorothy Jane Paperie (Returning)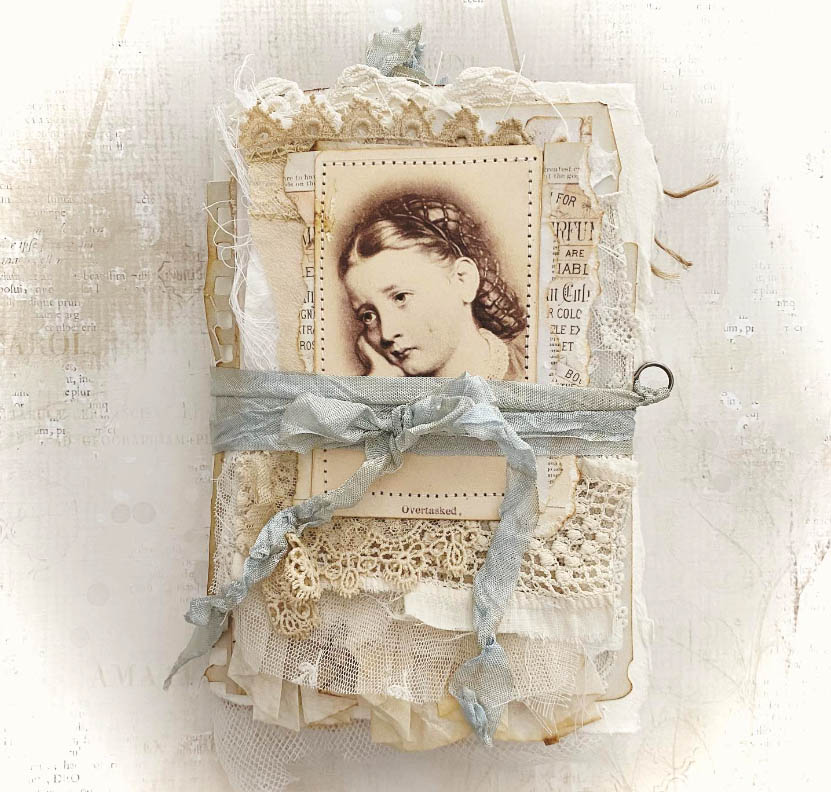 Dody's Style … "I love to think of my journals as a kind of treasure box. I create many tuck spots, roomy pockets and belly bands to hold treasured bits of memory. I love to layer lace and ribbon and torn paper and my passion is ruffles of all sorts: rustic, uneven, messy and perfect! I search endlessly for vintage photos of anonymous people and give them a new life with a new family."
Each month these designers will be creating gorgeous journals, using images from our Premium Membership Site, to inspire you in your own Junk Journal work. I hope you will check out the links to their sites and social media pages, I know you will want to follow all of them if you do! These women are true artists and it's always a treat for me to see what they come up with next, I'm sure you will feel the same!
Make sure you check out their links and follow them for even more inspiration! And follow along on The Graphics Fairy YouTube HERE as well to see many of their Junk Journal Flip Throughs!