Pirate Diary Junk Journal
Hey guys, another of our talented Junk Journal Design Team Members, Nik the Booksmith, has created an impressive junk journal for us. As you know, we feature one new Junk Journal each week created by our team of extraordinary artists. We want you to be totally inspired by this series! Nik created a fascinating Pirate Diary Junk Journal in a Box project this month. Be sure to check out the video tour at the bottom of the page…please scroll all the way down to see it. Are you ready to be inspired? I will let Nik tell the story of her book…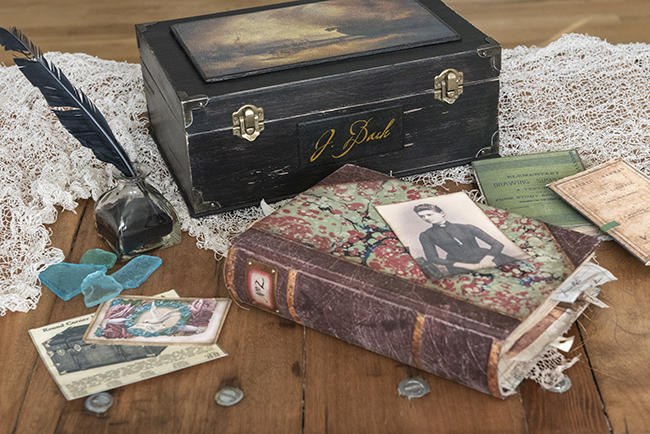 "Well, this is a fine kettle of fish, John." He said to himself as he stared down at the pile of putrid, dead crabs in his bunk. John wondered if he would laugh about this later. He grabbed his journal from the black lacquer box, dipped his quill in the ink pot and began to write.
June 12, 1887
Land ho!
In the distance I see palm trees and beaches with little rocky outcroppings. When I pressed, the captain gruffly admitted we had "an errand" to run. An errand? In the West Indies? Whaling waters were far north, this seemed unreasonably out of our way.
Another ship is sailing fairly close to us. The crew seems on edge. I overheard the younger men talking in hushed tones when they did not see me. The other ship is Spanish and is owned by a merchant who is returning to the islands to buy goods for Spain and Portugal. Why would they care?
John could hear the crew outside his small cabin door. It was almost supper, so he put his journal back in the box and tucked Lillie's photograph in his left breast pocket. She would never believe this story, if he ever got to tell her, that is. The men started mocking one of the younger deck hands which made John hesitate before he opened the door.
"Black Bette will 'ave yer ears, Jeremy!" one of the older crewmen taunted and he slapped a young boy on the back. "You think Cap'n Evers is ruthless, well no one lives to tell of Bette. She'd just as soon run ya through as look at ya. Keep yer eyes out for the crimson Phoenix flag, boy. She's after the same treasure as Evers, I'd bet my life we'll see her before the week's out."
Wait now…treasure? John's mind began to race, putting the pieces together and he didn't like what he saw.
Inside the Pirate Diary Junk Journal Box
My November Design Team project is a concept pirate diary junk journal housed in a handcrafted, black lacquered box decorated with a crackled oil painting of a maritime scene, brass corners and a nameplate that reads 'J. Bach'.
The inside of the box is lined with a damask pattern in black and grey and houses a map on the underside of the lid.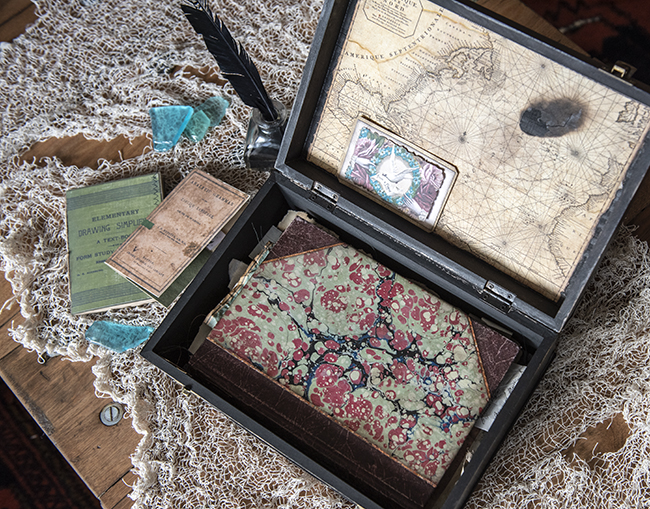 The cover of the book is decorated with some of my hand-marbled paper and copper and gold gilding.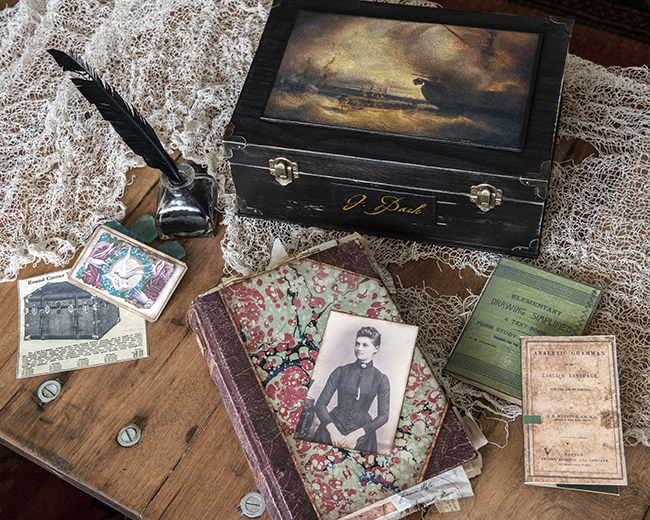 Inside the Pirate Junk Journal you will find maps, journal entries, book pages from grammar textbooks and much more!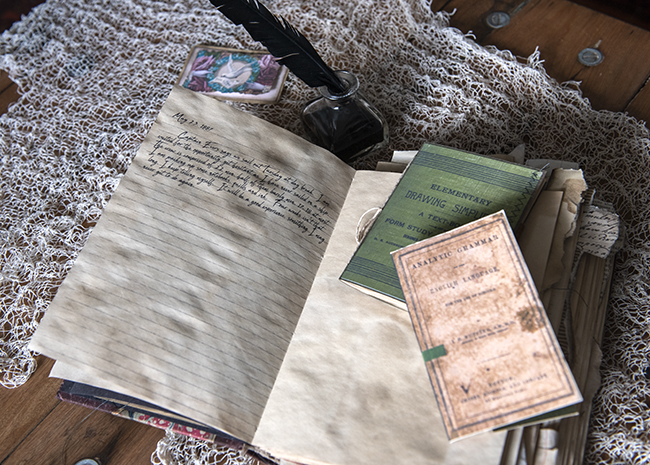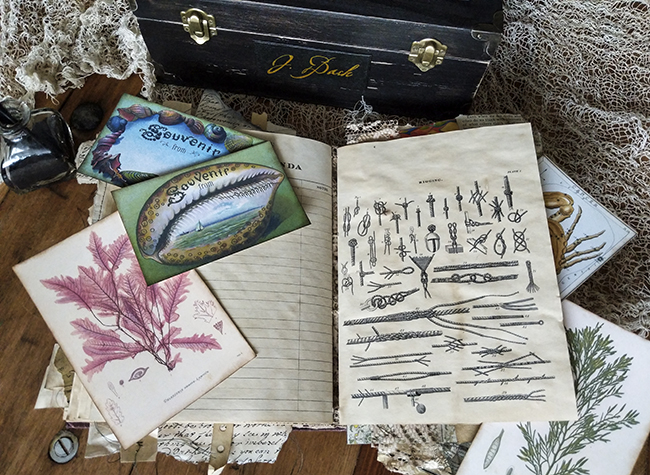 Graphics Fairy Images Galore
Using the Premium Membership site here at the Graphics Fairy, I was able to easily find period, nautical ephemera and imagery to add to the book. I used images from Sea Life Ephemera Bundle, Seaside Holiday Images Kit, and Awesome Nautical Kit. There were so many great images to choose from, I had a difficult time making up my mind!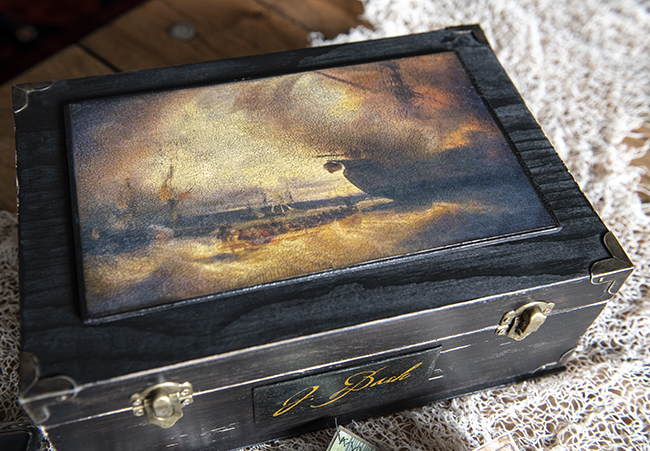 The Pirate Diary Junk Journal Flip Through Video
There is more of John's story to be told. I have a complete flip-through of his Pirate Diary Junk Journal on my YouTube channel.
Thank you for taking a peek at my November project for the Graphics Fairy! You can find my work 
on My YouTube Channel or in My Etsy Shop.
Nik the Booksmith
Hello! Are you new to The Graphics Fairy?
Welcome, I'm so glad you're here! Browse around to find thousands of Stock Images that you can use in your projects or designs! I post new Vintage images every day, as well as projects and DIY's too! Need more info about my site? Try my FAQ page.