How to Post Birthday Images on Facebook
Hey everyone, it's Rebecca E. Parsons back with a cool tutorial. Today I'm going to show you how to Post Happy Birthday Images on Facebook! If you are anything like me, you love to gift your family and friends with special birthday surprises online. With a little help from The Graphics Fairy, I can show you how to do this with nostalgic vintage flair.
Facebook gives us the opportunity to easily provide Birthday Greetings. The platform gives us a few different ways to deliver the message, but you and the Birthday Gal or Guy must both have an account. You can Post to their Timeline, Send a Private Message, or Tag them in a Post. As long as you are friends with the person on Facebook, you can deliver a personalized TGF Birthday Message that is fun and unique! Make sure you check out our new post with 110 Birthday photos that you can grab for free HERE.
Facebook even sends you a handy-dandy reminder of all the birthdays of your friends if you give them permission to do so. It will be on your Home News Feed page.
Finding the Perfect Birthday Image
So many great images from which to choose is a good thing, right? Currently there are over 50 Images in the Happy Birthday Archives HERE with more being added all the time! To find this section later you can Click on the Image Categories Button on the top menu bar, then from the drop down box Select Happy Birthday Images.
Voila!! All the lovely Birthday Images live here. TGF makes this part super easy for you. However, deciding which image to use from all these lovelies might be a little more challenging! HA HA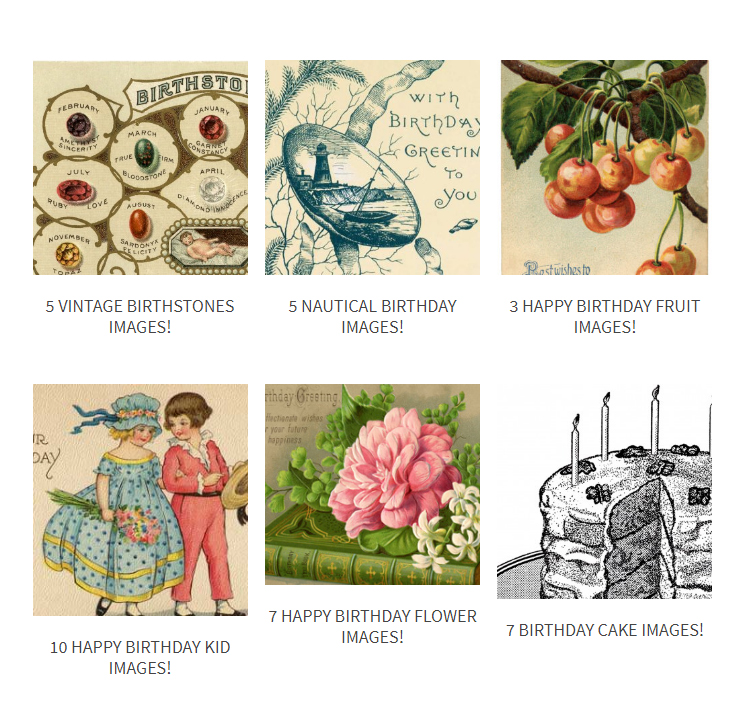 TGF makes it even easier for you by organizing the images into categories like: Cake, Birthstone, Kids, Toasting, Birds, etc. You can see a few in the image above. It is so much fun exploring these images. For even more options, you can find a link to the Birthday Wishes Kit on the Premium Site.
Download the Image to Your Computer
Now let's find some images for our Birthday Greeting!
I am going to click on the  Happy Birthday Fruit Images option first because it shows an image of cherries. (P.S. If you ever want to send me a greeting, or a gift, I adore cherries!) The first image is Happy Birthday Cherries. Be still my heart…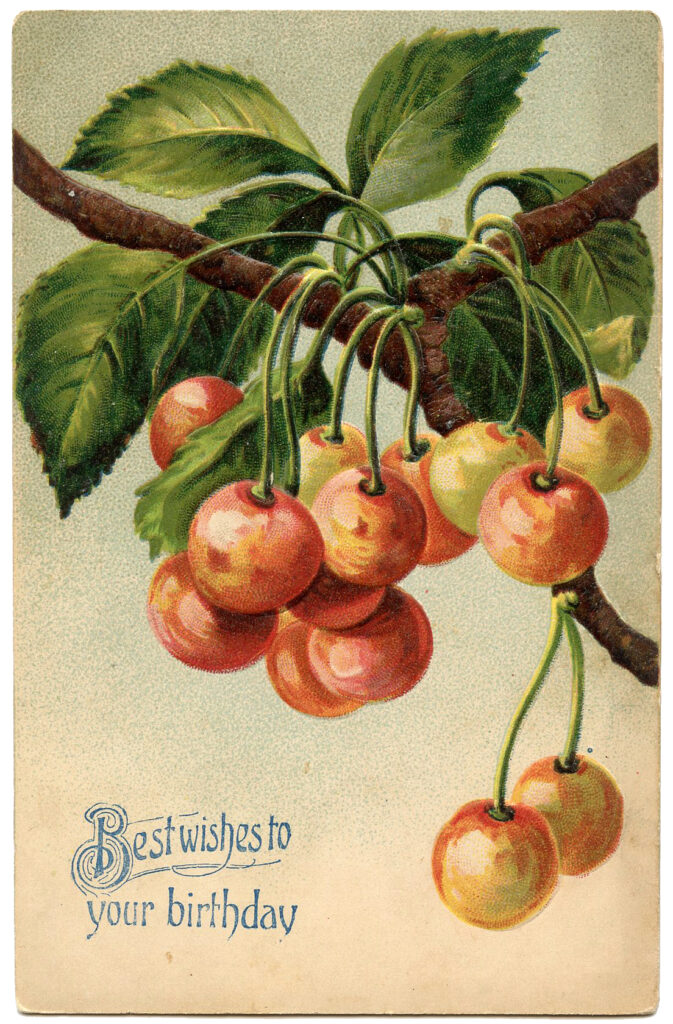 In the 7 Happy Birthday Flowers Collection, there are some gorgeous finds. I am drawn to this charming little postcard showing an old fashioned car that is filled with Violets and has Violet Flower wheels! It might actually make the perfect masculine card.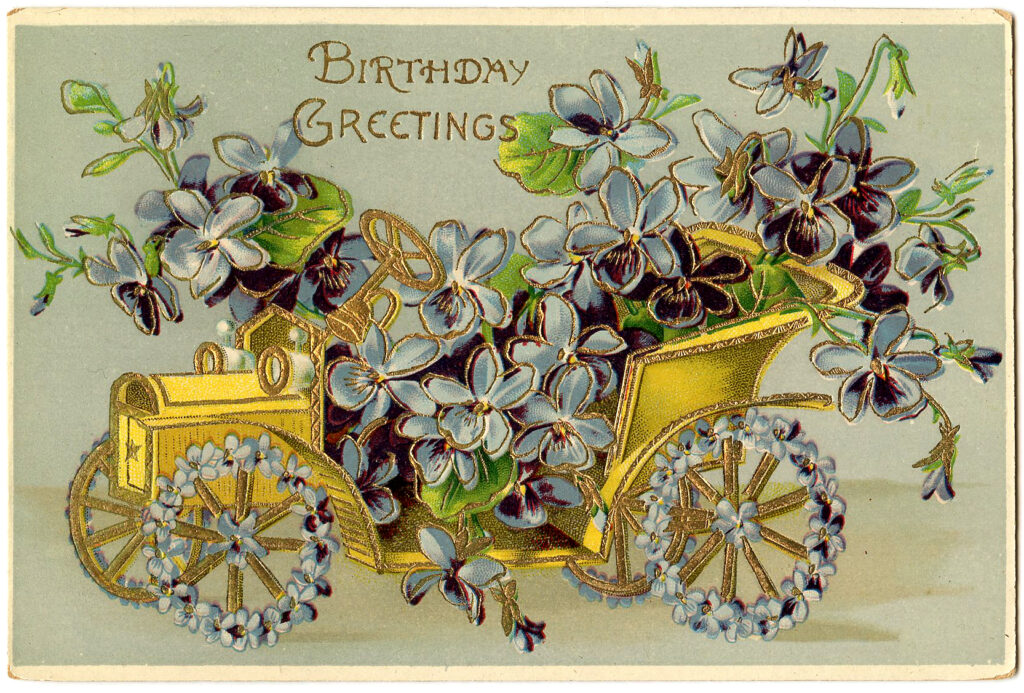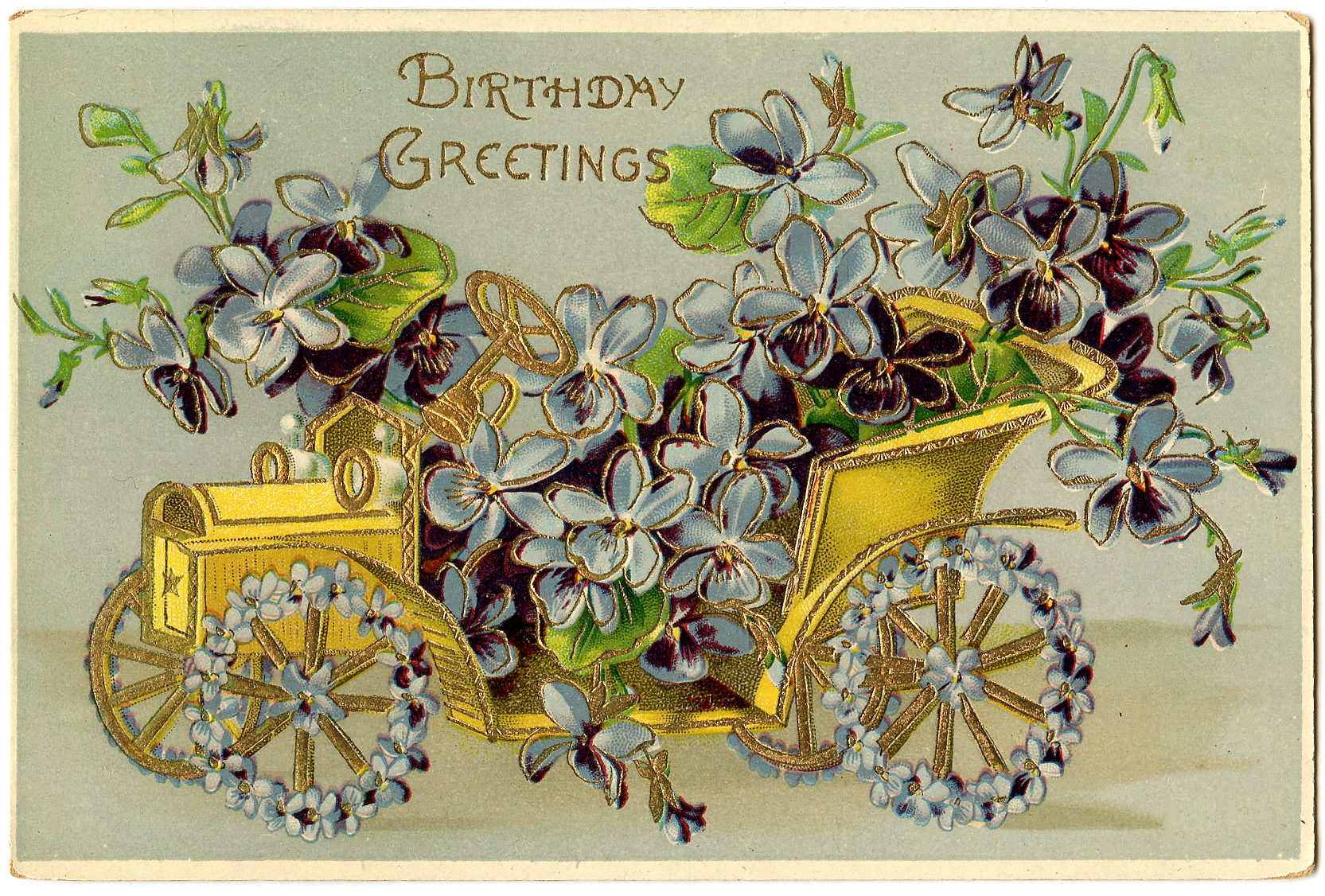 For my last preview, I will show you the 10 Happy Birthday Kid Images post. These are so delightsome that I want to send them to all my friends! It took me a while to decide, but this antique postcard featuring a sweet Victorian boy riding the most beautiful Dragonfly is just too cute. The sweet and meaningful Birthday Greeting reads, "May many birthdays yet be yours to know – And countless blessings future years bestow." How perfect is that for a dear one?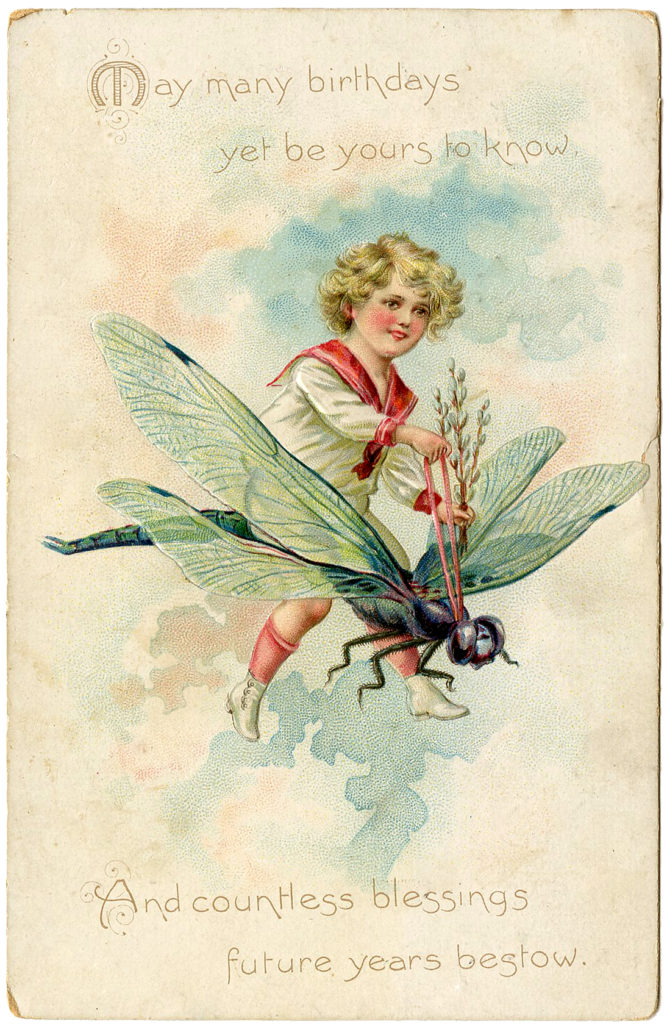 Once you select the perfect image for your friend, you need to save it to your computer. To do that, you:
Right Click the image on Windows or Click the image on a Mac. You already know how to open these I am sure! WINK
The image opens in a new window.
Right Click anywhere in the image, and a pop up window opens, giving you options to Save Image to Downloads, which is the easiest thing to do. But you can Save As, Add the Image to Photos, or Share it with email, Messages, and more.

The beautiful image is now saved to your computer. Make sure you know where it is so you can upload it to Facebook. Mine is in Downloads (Mac) but it may be in a different place on the Windows platform
Just a heads up – you may also want to use any of the other TGF images that are geared toward the birthday gal or guy. My husband loves fishing, so I could find some fish images for him. My daughter is a musician, so a lovely musical image might be nice for her. I have a vegetarian BFF who would love a gardening image. So many to choose from, so customize for your friend or family member.
How to Post Happy Birthday Images on Facebook
How to Upload the Image to Facebook
This is the fun part. You now have a memorable image to share with your friend. Here is how you upload the selected image to their profile:
You will find a list of friends with birthdays today on your Home News Feed page as you can see below. NOTE that this position may change over time, but it is always somewhere on this page.
Click the image and a window opens showing all the friends who have birthdays today.
Click on the person you want to honor. I selected Mary… NOTE: You could just type a message in that area, but you cannot upload an image here!
You will be taken to their Profile Page, where you can either click in the box that says: "Write something to Mary" or Click on the "Wish Mary a Happy Birthday" box. NOTE: Some people may not allow you to post on their wall or page. They have it  selected in their settings. So you will not be able to wish them a Happy Birthday publicly. Not to worry, I will show you how you can still do that in the next section. I clicked in the "Wish Mary a Happy Birthday" box, and a new window opens where I can create my message and upload a photo
A screen opens where you can navigate to the image on your computer, select it, and upload it by Clicking the Choose for Upload button.
Once you have selected the image, it will upload in a few seconds. If you are happy with the way it looks, then Click the Big Blue Post button.

The message appears on Mary's wall. YAY! See how easy that is?

Send Birthday Greetings via Private Message
So your shy friend or family member may not allow you to post anything on their profile page. Some will not allow you to tag them either. If you are connected with them via the Facebook Messenger app, you can send your personalized greeting that way.
A window opens at the right of your page with your contacts. Select your friend's name. You may need to search for it.

Type your Birthday Wishes and add a TGF image! You do this just like we did above.
Click the Send button. Your friend will be notified that they have a message.
Facebook Happy Birthday Etiquette
Do not say Happy 50th Birthday Mary! Some people may not want others to know how old they are.
Don't put any embarrassing info in the Birthday post, like "Remember the birthday you fell into the cake while dancing?" Use the Golden Rule here.
Never, ever post a picture of them or their children without permission!
YAY! Feel good that you have given a unique gift to that special person. Just know that people tend to get a load of Happy Birthday messages on Facebook. Don't feel badly if they do not respond to you personally. Remember, it is all about the giving that counts.
I hope that you had fun learning How to Post Happy Birthday Images on Facebook!! I just love to do this for my friends. When I am not exploring new and old Techniques for Mixed Media in my Graphics Fairy sandbox, I also create Photoshop Elements tutorials and craft project videos over on The Graphics Fairy Premium Membership site. You can find even more of my books, junk journals, mixed media art, classes, and whimsical shenanigans on Rebecca E Parsons Dot Com.