111 Happy Birthday Images
I've put together a huge collection of Happy Birthday Images for you guys! These are digital pictures that are meant for you to share with your friends and family members on their social networks like Facebook walls, on Instagram, and Twitter or to send to your loved ones via email or via a Text message from your phone or device, or via Whatsapp. I have included pretty Happy Birthday Images for Her, and more masculine Happy Birthday Images for Men. There are lots of generic greetings too! Included in the set are Happy Birthday Sister Images, Happy Birthday Friend Images, Happy Birthday Daughter Images. There are pictures for Sons, Brothers, Dads, Moms, Grandsons and Granddaughters too! I hope you can find a few that you like and can use.  These were created for Personal Use only. 
Happy Birthday Images for Her
First up we have the Happy Birthday Wishes for the ladies on their beautiful day. Here you will find images for your Mom, Sister, Best Friend, Daughter and Granddaughter to bring a big smile to their faces!
Happy Birthday Sister Images
Most of the backgrounds on the beautiful wishes birthday ecards that I created here are available as digital papers on our Premium Membership site.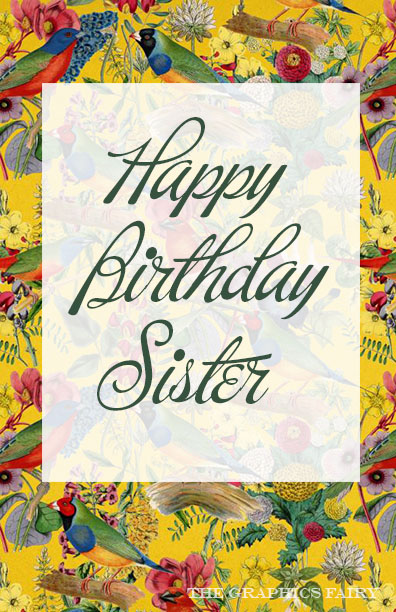 Send your sister something special or sweet or fancy, with the many different colored options here, like purple, pink, and blue! I love the bright happy feel of this yellow one with the birds and flowers.
The first batch of Sister Birthday Greetings, includes a lovely Pink Toile, A lavender floral, a blue pattern with flowers and birds and an Asian blossoms motif to celebrate the beginning of another amazing year.
Next we have a couple of gorgeous Vintage Wallpaper Card, as well as a Bohemian style Butterfly and some cute birthday Ice Cream cones! Do you see something that makes you think of your Sister?
Happy Birthday Friend Images
As you can see the same birthday background motifs are repeated for each of the female categories of these online greeting cards, but the recipient names have been changed. We have so many ways of sending best wishes to our friends and family on their special day… we are no longer limited to mailing out cards in the mail. I've tried to include messages for many of the important people in your life, and I will add more over time.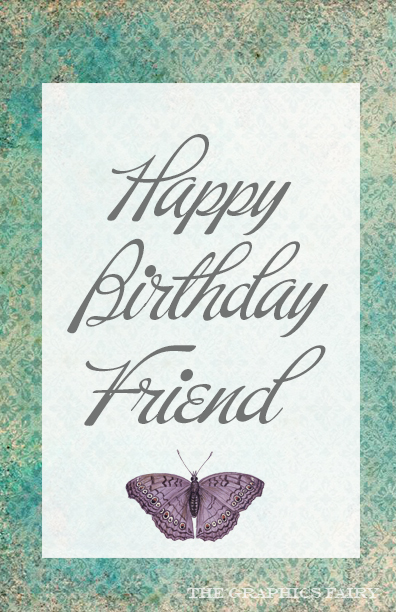 Use these cards to make a personal connection with your fabulous friend! I hope you have a best friend that is a wonderful person, worthy of all good birthday things like a pretty card, a little cake and some candles! Whether they are young, old or middle age, hopefully you will find something to fit their personality.
Happy Birthday Mom Images
Make a special connection with your Mom, by choosing one of these best happy birthday pictures in a pattern and style that speaks to her.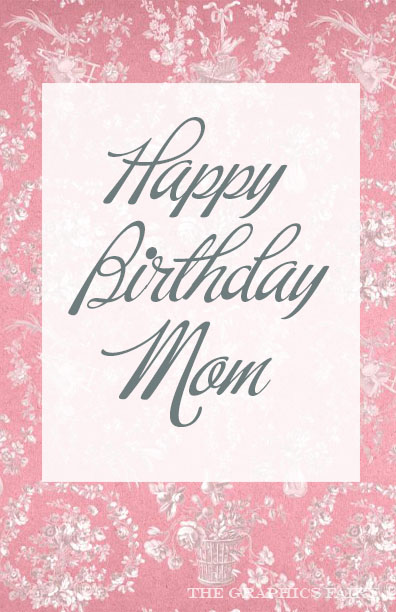 I adore this oh so feminine Pink Toile pattern. Such a beautiful happy wallpaper!
Happy Birthday Daughter Images
Our adult kids prefer to receive monetary birthday gifts via electronic means, so we no longer send Birthday cards with checks in the mail. Instead we send  digital happy birthday pics at the time that we digitally send out their gift, so it all coincides. Perhaps you are now doing the same? Browse through the options below to find something for your loving daughter.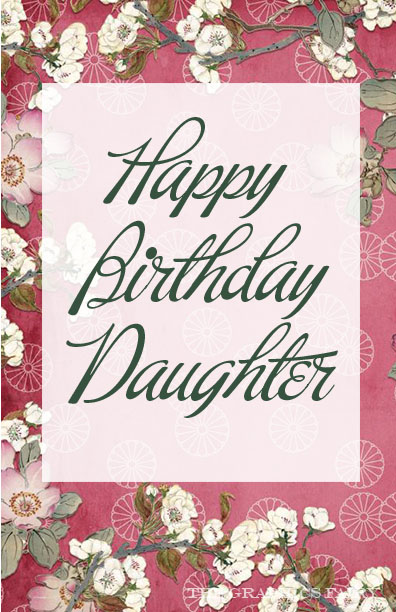 The ecard above is an absolutely gorgeous Asian Blossom themed digital greeting card. The combination of the light and dark pinks are just so lovely.
Happy Birthday Granddaughter Images
More happy birthday messages these ones are themed for Granddaughters to send blessings in hopes that they have a great birthday!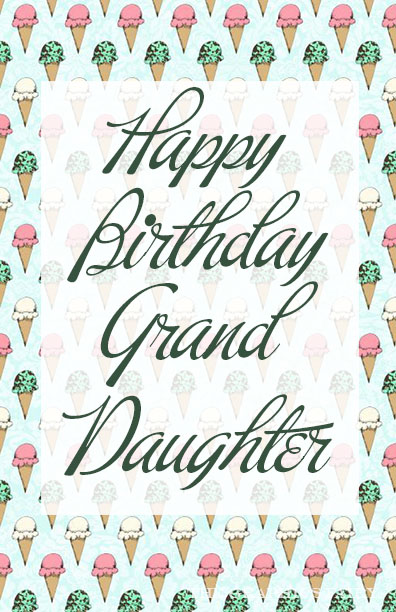 These ice cream cones are so cute I hope this card, and the ones below, bring joy and laughter to the sweet young ladies in your life!
Happy Birthday Images for Men
We don't want to forget our guys! They deserve some best birthday wishes on their wonderful day too! These Happy Birthday Stock photos include a variety of different motifs to suit your friend or family member… like Deer, Vintage Car Keys, Dogs, Plaid, Nature themed and more. The themes include ecards for Brothers, Sons, Dads, Grandsons and Guy friends.
Happy Birthday Brother Images
These were created with Brothers in mind, whether they are related by blood… or you just have that special bond with one of your guy friends, perhaps you grew up together and he feels like your brother. Totally appropriate!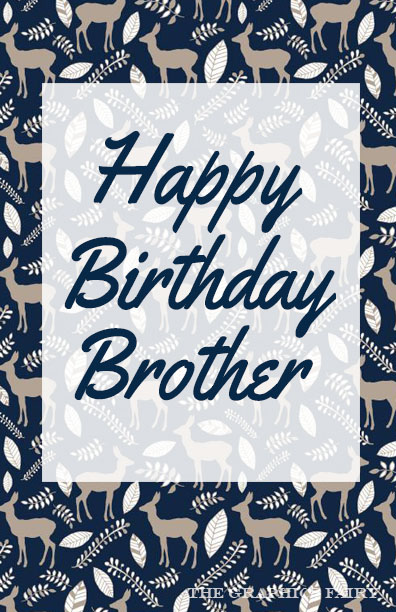 This is a wonderful pattern that includes Deer and Leaves. Great for the nature lover Brother or those that are outdoorsmen.
Guy Friend Ecards
And we are continuing the same manly patterns below for any guy friends in your life.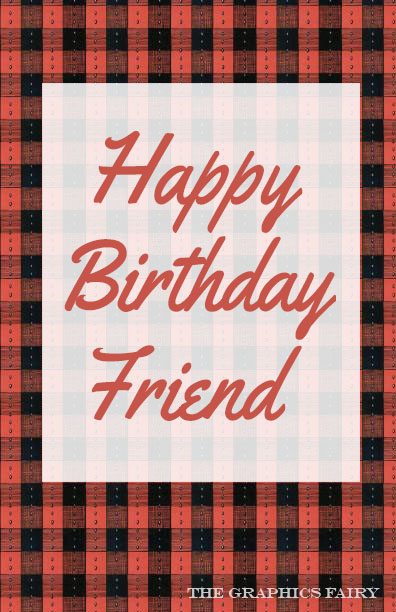 This is a wonderful red and black plaid design that has a warm and friendly vibe for your best friend!
Happy Birthday Son Images
More choices below for our sons. These even one with car keys on it if you happen to be giving your son a car, or if he just loves cars.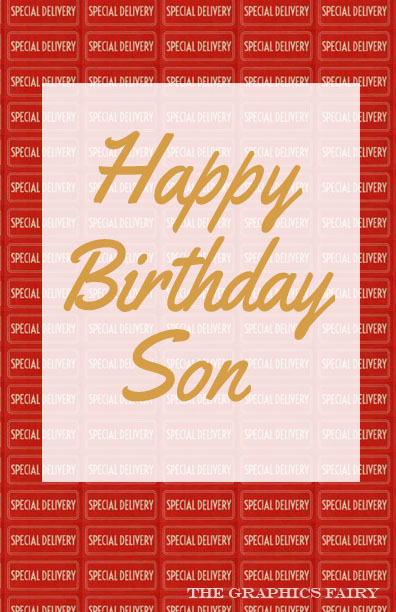 This red special delivery label pattern is super cute!
Happy Birthday Grandson Images
For the Grandson's in your life. Such a special bond between a grandchild and grandparent!
These Hand Drawn Dogs are just adorable! They are created on a blue background, so I placed the card in the "masculine" category, but of course many of us love Dogs not just the guys! So don't despair if you want to send this digital ecard to one of the girls in your life, as I have a generic neutral option at the bottom of this post.
Happy Birthday Dad Images
We can't forget dear old Dad on his special day either of course!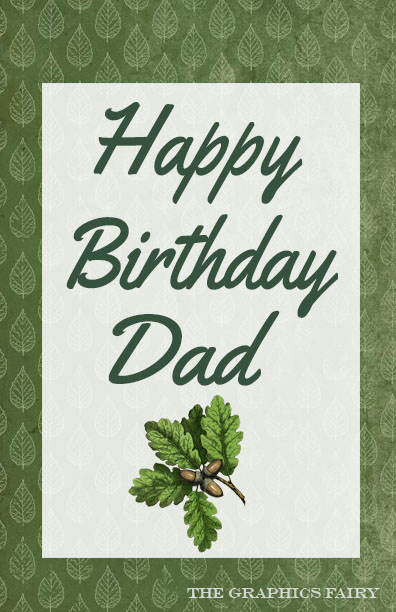 This green option with the Acorns and Leaves is a nice choice for nature lovers.
Birthday Graphics for Anyone and Everyone
Lots more options here for those people that don't match the titles above! This is the final set of this collection of the best birthday pics. Since I don't have every category under the sun, like Happy Birthday Niece Images, or Nephews, Happy Birthday Cousin Images, Aunts and Uncles etc, this gives you some more choices as these are more generic birthday greetings that would fit nearly anyone in your life.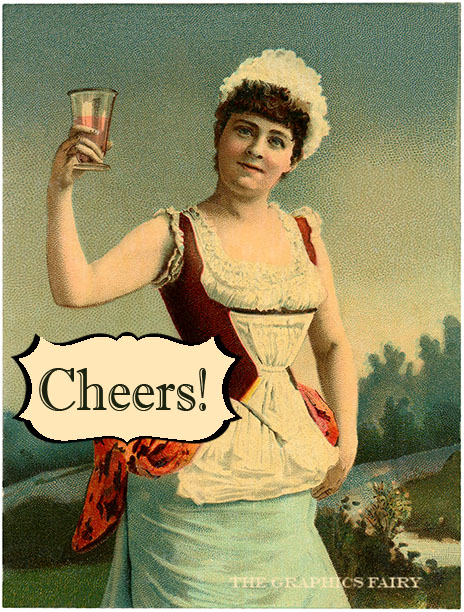 This funny Birthday ecard, offers a cute and simple toast to your friend or family member! Perhaps you have a friend or two who loves Wine? Cheers to Birthday Cakes and a Birthday party and a life worth living! The pictures below can be used for males or females, you decide which print fits them the best. Some men may prefer birds, some women may prefer stripes and of course many people love Dogs and Ice cream, so these additional options are a little less limiting than the customized ones above.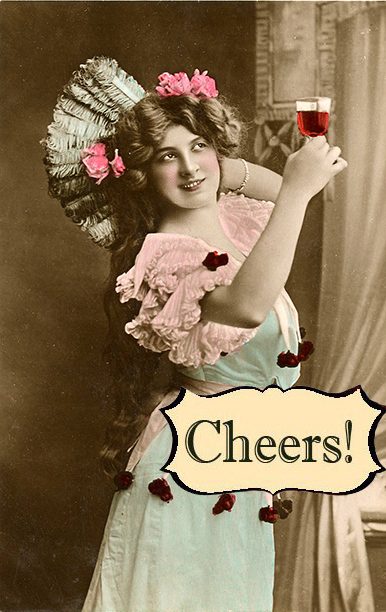 Here is the latest addition to this collection. I've added one more of these fun "Cheers" pictures! Here we have another wine drinking lady holding up her glass in a celebratory toast. Cute!
What do you think of this ultimate collections of Happy Birthday Wishes? I hope you enjoyed this collection of Happy Birthday pics and that you loved ones have a joyful and inspirational birthday! Just download the card that you need by clicking on it with the button on the right side of your mouse, or watch the video instructions in this post or in the sidebar. If you need help figuring out how to Upload images to Facebook click HERE for instructions.