How to Decoupage on Glass
Hello Graphics Fairy Community – Heather from Thicketworks here to show you How to Decoupage on Glass! This is a perfect last minute gift project that is quick and easy, but has big impact. I will walk you through this simple craft technique and share my tips and tricks along the way.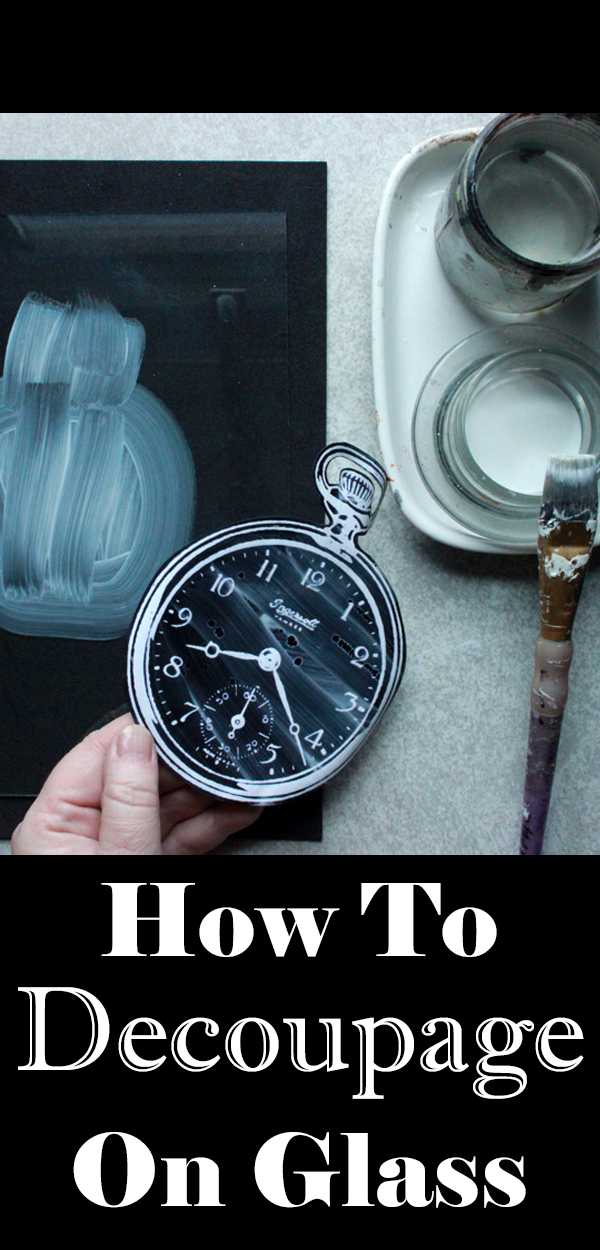 This is a great way to showcase your favorite Graphics Fairy images! The starting point for this project was two of my favorites: Black and White Pocket Watches and Cute Small Alarm Clock.
These strong graphics are a perfect match for this technique. I've resized the images and given them a bold black outline to make fussy cutting a breeze. Grab your full-sized PDF by clicking this image:
Free Printable How to Decoupage on Glass: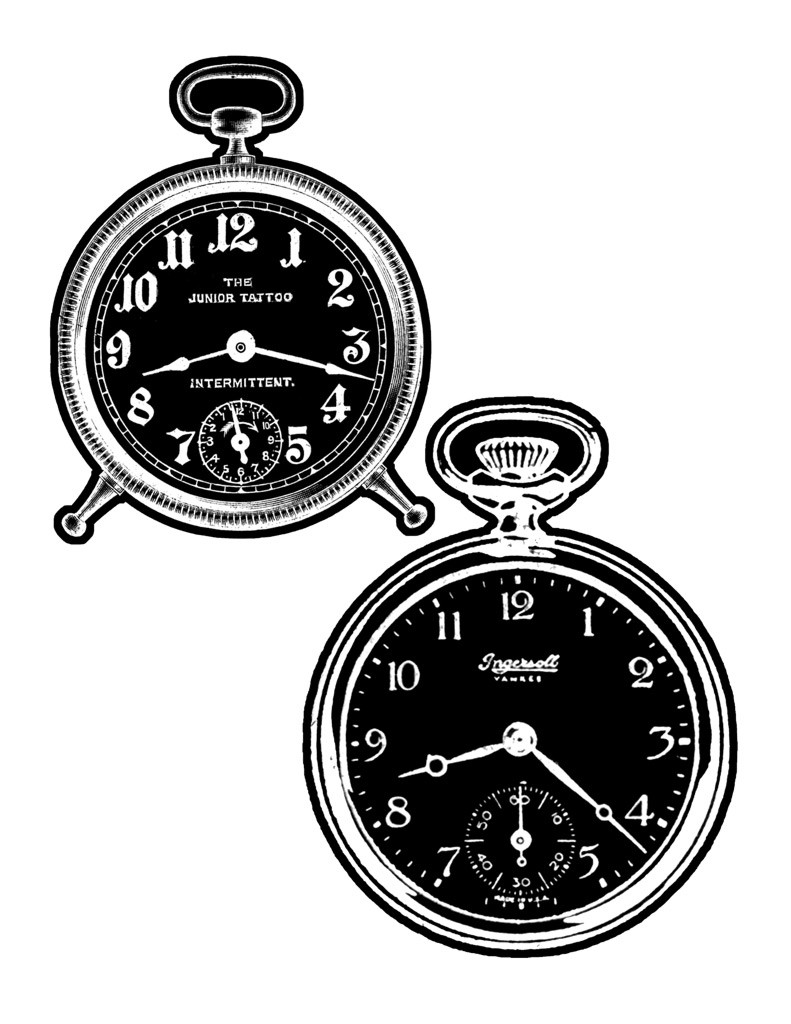 How to Decoupage on Glass Supplies:
A print out of the graphics on ordinary computer paper
Scissors
8" x 10" Frames – I got mine at the Dollar Store
A sheet of fun foam or similar as a padded work surface
A sheet of old cardboard large enough to support the glass from the frame
Mod Podge
A rag
An artists brush
A container of water
A Bondo spreader or similar flexible smoothing tool
Two metallic colors of craft paint. I used copper and gold.
A palette to mix your craft paints on
A Ranger Mini Blending Tool or similar applicator
A stencil or painter's tape
Rustoleum Ultra Cover 2X spray paint in Flat Black
Optional: a heat tool
About an hour, including drying time
Tutorial Directions:
Remove the glass from the frame. Be careful – cheap frames have cheap glass with sharp edges.
 Clean both sides of the glass thoroughly. Set it on a cushioned surface that you don't mind getting messy – I love sheets of fun foam for jobs like this.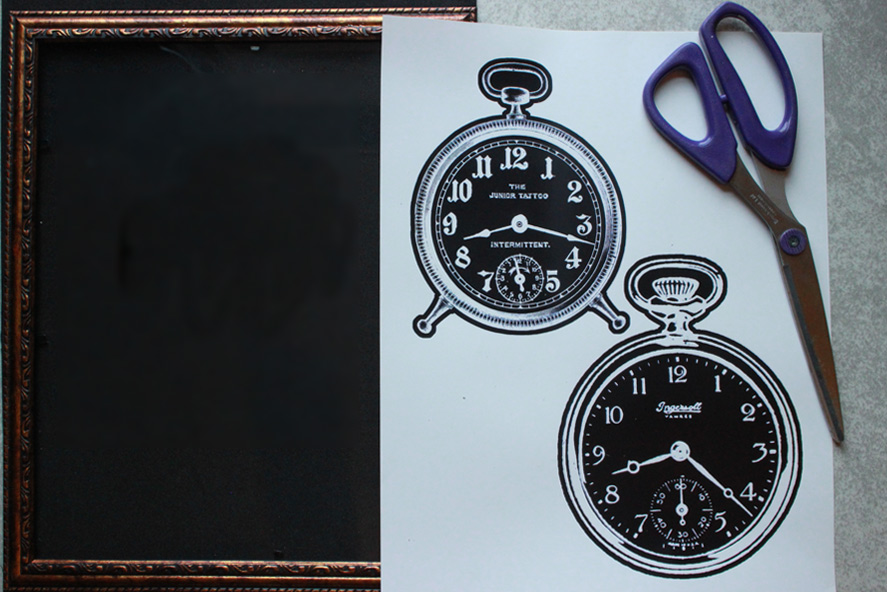 3. Cut out your graphics, making sure not to leave any white edges.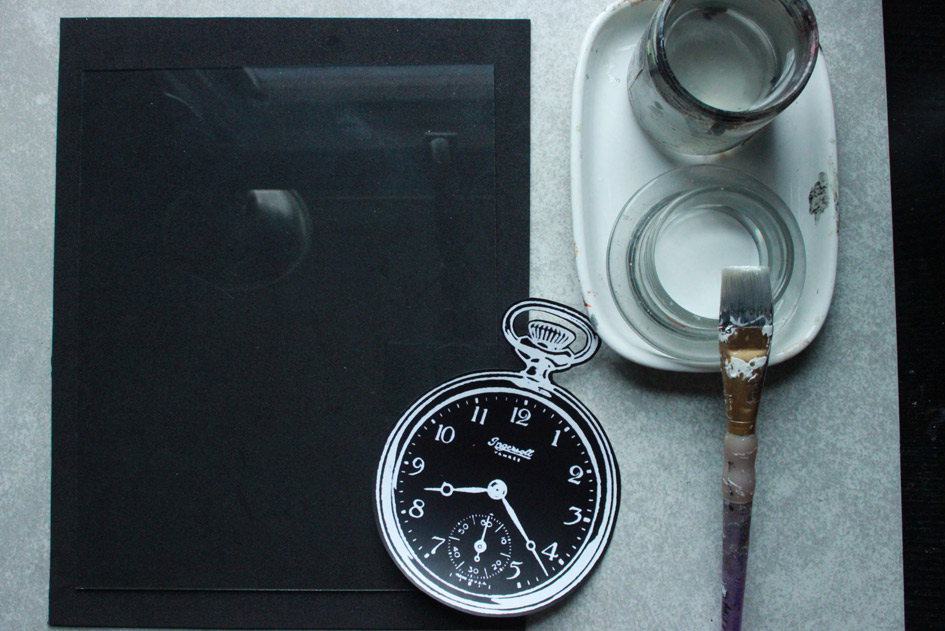 4. Coat the printed side of the image and the area on the glass where you want to place the image:
5. Place the graphic face down on the coated surface of the glass. Use your fingers or a tool to smooth the surface against the glass. The goal is to remove any air bubbles or pockets of Mod Podge.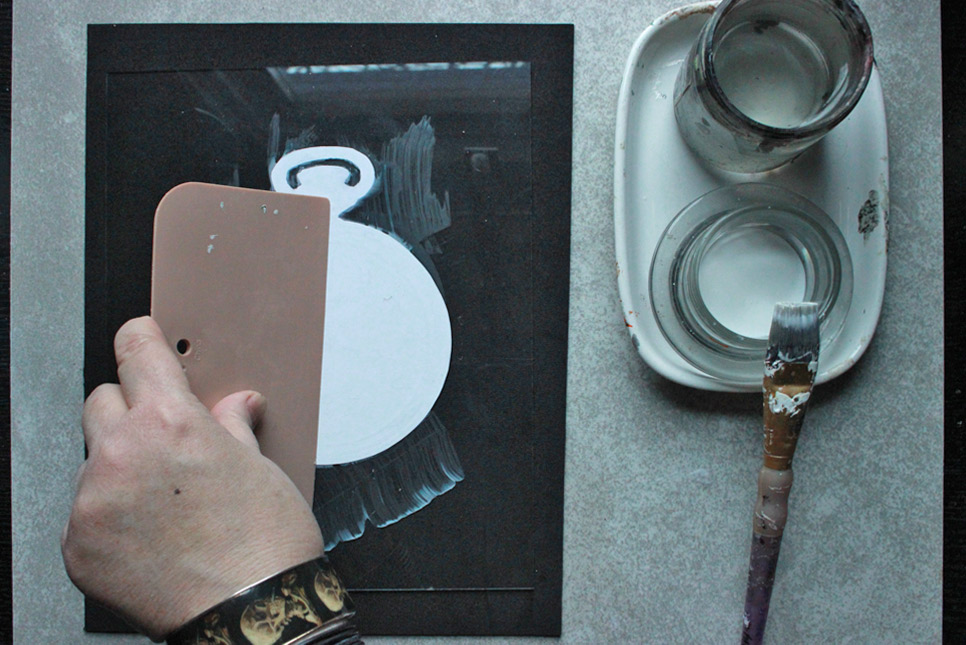 6. Once the image is adhered, remove any haze from the glass with a dampened rag. Make sure to clean the glass carefully for the best results.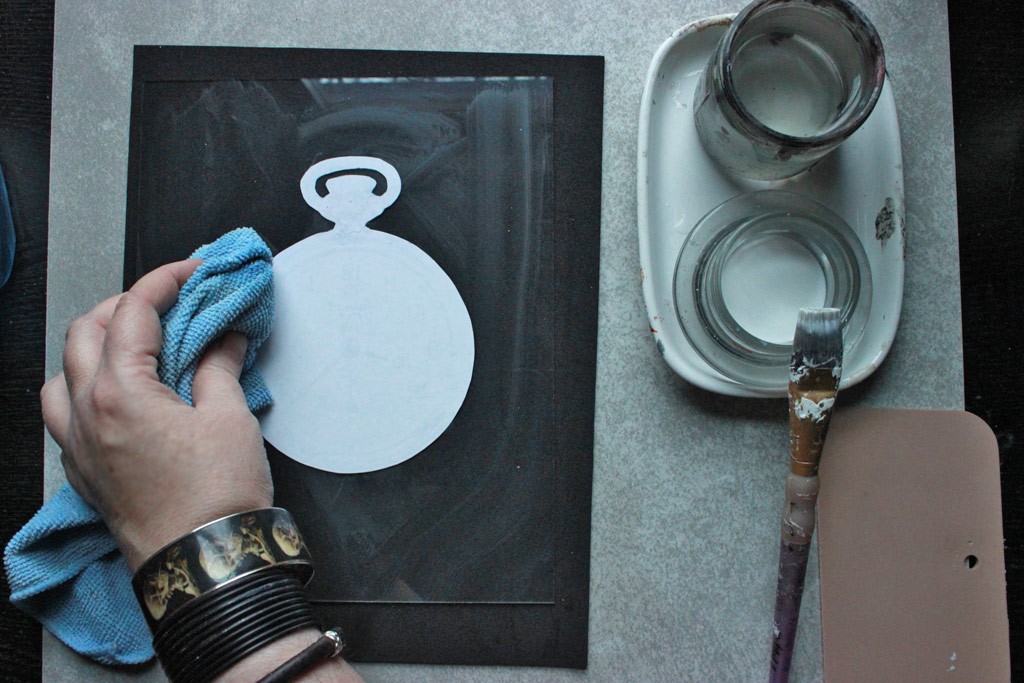 The Mod Podge begins to dry very quickly. Here it is after only 10 minutes. Another 5 minutes, and I was ready for the next step.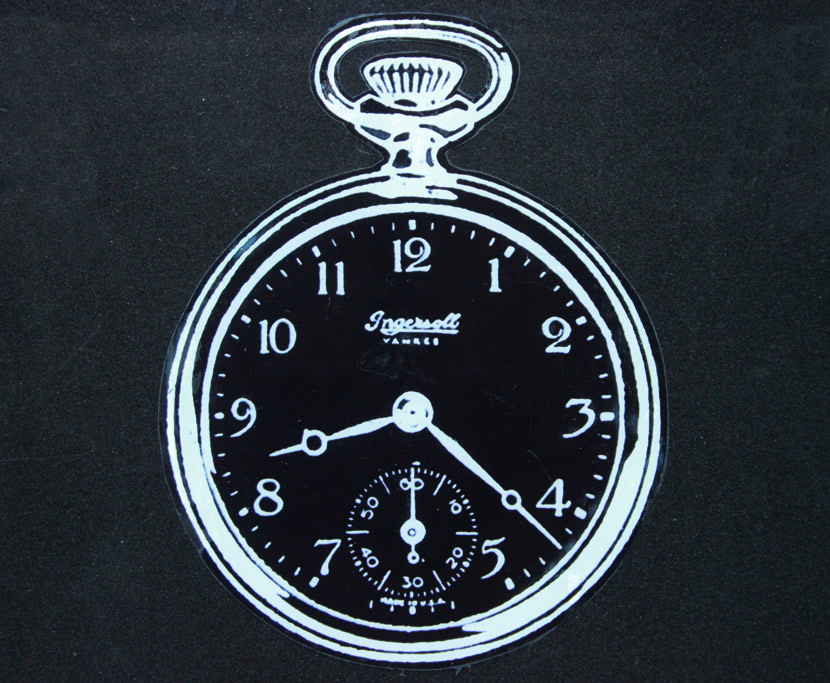 7. Place a stencil over the glass and the back of the graphic.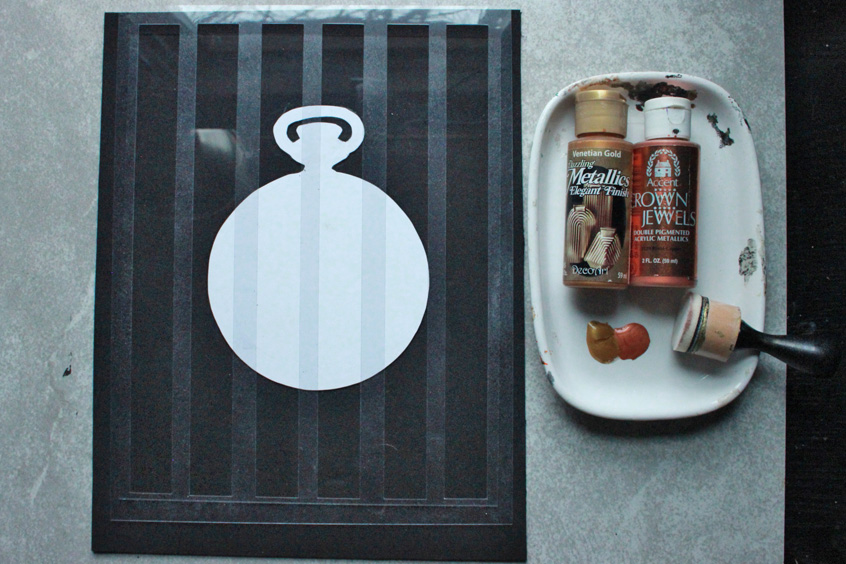 8. For this project I wanted a two-toned metallic look. If you like this color combination, loosely mix gold and copper together, then carefully dabb the paint onto the glass using a smooth foam applicator.
Note: If you want perfectly symmetrical stripes, consider using painters tape rather than a stencil.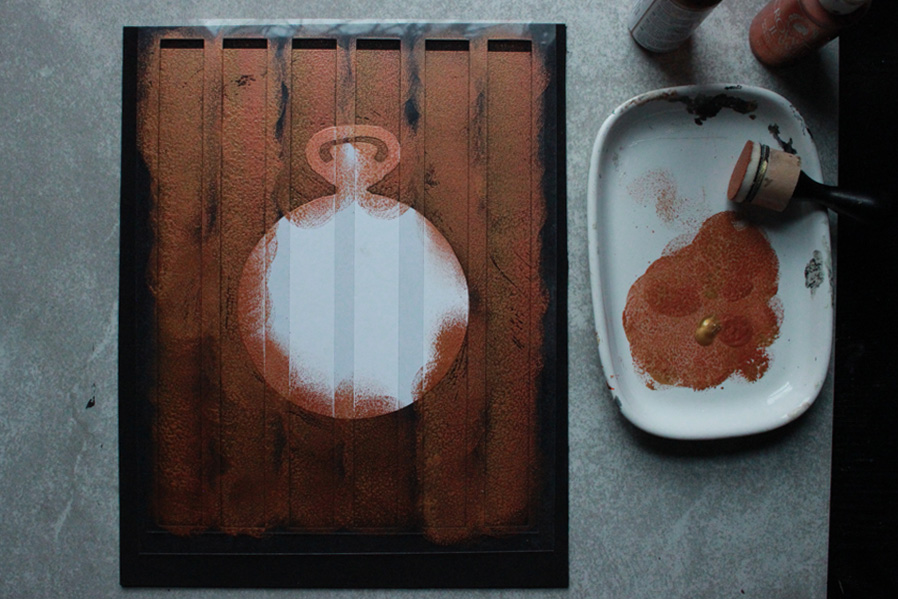 9. Carefully remove the stencil or tape while the paint is still wet.
There's a slightly ragged look to my stripes – I like this look. If you don't, just wait till the paint dries completely and use a sharp craft knife to neaten the edges.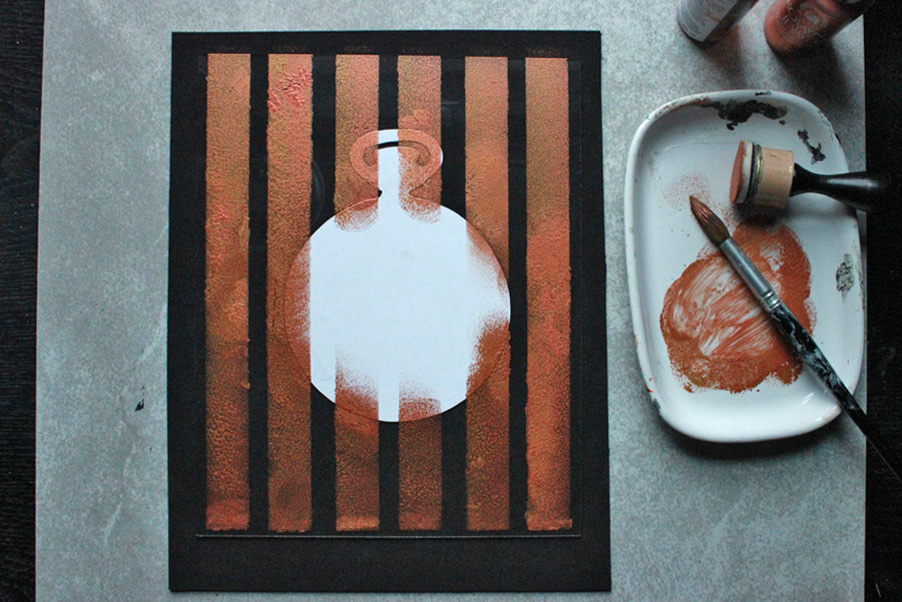 10. You can speed the drying time with a heat tool. When the metallic paint is thoroughly dry, carefully place your glass onto a piece of cardboard, take it outside and give it a quick shot of Rustoleum 2X.
Love this stuff. It dries very quickly.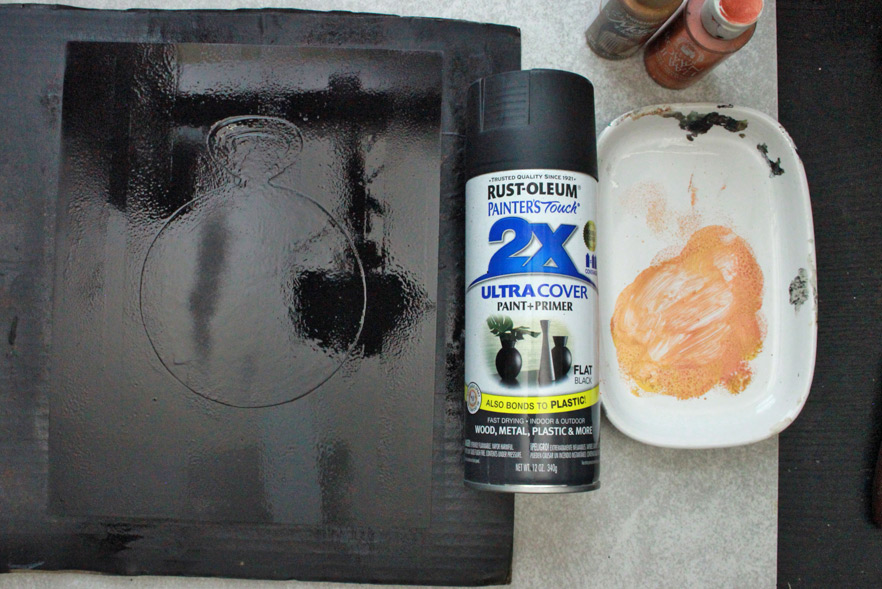 11. As soon as the spray paint has dried, you can pop the glass into your frame, and admire your handiwork!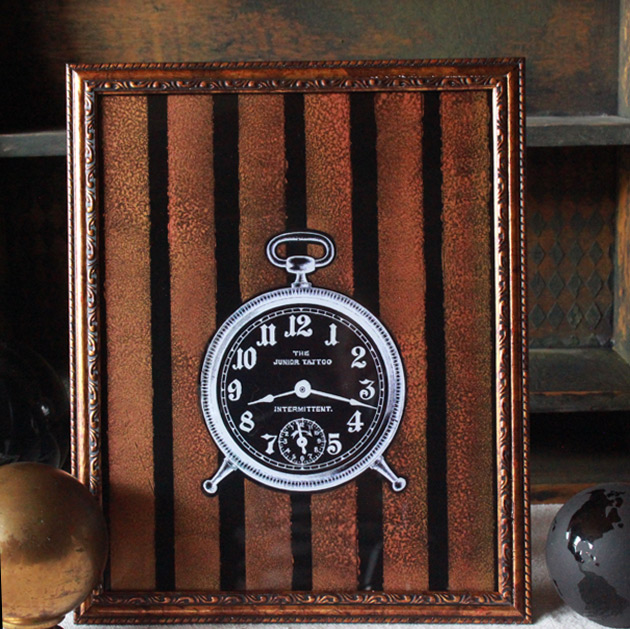 Using bold stripes of metallic color creates a fantastic background for these adorable timepieces: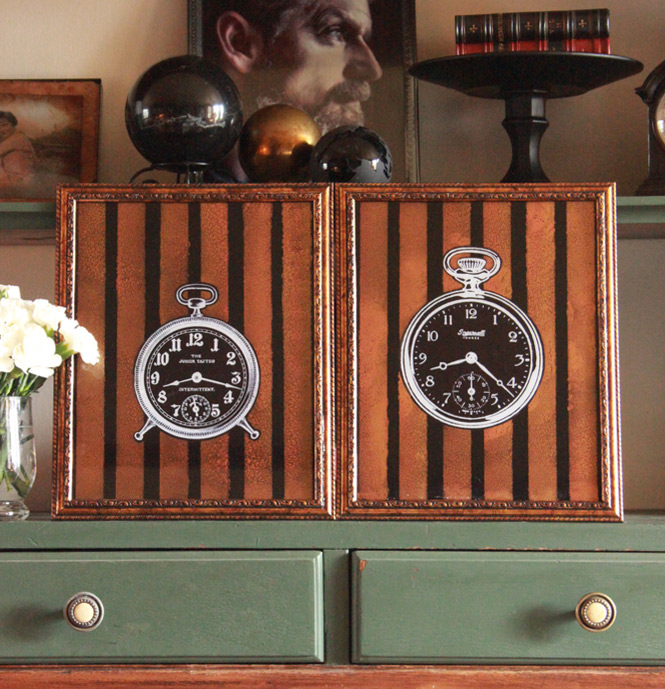 And that's it! Hope you find this how to decoupage on glass tutorial useful, and thank you for joining me today.
You may also like this post about Decoupage Glue HERE.
Stop by Thicketworks to discover more ways to turn inexpensive items into pieces you'll be proud of!
Take Care,
Heather