Stencils – A Comprehensive Guide!
Hey y'all – it's Rebecca back with another Comprehensive Guide. We will be exploring Stencils for Mixed Media, Altered Art, Junk Journaling, and more. Stencils are an amazing tool for decoration and embellishing. I have been using stencils in my art since the 1970s. As you can see below, I have more than a few. WINK! As an artist/educator, I especially enjoy learning about the features and benefits of our "tools of the trade." So let's dive into Stencils A Comprehensive Guide!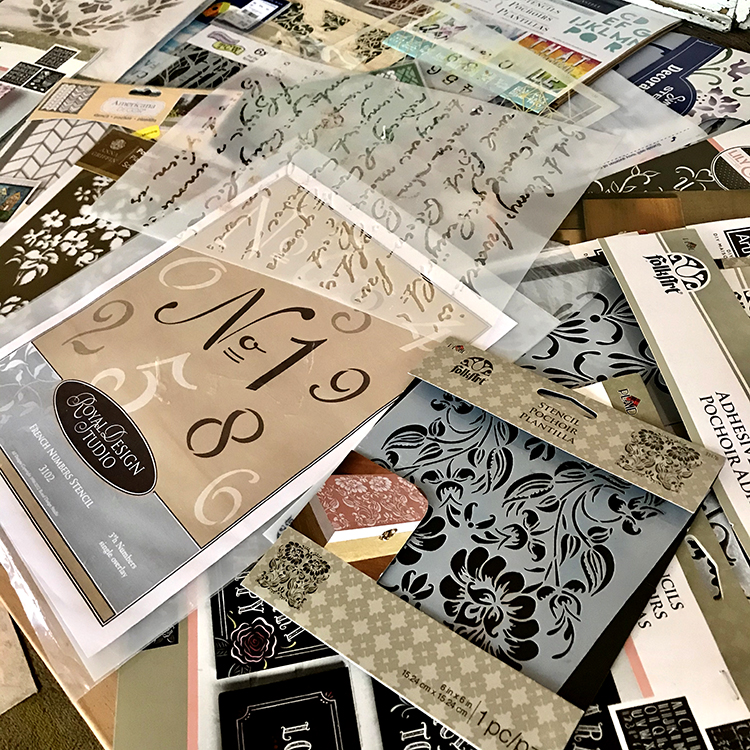 What is a Stencil
A stencil is a fairly simple tool. It is a template that allows a shape to be easily painted on a surface. The fun thing about stencils is they allow an exact pattern to be repeated over and over again. It is a handy way of transferring a pattern by brushing, spraying, rolling, airbrushing, or squeegeeing ink or paint through the open areas of a stencil. Stencils have been used to decorate walls, floors, furniture, and textiles for millennia. Used in artworks around the globe, they are very important elements to art as a whole. The basic method of using stencils has remained unchanged for centuries.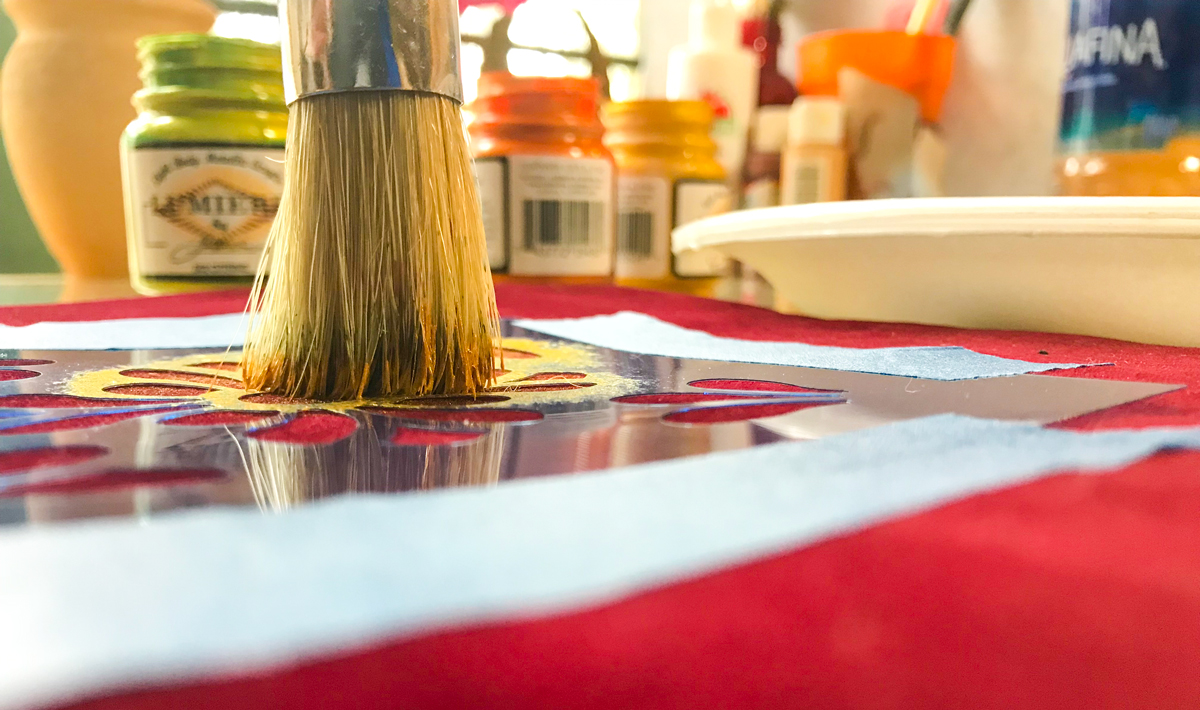 Today, happily, stencils are used for fine art, crafts, and mixed media. Fine artists and decorative painters have long known how useful this little tool is. Now mixed media artists, altered artists, collage artists, quilters, as well as cardmakers, scrapbookers, and journalers have all embraced the art of stenciling. And they are incorporating stenciling into their work. I am pretty sure you have dabbled in it as well!
Stencil Materials
Stencils throughout history have been make of paper, tin, leather, and other materials like oiled cardboard to create painted decoration. All of these materials work well, with some better than others. These are almost always opaque. Paper ones eventually disintegrate. Below are some of my Vintage Stencils from my collection. The two sepia toned ones are oiled cardboard. All were hand cut.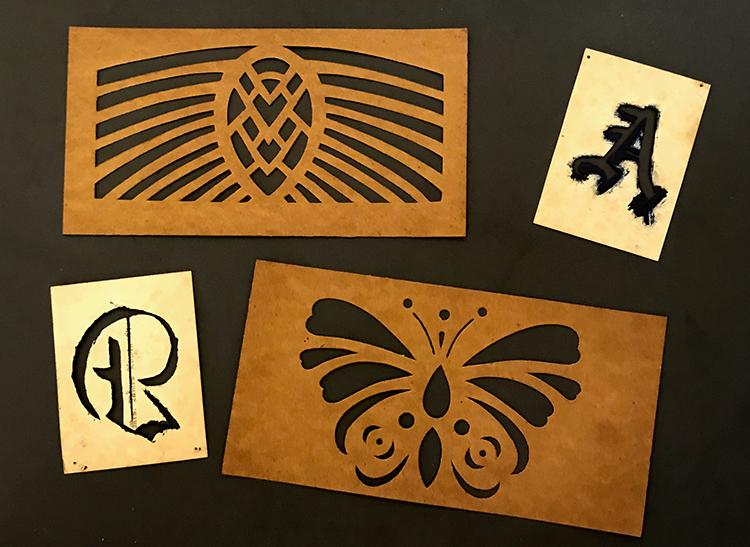 In the 20th Century, technology made it possible for stencils to be cut from a light-weight plastic material called Mylar. Mylar is transparent, so it is easier to see how to place the design on your surface. Most of the commercial stencils today are cut from 5 mil or 7 mil Mylar. The nicest benefit is that they are reusable! This innovation helped create a resurgence in the love of stenciling. Stencil designers and new, amazing designs flourished in the last two decades of the 20th century. Here is Mylar stencil from 7mil material: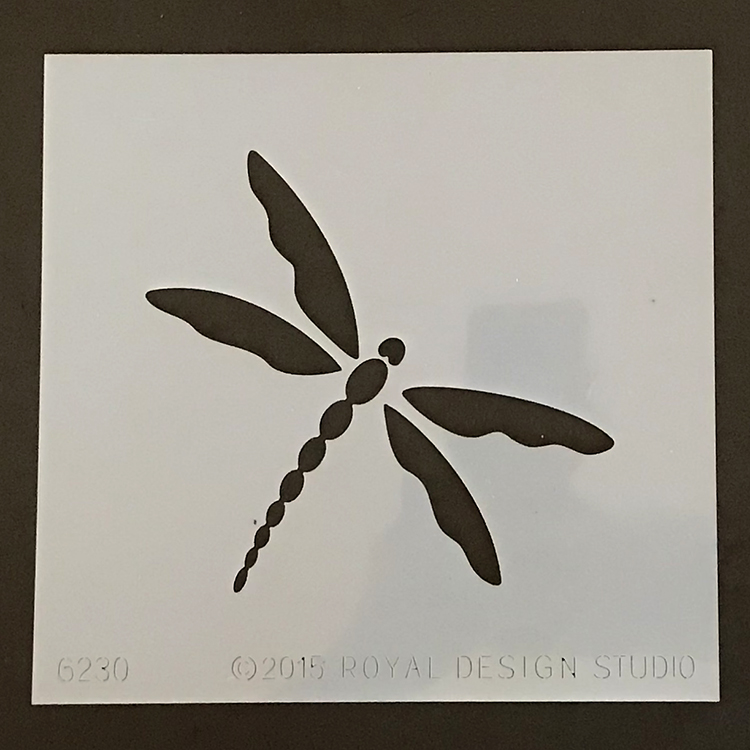 Types of Stencils 
Options available today are cut, burned, die cut, or purchased pre-made. We might even cut one from The Graphics Fairy's extensive library of images as you see below!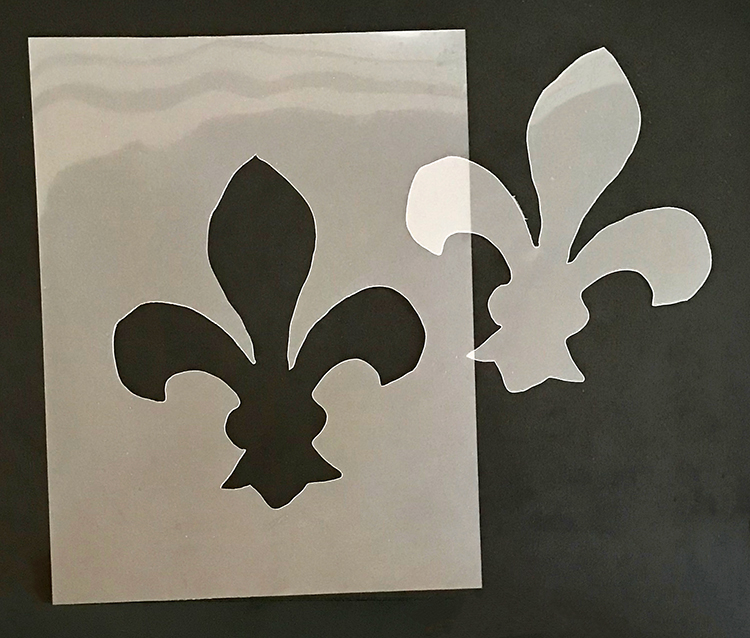 Bridged
The most common stencil incorporates bridges as part of the design to ensure stability. But that leaves noticeable divisions of the design. You can clearly see the bridged areas in this example: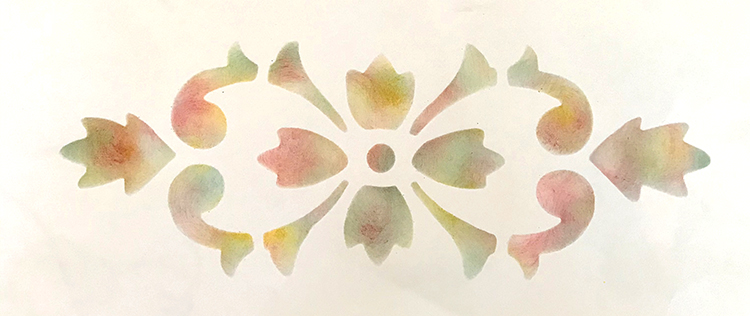 Theorem or Bridgeless
Theorem or multi-overlay stencils were developed in the early 20th Century and produce beautifully innovative designs. These mimicked the look of hand-painting, and were actually mastered in the 1990s. Here is a piece done with a bridgeless stencils.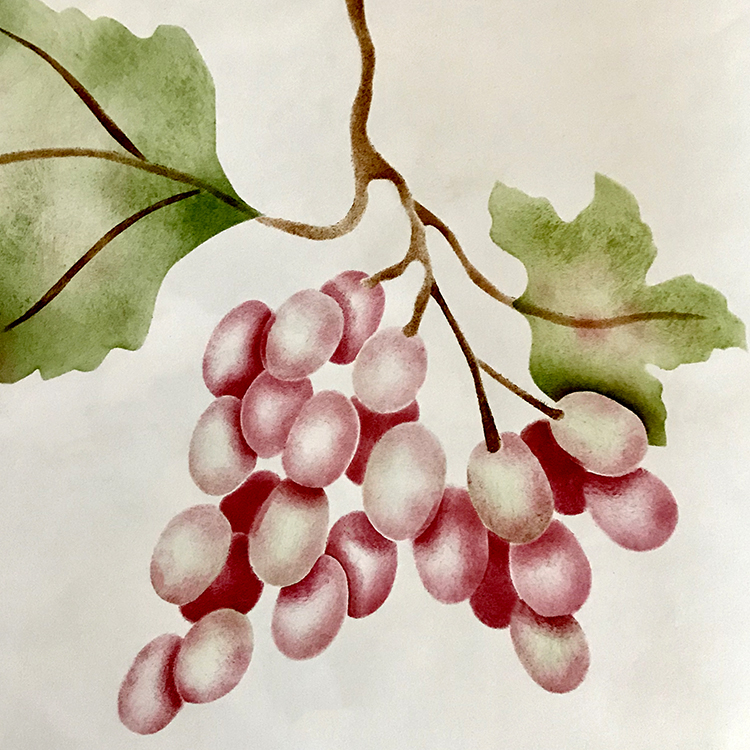 Metal
There are also metal stencils that were introduced for the scrapbooking and card making artisans to emboss yardstick and paper. They were made for embossing but work well for painting also. Below are some Vintage Metal Stencils from my collection: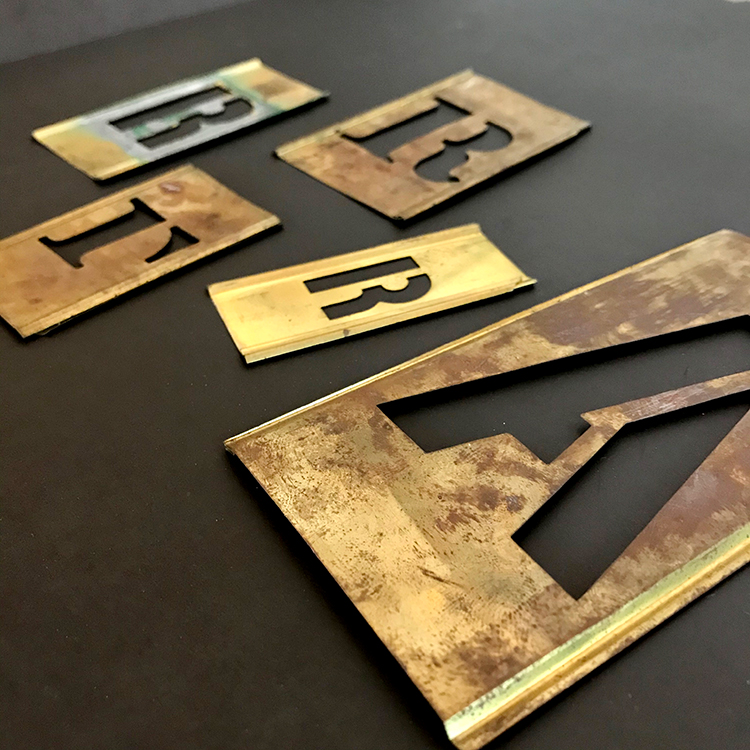 Architect Stencils
Don't forget about the old architect and office use stencils. I buy them whenever I see them in thrift stores. There are some great shapes and sizes for every need.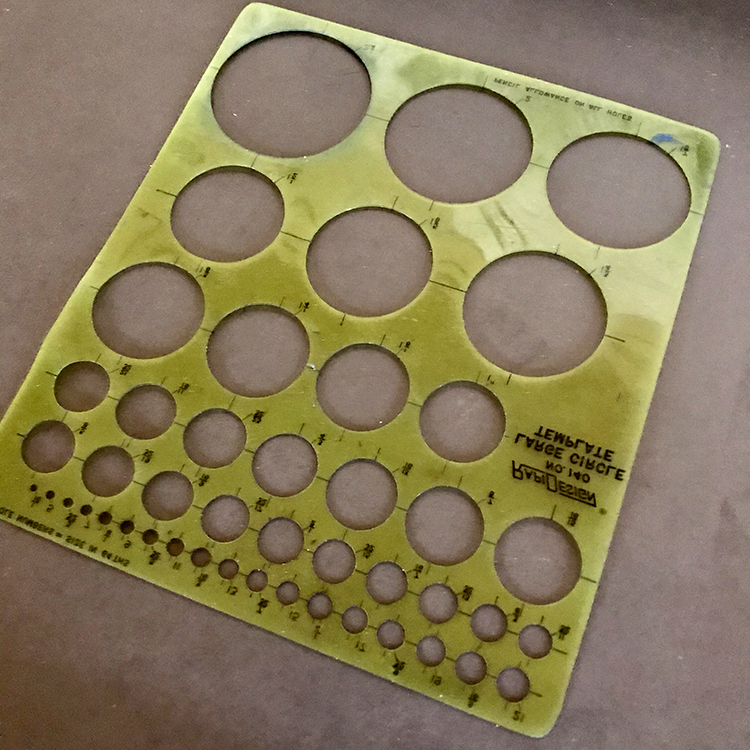 DIY Stencils
Computers and laser cutters made designing stencils so much easier, and this has opened the door for custom sizing options. Needing a stencil to be larger or smaller required no more hand cutting. That became automated. And companies began offering custom sizing and designing. But you can also create your own stencils from hand-drawn or The Graphics Fairy designs by cutting them from materials like Mylar, cardstock, file folders (my fave), vinyl (with Cricut or Silhouette), and even freezer paper. Below is a well loved pear stencil cut from a file folder: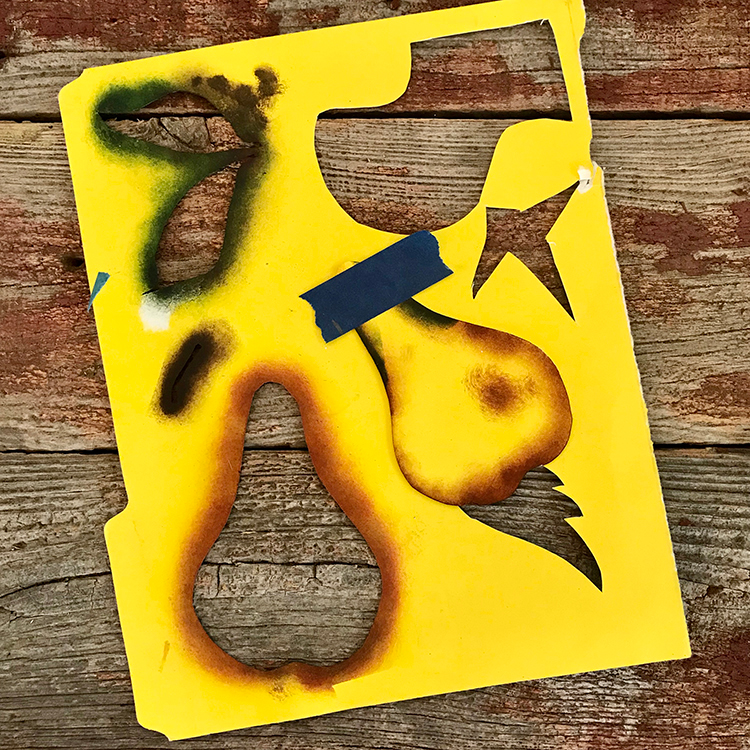 Lettering and Phrase Stencils
Some of the most popular stencils at the moment are of phrases, words, or lettering. They are made for signs or the fun chalkboard projects. Here are a few from my stash: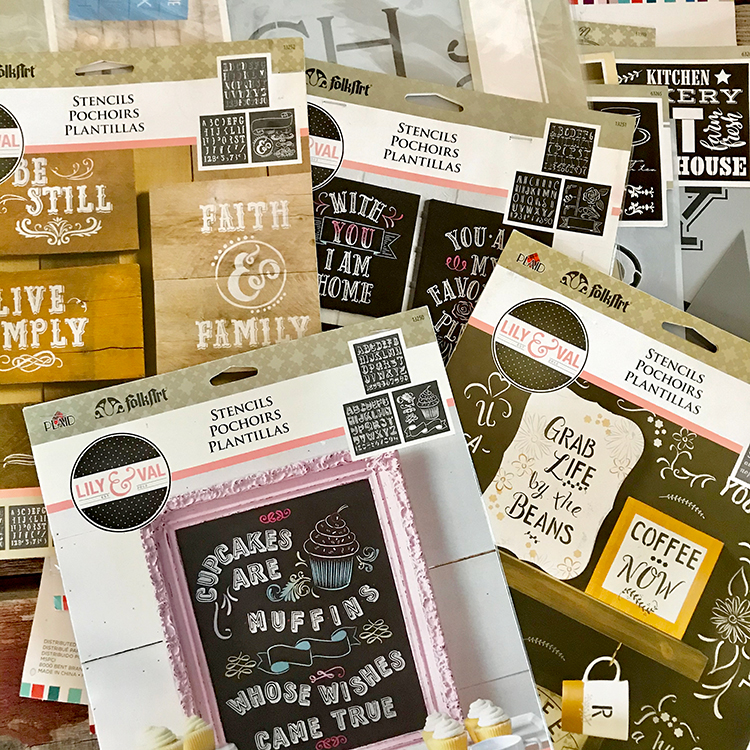 Stencil Companies
There are several Stencil Companies producing a wide array of stencils. Some of my faves are:
Plaid, manufactures the Martha Stewart line and the Waverley line plus their own brand.

Royal Design Studio, have a massive library of single and multi-layer stencils for crafting and decorating.
Stencil Girl –  awesome designs designed by many famous artists for crafting.
Cutting Edge Stencils – a large library of designs for all surfaces.
The Stencil Library (UK) –  Contemporary, Historical, Lettering stencils.
Annie Sloan –

versatile collection of stencils to complement her Chalk Paint®.

The Crafters Workshop – great designs for crafting.
StencilEase – a huge library of designs for any need.
There may be more companies out there who sell stencils. If I missed your favorite, please let me know in the comments below! 
Are Stencils Copyrighted?
Stencil patterns and designs are copyrighted by the original artist. Most stencil companies allow you to create original art with them without infringement issues. Of course, you cannot reproduce the exact stencil pattern or design as a stencil and sell it. If you have any concerns about your artwork or selling artwork that uses stencils, contact the stencil manufacturer.
How To Stencil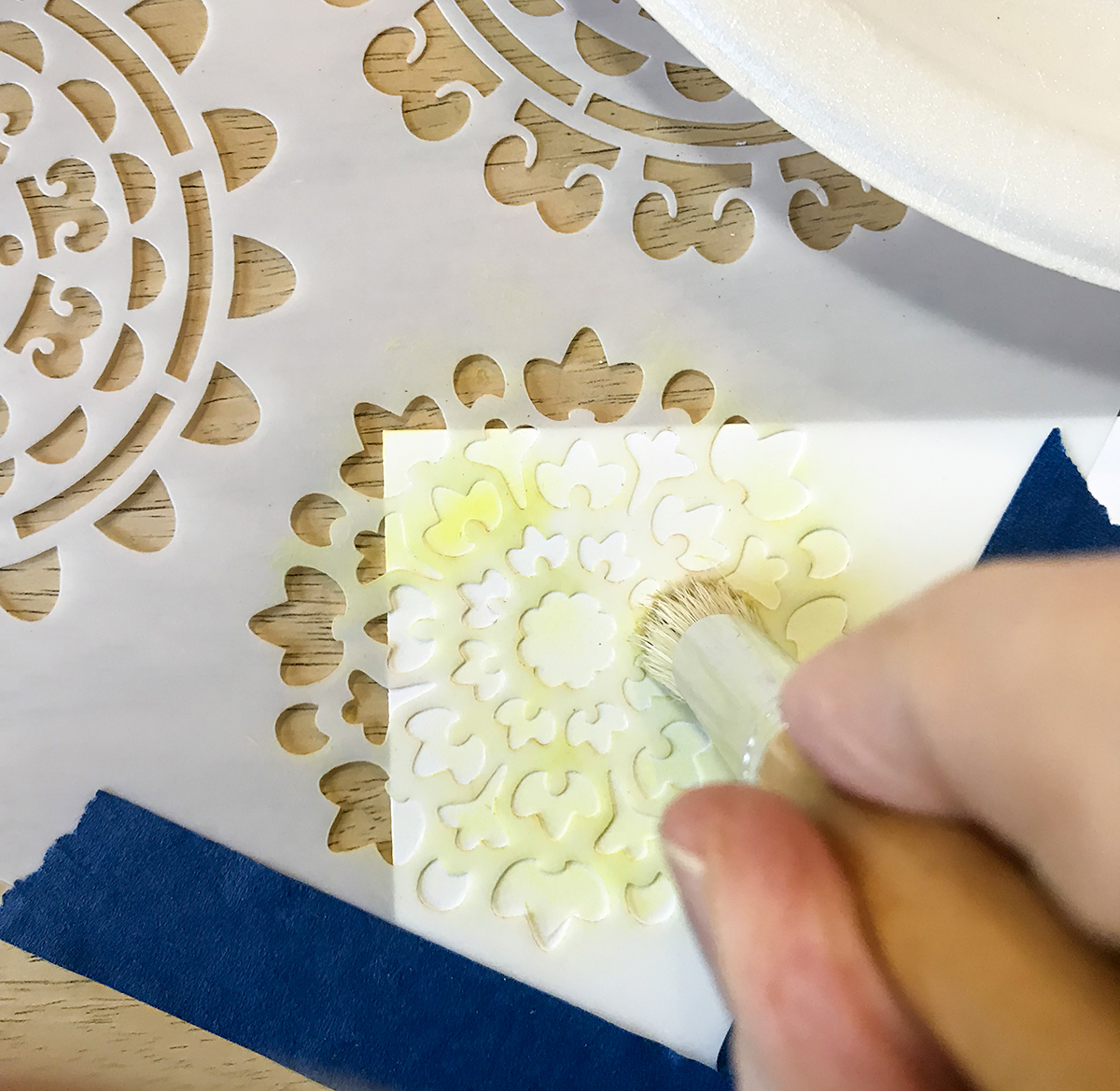 I have a few step-by-step tutorials about stenciling here on The Graphics Fairy, so I won't go into the process here. Check them out: Make Quick Stenciled Greeting Cards and How to Stencil on Velvet with Metallics. Other stencil how tos: Stencil Color Blending Technique  and Raised Stencil Texture Technique.
I hope you had fun exploring our Stencils – A Comprehensive Guide with me!! I want you to enjoy creating your own unique and beautiful art with these handy and useful tools! I also create Photoshop Elements tutorials and craft project videos over on The Graphics Fairy Premium Membership site. You can find even more of my books, art, classes, and whimsical shenanigans on RebeccaEParsons.com.
Hello! Are you new to The Graphics Fairy?
Welcome, I'm so glad you're here! Browse around to find 
thousands of Stock Images
 that you can use in your projects or designs! I post new Vintage images every day, as well as projects and DIY's too! Need more info about my site? Try my 
FAQ
 page.