16 Christmas Snow Images with Children
This is a cute collection of Vintage Christmas Snow Images with Children. These are beautifully detailed art postcards with the most adorable children decked out in their winter finery! Each illustration is set in the outdoors during or after a snow storm. Each postcard is special in its own charming way. I could see them framed and set on the mantle during the Holiday Season. They also work well for your Winter and Christmas Collage or Mixed Media projects.
Children with Christmas Tree Images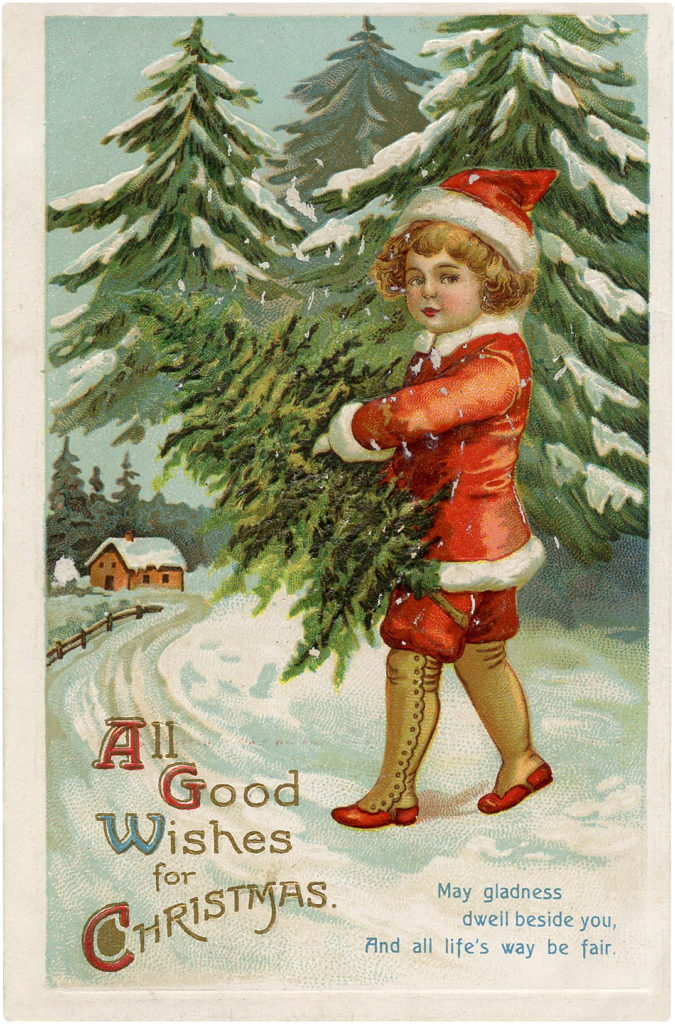 Our first Christmas Child in Snow image is a young boy out carrying a pine tree just about as big as he is. He has a delightful little Santa type suit on. It is bright red trimmed in white fur on the jacket neck, cuffs, and hem. He wears matching red, short breeches that gather at the knee and are tucked into knee high red and tan leather boots. The boots have buttons running from mid–foot all the way up to the knee. It would take a long time to get those boots on and off I imagine.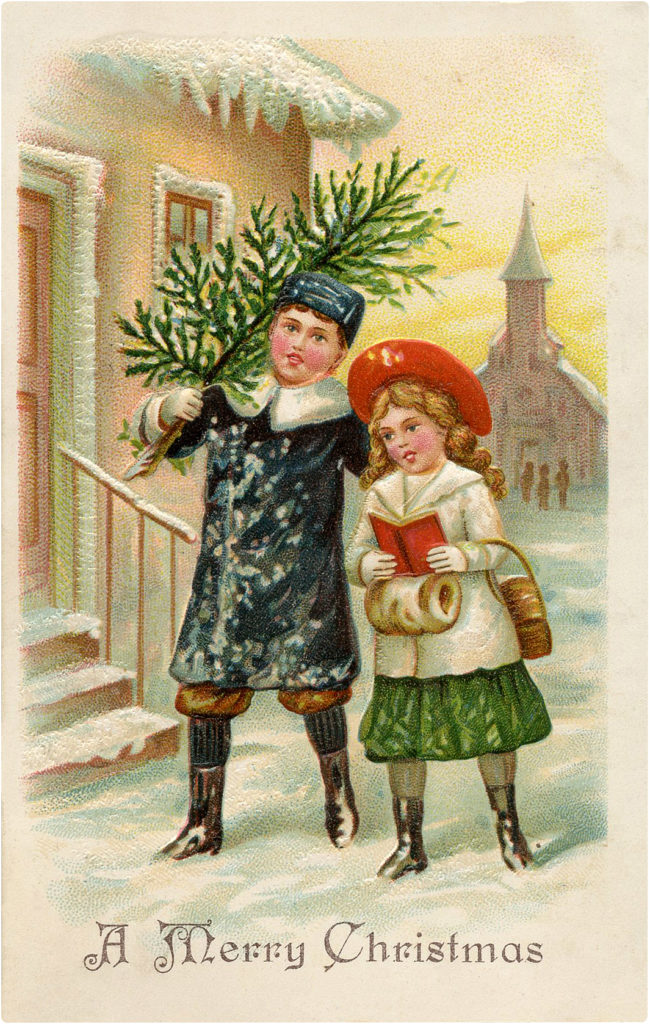 Our second of the Christmas Children in Snow Images shows a young girl and boy walking in the snow on a sidewalk in front of a home. Snow and icicles hang from the eves and cover the steps. The girl is carrying an open red book that might be a book of carols. They might be singing as they walk. The older boy has a Christmas tree over one shoulder and his arm guiding the little girl. They are dressed for snow. She has the cutest white fur muff and large brimmed red hat. They both have black boots on their feet. There is a beautiful church in the background with people standing outside. The card says a simple "A Merry Christmas."
Christmas Boys and Girls Pictures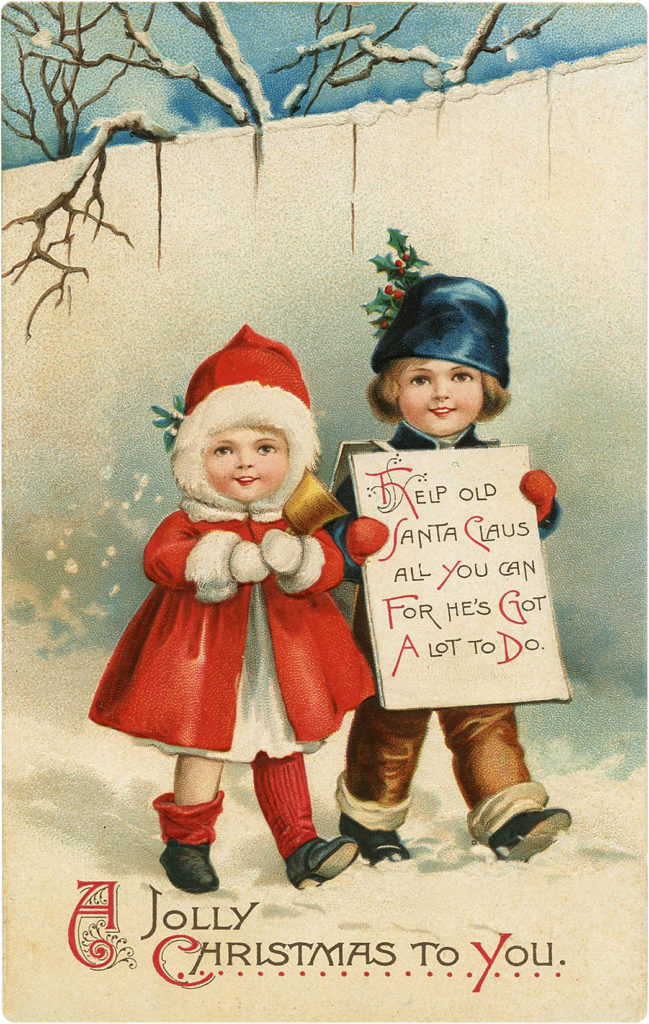 Our next two Christmas Children in Snow are cute as they can be. One child is carrying a sign that reads: "Help old Santa Clause all you can because he has a lot to do." Red mittens grip the rather large sign. He looks to be dressed in a military type jacket and hat with a sprig of holly pinned to it. The adorable tiny girl has on a little red riding hood kind of outfit with a red fur trimmed hat and coat and tiny white mittens. She has a white dress and red stockings, one of which is slipping down. It reads, "A Jolly Christmas to You" in a gorgeous font.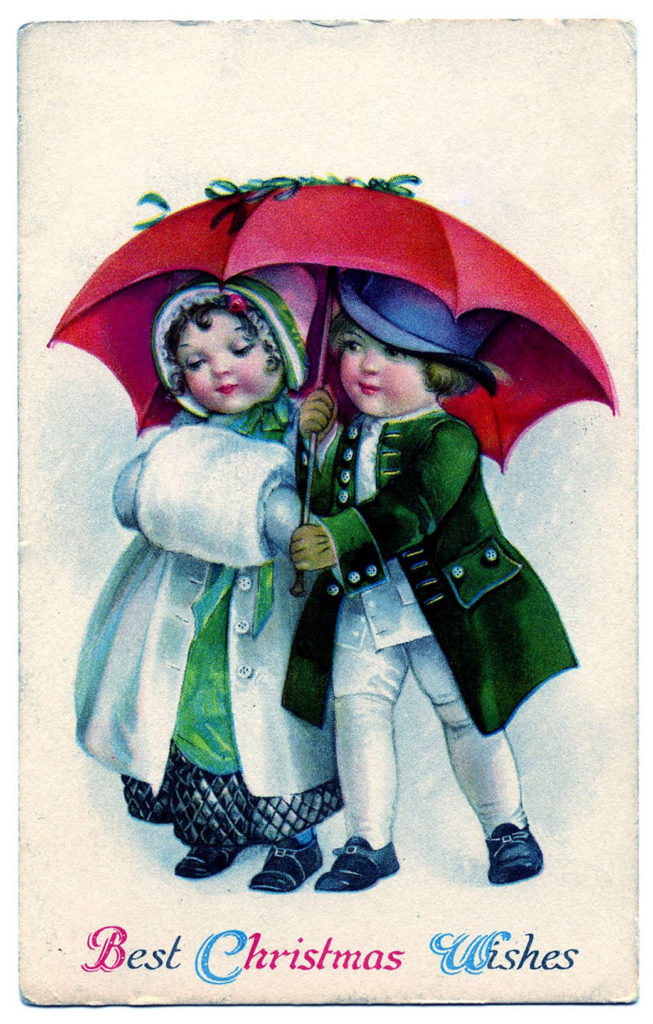 Our next Christmas Children in Snow Image says "Best Christmas Wishes" and shows an early American era boy and girl walking in the snow under a large red umbrella. The umbrella is covered with greenery. The little girl is wearing a white coat and hat and has her mittened hands tucked inside a large white fur muff. She has a beautiful quilted green and blue dress. He wears a green velvet Colonial style coat over white breeches and vest. They both have on Pilgrim style black shoes.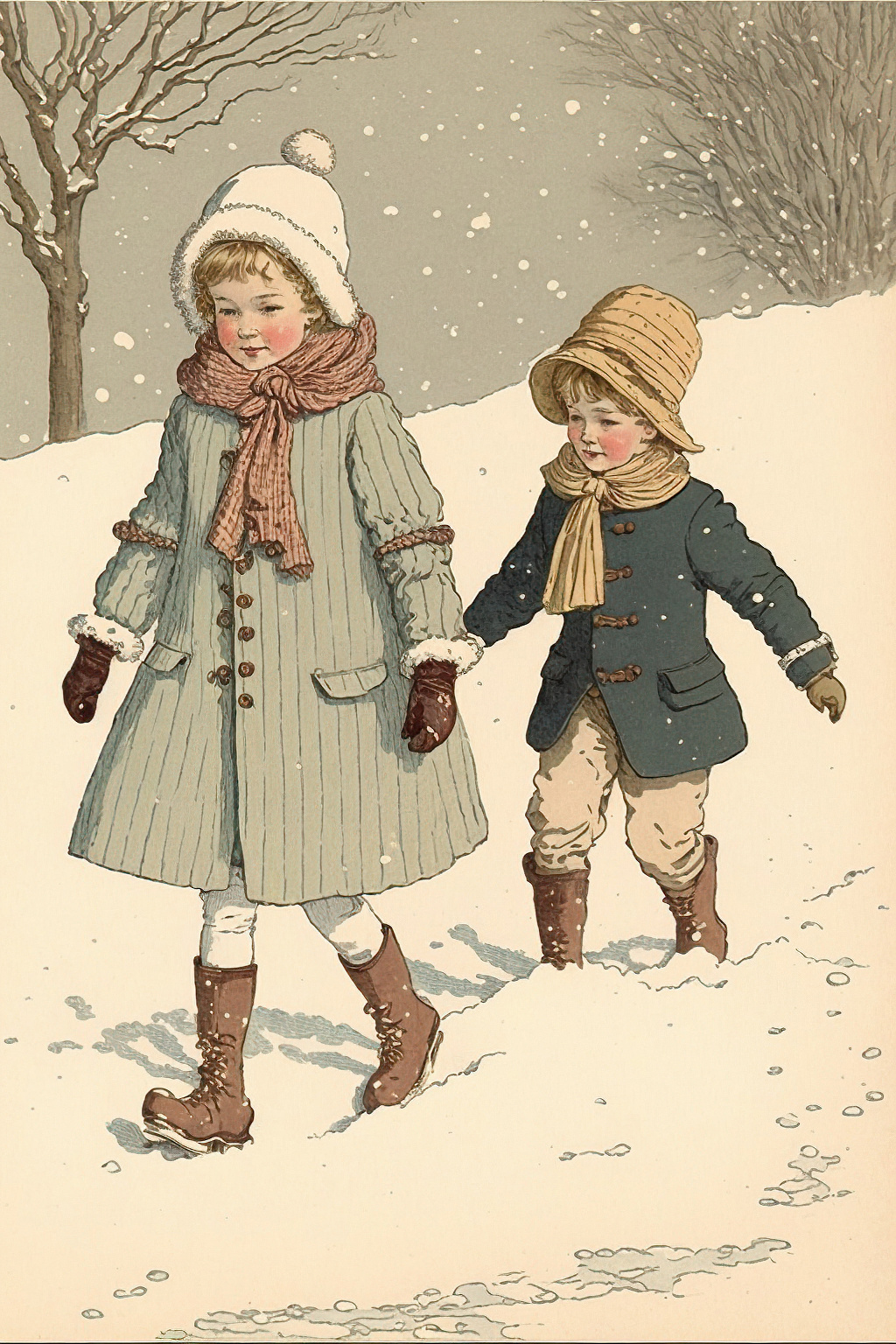 Here is the latest addition to this collection. This next adorable Christmas Snow Image shows 2 sweet Kids on a Snowy day taking a walk. They appear to be brother and sister. Such a sweet nostalgic scene!
Christmas Children Advertising Images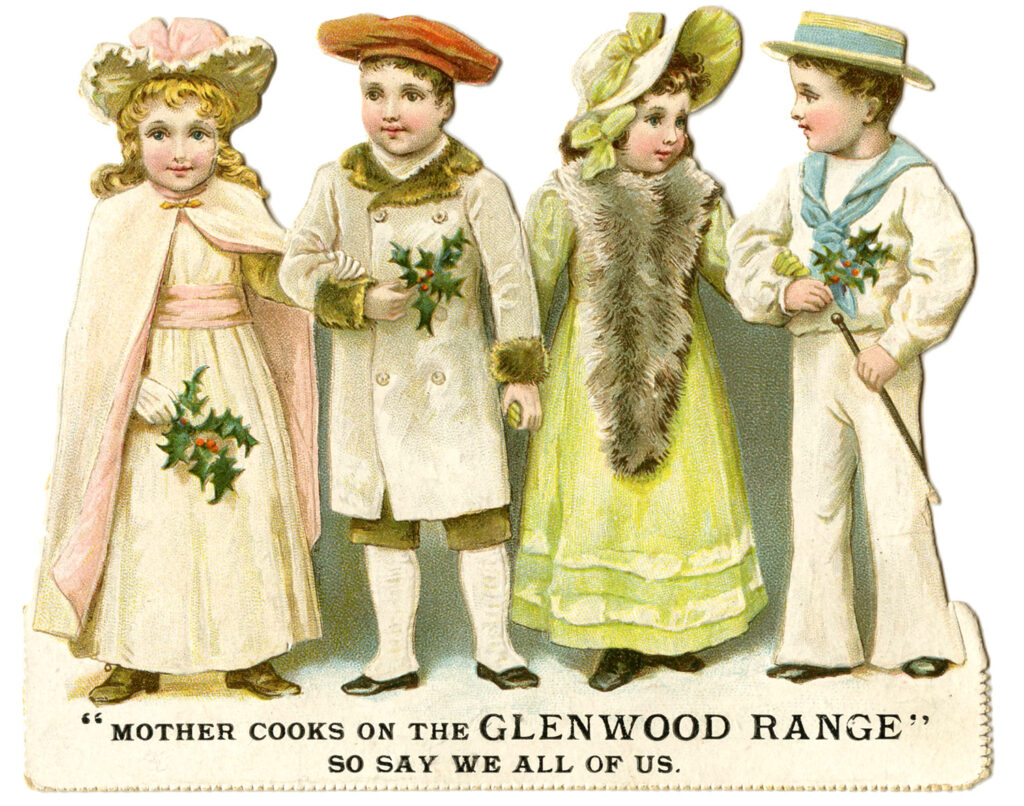 Above is a sweet little Victorian Advertising Card for the Glenwood Range Company. This one shows four darling Children all dressed up in their Christmas finery! I love the soft pastel pinks, greens, blues, and creams of this one. The card reads, "Mother Cooks On The Glenwood Range" so say we all of us.'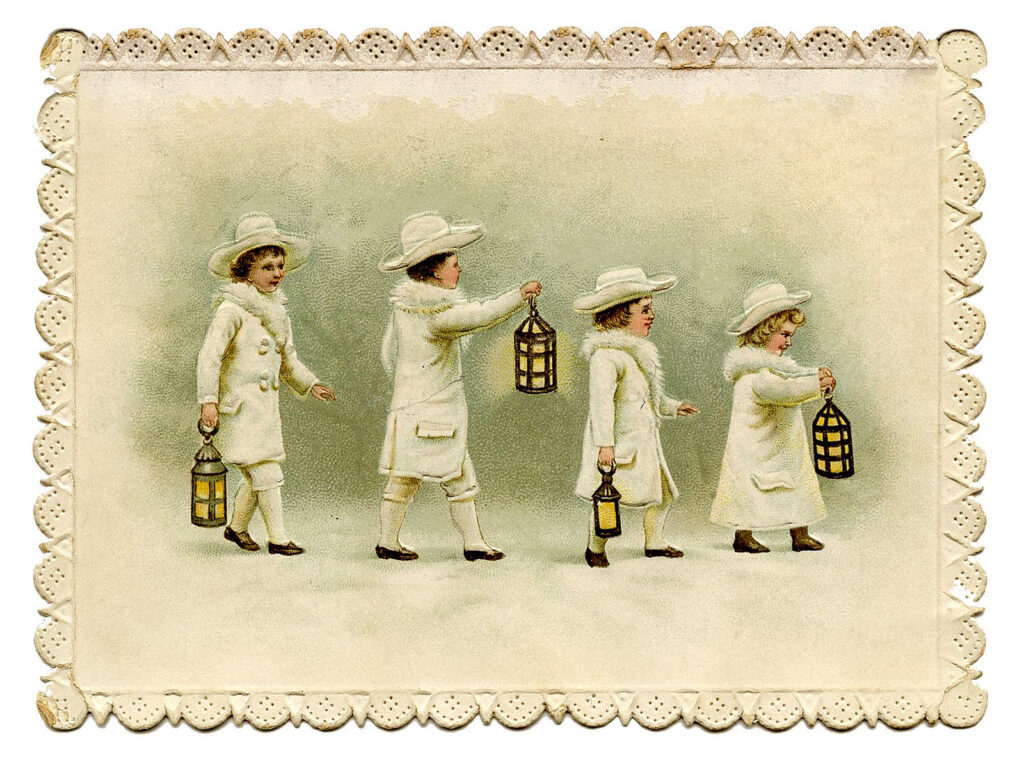 This is such a precious advertising card! Featured above is a Wintery scene with four dear little children who are walking along in the snow and holding four brightly lit lanterns. Bundled up in some heavy, warm looking coats and hats, they look to be bearing the cold just fine. Where might they be off to? The lovely scalloped edge of the card is a nice bonus!
Nostalgic Christmas Children Postcards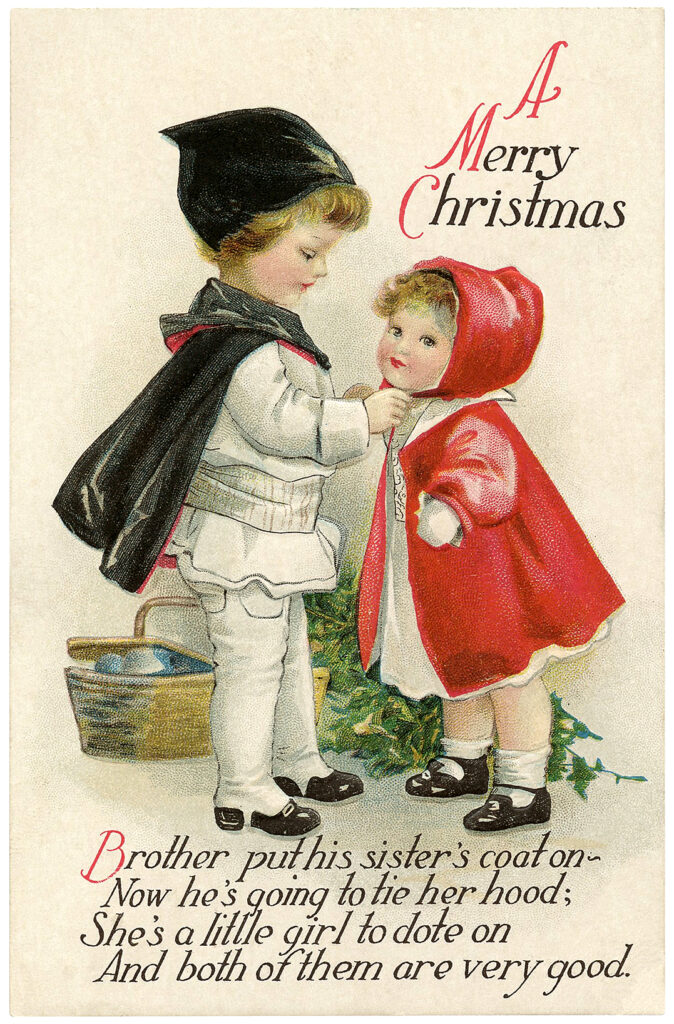 Isn't this a Darling Christmas Children Postcard Image? Shown above are two sweet children, a brother and sister. The big brother is helping his sister put on her hat. They are all bundled up for Christmas Snow! The card reads, "Brother put his sister's coat on – Now he's going to tie her hood; She's a little girl to dote on and both of them are very good." A charming Nostalgic Card!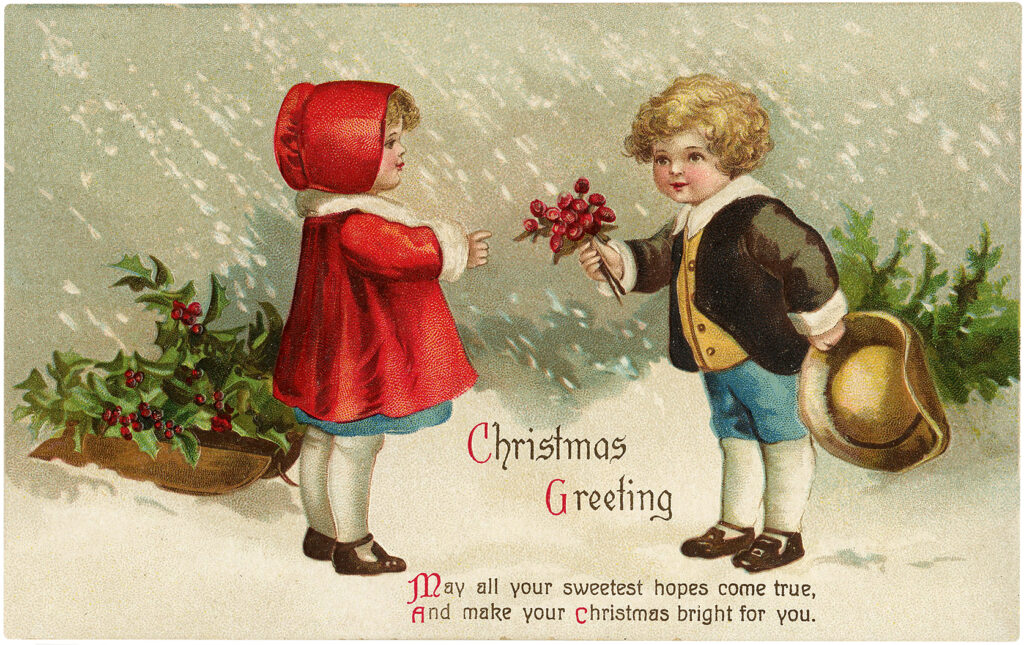 Here we have a Nostalgic Boy and Girl with Christmas Bouquet Image! In this scene, a cute blond boy offers a red bouquet to the a little girl as the snow falls gently in the background. She is wearing a fur-trimmed red coat and hat. He is wearing a brown jacket, gold vest, and blue breeches, and has a tan wide-brimmed hat in his hand. Both are wearing white stockings and brown buckle shoes. The girl is pulling a wooden sleigh loaded with holly. It reads, "Christmas Greeting. May all your sweetest hopes come true and make your Christmas bright for you."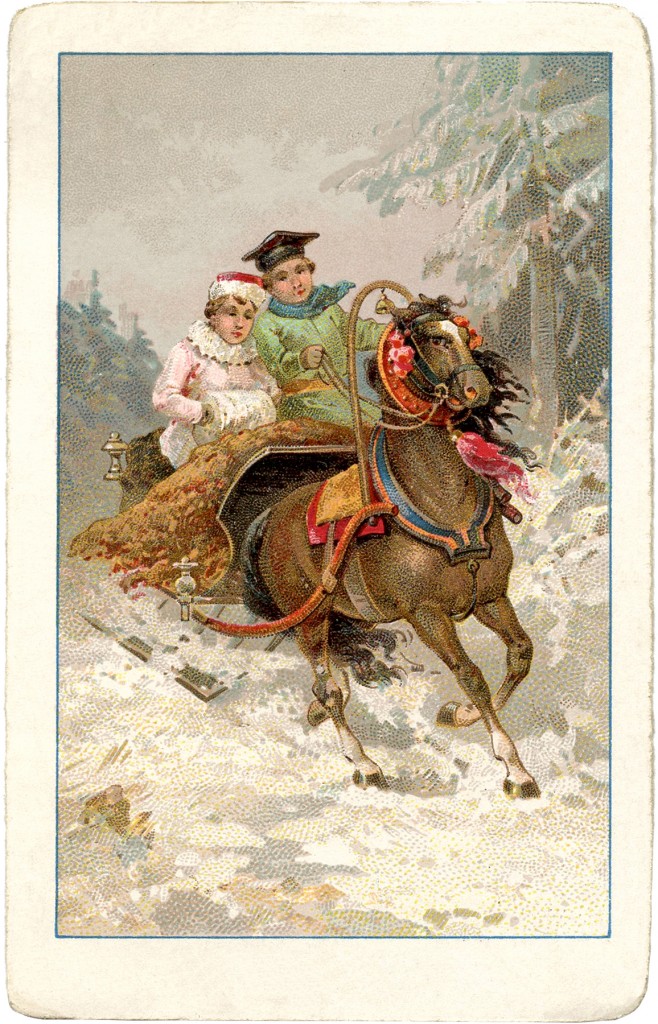 This wonderful image shows a young boy and girl riding through the Snow in a Horse draw Sleigh! They appear to be riding at a very fast pace! I love the bright colors of the children and Horse, contrasting with the muted snowy Winter scene in the background.
Vintage Christmas Snow Images with Girls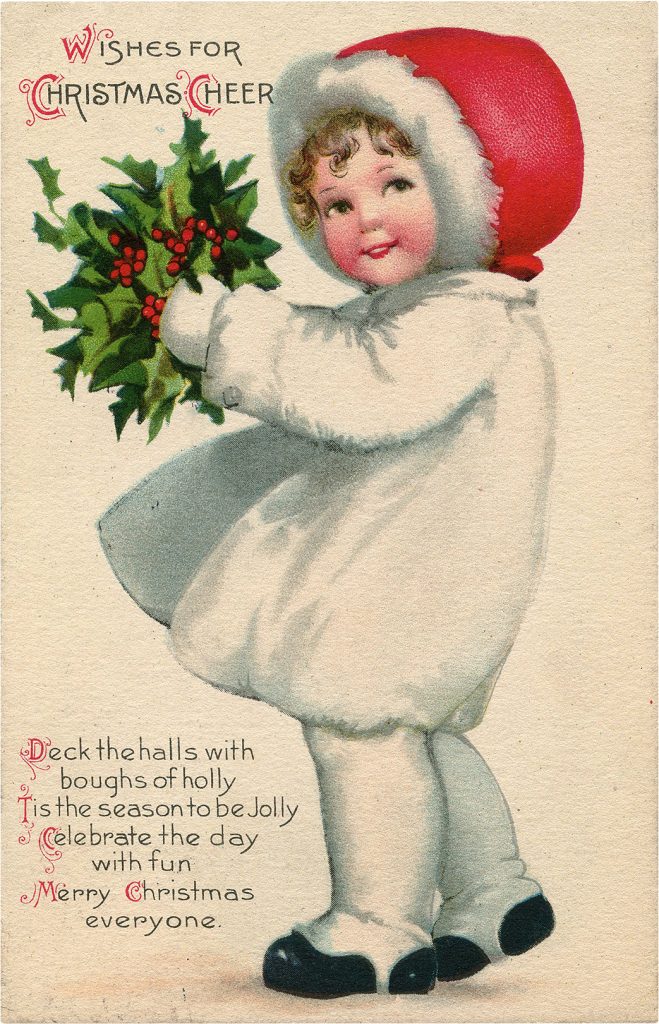 First up we have this Nostalgic Adorable Girl Christmas Cheer Snow Girl Postcard! This one features an adorable chubby-cheeked little girl wearing a white fur coat and red hat smiles as she looks upward. She is holding a large bouquet of red and green holly. Her white tights wrap over her shiny black shoes. The postcard reads, "Wishes for Christmas Cheer" and has a verse from Deck the Halls that finishes with "Merry Christmas everyone." The card is Circa 1917 according to the postmark on the back.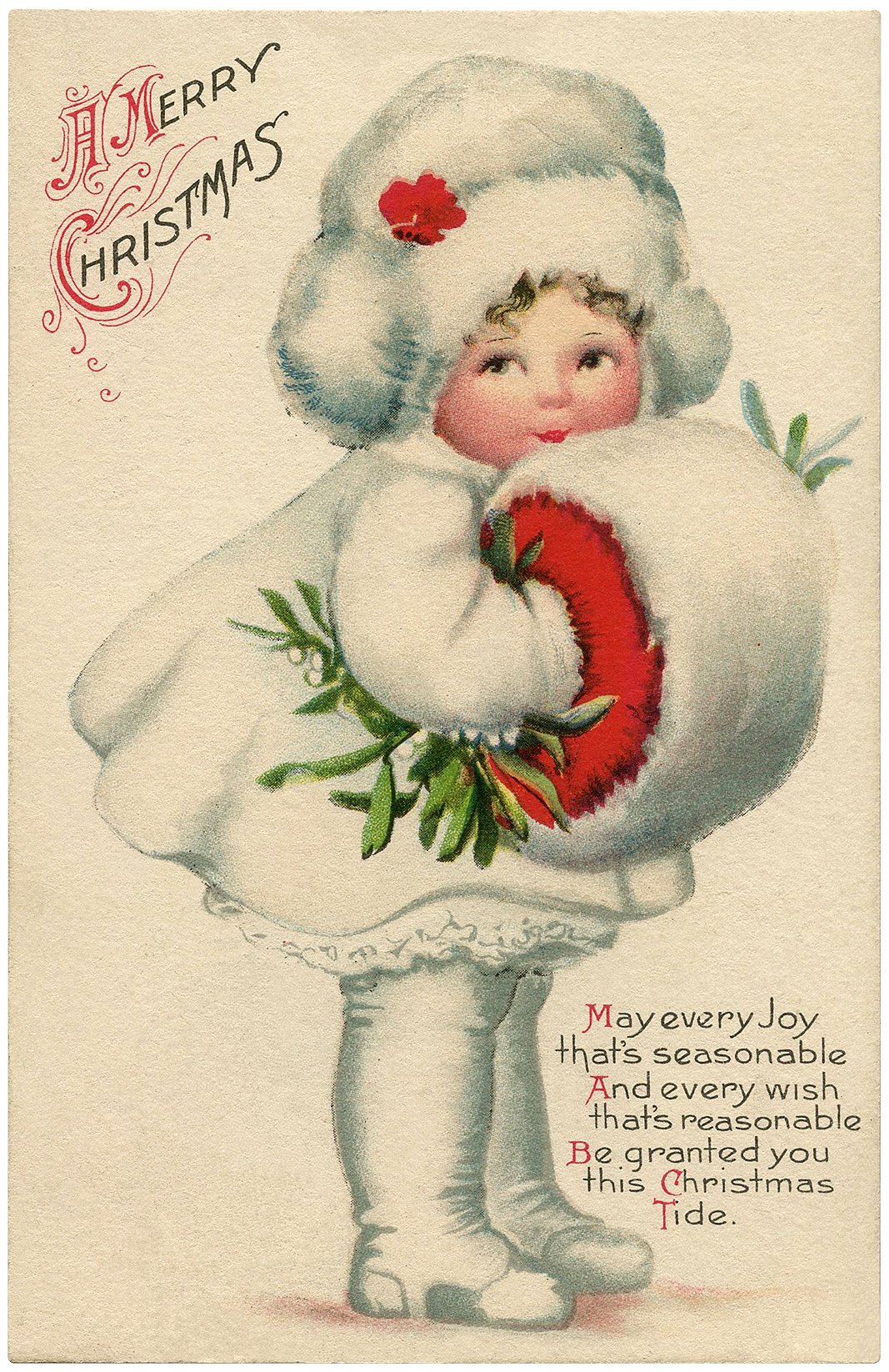 Next up we have this Darling Christmas Snow Girl Picture! Shown above is a sweet little Girl all Dressed in White with Fur. She's bundled up for Christmas Snow! She appears to be the sister of the little girl above. The greeting on this card reads "May every Joy that's seasonable, And every wish that's reasonable, Be granted you this Christmas Tide. So sweet.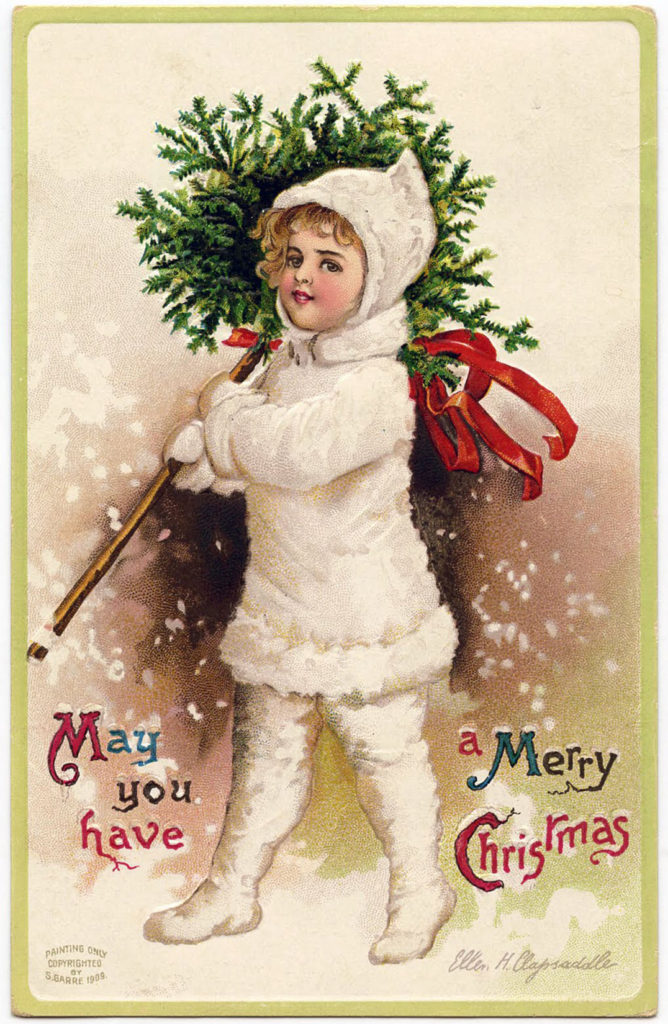 This is a lovely little Antique Christmas Postcard! This illustration is by Ellen Clapsaddle. The card shows a dear little Snow Girl carrying a festive looking Holiday Topiary with a big red bow! She's all bundled up in her white fur trimmed suit and matching hood. And it's a good thing too because it looks like it has started to Snow. So nice for your Handmade Christmas Cards!
Vintage Christmas Snow Images with Boys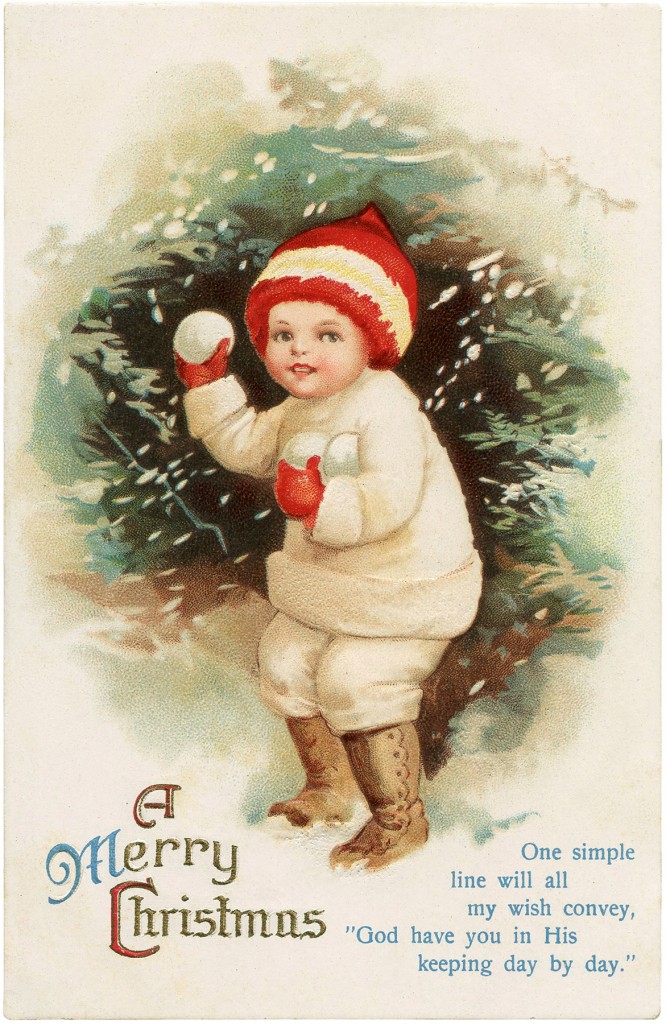 Lastly we have this Antique Snow Boy Picture! Shown above is a cute old Christmas Postcard featuring a a darling little Boy, with a Red Knit Cap. He's got 3 Snowballs in his arms that he's about to throw at someone. The sentiment reads "One simple line will all my wish convey, God have you in His keeping day by day". The card is marked Dec 1912 on the back and was originally given to a little boy by his Grandma!
Cute Christmas Photo Card

Featured above is such a darling Old Christmas Photo Card!! The Vintage Postcard shows a fun image of two little Flapper Girls in a Toy Pedal Car! Aren't the colors just so bright and fun on this one?!! Wearing Red/Rust colored Coats, they are riding in a bright cobalt blue Pedal Car! Both girls are holding some Holly branches and there is a Snowy landscape scene around them! So sweet!
Antique SnowBall Trade Card

Pictured above is a Vintage Snow Ball Image! This little cutie pie piece is an Antique Trade Card for Dry Goods. The card shows an adorable scene of a boy and a girl, along with their Dog, playing in the Snow! They've built a giant Snowball that the girl is sitting on. Perhaps it is the base to a Snowman. Such a cute scene!
I hope you enjoyed this sweet collection of Christmas snow images with children. You might also like our Best Christmas Images HERE .
Hello! Are you new to The Graphics Fairy?
Welcome, I'm so glad you're here! Browse around to find 
thousands of Stock Images
 that you can use in your projects or designs! I post new Vintage images every day, as well as projects and DIY's too! Need more info about my site? Try my 
FAQ
 page.