115 Free Merry Christmas Images
Christmas is such a magical time of year! And a magical time for crafting projects – from ornaments and signs, to pillows and cards – vintage images can make your projects that much more spectacular. The Graphics Fairy's Christmas Images archives are quite extensive, with so many images to choose from. So we dug deep and pulled out over 100 of our favorite Free Christmas Images and Christmas Clip Art Illustrations, some from the start of the blog, and others posted more recently. You can download all of these beauties to use in your Christmas Crafts projects. We tried to include a variety of styles, from retro 50's style graphics, natural history graphics, Victorian scrap illustrations, photographs, and black and white etchings. This post includes tons of Holiday Pictures, including angels, Santa images, the Holy Family,  snowman images, winter animals and deer, and other iconic Christmas Clip Art, images, and Printables. We hope you enjoy perusing through these Vintage Christmas Images, and that you use them in your Holiday Projects to add some nostalgic Vintage style to your decor this year.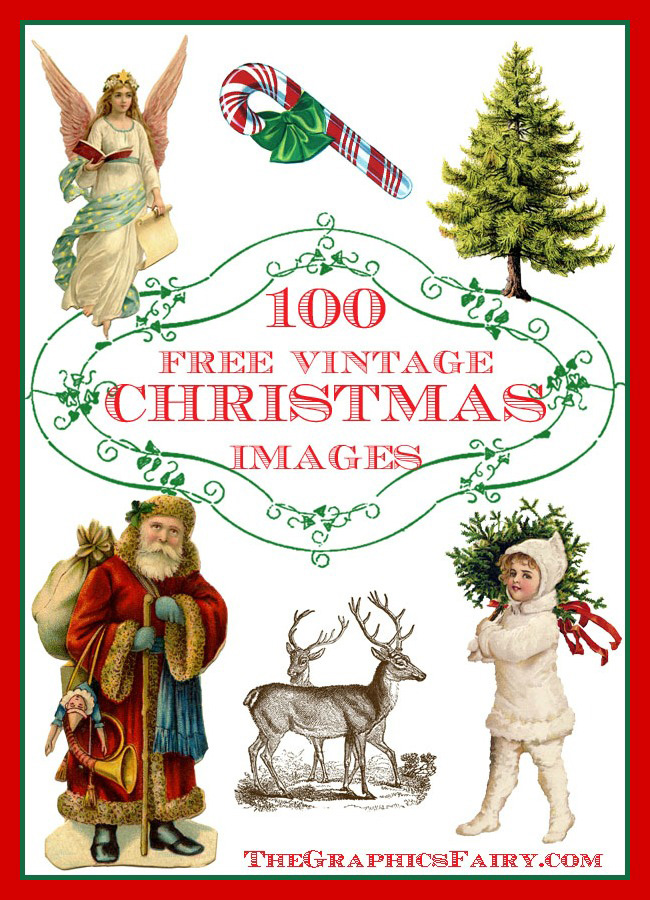 Merry Christmas Cherubs and Angel Images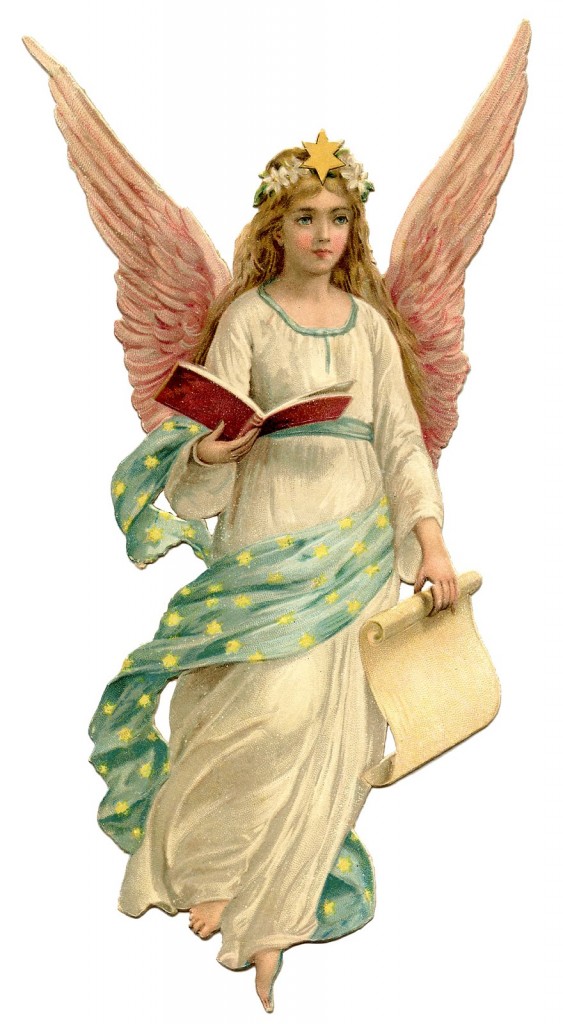 1)   Angel Holding Book. This lovely French angel scrap piece is a detailed image of the full body of an angel in white robes. She has pink wings and a blue starry sash and is holding a book and scroll. One of my favorite Christmas Images!
2)   Beautiful Angel in Moon. A gorgeous scrap image of an angel dressed in pink with her arm leaning on a cloud filled crescent moon. She has the sweetest rosy cheeks and sparkling blue eyes.
3)   Angel with Stars. This antique postcard is of a blonde angel leaning on a cloud with a blue starry background. She is gazing upwards with her arms folded.
4)  Angel Greeting Postcard.  This is a charming Christmas greetings angel tag!! This is a scan of an antique postcard. The card shows a beautiful angel woman holding a sign with a wreath around it. The greeting on the card is "Christmas Greetings".
5)   Angel Card with Image in Wings. A fun Christmas Clip Art card with an angel front and center in pink robes with huge wings.  There is a scene inside her wings of the wise men following a star to baby Jesus. This one would be fun to manipulate by adding your own image to in the wings.
6)   Angel Sheet Music. An antique sheet music cover with two sepia toned angels. One is leading the other and has a bundle of flowers in her hand. I just love the flowing robes and detailed wings on this one!
7)   Angel Child Photo Postcard. This photo Christmas Picture features a young girl dressed as an angel. Her arms are held at her chin and she is lifting her eyes up in a sweet expression.
8)   Pen Flourished Kissing Cherubs. A Spencerian image of two cherubs in an embrace. The image is made up of delicate swirls and flourishes. There is a blue and a black version in this post.
9)   Victorian Cherub. This is an iconic Christmas image of a cherub gazing upwards. He is leaning on a blue cloud, looking deep in thought. He has red and green wings which should be great for your holiday projects.
10)   Angel Printer's Ornament and Sheet Music. This post has two detailed angel images and sheet music for an angelic song. The first angel image is an old printer's ornament of an angel holding a wreath. The second is an image of a family in heaven with two angels flying above them.
Vintage Deer Clip Art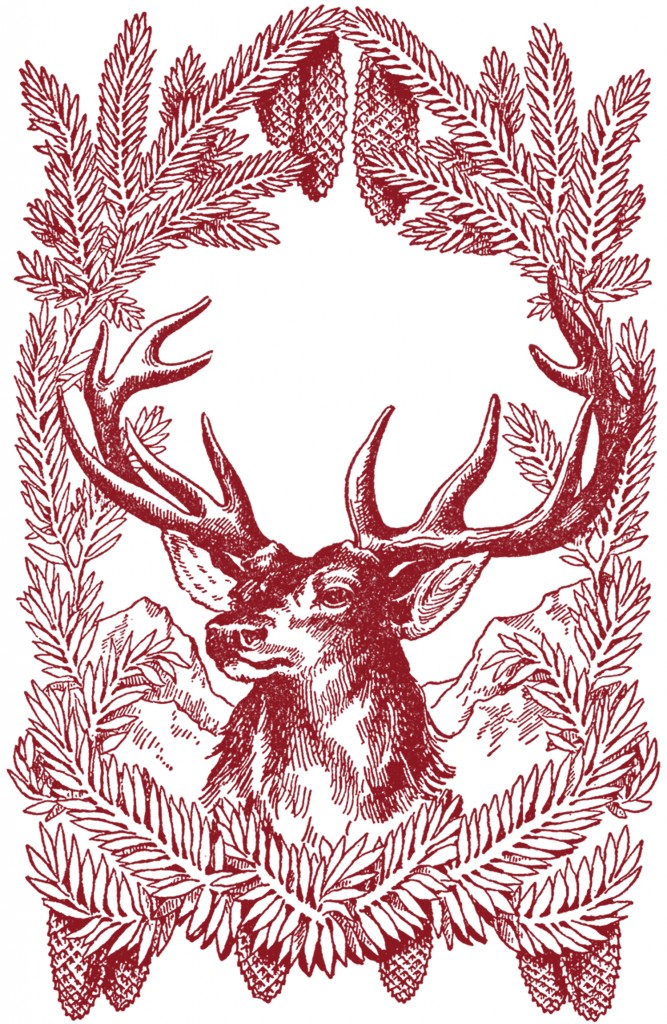 11)   Horned Deer with Evergreen Wreath & Pine Cones. This one is a truly gorgeous Christmas Clip Art image from an old wood burning templates catalog and features a very detailed deer bust with horns. The frame around him is spectacular and perfect for the holidays & it includes tree boughs and pine cones.
12)   Retro Reindeer. This adorable 50's style reindeer ornament is from an old children's book. This young reindeer is wearing a red fur trimmed hat and coat, with a bell collar and big bow.
13)   Lovely Deer Pair Etching. This is a favorite natural history etching of two deer with horn standing in a thicket. There are three versions of the image in this post – the black & white, a brown & white, and a red & white version for Christmas!
14)   Vintage Natural History Reindeer. This very detailed etching of a reindeer as he walks along a rocky clearing. There are three versions in this post – black & white, brown & white, red & white, and green & white.
15)   Full Color Early Reindeer Natural History Print. A lovely full size and full color PDF printable of a group of reindeer negotiating a snowy bank in a forest. There are snow covered trees and little bits of grass peeking out of the snow.
16)   Reindeer with Antlers Silhouette. A lovely silhouette Christmas image of a reindeer with large horns standing proudly. One back leg is bent. The post also includes an isolated image of his antlers too. This would be a great image for art work, collages, or to print on a holiday pillow.
17)   Red Mod Reindeer Duo. A beautiful mirror image of a very stylized retro reindeer pair in red. They are both flanking a dripping candle while standing on a holly branch. Two ornament balls complete the image.
18)   1840's Reindeer Image. This antique reindeer image is from an old zoological print book. The full body image is hand colored in shades of brown.
19)   Deer and Antler Etchings. This antique deer image is in black and white. The deer has just come out of thicket and there is a lake in the background. His great antlers have been duplicated and offered by themselves in the post too for a rustic holiday project!
20)   Pen Flourished Deer. A lovely stylized deer mid-leap. His body is entirely made of delicate pen flourishes. I've offered this one in black and also in burgundy – perfect for Christmas card projects!
RELIGIOUS CHRISTMAS IMAGES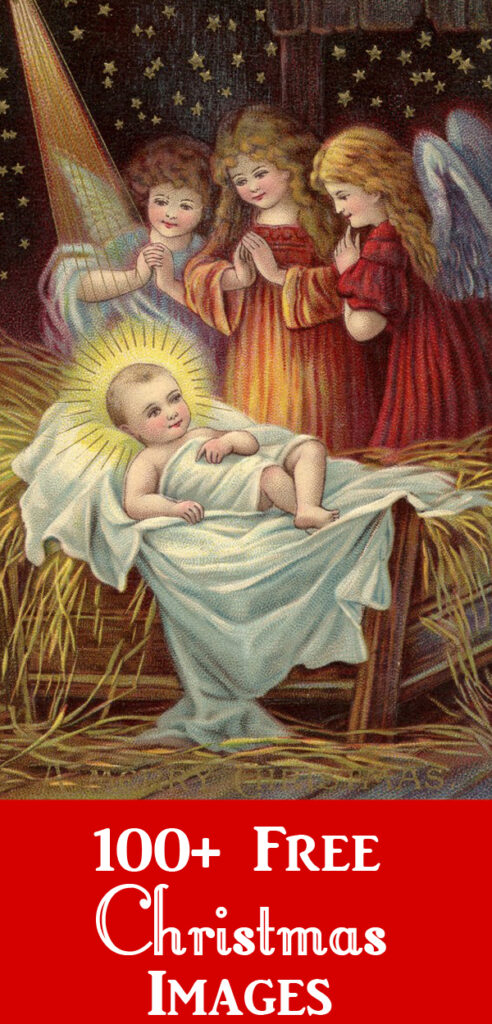 21)   Baby Jesus in Manger Holy Card. This Holy Card was originally posted back in 2007, I have recently re-scanned him at a higher resolution and you can download him above. It's in full color with Baby Jesus laying in the manger on a bed of straw. The adorable baby has a gold filigree crown on his head.
22)   Mary and Jesus with great Holly Bough. A beautiful Old World Vintage Christmas image of the Virgin Mary swaddling the Baby Jesus. Mary is wearing red and dark blue clothing. The pair is surrounded by a very beautiful holly branch that would look lovely on its own too!
23)   Holy Family Postcard.  This vintage Christmas postcard depicts Mary, Joseph, Baby Jesus and a shepherd boy. Jesus is laying on green grass with an angel watching over. This one also has a great pine cone frame that would be great to use on its own as well.
24)   French Holy Card with Fantastic Frame. This antique French image of the holy family is quite detailed and lovely in tones of blue and yellow. An ornate scroll frame in red and green surrounds the image, giving it an old world feel.
25)   Exquisite German Engraving of Madonna & Child. This exquisite image is an old German Holy card. The etching features Mary with a crown on her head and her cheek pressed against Jesus in her arms. A holy glow surrounds the pair, setting them off from the background.
26)  Victorian Madonna & Child Scrap.  This one is a beautiful Madonna with Child image! This is a lovely Victorian scrap piece. The color image is done in such pretty blue and pink tones.
27)   Serene Mary Holy Card. This image features a very serene looking Mary in the clouds looking down. She is wearing white and blue robes. I can see this one on some lovely Christmas ornaments!
ELVES & SANTA CHRISTMAS IMAGES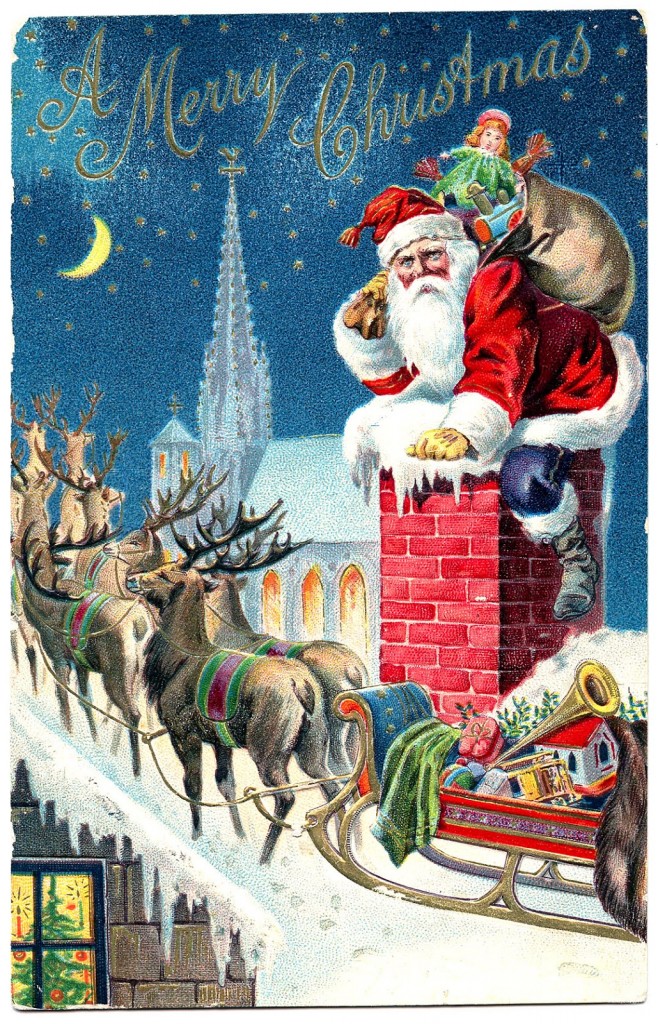 28)   Santa with Reindeer Going Down Chimney Card. A great brightly colored vintage greeting card with Santa and his reindeer stopped on a snowy roof. Santa has just exited his sleigh and has one foot down the chimney, and his sleigh and pack are filled with toys.
29)   Santa and His Pack Postcard. This is an adorable image of Santa filling his bag in his workshop as he gets ready to go out and deliver gifts. The traditional looking Santa is dressed in red and white, with a thick belt and black boots. He's standing in front of shelves filled with toys, and is holding open a yellow sack, filled with gifts. Sprigs of mistletoe frame this postcard.
30)   Old World Santa Image. This Victorian scrap piece is a full body Santa image carrying a sack of toys. He has a bright red coat on with fur trim, and a doll and horn hanging from his arm. One of my favorite Santa Images!
31)   Old Fashioned Santa Holding Scroll. A 1910 ad with a Christmas image of Santa standing behind a long scroll is perfect for your holiday projects. He is mostly black and white, with some red accents. This would be perfect for wish lists, menus, tags or labels.
32)   The Real Santa Photo. A fantastic photo of what appears to the be the REAL SANTA CLAUS! This vintage black & white Santa Picture features Santa from the waist up. He is wearing a big coat with fur trim and he has a bushy white beard. There is also a retouched color version in the post too!
33)   Victorian Santa with Holly Frame. This one is an old card with a Victorian Santa portrait in a holly frame with a textured snow background. Santa is wearing a red coat and hat with brown fur trim. This image would look great cut out and used for tags or ornaments.
34)   Santa with Balloons. A very traditional looking Santa Image is the main feature of this card. Santa has a huge smile and is holding balloons for a lucky girl or boy. Santa is also carrying a drum and fully decorated Christmas tree over his shoulder.
35)   Santa with Toys. This one looks to be an 1800's version of Santa. He has the traditional red coat, but it's accentuated with gold bells and pointy hat. Santa is carrying a few Christmas trees and his signature sack of toys.
36)   Retro Santa Face. This retro image of Santa is a closeup of his face with a huge smile and rosy cheeks. This image is in black and white, but could easily be colored in a graphics program. This one might be perfect to use as an image transfer on to pillows or used for hand painted signs.
37)   Victorian Santa with Bushy Beard. This Victorian Santa Holiday Clip Art image was on the cover of some sheet music. The closeup of Santa is framed out in a circle. It is snowing out and Santa has on a red hood to keep him warm.
38)   Santa with Cute Child Post Card. This vintage Ellen Clapsaddle postcard features Santa, holding a sack of toys, talking to a cute child who is peeking from behind a fence. Snow is gently falling in the background.
39)   Swedish Santa Image with Gifts.   This is a beautiful Old World Swedish Santa! The glorious looking Santa has a light colored coat, he has a holly wreath on his head and he's carrying a small Christmas tree and lots of toys! The greeting on the card is "God Jul" (Merry Christmas). Such a charming Christmas Image.
40)   Santa in His Workshop Painting. This adorable image shows Santa sitting down in his workshop painting. He is holding brushes and a palette while he paints the roof of a dollhouse. The image is framed with holly and mistletoe branches.
41)   Elf with Reindeer Line Art. A cute elf is leading a prancing reindeer in this 1940's coloring book image. You can see the elf and reindeer's breath! The black and white image is perfect for printing and coloring, or using for your more whimsical projects.
42)   Gnome on Mushroom with Birds. So this one isn't exactly an elf, but this adorable gnome is looking the part. He is dressed in a bright red and green outfit and is sitting on a red capped mushroom, playing the accordion for some birds listening attentively in the snow. One of our more quirky Free Christmas Images!
HOLIDAY TYPOGRAPHY AND TEXT IMAGES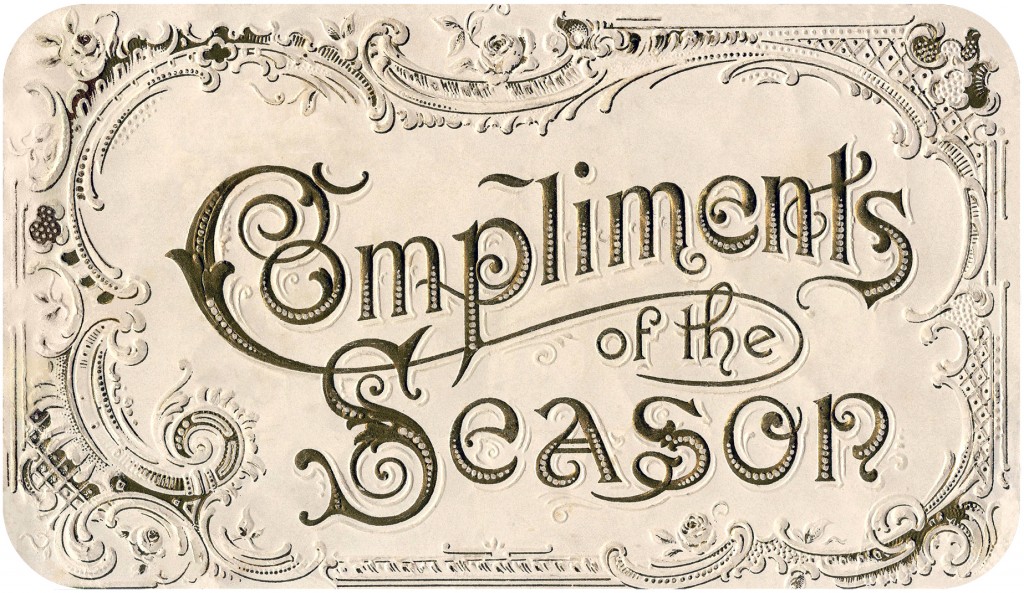 43)   Compliments of the Season Label. This antique label includes detailed scrolls and flourishes with the words Compliments of the Season in sepia tones. I truly love the unique font and flourishes on this one.
44)   Christmas Sheet Music. This post includes two covers of antique sheet music. The first is the Christmas Polka in sepia tones with a very ornate C followed by gently curving text. The second cover incorporates a red and green holly design. Both would be great to isolate the words for projects, or print the entire sheets and use them to wrap a small gift.
45)   Merry Christmas Typography. This one is an old advertising piece with three rectangular frames that read Merry Christmas and Happy New Year. A sweet bird sits atop the frames with the word "compliments" above it.
46)   Angel with Banner. A lovely etching of a flying angel with a book. She is holding two banners which would be perfect to add your holiday wishes too. This post includes black, red, and green versions.
47)   Christmas Elk's Parade Sheet Music Cover. A lovely black and white image from an old sheet music cover featuring an elk head in a shield. The post has several of the elements and flourishes from the image pulled out in to separate graphics for you.
48)   French Christmas Sheet Music. A wonderful piece of old French sheet music with several lines of notes. This one would be lovely as a background in a collage or for mixed media projects.
ANIMAL CHRISTMAS IMAGES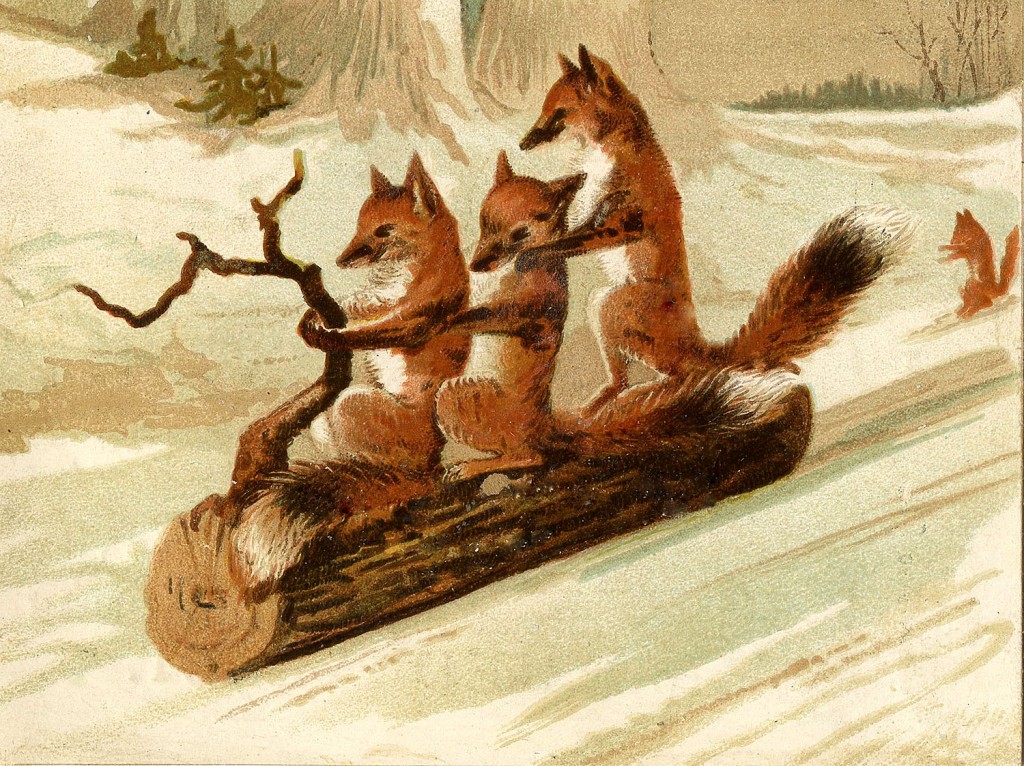 49)   Sledding Foxes. This is the cutest image of three red foxes sledding down a hill on a log. The background is done in shades of white and cream and reminds me of a paint by number!
50)   Kitten with Holly. It's fun to use Christmas Images to make cards for our pets! This cute grey tabby kitten is walking from behind a box with a sprig of holly in his mouth. I've removed the text and this sweet old card would be perfect for a holiday gift tag for your Kitty Cat.
51)   Flying Celestial Dove. A magical image of a white dove, flying at night. She has her wings outstretched as she's gliding through a dark blue night sky with a moon and stars.
52)   Tree Made of Birds. This adorable Christmas image comes from a children's school book. Each branch has a row of birds sitting on it and the group forms the shape of a tree. I've included the original black and white version, as well as both a red and green version for your holiday projects.
53)   Birds Perched on Branch. This one is a pretty image of five birds all getting settled in on a snowy branch with the words "A Joyful Christmas to You." The sun is going down, making the sky a beautiful pink hue. I just love how each bird is in a different pose as they settle in for the night.
SNOWMAN IMAGES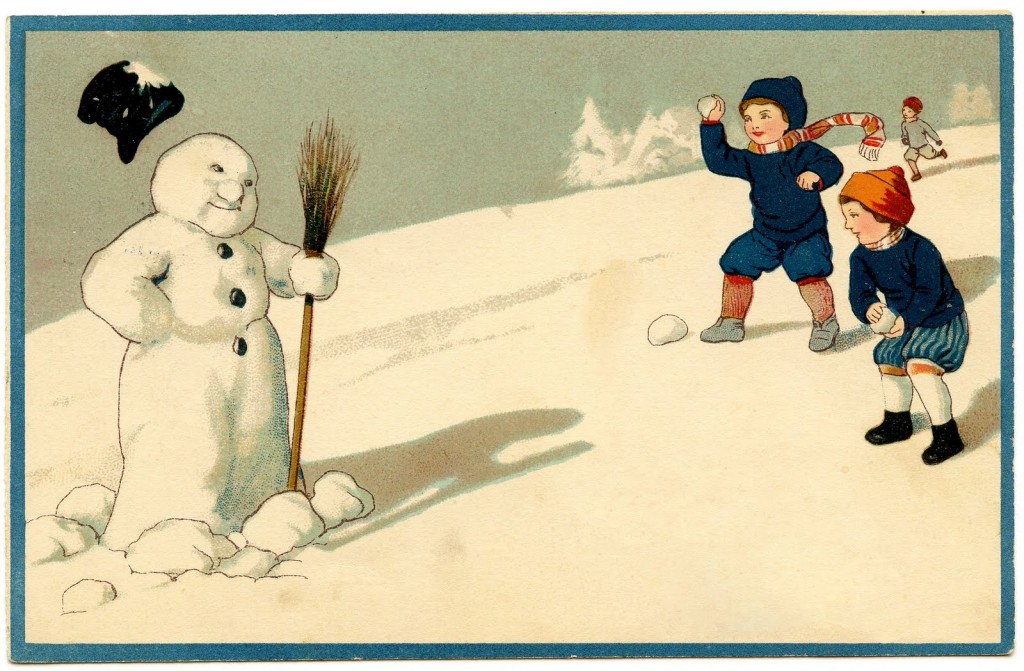 54)   Snowman and Children Snowball Fight. Not all of these snowmen are Christmas Images per say, but they can certainly be used to spread some Holiday Cheer. This adorable Finnish postcard features a drawing of two children dressed in blue throwing snowballs at a sweet snowman who has his hand on his hip. The children have hit their target; the snowman's hat is flying off in mid-air.
55)   Snowman Paper Doll. A cute full size printable of a plump snowman paper doll wearing a plaid scarf that comes with a hat and corn cob pipe accessories.
56)   Snowman with Gnomes Postcard. This super-cute Finnish postcard image is of a nice snowman image with black top hat. Three adorable gnomes are playing on the snowman and sliding down his belly!
57)   Snowlady with Robin. A vintage postcard with a snowlady standing near a fence. She is wearing a hat with a feather and her arm it outstretched for the perching robin.
CHRISTMAS IMAGES OF FAMILIES & CHILDREN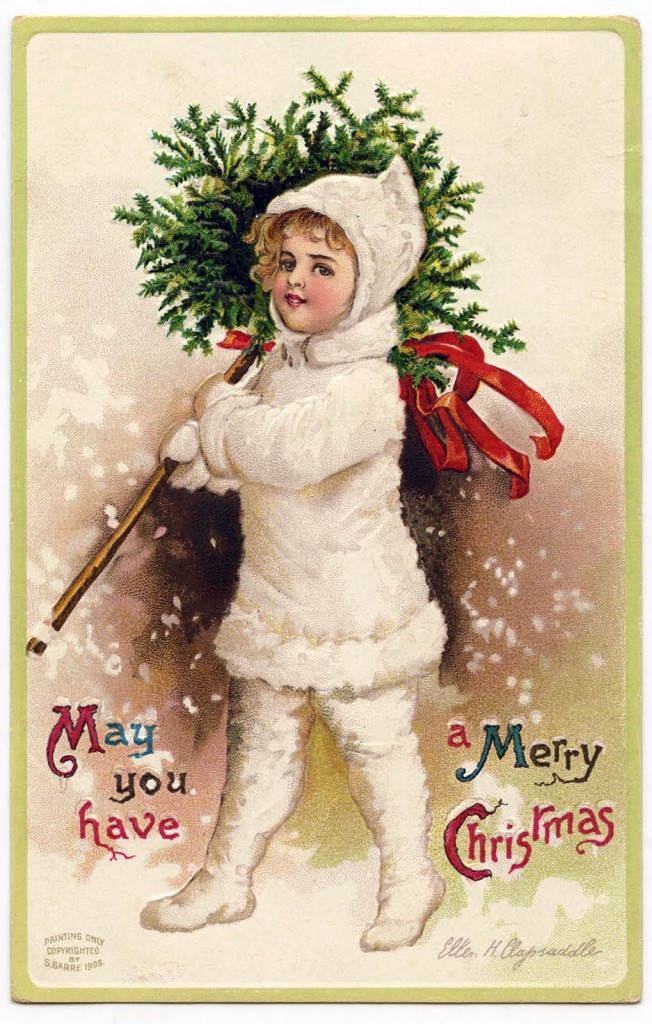 58)   Snow Girl Carrying Topiary. A great Ellen Clapsaddle Christmas image with a young girl dressed in a white snowsuit carrying a Christmas topiary. The tree is bound with a flowing red ribbon and there is snow in the background.
59)   Winter Children. This adorable Victorian scrap features four children dressed up and holding sprigs of holly. The image features pinks, yellows, and light blue colors, and would be really cute as a gift tag.
60)   Boy in Snow Card. This Christmas card features a young boy in a snowstorm. He's wearing a red and white striped hat and red mittens with his hands cupped calling out (he's probably calling a friend to come play in the snow!).
61)   Victorian Family Christmas Card. A lovely family is all bundled up in the snow walking to visit some friends. Mom is all dressed up in her fur and velvet coat and big hat, and the family is carrying gifts and sprigs of holly. The scene has a church and a pair of deer in the background.
62)   Elf Girl Scrap. This cute little smiling girl with rosy cheeks is peering off to the side. This Victorian scrap Christmas Image is a head and shoulders view, and she has a big white bow around her neck. Her red coat and hat are really striking, so we works really well as an elf too!
63)   Victorian Scrap of Girl Throwing Snowball. This scrap features a cute girl in a deep red fur trimmed coat about to throw a snowball. She has an armful of snowballs and has her arm back, ready to throw. A really fun image!
64)   Christmas Boy with Bell. This image is an old postcard with a smiling boy in a fur trimmed hat on top of a bell. He is surrounded by holly and the card reads "A Merry Christmas". This one would be really great to make some sweet ornaments out of.
65)   Group of Choir Boys. This one is a Victorian trade card of five choir boys in red and white robes singing Christmas carols. The image has some great additional elements, including music notes, bells, and sprigs of holly.
66)   Retro Caroler Singing. This image has a distinctly retro feel to it, and is a young caroler singing while holding an open songbook. She is bundled up in a coat, hat and scarf, and there are some cute stars and snowflakes around her. There are two versions of this graphic in the post – black & white and blue & white.
CHRISTMAS PICTURES OF FAMILIES & CHILDREN – PHOTOGRAPHS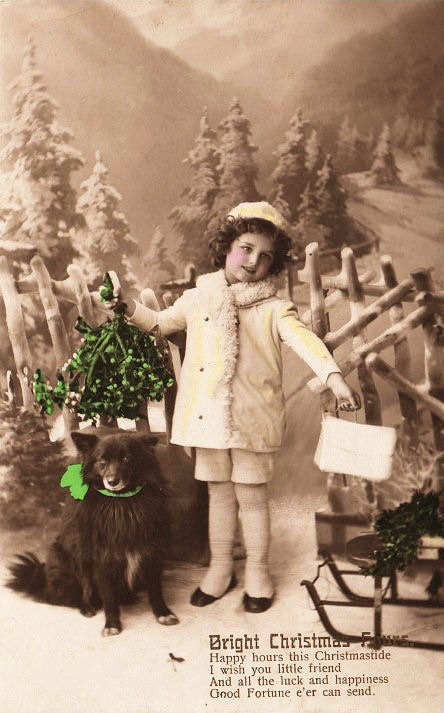 67)   Holiday Photo Postcard of Child and Dog. An adorable black & white Christmas Picture postcard with a young girl and her black dog (who has a bright green bow) posted in a photographer's studio. This one was posted back in 2008!
68)   Couple Sledding Photo Postcard. This photo postcard has a fun loving young couple sledding down a big hill. The postcard is mainly black and white except for the man's shirt has been tinted blue and the woman's pants have been tinted purple.
69)   Sepia Angel Child Photo.  This is the sweetest little angel photo! This is an antique real photo postcard showing a very pretty little girl dressed as an angel. She has beautiful wings and she's holding a musical instrument, I think it's a lute. I love the sepia tones on this one.
70)   Photo of Vintage Girl with Gifts. This photo card is a staged portrait of a young girl in a city snow scene with gifts and mistletoe in her arms. She is all bundled up and has the cutest ear muffs on.
71)   Adorable Snowy Girl Photo Postcard. This cute photo postcard is of a French girl in a snowy scene. The card is in sepia tones with a green French stamp. She is holding a card in her hands and has a huge smile on her face.
72)   Tiny Girl Dressed for Winter. This fantastic old photo is of a tiny girl, dressed in white, standing on a bench. I especially love this one as she has a huge hat and furry trim on her jacket and muff.
73)   Child Snowman Photo.  I think this vintage snowman is just so fun!! This adorable little boy dressed up in a fluffy white snowman costume! I've never seen a card like this before, I think it may be quite unusual! The card is French and it has the greeting "Bonne Annee" or Happy New Year, on it.
HOLLY, FLOWERS & CHRISTMAS TREE IMAGES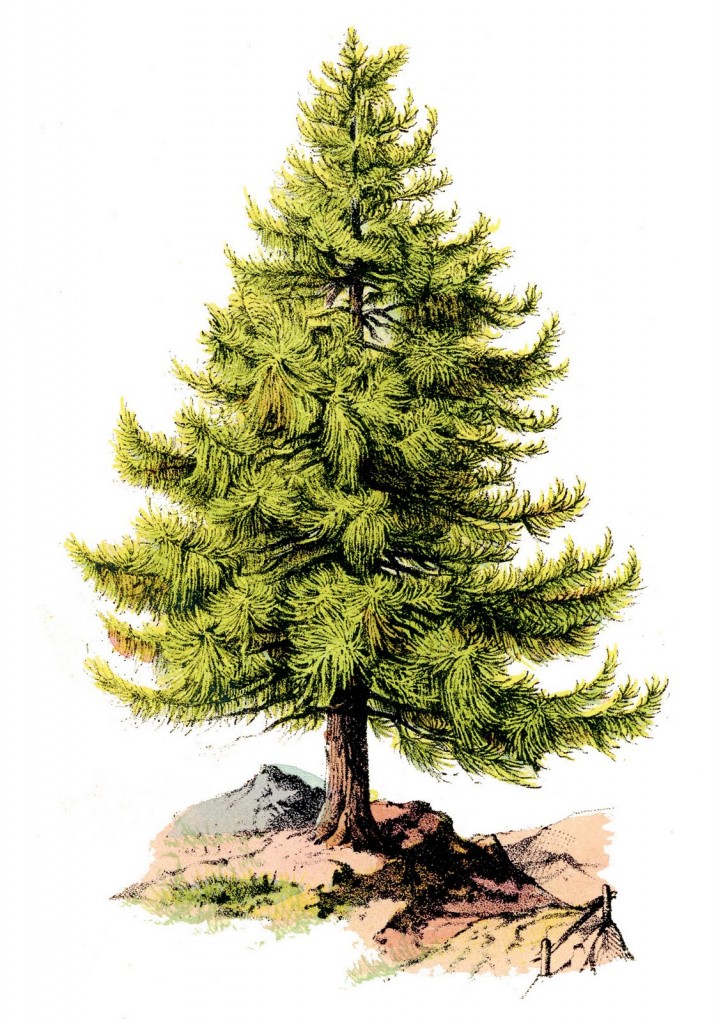 74)   Perfect Pine Tree. This pine tree is perched on top of a rock in this antique botanical print. The green boughs are curled slightly upwards and the tree is in the traditional Christmas tree shape, making it perfect for your holiday collages.
75)   Pine Cone and Pine Cone Branch. This post has two pine cone images. The first is a closeup of a brown colored pine cone engraving. The second image is a sprig of evergreen with a few small pine cones on the branch. Both would be wonderful for your holiday collages and mixed media art work.
76)   Amaryllis Botanical Print. A gorgeous botanical print of an amaryllis flowers in various states bloom. This one has beautiful petals in red tones with white accents and nicely shaded green leaves. A truly beautiful Christmas Picture Printable.
77)   Holly with Bright Red Berries. Holly Christmas Images are always popular during the holidays! This is a lovely Victorian scrap piece of a sprig of holly with five red berries. The leaves have a very pretty dark green with details and shading that made them appear to have that waxy covering.
78)   Basket of Holly and Mistletoe. A pretty vintage image of a woven basket filled with sprigs of holly and mistletoe. The leaves are dark green with red and white berries. This image would be perfect for a handmade Christmas card.
79)   Giant Pine Tree. This one is an antique botanical print of a huge pine tree in a natural setting. This tree is on a hillside with two people in the foreground. This would be great to add glitter to, or print out the full size PDF for some instant holiday art! As far as Christmas Tree Images go, this one can't be beat!
80)   Natural Looking Pine Tree and Branch. This image is of a natural looking pine tree that would make the perfect Christmas tree image. There is also a piece of the branch in the image as well. I've added this one in the original black & white, as well as green & white.
81)   Pair of Red Poinsettias. A lovely Christmas Clip Art card image of two poinsettias on a plain white background. The bright red is very eye catching, with green leaves and yellow accents.
HOLIDAY CLIP ART FRAMES & WREATH IMAGES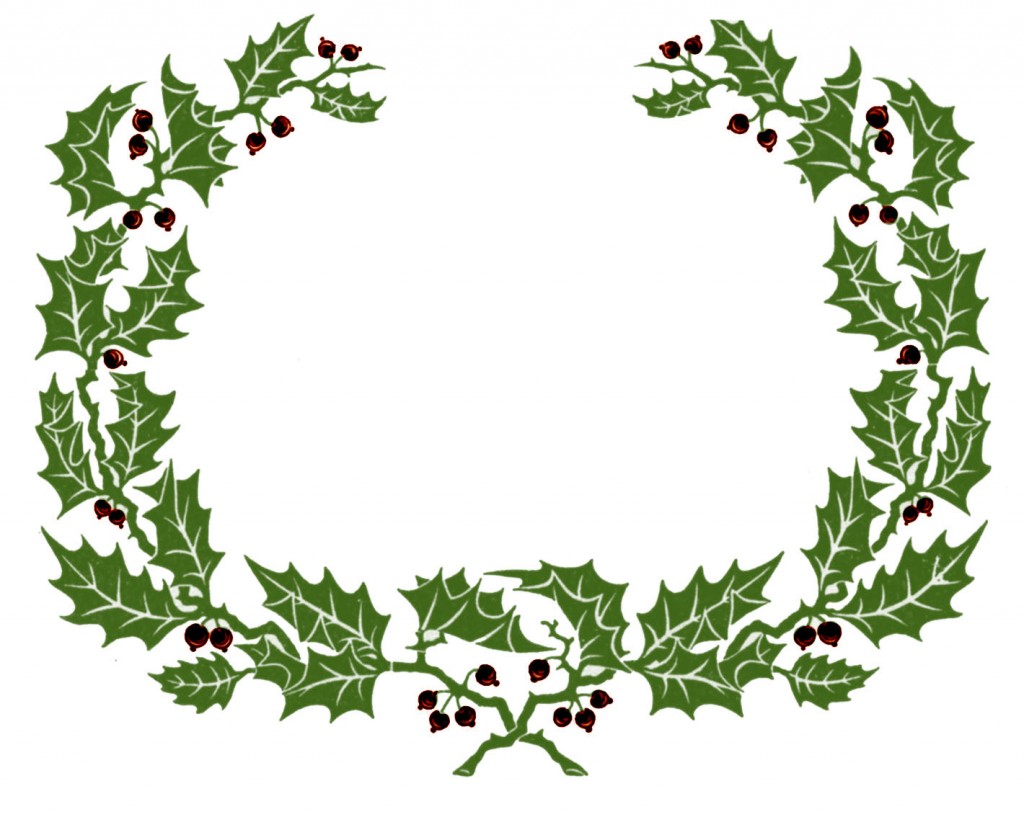 82)   Holly Wreath Graphic Frame. When working with Christmas Images in your designs, Holly wreaths are always a classic motif. This is an adorable wreath made from two curving holly branches that cross at the bottom and almost touch at the top. The holly leaves are well defined and there are little berries on this one too! This frame is begging for some text to be added in the center blank space. the image is available in all black, all red, all green, and green and red.
83)   Oval Christmas Wreath Frame. This one is a pretty graphic frame of an oval Christmas Wreath Image with a bow on top. There are several versions with red and green. The wreath appears to be made of flattened leaves, tied with ribbon, and accentuated with berries.
84)   Joy to the World Christmas Frame. This is a single color image of an ornate oval frame with the words Joy to the World inside it. A great image of a greeting for cards and tags. I've also included a red, green and black version with the words removed.
85)   Floral Wreath Etching. This Christmas Clip Art circular wreath has lot of detailed components – branches, leaves, flowers, and different sprigs. This one is a floral wreath, but I've included a dark green option, that I think lends itself well to holiday projects!
86)   Primitive Wreath with Berries. This one is a cute wreath made from two branches curving to form a circle. There is a nice bow at the bottom and berries on each branch.
87)   Thorny Branch Frame. This thorny branch frame came from an 1800's children's book. The intricate branches would look lovely in a winter project, or perhaps reuse them as stylized reindeer horns or for a lettering or monogram project.
88)   Holiday Joy Wreath Printable. This full size printable includes a black and white Christmas Clip Art image of the word Joy surrounded by two curving boughs of holly. This one would be great to add to pillows or tea towels for the holidays.
89)   Mistletoe with Bell Christmas Card. This lovely drawing of a bell surrounded by a sprig of mistletoe. The background is off white, with a red circular frame. The mistletoe is rendered in almost a minty green. A really pretty image with muted colors and would be very pretty to manipulate and use as a frame.
WINTER SCENES & CHRISTMAS COTTAGES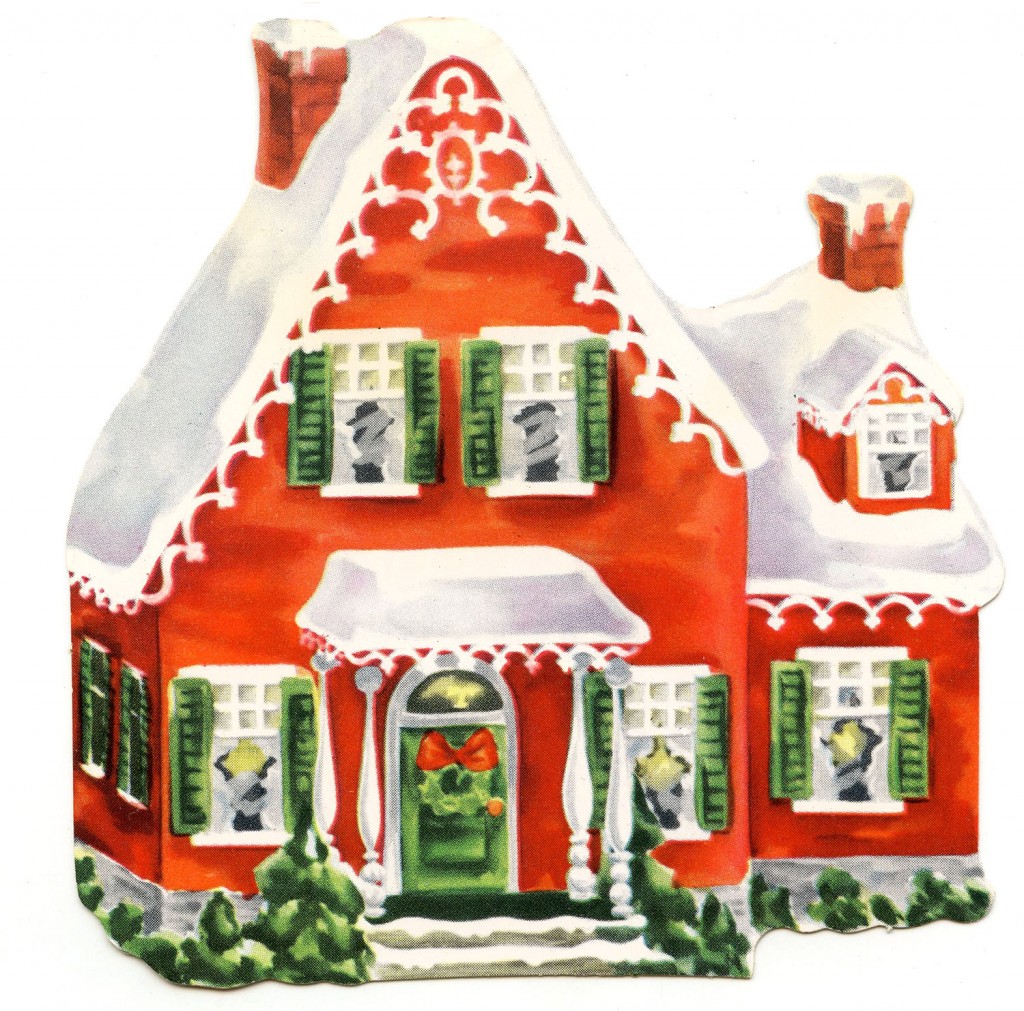 90)   Red and Green Snowy Christmas Cottage. A retro 1950's or 1960's Christmas card image of a gingerbread cottage with a snow peak roof. The cottage has two chimneys and is bright red with green shutters. The image looks like it was painted with watercolors.
91)   Winter Church Scene. This Christmas Picture is a wintry scene of a church at dusk inside a crescent moon shape. The church's lights give off a nice glow, and the ground is covered with snow and the pond and bridge in the scene have iced over.
92)   Winter Mountain Scene with Berry Frame. This lovely old image features a circular winter mountain scene with snow covered pine trees and mountains in the background. I love the frame on this one, made from some greenery, white flowers, and berries.
93)   Winter Scene Holly Frame. This one is of a snowy scene of a winter village of cabins in the woods. The image is framed in the most spectacular life-like holly leaves and berries. The second image in this post allows you to add your own holiday images inside the holly frame.
OTHER ICONIC CHRISTMAS CLIP ART IMAGES


94)   Candy Cane. A lovely iconic symbol of Christmas, this red and white striped candy cane is a vintage scrap piece, probably from the 1950's. This Christmas Clip Art candy cane has been wrapped with a big dark green bow. This one would look great cut out and hung as an ornament, as a card, or used in any of your collage projects.
95)   A Christmas Carol Etching. An old etching in black & white from the Dickens novel, A Christmas Carol. This one is of Scrooge with the ghost of Christmas present. Scrooge is in his pajamas listening attentively as the ghost is telling him a story.
96)   Winter Sleigh. This black and white Christmas image is of a detailed, and very traditional looking, winter sleigh. This one could be Santa's sleigh, or the horse-drawn variety we see so often in vintage Christmas images.
97)   Primitive Looking Snow Flakes. This post has three line drawings of actual frozen snow crystals. I love the variety, as each one has its own distinct shape.
98)   More Primitive Looking Snow Flakes. This post has three more line drawings of frozen snow crystals. The images are in black and white and also in a light blue version. The crystals are all unique, and include diamond, hexagon, and flower shapes in them.
99)   Sweet Bow. This adorable black and white graphic is a bow with three loops and two trailing end pieces. It came from an antique drapery hardware catalog and has a hand sketched appearance, making it perfect for chalkboard-style projects, or as an embellishment for holiday projects.
100)   Instruments Printer's Ornament. This lovely graphic is offered in four colors and was an original printer's ornament from the 1870's. The musical instruments – guitar, harp, horns – are surrounded by an open book of music and embellished with a wreath.
HOLIDAY GREENERY PICTURES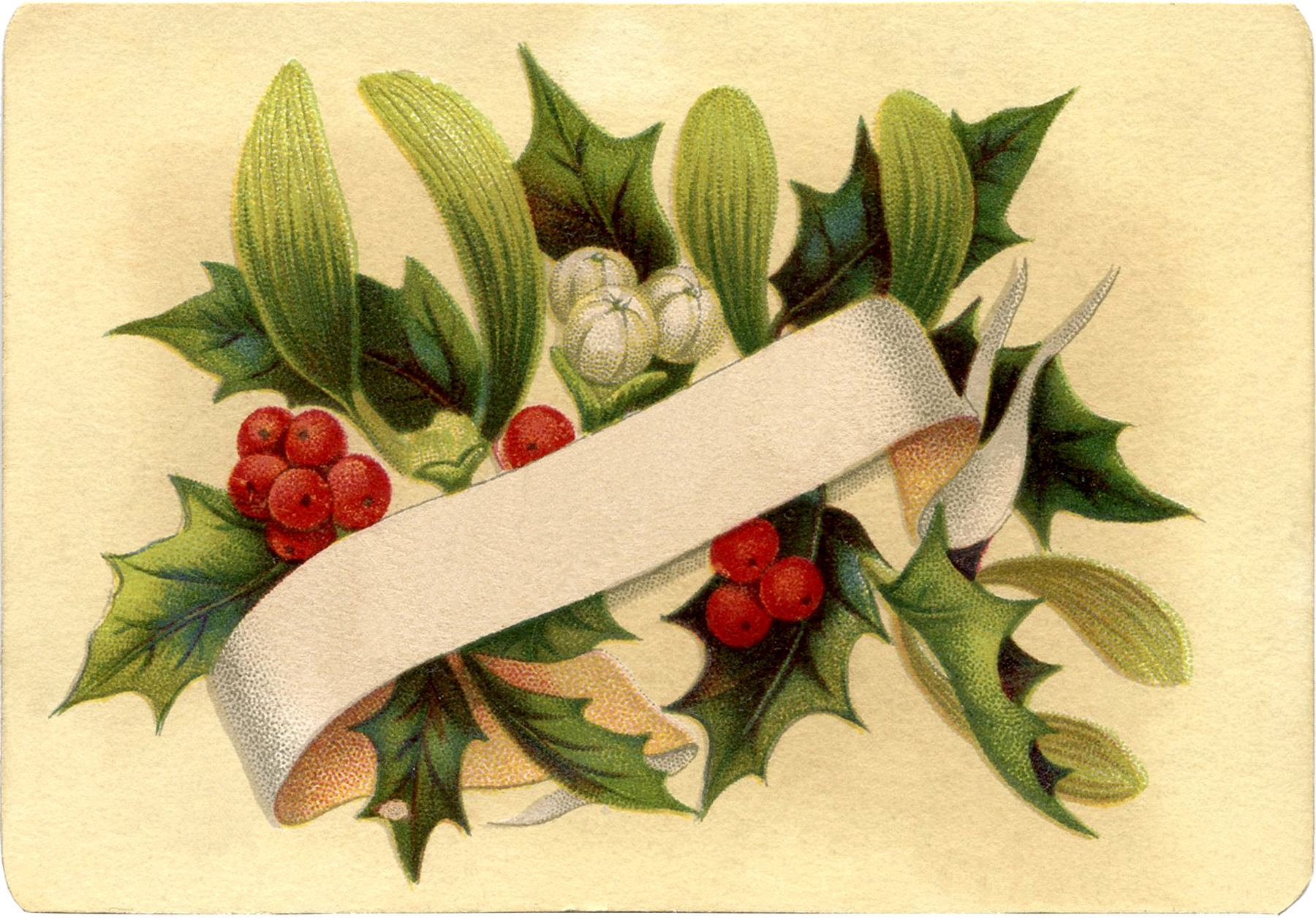 101)  Holly Label.  This is a gorgeous Christmas holly label! Featured above is a beautiful antique card showing some softly colored holly sprigs and a bit of mistletoe too! Along the top of the arrangement is a ribbon banner, perfect for adding some text to!
102)  Mistletoe Clip Art.  This is a lovely old fashioned mistletoe clip art image! This Victorian Christmas greeting card, with some beautiful green sprigs of mistletoe with white berries. The background is a dreamy looking dark sky with clouds. The message on the card reads "A Christmas Greeting with Love".
103)  French Woman with Mini Christmas Tree.  This one is a charming French lady with gifts! This is an old French postcard, that shows a fashionable lady walking through a wonderful snowy scene! She's carrying a few brown paper packages tied up with string, and a small Christmas tree.
104)  Holly Sprig.  This is a cute little sprig of holly with some bright red berries that I cut out of an old Christmas card. This one is handy for embellishing collage work and mixed media projects. It would also look great layered with several of these to make a holly bunch.
105)  Pine Branches and Pine Cones with Scroll.  This is a pretty old fashioned Christmas graphic from the early 1900's. This one shows a paper scroll surrounded by pine branches and pine cones. There are two versions here, one with a Christmas Greeting and one without.
HOLIDAY LINE DRAWINGS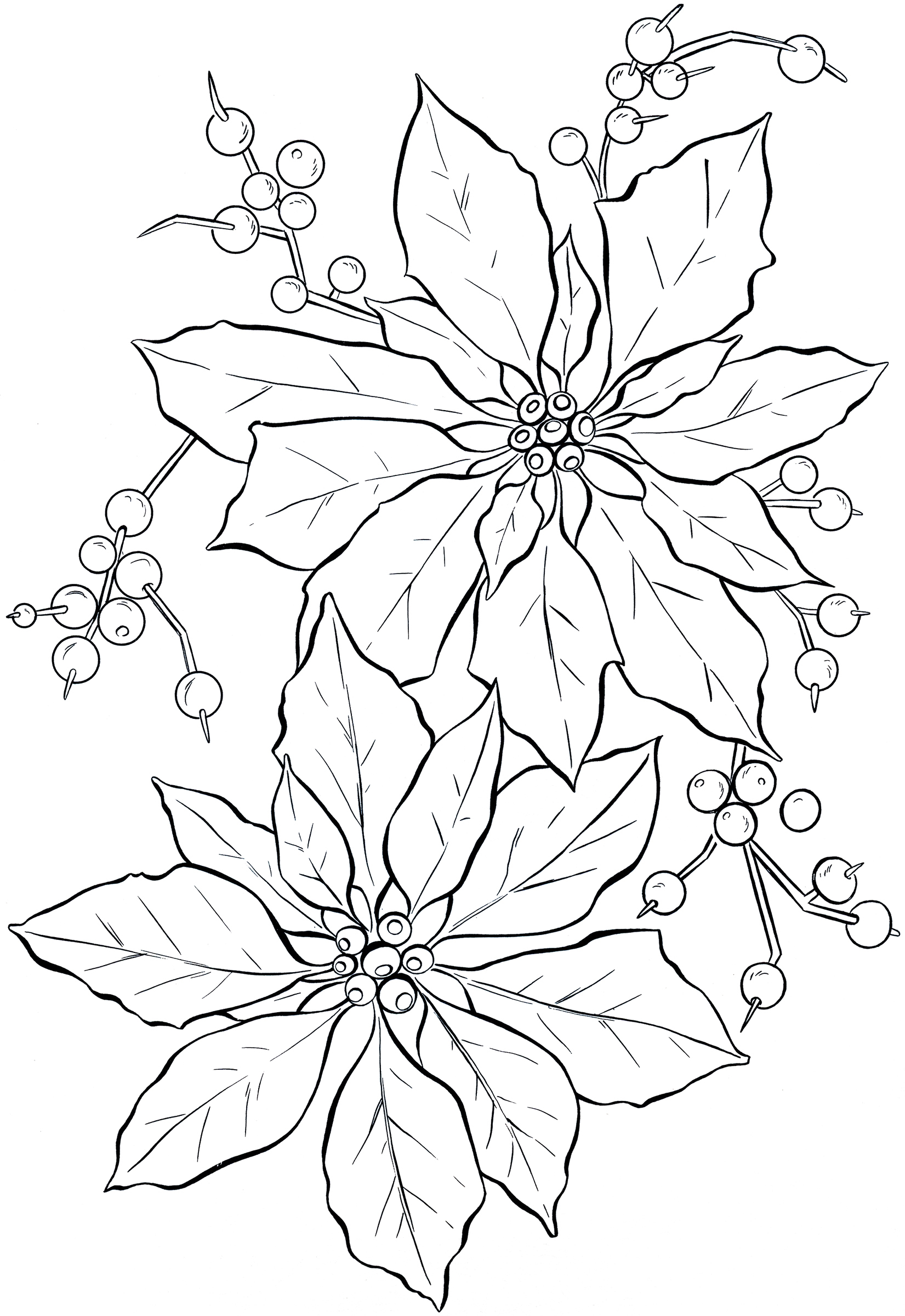 106)   Poinsettia Line Art.  This is a lovely Poinsettia line art drawing! This one was scanned from a 1950's children's coloring book. This would be nice to use as an embroidery pattern or lovely on a card. I think it would be so fun to color this in with markers or water color pencils!
107)   Santa Gift Box Coloring Page.  Here is a cute Santa gift coloring page for you to play with today! Shown above is a fun little Christmas present line art drawing! On top of the box is an adorable picture of Santa! This one was scanned from a vintage book of children's activities.
108)  Christmas Stockings Line Art.  This is a cute Christmas stockings line art image! This one was scanned from a 1915 printer's book. Featured above is a cute black and white picture of four stockings hung on a mantel, some are filled with toys and candy.
109)   Angel Children Line Art.  Here are some free Christmas coloring pages for you to play with today! Shown above are two adorable retro angels! These little cuties were scanned from a vintage book of children's activities. The book does not have a copyright date in it, but it appears to have been made around the 1950′s.
110)  Vintage Ice Skating Couple.  These are three fun vintage ice skating images! These 1940's black and white retro clip art images each show people on ice skates. One shows a figure skating couple, the next one shows a skating lady, and the last one is a skating man, who appears to be a speed skater!
RETRO CHRISTMAS PICTURES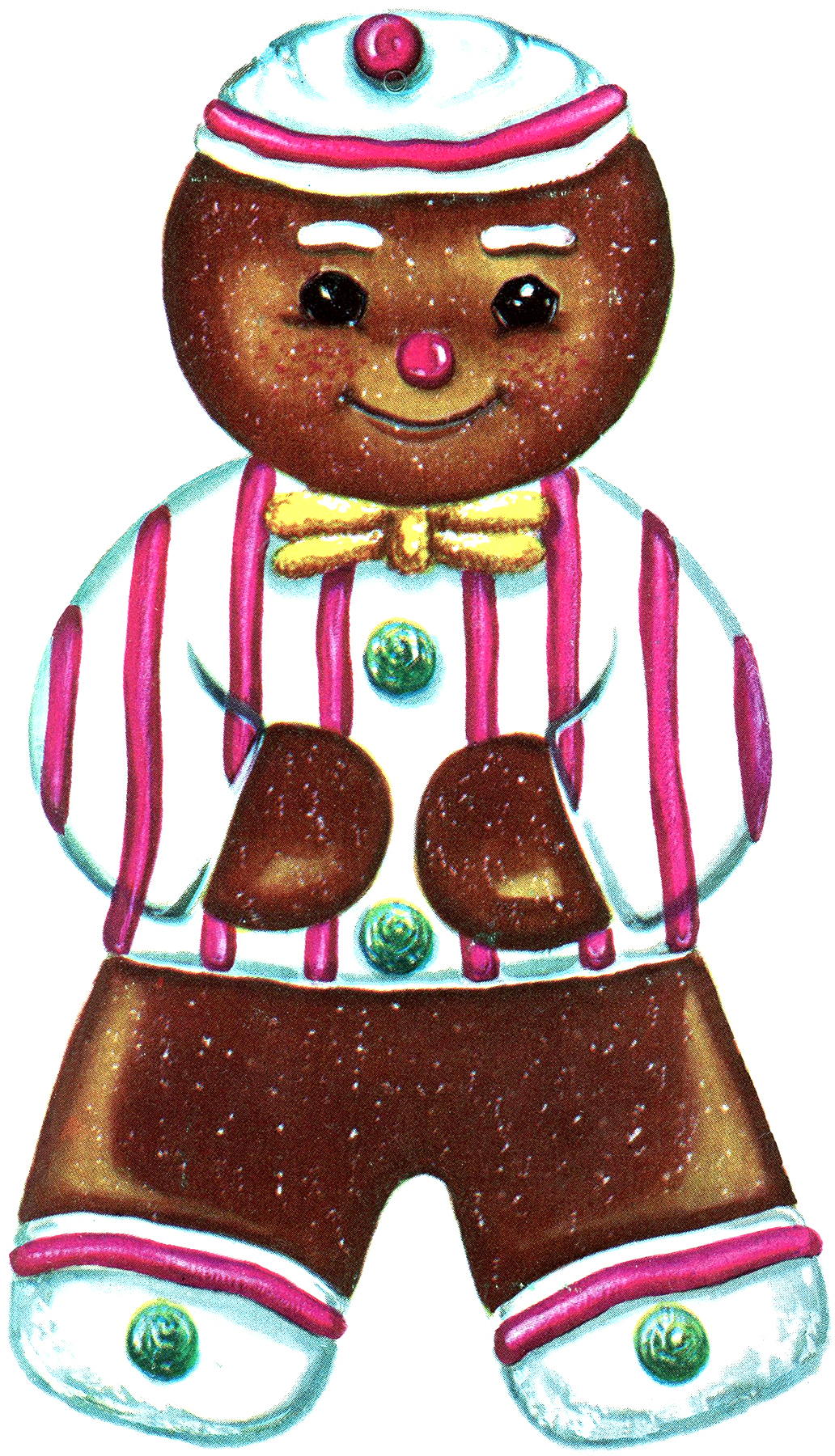 111)   Retro Gingerbread Man.  These are some fun printable ornaments! Offered today are two super cute retro Christmas images, including a gingerbread man.   This 1950's smiling gingerbread man has a striped pink coat with adorable green buttons.
112)  Cute Skating Snowman.  This adorable retro snowman was scanned from an old Christmas card. The cards date to around the 1950s-1960s, although there is no date on the original box. This festive looking fellow is skating with his red and silver ice skates on. He's got on a matching red knit cap and scarf and some green mittens.
113)  Poodles with Wreaths.  This is a retro Christmas poodles image! This fun image was scanned from a vintage wrapping paper sample book from 1954. There are two adorable gray and black poodles! Each poodle is wearing a red collar with a bell on it, and is framed up with a pretty holly Christmas wreath!
114)  Retro Santa with Pack of Toys.  This is a darling retro Santa with a big sack of toys! He was scanned from an old 1950's children's activity book. This was originally made as a paper ornament, to be punched out and hung on a Christmas tree!
115)  Retro Lantern Image.  This is a fun retro Christmas lantern image! This is another one scanned from the undated children's activity book, that was most likely made around the 1950's. The black lantern has a burning red candle inside and a cute sprig of holly on the top of it.
We hope you enjoy these
100+ Free Christmas Images, Christmas Clip Art and Free Christmas Pictures
! If you need Christmas fonts to go along with your projects, check our our
10 Favorite Free Christmas Fonts post
.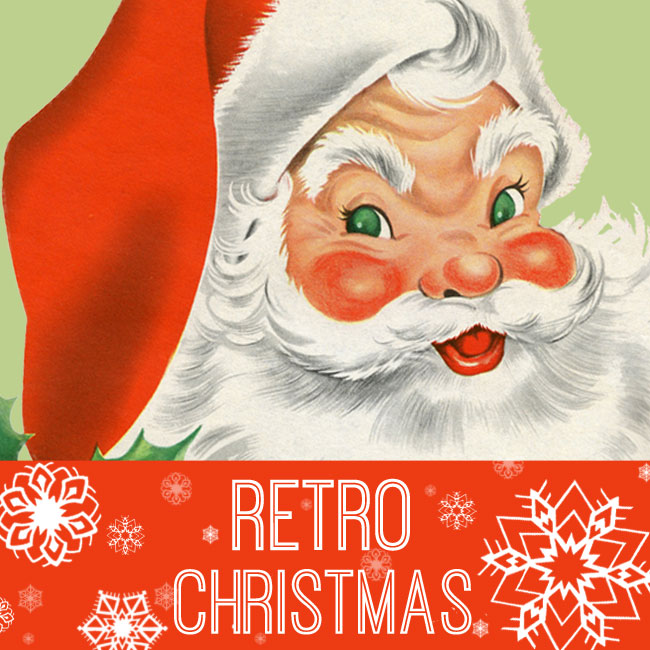 You might like even more Merry Christmas images, & Printables, (as well as Photoshop Elements Tutorials to learn how to do Vintage Digital Design) in our many Holiday Bundles from our Premium Membership site, you can learn more about our Membership Bundles HERE.
Hello! Are you new to The Graphics Fairy?
Welcome, I'm so glad you're here! Browse around to find
thousands of Stock Images
that you can use in your projects or designs! I post new Vintage images every day, as well as projects and DIY's too! Need more info about my site? Try my
FAQ
page.