761 Free Merry Christmas Images
I've updated this Merry Christmas Images post as it was long overdue for a refresh! Christmas is such a magical time of year! And a magical time for crafting projects – from ornaments and signs, to pillows and cards – vintage images can make your projects that much more spectacular. Our Christmas Pictures archives are quite extensive, with so many images to choose from, so we dug deep and pulled out our favorite Free Christmas Clip Art Illustrations, some that were originally posted from the start of the blog, and others posted more recently.
You can download all of these beauties to use in your Christmas Crafts projects. We tried to include a variety of styles, from retro 50's style graphics, natural history graphics, Victorian scrap illustrations, photographs, and black and white etchings. This post includes tons of Holiday Pictures, including angels, Santa images, the Holy Family,  snowman images, winter animals and deer, and other iconic images, and Printables. We hope you enjoy perusing through these Vintage Christmas Images, and that you use them in your Holiday Projects to add some nostalgic Vintage style to your decor this year.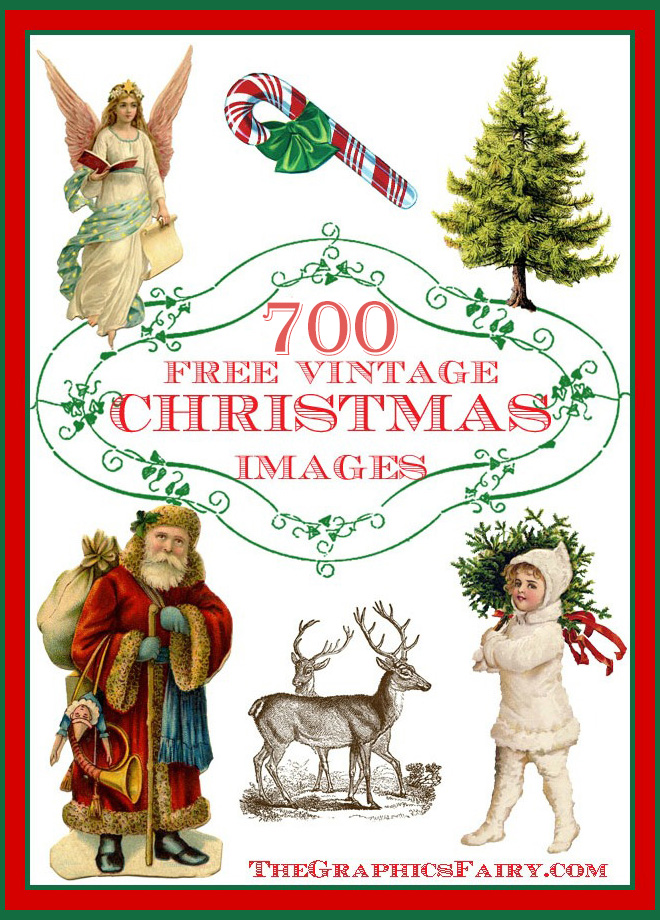 Angel Merry Christmas Images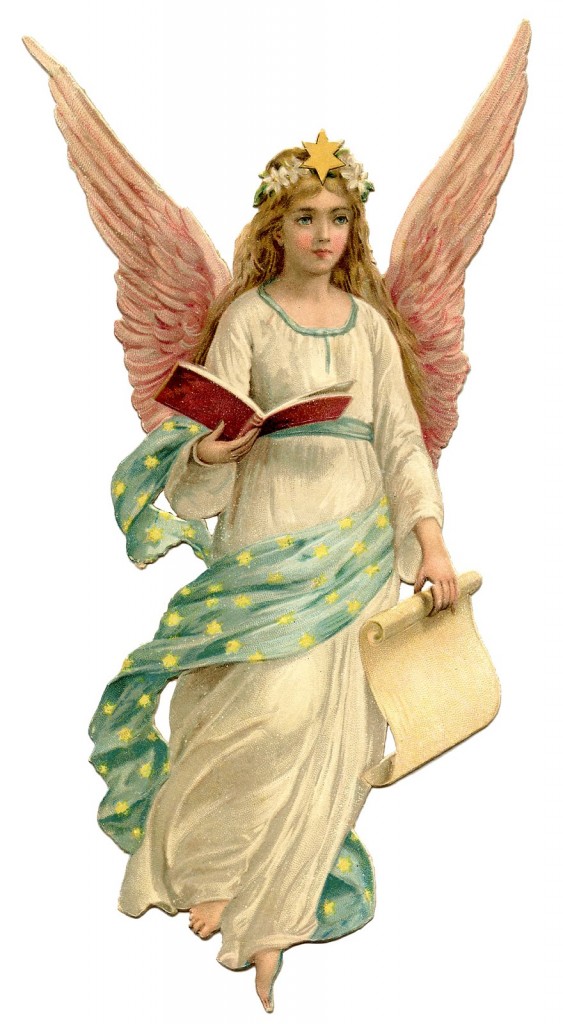 16 Best Christmas Angels This is a stunning set that you will not want to miss! Included is this lovely French angel scrap piece, that you see above. It is a detailed image of a full body of an angel in white robes. She has pink wings and a blue starry sash and is holding a book and scroll. One of my favorite Christmas Images!
14 Victorian Cherubs There are a number of hard to find antique Scrap Cherubs in this collection. Including one that is an iconic Christmas image of a cherub gazing upwards. He is leaning on a blue cloud, looking deep in thought. He has red and green wings which should be great for your holiday projects.
14 Christmas Holy Angels This are some classic religious Angelic images. Each one is quite detailed and beautiful.
11 Angel Child Pictures Some charming little Angel Children to add to your Christmas crafts. So innocent and sweet!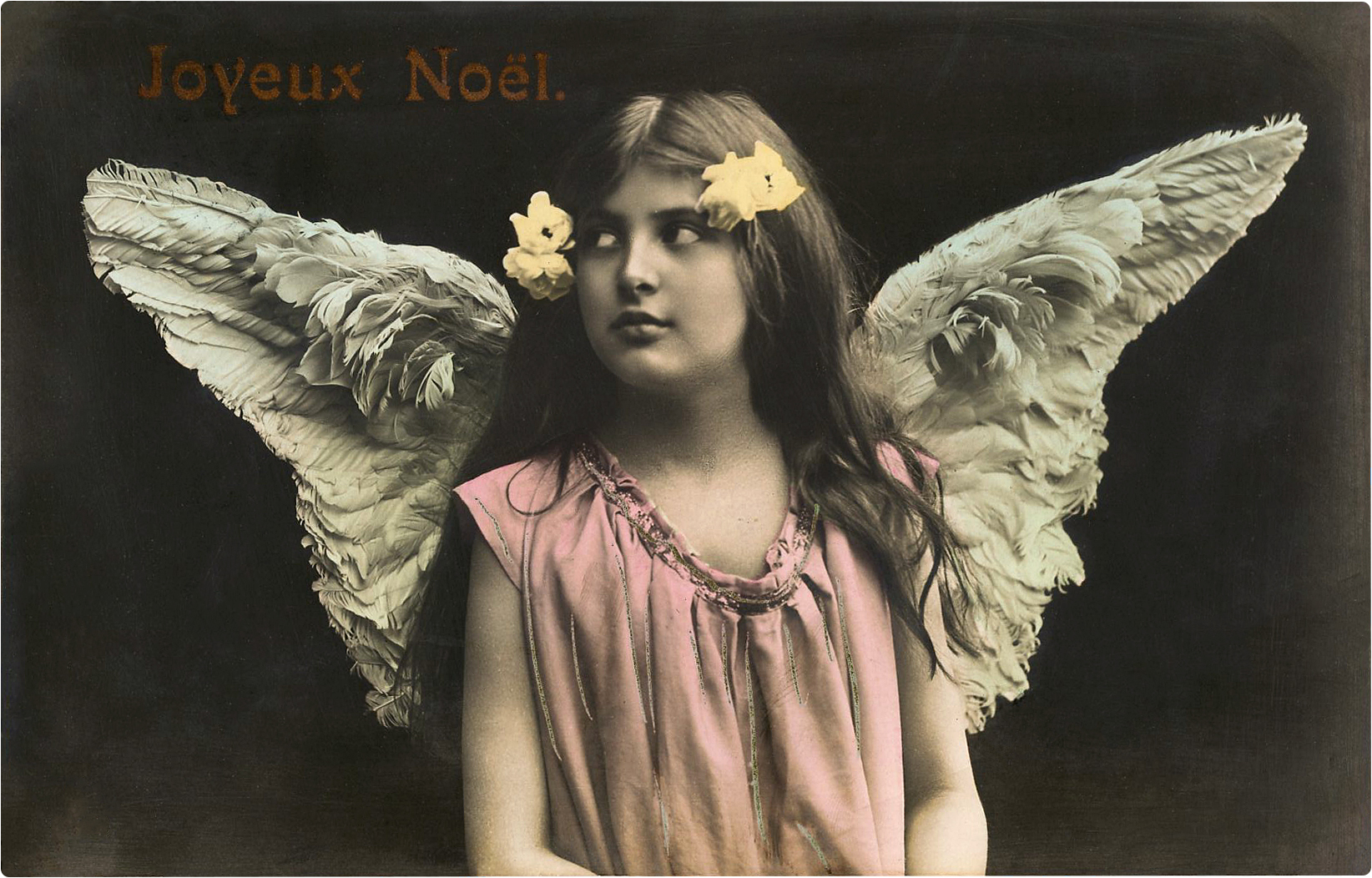 16 Vintage Angel Photos One of my favorite sets! These photos include both women and girls dressed up in Angel costumes. There are a few gorgeous statue photos as well.
19 Merry Christmas Images of Cherubs This is quite a large collection of Cherub illustrations that include, full color pictures, primitive woodcuts and even some pen flourished Calligraphy Cherubs.
7 Angels with Christmas Trees I love this collection of Angels. Each one features some beautiful greenery in the scene, many of them are carrying Christmas Trees, some are flying over Evergreens or have some type of greenery in their arms. So nice for adding to natural themed decor.
2 Angels Wings Clipart These gorgeous Antique Engravings show feathered Wings with incredible detail to them. They are actually bird wings, but I think they would be perfect to use if you want to create your own Angel graphics!
Animal Christmas Images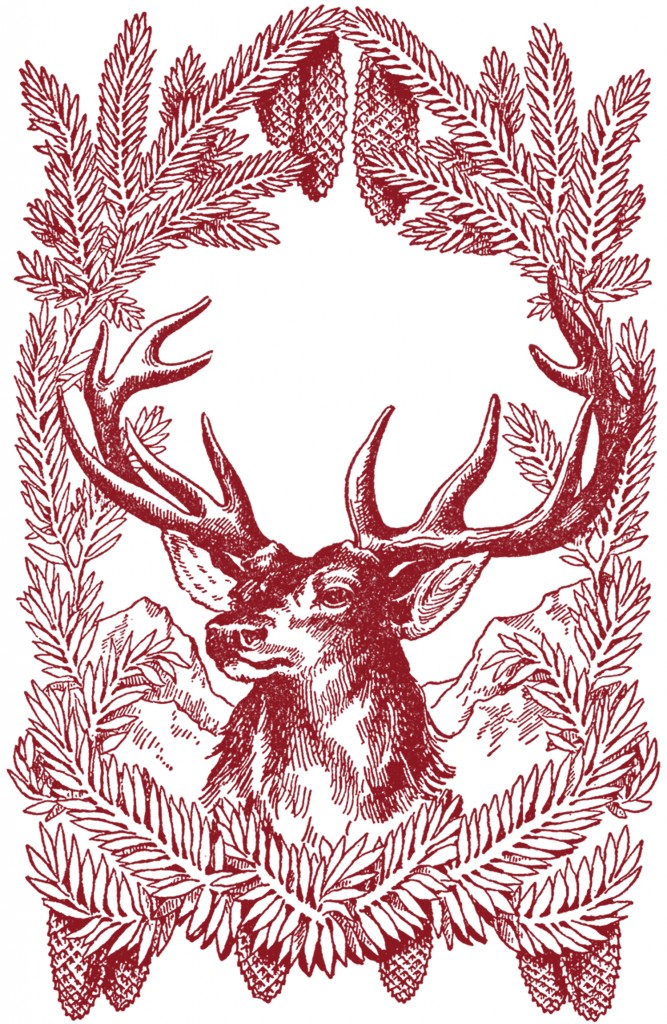 24 Deer and Antlers Here we have quite a large and varied collection of these beautiful creatures! Included is the one you see above. It is a truly gorgeous Christmas Clip Art image from an old wood burning templates catalog and features a very detailed deer bust with horns. The frame around him is spectacular and perfect for the holidays & it includes tree boughs and pine cones.
10 Cervidae You might not be familiar with this word, but it actually encompasses the Deer Family. So you will find Elk and Moose and the like in this set.
10 Camels This is a nice collection of these big beautiful animals. Not necessarily Christmas per say, but since they played an important part in the Christmas story you may find them useful for your projects.
15 Retro Christmas Pictures The nostalgic 1950's style of these images will melt your heart! Not all of them are animals, but there are quite a few including Reindeer, Dogs, Cats, Bunnies and a Bird. My favorite is the young reindeer is wearing a red fur trimmed hat and coat, with a bell collar and big bow. Darling!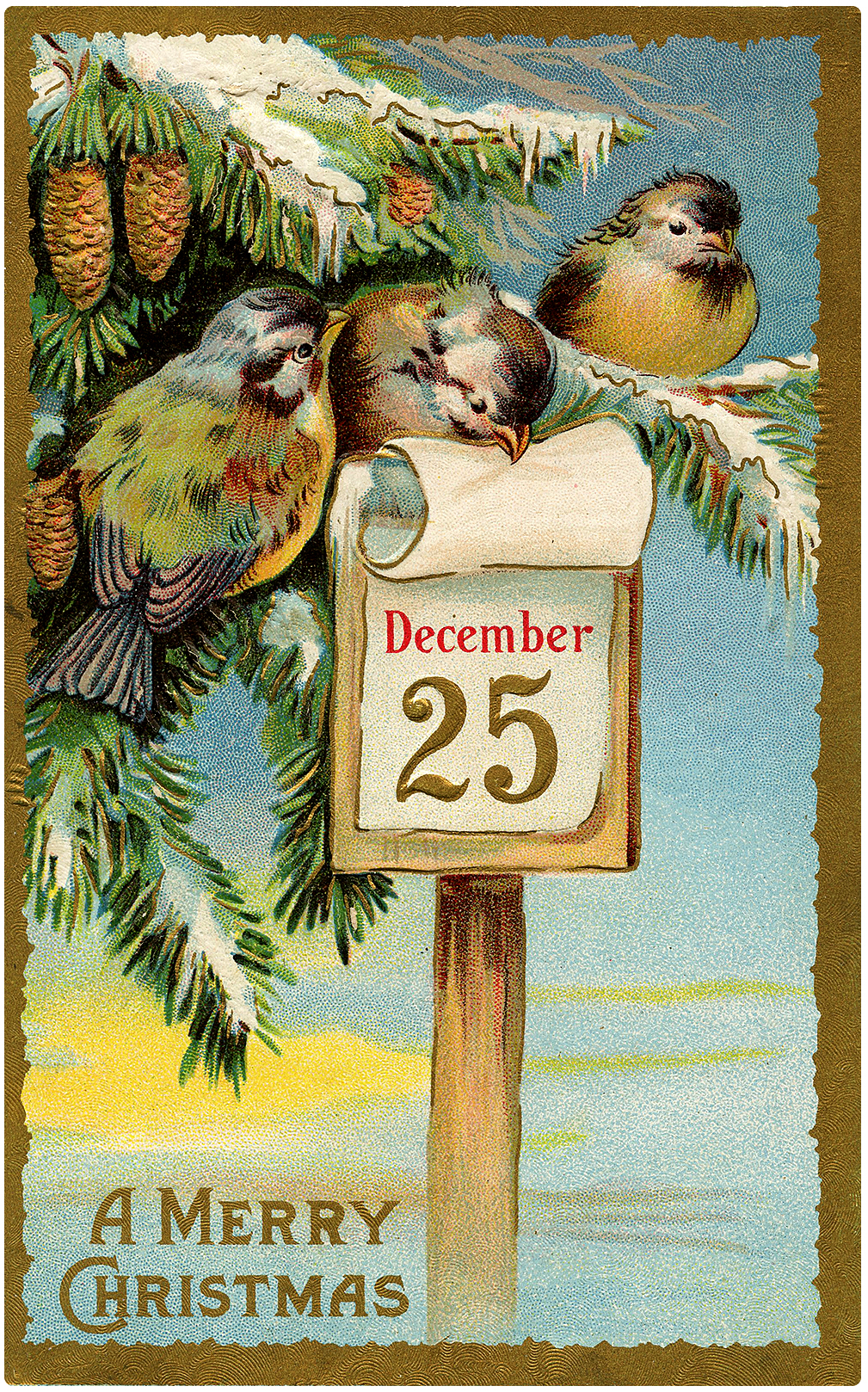 14 Christmas Bird Images A really charming collection! You may not think of Birds for your Holiday Decor, but do give this theme a try some time as it's so fun to work with. Imagine your whole Christmas tree adorned with bird and nest themed ornaments. Precious!
11 Cardinal Bird Images In keeping with the bird theme … these naturally red birds are the perfect hue for this time of year. If you are going with a traditional red and green color scheme, these guys will give you just the pop of color that you are looking for!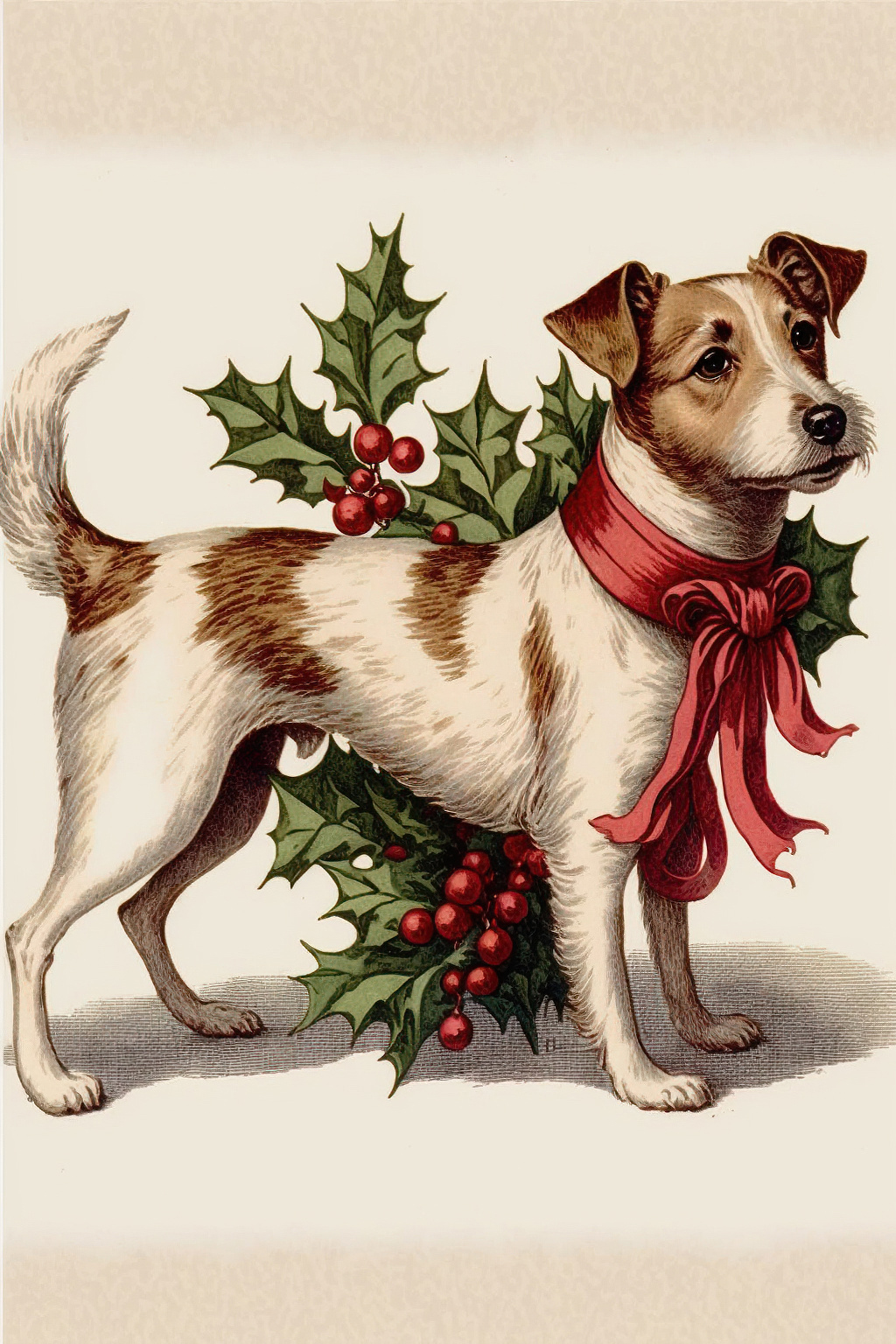 11 Christmas Dogs If you are a Dog lover you will adore this set! Create some fun decor or ornaments to honor your favorite pooch!
10 Christmas Cats And of course we have some things for the Cat lover too. Such pretty Kittie's. Make sure you check out the one with the bells on her collar, her sweet face will melt your heart!
7 Polar Bears This is a small but lovely collection of these marvelous snow white Bears! Some are prints that you can frame and display.
Religious Christmas Images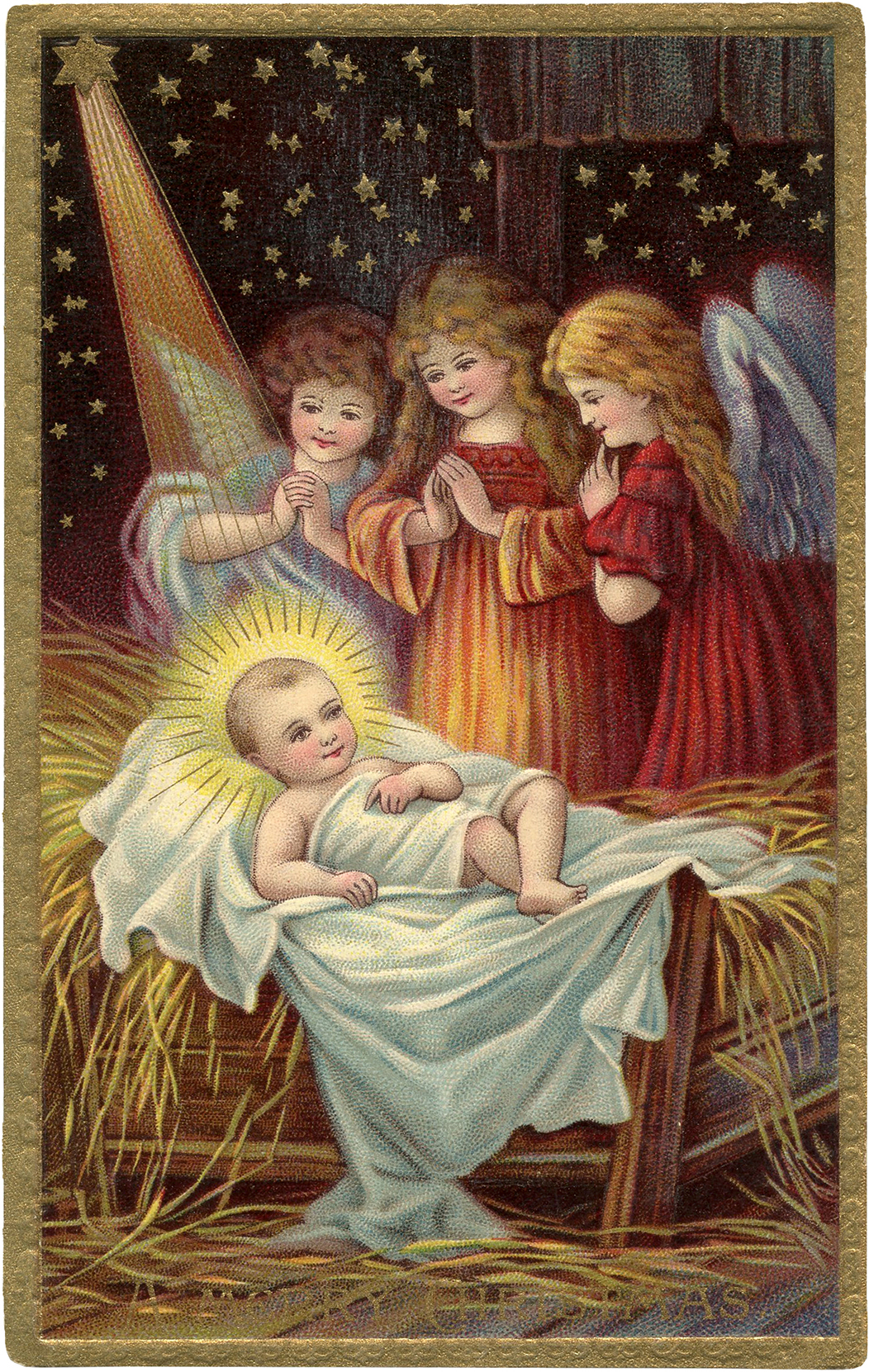 9 Glorious Christmas Nativity Scenes   This is such a precious collection! Included are a number of truly beautiful pictures of the Baby Jesus in the Manger. A number of them include Mary and Joseph in the scenes as well as lots of lovely Angels. One favorite from this set is a vintage Christmas postcard that depicts Mary, Joseph, Baby Jesus and a shepherd boy. Jesus is laying on green grass with an angel watching over. This one also has a great pine cone frame that would be great to use on its own as well.
10 Antique Holy Card Ephemera One of my favorite collections! I'm always on the hunt for these beautiful antique religious pictures. One especially beautiful card in this set is an old German Holy card. The etching features Mary with a crown on her head and her cheek pressed against Jesus in her arms. A holy glow surrounds the pair, setting them off from the background.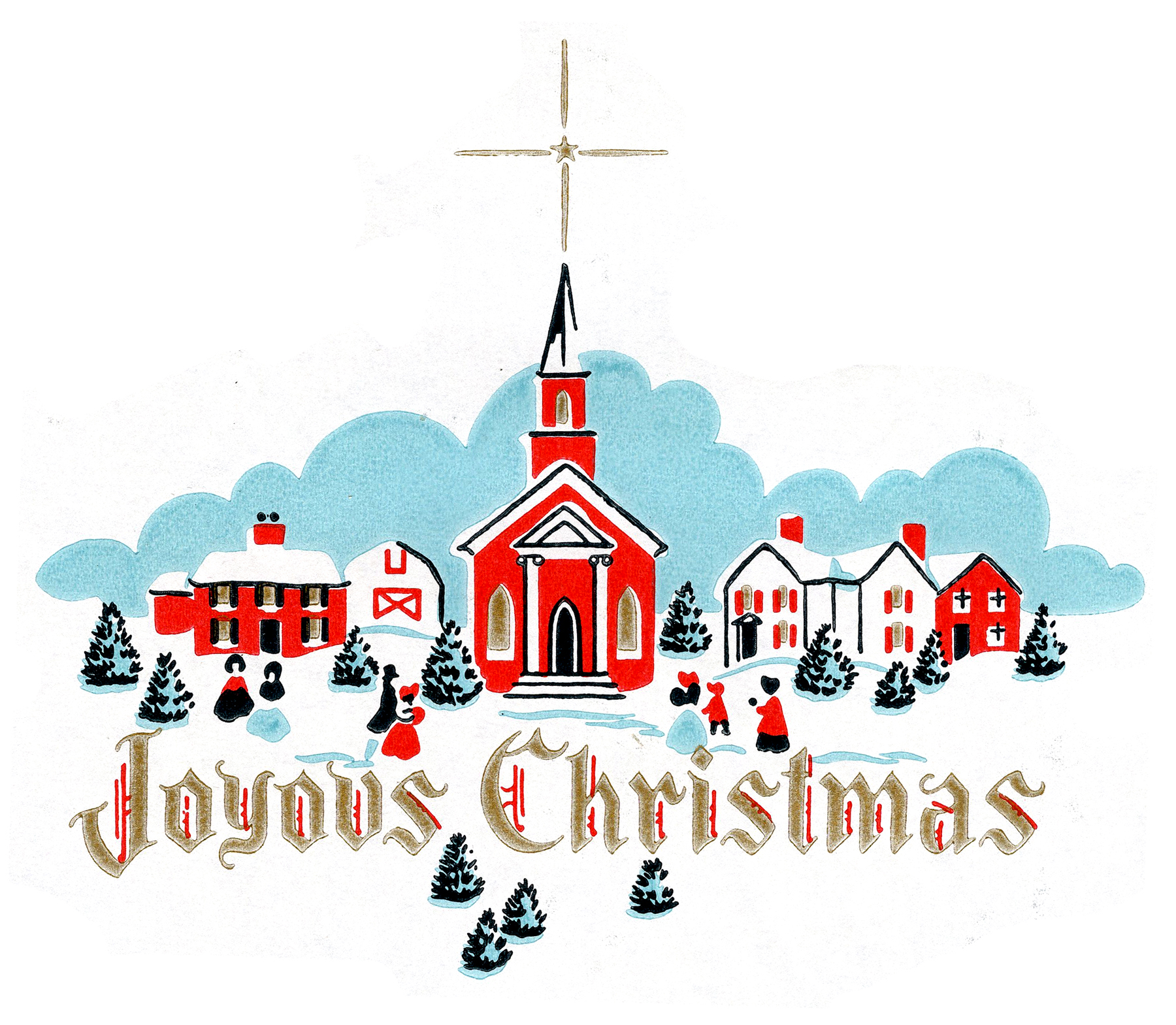 11 Christmas Church Illustrations This post has a number of charming snowy Church scenes and a few Church Service pictures as well. I could see lots of opportunities to add some white glitter or other snow effect mediums!
11 Madonna and Child Christmas Cards This is a stunning set of Christmas postcards depicting the Madonna with and her child. The colors and the detailed illustrations are exquisite!
11 Stained Glass Church Windows These Stained Glass Windows are such intricate works of art! Many of these are full color, but there are some black and white pictures as well.
Santa Christmas Pictures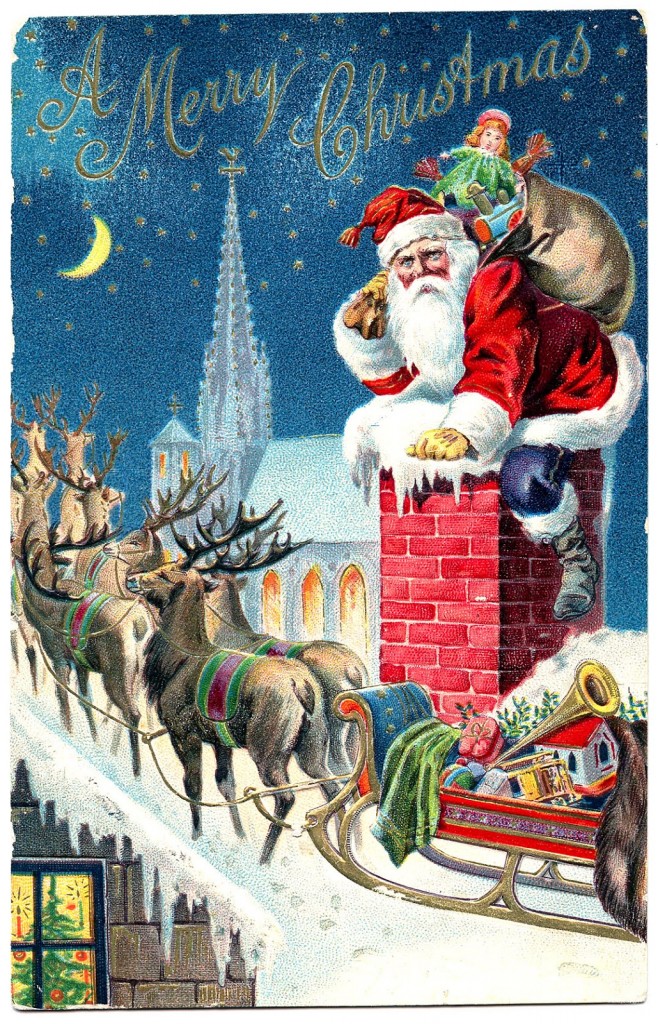 6 Santa in Chimney Pictures Ho Ho Ho! What a fun set of Merry Christmas pictures this is. Here we spot Santa climbing into, or out of various Chimney's. The one that you see above is a great brightly colored vintage greeting card with Santa and his reindeer stopped on a snowy roof. Santa has just exited his sleigh and has one foot down the chimney, and his sleigh and pack are filled with toys.
28 Santa Claus with Red Coats This is a huge collection of Vintage Santa wearing bright red coats. I've spent years collecting my favorites and I share them all with you. You'll find our Jolly fellow with toys, balloons, trees, dolls, his pipe, his long paper lists and more. Lots to love in this set!!
7 Victorian Santa with Different Colored Robes Santa doesn't always wear a red suit you know. Sometimes he wears a long robe, in a multitude of colors like Purple, Blue or Brown! My favorite in this set is a beautiful Old World Swedish Santa! The glorious looking Santa has a light colored coat, he has a holly wreath on his head and he's carrying a small Christmas tree and lots of toys! The greeting on the card is "God Jul" (Merry Christmas). Such a charming Christmas Image.
15 Cute Retro Black and White Santa These are the cutest Santa's around! Most of these guys date back to the 1940's so a bit more modern than most of the others. These are all black and white Merry Christmas Pictures with some very Jolly looking faces!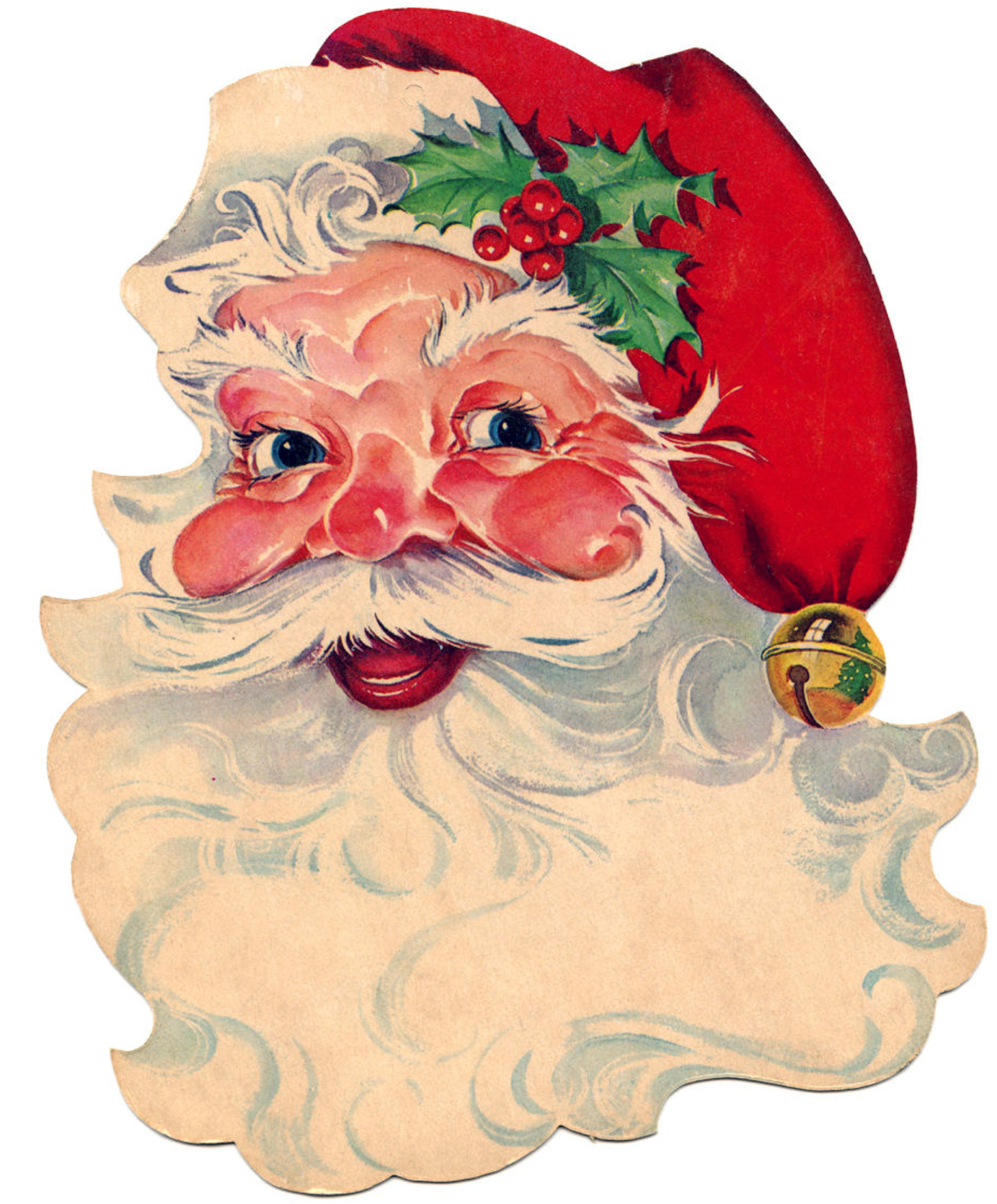 10 Retro Santa Clip Art in Color This is a super cute set of 1950's Santa Claus Clipart Pictures! These nostalgic Jolly fellows are sure to melt your heart!
11 Santa with Kids All Children love Santa! This set shows some very happy kids getting to meet their favorite person!
7 Old World Santa Illustrations These are classic old world pictures of our favorite guy. One favorite in this set is a Victorian Santa Holiday Clip Art image that was on the cover of an old Children's book. The closeup of Santa is framed out in a circle. It is snowing out and Santa has on a red hood to keep him warm.
6 Black and White Santa Pictures This collection would be so fun to color in! Included are some primitive type woodcuts as well as more highly detailed 1940's drawings.
7 The Night Before Christmas These beautiful Antique Pictures were all scanned from a book that belonged to my Grandparents. It's a family treasure and I love being able to share it with you guys!
12 Santa Transportation Pictures This is such a fun set with some rare pieces in it! You'll find Santa traveling in his Sleigh, a Car and even on a Rocking Horse!
Elves Merry Christmas Pictures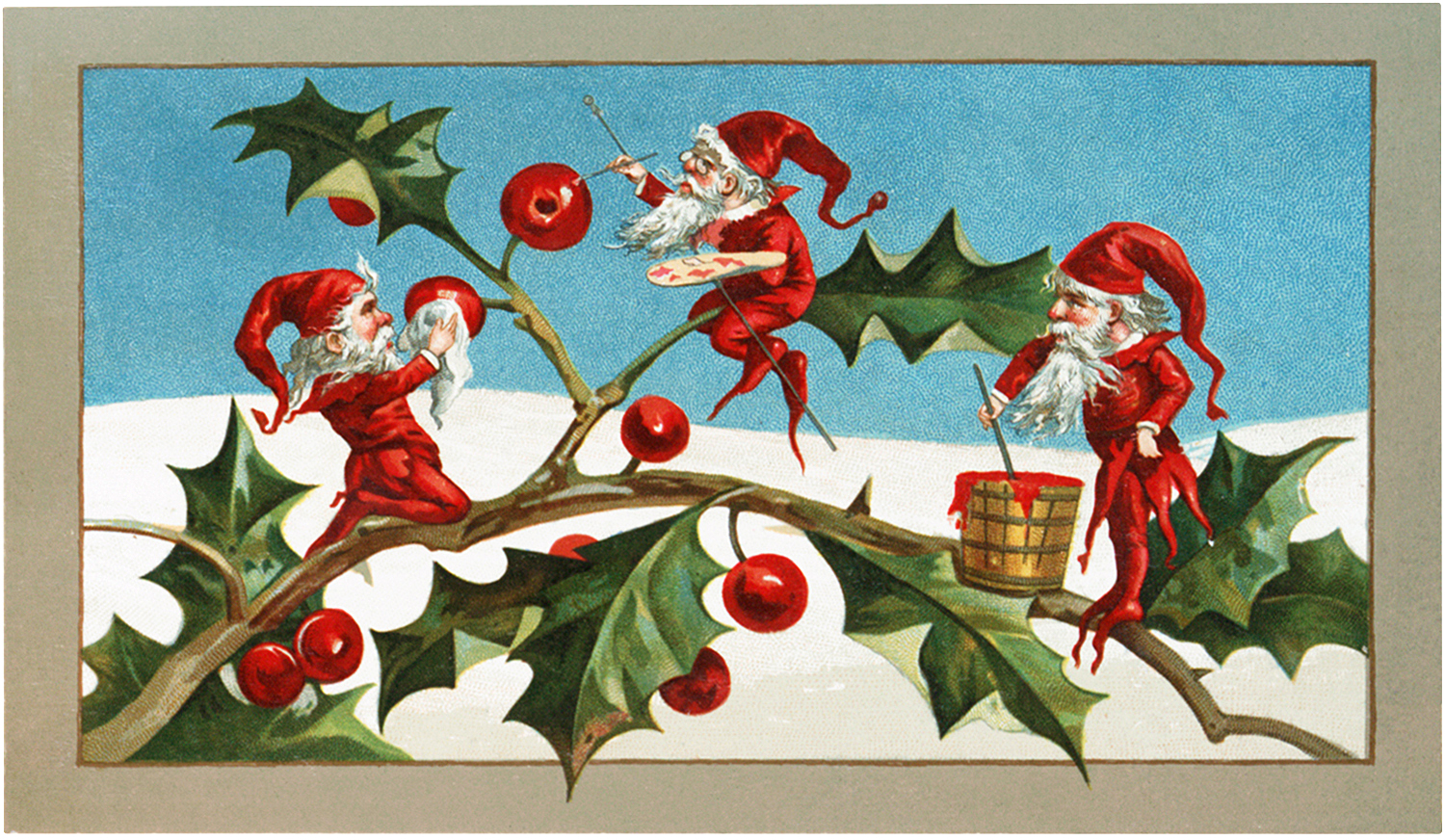 12 Vintage Elf Images Not all of these Elves are themed for Merry Christmas but many of them are. You'll find some busy at work, some with bells and a few that are hiding out in some very unusual places!
2 Elf on a Shelf Yes, we have a couple of guys from this modern tradition! They are the original vintage ones that today's fun character are patterned after. You'll find a black and white version and a full color version, both on a shelf!
Christmas Ephemera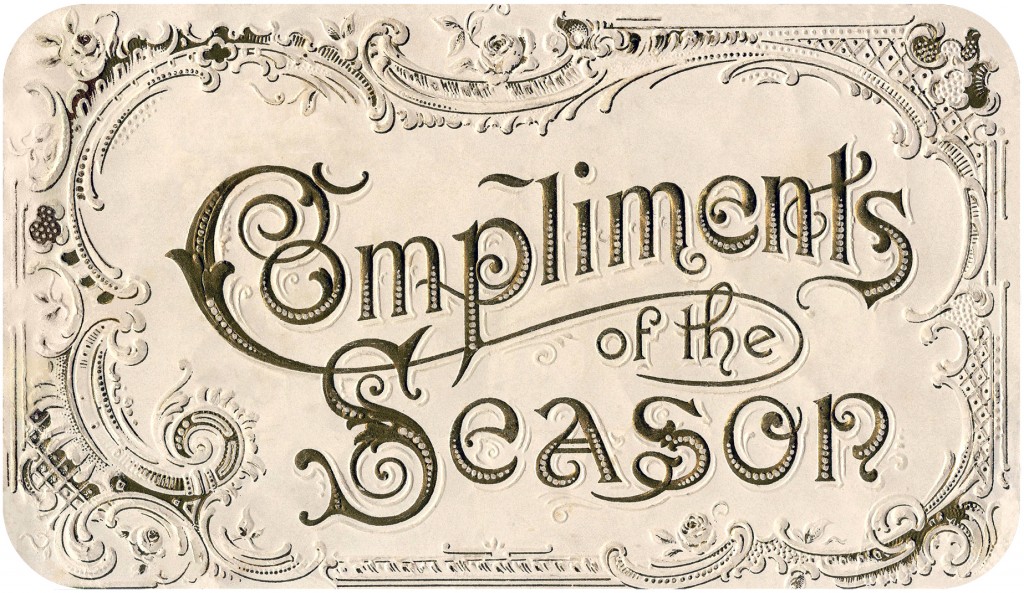 10 Christmas Ephemera This is a lovely collection of all sorts of antique paper treasures. One that has been a favorite through the years with my readers is this antique label. It includes detailed scrolls and flourishes with the words Compliments of the Season in sepia tones. The unique font and flourishes on this one are quite stunning!
8 Digital Sheet Music While these are not actually themed for Christmas, they work wonderfully in holiday DIY projects. Perfect for all sorts of Christmas paper crafts and ornaments!
10 Musical Christmas Images These lovely pictures depict people playing musical instruments, as well as the instruments themselves on their own. These would go nicely with the sheet music ones above.
9 Victorian Trade Cards These are 9 gorgeous Antique Lion Coffee trade cards, with the most beautiful Christmas Illustrations. These were scanned from my old family Album!
Snow and Snowman Images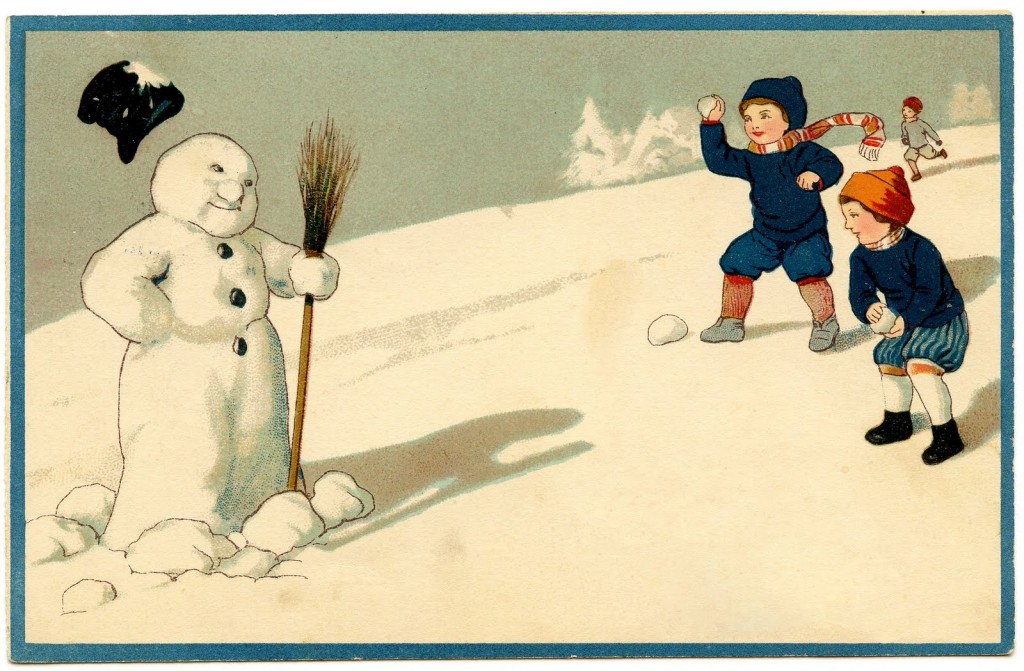 17 Snowman Images Not all of these snowmen are Christmas Images per say, but they can certainly be used to spread some Holiday Cheer. This adorable Finnish postcard features a drawing of two children dressed in blue throwing snowballs at a sweet snowman who has his hand on his hip. The children have hit their target; the snowman's hat is flying off in mid-air.
12 Snowflakes These are drawings of actual Crystal snowflakes. They are intricate and beautiful and each one is one of a kind.
20 Sledding Pictures This is a super fun collection. Lots of cute kids on Sleds, and even some Angels, and Animals too!
5 Vintage Ski Graphics For those that love Skiing this set is for you. Most of these are pretty retro looking and some are quite quirky, there is a lovely Victorian picture too though. Most are not necessarily Holiday themed, but you could make them work I'm sure.
Merry Christmas Images of People and Children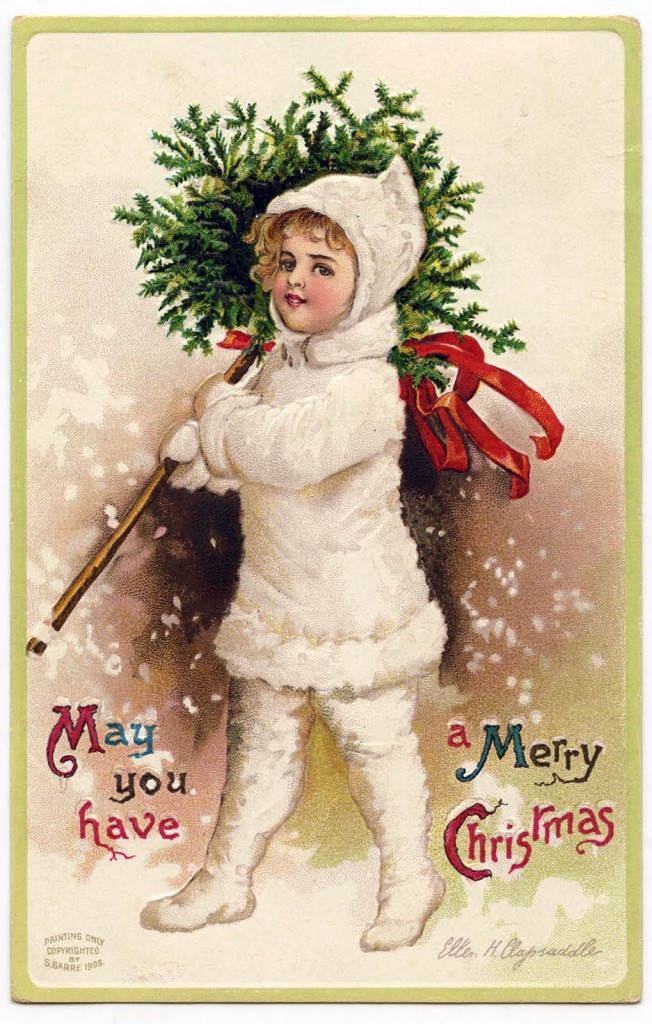 16 Snow Children This is a very sweet set of Merry Christmas Images Snow Girls and Snow Boys. These are really charming illustrations that could be made into Handmade Christmas cards or Paper Ornaments.
12 Christmas Shopping On this post you will find various people bustling around with packages, some are shopping and some may actually be delivering those gifts. One lady has a long list and looks quite concerned about trying to shop for everyone on it!
16 Vintage Christmas Ladies Lots of cute Merry Christmas Pictures of ladies in this collection, wearing various types of festive holiday outfits. My favorites are the ladies wearing Christmas pageant costumes and one woman wearing a red Santa hat!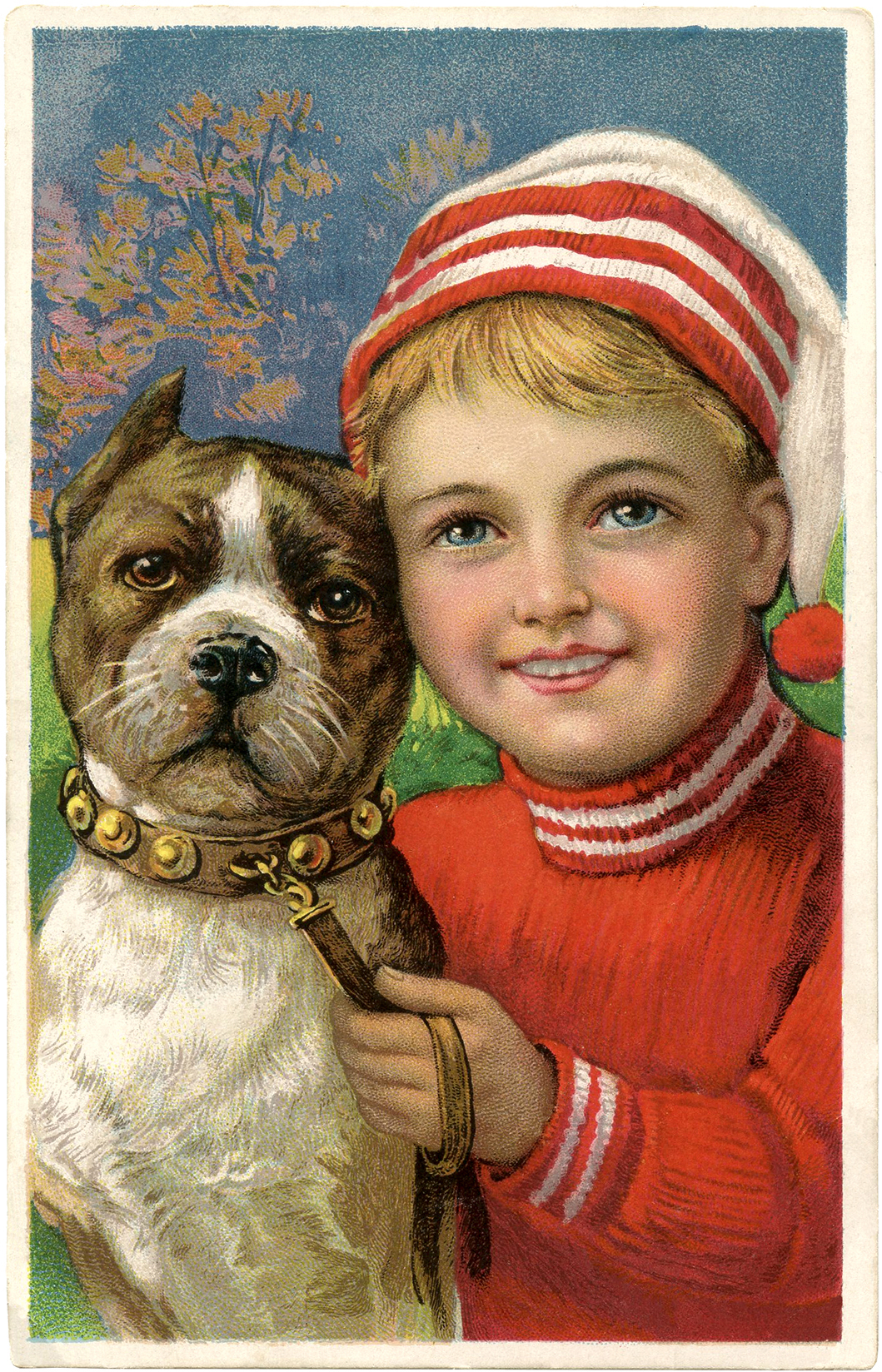 12 Christmas Boys There are some adorable children in this set. My favorites are the two boys in the red sweaters, one with a Dog and one with Ice Skates they have such beautiful faces!
21 Holiday Girls Of course we have lots of girls too! There is quite a range here too, from sweet and Angelic to cute and quirky! There are some rare and interesting pieces in this set.
7 Dickens Girls and Ladies This is a fun Victorian Christmas collection featuring women and girls, in their holiday finery. Many of them are wearing pretty bonnets!
5 People with Trees This is a pretty set of graphics showing People carrying small Christmas Trees. Most of these are beautifully illustrated drawings but one is a lovely Antique Photo!
Holiday Flower Pictures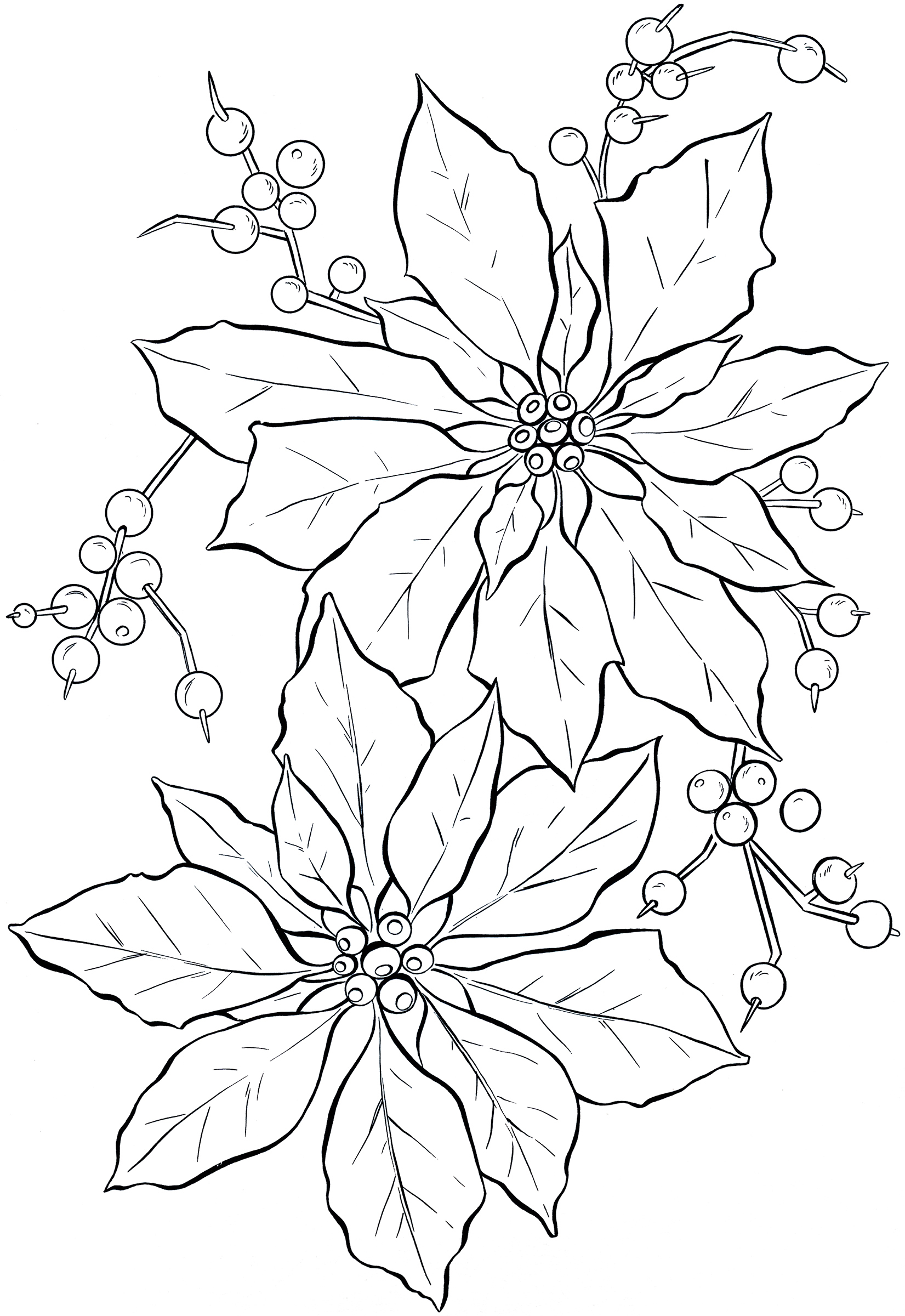 12 Poinsettia Everyone's favorite Christmas flower! There are lots of bright traditional Red blooms to choose from here for your projects. And you will even find a lovely Poinsettia Coloring page!
10 Christmas Flowers This is a charming set of Victorian Christmas cards with floral pictures that are not Poinsettia's. Most have sweet holiday sentiments on them.
3 Amaryllis I absolutley adore this Holiday flower! It's showy and dramatic and looks gorgeous where ever you place them in your home. If you don't have real ones these digital versions, printed out onto paper, are the next best thing!
Holiday Greenery and Christmas Tree Pictures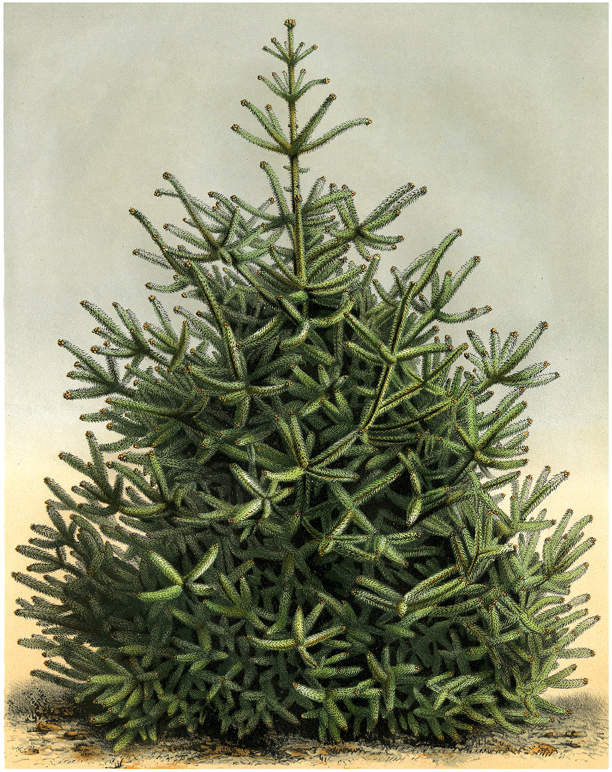 10 Christmas Tree Pictures This is a glorious set of wonderful Botanical Tree Prints. One favorite is an antique botanical print of a huge pine tree in a natural setting. This tree is on a hillside with two people in the foreground. This would be great to add glitter to, or print out the full size PDF for some instant holiday art! As far as Christmas Tree Images go, this one can't be beat!
11 Pine Cones Perhaps you don't need the whole tree for your craft project, maybe you are just looking for Pine Cone images. We've got those and some Pine Branches too!
10 Berry Branches These brightly colored Botanical Berry Branches will add an elegant festive touch to your Holiday projects!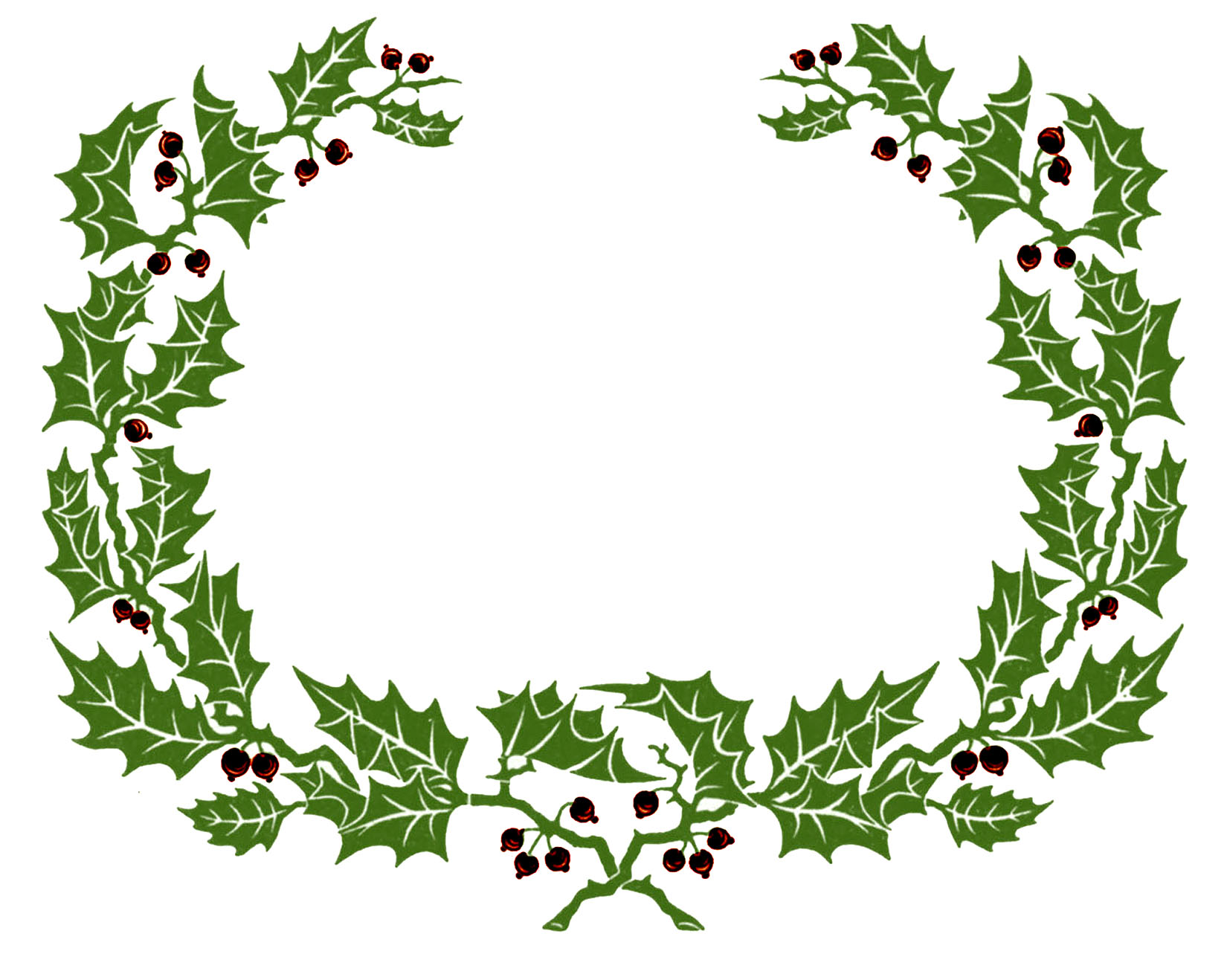 21 Holiday Wreath Clipart This is a fantastic set of Pretty Christmas Wreaths that are super useful too! These work really great as graphic frames or labels, great for Handmade gift tags too.
17 Christmas Holly Images More festive digital images for your DIY's! Loads of choices here for this traditional red and green plant.
5 Mistletoe Another traditional greenery favorite is the Mistletoe plant. Particularly popular with couples in love!
 Christmas Cottages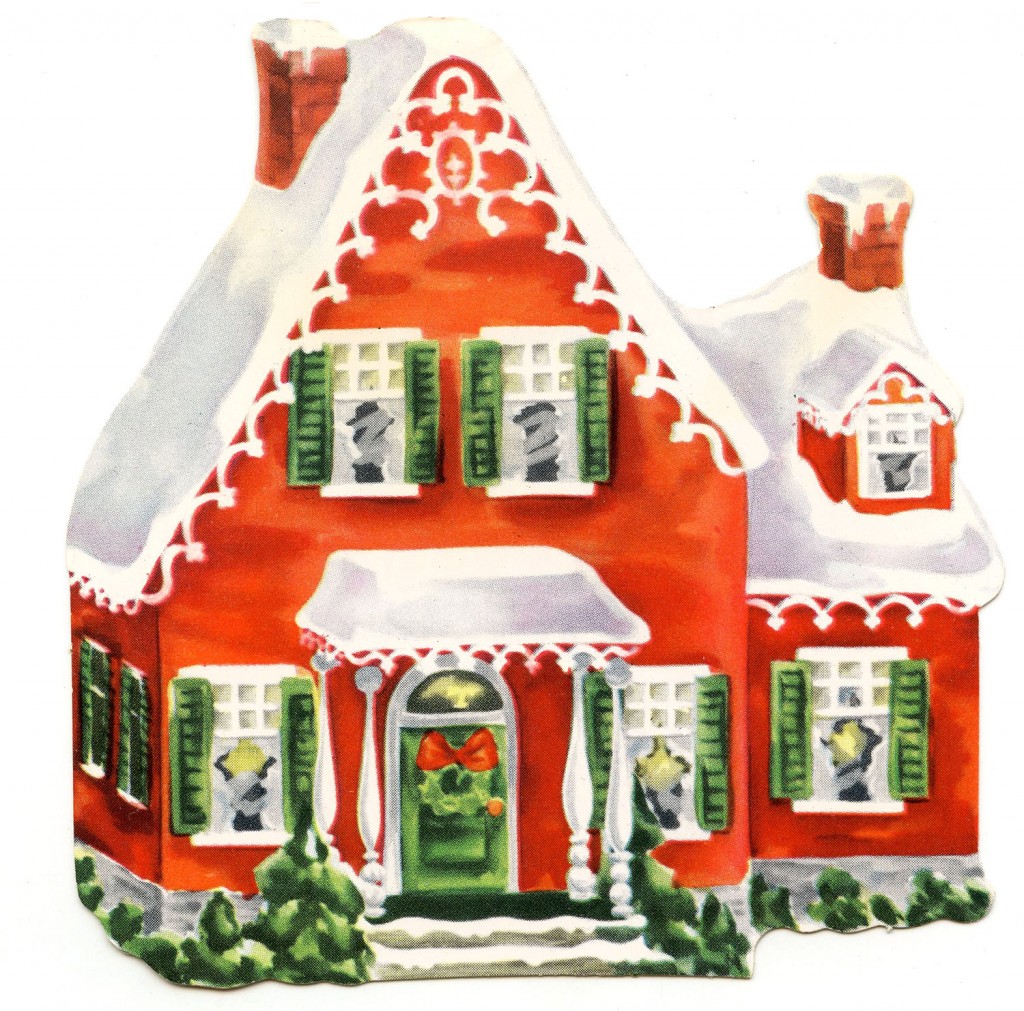 15 Retro Christmas Images I've included this one above in the Animals section too, but I don't want you to miss this set if you are not looking for animals, because this oh so Adorable Christmas House is also in that set! You will also find the cutest Gingerbread Man and a full color Candy Cane that looks so real it will make your mouth water!
4 Fireplace You've got to have some place to hang those stockings for Santa right?! These wonderful Mantels include several very fancy ones and one that is quite cozy and rustic looking.
4 Christmas Cottages  These are some super cute and cozy looking vintage Merry Christmas Images! The houses are all set in snowy scenes. So peaceful looking!
Other Christmas Clip Art Images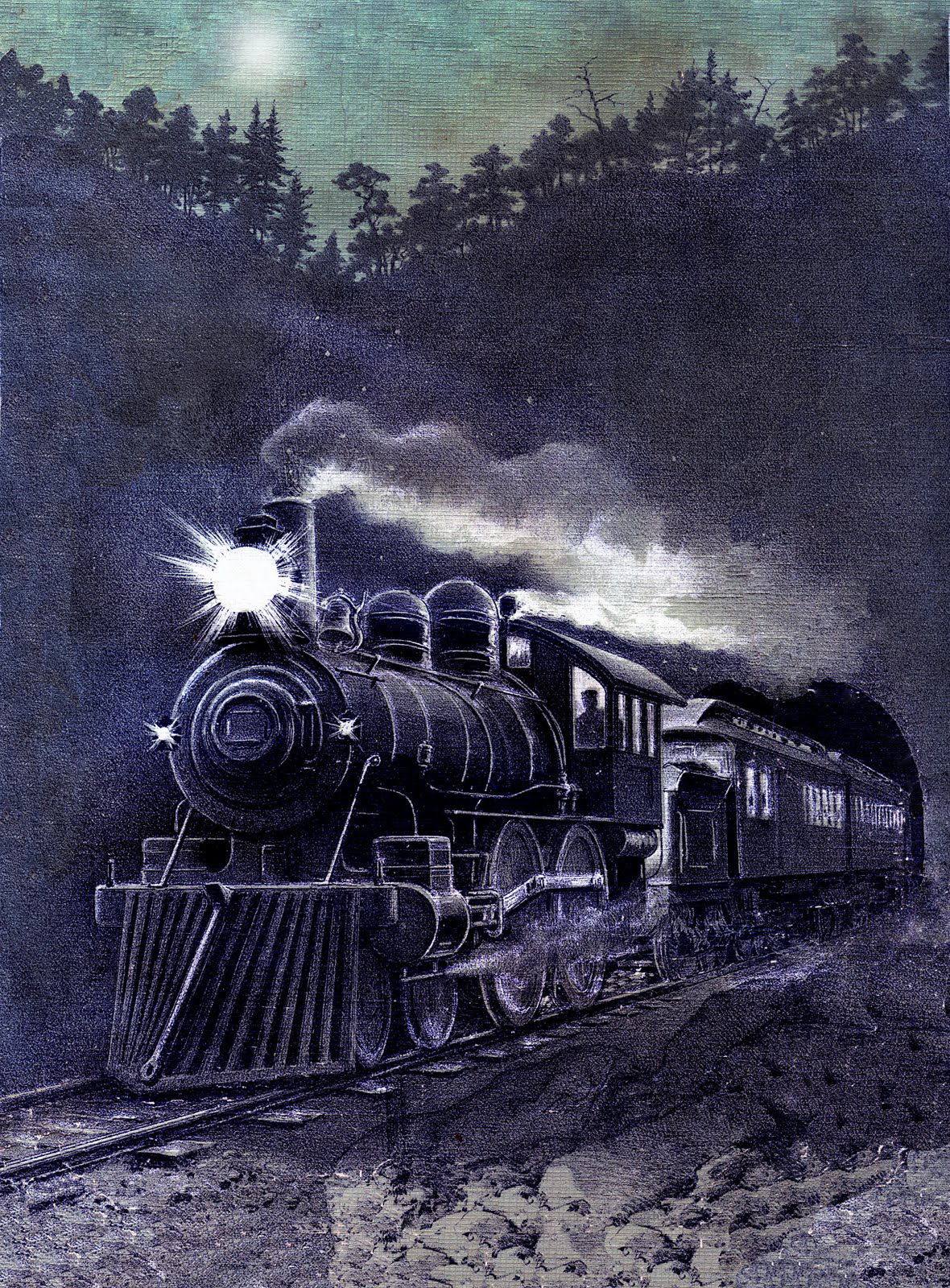 4 Trains Trains are often a part of our Holiday Traditions. Do you love watching the Polar Express movie each year? Or maybe your family enjoys setting up a train around your tree at Christmas. These images would make a nice handmade card for the train lover in your family!
5 Lanterns These aren't all themed for Christmas, but a couple of them would work very well for Holiday designs.
7 Bells These Merry Christmas Bells are really lovely! Many of them feature Holiday Greenery adornments.
26 Vintage Toy Clipart These Old fashioned toys are sure to bring a smile to your face. They don't make them like this anymore! Included are wonderful wooden sleds, old fashioned dolls, blocks, Bikes, Whimsical pull toys and more!
Black and White Christmas Clipart
17 Christmas Coloring Pages You'll be in for hours of fun with these wonderful Nostalgic Free Printable coloring sheets! Included are Santa and Mrs. Claus, Rudolph, a Christmas Fairy and lots more!
14 Retro Holiday Images This such a charming set!! Included are heart warming family scenes, old fashioned Carolers, Pets and more.
Premium Membership
These are a few samples of some Christmas themed bundles on our Premium Membership site if you find that you need even more images and Printables for your projects:
You might like even more Merry Christmas Pictures, & Printables, (as well as Photoshop Elements Tutorials to learn how to do Vintage Digital Design) in our many Holiday Bundles from our Premium Membership site, you can learn more about our Membership Bundles HERE.
Hello! Are you new to The Graphics Fairy?
Welcome, I'm so glad you're here! Browse around to find
thousands of Stock Images
that you can use in your projects or designs! I post new Vintage images every day, as well as projects and DIY's too! Need more info about my site? Try my
FAQ
page.