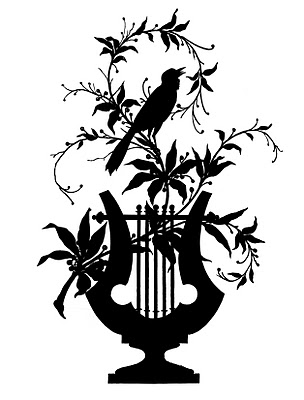 Click on Images to Enlarge
Swoon! I'm in love with this one!!! This one dates to 1883. Originally I had bought a book that had this image on the cover, but since the cover was leather and the image was in gold, I couldn't really extract it very cleanly. Not long afterwards though, I came across a series of paper magazines (they were companions to the book) that had this same image on them, only this time it was in black on a paper cover! Yay! I did a happy dance that day!! Anyway, here it is a marvelous Silhouette showing a a Bird perched on some Vines, with a Lyre base! Fabulous!! I hope you like it as I much as I do!
I've also made a Transfer Printable for this image you can find it HERE. This is a nice large file that you can use for your Home Decor projects!