560 Free Bird Images – Printable Pictures
Here is a HUGE collection of some of the Best Free Bird Images, and Bird pictures to print, from here on The Graphics Fairy blog! In this post, you'll find a marvelous collection of our favorite birds, organized by Species, Color, Printable Art and more. These images range from antique scrap pieces, to drawings and Illustrations, and natural history prints and printables, and are perfect for your craft and digital art projects.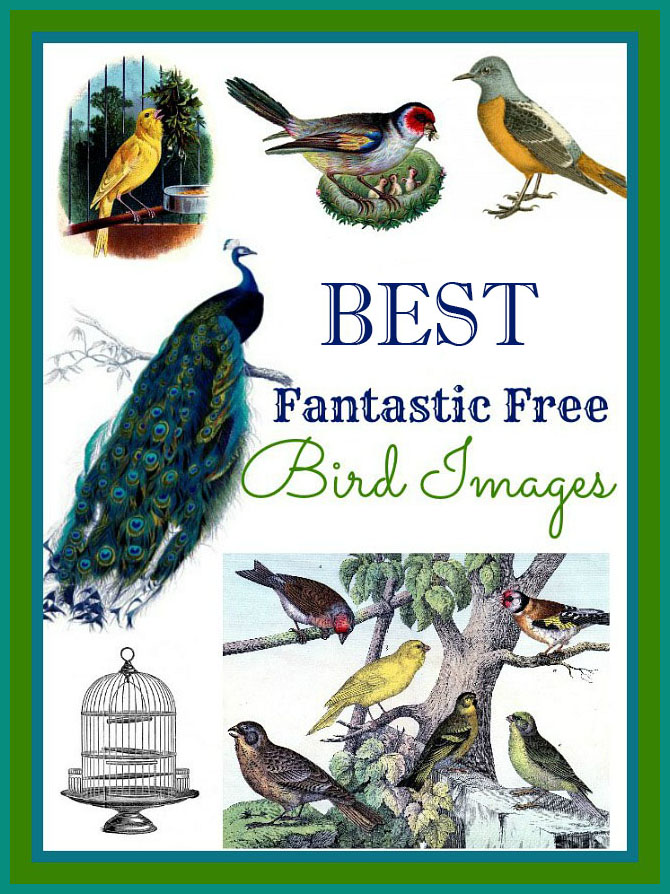 B
If you're a bird lover like me, you probably grab your camera and lens, on a regular basis, and head out onto your favorite trails, or even your backyard, to grab a photograph of any rare feathered friends that you might come across. My Dad was an amateur photographer who loved to get up in the early morning any time of year, to get great shots of his favorite bird species.
But even if you don't have a plethora of gorgeous birds nearby you can still enjoy this magnificent collection of Bird Clipart. No nest boxes or suet feeders required! The bird archives at The Graphics Fairy are extensive and it was difficult choosing favorites for this post!
Bird Images by Species
Enjoy this marvelous collection of Bird pictures organized by type.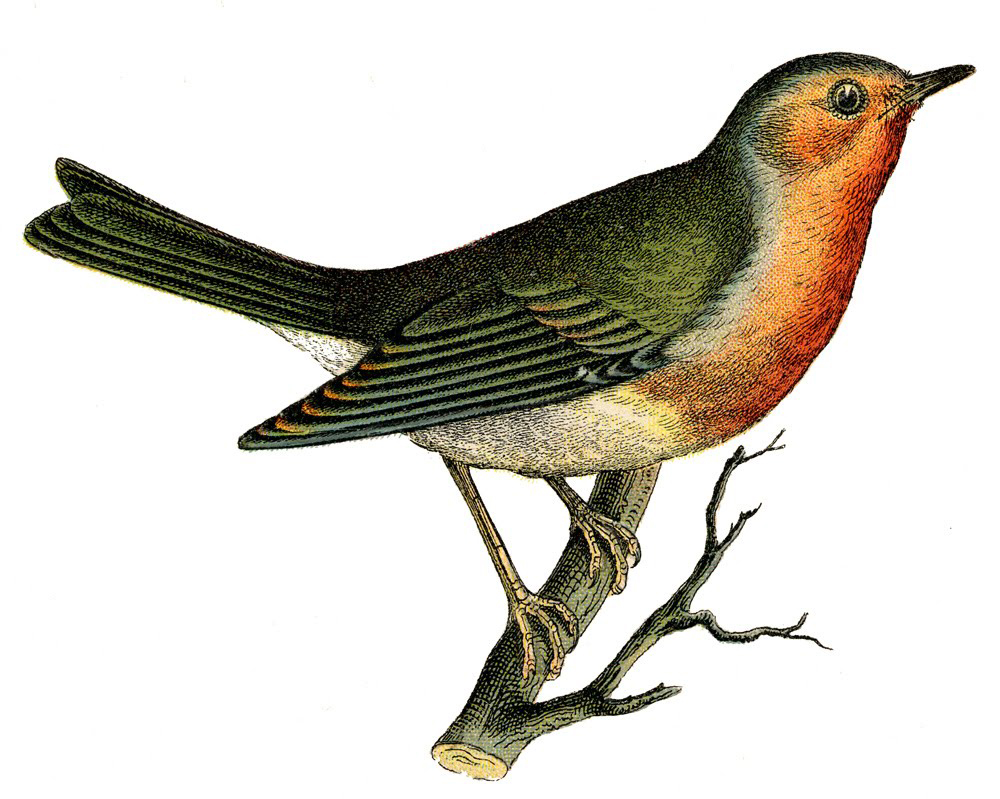 18 Robin Bird Images. This is a charming collection of beautiful Robins! These are lovely to use in projects where you need a bit of red color.
23 Doves. This is a nice large set of these lovely white bird Images. You will find Full color and black and white versions. So many pretty Bird pictures to print out.
31 Swallows. This is a huge collection of sweet Swallows! Some of my favorite bird images are in this set. Included are many flying Swallows with their wings stretched out and a few that are resting as well. I love watching these guys dive for insects.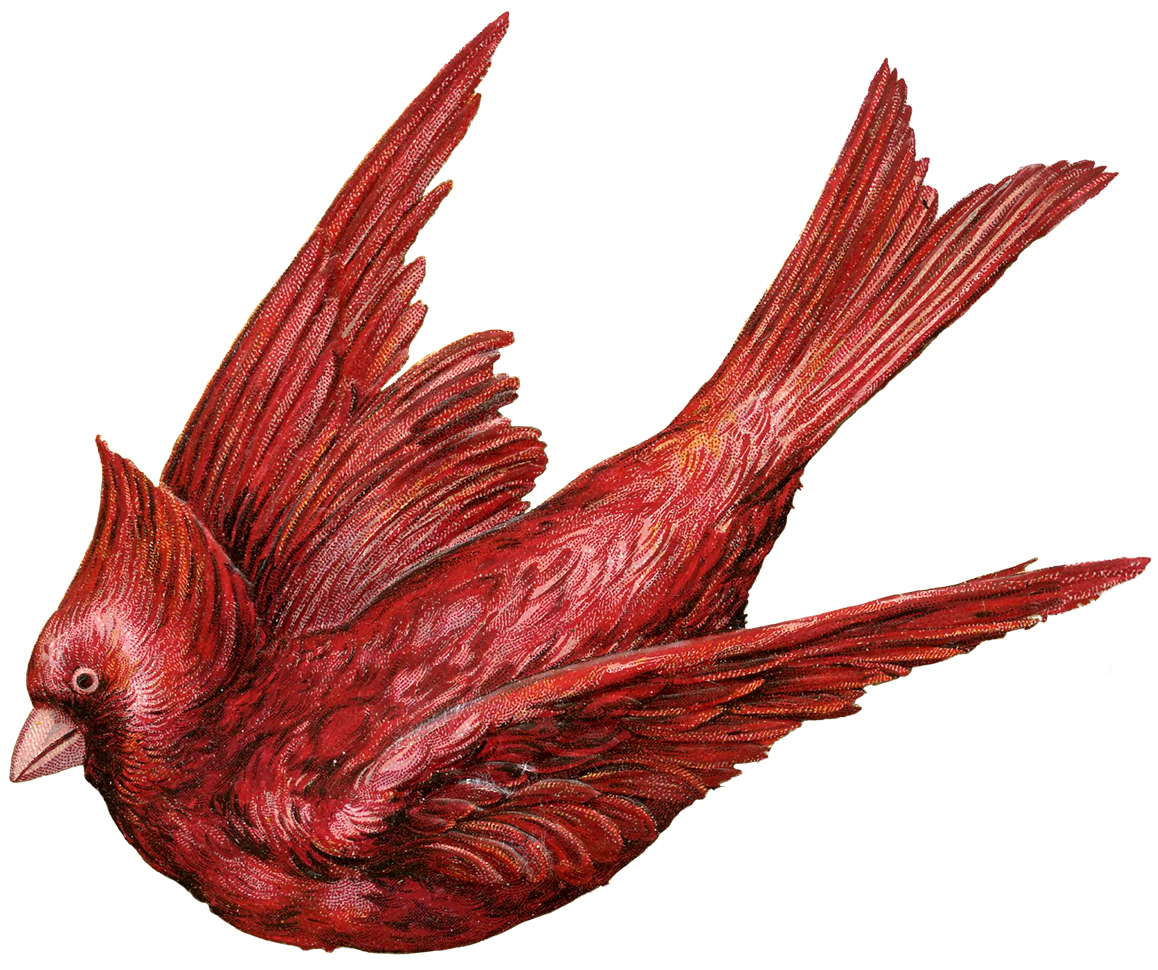 10 Cardinals. Cardinals are such showy birds! This is a gorgeous selection of these bright red beauties. Some of these Northern Cardinal birds would work really well in Christmas projects.
11 Hummingbirds. This such a lovely set of these fairy like creatures. Included are a wonderful print, along with smaller full color and black and white pictures.
8 Blue Jays. These wonderful Jays are perfect for when you want to add some deep blue tones to your projects and creations. A nice collection of Bird Clipart.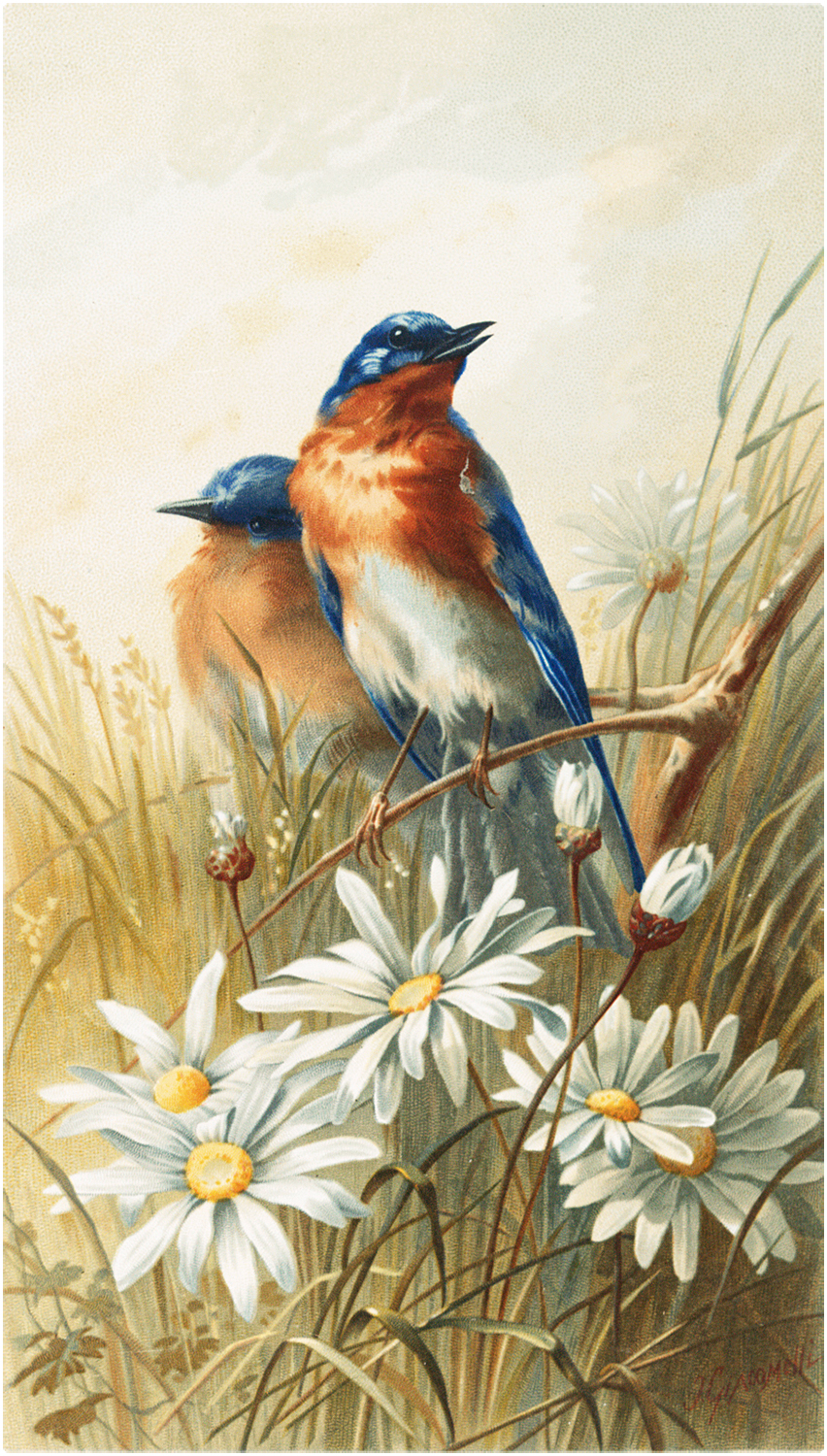 14 Bluebirds. These sweet Bluebirds are sure to bring a smile to your face and some happiness to your crafts! I can never get enough of these precious birds.
11 Eagles. This is a nice collection of regal looking Bald Eagles. Perfect to use in your Patriotic projects.
10 Crows. This is an interesting set of Crows. Some look a bit sinister even and would work well for Halloween.
7 Birds of Prey. In this collection you fill find a number of birds including several Vultures. Some are devouring their prey. A bit creepy but also good for Halloween.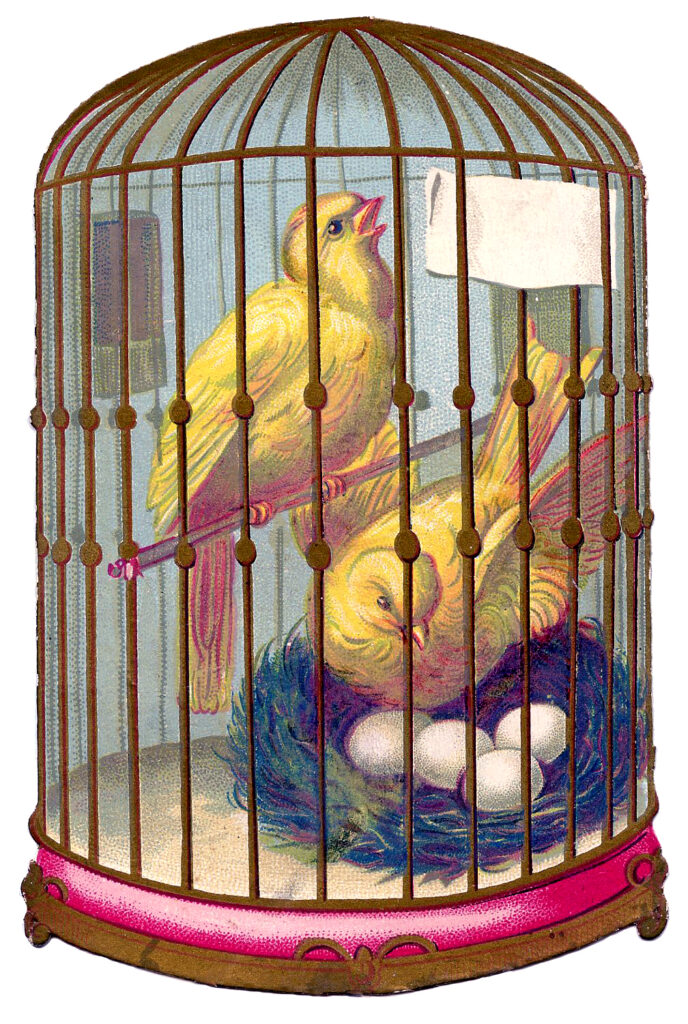 14 Canary. This is an adorable collection of these bright yellow cuties! Included are males and females. Some are in cages on a perch like the ones above and others are out and free to fly.
8 Pigeons. A nice collection of these humble birds. These pictures of birds are really quite lovely!
7 Parrots. Perfect for those Summertime or Tropical projects. You will find brightly colored Parrot Bird Clipart and black and white ones too.
16 Roosters. For your Farmhouse creations, French or otherwise, these charming Roosters should fit the bill.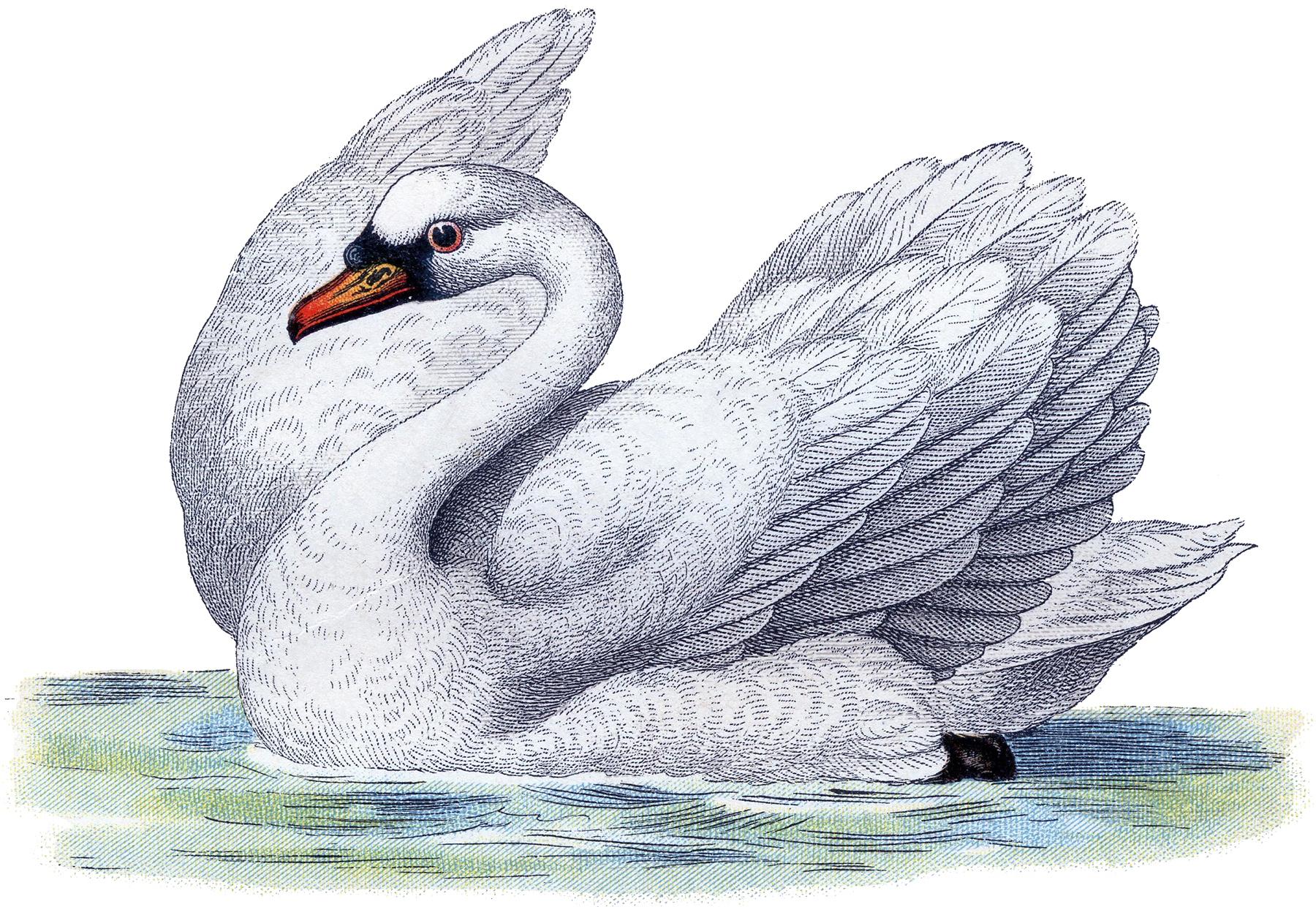 9 Swans. Perhaps the most elegant Bird in all the world. This is a truly gorgeous collection that includes a number of White Swans as well as a Black Swan.
11 Turkeys. We've got a nice set of big beautiful Turkeys here for your Thanksgiving or Fall creations, or nice for Nature themed projects too.
5 Pheasants. Another bird that we think of around the Fall season. Such gorgeous creatures! This is a small set, but I plan to add more to this one as we get closer to the Autumn.
7 Ducks. This is a nice selection of Ducks that include several different species including Mallards, as well as a cute whimsical Duck with an umbrella!
30 Owls. Here you will find a huge set of marvelous Owls! Included are Natural Owls, Spooky ones and Cute ones too. If you are an Owl lover, you will love this set!
3 Guinea. A cute little set of Guinea Fowl. Such funny birds, but quite cute!
More Bird Clip Art by Species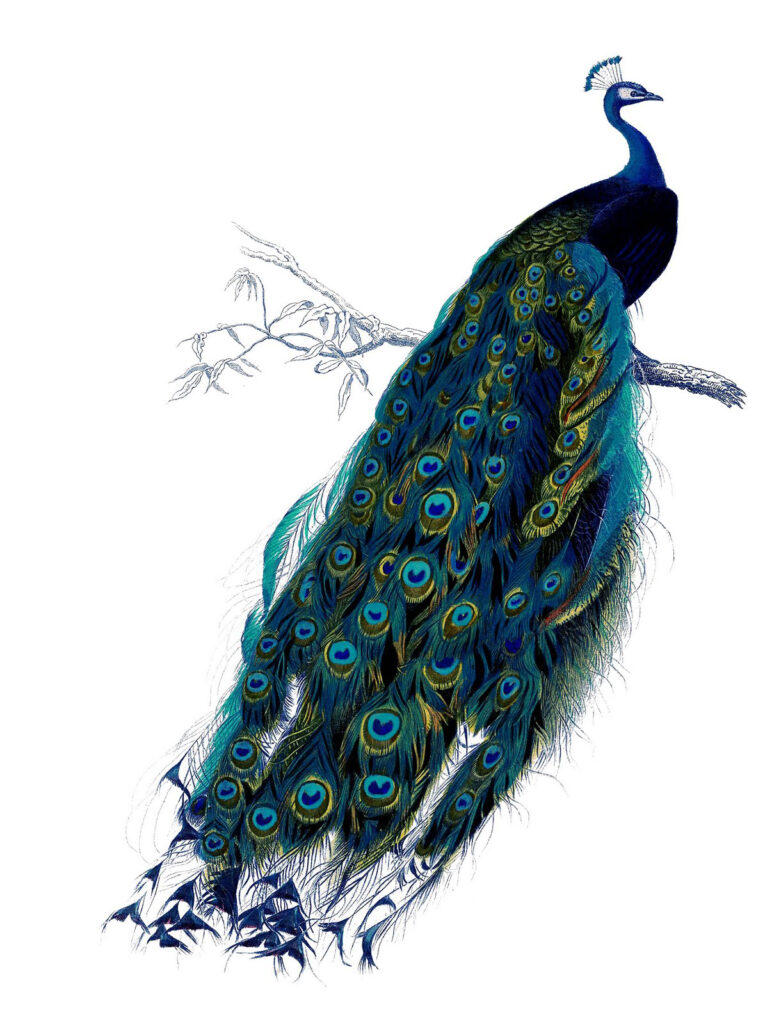 21 Peacocks. This is a large and stunning set of these majestic birds! The colors and tones are absolutely gorgeous and there is so much to choose from on this post.
11 Shore Birds. Some lovely Shore Birds including Herons, Pelicans, Killdeer and more. Many with Seaside landscapes behind them. Great for Beach Decor!
8 Seagulls. More Shore Birds here, but this set is strictly gulls. They would work nicely together with the previous category.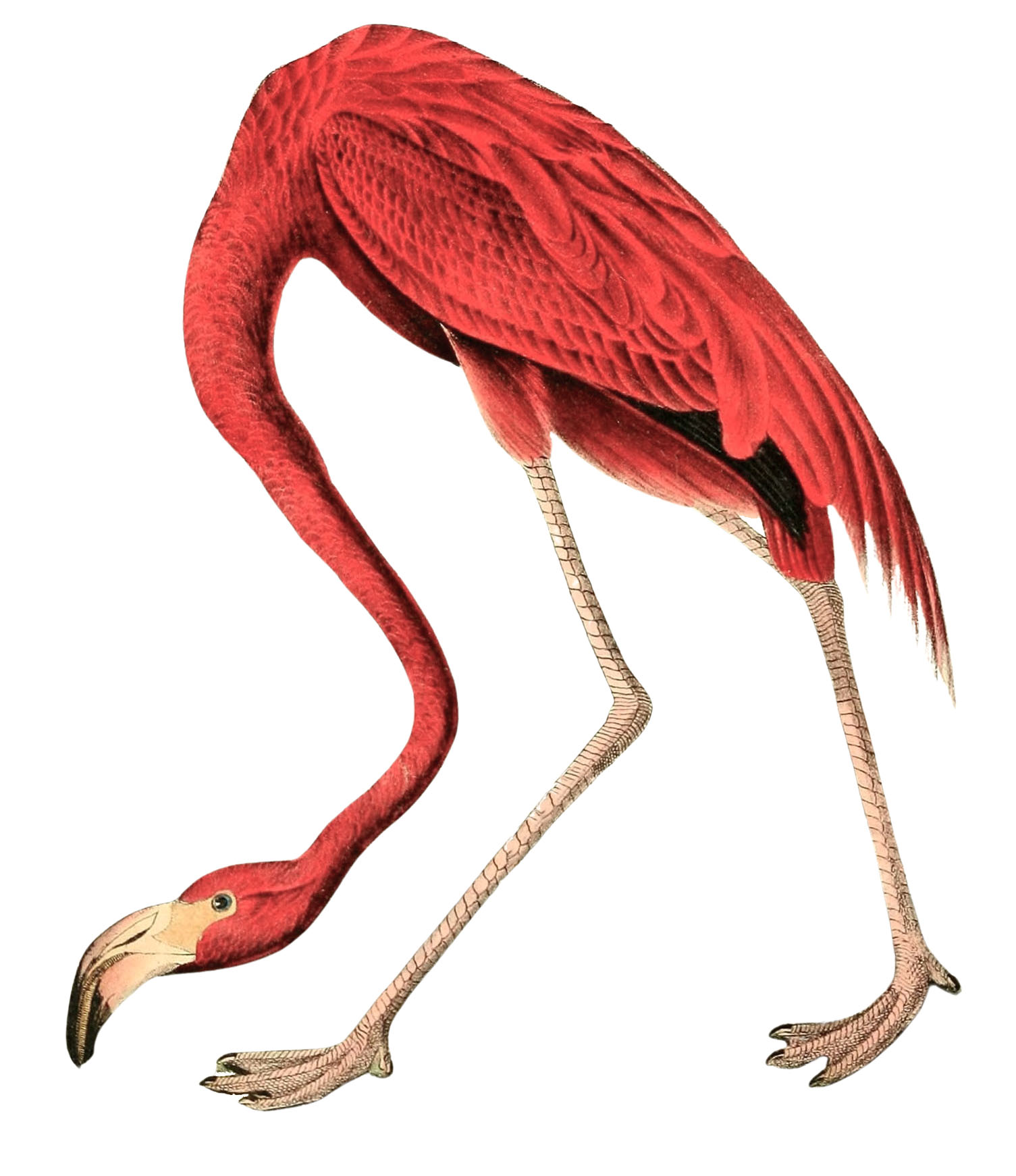 5 Flamingos. What's not to love about these bright pink Bird Clipart pictures! So great to use in your Tropical or Vacation themed crafts. Fun, fun, fun!
5 Cranes. A small set of wonderful Crane images. Such large interesting birds! Thankfully these ones don't make any noise, as the real ones can make quite a ruckus!
5 Ostrich. Even larger than Cranes are these marvelous Ostriches. And their feathers are fantastic! These guys are all very beautifully illustrated.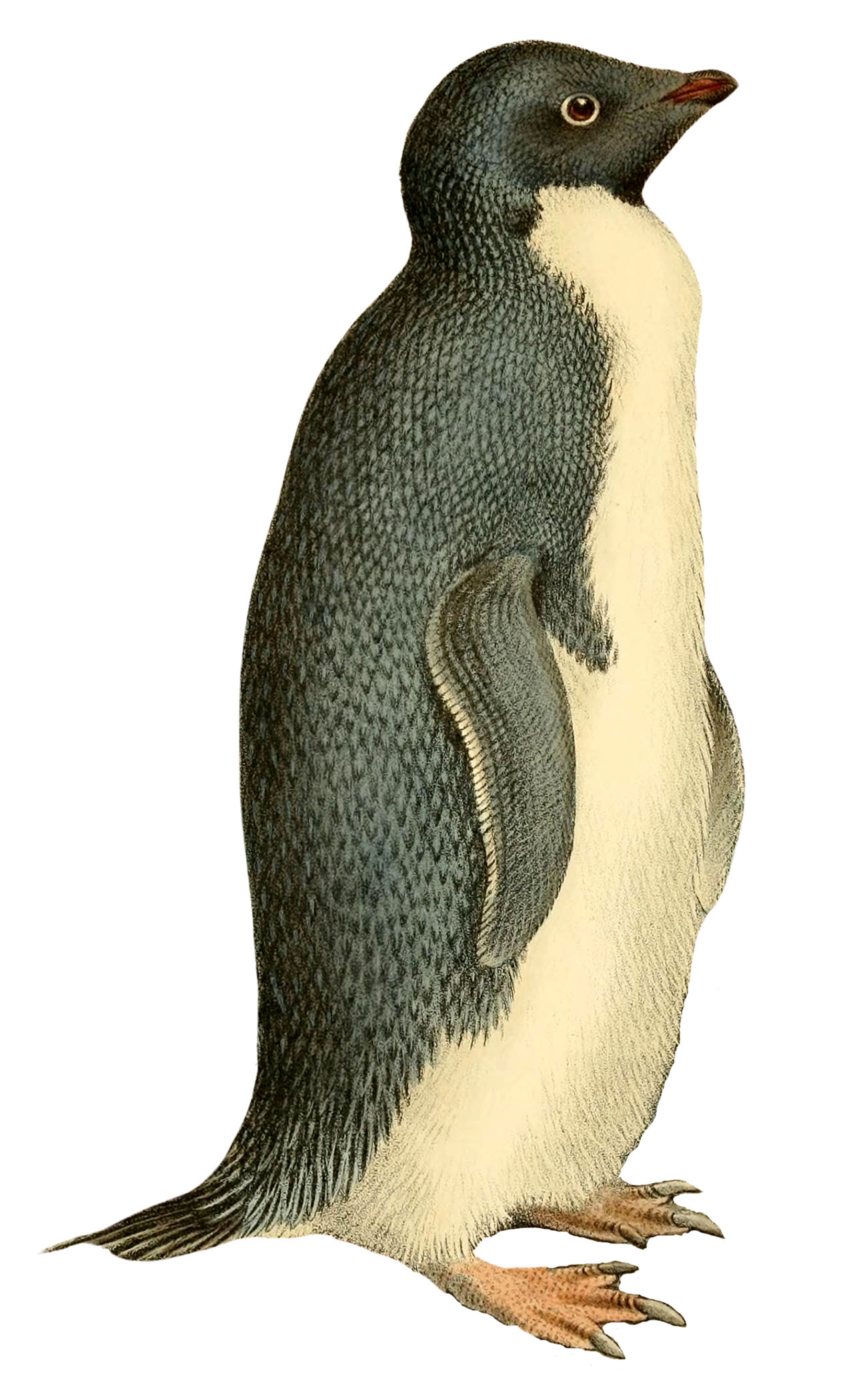 8 Penguins. Next is a small collection of Penguins. This cold weather species is beloved by so many. They can be quite cute to use in Holiday projects.
6 Puffins. These Puffins and Auks would tie in nicely with the Penguins above.
4 Phoenix. This little set includes a very old fantasy style Phoenix and an interesting French label. Great for illustrating a life change that's going in a positive direction.
Bird Images by Color
These Bird pictures are organized by color so that you can find just the right hue for your projects.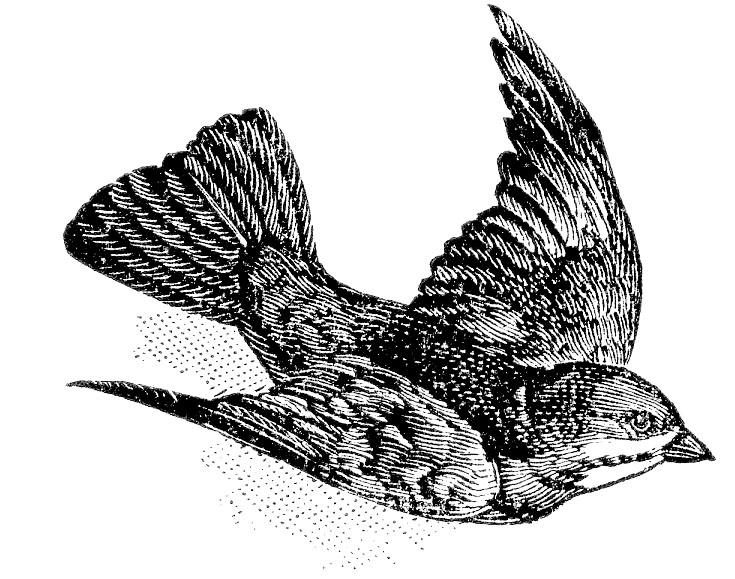 29 Black and White Bird Pictures. This is a nice large collection of black and white Bird Clipart. These were scanned from all sorts of old books from Dictionaries to Encyclopedias to Natural History books and more. Lots to choose from here in lots of different styles.
10 Orange Bird Clipart. Lots of lovely bright colored bird clip art pictures here, for when you need a bit of orange to brighten up your creations.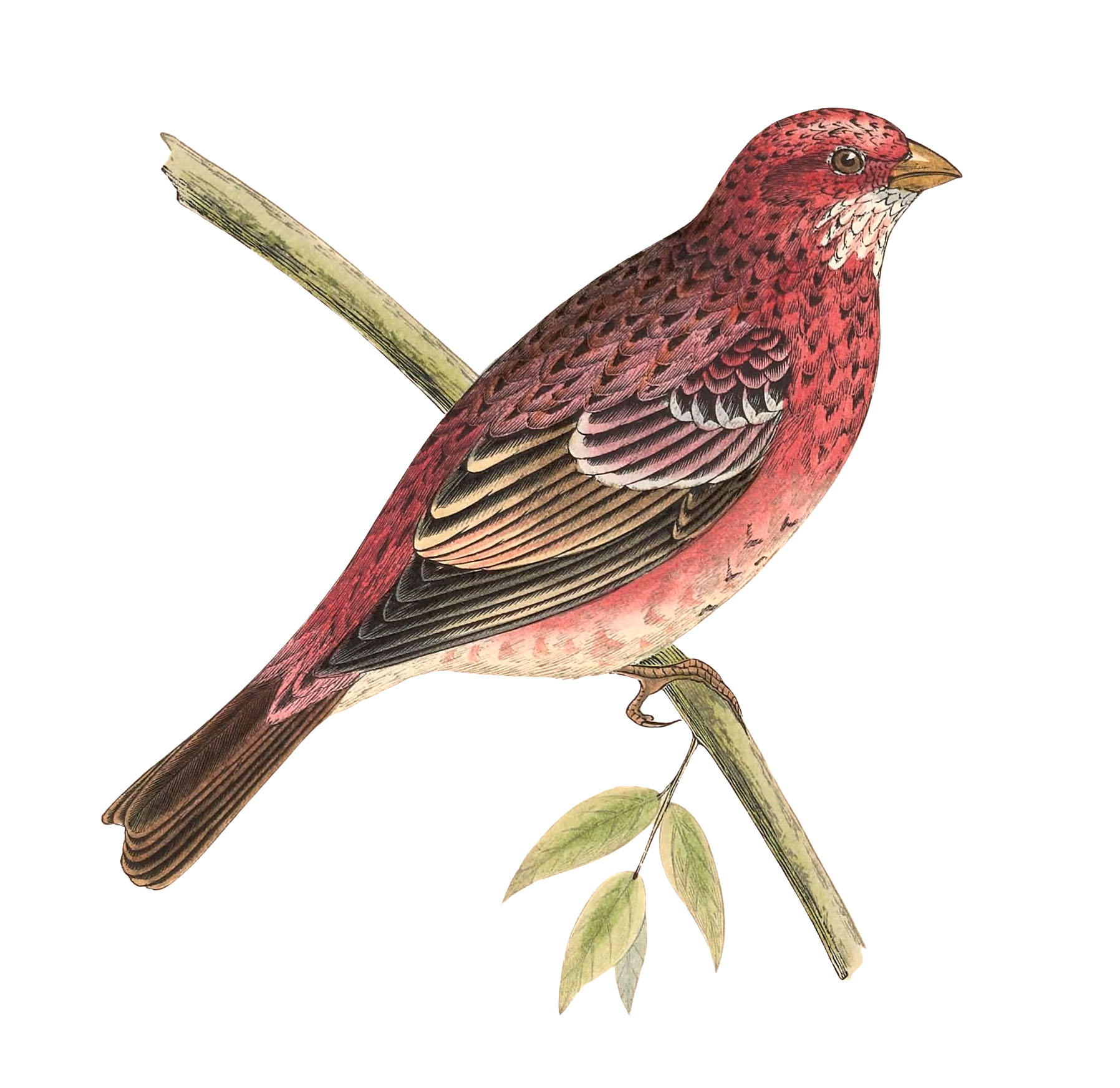 11 Pink Bird Images. One of my favorite color sets! Who new that there were so many different kinds of pink birds. So so pretty!
19 Yellow Bird Illustrations. Sunny, happy, bright yellow creatures! Included are Goldfinches, Chats and Vireos, these are all wild songbirds.
15 Brown Bird Clip Art. Some sweet warm toned birds. These would be lovely in Autumn or Fall projects.
Bird Pictures to Print
Some wonderful printables to frame and hang on your walls.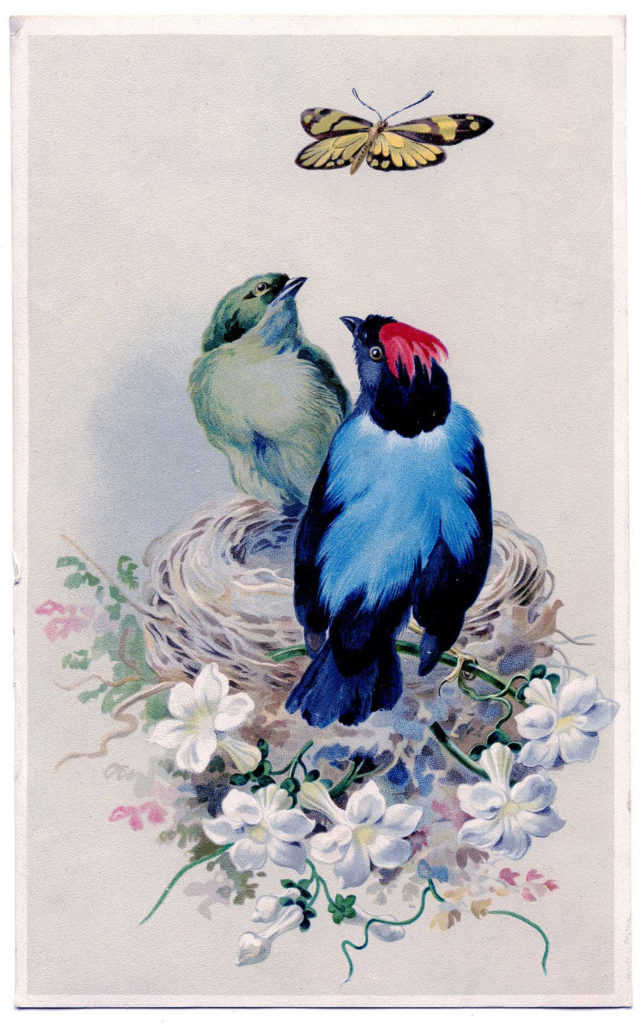 7 Hector Giacomelli Birds Illustrations. If you're not familiar with this artists work, you will flip when you see his gorgeous bird pictures to print! These have been very popular with my readers over the years.
9 Natural History Bird Pictures. These include some of my favorite Bird Prints of all time! Some of these are incredibly detailed and would look gorgeous hung on a wall just add some frames for some Instant Art.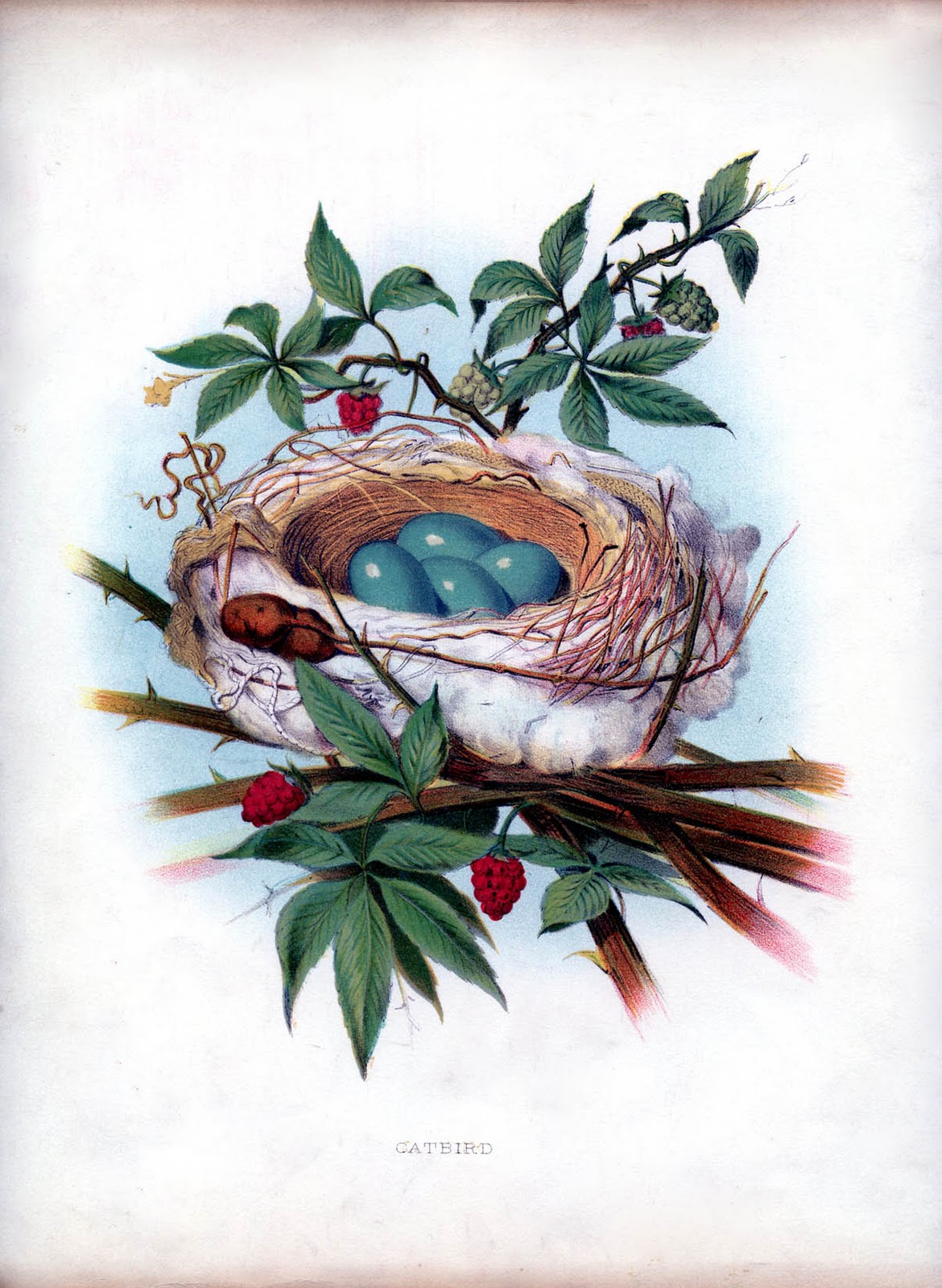 11 Nest Printables. Gorgeous, gorgeous, gorgeous Nests! A number of these prints were scanned from the same book so they coordinate very nicely together.
6 Owl Prints. There are some truly gorgeous Prints in this set too. Some are quite mesmerizing!
6 Natural Bird Book Pages. These Printable book pages make lovely smaller size prints. They mostly date to around the mid 1800's. Beautiful!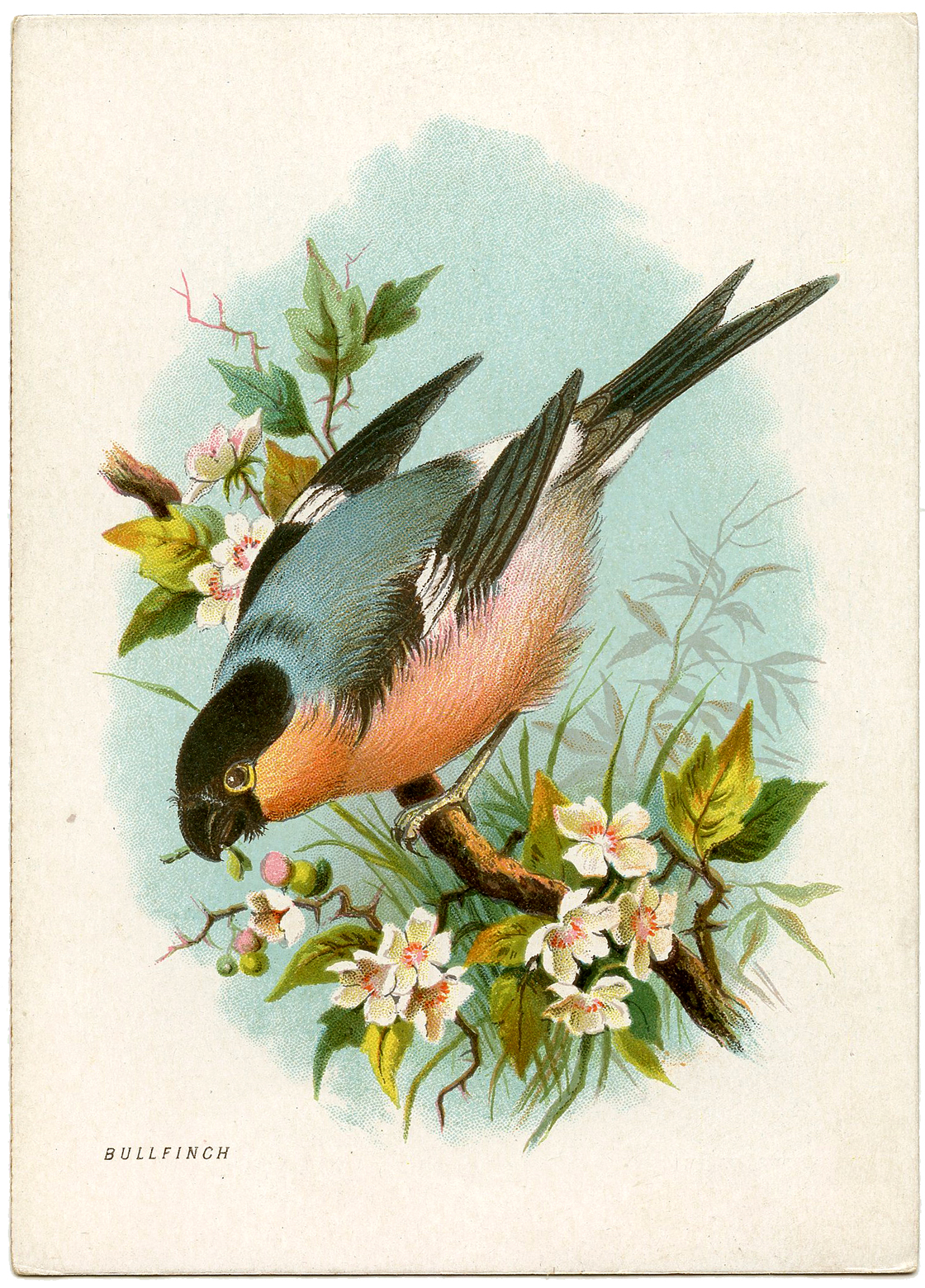 10 Bird Poem Cards. This is a charming set of matching cards from a small poem book. Such a sweet set of Ephemera Bird pictures to print!
16 Spencerian Calligraphy Birds. A wonderful Victorian set of Calligraphy Bird pictures. Many of these were scanned from a very rare book in my collection. Wonderful!
Eggs, Nests, Feathers and More
Some Bird related Categories that would be lovely in your projects.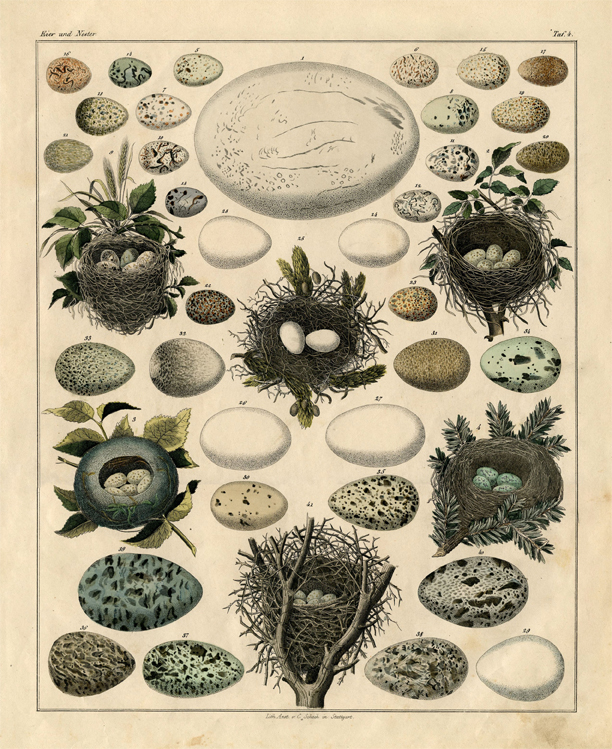 11 Bird Eggs. There are so many fabulous offerings in this collection. I think Antique bird egg pictures are just so charming! I think you will feel the same way when you see these.
28 Nests. Lots and lots of lovely Nests! Some with Eggs, some with Flowers, some with birds. So much to choose from in both color and black and white.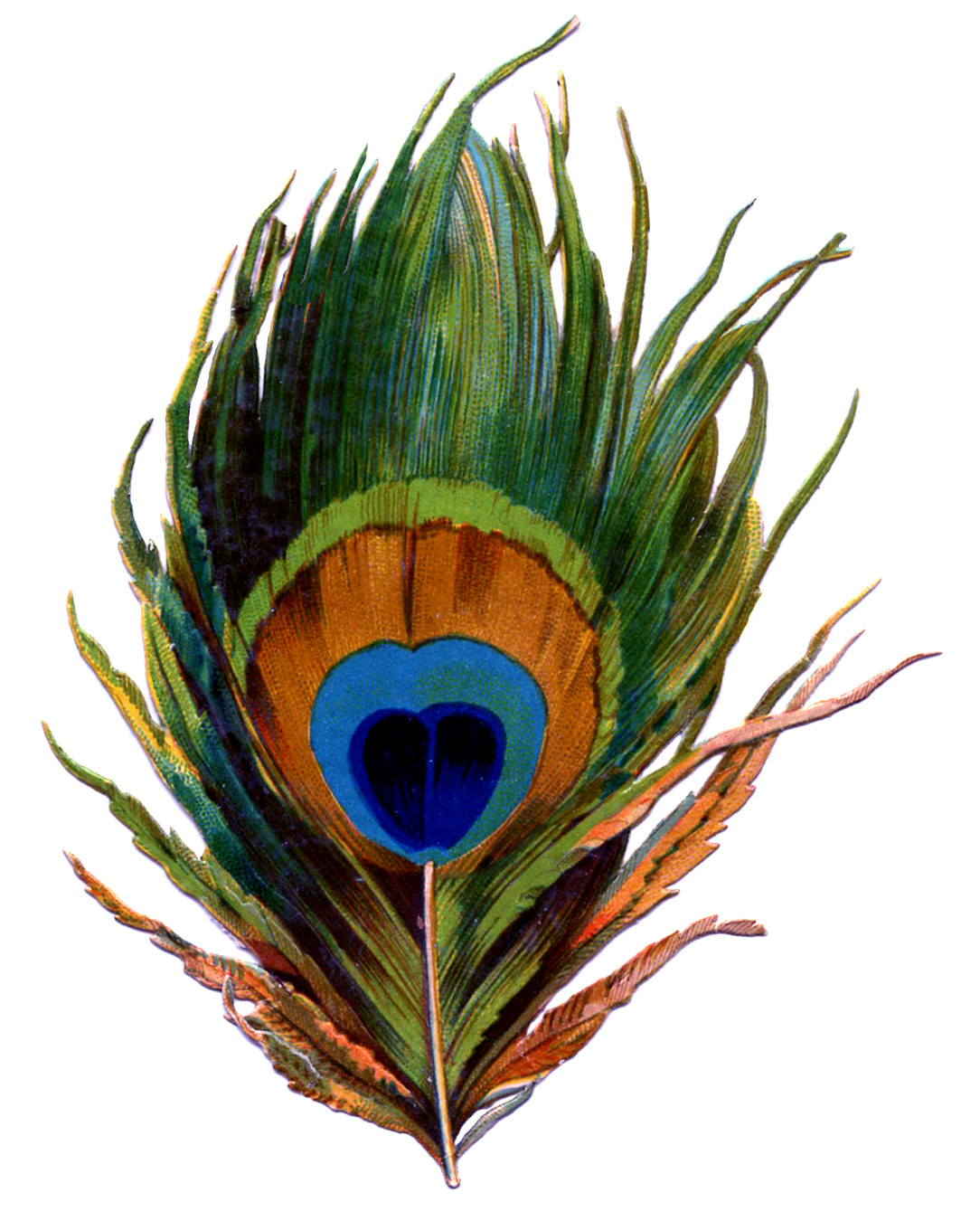 23 Feathers. There are some real beauties in this set. From brightly colored to brown and subdued, your sure to find the perfect image to feather your project!
12 Bird Cages. This is a marvelous collection of black and white Victorian Wire bird cage images. They can be used in so many ways, add flowers to them, a bird on top, or place them as an ornament on a ladies head! Great for collage work and mixed media.
7 Bird Cage Pictures. A few more cages for your art. These are all in full color.
Bird Pictures to Print Activity Pages
A few just for fun things!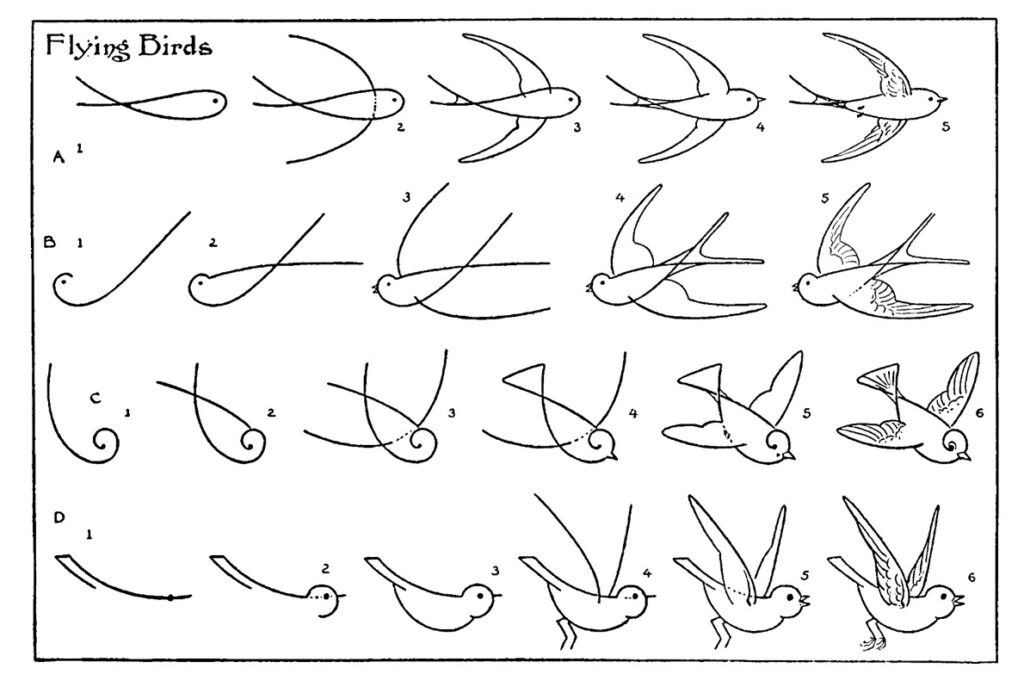 7 How to Draw Birds. Learn how to draw all sorts of birds with these fun printable practice sheets!
3 Swan Coloring Pages. Relax with a some fun color therapy when you print out these free Printable Swans coloring pages!
Premium Membership Bird Themed Bundles
These are a few samples of some Bird themed bundles on our Premium Membership site if you find that you need even more Bird Clipart for you projects.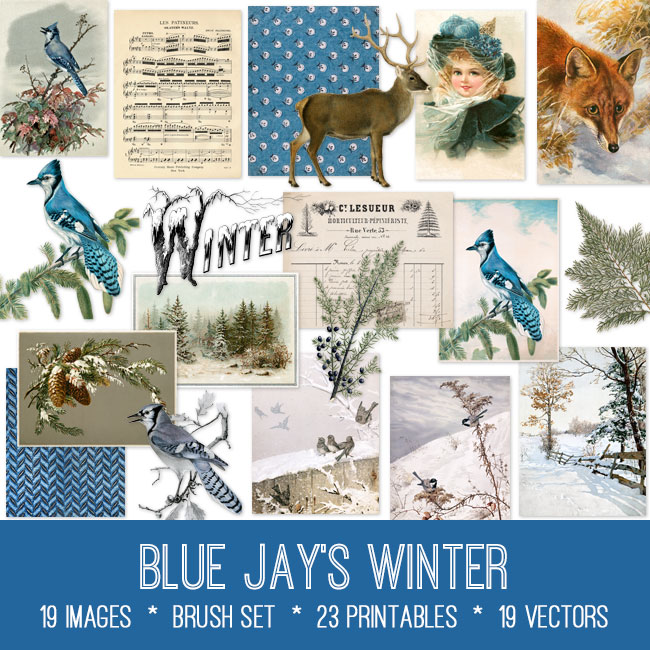 Blue Jay's Winter. This is a stunning bundle that puts beautiful Blue Jays front and center with other pieces of Ephemera to coordinate with them.
The Ornithologist. This bundle is themed around a story idea that we created about a female Ornithologist in the 1800's. It's filled with some magnificent Bird themed Ephemera, so many treasures in this one!
Peacock Hues Ephemera. Another gorgeous bundle! This uses rich Peacock colors as a basis for it's theme. There are several birds in it along with lots of color coordinated pieces.
 **************************************
We hope you enjoy these
Best Free Bird Images
! This is just a small sample of the bird images available on the site, so be sure you browse through the extensive
bird and eggs archive.
Hello! Are you new to The Graphics Fairy?
Welcome, I'm so glad you're here! Browse around to find
thousands of Stock Images
that you can use in your projects or designs! I post new Vintage images every day, as well as projects and DIY's too! Need more info about my site? Try my
FAQ
page.