40 Best Free Bird Images
Here is a great collection of some of the Best Free Bird Images, and Bird pictures to print, from here on The Graphics Fairy blog! The bird archives at The Graphics Fairy are extensive and it was difficult choosing a few favorites for this post! In this post, you'll find 40 links to our favorite birds, organized by wild birds, pet birds (and cages), exotic birds, nests and eggs. These images rage from antique scrap pieces, to drawings and Illustrations, and natural history prints and printables, and are perfect for your craft and digital art projects.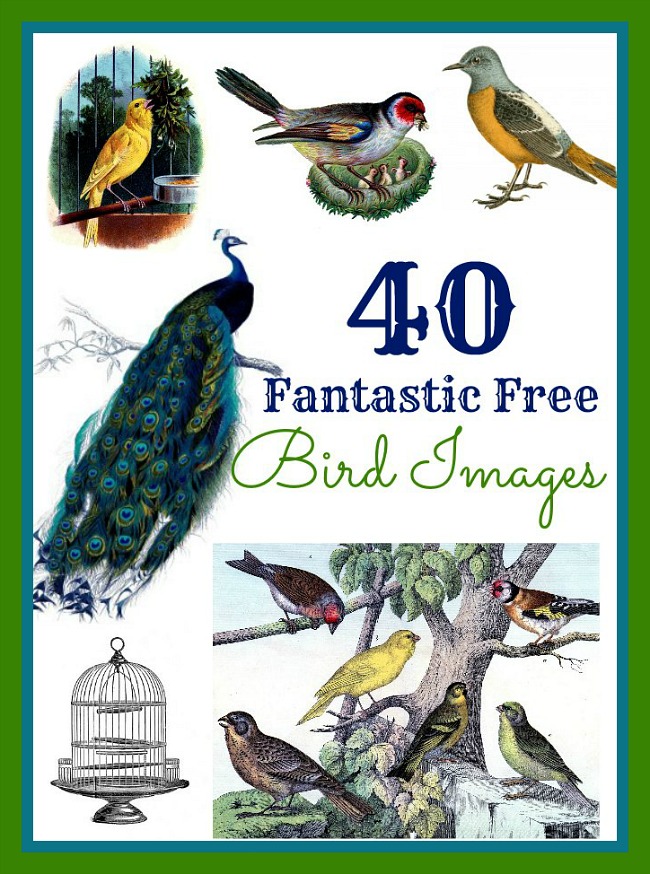 Birds in the Wild Images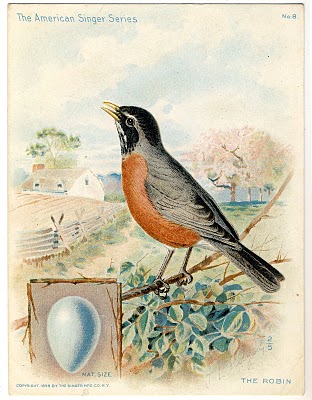 1)   Singing Robin
A wonderful vintage trade card, circa 1899, features a robin perched on a branch looking out over a farm scene. She has a bright orange belly and there is also an image of a Robin's egg in the lower left hand corner.
2)   Blue Birds on a Branch
These four little fluffy blue gray birds on a branch, just couldn't be any sweeter. The original painting was done by Parisian artist Hector Giacomelli, who was known for his beautiful Bird Art pieces and illustrations.
3)   Perched Barn Swallows
I love this image because you usually see a swallow print with them mid-flight. This image is of two swallows perched on a branch, one with a red belly the other has a white one.
4)   Blue and Gold Bird
This lovely Vintage Bird Image is from a Circa 1860 Natural History Print! This old engraved illustration appears to be hand colored. He has a gorgeous yellow gold belly and tail and his head is a beautiful shade of gray green.
5)   Owl Natural History Print
This owl is perched on a stump and is leaning over like he is getting ready to swoop down and catch a mouse. This antique print is from 1870. The print is labeled "white owl", and he looks similar to a barn owl with a white face and pretty shades of tan and grey feathers.
6)   Citril Finch
The Citril Finch is a wild version of the domesticated canary. This image was scanned from a Circa 1879 Natural History Bird print, and is a lovely hand colored engraving. He has a Yellow belly and greenish yellow feathers on his back and head.
7)   Bright Blue California Jay
This one is a bright blue jay, standing on a branch in this old Arm & Hammer trading card. I love the bright blues and grey tones in his feathers!
8)   Blue Bird with Cherry Blossoms
An old birthday card features a blue bird building her nest. She is about to take off from a cherry blossom branch, and there is a sweet farm scene in the background
9)   Line of Swallows
This one is a German postcard with swallows on it. The swallows have a variety of poses, sitting still, flying, about to take off, and singing on the line. The original version is in color, but I've changed it to black and white and played with the birds to get a few more on the line, and also am offering a blue version too.
10)   Snowy Owl in Habitat
A 1917 nature book image of a snowy owl, with piercing yellow eyes, looking back over his shoulder. The owl stands in his natural landscape of snow, and has pretty blue and grey tones to it.
Bird Nest Illustrations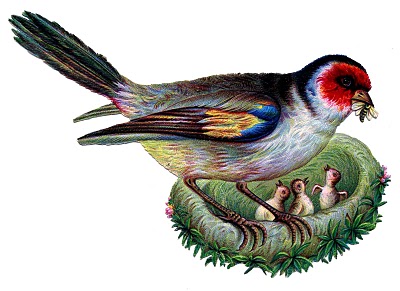 11)   Mama Bird with Babies in Nest
This is an adorable scrap piece with a mama bird feeding her babies in a nest. The mom has a bright red face and has a bug in her beak. The mossy nest has three tiny birds inside with their mouths open, ready to eat!
12)   Bird Pair in Nest Postcard
This charming old French postcards shows two swallows on their nest. A red heart with an arrow through it and a lovely flowering branch adorn the card. A pretty blue cancelled stamp is in the upper right corner of the post card.
13)   Grosbeak Bird with Nest
A cute little Grosbeak bird is perched in a beautiful pink dogwood with a cute little nest with some spotted Eggs in it! This one was scanned from a darling Circa 1922 Children's Bird Book. There is a little blank spot on the image for a message too!
14)   Bird Feeding Worm in Nest
A lovely blue winged bird feeds his mate a worm in this colored drawing. The mama bird is sitting in a round next perched on a flowering branch. This post has two versions of the image, one with pink flowers and one with yellow flowers.
15)   Nest with Robin's Eggs
This is a perfect vintage clip art with a lovely nest perched on a flowering branch. The nest has three perfect blue eggs in the nest.
16)   Hummingbirds with Nest
This one is a an early natural history print from 1808. This fabulous print features two Red Throated Hummingbirds, with their little nest and two tiny eggs. The birds are hand colored in shades of reds, blues, and greens.
17)   Nest in Evergreen Branch
Here's a wonderful bird's nest with pretty blue Eggs from an Antique Natural History Book. The nest is perched on the branch of an Evergreen Tree, and would work well for winter or holiday projects.
18)   Goldfinch Pair with Nest
This print shows two darling Goldfinches, perched next to their nest. One of their tiny Eggs is illustrated underneath. This really pretty print has great color with bright yellow birds and pretty green leaves.
Exotic Bird Graphics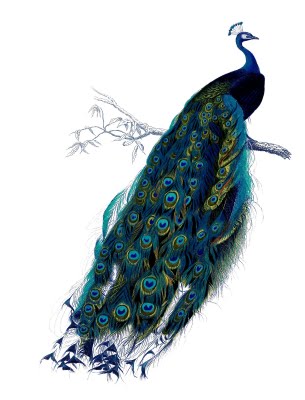 19)   Stunning Peacock on Branch
A regal blue and green peacock male sits on a branch in this lovely natural history image. This graphic would be wonderful on its own or layered with other graphics. A .jpg file with a white background as well as the original full size PDF has been included. One of the Best Peacock images that I've ever seen.
20)   Black and White Engraved Parrot
This is a gorgeous antique print of a wonderful Parrot on a branch. The print was done by George Shaw and dates to 1811. The post includes the original sepia engraving, and a cleaned up black and white PDF to make some instant art!
21)   Scarlet Tanager and Rose-breasted Grosbeak
A lovely image of two pretty red and black birds perched on a branch with lots of leaves. Their feathers are a beautiful bright reds and whites against dark black wings. The Scarlet Tanager and Rose-breasted Grosbeak would be perfect for you to use in your Spring craft or collage projects.
22)   Calligraphy Peacock
This post includes the original scanned version of an amazing pen flourished peacock. The feathers are so beautiful with various line widths and flourishes. I've included a black and white and turquoise and white version along with the original image for you.
23)   Rose Colored Pastor
I love the the pretty pink feathers on this bird who is perched on a branch with his mate. The male bird has the prettiest tuft of black feathers on his head too!
24)   Bird and Feather Collection
This gorgeous page of feathers comes from an old French dictionary. The page includes several images of the heads of exotic birds and their fancy plumes. I'm particularly fond of the Peacock feather and the Ostrich plume, so gorgeous!
25)   Colorful Roller
An antique history print, with a lovely roller looking over his shoulder. This hand colored image has such beautiful colors — bright greens, yellows, and blues. I love the sneaky expression on this guy's face too!
26)   Colorful Tanager on Stand
This vintage image comes from a 1901 book, and shows a Tanager on a wooden stand. I think the colors on this one are extraordinary – blues, yellows, greens, and orange!
Pet Birds and Cages Pictures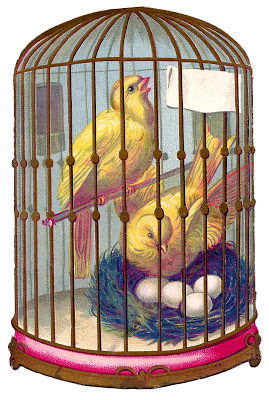 27)   Canaries with Nest in Cage
The antique scrap piece includes a fancy gold bird cage with two charming yellow canaries and a nest with four eggs! One of the bright yellow canaries is on a perch singing, while the other bird is sitting on her nest.
28)   Fantastic Bird Print with Finches
This fantastic bird print, circa 1879, shows six lovely colorful birds, including birds in the finch and canary families. The birds are perched on various branches near a fence post and are in leaning, bending, and standing poses.
29)   Pet Birds in Cage
This is an exceptional antique birdcage image with two pretty birds inside. The birds are pretty shades of pinks, yellows, and blues white. The lovely scene in the background includes trees and a light blue sky.
30)   Cockatoo Engraving
A pretty black and white natural history engraving of a cockatoo perched on a branch, looking back over his shoulder. This etching has beautiful detail on his feathers.
31)   Victorian Bird Cage
This one is a marvelous antique Victorian bird cage with a rounded top. This image came out of an old bird supply catalog. Both the original (with sepia tones) and a cleaned up black and white version are included.
32)   Fancy Pigeon or Dove
A pretty print of a fancy dove or pigeon with hand colored black and white feathers. The bird's body looks like a traditional dove or pigeon with a fancy group of feathers ruffled up on his backside.
33)   Singing Canary in Cage
This image is from an old card with a bright yellow canary mid-song on a perch. This cute bird is shown in his cage with his little feeding dish.
34)   Parrot Cage
This darling parrot cage comes from an 1870′s hardware catalog. The black and white image includes the square shaped cage with a perch, swing and food cups.
Vintage Bird Eggs Images and Printables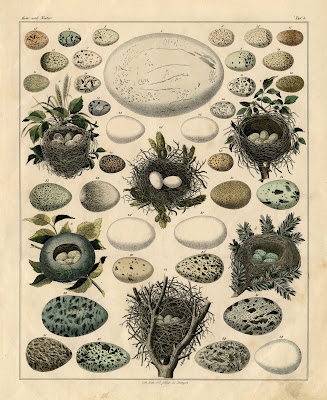 35)   Best Egg and Nest Print
This amazing German print dates to 1843 and shows a variety of different types of Nests and Eggs in off whites, blues, and tans. I did some moderate cleaning up, but left some of the age marks, so that it will still look old when you print it out. Great for framing as it is, or wonderful for your Handmade Projects!
36)   Hawk and Owl Eggs
This lovely antique plate has six hawk and owl eggs. I love this print because of all the varieties of egg shapes and colors (whites, tans, speckled, and blues) in this image.
37)   Encyclopedia print of Bird Eggs
Wow! This is an amazing print of all kinds of bird eggs from an old circa 1900 encyclopedia. Pictured here are 24 different types of eggs, including wren, barn swallow and even hummingbird.
38)   Speckled Hawk and Crow Eggs
This antique print was posted back in 2007 and features more hawk and crow eggs. The print has a nice variety of six eggs with brown speckles on blue and white eggs.
39)   Pastel Bird Eggs
A great collection of bird eggs grouped together in a natural setting among some grasses. The eggs are pastel colors – blues, creams, yellows, and greens. I love the broken egg on the side that looks like a bird just hatched.
40)   Egg Variety Print
This egg print has a huge number of eggs, all displayed (sometimes overlapping) in a neat display. There are many eggs in browns, blues and whites, and speckled and non-speckled varieties to choose from on this one!
 **************************************
We hope you enjoy these
40 Best Free Bird Images
! This is just a small sample of the bird images available on the site, so be sure you browse through the extensive
bird and eggs archive
. Feel free to share your creations in the comments below or on our
Reader Submissions page
!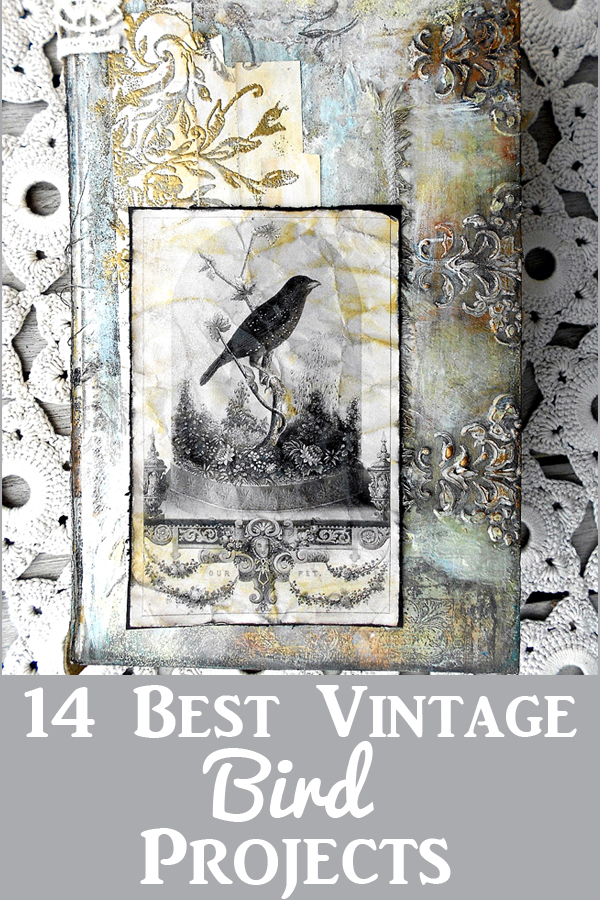 Hello! Are you new to The Graphics Fairy?
Welcome, I'm so glad you're here! Browse around to find
thousands of Stock Images
that you can use in your projects or designs! I post new Vintage images every day, as well as projects and DIY's too! Need more info about my site? Try my
FAQ
page.