29 Nest Clipart
Today we have a beautiful huge collection of Bird Nest Clipart! There is something about finding a Bird's Nest in Spring that makes my heart sing. That is the same way I feel when I come across great Nest images. Below you will find some of my favorites – Victorian Birds with Nests Pictures and Delightful Black and White Natural History Engravings would be nice to use on some pretty Handmade Note Cards, perhaps for someone that's just moved to a new home! The Advertising Cards and Postcards, some with precious Feathered Friends, are sure to add some freshness to your Spring Craft or DIY projects
Full Color Nest Images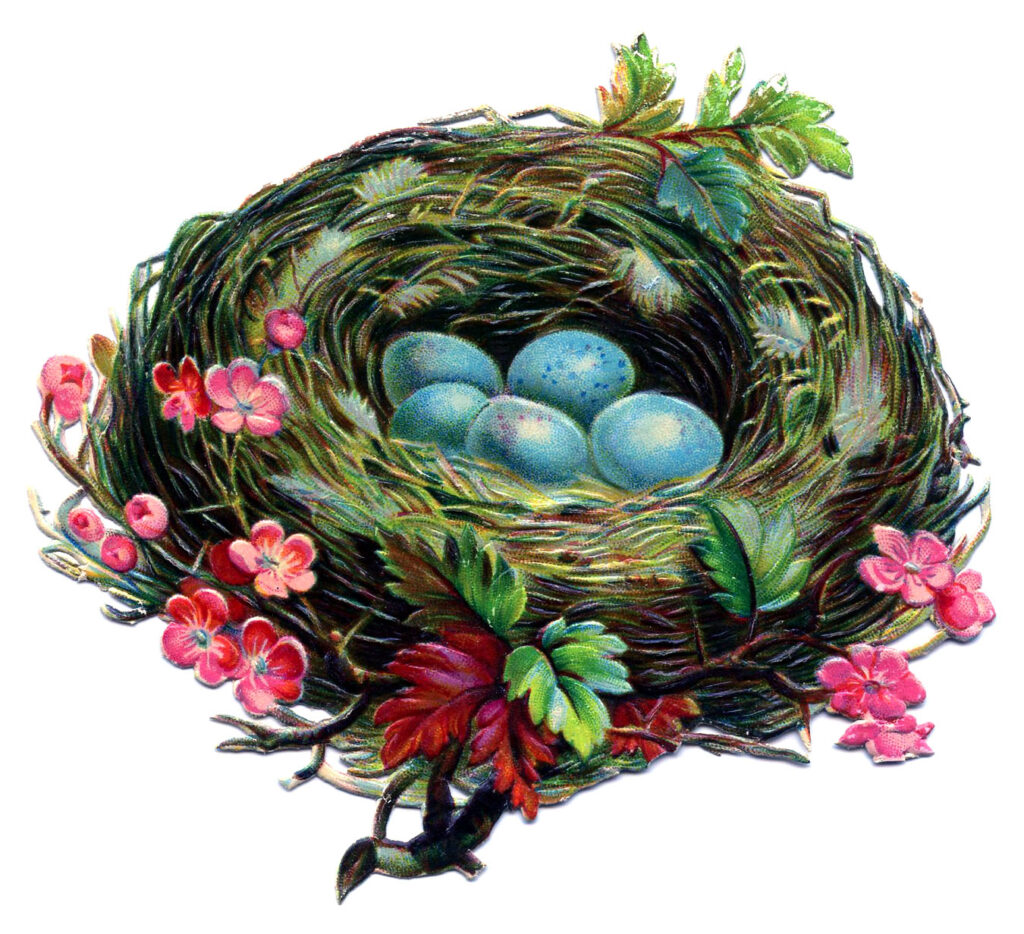 Pictured above is a charming Victorian Clipart Bird Nest picture in full color, with some lovely blue eggs inside! This is one that I found at my local Antique mall. Such pretty, vibrant Spring colors, and I think the pink flowers along the side of it make it especially pretty!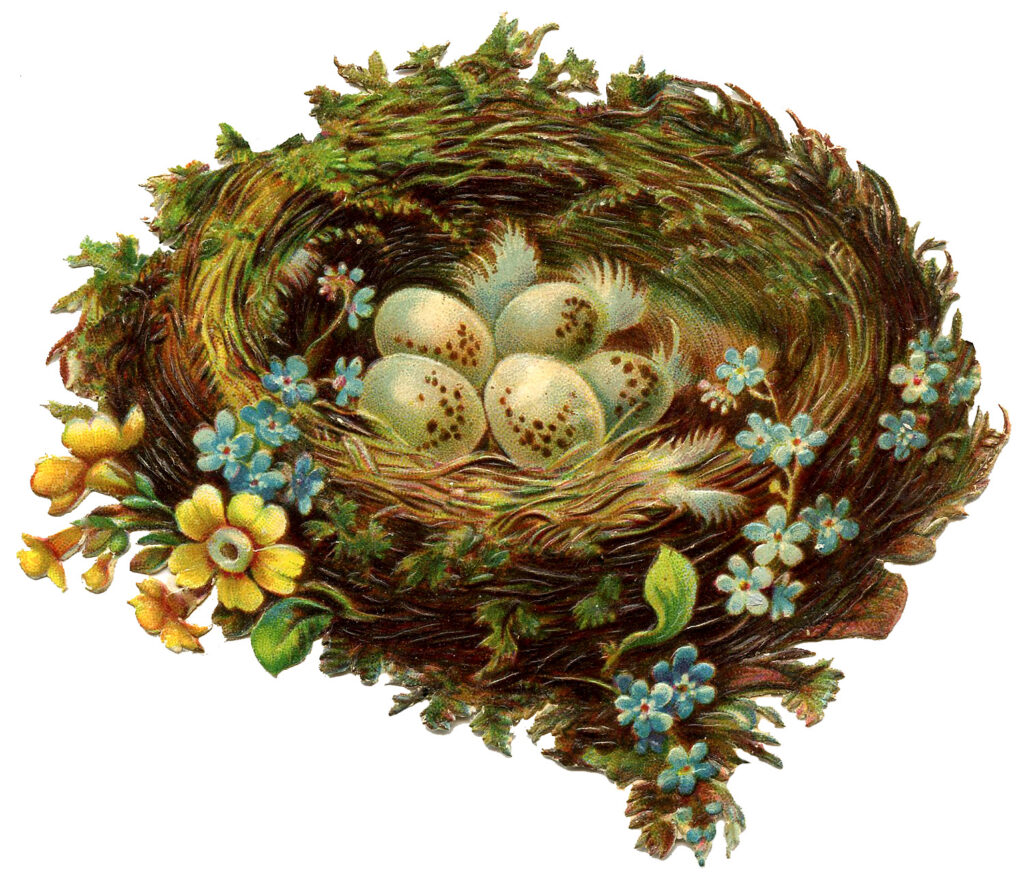 Here we have a lovely Bird Nest with Eggs Clipart! The nest is filled with Speckled eggs along with a few feathers, and the outside is adorned with flowers. I like the Fall tones on this one!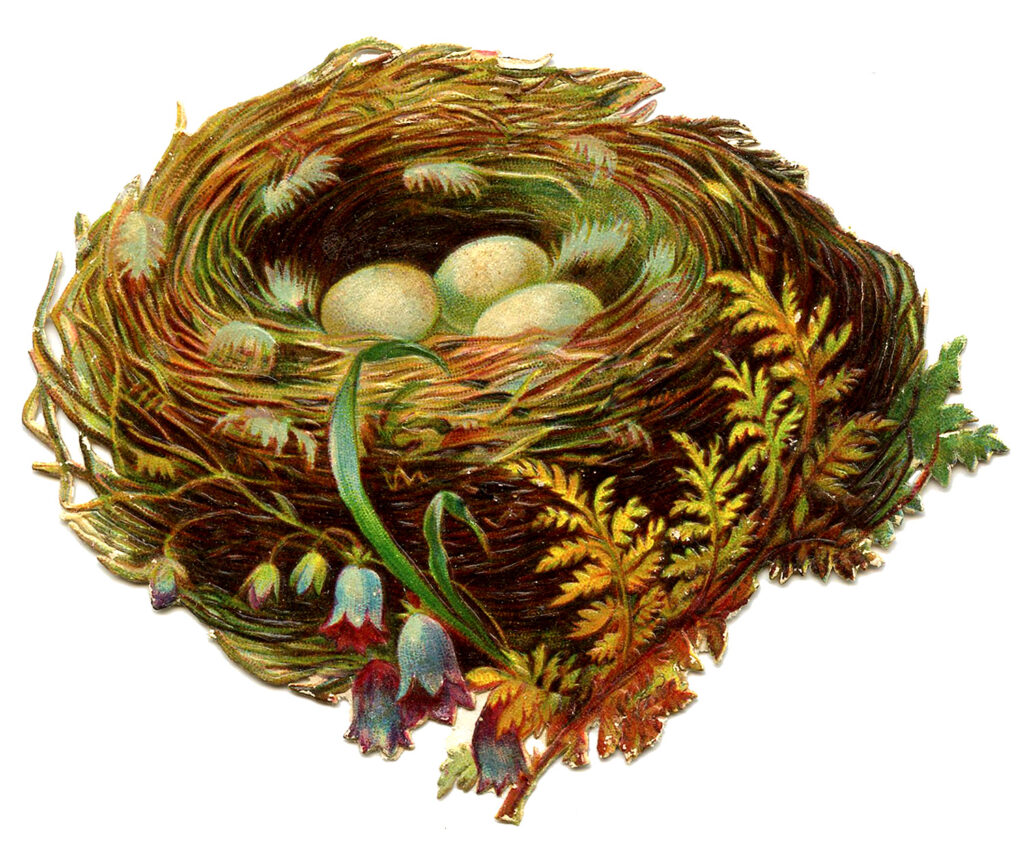 This is another pretty Antique Scrap Nest picture! The one is filled with three eggs and a few feathers, and the outside displays lovely flowers and Fern leaves. Nice Autumn tones here!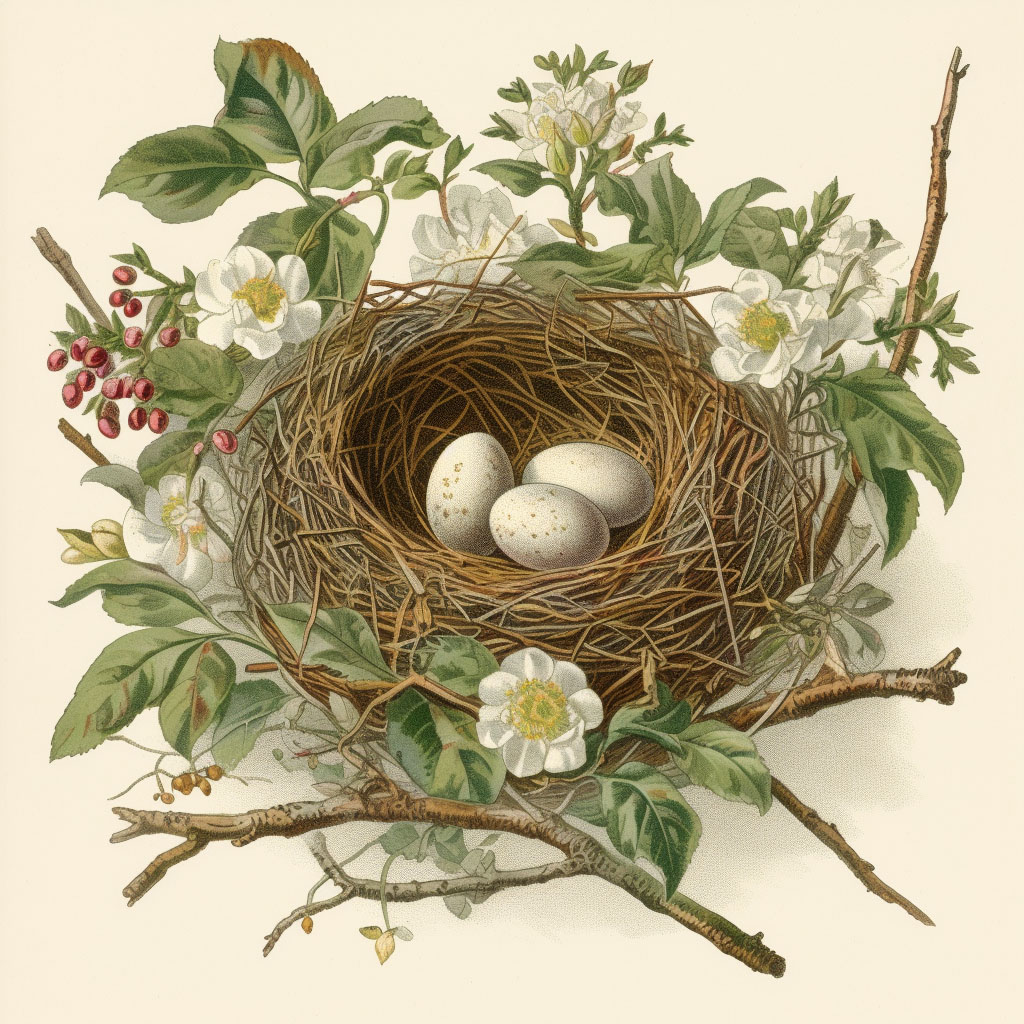 Here is the latest addition to this collection. This one is quite pretty! It has some soft white speckled eggs inside and wild White Roses growing around the outside of it.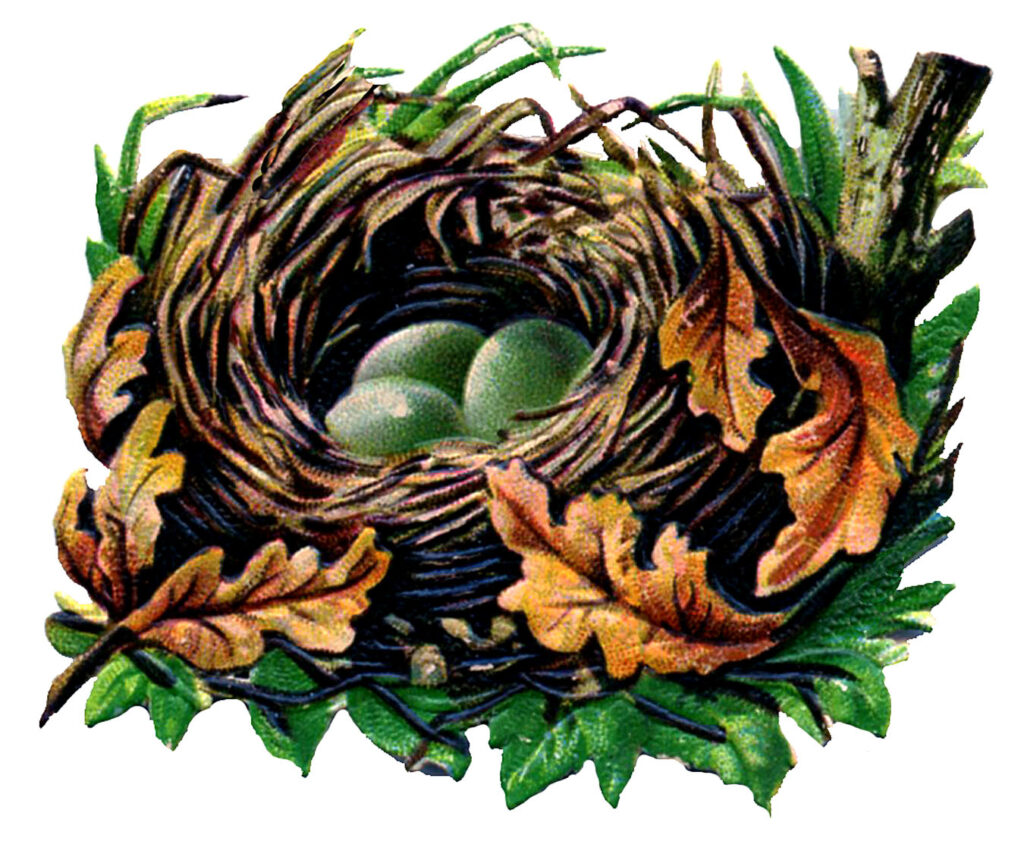 This lovely nest with eggs would be great for Fall projects too with it's brown Oak leaves and rustic tones!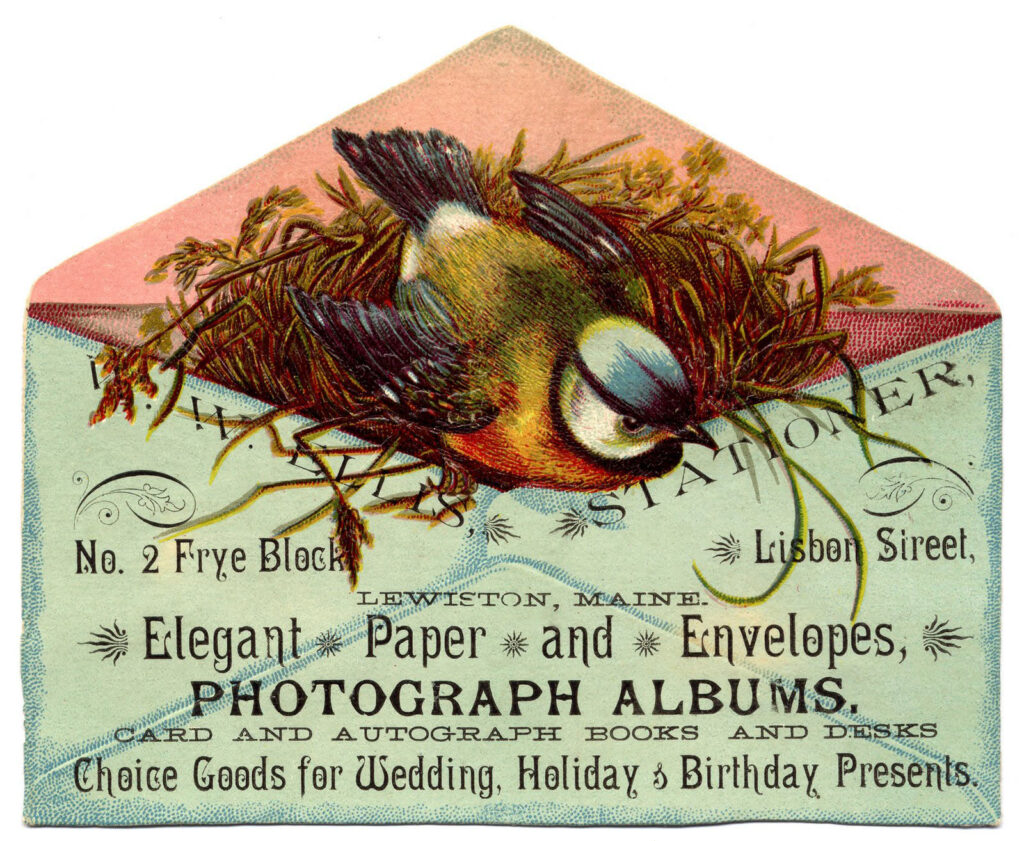 Isn't this darling! This little guy has built his nest into a paper envelope, what could be sweeter! This was an old advertisement for photo albums.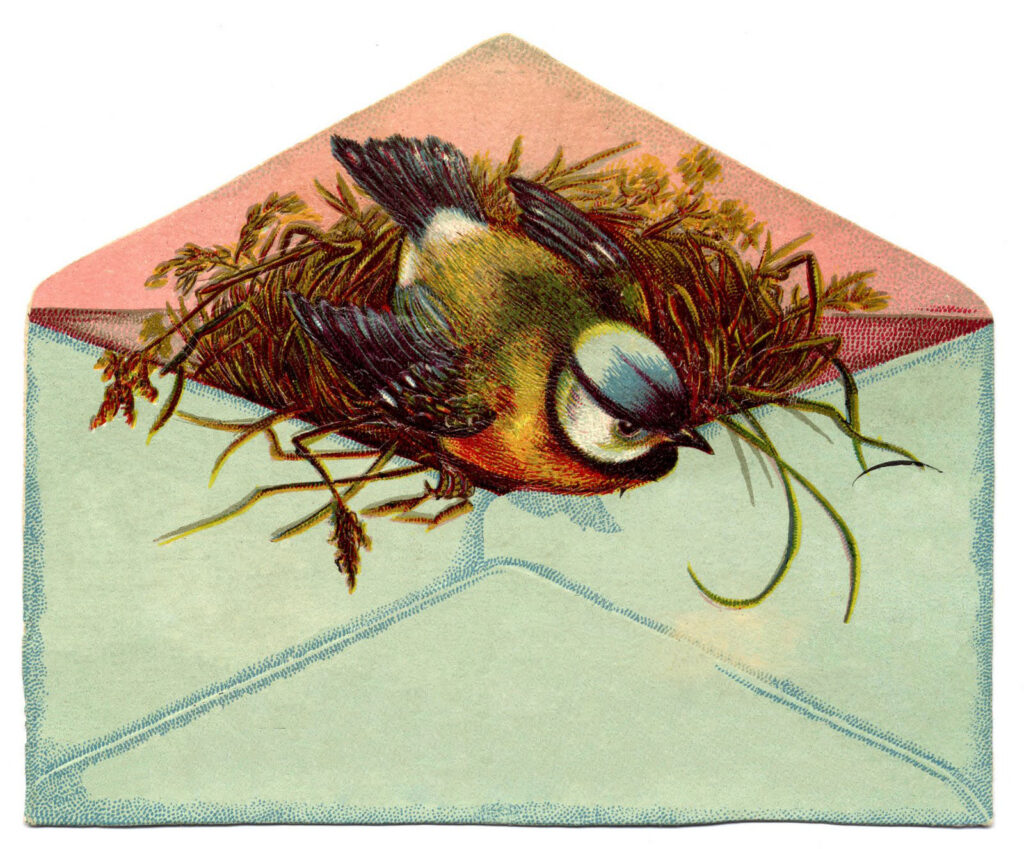 And here is another version with out the text. You could write your own message in those blank areas if you wanted to. I think it would make a cute junk journal card!
Black and White Nest Clipart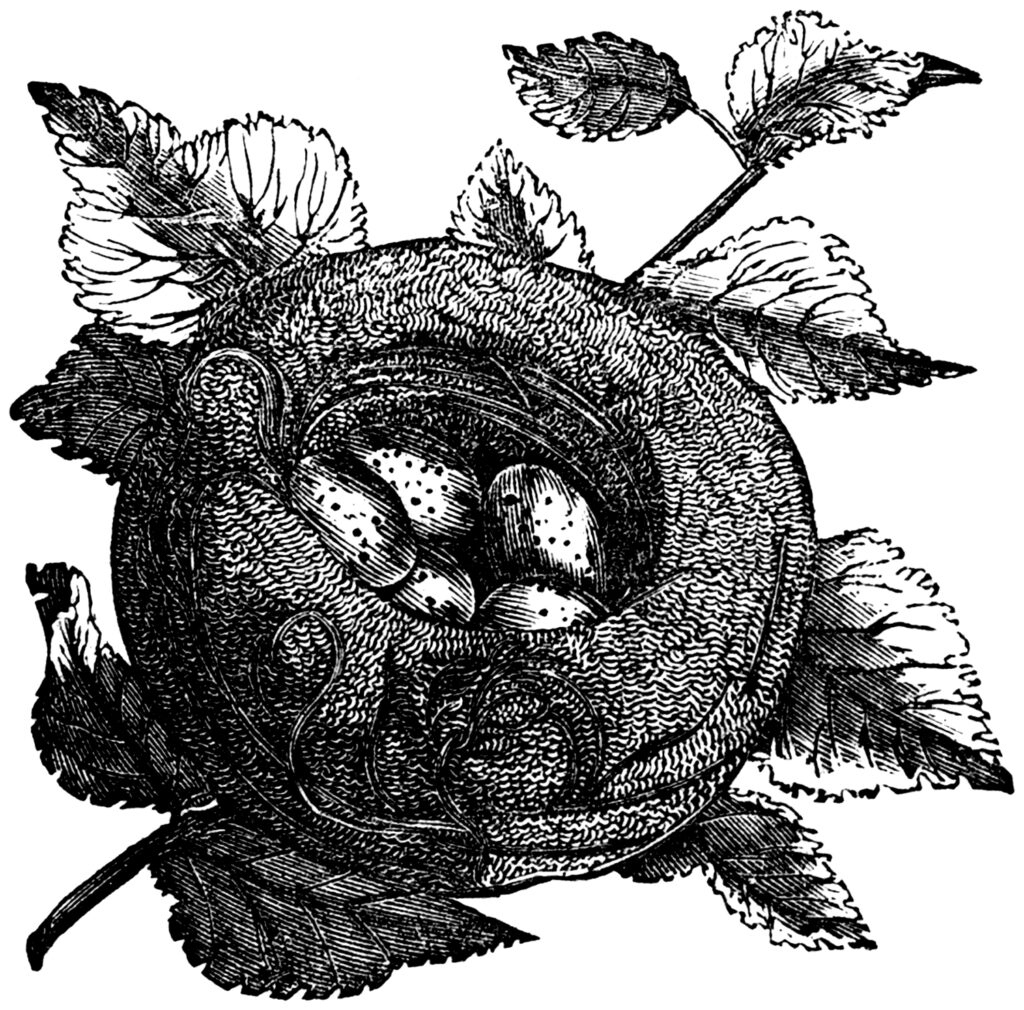 Here we have a Vintage Woodcut Nest clip art with Speckled Eggs! This is a beautifully designed woodcut of a large nest with Speckled bird eggs on a leafy branch.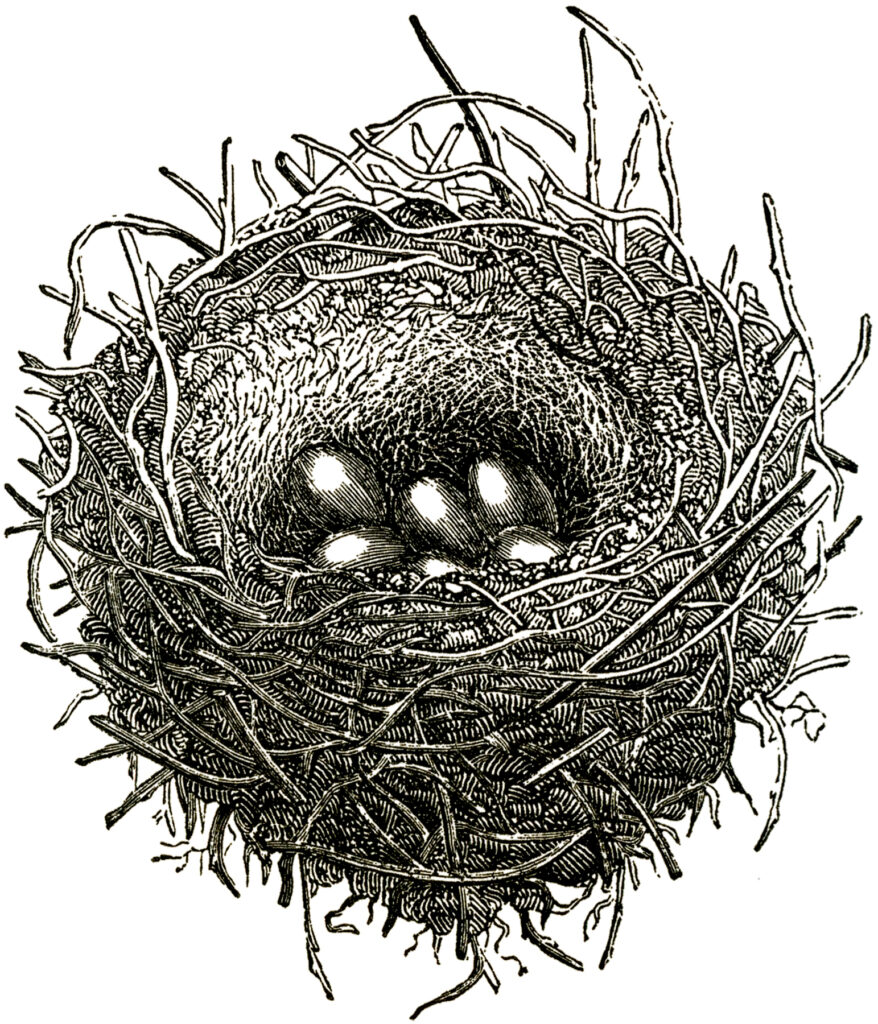 This is a Sweet Public Domain Bird Nest Image. Scanned from an early Natural History book in my collection, this is a lovely little black and white image of a Bird's nest with eggs inside of it. Such a charming graphic!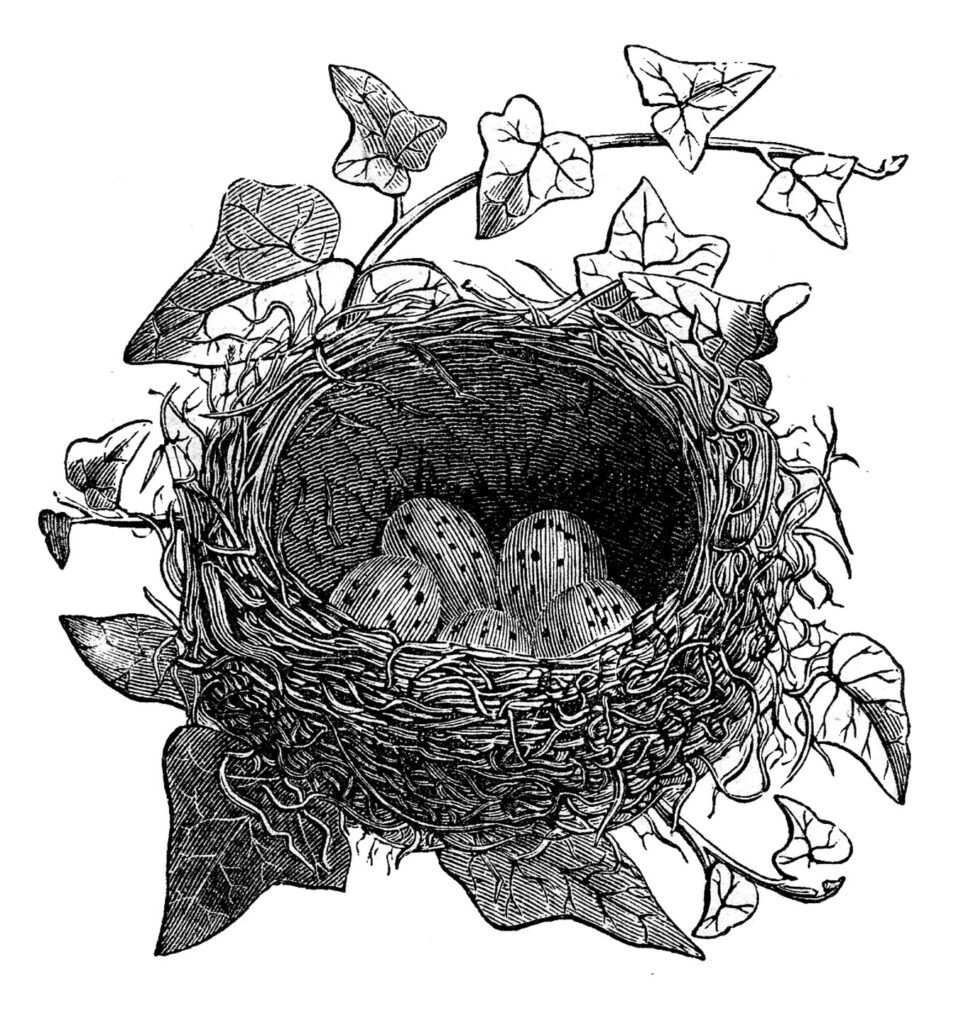 Here is a lovely black and white engraving from an old Natural History book. The nest belongs to a Song Thrush and has five little eggs inside. I love the Ivy leaves that are growing along the edge of the nest!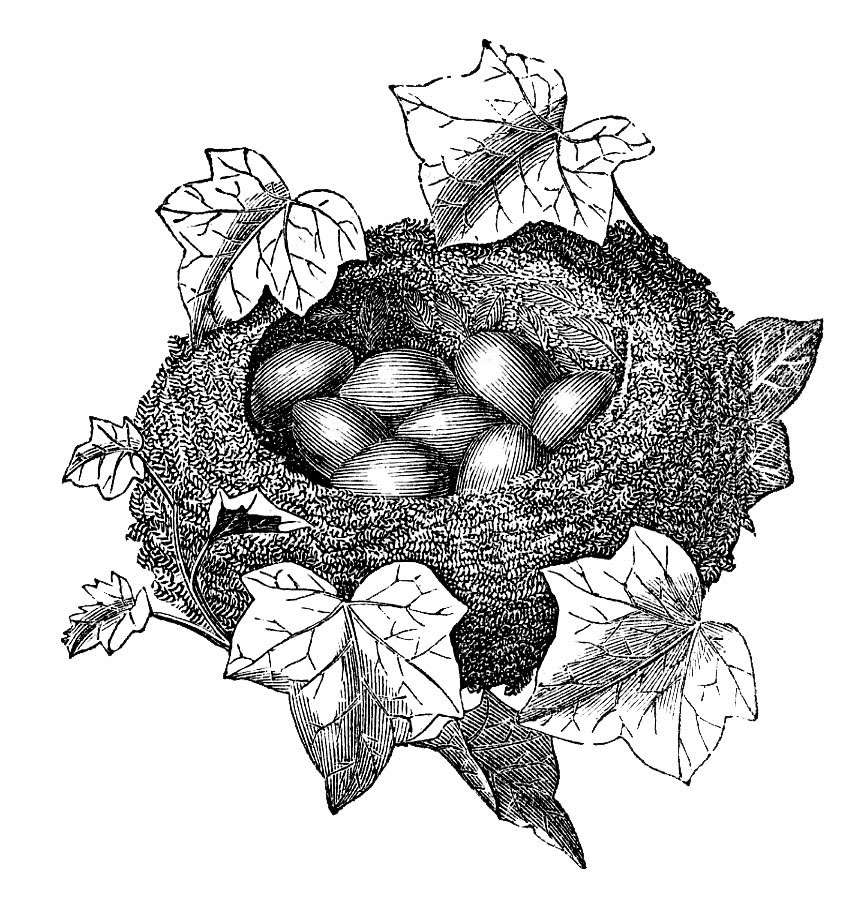 This is a gorgeous engraved Bird's nest Clipart Image with 8 eggs, from a very old pre 1840's Natural History book! I love the little bits of Ivy tucked in around the nest. So pretty!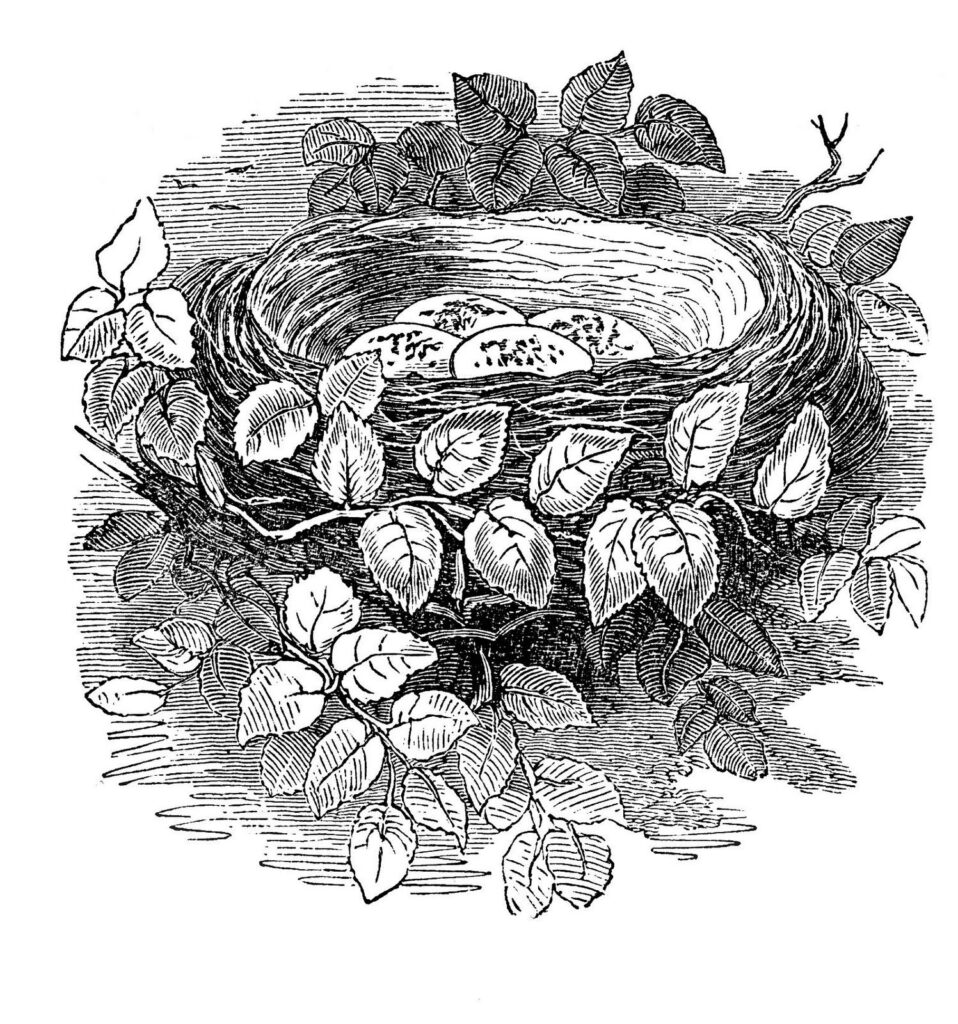 This splendid engraved Bird's nest with eggs image comes from the most amazing book amazing book in my collection. Surrounded by Ivy are four Speckled eggs in a nest, the unborn chicks are awaiting the return of the Mother bird.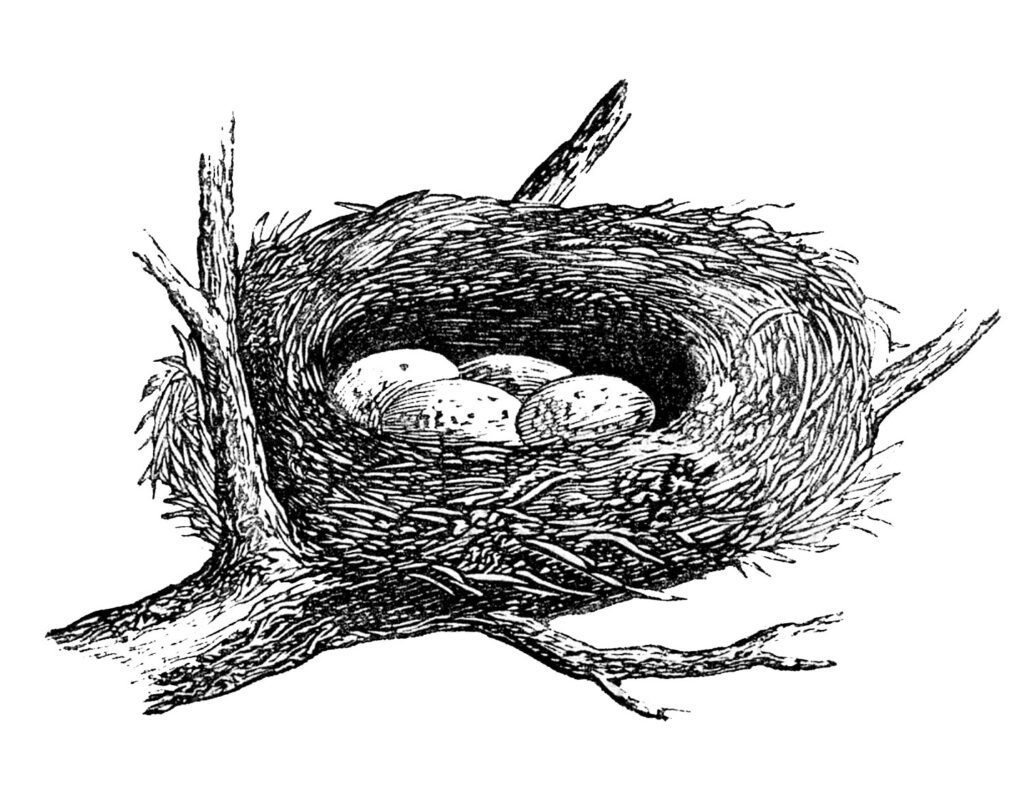 Here we have nest clipart showing an Antique Bird's Nest with Eggs. It is from a Circa 1871 Nest and Eggs book in my collection. This was really just a decoration picture in the back of the book, but I thought it was so charming that I had to scan it and share it! A lovely Natural History image!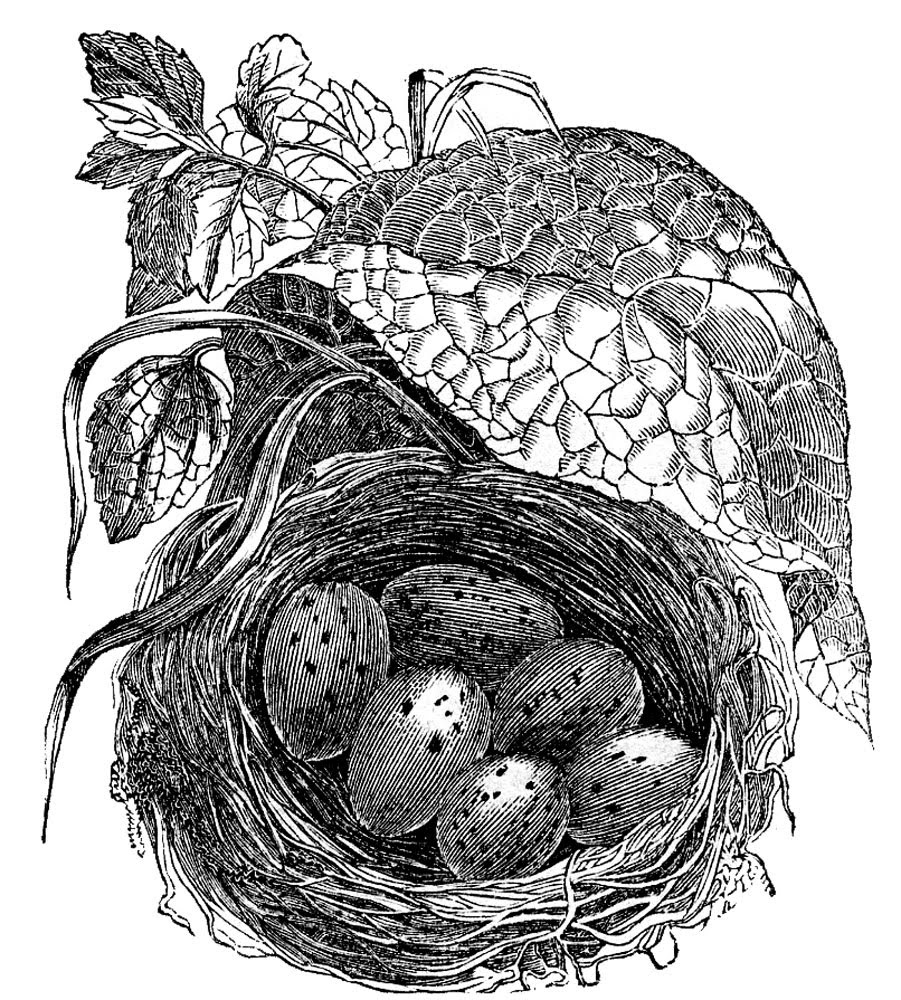 This is another fabulous engraving of a Bird's nest with eggs in it! This one also comes from a very early Natural History book from my collection.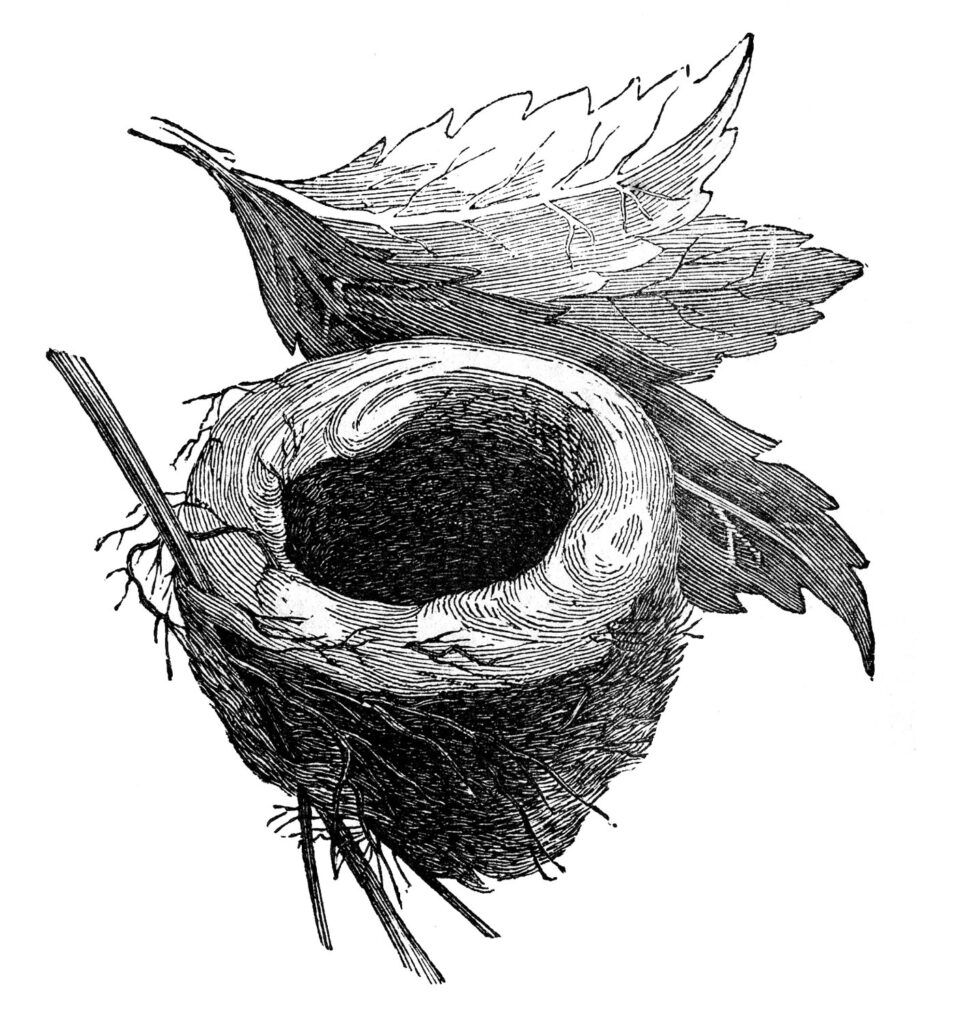 Here is a wonderful Empty Nest Clipart! This lovely specimen comes from an early Natural History book in my collection. It's an engraving of an Amethyst Hummingbird nest. I'm guessing it's probably quite tiny in real life!
Birds with Nest Images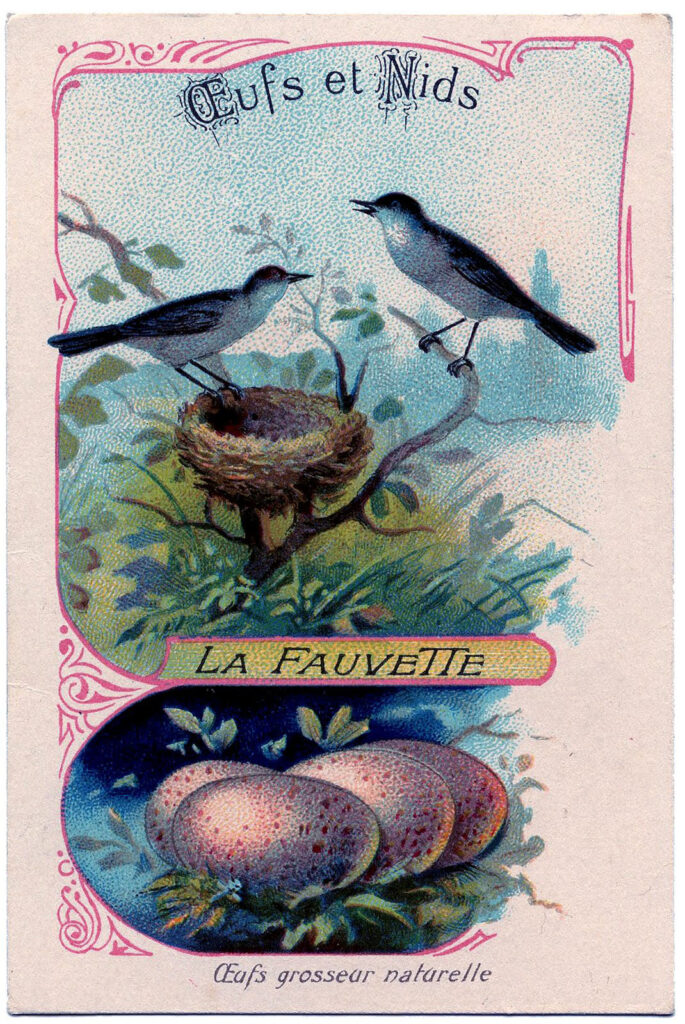 Love this!! Above is an adorable little French Advertising card featuring two sweet birds, a nest, and some eggs. So pretty!! I love the detail too. I'm wondering if this may have been from a series. Sadly, I only just have the one.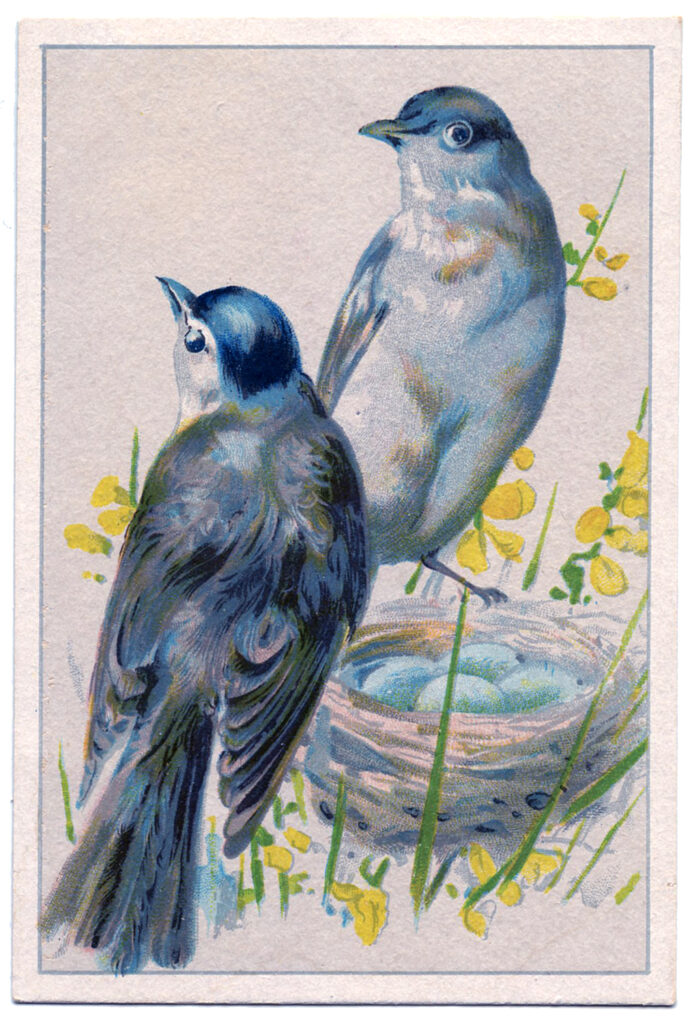 Isn't this sweet?! Two sweet Blue birds in nest that is filled with aqua blue eggs. I like the soft muted colors here!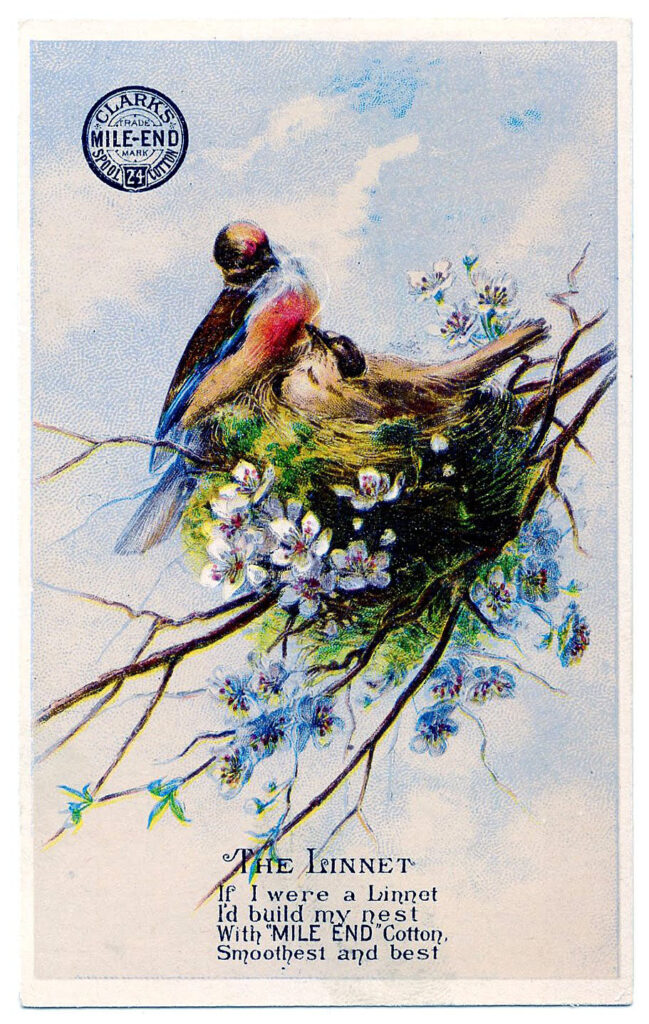 Here's a pretty Vintage Thread Trade Card! This one shows a couple of happy birds in a nest that's covered with gorgeous Spring flowers. Lovely! This one has a trademark and a poem.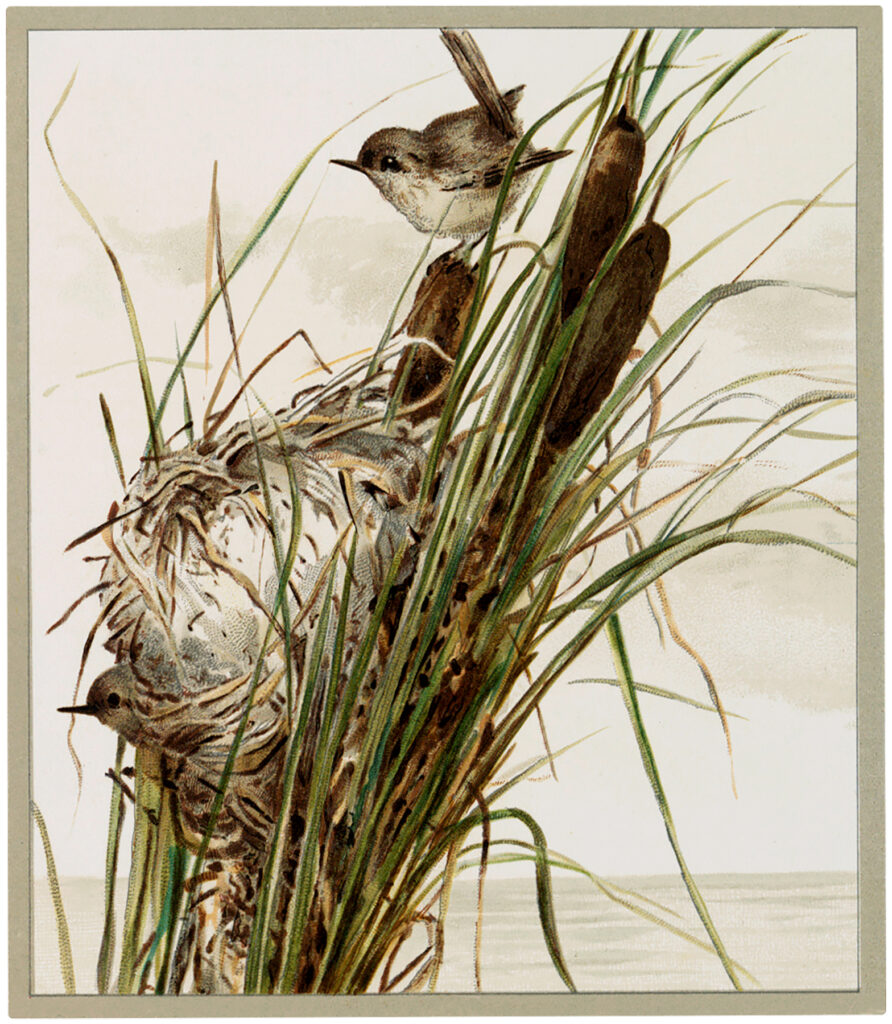 This is a Lovely Vintage Bird Nesting Image!! Shown above are two sweet birds with their home, resting on some Cattails! There is water behind them that looks like it could be a lake or pond. Such a nice image for Spring.
Old Nest with Birds Clipart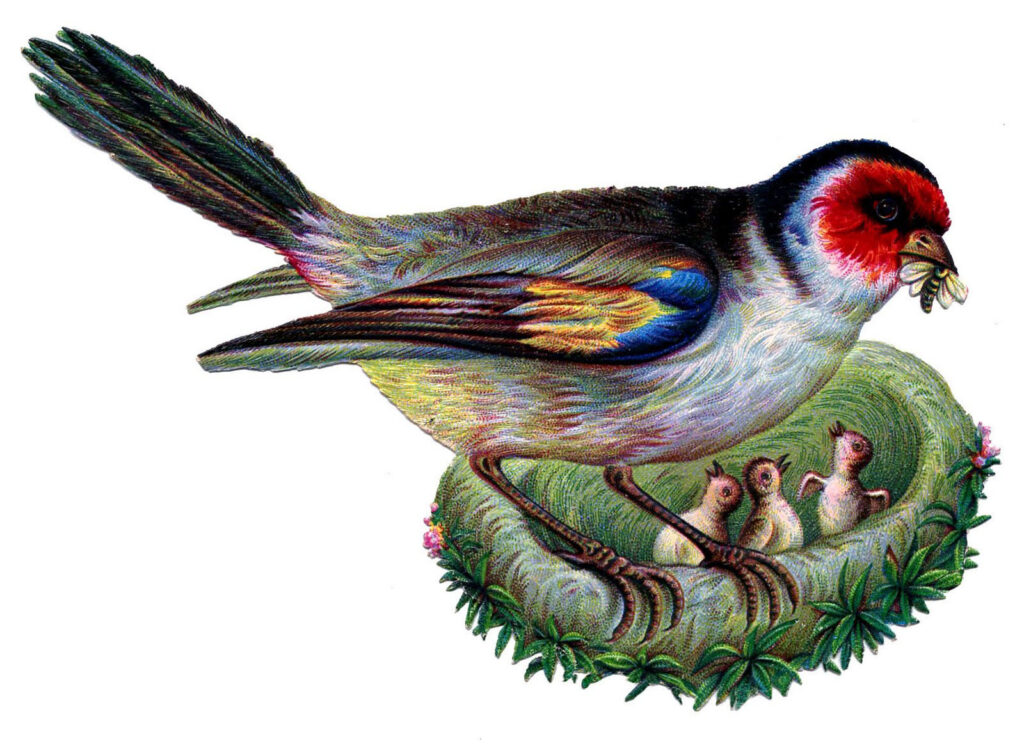 Above is a really great Antique Scrap Piece!! This precious graphic features a Mama bird, perched on a mossy nest, with three tiny Baby birds inside! The little babies are so funny looking and they appear to be not much bigger than the insect that she's about to feed them!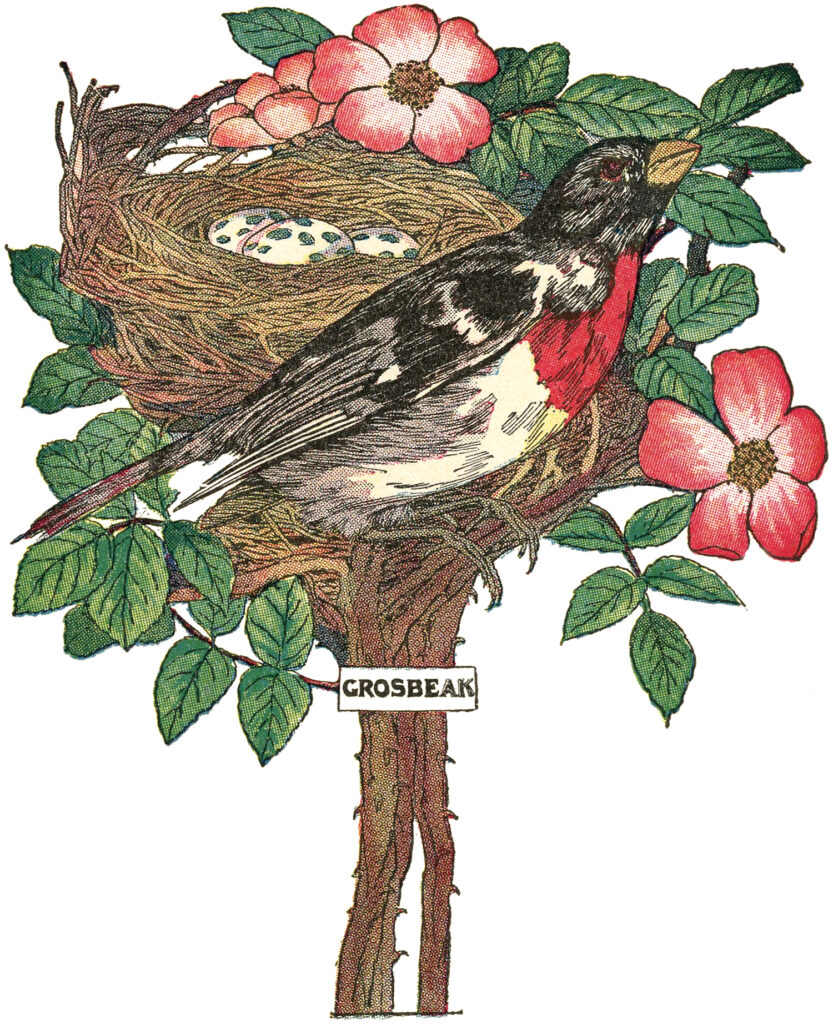 Pictured above is a marvelous Free Bird and Nest Clipart Picture! Shown is a charming Grosbeak bird. Perched in a beautiful pink Dogwood tree, right next to him is a wonderful nest with some Spotted eggs in it! This one was scanned from a darling Circa 1922 Children's Bird book.
This is a splendid Vintage Catbird Image. Perched on a tree branch, right next to its nest, is a beautiful bird. Inside of the nest are four pretty blue/green eggs! This little picture was scanned from the Circa 1922 Children's Bird book.
Bird's with Nest Clipart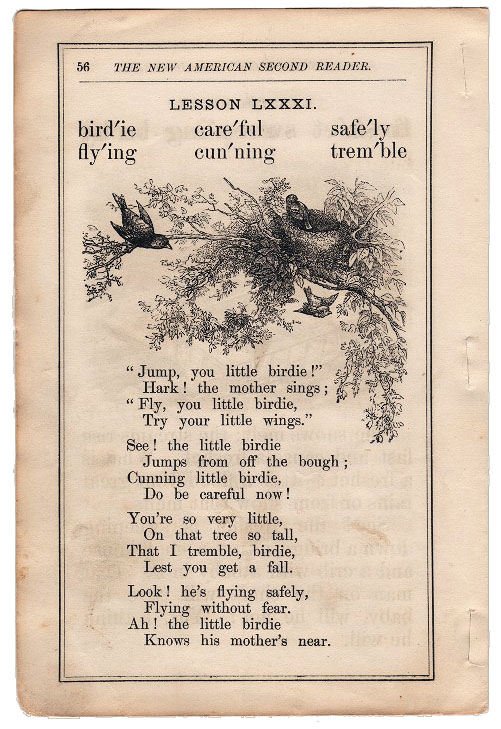 This is a darling page from an early Victorian Children's reader! Featured here are some sweet birds nesting in the branches of a tree. The illustration is accompanied by a little poem and some spelling words that relate to the picture. Make sure you click on the image to bring up the largest size.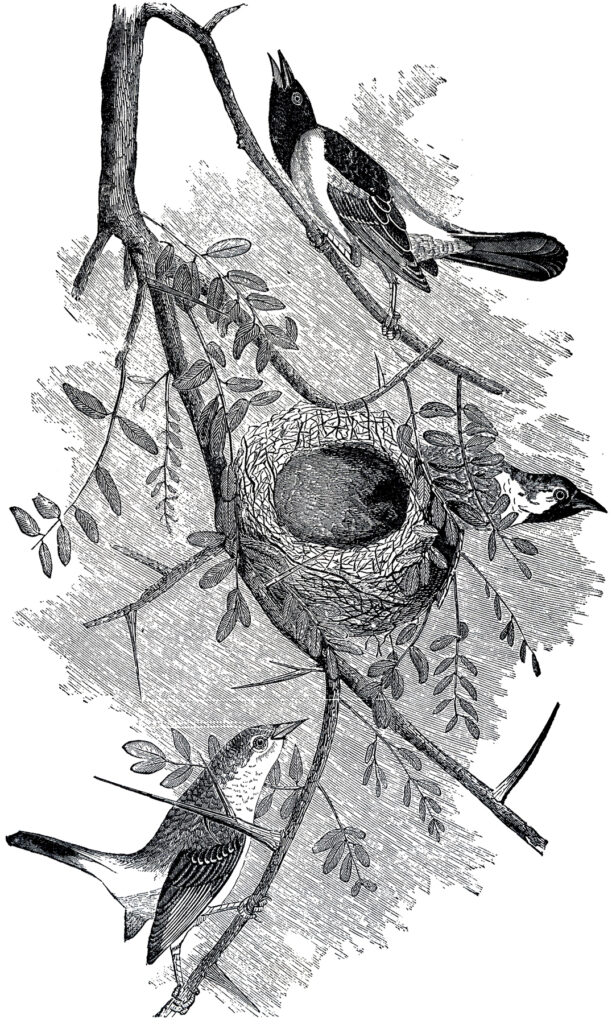 This is a charming Birds Nest Engraving ! Scanned from a Circa 1868 Children's magazine, this antique engraving displays a sweet black and white drawing of three birds perched on a branch along with a nest.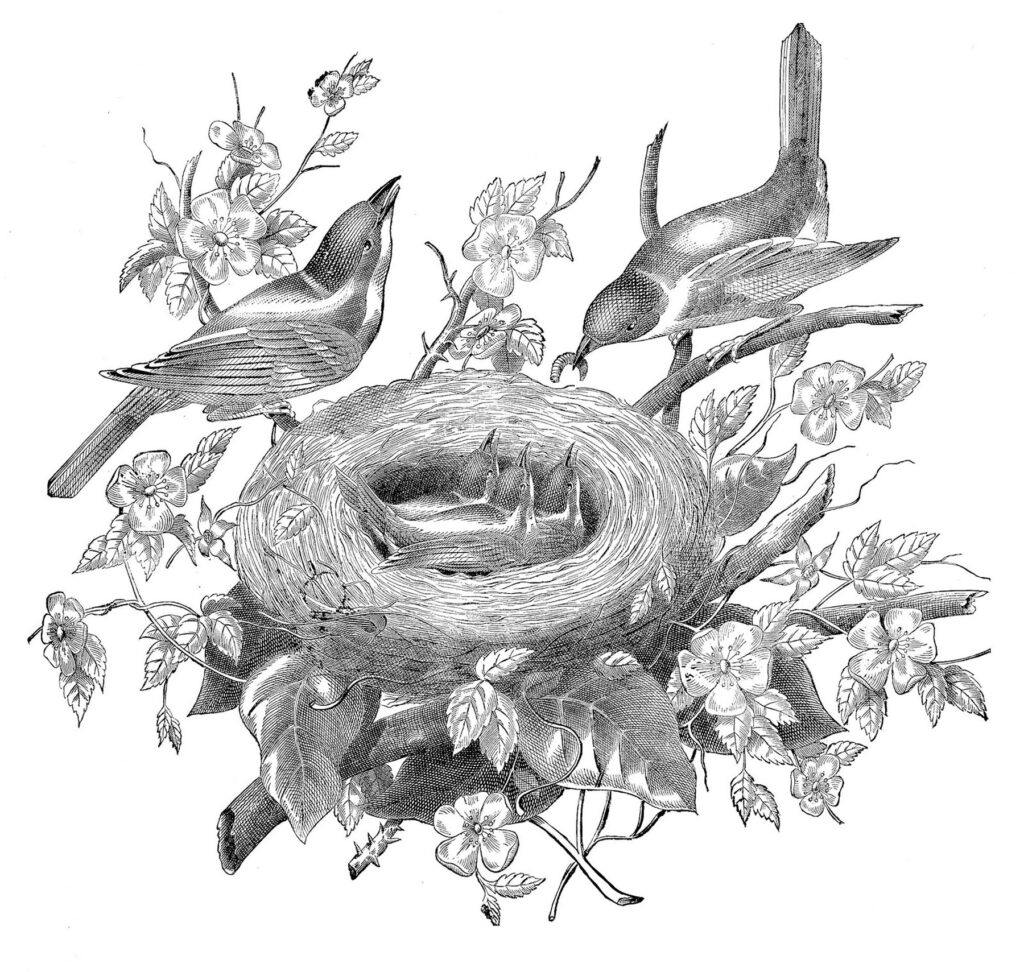 This one is the cleaned up version of an original nest engraving. The gorgeous graphic is my absolute favorite image from one of my books! There are two birds with their three precious babies waiting to be fed a worm from their Mother.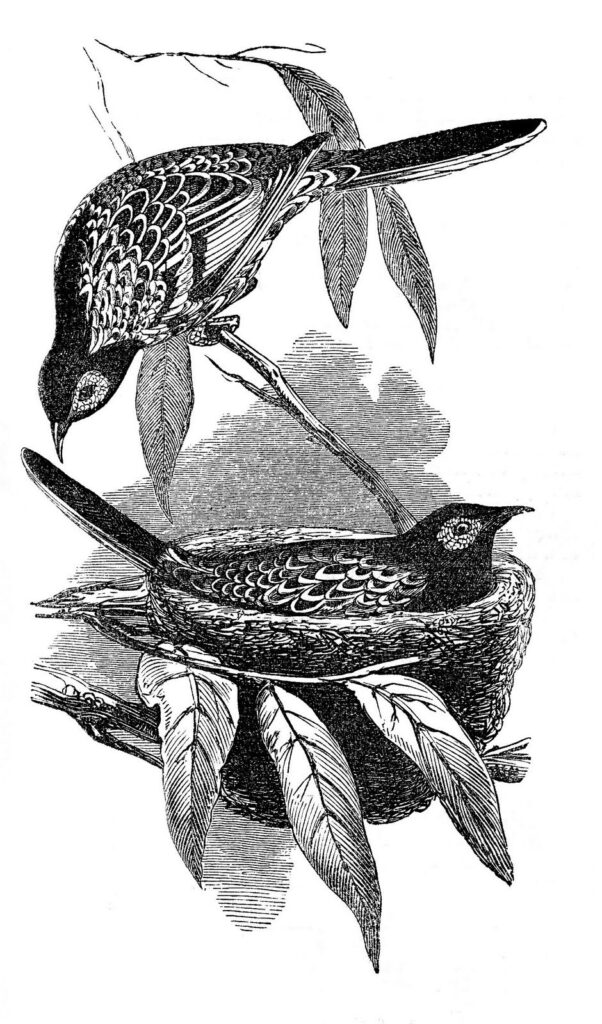 I think this is so sweet! This Vintage image comes from an early Natural History book. There are two birds, one in a nest, and one just above keeping watch! I wish I could say these lovely birds have some sort of romantic name, but in fact they are "Warty Faced Honey-Eaters." Not very nice, whoever named them!!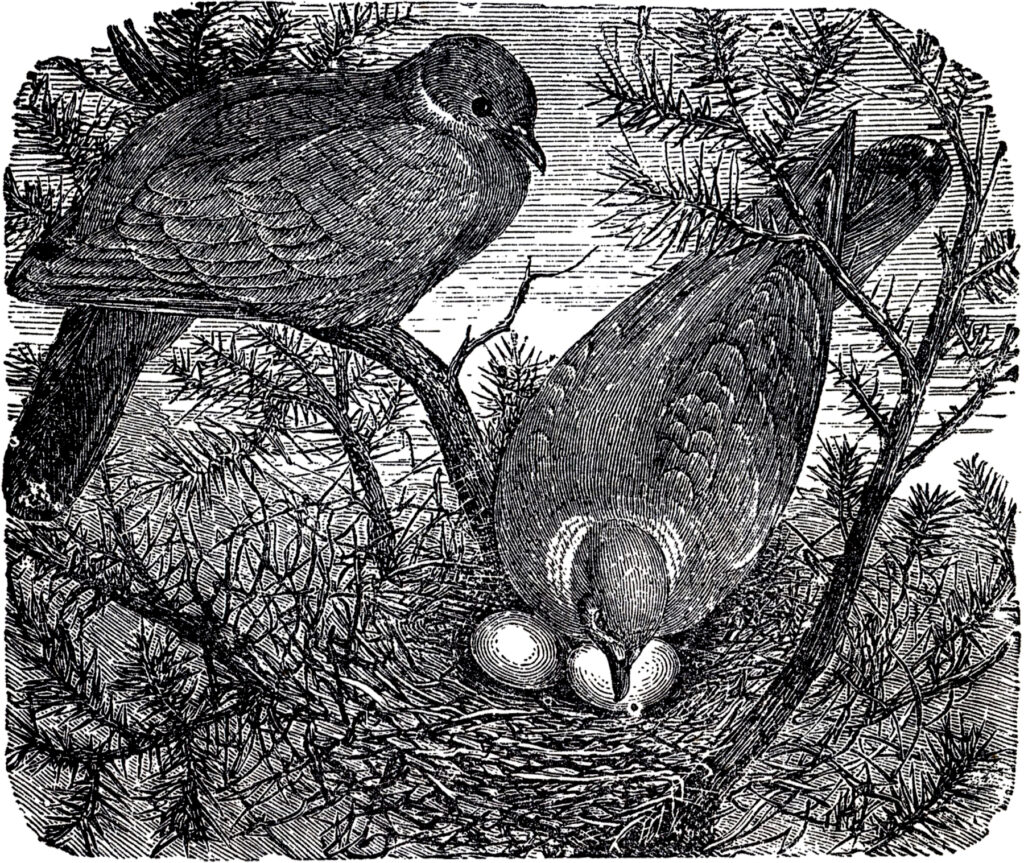 This is a wonderful Vintage Birds Nesting Image!! Scanned from a Circa 1868 Children's magazine, above is a beautiful Illustration of two Birds… Doves I think, nesting with their eggs in some lovely Pine branches.
Old Nest Pictures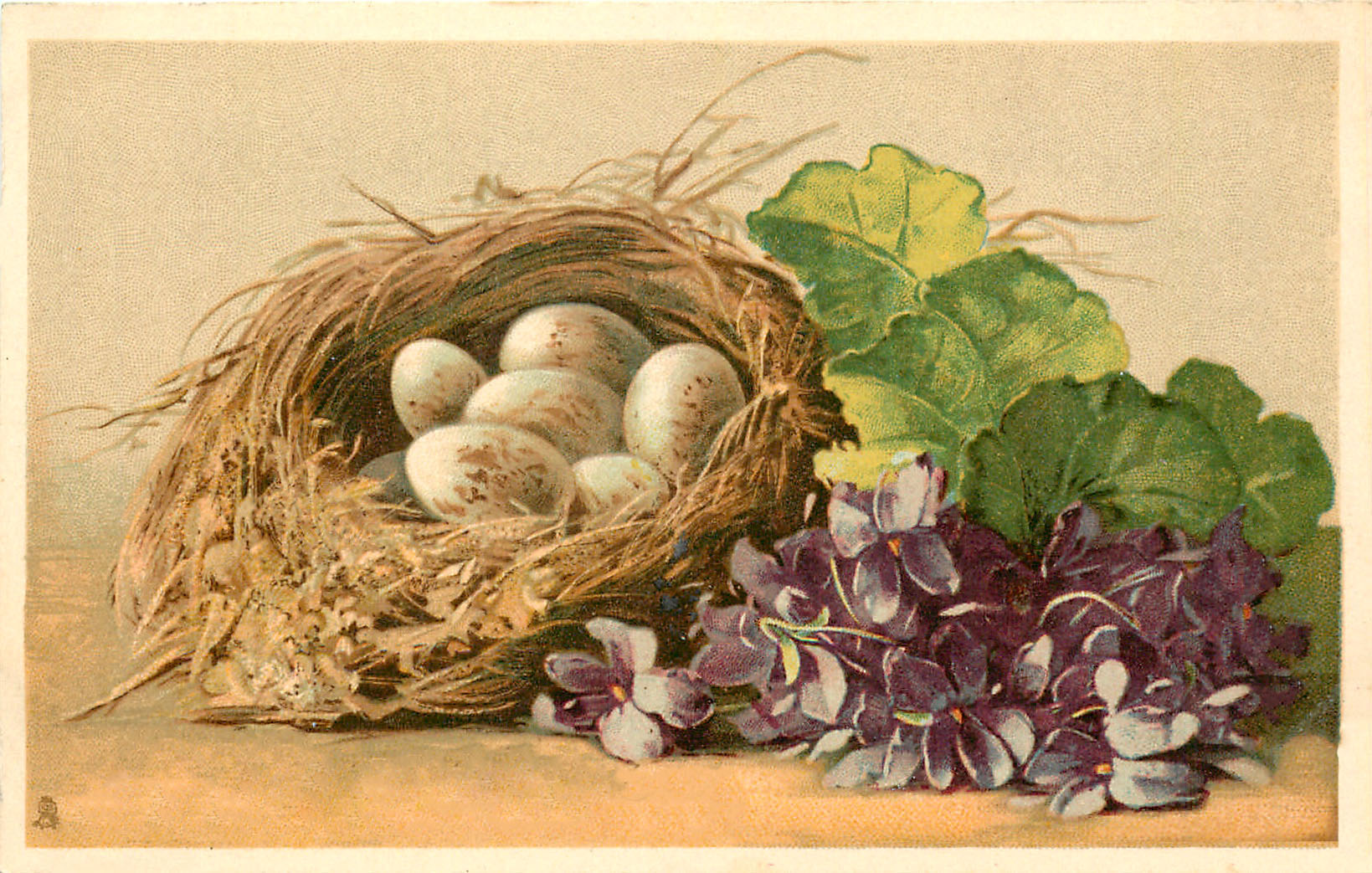 Isn't this one lovely? An especially pretty one with a rustic feel and some gorgeous Violets laying next to it.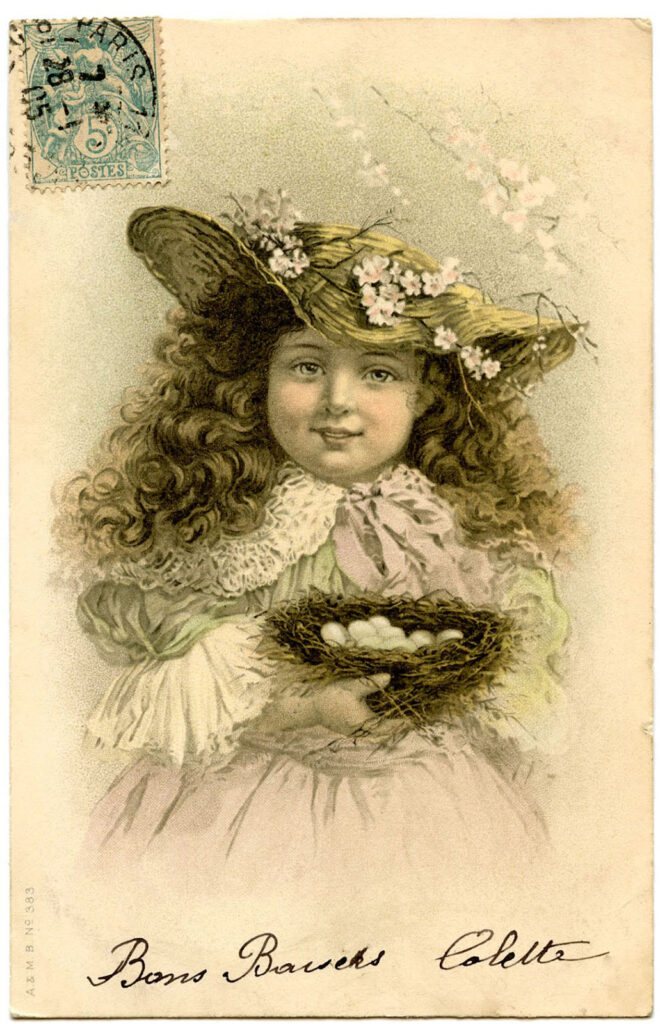 Above is a sweet Nest Picture. This is very pretty little girl. The girl is holding a sweet nest full of eggs, with a Robin perched above her! Subdued coloring is on this one, but it is still impressive. I also like the handwritten Paris address on the back of the card, and the Paris postmark on the stamp!
I hope you enjoyed this fabulous curated collection! You might also like our Bird Eggs Images HERE and our Best Free Bird Images Post HERE. 
Hello! Are you new to The Graphics Fairy?
Welcome, I'm so glad you're here! Browse around to find 
thousands of Stock Images
 that you can use in your projects or designs! I post new Vintage images every day, as well as projects and DIY's too! Need more info about my site? Try my 
FAQ
 page.