23 Beautiful Vintage Cat Pictures
Here we have a delightful collection of Beautiful Vintage Cat Pictures. These are free Vintage Cat Images for our crafty Cat owners! These kitty pictures are just adorable. Included are Victorian cats and Retro Cat Clipart, so much to choose from! These lovely Felines are sure to bring a smile to your face, with their big eyes, sweet smiles and cuddly furry bodies. The antique and retro pictures are perfect for Digital Collage or your Mixed Media projects! They are also nice for your Handmade Card Projects.
Free Vintage Cat Images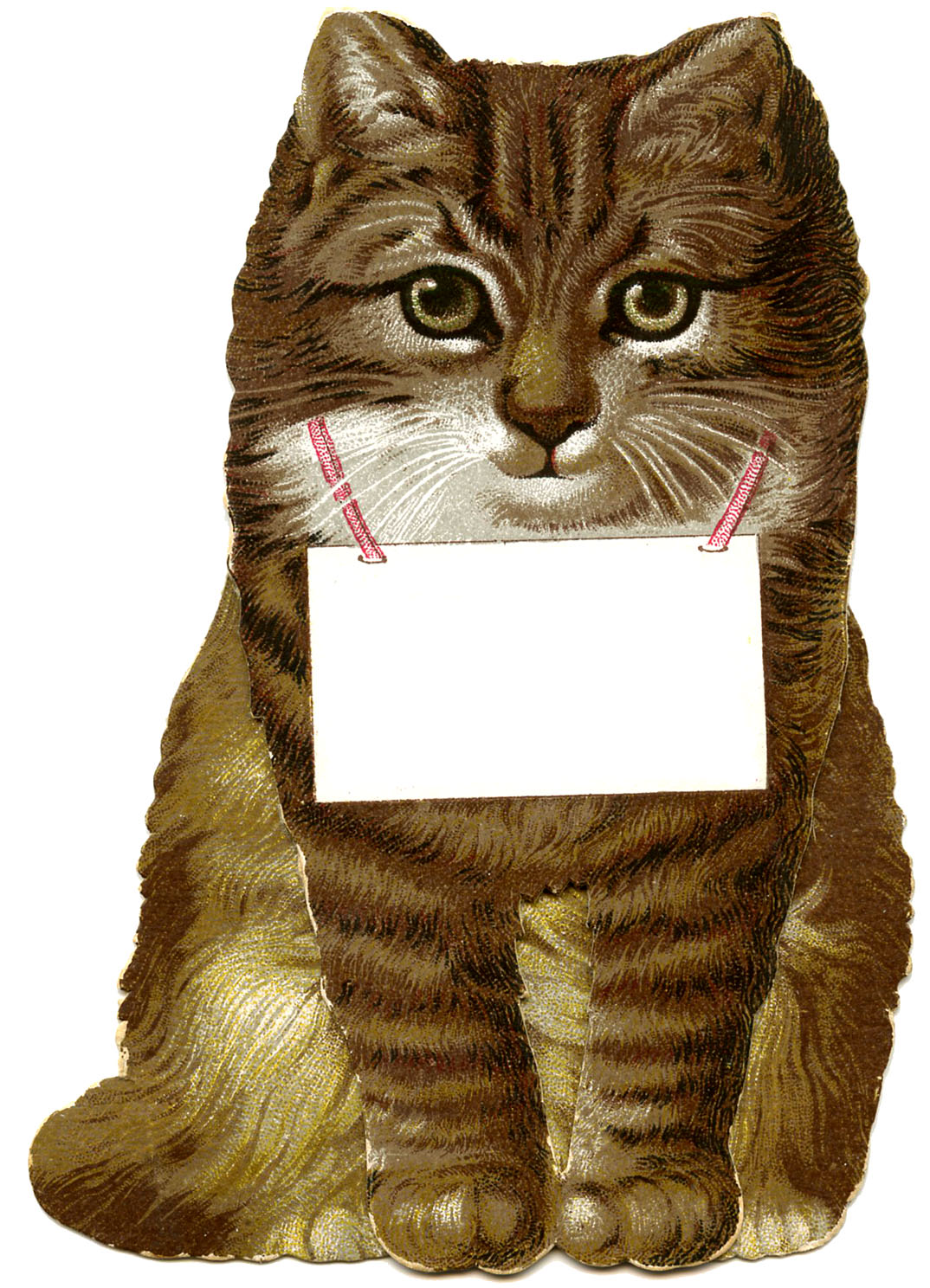 Isn't it adorable?!!! This darling Kitty Cat has the sweetest face! She has a little advertising sign around her neck. What do you think you will use this little guy for?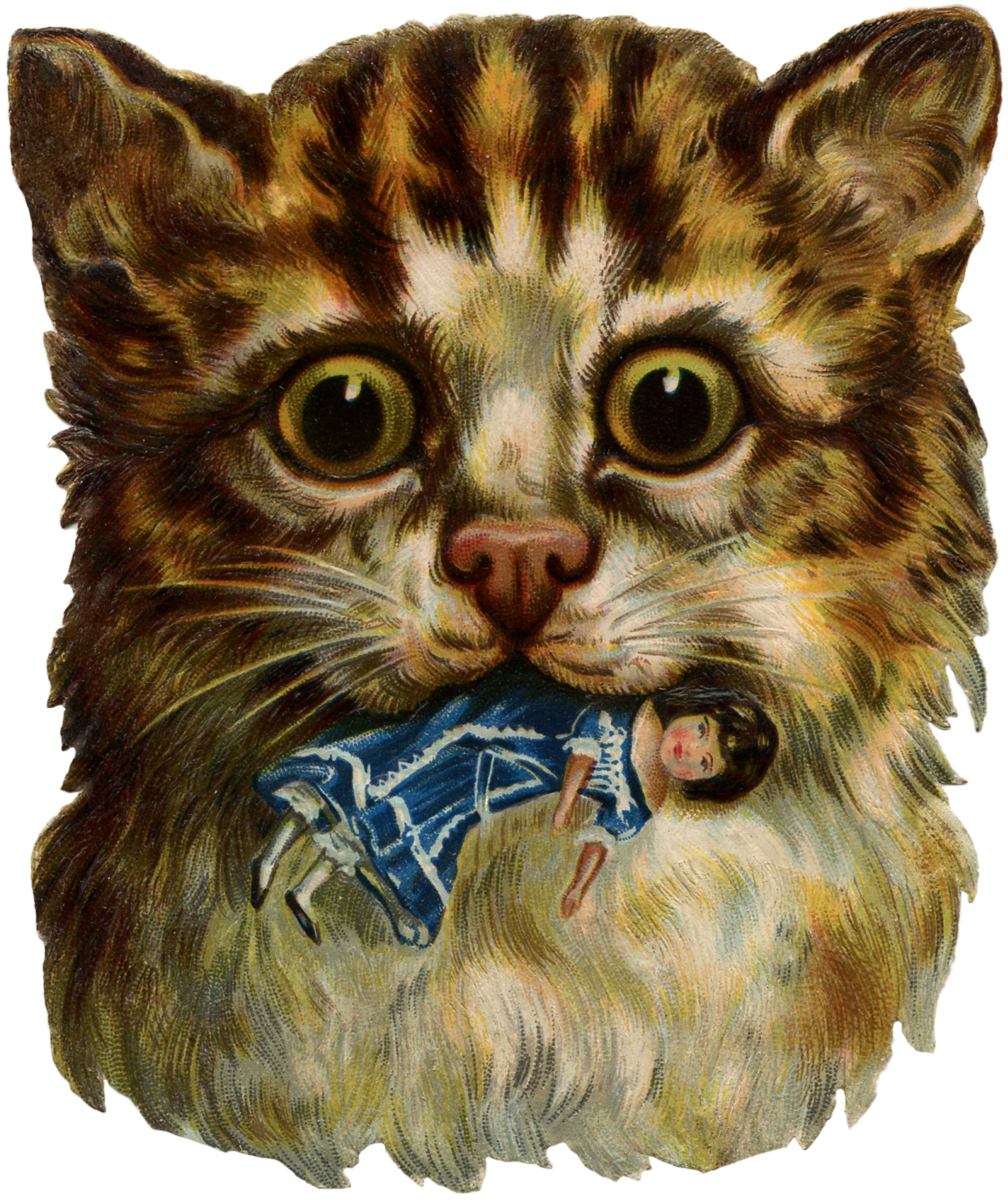 This one is an Antique Scrap Die Cut piece. Shown above is a Vintage Odd Cat Image! Isn't this a funny looking Cat, with Wild Eyes! The Cat has snagged a little China Doll and appears to have a tight grip on her with his mouth! Comical!
Victorian Cat Pictures
This next set is a cute collection of Free Vintage Cat Images. These are all High Resolution Images, included here are 6 Victorian Die Cut Scraps of Kitty Cats! There are several Tabby cats in the mix, as well as a couple of solid color Cat Images in Black and White. These were all scanned from my collection and would have been originally used by Victorian Ladies over a 100 years ago, to glue into their Scrap Books. These are so much fun to collect and work well for Collage or Mixed Media projects, or any type of Crafts where you just want to add a bit of furry cuteness!

This is a very cute Vintage Cat Image! This little kitty appears to be an Orange Tabby Cat. He has got Orange and White fur and big blue eyes. This is an old Victorian Scrap Die Cut Piece. He reminds me of Morris the Cat, do you guys remember him?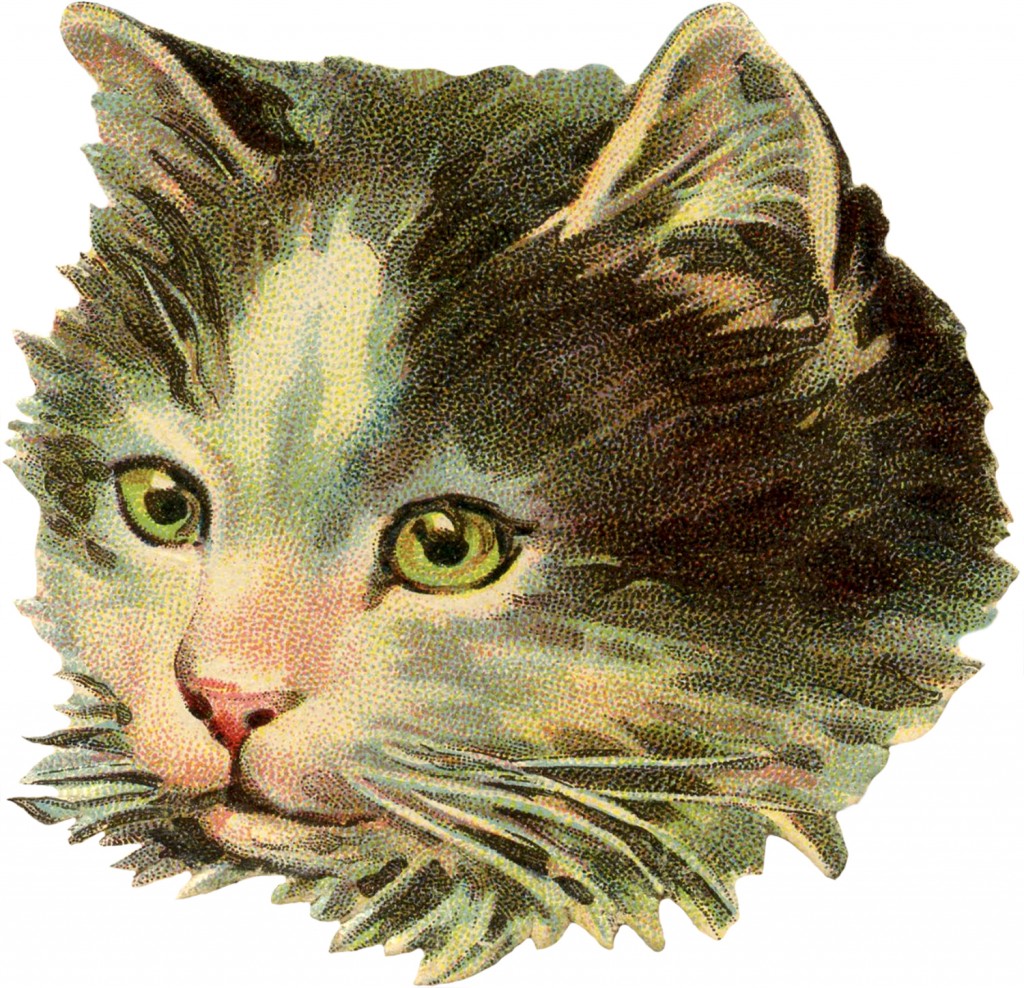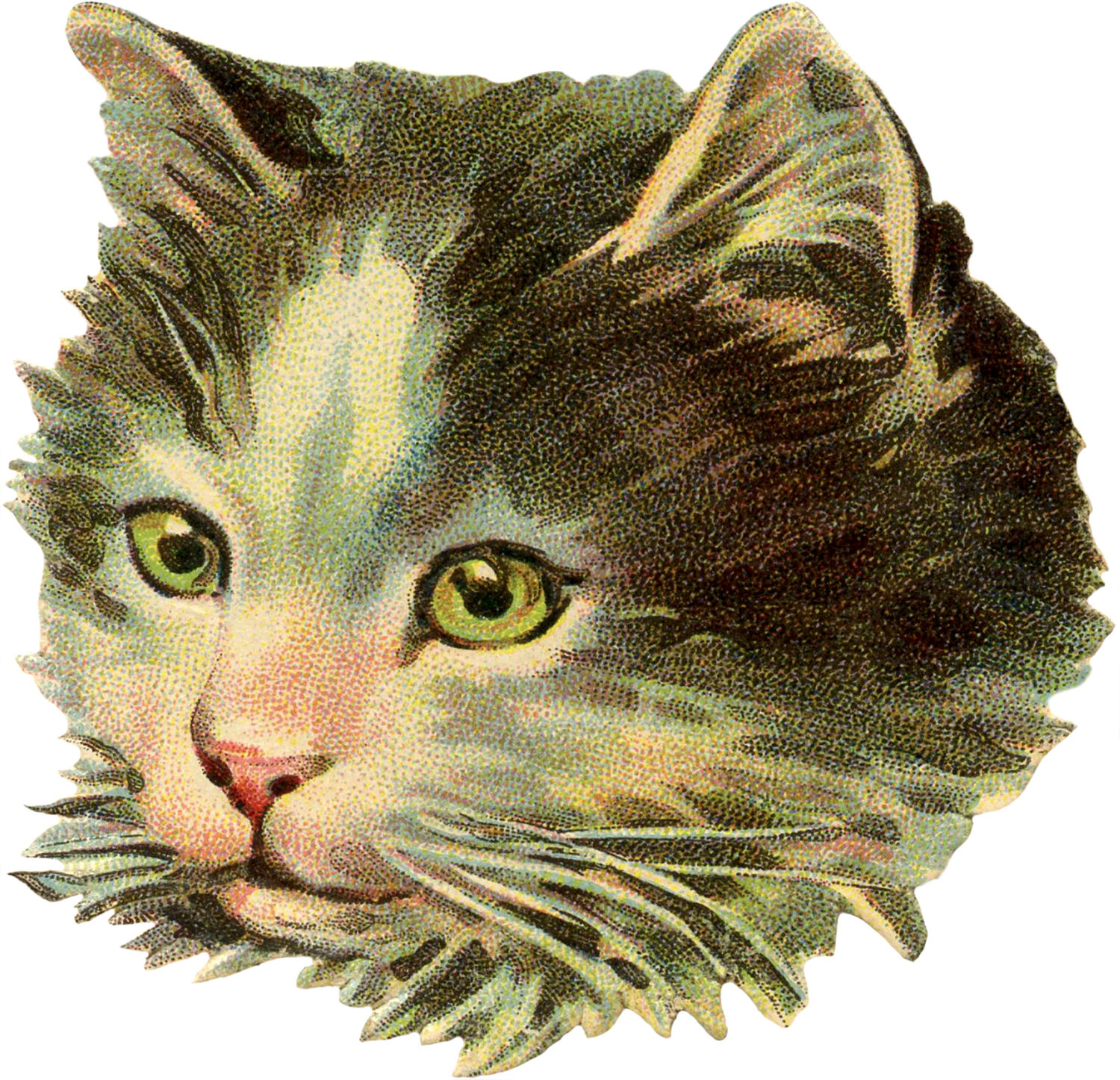 Here we have another Sweet Tabby Cat Image. This one has bright Green Eyes and Gray and White Fur. She has a darling little pink nose and a dear little smile.
Vintage Cat Images with Bows and Collars
More cute Scrap Kitty Pictures! This time they are adorned with bows and collars around their necks.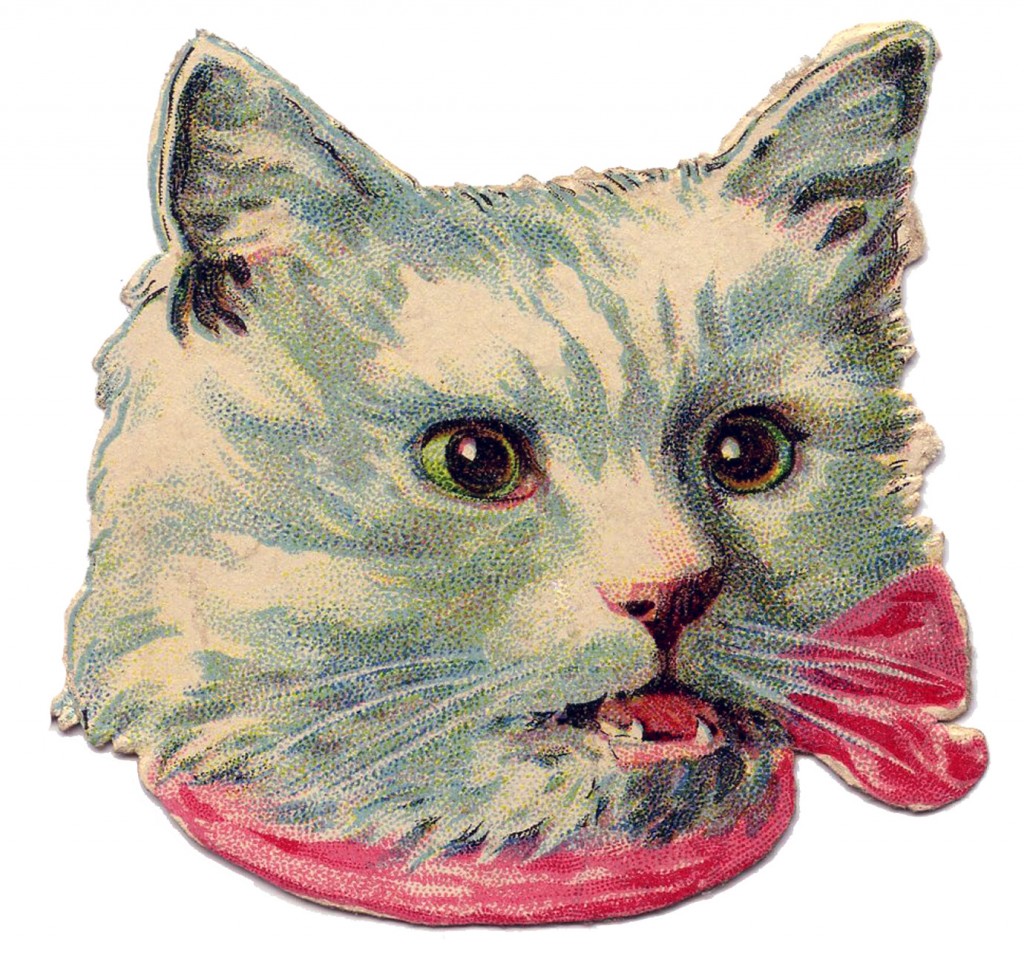 Here's a cute Vintage Scrap Image of a pretty White Kitty Cat! She's got Green eyes and a big Pink Bow around her neck. Her mouth is open, as if she is meowing. Perhaps she wants a treat!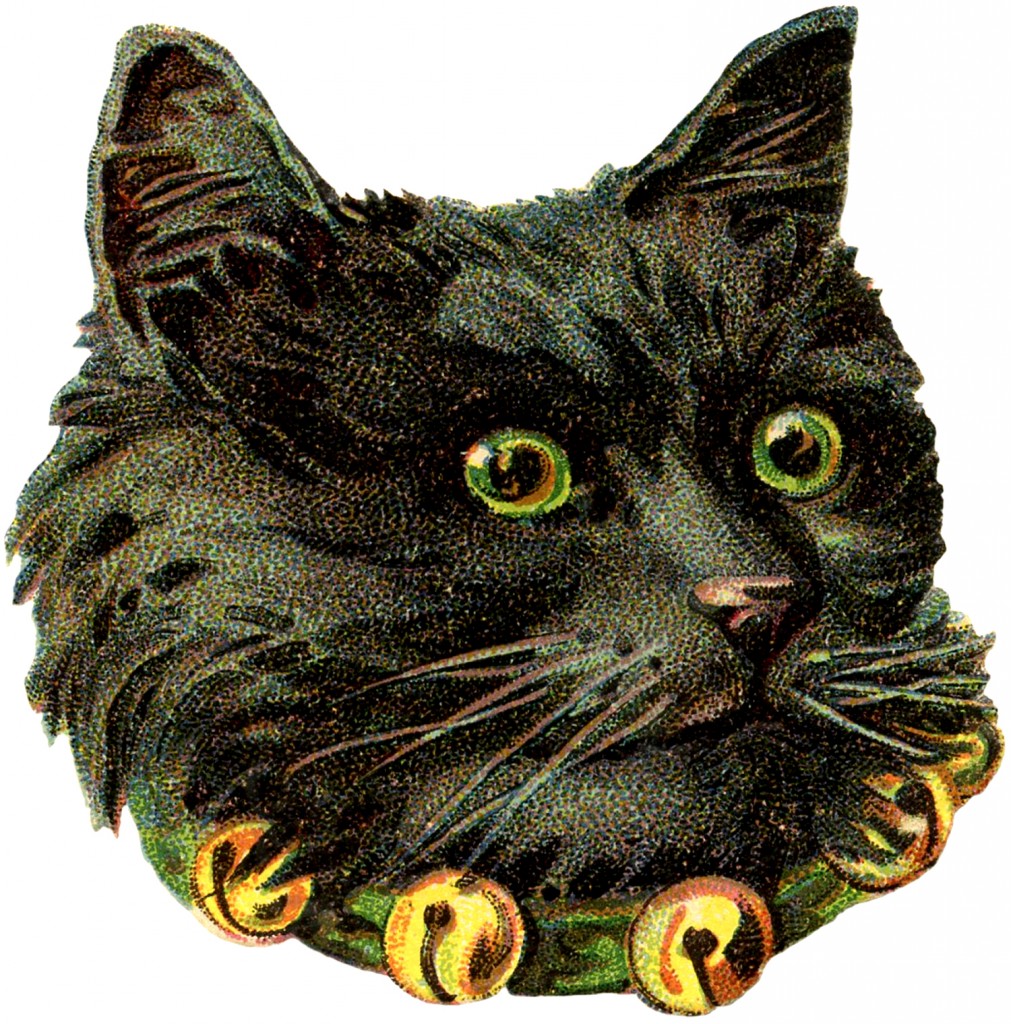 Here's a wonderful Free Black Cat Image. I think this one might be my favorite! I love his bright green eyes next to his fluffy black fur. Around his neck he's wearing a bright green collar studded with little Jingle Bells! The collar matches his eyes perfectly. He would be a great one to use for your Halloween projects. In fact you can find a tutorial for a cute Halloween Jewelry Project using this image HERE.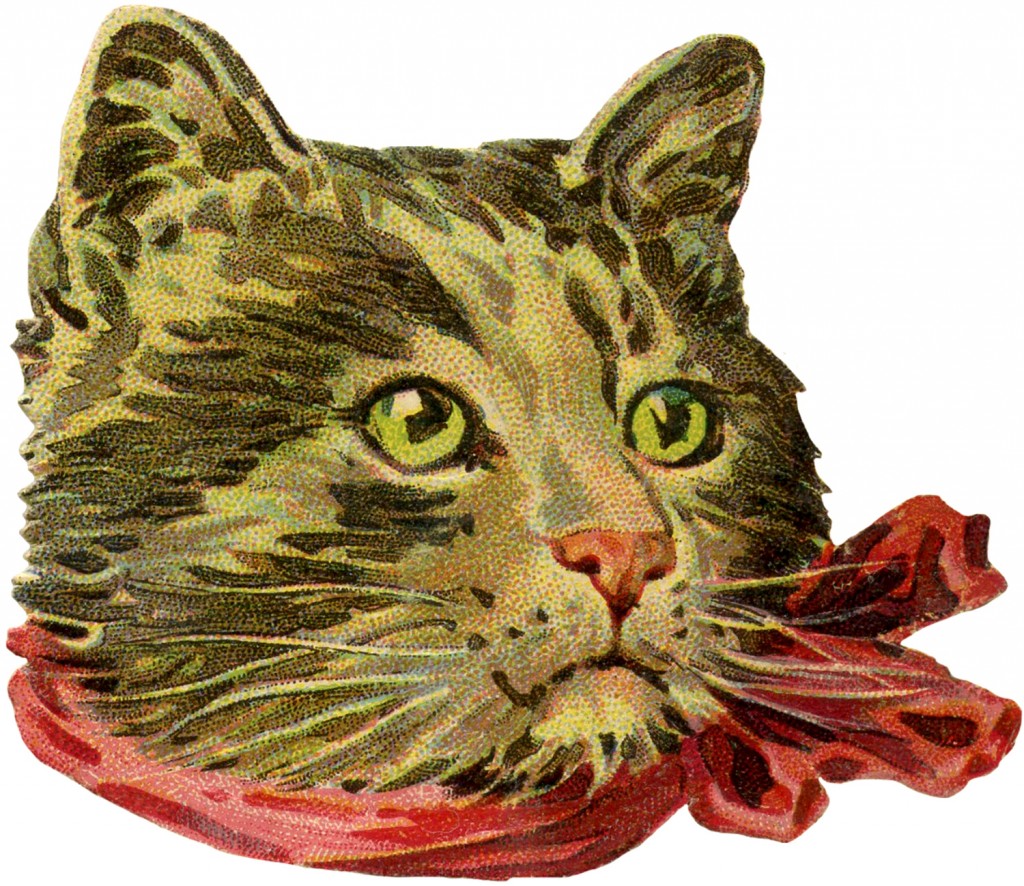 This is a cute vintage Cat Picture! This sweet little Kitty is wearing a salmon colored bow around his, or perhaps it's a her, neck. This cutie has green eyes and tabby striped markings on her fur.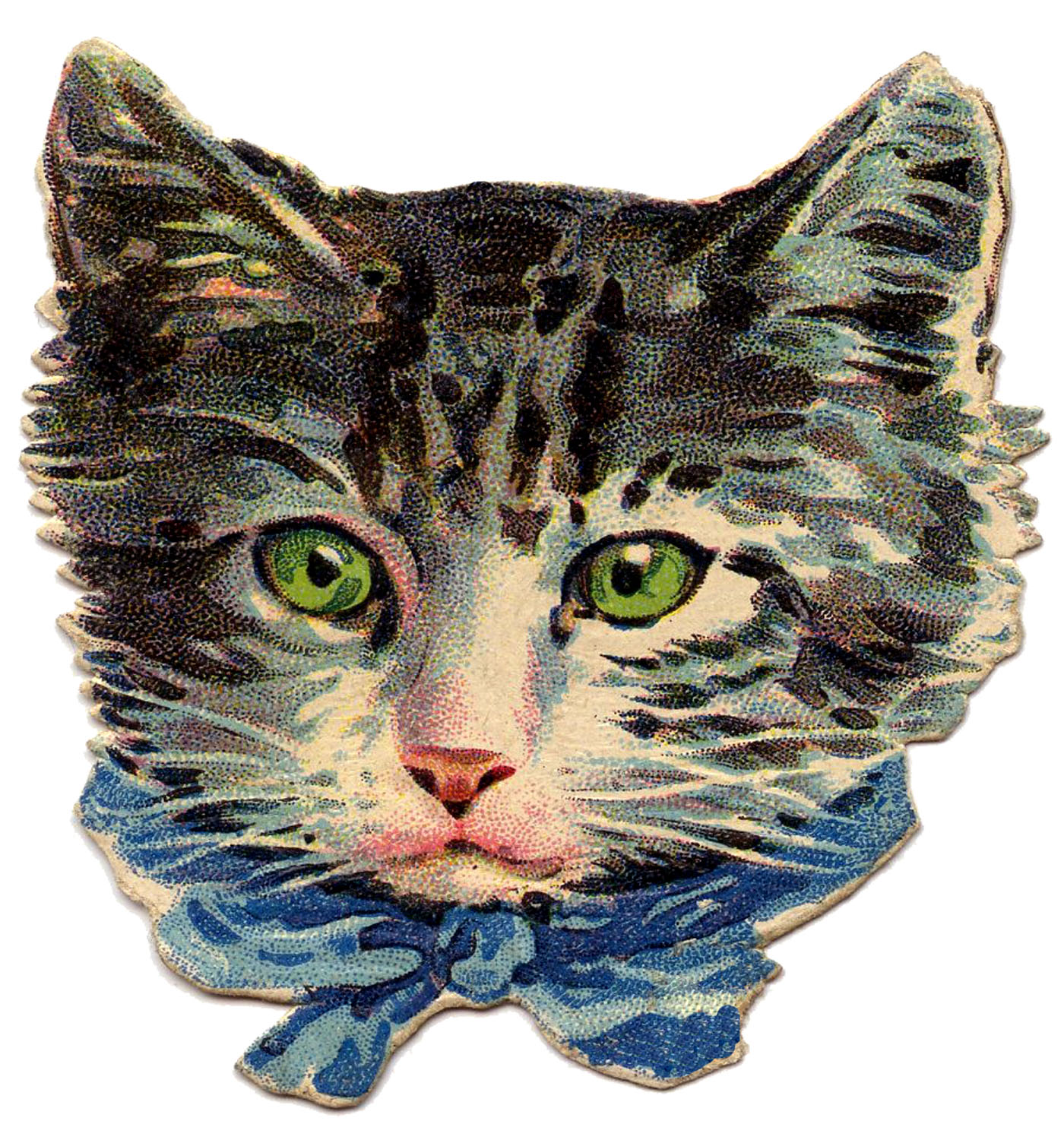 And here we have one more! Just look at the sweet face on this kitty scrap! This gray and white tabby has the brightest green eyes and a lovely bright blue bow around his neck. I hope you enjoyed this collection of cute Vintage Kitty Cat Images. The originals are all die cut, which means they were cut out around the outline. When you print these out, they will be on a white background, so they will require a bit of fussy cutting if you want to remove the white around the cats heads for your projects, like decoupage or collage, or if you want to use these as a digital stamp. For other projects like Card Making etc, you might find that the white background works just fine for you. You might also like our Best Vintage Animal Images post HERE. 
Beautiful Vintage Kitten Pictures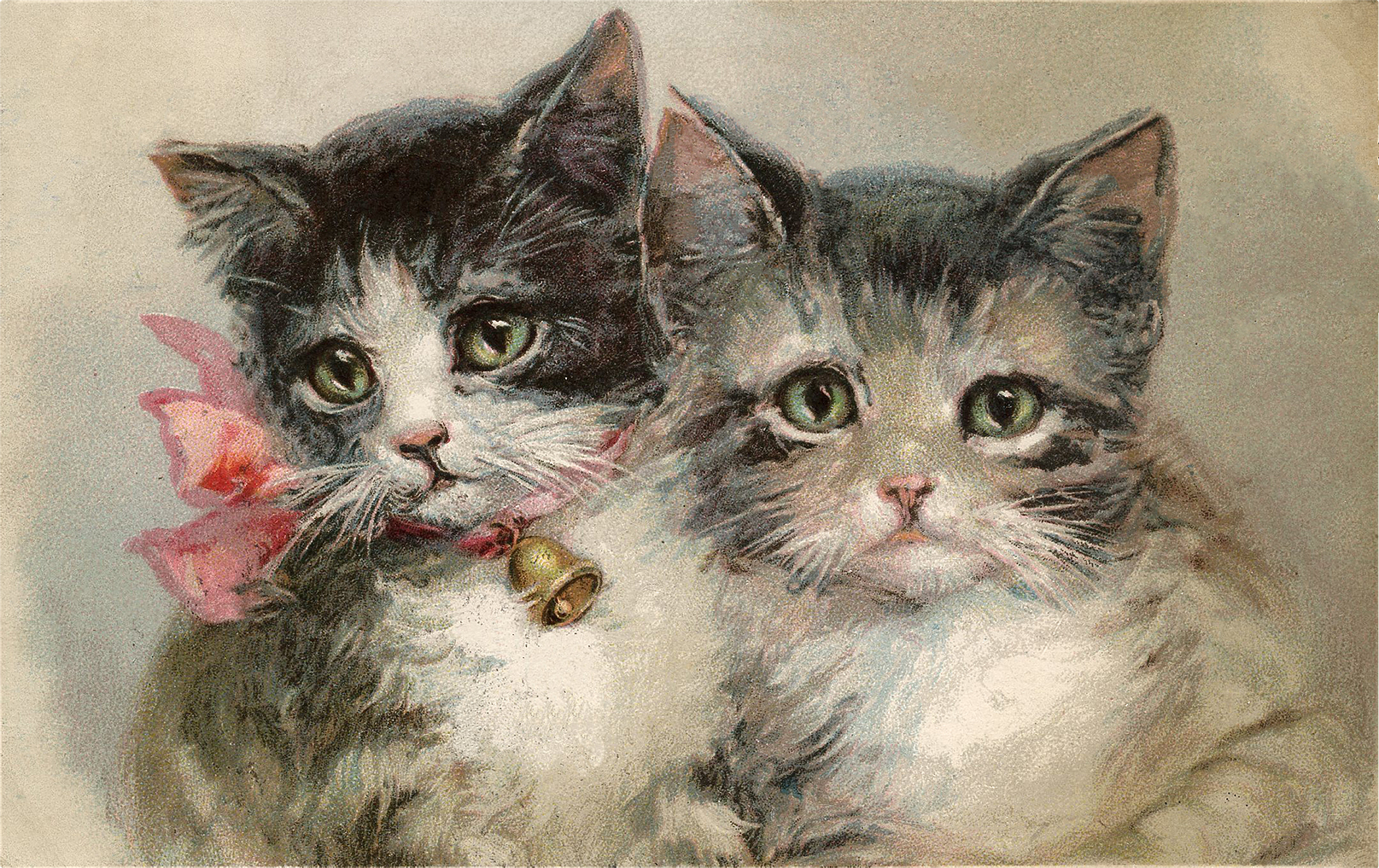 Next up in this collection we have this adorable vintage pictures of kittens! The irresistible green eyes of this pair of gray and white kittens make me swoon. The kittens are cuddling close and one wears a pink ribbon and bow with a gold bell around her neck. They are so sweet I want to give them some treats!
Above is a darling Kitty Card. A big thank you to my sweet friend Ekorn for providing this image. The one at the top has such a beautiful face. She's perched on a pretty blue pillow! Thanks Ekorn!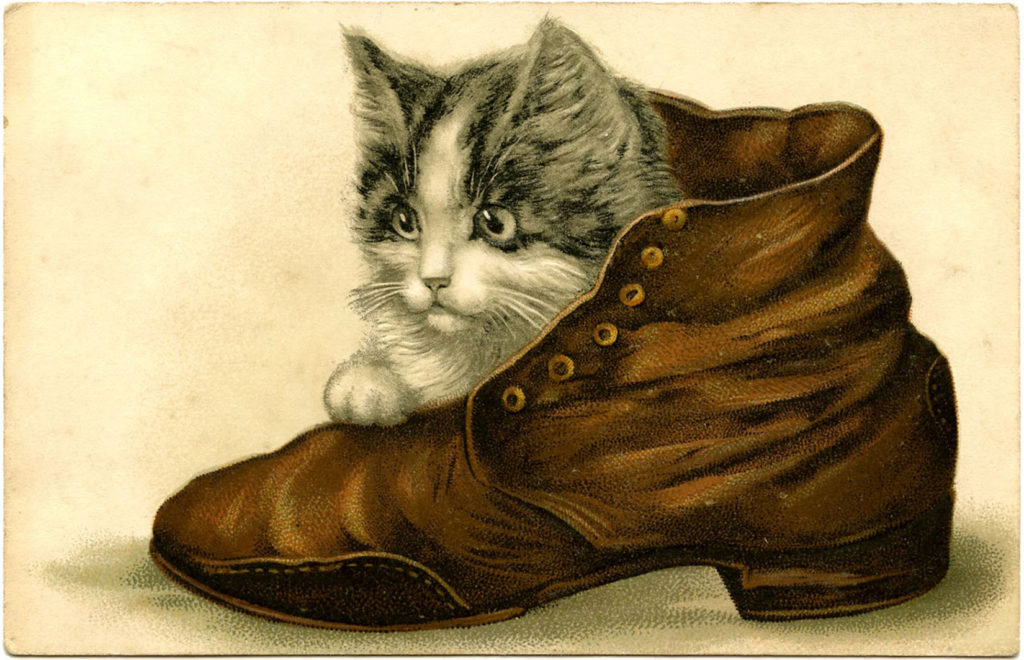 Isn't this adorable?!! This is the sweetest little Kitten all snuggled up in an old Shoe! Just look at her face, especially the eyes. Darling!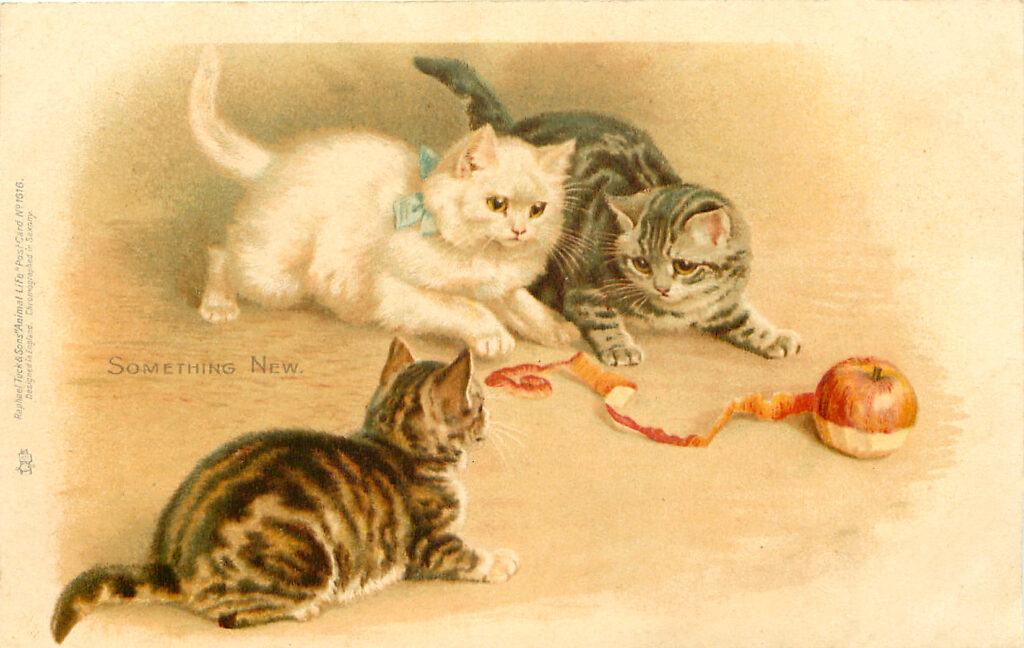 This is the newest addition to this set. Here we see 3 lovely kittens playing with an Apple Peel, their little paws stretched out. Kind of an unusual toy and I'm not sure how they would have gotten hold of that, but they do seem to be having fun with it!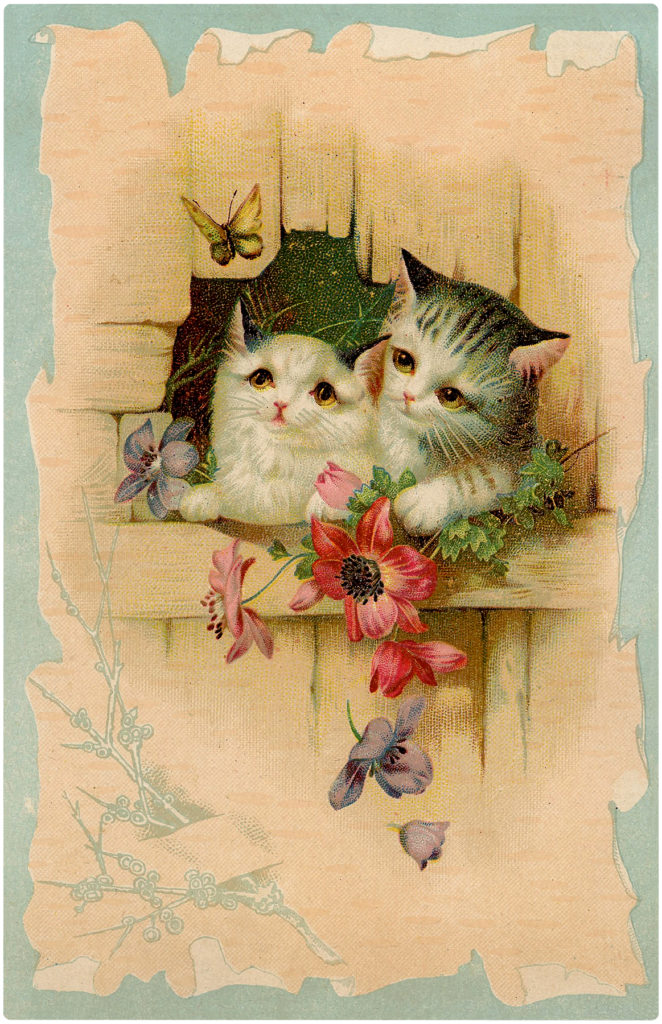 Here we have 2 dear little Felines! They have such sad eyes don't they? They appear to have climbed out a little hole in a fence and are mesmerized by a pretty Butterfly. Do you think they are stray Cats?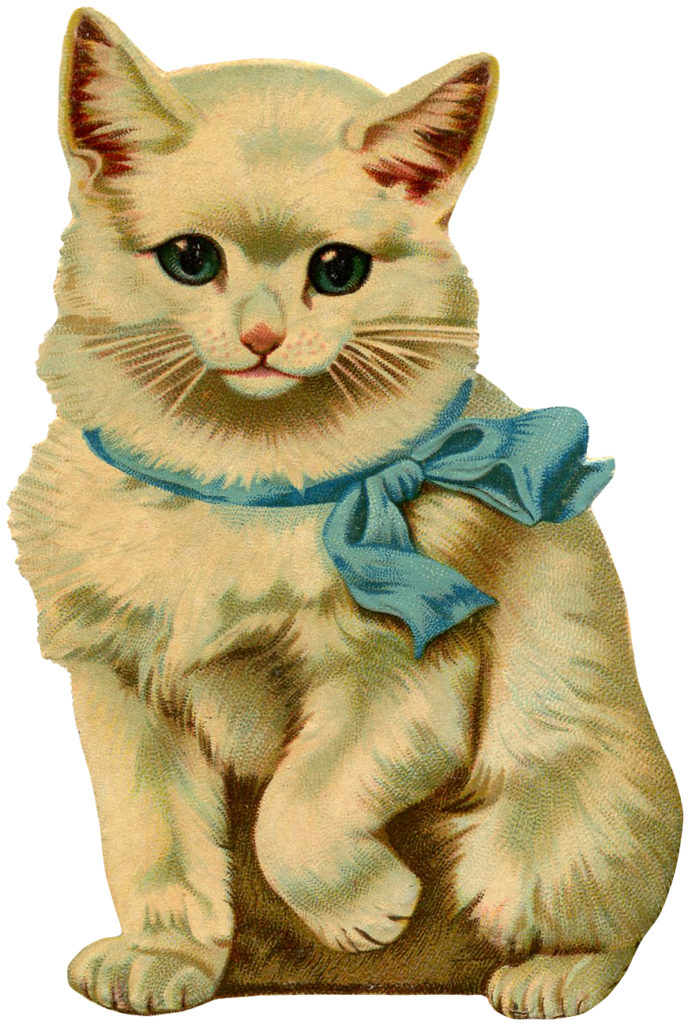 This one is a pretty white Kitty with her blue satin bow, or perhaps she is a he? Either way this Cat has big blue eyes and soft looking for. A beauty for sure!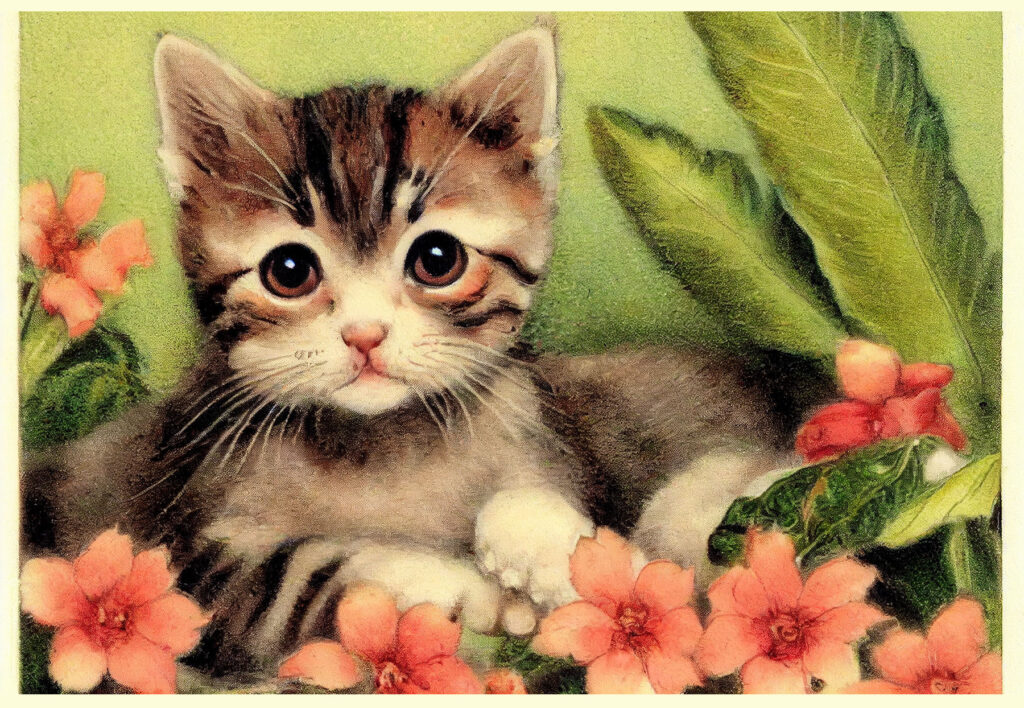 Here is the latest addition to this collection. This adorable tiny creature has the sweetest eyes! He or she is laying on the ground among some pretty pink flowers. Charming!
Retro Cat Clipart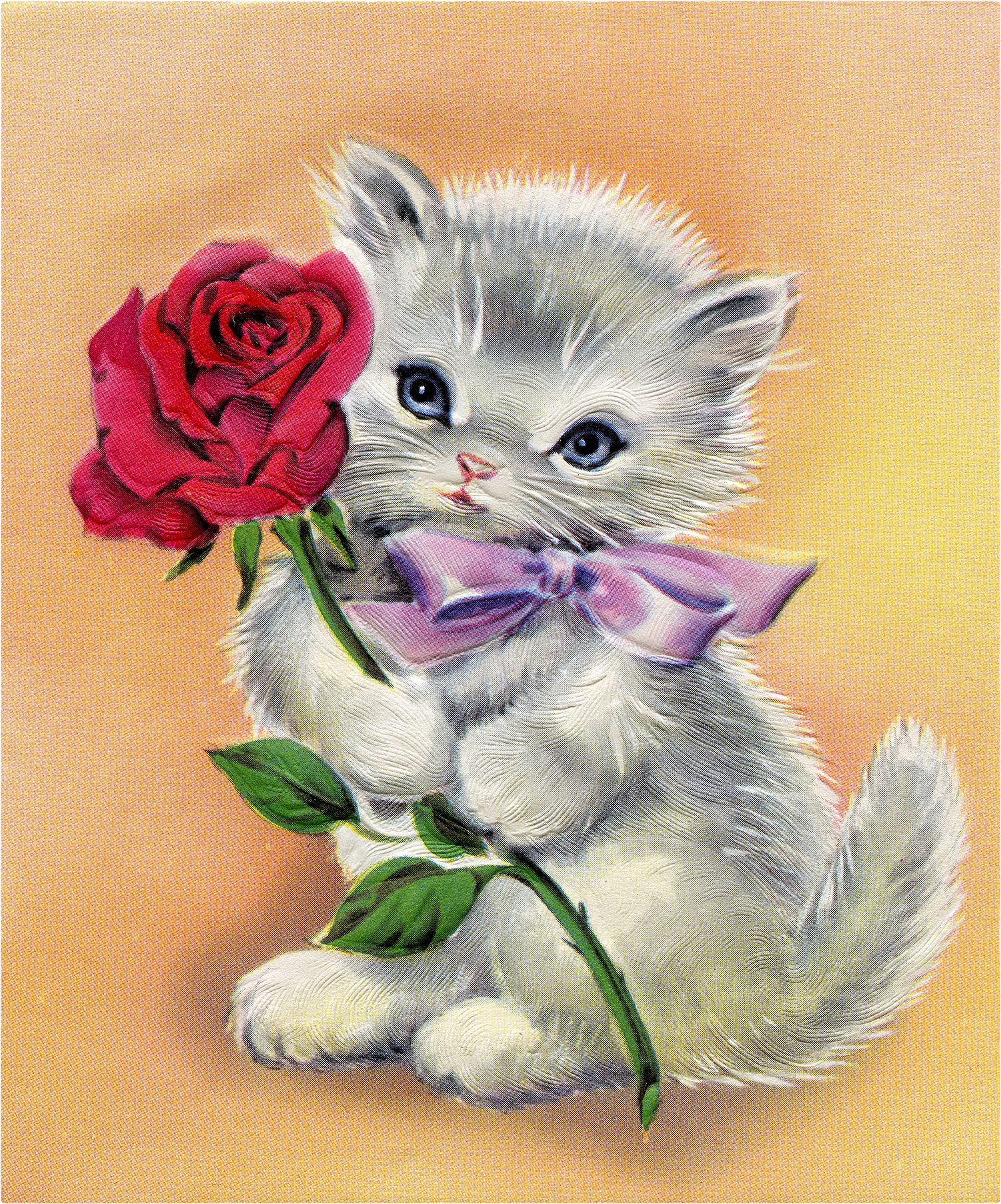 How cute is this Adorable Retro Cat Clipart with Rose Image! This cute picture is from a 1940s-1950s vintage note card set. I have the whole set in the original box, there is no copyright date on the box, and it does not appear to have ever been copyrighted as far as I can tell. The picture shows a pretty White Persian Kitten wearing a Purple Bow and holding a big Red Pink Rose. It's quite a trick to hold it in her paws like that.
Beautiful Vintage Cat Pictures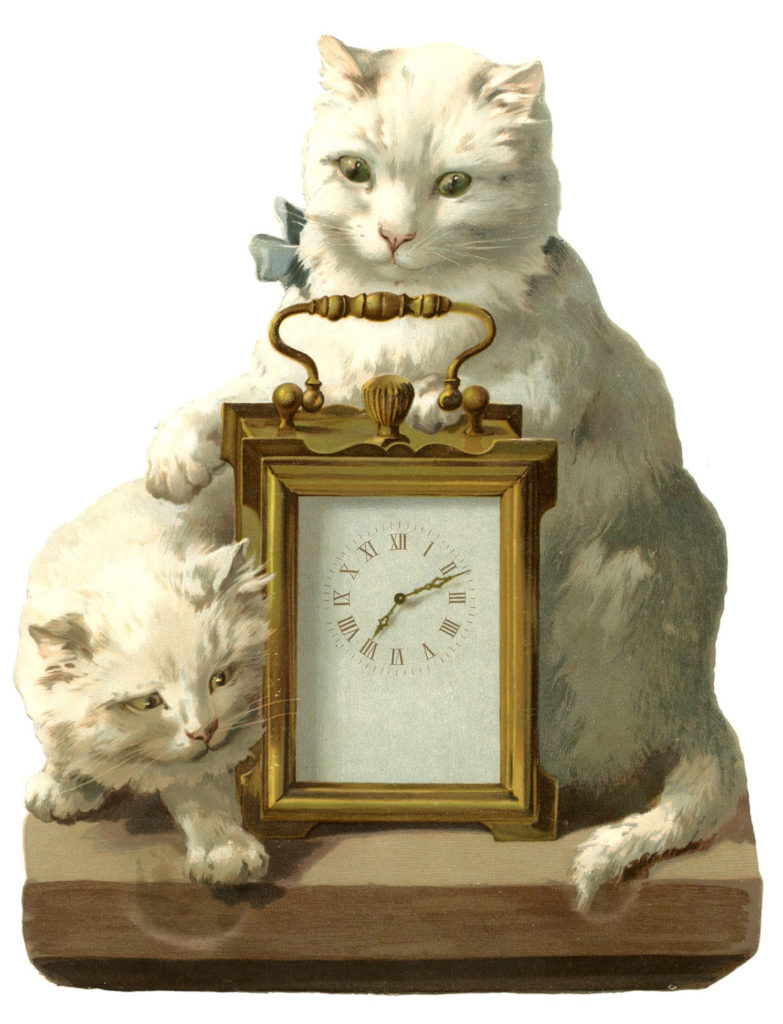 This is a fantastic Vintage Image! I had to pay a pretty price for this one, but I think it was worth the splurge! Featured here is an old Scrap Die Cut showing 2 fluffy White Victorian Cats with a Clock. The Clock appears to be an old Carriage Clock, and the detail on this one is incredible!!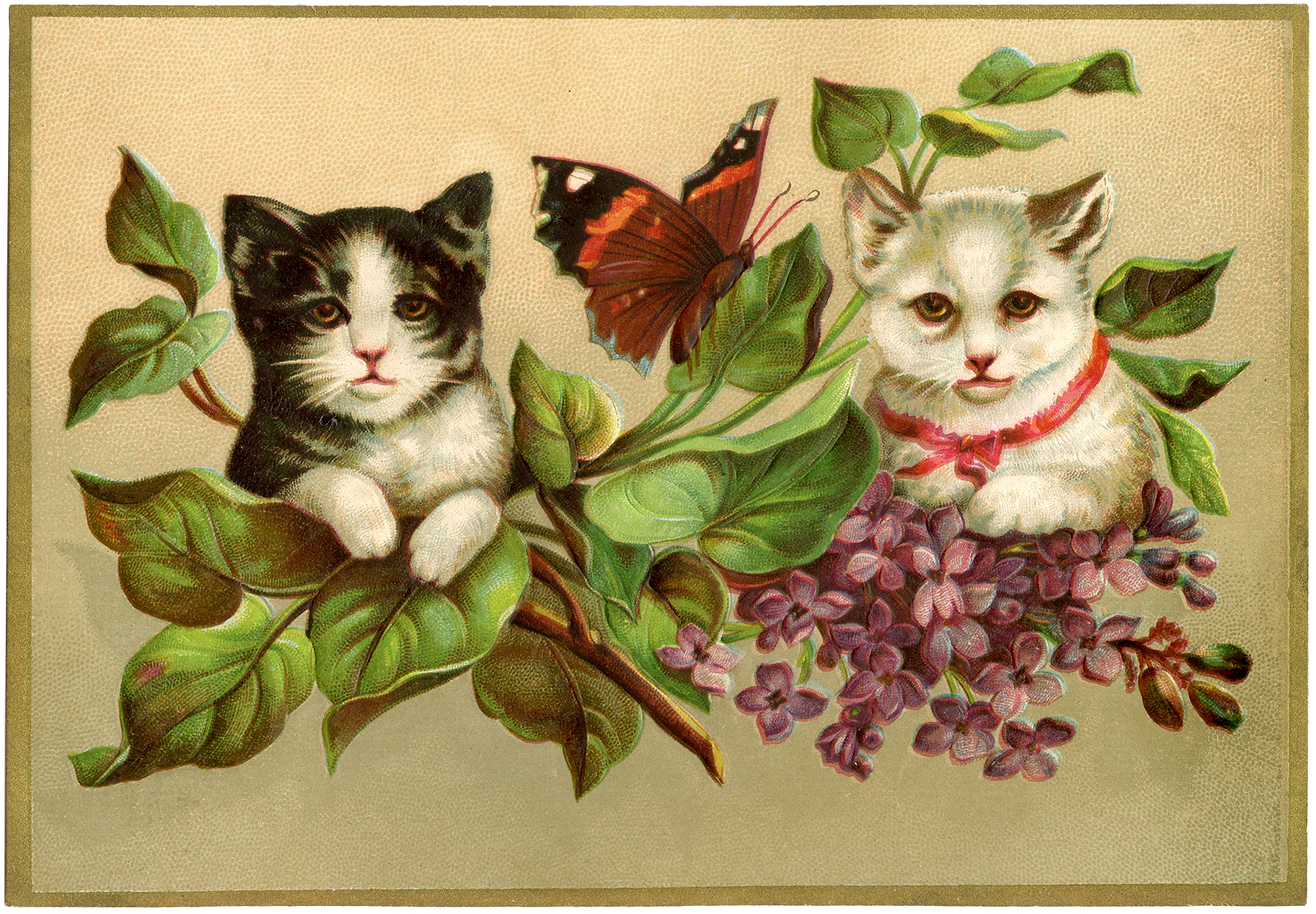 This is a cute Vintage Cat Image! Shown above are two dear little cute cats, one Tabby and one White Kitty. The Kitty Cats seem to have climbed up into a Lilac Bush in order to catch a Butterfly. Cute!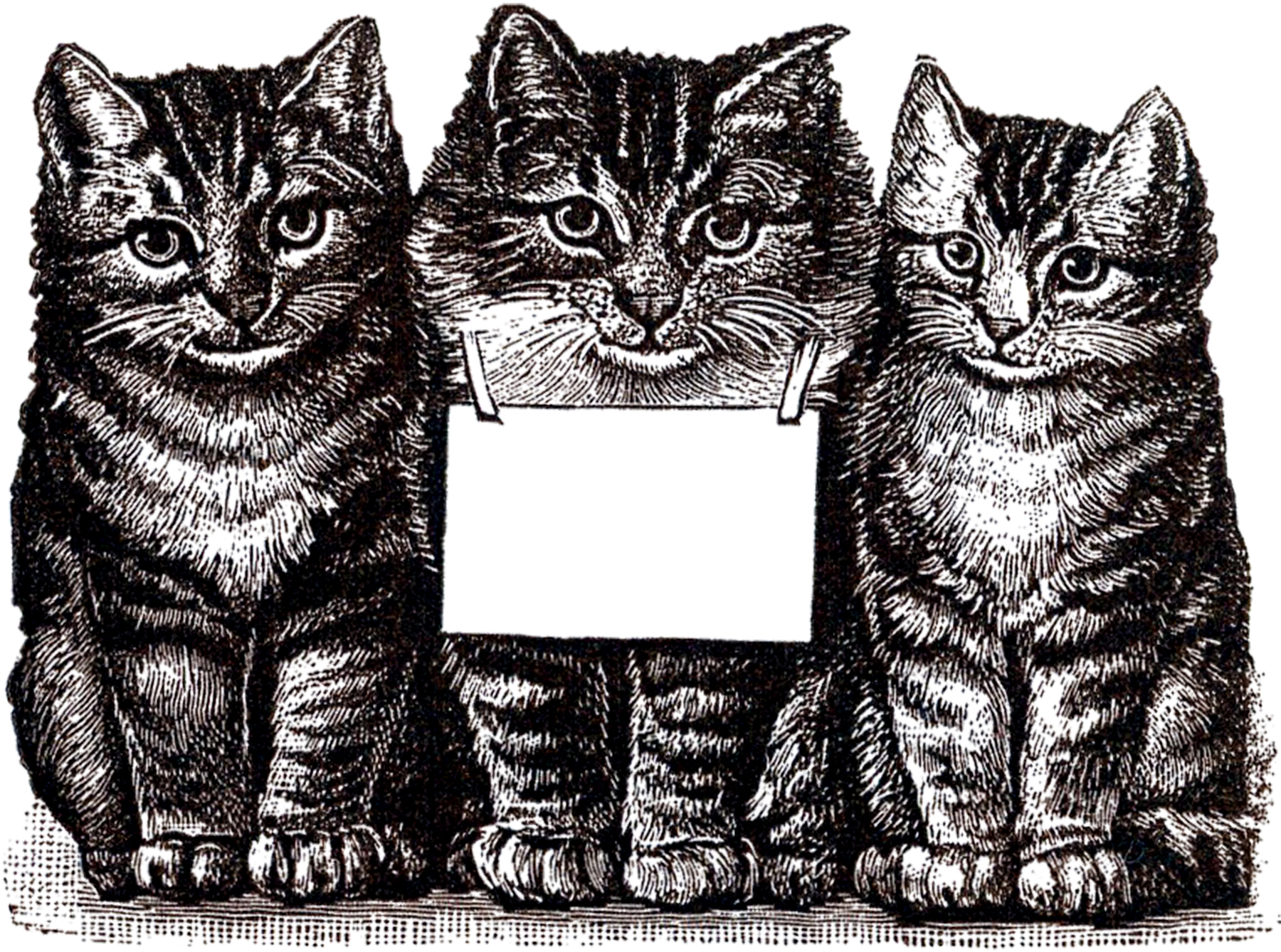 Above is a darling Free Digital Cats Download Image! Featured here are 3 Cute Kitties! The Cat in the center is wearing a little sign around his neck. The sign is blank and would be a great place to add your own text.
For some reason a lot of the Antique images of Cats and Dogs that I find are sort of odd looking. The animals tend to look sort of bedraggled … that's a real word right? Anyway, those images always make me a little sad. But this cute Kitty looks healthy and well kept to me, so I was pleased to get her.. or him. I like the bright colors too! This one is a Happy New Year card.
Vintage Cat Pictures – Famlies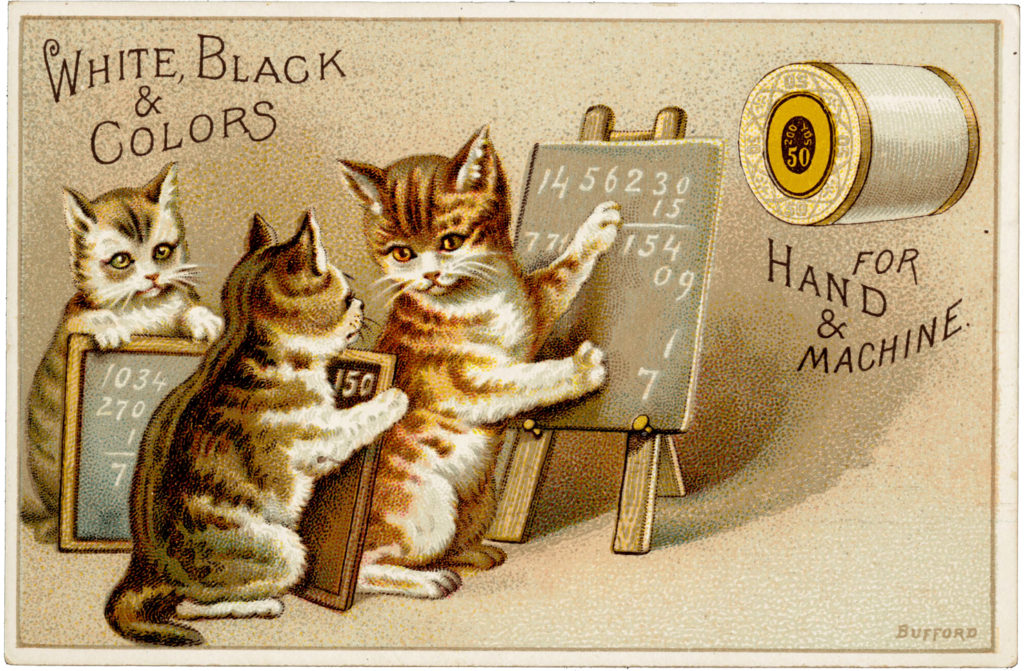 Here we have a Mama Cat homeschooling her tiny Kitten Babies at Victorian Cat School! Each one has their own little chalkboard or school slate. Cute!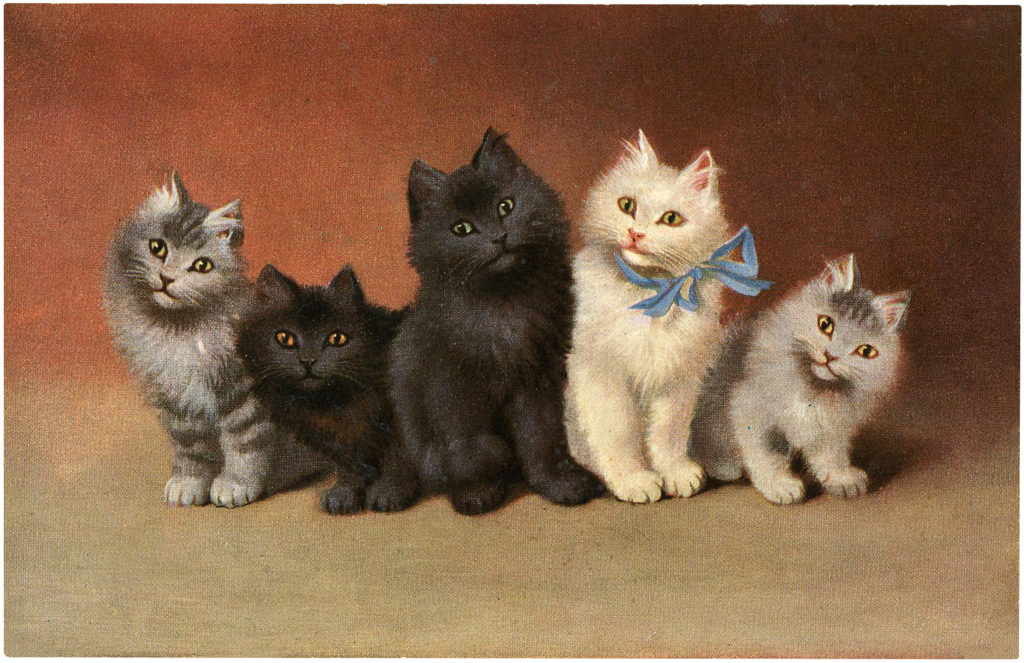 Isn't this so sweet?! Here we have an entire Cat Family, including the mama, papa and 3 baby kitties. The Mother is wearing a blue ribbon around her neck. You can see the curiosity on their faces.
I hope you enjoyed this curated collection of Beautiful Vintage Cat Pictures and Free Vintage Cat images. You might also like our Pets with children Pictures HERE and our Animal Pictures HERE. 
Hello! Are you new to The Graphics Fairy?
Welcome, I'm so glad you're here! Browse around to find 
thousands of Stock Images
 that you can use in your projects or designs! I post new Vintage images every day, as well as projects and DIY's too! Need more info about my site? Try my 
FAQ
 page.