25 Banner Clipart
Today we have an ornate collection of Banner Clipart! The images featured below are beautiful black and white blank clip art graphics. We have several Ribbon Banners, which are so delightful to look at. Some are from a rare Antique French Book. Also included are a few with swirly, curly bits that are unique and fun. Rounding out this set of Clip Art Images are unusual and playful graphics. The pieces are so useful, as you can add your own text and use them for all kinds of things like Digital Scrapbooking, Handmade Cards, or Stationery. You could even make Photoshop Brushes with them! These ornaments are perfect for Wedding or Web Design projects too! I hope you can find a fun use for them!
Vintage Fancy Blank Banners

Here's the newest addition to this collection. I'm adding in another one of these guys today. It's so fun to see so many of these all together, each one has it's own unique style. This beauty has lots of rounded edges. The ribbon ends are curled up. So pretty!

We've got another one of these very fancy ones! This one might be the most detailed yet.

This lovely Graphic frame, has rounded ends and a very delicate design on both sides. So pretty!
This gorgeous graphic is from the same Antique book as the ones below. I love the delicate pieces on either side, they almost look like vines!


These are some fabulous Free Banner Frame Images from a rare Circa 1876 Ornamental Design book! Make sure you enlarge them to see the incredible detail!! The one at the top has some intricate looking looped Ribbons on either end. The second version has lots of curly cues at the end along with some very detailed folded pieces. Extraordinary!!
Above are some wonderful Free Stock Banner Images! The top version has a gothic type design. The second version is more playful with curly swirls at the ends. This one makes me think of a Jester.
Here we have another set of Swirly Banner Images! Make sure you enlarge them to see the incredible detail of these!! The one at the top has swirly ribbons surrounding the edges and flowing. The second version has lots of swirly bits as well as some interesting folded or bent pieces. Lovely!
Above is a charming Vintage Floral Banner Image! It is a wonderful triple Ribbon done in black and white. The image is surrounded with some pretty flowers and delicate leaves.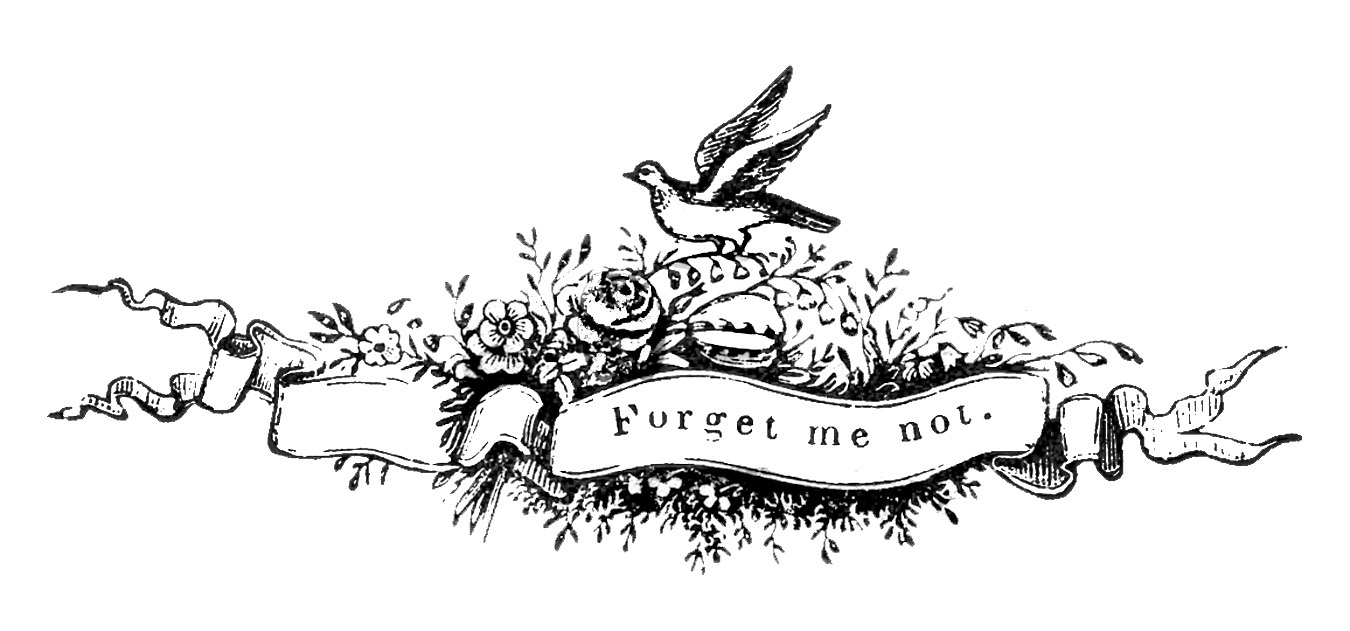 I think this is quite an early piece! This charming little Pen Flourished card shows a tiny bird perched on a Rose that is set on top of a banner! The text carries the words "Forget Me Not." This appears to have been an old calling card.
Crisp Lines Blank Banners
This is a fabulous Vintage Graphic Design Element! It was scanned from an Antique Hardware Catalog. Shown above is an ornamental design that was meant to decorate a corner. The ornament has "C" shaped design in the center with banners on either side.
This is a really great looking Banner from an old Sign making book! I just love the way the ribbon criss crosses over itself. So geometric and sharp!
Classic Ribbon Banner Image
I hope you enjoyed this fabulous curated collection. You might also like our 50 Best Label Images HERE!