This month I'm sharing my 50+ Best Blank Labels! The next few months are a great time of year for homemade gifts, canning, and organizational projects. Use these images as labels, tags, and on cards. Some of these would make really nice place cards as well! I wanted to put together a nice list of blank labels (and frames or other images that would make really nice labels) to help you.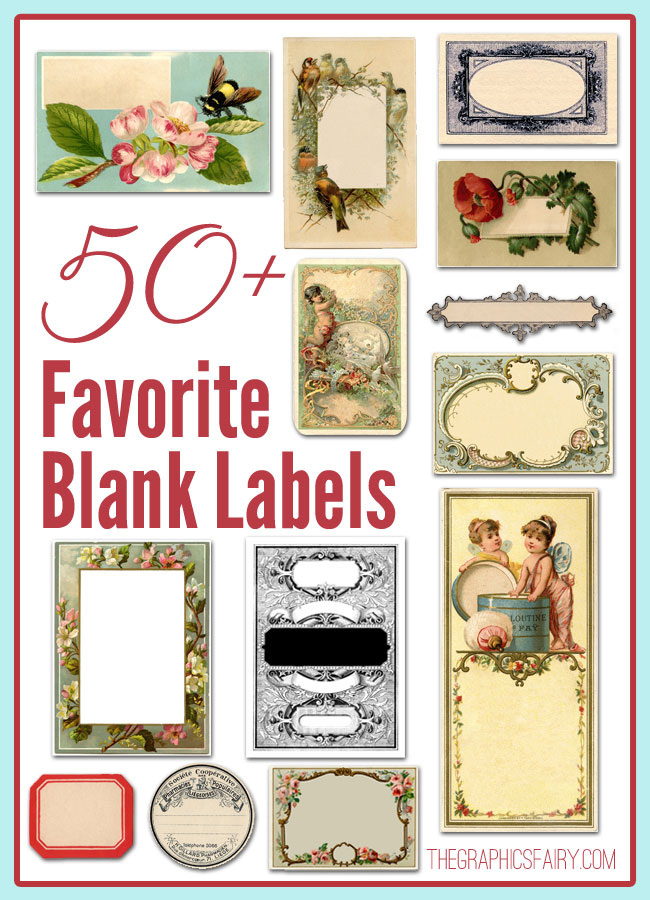 So here they are! Click on the links below to go to the original posts with the images!
ANIMALS
1) Bumble Bee Label. The label is actually an old Advertising piece for a china and glass shop. The image on the Label is a charming Bumble Bee, buzzing around a branch with Pink Blossoms. The background is a wonderful blue sky with just a few white clouds. You can write your own text in the blank space. This would also make a cute Gift Tag or Journaling card!
2) Elephant Label. This Fantastic Vintage Elephant Label was scanned from a rare Antique Printer's book, that most likely dates to around the 1880's. This is a super fun Graphic featuring an Elephant carrying a Sign! The sign is perfect for adding some Text, as is the blanket around his torso.
3) Cute Cat with Sign. This darling Kitty Cat has the sweetest face! She has a little advertising sign around her neck. Of course I made a second version with out the wording so that you can use it however you like.
4) Dog with Sign. This one is a cute Victorian Scrap piece showing a Dog holding a Sign! The sign has the sentiment "My Love to Thee" on it. Very sweet! I've also including a version with out the wording so that you can write your own. It would make a cute Tag or Label.
5) Victorian Robin on Hand with Violets. This a charming Victorian Card! There is a Lady's Hand with a Robin bird, perched on it. There are also loads of pretty Violet Flowers. SThere's a little blank space on the right, perfect as a label or gift tag
6) Finches with Flowers. This label was originally an Advertising piece for a Thread Manufacturer. There are several sweet Birds and Flowering branches surrounding the label in the center, creating a pretty Frame. I've removed the text. on two of the options, so that you can add whatever you like.
FRENCH LABELS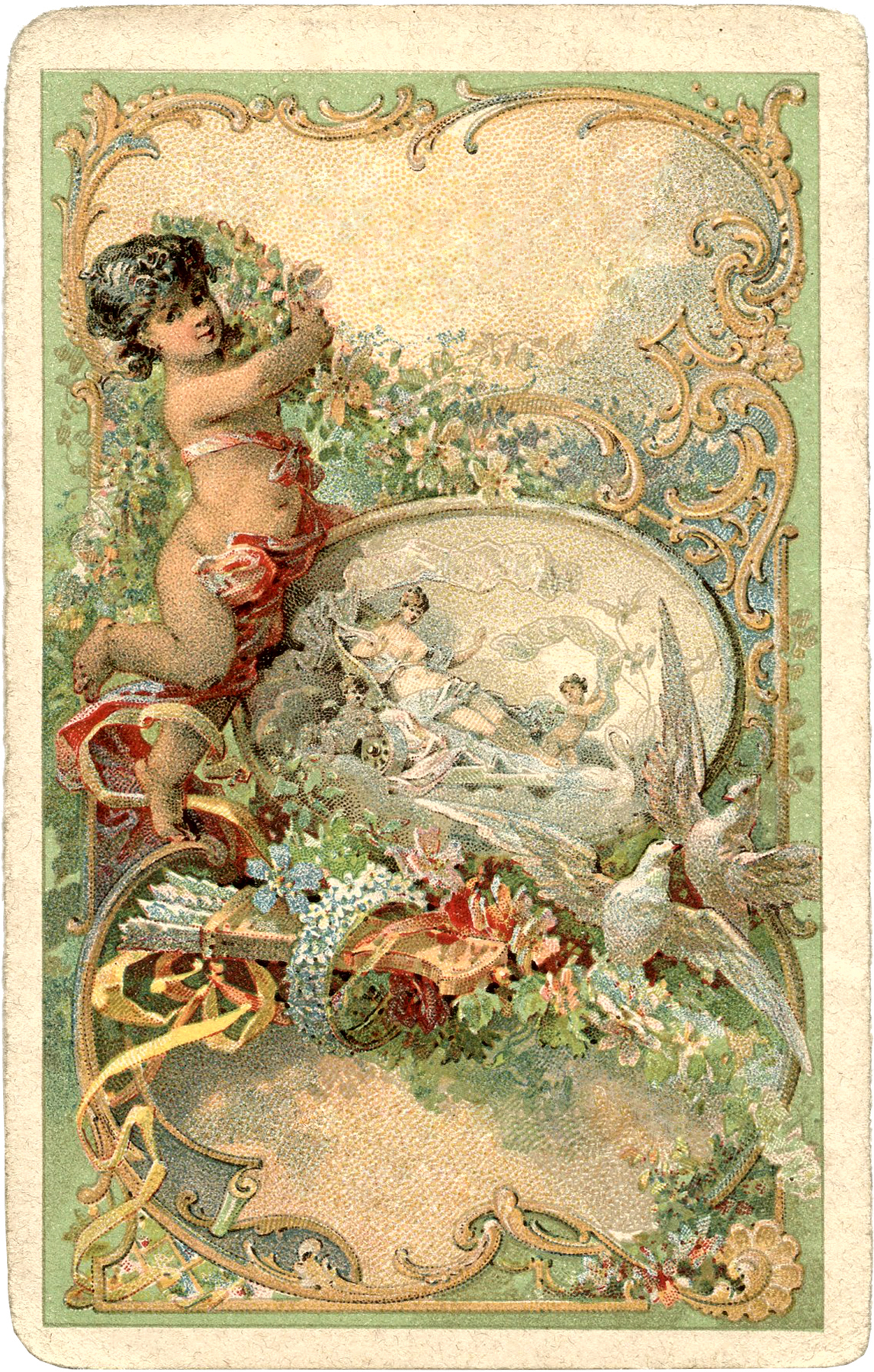 7) Paris Perfume Label with Cherubs. This Romantic Paris Perfume Label has a lovely ornate frame, beautiful Cherubs and Doves, and fancy scrolls! I think the colors are extra pretty too – soft greens, pinks, and blues.
8) French Perfume Label Frame. This French perfume label has lovely pink Roses on it, as well as the word "Paris", which is a nice bonus! It was quite tiny so I enlarged it, to hopefully make it more useful for you guys. I've also included a second version with no text for you to use however you like!
9) Black French Frame. This one is a fantastic Ornate French Frame, that was scanned from an Antique French Document. This has a blank black space in the center, where you can add some White Text, and it has all kinds of whimsical doodads surrounding it! I think it would make a great label!
10) Paris Frame with Banner. This image is from an antique French Invoice. It's a lovely frame with Medallions in it, that's embellished with leaves and banners. I created the version at the the bottom so that you can put what you like inside of the frames and banners.
11) French Frame with Pearls. These are some lovely and very ornate rectangular French Graphic Frames! I love all of the embellishments on these, like the beautiful Jeweled Bow and the strands of Pearls. Quite fancy! There are four versions: blue, black, green & brown.
12) French Invoice Label. This beautiful French Label comes from an 1890's French Invoice! I loved the fancy frame on this one, which looks like the corners are pulled back in to scrolls.
13) Ornate Rectangular French Frame. This Stunning French Card has been altered to include a blue, pink and green version. The Rectangular image has flowers and swirls around the edges. The center is a nice papery sepia tone, ready for text.
14) French Catalog Frame. This very interesting piece of Ephemera, is actually a French tombstone catalog, but it has the most beautiful frame. There are many organic elements, including leaves, swirls and medallions. The frame has a dotted border on the inside, and a blank space for text.
15) Blue French Frame. I think this French Graphic Frame image is spectacularly beautiful!! The ornate classic French design is absolutely gorgeous, there are Scrolls and Flourishes and Cross Hatching and curvy shapes galore! I also adore the soft muted colors on this one too, a lovely pastel French Blue with a soft creamy yellow, a few touches of pink and touches of Gold.
FLOWERS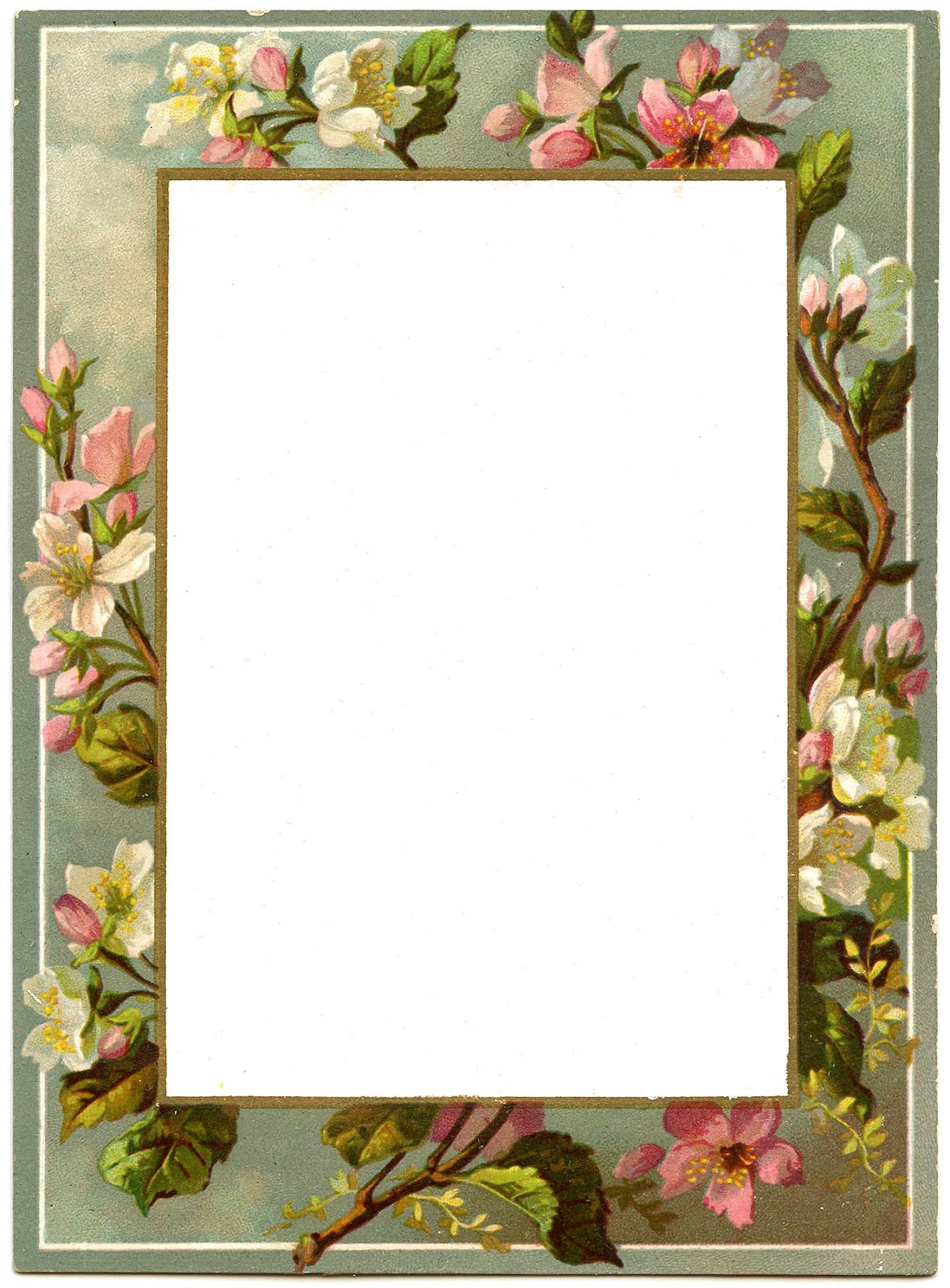 16) Pink & White Blossom Frame. This was originally a beautiful Vintage French Menu. This menu features a pretty Blossom Branch border, with Soft Muted Pink & White Tones! The blank version can be used as a Frame or Label!
17) Pretty French Roses Label. This is a lovely Antique Card with a Wreath of Pink Roses and Green Leaves. In the center is a little space that's just right for adding some text. I think it would make a pretty Gift Tag or Label!
18) Poppy Label Image. This is a Beautiful Vintage Poppy Label Image! This one is a lovely bright Orange Poppy Flower, resting on a little white card. The card has a blank area, which is perfect for adding some text to use as a label or Gift Tag!
19) Violets Calling Card. This is a another darling Vintage, or Victorian, Calling Card! This one shows some pretty Violet Flowers. There's a blank space where you could write a message if you like. I always think these make such great Gift Tags or nice to use as a Label too!
20) Red Rose Calling Card. This one is a lovely red rose in full bloom with some buds and leaves surrounding it. The background is a very pretty vintage turquoise color. This would make a nice gift tag or card image.
QUIRKY & FUN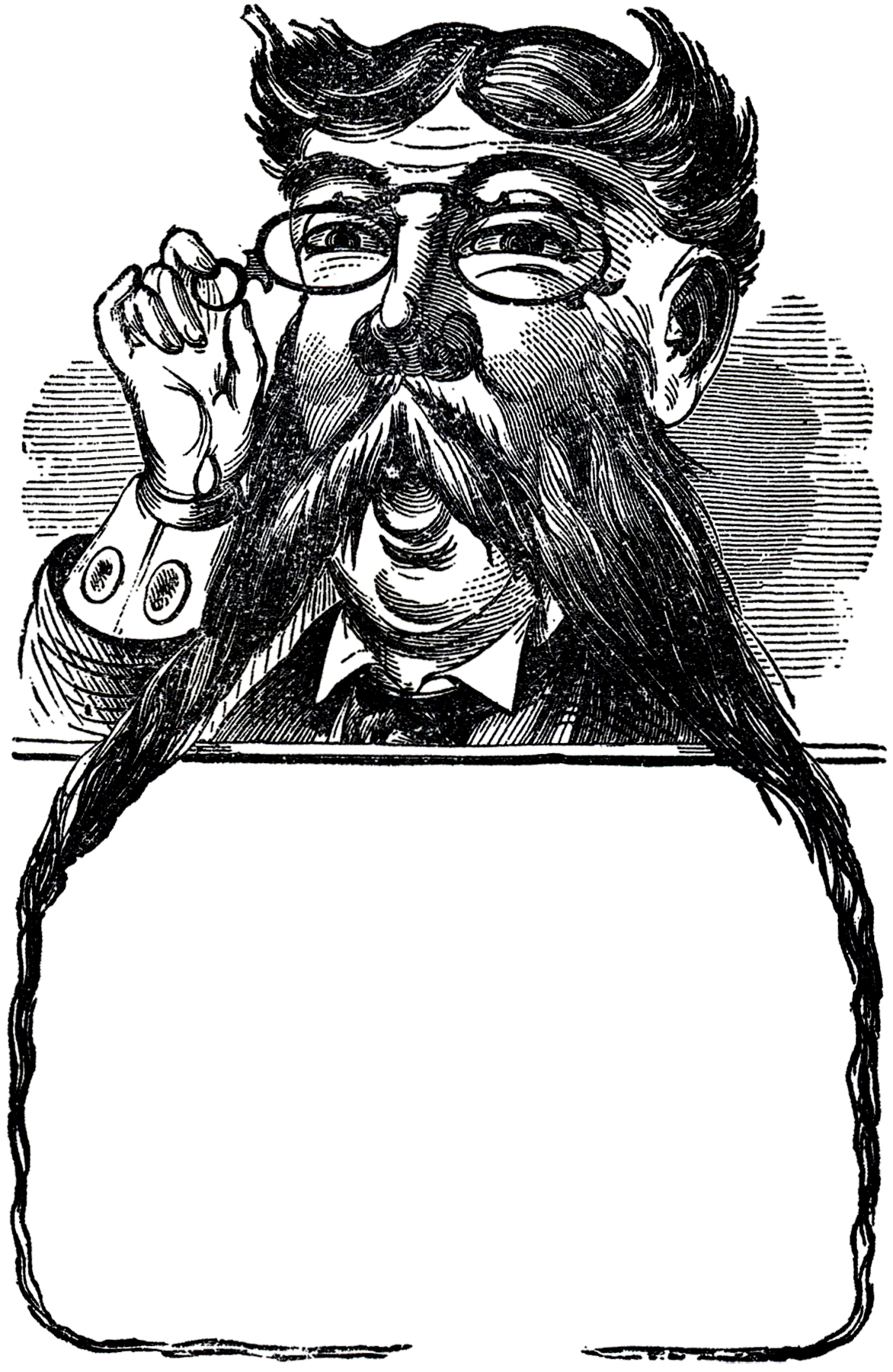 21) Quirky Mustache Man Label. This Quirky looking Victorian Man has a very long Mustache and Sideburns, that make up a Framed area on the label! The framed area is just right for adding some text to use as a Label or Gift Tag. Perhaps you could make a cute Tag for Father's Day with this one!
22) Hand with Sign. This is a fun unusual hand graphic. This one is from an Antique Rubber Stamp Catalog. The Hand is holding up a blank card, so that you can write what you like on it. Great for your Steampunk Projects!
23) Ballerina with Garland Frame. The graphic shows a gorgeous Ballerina holding a big Garland of Roses over her head! The Garland is used here as a frame. You can see that the original was used as an ad for a Costumer. I've removed the typography and have made a few color options for you.
24) Riding Habit Lady. This is a fabulous 1880's Victorian Riding Habit Lady Image. The Black and White Image shows a Victorian woman in a traditional Riding Habit Costume and stands in front of a large Sign. The blank space is great for writing in your own bit of text, you could use this for a label, or a sign in a shop, or for some cute Price or Gift tags.
25) Seashell Frame Label. This was originally a Souvenir Postcard, and has a Seashell border! This pretty color image features a variety of shells and would be cute to use as a label or gift tag!
26) Gnome with Animals Trade Card. This one has a fantastic looking Gnome all dressed in red, with a big ruffled collar and a green hat! He's surrounded by curious animals. There is a blank space to the side of the gnome, perfect for adding text.
27) Man with Trunk. This is a fun image from a Printer's Sample book! This one shows a Man carrying a large Wooden Trunk on his back. I've included an option without the wording, so that you can customize it to fit your project.
28) Quirky Snake Charming Lady. This is a very colorful label with reds, golds, & greens, with an exotic looking lady wearing a python around her neck! This would be great in any circus themed collage project.
PEOPLE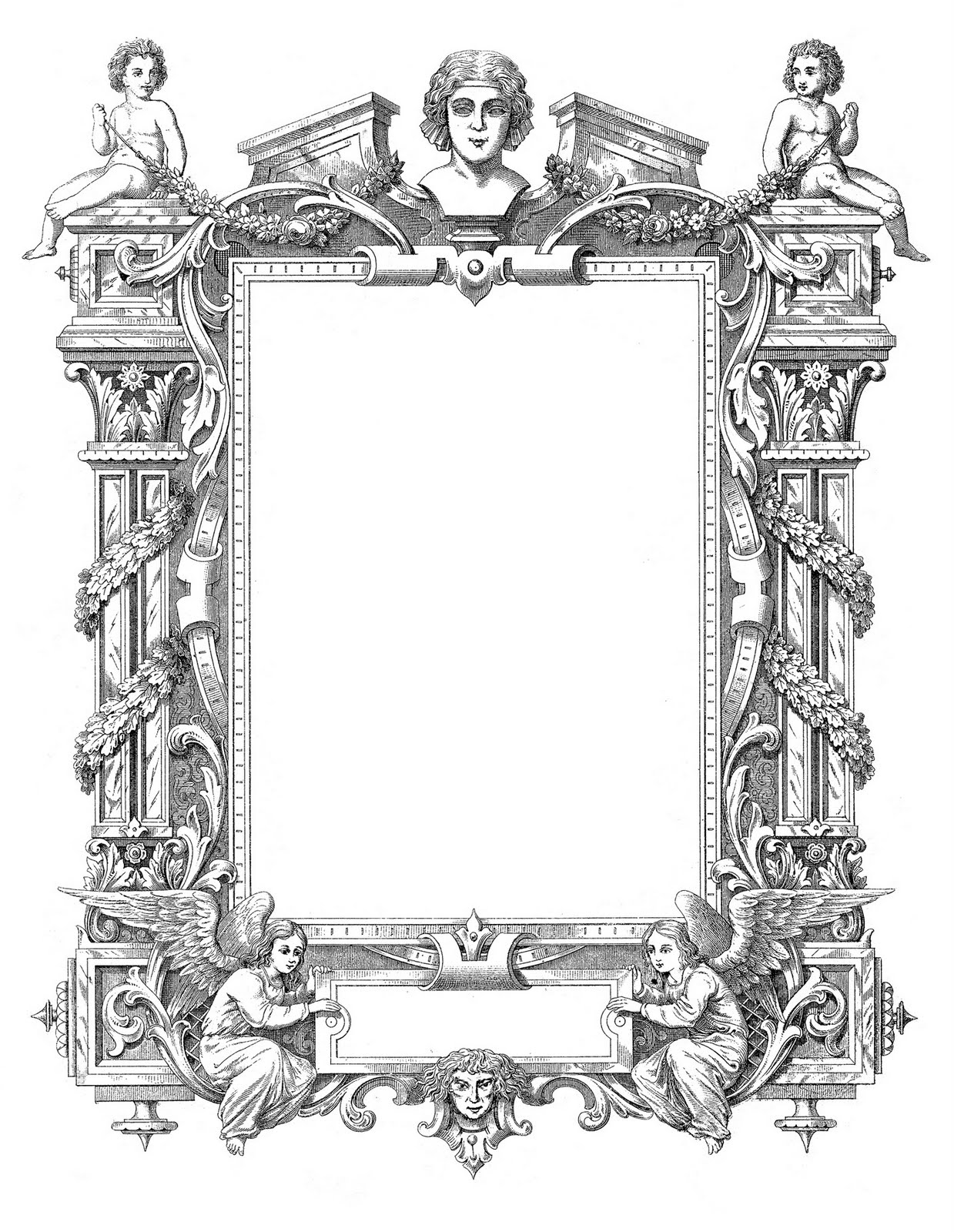 29) French Frame with Angels. This exquisite image is the cover to some antique sheet music, this one features Angels and Putti, and loads of ornate scrolls and garlands. I think this would be great for gift tags, cards, scrap booking, pillows, bookplates and of course collage. I'm sure you'll think of many more uses.
30) Beauty Ad Label. This is a fun Vintage Beauty Ad Label scanned from a rare 1880's Antique Printer's book. Featured is a wonderful Black and White Image of a Victorian woman holding a Sign and a Bird! This would have been used as an Advertising piece, for a Beauty Product. The second image is provided with the advertisement removed.
31) Victorian Woman with Banner. This is an interesting Victorian graphic featuring a woman holding a banner or sign. The banner is blank so you can add your own wording! It would make a cute label for a jar or tag.
32) French Fairy Label. This old Parisian ad for powder is a cute graphic with little Fairies on it, who appear to be inspecting the powder! The delicate Floral Frame along the bottom surrounds some blank space, ready for your text!
33) Victorian Lady with Hat and Sign. This fabulous Antique Trade Card from Maine, shows a Victorian Woman with a had leaning over a Sign. I've included a black and white version, with the wording removed from the sign as well. I think this would make a charming gift tag, a darling label or an awesome blog button.
APOTHECARY LABELS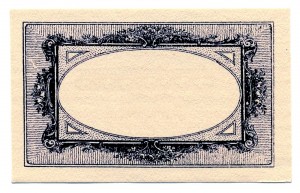 34) Blue Rectangular Apothecary Label. This is another pretty French label, that shows a wonderful fancy frame, useful for so many things! There is a an ornate frame with a white oval inside.
35) Round Apothecary Label. This is an old black and white apothecary label with the text removed. The simple lined frame has a pretty ornate embellishment around the edge that reminds me of a mirrored jewelry tray.
36) Rectangular Label. This label was originally for some sort of Medicine. The black & white rectangular frame has triangular shapes around the edges with some pretty corner embellishments.
37) Round Apothecary Label with Shell Motif. This one is an old cold cream label. I think the shell motif on this one is especially pretty. There is a blue, aqua, and black & white version with text, and a black and white version with just the frame. This would be fun to use on the lid of something!
38) Round French Apothecary Label with Lion. This is a fabulous old French Apothecary/Pharmacy label in black and white! It has a lion mixing up some medicines and there are three blank lines ready for text. A French address is at the bottom in a curved banner.
39) Blank Druggist Label. This is a great classic looking Druggist or Apothecary label. There is a great image of a set of scales, with a the business name and address. At the bottom, there is a large area for writing information and instructions.
OTHER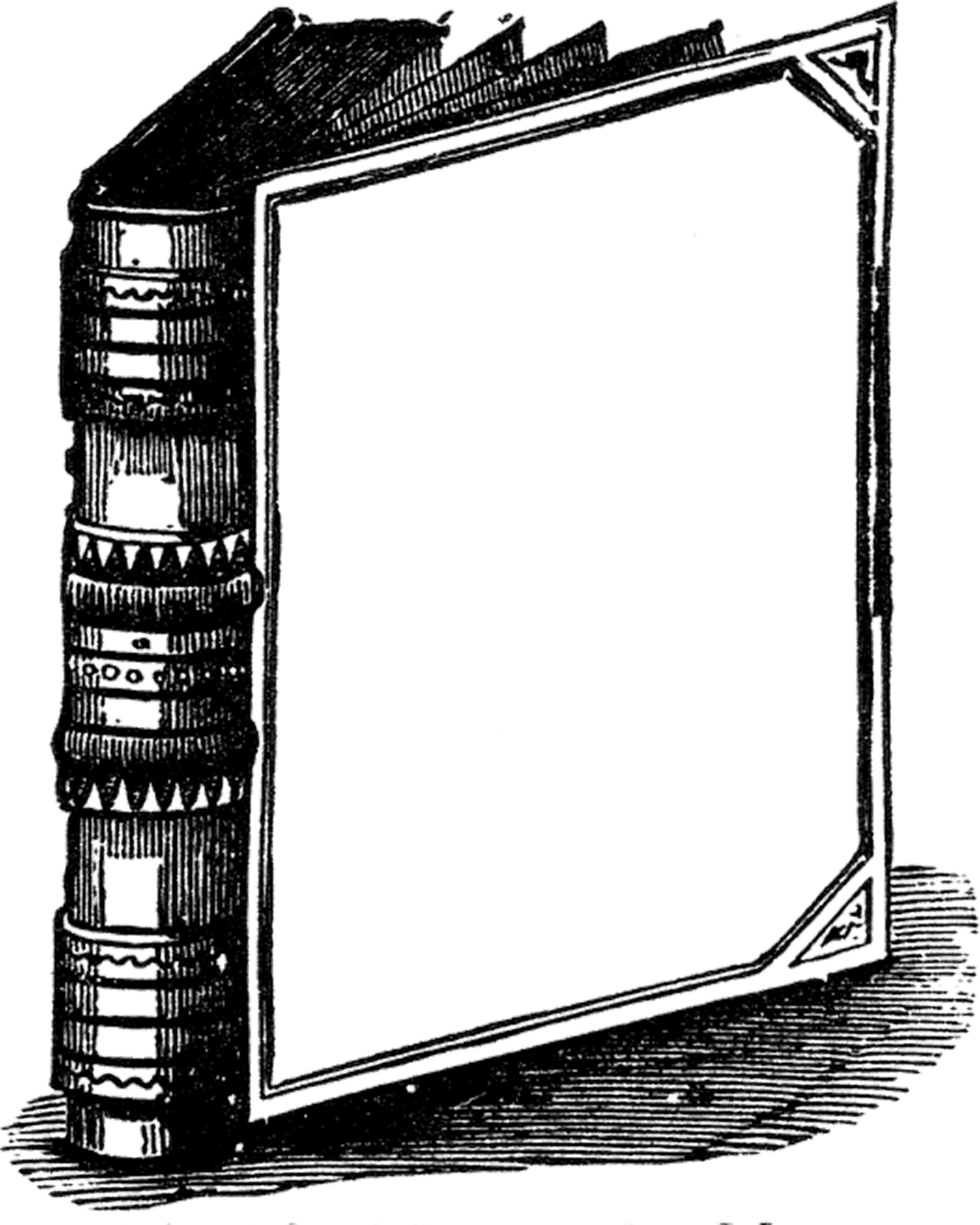 40) Book Image Label. The book label features an old fancy Leather Book with a blank area on the cover. The blank area is perfect for adding your own text. This would make a great Label or Bookplate! This one is from a rare early 1900's Printer's book!
41) Red Bordered Label. This is a cute small rectangular label with a thick red border on the outside and an inner thin line. The vintage gummed label is great for all kinds of crafting, collage or scrap booking projects.
42) Rolled Curtain Label. This particular frame is made to look like a curtain or drapery, complete with pleated edge and tassels! I can think of so many uses for this one, great to use on the cover of a program, for a school or church play, nice for invitations, great for scrapbooking, a graduation card, etc.
43) Ornate European Frame. This gorgeous Digital Frame Image is from the cover of an Old German Baptism Box. It features scrolls, flourishes, ribbons and flower motifs. There is a white, oval area in the center. It would be great as a label or gift tag.
44) Spectacular Banner Frames. This antique advertising card has several places for text. I just adore all the fancy ornate scrolls and swirls and the amazing ribbon banners. Such incredible detail! The original is at the top, it's yellowed with age and has a fantastic patina. I've also provided a few cleaned up versions, one in Red and White and another version in Black and White.
45) Circular Ribbon Frame. This is a beautiful Vintage Round Graphic Frame that came from a wood-burning catalog. The frame features a lovely Round Frame with a Ribbon and Beaded Border. This would look beautiful as a round label on a lid.
FRAME LABELS

46) Ornate Rectangular Name Plate. This piece was from an old book, used to introduce a chapter in the book. The third version has been cut out digitally and the wording has been removed. You could use this one as a label, or as a button for your blog, or as a fun scrap booking element.
47) Circular Victorian Frame Label. This pretty Victorian frame is from a 1916 Ladies Magazine. I photoshoped out the words to give you a blank canvas to work with. The frame has simple lines with a flourish at the bottom.
48) Ornate Frame Label. This is a gorgeous early label that was probably used originally for ribbon. I believe it may be French and it dates to the mid 1800's. The ornate gold frame has lots of swirls and a pretty flower embellishment at the corners.
49) French Ribbon Frame Label. These wonderful French Ribbon Frames from an Old French Type Book! These would make great Labels or Tags. There are four color versions – black, blue, grey and pink for you to choose from.
50) Scroll Label. This cute Old Advertising Label Image was scanned from an 1880's Rubber Stamp Catalog. I loved the fancy frame on this one… I've included an option without the text, so that you can use it however you like!
51) Simple Rectangle Frame. This is a very long rectangular frame with little swirls on the sides. The "lines" of the rectangle are actually made out of small triangles. This would be a good frame to use when you need to label something with a long name or lots of text.
52) Ornate Baroque Frame. These are four Gorgeous Baroque Frame Images from an Ornamental Design book. I love all the ornate scrolls and swirls and the beautiful Roses on it too. There is a large space in the center for some text, and then a smaller section at the bottom, where you could place additional text. There is a black, teal, red, and gold version for you.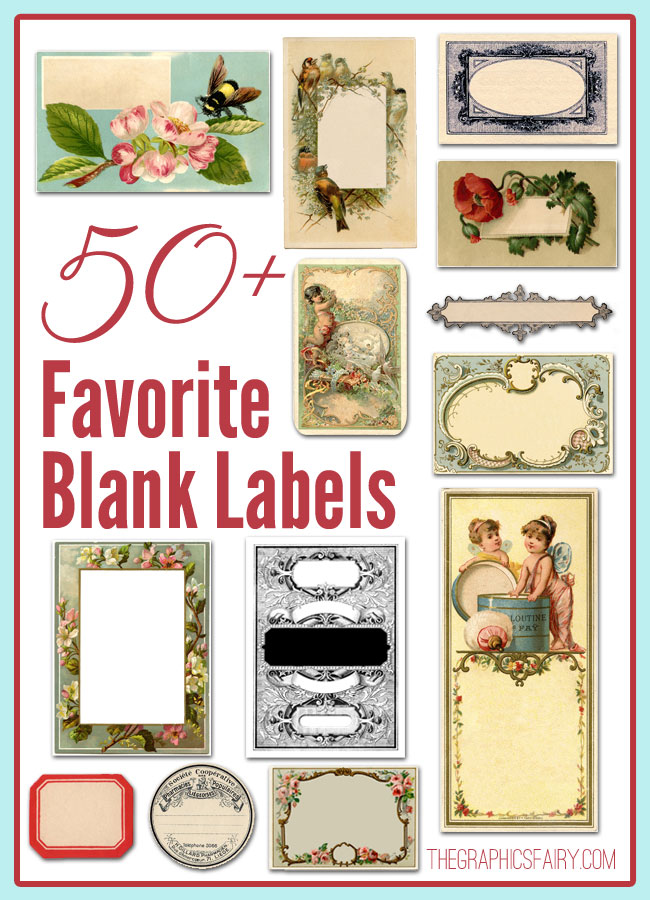 I hope you enjoy these
50+ Favorite Blank Labels
! These are really wonderful images to use in so many projects. Don't forget to browse my
Label category
for more inspiration & images. The
Frames category
is also a great place to look to find other images that can double as labels too!
Hello! Are you new to The Graphics Fairy?
Welcome, I'm so glad you're here! Browse around to find
thousands of Stock Images
that you can use in your projects or designs! Need more info about my site? Try my
FAQ
page.