7 Clover Shamrock Images
Today we have a wonderful collection of Clover Shamrock Images! Now that March is almost here, it will be St. Pat's Day before we know it! These Shamrock and Clover pictures feature an adorable Vintage postcard in the mix as well. There are lots of fun graphics to choose from here and even some additional color options as well. We have a variety of Clover and Shamrock Clipart illustrations, ready for your projects. All are wonderful Irish graphics to use in your St. Patrick's Day crafts or designs. How about making a few St. Paddy's Day Handmade Cards or an Irish Mixed Media Collage or a St Pat's themed Junk Journal?
Vintage 4 Leaf Clover Images
Here is the newest addition to this set! Here's a fancy looking Shamrock! This one is all done in gold, with circular clover wreath in the center. It would look lovely paired up with the postcard from down below.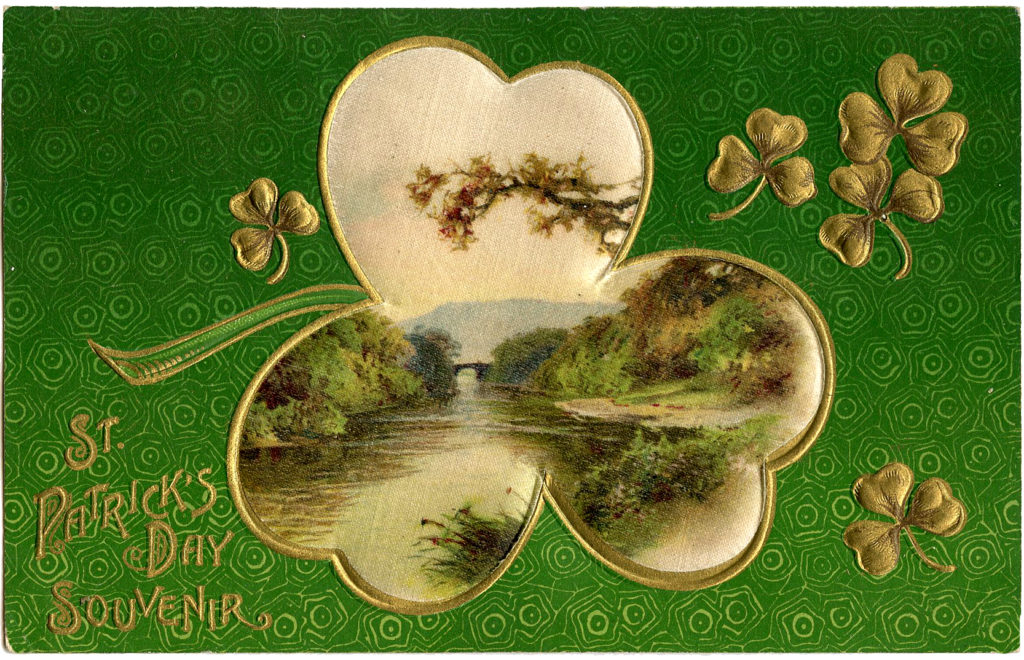 Shown above is a beautiful Vintage Postcard. There is a large clover shape in the middle, with a lovely pastoral scene inside of it. Pretty!
This antique postcard shows a classic four leaf Clover tied with a lovely red bow. It has a 'Good Luck' sentiment in a fun font. I hope it brings all of you lots of Good Luck!! We have rescanned this one for you, to give you a higher resolution option, as this one was originally posted quite a few years ago. I think it's a nice simple design that would work well used on a Handmade St Patrick's Day Card. Wouldn't it be fun to go over the gold parts with a metallic art pen?!
Vintage Shamrock Clipart