Hi you guys! We have something new that we are introducing today!! We've had some requests for stand alone bundles, that are not just for the Members on our Membership Site. We get it, even though we think our Premium Membership Site is a fantastic deal, not everyone is interested in joining our Monthly, or Yearly, Membership Subscription. So today Emily and I are offering the same Vintage Paris Kit that our Members are receiving this week, as a single purchase item!
 $9.98
THIS BUNDLE INCLUDES:
26 high resolution images (.png)
1 set of Photoshop brushes (.abr)
8 printables (4 French transfers with reverse versions) (.pdf)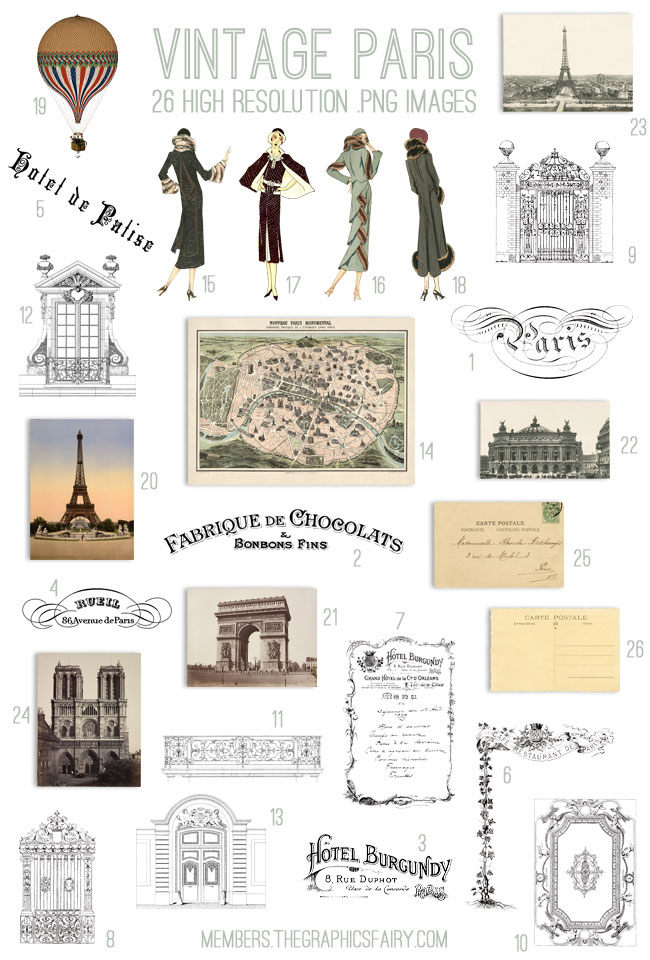 In this collection we are offering 26 High Resolution Images with a Vintage Paris theme!
We think you'll find all kinds of uses for these, that you can use for either your Personal or Commercial Projects!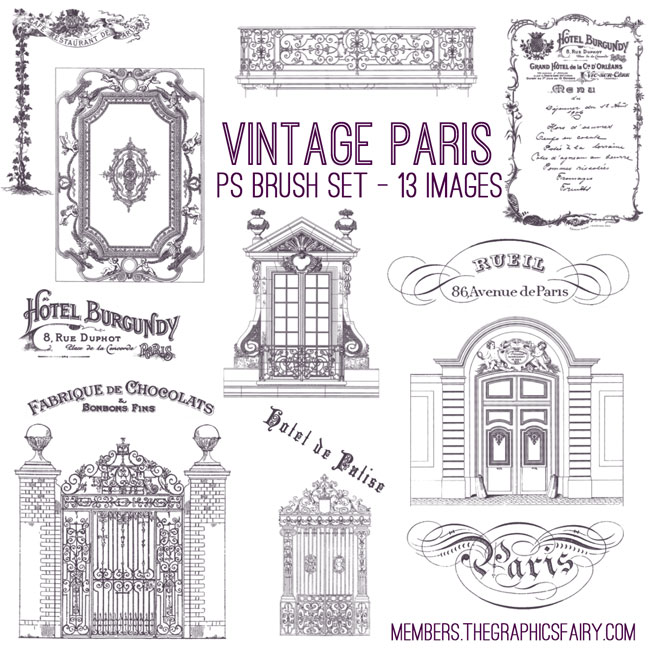 We are also offering the same Images as a Photoshop Brush Set! We think you'll love this great set. What we love about Photoshop brushes is that the images can easily be duplicated, combined, recolored, and re-sized, to give your projects new life. They are like digital Rubber Stamps!
For those of you that prefer  Print Ready options,  we are offering a 4 gorgeous French Transfer Printables! All of these come with a Mirrored Version as well, so they will work with all of your favorite Transfer Methods!
 How the Purchase Process Works
Simply click the Add to Cart button.  You will be routed to PayPal to make your purchase. After your purchase, you will receive an email message with links to all four (4) .zip files.
Click the links provided in the emails to download each .zip file.  Unzip them to your computer or hard drive.  You are now ready to work with the files in the Kit!

$9.98
Download a Sample Image First to Try
Questions?  Unsure? Test it Out Here First!  If you aren't sure of how the download process works or if you are concerned about the download process, you can test out the process below.
The link below will let you download one (1) free sample test Image.  Download this free file to make sure the product is something you can download and work with before purchasing the full set.
CLICK HERE to DOWNLOAD one SAMPLE test Image
Terms of Use
We understand that as a professional designer or a crafter making designs to duplicate or sell, you need no nonsense terms of use.  Our generous terms of use don't require buying additional licenses or paying extra fees for commercial use.  Our updated terms of use are listed below.
TERMS OF USE (updated 02/10/2016)

***Thank you for your purchase from The Graphics Fairy Site!   By purchasing and downloading these items, you are agreeing to the personal and professional use terms herein.

***The license is a single user license.  It cannot be sub-licensed, resold, transferred, shared, or redistributed in any way.

***Items downloaded in this kit may be used in the creation of personal projects, in artwork that you offer for sale, and for client projects.  There are no limitations on Personal or Commercial use, provided you have made the resource part of another work or are not directly selling the resource itself for profit.

***Items contained in this kit may not be redistributed or offered as-is elsewhere for any reason.  They may not be offered for sale (e.g. reselling to a stock resource website), and they may not be made available for download or sharing outside of TheGraphicsFairy.com

***Thank you so much for your purchase and we hope you enjoy these creative resources!  If you have any other questions, please email [email protected]

You might also like our Ornamental Icons Mega Kit

This gorgeous Ornamental Icons Bundle contains 191 images in four (4) different file formats (.png, .ai, .eps & .svg), for a total of 764 files.  This gorgeous set is available for a one-time purchase price of $29!
These images are a perfect collection for artists, designers, and crafters alike!  We actually created this collection because of these wonderful timeless icons that have been used in architectural, stained glass, and design applications for centuries!  In this set, you'll find rosettes, florals, leaves, border pieces, architectural elements, scrolls, and square tiles.
Ready to Purchase this set for $29?

If you're ready to purchase this custom set of 191 images in (4) different file formats (a total of 764 files), click the Add to Cart button above!