21 Vintage Sailor Clipart
Here we have some cute Vintage Sailor Clipart including girls and boys! Sailor outfits were all the rage with the Victorians, they loved to dress their children, both boys and girls in these classic military style suits! Young ladies were also attracted to this stylish attire. These are a combination of Full color and Black and White Images, some are clip art illustrations but I've also included a couple of Antique Photos as well.
Vintage Sailor Boys with Sweet Faces
This is a Gorgeous Vintage Sailor Boy Image! This cute little boy is wearing a Gray Suit with matching Hat. He's holding a little Toy Sailboat!
This little diamond shaped card features a darling Victorian Sailor Boy! His face and eyes are so beautiful. And the colors are great too, I love the contrast of his red tie with his blue suit. The suit matches his Blue Eyes perfectly.
This is a fabulous Big Eyed Victorian Boy Image! What a beautiful Image this one is. Shown here is a gorgeous little Boy with Big Brown Eyes, he looks like he's looking right at us! He's wearing a classic Blue Sailor Suit.
Victorian Sailor Suit Trade Cards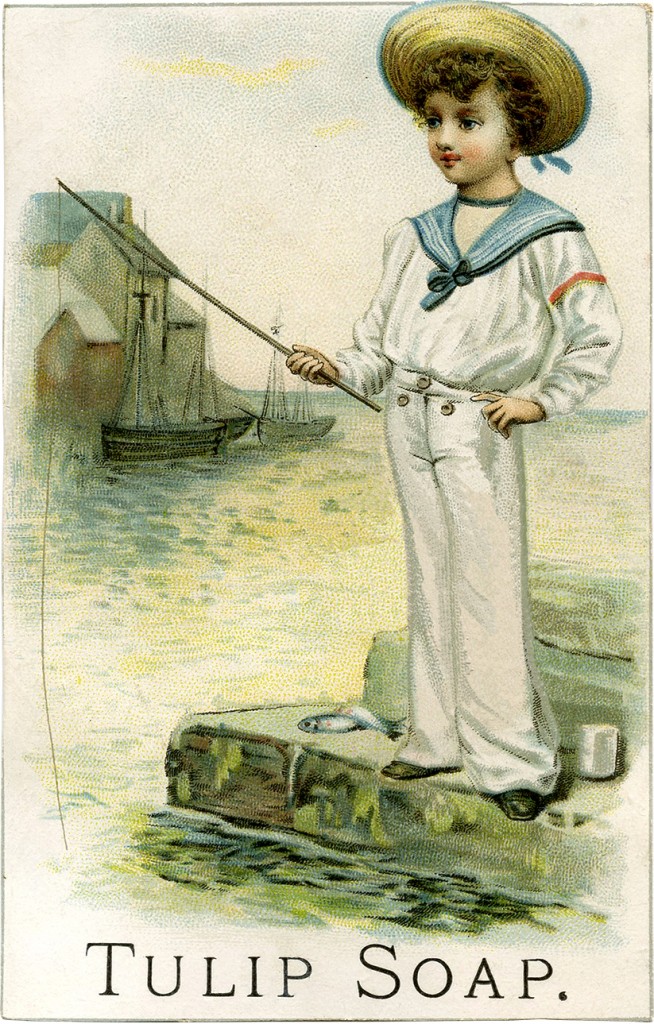 This is a Victorian Trade Card for Tulip Soap. I purchased this as a set of 4, each one shows an adorable little boy in a Sailor Suit. This first one shows our sweet child fishing on a peer. It looks like he's caught a couple of fish already! He looks quite sharp in his White Suit with blue collar and his Straw Hat.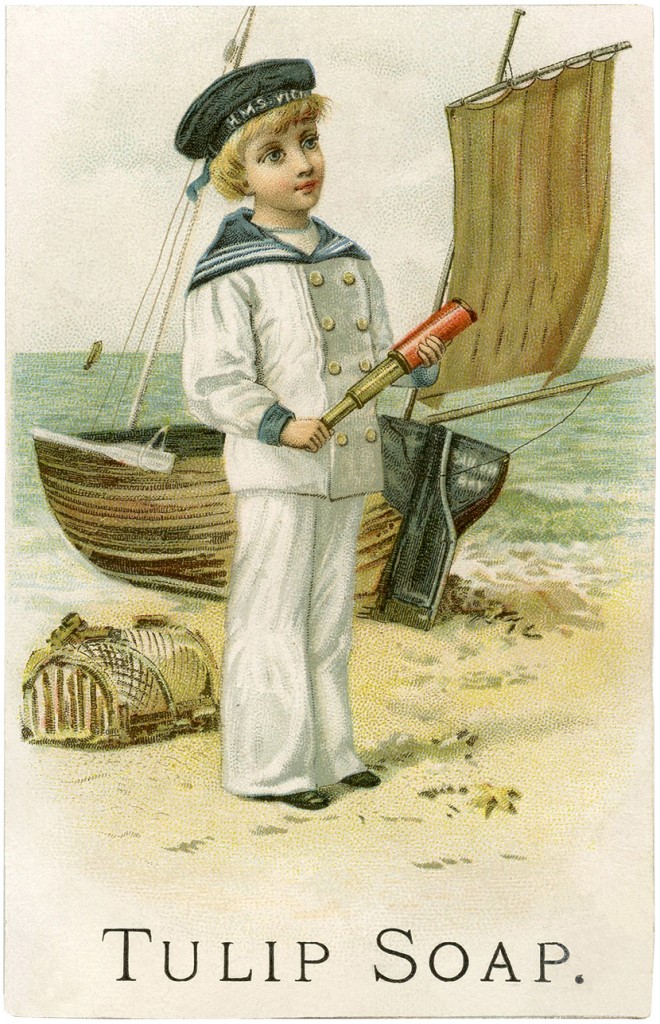 This is the second one in the series. This charming child appears to be getting ready to go out in his fishing boat. He has some type of trap behind him and he's holding a telescope. He's sporting a classic double breasted Sailor Suit with a Navy Beret.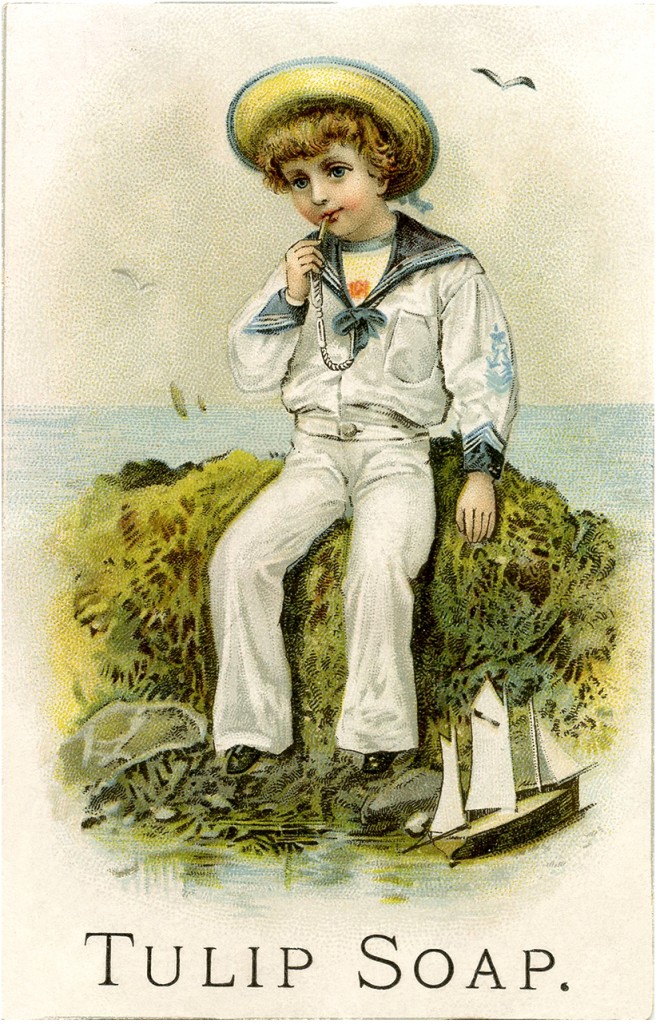 Our next little Lad appears to be sitting on a bed of Kelp! I would not think that would be very comfortable. He's got his toy Sailboat with him and a shiny metal whistle.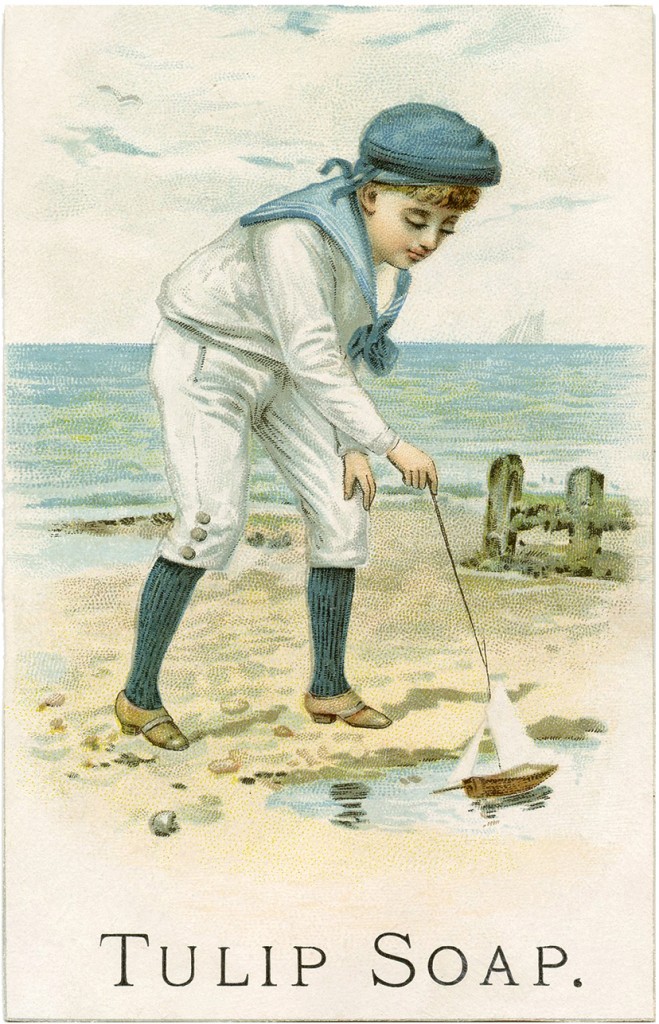 Our last boy in this series, also has a toy Sailboat. He's found a little tide pool on the beach to sail his boat in. Looks like a fun day at the Sea! Click HERE to see how one reader used this image to create a charming Coastal Themed Card.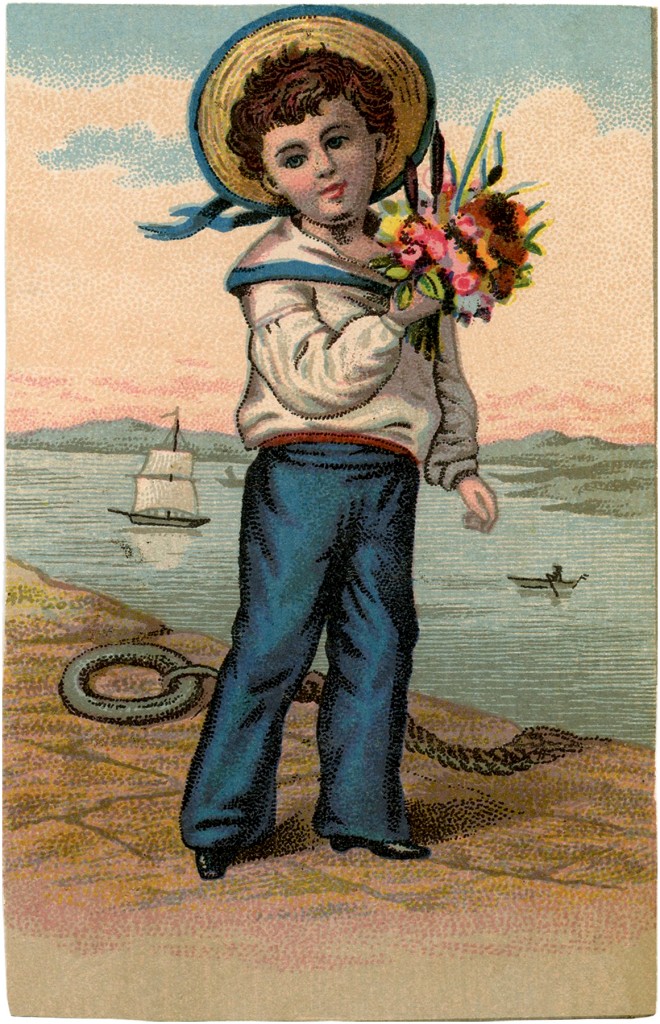 This cute young Boy is not a part of the series above, but he has a similar style to him. He's carrying a bouquet, perhaps it's for his sweetheart.
Realistic looking Vintage Sailor Images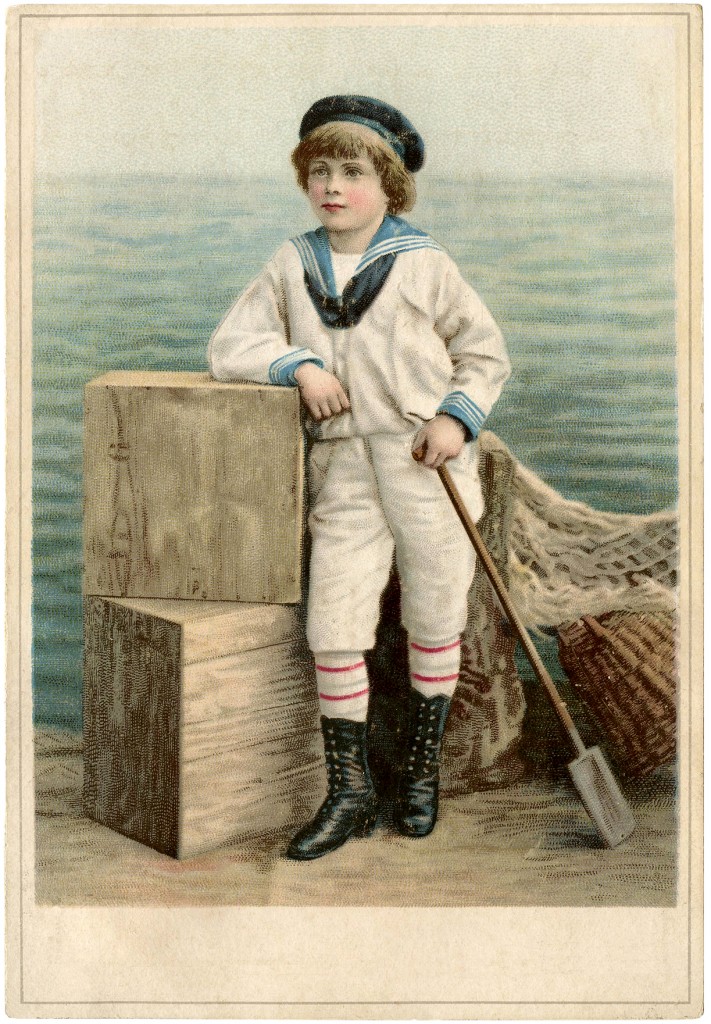 This is an Antique Trade Card, probably used as an old Advertisement, although I didn't find any writing on it. It's such a realistic looking picture, that it almost looks like a photo! This card shows an adorable little Boy dressed in a White Suit. I love his striped socks! He appears to be standing on a Dock, with an Oar in hand, with the Ocean waves behind him. The colors are so vibrant and lovely on this Image.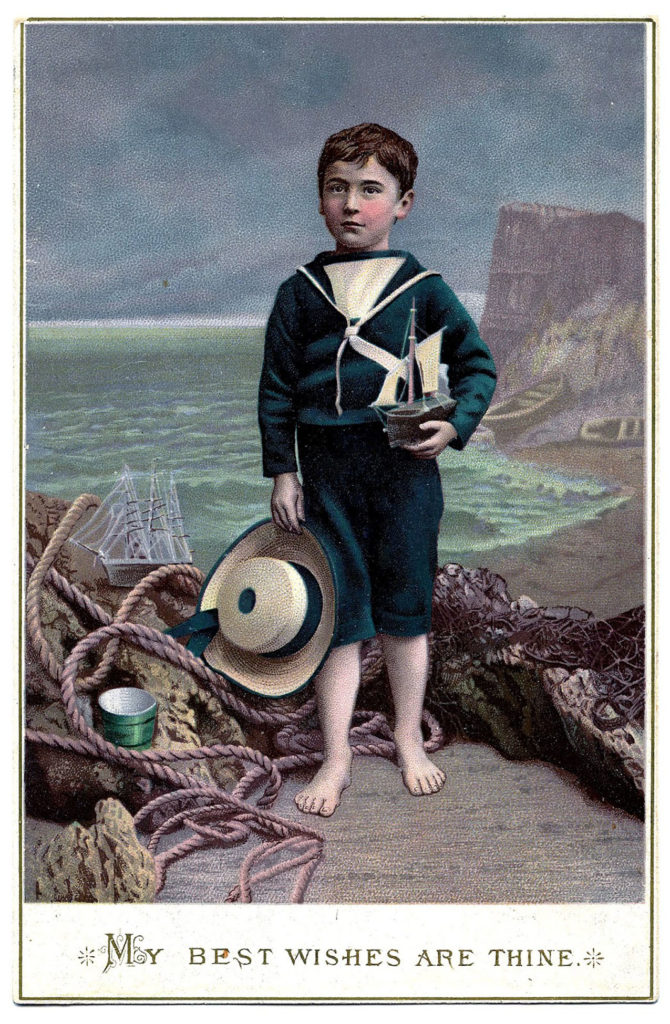 This is an unusual looking Victorian Card! The card shows a little Boy in a Navy blue Nautical Suit… by the Sea. He's holding a Toy Boat and a Straw Hat. None of that is unusual really, but it's the Dream like appearance of the scene that is so different looking. This one really draws you in and makes you wonder… or at least that's how I feel when I look at it! As if something magical were about to happen!
Sweet Simple Sailor Illustrations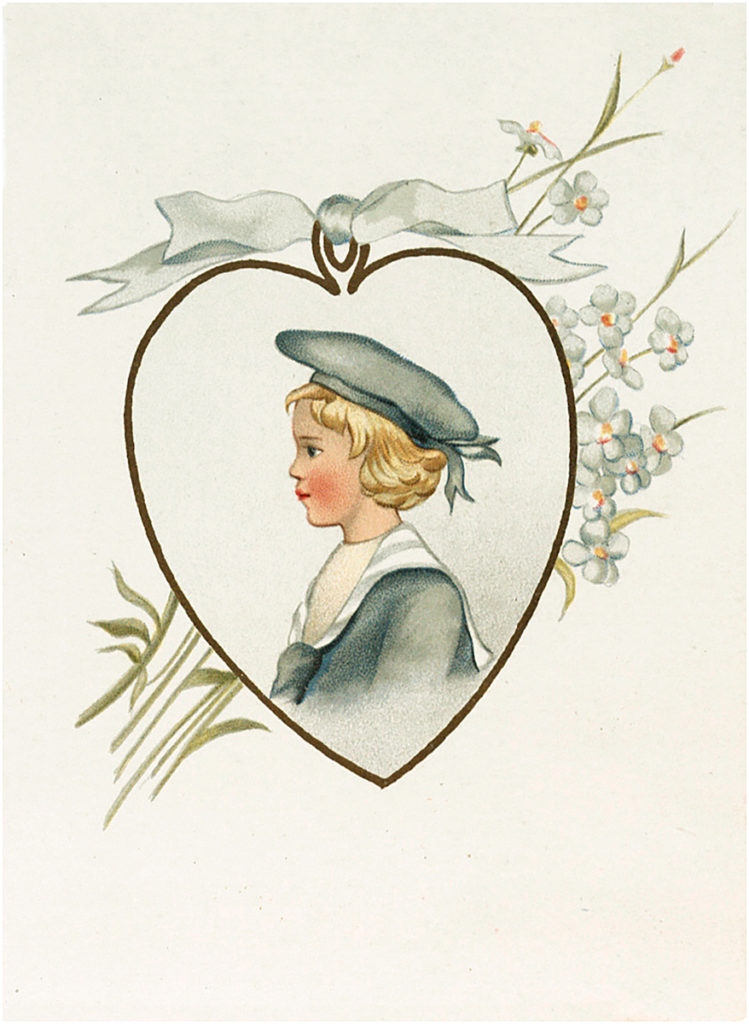 This is a Delightful Child in a Heart Graphic! A heart hanging from a dusty blue bow frames a side portrait of a cute child in a dusty blue suit and cap. A spray of white flowers stretches behind the heart.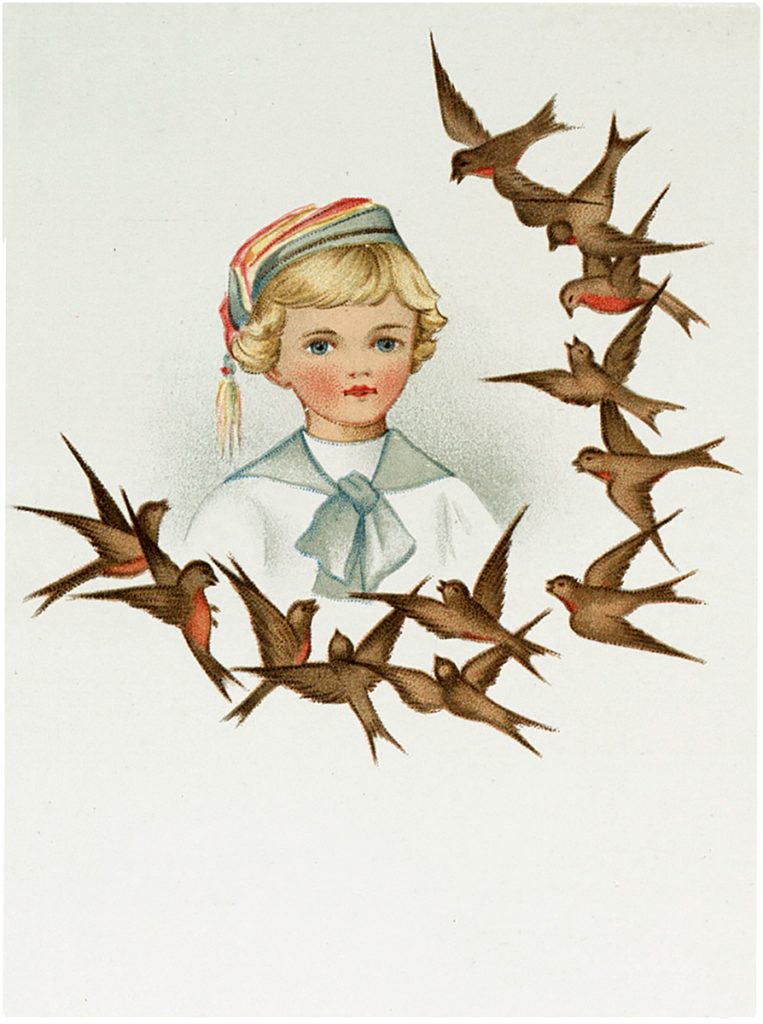 Adorable Boy Surrounded by Birds Image! Brown birds with red chests surround an adorable blond Sailor boy. His tie is a light dusty green-blue color and the cap is the same green with red and yellow stripes and a gold tassel hanging off the side.
Quirky Sailor Boy Image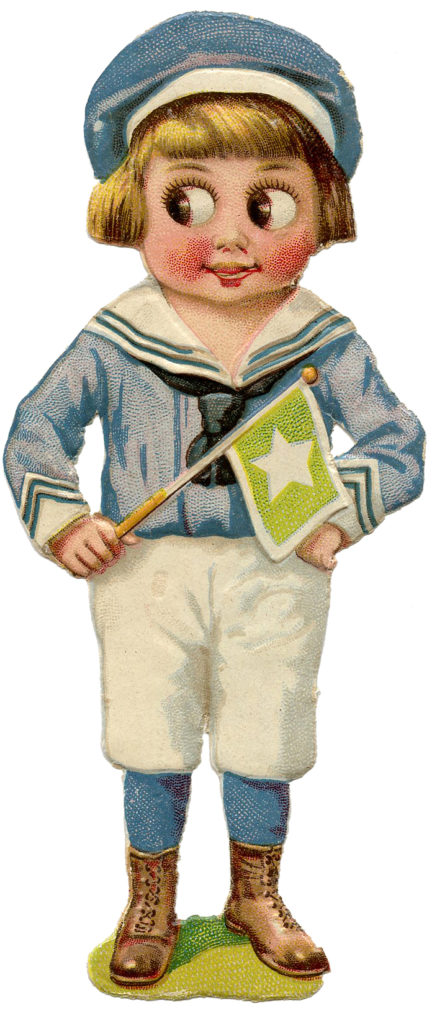 Here's the newest addition to this collection. This one is so quirky and whimsical! This little guy has the cutest Googly eyes. He's a Victorian Scrap piece from my collection.
Black and White Sailor Clipart Boys
Here is the latest addition to this collection. Shown above is a Circa 1889 Advertisement showing a a cute little Boy. This was a medicinal ad for Beecham's Pills. The engraving of the child is so beautifully done!

I found this picture, of a little boy in a sailor suit, in a Victorian children's book. He's quite the charmer with his short pants and his "Gilligan" style hat!

Next up is this super sweet Vintage Garden Boy Image! This image was scanned from a Circa 1920 Children's Rhyme Book. This beautiful illustration shows a sweet little Boy dressed in a Sailor Suit. He's holding an old fashioned Watering Can and appears to be getting ready to do some Gardening! Such a lovely scene! I think it would be fun to color this one in and use as a Bookmark. You could even laminate if you like.
Black and White Sailor Girls Clip Art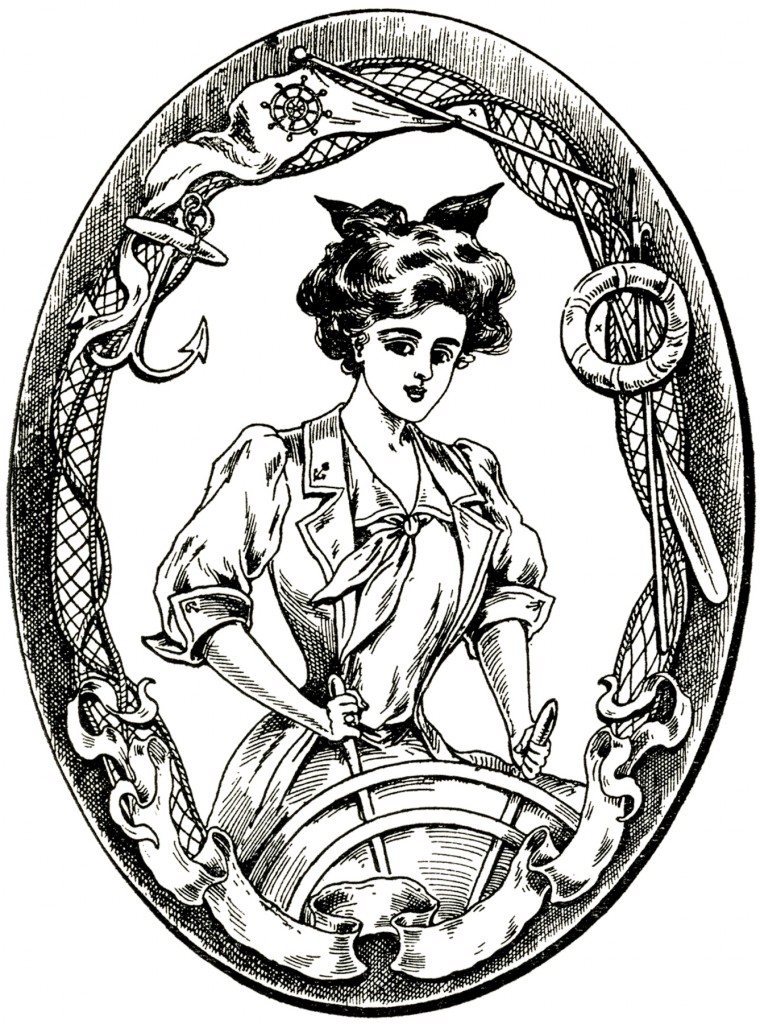 This is a beautiful Vintage Sailor Lady Image! She looks quite young, she may be a teenager. This one comes from a book in my collection, it's a rare Circa 1907 Pyrography Catalog! The catalog is full of patterns, tools and accessories for the art of Pyrography, which is when you burn a design into wood. This intricate design would have been used for that purpose, and added to boxes or small furniture pieces. This lovely young Woman looks so smart in her old fashioned Sailor outfit. The outfit is quite fitting, as she appears to be steering a boat, and she's also wearing a fashionable Gibson Girl Hairstyle! Charming!