266 Ocean Clipart
We've updated this post to put together this huge free Ocean Clipart collection for you to use in your creative work! Featured below are our most popular Sea themed Categories, including Under the Sea Clipart, Ocean Animals Clipart, Ships and Nautical Instruments, Seashells, Mermaids and Beach goers. Such a fun set of themed graphics for you today! You will find both full color pictures and Ocean Clipart black and white images. These high resolution download Images are perfect for your summer craft projects. They would also be great for DIY Coastal Decor projects. I could see many of these on Wall Decor, Pillows, Coasters, Kitchen towels and more.
Under the Sea Clipart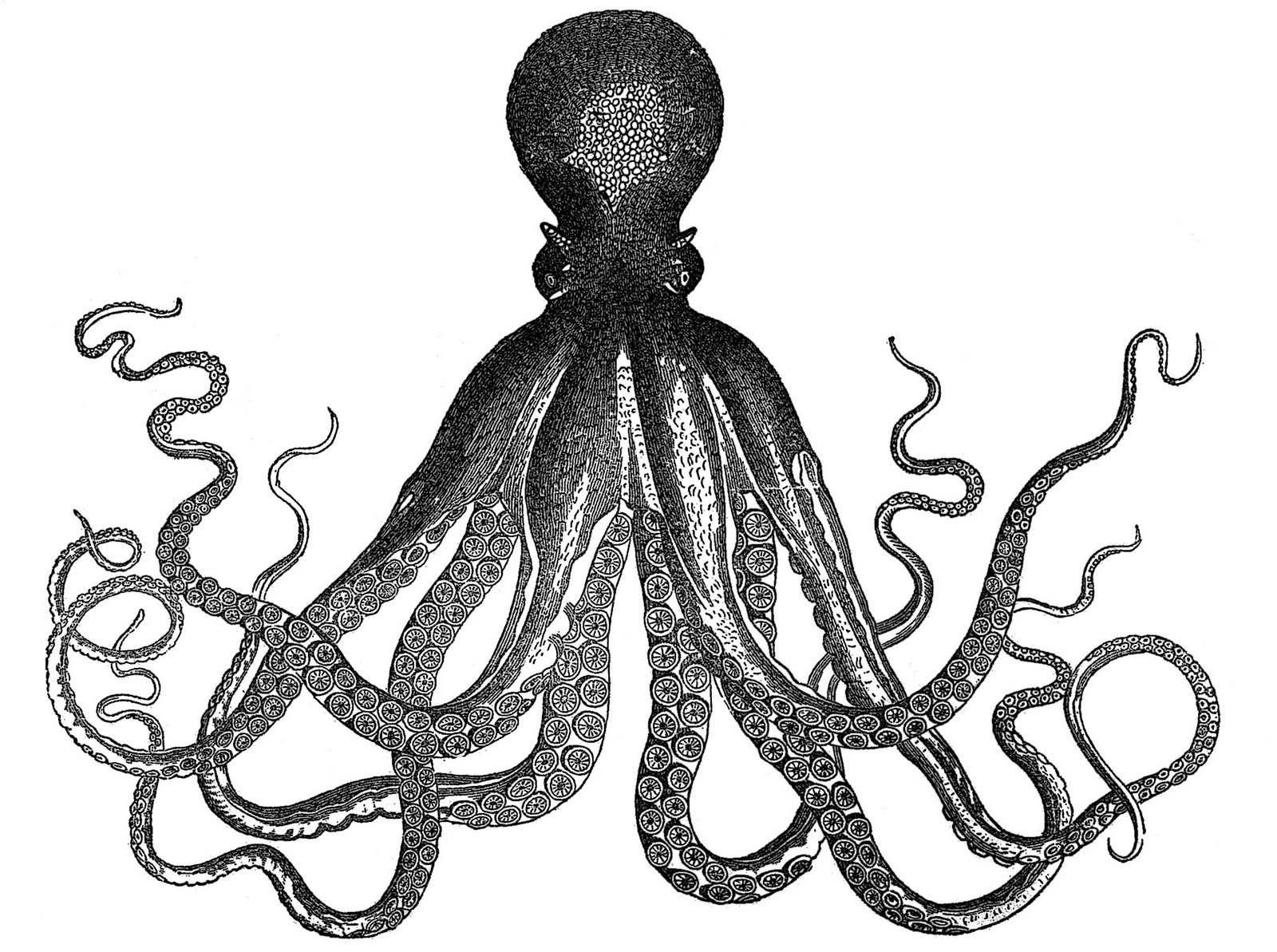 9 Octopus Graphics  Some of these images have been used many many times over the years by artists and designers! This is a fun clip art set of pictures that also includes Cuttlefish and Argonauts.
7 Seahorse These guys are some of the cutest creatures on earth, and definitely one of the cutest in the Ocean! This set includes Realistic Seahorses as well as some silhouettes. You will also find a fun whimsical pair of unrelated creatures, that share a similar name. Wink!
23 Fish Illustrations  This is a nice big set of Fish pictures! These may not all be from the Ocean, but there are lots to choose from here in both full color and black and white.
7 Whimsical Fish These aren't the most realistic looking Fish, but they sure are fun! They have very fancy fins and look as though they could fly right out of the Sea.
9 Crabs This is an all black and white collection. There are crusty looking Crabs, smooth looking ones and a few Hermit Crabs to boot!
5 Lobsters In this set you'll find black and white Lobster pictures, a Red Lobster and a even a Lobster shaped fishing lure. So cool!
Ocean Animals Clipart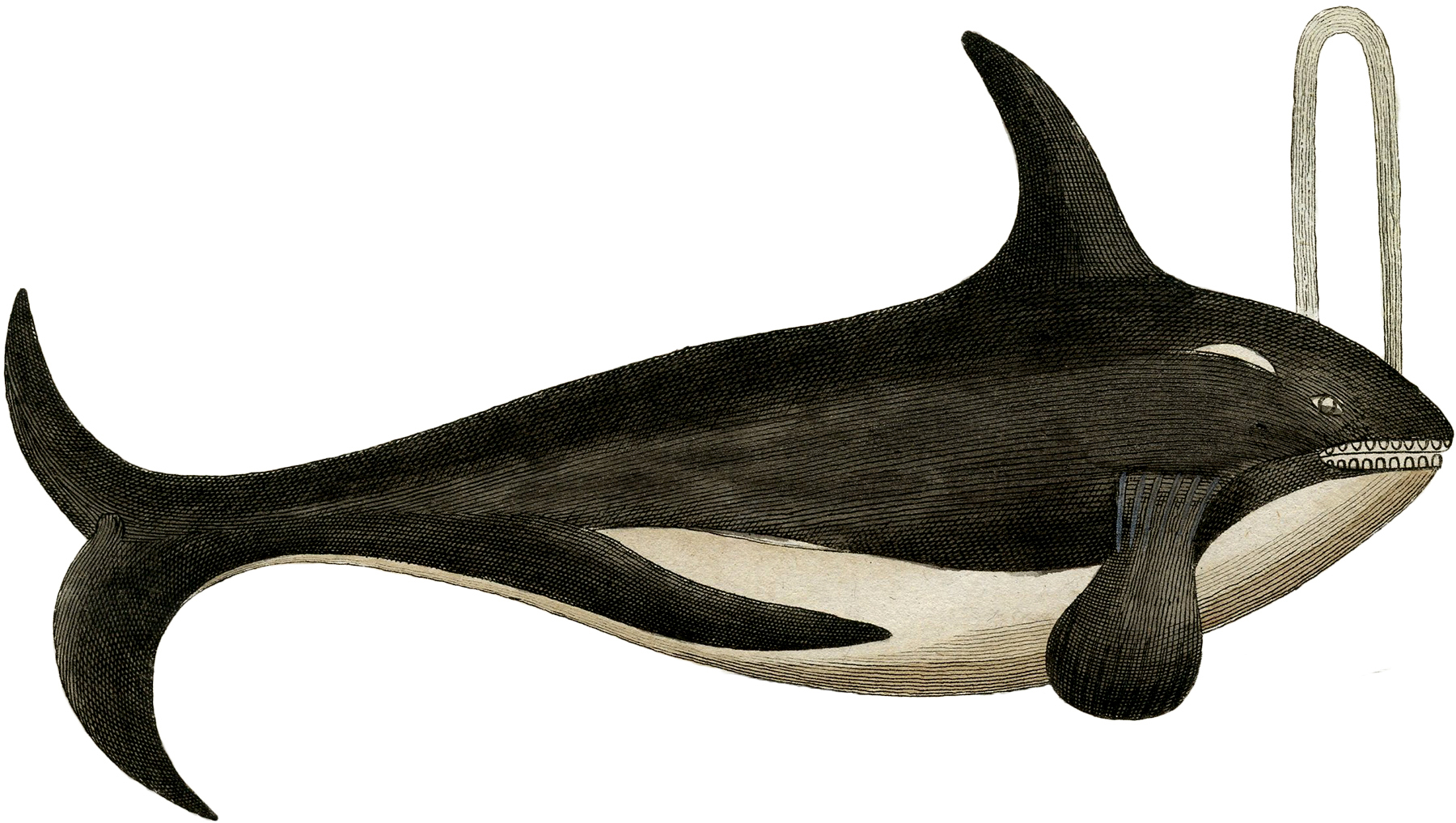 7 Whales In this collection you'll find Killer Whales, Sperm Whales, a White Whale and even a few Narwhals … such interesting Ocean Animals!
8 Dolphins Who doesn't love Dolphins?! Such fun to watch them play in the Ocean. This set includes full color and black and white Dolphin Images, as well as one fanciful looking version.
4 Pinniped Images Pinnipeds include Seals, Sea Lions and Walruses. On this post you will find all three of them. Such wonderful pictures to use in your artwork!
12 Turtles Some of these are land Turtles, but there are several Sea Turtles included in this set as well. You'll find full color and black and white versions.
Ships, Boats & Nautical Instruments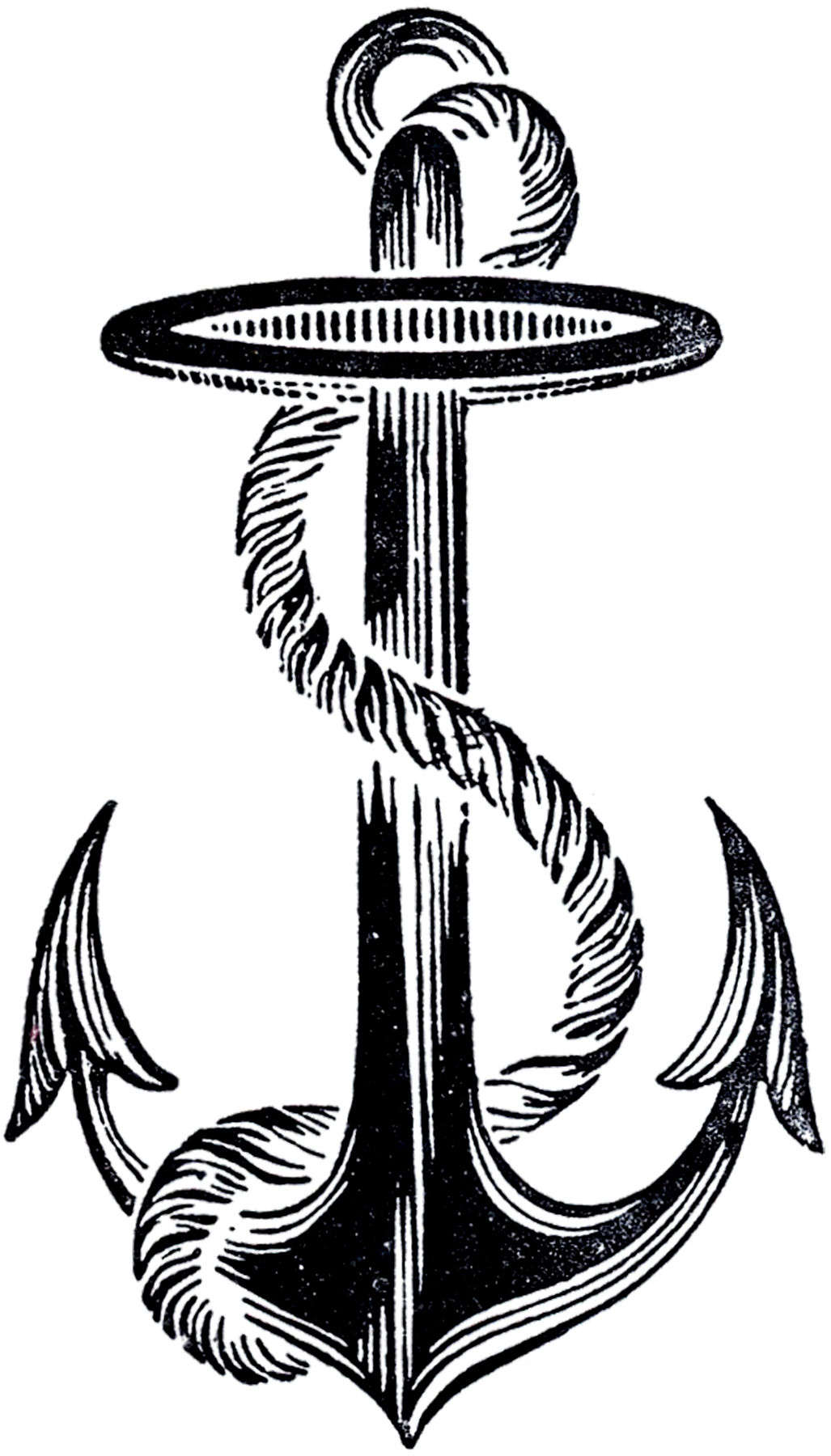 12 Anchors I think these Ocean Clipart Anchor images are such fun nautical Illustrations. There are lots of traditional black and white Anchors (great for tattoos!), some Silhouettes and even a beautiful full color version with flowers.
8 Compass Rose Illustrations These types of images can be difficult to find, but I've managed to put a nice little collection together over the years. They add such a great nautical touch to art projects!
14 Ship Images Lots of beautiful Sailboats in this marvelous set as well as an Ocean Liner and even a few Pirate Ships!
12 Charming Sailboats More Sailboats in this set, but they are a bit more artistic than the ones above. Some really pretty Victorian Sailboat cards in this set.
7 Nautical Flower Images These are some really lovely cards with flower shaped boats and floral Anchors. Pretty!
Ocean Clipart Seashells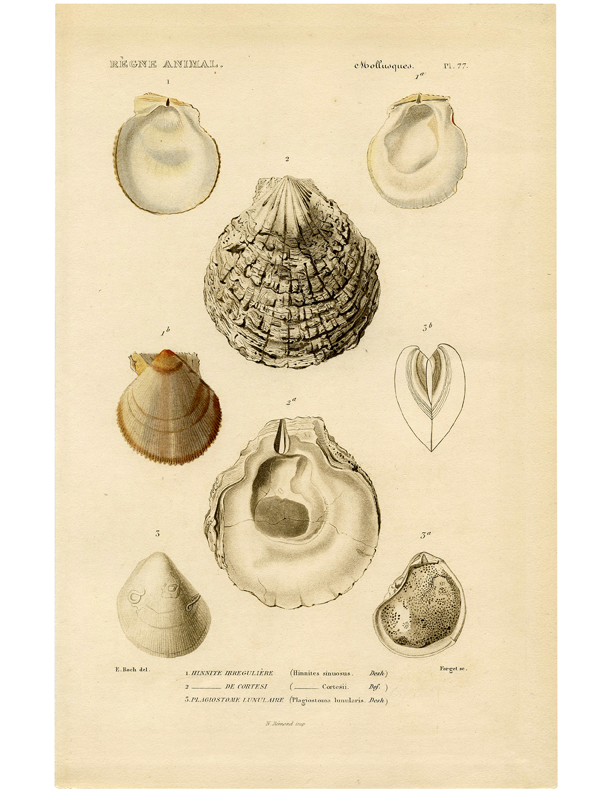 7 Natural History Seashell Prints These are some gorgeous Antique Shell prints! Some of these would look really beautiful framed and hung on a wall together.
8 Coral Pictures These look so great in DIY projects, like Pillows, Coasters and more. There several Red Coral pictures (my favorite!) along with black and white versions. There is also one Sea sponge in the mix.
7 Souvenir Seashell Postcards This is a favorite collection of mine! This post has beautiful old fashioned nostalgic beach Souvenir cards with colorful Seashell frames.
11 Black and White Seashells This is a nice collection of mostly single shells, in black and white. There are a nice variety on this post!
People
11 Mermaid Images Talk about hard to find! Vintage Mermaids are always on my list, but they are not plentiful. I did manage to put this collection of these under water beauties together. There is also one that is not beautiful at all, but she is quite interesting looking. Some of these are full color and some are black and white.
21 Sailor clipart This is a darling set of cute Victorian Children dressed in classic Sailor Suits! You will find both boys and girls in this set.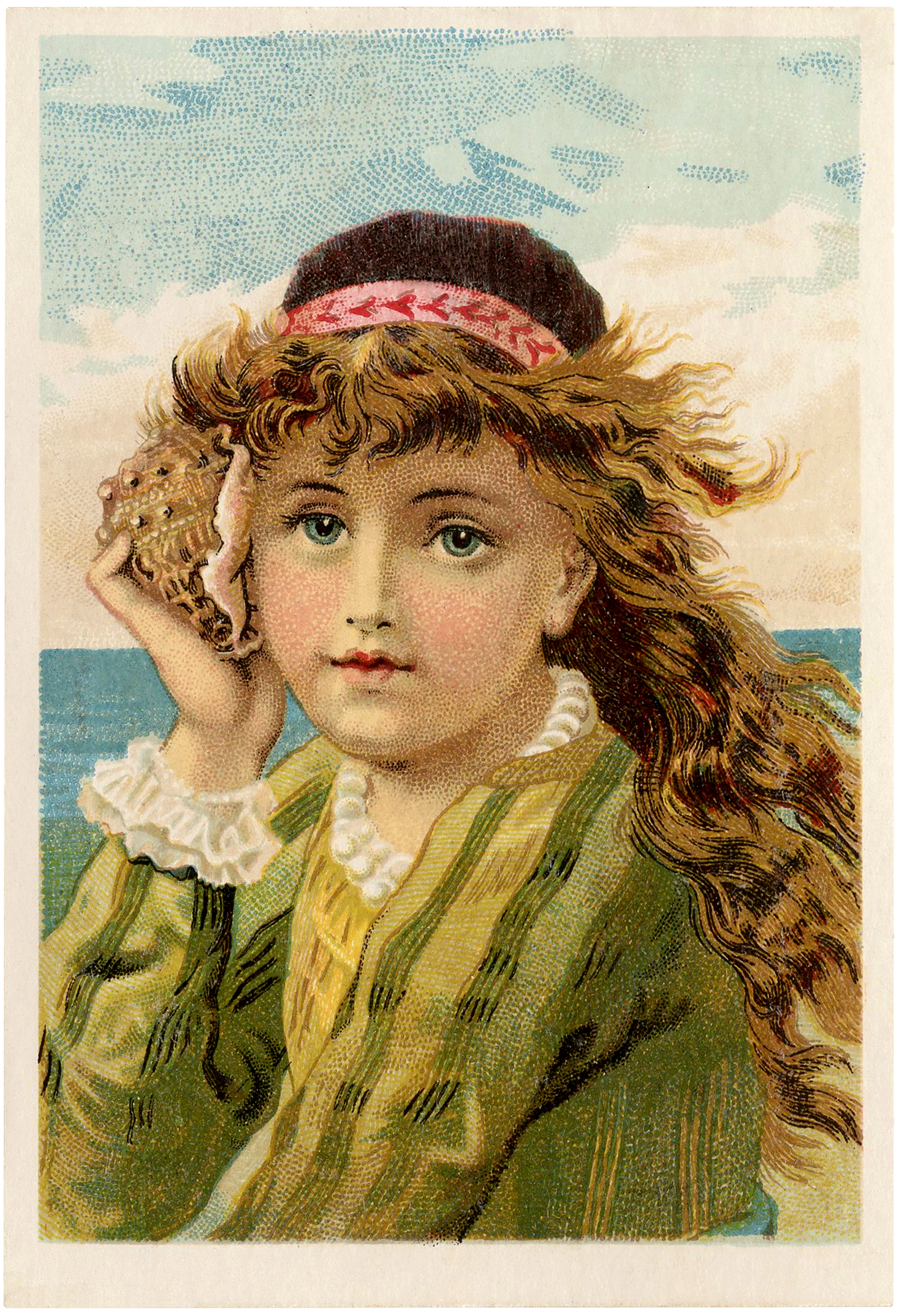 8 Kids with Shells Another cute set of Children here. There are lots of cute kids at the Beach with Seashells, including a number of babies popping out of Shells. So quirky!
10 Old Fashioned Swimsuit Pictures Such a fun collection. You'll find old fashioned ladies and gents dressed in the fashionable swimming costumes of the day.
8 People by the Sea There are a variety of images here showing people by the Ocean. They include several different eras. Some really lovely pictures here!
Ocean Clipart Shore Birds
3 Seagull Images This bird is pretty commonly scene at most beaches, at least in the U.S. anyway. This is a small collection of Gulls. Included are color and black and white pictures.
10 Beautiful Shorebirds This is a truly gorgeous clipart sets of Sea Birds! Many of these Birds are full color Natural History Prints that would beautiful framed. There are some isolated images as well. Included are a Pelican, Terns, Killdeer, Herons and more.
5 Flamingo Illustrations Such amazing showy birds with their bright pink colored feathers! Included are several full color pictures and a cute coloring page too.
4 Storks A nice little collection of Stork pictures. Most are pretty realistic looking and one is a baby themed!
Ocean Clipart Black and White
6 Retro Summer Images These are some fun retro pictures from the 1940's. There are a few Ocean Clipart Black and White images as well as some other Summer themes mixed in.
3 Printable Ocean Coloring Pages This is a really cute set of Sea themed Coloring pages to print. Most of these include either Fish, or Seahorses or both. So fun!
Premium Membership
We hope you enjoyed this set of Ocean Clipart Images, Ocean Animals and Under the Sea Clipart!
Hello! Are you new to The Graphics Fairy?
Welcome, I'm so glad you're here! Browse around to find 
thousands of Stock Images
 that you can use in your projects or designs! I post new Vintage images every day, as well as projects and DIY's too! Need more info about my site? Try my 
FAQ
 page.