What is Gel Medium and How to Use It
Have you ever wondered what is Gel Medium and How is it used? We are going to learn just that today! I especially enjoy learning about and sharing with others the many fascinating tools of the Mixed Media trade. My 'go to' potion for every mixed media adventure, Gel Medium, is used by almost all artists and crafters for a variety of creative pursuits. This guide is everything you need to know about this versatile art supply!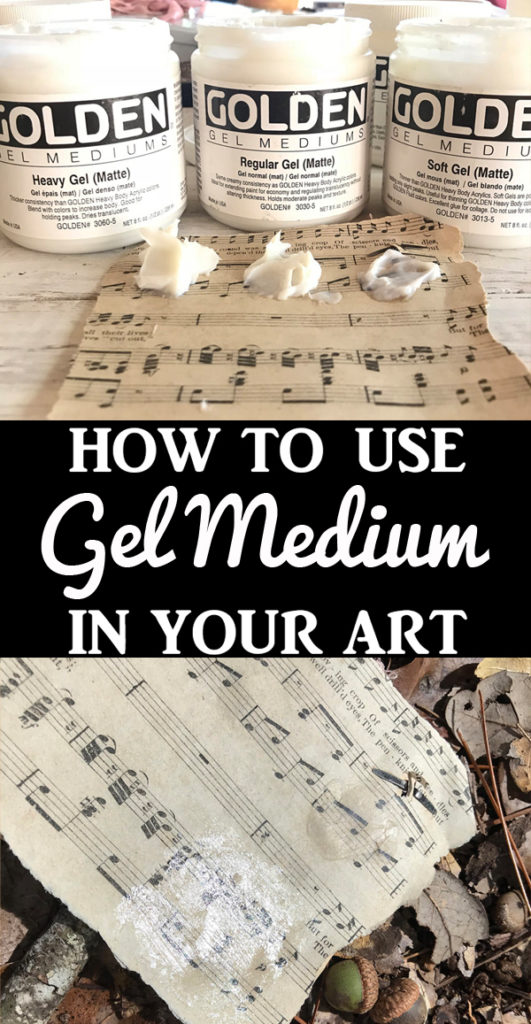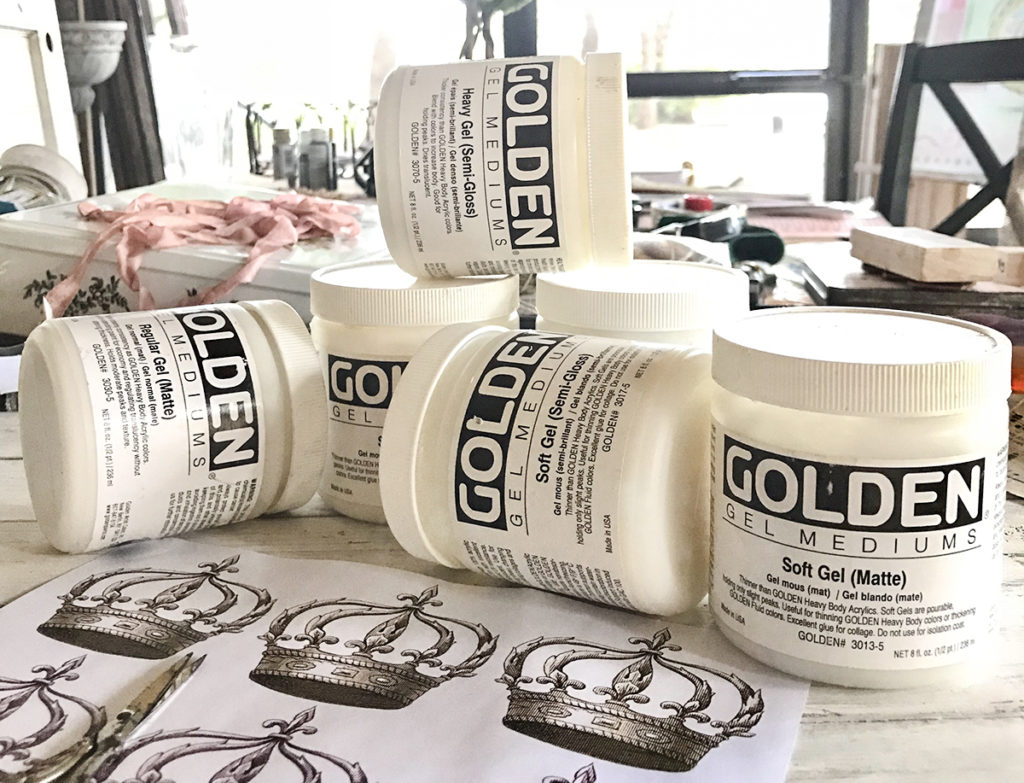 Why are There so Many Gel Mediums?
Soft Gel. Regular Gel. Heavy Gel. Liquid Gel. Matte. Gloss. Whaaat?? Have you ever been in an Art Supply store and wondered, "Why are there so many different Gel Mediums?" and, "Which one do I need?" Let's find out.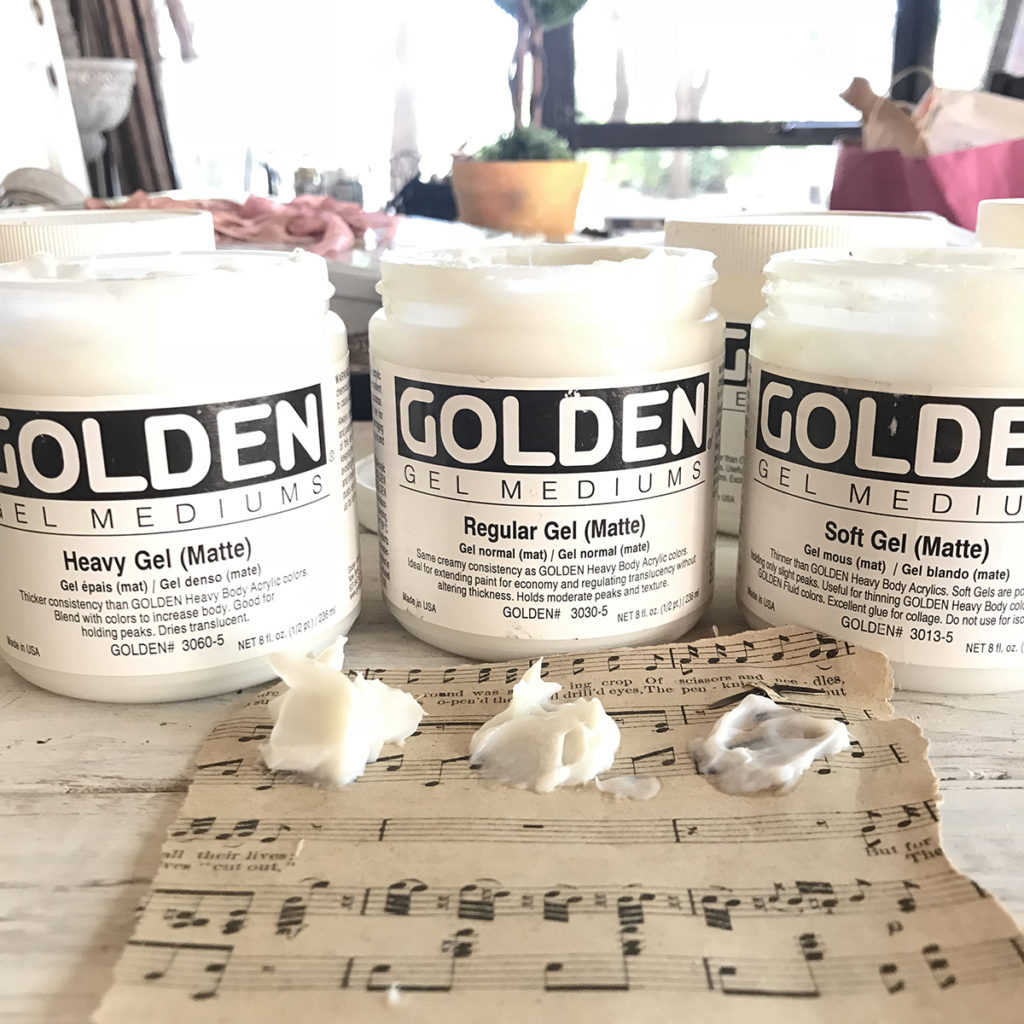 The purpose of a medium is simply to change the consistency and/or appearance of acrylic paint. That makes it a powerful tool to create a variety of new and exciting arts and crafts. For example, artists such as Dutch painter Vermeer used a glazing technique to create luminosity in the 1600s, which is today commonly accomplished with certain types of Gel Medium.
What is Gel Medium?
I struggled to find a true 'definition' as I researched. Gel Medium is essentially a binder without pigment. Without getting too technical, it was initially an acrylic substance used to build texture in paintings by mixing with acrylic paint. It increases the paint's transparency and dries clear without diminishing its consistency or adhesive properties. It is intermixable with all types of acrylic paints. It is lightfast, water-based, flexible, and permanent.
Gel Medium is used primarily for Arts and Crafts in various ways (mentioned below). They come in a variety of thickness (viscosity), sheen, and transparency. Artists and crafters use it to build texture in paintings, as a glue in collage and mixed media, as a top coat to protect artwork, as a decoupage tool, as a means to transfer images, as a glaze when mixed with pigment, and so much more. It is sold in many Arts/Crafts/Hobby Shops under various brands.
Everyone Has a Favorite Gel Medium
My personal favorite is by Golden Artist Colors, but other manufacturers such as Liquitex offer excellent options as well. You will find the one you like best. As you can see, I have lots of paper and The Graphics Fairy ephemera to adhere to my junk journal pages.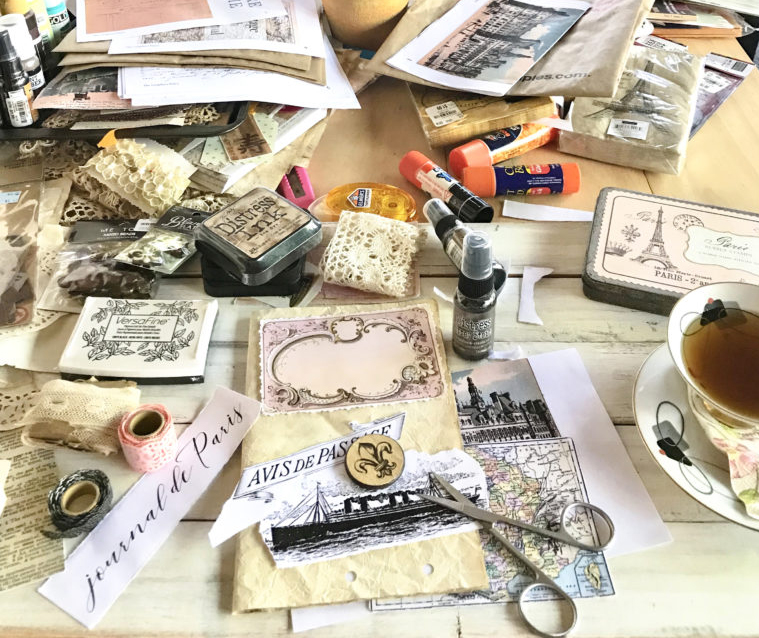 Five popular Gel Mediums on Amazon.com are:
Gel Mediums broaden the technical capabilities of the paint by adding sheen or reducing gloss, for example. There are three basic types of Gel Mediums–Soft, Regular, and Heavy. There are also three types of finishes–Matte (non-shiny), Semi-Gloss (sort of shiny), and Gloss (highest sheen, or 'most shiny'). Here is a closer look at each:
Soft Gel
Soft Gel has a creamy consistency. Soft Gel is used by artists who mix in acrylic paints to produce a rich, translucent glaze. It produces soft-edged brushstrokes and velvety textures. Paper and Mixed Media artists most often use Soft Gel as an adhesive because its smooth consistency allows them to manipulate, move, and place collage materials or ephemera. It is not as 'wet' as other adhesives, so it allows the paper to settle more quickly with less curling. It is also used as a top coat. I think you can see the softness in the photo below.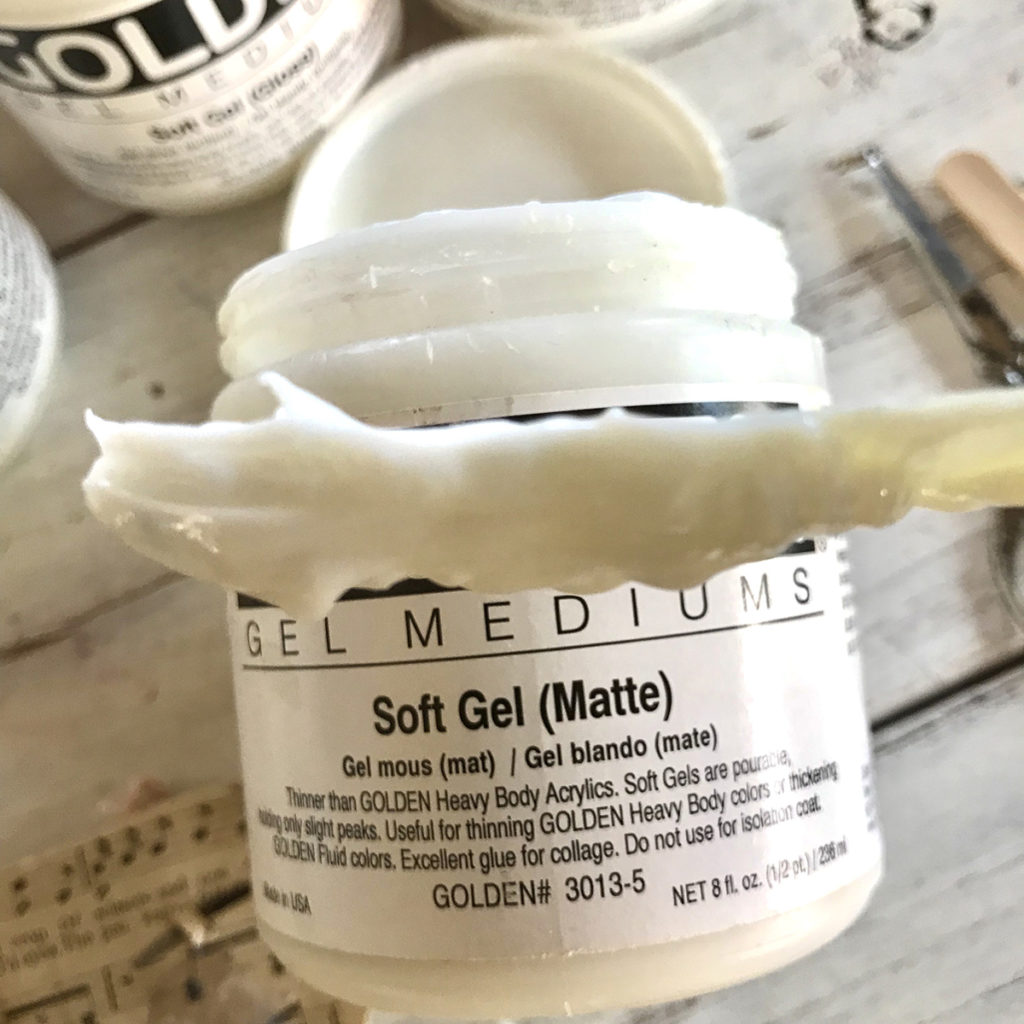 Regular Gel
Regular Gel extends paint open time (stays wet longer) while maintaining its consistency. It is useful for impasto techniques and glazing, which is applying a transparent layer of paint over dry opaque paint to create luminosity. You can see some soft peaks in the photo below.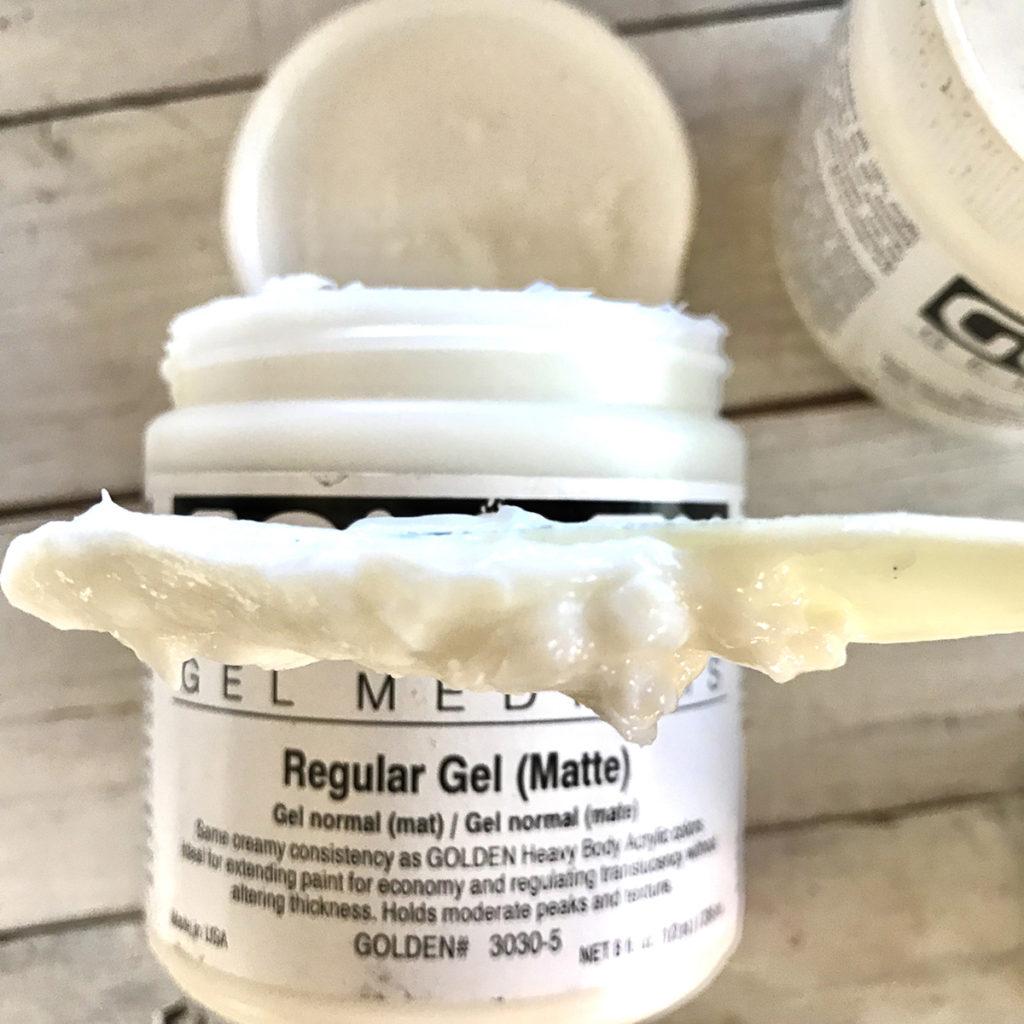 Heavy and Extra Heavy Gel
Heavy Gel increases the body of paint and has the ability to hold peaks. There are also Extra Heavy Gels which bring more texture building capabilities. Both are used for impasto techniques. You can see the high, stiff peaks below.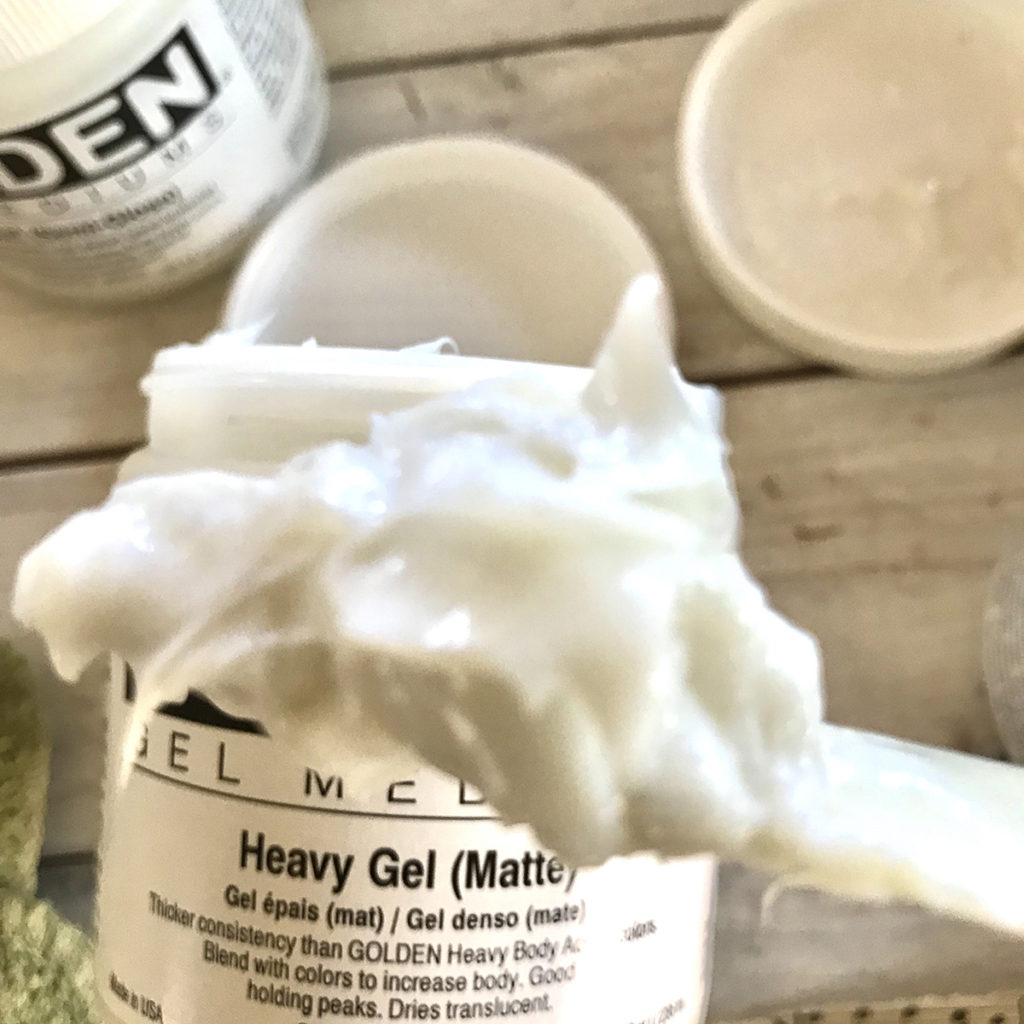 Understanding Sheen
All of the above Gel Mediums come in different sheens having to do with the shininess. The best way to understand sheen is: The higher the sheen, the higher the shine — and the higher the shine, the more durable the surface when fully cured. You can see the high gloss sheen at bottom the left of the music below. The dull matte sheen is at the bottom right. There is quite a difference, even though it was hard to shoot! 🙂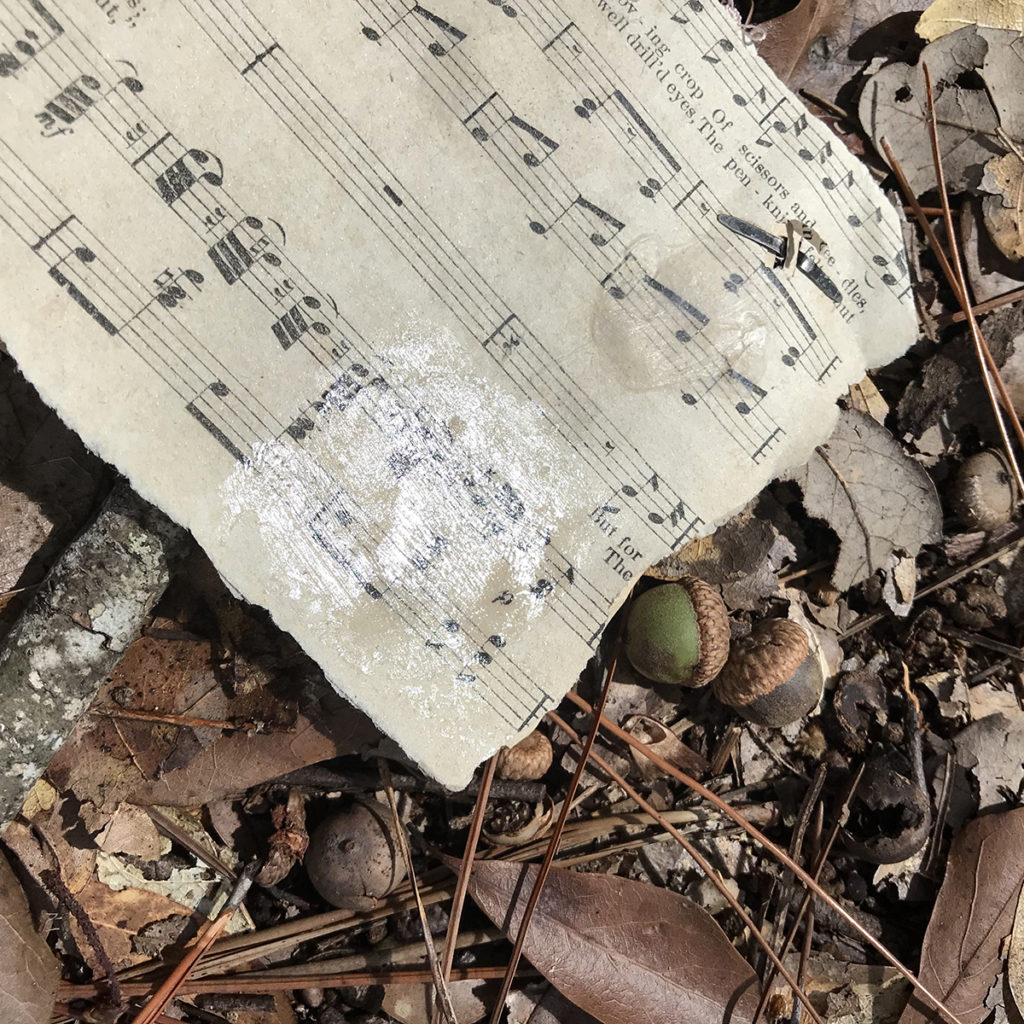 Matte Gel Mediums
Matte Gel Mediums will dry with a dull finish. All mediums are milky and should dry clear. However, Matte Gels have matting agents of white silicate particles. It may take a while to cure to final clarity depending on the temperature and humidity of your studio. Matte gel may cure a little cloudy or foggy. This will be permanent and irreversible. If you want a clear artwork, use Gloss Gels for the work and finish, or seal with a Matte varnish.
Semi-Gloss and Gloss Gel Mediums
Gloss Gel Mediums can be used for such purposes as highlighting specific aspects of a painting, such as the break in an ocean wave. They are also often used for decoupage and image transfers.
How Do I Know Which Gel to Use?
You must first decide what you want your end result to be. Then decide which paint characteristics you want to change and which ones you don't want to alter. For instance, you might want the finished artwork to have a dull, matte quality. To achieve that, you would top coat with a Matte Gel Medium. Do you want texture or to see brush strokes, or do you want the final surface to be smooth and level? My best advice is to experiment with different mediums to decide which works best for your type of art.
How to Use Gel Medium in Mixed Media Applications
Oh the ways! Here are some tips for use:
Adhesives
Gel Medium can be used as a glue by brushing it onto the surface of paper or a painting, then adhering mixed media bits and pieces to it. Of course, you might want to coat the bits and pieces and stick them on. You can mix in water for some applications where you want more manipulation. The Soft Gel Matte or Gloss Gel Mediums are the type most often used for this application. Soft gel is very flexible and does not add texture to surfaces. It dries softly clear. Here is one of my tutorials using Gel Medium as an adhesive.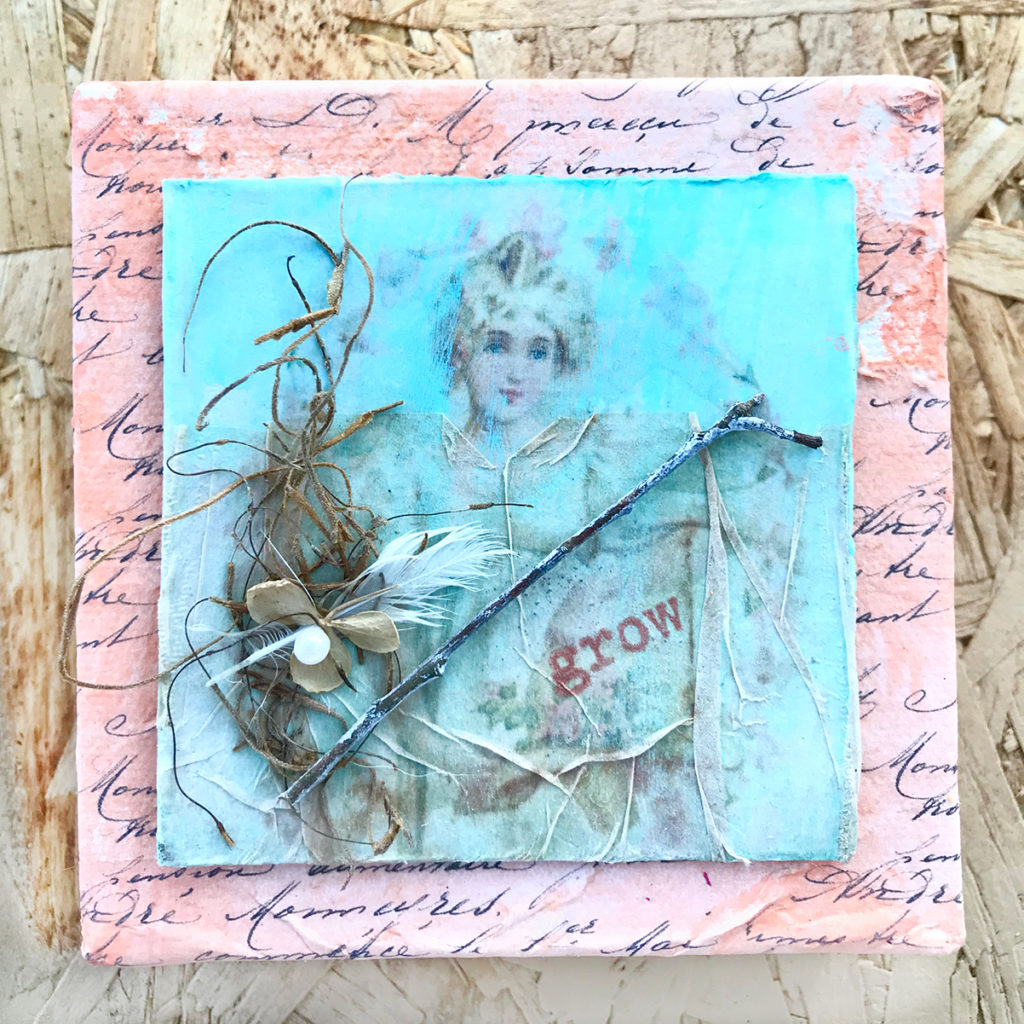 Transfers
We do a lot of transfers here on The Graphics Fairy. I will just refer you to the Transfer Methods on the menu bar for great tutorials and all the magical ways Karen and company have done transfers. Soft Gel Matte is most commonly used for Transfers. Basically, an image is printed and cut out. The area where the Transfer is to be set is coated, then the image is placed face down and burnished with a bone folder or back of a spoon. Gently lift a corner of the image and peel off. Easy peasy!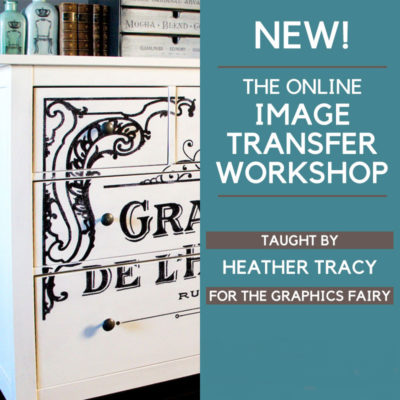 You might also be interested in our Online Image Transfer Workshop with instructor Heather Tracy. She dives deep into transfer methods for nearly every type surface, including detailed instructions for Furniture and Mirrored Glass!
Decoupage
The glossier Gel Mediums are used for decoupage. I most often use Mod Podge in my decoupage work. Although not technically a Gel Medium, it is a 'medium' specifically developed for decoupage. I feel I would be remiss if I did not include Mod Podge here as many artisans use it the same way as gel mediums. Plus, it is easier to find locally. As you can see below, I have as much Mod Podge on hand as I do Golden. TEE HEE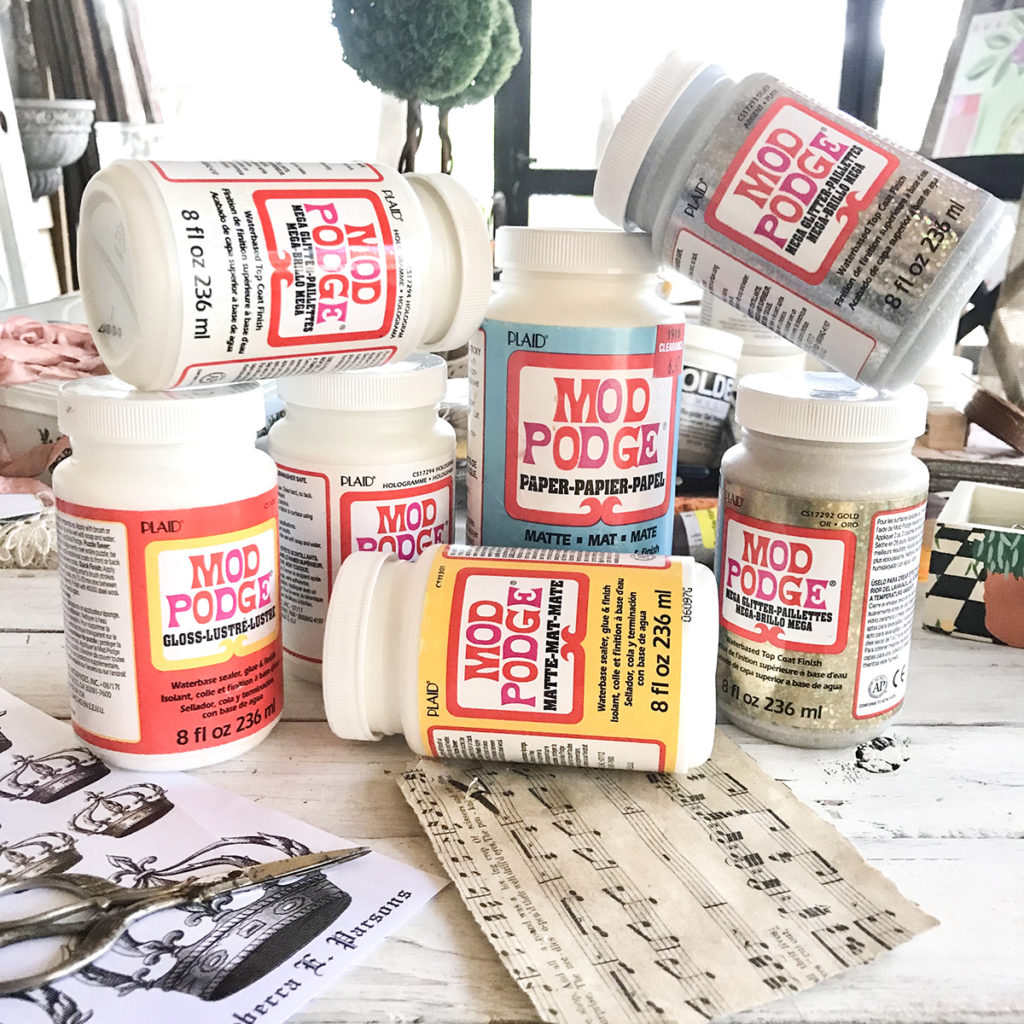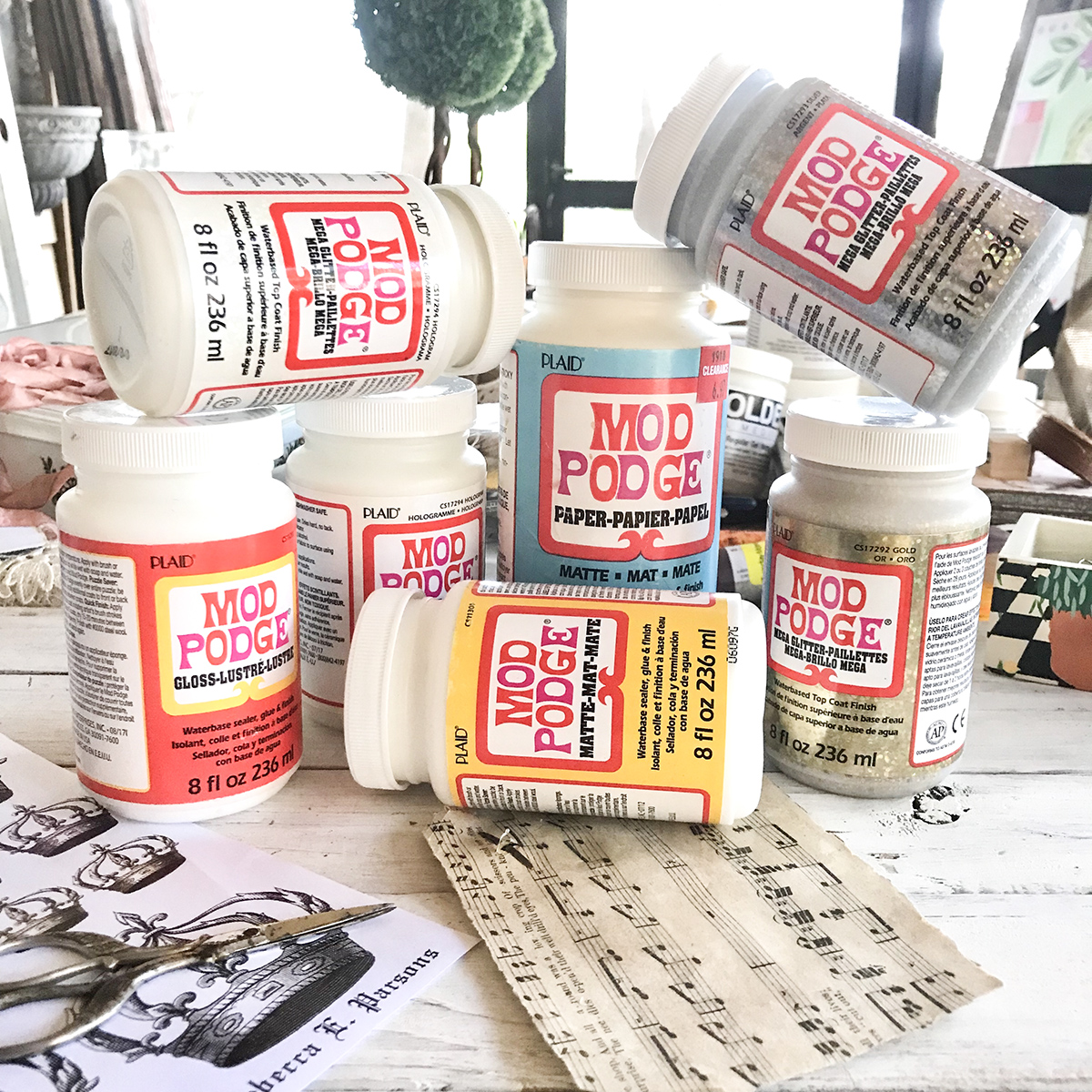 Again, there are numerous tutorials and how to posts here about decoupage. Check them out here. Below is one of my faves.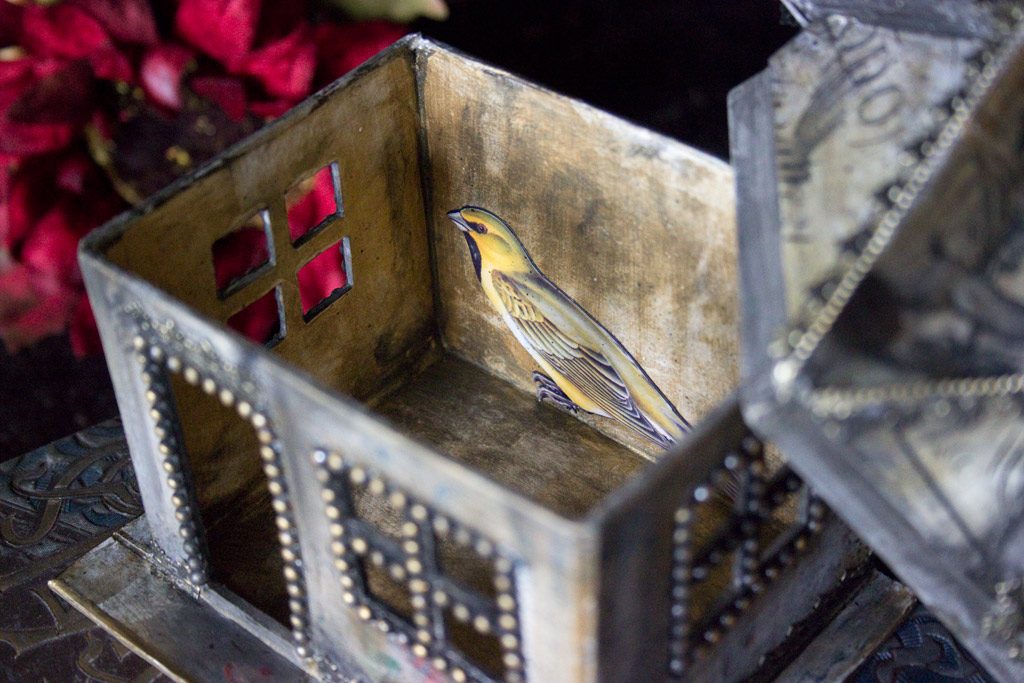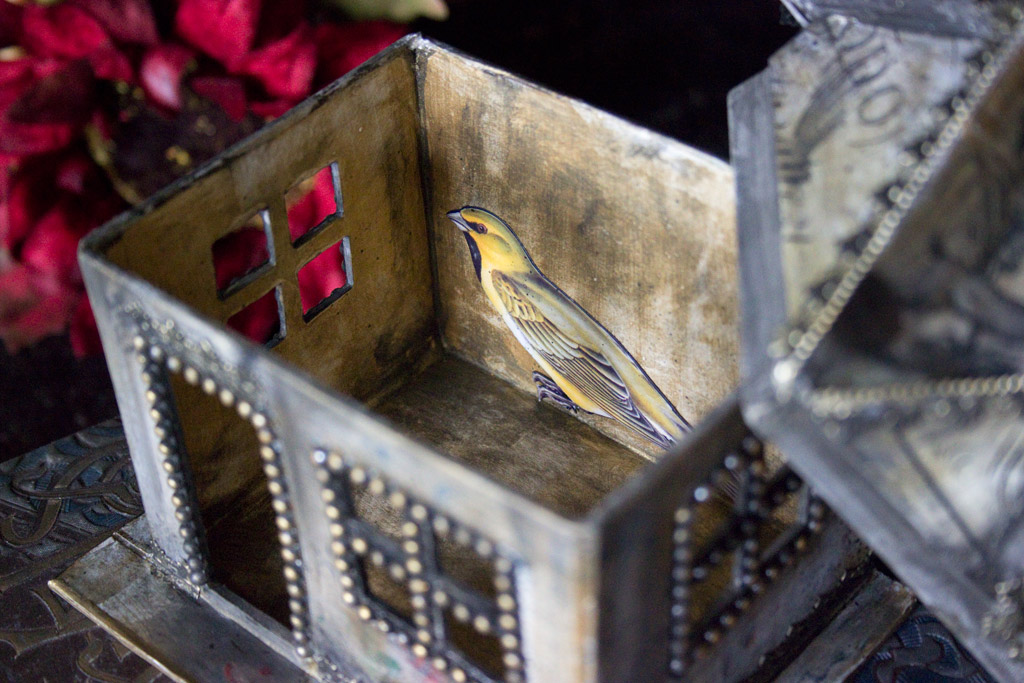 I hope that you have enjoyed learning What is Gel Medium as much as I have! I encourage you to experiment with several types of Gel Mediums…the possibilities are truly endless. Let me know if you find a new way to use them please!! You might also like a similar Guide about Gesso HERE.
I also teach Photoshop Elements tutorials over on The Graphics Fairy Premium Membership site. You can find even more of my art, DIYs, and whimsical shenanigans on Cre8tiva.
Rebecca