What is Gesso?
Have you seen this product in Art Supply stores and wondered … "What is Gesso and How do I use it?" As an artist/educator, I especially enjoy learning and teaching others about the benefits of 'tools of the trade.' Today I am writing about this simple, but oh so versatile, product that I have used for many years, which has been invaluable to me with each new painting endeavor. It certainly has helped make painting easier and more enjoyable. I hope you will find this post to be fun and informative.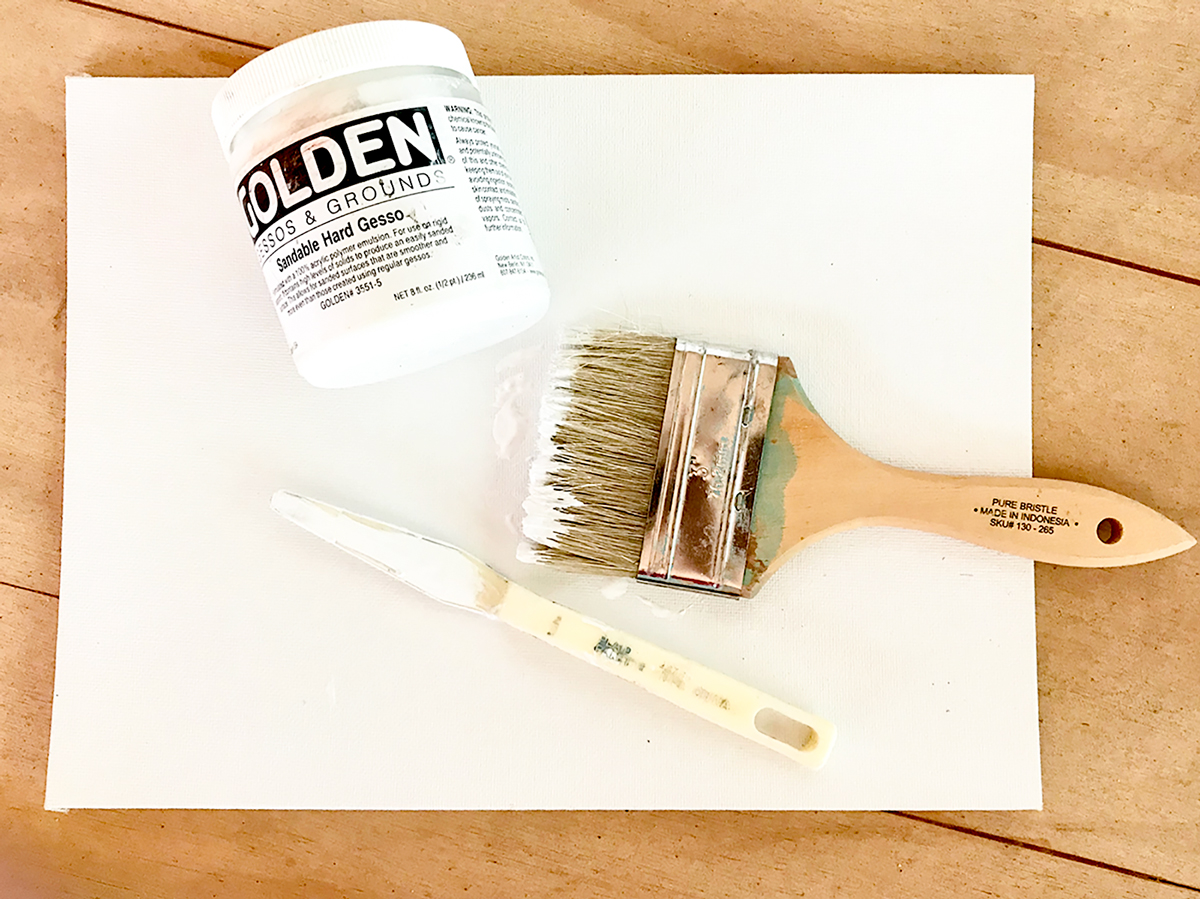 I think once you try this medium you will wonder how you ever got along with out it. This is a comprehensive guide that is all about Gesso!
A Quick History of Gesso
Although the exact origins are unknown, what is certain is that Gesso has been used by artists and craftsmen for centuries to prepare panels, canvas, or other surfaces for painting or gilding. It is believed to have first been developed in Italy because the word Gesso is an Italian word that means 'chalk', plus the fact that art has always been such an integral part of Italian culture. And if you are wondering how it's pronounced it sounds like Jesso.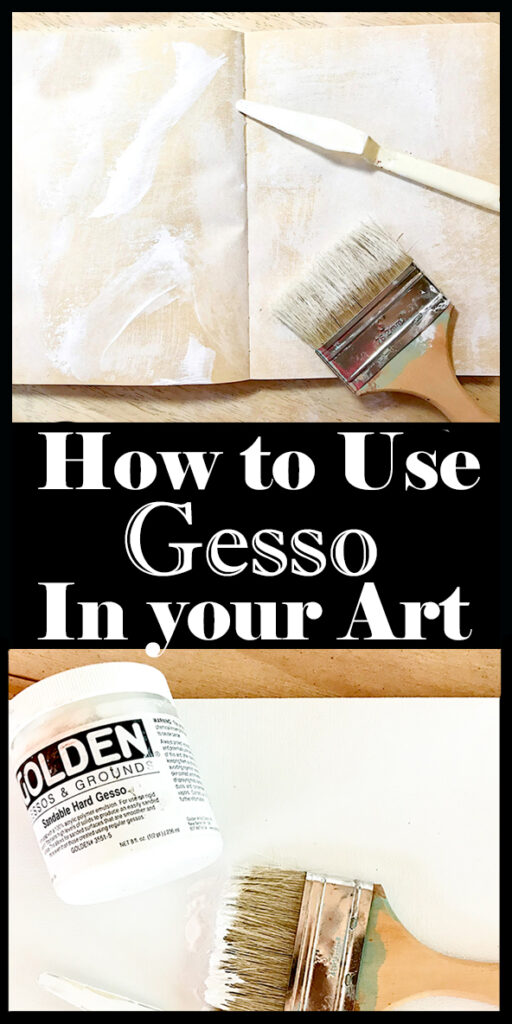 Gesso was originally made using chalk dust and a powdered white pigment mixed with animal-skin glue (often called size in recipes). Other options were zinc mixed with the dust and glue or a compound of plaster of Paris or whiting and glue. The paramount benefit was, and still is, the use of Gesso as a primer to allow paint to adhere permanently to the surface of the painting. In the early days of its use, the surface (or substrate) for Gothic and Renaissance art was wood panels. Before the use of Gesso, paint would tend to slide off of the wood. In modern times, it has been beneficial in the prevention of paint soaking into the weave of the canvas. I feel it noteworthy to mention that Gesso has also been used for generations in sculpting; it can be cast into a mold and/or used to actually make the mold and gilding: it preps surfaces like molding for gold leafing.
Modern Gesso
In 1955, an acrylic paint company called Liquitex developed the first water-based Acrylic Gesso, using a mixture of calcium carbonate, pigment, and an acrylic polymer medium. The pigment was (and still most commonly is) titanium white or titanium dioxide.
Modern Gesso is primarily used on canvas and comes in a variety of colors other than white, including black and clear. Artists today often create their own colored versions of the medium to quickly deepen the hue, (watercolors for example). It is available in squeeze bottles or sprays as a 'liquid' form or in jars and tubs as a standard medium that a paintbrush is dipped into.
What is Gesso?
People often refer to it as Gesso paint. But actually it is a thin, white paint mixture consisting of a binder mixed with chalk, gypsum, pigment, or a combination of these substances. It can be described in as a protective prep coating or ground, which provides a smooth, slightly textured surface, making it ready to add acrylic paint, ink, watercolor, etc. It also provides some 'tooth' that allows the paint to stick to the surface similar to primer that is used before painting walls and furniture.
There are two different grades of Gesso that are available. The two different types of Gesso are student grade and artist grade. The difference between these two is based on the ratio of filler to pigment. Student grade uses more filler than pigment and is less expensive, while artist grade uses a larger amount of pigment than filler. The artist grade is thicker and more opaque (less see through).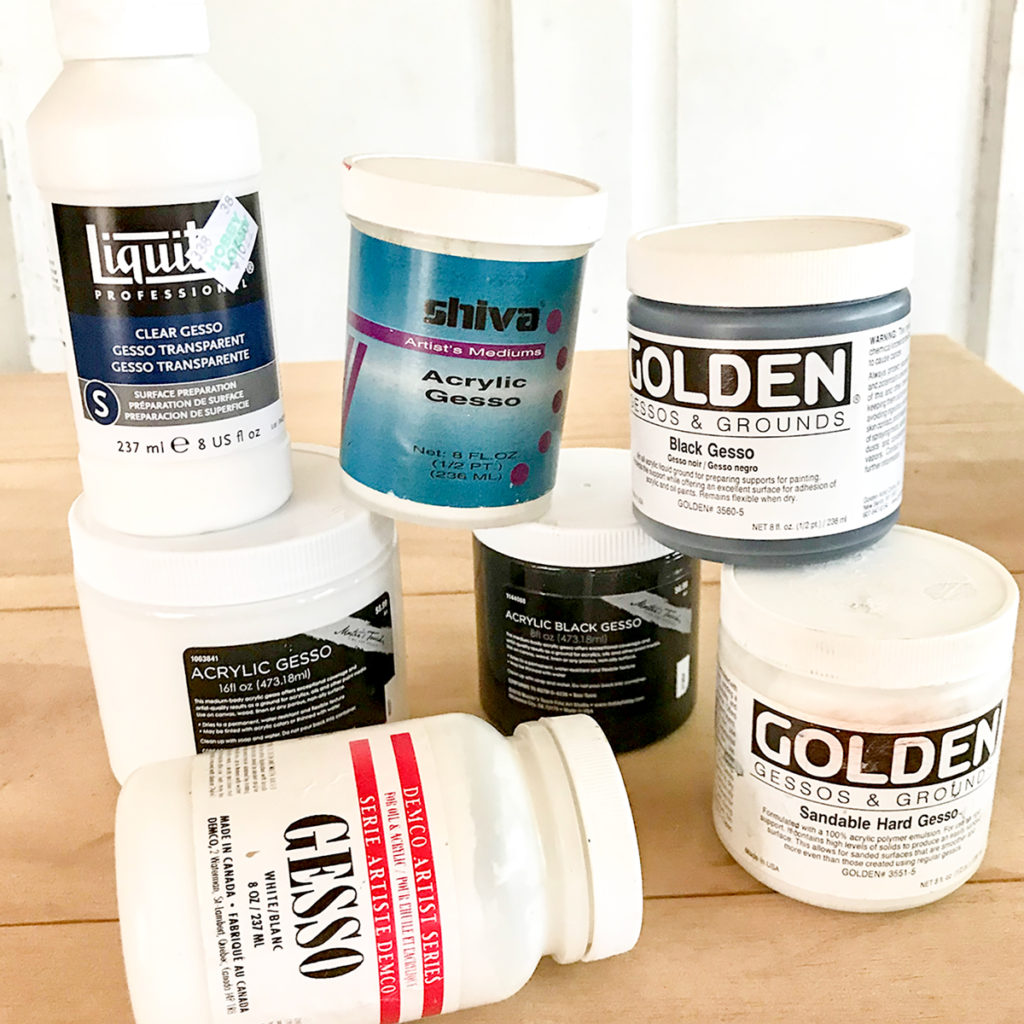 For the record, the top five sellers of these Gesso on Amazon.com are:
My personal favorite is the Golden brand, which I have used with great results (along with their acrylic paints) for many years. On that note, I will quote Golden on their synopsis of the uses and benefits of Gesso products. "Golden Gesso offers artists a variety of ways to prepare substrates for acrylic paintings or other art media such as oil, charcoal, alkyds, pastels, and watercolor. It is water-based, permanent, flexible, and can be easily sanded if necessary." Golden also notes that for oil paintings it is recommended that a minimum of three layers of Gesso be used for sufficient opaque quality and substrate protection.
The newest form of Gesso is actually made with recycled soy products. This was developed in the year 2008, and it is becoming more popular as an alternative source. It is the first 'bio' or 'environmentally safe ' (from living or prior-living organisms) developed Gesso, which is very easy to use and is completely free of toxins and petroleum. Which personally is a huge plus for me and something that I look for when purchasing craft supplies.
I should point out that Gesso pre-primed canvases are now widely available for purchase commercially from brick and mortar and online art supply stores and providers. It saves a lot of time.
What is Gesso used for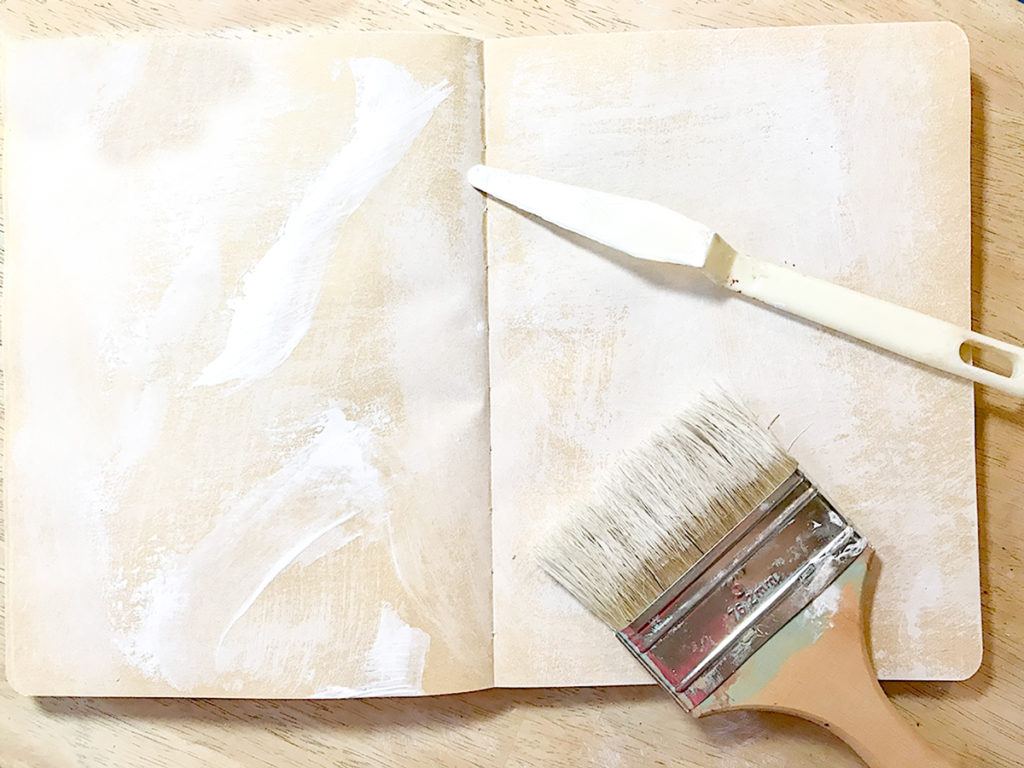 As collage, Altered Art, Mixed Media, Journaling, etc. became more popular Gesso moved beyond just a ground or primer coating. It is a staple in most arts and crafts studios today. TIP: I always clean off my Gesso brush and palette knife in a journal to get the last bit of goodness. 
I love working on 'gessoed' surfaces for my mixed media, books, fine and altered art. It makes the work easier and the paints, pencils, and inks love it. Gesso adds strength to paper and journal pages and keeps the paints and potions from soaking through. It also allows me to cover an Oops or change my creative mind as a piece evolves. Black Gesso can be used to unify a work before adding color. Gesso can also add texture to the surface that shows through if you don't sand it. Clear Gesso preserves a previous layer.
Experiment and play with gesso. Try using a dry brush to apply it and then try using a wet brush as well. Try different brands out … because some are more smooth, some are more gritty, and some have a dry feeling like plastic. You will find what works best for your art and your particular project.
Here are some tips for use:
Stir or shake Gesso before use to make sure all of the ingredients are properly mixed.
Have a dedicated Gesso brush or roller. This medium can be pretty hard on your brushes. I use an inexpensive, natural hair chip brush to apply it. If you use one of your good artist brushes, I recommend putting a bit of brush conditioner on your brush after cleaning.
Krylon Gesso Spray is a quick way to prepare a smooth, hard, ready-to-paint surface. It dries bright white. Apply in thin coats, 30 seconds apart.
Apply at least thin two coats of Gesso. I apply one horizontally and one vertically waiting about an hour between coats.
Allow Gesso to cure naturally. I usually coat several surfaces at once and allow them to dry overnight. A heat gun can be used if you must, but it can 'cook' gesso and become a messy nightmare.
Sand Gesso with fine sandpaper for a smooth, matte surface like eggshells.
Gesso can be tinted to any color with  acrylics.
How to Apply it to a Surface
Gesso priming takes a little time and patience. If done well, it gives you a lovely surface for your artwork. Here is how to apply it to canvas, wood, paper, board, etc.:
Step 1: Protect your tabletop or easel as it does not come off easily. Ensure your surface is clean and free from dirt or oils. A quick wipe with a dry brush or a little rubbing alcohol is good.
Step 2: Dip brush into the gesso. Most products are ready to use straight from the container after shaking or stirring.
Step 3: Apply the gesso in a thin, even coat to the surface, working all in one direction (horizontal or vertical).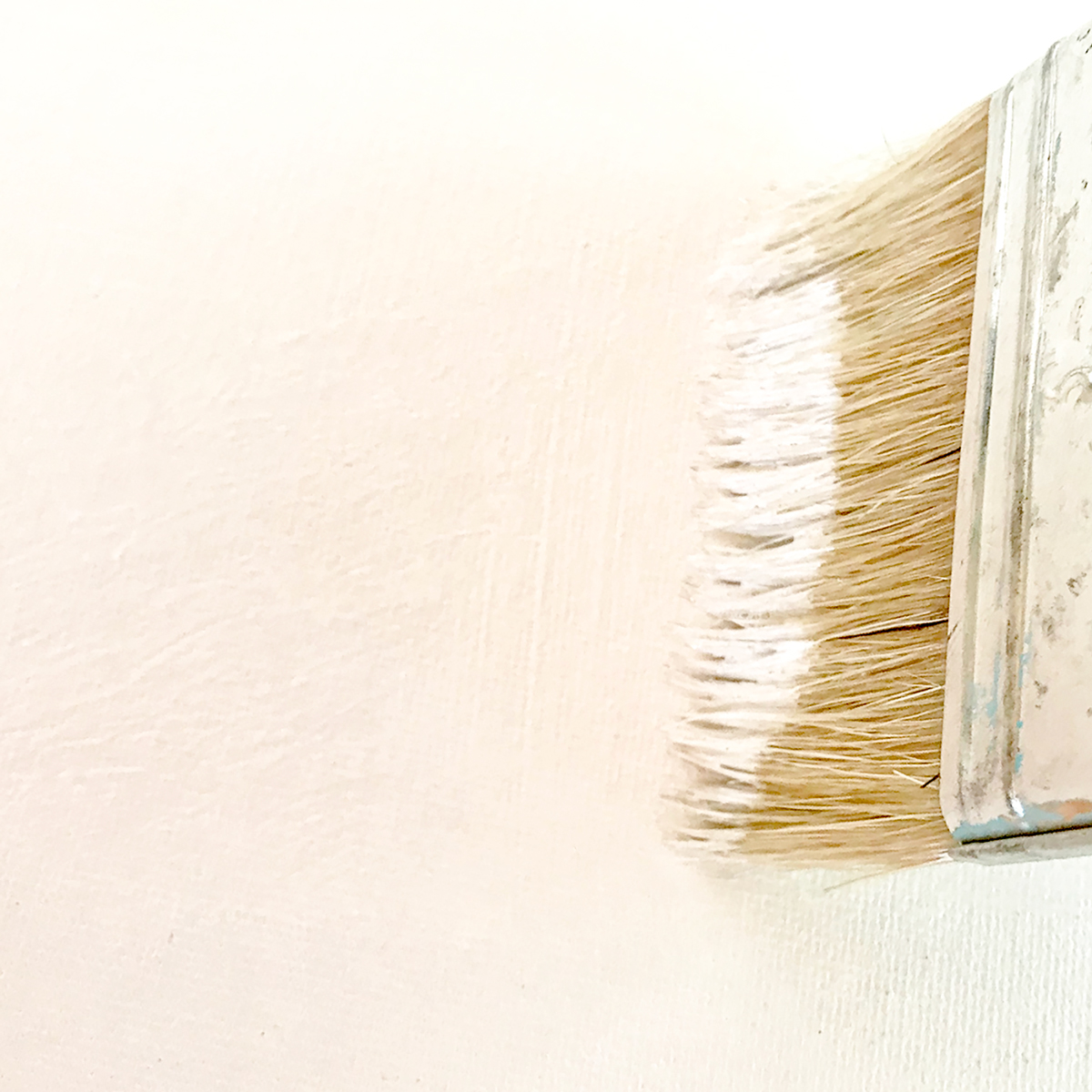 Step 4: Allow the first coat to dry 1 hour. (Be patient.)
Step 5: Lightly sand the dried gesso with fine sandpaper. This smooths any brush ridges and allows for a slight tooth for good adhesion of paints. If you lie the ridges, leave them.
Step 6: Apply a second layer of gesso, working the brush in the opposite direction from the first layer (horizontal or vertical).
Step 7: Allow to dry again, sand, and repeat steps 3 through 5 as many times as you like!
You can see the texture from a chip brush application to a journal page below. To sand or not to sand?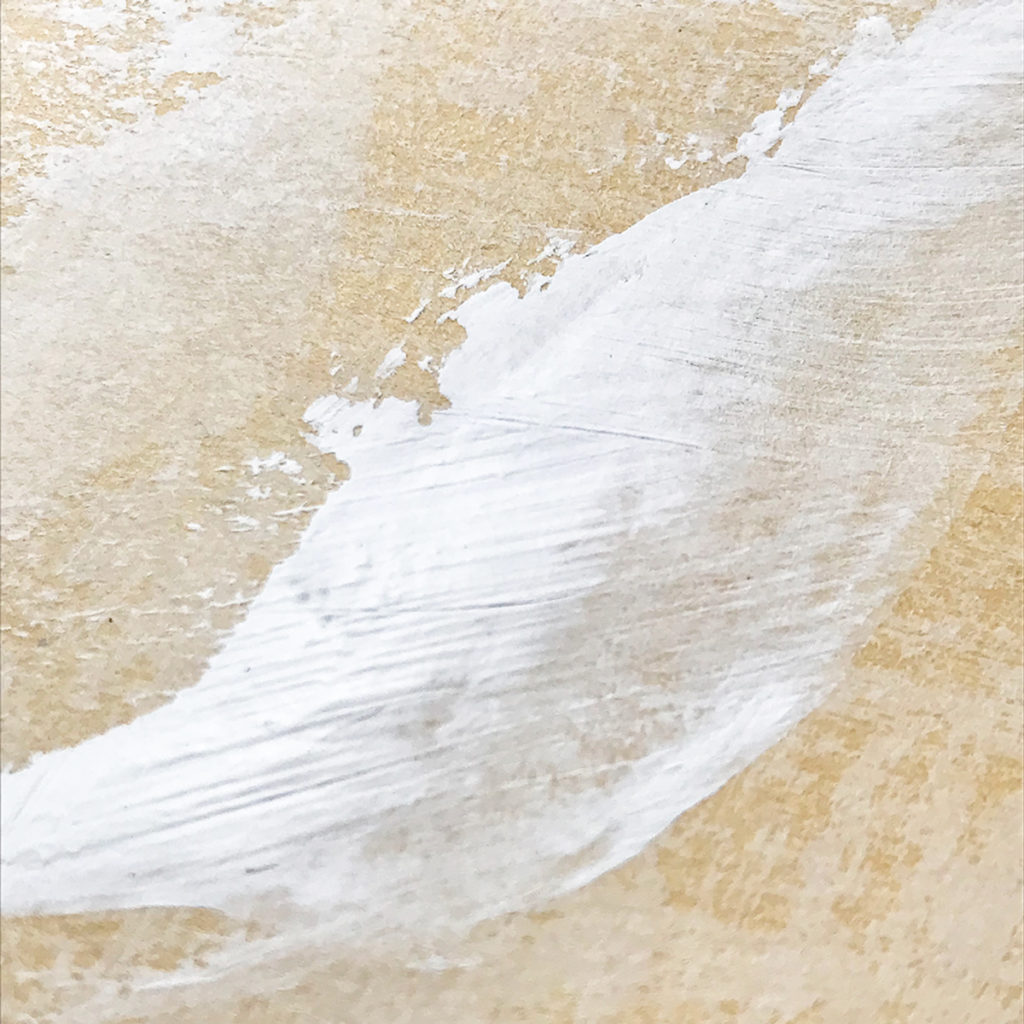 I hope that you have enjoyed learning all about Gesso as much as I have! I encourage you to go for it when playing with gesso…the possibilities are truly endless. Let me know if you find a new way to use Gesso please!!
Painted Journal Video:
You might enjoy watching this painted journal video by Jane Chipp, using Gesso and Paint.
If you liked this post you may also like our Comprehensive Guide to Gel Medium HERE.
I also teach Crafting tutorials over on The Graphics Fairy Premium Membership site. You can find even more of my art, DIYs, and whimsical shenanigans on Cre8tiva.