This Whimsical Ombré Furniture Finish is something that I've been dying to try…now that I have, I'm thrilled to share what I've learned with you!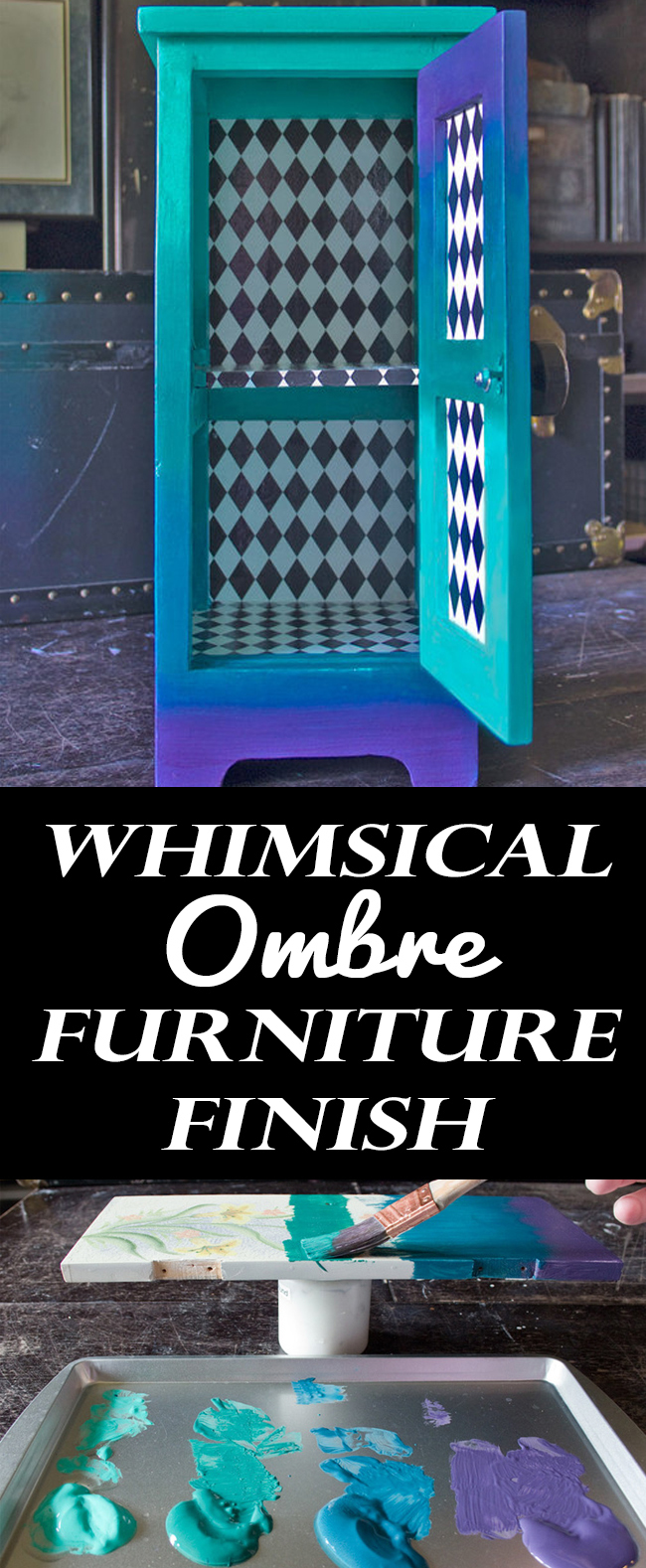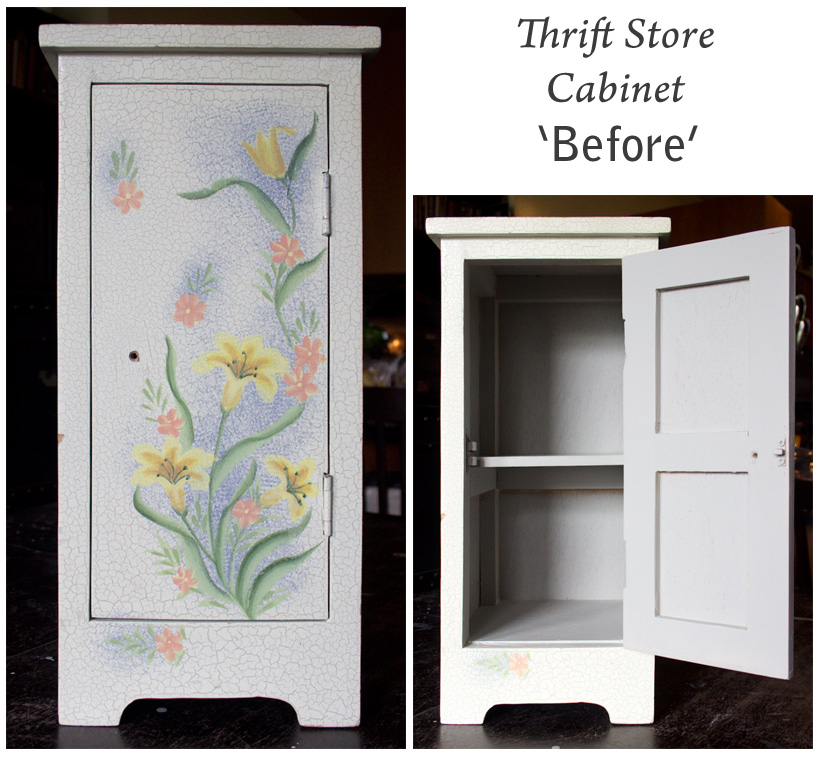 This post was sponsored by Heirloom Traditions Paint.
Hello,  furniture finish enthusiasts! It's Heather from Thicketworks.
Today, we'll roll up our sleeves and knock out this fun Ombré Furniture Finish!
The process is simple and enjoyable, so grab your painting clothes, and let's get to it!
Supplies:
Assorted paint brushes (one for each color is best)
A container of water
A damp cloth
A scrub-able surface to use as a palette (I grabbed a cheap sheet pan)
Optional: 
Decorative paper
Scissors
Smoothing tool
---
For this project, I chose to work with a 'cool' palette of colors. You might want something entirely different – and that's awesome!
Go for a selection of reds, oranges and yellows or blues, greens and yellows, even black, gray and white!
Whatever pleases your eye + heart!
The important thing to keep in mind is that it's easiest to obtain great results with 'analogous' colors (those that appear next to each other on the color wheel) rather than 'complimentary' colors.
You can make it work with ANY colors, but you'll have to work a lot harder and risk 'muddy' results if you stray too far from the same color 'family'. Okay, enough color theory… Let's paint!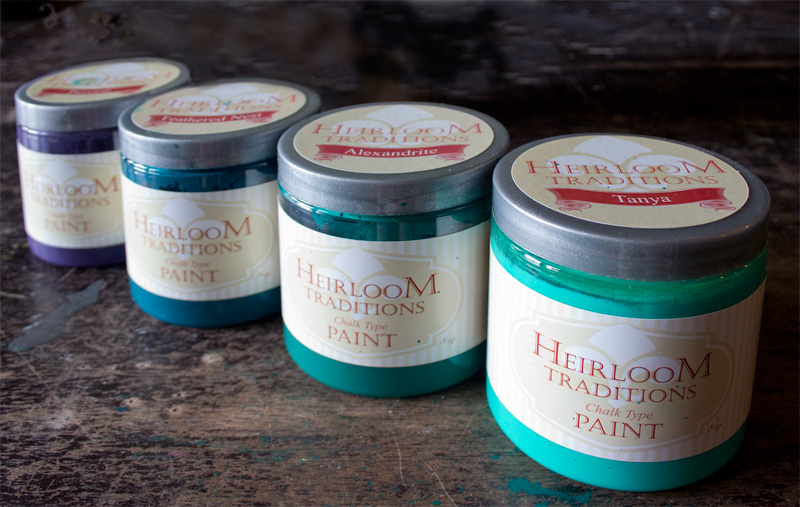 How to create an Ombré Furniture Finish
To begin, remove any hardware, and set aside.
Because Heirloom Traditions Chalk-Type Paints are so gloriously pigmented, there is no need to prime – even over this already busy surface.
It's a bit easier to work from dark to light, so begin by painting a broad, sloppy band of your darkest color along the base.
Continue this process, painting loose 'stripes' of color as you work your way from the bottom to the top.
Don't be overly concerned with blending at this point, just cover the surface completely.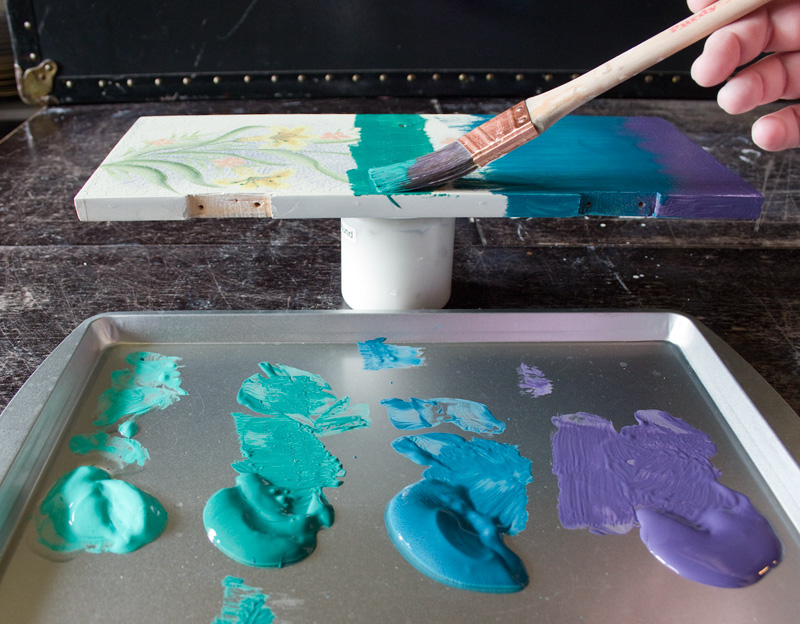 Once the surface is covered with bands of color, begin the blending process with a clean brush. 
Dip the brush in water, wipe the excess off, then pick up the second color in your line-up (in this case: Feathered Nest) with the dampened bristles.
Gently smooth the slightly watered paint over the line of demarcation between the dark violet of Passion and the rich teal of Feathered Nest.
Repeat the brush strokes, easing the strokes slightly into the band of Passion, until you are satisfied: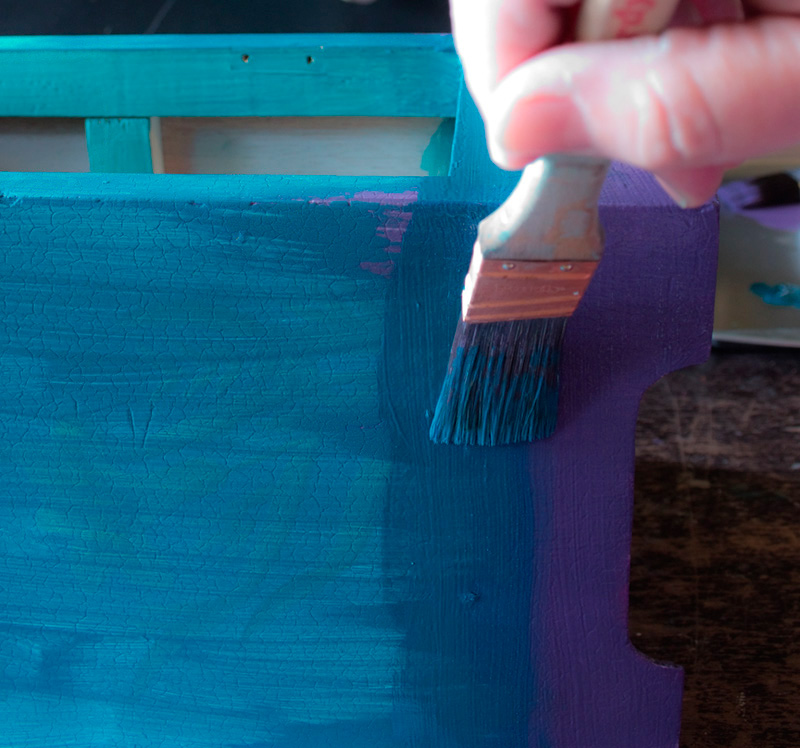 With a clean and dampened brush, repeat this procedure for the transition from Feathered Nest into the dark green of Alexandrite:
Repeat this process between each band of color, adding thinned pigment a little at a time to achieve the blend you crave!
Extend the Ombré effect to the interior, if you wish.
If you will be decoupaging with a light colored paper, it's a good idea to prime those areas with Ultra Guard, to prevent any pigment showing through the paper: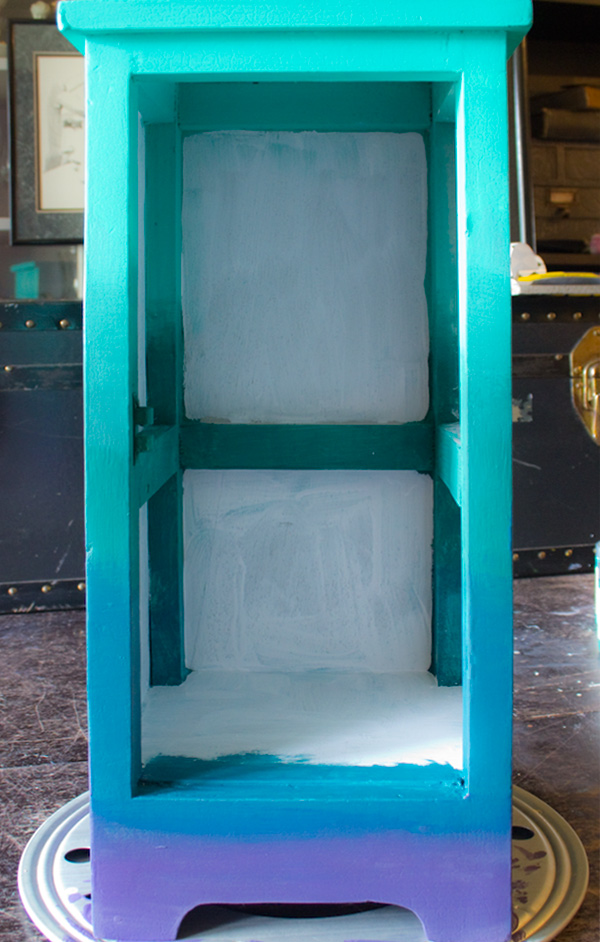 Our blended Ombré finish is almost complete…
Once the paint has cured (overnight is best) seal the paint with a coat of Clear Spray Wax. Allow to dry – an hour should be long enough.
If you want to intensify the colors, follow up with softly brushed on layers of Spray Wax in Eggplant (over the purple) and Peacock (over all the greens and blues). Blend the colored waxes with a damp cloth for a seamless result.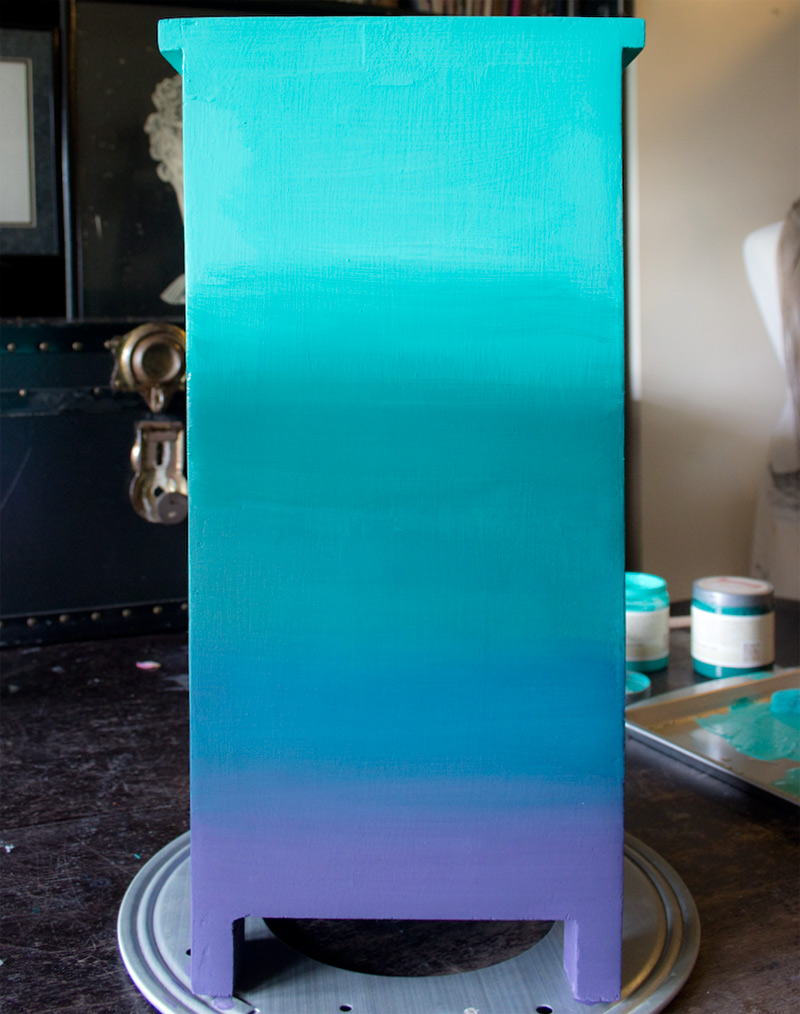 To add a bit of visual interest, try reversing the Ombré process on the door, drawer fronts, etc: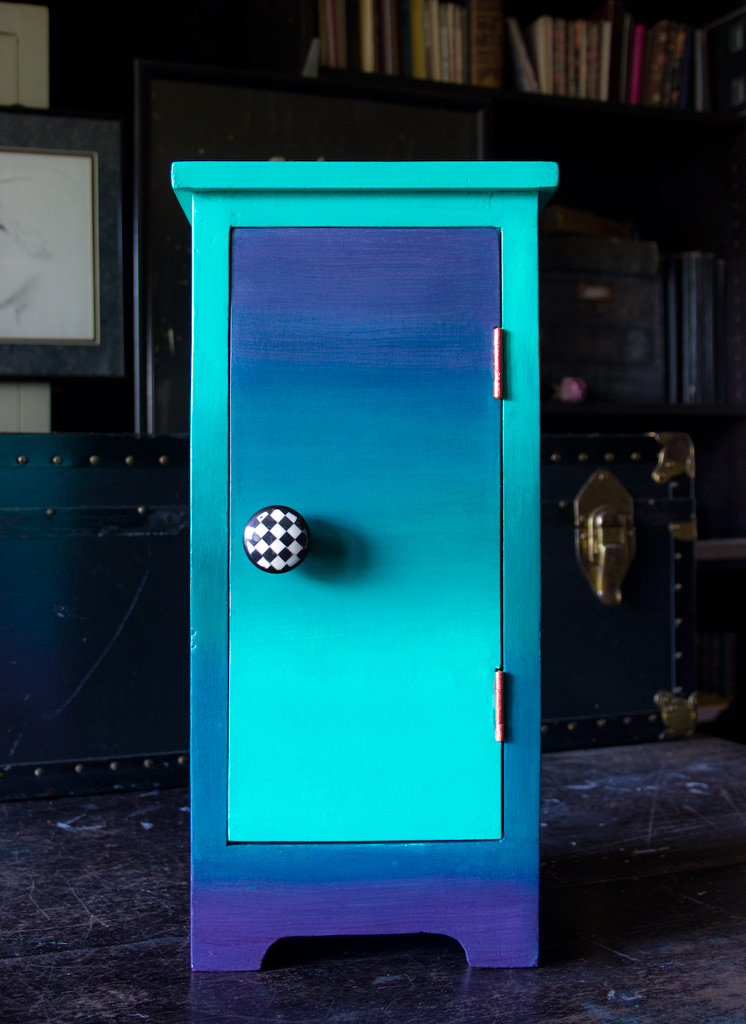 The result after Spray Wax applications: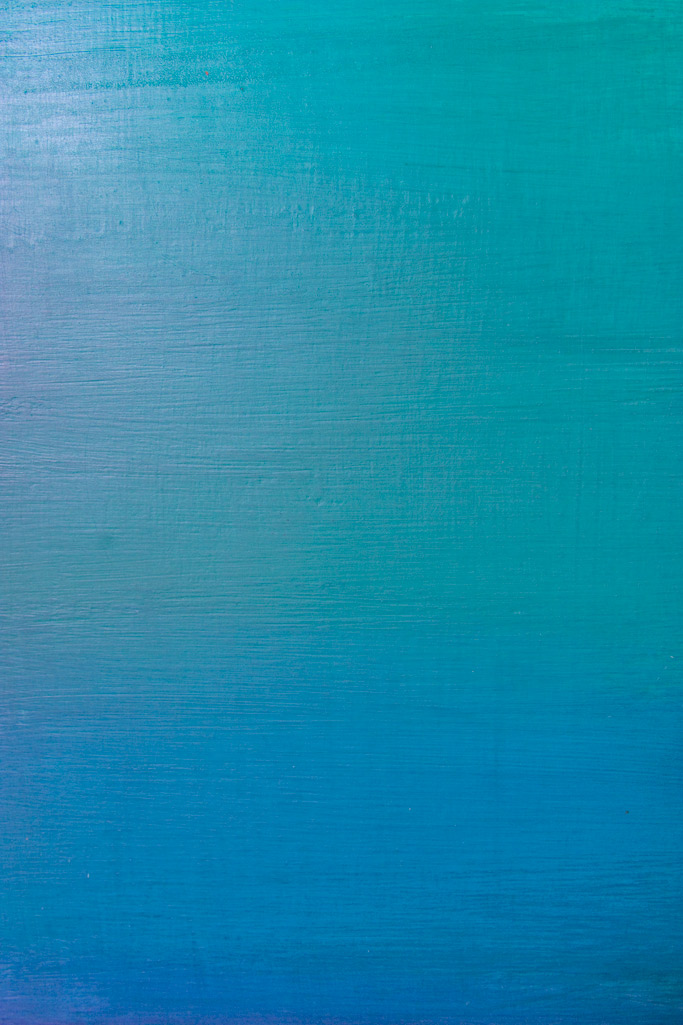 Close up of the Two Ombrés in their final configuration:
Detail of the intermingling of the blended colors at midpoint:
Dramatic transition at the base: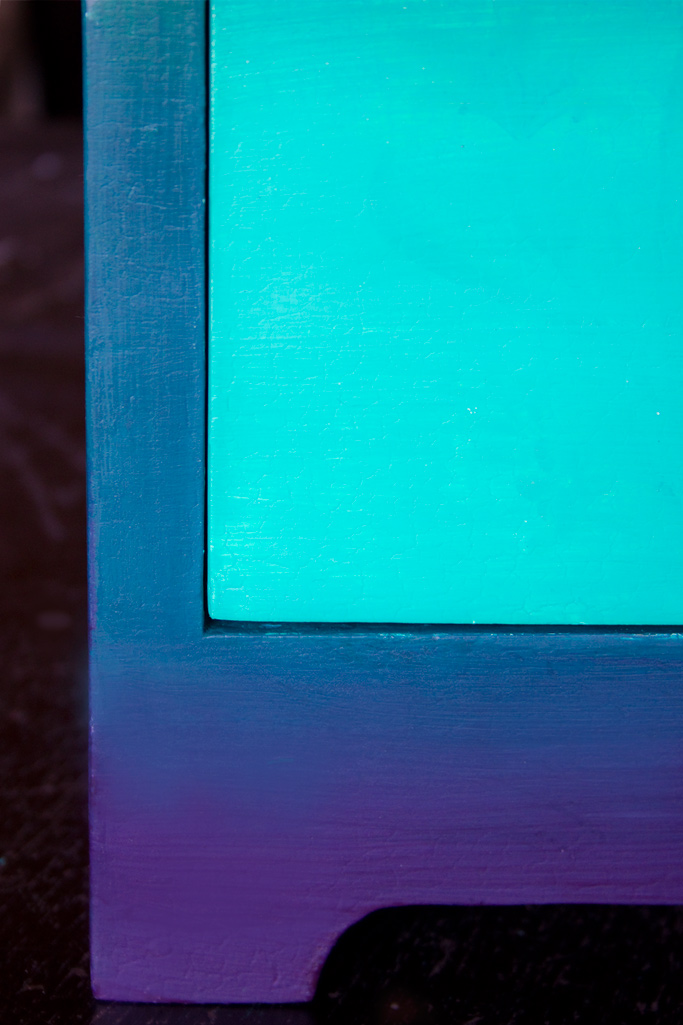 Interior, decoupaged with 1Gel and patterned paper: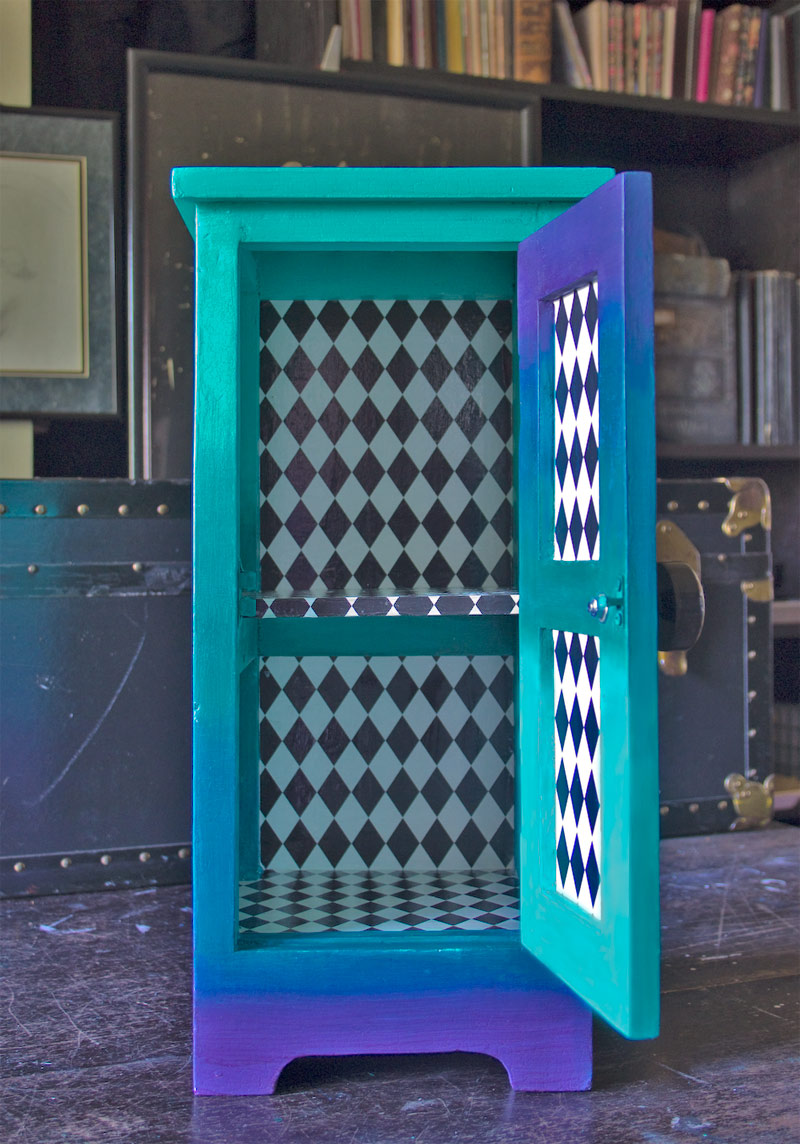 Interior detail: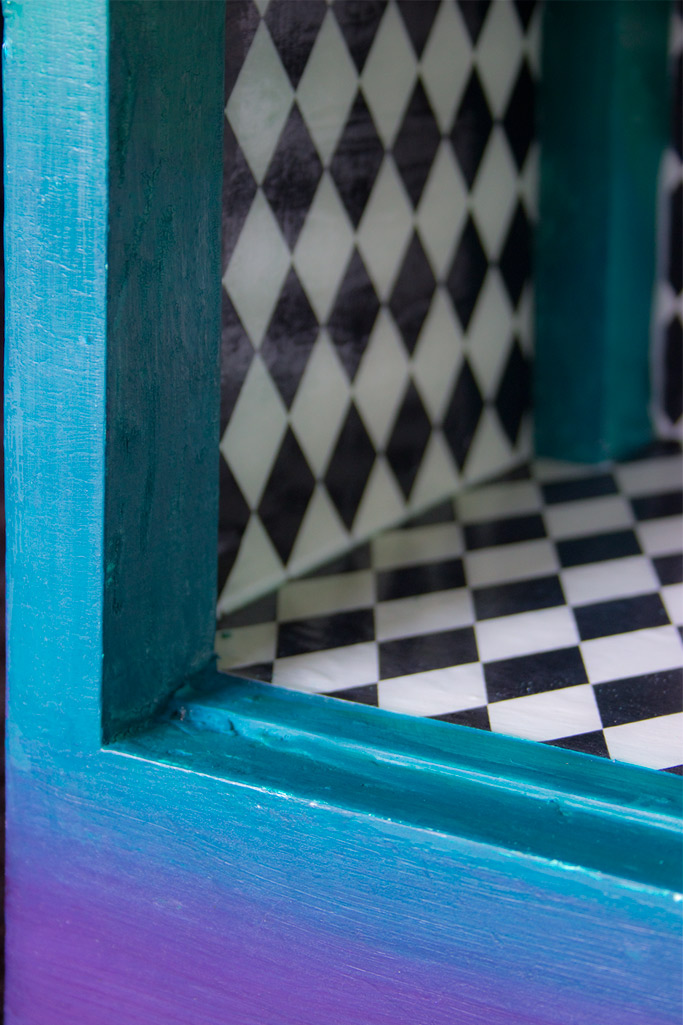 ---
Full Disclosure: Heirloom Traditions supplied their products to be used in this project, and they sponsored this post – however, I supplied the elbow grease, rescued furniture, design concept, and experimental insanity! All of which reflect my own point of view, regardless of affiliation…
---
Thank you for visiting The Graphics Fairy today…I hope you leave with the confidence to tackle your own Ombré Furniture Finish on an upcoming project!
Until next time,
Heather ♥