Xyron Sticker Maker Machine
Hey to all my favorite crafters! It's Rebecca E Parsons back today with a fun tutorial – today we will create a Sticker, or several actually, with the Xyron Sticker Maker Machine! I was chatting with Karen recently and she asked me if I had a Xyron Sticker Machine. Of course I have one in my perpetually growing stash of art supplies. However, I told her I had not used it in a long time. So I dug it out, cranked it up, and made my own stickers. Easy peasy it is! No messy glue means clean-up is a breeze. Why don't I use it more often? Hmmmm… It is great for my junk journals, books, and just about every art and craft we make. If you've been wondering "How does a Xyron Sticker Make Work?" then this post is for you!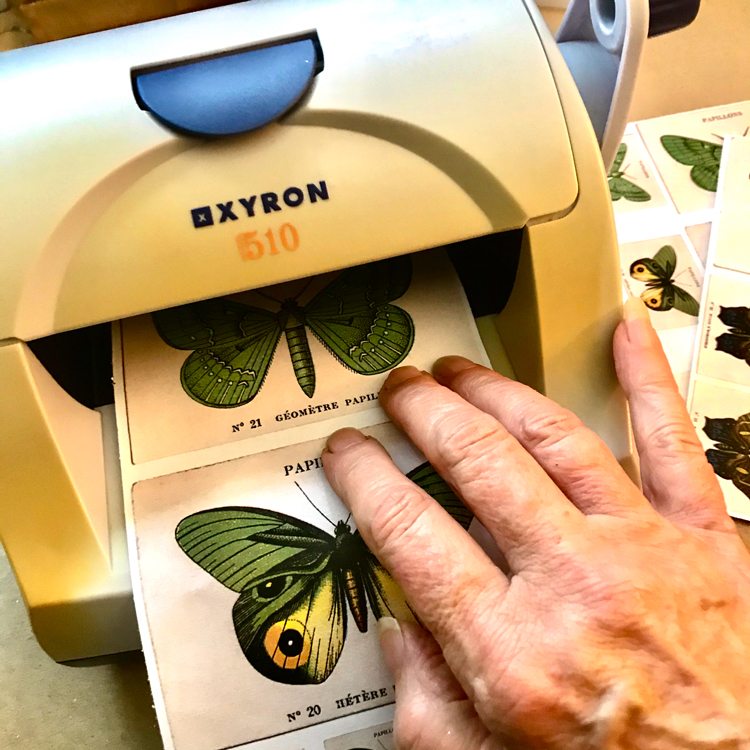 Supplies to Create a Sticker
I used three beautiful Papillon Images for this sticker making tutorial. Here they are:
I designed a little Printable PDF for you. Download Papillons Printable HERE!
All you need is a Xyron Sticker Maker Machine and the correct cartridge for what you want to make and some inspiration! With my old machine, Xyron 510, you can laminate (single and double sided), make repositionable and permanent stickers, and create magnetic stickers (although it looks like this cartridge is no longer available). The machines come in several sizes – two cute 1-1/2″ machines here and here, a 2-1/2″, a 3″, and the mac daddy 5″ (like mine). There are even disposable models. The cartridges have 20 feet of material, which is a lot!!
Papillon Images
Xyron 5″ Sticker Maker – or whatever size machine you have
Xyron Cartridge (The machine should come with one)
Bone Folder
Corner Rounder Punch
Fancy Edge Scissors
How to Make Stickers With the Xyron Sticker Maker Machine
About the Xyron Sticker Machines
These are so useful for quickly and efficiently creating stickers. The beauty is that 'almost' any flat material, even buttons, can become a sticker, as the adhesive gives a strong hold. All of the cartridges are Acid Free. They are great for junk journals, scrapbooking, art, or craft projects. You don't need electricity, batteries, or heat. You can even let the children use it! My grandchildren love to laminate things!! The machines are a good size to fit on your work table, so they are close by for your sticker making projects!
Step 1. Print and Prep Images
You can use the beautiful Papillon images or anything from The Graphics Fairy archives. You can print them with an inkjet or a laser. YAY! Any weight of paper and cardstock can be used in the Xyron. I designed a two-page printable of the images for you. The butterflies are placed perfectly on a page for use with the 5″ Sticker Machine. They can easily work for the other sized sticker machines as well. Just trim them to fit your model. These are all just under 5″ wide for mine.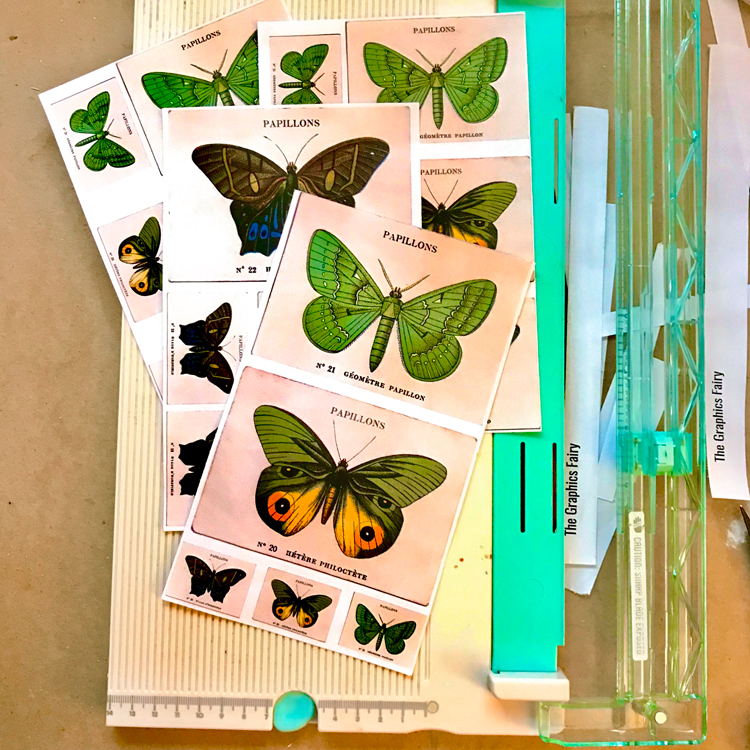 Step 2. Pop in a Cartridge
I used the repositionable adhesive cartridge for my stickers. The cartridges drop easily into place. If you have to push or tug, it is off kilter so try again. Just pull up on the little lever on the top of the machine to open. See the blue semi-circle lever in the first image in step 3 below. Again, you do not need to tug hard to do this. You might be wondering if the Xyron Stickers are Waterproof and I'm afraid they are not, so do keep that in mind.
Step 3. Create a Sticker
Place the images in the front side of the machine. Push them gently as far as they will go. Don't force them.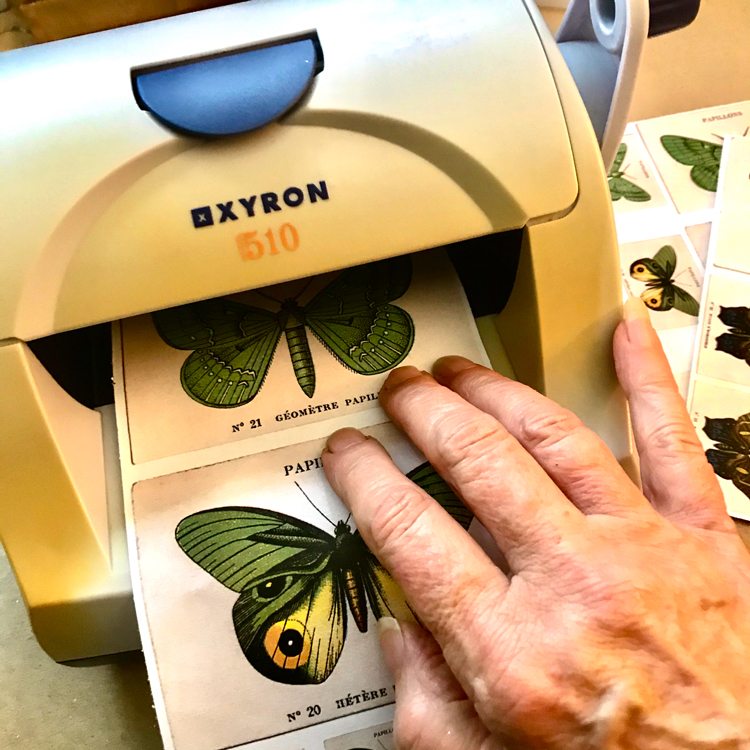 Turn the handle clockwise. The image will roll through easily. The finished sticker comes out of the back of the machine.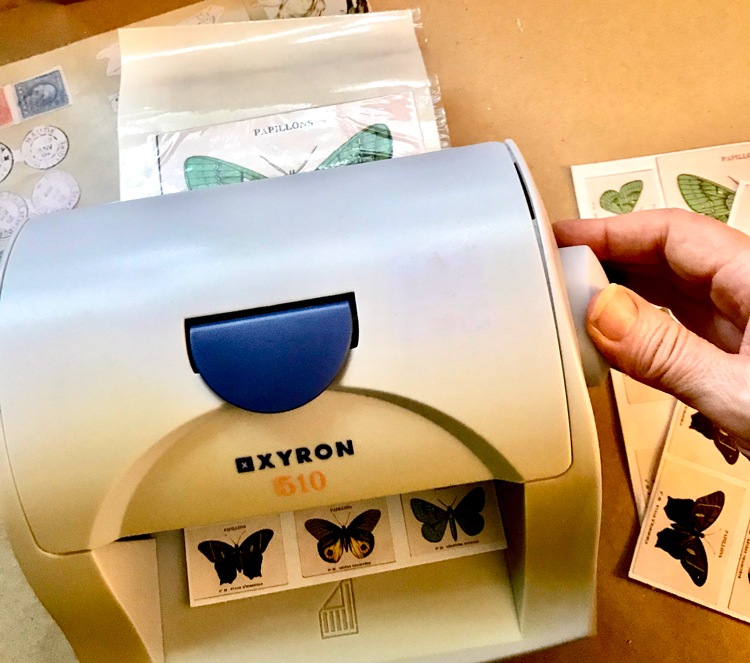 Tear the image off; if you have an older machine like mine, it has a blade runner to cut the sticker sheet. Easy! Burnish them with a bone folder or spoon.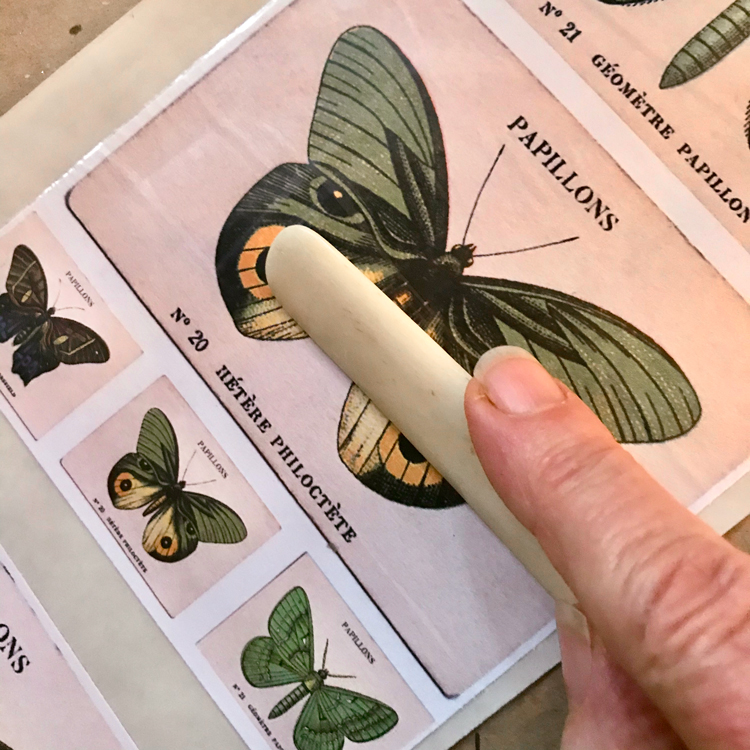 Step 4. Tips and Tricks
Although you can definitely fussy cut the butterflies, I found the antennae were a slight problem. The machine took them easily, but my heavy handedness made them separate when I was trying to attach them. Of course, I encourage you to try if you so desire. When cutting them, I prefer to leave the Papillon Image whole with the background as seen below.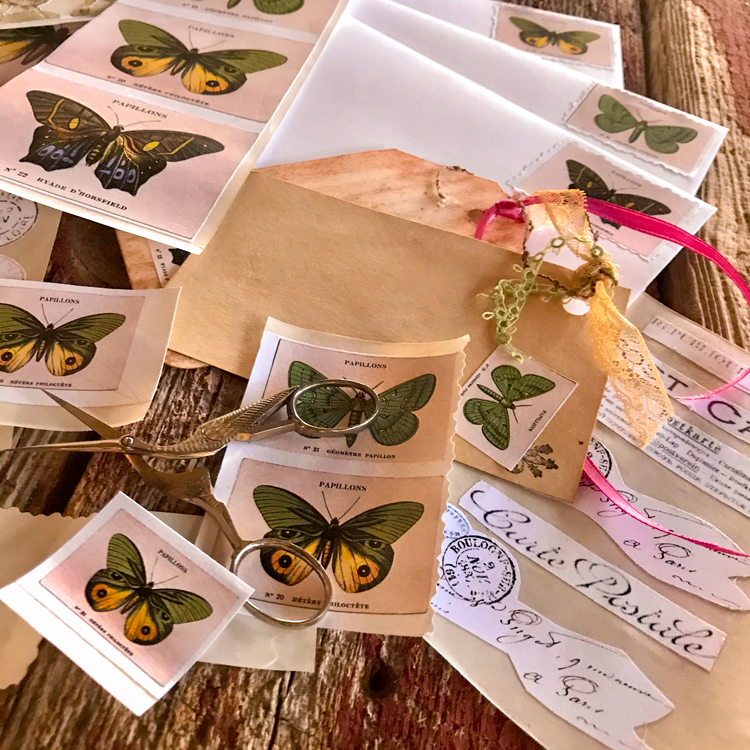 Batch Method – I like to batch my stickers because it saves on sticker material. But you need to practice the process because it is a little tricky to leave just enough space between the images. Once you roll the first image through stop rolling as you see the bottom start to disappear. That is the perfect time to line up the next image as shown below.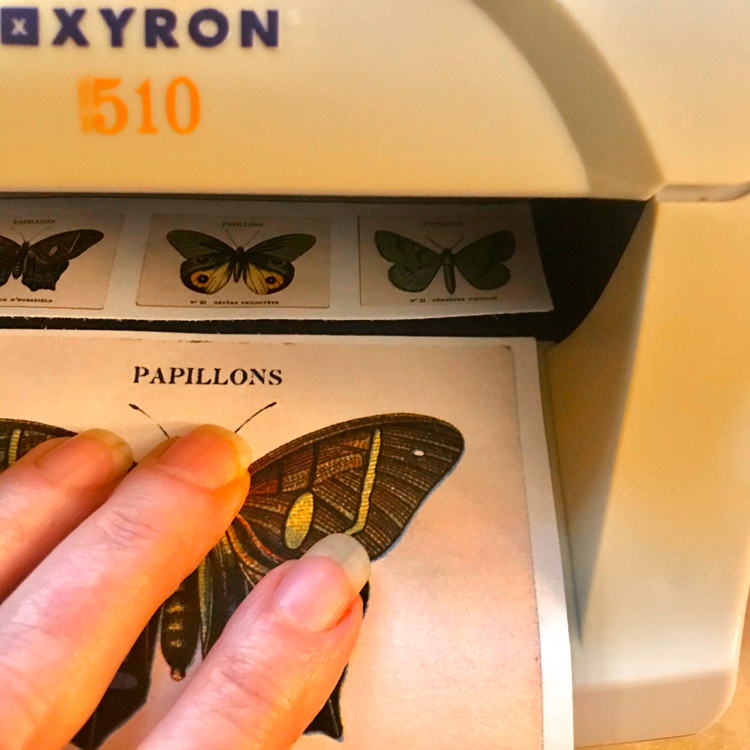 Here is what it looks like when completed. As you can see, they are close and not wasting too much adhesive!!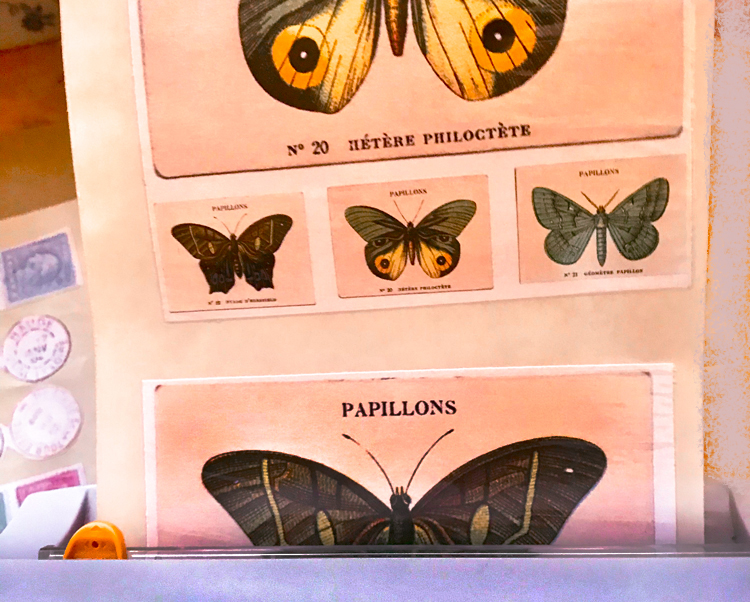 Several Images at a Time – You can place several smaller images in the machine side by side, as seen here with some of the French postage ephemera and stamps. In the left image, carefully trim your images leaving just a bit of paper connected between them. Insert them the same way as a full width image. The cool thing about the Xyron Sticker Machine cartridges is that they are designed to show you which material you have in the machine. See the red arrow in right image below.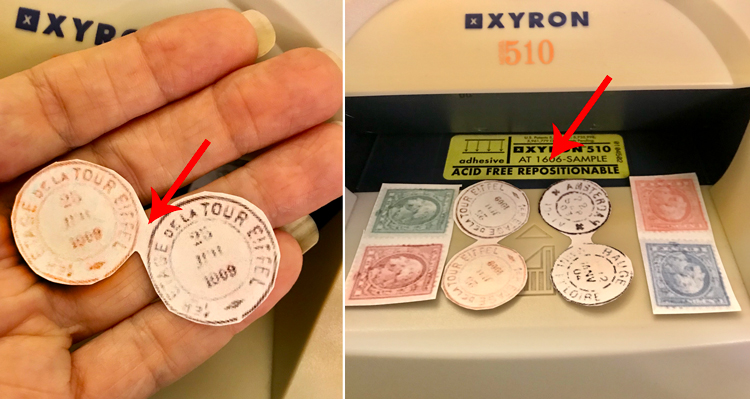 Several Fussy Cut Images at a Time – My best tip is to print the images close to one another on a page. Then carefully trim your images leaving just a bit of paper connected between them, as you can see in the dancers below. Sorry, my fussy cutting is not so great below…my arthritic hands don't do so good with scissors any more. FYI – Very intricate fuss cuts with tiny open areas may frustrate you as the glue will stay in these spots. Sometimes it can stick to a covering like a book page or folded card. One option is to rub inside these areas with a toothpick or dental pick before you remove them from the backing sheet. Just be careful if you have something that will cover the sticker.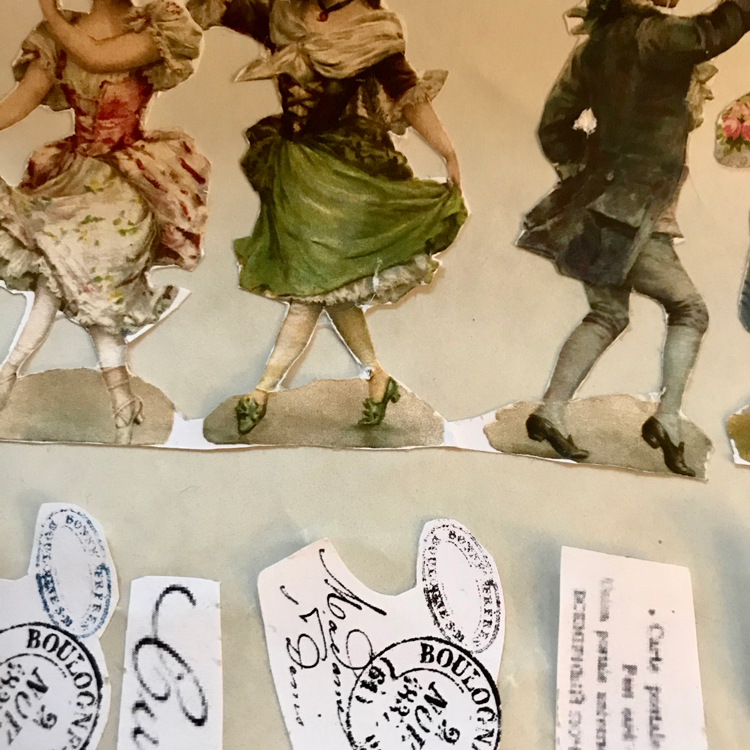 Finishing Your Stickers
Here are a few ideas to finish your stickers. Round the corners with a corner punch. (top left) Trim smaller butterfly images with fancy scissors to make them look like postage stamps. (top right) You can age the edges of your images with your favorite technique. (bottom) I am aging mine with the Shoe Polish Method that I shared in my How to Age Paper Easily Tutorial HERE!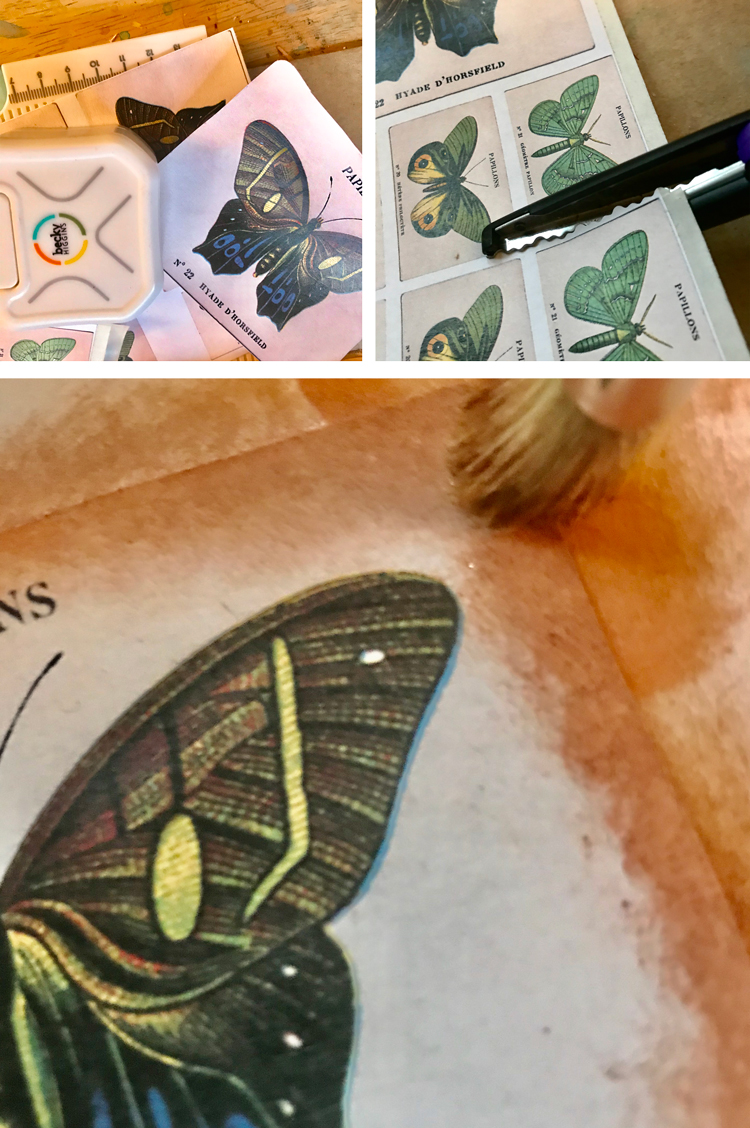 Using Your Papillon Stickers
I have a few ideas (as always) for ways to use your stickers. They are great on junk journal pages or tags. I love them used as faux postage stamps or seals on envelopes, just peel sticker and stick! You could make elegant handmade cards or gift tags with these stunning butterfly images. Of course, you can use them on scrapbook pages too or you can make Labels. Please share your ideas with me in the comments!! What did I forget?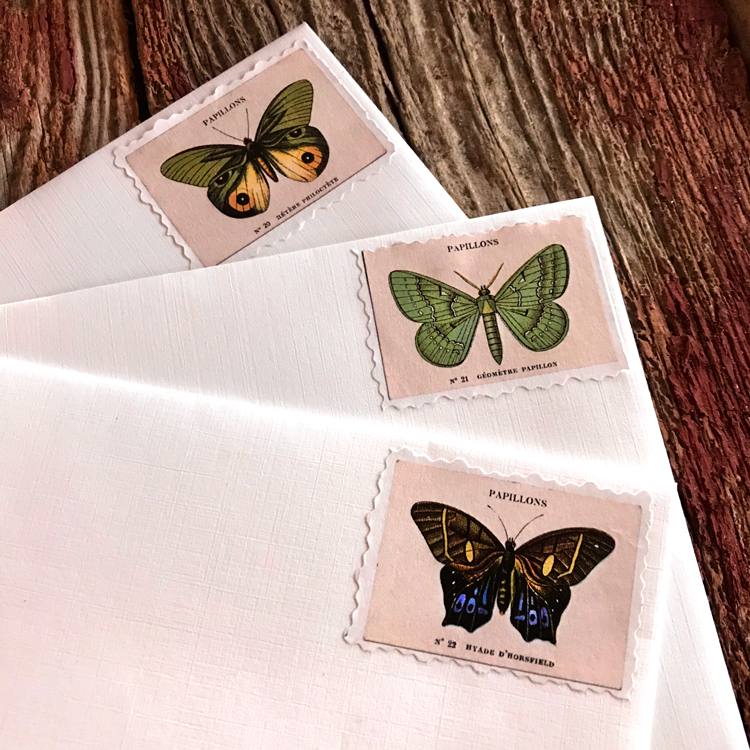 I hope that you had a blast exploring how to create Stickers With the Xyron Sticker Maker Machine with me!! You might also like this Sticker Making Tutorial, without a machine, HERE.
When I am not playing with new and old Techniques for Mixed Media in my Graphics Fairy sandbox, I also create Photoshop Elements tutorials and craft project videos over on The Graphics Fairy Premium Membership site. You can find even more of my books, art, and whimsical shenanigans on The Bookery